If you found this blog post, chances are you're in the midst of planning a trip to Yosemite and trying to decide where to stay. It's one of the most beautiful places in all of California, so you're in for a treat! During my trip to Yosemite, I personally chose to stay at AutoCamp, and in this AutoCamp Yosemite review I'm getting into the details of what you can expect staying here and any pros and cons to weigh.
With its combination of beautiful upscale design and rustic glamping vibes, AutoCamp is an awesome accommodation option near Yosemite for anyone that wants something a bit more in tune with nature but not quite as bare-bones as camping. It's also probably the most design-centric place to stay near Yosemite, so for creative types and design lovers, AutoCamp will definitely be your vibe.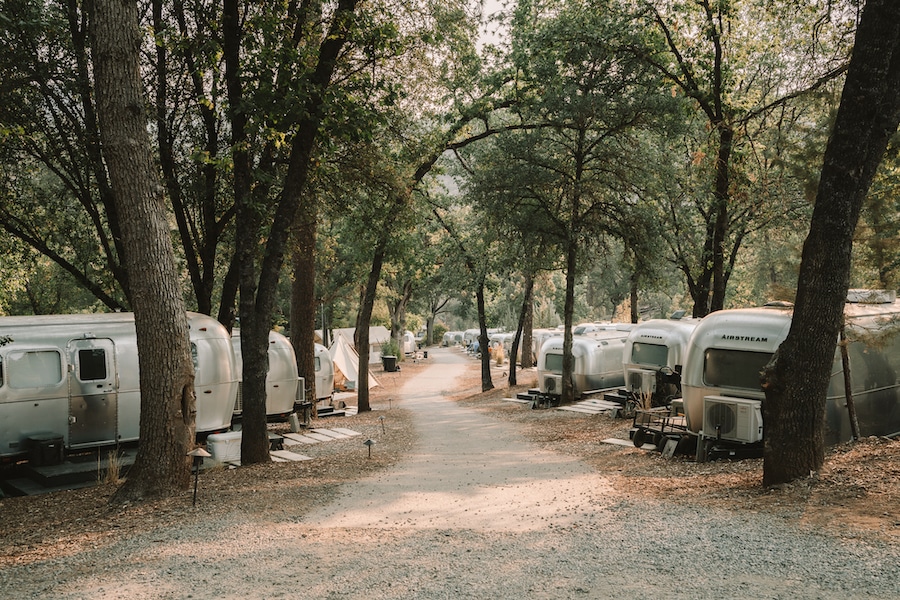 The energy at AutoCamp is relaxing yet lively, making it one of those places that's great for couples, families, or a group of friends. While I went there on a couples trip, there were lots of kids during my stay and plenty of fun things for them to do, so I definitely recommend this for families looking to visit the park but also looking for a place to stay where the kids can be entertained.
AutoCamp really adds a nice touch to any Yosemite National Park trip as there is plenty to do at the campground itself and its uniqueness makes it its own experience separate from the park, if you choose to forgo hiking for a day and just spend it relaxing at the property.
Keep reading to learn what you can expect from this Yosemite glamping experience at AutoCamp as well as tips to know before you go!
What Is AutoCamp?
So let's jump in! What even is AutoCamp? With seven locations around the United States, AutoCamp is a boutique accommodation experience set up in some of the most beautiful natural areas around the country. Chic airstreams and upscale tents are the vibe, but there is also a focus on sustainability and the environment, providing a relaxing and upscale glamping experience.
The space feels like a big campground, with a gorgeous clubhouse (truly impressive!) as home base and all of the accommodations sprinkled around the property. At the Yosemite location, there are over 80 Airstreams, 15 luxury tents and three cabins all focused on small-scale design for low environmental impact and reduced carbon footprint. Each room has a firepit, outdoor grill, and personal outdoor space to help guests feel integrated with their natural surroundings.
AutoCamp Locations
---
Read More Related Posts
---
The Perks of Staying at AutoCamp Yosemite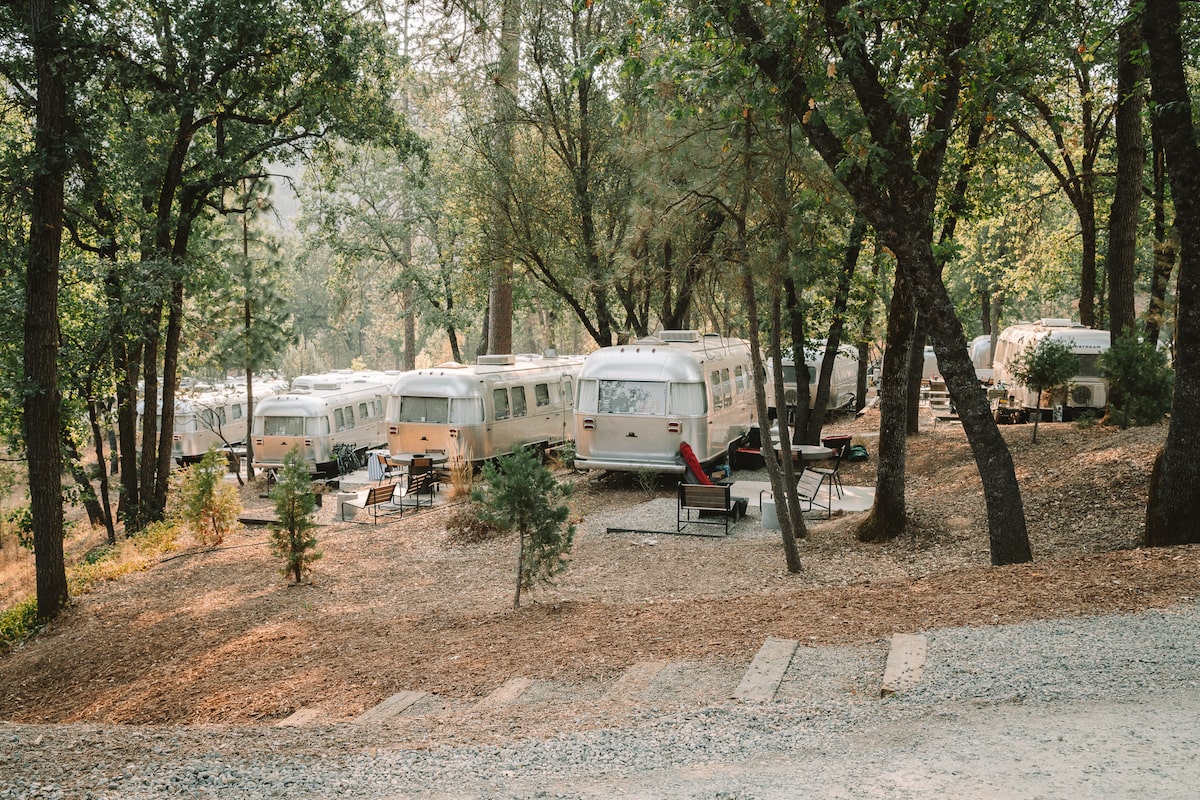 Not quite a hotel…not quite camping
AutoCamp is one of the best places to stay in Yosemite for anyone looking for a more rugged, outdoorsy experience without all the hassle and equipment required of full-blown camping. If you've never been camping before and you want an introductory experience, this is a great way to go as you can do the one-with-nature, sit by the firepit situation without having to struggle with camping gear or plan every little item you need down to a tee.
AutoCamp has already thought of everything you need—plus they've added a little touch of luxury to make your stay even more comfortable!
If you don't believe me, just ask my boyfriend Louis. This was the very first trip we went on together and he packed the car to the brim with allll of his camping gear to making sure he was prepared for anything. I don't think he ended up opening a single camping bin!
Away From the National Park Chaos
The one thing you do need to be aware of is that AutoCamp is not right inside the park; in fact it's about an hour away. This can be a pro or con depending on what you're looking for.
If you're planning a more casual trip and plan on exploring other areas outside of Yosemite in addition to the national park, this can be a great place to stay. You might also want to be away from the crowds during high season. It's also just a unique getaway location in a beautiful setting even if you don't plan on visiting Yosemite at all.
However, if you are planning a lot of early morning excursions in the park or full days and don't want to drive more than you have to, you may want to look elsewhere first. I break down all the best accommodation options in and around Yosemite in this post.
At the end of the day though, AutoCamp is still an awesome place to stay and especially if you're planning a last minute trip to Yosemite and finding everything inside the park booked up, you can't go wrong here as long as you're willing to drive a bit more.
Favorite Features of AutoCamp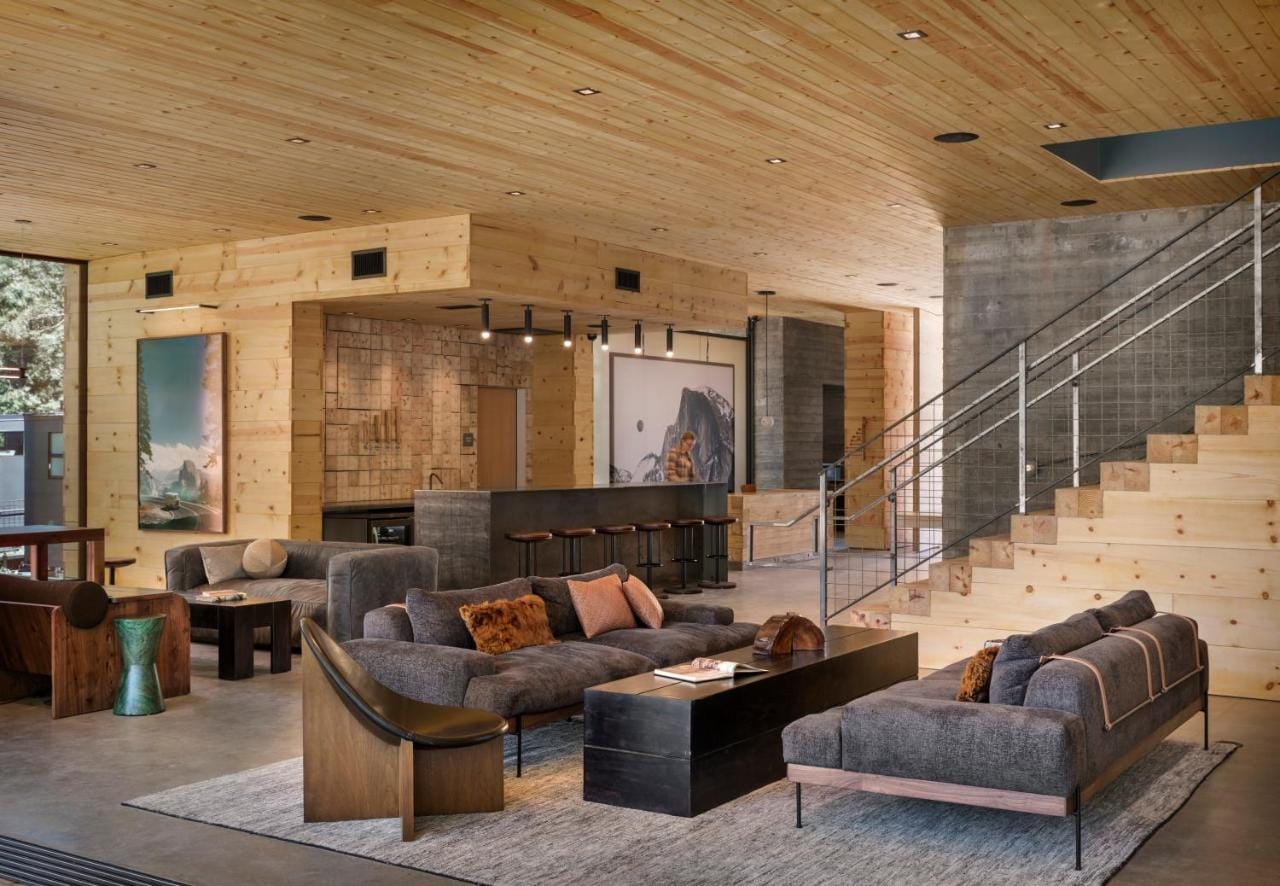 At AutoCamp Yosemite, you have options. I personally love the unique array of accommodations to choose from, including stylish Airstreams, modern canvas tents, and even cabins if you prefer the comfort of four walls. There's definitely something for every kind of group. There are even options for more privacy and top-notch views if that's your jam.
The mid-century modern style Signature Clubhouse is stunning and the shared space is absolutely beautiful. I couldn't believe how nice the communal bathrooms were!
They also have a General Store right on site which has all the snacks you could need during your stay—think S'mores kits, food for grilling, light bites, and even a bar with beer on tap. You can totally bring your own food if desired, but they also have a dining menu you can order from that's not super extensive but does include things like pizza, chicken and waffles, etc.
We loved unwinding here at the end of the day with a beer on tap and pizza before hitting up the fire pit.
Location of AutoCamp Yosemite
As I mentioned above, AutoCamp Yosemite is located a little under an hour to the west of the Arch Rock Entrance to Yosemite National Park on Hwy 140. Although it is technically in the town of Midpines, it's really pretty remote and not within walking distance to any main town. The closest town for groceries or supplies is about a 10 minutes drive to Mariposa.
Keep that in mind as you plan out your Yosemite itinerary. We stayed here and still drove into the park every day for full days of exploring, but it did mean we were in the car for extra hours during the day.
Accommodation Options at AutoCamp
One of the coolest things about AutoCamp Yosemite has to be the room options. The glampsite has luxury tents, airstreams, and cabins, all impeccably designed and all with their own appeal depending on your needs. There are spots for families, friends, and even romantic options with more privacy.
Campsites and accommodations around the park tend to get booked out really far in advance so AutoCamp is a great option in a last-minute situation as it is still nearby but not so close it books up immediately.
Classic Airstream Suite
A bright and airy 31-foot Airstream decked out in stunning mid-century modern decor, this option features a queen bed under a panoramic window with curtains, a fully-functional kitchenette, and a bathroom complete with a rain shower and spacious vanity. Not to mention your own outdoor space with a private patio, fire pit, and dining area. All "Classic" Suites are nestled near other Classic Suites for a more community feel.
Amenities:
Sleeps 1-3 adults or 2 adults and 2 children
Queen Bed
Comfortable pull-out sofa with full bed
Luxury linens, robes and towels
Premium Airstream Suite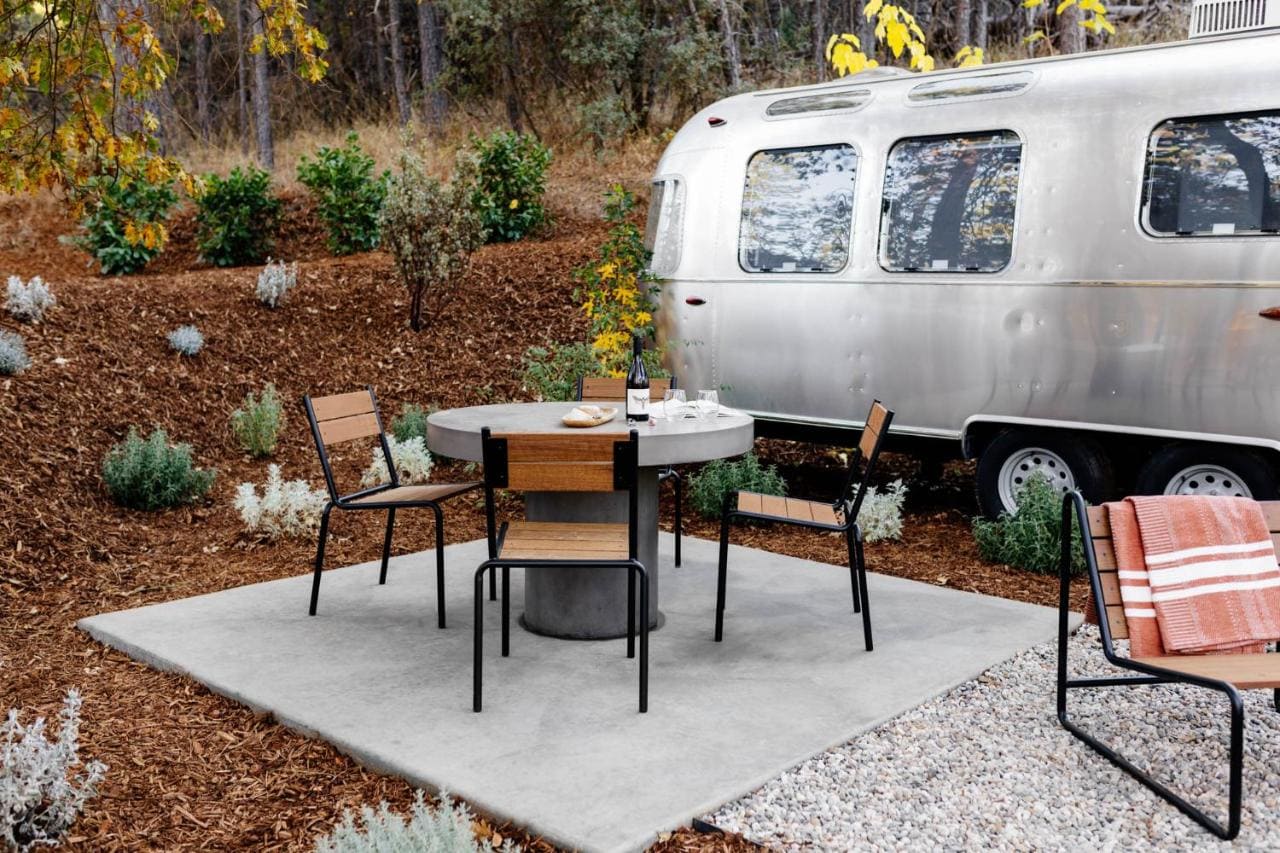 Located on the upper loop of the property, the Premium Airstream consists of everything the Classic Airstream Suite offers, plus a prime location with more privacy. This is a great option for anyone who wants a little more space to themselves or is on a romantic getaway.
Amenities:
More privacy
Sleeps 1-3 adults or 2 adults and 2 children
Queen Bed
Comfortable pull-out sofa with full bed
Luxury linens, robes and towels
Vista Airstream Suite
Everything the Classic Airstream Suite offers, but with the ultimate privacy and epic views. This is the most luxurious Airstream option, nestled in the most secluded spots on the back side of the property with views of the mountains or pond.
Amenities:
Complete privacy
Awesome mountain or pond views
Sleeps 1-3 adults or 2 adults and 2 children
Queen Bed
Comfortable pull-out sofa with full bed
Luxury linens, robes and towels
Luxury Tent
A stunning custom-made canvas tent measuring 12 x 20 feet with a memory foam king bed and stylish mid-century furnishings. The tent gives you the ability to sleep outdoors with the comforts of Yosemite glamping amenities at its finest.
This is the type of room that we stayed in and we were super impressed with its spaciousness, comfort of the bed and overall vibe. Our tent even had a little mini fridge in it, cute coffee table books for decor and a rack to hang clothes!
The main thing to note before booking a tent is that they do not have their own bathroom, but they do have access to the property's spa-like Signature Clubhouse bathrooms. This was the main downside as the bathrooms were a bit of a walk from our tent, however it ended up being fine as there are less fancy portable toilets sprinkled throughout the property in case you need to go in the middle of the night.
Amenities:
King bed
Sleeps 1-3 adults or 2 adults and 2 children
Comfortable pull-out sofa with full bed
Luxury linens, robes and towels
Access to luxury Signature Clubhouse bathrooms
Premium Basecamp Suite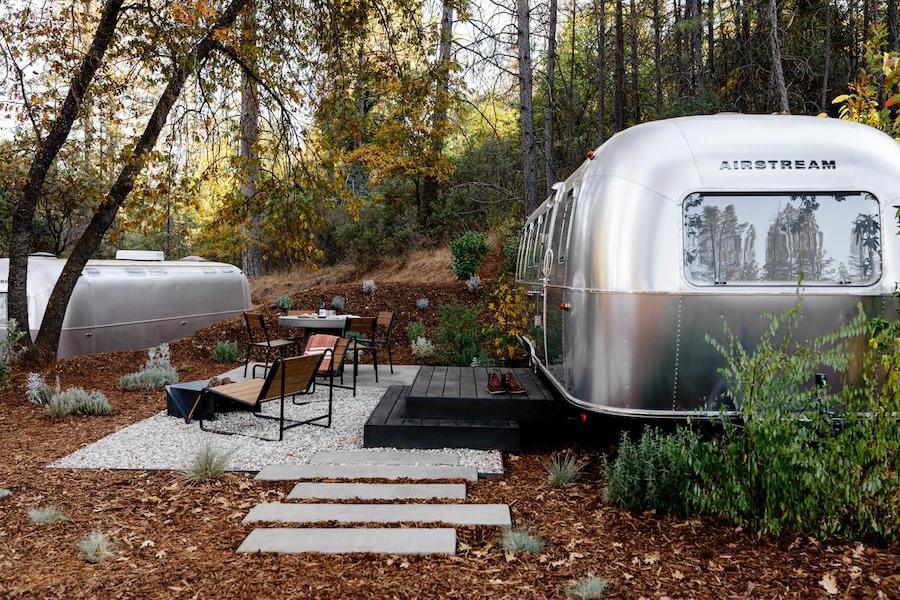 Autocamp's most spacious setup, the Premium Basecamp Suite includes an Airstream Suite and a deluxe canvas Tent which share a private outdoor patio with a firepit and a grill. The Airstream includes a bathroom with a walk-in rain shower plus the Basecamp has access to the spa-like bathrooms at the Signature Clubhouse. Keep in mind the Basecamp is only available April through October. This is a nice option for groups.
Amenities:
King bed in Tent, Queen bed in Airstream
Sleeps up to 6 adults or 4 adults and 2 children
Comfortable pull-out sofa with full bed
Luxury linens, robes and towels
Access to luxury Signature Clubhouse bathrooms
Premium Basecamp Minisuite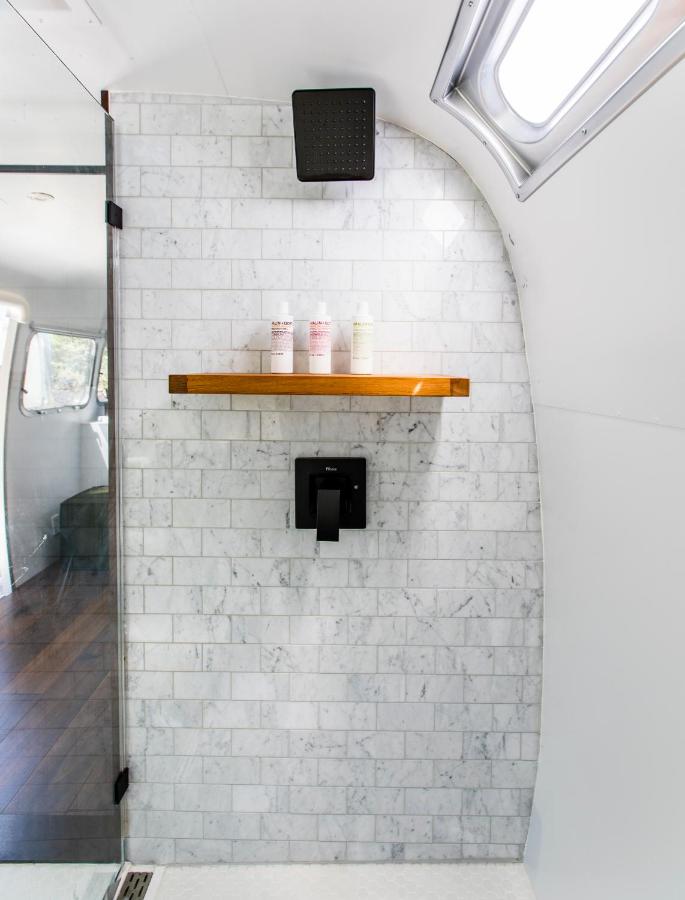 Similar to the Premium Basecamp Suite, the Minisuite features an Airstream as well as a mini tent perfect for kids with two child-size twin beds. The Airstream is the classic setup with a queen bed, luxurious bathroom and pull out sofa, perfect for one adult or two kids.
Amenities:
Sleeps up to 5 guests- up to 3 adults and 2 children
Queen Bed
Mini tent with two twin beds
Comfortable pull-out sofa with full bed
Luxury linens, robes and towels
Classic Cabin Suite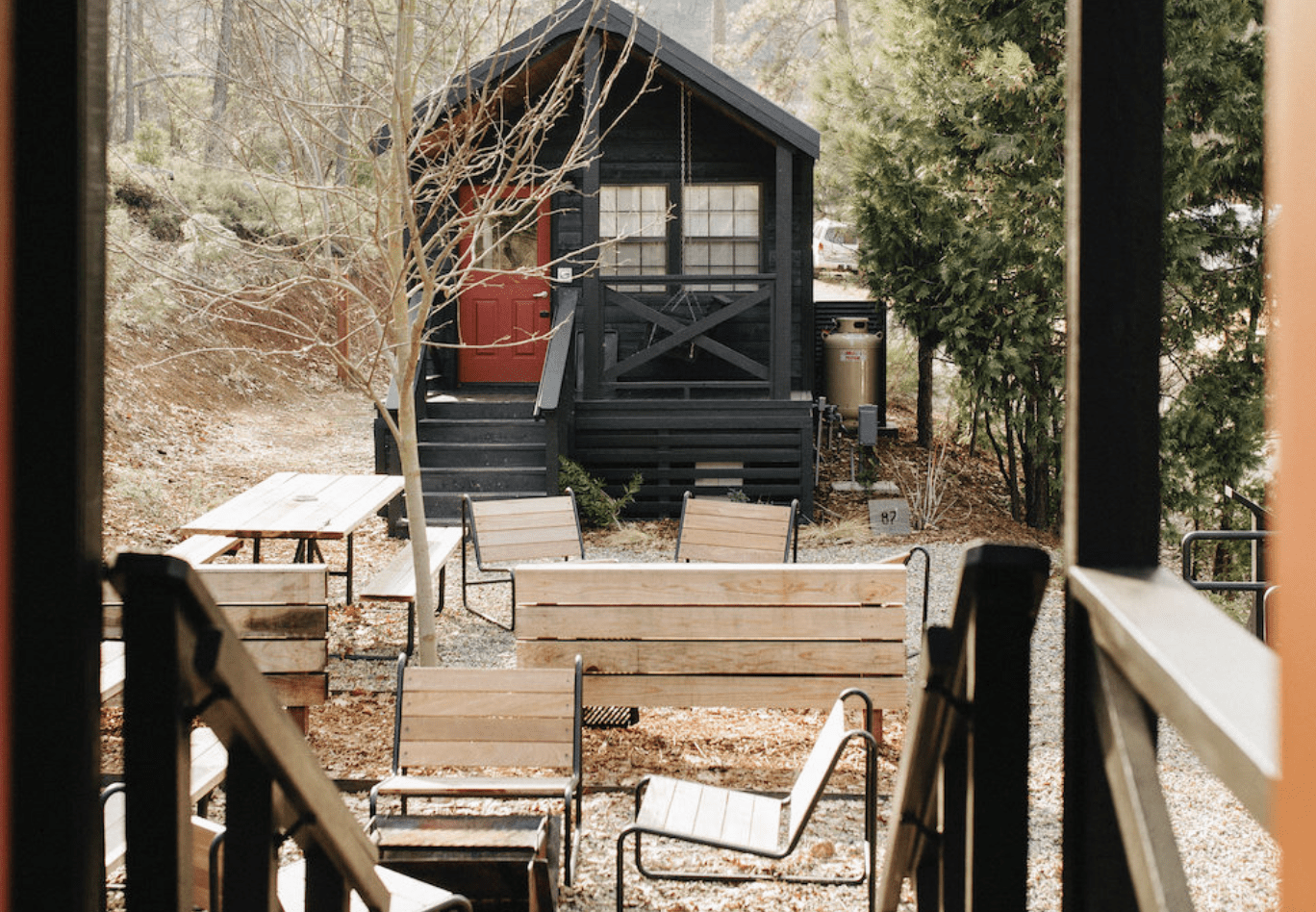 With a more rustic vibe, the Classic Cabin Suite sleeps up to five guests with a queen bed, pull-out sofa, and twin bunk beds, making it another great option for families. The pitched-roof cabin also features a gallery-style kitchenette, dining table, lounging area as well as a spacious bathroom with a walk-in rain shower.
Amenities:
Sleeps up to 5 guests
Queen Bed
Twin bunk beds
Comfortable pull-out sofa with full bed
Luxury linens, robes and towels
Classic Accessible Suite
The Classic Accessible suite serves up all the amenities of Autocamp suites, like a queen bedroom, a full living space, and outdoor space all with an ADA-accessible kitchenette and spa-quality bathroom. And, of course, never skimping on ultra-chic style.
Amenities:
Sleeps up to 5 guests- up to 3 adults and 2 children
Queen Bed
Accessible kitchenette and bathroom
Comfortable pull-out sofa with full bed
Luxury linens, robes and towels
Vista Accessible Suite
Everything you get with the Classic Accessible Suite but with the added perks of the best views and a more secluded spot.
Amenities:
More privacy and best views
Sleeps up to 5 guests- up to 3 adults and 2 children
Queen Bed
Accessible kitchenette and bathroom
Comfortable pull-out sofa with full bed
Luxury linens, robes and towels
Not sold on AutoCamp Yosemite? Check out these other local accommodation options!
FAQs About Staying At AutoCamp 
What's included and not included in your stay?
When you book a stay at AutoCamp, there are a lot of perks that are included, but I'm going to break it down below so you know what to expect.
Complimentary coffee and breakfast, free Wifi, mountain bikes to cruise around the property, free daily shuttle to and from Yosemite National Park, and a seasonal swimming pool are all on offer.
Each room comes with its own fire pit and grill, however wood and charcoal are not provided for free but you can purchase some at the on-site shop. Same goes for food! You can find some food options at the on-site store and bar menu, but options are not super extensive, so if you have any dietary restrictions I recommend bringing some food of your own.
Your stay does NOT include access to Yosemite National Park and you will need to purchase separate tickets in advance.
Do you need to bring your own food and camping supplies? 
Each suite is equipped with the necessary utensils and cookware but as I mentioned above, you will likely want to bring some of your own food as well as wood and/or charcoal for the fire pit and grill. The closest grocery store is in the nearby town of Mariposa, about a 10-minute drive from AutoCamp Yosemite.
Are dogs allowed?
Yes! AutoCamp is dog-friendly and pups are welcome for an additional $75 fee.
However, there are a few stipulations to keep in mind: only specific accommodations allow for dogs, your dog must remain on a leash and under supervision at all times when out on the property and you are not allowed to leave your dog unattended in your accommodation at any time, no exceptions.
Is AutoCamp good for families?
AutoCamp is a great option for families! I was actually not expecting there to be so many kids there during our stay and they were running around everywhere. They also had plenty to keep the kids entertained. Although all accommodations can fit a family, the Basecamp Minisuite and the Classic Cabin Suite are particularly good if you're traveling with kids.
Is AutoCamp good for romantic getaways?
AutoCamp can also make for a great stay for a little Yosemite glamping romance. Some accommodations like any Premium Suite or the Vista Airstream Suite will add a little something special to your stay as they have a more private location.
Can you visit AutoCamp year-round?
Yep! AutoCamp is open year-round for your convenience. However, the Premium Basecamp Suite is only available April-October.
What is the parking situation like?
Each suite comes with one parking space. When you arrive you can park by the Clubhouse to unload your stuff and then take your car to the nearby overnight parking area that is slightly up the hill. If you have heavy luggage you need to lug to your room, there are carts you can use or you can ask the staff for help with a golf cart.
Is there Wifi at AutoCamp?
Free Wifi is provided at AutoCamp, and I can confirm it works great 🙂
What do you need to pack/bring with you?
Food for grilling if you don't like their options on site
Seasonings
GoodWood, compressed logs or charcoal for the firepit—these are the only types of wood they allow (or you can purchase this on-site as well)
Your toiletries
Warm layers
A Few Helpful Hints for Your Stay
If you're using AutoCamp as a home base while visiting Yosemite National Park, be sure to book your entrance reservations to Yosemite ahead of time. Since the pandemic, Yosemite is only allowing a certain number of people in the park each day depending on what time of year you visit. You can learn about the entry requirements here.
If you have any heavy baggage or are struggling to get your belongings to your room (as some are further from the Clubhouse) just ask the staff for help with a golf cart. However, I would avoid packing in rolling luggage and stick with backpacks and duffels if possible.
AutoCamp is dog-friendly but there are some stipulations. Be sure to read over the rules, book a dog-friendly room, and let them know ahead of time.
When choosing which accommodation style to book, keep in mind that the glamping tents do not have an attached bathroom like the other accommodations. You will have to use the communal bathrooms in the Signature Clubhouse, which are SUPER nice, but a bit of a walk. 
Did this post inspire you to book a stay at AutoCamp Yosemite? Let me know in the comments below!
---
Planning a trip right now? Don't miss my go-to websites for booking everything from flights and tours, to accommodation and more:
---