If you're planning a trip down to Riviera Maya or Tulum, Mexico, then Bacalar Lagoon (or or Laguna de Bacalar) is the perfect add-on to your trip.
That's exactly how I came to first discover this gem of a town with shimmering turquoise waters and some of the best food of our entire Mexico adventure (seriously)!
But rest assured, Bacalar is no copycat of Tulum. In fact, it's quite the opposite. Here you'll find the ultimate laidback vibes, budget-friendly hotels, quiet streets and much fewer tourists to compete with for dinner reservations.
If you're in search of a place that feels yet to be discovered by the masses, then you need to go to Bacalar.
Bacalar is located about four hours south of Cancun and about two and half from Tulum, so this is great place to discover while you adventure around the Yucatan Peninsula.
In this post, I'm breaking down everything you need to know to experience the best of Bacalar Lagoon!
So, what's so special about Bacalar?
The prize jewel of Bacalar is the Bacalar Lagoon itself. With the sunlight changing the reflection of colors throughout the day, there are at least seven different hues of blue and green–hence the nickname, "Lagoon of the Seven Colors".
The different kinds of sand and soil at the bottom and clear waters are said to be what gives the lagoon its truly unique colors.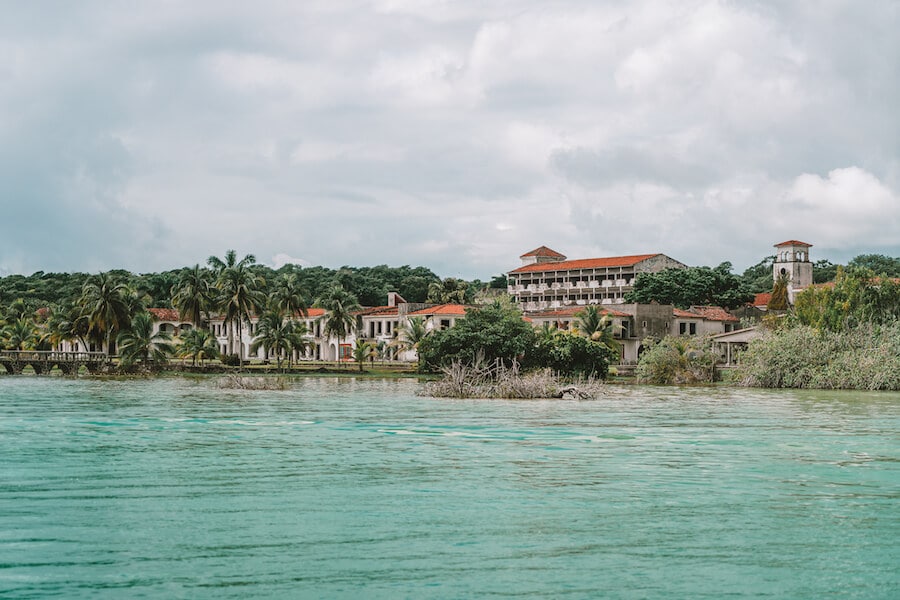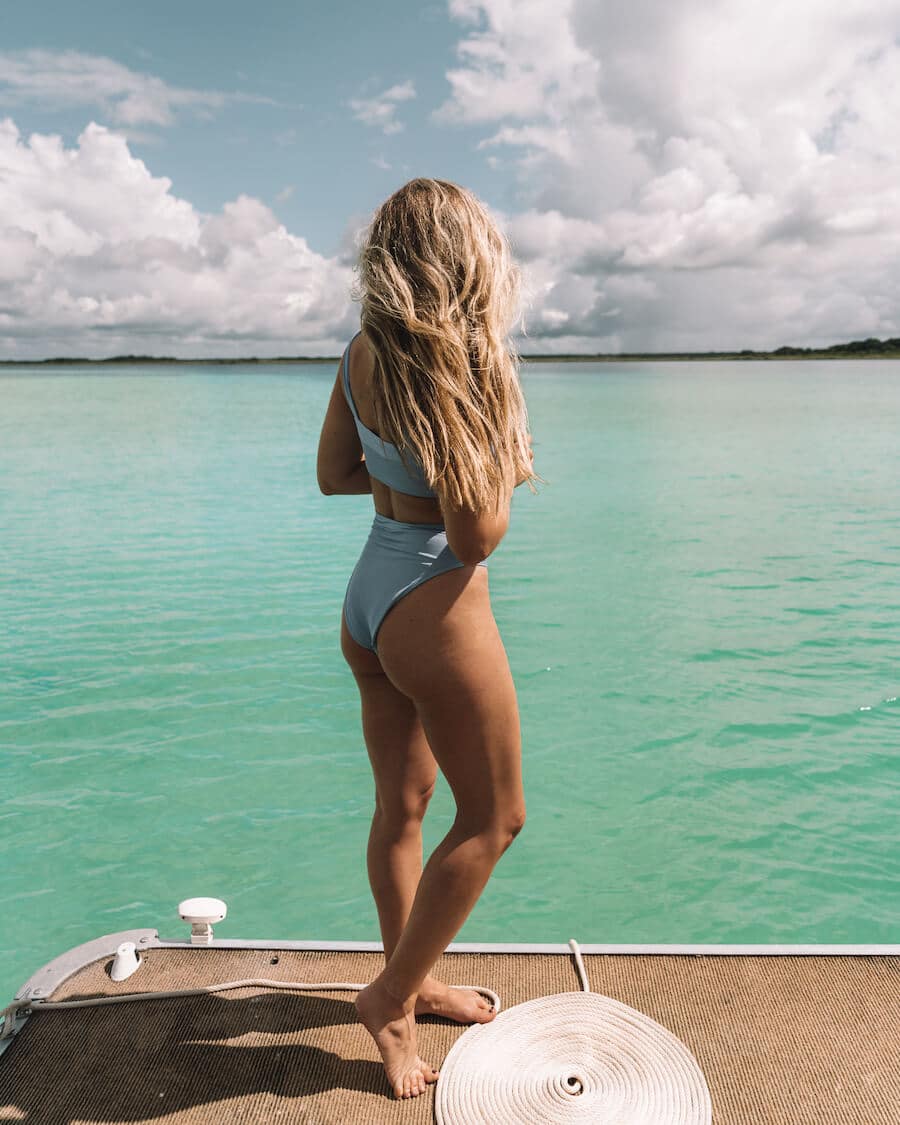 While the photos might trick you otherwise, the lagoon actually wasn't as blue as it usually is when we visited, due to a record season of rainfall during a tropical storm in 2020.
This introduced a lot of particles to the water and made parts of the lagoon a more brown color. But don't worry, everything should be back to normal!
I'm already dying to go back the next time I visit Mexico to see the lagoon in all its glory.
This epic all-day tour of Bacalar Lagoon is one of the best ways to explore the area!

▶️ Explore the stunning Cenote Azul
▶️ Kayak at Sujuy Ha Bacalar
▶️ Check out San Felipe's Fort
▶️ Enjoy a tasty lunch at Aluxes restaurant

>> Book this full-day tour here
What to Expect When Visiting Bacalar
While Bacalar Lagoon is definitely worth a visit, it may not be for everyone. It's currently quite unknown to international travelers and is more of a vacation spot for local Mexican families.
While there's nothing wrong with that, you'll definitely have a harder time finding the amenities of a resort destination like you would in other areas of the Yucatan.
And keep in mind, this is a lake—so don't expect to find sandy beaches here like you'll have in Cancun. That's not to put you off—I just want to set your expectations before you go there.
I personally love that there's an authentic and unique feel to the Bacalar Lagoon area and with fewer visitors, it feels like a truer experience of Mexico, still unspoiled by tourism.
Another bonus: It's way more affordable than Tulum and has a much more chilled out vibe. Leave your expensive resort wear behind, this is definitely more of a jean shorts and flip flops kind of place!
Quick Tips for Your First Trip to Bacalar Lagoon
I'll go into more details below on how to get to Bacalar Lagoon and the best things to do there, but here are some quick tips that will help make your first trip as smooth as possible.
Bring enough cash in Pesos for the trip. The infrastructure in Bacalar isn't super developed, with limited ATMs. In small towns in Mexico, you never know when these might stop working so it's a safer bet to have enough cash when you arrive.
Keep in mind that the lagoon is a protected environment and is at grave risk of being destroyed by overdevelopment and too much tourism. If you visit, please do your part to protect the beauty of this place. That means not littering, avoiding spilling alcohol in the water (this changes the color) and removing toxic sunscreens before you go in the water. Pick up my favorite reef-safe sunscreen HERE.
The water isn't safe to drink here. So don't drink it. I'd advise sticking to bottled water or using a filter. Here's the self-cleaning LARQ bottle I have that uses UV-C technology to purify water.
Pack LOTS of Mosquito repellant! The mosquitoes were ferocious by the lake at night and unless you are some mythical creature with special powers, you will get bit. My friend had bought these repellant wipes on Amazon prior to the trip and they worked wonders!
If you love taking photos, then you'll want to bring your waterproof camera gear for this trip. Don't leave the GoPro behind for this one! It's also one of the best places in Mexico for drone photographers who love capturing the stunning lagoon's colors and unique cenotes from above.
Budget for about $50 USD a day in Bacalar in addition to your hotel if you want to eat like a queen and partake in tours (but you could do it for much less). We spent around $6 on average for drinks, $2 for smoothies and $20 on nice dinners with drinks.
Buy travel insurance prior to your trip. I always recommend that readers get travel insurance when they adventure internationally, but especially in Mexico, travel insurance is a must. My favorites are World Nomads or SafetyWing insurance.
Where is Bacalar Lagoon Located?
Bacalar Lagoon is located in the southern part of the Quintana Roo State of Mexico, very close to the border of Belize. You'll hear this part of Mexico referenced as the Yucatan Peninsula.
If you're driving from Tulum, it's around 2 hours and 30 minutes south. From Cancun, it's around 4 hours driving and just over 3 hours to Belize City.
Although it's a lake and not directly on the coast, the gorgeous water will easily make you believe you're stranded on a Caribbean island!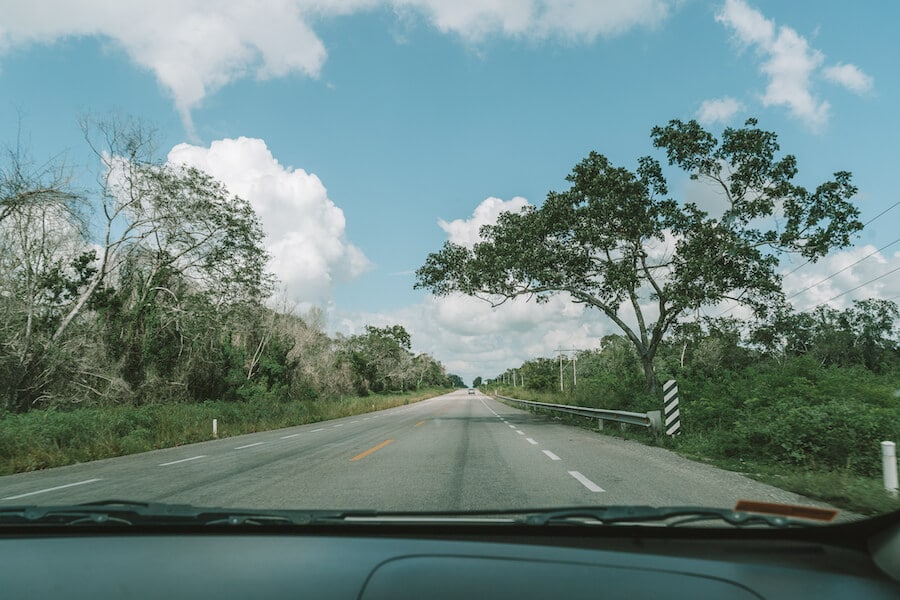 How to Get to Bacalar, Mexico
When it comes to traveling to the Bacalar Lagoon, you have several different options which I'll break down in detail below.
Rent a car and drive
Take the Ado bus
Hire a private car
Book a day tour from Cancun or Tulum
Option 1: Rent a car and drive
If you're renting a car to get from Cancun to Tulum or somewhere else in the southern part of the Yucatan, then it's easy to continue driving on to Bacalar Lagoon. From Tulum it's a pretty easy drive on Highway 307 to Bacalar.
My friend Betty and I had a rental car in Tulum and drove it down to Bacalar which was a very straightforward and safe route.
The only thing I will note: there are a LOT of speed bumps with little signage to warn you. This was quite comical but also slightly terrifying when we discovered them at the last minute driving at 50 mph.
So just be mindful to keep your eyes on the road 😜 Once you get to Bacalar the streets aren't as well-kept, but they're totally manageable to drive.
My Top Pick 🌟 Best Rental Car Company
I love Rentalcars.com because they compare prices on all the biggest brands, price match, and allow you to cancel or change your reservation up to 48 hours before your trip!
>> Book Your Rental Car Here
Option 2: Take the ADO bus
If you're not a fan of driving or would rather save yourself the hassle of finding a rental car, you can take the ADO bus. There are buses throughout the day from Cancun, but check the schedule beforehand on the Ado website here.
You can even book a bus directly from the Cancun Airport.
Ticket costs vary but are typically around $20-35 US one-way with a journey time of around five hours.
Option 3: Hire a private car
The simplest way is to take a private car, but it's also the most expensive. Speak to your hotel receptionist and they'll be able to organize a reliable local driver and negotiate a price for you.
Option 4: Book a Day Tour from Cancun, Playa del Carmen or Tulum
If you don't feel like staying overnight in Bacalar, then you can book one of the day tours leaving from other parts of the Yucatan.
I don't feel like this option gives you quite enough time in Bacalar Lagoon to do the place justice, but it is an option you prefer a day trip.
This top-rated full-day tour departs from Cancun or Riviera Maya, and this boat tour picks you up from Playa del Carmen.
More Day Tours to Bacalar:
How Much Time Should You Spend in Bacalar
Bacalar Lagoon can be done as a day trip from Cancun, Tulum, or other destinations around Riviera Maya.
However, if you're really trying to experience the true essence of Bacalar, I recommend staying overnight and spending a few days here.
I would recommend at least three nights because weather can always be a factor in a tropical climate and can rain you out of activities. We spent two nights and I wish we would have booked a third.
---
When is the Best Time to Visit the Bacalar Lagoon?
When it comes to weather, your best bet for visiting Bacalar is December through March when temperatures are warm and rainfall is less likely.
We traveled to the area in mid-November and mostly found the weather to be nice but did encounter some tropical storms.
Keep in mind that Mexico has hurricane season from June through November, although the biggest risk is between August and October.
It's possible to visit then and have a great time, but you need to be mentally prepared for the worst if you choose to risk it.
My friend recently visited this part of Mexico in mid October and spent a couple nights hiding out from a potentially massive hurricane. Luckily they ended up being OK, but I know it was a scary situation for her.
Best Things to Do in Bacalar
Alright, now onto the good stuff! What should you spend your time doing while in Bacalar?
Most of the activities here will center around the Bacalar Lagoon—I mean, that is the main reason to visit after all. And while the area of Bacalar Lagoon is 42 km², most activities are concentrated in a small area.
This is the place to kick back and relax, but I'm going to share some of the top things to do during your visit.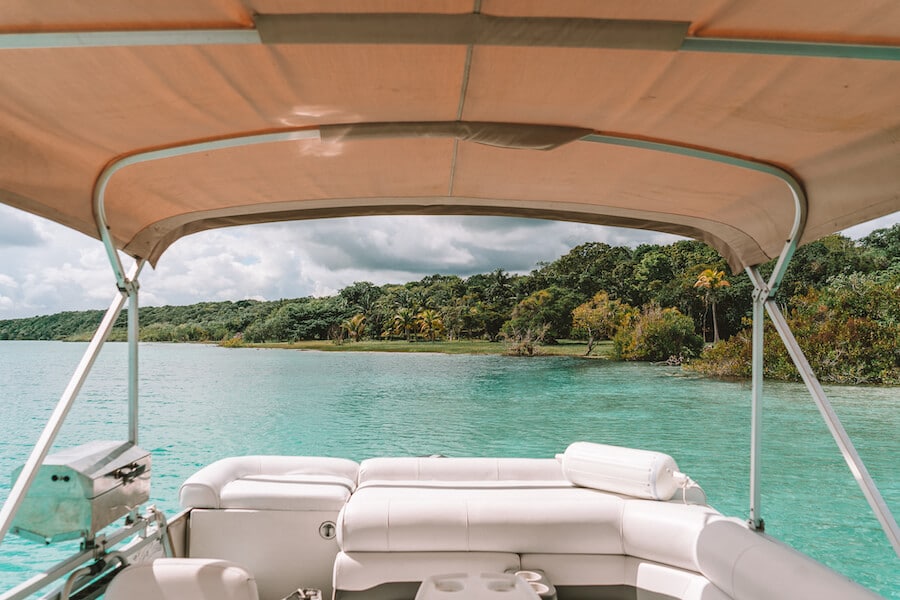 Tour the Lagoon by Boat
No trip to Bacalar Lagoon would be complete without a tour of the lagoon by boat. It's a great way to relax and experience the beautiful lake and waters.
Plus, tour operators will know the best places on the lagoon to visit for the most stunning water.
Most tours last half a day with free food and alcohol included. There are loads of agencies in the area and often people will stop you in the street to sell you their tour.
Here are a few boat tours with great reviews to check out: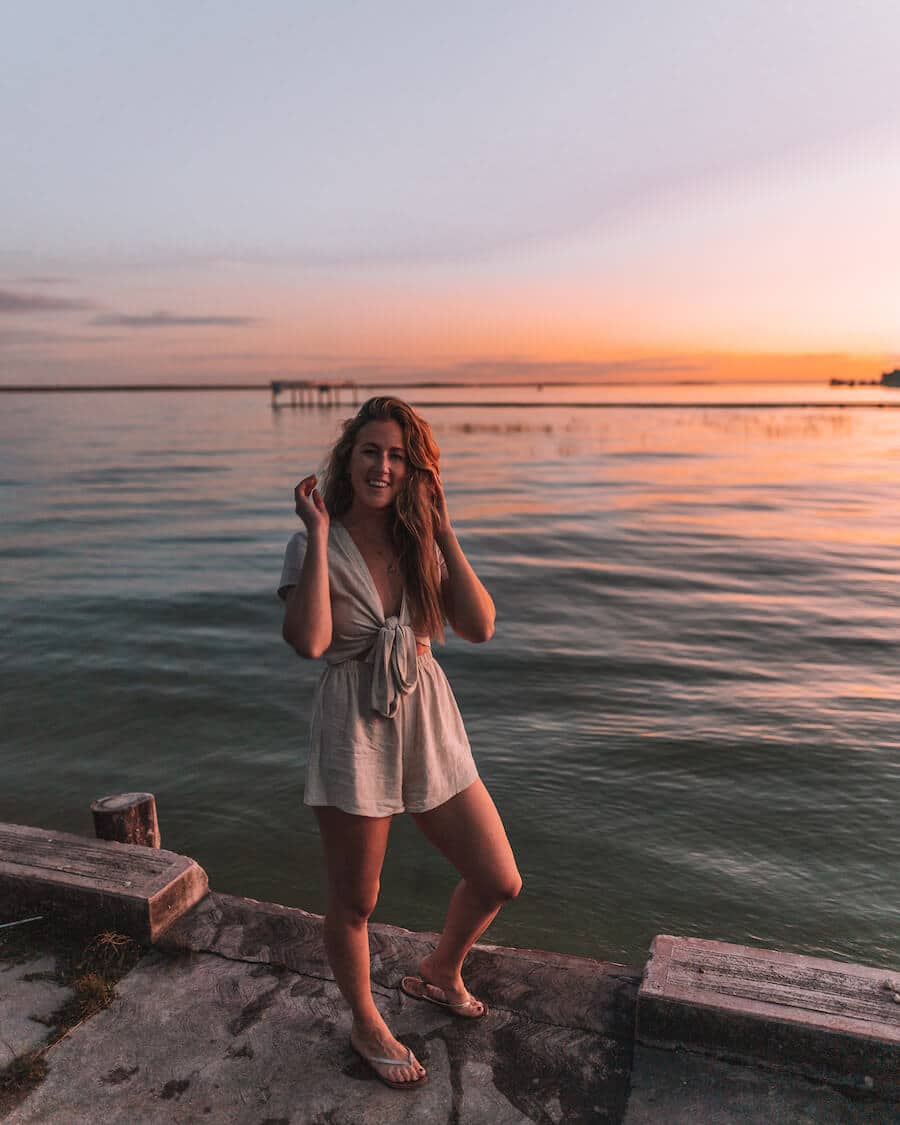 Catch the Sunset Over the Lagoon
There are loads of spots around the lagoon to catch the sunset, one of the most popular places being Kai Pez.
Head over there for dinner and drinks and watch the sun go down over the lagoon. Or you can just walk out to one of the docks from town.
Grab Drinks on the Lagoon at La Playita
La Playita is another good spot to watch the sun set with a drink in hand. The drinks were decent but the atmosphere is awesome (these photos don't do it justice) and it's located right next to the lagoon.
Fort San Felipe
In the center of town, next to the main plaza, you'll find Fort San Felipe. There are amazing views of the lake here, and for a small fee you can visit the museum inside to learn about the history.
Try the Local Seafood—it's a Must!
Unsurprisingly the seafood here is amazing and is a must during your visit. El Taco Loco and Katx restaurant are a couple of the town's favorites with great reviews.
For something higher end, order the full lobster at Nixtamal, which was our favorite restaurant of the entire trip!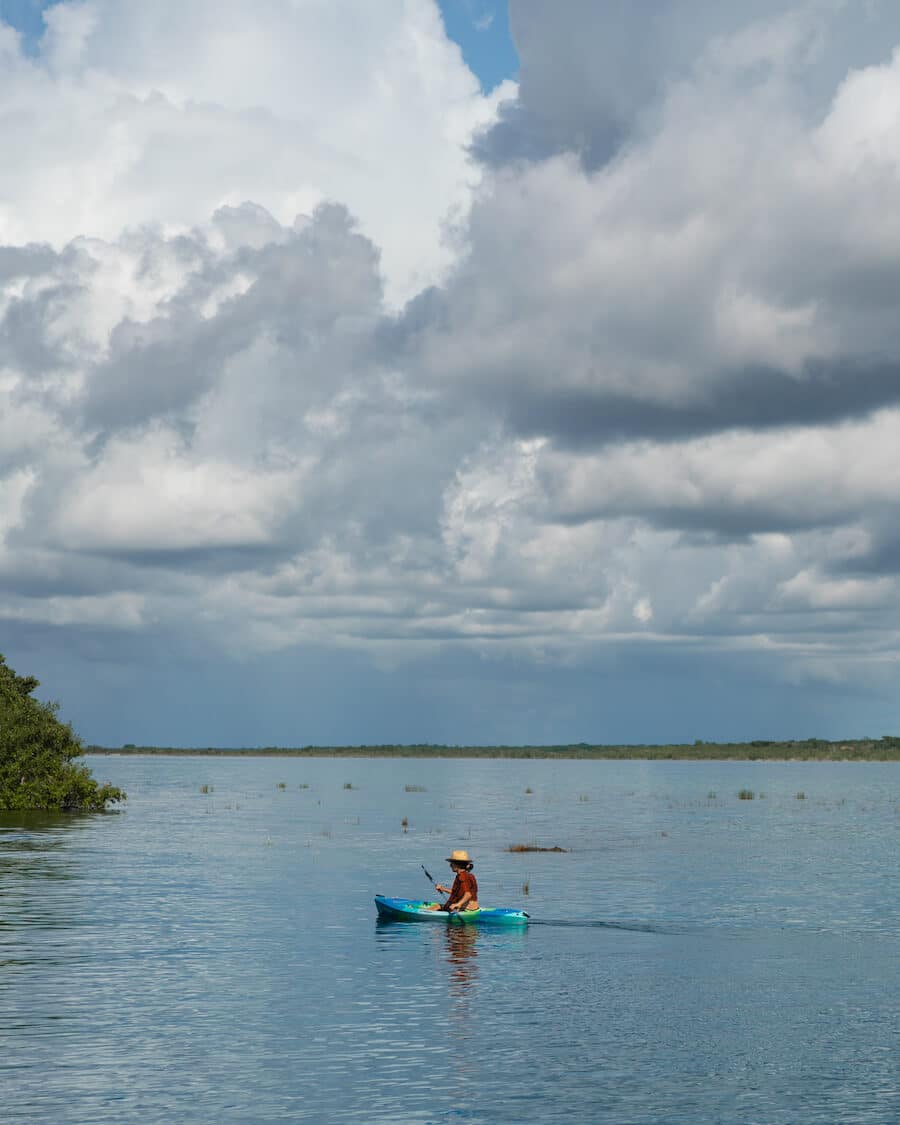 Go Paddle Boarding or Kayaking on Bacalar Lagoon
Paddle boarding and kayaking are both great ways to get a workout in and experience the magic of the Bacalar Lagoon.
You can either book a tour (like this top-rated sunrise SUP tour) or choose to go on your own. There are plenty of agencies to rent gear from by the lagoon as well, and many hotels will offer equipment as well.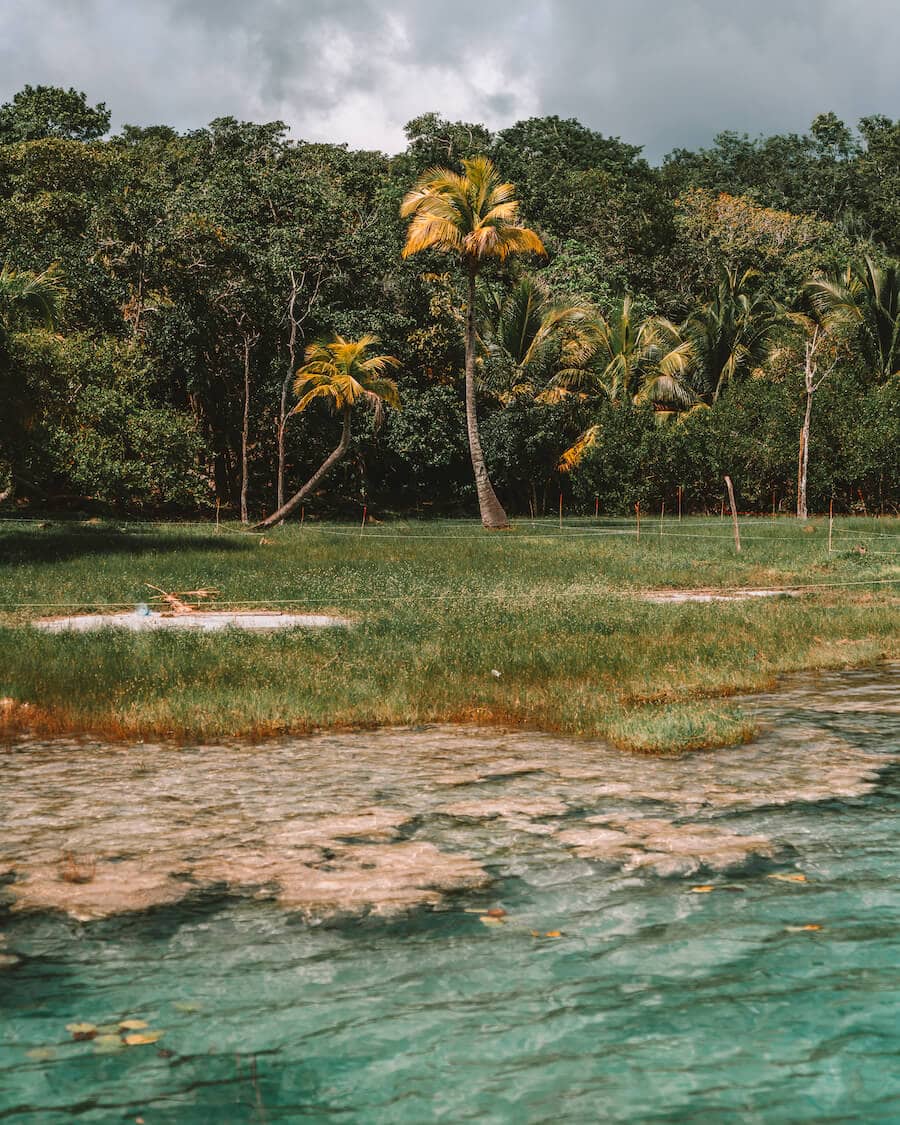 Check Out the Stromatolites
Never heard of a stromatolite? I hadn't either until I visited Bacalar.
I'm no scientist, but basically these are important because they are the earliest fossil evidence of life on Earth.
They essentially look like rocks with a slippery algae on top and it's very important that you don't step on them while swimming in the lagoon as that could damage life that is billions of years old.
Cenote Azul
If you're a scuba diver, then the Cenote Azul is the place for you.
Even though the color of this section is quite dark compared to other parts of Bacalar Lagoon, the water is clean and pure and it's one of the deepest cenotes in the Riviera Maya.
You're asked not to wear any deodorants or sunscreen before diving. There is a small entrance fee, so I recommend bringing cash in Pesos.
Relax!
Bacalar is one of the most laidback places in Mexico to just relax. Hang out in one of many hammocks or swings or on the docks to soak up the sun. This is not the same vibe as Tulum, Mexico and is meant to be a place to chill out for a while and slow down, so make the most of it.
Where to Stay in Bacalar
Hotel Aires
This is the hotel we stayed at in Bacalar and I can't recommend it enough. It offers great value for comfort, free breakfast each morning, and the setup feels like a jungle treehouse.
The rooms are well-designed and we had a sweet hammock setup on our balcony. Plus, it's in a great central location and walking distance to restaurants and the lagoon.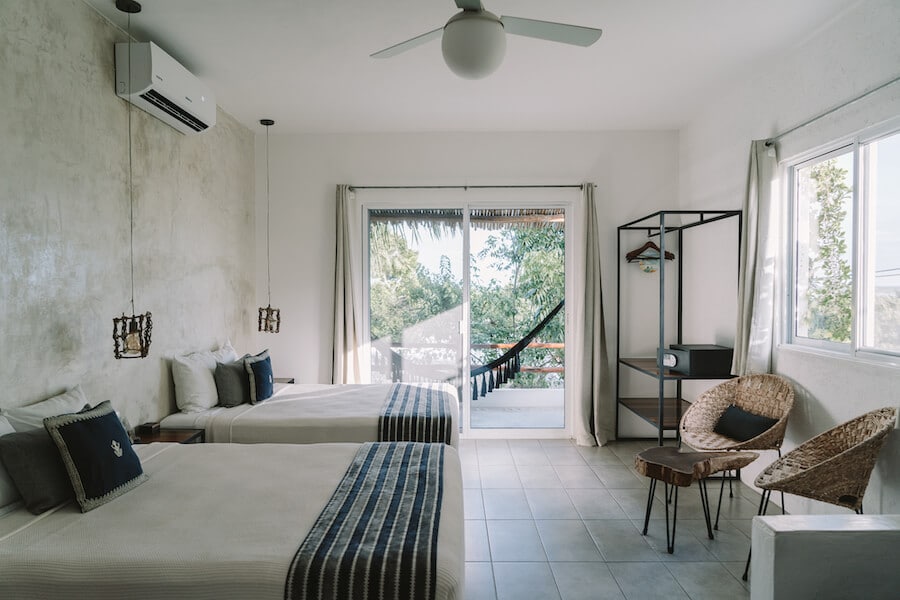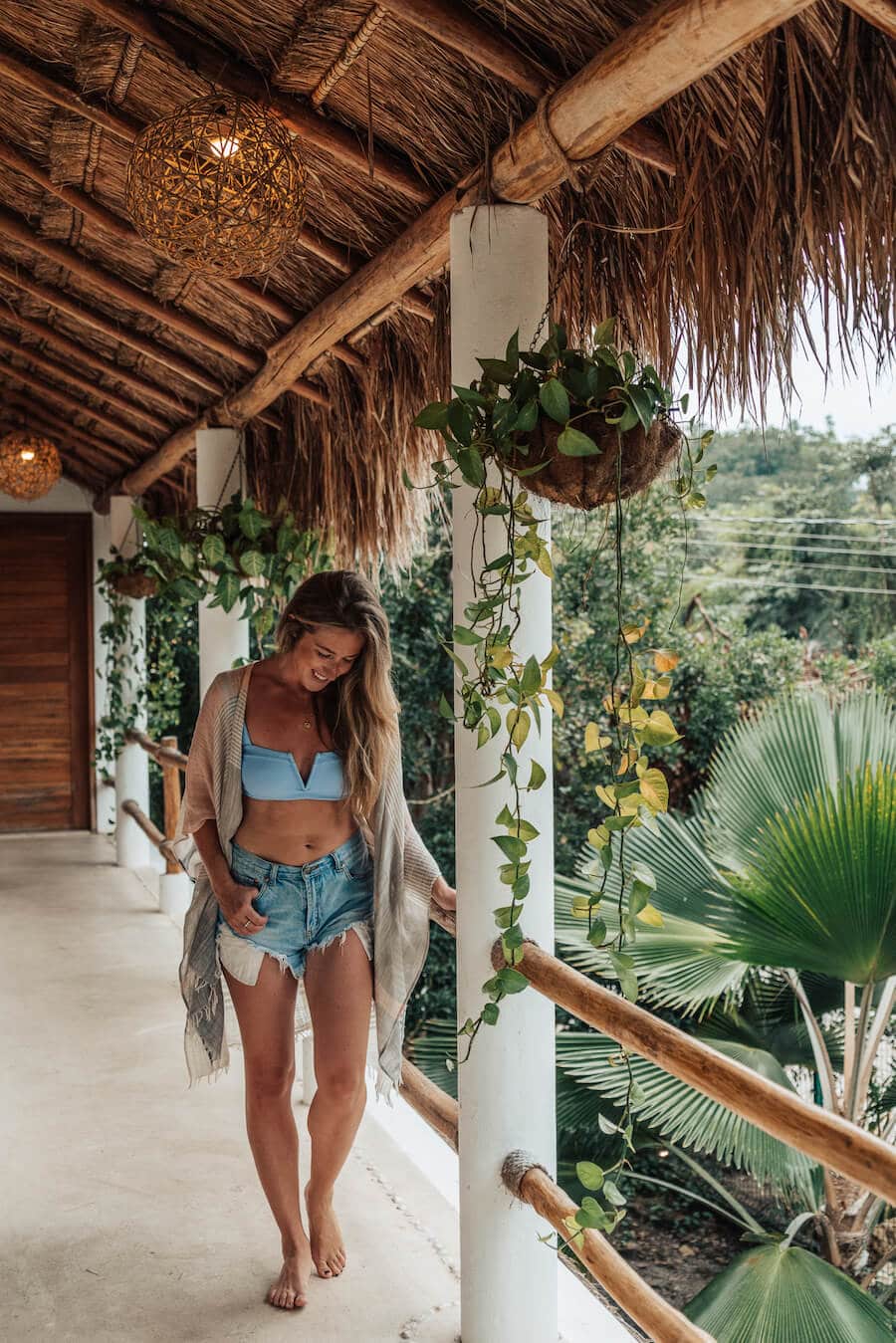 The main downside is that it isn't directly on the lagoon, so if that's a non-negotiable for you, check out the other options below!
Habitas Bacalar
If you're familiar with accommodations in Tulum, then you know Habitas is a very popular choice along Tulum Beach.
They recently expanded their offering to Bacalar, making it now one of the most luxurious hotel offerings along Bacalar Lagoon, with gorgeous high-end bungalows.
Mia Bacalar Luxury Resort & Spa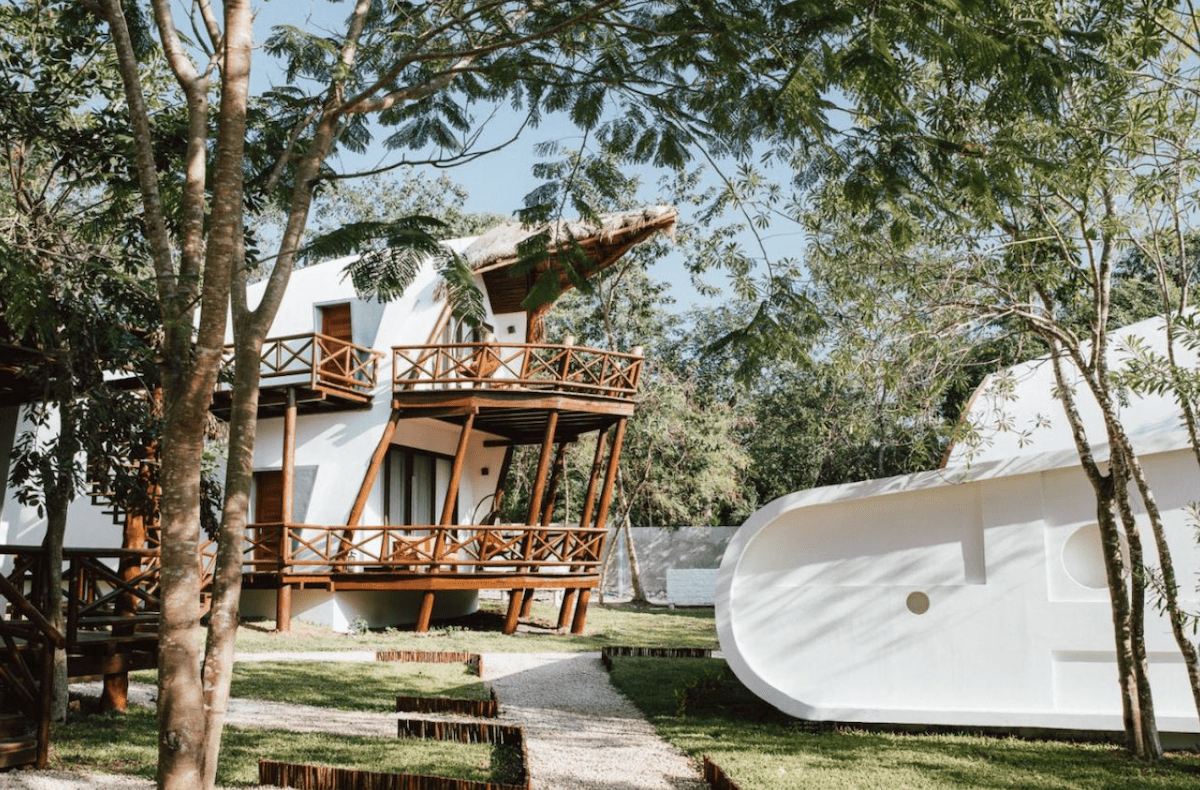 This is one of the more luxurious and beautiful hotels in Bacalar, situated right on the lake. It has interesting architecture, kayaks and paddle boards for rent, and an outdoor swimming pool.
If high-end amenities are a must, then this should definitely be a place you consider.
Centro Holistico Akalki
This eco-hotel is a magical gem, with overwater bungalows and a private deck with access to the lagoon. The vibe is super intimate with only 11 guest rooms on property and a location situated a bit further from the main downtown.
Casa Bakal
If you're into Tulum vibes, then Casa Bakal is probably the closest thing you'll get in Bacalar. The guest rooms are bungalow style with rustic bohemian decor and the outdoor pool features gorgeous views looking out onto the lagoon.
---
Read More Mexico Posts
---
Where to Eat in Bacalar
The amazing food in Bacalar was honestly the biggest surprise of this trip. Everywhere we ate was so, so good.
Usually Tulum gets all the hype for having great restaurants, but we honestly felt like we had better meals in Bacalar but for way less.
You won't get as much of the "vibe" as Tulum, but it's well worth visiting here for the food alone.
Nixtamal
This was our favorite spot in Bacalar by far. We stumbled upon it after showing up to a recommended Yelp restaurant that was closed. The chef was outside and instead pointed us to Nixtamal and we're so glad he did.
The food was honestly Michelin-level taste and presentation at prices we couldn't believe. I think we shared a whole lobster, multiple apps and severals rounds of cocktails (don't miss the mojitos) for around $50 each.
The atmosphere was also a 10/10.
Such a cute open-air spot for a morning pick-me-up. We enjoyed their coffee, french toast and chia pudding.
I have mixed feelings about this place, but hear me out. While the vibe is super cute, the smoothies were delicious, and the staff were sweet, the service was SO, SO SLOW.
Like beyond. We could have caught them on an off day though, so I'm still recommending it here. I just wouldn't come here when you're rushing off to your next destination.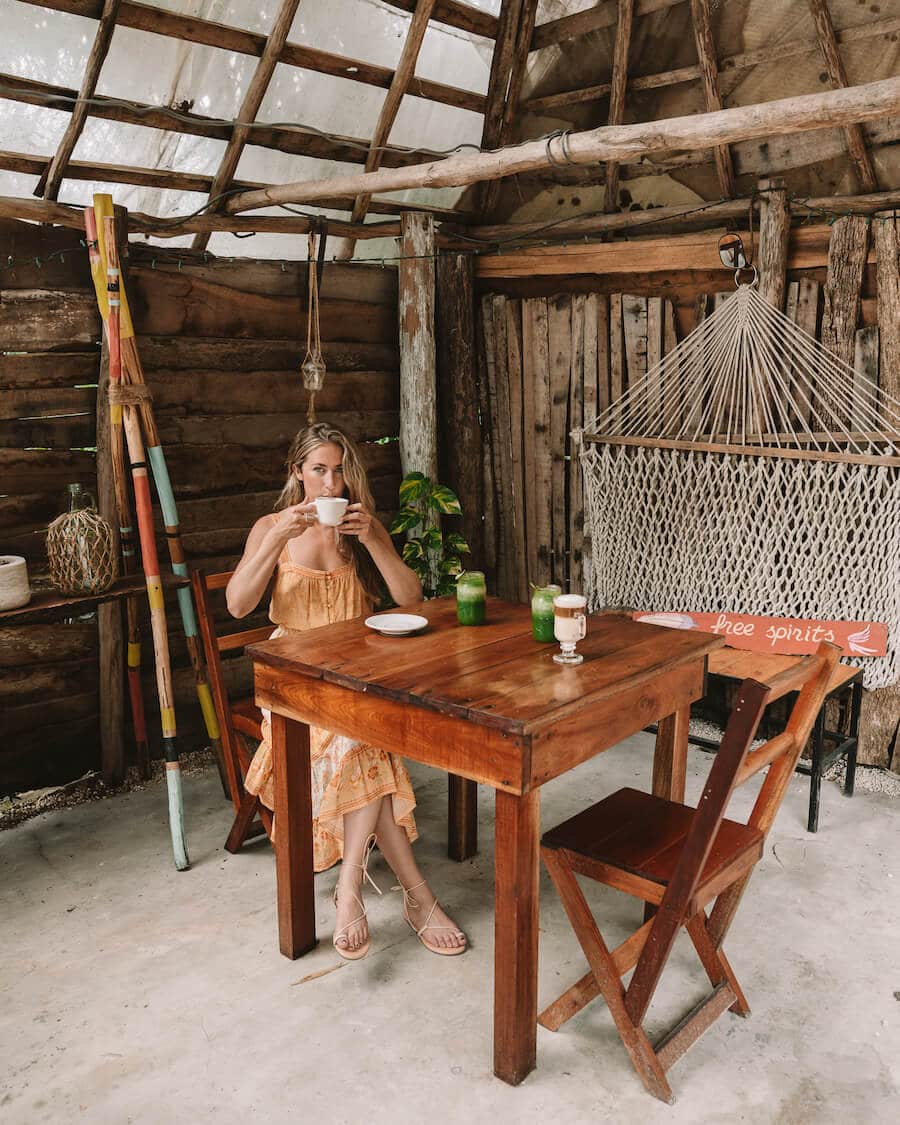 This is a spacious place right in the heart of the town with a lush back patio full of jungle vibes. We loved their matcha latte, juices and healthy bites! It's worth coming here twice!
Bote de Leche
We had an amazing dinner here and enjoyed live music while we ate. I had the ahi tuna and garlic bread which were both delicious.
My favorite part of dining here though was the creative surprise at the end of our meal–the servers let you roll a set of dice and if yours add up to over 15, they give you a free tequila shot!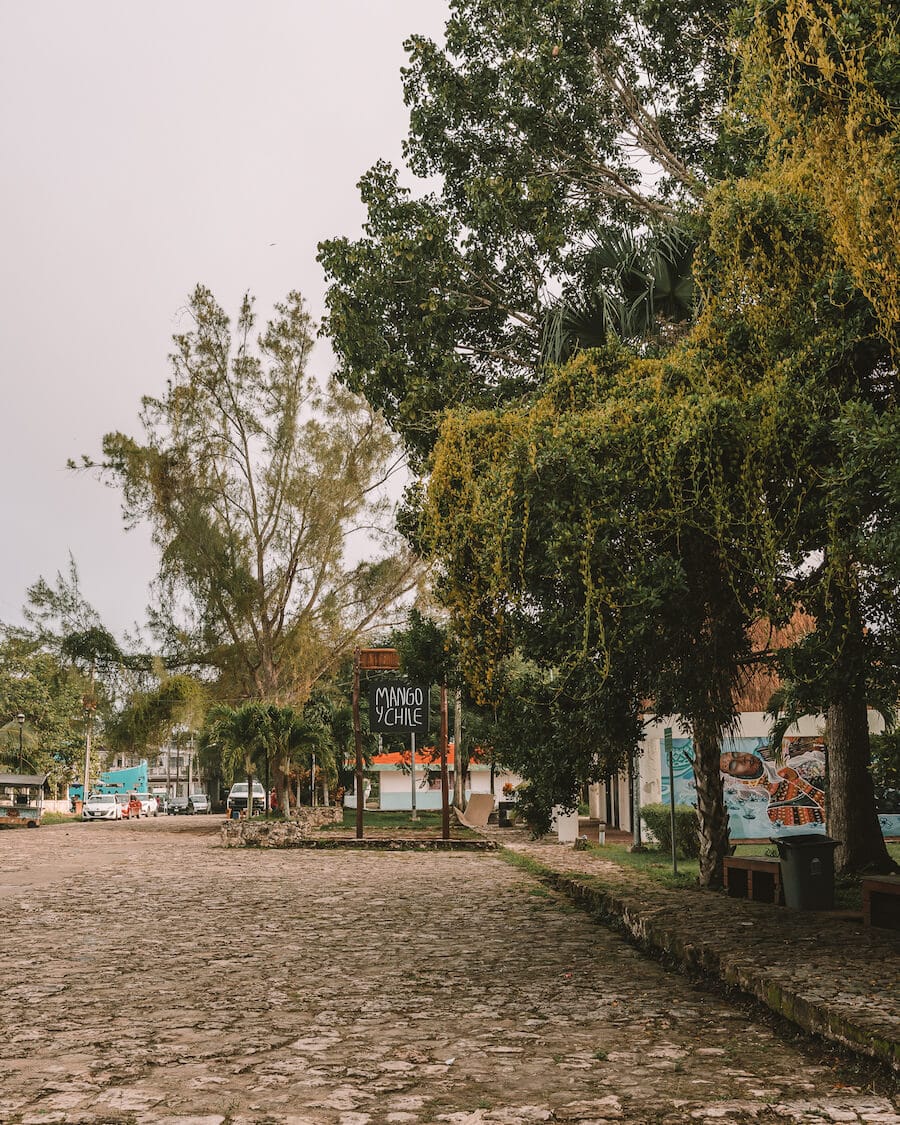 Mango y Chile
One of the few vegan options in Bacalar, Mango y Chile is a favorite for plant-based comfort food. They pride themselves on their delicious smoothies, burgers and tacos that are all made with vegan ingredients.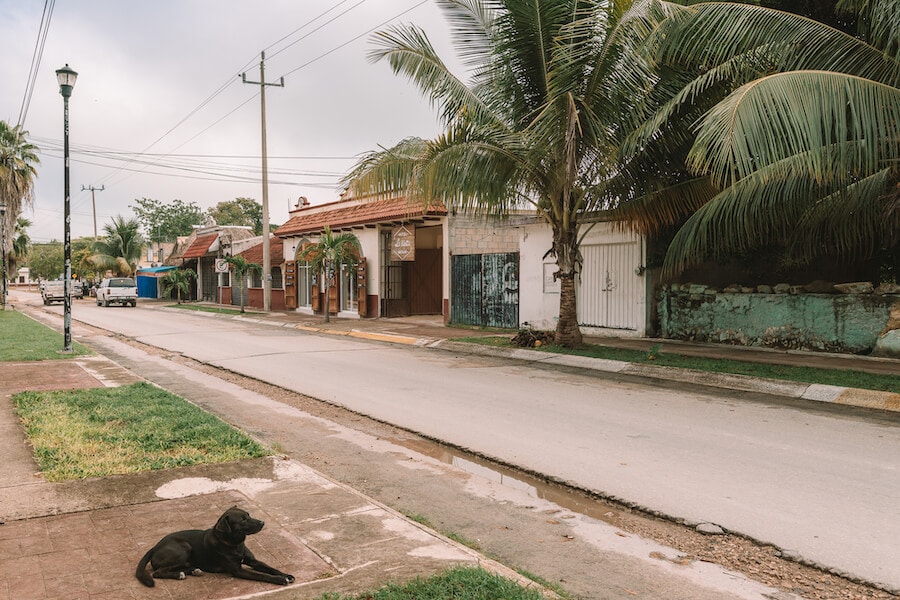 Is Bacalar Safe to Visit?
So if you've made it this far in the Bacalar guide, you might be wondering—is Bacalar even safe to visit? And the answer is yes.
Bacalar feels really safe. It's a quiet little town, catering to mainly local Mexican tourists and doesn't have the same hustle as larger resort-type places.
For that reason, it hasn't become a hotspot for opportunists and thieves targeting unsuspecting tourists.
As always, use common sense to keep you and your belongings safe. Don't walk alone at night, don't leave your belongings unattended in a public place, and don't flash expensive jewelry or cash around other people.
If you follow these basic safety precautions and buy travel insurance before you go, you'll be fine.
So, have I convinced you that Bacalar Lagoon needs to be on your bucket list yet? I hope so!
---
Planning a trip right now? Don't miss my go-to websites for booking everything from flights and tours, to accommodation and more:
---