You want to know what makes me happy? Things like sunshine. Palm trees swaying in the warm breeze. Sipping a coconut straight from the source. Pretty much anything that looks, tastes, and smells tropical.
Wait, you thought this post was about visiting Banff and Jasper in winter? Ok hold on, I'm getting there.
Truth be told, if I had the choice originally, I probably wouldn't have planned to visit the region of Alberta in November. A summer adventure to visit the beautiful lakes of the province would have sufficed just fine.
But alas, two of my good friends were getting married in Canmore mid-month, and so I did what I always do when such life obligations present themselves — I turn it into a full-fledged adventure!
And I'm so glad I did.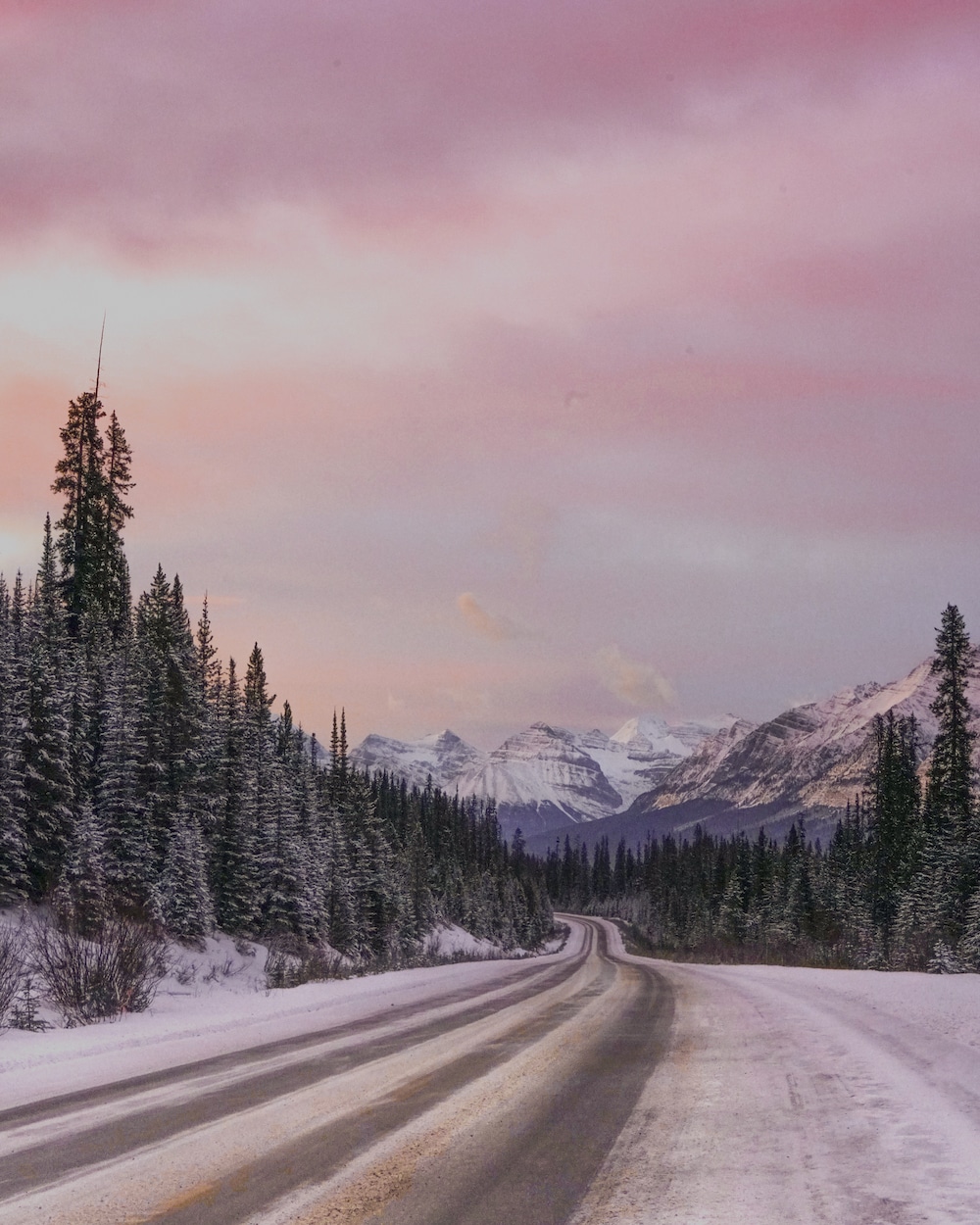 After exploring the area for six days in abominable temperatures, I can still say with confidence that visiting the Alberta region in winter — specifically Banff and Jasper — should be on everyone's bucket lists.
So put aside your fears of literally turning into an icicle for a second and humor me, because once you see the photos below I think you'll be convinced that there's plenty of magic to be found here this time of year.
Ready to start planning? Awesome. Read on for all my tips on navigating a winter adventure in Banff and Jasper.
Don't have time to read the whole post? This tour takes you on the ultimate sightseeing adventure of Banff and its local wildlife.

➡️Enjoy round-trip transportation
➡️Visit famous and historical landmarks
➡️ Observe and learn more about the local animals

Book this Top-Rated Tour Now!

How To Get There
To access Banff and Jasper, you'll need to fly into Calgary airport (YYC) and rent a car to drive the 1 1/2 hours west to the town of Canmore or Banff, depending on where you'll be based.
Canmore has its own charm but is situated closer to Calgary, about 30 minutes outside the town of Banff, so it's helpful to keep driving times in mind when choosing your accommodation.
Booking Flights
If you're looking for cheap flights round-trip, your best options overall across the United States will be on Westjet and Air Canada, especially from East Coast cities like Boston, NYC, Atlanta, Washington DC and Miami.
The good news with visiting this area during the winter is that flights are typically cheaper this time of year, especially in January and February since summer is a more popular time to visit.
From Boston: expect flights in the $200-300s on Westjet and Air Canada in winter.
From NYC: $200-300s on Westjet and Air Canada in winter (some American and Delta options depending on dates).
From Atlanta: Pretty cheap flights in the high $200s to be found year-round.
From San Francisco: A lot of options on Alaska Airlines under $400 roundtrip. Also plenty of options on Air Canada.
From Chicago: It's surprisingly more expensive to fly from Chicago than many other major U.S. cities (mostly in the $400s round trip), so start flight searching on the earlier side if you're flying out of this city.
From Los Angeles: LA's cheapest and most convenient flight options are typically on United and Westjet (some also with Alaska and Air Canada).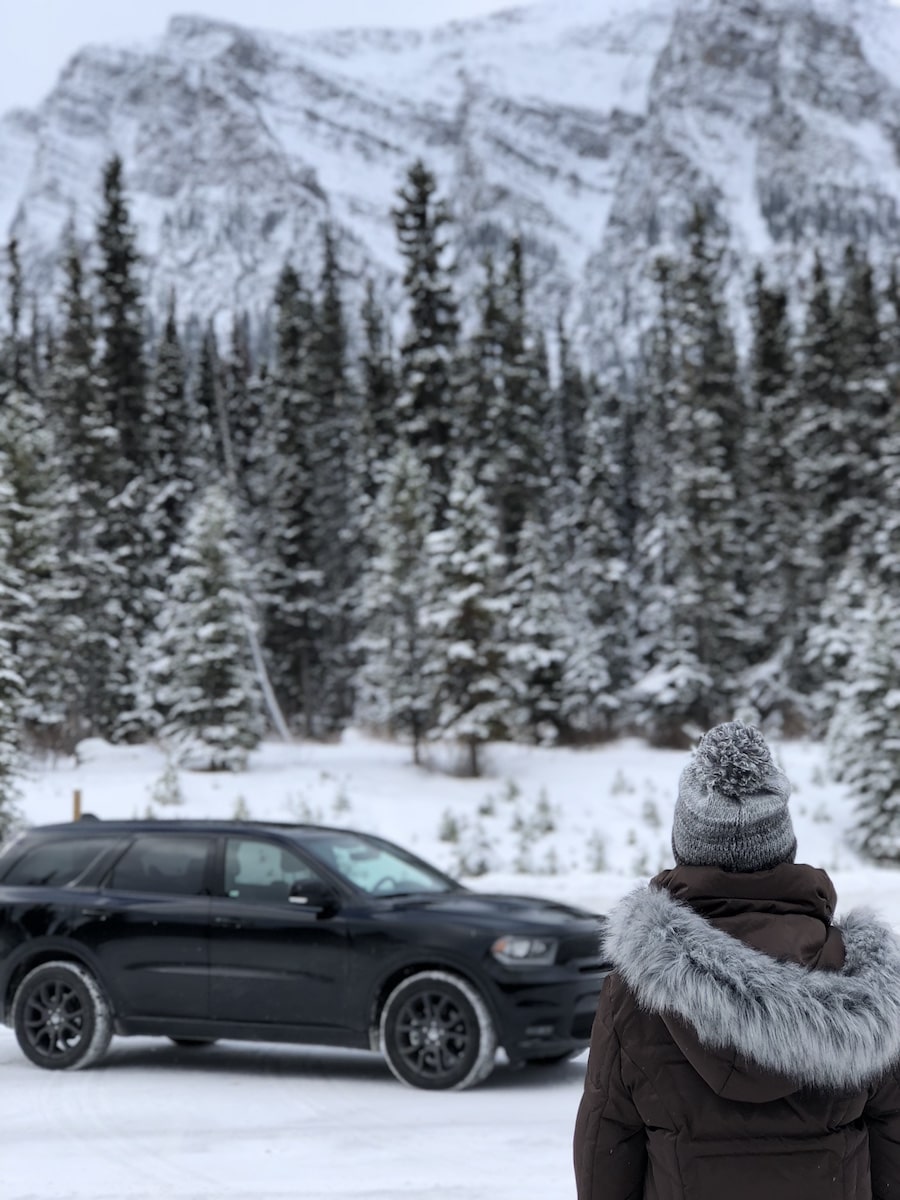 Getting Around
If you don't want to spend your life savings on taxis, then you'll definitely want to rent your own car during your trip to Alberta.
There are plenty of car rental companies at the Calgary airport, but I'd recommend calling ahead to reserve as you'll want to make sure you're not left with the last pick of vehicles that may be less suited for winter weather conditions.
We ended up going with a Dodge Durango through Alamo which was perfect for surviving the snowy roads.
Whatever you decide on just make sure you're covered on the following, ESPECIALLY if you plan on driving along the Icefields Parkway which is much less maintained than other roads in the area.
Working windshield wipers
Antifreeze
Ice scraper/brush
Heated seats are ideal!
4 wheel drive
Winter tires or chains (this is required by law on the Icefields Parkway and Hwy #93S during the winter, typically between November 1 – March 31)
A Few Notes About the Icefields Parkway:
Depending on weather conditions, the Icefields Parkway (the only way to access Jasper National Park) can be closed for several days at a time due to ice storms, avalanches etc. For this reason, it's important to check weather conditions so you don't end up wasting time during your visit.
Gas stations in certain areas of Alberta (especially on the Icefields Parkway) are few and far between. Always make sure you're fueled up before leaving the busier parts of town.
Phone service on the Icefields Parkway is pretty sparse and during winter, it is likely that you will be one of few cars on the road the entire drive, so make sure you have extra layers and provisions on hand in the event of a breakdown or any other emergencies.
There are bathrooms at various stops along way on Icefields Parkway, just be prepared to freeze your buns off (literally).
There are no restaurants so bring your own food!
It's important to always have travel insurance for every trip, but it's even more important for adventure-filled locations like Alberta. I use World Nomads every time I need travel insurance and have been super happy with them for years!

➡️ Get a Quote Here!
When To Plan Your Trip
We visited in mid November and I would say this is an ideal time to go if you want to experience the beauty of winter in Banff without completely freezing.
However, I will say that November is a shoulder season for the area, so depending on the amount of snowfall the region sees that particular year, certain activities may or may not be available yet.
For example, we really wanted to do one of the dog sledding tours but there wasn't enough snow at that point for all of the companies to groom the trails.
This didn't bother us too much, because we were mostly there to enjoy the beauty of the parks, hike, visit waterfalls and enjoy town.
However, if your trip is centered around snowy activities like skiiing or snowshoeing, then you might want to wait until December or January when the height of winter is underway.
Where To Stay
If basing yourself in Canmore, Stoneridge Mountain Resort is a beautiful and cozy place to call home after a long day out in the cold. All of the rooms are condo-style with either one, two or three bedrooms each, and the property has a steamy hot tub and gym on-site, and not to mention beautiful views of the Canadian Rockies!
For all the cabin goals, head to Buffalo Mountain Lodge which is about a 5 minute drive from the heart of Banff but feels remote in all the best ways. Bonus: Their on-site restaurant is SO delicious and their bathroom floors are heated, just saying.
For more modern accommodations, we loved the Juniper Hotel which has views to die for. It literally looked like our window was an ever-changing painting each day! If you decide to stay here, don't miss their brunch (avo toast anyone?) which is one of the best in town and again — has the views to match.
Recommended Length Of Stay
I would recommend visiting for no less than 4-5 days, especially if you plan on seeing both Banff and Jasper National Parks. There is a lot of driving between the different lakes and waterfalls, and we found that we couldn't always fit as much into one day as we had anticipated.
Especially during winter, give yourself extra time to explore as driving conditions and closures can slow your itinerary down. Also make sure to factor in a bit more time if you're staying in Canmore versus Banff.
Must See Spots In Banff
Lake Louise
Probably the most famous of all of the area's lakes, Lake Louise is beautiful but definitely not the jewel of Banff. It just happens to be very conveniently situated to town and thus attracts quite the crowds!
For this reason, I'd recommend going as early as you can muster if you don't want to share your views with hundreds of other tourists. After a walk on the frozen lake, pop in to the Fairmont Chateau Lake Louise for some hot cocoa to warm up your numbing limbs.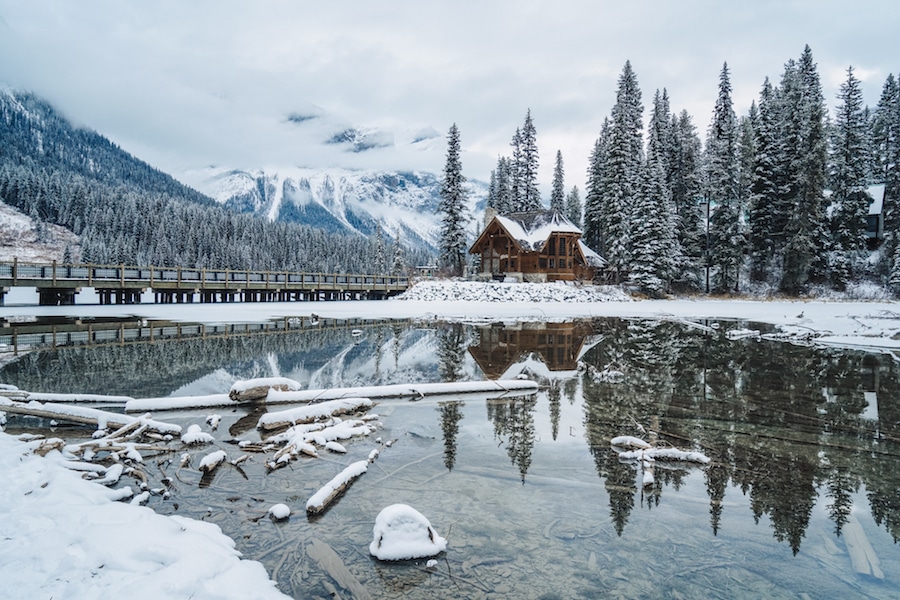 Emerald Lake
This spot is actually based in Yoho National Park which is located just outside of Banff. It takes about 45 minutes to drive to Emerald Lake from Lake Louise and boy, was the drive worth it.
This was one of the only lakes that wasn't already frozen over when we visited, and the reflections in the water were absolutely killer! Bonus – there was barely anyone there to share the views with us! Definitely don't miss this spot.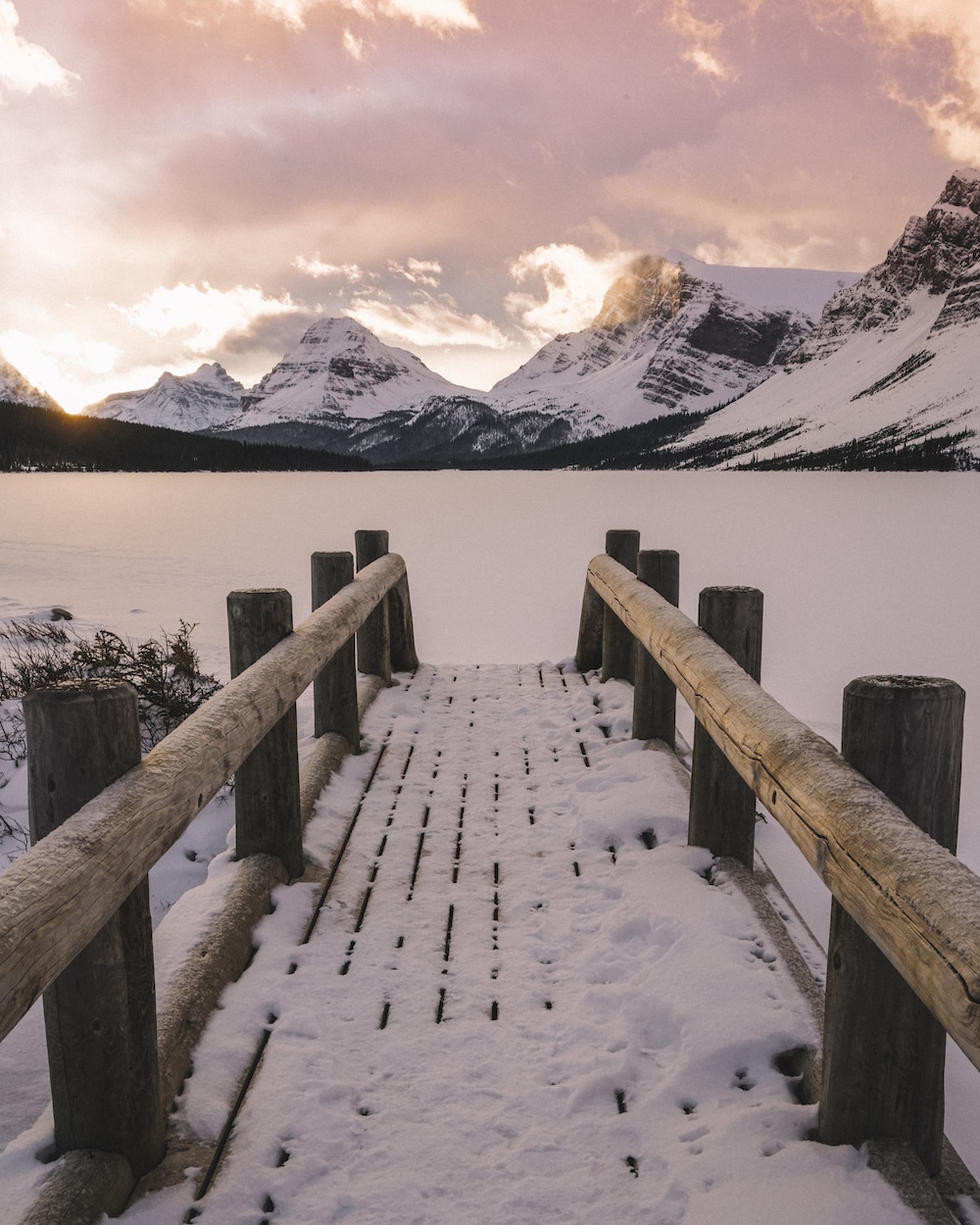 Bow Lake
We didn't originally have intentions of visiting Bow Lake, but it's right on the way to Peyto Lake and we happened to be passing by right when the light was gorgeous at sunrise.
A quick pull off and trudge through the snow to this little wooden bridge, and we got some epic photos to show for it! If you have time, it's worth a quick visit.
Peyto Lake
You'll have to work a little harder to get up to the viewpoint for Peyto Lake, but the views are worth it. Try to check the weather conditions before you go and visit on a clear day when the sky is blue for better photos — as you can see, ours were pretty gray.
To visit, take the exit off of the Icefields Parkway to Bow Summit (we were a little confused by this at first), and then hike about 10 minutes from the parking lot up to the viewpoint.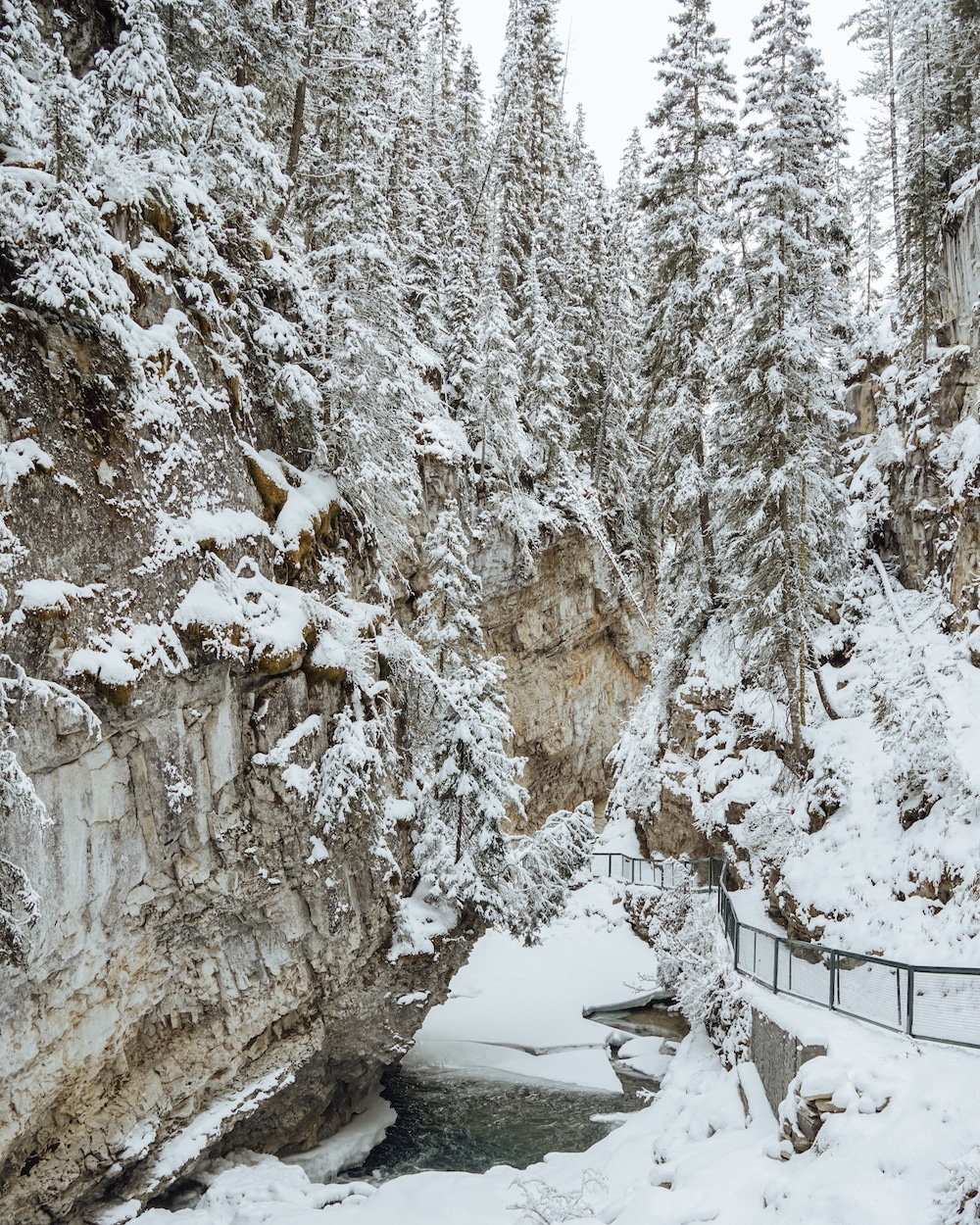 Johnston Canyon
This is one spot in Banff that I imagine to be even more beautiful in the winter than in summer. The snowy canyon walk is pure magic, and I highly recommend doing it on a sunny day when the light rays will shine through the snowy pines.
This hike is super easy and only made a bit harder in winter due to some ice patches on the trail. There are railings throughout the entire hike though, which you can easily grasp onto so you don't slip.
People will recommend that you wear snow cleats for this hike, but if you have winter boots with good traction you should be fine. The distance to the Lower Falls is about 30 minutes walk one way and to the Upper Falls, one hour.
➡️Keep an eye out for local wildlife
➡️Learn about the history and geology of the area 
➡️Enjoy a cup of hot chocolate while taking in the views
Sulphur Mountain
An absolute must during your visit to Banff, a 10-minute gondola will take you to the top of Sulphur Mountain where a long boardwalk provides 360-degree killer views of the town of Banff and beyond.
I definitely recommend walking the entire length of the boardwalk to the end viewpoint, but try to go mid-day when the sun is shining as it can get quite brisk (to put it mildly)!
Banff Upper Hot Springs
In reality, these hot springs are really just a glorified hot tub overlooking the mountains, but hey — I'll take a glorified hot tub in the mountains any day of the week.
Especially on a day when I'm freezing my butt off (which was every day in Banff)! Go for a dip right when it opens to avoid the crowds (you can check hot springs hours here).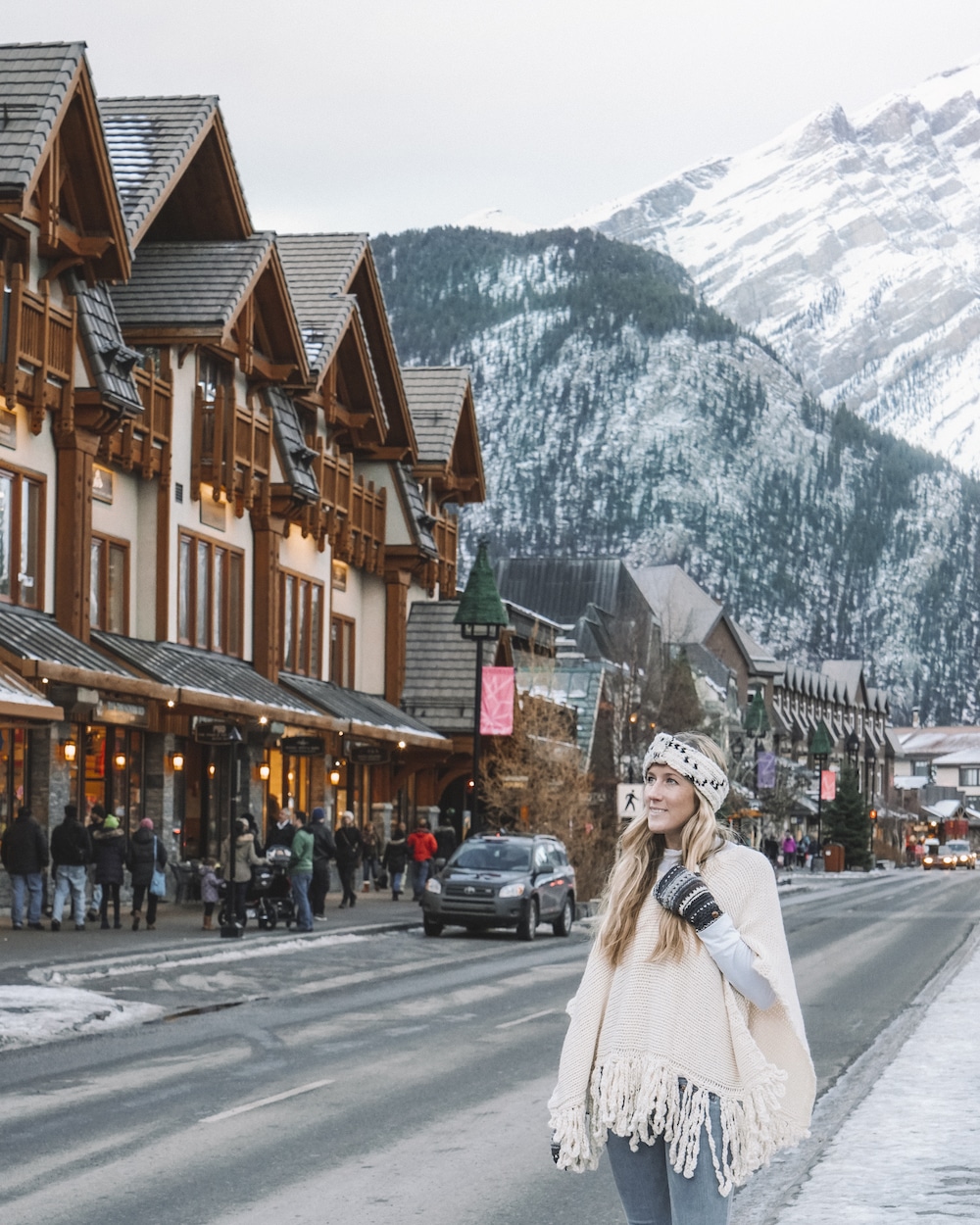 The Town of Banff
As all mountain towns seem to be, the downtown part of Banff is both annoyingly touristy and full of epic charm. It's walkable and relatively small, which means you can easily park, walk around for a few hours and get a feel for what downtown has to offer.
The benefit of the town catering to tourists is that you'll find everything you need here should you forget a scarf or mittens back home.
The Must See Spots In Jasper National Park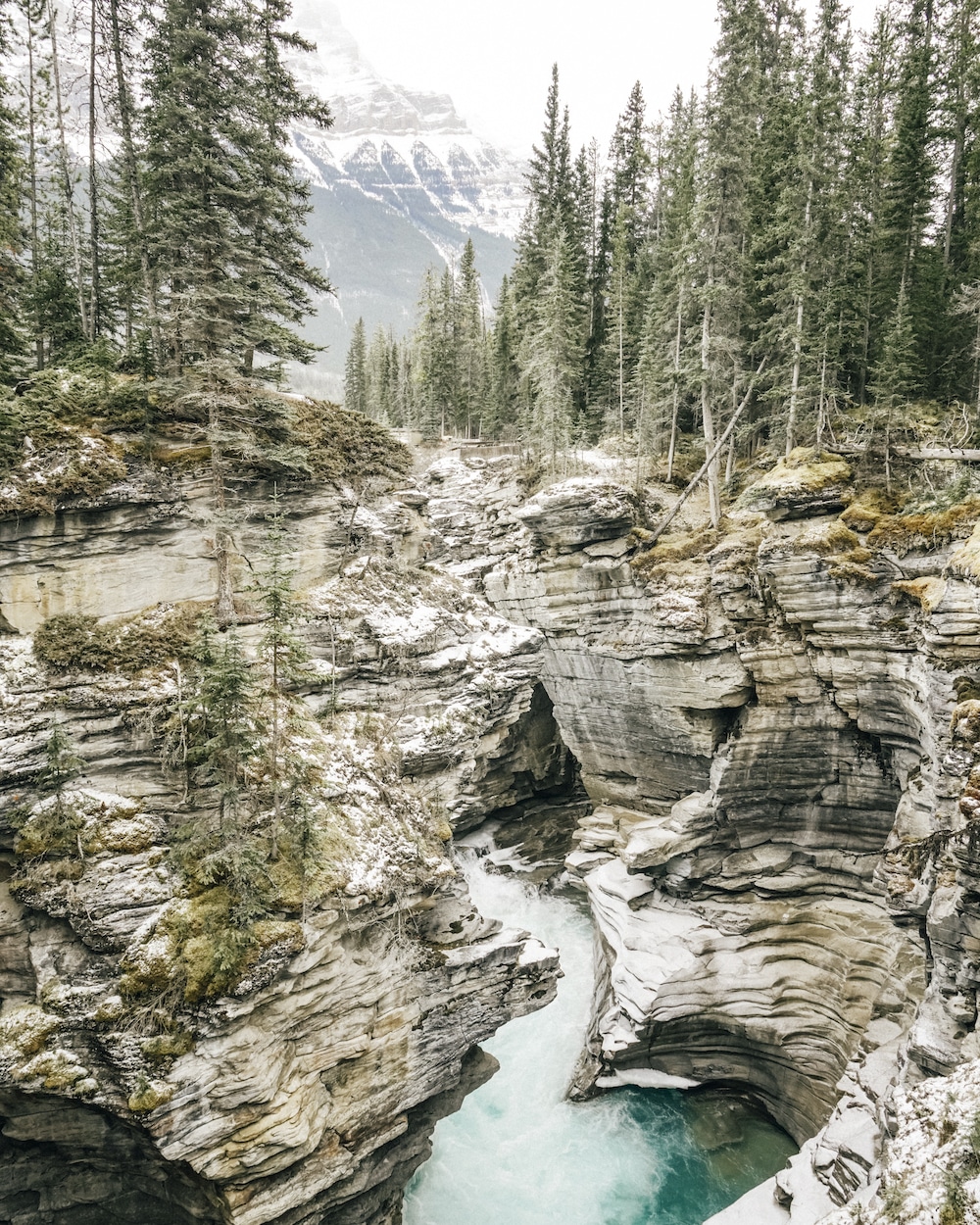 Athabasca Falls
In November, most of the emerald water you see in summer photos of Alberta was long frozen over, but Athabasca was one of the few places where we still got to experience it.
The turnoff for Athabasca is just a few minutes from the main road and the waterfall is easily accessible from the parking lot. Just make sure to go beyond the first viewpoint to get more stellar photos. A picture-perfect backdrop!
Pyramid Lake
This was probably the most inconvenient spot to get to as it sits at the very tip of Jasper National Park, past the actual town itself, but it just looked so charming we had to make the trek. If you plan on staying a night up in Jasper then this is super doable and just a few mile drive out of town.
Getting Your Parks Pass
You may have heard that in honor of Canada's 150th anniversary in 2017, all park passes were free for the entire year. This was a great way to encourage people to visit the beautiful parks that Canada has to offer.
However, everyone will have to pay for access starting January 1, 2018.
Discovery Pass vs Day Pass
In order to visit the parks, your two options are to purchase a Day Pass which gives you access to Banff, Jasper, Yoho and several more parks for $19.60 CAD, or you can purchase an annual Discovery Pass ($67.70 CAD for one adult or $136.40 CAD for families) that will be valid for an entire year.
Young adults 17 and under still get free access.
Depending on your itinerary, the Discovery Pass can end up being the more affordable option if you plan on visiting the parks for multiple days in a row. More information on purchasing passes can be found at the Parks Canada website.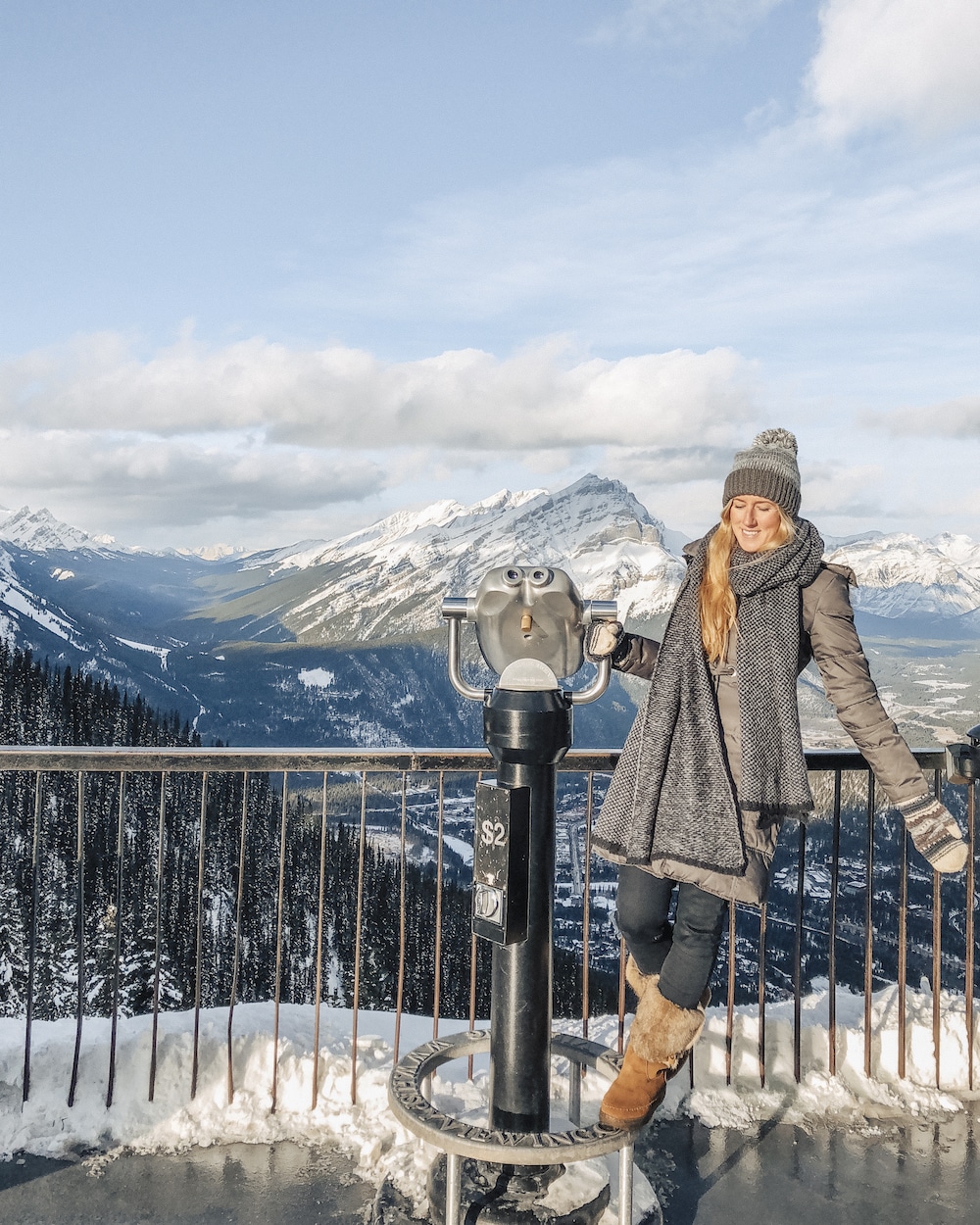 What To Pack
Some of what to pack will depend on what activities you plan to partake in, but below are the essentials if you want to do the #1 most important thing to help you enjoy your trip – stay warm!
Wool socks (multiple pairs and thicknesses to layer)
Insulated mittens
Gloves if you take a lot of photos (I recommended buying a brand that has removable fingers so you don't have to take off your entire gloves to shoot)
Hand warmers
Waterproof boots (ideally rated for -30C. or lower)
Winter hiking boots
Long underwear
Warm sweaters
Winter hat
Scarves
Warm pants as well as leggings to go underneath
Long sleeve shirts
Warm winter jacket with hood (waterproof recommended)
Swimsuit for hot springs
Sunglasses
Windproof jacket
Chapstick
Hand lotion
Tissue packs for runny noses from the cold!
Camera gear
Winter Activities To Enjoy In Alberta
Think there's nothing to do in Alberta in the winter? Think again. Here is a list of some of the most popular activities in the area during the snowy season!
Snowshoeing
Skiing
Dog sledding
Ice skating
Hiking with snow cleats
Ice climbing
Photography
Hot springs hopping
Cross-country skiing
Waterfall watching
Snowmobiling
Ice Fishing
Heli tours over the Canadian Rockies
Eating – this is definitely considered an activity in my book 😉
Where To Eat & Drink
This is probably the best vegetarian restaurant in town, but we heard from several locals that it's so good that non-veggies love the spot too! Don't miss the Mac N Squeeze or King Kong Noodles.
110, 211 Bear Street, Banff, AB T1L 1A8, Canada
Healthy and delicious lunch bowls paired with an endless tea selection make this Canmore spot a go-to for locals and tourists alike. The line was literally out the door when we went here! Highly recommend the Yoga Bowl.
1001 6 Ave, Canmore, AB T1W 3L8, Canada
If you don't stay at this hotel, make sure you at least visit for a weekend brunch with million dollar views (as pictured above). And then go back for the daily après ski menu.
1 Juniper Way, Banff, AB T1L 1E1, Canada
With two locations in the downtown area, Wild Flour is the cutest mini chain in town. Stop in to warm up with tea or a steaming cup of coffee or take their pre-made bowls to go which I found to be quite delicious.
211 Bear St #101, Banff, AB T1L, Canada
Good 'ole mountain pub food at its best. The Iron Goat is a great pit stop to refuel at on your way into town after a long travel day flying to Calgary.
703 Benchlands Trail, Canmore, AB T1W 3G9, Canada
One of my favorite dinners of the trip was at our accommodation, Buffalo Mountain Lodge, where the menu focused on Rocky Mountain cuisine.
The vibes here are a bit more upscale but still cozy with rustic cabin vibes by the fire. Ask about their award-winning wine selection.
700 Tunnel Mountain Rd, Banff, AB T1L, Canada
Although I never gave these a try during our visit to Banff, I heard from several sources (and witnessed from the line out the door) that BeaverTails are a thing. This pastry has become an iconic sweet treat all over Canada, so if a sugar craving strikes while in Banff, give it a try.
120 Banff Ave, Banff, AB T1L 1E7, Canada
Located in the town of Jasper, this cute little cafe is great for picking up sandwiches and in my case – hot chocolate to stay warm!
610 Connaught Dr, Jasper, AB T0E 1E0, Canada
Other Helpful Resources
The Banff Lake Louise site has tons of resources for planning your trip with information on activities, restaurants, seasonal events and more.
More helpful information and ideas on planning your trip, plus tour option listings for activities like ice skating, snowmobiling, skiing and more.
In winter more than ever, it's important to stay on top of weather conditions so you don't put yourself in high risk areas prone to avalanches or driving accidents. Any unpredictable closures should be listed here.
Also note that the road to Moraine Lake (one of the top summer destinations in Banff) typically closes every October for the season and turns into a cross-country skiing only trail.
Popular summer attractions like the Glacier Skywalk and Columbia Icefields tour onto the Athabasca Glacier are closed during the winter season and reopen in spring.
Have a question about visiting Banff and Jasper in winter or have a tip I forgot? Leave me a note in the comments below!
***
This post was created in partnership with Banff Lake Louise Tourism. Live Like It's the Weekend was graciously invited as a guest of Buffalo Mountain Lodge, Stoneridge Mountain Resort and the Juniper Hotel, but as always, all opinions are my own and I would never promote anything I don't freaking love.
---
Planning a trip right now? Don't miss my go-to websites for booking everything from flights and tours, to accommodation and more:
---