This summer I had the pleasure of visiting the incredible seaside country of Portugal and I'm still gushing about the lovely gems I explored during my trip. Portugal is packed with chic cafes, cobblestone streets and loaded with natural wonders — especially along the coast. One of the highlights from my time in Portugal was spending an afternoon exploring the natural beauty of the Benagil Cave and its surrounding beaches. I'm willing to bet you've already seen a photo or two of this natural wonder on Instagram, because let's face it — this Algarve cave is incredibly awe-inspiring and photogenic!
The Benagil Cave is found in the Algarve — Portugal's southern region known for dramatic seaside cliffs and drool-worthy sandy beaches. Basically, the epitome of perfect European summer vibes. And while there are a ton of beautiful Algarve caves, the Benagil sea cave in particular is one of the most visited spots in the region and one you have to check off your bucket list while visiting Portugal.
After you see its beauty for yourself, you'll understand why. A wide open hole at the top of the expansive sea cave reveals the bright blue sky from above and a sandy beach below with two different points of entry on the sides. Continue reading for the complete guide on how to visit the Benagil Cave for yourself, including how to get there, the best time to visit and much more!
The Ultimate Guide to Visiting the Benagil Cave in Portugal
Where is the Benagil Cave located?
From Lagos, one of the major towns in the Algarve, the drive is about 40 minutes to Praia de Benagil (Benagil Beach) and only a 10-15 minute drive from the town of Lagoa. Benagil itself is a sleepy fishing village, with the Benagil Cave being the main attraction. There's one main road in Benagil with a few restaurants and cafes to stop in, so don't expect to spend too much time in Benagil itself.
The Benagil Cave is located around the corner from Benagil Beach, just 200 meters to the east of this popular white sandy beach. Plan to spend some time on the beach if you can as the cliffs on either side block the wind and make it a great spot to catch some sun!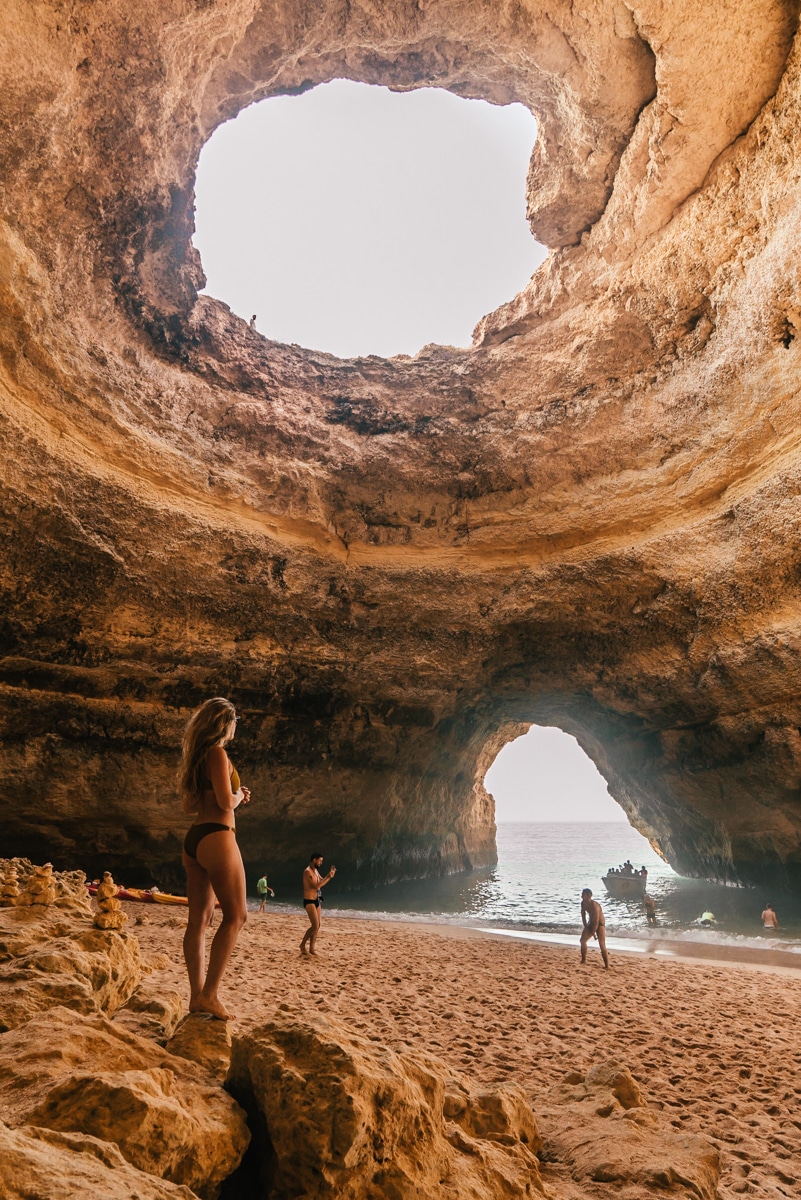 Choosing How to Get to the Benagil Cave
There are quite a few options of ways to experience the Benagil Cave, which made planning my trip a bit confusing at first when I was researching how to visit this gram-worthy spot. This was a major incentive for writing this post — so that you don't have the same unanswered questions as I did!
I've broken down the different options below with their accompanying pros and cons, so choose whichever suits your adventure style and budget. The inside of the cave is only accessible by sea, so leave your walking shoes behind for this one as they won't be any help here.
Organized Tour or Self-Led? 
First, you need to decide if you want to take an organized Benagil Cave tour or rent equipment to get there yourself. There are pros and cons to both and this really depends on your comfort level and preferred method of exploring.
One of the pros of taking a tour to the caves is having the mode of transportation and timing organized by someone else. Other pros include not having to haggle for the price of equipment or worry about your safety. Tours offer a set price for their services. It's also helpful to have a local guide who can answer questions about the caves while providing information about the surrounding village.
A con of organized tours is being on a restricted timeline. Some people prefer more freedom to explore and experience the cave at their own leisure instead of having strict timeframes of meeting and ending times. To be honest, most tours of Portugal's famous sea caves don't dilly dally inside the cave for long, so if you love taking things at your own pace, maybe an organized tour isn't for you.
Now that we've gotten the pros and cons about organized tours out of the way, let's talk about the different ways you can actually get to the Benagil Caves?
PS – Need to book a hotel nearby? Check out these local spots that are in easy striking distance to the caves:
Benagil Cave Boat Tours 
The most popular way to see the Benagil Caves amongst tourists is by boat. Organized boat tours sometimes involve other sea caves, seaside rock formations and possible dolphin sightings at certain times of year.
Boat tours are ideal for anyone who may not be in love with the idea of being in the water, anyone traveling with children or those with physical restrictions. Read the itinerary carefully if taking an Algarve sea cave tour, as some companies simply show you the outside of the cave and don't actually go inside (the smaller the boat, the better).
It's also worth noting that because of local restrictions, boat tours that do enter into the cave will not allow guests to get off the boat and onto the beach, so it limits your photography opportunities in the cave quite a bit.
How to Book a Boat Tour
You can pre-book a boat tour online, with your hotel or simply show up to Benagil Beach to book one same day, although in peak season know that wait times might be long for same day tours. Boat tour options are between a short boat trip (around 30 minutes) or a longer trip (between 1.5 and 3 hours) that may take you to visit up to 20 different sea caves along the Algarve coast.
During high season (summer) it is highly advised to book a boat in advance to guarantee a spot on the day that is ideal with your schedule, but know that due to changing weather conditions schedules may change. It's best to keep your itinerary a bit open in case dates need to change for the tour.
Along with the boats that leave straight from Benagil Beach (Taruga Benagil Tours is highly recommend on TripAdvisor), there are also plenty of other companies operating from nearby beaches including Armação de Pêra and Carvoeiro as well as further away in Lagos and Albufeira. You might pay a bit more to take a boat from a beach further away, but it may also save you the hassle of trying to find parking in the crowded and small village of Benagil, especially during peak season (parking is free, just hard to come by).
Boat Tour Safety
Boat tours watch the weather and tide tables closely and don't make entry into the caves unless it is completely safe for their guests. They will often provide life jackets as well, but call and ask to double check if you're concerned about safety. If you are hell bent on going inside the cave, it's best to keep in touch with your tour company to check in on weather conditions leading up to the day of your tour to ensure your boat will be able to go inside, not just look at the cave from outside the entrance.

Benagil Caves by Kayak or SUP Board
For water sports enthusiasts, the caves are very accessible by kayak and stand up paddleboard! I personally took a kayak tour and there are also Benagil Cave SUP tours available on Viator, which is one of my favorite sites to find good tours. Taking a kayak or SUP tour is a great way to experience the caves while having a professional ensure you stay safe during the adventure, but you can also rent equipment at the surrounding beaches and head out into the sea on your own voyage.
My Experience Taking a Kayak Tour 
My kayak tour with Experitour started at Carvoeiro beach and took around two hours to get there and back. We were able to stop inside the caves, get onto the beach to take photos and kayak around the coast as a tour guide leads the group. If it were up to me, I would have preferred to stay a little longer to take photos and felt slightly rushed, but if you're not super into photography, you would probably be fine with the timeframe we were given.
Exploring the Algarve coast by kayak or SUP is an incredible experience as you can go straight inside the beautiful sea caves and disembark at your leisure, unlike on the boat tours. There's something so freeing about kayaking down the Portuguese coast; it's a breathtaking experience that I won't be forgetting anytime soon. Plus, if you go this route you'll get a little arm workout in along the way! Just don't forget to bring water.
There is equipment for rent at Benagil Beach if you'd like to do a self-led kayak or SUP tour, but if you go for this option I recommend hitting the beach early so you can be the first to snag equipment and a spot in the caves with few people around.
Safety
If embarking on a self-led tour, it's SUPER important to watch the weather and tides to make sure you are visiting in good weather and when the tide is low. Wind and poor weather conditions can cause entry and exit into and from the cave extremely difficult — not to mention dangerous — so don't put yourself in that position. You can check the tide tables here.
Swimming to the Benagil Cave
This option is not highly suggested, but possible. For experienced swimmers and those looking to save a few euros, you can follow the coastline from Benagil Beach and into the caves that are about 200 meters away (approximately a 10 minute swim). This is not advisable because at times the water can be very rough, currents can be strong and the water is quite cold year round!
Another reason that swimming can be dangerous is that there are many boats going in and out of the Benagil Caves throughout the day and if you aren't visible to a boat captain that wouldn't be a good situation…I'll spare you the gory details. Swimmers have been known to get stuck in the caves overnight before due to rough waters and rising tides, so don't let that be you!
Safety if Swimming
If you have your heart set on swimming to the caves, make sure you go prepared. First thing's first: don't mess with mother nature. Check weather conditions before you make the swim to ensure that the currents and winds are low and tides are not high. Even boats won't go in bad weather conditions. You can check the tide tables here.
You'll also want to consider wearing a wetsuit as the water can be a bit cold year round, along with fins and mask. It's ideal to bring some sort of floatation device as well in case you get tired from battling the current. Be forewarned that the most trying part of the journey will be the actual entrance and exit into/out of the cave where the waves can get pretty rough, so mentally prepare to battle some waves! Overall, just be smart — I want you to experience the caves safely so you can continue to enjoy the beauty of Portugal in one piece.
Psst – Do you have travel insurance?
I never step on a plane without travel insurance these days because I know that spending a few extra dollars per day is well worth the peace of mind that I won't be out thousands if something goes wrong. It's especially important to get coverage when you plan on partaking in adventurous activities like swimming, kayaking or SUP'ing into potentially dangerous sea caves. You could hurt yourself or damage precious camera gear that I know you've worked hard to buy, so take a tip from me and invest in the safety of yourself and your gear with travel insurance. If you're not sure why you need it, you can read about how World Nomads travel insurance saved me $1,500 in a single trip, or just get a quick quote here in under on minute. Or get a quote below!
Benagil Cave by Walking or Driving
If water isn't your preferred method but you still want to witness the caves, it is possible to see the Benagil Cave from the above lookout hole, but unfortunately there's no way inside the caves from the top. If you're short on time, driving or walking to the above lookout is an option but not the best way to experience the sea cave itself as you miss out on the most awe-inspiring experience.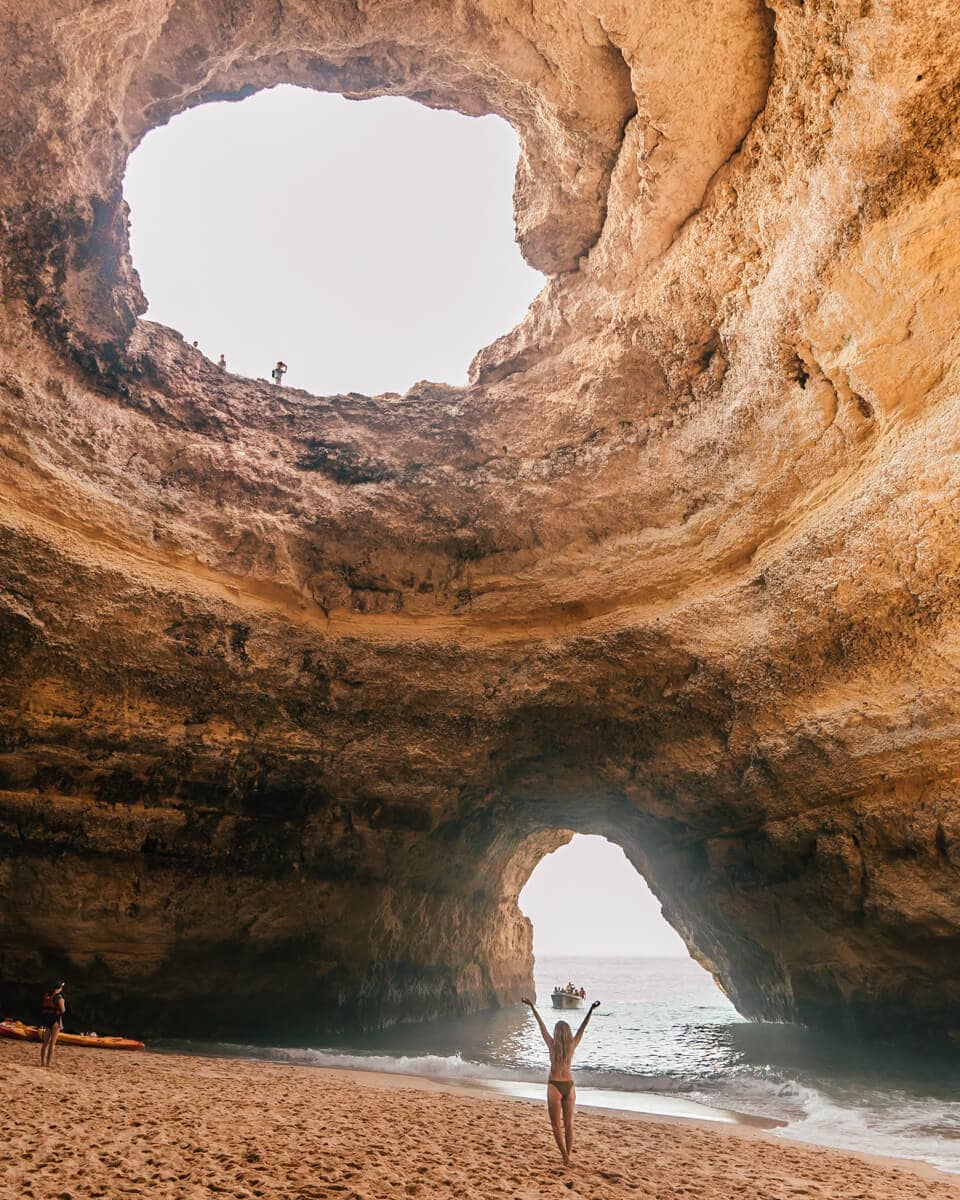 The Best Time of Year to Visit the Benagil Cave
July and August are the busiest months for travel in Portugal, so expect prices to be higher and the beaches a bit (or rather, a LOT) more crowded. If you are visiting during those times, I'd highly recommend booking tours in advance instead of waiting day-of.
If you want to beat the crowds and go during shoulder season, visit in June or the beginning of September through the beginning of October. During low season, November through March, boats will run less or not at all due to the rough conditions of the ocean, but inquire directly with the company you're interested in touring with. It is still possible to see the caves in winter.
The Best Time of Day to Visit the Benagil Cave
Once you've selected your dates for your epic Portugal adventure, you'll want to figure out the best time of day to actually visit the caves. Generally, the light is best through the opening in the cave between 10 AM and 4 PM, so if you're into photography that might be a good time slot for you.
While waking up at sunrise to paddle out to beat the crowds will help you avoid the mass groups of boat tours, unfortunately the light will not be best at this time of day for photos. So plan accordingly depending on your needs!
As with most tourist destinations, if you want to beat the crowds, try to get up early. Take the earlier boat tour option or head to the beach to rent your own equipment and try to witness the quiet caves before everyone else starts their day.
How Much Does it Cost to Visit the Benagil Cave?
Although the prices are dependent on which season you visit, the expected price range for visiting the Benagil Caves ranges from about $20 to $60 USD.
Renting a kayak from the nearby beaches for about one hour will set you back $22-$30 USD. Participating in an organized boat tour of the caves ranges from $30-$60 USD (or close to $100 for a full day boat tour) but will depend on the itinerary, season and size of the boat. Hint: opt for a smaller boat to increase your chances of getting access into the sea cave.
How to Pick the Right Tour
As you'll see by a quick google search, there are loads of different tour companies offering trips to the Benagil Caves and beyond. If you decide to go the tour route, here are some things to ask before you make your decision to ensure you have the best experience:
How early does the tour start (9 am or earlier preferable to avoid crowds)
Does the tour go inside the cave?
What is the cancellation policy in case weather conditions are bad on the day you book
How long does the tour spend inside the cave
What does the company include in the ticket cost (ie. light jackets, guided information, dry bags)?
I personally went with Experitour for their kayak tour, who I found good but not great. I like searching for tours on Viator as they have a lot of different options to choose from and have a good reputation, but there are tons out there to choose from.
What to Bring 
What you'll need to bring will somewhat depend on which option you decide to take as far as visiting by boat, swimming, etc. The below list will help you cover the bases so you're prepared in all situations.
Essential Packing List for the Benagil Cave:
Sunscreen (30+)
Hat
Swimsuit or rash guard for extra coverage (if going by boat you can wear normal clothes but may want a swimsuit underneath)
Flip flops or water shoes
Sunglasses
Camera gear (GoPro is great for this)
Waterproof backpack or dry bag
Water bottle (preferably insulated to avoid drinking warm water)
If swimming: Wetsuit, fins, mask and floatation device
Quick Tips
If doing a self-led tour, always check weather conditions first and make sure you're heading to the caves in low tide
Go early in the day to avoid crowds
Bring a dry bag or waterproof backpack to protect your camera gear
Wear a hat and sunscreen!
There is free parking at Benagil Beach as well as same day tours and kayak rentals available
Tours may be cancelled due to sea conditions, so stay in the area for several days to ensure a chance to see the cave
Make sure to protect your trip with travel insurance. My favorite provider is World Nomads
READ MORE: 
A First Timer's Guide to Lisbon
Staying at a Chic Algarve Boutique Hotel 
A Guide to the Coolest Cafes in Lisbon, Portugal 
LOVED THIS POST? PIN IT FOR LATER 
***
Disclosure: Please note that some of the links above may be affiliate links, which means that I earn a small commission if you make a purchase at absolutely no extra cost to you. I pride myself on keeping this space REAL and I promise I'll never recommend products and companies unless I personally use and love them. If you click through these links and make a purchase, you will be helping me to continue to provide free content on this site, and for that I thank you!