Edinburgh is a city I truly stepped into with little expectations. I hadn't done a ton of pre-research or read up on the city as I wanted to experience it with an untainted perspective. We were originally scheduled to stay in Edinburgh for two full days but extended to three to be able to go a bit deeper and really get a sense of the city. Of course, three days is never long enough, but in such a manageable city like this, I was shocked by how much we were able to accomplish in just 3 days in Edinburgh — a timeframe that would barely scratch the surface in places like New York or London.
I'll be writing quite a bit more about my time in Edinburgh with Visit Britain, but for now, here's a quick guide on everything you need to know to start planning your visit, including where to stay, where to eat and much more.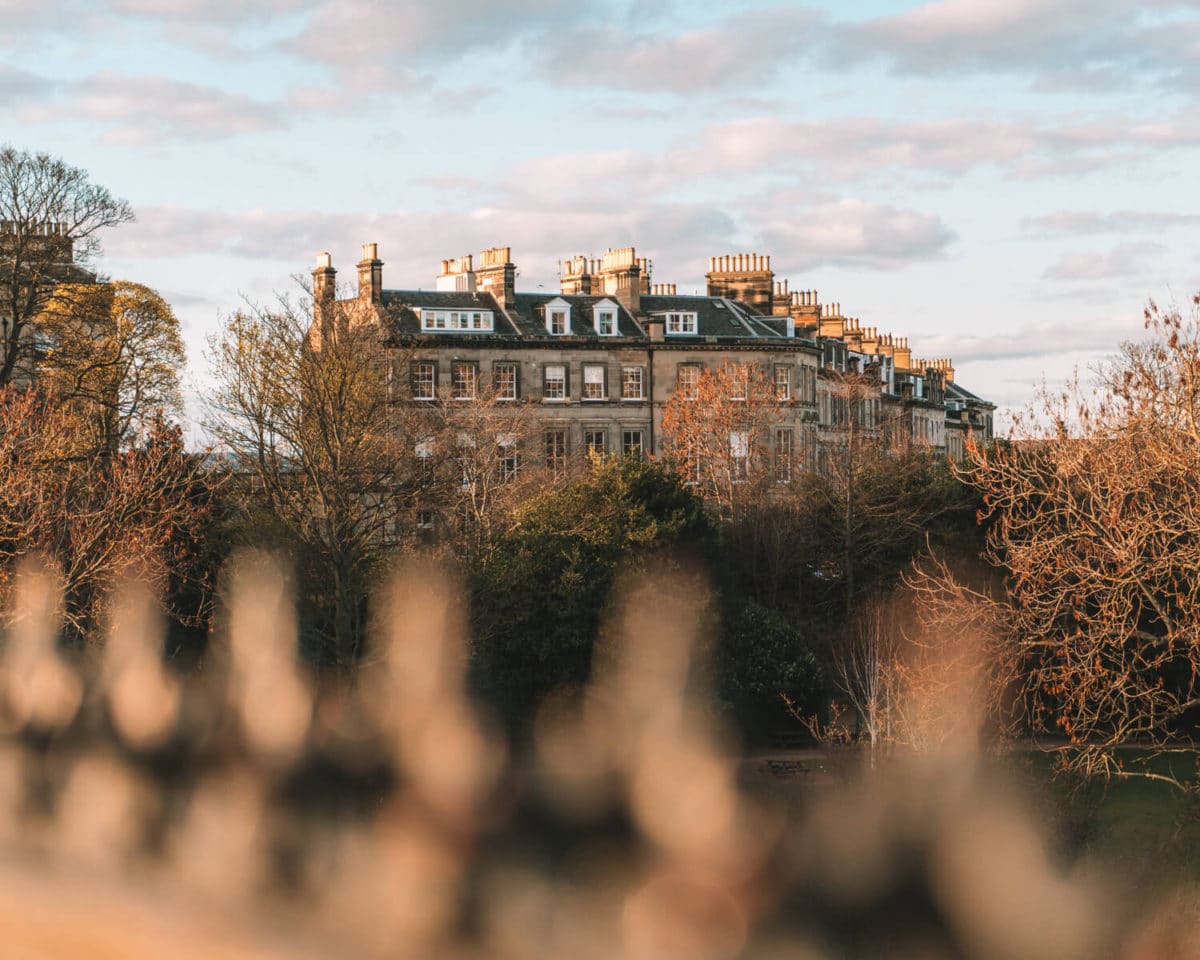 When to Go to Edinburgh
Deciding when to visit Edinburgh all depends on what you're looking to get out of your visit. We visited at the end of March when the air was still crisp and chilly but there were still sunny days and no snow. If you visit in March you'll need to pack a peacoat or some type of jacket, hat and scarves, especially for the evening. The city wasn't too packed with tourists at this time of year which made it nice and calm as well.
If you're more into warmer weather, wait until the summer months to visit, but expect more competition on hotels, room rates and dinner reservations so be ready to plan ahead!
How to Get There
Fly into Edinburgh airport which has direct flights from many destinations in Europe, some from the Middle East and select cities in the U.S. like Boston, Chicago, Washington DC, Philadelphia and New York.
Once you arrive, you can either rent a car at the airport or take a taxi or Uber into town which only takes about 20-30 minutes depending on traffic. There's not a ton of good parking in the city, so I'd recommend just grabbing a cab or Uber to save yourself the hassle.
Quick Tips Before You Go
The currency used in Scotland is the pound
Everyone speaks English here, but Scottish accents are thick, so if you're coming from America it may take a bit of an adjustment to understand everything
Bring good walking shoes as Edinburgh is a super walkable city and easy to get around on foot
It can be quite chilly in Edinburgh, even sometimes in summer. No matter what time of year you visit, pack a light jacket at the very least and ideally a warmer coat and a scarf and hat in winter and springtime
Edinburgh is a city that likes to drink and can get a little rowdy, especially on weekends and the city is a known destination for bachelor and bachelorette parties. Expect to see people getting a bit crazy especially on a Saturday! It's nothing particularly dangerous, but just something to be aware of if you're traveling solo or not interested in getting caught up in the drinking scene.
Where to Stay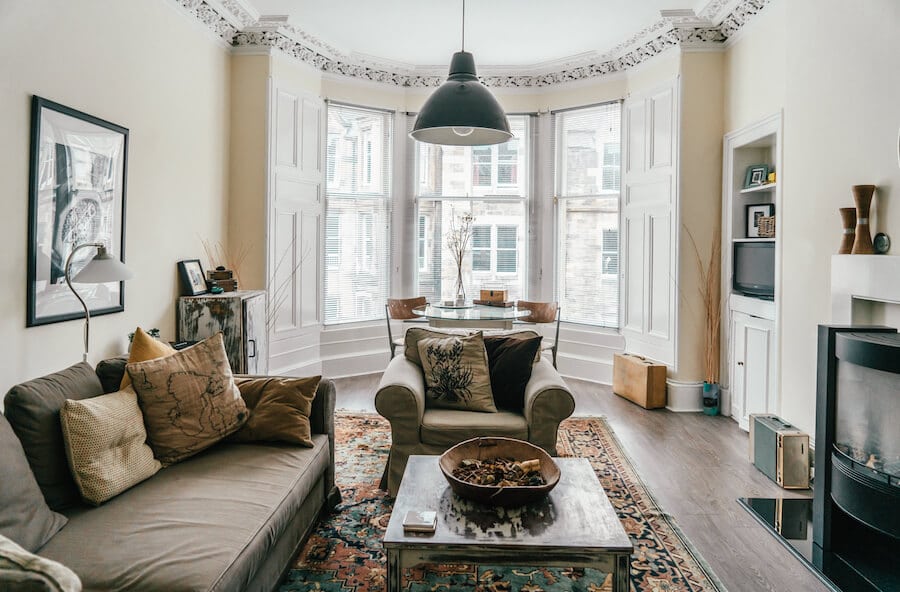 We split our time between the Old Town and New Town which gave us a better sense of both areas. Old Town is more touristy with tons of sites easily accessible on foot while New Town is still quite close to a lot of great places to see and eat at, but may require more taxis to get around.
In the Old Town, we stayed at this stunning Airbnb apartment that sits directly across the street from the adorable Thomas J Walls coffee shop and just down the road from the National Museum of Scotland. Also located nearby is the cafe where J.K. Rowling wrote some of the Harry Potter series, called The Elephant House. The area can get a little loud at night — the Scots do like to party, after all — but the easy walkability is awesome and this apartment was absolutely stunning and homey.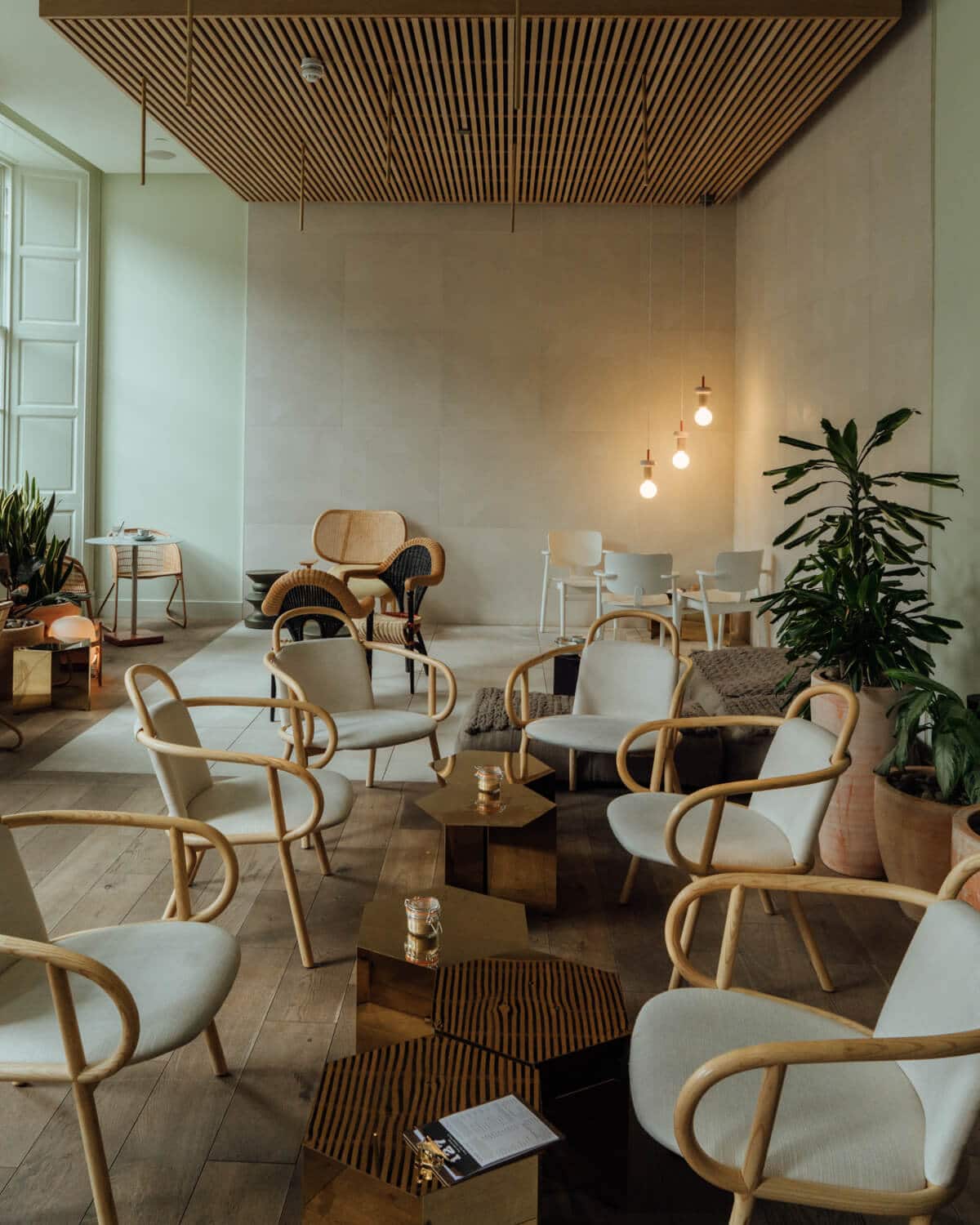 In New Town, we checked in to Eden Locke, which is a small boutique hotel with a modern, Scandinavian style design. The gorgeous lobby-meets-cafe area is perfect for reading the paper or grabbing a bite. The room we stayed in featured a perfect little kitchen and seating area that made it easy for us to eat in or catch up on work. Picture it like a cozy little studio apartment that is well situated to explore tons of the neighborhood's awesome shops and restaurants.
The hotel across the street also just reopened as a Kimpton Hotel and is stunning with rich colors and a Moroccan inspired interior. It's also home to Baba restaurant which was one of our favorite meals during our entire stay in Scotland.
Getting Around
If you stay at one of the places mentioned above, it should be quite easy to get around Edinburgh on foot given you've packed a good pair of walking shoes. Otherwise, taxis and Ubers are easily accessible here and not overly expensive.
Top Things to Do in Edinburgh
1. Botanical Garden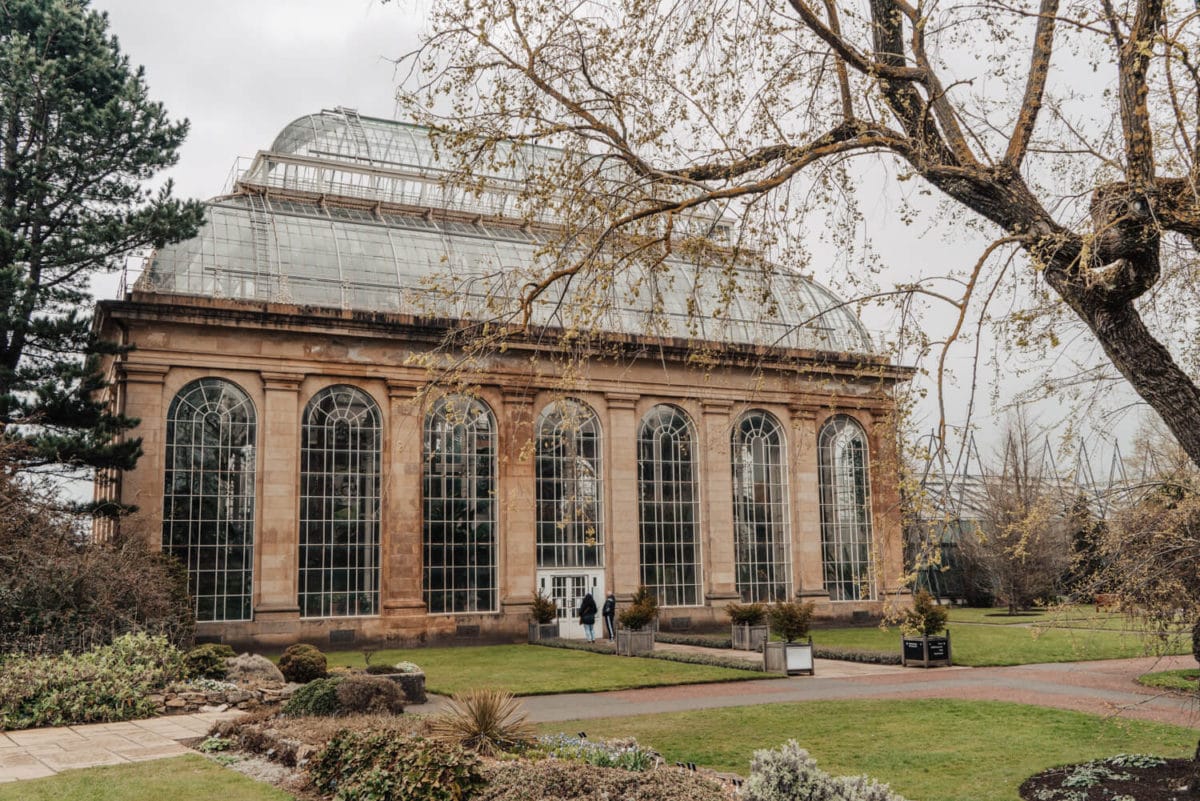 This is one of the few sites that doesn't sit right in the heart of the city, but it's still a quick drive away and well worth the ride. Especially on a beautiful sunny day, walking around the lush gardens with a coffee in hand would be an incredible way to spend a morning or afternoon in Edinburgh. The botanical garden opens at 10 AM, so go on the earlier side if you want a more peaceful visit and pay a bit extra to enter the glasshouse gardens.
2. Visit a Gin Distillery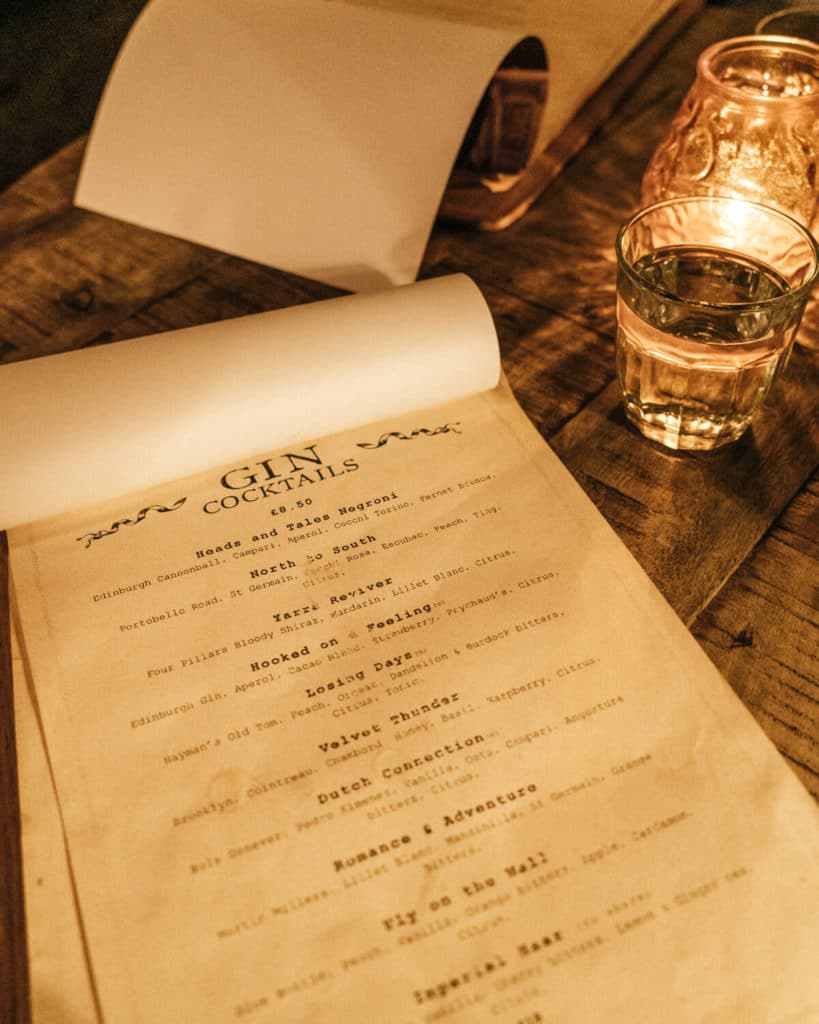 Gin is becoming a bigger part of Scottish culture as of late, and a few key gin distilleries have been popping up throughout the city.
The most popular one in town, Edinburgh Gin, runs daily tours that book up about three months in advance. If you miss the tour, you can still pop in for a drink after 5 pm and choose from their extensive cocktail list. As you can probably tell from the photo above, the vibe is dark and moody with creative libations on offer — great to go with a significant other!
3. Snack at the Stockbridge Market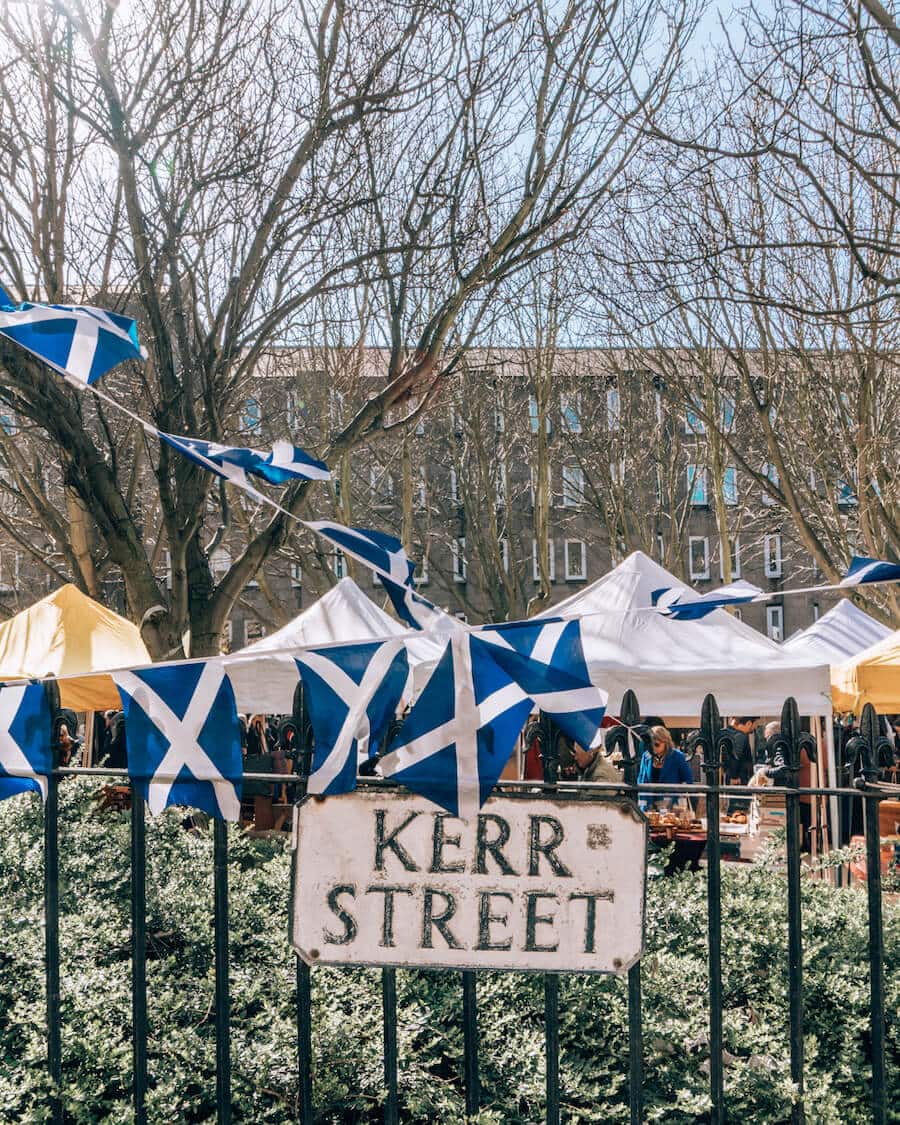 If your visit coincides with a Sunday, the Stockbridge Market is an awesome way to get a feel for how the locals live. Local Edinburgh businesses set up shop weekly at this small farmer's market that sells everything from paella and gyoza to fresh blue cheeses as well as soaps and other handicrafts. If you enjoy farmer's markets or open air markets back home then you'll definitely want to stop by this one. Pro tip: Go with an empty stomach.
4. Stroll Down Circus Lane

Just down the street from the Stockbridge Market is Circus Lane, a gorgeous residential area on a curved cobblestone path that's only wide enough for one lane of cars. The houses are colorful and perfectly manicured and the clock tower acts as a beautiful backdrop while strolling through on the way to your next destination.
5. Visit Dean Village at Golden Hour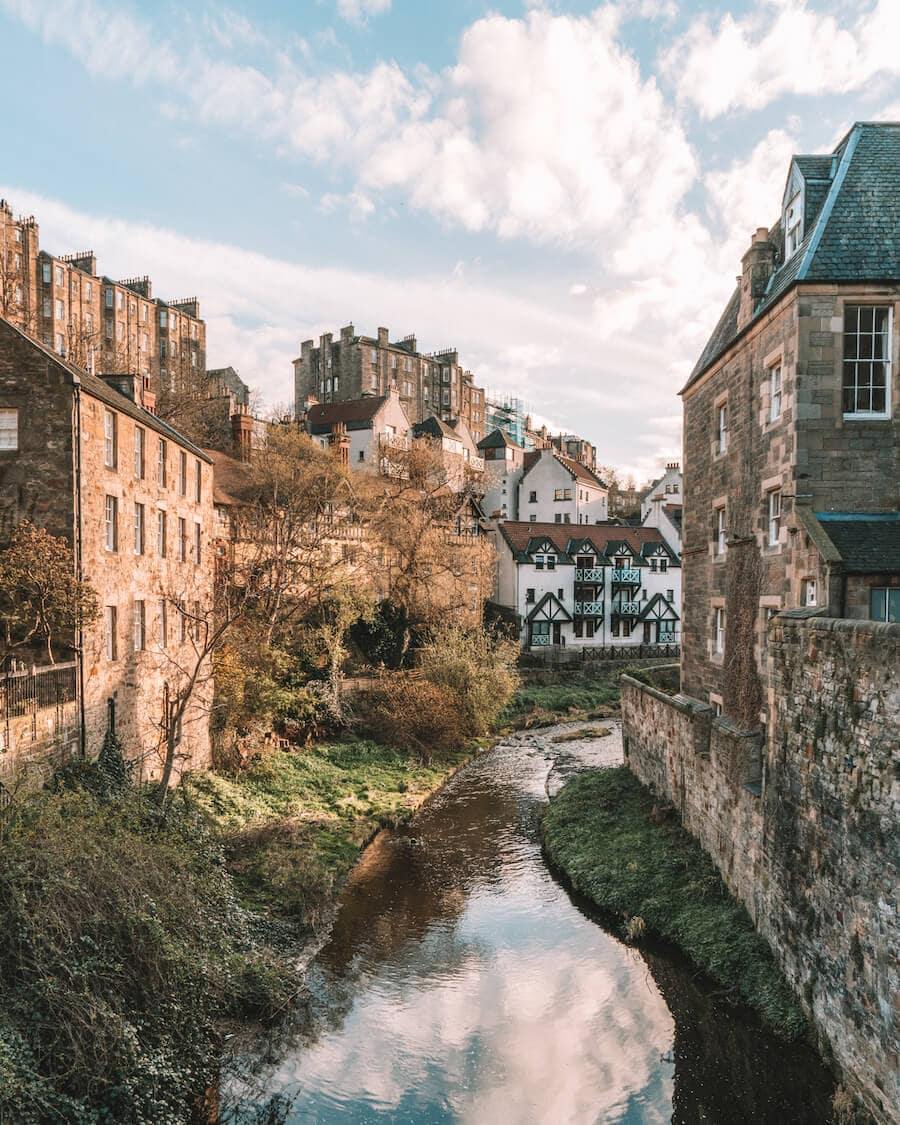 Another gorgeous neighborhood in the city is Dean Village, which meanders around the Water of Leith river and lights up beautifully at golden hour or sundown. It doesn't take more than 20 minutes to walk through the area, but acts as a picturesque respite from the busier downtown parts of Edinburgh. If you're choosing to do the Leith Walk, this area also easily connects to that trail.
6. Catch Sunset From Calton Hill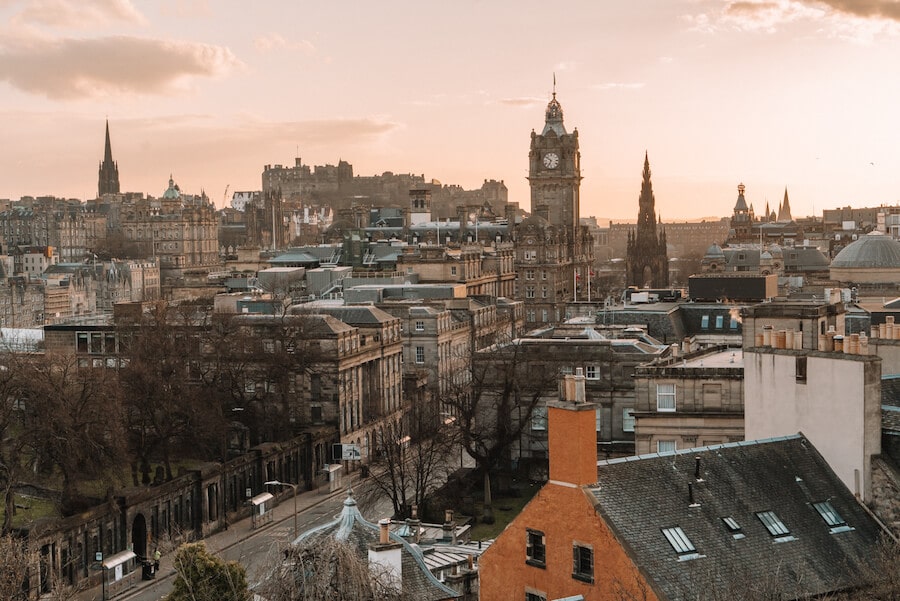 Calton Hill, which sits high above the city provides 360 degree views of the North Sea, city skyline and Arthur's Seat. It's great to visit at all times of day, but people often camp out for sunset to watch the light disappear over the city horizon.
There are several points of interest on top of Calton Hill including the unfinished National Monument which looks like an Athenian acropolis and The Lookout by Gardener's Cottage, which is a highly anticipated upscale eatery that offers a high-end but relaxed menu with a side of epic views, 7 days a week.
7. Cruise the Royal Mile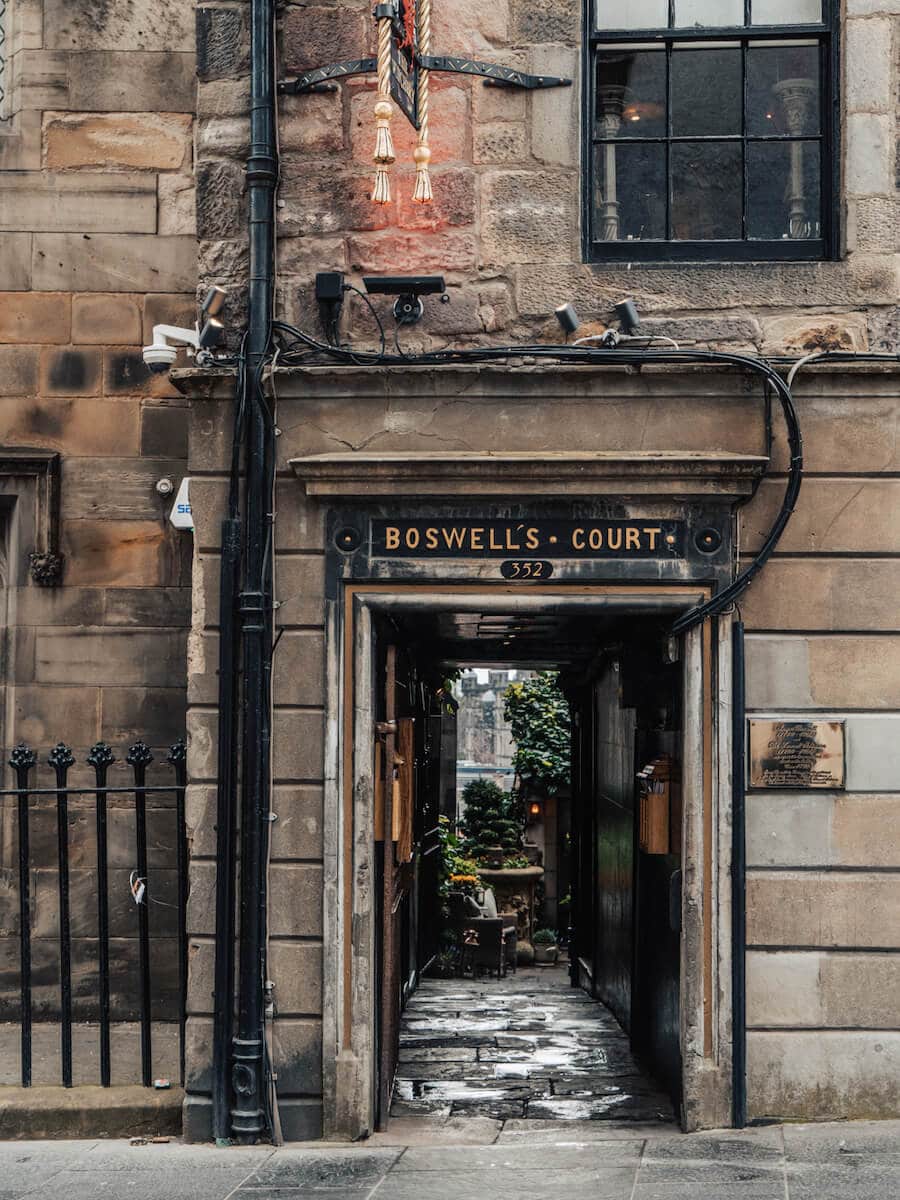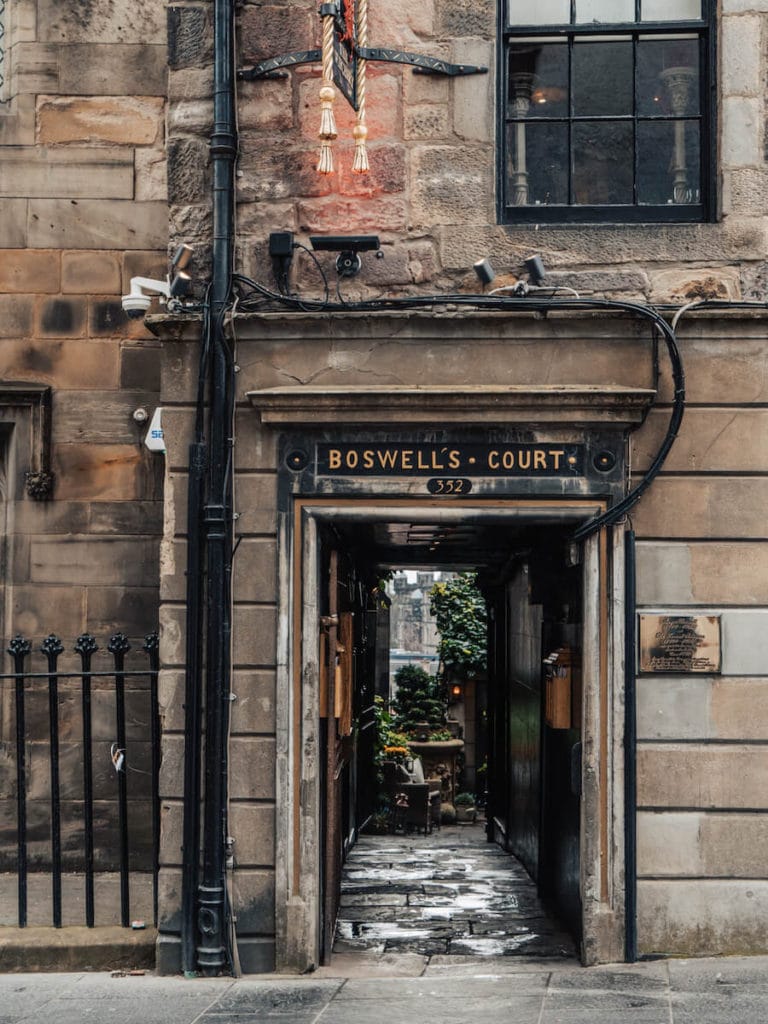 The Royal Mile is the busiest tourist street in Edinburgh and must be visited at least once during your time in the city. Start at Edinburgh Castle, then make your way along the Royal Mile as you pass St Giles' Cathedral, bagpipers performing on the street, traditional shops selling items like tartan scarves, and plenty of cute nooks and crannies to peek into.
Cruising the Royal Mile will give you an instant feel of traditional Edinburgh and is a must for first time visitors looking for that true Scottish flavor.
8. Go on a Self-Led Coffee Tour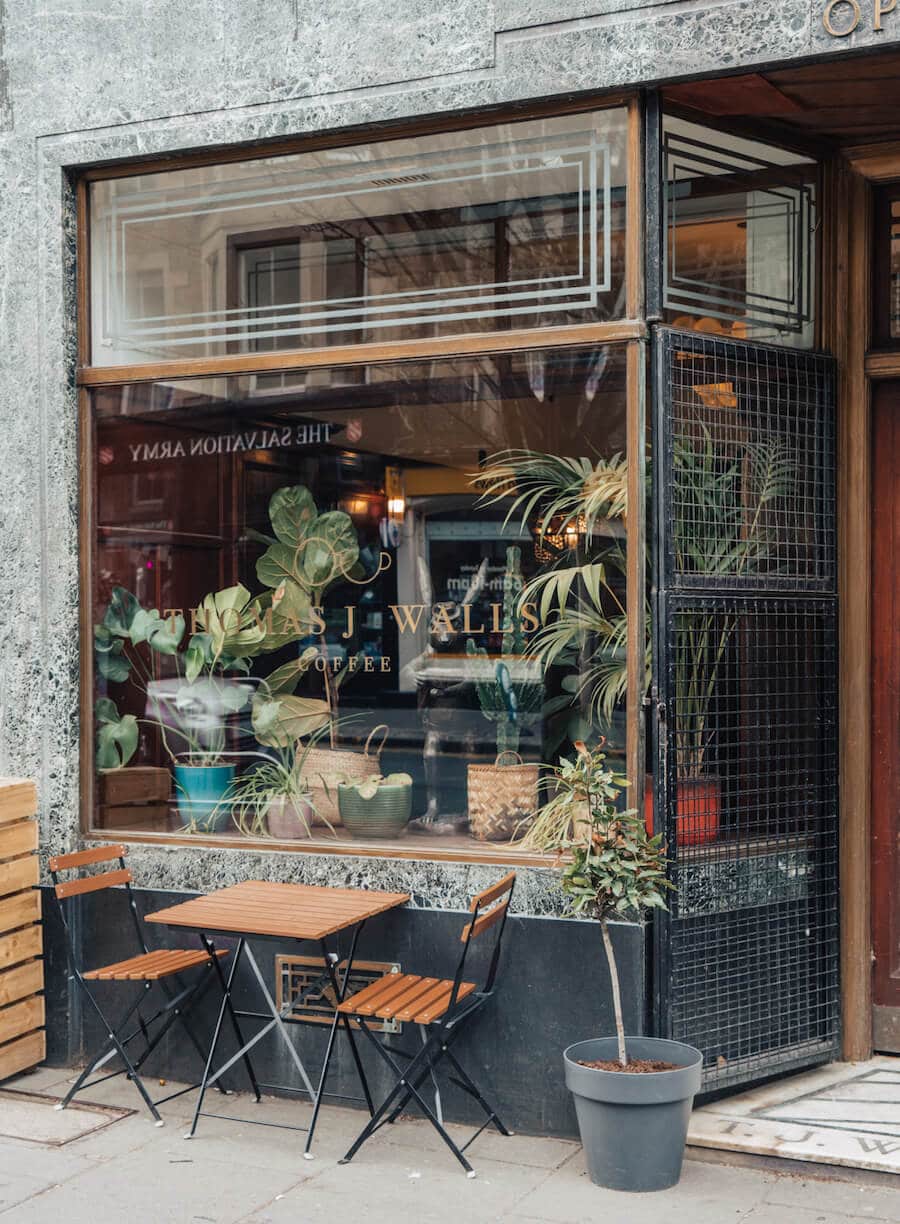 With three days in Edinburgh, we were on a mission to taste all of the best coffee the city had to offer and scope out the coffee shop interiors along the way. We found some definite favorites, mine personally being: The Milkman, Lowdown Coffee and Cairngorm Coffee — however Thomas J Walls (pictured above) won me over for cutest façade! Stay tuned for a full Edinburgh coffee guide.
9. Visit the Scottish National Portrait Gallery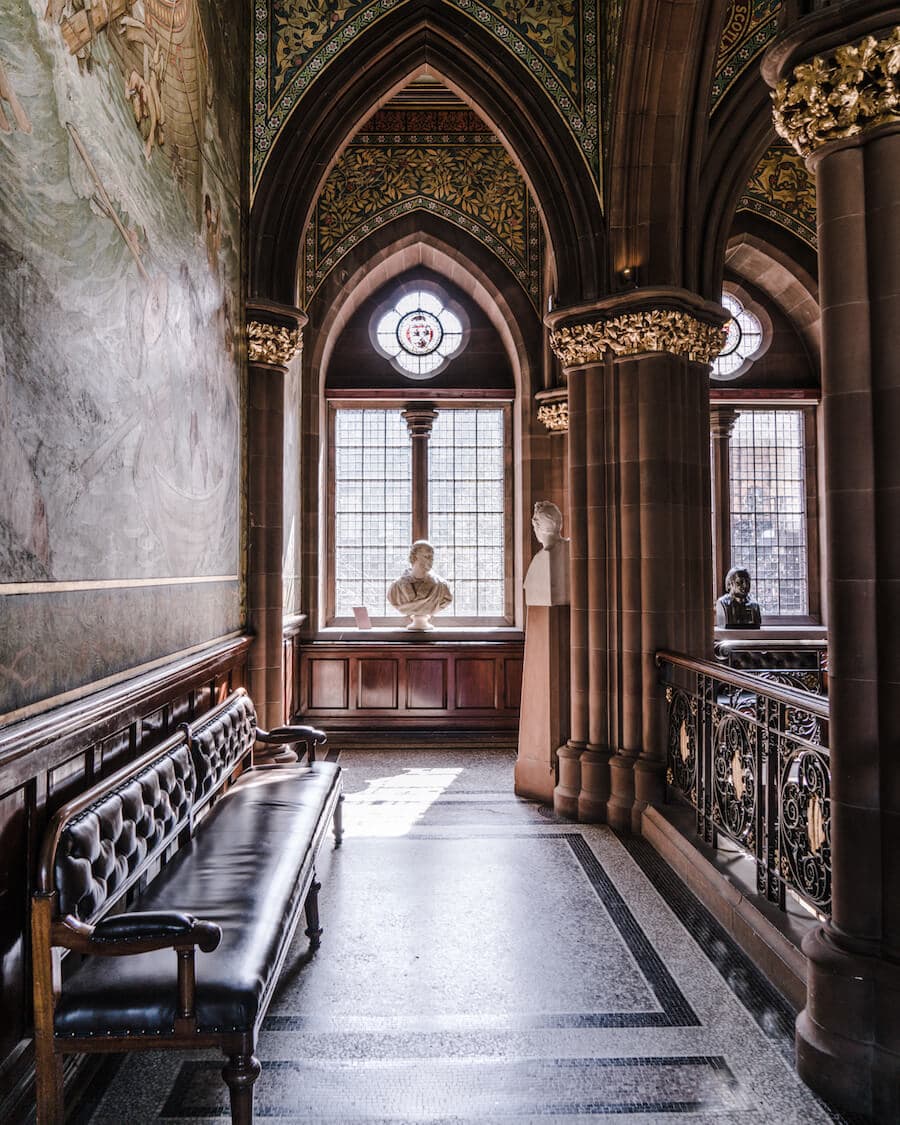 Skip the Scottish National Museum and visit the National Portrait Gallery instead which has a drop-dead gorgeous interior and features a collection of both ancient and modern portraits and sculpture from some of the most notable people in Scotland's history. To cap off your visit, schedule an afternoon tea which takes place in a private area adjacent to the museum's Cafe Portrait and features traditional scones and biscuits.
10. Try a Scottish Tasting Menu at Cannonball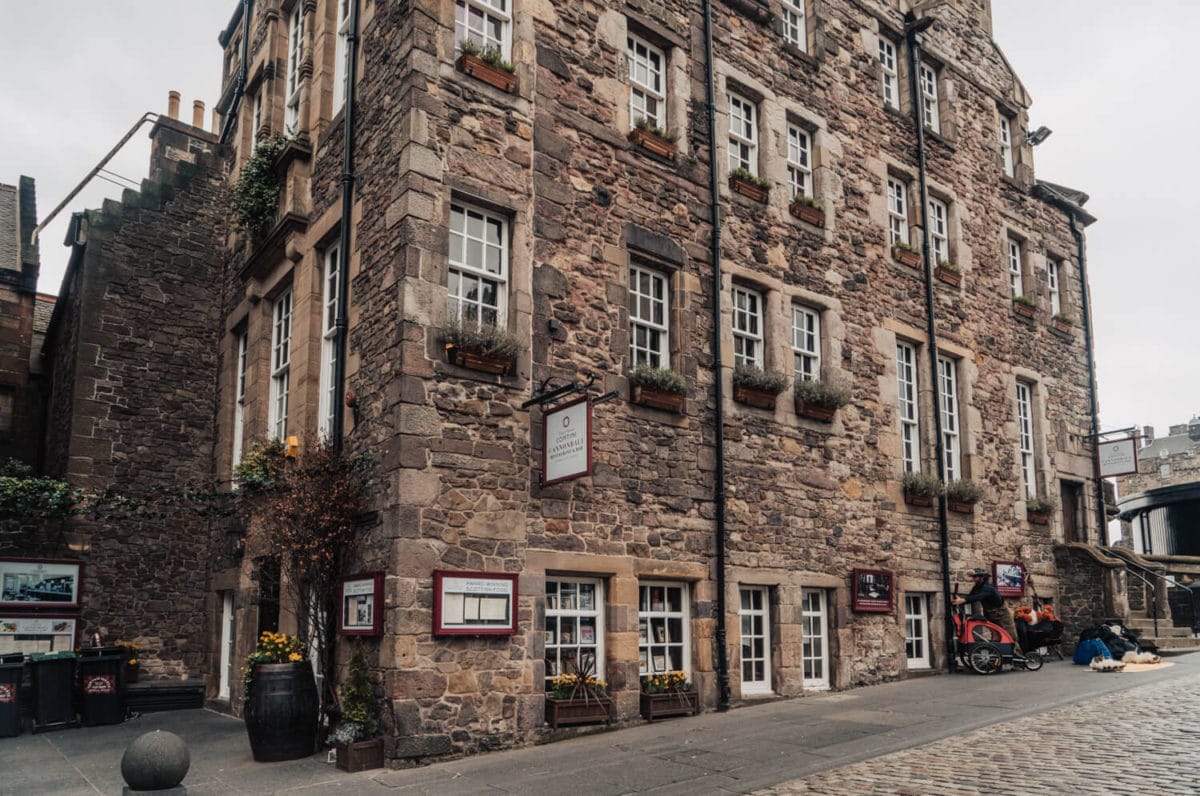 While Edinburgh has some great restaurants from cuisines all over the world, you can't visit and not taste some traditional Scottish dishes. Cannonball restaurant is the ideal spot to do this. Located in the heart of the Old Town with views overlooking Edinburgh Castle, this family-owned restaurant serves a 5-course Scottish tasting menu and will give you a taste of traditional local flavors in a way that is light and inventive.
Where to Eat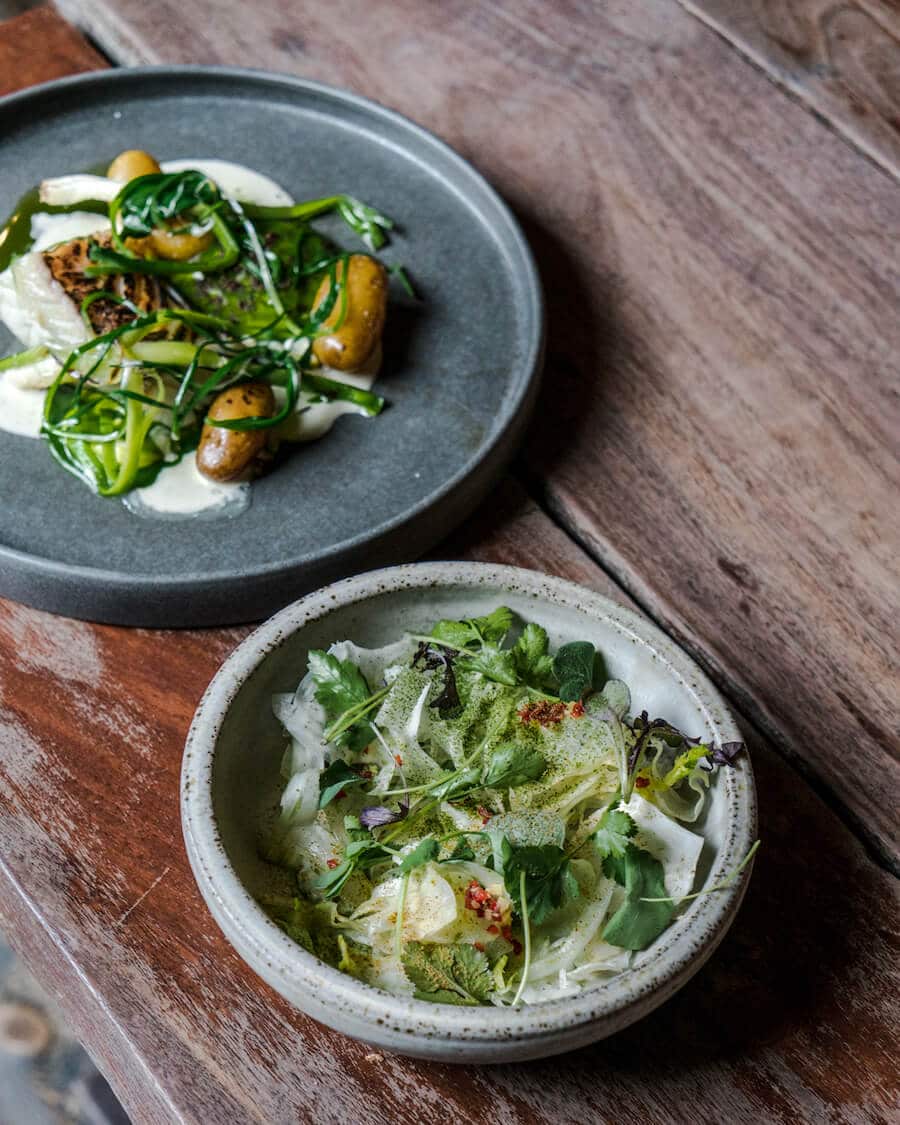 In addition to Cannonball as mentioned above, we ate at several amazing restaurants and bakeries that are must-visits on a trip to Edinburgh. Here are a few favorites!
Timberyard
One of the best meals we experienced in Scotland, Timberyard is an experience all around. From the rugged, earthy decor to the stunning dishes (pictured above) and exquisite presentation, we were literally oohing and ahhing at each new item that was set down on our table.
Baba
In the bottom floor of the new Kimpton hotel is Baba, a Mediterranean-inspired restaurant that is a lively spot for sharing dishes with friends or just taste testing plenty of different flavors on the menu. We enjoyed their delicious baba ganoush, beetroot hummus, cauliflower shakshuka and lamb shoulder served with pita bread that tasted like a cloud. Baba was definitely a foodie highlight of our trip.
Soderberg Bakery
Swedish-owned bakery, Soderberg, is simplistic in presentation but serves up some of the best baked goods and fresh breads in the city. We especially loved their lemon almond tart which is one of the most popular treats on the menu. I of course immediately wanted to order about 5 more.
El Cartel
When you're sick of Scottish cuisine, head to El Cartel which serves up street-food-style Mexican dishes like fish tacos and Mexican street corn. The interior is fun and casual and I was loving their rotating playlist of old-school hip hop jams from the 90s. This is a must visit for Mexican food lovers.
Where to Drink
For coffee, we went on a full-on tour of the city, stopping at all the top local-recommended spots. As mentioned above, my favorites were The Milkman, Lowdown Coffee and Cairngorm Coffee.
For cocktails, Bramble Bar is a speakeasy that serves delicious and inventive cocktails not far from Calton Hill.
Doric Pub is the oldest gastropub in Edinburgh.
Devil's Advocate is a fun and lively bar situated on a small alley in the city serving delicious cocktails. A must during a visit to Edinburgh is a stop into a gin distillery, which often book up months in advance for tours.
Edinburgh Gin is the most popular one in the city but should be booked in advance. Otherwise, you can pop in after 5 pm to grab a drink from their extensive cocktail menu.
LOVED THIS POST? PIN IT FOR LATER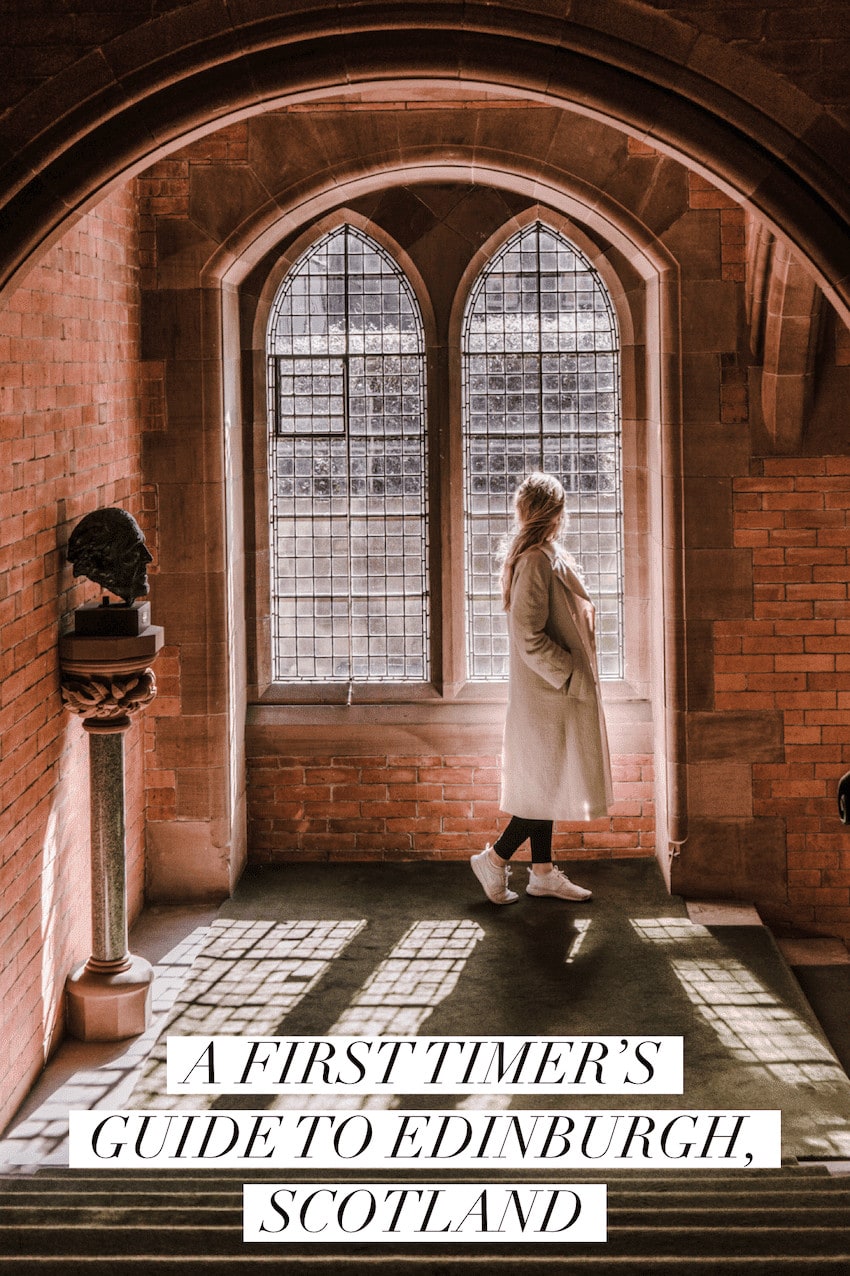 *** Live Like it's the Weekend was graciously invited to Scotland as a guest of Visit Britain, but as always, all opinions are my own and I would never promote anything I don't freaking love. ***