Planning a trip to California and looking for the best hotels to stay at? These best boutique hotels in California are sure to drum up inspiration, especially if you go gaga over a stunning hotel experience with unique and thoughtful design.
Living in California, a state famous for its creative leadership in the design space, I've been pretty spoiled with seemingly endless options of gorgeous boutique hotels to explore.
From accommodations designed with old-school Hollywood glamour in mind, to upscale bohemian surf shack vibes—I'm here for all of it.
No matter where you're heading in California—big cities, small towns, even the middle of the desert—there are tons of boutique hotel options that cater to travelers looking for a more intimate accommodation experience with a focus on design.
With so many amazing accommodations to choose from, it can seem…daunting to say the least.
Luckily for you, I have done my fair share of hotel sleuthing around this state and have rounded up the best boutique hotels in California that I've either personally stayed at or are on my own bucket list.
Looking for a seaside bohemian dream? A rustic desert escape? A restorative retreat tucked away in nature? This post has something for every kind of traveler with a tastemaker's sensibility.
The 23 Best Designed Boutique Hotels in California
White Water Inn, Cambria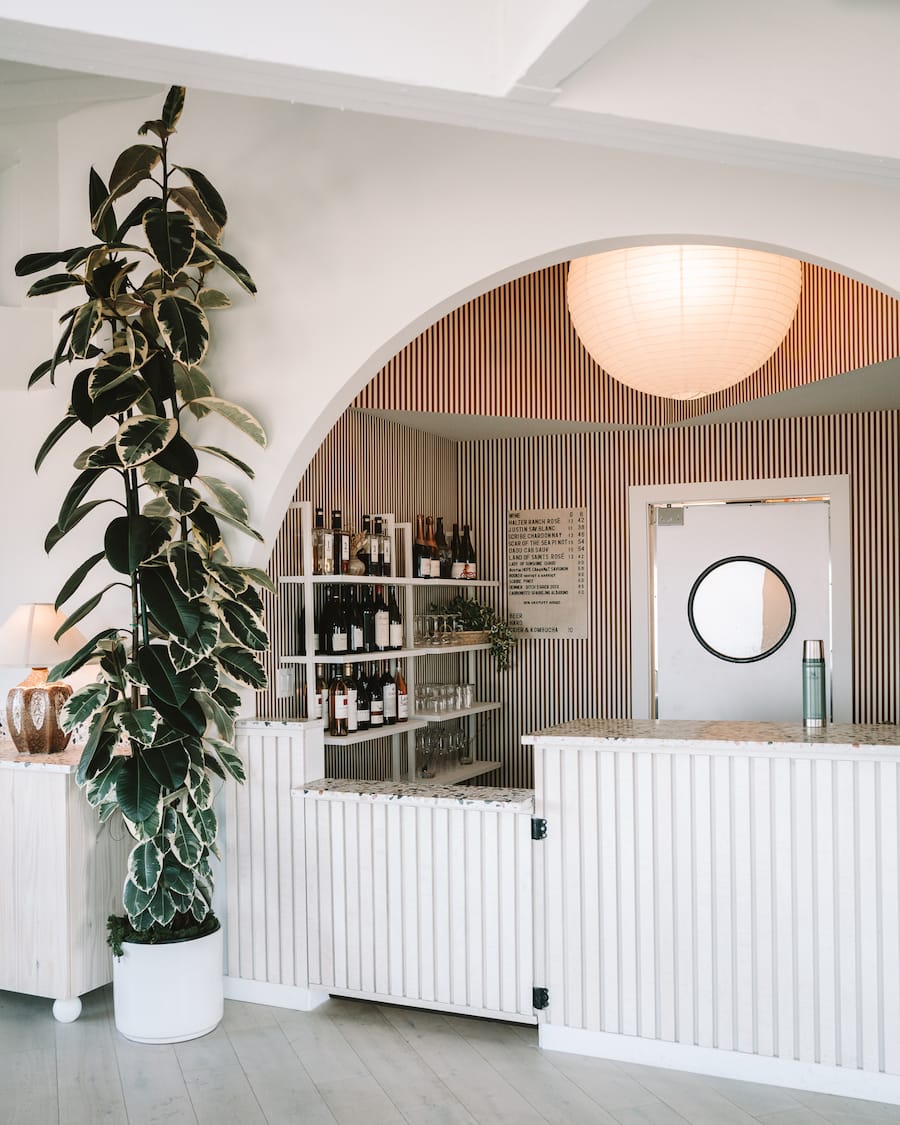 Quite unassuming from the road, White Water completely blew me away with its gorgeous design on a recent trip up the California coast.
Inspired by 1970s Scandinavian influences and bohemian California culture, renowned designer Nina Freudenberger has created a surfer-chic hideaway in Cambria that should be on every California resident's bucket list.
Located directly off Moonstone Beach, this seaside dream is a testament to the beauty of combining vintage with modern, soft shapes with strong lines, muted tones with bold blacks.
The rooms feel relaxed and elegant, most with views of the ocean. And the lobby is a white-washed oasis where guests can work, chill or take in the coastal views from the large ocean-front windows.
Cambria is one of California's best-kept coastal secrets, situated in between Big Sur and Santa Barbara and just 10 miles from wine country in Paso Robles.
At White Water, guests get the ultimate boutique stay on California's stunning central coast, with design inspiration that will have you taking notes left and right to bring back home with you.
The Surfrider Malibu, Malibu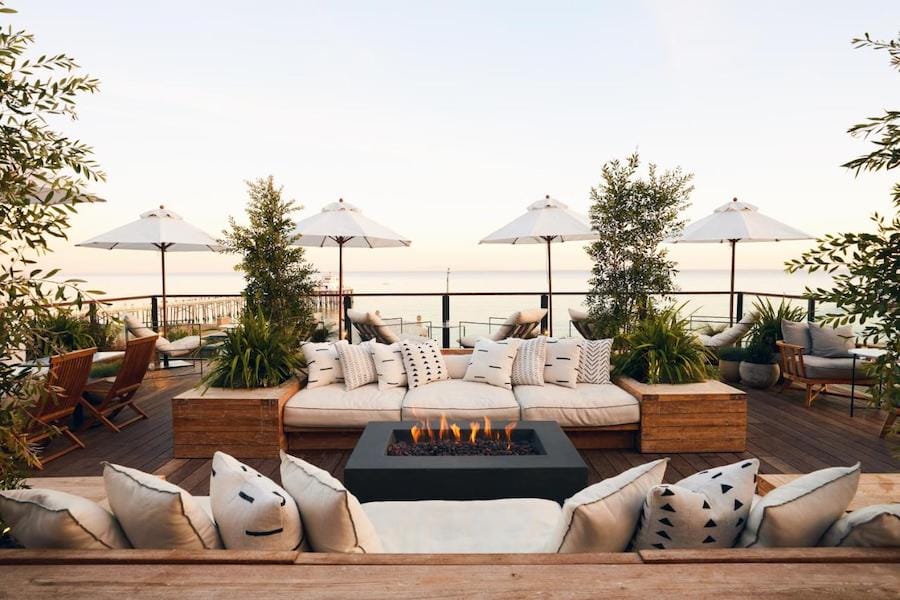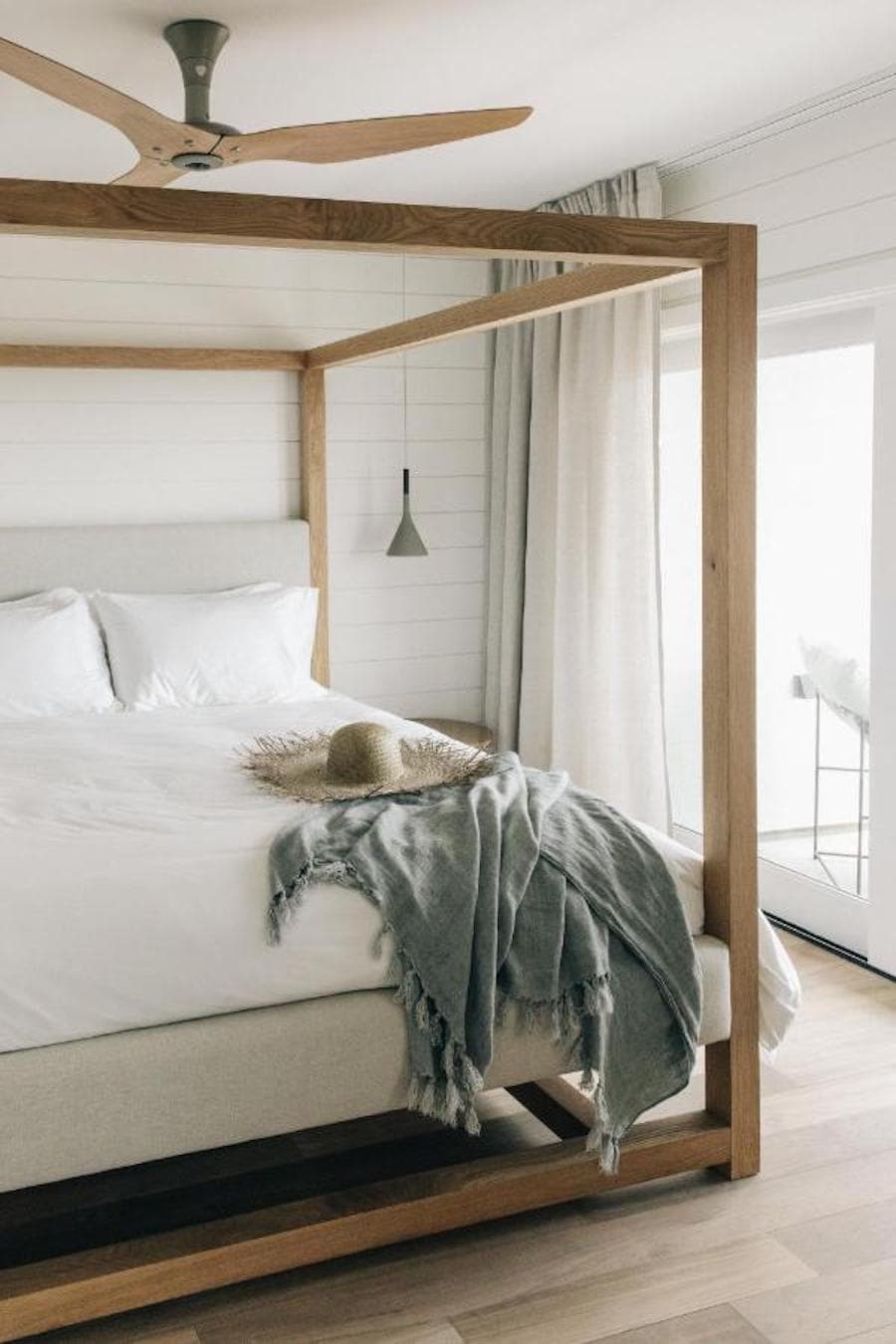 The ultimate in surf-inspired sophistication, The Surfrider Malibu is not only iconic but also tops the list of stylish hotels in California.
This converted 1950s motel consists of 20 light-filled rooms decked out in natural elements like teak, limestone and white oak overlooking the Malibu Coast and Pacific Ocean with dreamy sunset views. If you love simple yet upscale coastal California design, the Surfrider Malibu is for you.
Cuyama Buckhorn, New Cuyama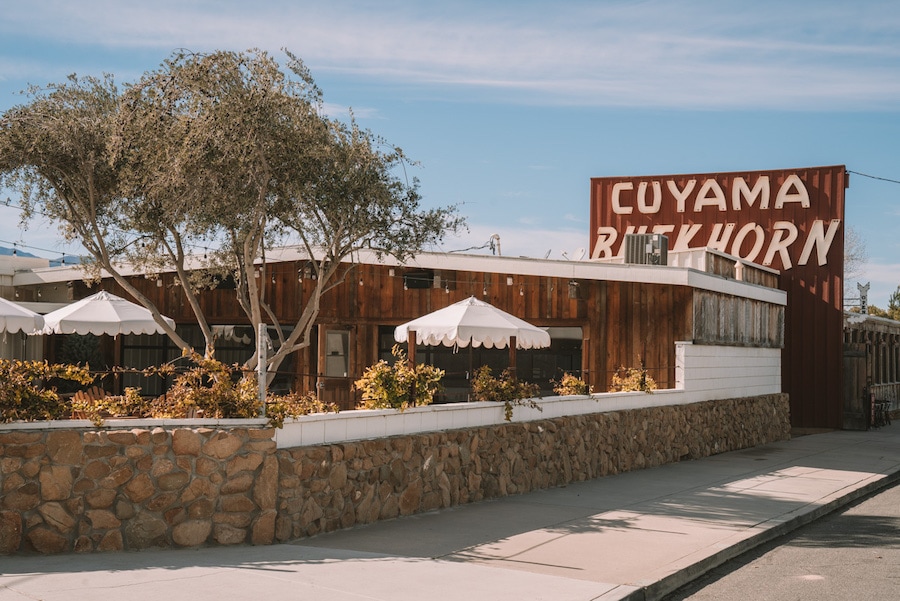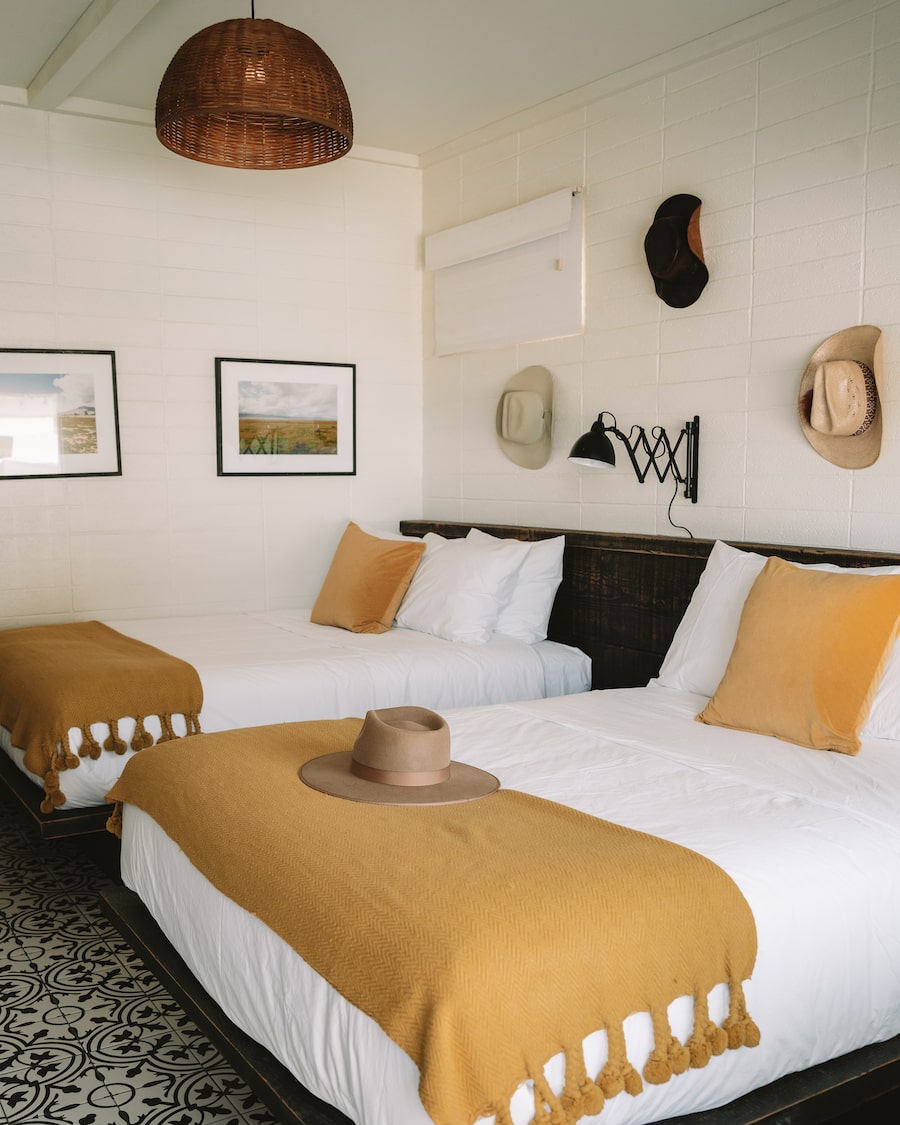 If you're looking for a little rest and relaxation along your California adventure (aka more down time and less DO time), don't skip a stop in the Cuyama Valley to check into the Cuyama Buckhorn.
While New Cuyama is a tiny town with an even smaller population, it's ideally situated midway between places like Ojai and Pismo Beach, making it an ideal stop along a larger road trip.
The recently refurbished motel has been a local staple since the '50s and now has a fresh makeover that still honors its retro-meets-cowboy roots. Expect custom-built furniture, vintage accents, and locally stocked mini bars at this roadside retreat as well as an amazing on-site bar and restaurant with carefully crafted meals, cocktails and friendly staff.
Beyond admiring the funky design, this spot is the perfect place for some serious stargazing, basing yourself to explore the high desert, as well as catching the famous Superbloom in spring if you're lucky!
Read my full review on the Cuyama Buckhorn here.
Twelve Senses Retreat, Encinitas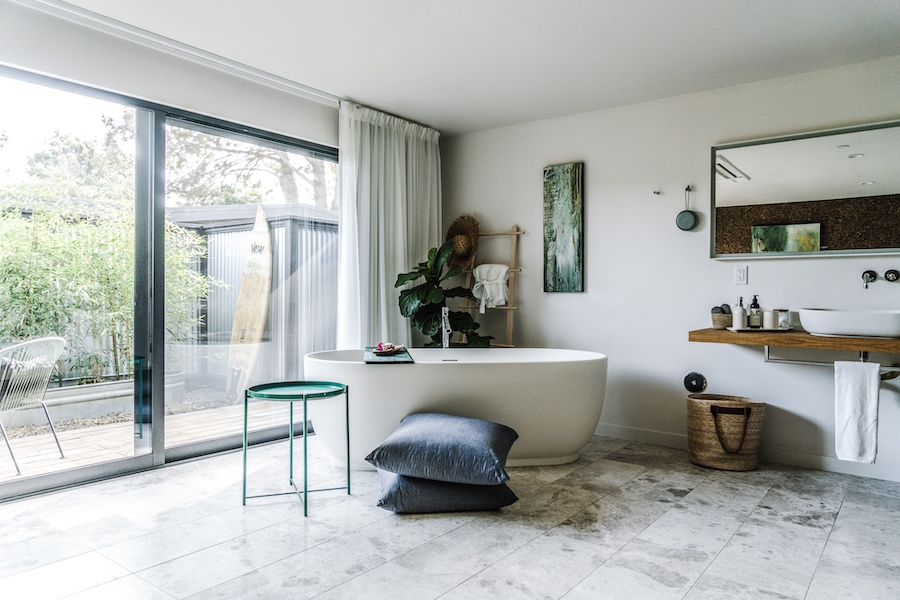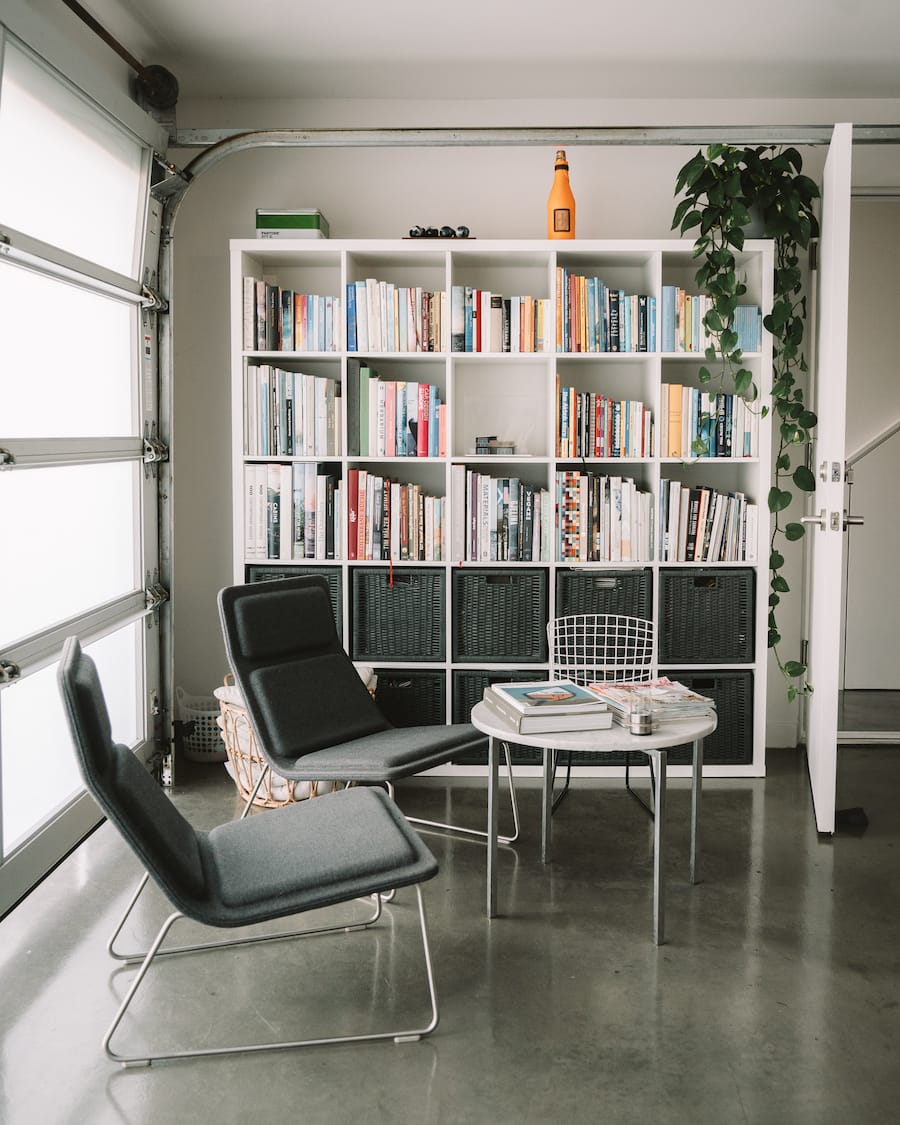 If luxurious minimalism and wellness are what you gravitate towards, then Twelve Senses in Encinitas (in greater San Diego area) is a must stay.
With a focus on sustainability, mindfulness and well-being, this SoCal retreat and official Design Hotels member, has only four guest rooms in total, each inspired by one of the four elements—fire, water, earth and air—with matching color palettes to go with each.
We stayed in the Earth room during our visit, which was designed in green and neutral tones and textures. The overall vibe here is super sleek but relaxing, with a charred-wood exterior, calming colors and eco-friendly materials throughout.
The best part of the stay is its intimacy though; run by German-born Anke Bodack who interacts with all her guests, this place feels more like staying in a small b&b in Europe than in a California hotel.
Santa Monica Proper Hotel, Santa Monica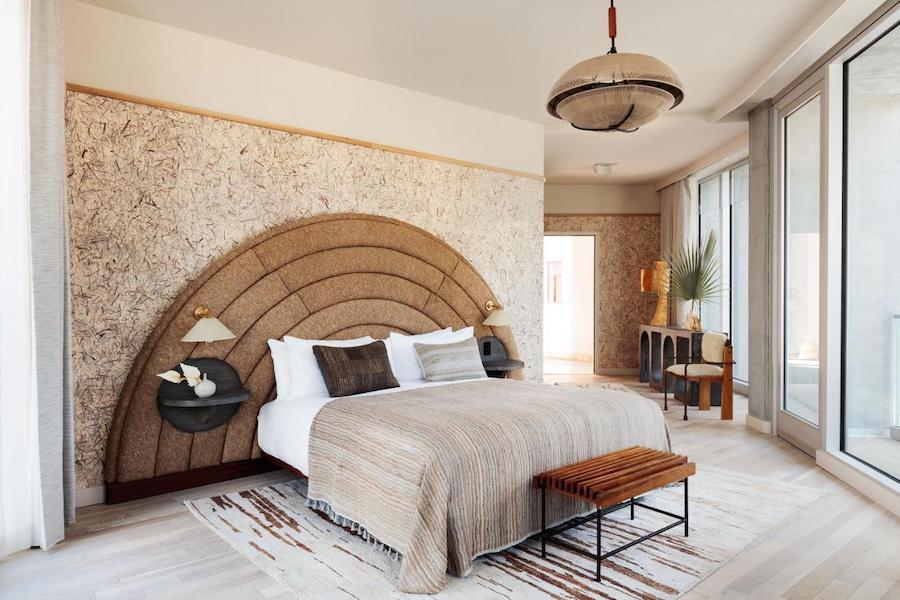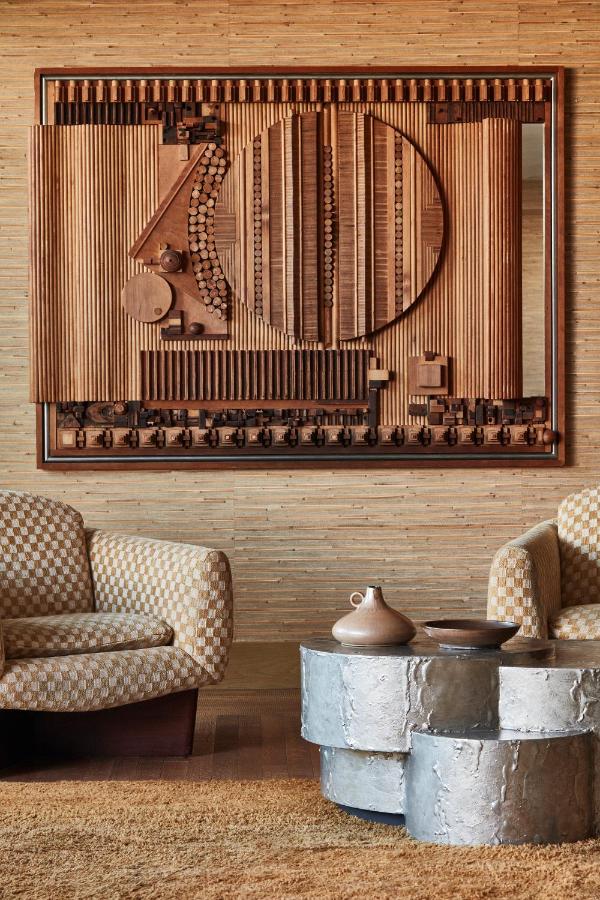 Flaunting shapes and design that reflect the essence of the California coast, the architectural dream that is the Santa Monica Proper hotel is one you've likely seen on the 'gram plenty of times before.
Walking into the Santa Monica Proper, you are immediately entranced by its modern sophistication in design. Hollowed out arches complemented by natural wood and organic tones and textures give the lobby all the laid-back luxury vibes you could possibly dream of.
Whether you stay overnight here or not, it's worth a visit to the Santa Monica Proper at least for a visit up to the rooftop bar and restaurant Calabra which was named "Best Outdoor Hotel Restaurant Patios In Southern California" by Forbes in 2021.
Sands Hotel and Spa, Palm Springs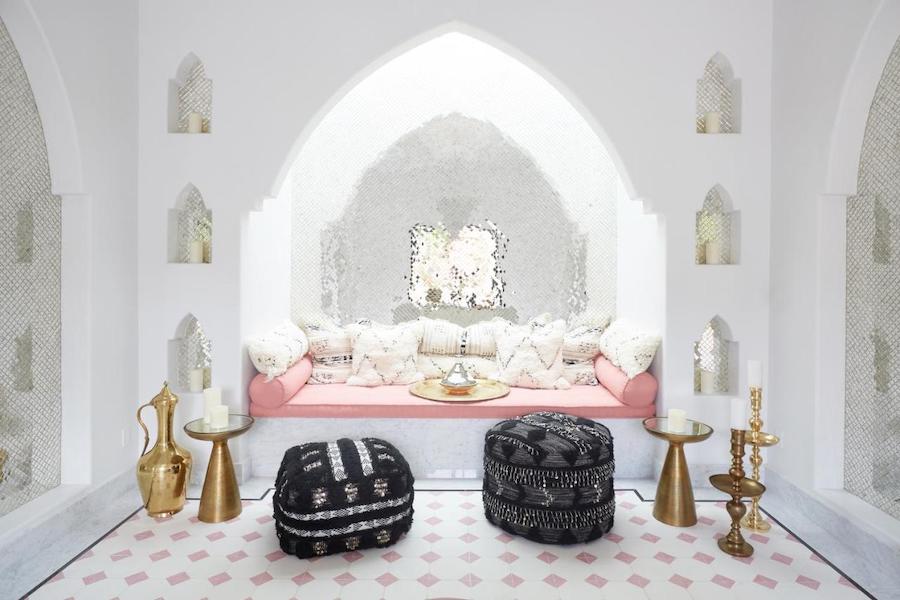 A funky little number from PRG Hospitality Group and designer Martyn Lawrence Bullard (named one of the top 100 designers in the world by Architectural Digest) , Sands Hotel & Spa serves up a unique blend of Moroccan inspiration and retro California style.
The hotel offers 46 rooms all with their own unique design, bespoke furniture, distinctive color combinations and textiles.
You will definitely want to check out the on-site restaurant, the Pink Cabana, not just for its ingredient-driven Mediterranean/ Moroccan menu, but also for its impeccably stylish digs reminiscent of 50's and 60's tennis clubs.
Silver Lake Pool & Inn, Los Angeles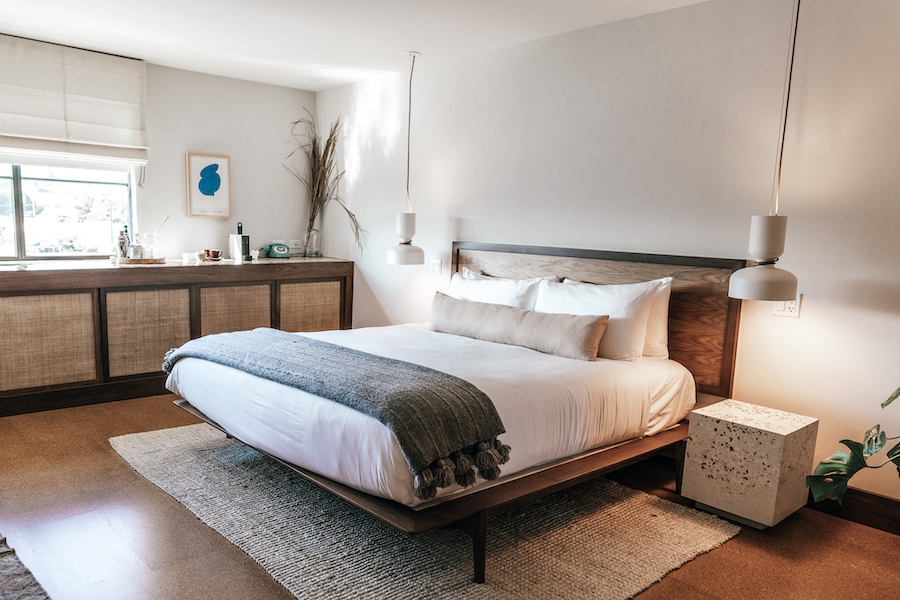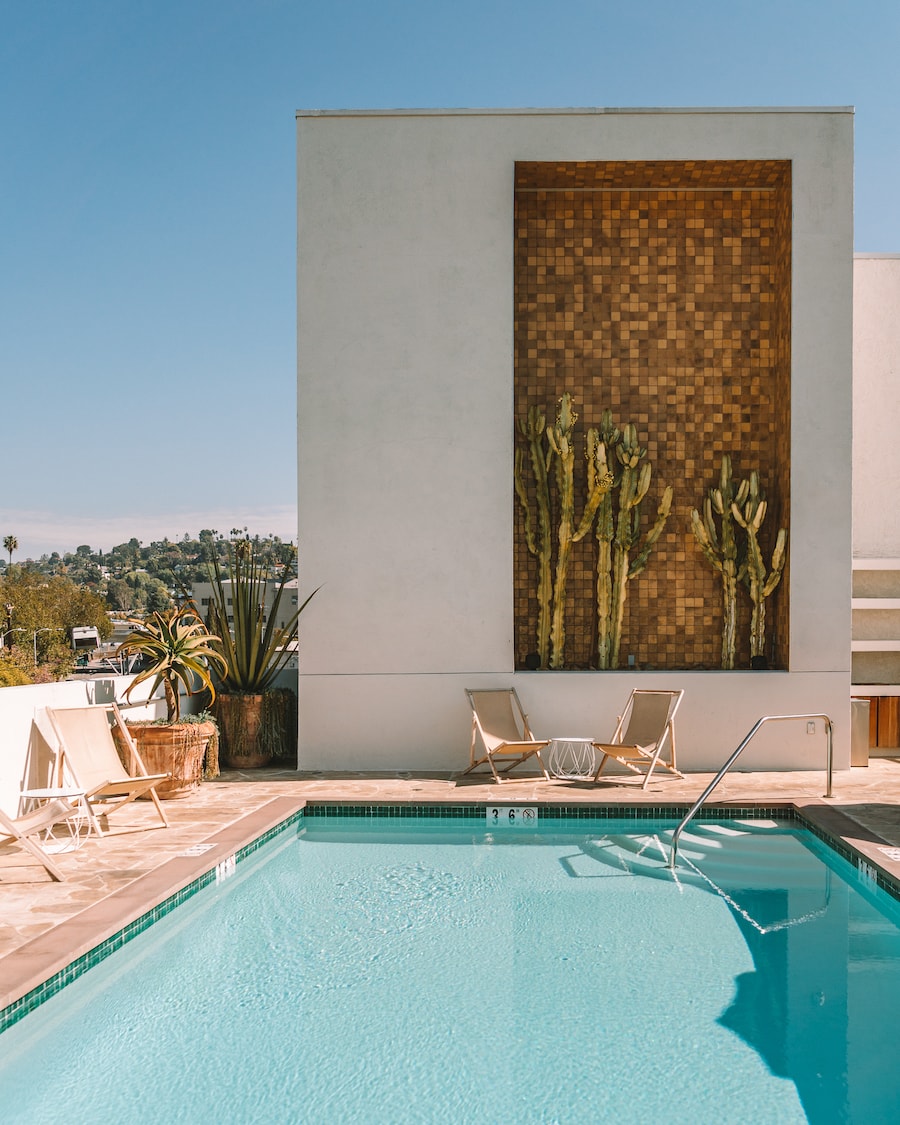 A true urban oasis in LA's trendy Silver Lake neighborhood, Silver Lake Pool & Inn by Palisociety is the epitome of what to expect from the best boutique hotels in California, while still remaining quite affordable.
White walls, thoughtfully chosen art prints, terracotta tiles and sunset hues set the scene at this minimal design lover's paradise.
All 54 rooms are drenched in sun, styled with nostalgic mid-century furnishings and stocked with custom robes and luxurious bath amenities (I'm personally obsessed with their logo that you'll find stamped on all of the branded bath products).
On their iconic outdoor pool deck, minimal white sun loungers line the crystal pool, surrounded by abundant greenery and cacti with a stunning terracotta backsplash. This hotel simply oozes California cool and is the perfect place to base yourself to explore LA's East Side.
Hotel Joaquin, Laguna Beach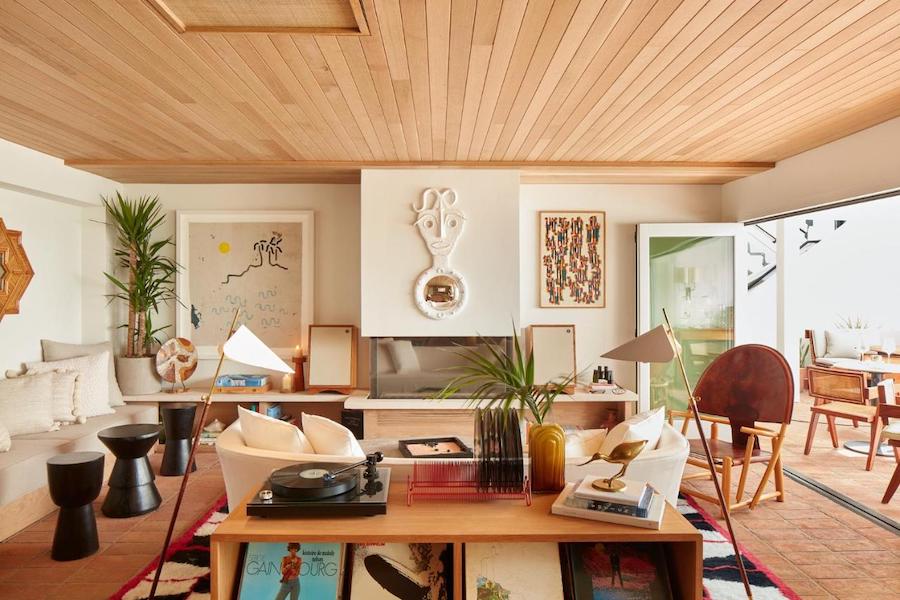 This seemingly unassuming roadside hotel is more than meets the eye. Walking into Hotel Joaquin, in lieu of a lobby you will find an art-filled living room with vinyl on repeat. Walk out back to a sparkling pool and you're met with sky-meets-ocean panoramic views.
Since it's opening in 2018, this hip, art-centric hotel has been attracting a cool-kid crowd of tastemakers, influencers and design lovers.
For guests, Hotel Joaquin provides an upscale complimentary breakfast, free bikes for cruising around town and 22 sun-drenched rooms each with their own record player and a selection of vintage vinyl, not to mention stunning design.
Gaige House + Ryokan, Sonoma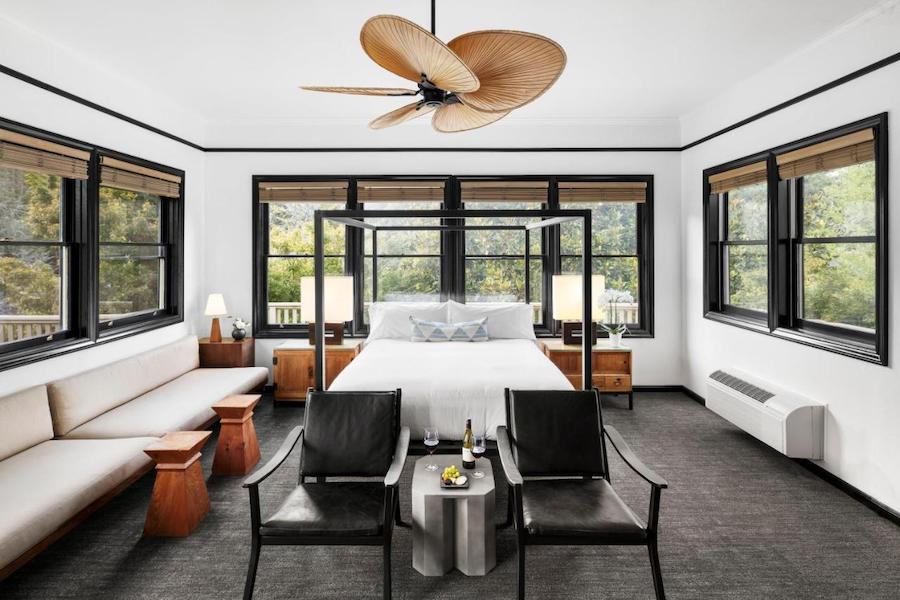 Featuring a beautiful combination of modern design and traditional Japanese elements, Gaige House + Ryokan in Sonoma makes for a relaxing retreat amongst one of California's most-loved wine regions.
Regularly seen on the Gold List of Conde Nast's top hotels in the world, this relaxing hideaway is everything you need in a boutique hotel to truly zen-out up during an escape in Northern California.
Set along a calming creek, the outdoor spaces include a swimming pool, hot tub, yoga and mediation enclave, all surrounded by zen gardens and soothing natural sounds.
Inside, you'll will find vintage and contemporary design inspired by Japanese art and culture. Be sure to book a Ryokan suite for a truly traditional experience with granite soaking tubs, hinoki wood ladles, cast iron tea sets and luxurious yukata robes.
The Landsby, Solvang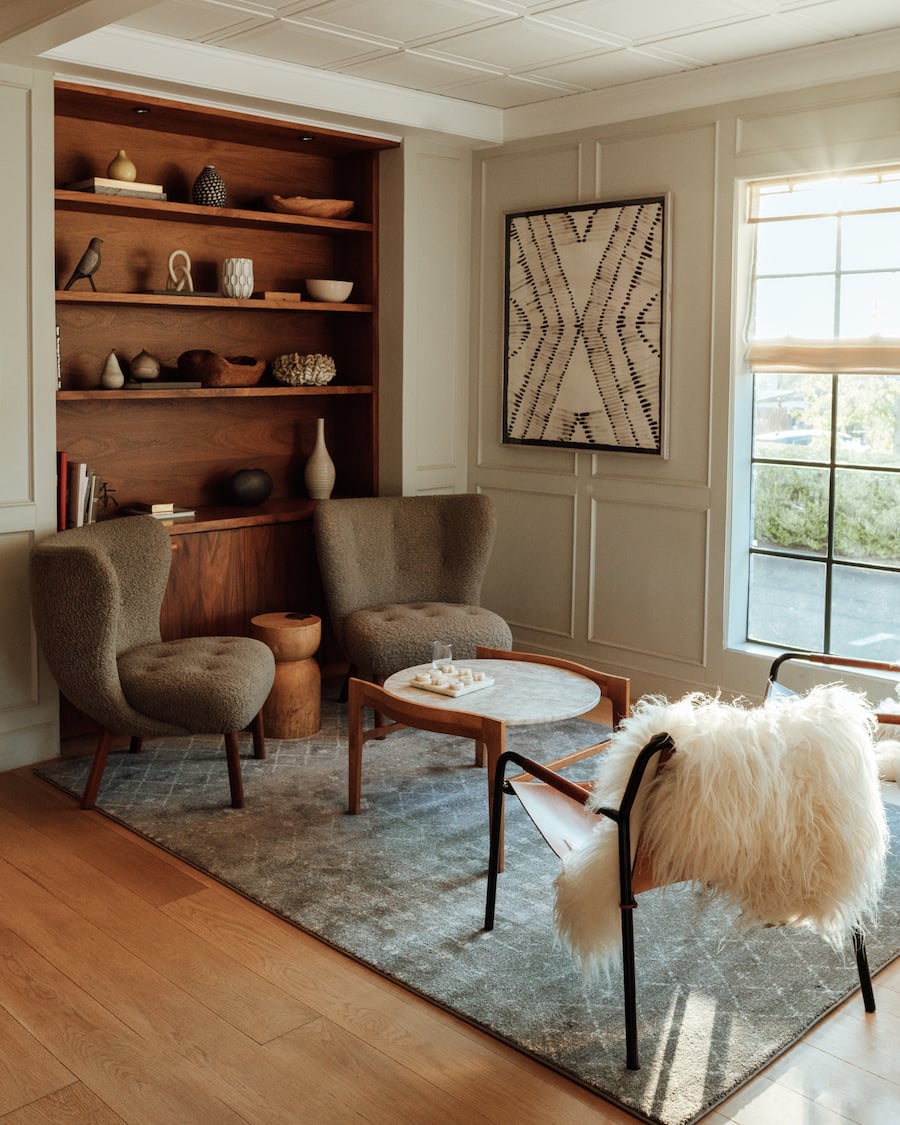 If you find yourself in the charming Dutch town of Solvang or exploring the Santa Barbara wine region, you're going to want to book a stay at the Scandinavian-inspired hotel, The Landsby.
The aesthetic here is simple and luxurious and pays homage to more modern Scandinavian sensibilities as opposed to the quaint historical Dutch design you'll mostly find around town.
The feel is clean and casual, rooms are light and airy with blonde woods and handcrafted furniture; some even have direct access to the beautiful courtyard below. When it comes to design-centric accommodations in Santa Barbara wine country, you can't go wrong with The Landsby.
The Guild Hotel, San Diego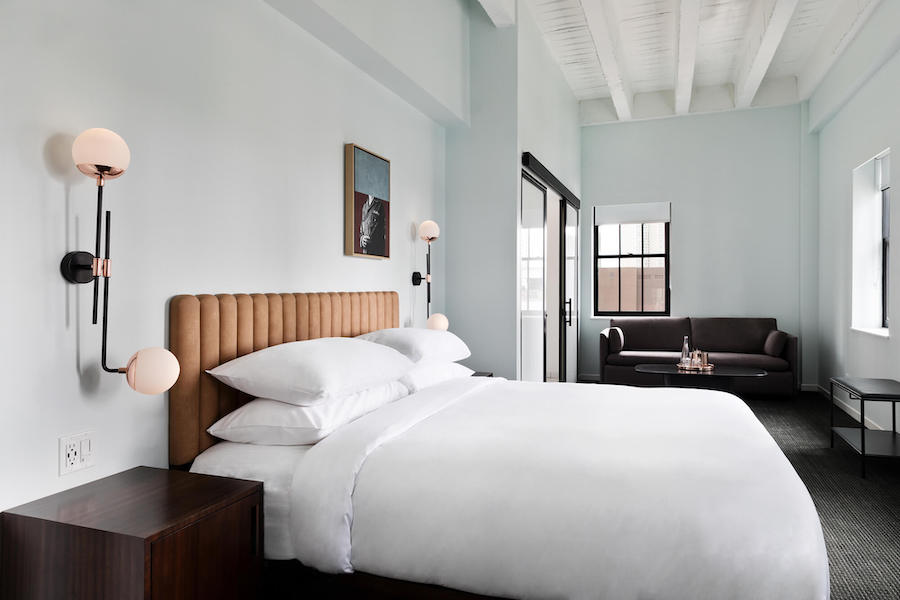 Modern glamour meets historic charm is the vibe down at the Guild Hotel in San Diego, whose aesthetic feels on par with a lot of the popular design hotels of Manhattan.
Housed in a century-old former YMCA, the exterior stays true to its 1920s roots while the hotel's interior incorporates romantic Renaissance-style architecture combined with clean, modern design elements. Think herringbone floors, high ceilings, and exposed brick, punctuated by velvet touches throughout.
The stylish courtyard feels reminiscent of the South of France, while the chic and sleek guest rooms represent modern urbanism at it's finest with industrial accents and dramatic arched iron windows.
Located close to the San Diego waterfront and just 5 minutes walking distance from Little Italy, The Guild is an ideal place to base yourself during a stay in California's southernmost city.
Coachman Hotel, South Lake Tahoe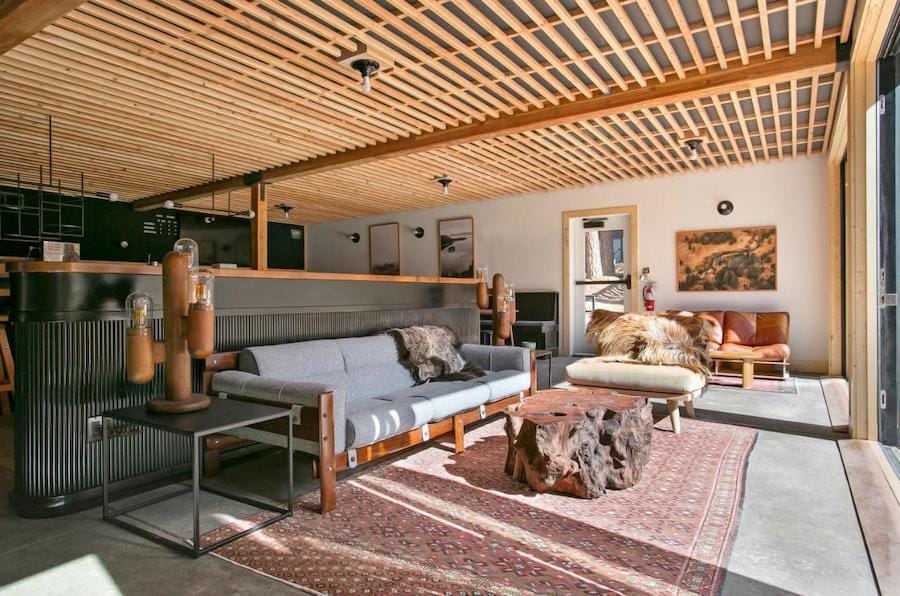 If you're spending time in the South Lake Tahoe area and prefer a boutique hotel vibe over the many cabin-style accommodations, The Coachman is where you want to be.
Celebrating the great outdoors and time spent in nature, the newly re-envisioned Coachman Hotel keeps it simple and modern with classic wood and leather furnishings in a space created to bring people together.
The design is chic, cozy mountain house meets California cool with a focus on convenient touches like rubber flooring for wet ski gear. In the summer, the wooden deck out back surrounds an open swimming pool with loungers to cater to guests spending time in the sun.
Sparrows Lodge, Palm Springs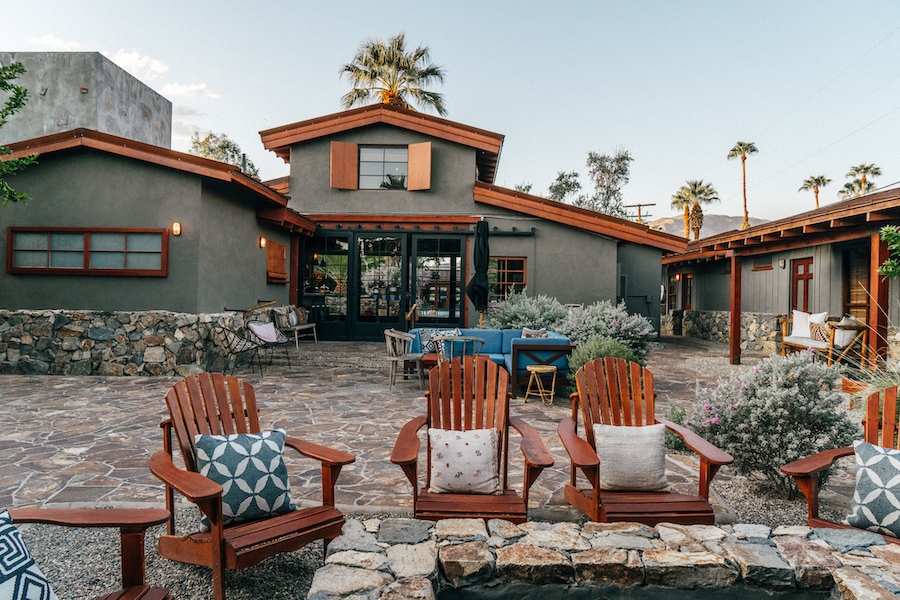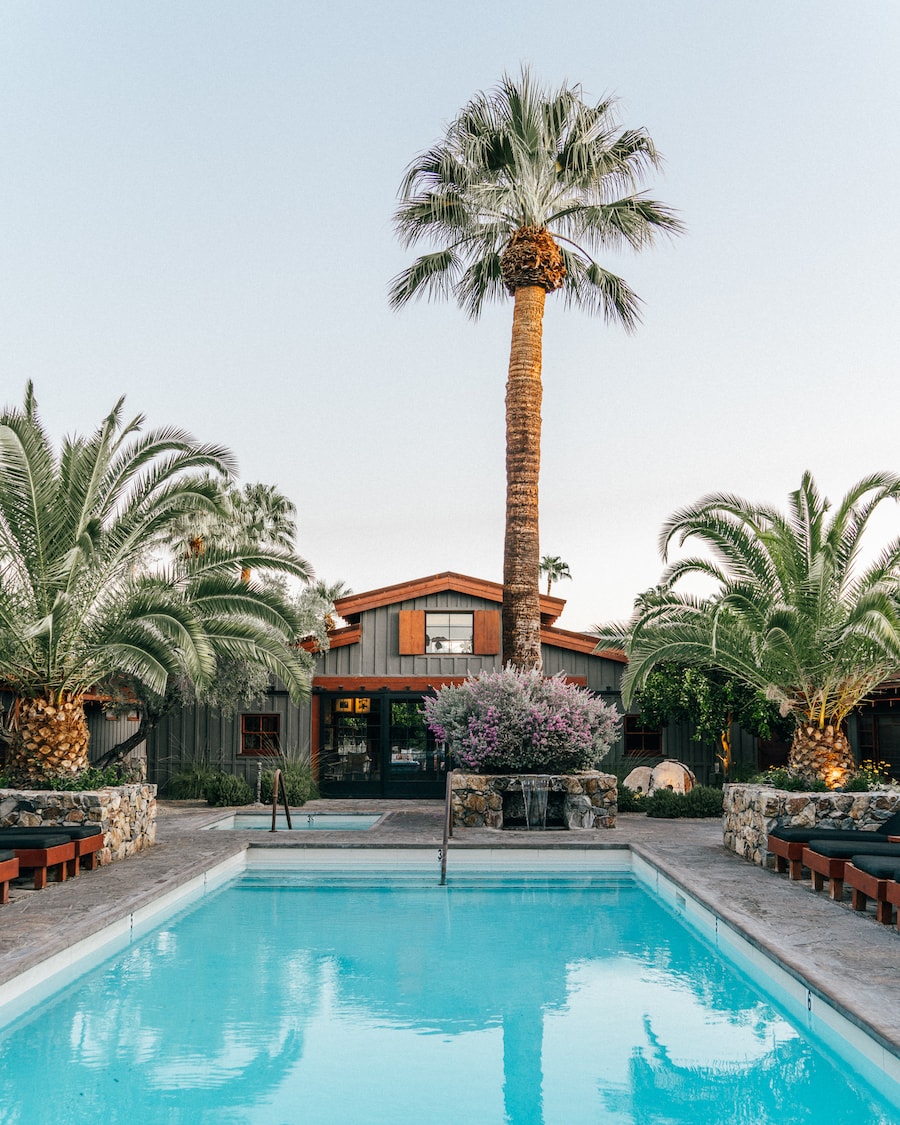 Love the rustic chic vibe? Then you'll want to head straight to the Sparrows Lodge in Palm Springs, named one of the top 20 hotels in Southern California in Conde Nast Traveler's Reader's Choice Awards.
I personally loved my stay at Sparrows Lodge for a little something different than the typical punchy and mid-century style accommodation you'll find in the area.
With exposed beam ceilings, indoor rain showers, concrete flooring and an on-site restaurant in a barn, the vibe is both rustic and modern with industrial accents.
This former actor's home turned 20-room roadside hotel features a stunning pool, minimal western decor, and a noticeable lack of TVs and other electronics so you can truly unplug and reset.
San Luis Creek Lodge, San Luis Obispo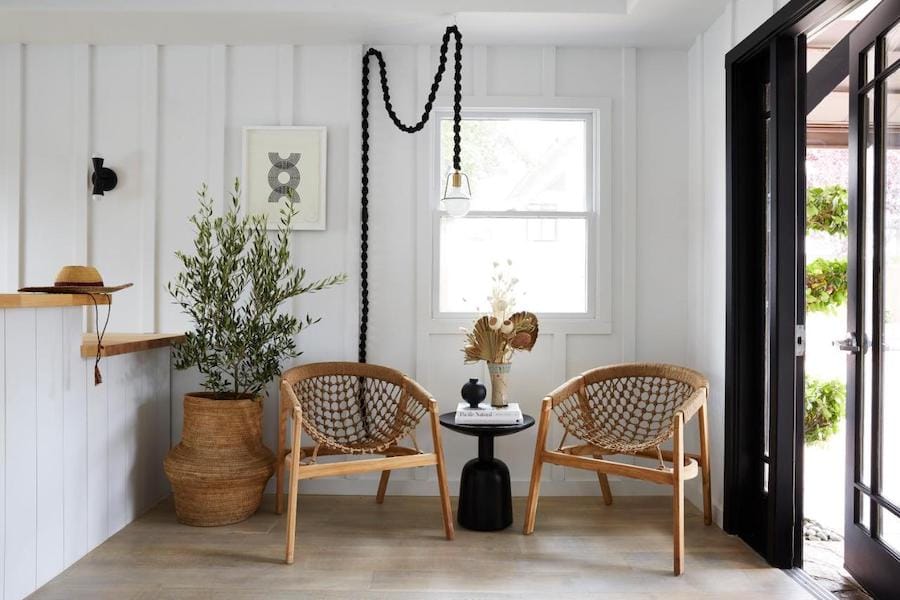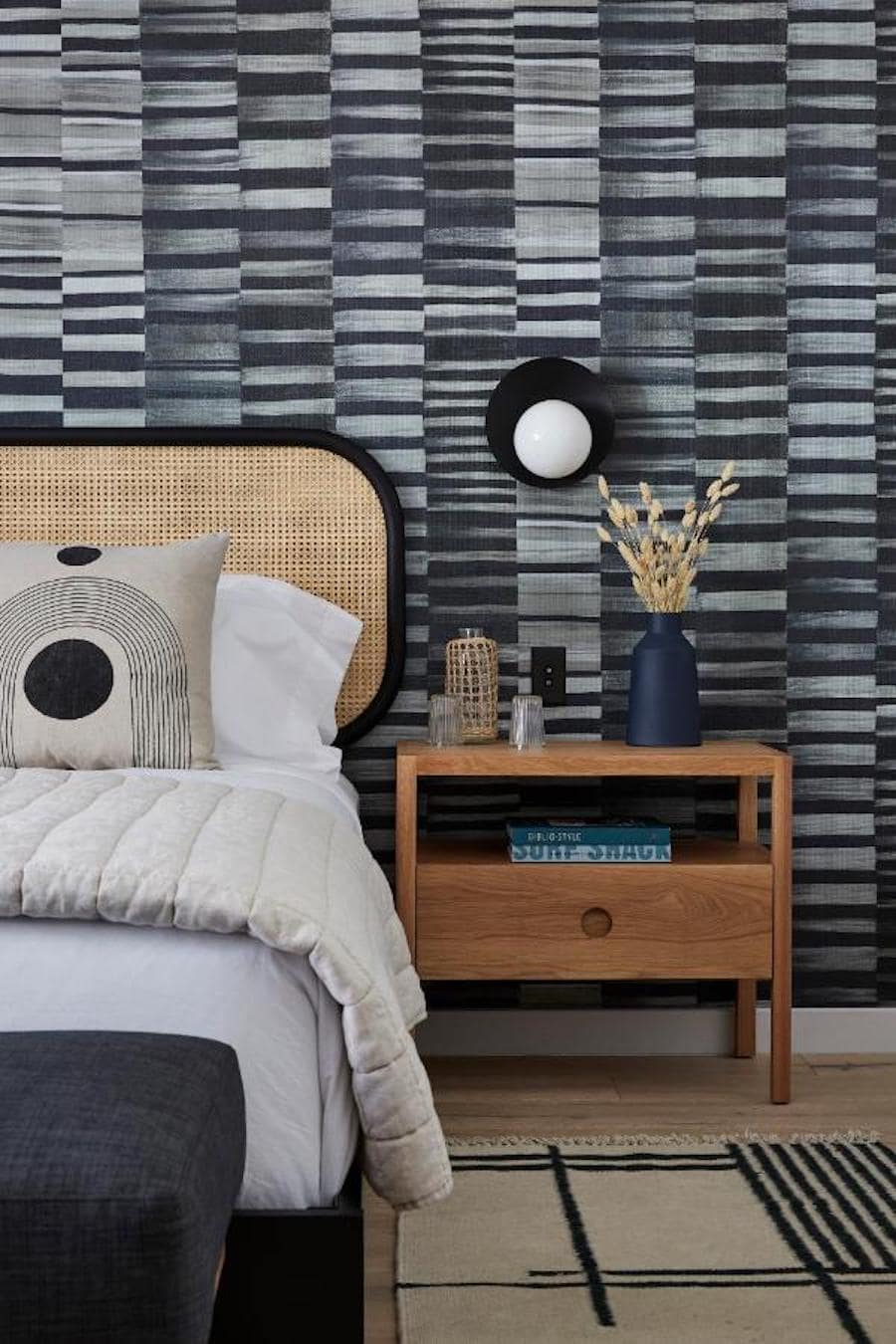 Halfway between San Francisco and Los Angeles, you will find the incredibly charming town of San Luis Obispo—a perfect stop for some low-key fine dining, wine tasting, and laid-back California culture. Plus, this small artsy town is home to one of the best boutique hotels in California, San Luis Creek Lodge.
The lodge, which sits right outside downtown (about a 20 minute walk) was another project from acclaimed designer Nina Freudenberger and shares her signature surf shack/upscale bohemian design present at White Water Cambria but on a smaller scale.
Twenty-five rooms spread across four buildings—each with their own signature flare—incorporate soft shapes, blue and green tones with natural woods, rattan furniture and black accents.
Hotel June, Los Angeles
One of my favorite new hotel openings in Los Angeles is without a doubt the Hotel June from Proper Hospitality. This place is all about fun and funky design. This West LA spot made its debut in 2020 in the middle of the pandemic and has been topping the hotel charts ever since.
Contemporary art and coastal California style give Hotel June a youthful exuberance not to mention, the groovy tunes to match. It's not often you find yourself Shazam-ing every song you hear at a hotel, but such is the case at Hotel June—and I speak from experience 😉
Rooms are perfectly minimal with light, natural colors and a touch of SoCal flare. Outside, the Baja-inspired pool deck is sure to pull you in for an afternoon of sun-bathing and cocktail sipping, with the amazing al fresco Caravan Swim Club right next door to satisfy your Mexican flavor cravings.
Palihouse, Santa Barbara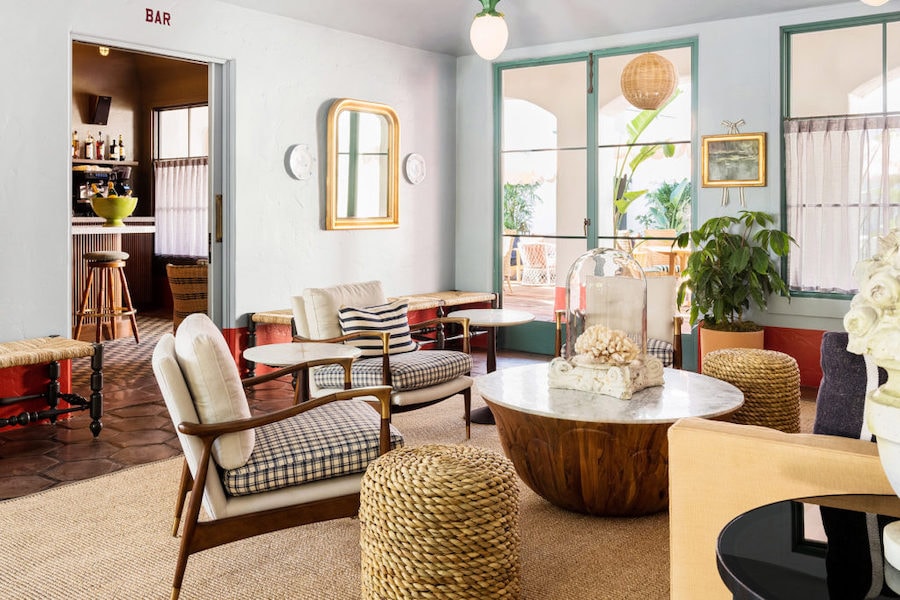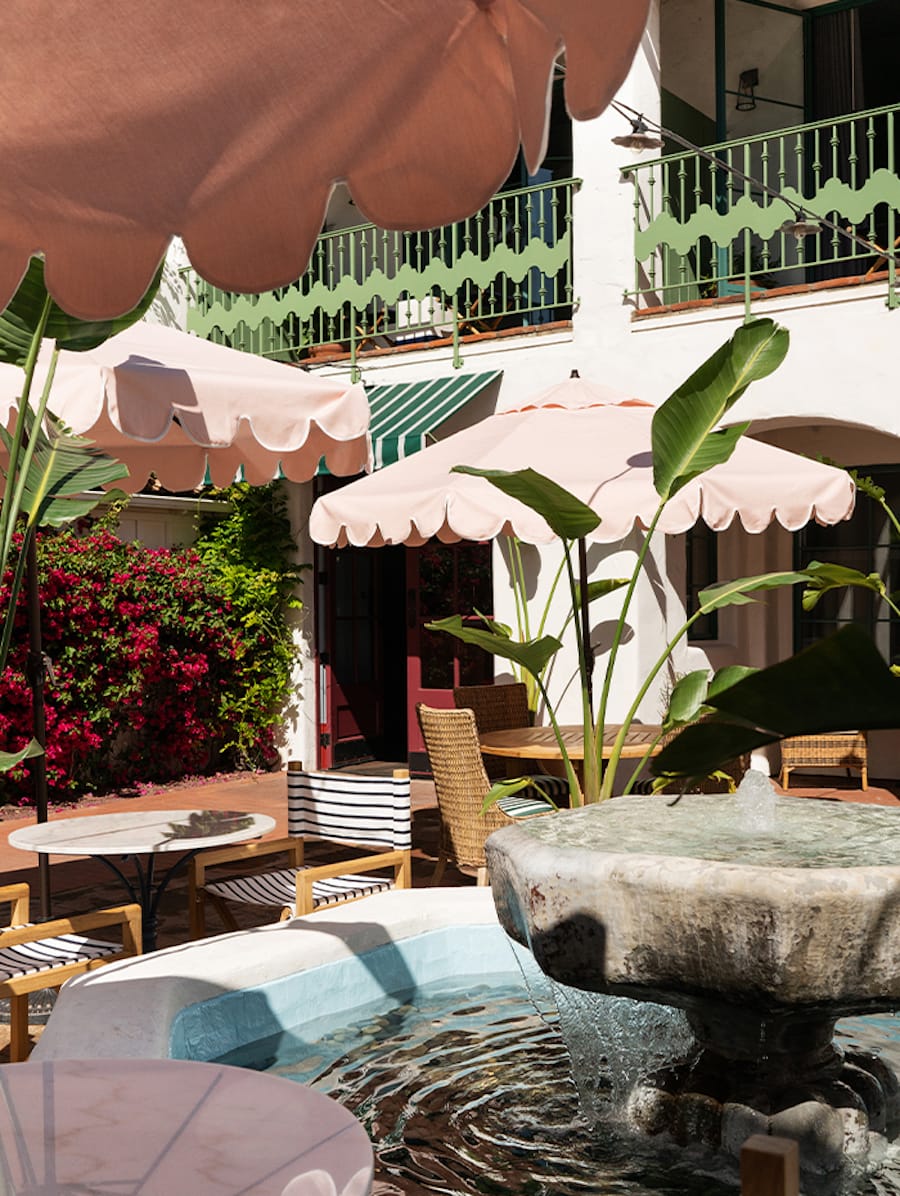 In true Palisociety style, Palihouse Santa Barbara retains an eclectic modern design that somehow perfectly combines your grandma's living room with minimal, ultra-chic California vibes.
The combo exudes warmth and style, with punches of color (pink lovers are especially welcome), and great amenities to boot—think swimming pool, Peloton bikes, cocktail bar and charming lobby lounge.
Twenty-four bright and airy rooms surround a lush Mediterranean-inspired courtyard, perfect for a morning coffee or evening cocktail.
San Francisco Proper, San Francisco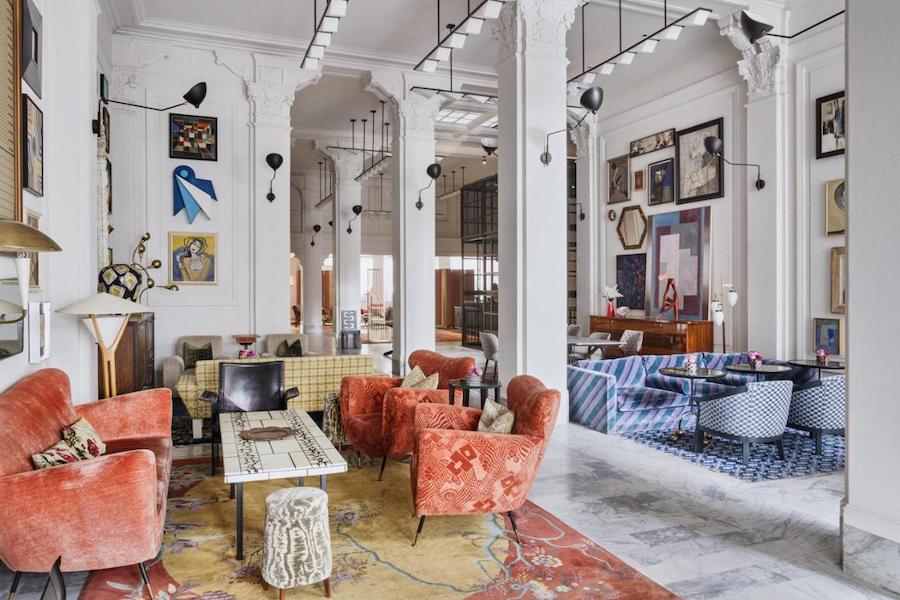 Arguably one of San Francisco's hippest hotels and certainly one of the best boutique hotels in California, San Francisco Proper checks all the luxury boutique boxes.
Featuring impeccable interior design by Kelly Wearstler—think funky pattern pairings, geometric furnishings and gallery walls galore—the Proper is a must-visit for anyone who appreciates art and design.
The hotel's unique aesthetic is complemented by impeccable service, amenities, and 5-star dining.
Be sure to grab a drink on the swanky rooftop for unparalleled views of SF and grab a bite at the Villon on the main floor for possibly the most impressive of Wearstler's sophisticated, pre-Modernist design creations.
Skyview Los Alamos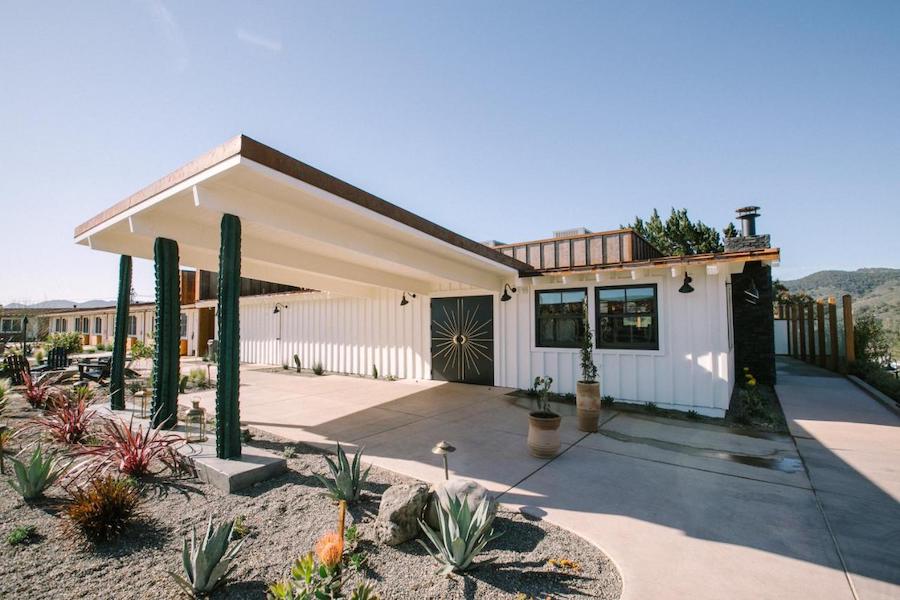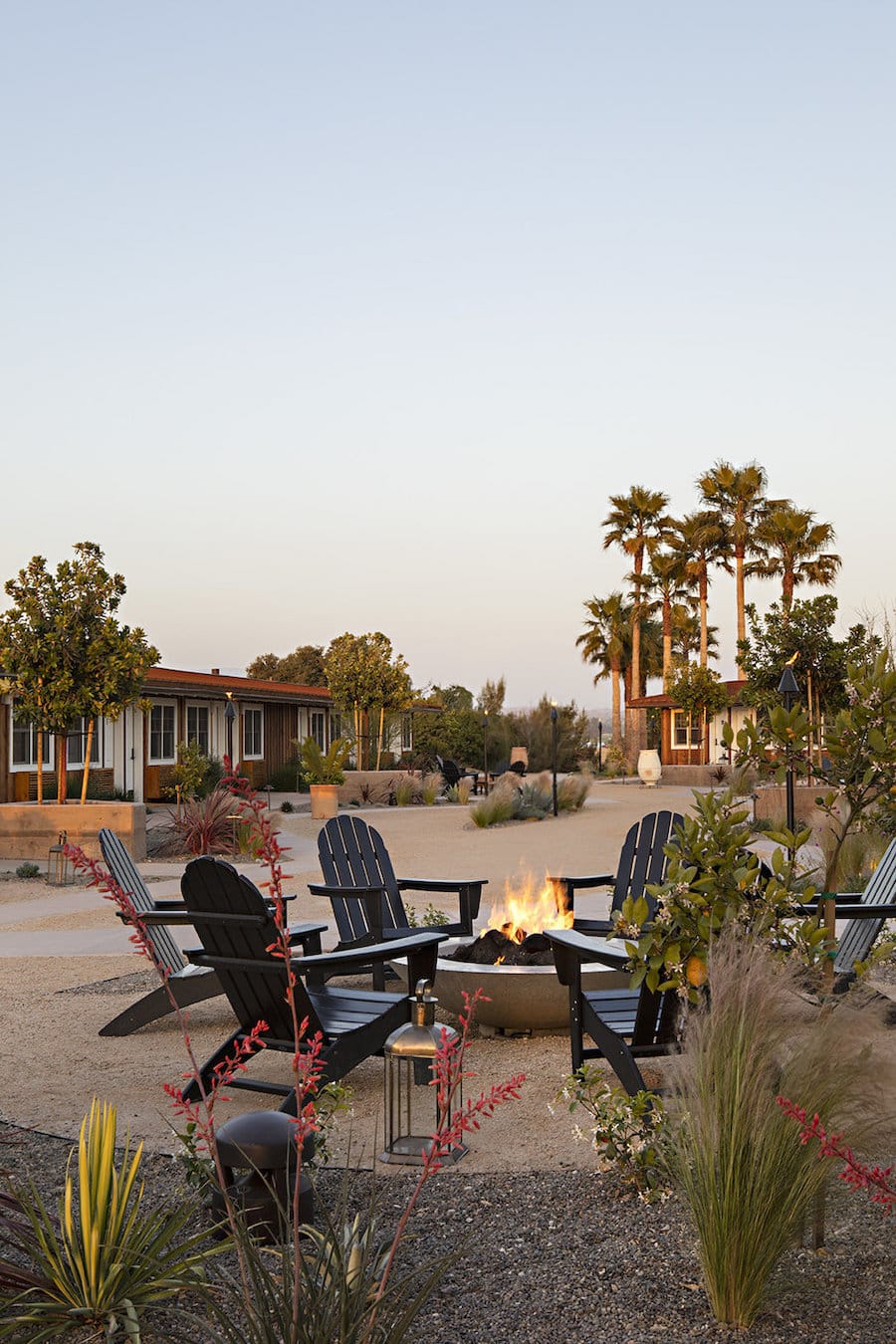 Situated in my favorite part of Santa Barbara wine country, Skyview Los Alamos is a great stay for lovers of more retro design.
Perched overlooking the Santa Ynez wine valley, this renovated roadside motel provides stunning views, even from the heated swimming pool, with Old Hollywood vibes flowing throughout the 33-room property.
Don't miss the full-service restaurant, Norman, where original mid-century architecture remains intact yet has been stylishly updated with modern trimmings.
Pearl Hotel, San Diego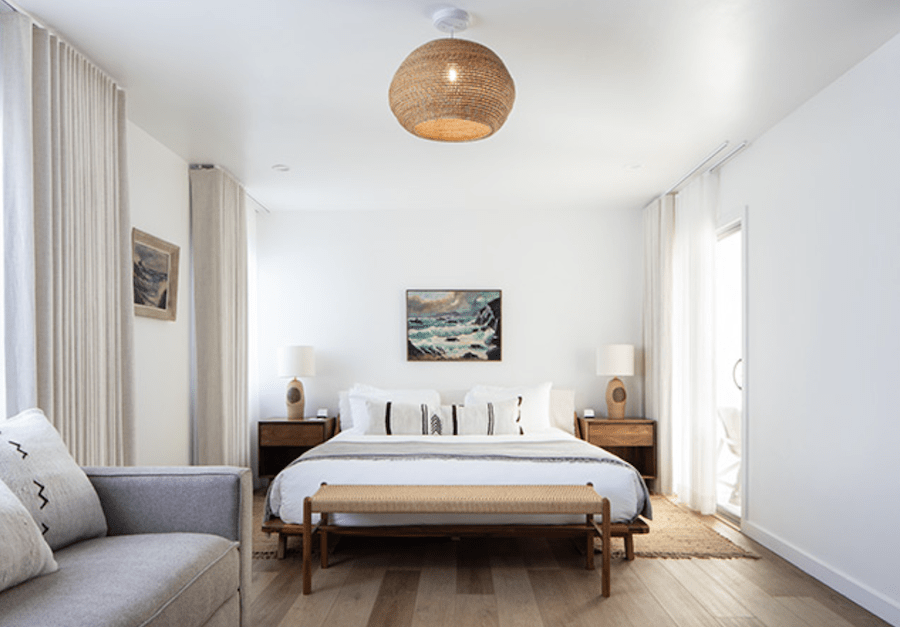 With a variety of room options to fit every traveler's needs, the Pearl Hotel in San Diego doesn't skimp on style.
Housed in an ultra-cool, ultra-retro 1960's building, the Pearl's interiors are outfitted in a more contemporary style with mid-century touches that still feel reminiscent of the Palm Springs of another era.
The 23 guest rooms center around a funky oyster-shaped pool and urban oasis, adjacent to the on-site restaurant and bar, Charles & Dinorah.
Whether you are looking for quirky design or hitting San Diego on a budget, The Pearl is an awesome option for any design lover.
The Hoxton, Downtown LA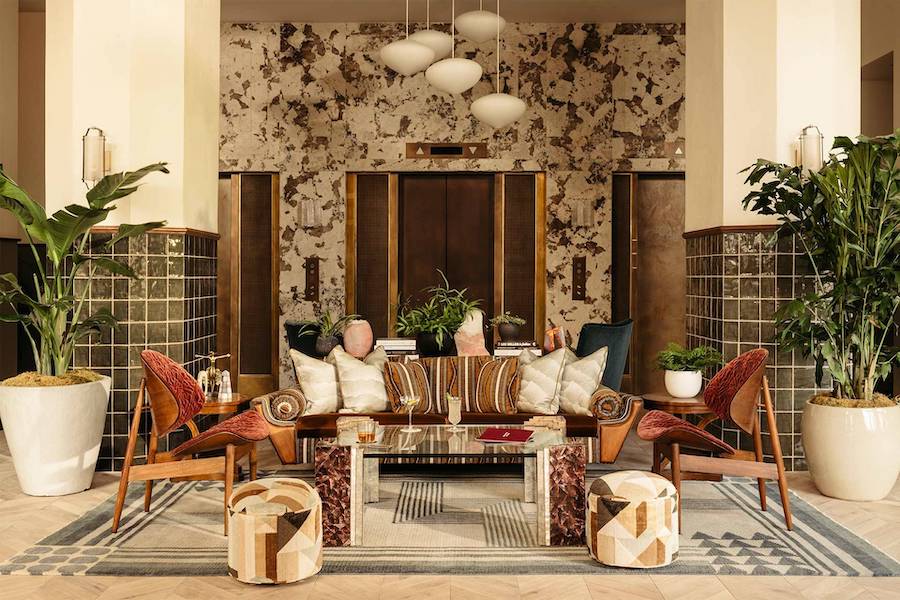 A true stunner in the heart of LA's eclectic and creative downtown neighborhood, The Hoxton is hands down one of the best boutique hotels in California.
Cool SoCal vibes meet old school Hollywood glamour in this renovated LA Railway headquarters. Inside, you'll find a grand lobby designed for gathering, two restaurants and a rooftop swimming pool with epic city views, which all really set the Hoxton apart.
---
Read More Posts About California
---
Capri Hotel, Ojai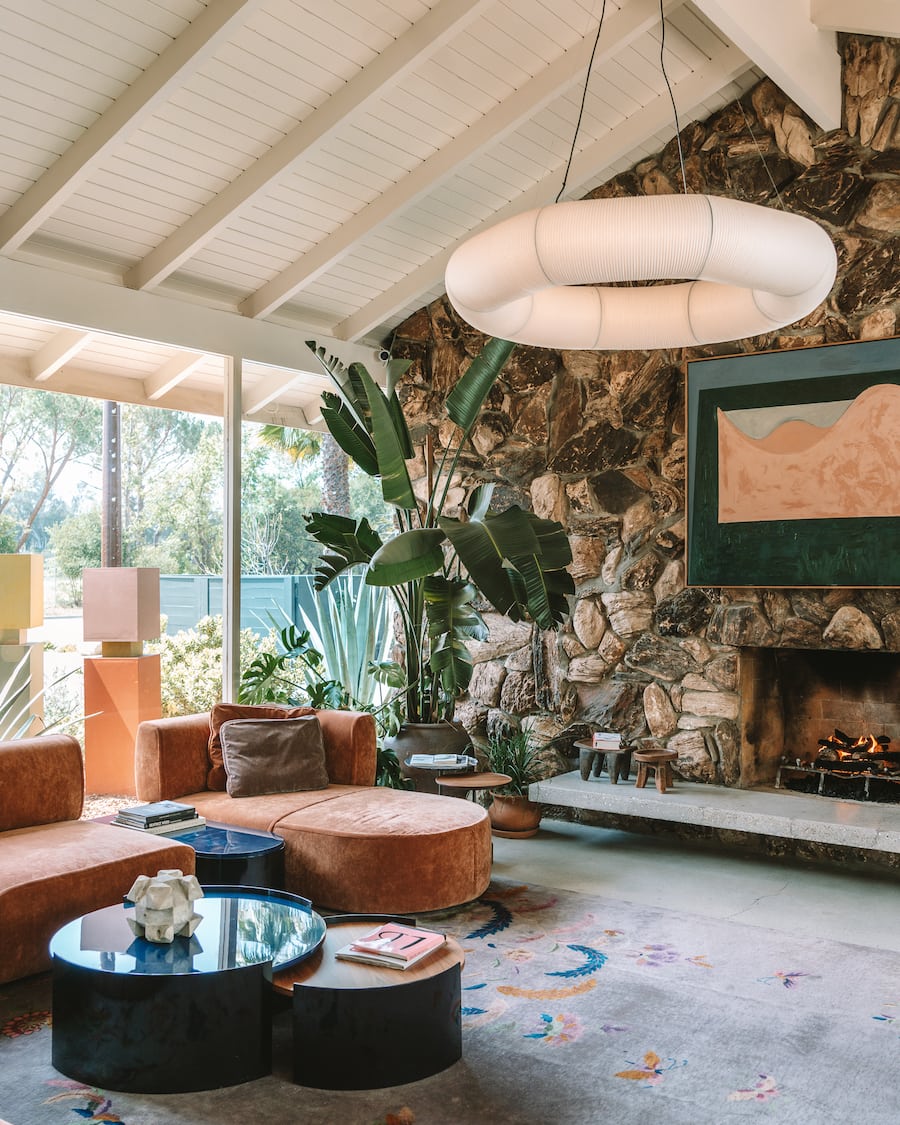 For an affordable stay in Ojai that will still appease your inner interior designer, the Capri Hotel ticks all the boxes.
I loved this simple stay during a recent trip to the Ojai Valley—it's got 30 newly renovated rooms decked out in mid-century modern style and is conveniently situated just a few minutes drive to the center of downtown.
In the communal spaces like the lobby featuring a cozy fire pit and the pool deck, you'll find colorful accents and more unique design pieces that belong in a mid-century design magazine. Super chic, super Instagrammable, you can't go wrong with the Capri.
Harmon Guest House, Healdsburg
Eco-friendly with a sharp redwood-clad exterior, the Harmon Guest House harnesses the creative nature of its hometown, Healdsburg, California.
The hotel is decked out in contemporary local art with sleek modern design throughout the thoughtful shared spaces, set up to encourage a sense of community. Each room features its own balcony, hand-loomed throw blankets and original art from local makers.
Don't miss the stunning views of Fitch Mountain and the Sonoma Hills from the sleek rooftop terrace accompanied by tasty cocktails, local wine, a fire pit and lovely reclaimed wood that only add to the natural aesthetic.
Hotel Carmel, Carmel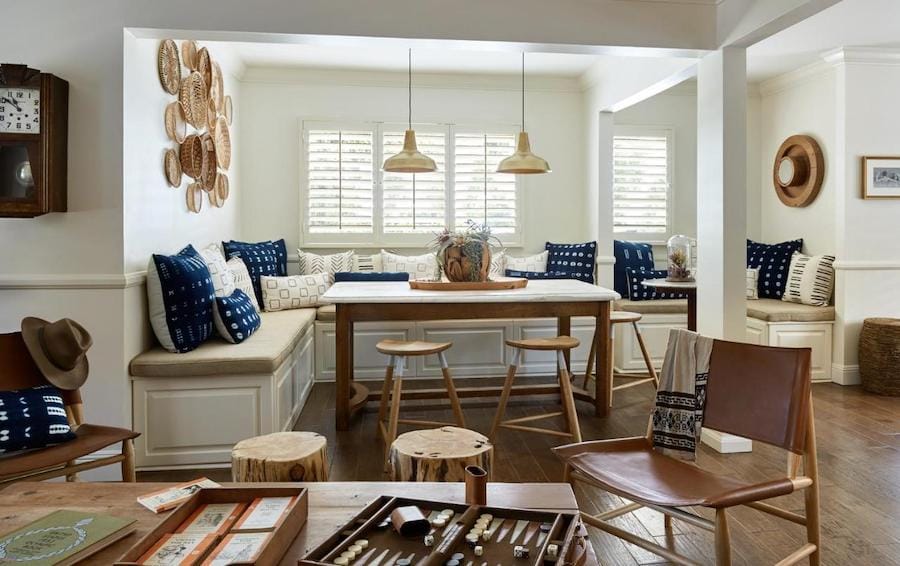 Perfect for locals and travelers exploring along the magical California coastline, Hotel Carmel is reminiscent of old-school California living with its own modern, seaside twist.
The lobby has more of a living room vibe with stylish leather furnishings and kilim throw pillows accented by a wall of 80's cassettes.
30 rooms on the property echo this hip vintage vibe and combine it with relaxed cottage-by-the-sea style furnishings, featuring rattan pieces, nostalgic prints and white slatted windows.
Step out into the trellised communal courtyard and grab a comfy seat by the fire pit or head down to the stunning tiled hot tub for a relaxing dip.
Found inspiration in this list of the best boutique hotels in California? Let me know in the comments below! If you're looking for more funky glamping style stays, check out my post on the best glamping in California.
---
Planning a trip right now? Don't miss my go-to websites for booking everything from flights and tours, to accommodation and more:
---