Over the course of our three days in Edinburgh, Jess of Bon Traveler and I were on a mission. A caffeine mission, that is. Edinburgh is small and manageable enough that with three full days of exploring, we felt well equipped with time to see all the major sites and items on our to-do list and still have space in our itinerary for as much cups of coffee and pastries as humanly possible. I'm proud to say I think we were pretty successful in our efforts and made it through quite the roster of Edinburgh coffee shops.
Edinburgh has a surprisingly cool independent coffee scene. It wasn't what I expected from the city heading in to our trip, but turns out locals are pretty serious about their beans. I've compiled a list of the Edinburgh coffee shops that were personal favorites, what makes each unique, and a few additions that we didn't make it to in case your endeavors are more aggressive than my own. Happy coffee shop hopping!
A Quick Guide to the Best Edinburgh Coffee Shops and Bakeries

This old optician's shop was converted into a cafe in 2016, but the owners retained its unique history by preserving the original shopfront and brass lettering. Furthermore, its funky logo perfectly fuses a monocle as a nod to the shop's past and a cup of coffee. Coincidence? Probably not.
Inside, customers will find a modern British pub vibe with plenty of seating and tasty brunch items like avocado toast served up with a side of coffee from London's Square Mile Coffee Roasters. This is the perfect pit stop before a day exploring the south side of Edinburgh's Old Town where sites like the National Museum of Scotland are in close proximity.
Forrest Rd, Edinburgh EH1 2QN, UK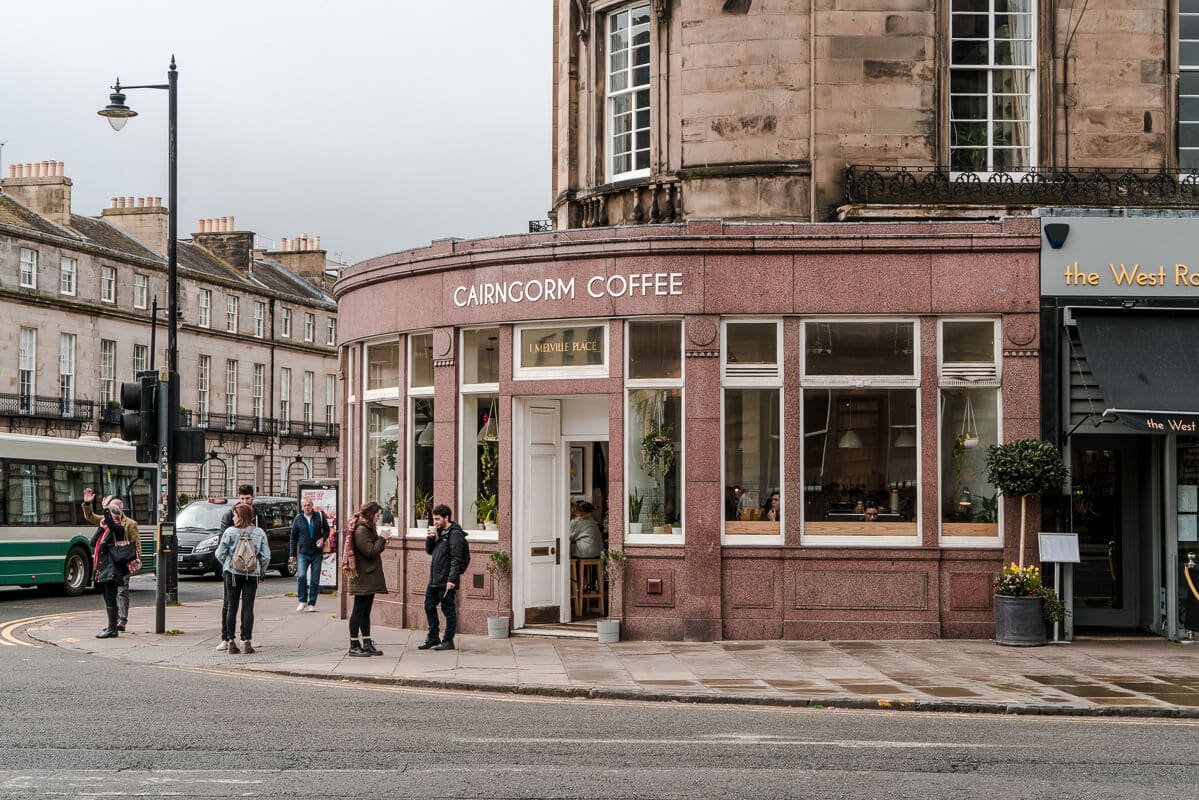 One of hipper options in town for that caffeine hit is Cairngorm Coffee, which has two locations in the city and has a welcoming bright and airy interior. The one we visited at Melville Place was buzzing mid-day with a line basically out the door and a lively group of customers eating and chatting away with friends.
This local favorite prides themselves on brewing their own coffee in the Cairngorms and utilizing the first San Remo Opera machine in all of Scotland. Other reasons to go: plenty of healthy options for those with a taste or need for gluten free and vegan dishes.
41A Frederick St, Edinburgh EH2 1EP, UK
1 Melville Pl, Edinburgh EH3 7PR, UK
Specializing in single-origin specialty-grade coffee, Brew Lab serves up beans from Union Hand-Roasted, featuring two different espressos and filters each day so there is always something fresh to try. But for non coffee drinkers, craft beers and local wines along with salads, soups and sandwiches from local suppliers around Edinburgh are also up for grabs in this modern coffee house with a science lab vibe.
6-8 S College St, Edinburgh EH8 9AA, UK

Once housing a confectionary shop, this intimate spot in Old Town features a vintage facade and intimate interior with minimal seating including cozy window nooks for optimal people watching. With a rotating coffee menu that features new guest roasters every few months, this is great spot to come back to again and again and continues to be one of the best Edinburgh coffee shops in town.
7 Cockburn St, Edinburgh EH1 1BP, UK
Sourdough bread and doughnut lovers, take note. Since its inception in 2015, Twelve Triangles has placed a strong emphasis on slow ferment cold prove doughs while baking all of their goods from scratch. If you're looking for bread done well, with no additives or extra crap added — that's also freaking delicious — this is the spot for you.
90 Brunswick St, Edinburgh EH7 5HR, UK
A tiny locale that makes up for its size in quality, Fortitude is a specialty coffee roaster using filtered water and single origin beans with their la Marzocco Linea PB. Don't bank on grabbing a seat here as tables are limited, but Fortitude is definitely worth of a pit stop during your explorations around Edinburgh's New Town.
3C York Pl, Edinburgh EH1 3EB, UK
One of the more touristy cafes in Edinburgh, Elephant House was made famous by the fact that J.K. Rowling spent much of her time writing the Harry Potter series here pre-stardom. While it may not be the most renowned for its coffee, Potter fans will definitely want to pop in here for a dose of inspiration and a peek into how the fantasy series came to be.
21 George IV Bridge, Edinburgh EH1 1EN, UK
This no-frills spot is another New Town gem located inside one of the area's signature style Georgian townhomes on the bottom level. It's a bit hidden from the street, but once you've found it, Lowdown Coffee is a great spot to enjoy a Swedish style cup of jo courtesy of Koppi roasters. Don't miss a slice of cake from Archipelago Bakery while you're at it.
40 George St, Edinburgh EH2 2LE, UK
The winner for the most hip coffee shop in Edinburgh is undoubtedly Door 127, located inside the city's trendiest boutique hotel, Eden Locke. With high ceilings and a stunning design complete with pastel toned walls and architectural seating, this spacious cultural meeting spot attracts a mix of the city's hippest guests and locals. Bring your laptop, grab a coffee, and stay awhile. Read my full Eden Locke hotel guide here.
127 George St, Edinburgh EH2 4JN, UK
A local favorite, Artisan Roast began their empire in Edinburgh back in 2007, when their Broughton Street location opened as the first specialty coffee shop and roastery in Scotland.
Since then, they've expanded to multiple locations, all which serve up a global selection of high quality beans from places like South America, Central America and Africa. Pro tip: If it's too late in the day for caffeine, order up the lemongrass hot chocolate for a cozy treat instead.
57 Broughton St, Edinburgh EH1 3RJ, UK
Scandi Lovers will want to head straight to Söderberg, a Swedish cafe company that's been steadily expanding throughout Edinburgh and even opened up its first location in London recently. Everything from the pastries and coffee to cocktails available on the evening menu are authentically Swedish and will leave you craving a visit back before your trip is over.
*There are many locations around Edinburgh. Check the map in this post for all addresses.
Cake lovers won't want to miss a pit stop at Archipelago, a beloved bakery city-wide that serves up the most delicious bread and baked treats, all made from 100% organic flour. I found out about this bakery from their beautiful cake loaves being served at Lowdown, and promptly decided to head straight to the source myself. It was worth it.
39 Dundas St, Edinburgh EH3 6QQ, UK
Featuring a full menu of sandwiches, soups and brunch items, Cult Espresso is an Edinburgh favorite for the full 360 experience, from their coffees courtesy of Round Hill Roastery to their waffles, smashed avocado and much more. Don't miss popping in to this hip spot when you find yourself on the South side of the city near The University of Edinburgh.
104 Buccleuch St, Edinburgh EH8 9NG, UK
Have any favorite Edinburgh coffee shops I missed? Leave me a note in the comments!
Planning a trip right now? These are all the websites and services I love for booking everything from flights, tours, accommodation and more:
Read More:
Loved this Post? Pin it for Later