As we slide into autumn during one of the craziest and most cabin-fever inducing years EVER, I know one thing is going to be on everyone's mind: where can we escape safely and locally for the best fall colors in the USA? And where the heck are the best fall destinations in the US for exploring in general?
Luckily, there are tons of incredible fall destinations in the US, but I thought who better to ask about their favorite places to travel in fall than travel bloggers themselves?
These are the pros that have done the legwork to find the best locales for leaf-peeping and ditching the crowds once summer slows down. They know the best tips and tricks for when to visit each destination and how to make the most of your trip.
This post shares fun fall trip ideas in many different regions of the US, so whether you're from the Northeast, the South, or the West Coast I'm hoping there's something here that can appeal to you in your general area.
If you're not ready to get out exploring just yet, make sure to save this post and add these spots to your bucket list for future autumn seasons so you can plan ahead when the time is right!
Keep reading to find out these incredible travel-blogger approved places in the US to visit during fall.
8 Epic Places to Travel in Fall in the US
Great Smoky Mountains National Park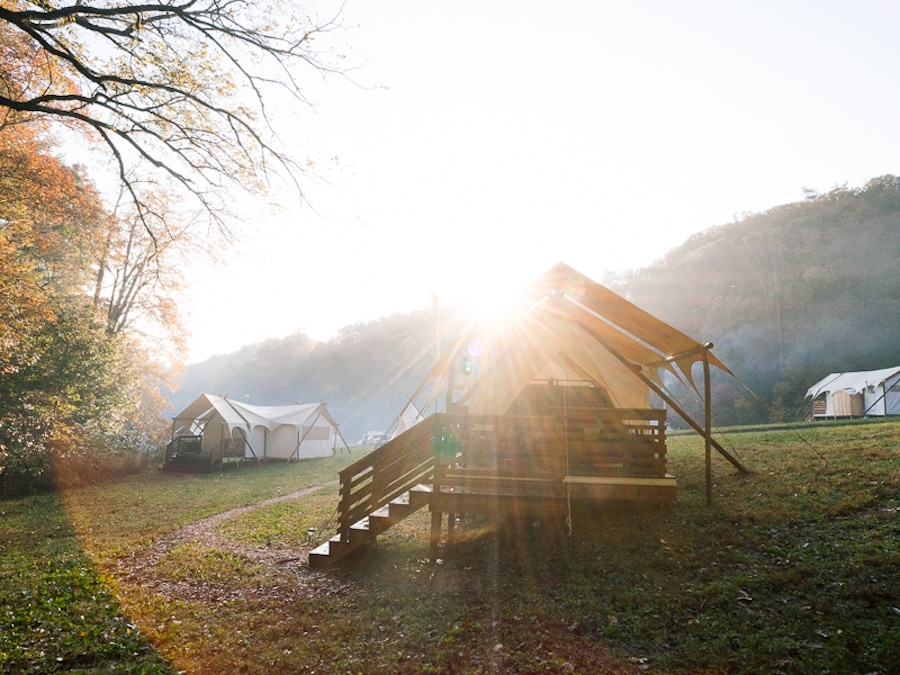 Recommended by Anna Foushee of Annafoushee.com
The Great Smoky Mountains National Park was the most visited national park of 2019 with over 12 million visitors. The park is located on the border of North Carolina and Tennessee with the Appalachian Trail passing through its center.
It provides the perfect fall road trip destination with numerous overlooks, hiking trails, waterfalls, and towering peaks with 360-degree views of the colorful fall foliage.
From mid-September to early November you will find the parks most spectacular display of autumn colors with the turning of birch, beech, maple, oak and hickory trees.
Because the autumn leaf season travels down the mountain sides, the leaves change at the higher elevations first and lower elevations last — keep that in mind while planning your trip.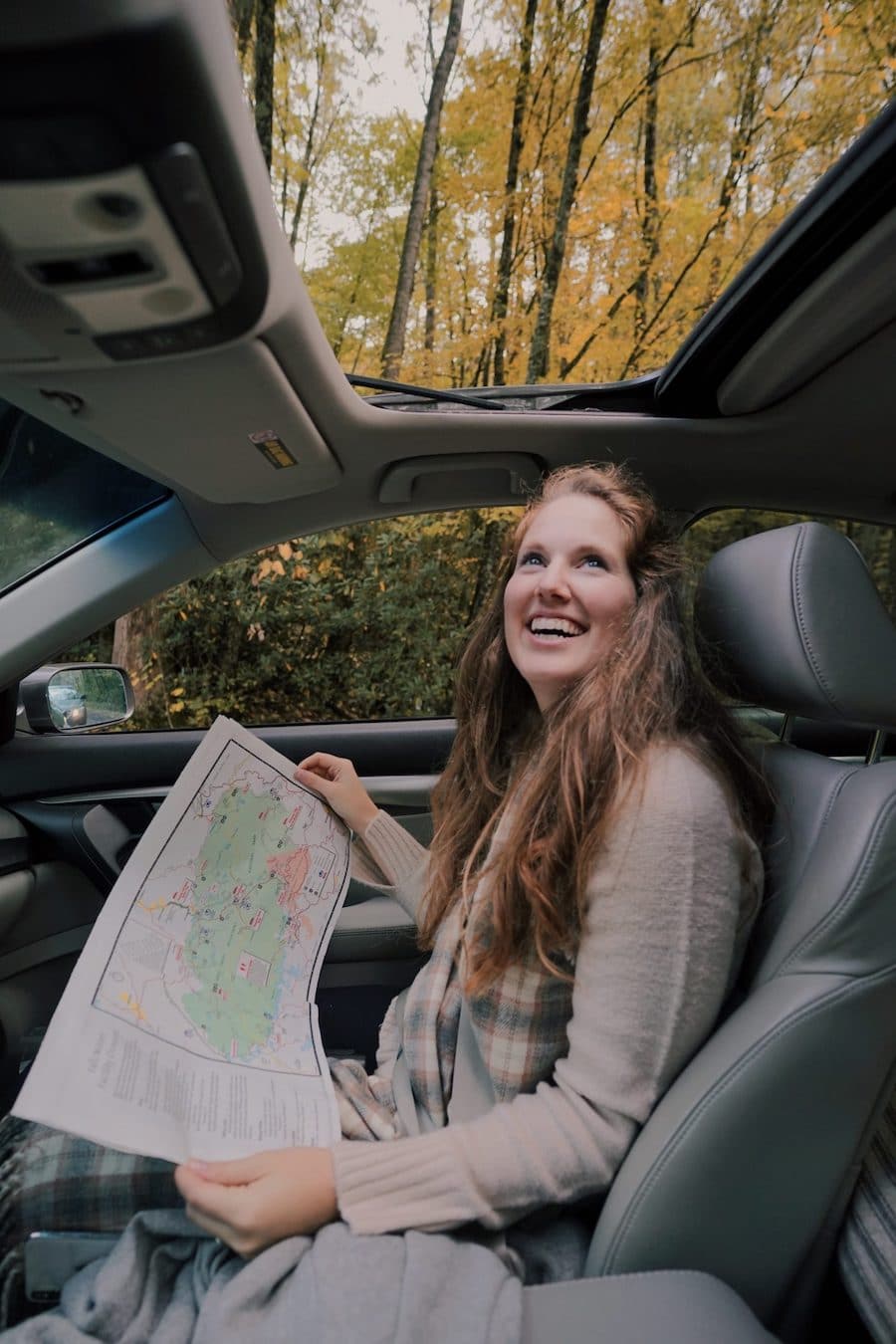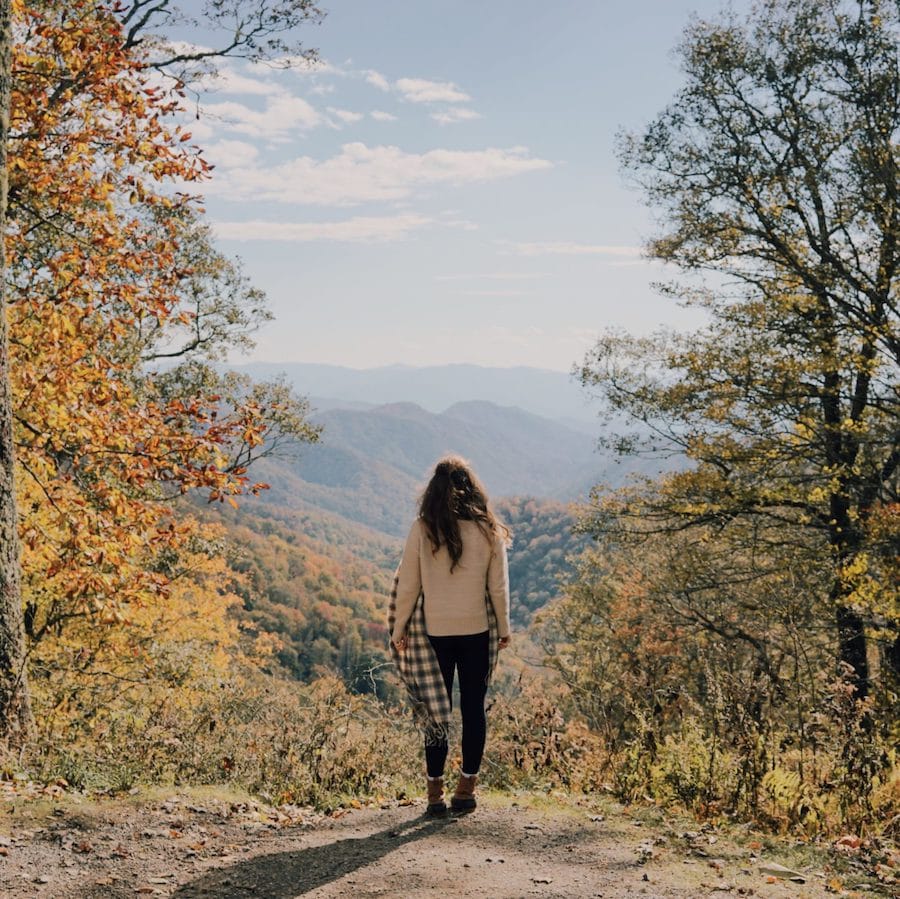 I highly recommend glamping in the smoky mountains so that you can enjoy the coziness of a campfire under bright starry skies without sacrificing the comfort of a bed.
If you enjoy a challenge, try tackling the strenuous Charlies Bunion Trail for incredible views at the summit. Then give your feet a break and spend an afternoon cruising the park and pulling off at the numerous overlooks (I loved Morton's Overlook during the fall).
If you have time, Cade's Cove is a one-way, 11-mile loop through a gorgeous valley with lovely spots for a picnic. But keep in mind, you will need 2-4 hours to complete the loop due to slow traffic and frequent stops.
Last, but certainly not least is Clingmans Dome — a short 0.5 mile trail that will lead you to the highest point in the park with 360 views of the Smokies. It's an absolute must, and there's no better place to watch the sunset!
How to Get There:
The most popular gateway into the Smokies is through the Sugarlands entrance of the park near Gatlinburg, TN. There are also entrances to the park at Townsend, TN and Cherokee, NC.
Where to Stay:
Smoky Mountains Glamping Airbnb
---
Read More Posts on Fall Travel
---
Yosemite National Park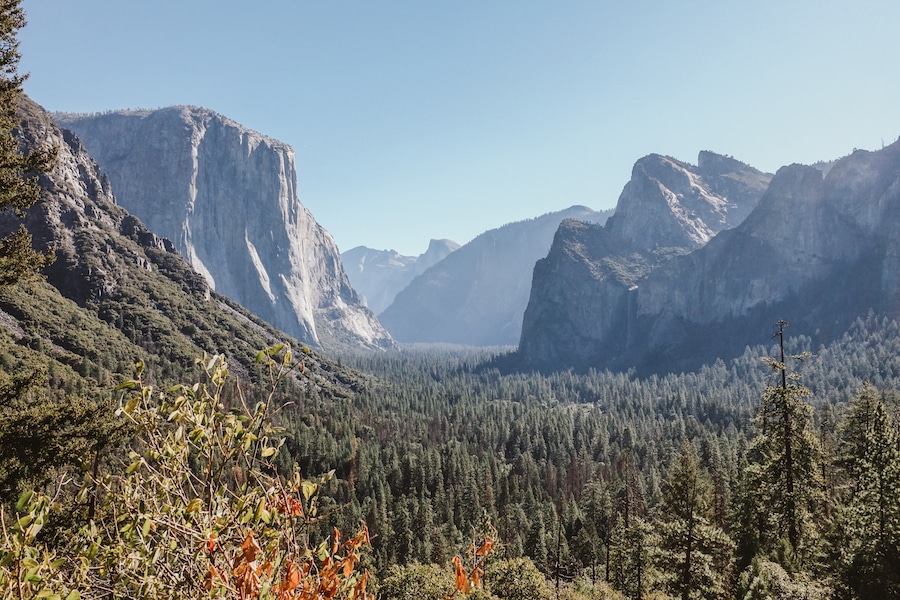 Recommended by Jessica Wright of Bon Traveler
One of my favorite places to escape to during the fall months is Yosemite National Park. One of the main reasons is that the park's foliage is in full swing, making it one of the best places to chase fall colors on the West Coast.
After the summer crowds pass, you'll often find that the park is less crowded, and this year with the new reservation system in place, it's guaranteed to have fewer visitors.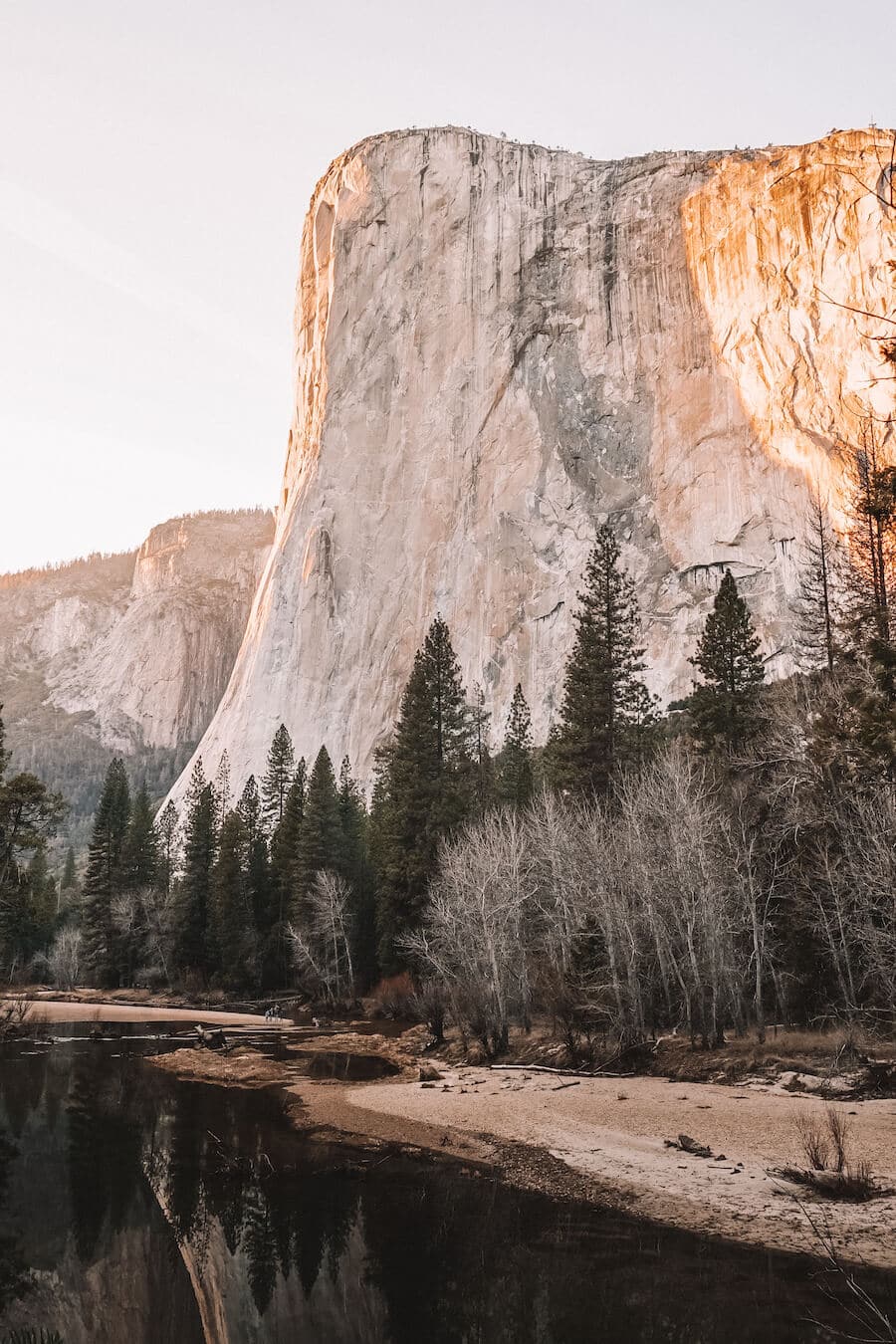 For a few tips, I'd recommend booking a stay at AutoCamp Yosemite. This newly-opened property offers chic digs that are closely located to the park entrance. You'll need to reserve your entrance, so be sure to do so ahead of time.
For hiking trails, I'd recommend exploring the Valley Loop which is a moderate trail that circles the entire valley. For a more intense hike before the snow season, the 4 Mile trail will take you high above the valley to Glacier Point with unparalleled views of Half Dome.
How to Get There:
The closest airport to Yosemite is the Fresno-Yosemite International Airport (FAT) about 65 miles away. However, if you are coming in from California, Oregon or Nevada, you can easily rent a car and making a longer trip of it to explore more of California's natural gems.
Where to Stay:
Find more of Jessica's travel tips for Yosemite, in this ultimate weekend guide.
Schoodic National Scenic Byway, Maine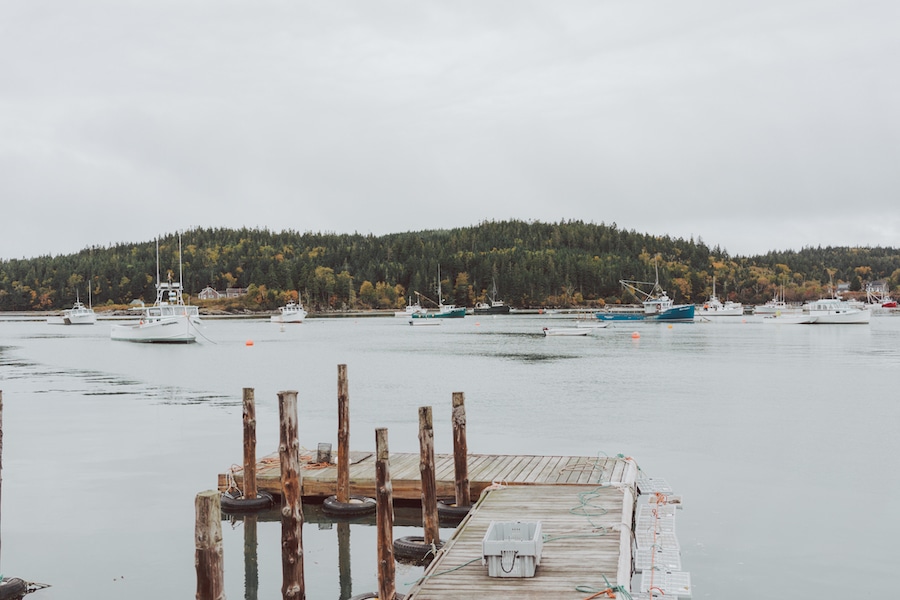 Recommended by Diana of In Between Pictures
New England in the fall is stunning, but Maine in the fall is the place to be! The fall foliage is as lush and colorful as it gets, making for a striking backdrop in an already scenic region.
If you want to soak in the scenic views amid fall foliage, make sure to visit one of Maine's four scenic byways – which are beautiful any other time of the year. Still, they are especially striking during the fall season.
The most popular one is the Schoodic National Scenic Byway. It will take you along the coast through some charming towns, sheltered harbor, and rocky coastline. Along the coast, you will also encounter the many lighthouses in the state. What better time to visit one amid colorful leaves?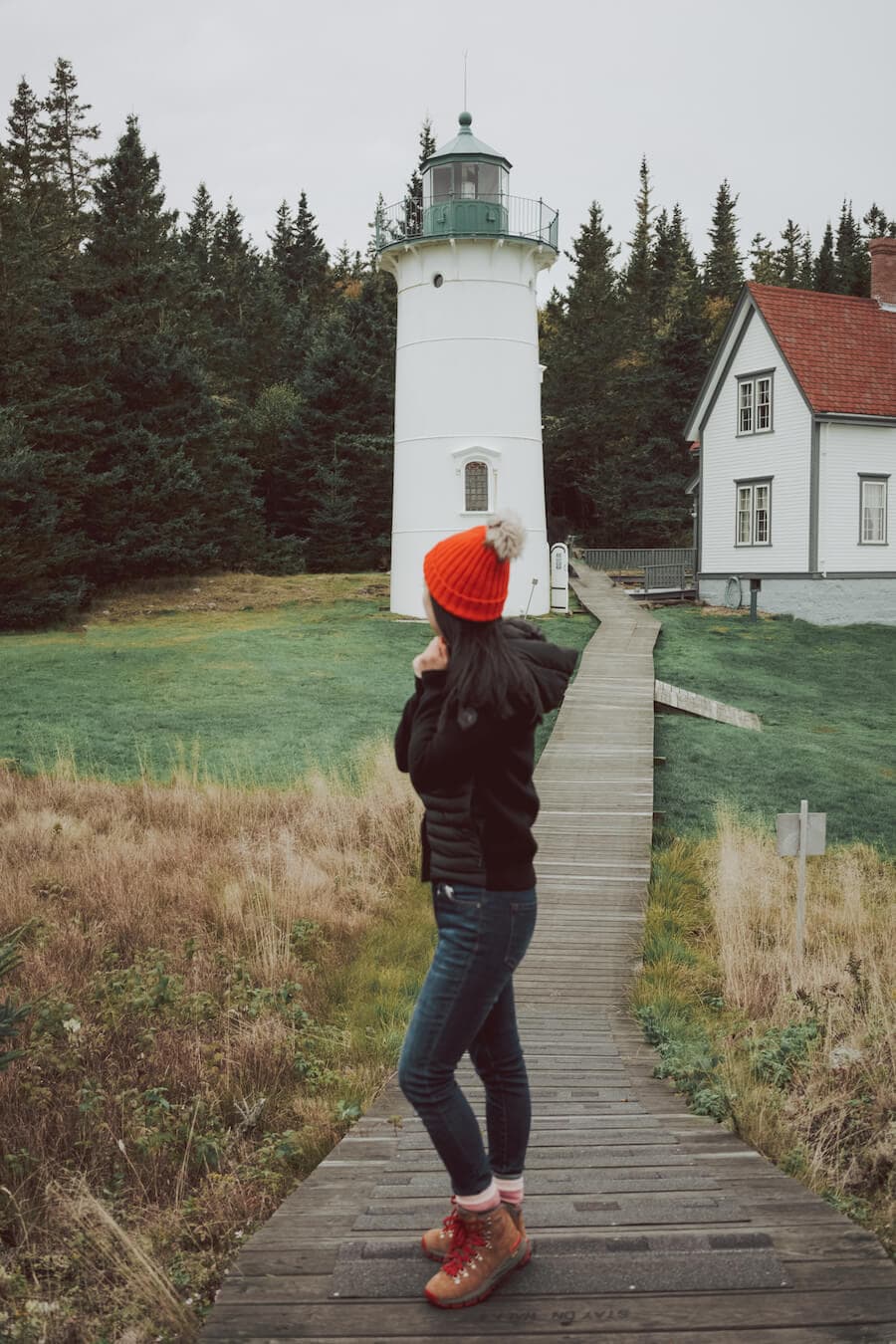 If the orange, red, and yellow leaves weren't colorful enough, you will be pleasantly surprised by the wild blueberry barrens. As you drive through Maine, you will find many wild blueberry barrens – in the fall, these barrens turn red, giving a burst of colors to the already colorful landscape, which makes Maine uniquely special during the autumn months.
If the fall foliage and scenic views weren't enough, you can always count on Portland to bring the entertainment with festivals and concerts once things start to reopen again!
How to Get There:
The Schoodic National Scenic Byway is a bit up the coast in Maine, almost 3 hours north of Portland. Your best bet is to get yourself to Portland first, stay a few nights enjoying the restaurant scene and culture of Maine's most vibrant city, and then rent a car to head up the coast.
Where to Stay:
This funky unique farm stay, "Coyote Cabin"
Lake Tahoe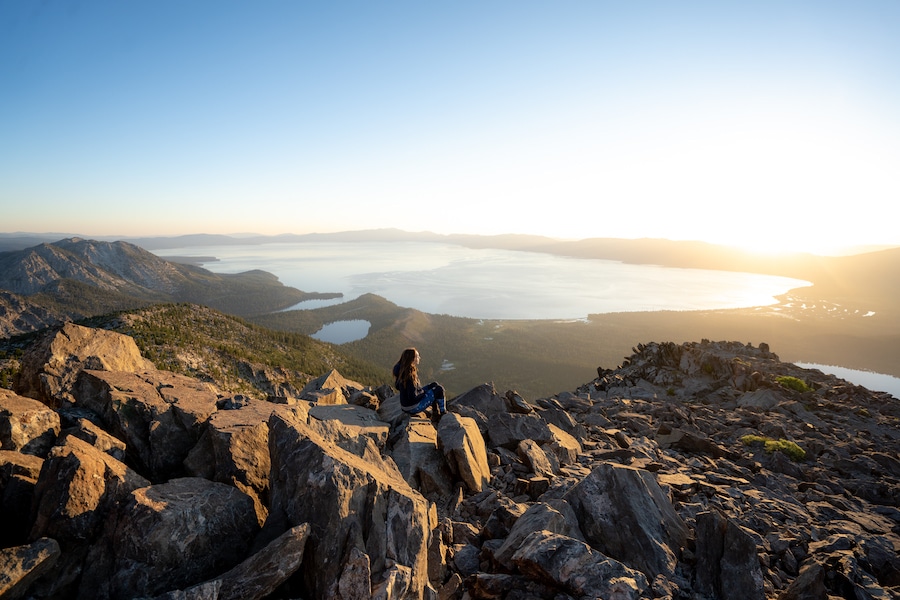 Recommended by Kristin of Be My Travel Muse
The fall in Lake Tahoe feels like a well-kept secret. In the summer months, hoards of people flock to the shores of this crystal clear lake, but in the early fall, the weather is at its best and the typically-frigid water is at its warmest.
Even if the air temperature looks low on the forecast, the granite rocks pack so much heat that tourist favorites like Sand Harbor and south lake will still feel plenty hot for swimming.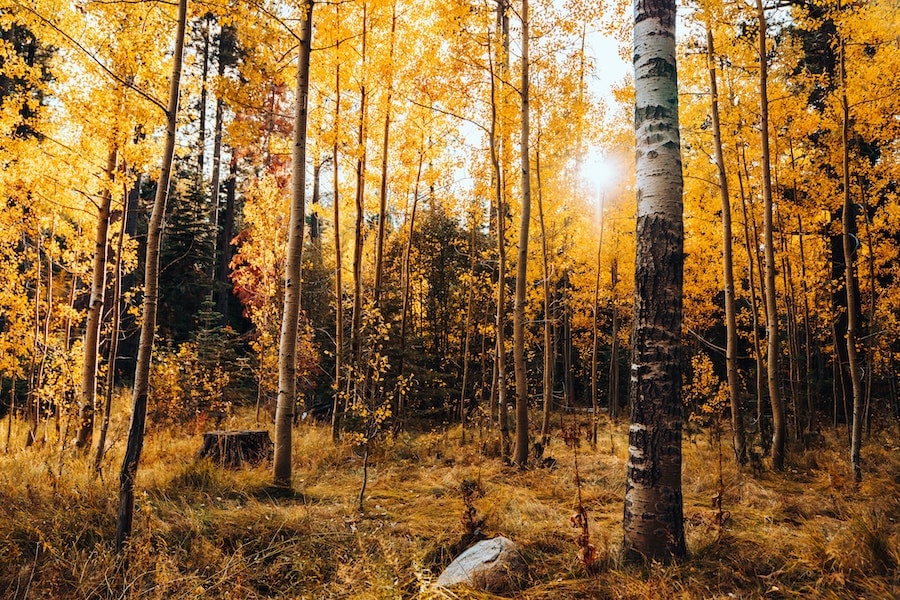 Though Tahoe is mostly framed by evergreen pines, there are a few spots for leaf peepers to see the gorgeous yellows of the Quaking Aspen and Cottonwood trees.
Hope Valley, Taylor Creek (the salmon run takes place here too!), Fallen Leaf Lake, Eagle Falls near Emerald Bay and Zephyr Cove are a few of my favorites. Though timing of the colors depends on the year's temperatures and is slightly different every year, October is the usual time for leaf colors.
If arriving later in the fall, you might be lucky enough to catch the first snow. Enjoy Tahoe at its quietest!
How to Get There:
Lake Tahoe is located on the border of California and Nevada in the northern parts of the states. Your best bet for accessing Lake Tahoe are to get to cities like Reno, NV or Sacramento, CA and drive in.
Where to Stay:
This gorgeous cabin chalet on Airbnb
Little Rock & Hot Springs National Park, Arkansas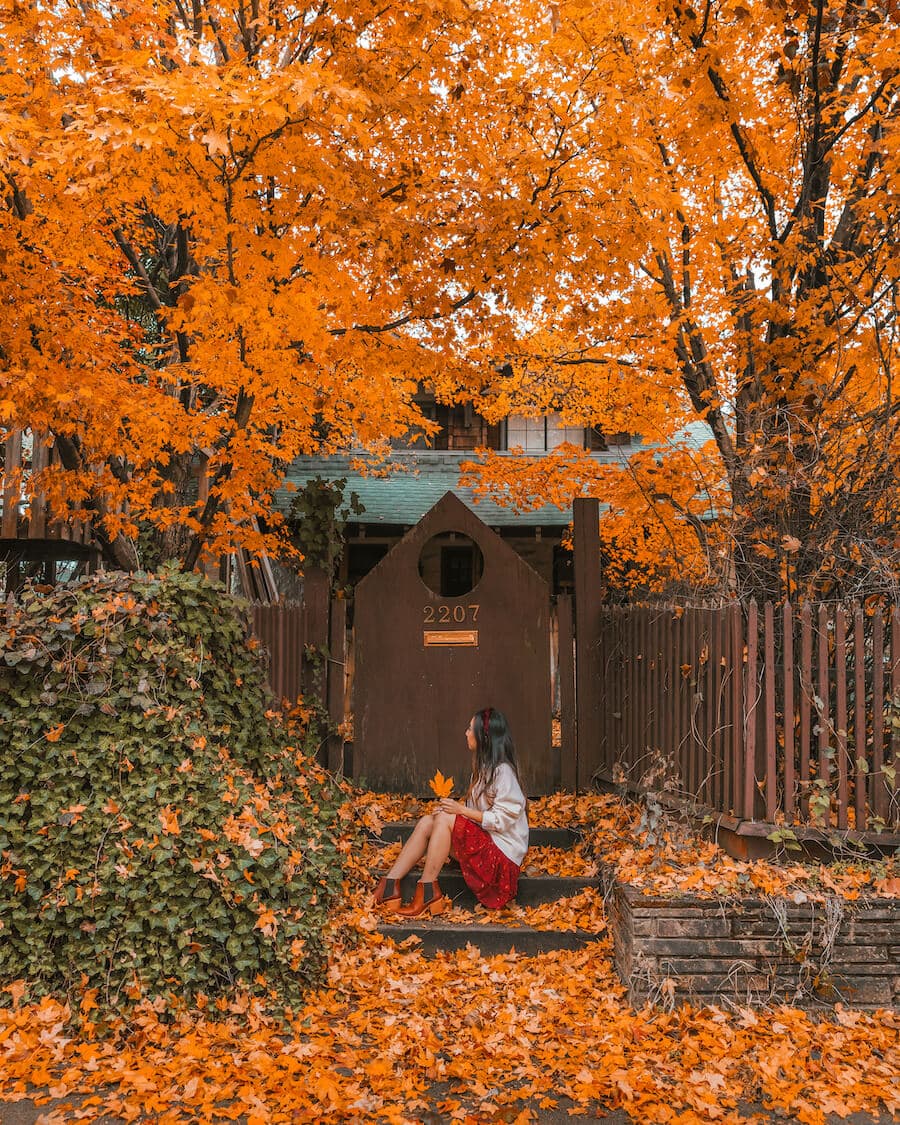 Recommended by Haley of Ready Set Jet Set
Arkansas may not be the first place you consider for an autumnal escape, but the state actually gets pretty great fall foliage. Two places to consider for your trip are Little Rock (the capital of the state) and Hot Springs, home of the nation's first national park.
In Little Rock, one great place to check out the changing leaves is Pinnacle Mountain State Park. Or honestly, you can just walk around and find pockets of golden trees throughout the city.
If you really want to double down on the autumn vibes, take a pit stop at Loblolly Creamery for their Pumpkin Spiced Latte flavored ice cream.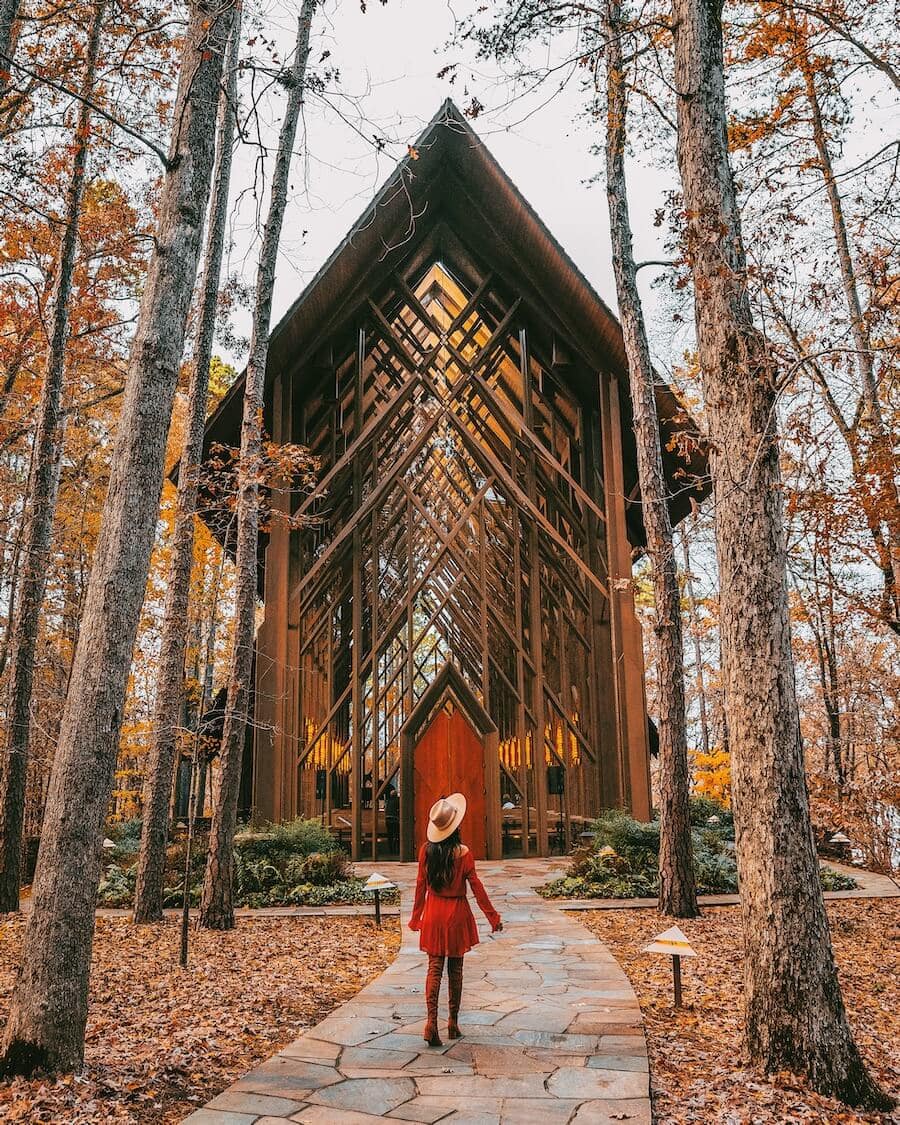 In Hot Springs, there's even more nature to explore (Arkansas is the Natural State after all). Around Hot Springs National Park, you'll find plenty of trails to hike and explore and scenic viewpoints you can drive to.
If you really want to see it all from above though, especially when the foliage is at its peak, take the elevator up Hot Springs Mountain Tower for the best views.
Don't miss out on visiting Bathhouse Row and taking a dip in one of their famous hot springs, such as Quapaw Baths. What better way to warm up as the weather cools down?
Last but not least, another great nature spot nearby to hit up is Garvan Woodland Gardens. There, you'll find 210 acres of gardens to explore, including the famous architectural beauty that is Anthony Chapel.

How to Get There:
Little Rock is located smack dab in the middle of Arkansas, connected by major highways to Dallas, Oklahoma, and Memphis. Once you get to Little Rock, you can use that as a base to explore Hot Springs National Park which is one hour away.
Where to Stay:
This adorable tiny cottage on Airbnb
Looking for more to do in Arkansas? Check out this guide on the best things to do in Little Rock and Hot Springs.
Sunderland, Vermont
Recommended by Hannah of Women and the Wilderness
It's hard to go wrong when you have the Green Mountains, covered bridges, and some of the best foliage you will ever see right out your front door. But one of my favorite places to stay in Vermont is Hill Farm Inn nestled in Sunderland.
This classic New England oasis is perfectly located next to the neighboring town of Manchester and is a great place to retreat after a day full of exploring. S'mores at the fireplace, anyone?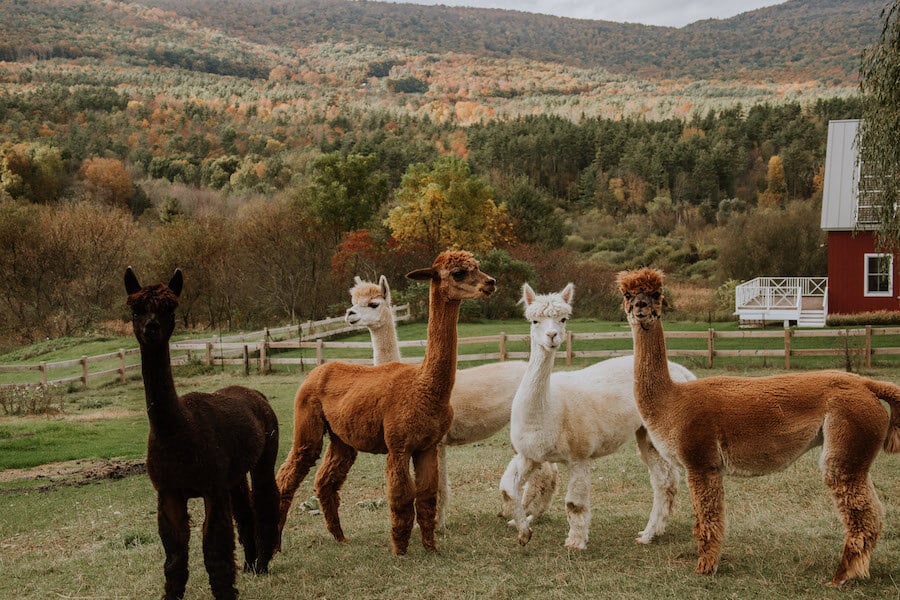 When you can pull yourself away from the cute Alpacas on site, I recommend venturing up Mount Equinox Skyline Drive for sweeping views of the Taconic Mountains from the highest peak in the region. If you're feeling a little more adventurous, forgo the $25 fee to drive up and hike up instead!
After you've had your fill of mountain views (which, is there a limit?), head about an hour and 20 minutes north to the iconic Jenne Farm Viewpoint and onward to this cozy cabin in the woods near East Burke, Vermont.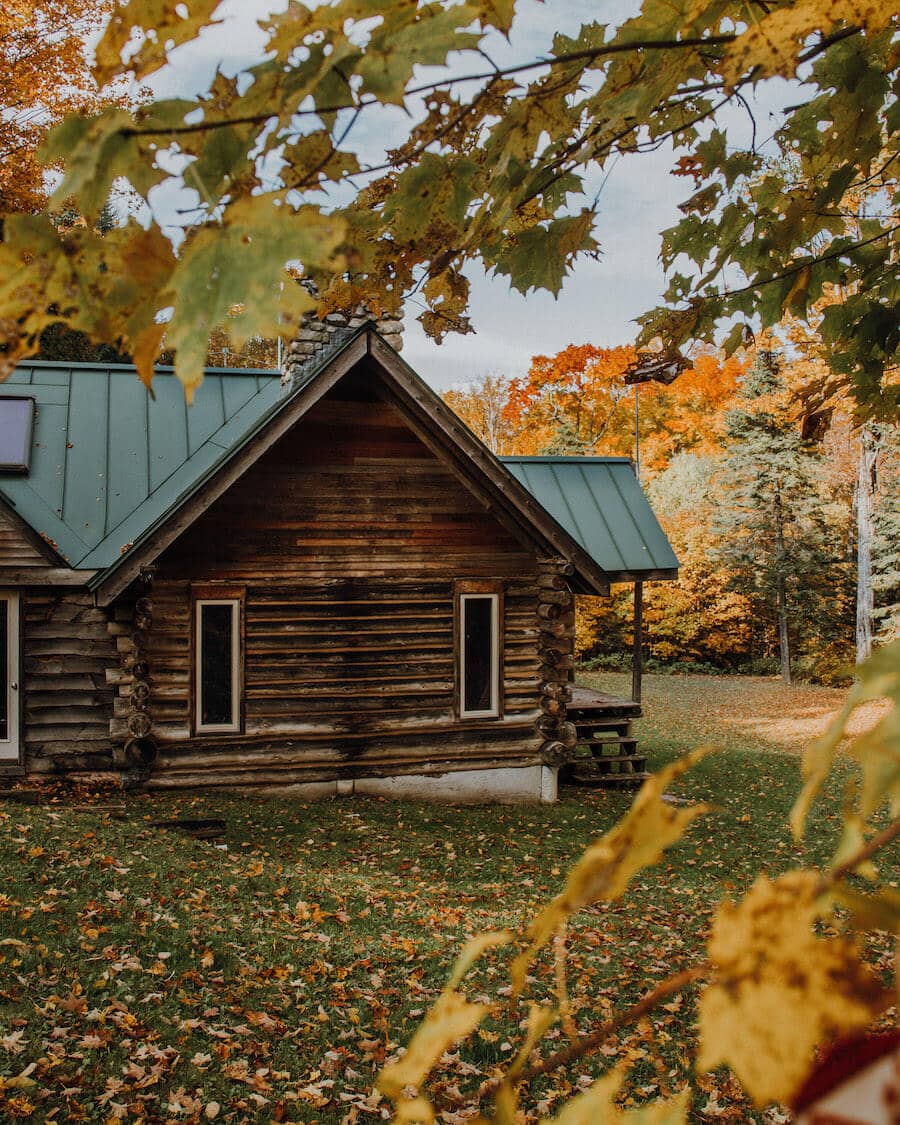 Its situated on hundreds of acres with plenty of walking trails, a retention pond, and is perfect for big family getaways, a girls weekend, or romantic getaway without service.
How to Get There:
Because Vermont is located in New England, it shares borders with New Hampshire, Massachusetts and New York. Sunderland is in the southwest corner of the state, so your closest major airport would be in Albany, New York. Still, if you live anywhere on the Northeast, Vermont is quite easy to reach by car in a day.
Where to Stay:
Cozy cabin in East Burke, Vermont
Or stay in this modern cabin in nearby Winhall
Read more tips for visiting Vermont in the Fall here.
Albuquerque, New Mexico Balloon Fiesta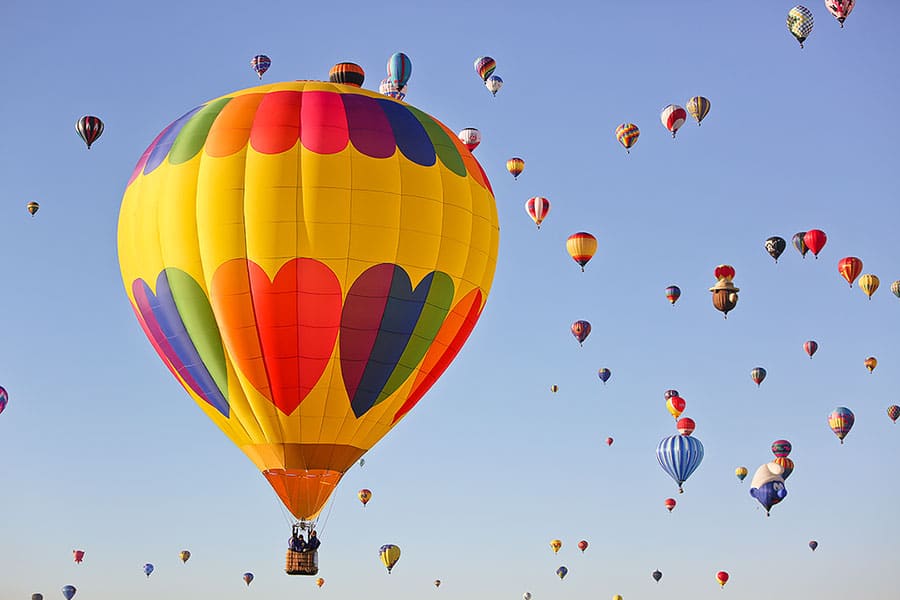 Recommended by Esther of Local Adventurer
Albuquerque is a great city to visit year-round for its beautiful outdoor spaces, diverse cuisine, and culture, but the best time to visit the city is the fall for the Albuquerque International Balloon Fiesta.
This 9-day event is the largest hot air balloon festival in the world with over 500 hot air balloons that come in from all over. It's a magical experience to see so many balloons in the sky whether it's from the ground or from a hot air balloon ride.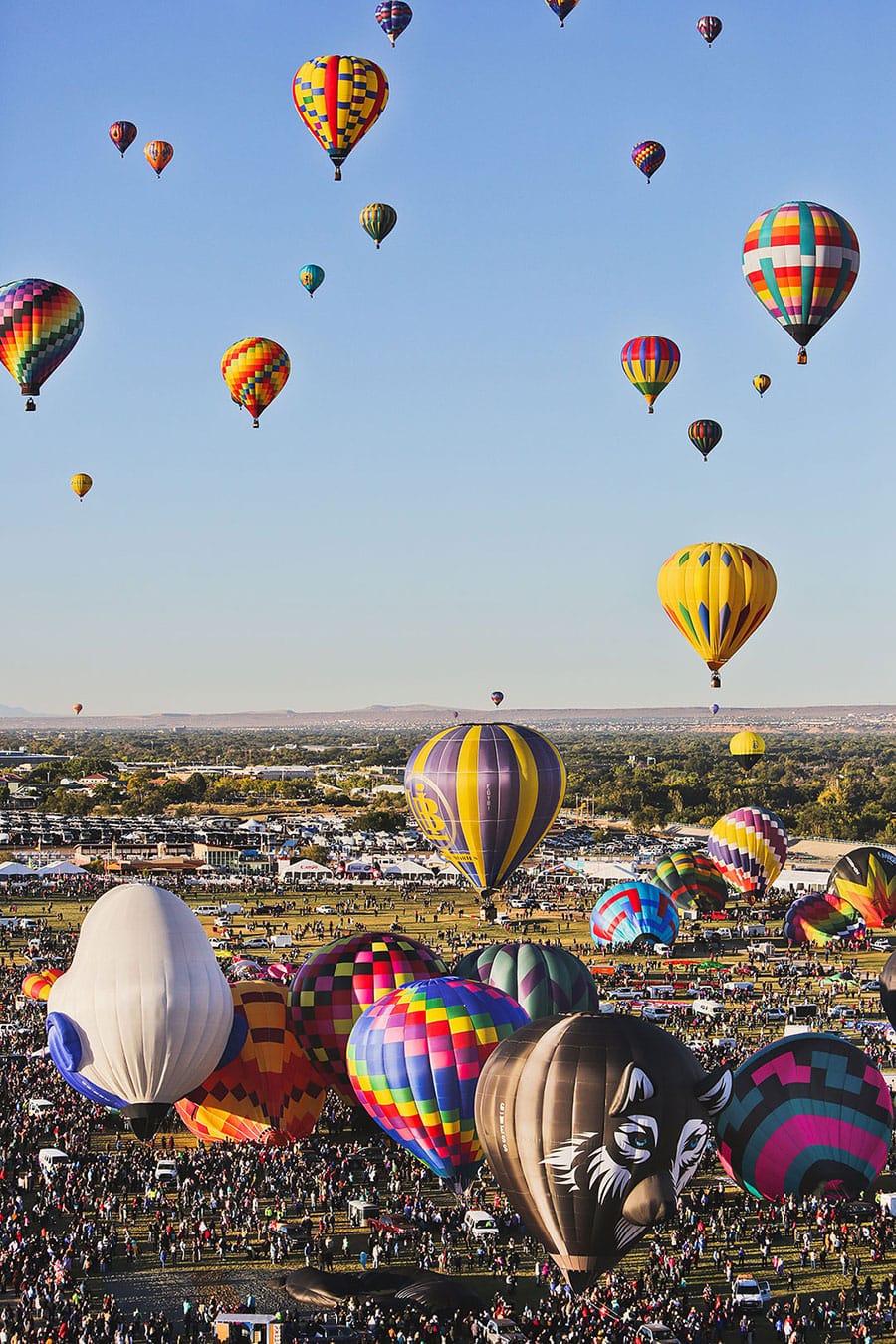 The festival brings in a ton of visitors annually and makes it the busiest time of year for tourism in the city. Since it is so popular, you can expect higher prices for hotels and not many vacancies. If you're planning to visit during the festival, you need to book everything as early as possible.
Due to health and safety reasons, the 2020 event has officially been rescheduled for October 2021, but it's a great event to add to your bucket list for years to come!
How to Get There:
As one of the major cities in New Mexico, Albuquerque is easy to fly into and has a pretty low-key airport. If you feel more comfortable driving, Albuquerque is only 6 1/2 hours drive from Phoenix, 7 hours from Denver and under 4 hours from El Paso.
Where to Stay:
Los Poblanos Historic Inn & Lavender Farm
Design-savvy Airbnb home that's near the Balloon Fiesta park
You can read more info and tips for the Albuquerque Balloon Fiesta here.
Shenandoah National Park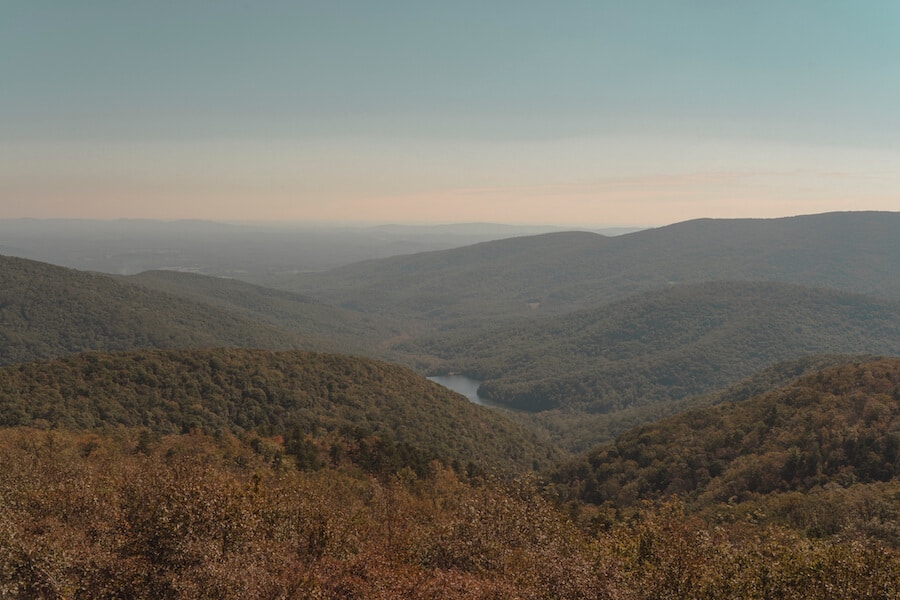 Recommended by Michelle of Live Like it's the Weekend
For those living in the Mid-Atlantic region of the US, it doesn't get much better than Shenandoah National Park for prime leaf peeping during fall.
Shenandoah is located in Western Virginia along the Blue Ridge Mountains with 101 miles of Appalachian trail running through it. It's a prime location for marveling in the stunning bright orange, lime green and chartreuse hues of autumn because it's home to so many red maples, dogwoods, hickory, beech, ash and poplar trees, making it one of the best fall destinations in the US.
The best time to visit is typically in mid to late October (I was there a little too early in the season), but it also can change year to year.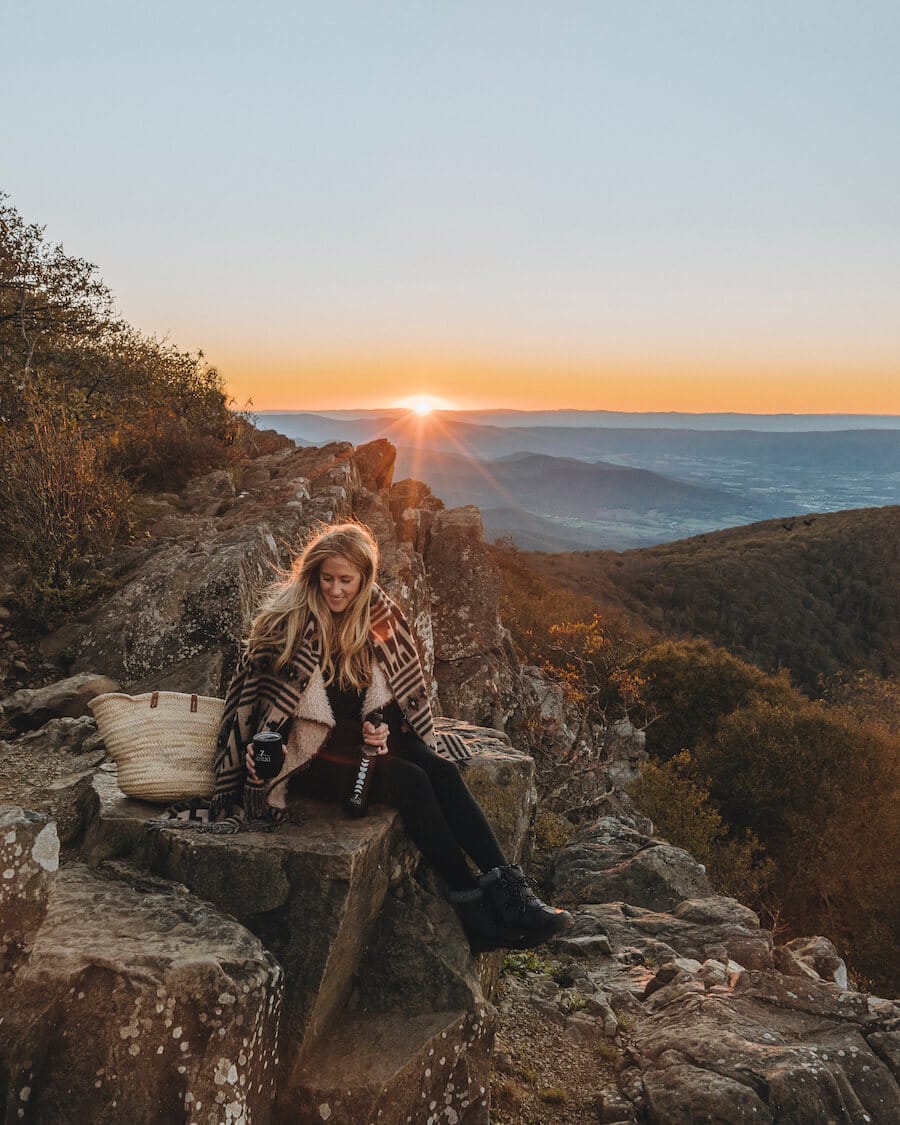 What's particularly nice about Shenandoah National Park is that it provides great access for an easy day trip in if you live nearby. If you're just there for the changing leaves, you can cruise the full length of Skyline Drive by car, which is a 105 mile road dotted with viewpoints along the way.
If you prefer to work for your views, take the short 1.5 mile-long Hawksbill Trail up to the tallest peak in the park at 4,000 plus feet! You'll be rewarded with panoramic views overlooking some of the best fall foliage in the Eastern US, granted you catch the right time!
If you're local and want to time your visit with the best fall colors, check out the park's live webcams to see the leaves in action! If coming in from out of town, base yourself in Charlottesville where there's a happening culture and food scene and tons of amazing wineries on the Monticello Wine Trail.
How to Get There:
Shenandoah is located in the Northern part of Virginia, but is pretty easily accessible from major cities like D.C., Pittsburgh, and even Raleigh.
Where to Stay:
Read more tips on how to have an awesome weekend in Charlottesville, Virginia here.
So, which of these epic fall destinations in the US are you adding to your bucket list? Let me know in the comments below!
---
Planning a trip right now? Don't miss my go-to websites for booking everything from flights and tours, to accommodation and more:
---