Fresh off my first trip to Barcelona, I can say with confidence that this is one of my favorite cities in the world…if not my new favorite. But I struggle to keep commitments when it comes to top travel destinations, so don't quote me on that. What, you ask makes this city so un-freaking-believable? If you've been before, you'll surely understand what I'm about to say. It really all comes down to the food. Of course there's the magnificence of the Gaudi architecture, the Spanish coast to admire, and plenty of old world European charm. But we quickly found that our favorite daily activity during our 8 day stay was seeking out the best food in Barcelona, and I'd like to think we were pretty successful at that goal.
Planning on enjoying of your own food tour of Barcelona in the near future? Read on for my recommendations of the best spots we discovered as well as places we didn't have a chance to try (there's just so many!), but that came highly recommended.
BRUNCH

Granja Petitbo
Located in the Eixample neighborhood, Granja Petitbo serves up a delicious brunch with healthy options in a casual, vintage-inspired environment featuring high ceilings, kitschy lighting fixtures and well-worn sofas. I ordered up the chia pudding and a fresh pressed juice for brekkie while my brunch mates enjoyed a healthy omelette dish with mushrooms and avocado. This was our favorite brunch of the trip hands down!
Passeig de Sant Joan, 82, 08028 Barcelona, Spain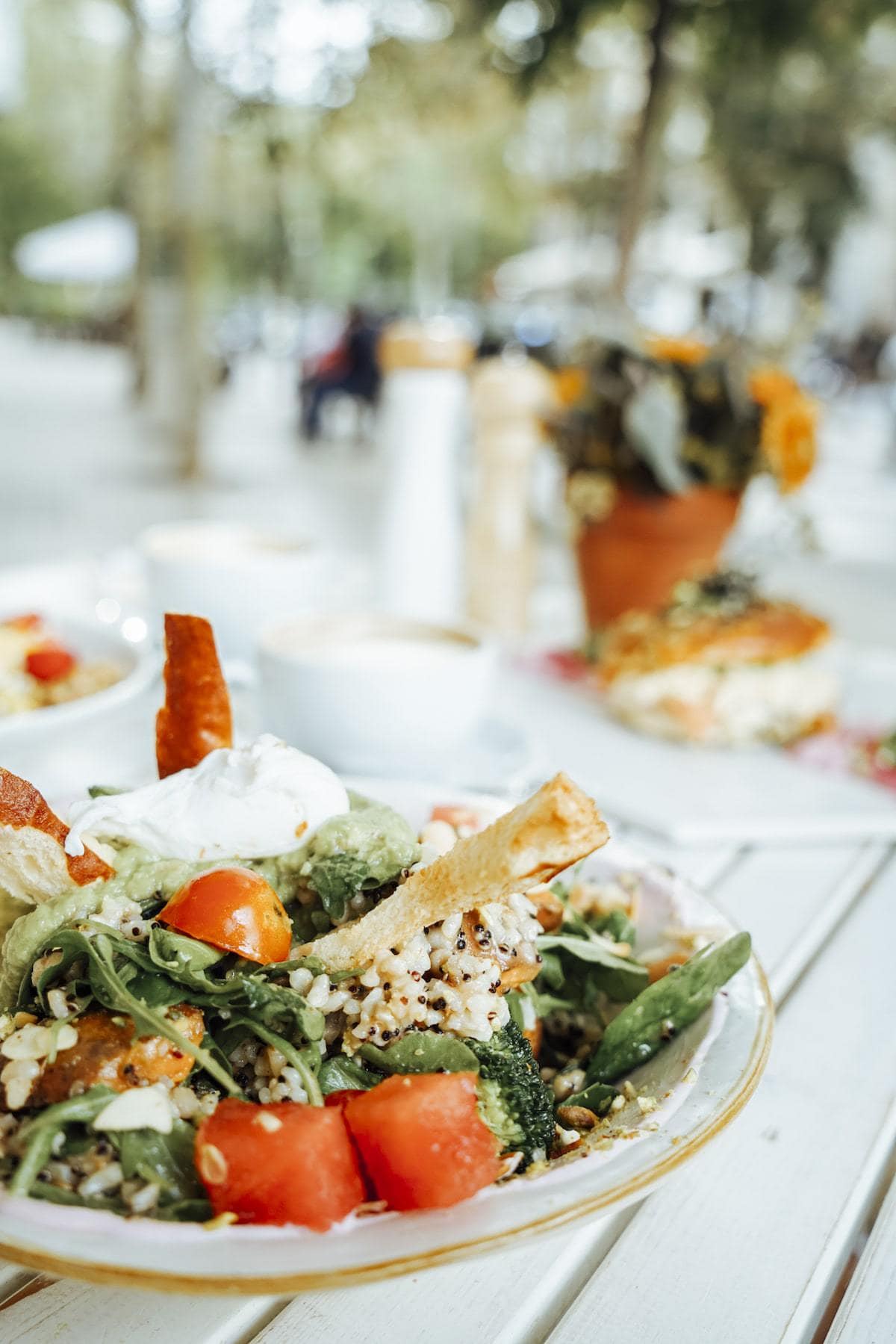 Brunch & Cake
When you start to get sick of going for tapas every meal (if that's even possible), head over to Brunch & Cake for a California meets Bali style brunch where you can find everything from matcha pancakes and smoothie bowls to hearty salads chock full of veggies. It felt so good to eat something on the fresher side after so many meals highlighting carbs and cheese during our trip — plus, the presentation of the food here is worth the trip alone!
Carrer d'Enric Granados, 19, 08007 Barcelona, Spain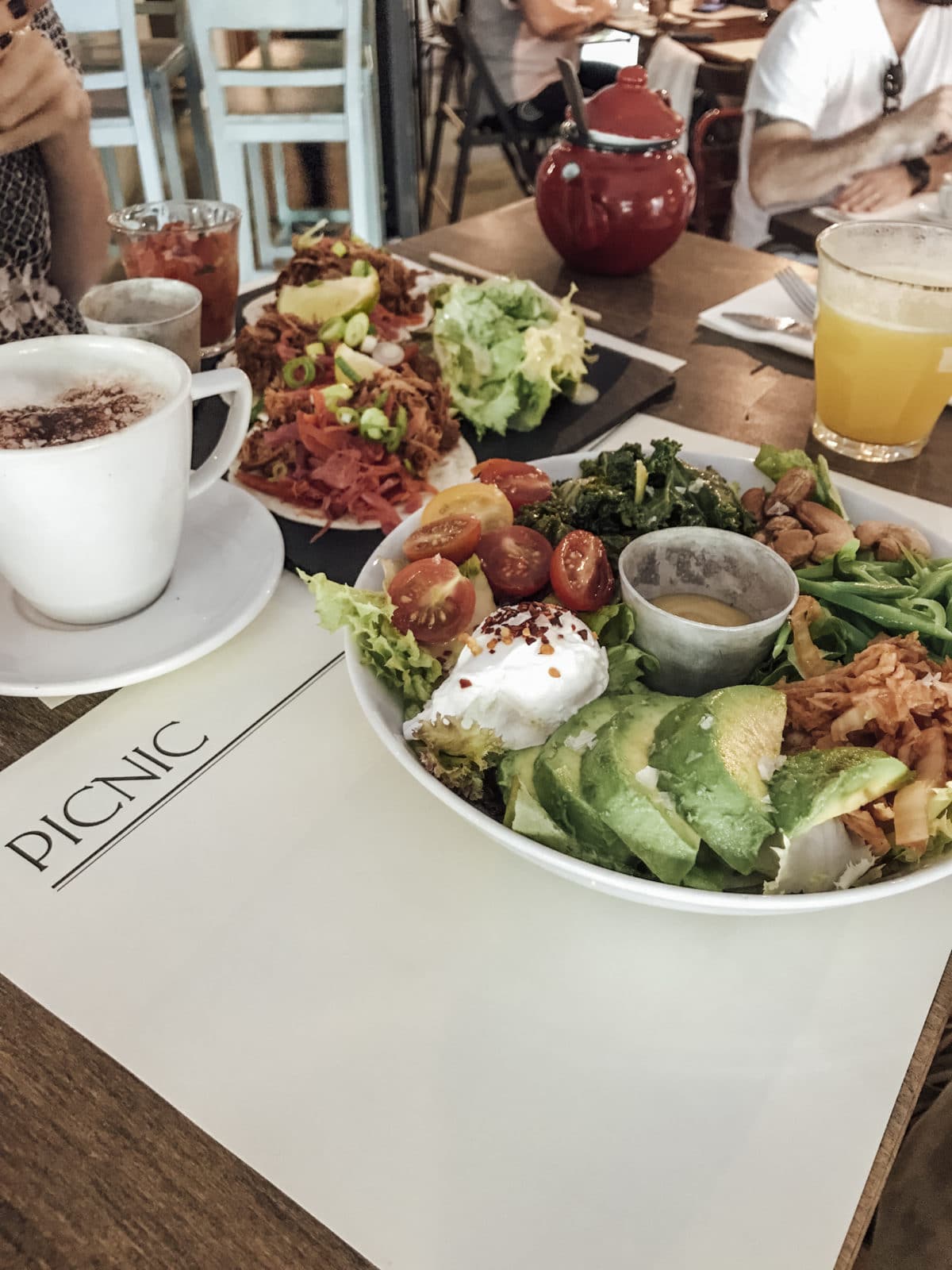 Picnic
As a California girl at heart, I'm always craving Mexican food wherever I go and Picnic was the perfect place to satisfy my cravings. Although you can also find non-Mexican items on the menu like pancakes tapas and their "big papa" burger, I ordered up the chilaquiles and was happy as a clam. This spot is located on a corner one block from the Parc de la Ciutadella and has an adorable interior featuring loads of fresh greenery and earthy accents. A great brunch pick for a sunny Saturday!
Carrer del Comerç, 1, 08003 Barcelona, Spain
LUNCH & DINNER

Tapeo Del Born
Probably some of the best food in Barcelona and my favorite meal from the entire trip, Tapeo features a unique selection of tapas that will literally have you drooling over every dish. Some of my favorites were the grilled leek confit with olive paste and the tomatoes and burrata. There's really not that much to say other than don't miss this spot!
Carrer de Montcada, 29, 08003 Barcelona, Spain
Bodega La Puntual
Right across the street from Tapeo in El Born is Bodega La Puntual which has delicious tapas but quite a different vibe from its neighbor. With a menu more on the traditional side, you'll find dishes like patatas bravas, Catalan sausage, and anchovies in vinegar. The entryway appears to be an intimate eatery with a limited number of tables — but don't be fooled. Walk all the way to the back and you'll enter a large open space that feels reminiscent of a beer hall (or at least it did at 10 pm when we were there for dinner) with long communal tables and a boisterous clientele.
Carrer de Montcada, 22, 08003 Barcelona, Spain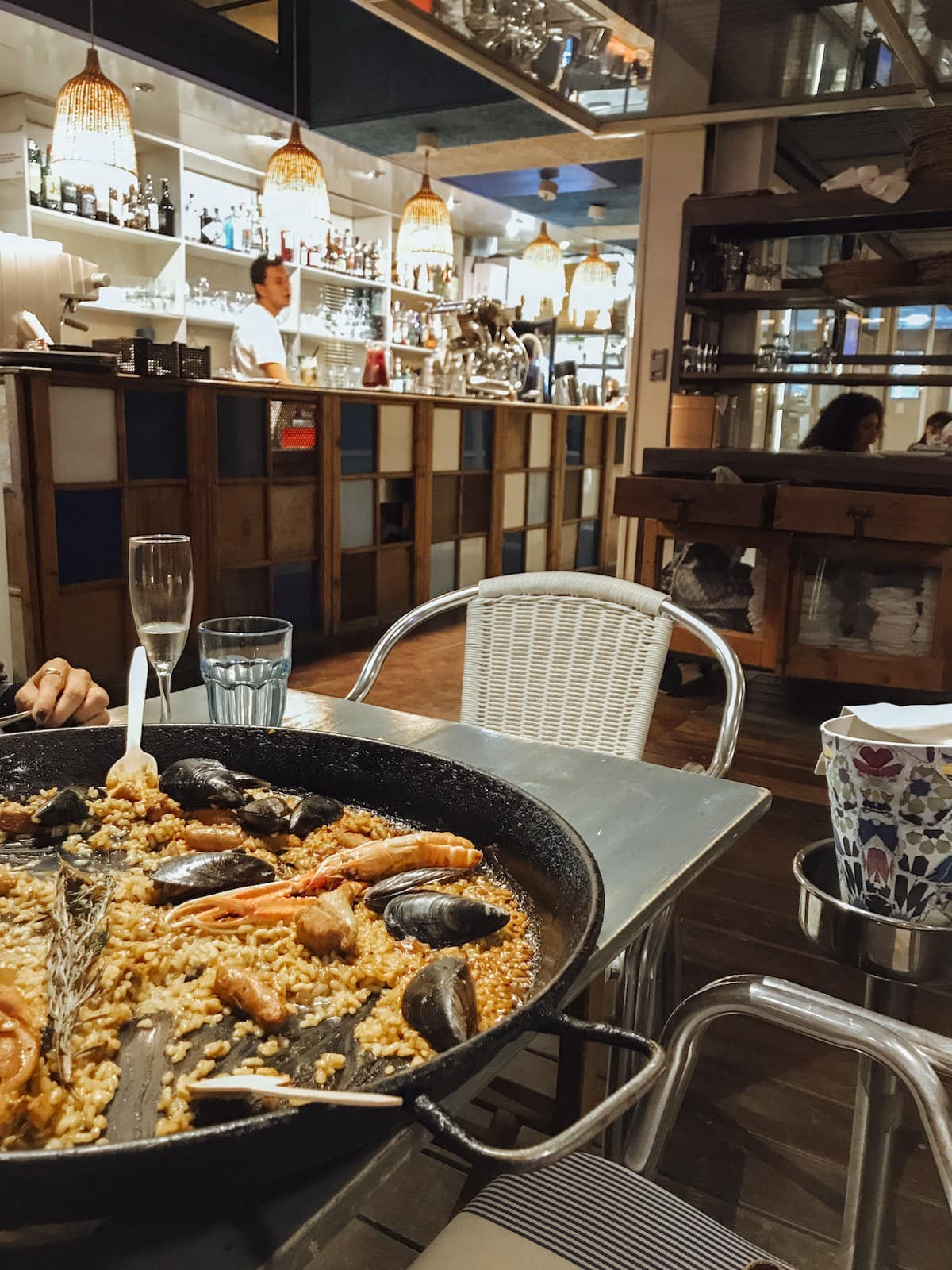 Xiringuito Escribà
During our trip, we knew we needed to get paella at least one night and Xiringuito Escribà came highly recommended by several sources. Located right on on the beach, I can imagine this place is quite pleasant for lunch while the sun is still out, but we visited for dinner after sundown and it was still fabulous. We ordered one paella to share for three people and it was incredibly delicious and trust me — no one went hungry.
Av. del Litoral, 62, 08005 Barcelona, Spain
Nakashita
Around our 6th day in the city, we were ready to switch it up from our staple diet of Catalan tapas. Luckily, with some sleuthing through reviews, we came upon Nakashita, a tiny hole in the wall sushi restaurant within walking distance of our hotel. It's safe to say that it is also some of the best Japanese food I've ever had outside of Japan. Make sure to sit at the tiny sushi bar to watch these artists at work for an extra entertaining experience.
Carrer del Rec Comtal, 15, 08003 Barcelona, Spain
Tapas 24
Tapas 24 was honestly my least favorite restaurant out of all the ones we ate at during our trip, but I've decided to keep it on the list because it came so highly recommended by multiple people and sources — not to mention, the line was out the door when we visited. Maybe we ordered poorly or maybe it's just not my favorite style of food, but if you're looking for a spot in the Eixample neighborhood, try it out and let me know what you think. Perhaps you'll hit a home run.
Carrer de la Diputació, 269, 08007 Barcelona, Spain
Ziryab Fusion
Melding Catalan cuisine with Middle Eastern and Arabic flavors, Ziryab is a charming wine bar hidden within the streets of Barcelona's old medieval town. The food and atmosphere are both divine, but the best thing about the restaurant in my opinion, is that with one of the founders being deaf, the restaurant hires quite a large percentage of deaf waiters on staff. This fosters a wonderful sense of inclusivity and makes ordering your dinner a much more thoughtful experience.
Carrer dels Ases, 16, 08003 Barcelona, Spain
Other Places Highly Recommended
Other spots that came highly recommended that we didn't have time to try are: Quimet y Quimet, La Paradeta, Cal Pep, and Niño Viejo.
SNACKS & SWEETS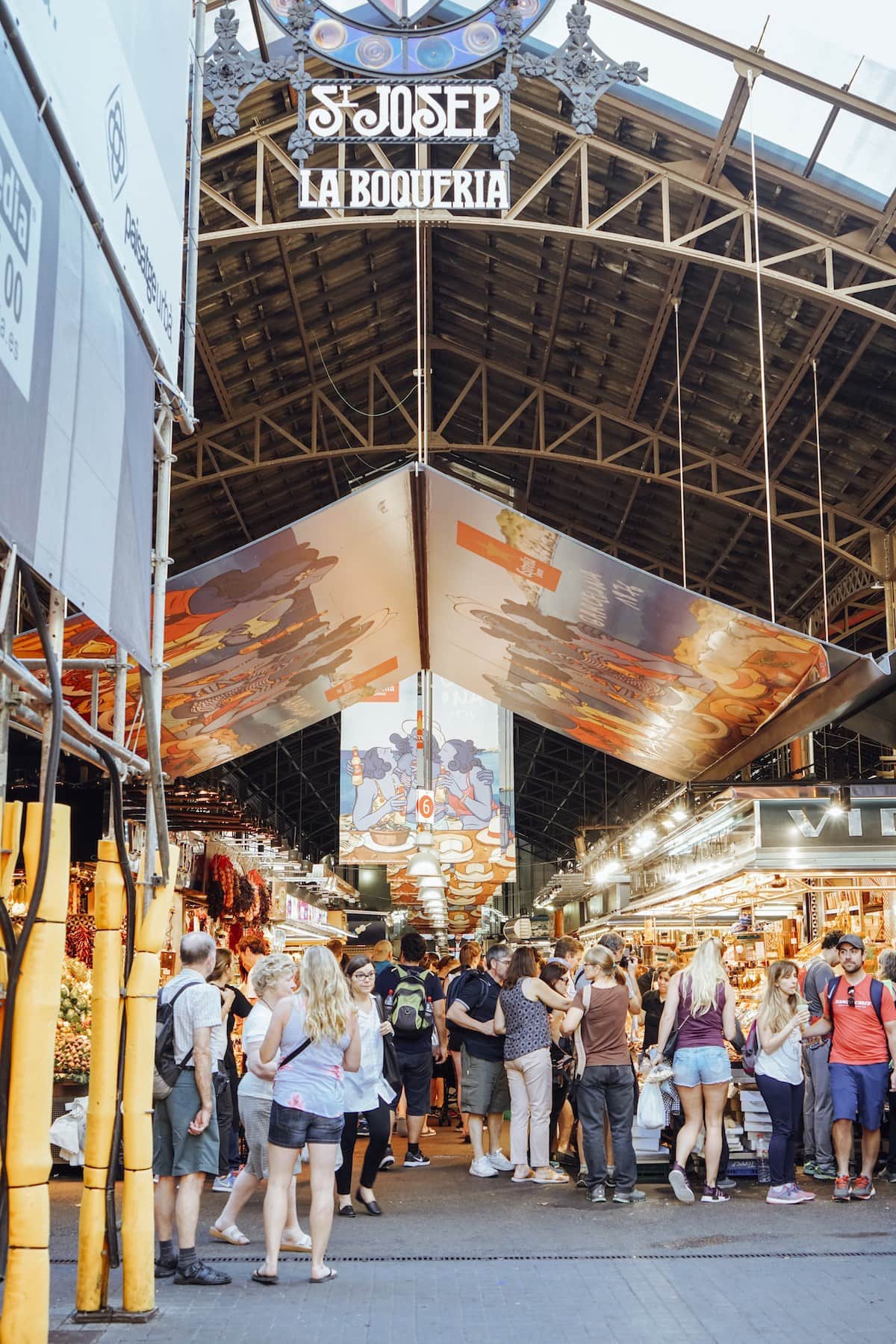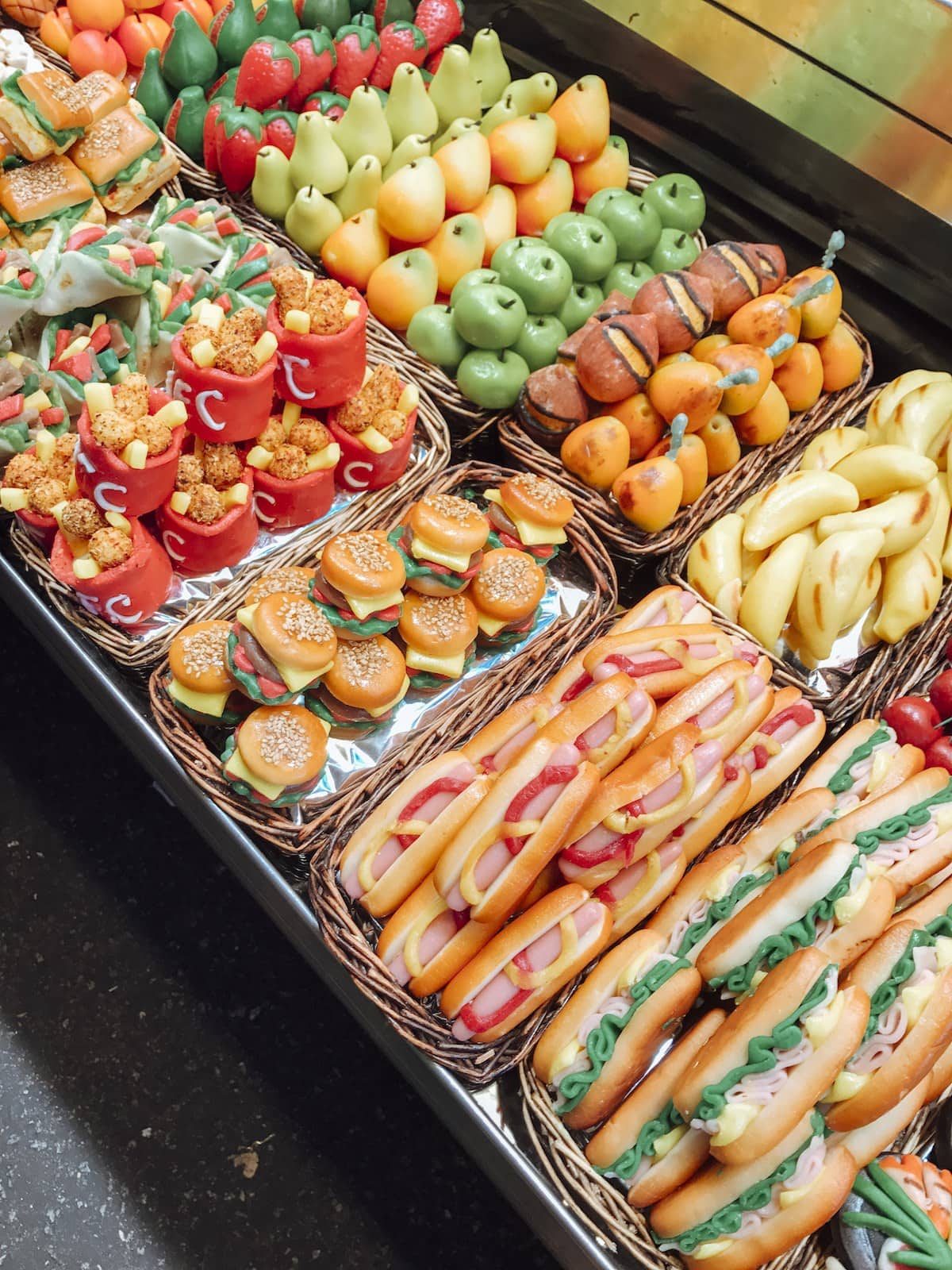 La Boqueria Market
You simply can't go to Barcelona and not visit La Boqueria, the city's famous outdoor market situated next to the bustling La Ramblas. Open Monday to Saturday, this foodie paradise offers loads of food stalls to choose from — everything from seafood and meats to nuts, fruits and specialty sweets (ps–if you couldn't tell, the hot dogs and fruit in the photo above are actually made of candy)! Be prepared to weave in and out of lots of tourists and don't forget to come hungry.
La Rambla, 91, 08001 Barcelona, Spain
Formatgeria La Seu
Along your epic Barcelona foodie tour, don't miss a pitstop to this oasis for cheese lovers. Sure you can pick up all the cheese wheels you'd like, but for 3 euros only you can get the house special: one tray featuring three cheese samples, a mini glass of wine and apple slices. The perfect mid-day snack. Don't miss the opportunity to chat up Formatgeria La Seu's Irish owner Katherine who is quite a riot and made our visit more than memorable.
Carrer de la Dagueria, 16, 08002 Barcelona, Spain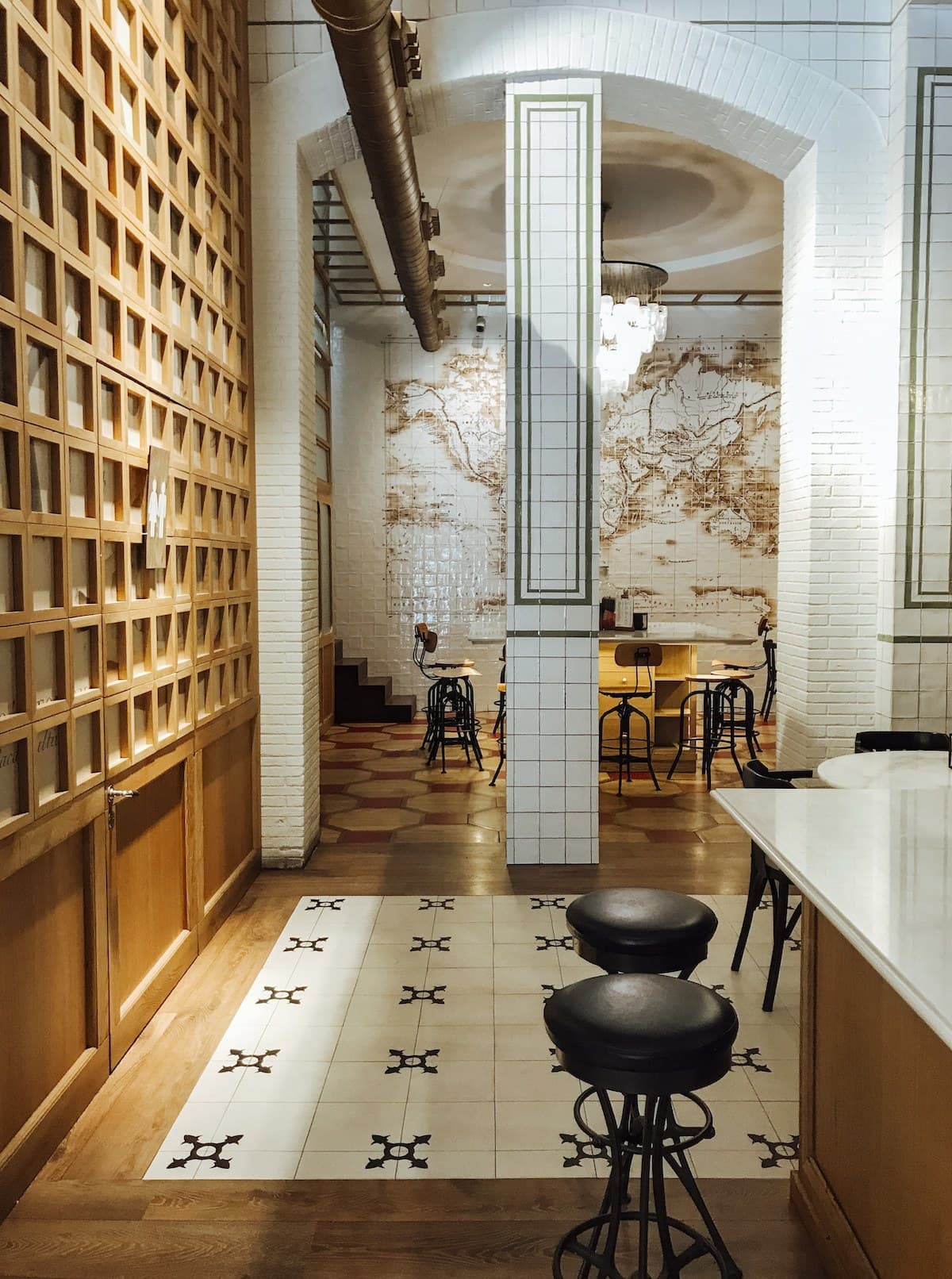 La Xocolateria by Oriol Balaguer
Churros of any kind are a win for me, but churros that come with a pot of chocolate in a to-go contraption? Pure gold. We dipped into this adorable sweets shop one sunny Barcelona afternoon and spent the next hour walking around with churros and chocolate in hand happy as could be. Also, they immediately get brownie points from me for the world map featured on their back wall!
08003, Carrer de la Fusina, 5, 08003 Barcelona, Spain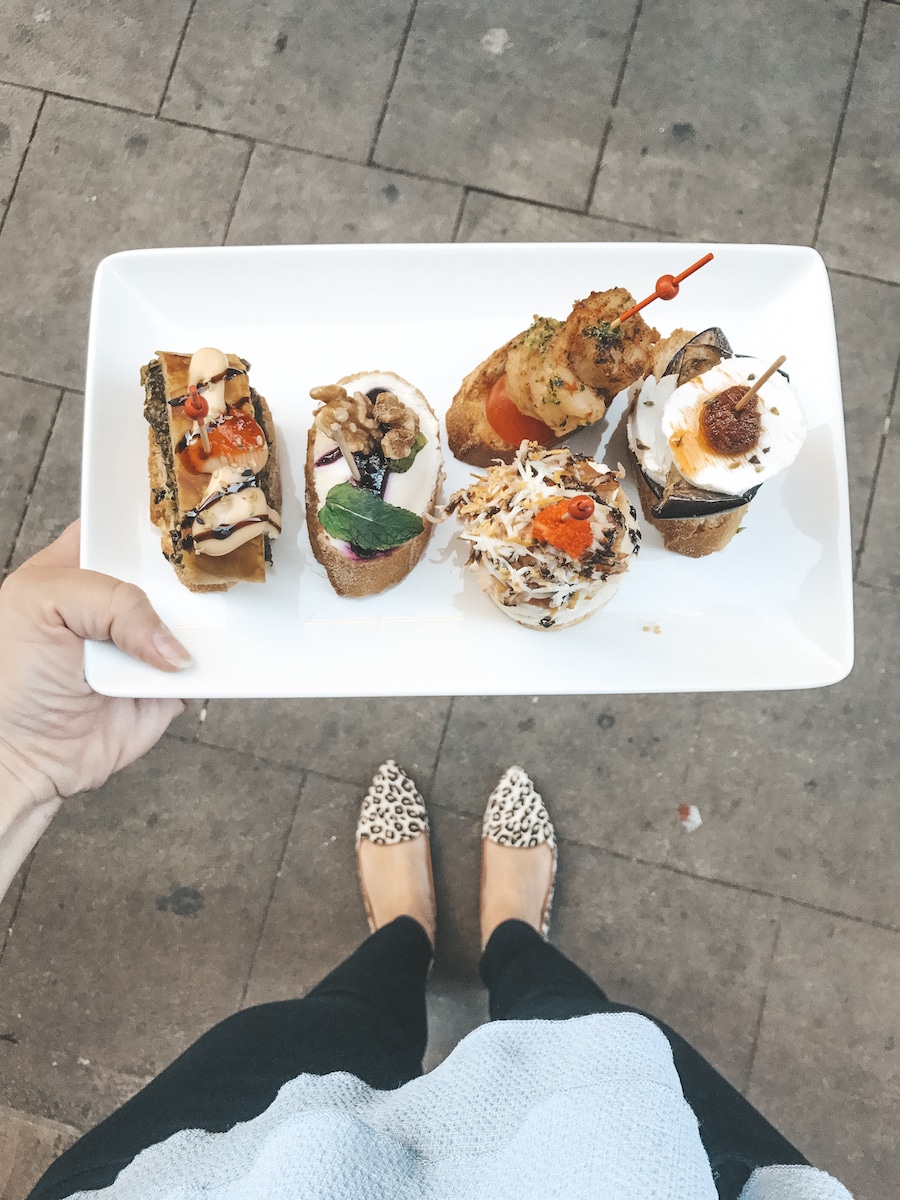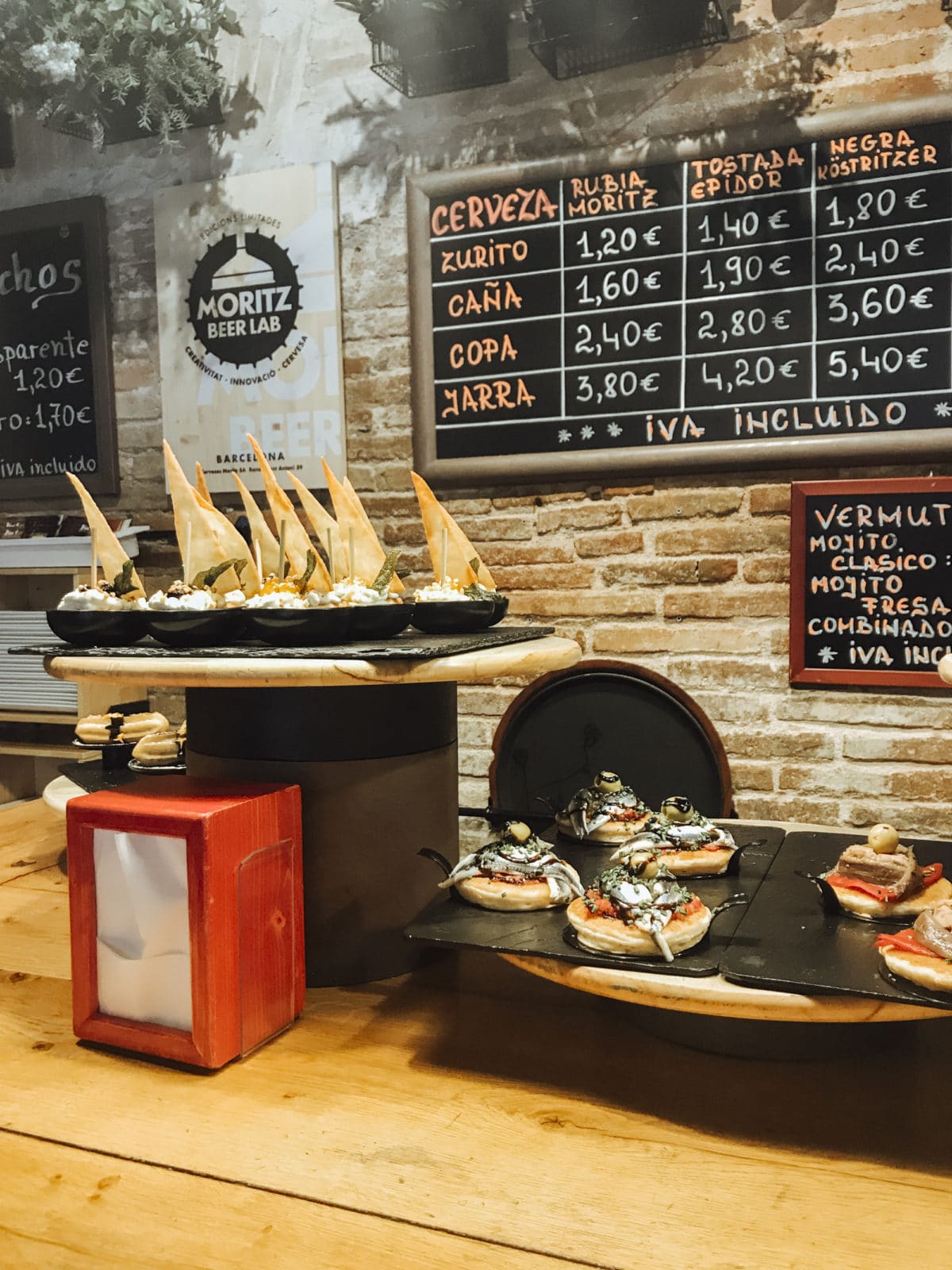 Pintxos
Pintxos is a term taken from the Basque Country of Spain and typically refers to tapas on bread. And in Barcelona, there are loads of restaurants dedicated specifically to serving up these little bites of carb-heavy heaven. Now this might not sound to you like something to be that excited about, but the joy of eating pintxos is just as much for the interactive experience as it is for the flavors.
Head over to Carrer de Blai in Eixample (restaurant Koska Taverna is a good starting point) and stroll down the walking-only street to pop your head into each tapas bar along the way. You'll see pintxos lining the counters and if the goods look appetizing, you can take what you'd like and munch away to your heart's content. When it comes to paying, you get charged by the toothpick!
Approximately: Carrer de Blai, 8, 08004 Barcelona, Spain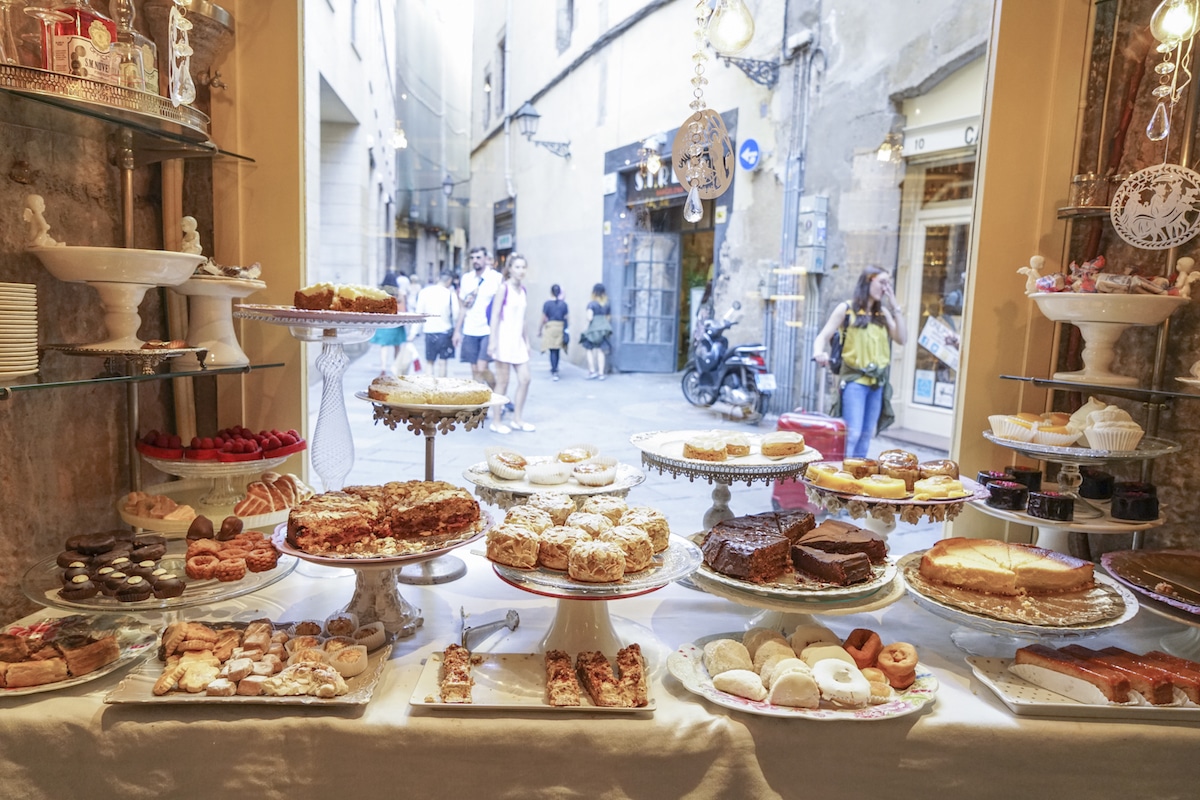 Caelum
Somewhere along the line during our trip, we caught wind of a place that sold cookies and pastries baked by nuns. We were a little confused (and simultaneously intrigued) by this at first but soon learned that there is a lot of history around the nuns and their impressive baking skills in Spain. Apparently tracking down some of these holy baked goods can be tricky, but if you've found Caelum, then you've hit the jackpot because every sweet treat here has the holy touch.
Carrer de la Palla, 8, 08002 Barcelona, Spain
CAFFEINE

Black Remedy
This spacious coffee shop hidden in the charming alleyways of the Gothic Quarter is much more than just a great place to get your caffeine fix. Focused on partnering with high quality local suppliers, Black Remedy is an ideal spot to bring your laptop and camp up for hours as you can start the day here with brunch and a delicious cold brew, order up a hearty sandwich for lunch and wash it down with a local artisan beer minutes later. It's the full package.
Carrer de la Ciutat, 5, 08002 Barcelona, Spain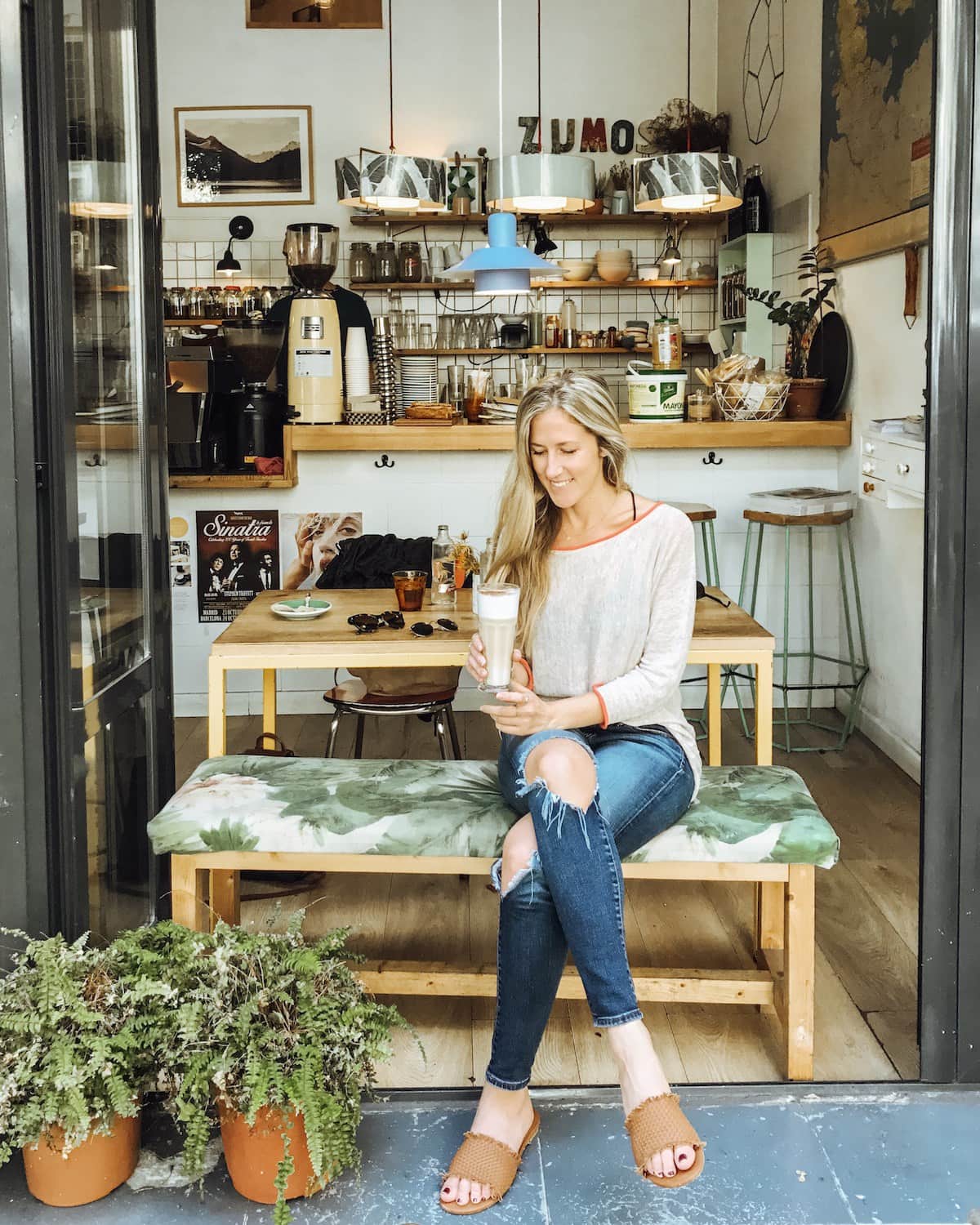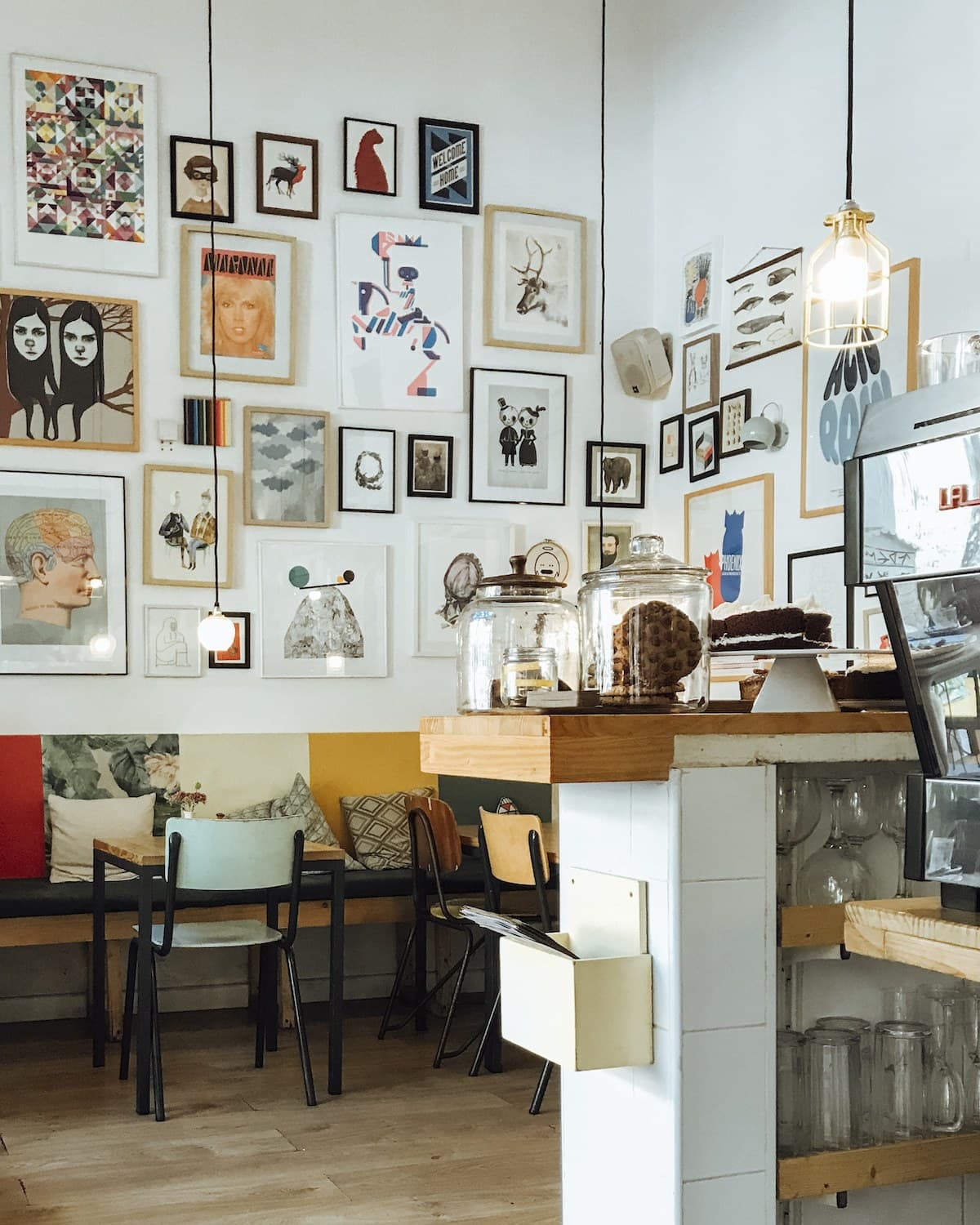 Cafe Cometa
Recommended by another travel-loving friend of mine, I was super pleased to be introduced to Cafe Cometa, a quirky little neighborhood spot in Sant Antoni. We only had time to try the coffee here (it was great), but if I ever decide to pick up and move to Barcelona in the future, you can bet I'll be adopting this place as my daily caffeine hit.
Carrer del Parlament, 20, 08015 Barcelona, Spain
DRINKS

Ocaña
Situated right in one of Barcelona's most charming plazas, Plaça Reial, this outdoor restaurant gets an A+ for atmosphere although I can't vouch for the food. The sangria here was very sweet, so maybe stick to wine if that's not your style, but regardless this was a great spot for people watching and enjoying the lovely charm of a good 'ole Spanish plaza.
Plaça Reial, 13-15, 08002 Barcelona, Spain
El Born
We stumbled upon this bar in El Born while out scouting for a dinner locale one night, and it turned out to be one of our favorite watering holes in the city. With mood lighting perfect for a date night, El Born feels like an intimate local's spot and serves up a mean sangria!
Passeig del Born, 26, 08003 Barcelona, Spain
Ziryab
The sister bar to the aforementioned Ziryab restaurant, this shisha lounge is ideal for you guessed it — drinks and hookah to cap off a night exploring Barcelona's El Born neighborhood.
Carrer de Grunyí, 4, 08003 Barcelona, Spain
Bormuth
We were warned that Bormuth was a locals-only spot and that staff aren't friendly to tourists, but we decided to give it a go anyway for one drink and found quite the opposite to be true! I would definitely recommend this casual bar if you're not used to Barcelona's late dinner schedule and looking to kill time. Order up a round of sangrias and a cheese plate before venturing off to your dinner reservation.
Plaça Comercial, 1, 08003 Barcelona, Spain
Have any amazing recommendations for the best food in Barcelona that I missed? Leave a comment below for my readers!
PIN IT FOR LATER: