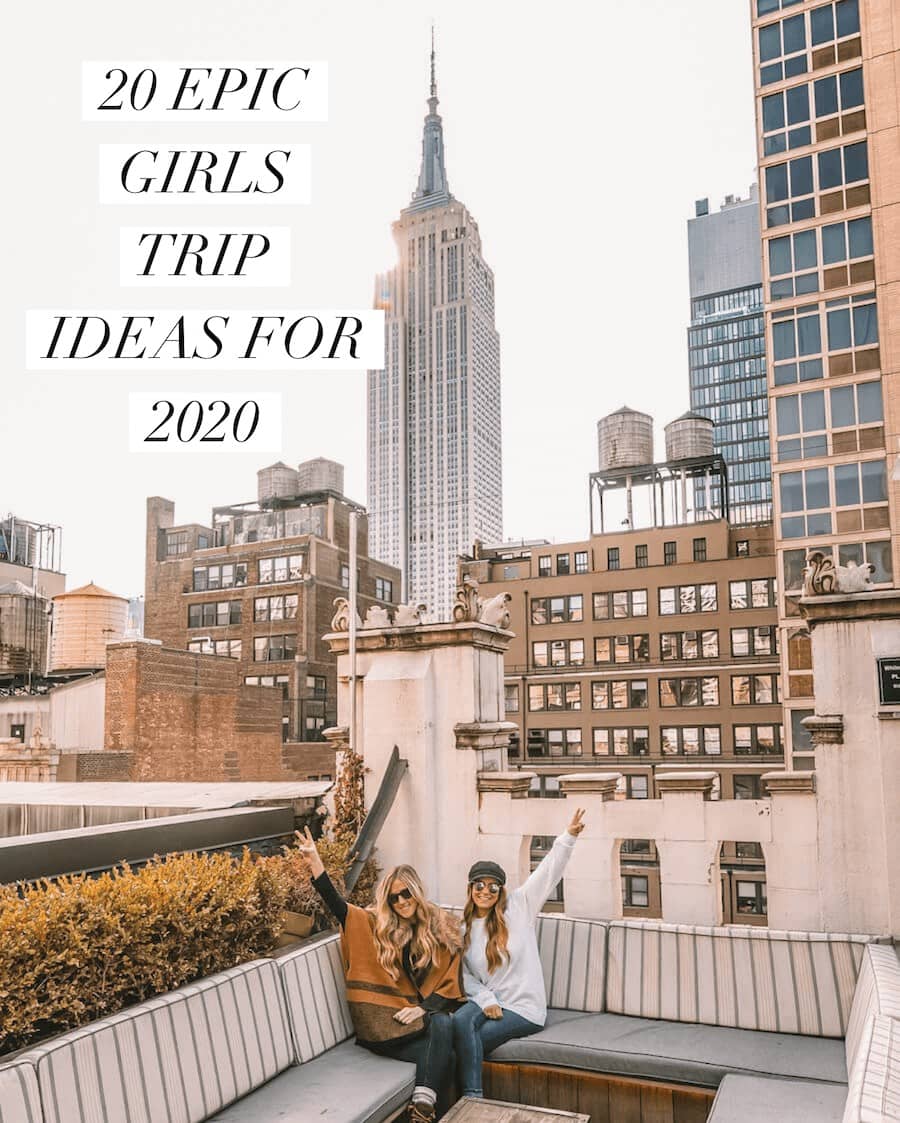 It's a little embarrassing to admit this, but I've been single for pretty much the entirety of my 20s and 30s. Yes, I've dated people here and there, but never to a point so serious that involved traveling together. Which, as you guessed it, means that I've been on a LOT of girls trips. I've been on girls trips to France, to Jamaica, to Bali, to Australia and Morocco. I've planned girls getaways on every continent (except Antarctica), and hell, I'm sure Antarctica will be next! Ha. So when I tell you that these are the best girls trip destinations to plan with your ladies, I'm telling you because I know a thing or two on the subject.
So what's the perfect recipe for an epic girls trip?
For me, that really depends on the group you're with, and luckily this list of the best girls trip destinations covers a range of ideas for all sorts of lady gangs. I have groups of friends that like a vacay to consist of detoxing from their 9 to 5 as much as possible, which basically means sitting lazily on the beach with a cocktail in hand. Other friends prefer to experience a bit more adventure or culture during their time off.
I personally love a girl's trip that has a mix of a few different elements to please as many different people as possible in a group — because let's be honest, you're not always going to agree with your travel buddies.
In the below list of the 20 best girls trip destinations, I'm breaking down why each spot is awesome for your next getaway with the gals and what type of traveler it's great for so that you can make the most informed decision possible. Feel free to send this post around to your friends so you can all start to get inspired to plan the most epic girls trip of your lives!
Best Girls Trip Destinations to Book This Year
San Juan, Puerto Rico
Savannah, Georgia
Tulum, Mexico
Palm Springs, California
Osheaga Music Festival, Montreal
Rome, Italy
Caye Caulker, Belize
Charlottesville, Virginia
Portugal Road Trip
Tokyo, Japan
The Yacht Week (Anywhere)
Austin, Texas
Oaxaca, Mexico
Iceland Road Trip
Oktoberfest in Munich, Germany
Napa Valley, California
Santa Barbara, California
Bali, Indonesia
New York, New York
Barcelona, Spain
---
Read More Travel Posts
---
Puerto Rico
To be honest, I sort of took a girl's trip to Puerto Rico by accident in 2018 when I was invited on a work trip there over a long weekend. On a whim, I decided to invite my now close friend Jess of @bontraveler who I only knew through Instagram at the time. Luckily, within an hour we became fast friends and ended up having the best time EVER.
To this day, it's one of my favorite girls trip destinations because it has all the elements I love: Beautiful beaches and turquoise water to make you feel like you're truly OOO, an adorable and totally walkable downtown area, fun foodie experiences and a chance to experience a new culture. Oh, and the nightlife is off the chain. You'll likely spend every night salsa dancing 'til the sun comes up with your girlfriends, and I don't know about you, but that's typically how all of my favorite nights end.
Even better is that Puerto Rico uses USD and you don't need a passport to travel there like other destinations in the Caribbean. Find a cheap flight and head down to PR asap for a last minute weekend getaway.
WHO THIS TRIP IS GREAT FOR
Beach bunnies and your most fun-loving gal pals who will be game for late night dance parties. Single ladies, this is also a fun destination to meet a hunky Latin man on the dance floor 😉
BUDGET
Low
WHERE TO STAY
The Condado Vanderbilt (pictured below) for ocean views and plenty of pool time. The Hotel El Convento is great too if you want to be more closely situated to Old San Juan and swap taxis for your own two feet. They have a rooftop pool as well but it's a bit smaller. I haven't personally stayed here, but The Dreamcatcher is another hotel I've been eyeing that is a more budget-friendly hotel option and looks super photogenic.
DON'T MISS
For fun activities with the gals, don't miss La Factoria (named one of the world's top 50 bars) for late night dance parties, a snorkeling day cruise out to the islands of Cayo Icacos or Culebra, or a tour of the Bacardi Distillery. Lote 23 is a fun outdoor food truck style market where your friends can all choose from various cuisines. La Placita is another area of town for epic dance parties with many different bars to choose from.
Savannah, Georgia
A girlfriend of mine had her bachelorette party in Savannah and it was such a fun girls destination while still remaining pretty low key. Savannah is super walkable, and it's one of only a handful of US cities with open container laws, which means you can take your drink with you while you peruse the quaint architecture, 22 iconic parks and squares throughout town, and along River Street.
There are a ton of fun group activities to do in Savannah too, like various ghost tours (it's one of the most haunted cities in America) and trolley tours to give your feet a break and still see all the sites.
Between the charming architecture, ease in getting around and delicious southern food, Savannah is one of the best girls trip destinations, especially if you're looking for a quick weekend escape.
WHO THIS TRIP IS GREAT FOR
Savannah is equally as great for bachelorette parties as it would be for a mother/daughter trip. Pro tip: For a rowdier visit to Savannah, make sure to plan your trip no earlier in the week than Thursday; for a sleepier and chilled out vibe, go during the week.
BUDGET
Medium
WHERE TO STAY
I personally loved The Kimpton Brice which has a modern feel and really cute design. It's perfect for any girl's group and ideal for large parties who want to clock some time by the pool. If you want something right along the riverfront that's more historic, check out the Olde Harbour Inn. I also stayed at the Andaz Savannah, which is a bit more centrally located to bars and shops but has a more corporate feel.
DON'T MISS
The Wyld dock bar is worth the drive out of the main downtown area for lunch and is so charming with its bistro lights and dock seating overlooking the creek. For other great eating options, dine at The Grey, an elegant restaurant that was once an old bus terminal and enjoy a fun brunch with the gals at Collins Quarter. For fun bars, try Artillery for stylish interiors and artisanal cocktails, Top Deck bar for rooftop views, and Savannah Smiles or The Jinx for late night live music.
Read More
Tulum
Mexico is always a fun destination for a girls trip, and one of my favorite such trips of all time was to Tulum. It was actually like two girls vacays in one, because I started the trip there with my friend Jenny and ended my time in Tulum celebrating my friend Devon's bachelorette with three other amigos.
If you're going with a small or large group, Tulum is perfect. And it's also ideal because it can cater to the people in your group who want to spend their days doing yoga, eating vegan and relaxing on the beach and ALSO those that would prefer to indulge and stay up all night dancing in the jungle. Tulum is kind of bipolar in that way and I love it.
WHO THIS TRIP IS GREAT FOR
Yogis, plant-based ladies, spirit junkies, beach bums, stylish jetsetters.
BUDGET
Low – High
(hotels by the beach can be pricey, but if you use a free budget template to save in advance, it might be a realistic option for you. Read this post on where to stay in Tulum to check out more affordable options)
WHERE TO STAY
For the ultimate girls trip, I'd recommend staying on the ocean side at one of these magical Tulum beach hotels. For something more affordable, look for Airbnb or hotel accommodation in the main town or Aldea Zama neighborhood.
DON'T MISS
For fun day activities, visit a nearby cenote, the Mayan Ruins and definitely hit up one of the many beach clubs on Tulum Beach. Yaan Wellness Spa is also the perfect activity for a bachelorette party or a bigger group if you want a relaxing spa day — it's absolutely stunning. And you can't go to Tulum with the gals without hitting up Gitano for drinks — it's a Tulum staple.
Palm Springs
For West Coasters, Palm Springs is the ultimate chilled out destination for a getaway with your girlfriends. During the day, this desert town is all about the pool parties, which means plenty of time for you to relax in the sun and catch up on conversation with the gals. At night, dinner and drinks in the small downtown area is the go-to move.
Palm Springs feels a little bit sleepy but has enough going on that makes it one of the best girls trip destinations because you can have fun yet still get that essential R&R in. You know that feeling like you need a vacation to recover from your vacation? Yeah, PS has got none of that going on.
WHO THIS TRIP IS GREAT FOR
Design lovers or anyone more interested in desert pool vibes than the beach.
BUDGET
Medium to High
WHERE TO STAY
My favorite hotels in Palm Springs are the Sparrows Lodge, Korakia Pensione (for small groups), Ace Hotel and The Parker.
If you're looking for accommodation that's a bit more private, then PS is the ideal place to rent a house with a big group, bring all the Sunny Life floaties and shack up for a weekend without ever leaving. Either way, you'll have the best weekend ever.
DON'T MISS
The newly opened Kimpton Rowan Palm Springs has the only rooftop pool in town. Norma's at The Parker is a fun spot for a girl's brunch and Bootlegger's Tiki Bar is a cool coffee shop by day, bar by night with festive drinks that will make you feel like you're swapping desert vibes for tropical bliss. Design nerds, don't miss an architecture tour to check out all the most 'grammable spots in Palm Springs!
Read More
Osheaga Music Festival in Montreal
If you're over the Coachella scene but looking for a fun music festival trip with the girls, look no further than Osheaga. I attended the Montreal-based festival several summers ago and was blown away by how much fun it was — and how OPPOSITE it was from Coachella.
Not only was it super easy to get between the city and festival on public transport, but people were having such a blast with very little signs of taking things "too far" if you know what I mean. Let's just say I was very impressed with the Canadians and their ability to hold their liquor.
The grounds itself are stunning, located in Parc Jean-Drapeau, with paths leading in and out of lush foliage making way for more exposed outcroppings. It was definitely the most magical festival I've ever been to and had a pretty much identical lineup to Lollapalooza the year that I went, just saying.
I think this is one of the best girls trip destinations to visit for a birthday party or a reunion with friends you don't get to see often that will leave you all with shared memories you can talk about for years to come.
Bonus: You'll be staying right in the heart of Montreal, so you can explore a new city during the day and then cruise to the festival at night.
WHO THIS TRIP IS GREAT FOR
Music lovers
BUDGET
Medium
WHERE TO STAY
The closer you are located to Parc Jean-Drapeau, the better you'll be situated to get in and out of the festival.
Public transport is pretty easy in Montreal and if you're staying near a train stop you'll be fine. We stayed in an Airbnb because we had a large group and that was ideal for us.
Some of the top rated hotel options within easy access to the park are Le Petit Hotel Montreal and Hotel Place D'Armes.
DON'T MISS
Climb to the top of Mont-Royal for the best views overlooking Montréal. To soak up all that alcohol you've consumed at the festival, stop by the famous St. Viateur for a delicious hand shaped bagel.
Read More
Rome, Italy
I don't know about you, but when my friends and I get together at home, there is a LOT of wine and carbs consumed on the regular. So why not do more of that but in a way more epic environment? I love Rome for a girl's trip because it doesn't feel overly romantic like Venice and has a great mix of cultural and foodie experiences.
If you and your friends are culture vultures who want to take a trip that's pure bliss while still feeling like you came away learning a thing or two, Rome is the perfect trip for you.
WHO THIS TRIP IS GREAT FOR
History buffs, museum junkies, art and wine lovers. Honestly though, who is Italy not for?? This is an especially great girls destination for a small group of friends or a mother/daughter adventure.
BUDGET
Medium to High (it's possible to do Italy on a tight budget if you stay at hostels and eat at budget restaurants, but for an indulgent girls trip it will be more expensive).
WHERE TO STAY
If you want to go high luxury and really treat yourself, then Portrait Roma is a beautiful hotel and is literally steps aways from the Spanish Steps, no pun intended. Hotel Des Artistes is a great affordable option with high reviews.
DON'T MISS
You can't go to Rome and not visit the Colosseum, Vatican and the Trevi Fountain. For rooftop drinks overlooking Piazza Navona, head to Terrazza Boromini at sunset and cheers to all the beautiful memories you've shared with your gals!
Read More
Caye Caulker, Belize
One of the most fun destinations I visited in 2019 was without a doubt Caye Caulker, and it's sure to be a hit with the gals. Huge Bonus: It's also a super low maintenance getaway to plan. Once you've arrived in Belize City, a short 45 minute ferry ride will take you to the tiny island of Caye Caulker (it's about 5 miles in length and much shorter in width), and I swear you'll feel like you're on another planet. This is the epitome of true island life. Throw off your shoes, apply the sunscreen and watch as life goes into slow-mo.
During your stay on Caye Caulker, you'll do what all the other visitors to this tiny island do during their days: hang at The Split for sun and drinks or head out on a catamaran cruise for snorkeling and swimming with nurse sharks.
Nights are spent bar hopping to one of the few watering holes on the main stretch: Sports Bar, Margarita Mikes, Lazy Lizard and I&I Reggae Bar. The best part of Caye Caulker is that everything is so small that you tend to see the same people a lot and it's easy to make friends. If you want to head off on holiday with your girls but want to meet new people at the same time, this is an ideal destination for that.
WHO THIS TRIP IS GREAT FOR
Groups that want to be social and meet new friends on holiday. Island lovers and those looking for a laidback and slower-paced trip.
BUDGET
Low
WHERE TO STAY
Caye Caulker is not a fancy place, so you're not going to find any big luxury hotels here. Everything is pretty affordable and low key and it's hard to stay in a bad location because the island is so small. Try to find something as close to the main drag where all the bars are, and you'll be golden.
DON'T MISS
A catamaran cruise with Carlos Tours, days spent day drinking at The Split and rooftop yoga classes at Namaste Cafe. If your group wants to really go big, hire a helicopter tour to take you for a scenic ride over the Blue Hole.
Charlottesville, Virginia
I know what you're thinking. Virginia? For a girls trip? Yup, and here's why. Did you know that Charlottesville is at the center of the Monticello Wine Trail, the birthplace of American wine? It's got over 35 wineries within a 30 mile radius, which means if wine tasting is your jam, then Charlottesville is your kind of place.
Don't picture Napa Valley style tastings though. C'ville is as laidback as it comes, no reservations required (only for large groups). In between wineries, you'll be driving through peaceful rolling farmland and forest at the foot of the Blue Ridge Mountains.
Book a private driver or wine tour so no one in your group has to worry about playing DD and bask in the beauty of the Virginia countryside while you and your gals clock some quality time with vino in hand.
WHO THIS TRIP IS GREAT FOR
Anyone with a love of wine culture, hipster coffee shops and live music. This is a great trip for all ages as there really is something for everyone in C'ville.
BUDGET
Medium
WHERE TO STAY
The Clifton Inn for a more peaceful retreat. The Graduate or The Townsman: Meriwether are great options for hotels situated within walking distance from downtown.
DON'T MISS
Pippin Hill Vineyards for the most atmospheric lunch and wine tasting in Charlottesville. In the evening, head to the Downtown Mall for dinner and cocktails at Alley Light and live music at The Whiskey Jar. If you want to skip wine tasting for a day and do something a bit more educational, a trip to Thomas Jefferson's Monticello is a must.
Read More
Portugal Road Trip
If you love taking girlfriend road trips, then Portugal is the place to do it. Man, do I love this country. It's one of the most laidback and happiest countries I've visited in Europe and has some of the most stunning coastline on the continent. Portugal is a place to eat and drink well, walk the cobblestone streets 'til your feet feel like they're going to fall off, and make friends with the locals — even better with your girlfriends by your side!
The country is relatively small, so it's easy to hit up a lot of different destinations within a reasonable timeframe. I'd recommend either planning one of two itineraries: Lisbon and south to the Algarve region for a more beach-centric adventure, or Lisbon and north to Sintra, Porto and the Douro Valley for a mix of history, culture and wine.
WHO THIS TRIP IS GREAT FOR
Really anyone — as long as you don't mind clocking time in the car.
BUDGET
Medium
WHERE TO STAY
In Lisbon, a few top picks to kick off your adventure would be The Lisboan Apartments, Dear Lisbon – Gallery House, Santa Clara 1728, and Hotel da Baixa.
DON'T MISS
The Jeronimos Monastery and a stop at Pastéis de Belém next door after for pastel de nata. Shop with the gals and stop for some al fresco lunch at LX Factory, and stroll around the Alfama district for the cutest photo opps.
Tokyo, Japan
Though Japan was my first solo trip ever (I did meet a girlfriend at the tail end of it), I'd love to head back to Tokyo during cherry blossom season, to eat my way through the city and enjoy all of the crazy nightlife with my gal pals in tow.
Japan is one of the safest destinations out there which makes it one of the best girls trip destinations if you have a bit more budget to work with. You and your ladies will be able to go out and enjoy the town without really having to worry about any shady business. Plus, Japan is just an overall incredible destination — some of the best food in the world and beautiful natural parks juxtaposed right in the heart of the city.
WHO THIS TRIP IS GREAT FOR
Foodies and ladies with a bigger budget. Travelers looking for a unique destination that's unlike anything at home.
BUDGET
High
WHERE TO STAY
Hotel Claska for more minimal boutique accommodation or the Ritz Carlton for classic luxury. If you want to stay somewhere budget friendly, Kaisu is a hostel that is one of the nicer ones I've ever stayed at — it's a pod hotel which is very popular in Japan but super clean and intimate.
DON'T MISS
The Meiji Shrine, Harajuku, and Shibuya Crossing are all incredible experiences to have during your girls trip. If you want to plan something totally wacky that you'll be laughing about for years to come, book a show at the Robot Restaurant (just trust me). Finally, for a unique night out head to Golden Gai for bar hopping between the area's six alleyways all lined with tiny independent bars (they usually can't hold more than a handful of people). It's one of the coolest nights out I've ever experienced!
Read More
The Yacht Week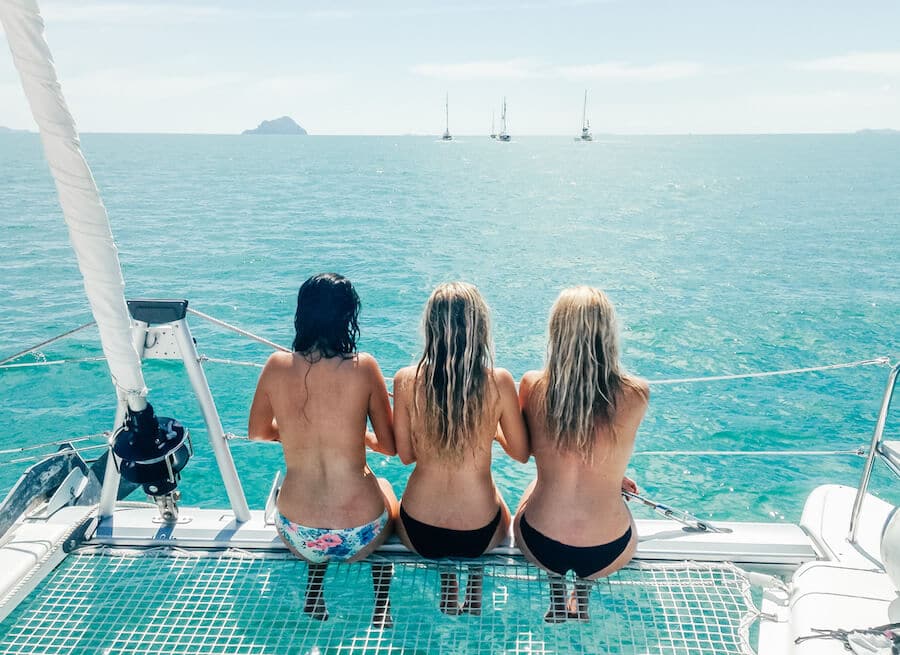 Envisioning sailing on a private catamaran yacht for a week through the islands of Greece or along the coast of Croatia? Yep, me too. The Yacht Week is the trip of a lifetime that you have to experience with your girlfriends at least once. I did Yacht Week Thailand back in 2014 (sadly they closed this route), but I have countless friends who've done their Greece, Croatia and BVIs routes and had the time of their lives.
Yacht Week is like one big party on the water. You'll spend a week soaking up the sun, meeting new friends from around the world (and likely hot skippers), and docking to explore your new destination with tons of events planned for the entire fleet of boats at night. It's really beyond explanation — you just have to go.
WHO THIS TRIP IS GREAT FOR
Anyone in their 20s to mid 30s interested in a week spent partying on a yacht with new friends from around the world.
BUDGET
Medium (depends on the route you choose).
WHERE TO STAY
Book an entire boat with friends or hop on someone else's boat and make new ones.
DON'T MISS
Depends on the route you choose, but the Yacht Week has put together the best itineraries so you won't miss out on anything epic.
Austin, TX
There's a reason why Austin is one of the top destinations in the country for bachelor and bachelorette parties. The food, the live music (it's been named the live music capital of the world), the streets that were practically built for bar hopping — Austin has it all. Sixth Street is probably the most famous spot to party in Austin, but I much prefer Rainey, which at first glance looks like a cute little neighborhood with bungalow style homes that have all been converted into bars.
WHO THIS TRIP IS GREAT FOR
Bachelorette parties, and laidback ladies whose perfect day involves bar hopping with a side of live music and tacos.
BUDGET
Medium
WHERE TO STAY
There are so many incredible hotels in Austin, but South Congress Street is the most ideal neighborhood to stay in with all the funk you could ever want. Check out the South Congress Hotel, Hotel San Jose or the Austin Motel to be situated right on South Congress.
The Line which just opened right across the river is a great location as well. For something more upscale and mature with river views, check out the Four Seasons which just got a fresh facelift.
DON'T MISS
Fun activities with the gals would be a river float (or paddle board), a stroll down South Congress for hip shopping and bites, and an afternoon bar hopping on Rainey Street. Try to book tickets to a live show for a fun evening activity and get in a game of chicken shit bingo to experience Austin quirk at its core.
Read More
Oaxaca, Mexico
Oaxaca is a great under-the-radar place to go for a girl's trip if your group of friends is a bit over the "typical" spots. This state in Mexico is one of the safest in the country but is not nearly as well known as areas like Tulum and Cancun. Yet it's the birthplace of Mezcal, which means plenty of opportunities for great cocktails. Plus, you can cap off your time in Oaxaca City with a visit to the beach town of Puerto Escondido to get a great mix of both environments.
Two of my girlfriends and I went to Oaxaca, Mexico in June and we had the best time. Oaxaca is also known for having some of the best food in Mexico and is famous for molé, so you can bet we ate our way through as many Mexican restaurants as humanly possible. We also took a day trip to Hierve el Agua which gave us an opportunity to be out in nature, and then we took a car out to Puerto Escondido to end our trip with three days by the beach. It was one of the best girls trip destinations for me personally because it had a little bit of everything!
WHO THIS TRIP IS GREAT FOR
Your more adventurous group of gal pals who are willing to get off the beaten track.
BUDGET
Low
WHERE TO STAY
Quinta Real Oaxaca is one of the most beautiful and centrally located hotels in town. If you head to the beaches of Puerto Escondido, check in to Hotel Escondido, a heavenly adults-only escape you'll never want to leave.
DON'T MISS
A day trip out to Hierve El Agua and Gracias a Dios for the chicest spot to learn about the process of making mezcal — and of course taste your own. If you and your girlfriends want the best avocado toast of your life, head to Boulenc for brunch and thank me later. We went back twice!
Read More
Iceland
Something I always find that's a really nice added bonus on a girls trip is not having to worry about safety. Because there's always that wildcard in the group that disappears and leaves everyone else worrying, amiright? Yes, there's safety in numbers, but when it comes to planning a girls trip, nothing beats a destination with a super safe reputation. It will remove one more stressor and ensure that if anyone gets lost from the group no one's safety is in danger. Iceland is the ultimate destination for that.
Grab your most adventurous girlfriends and head out on an epic road trip along the south coast to witness some of the most stunning scenery you'll ever lay eyes on.
I'd just recommend planning this trip with your least complain-prone girlfriends. Weather in Iceland can be unpredictable and the last thing you want is a debbie downer pouting about the rain-this and the wind-that. Ditch that friend and travel with your gal pal that's up for anything and you'll be golden!
At the end of all your adventures, book a reservation (must do this ahead of time) for the Blue Lagoon to cap off the trip with a relaxing soak in the country's most famous thermal pool.
WHO THIS TRIP IS GREAT FOR
Adventure and nature lovers
BUDGET
High (Iceland is known to be one of the most expensive countries, so plan accordingly)
WHERE TO STAY
This really depends on how you plan out your itinerary, but my favorite place to book hotels is with Booking.com.
DON'T MISS
Some of my top highlights in the south coast of Iceland were Skógafoss waterfall, the black sand beaches of Vík, and Reynisfjara beach for unique basalt columns and enormous waves. And of course, cap off your trip with a visit to the Blue Lagoon! Don't miss reading these Blue Lagoon tips before you book.
Oktoberfest in Munich, Germany
I went to Munich for my first Oktoberfest this year and while I didn't actually go as a girls trip, I can see it being a really fun time with a group of BFFs. For one, the whole process of purchasing a dirndl (the traditional Bavarian outfits you see everyone wearing in the photos) would be such a fun activity with a group of friends. Pro tip: Buy them when you get there, just give yourself an extra half day of time to do this before you hit up the festival.
Secondly, Oktoberfest is basically a playground of big, burly men. And it would be way easier to snag a spot to sit in the jam packed beer halls with a few cute girlfriends by your side.
Furthermore, Munich is also a really cool city, which makes Oktoberfest one of the best girls trip destinations because you can enjoy this bucket list festival but also explore German culture around Munich at the same time. This is one you'll want to plan ahead for though because accommodation can get really expensive and books out well in advance.
WHO THIS TRIP IS GREAT FOR
Beer lovers, single ladies.
BUDGET
Medium to high (depending on how far in advance you book). Beers are overpriced but entry into Oktoberfest itself is free!
WHERE TO STAY
There are tons of affordable Airbnbs around Munich and I'd recommend opting for that style of accommodation since you're likely not going to even have much time to enjoy a hotel. Booking an apartment style stay will also allow your group to be together and make healthy breakfasts at home before you head out to the tents where all the food options are pretty meat and carb heavy.
DON'T MISS
The Hacker-Pschorr tent which has the most photogenic interior with clouds on the ceiling!
Napa Valley, California
For West Coast ladies looking for the quintessential wine vacay with the gals, Napa is a great go-to. Wineries in the area are now reservation only, which means that as long as you do a little pre-planning, you can get great undivided attention at each winery you visit.
If you have more time, you can also make this trip one segment in a longer road trip throughout California, which overall is one of the best girls trip destinations out there. Who doesn't love sunshine, palm trees and beautiful coastline?
Bonus: To prep for your epic girls trip to Napa Valley, make sure to watch Wine Country for a hilarious pre-cursor to your trip.
WHO THIS TRIP IS GREAT FOR
Wine connoisseurs, foodies.
BUDGET
High
WHERE TO STAY
If you want to keep accommodation more affordable, look into Airbnb or the Calistoga Motor Lodge and Spa which has a fun and laidback retro vibe. If you have more budget to work with, go big at the stunning Calistoga Ranch, whose lodge style accommodation feels like the perfect retreat after a day of wine tasting.
DON'T MISS
I haven't been to all of the Napa Valley wineries, but Silver Oak and Twomey were two that I absolutely loved and wouldn't miss during your tour around Napa.
Santa Barbara
A more laidback winery region that's a quick drive from Los Angeles is Santa Barbara, which has a blossoming Urban Wine Trail that features over 30 tasting rooms from some of the area's top wineries right in the heart of downtown.
Santa Barbara is ideal for anyone who loves the thought of wine tasting on their girls trip without that having to be the sole focus. There are stunning beaches to camp up for sunset, plus plenty of shopping and delicious restaurants to keep you and your girls busy. For the perfect spa day, head to the Hotel Californian's Majorelle Spa for one of the most luxurious facials I've ever had in my life.
If you're located in California, then Santa Barbara is one of the best girls trip destinations you can plan on a whim and have a great time!
WHO THIS TRIP IS GREAT FOR
This is the perfect mother/daughter trip in my opinion, but ideal for a group of friends too. There's really something for everyone in Santa Barbara to enjoy.
BUDGET
Medium – High
WHERE TO STAY
The Hotel Californian for the easiest access to the Funk Zone and Urban Wine trail, or Rosewood Miramar Beach for the ultimate oceanfront luxury.
DON'T MISS
A spa day with the ladies at Hotel Californian's Majorelle Spa and pizza at Bettina in Montecito is a must to soak up all the vino.
Bali, Indonesia
I know, I know. It might be a little overdone, but that's because Bali is SO good for a girl's trip. Villa style accommodation is the norm in Canggu and Ubud, which means that it's super easy to find a place to stay where you and all your girlfriends can be together in one communal space. Bali is also incredibly affordable and you'll be shocked at the dreamy luxury pool villas you can book for a fraction of the price you'd spend anywhere else.
If you have a good amount of days off and can afford splurging on the flight over to Asia, Bali is one of the best girls trip destinations that you'll never forget.
WHO THIS TRIP IS GREAT FOR
If your ideal itinerary includes gorgeous sunsets at the beach, sipping coconuts daily, and hot Australian surfers, then you'll want to land in Canggu. If you're craving a jungle getaway surrounded by magical forest and yoga studios on every block, then Ubud will be your sanctuary.
BUDGET
Low
WHERE TO STAY
There are endless amounts of epic villas to book on Airbnb or Booking.com. Check out my post on the most affordable Canggu villas or these beautiful Airbnbs in Canggu to get your search started.
DON'T MISS
With a group of ladies, you won't want to miss beach parties at The Lawn Canggu, La Brisa Bali and late night dance parties at Old Man's. During the day, hit up my favorite cafe of all time, The Shady Shack for delicious healthy eats and smoothies to refuel before a day exploring. In Ubud, the Tegallalang rice terraces are a must.
New York, New York
There's no denying that Manhattan is one of the best girls trip destinations in the world — or rather just one of the best destinations to visit, period. Even after living in this city for over two years, I couldn't possibly narrow down a go-to list, there's simply too many fun things to do and there's something in the city to cater to every kind of gals group. Shopping, incredible cocktails and rooftop bars, brunch spots, luxury hotels and iconic landmarks. There's a lot to love for a girls trip in New York.
If you've never been to the city before, then of course you'll want to check out iconic spots like Central Park, the Brooklyn Bridge, the relatively new addition of The Vessel, Greenwich Village and the Empire State Building. Walking The High Line is always a fun daytime activity to get some exercise and explore the city on foot.
If you're looking for something that's a bit more spicy for a girls trip, then you won't want to miss a burlesque show at The Box. Just trust me.
Pro tip: If you're into some of the live talk shows and want to do a unique activity, try to score tickets (they're often done on a lottery basis and typically free!), and plan your trip dates around the show. I scored tickets to the live taping of Stephen Colbert once and it was such a fun activity to do with my friend for her birthday!
WHO THIS TRIP IS FOR
City gals who are ready to hit the ground running with a packed itinerary.
BUDGET
High
(it's possible to do New York on a lower budget but I wouldn't recommend it. If you want to have an epic girls trip, you're going to want to splurge a bit)!
WHERE TO STAY
There are literally 5 million options for hotels of all budgets in New York. I recommend planning out your itinerary first and picking a neighborhood to stay in where you'll be spending most of your time.
DON'T MISS
I always love Chelsea Market for a fun eating experience, but a few good girl's brunch spots like Buvette and the Butcher's Daughter are very New York. Momofuko Milk Bar is also a New York classic when you want something sweet. For a night out experiencing true NYC club life, head to Meatpacking, but I personally prefer the more laidback vibes in the West Village. Wilfie & Nell has always been my go-to West Village bar for fun and intimate nights out.
Barcelona, Spain
If you can handle 10 PM dinners and even later nights out at the club, then you'll acclimate to Barcelona just fine. This city beats to its own rhythm and is the perfect place to get a mix of everything that's perfect for a girls trip: iconic sites to keep your group busy during the day (hello, Gaudí), fun tapas bars galore and an endless array of options for late nights dancing.
If you've been craving a Euro trip, Barcelona is a great option with the girls because it's more hip and fun than couple-y and romantic like other European cities. Being single or without your significant other here won't get you down — it will get you excited!
Since the timing of everything seems to shift later in Barcelona, just make sure you and your travel mates are on the same page as far as your daily schedule. You don't want part of the group thinking you'll be waking at sunrise to start the day, while others are just getting home to sleep from a night out. If you can agree on a sleep schedule with your ladies, then this will be one of the best girls trip destinations!
WHO THIS TRIP IS GREAT FOR
Architecture lovers, culture vultures, night owls.
BUDGET
Medium
WHERE TO STAY
My girlfriends and I personally stayed at the Yurbban Trafalgar Hotel which was super cute and perfectly situated to explore all the best neighborhoods in Barcelona. Plus, there's a rooftop pool for some downtime with the ladies.
DON'T MISS
Gaudí's La Sagrada Familia and Park Güell, La Boqueria Market for a lively food vendor scene, and Carrer de Blai in Eixample to go pintxos tasting. For the most instagrammable brunch in the city with the gals, head to Brunch & Cake.
Loved this post on the best girls trip destinations? Let me know in the comments below!
---
Planning a trip right now? Don't miss my go-to websites for booking everything from flights and tours, to accommodation and more:
---