Rome has to be one of the most beautiful cities in Europe — hell, perhaps even the world. I had visited this Italian city on a whirlwind trip with family as a kid, but being back in Rome as an adult (at an age where I could really appreciate what I was taking in) completely blew me away. Meandering through the streets of Rome is truly like stepping into a living museum where everywhere you look there's something beautiful or ancient to discover. While there are countless stunning spots to capture throughout Italy's capital, these are the best photography spots Rome has to offer in my (very humble) opinion. If you use this as a starting point, I'm pretty sure you won't be disappointed in the places your Rome adventures take you.
10 Best Photography Spots in Rome You Can't Miss
Trevi Fountain
Photographing the Trevi Fountain during your time in Rome is a no brainer, but it also takes a bit of strategy to photograph as the crowds are absolutely insane. If you want to attempt to capture this tourist-heavy landmark on camera, you'll want to get there at sunrise without question.
You can get a little creative with angles like this one, but if you want to maximize your chances of a solo shot without selfie sticks photobombing you, take my word for it.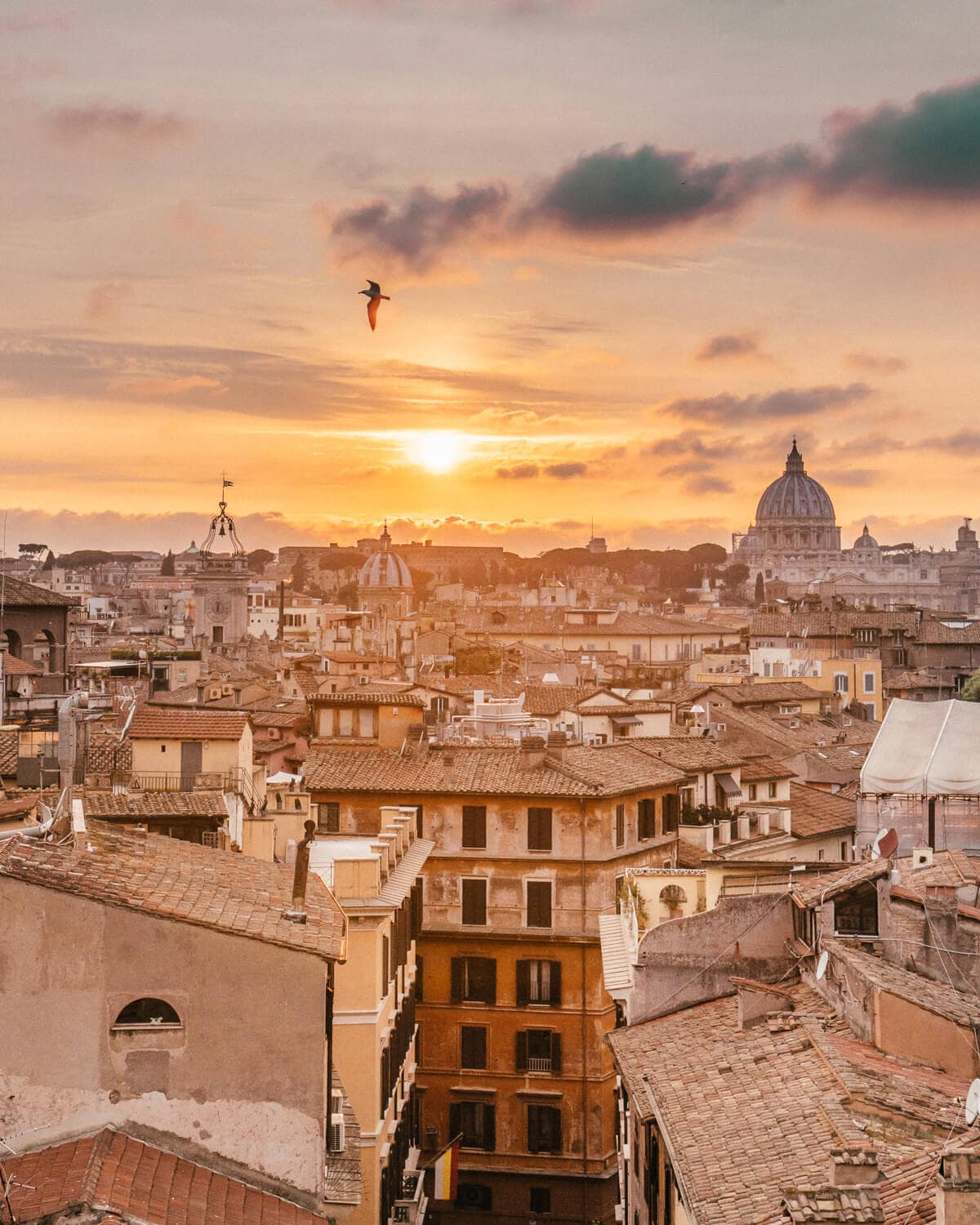 Terrazza Boromini Rooftop
This gem of a rooftop bar has some of the best views overlooking Rome that we encountered during our trip. With almost panoramic angles, you'll get a peek of the Vatican in the distance and a bird's eye view of the famous Piazza Navona directly below.
Bonus: This photo opp comes with a side of delicious cocktails and a great sunset if you're lucky.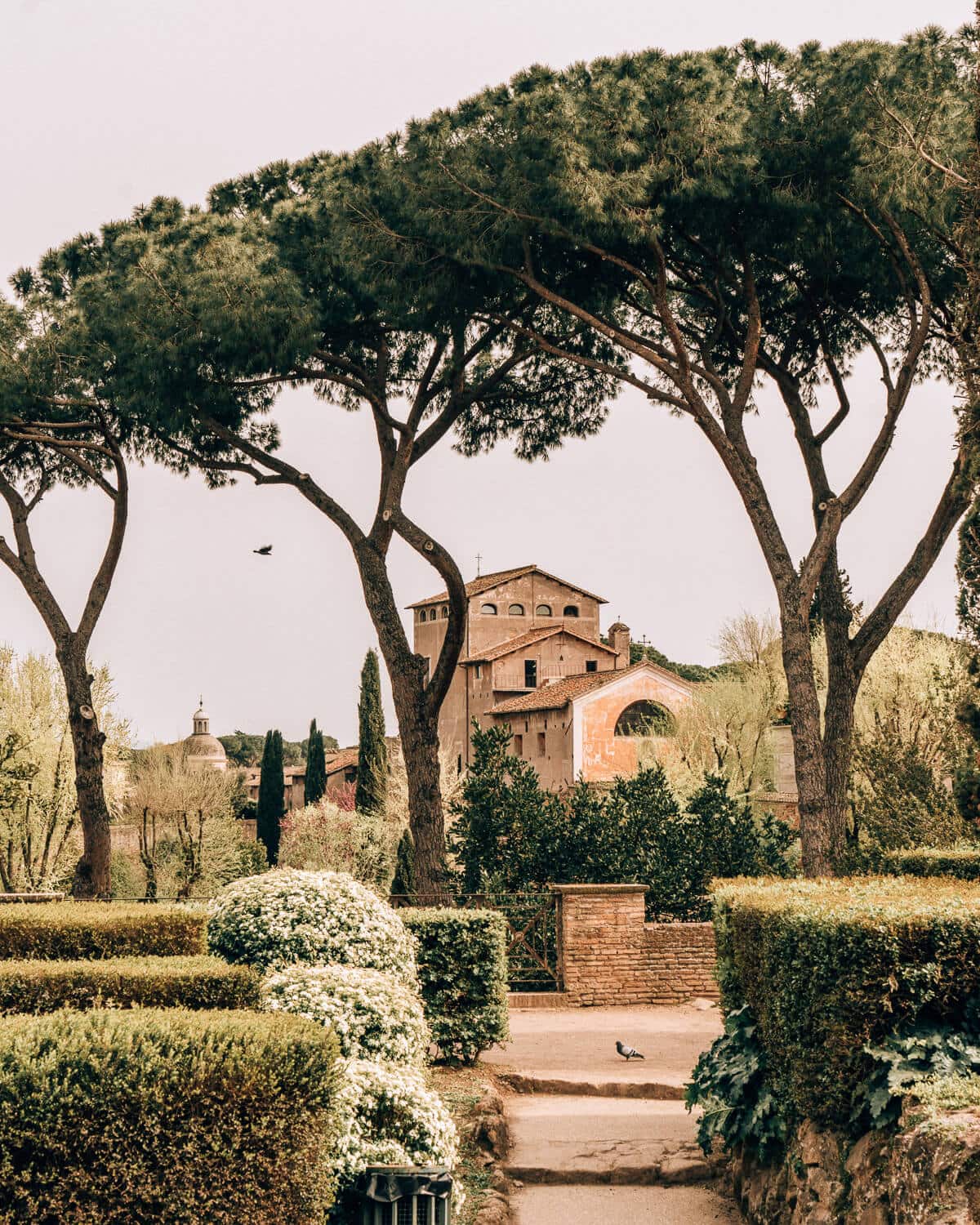 Palatine Hill
When you book a tour of the Colosseum, make sure you don't skip Palatine Hill next door, which is one of the most ancient areas in all of Rome. It sits 40 meters above the Roman Forum, looking out upon many ancient ruins.
But beyond providing epic views of the Roman Forum from above, the hill itself is full of gorgeous corners to shoot, including stunning gardens, peaceful walkways, and archaeological sites all which attract fewer crowds than other areas around Rome — aka easier to capture THE SHOT.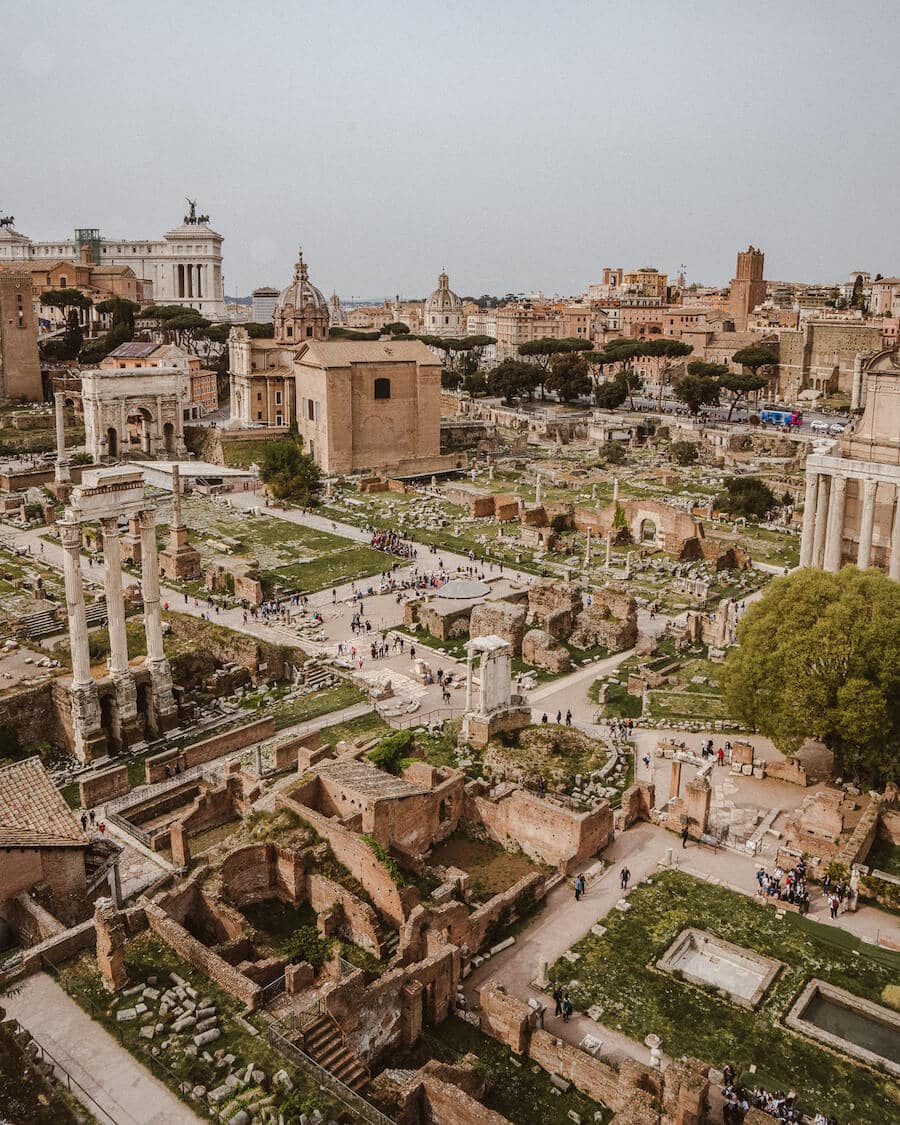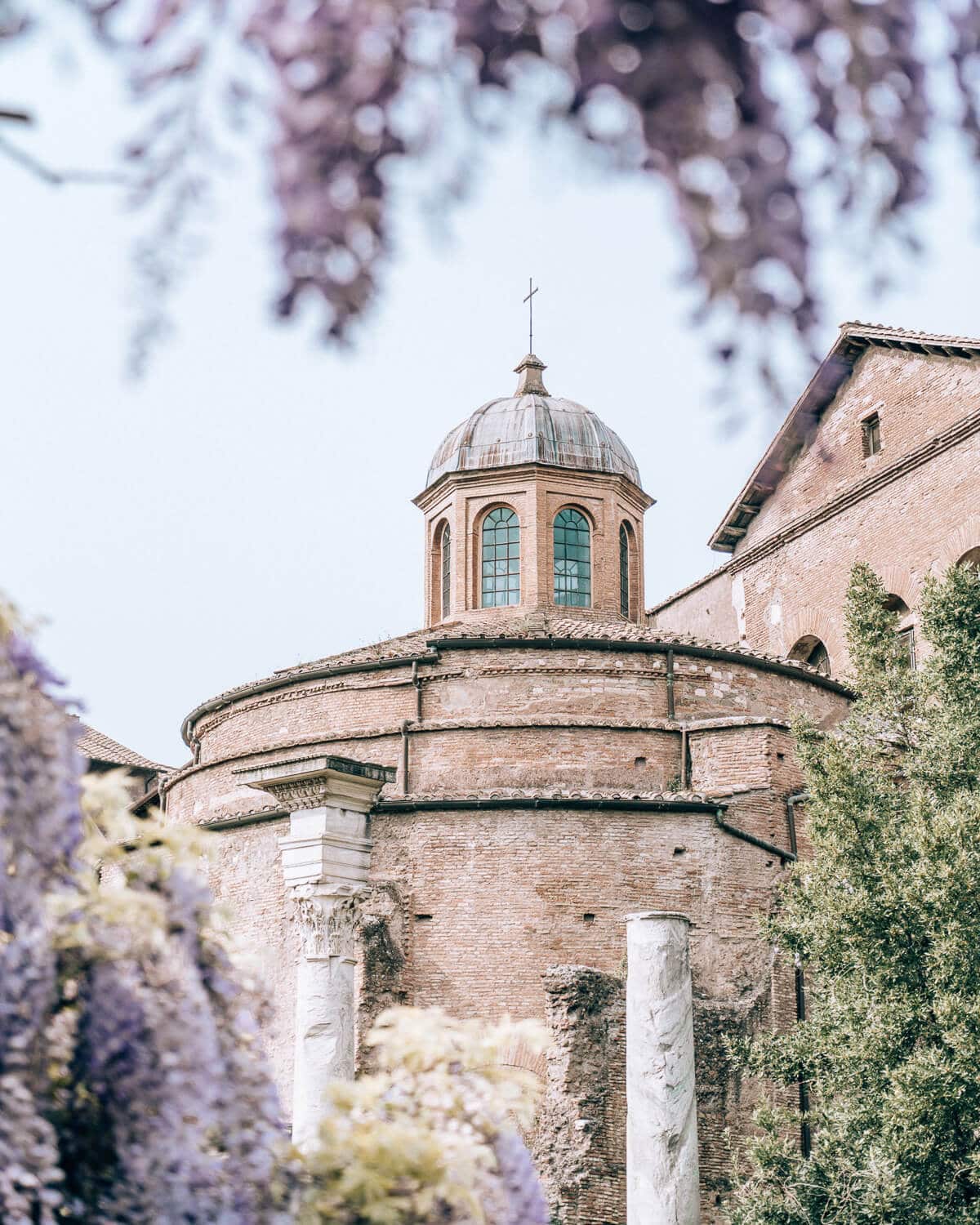 The Roman Forum
Just below Palatine Hill sits the Roman Forum, basically a playground of ancient ruins begging to be explored. You won't get bored of wandering this area that's located directly next to the Colosseum, and there are so many creative ways to shoot the various ruins and walkways.
If you want to catch the wisteria for an added color pop to your shots, make sure to visit in the spring — we arrived in early April and were met with these gorgeous purple blooms.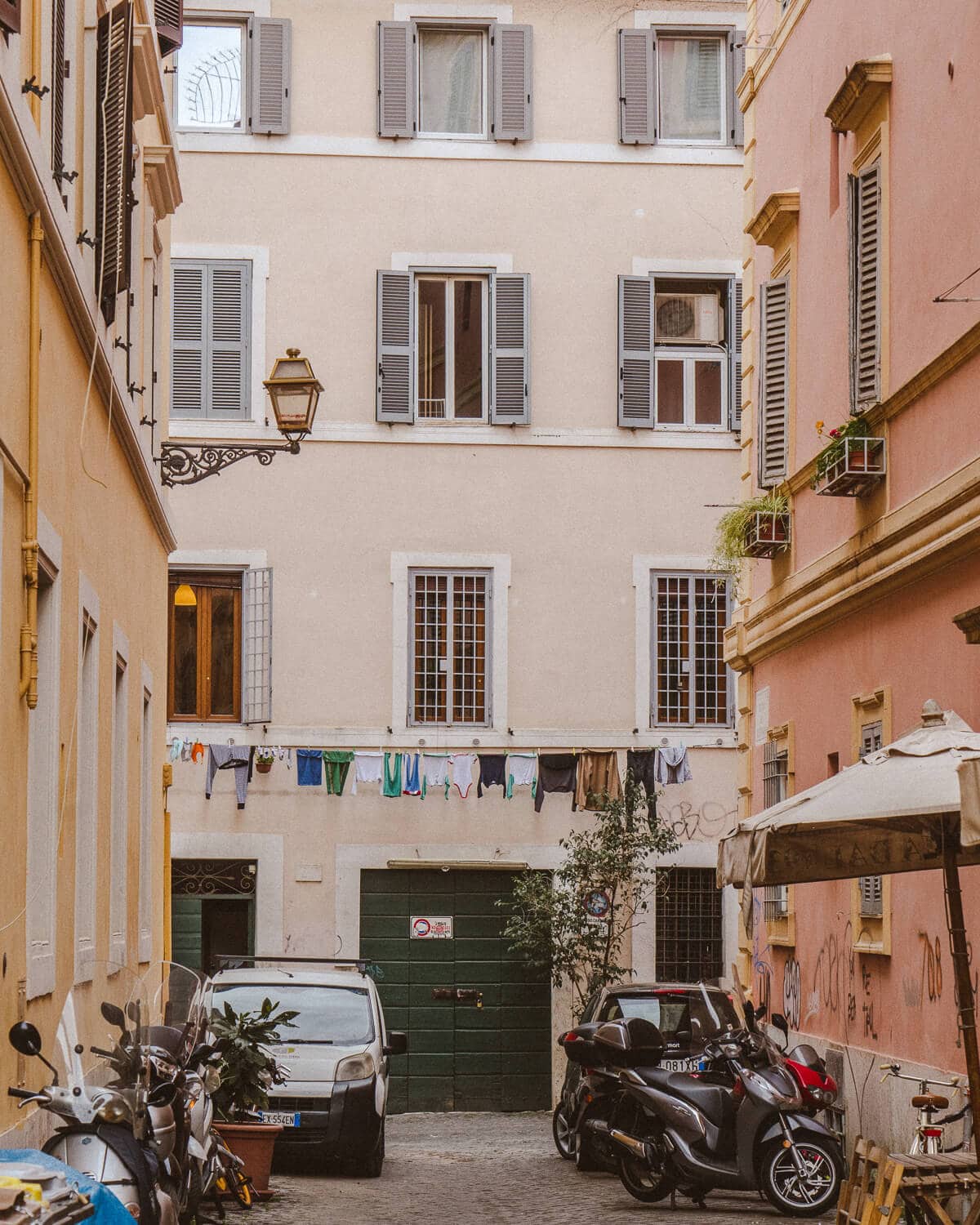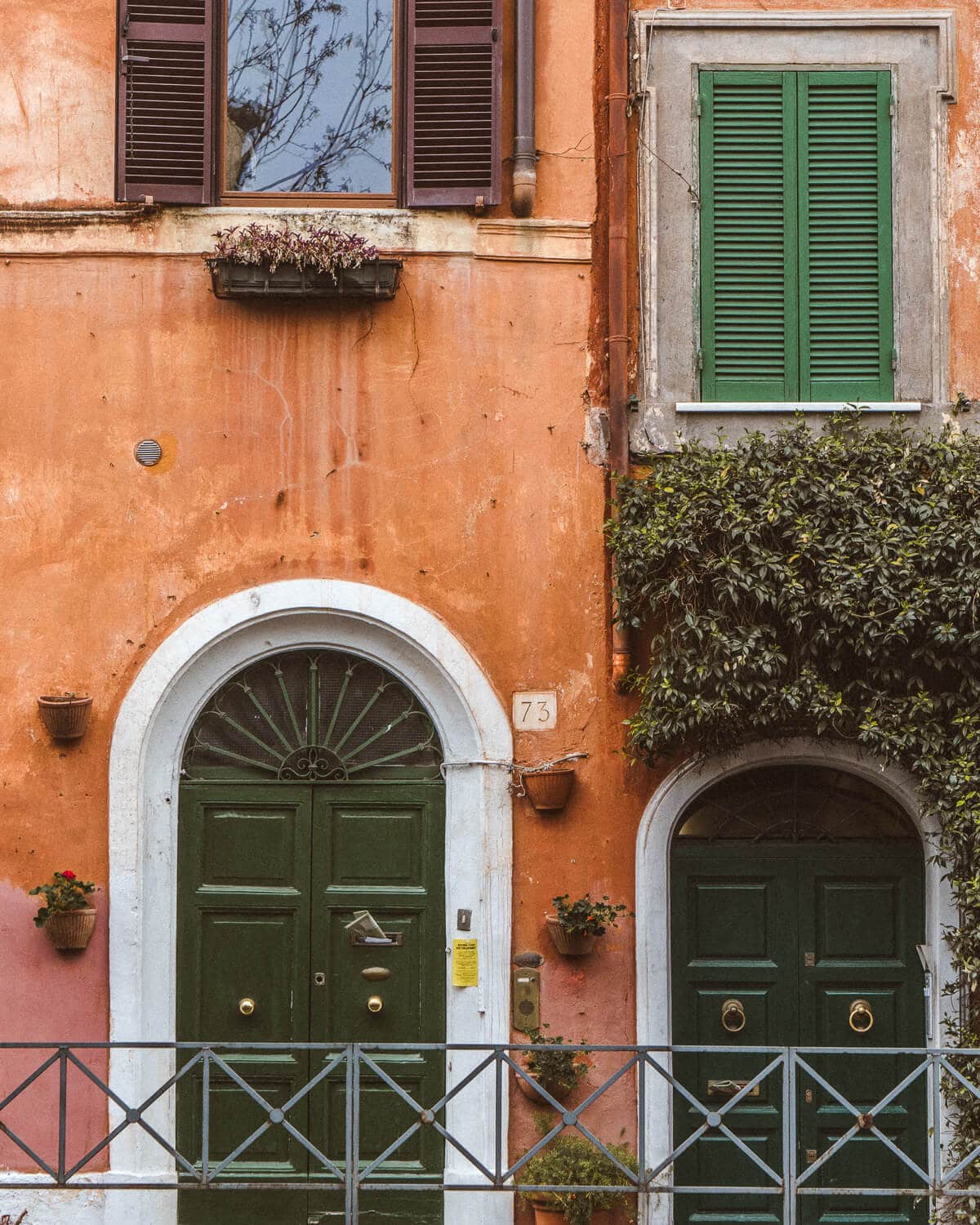 Trastevere
One of the more charming neighborhoods in Rome, Trastevere has a colorful, bohemian flair and is filled with sweet sidewalk cafes, beautiful doorways, craft beer pubs and locally-owned shops. If you love photographing more of the day-to-day moments in a city, then you won't want to miss a stroll through Trastevere.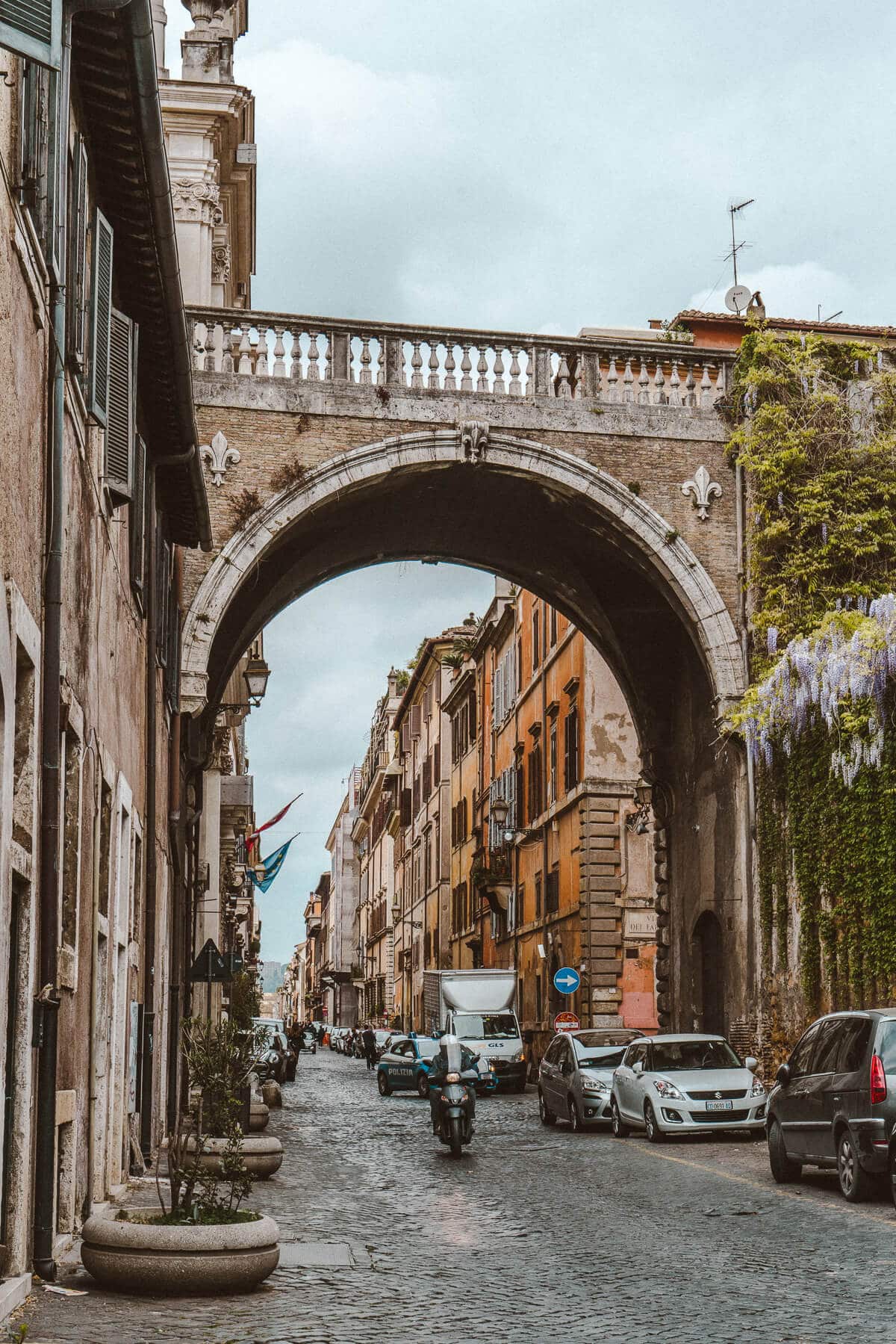 Arco Farnese on Via Giulia
This beautiful archway sits on the North side of the Ponte Sisto on via Giulia and was actually designed by Michelangelo. If you can snag a few seconds in between local traffic to snap a shot, the archway provides a beautiful backdrop.
But don't just bounce after you've mastered the shot — make sure to stick around and stroll for awhile. This cobblestone street that dates back to the 1500s is one of the most charming in the entire city.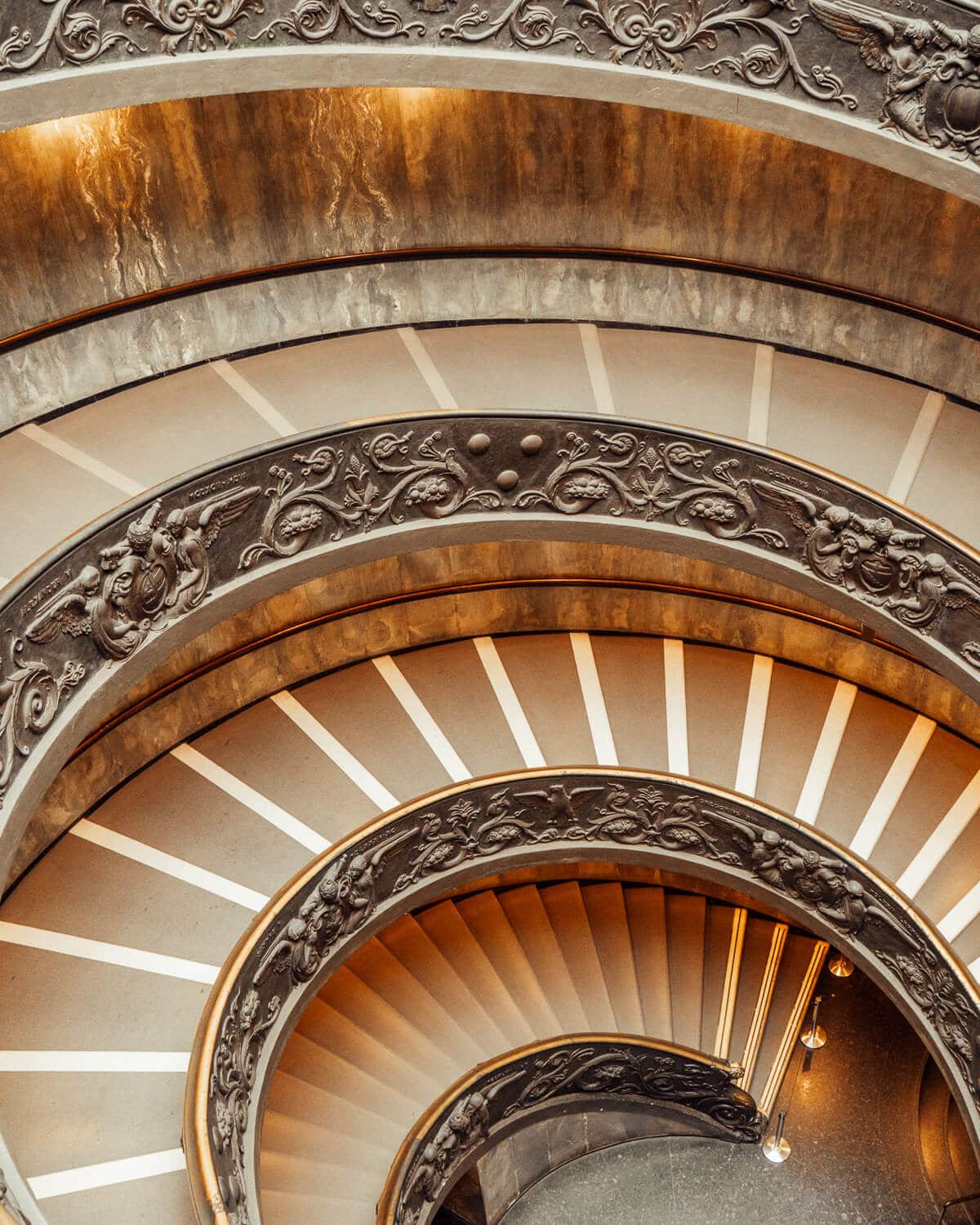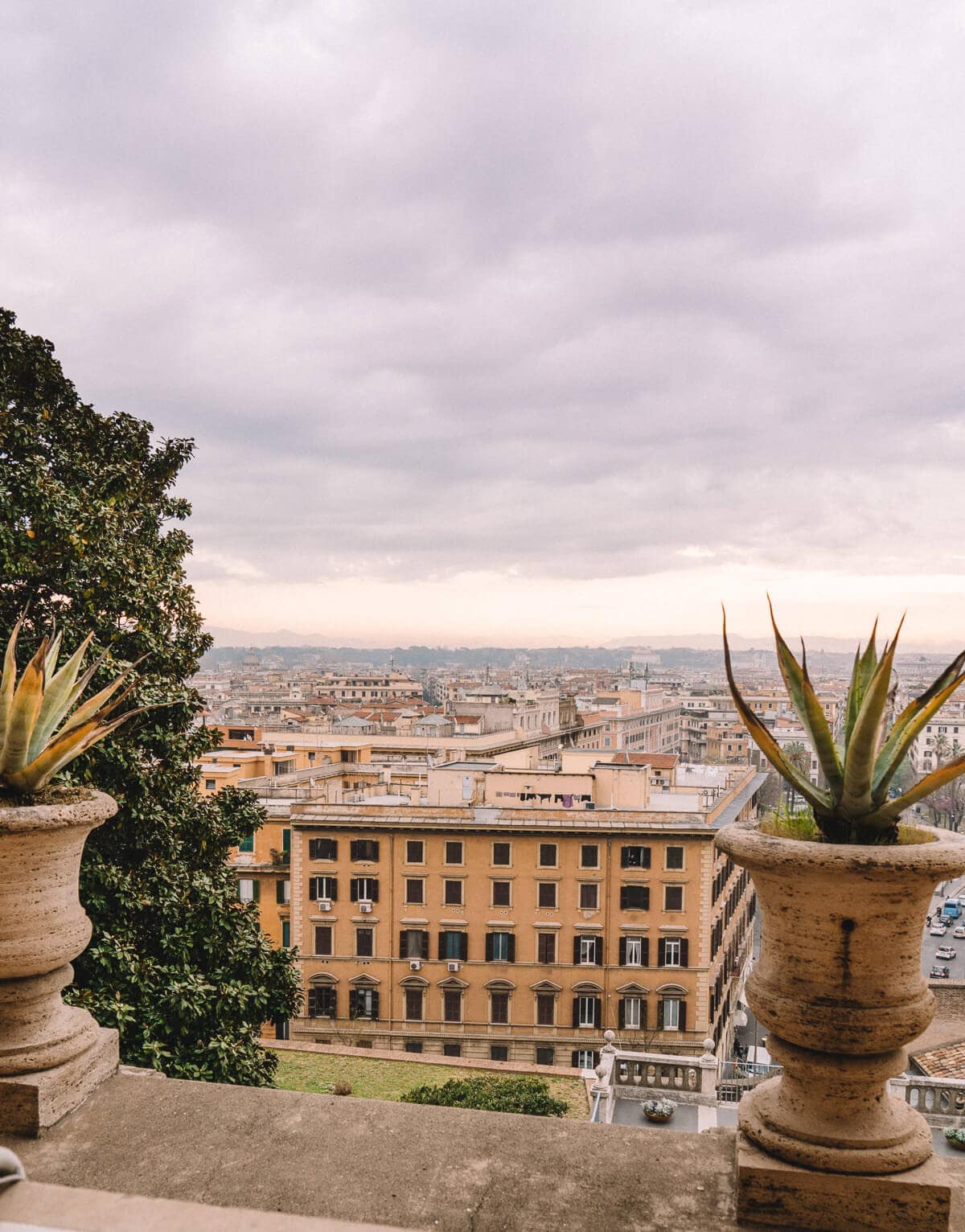 The Vatican
One of the most impressive sites and museums I've ever seen in my life, the Vatican is one of those places you could shoot in an infinite number of ways. Whether it's overlooking the city below from the museum's interior to one of numerous courtyard views or captures of the Vatican's gilded hallways, you can't go wrong with a day spent here, camera in tow. Just note that photos aren't allowed in the Sistine Chapel.
The Colosseum From Via Nicola Salvi
When scouting out the best photography spots in Rome, you can't miss the Colosseum, but the thing is it can be a bit tricky to shoot if you want to really master its scale. We discovered with a little creativity that there are some ways to capture it from a distance that showcase this landmark in all its glory.
The best photo spot that we found for capturing the Colosseum was from Via Nicola Salvi, a raised road which allows for a view sans tourists and a bit more depth to capture the true scale of the side of the structure that still remains intact.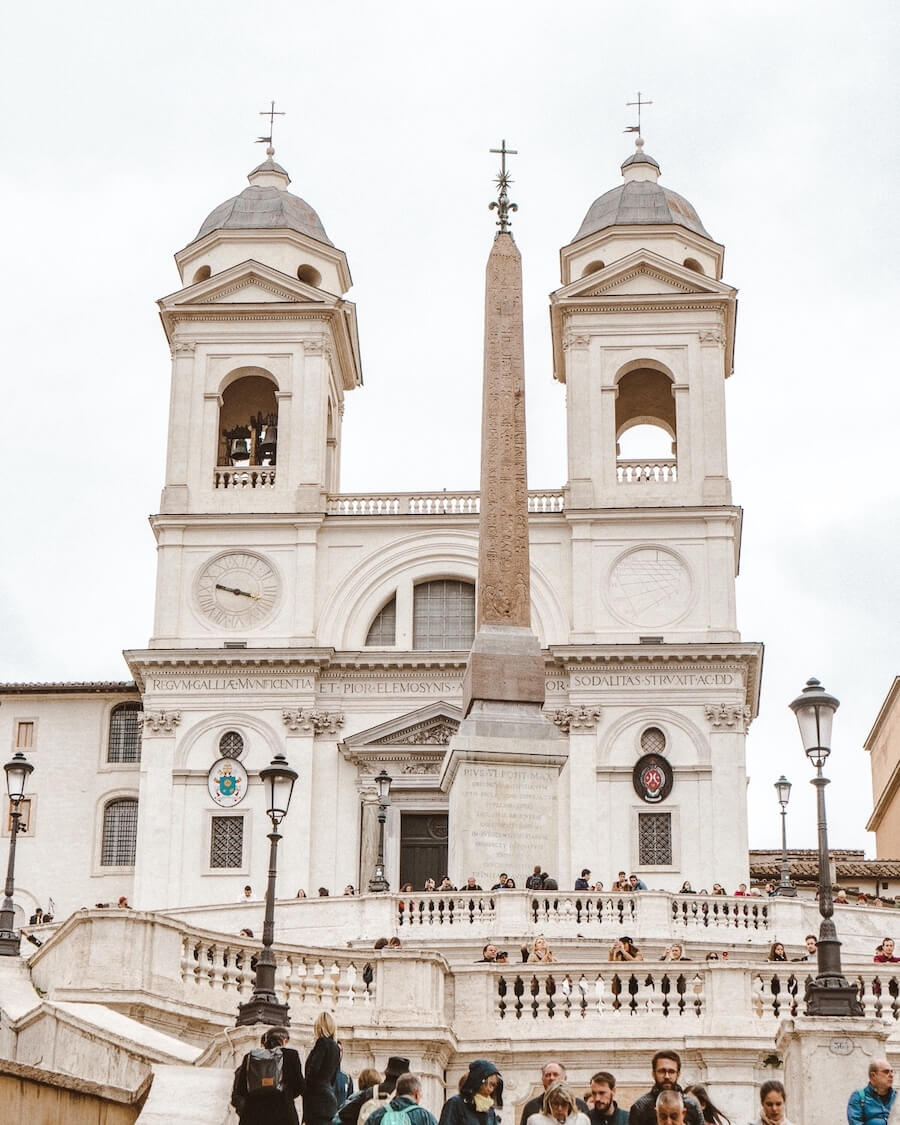 Spanish Steps
Another early morning spot if you want to capture it minus the crowds is the Spanish Steps. This is a great landmark to hit on your way to the Trevi Fountain since they are in close proximity to one another and you'll want to beat the crowds to capture both.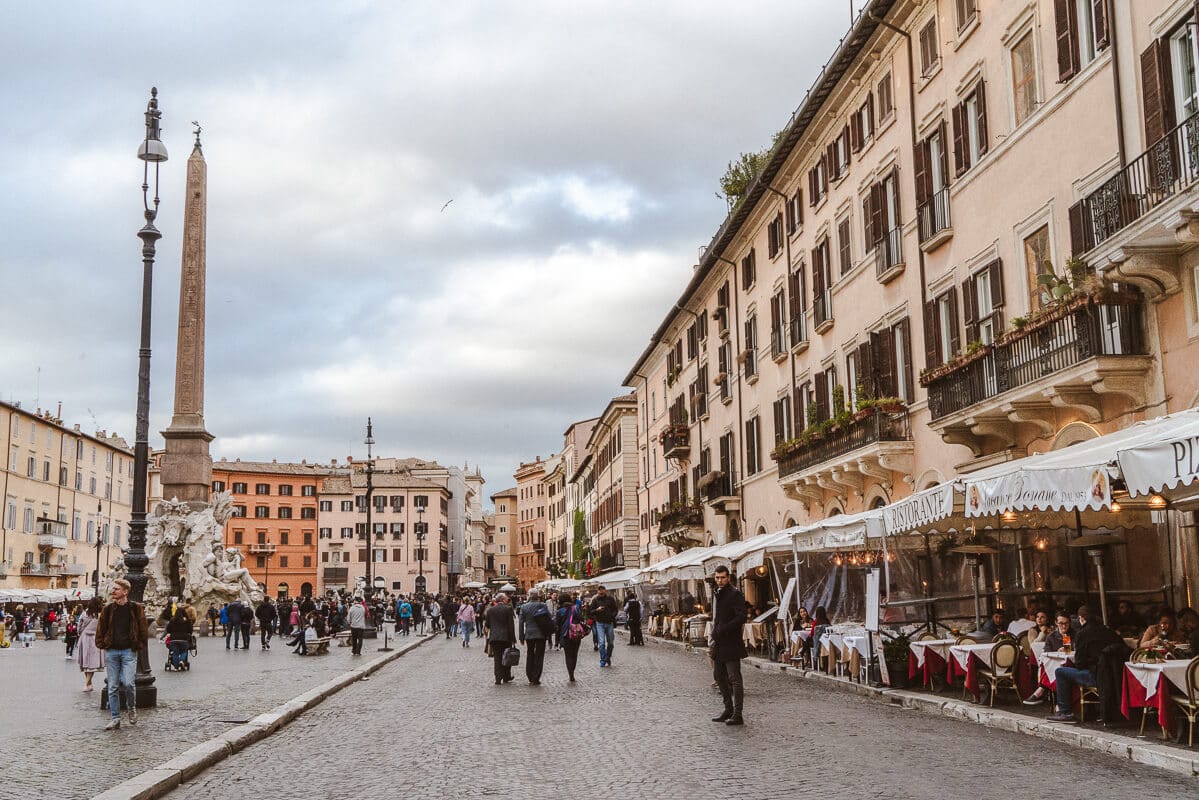 Piazza Navona
One of the most beautiful squares in Rome, Piazza Navona is constantly bustling with locals and tourists strolling through or dining at one of the charming sidewalk cafes. During our visit, a street performer was blowing hundreds of bubbles into the air giving us a creative way to shoot this famous Roman landmark.
The spaciousness of Piazza Navona allows photographers to get creative with angles, so have fun with it and do some people watching while you're at it!
Planning a trip right now? These are all the websites and services I love for booking everything from flights, tours, accommodation and more:
LOVED THIS POST? PIN IT FOR LATER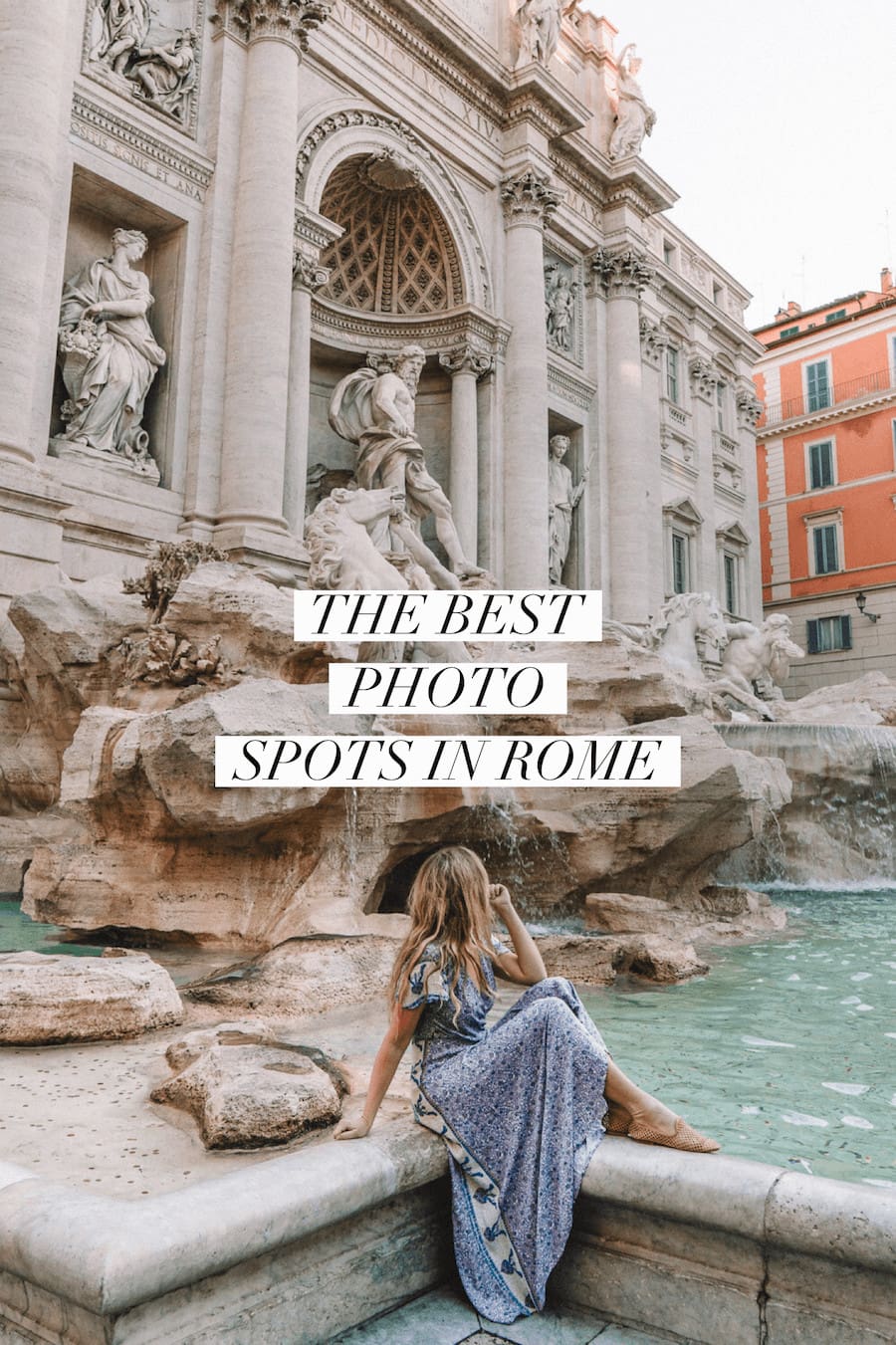 Read More