Looking to explore a picturesque part of Mexico that's more affordable than Tulum but just as stunning?
Bacalar Lagoon (or Laguna de Bacalar) is a true hidden gem that is home to laid-back vibes, budget-friendly hotels, gorgeous turquoise water, and some excellent restaurants.
In fact, the amazing food in Bacalar was honestly the biggest surprise of my trip. At the best restaurants in Bacalar, you won't just find traditional Mexican cuisine. You'll find everything from upscale seafood to plant-based cafes, delicious smoothies and more.
While Bacalar's neighbor Tulum gets all the hype for having great restaurants, we honestly felt like we had better meals in Bacalar and for a better price! While the "vibes" are a bit more modern in Tulum, you'll still find some stunning and Instagram-worthy spots in Bacalar, I promise!
That said, here are some of my top picks for the best restaurants in Bacalar you can't miss during your stay.
If I had to choose one favorite restaurant in Bacalar, it would definitely be Nixtamal. We were originally supposed to go to another restaurant but it ended up being closed. The chef just happened to be standing outside and he suggested we go to Nixtamal instead.
Honestly, I'm so glad it happened because we LOVED everything about this place. Each plate was presented so beautifully, and despite the incredibly fair prices, the food was honestly Michelin-level quality and super creative.
The cherry on top here is that the vibe is great; it's probably the closest thing in Bacalar to the typical Tulum atmosphere. This is definitely one of the best restaurants in Bacalar, so make sure to put Nixtamal at the top of your list.
PS – the mojitos are a must-order!
Address: Avenida 5, 525, Bacalar 77930 Mexico
Ixcehl is a super popular spot for breakfast in Bacalar. The setting is warm and inviting and the service is very friendly. I recommend starting with "chango toast" if you're craving something sweet! It's made with bananas and Nutella (which is a pretty unbeatable combo).
If savory is more your style, definitely go for the chilaquiles.
Address: Avenida 26, 59 Between 3 and 5, Bacalar 77935 Mexico
La Cabañita Grill & Cantina is a standout amongst the best restaurants in Bacalar and offers a more modern dining experience complete with stunning plates and innovative and eye-catching cocktails.
In fact, this is probably one of the best places for craft cocktails in Bacalar.
From steak to seafood, the menu has something for every kind of palette. P.S. If you come during breakfast, definitely order the avocado toast that's topped with al pastor!
Address: Av. 5 Entre 26 Y 28, Bacalar 77930 México
If you're looking for unique Mexican cuisine paired with lagoon-side dining, head straight to Jaguara. The atmosphere looks like a casual beach bar, but the plates are quite elaborate and artful.
They serve everything from tacos to burritos to fresh seafood. The cocktails are also super fun and refreshing. The views here are what really takes the cake though, and there are even a few swings and hammocks in the water should you choose to go for a post-meal dip.
Keep in mind, while Jaguar is one of the best restaurants in Bacalar, it's also one of the most expensive!
Address: Boulevard Costera Norte 1255, Bacalar 77930 México
Bote de Leche was for sure one of my favorite restaurants in Bacalar. We had an amazing dinner here and enjoyed live music while we ate. I had the ahi tuna and garlic bread which were both delicious.
My favorite part of dining here though was the creative surprise at the end of our meal—the servers let you roll a set of dice and if yours add up to over 15, they give you a free tequila shot!
What a way to start your night 😉
Address: Av. 1 costera con Calle 28 y 30 Plaza las Villas, Bacalar 77930 México
La Playita is the ideal place for ceviche and fish tacos on the beach in Bacalar and the vibe is A+. The lush plants throughout the restaurant and patio create a jungle-like atmosphere while the ocean sits just yards away.
I'd recommend ordering some seafood since it's so fresh, but the empanadas are also a huge hit. After grabbing a bite, take a load off and lounge in one of the picturesque hammocks.
Address: Avenida 1 26 Two Blocks North From Bacalar's Fort, Bacalar 77930 Mexico
Plant-based? No problem!
Mango y Chile is one of the few vegan options in Bacalar, but they have tons of great options. This eatery definitely prides itself on its delicious smoothies, burgers, and tacos—all of which are made with completely plant-based ingredients.
Address: Avenida 3 Fuerte San Felipe Entre calles 22 y 24, Bacalar 77930 Mexico
Macario Bacalar offers a more upscale option that's ideal for a romantic date night or GNO. The Mexican food here has a modern twist that is met with a fine dining approach, but if you visit on a Thursday, expect party vibes for DJ night.
The octopus is a popular favorite that is cooked to perfection, but you really can't go wrong with any of the seafood dishes here. There are also a decent number of vegetarian options on the menu.
No matter what you order, you'll be met with something artful and beautifully plated that is just as aesthetic as it is tasty.
Address: Calle 5, esquina con calle 0, Colonia Magisterial Calle 0, Bacalar 77930 Mexico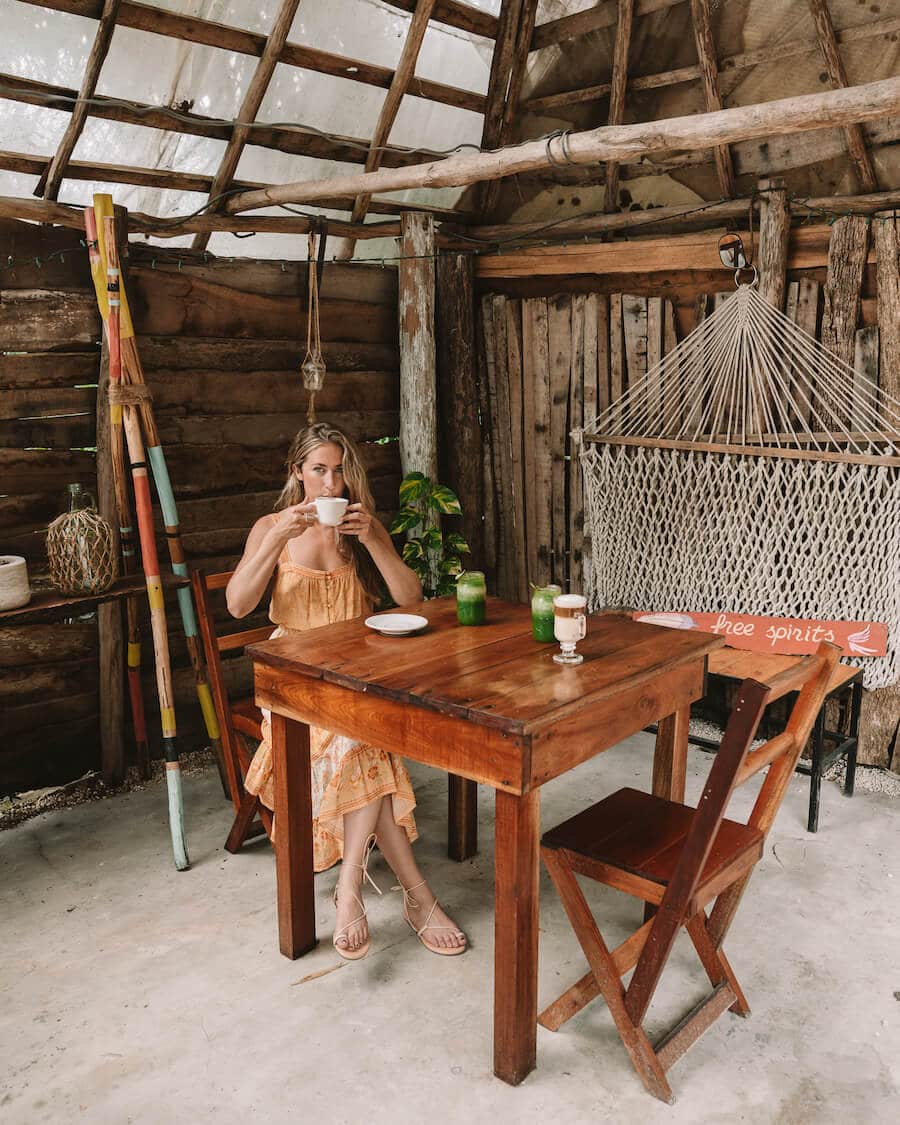 Picaflor is a spacious cafe right in the heart of the town with a lush back patio full of jungle garden vibes. This is a great pit stop for breakfast or lunch before heading out to explore the Bacalar Lagoon.
We loved their matcha latte, juices and healthy bites! So much so that it's worth coming here twice!
Address: Av 1 entre calle 26 y calle 28, Mario Villanueva Madrid, 77930 Bacalar, Q.R., Mexico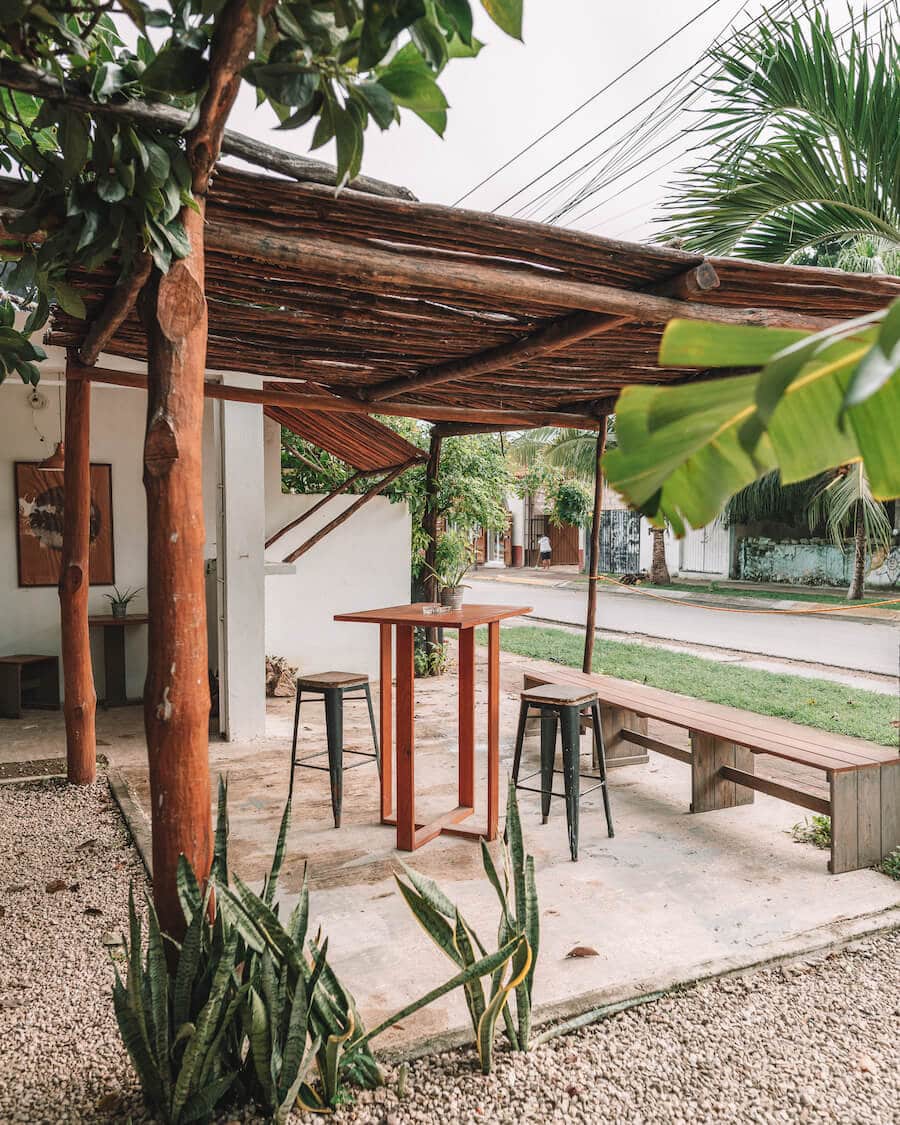 We absolutely loved the open-air setting at Enamora! This is the perfect place to start your morning with some freshly-brewed coffee and a freshly baked pastry. We particularly liked the chia pudding and the decadent French toast.
Even if you're not in the mood to eat anything, I definitely recommend coming here for a cafe con leche.
This spot is ideal for breakfast or lunch and is in a pretty laidback setting with picnic tables and a more local vibe than some other top restaurants in Bacalar, which is all part of the charm!
Address: Calle 18 Avenida 5, Bacalar 77930 México
Meat lovers, bookmark this one.
Between the neon lights and colorful murals, Los de Altixco provides a funky backdrop for some ice-cold beers, burgers and margaritas in Bacalar. This isn't as much of a touristy spot, so expect to see a decent amount of locals here.
The tacos del pastor are wonderful as are the crispy shrimp tacos and burgers. Though you could easily have a full, sit-down dinner here, I recommend coming for drinks and appetizers.
Address: Av 5 con calle 20 Centro, Bacalar 77930 México
Enjoy ocean views, fresh air, and delicious Italian food when you sit down at Finisterre. Whether you're coming for brunch or dinner, Finisterre is pretty top-notch all day long, but you'll get the best lagoon views during the day!
The lemon and shrimp pasta is the best of both worlds with fresh seafood and creamy pasta, but the salmon ravioli is a more unique option that is worth trying. Also, good pizza can be hard to come by in Bacalar, but Finisterre's is cooked to perfection in a traditional brick oven!
Address: Avenida 3 entre 24 y 26, Bacalar 77930 Mexico
If you're on the hunt for fresh smoothies, smoothie bowls and other breakfast staples, then Yerbabuena is your spot. This cute cafe makes the most refreshing and tasty menu, however, I experienced pretty slow service when I was there.
That said, if you're not in a rush, stop by for a smoothie or coffee and post up in the cute swing while you wait!
Address: Calle 28 Between Av. 3 and 5, Bacalar 77930 Mexico
Navieros Bacalar is the ultimate place for authentic aguachile and ceviche. Snag a spot on the colorful patio and enjoy a cerveza as you indulge in chips and guac and a zesty array of seafood.
If you're craving something a bit more filling, the shrimp quesadillas seriously hit the spot, but all the portions are pretty hearty! That said, the traditional aguachile can't be missed and is perfect for sharing.
Address: Avenida 1 con calle 16, Bacalar 77930 Mexico
No trip to Mexico is complete without a hearty burrito. Thankfully, Mi Burrito Bacalar is here to make all your Mexican foodie dreams come true!
The burritos are all wrapped in banana leaves for easy handling and are filled with all of the classic fixings like rice, beans, tomatoes, and lettuce. This is the perfect place to post up with a beer and a burrito after a long day at the Lagoon.
Address: Av. Costera Entre Calle 16 Y 18, Bacalar 77930 México
Did this post inspire you to check out the food scene in Bacalar Lagoon? Let me know in the comments below!
---
Planning a trip right now? Don't miss my go-to websites for booking everything from flights and tours, to accommodation and more:
---
Pin it for Later