Planning a trip to Morocco? To this day, Morocco is one of my favorite countries I've ever visited, and there's still so much I'm dying to do there. What's so cool about Morocco is that while it's truly a unique destination, it manages to have a little something for everyone. Between the shopping, spas, adventure tours, photography opportunities and delicious cuisine, there's so much to do in Morocco for so many different types of travelers. In this post, I'm breaking down some of the best things to do in Morocco so you don't miss the highlights on your inaugural adventure!
There are still many incredible experiences on my own Morocco bucket list that I have yet to tackle, like a camel safari in the Sahara Desert and trips to Casablanca and the seaside city of Essaouira. The options of things to do in Morocco are literally endless, but below you'll find a great starter list for anyone traveling to Morocco for the first time so you can make the most of your trip.
Wander the Medina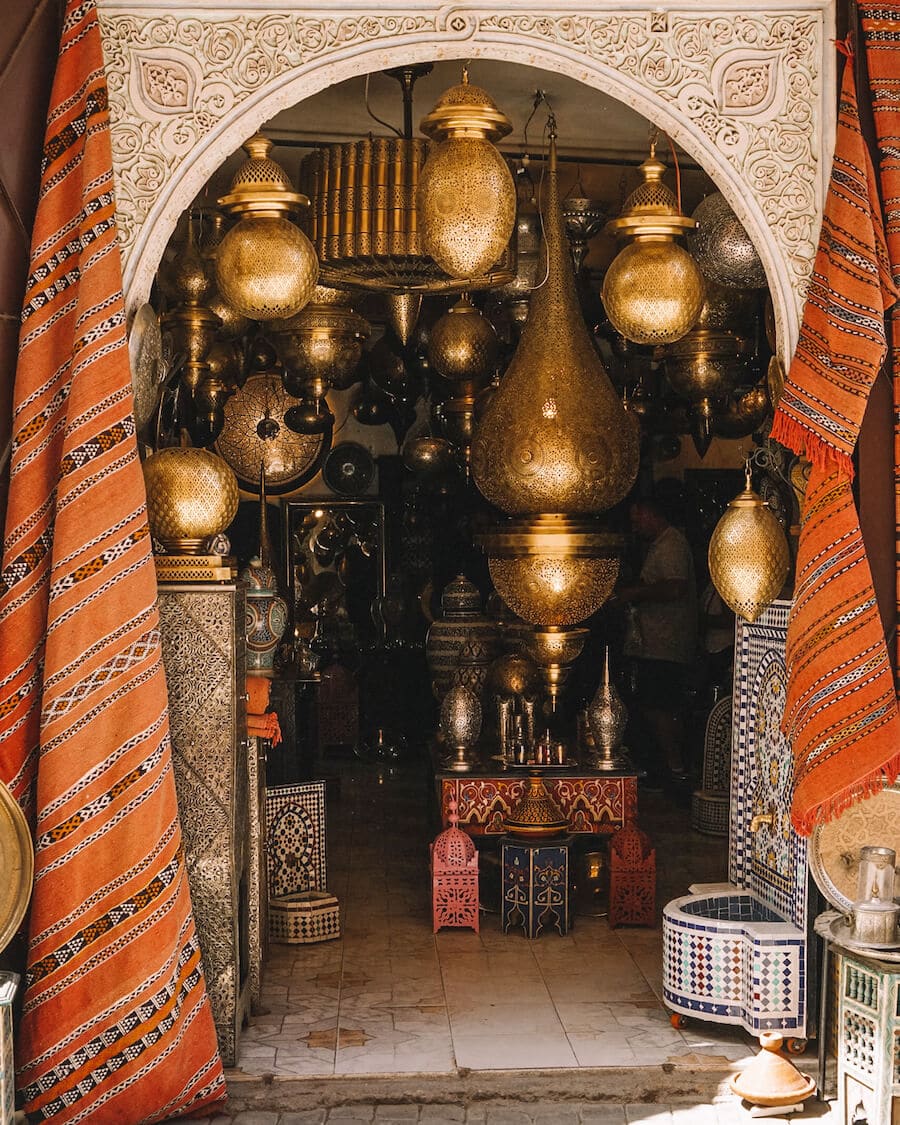 This should be on your list day one of your trip. Whether you're starting with Marrakech, Fez or another beautiful city in Morocco, most every place has its own medina that is begging to be explored.
Basically a medina is a term in North Africa to describe the oldest section of town. It is typically walled and car-free (due to the narrowness of the streets and alleyways), which means you'll find people exploring by foot and often run into motorbikes and animals passing through.
The magic of the medina is that you never truly know what you're going to find. There are street vendors hawking just about everything under the sun, and wandering the medina feels like getting lost in one giant treasure trove. If you plan to go it alone on foot, make sure you have a good sense of direction as the medinas can be quite confusing to navigate; many were built this way on purpose to confuse intruders back in the day!
You may also opt to hire a guide to take you through the medina if you're concerned about getting lost — just be careful who you accept as your guide. Many people in the streets may offer their help to you seemingly for free and then ask for money later. It's good to book with a reputable tour guide or through your hotel/riad so you don't get scammed.
---
Read More Morocco Posts
---
Visit the Leather Tanneries in Fez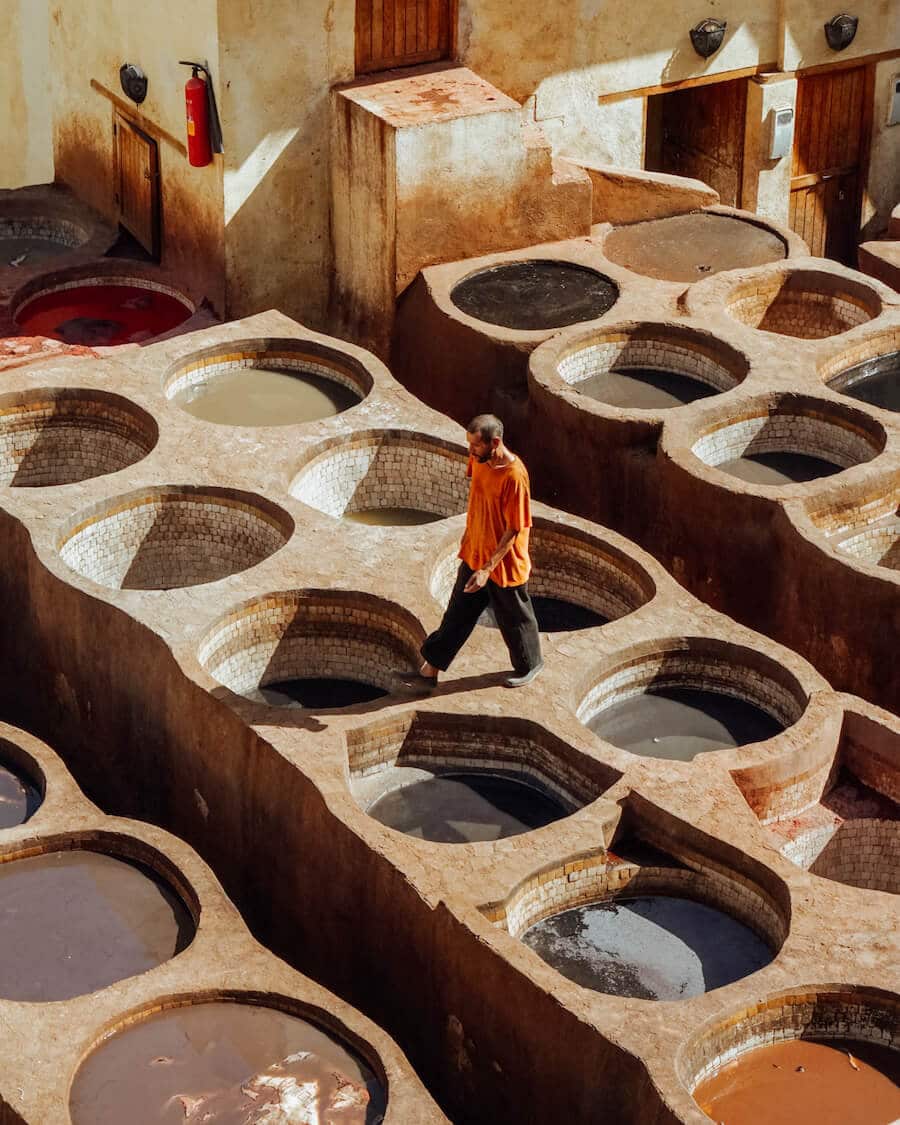 If you've read up on the leather tanneries in Morocco, then you've likely already heard about the potent smell. But don't let that discourage you from visiting. Witnessing men at work in the tanneries was one of the most interesting experiences during our time in Fez.
Probably the most famous of the tanneries is Chouara Tannery, which is one of the top iconic spots in Fez. It was originally built in the 11th century and is the largest tannery in the city.
Yes, the stench is strong and they will offer you little sprigs of mint (often with a price tag) to mask the smell, but it's kind of one of those "have to experience it for yourself" places, even if you can only handle it for a few minutes.
Take In the Beautiful Tile Mosaics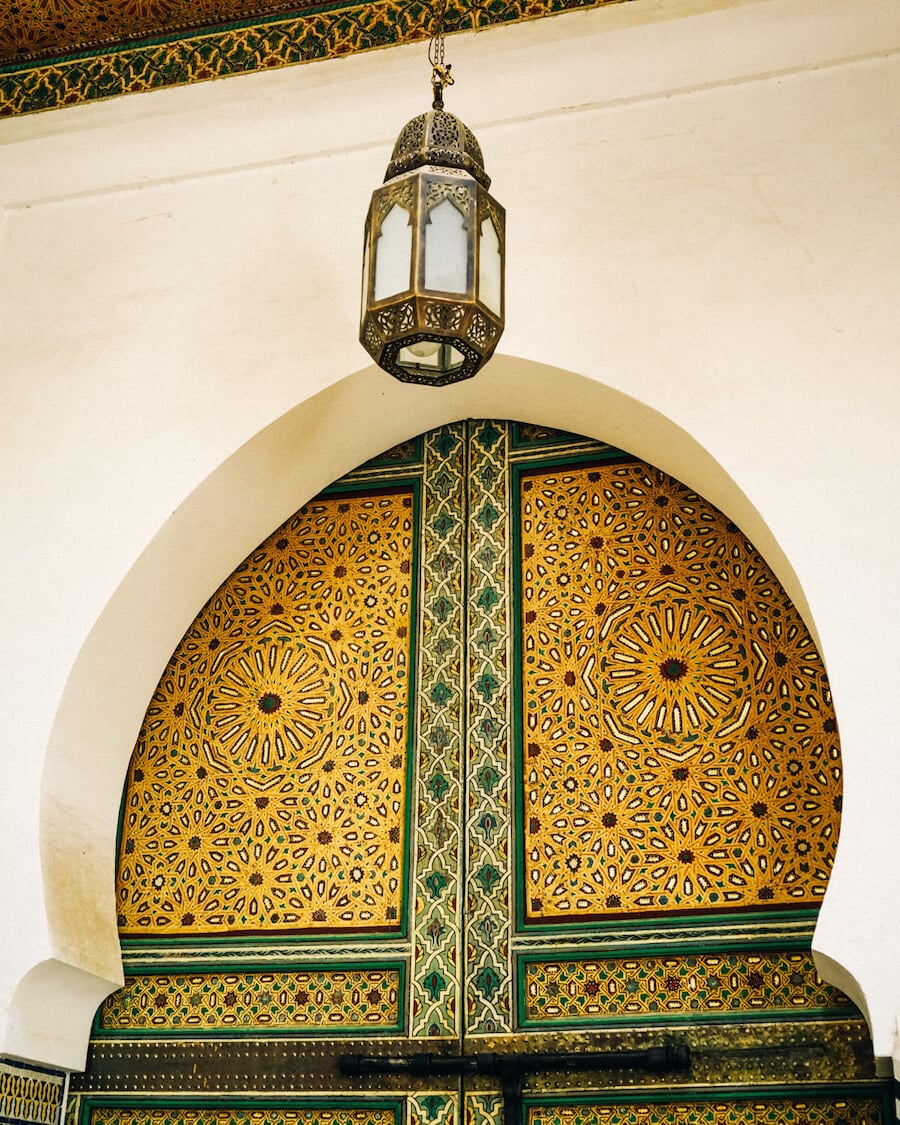 Morocco is known for many things, but its stunning tile work is definitely high up on the list. This Moorish art form known as zellige (meaning "little polished stone" in Arabic) is one that has been passed down from generation to generation for many centuries. There are over 50 schools in Morocco dedicated solely to this style of craftsmanship; however, interest in the art form in young people is slowly waning.
Make sure to experience some of the best examples of the stunning geometric patterns for yourself and support this traditional art form. My two favorite examples that I got to see during my time in Morocco were at the Ben Youssef Madrasa in Marrakech and the Al-Attarine Madrasa in Fez (both pictured above).
Sleep in a Riad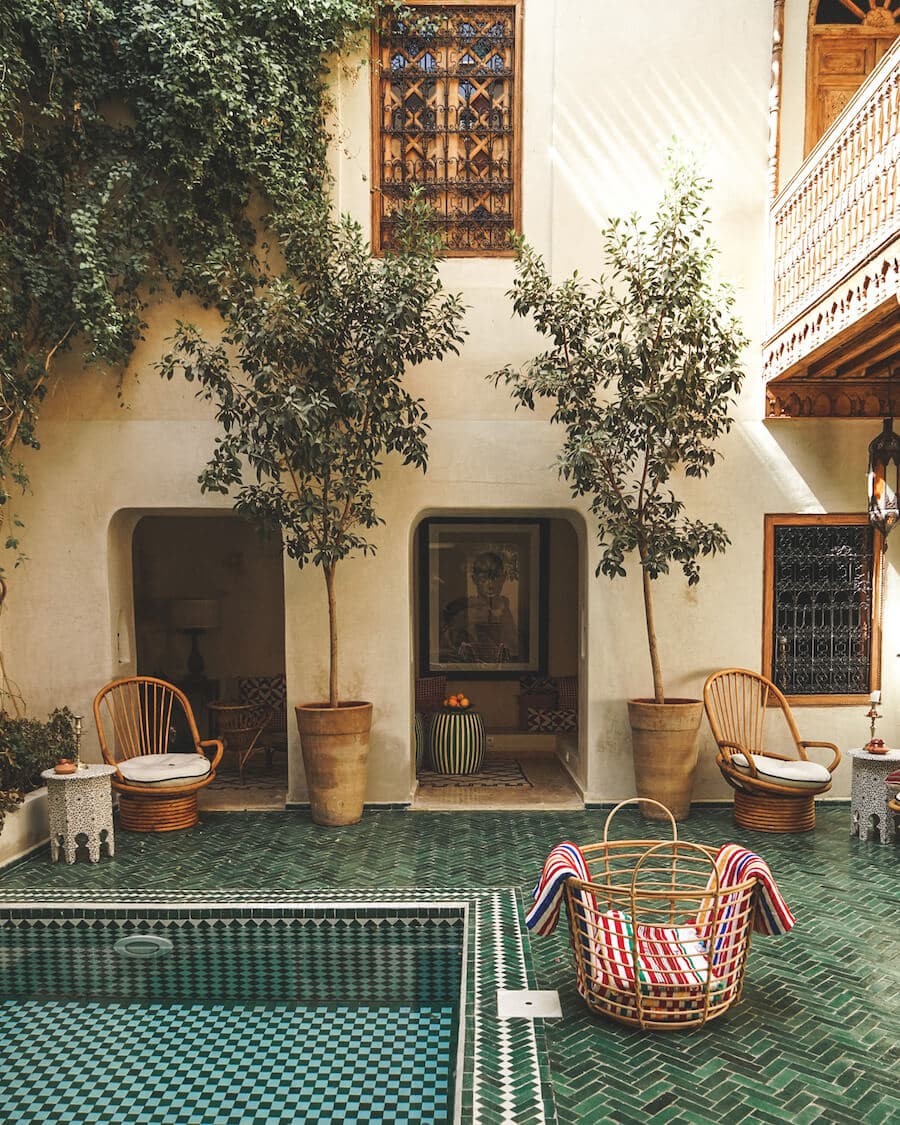 One thing you'll definitely want to do when planning your trip to Morocco is book a traditional riad for your accommodation.
A riad is basically just a traditional style home in Morocco with a unique layout that features an open-air center that's typically a courtyard or garden. Many of the riads in Morocco have done an incredible job with their design and have really created experiences that are aesthetically beautiful, unique and luxurious.
I personally stayed at El Fenn, but there are a TON to choose from. If you're headed to Marrakech, which should be a must on your Morocco itinerary, here are 13 stylish Marrakech riads to book for your trip.
Explore the Blue City of Chefchaouen
I'm not sure if there is anything else like the blue city of Chefchaouen in the world — it is truly one of those destinations that is one of a kind. If you have time on your trip to Morocco, make sure to head out to Chefchaouen, which is located a bit south of Tangier towards the northern tip of Morocco.
You'll spend your time in Chefchaouen marveling at the stunning buildings and alleyways all washed in various shades of blue, from periwinkle and Majorelle blue to every shade in between. I loved how safe and calm Chefchaouen felt compared to other cities I visited in Morocco as well. It's definitely a place you can feel safe getting lost in!
Go Rug Shopping
I hope you plan to leave some room in your luggage, because the shopping in Morocco is unlike anything else! Rug shopping is probably the most talked about shopping experience in Morocco because it's one thing that the country is known for and many people travel from far and wide just to stock up on Moroccan rugs!
Before you dive head first into a Moroccan rug shopping experience though, make sure you've set aside some time for the experience. This isn't a simple 20 minute exchange. Think of it more like a performance. You'll probably be served tea, shown many MANY rugs, and be expected to haggle properly. Here are a few quick tips to follow when rug shopping in Morocco:
ALWAYS haggle — start as low as 2/3 of the original ask and go from there. If you can land at around 50% of the original asking price, you're in pretty good shape!
Don't go rug shopping during a guided tour as your guide is likely getting a cut of the profit. Your best bet for the best deals is to do your research and find a good shop on your own.
Use the fire test to make sure a rug is made from real wool. Synthetic materials will catch flame, while a real wool rug will not.
Try the Local Cuisine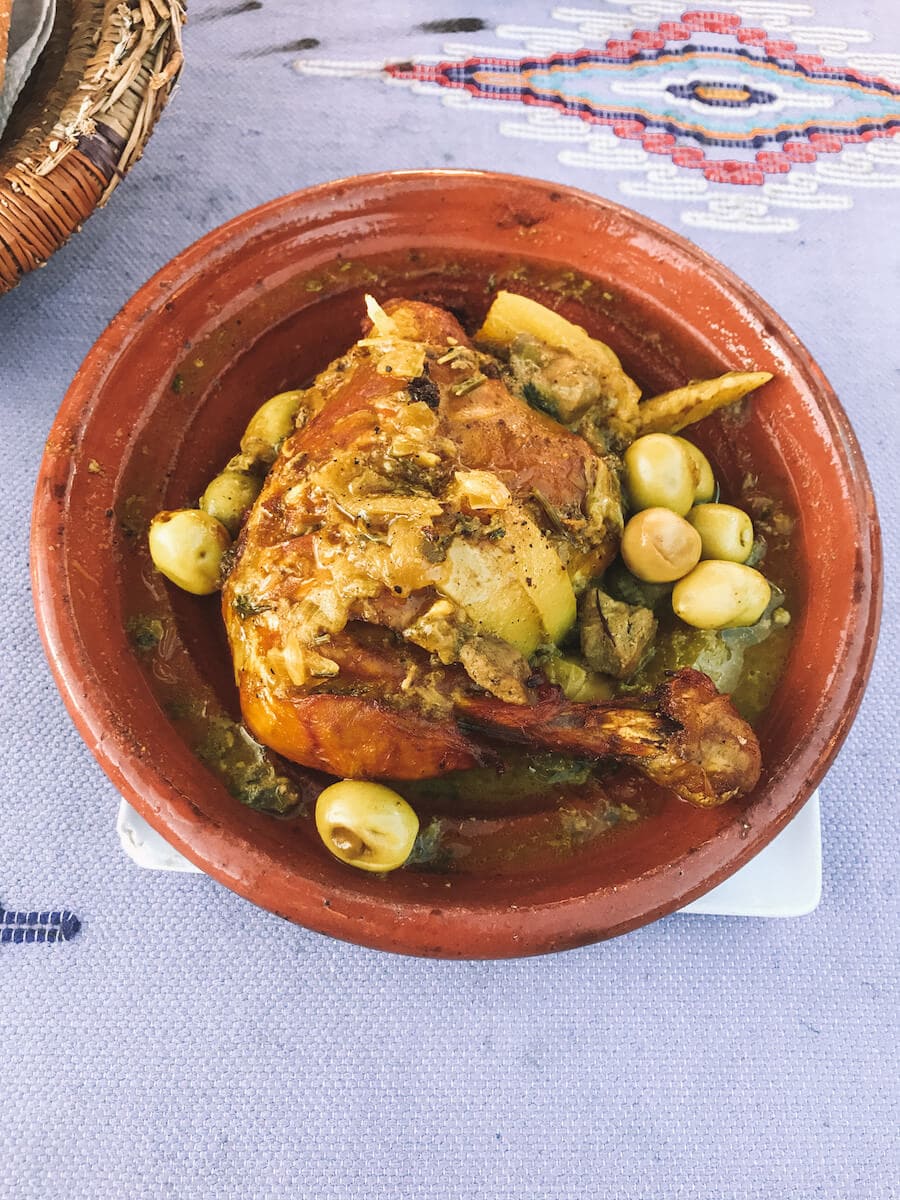 This is simply a must in any new destination I visit, but for people who haven't been to this part of the world, the local food can feel really unique and different. I found the food in Morocco to be hearty and full of flavor and a nice balance between spice and sweet.
A few things not to miss when you're perusing the menus during your Moroccan adventure are couscous, Tagine, Tangia, and Zaaluk.
I hope this list of the best things to do in Morocco inspired you to plan your own trip to this unique country! 
---
Planning a trip right now? Don't miss my go-to websites for booking everything from flights and tours, to accommodation and more:
---
***This post was written in collaboration with Travel Mindset and Morocco Tourism, but as always, all opinions are my own and I would never promote anything I don't freaking love***