Ojai (pronounced oh-hi) is a small town in southern California, named for the Chumash word meaning "the nest" or "valley of the moon." Just under 2 hours north of Los Angeles and slightly east of Santa Barbara, Ojai makes for the perfect weekend getaway. Famous for its "pink moment" sunsets and spiritual draw, Ojai has become a destination for city dwellers looking to relax and unwind.
For all the years I've lived just a short drive away, I had somehow never made it up to this quaint town—that is, until a recent girls trip in April. While the trip was short, the slow pace of life was just what I needed to reset, and I know it will be the first trip of many.
Ojai isn't a place you go for an activity-packed getaway. It's the perfect place to slow down, enjoy the small moments and dive into local produce, design, food and culture. I would describe the vibe here as creatively infused, quite intimate, and with a hyper-local feel. It's hard to come by places these days where the locals know each other on a first name basis. But that's the feeling you get in Ojai.
Want to dive into all the best things to do in Ojai? You're in the right place! Keep reading for my ultimate Ojai travel guide.
Why You Need to Visit Ojai
Inspired yet unassuming, Ojai is unlike any other Southern California vacation spot. You feel connected to nature, yet still in touch with that modern SoCal lifestyle. There are one-of-a-kind, design-centric accommodations, plenty of local boutiques to peruse, and sunny patios to enjoy a cocktail or two.
In 2007, the town enacted a citywide ban on chain stores, further allowing small and local businesses to flourish in the area, which is one of many reasons I love this place so much. When you visit Ojai you're supporting small businesses and locals by default and the ambiance is so much better there for it.
Ojai fun fact: The town is home to the famous pixie tangerine. The valley's unique microclimate creates the ultimate growing conditions for these small, super sweet tangerines. You will see this fruit everywhere as it serves as a sort of emblem of the town, especially during harvest season from late March to early May.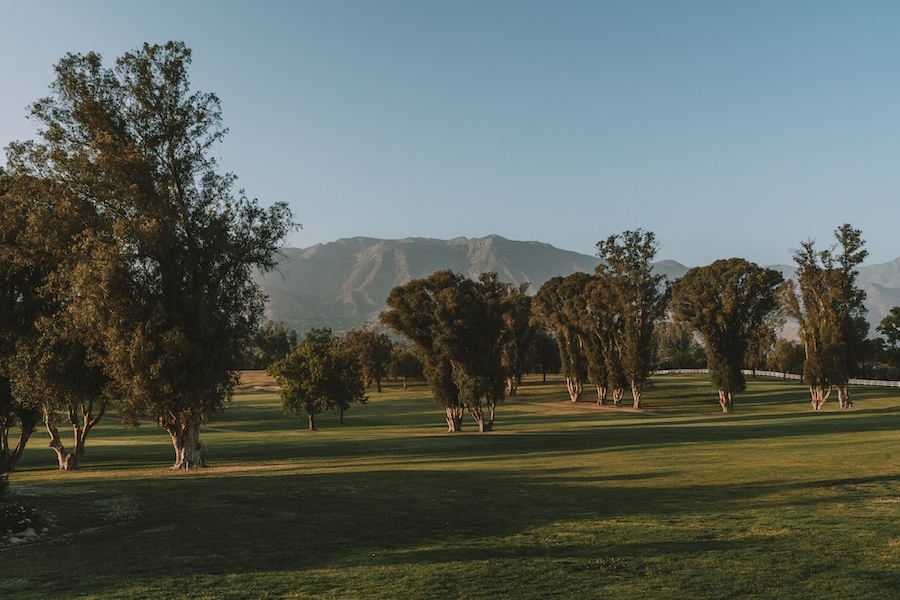 When is the Best Time to Visit Ojai?
The perk of being located in Southern California: you can really visit anytime. It's sunny and warm all year, but note that because it's not along the coast it can definitely get quite hot during summertime. If you prefer more moderate temps, you may want to visit fall through spring, but if you plan to spend some time poolside, I recommend May through September for a little extra heat.
Another fun time to visit is high pixie season in April. The town really comes alive and shows up for their iconic fruit in the way of special menus and cocktails, as well as deals and treats around town.
A Few Quick Tips Before Your Trip
Ready to start planning your trip to Ojai? These quick tips will help you make the most of your Ojai getaway and avoid any mishaps along the way.
During our trip, we noticed a lot of businesses are closed on Monday/Tuesday, especially since the pandemic, so I recommend sticking to a visit later in the week and on the weekend. This will guarantee you can experience all the fun things to do in Ojai.
As a small town, 2-3 nights is a perfect amount of time to spend in Ojai. It will give you enough time to relax, try the local restaurants and do a little local shopping.
Although there are plenty of fun things to do in Ojai, this is not a late night town. Instead, this is the perfect place for daytime activities, an early dinner and a good nights rest, leaving you refreshed for an early hike or early morning golf sesh.
As I mentioned earlier, April is a fun time to visit if you want to experience pixie tangerine month and indulge in the local celebrations. Of all the Ojai things to do, this is certainly a unique one.
Book accommodations as early as possible as this is a small town with limited stays where things book up quickly!
---
Read More California Posts
---
Where to Stay in Ojai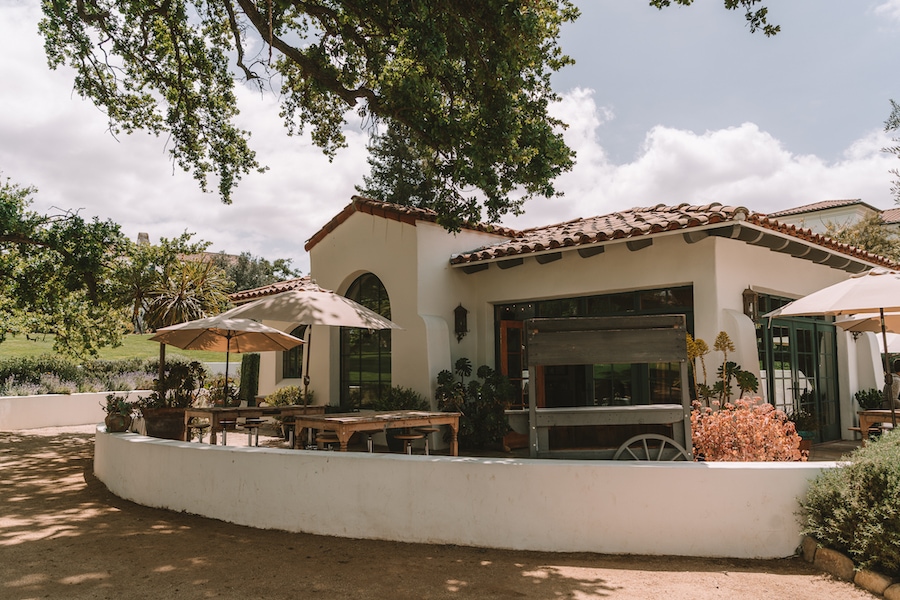 The Ojai Valley Inn is a stunning, expansive resort where you truly feel taken care of at every turn. We stayed here for two nights during our trip and while it's not cheap (think $500/night minimum), it's worth it if you're looking for that five-star experience with a laundry list of amenities and activities at your fingertips.
With multiple pools on site, a golf course, a newly renovated spa and several shops and restaurants, you will never get bored here. Traditional Spanish inspired architecture paired with fountains and greenery gives an oasis-like feel and a very relaxing invitation to stay a while.
The property has views of the Topatopa Mountains in all directions. This is a great place to experience that famous Ojai "pink moment." If you are looking for an indulgent spa day, pool time, or soothing views, the Ojai Valley Inn is a great choice. Plus, they offer complimentary Linus bikes you can use to ride into town.
One quick thing to consider when booking is that our room had double beds (not queens) despite being quite a spacious room. For the price, we were a little disappointed, so I'd recommend confirming the bed size in your room category before booking.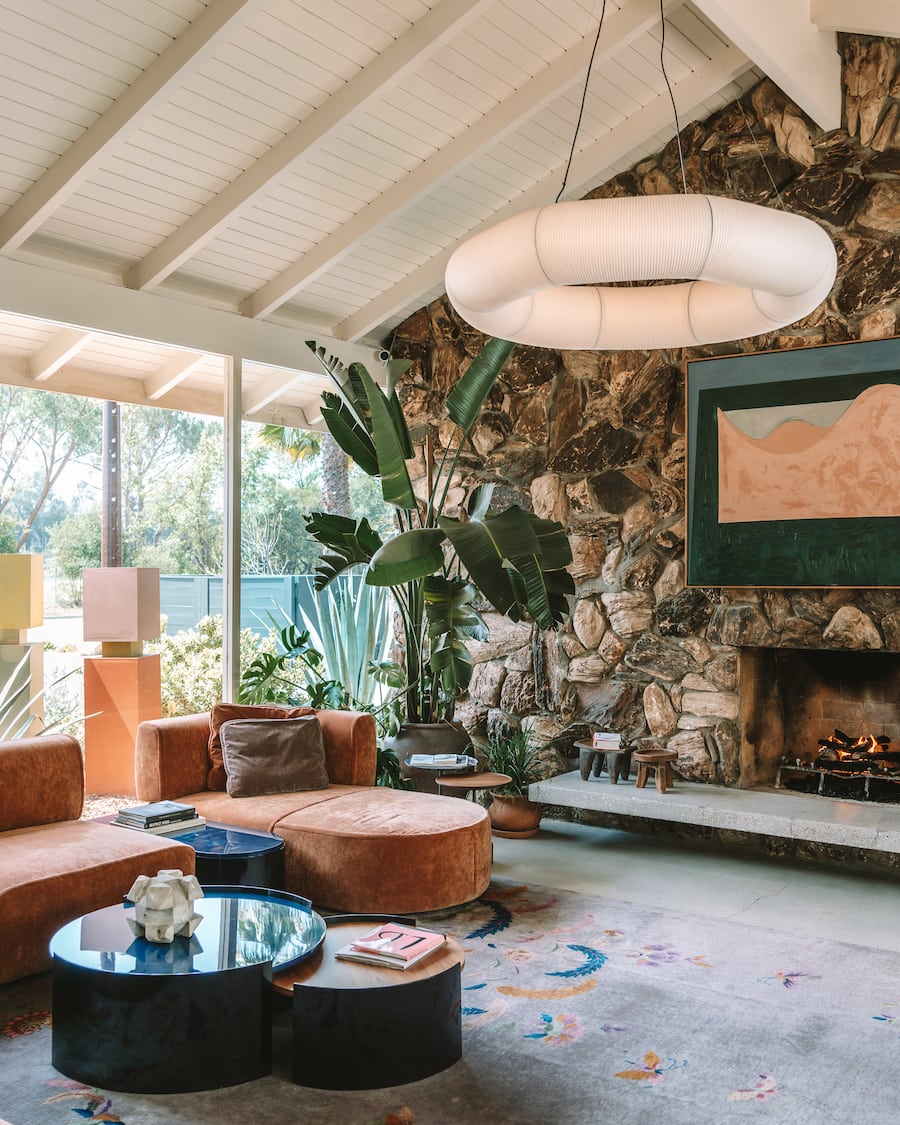 Located closer to the center of town and a little lighter on the wallet, the Capri Hotel is another great accommodation option. This mid-century treat was recently updated by Shelter Social Club who own a variety of eclectic and modern hotels around southern California, including the Alamo Hotel in Los Alamos.
Keep in mind that the Capri is a little more low-maintenance than the Ojai Valley Inn; don't expect room service here. However, the Capri makes up for it in fun, retro vibes and is within walking distance from town. Plus, with views of the Topatopa mountains and a pool to cool off in, there's not much to complain about here.
Looking for a one-of-kind lodging experience? Check out the Caravan Outpost, a great option for anyone who wants to do Ojai a bit differently. At the Outpost, you book your own freshly-refurbished Airstream tucked away on the grounds. There are 11 Airstreams old and new and all with their own personality. There's also a well-designed outdoor common space, fire pit, activities like roasting marshmallows, and the hosts have even been known to share a bottle of wine or two in the evening.
Caravan Outpost is a great choice for adventure enthusiasts who enjoy glamping and van life but also appreciate comfort and chic design.
The Best Things to do in Ojai, California
Places to Eat and Drink in Ojai
Created by Ojai native, Kiona Watcher in 2017, the Nest is a casual, vibrant stop serving up colorful salads and bright tacos. Kiona grew up in the restaurant industry and developed a love for quality ingredients, which is evident in each meal at this casual, counter-order establishment. Bonus: the patio is large and lovely, perfect for an afternoon of people watching.
This was hands down my favorite meal in Ojai and came highly recommended by several friends. Housed inside a little health food market, Farmer and the Cook serves breakfast and lunch, featuring ingredients from it's very own farm just down the road. Although you could always swing by for a smoothie or coffee, I highly recommend stopping here for a meal.
The Mexican-inspired, vegetarian menu is bursting with flavor. I ordered a carrot juice and Lila's Cheezy Gordita—it was absolutely delicious. To all you meat eaters out there, don't let the word vegetarian fool you. This place is awesome whether you're into plant-based or not.
For a more upscale dinner vibe, head to Azu. An eclectic, tapas-style restaurant in a very rustic-chic setting, Azu is a favorite for travelers and locals hanging in Ojai. The walls are filled with rotating work from local artists and the outdoor patio is the perfect setting for a cocktail—or several.
Created and run by a mother-daughter duo, Azu has been an Ojai staple for over 13 years. The Mediterranean / Spanish menu focuses on flavor and local ingredients. They have even mastered a cocktail menu with a curated selection of local wine and beer, like Ojai Brewing right there on tap. I ordered the Caesar Wedge Salad with grilled chicken which sounds boring, but was a big hit. We also scarfed down the Gambas Al Ajillo (shrimp appetizer).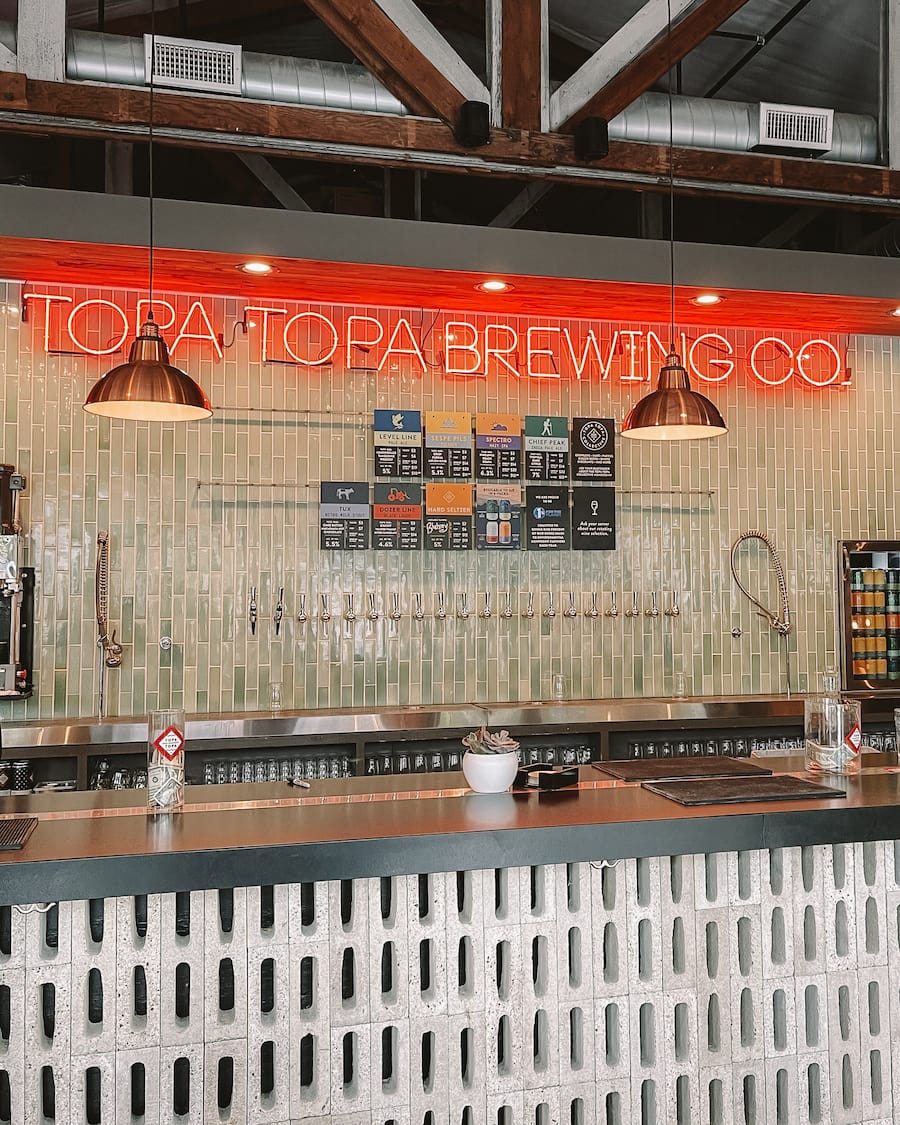 For all you beer lovers, be sure to stop by Topa Topa Brewing Co. Located right downtown, this indoor/outdoor brewery has a great patio to enjoy a pint or try a tasting flight. If you're hungry, I highly recommend the brussels sprouts from their on-site restaurant Little Sama. They seriously melt in your mouth, so good.
What once started as a picnic and patio shop, has now become an oh-so-chic patio/ garden space, perfect for an afternoon of wine tasting. Walking through the shop, you will discover all kinds of treats from retro games, blankets, curated vintage and new barware as well as anything you might need for a stylish party. Take a seat outside, sip on some wine and snack on a Mediterranean inspired cheese board or a seasonal small plate focused on local produce.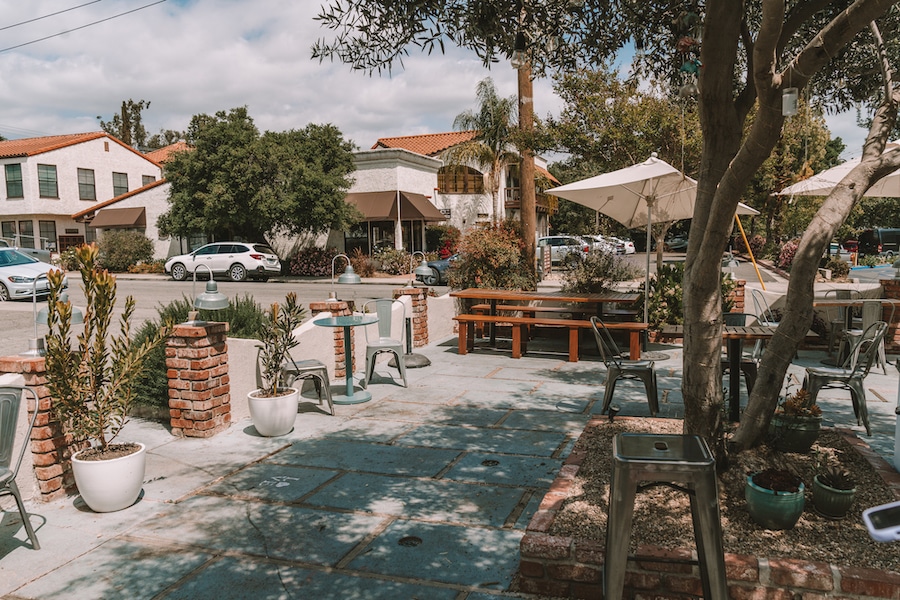 While the food wasn't my favorite at Love Social (the menu seemed pretty limited when we were there), they did have a nice outdoor patio vibe and yummy coffee that's easy to access right in town. I'd swing by here for cup of coffee to go before perusing downtown.
Boccali's is a family run pizza and pasta joint that has been serving Ojai since 1986. The family hails from Lucca, Italy, so you can expect a true Italian meal here. Ingredients from the family's own local farm mixed with secret family recipes make for the perfect fresh, authentic Italian meal.
Another treat, the Boccali family makes their own wine, perfect for pairing with that margherita pie. If you're here between Spring and Fall, don't miss their famous strawberry shortcake made with local strawberries and homemade shortbread, it's a real crowd pleaser.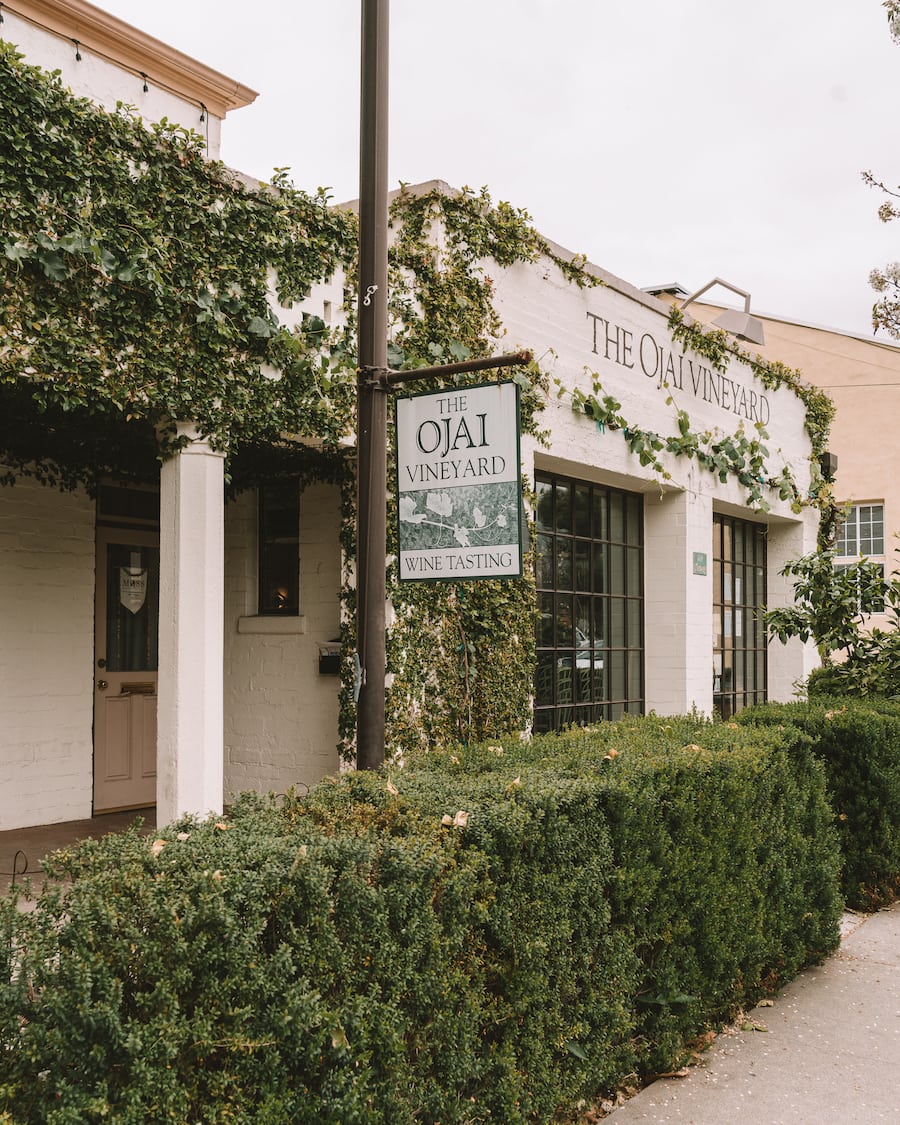 Right down the road you will find another spot perfect for wine tasting—the Ojai Vineyard Tasting Room. With over 300 wines, you're bound to find something to enjoy here. There is no food on site, but you're welcome to bring outside food.
Olive Oil Tasting
We all know California produces great olive oil—but have you ever had the pleasure of tasting it fresh, right from the source? It's a fun and unique experience and Ojai is a great place to do it. If you're looking to stay in town, head to Carolina Gramm, a small shop selling local extra virgin olive oil products. If you're lucky, you'll have the pleasure of chatting with the owner who poured our tasting and was lovely.
About 8-10 minutes drive from town, you'll find Ojai Olive Oil Co. and their beautiful olive farm. You can shop all their products on site as well as taste any product for free. They are open 7 days a week, rain or shine.
Ojai Rôtie is another spot that came highly recommended before our trip but was sadly closed during the days we visited. Known around town for their fresh baked bread, this eatery self-describes themselves as "Lebanese French Picnic." This is the first place I'll be stopping next time I go back.
What to Explore in Ojai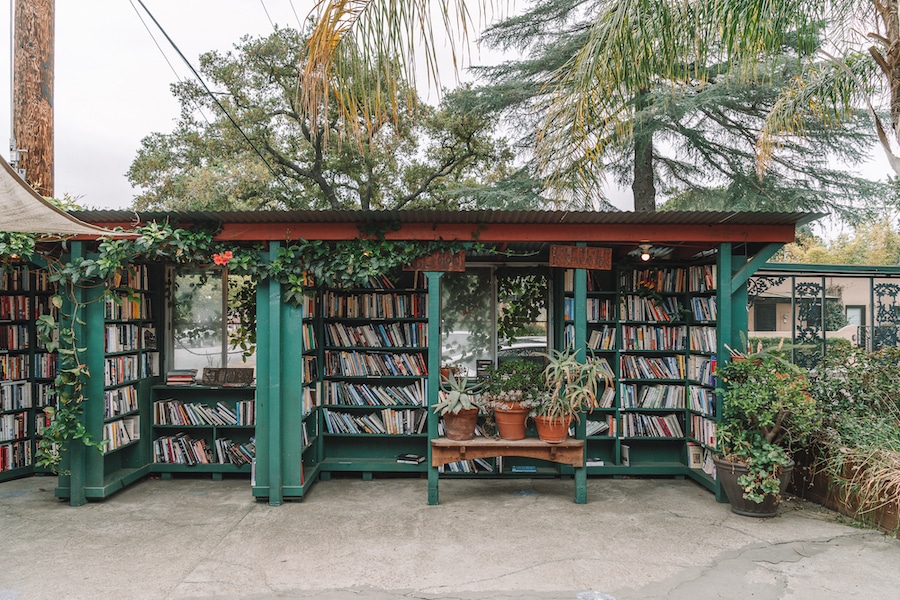 Bart's is no regular bookstore; this place is an experience. A partially covered outdoor shop made of twists and turns of endless bookshelves, Bart's Books is one of a kind. An Ojai staple since 1964, owner Richard Bartinsdale has turned his personal book collection into the largest independently-owned outdoor bookstore in the United States. With over 130,000 new and used books to browse (including some rare gems), you won't want to skip this one.
Meditation Mount
Meditation Mount is an Ojai destination all it's own. Visitors come from far and wide seeking the spiritual enlightenment found at this non-profit sanctuary overlooking the Topatopa Mountains. It is free to enter and explore the grounds on your own, although they do accept donations. If you're looking for a deeper experience, they offer a variety of yoga and mediation classes. This is also a famous spot for watching the sunset.
Explore Ojai by Trolley
The trolley might be one of the cutest and most fun things to do in Ojai. You will see these adorable trolleys riding up and down the streets of Ojai, taking passengers as far as Miner's Oaks and Mira Monte. A very charming option for getting around town.
The "Pink Moment"
As I've mentioned a few times throughout this Ojai travel guide, the sunsets here are a thing. And Californians take their sunsets very seriously as it is. There is an effect in Ojai, which has famously been dubbed throughout town as "The Pink Moment", when the light hits just right, reflects off the Topatopa Mountains and covers the valley shades of pink, peach and lavender. There are a number of great spots to watch the sunset, including Meditation Mount or from the top of Shelf Road Trail, a 3.5 mile hike with famed valley views.
Ojai Farmers Market
On Sunday, the town of Ojai hosts a bustling and rustic farmer's market. You will find all kinds of local produce from fresh fruits and veggies to olive oil, honey and bread, as well as locally made goods like soaps, candles and artwork. Live music keeps the mood lively while you stroll from tent to tent, tasting all the Ojai valley has to offer.
Peruse the Shops of Downtown Ojai
One of the best things to do in Ojai has to be perusing the downtown shops with coffee in hand. Beacon coffee comes highly recommended for its stylish digs, however I preferred the coffee from Java & Jo—not quite as "hip," but the coffee is on point.
As far as shops go, a few cute ones not to miss include deKor Living, Plant Based, and Canyon Supply. Summer Camp is another favorite but is a bit further away from the main drag.
At deKor, owner and designer Isabelle Dahlin's Swedish heritage blends well with a light and airy California rustic appeal. A great shop for stylish furniture and other housewares. Kitschy, loaded with greenery and housed in a mid-century gas station, Summer Camp is a real charmer.
Canyon Supply is a small and cozy stop where you'll find a slew of vintage items from clothing to blankets and dishware, as well as one-of-a-kind tie dye pieces. At Plant Based, expect to load up your car with cute new plant babies and planters to take home with you.
Go hiking in Los Padres National Forest
One of the major draws to Ojai is its proximity and connection to nature. Just north of town lies Los Padres National Forest, a mountainous forest that extends to the coast from Ventura to Monterey—making Ojai a great hub for day hikes. If you prefer a hike on the easier side, try Rose Valley Falls. Just slightly over a mile long, this hike is beautiful, ending in a serene waterfall but nothing too strenuous.
For a heavier hike, Sespie Creek to Willett Hot Springs is a popular choice. You can choose your adventure with this one. Willett Hot Springs are 9 miles from the trailhead but the trail provides vast and scenic views, plus Sespie Creek is alongside you the whole time and great for swimming. Plenty of people head to this trail just to walk as far as suits them.
The Ojai Meadows Preserve, Matilija Falls and Wills-Rice Loop are a couple other popular trails worth looking into.
Did you find this post about the best things to do in Ojai helpful for planning your visit? Let me know in the comments below!
---
Planning a trip right now? Don't miss my go-to websites for booking everything from flights and tours, to accommodation and more:
---