If you follow along on Instagram, it should be no surprise that Tulum is one of my favorite tropical destinations. I love returning back to this Mexican hotspot to swim in the turquoise waters of the cenotes, enjoy a cocktail (or, you know—many) at the gorgeous eco-luxe hotels, explore the seaside ruins, and eat at allllll the stylish bohemian restaurants.
It also happens to be one of the most popular destinations on Live Like It's the Weekend, and for good reason—there are so many fun things to do in Tulum, especially compared to other tropical locales that seem to be all sand, ocean, drinks, repeat.
On the contrary, Tulum has a lot going on and tons of activities for all kinds of traveler types. But we'll get into that more below!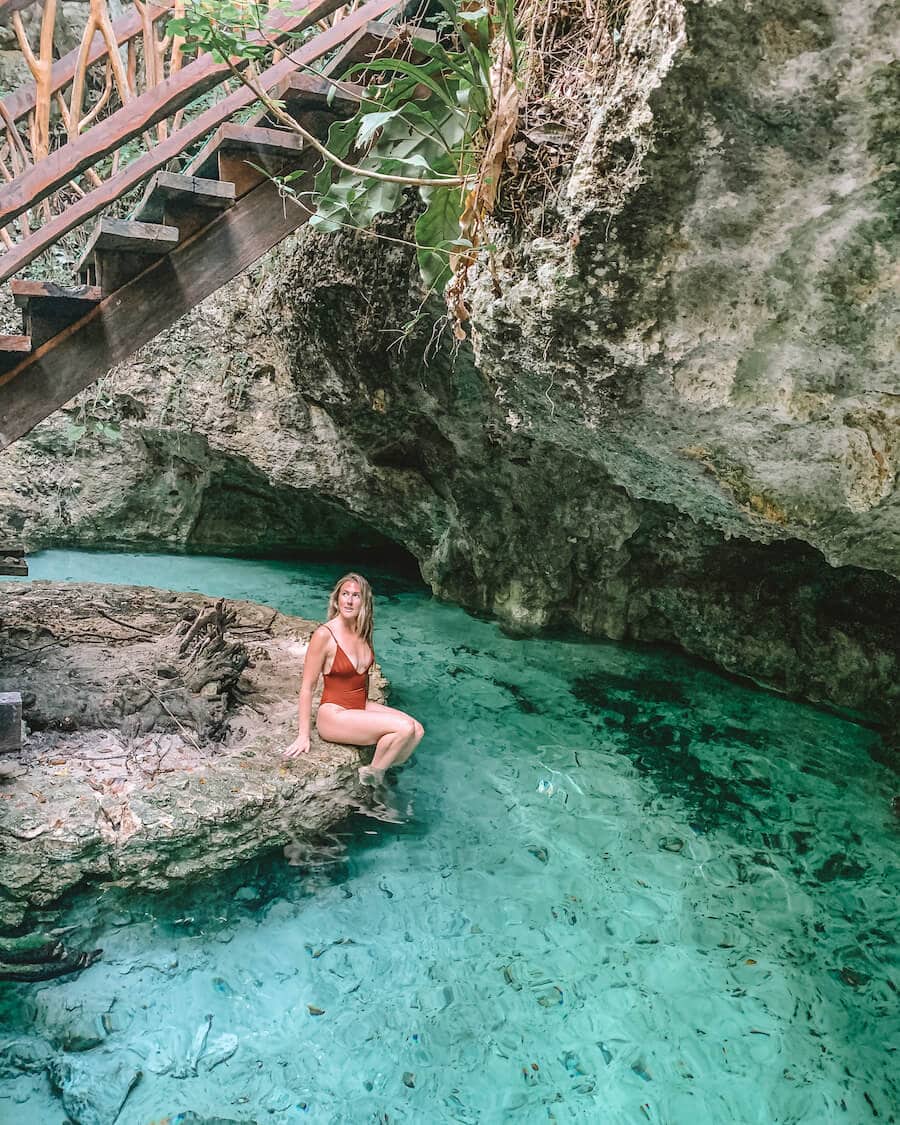 Located just a two hour drive from the Cancun Airport, Tulum is a smaller town in the Yucatán Peninsula along the Caribbean coastline. Once more of an under-the-radar hippie town, Tulum is now one of the most sought-after destinations in Mexico. While Tulum is a great beach town for some relax and chill, part of what makes it so unique are all of Tulum's attractions for those who want a more exciting tropical vacation.
I've made a list of all of the best things to do in Tulum below—and whether this is your first trip or fifth trip, I have a feeling you'll find something in this post you've yet to experience.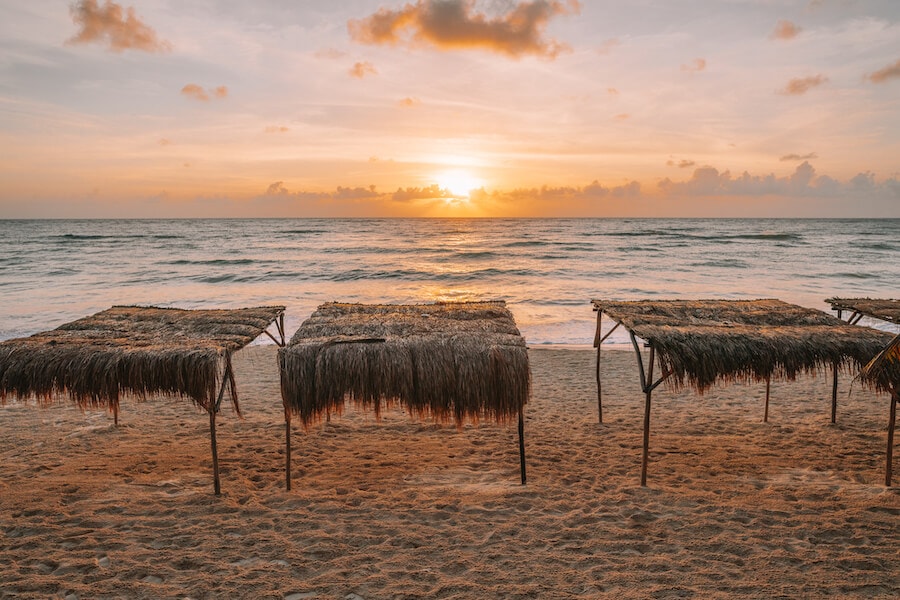 Why Tulum Needs to Be On Your Bucket List
If you're anything like me, your Instagram feed has been flooded with photos of Tulum in the past few years, but that's not by accident. People have flocked to this chic beach town to experience its unique ambience that is both specific and varied.
The boutique hotels and restaurants provide a taste of laidback luxury, the cenotes and ruins offer a sense of adventure, and the spiritual-meets-wellness undertone of Tulum lets you dive deeper into recharge mode through yoga, meditation, and ancient Mayan ceremonies. Plus, since Tulum is split into two main areas (the beach and the town), you can create a completely different experience each time you go back.
It's one of those places that you simply need to experience for yourself—but I recommend doing so sooner rather than later as the area is definitely getting busier and more built up with every passing year.
---
Read More Tulum Posts
---
The Best Things to do in Tulum Whether It's Your First Time—or Fifteenth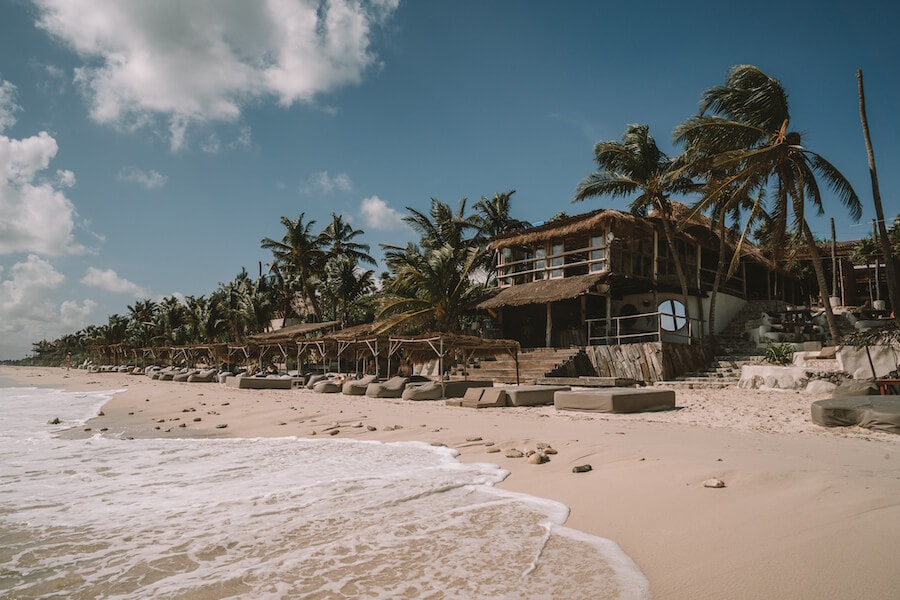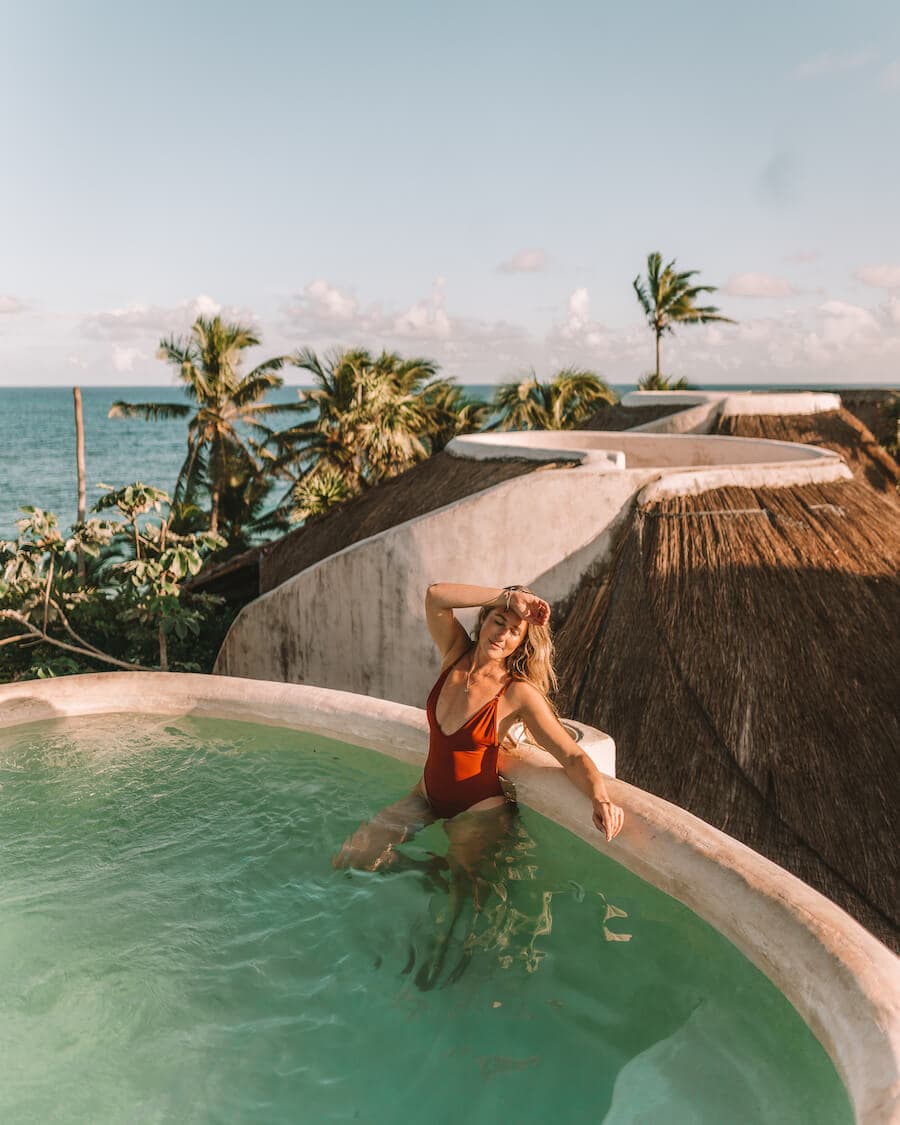 Stay at One of the Many Beautiful Beachfront Hotels
A big part of Tulum's magic is the ethereal feeling you get walking into one of the eco-luxe beachfront hotels. However, you won't find any big chains or all-inclusives here. Situated between the vibrant Caribbean coast and lush jungle, there are a plethora of intimate, boutique properties to choose from—and each has its own energy that makes it a completely unique experience.
The beachfront properties tend to be quite a bit pricier than the downtown options, but for a first visit to Tulum splurging (even for a night) makes the experience unforgettable.
Whether you're looking for the spa-like tranquility at Sanara, the party vibe at Nomade, or the luxury glamping-style accommodations at Habitas, Tulum's beachfront hotels offer one-of-a-kind ambiance to get you in the true Tulum spirit.
Check out this post on the most magical Tulum Beach Hotels for all the deets on the best places to stay.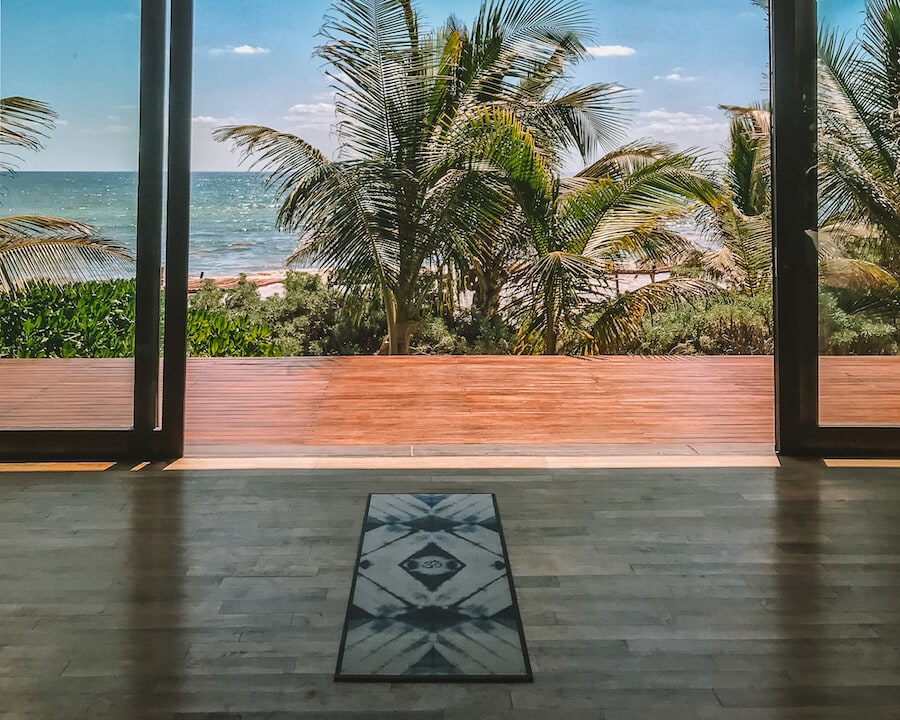 Book a Yoga Class
Tulum has been a hotspot for people to practice yoga for years, attracting serious practitioners and beginners alike. Yoga in Tulum is one of the best ways to balance all of the exploring—and perhaps partying—with some time to get centered, and the sounds of the waves or the jungle are the perfect backdrop.
My favorite spot for yoga is the beachfront palapa at Sanara, but hotels like Maya Tulum, Nomade, Selina, and Papaya Playa Project also have daily classes available. If you're looking to book in advance, Dicha Tulum and Tribal Tulum in town have an online booking portal, and are typically a more budget-friendly option than the hotels.
**Please note, class restrictions and schedules are rapidly changing due to Covid, so please call or email ahead to doublecheck information on classes.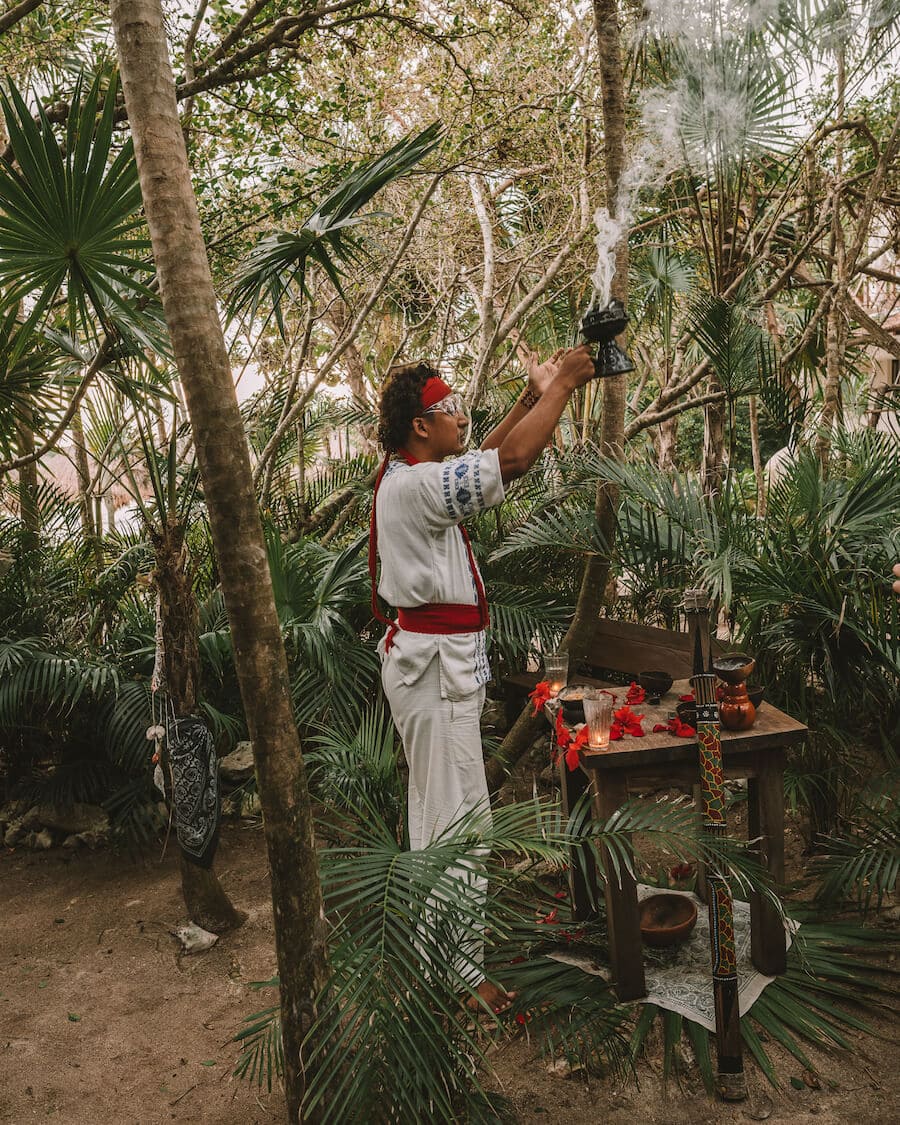 Experience Ancient Mayan Rituals with a Temazcal or Cacao Ceremony
A Temazcal is a sweat lodge used for rituals and therapies. Its origins date back to prehistoric times and it's said to have healing properties. In Tulum, Temazcal ceremonies are one of the most popular ways to dive deeper into the area's wellness scene while learning about the ancient traditions that the Mayans have been practicing for thousands of years.
The ceremonies can vary a bit, but with the goal of releasing toxins from the body, be prepared to sweat a lot in the dark Temazcal as part of the purification process. A shaman (aka spiritual healer) will guide you through the process so you feel safe and comfortable; if you can let go and be present, it's a unique rejuvenation opportunity for your mind and body. Some even equate it to a feeling of "rebirth."
Some providers even offer massages to take your relaxation to the next level. I personally haven't done a Temazcal in Tulum, but I did do one in Sayulita and I can imagine they are very similar. A couple places to check out to book beforehand are Maya Resort and Yaan Healing Sanctuary. Just don't forget to hydrate before and after—this isn't recommended after a late night out.
If you're not interested in sweating all of your mascara off, another more relaxing way to experience Mayan culture is through a Cacao Ceremony. My friend and I participated in one facilitated by our hotel during my last Tulum trip and we learned that cacao is believed to have properties that help you connect to your inner self and heart chakra.
There was a lot of chanting, cacao drinking, and fruit offerings decorating the rooftop palapa where the ceremony took place. I can't report any "life-changing" results, but if you're looking for a unique way to step into the present and feel more connected with the spiritual energy of the Yucatan, this will definitely get the job done.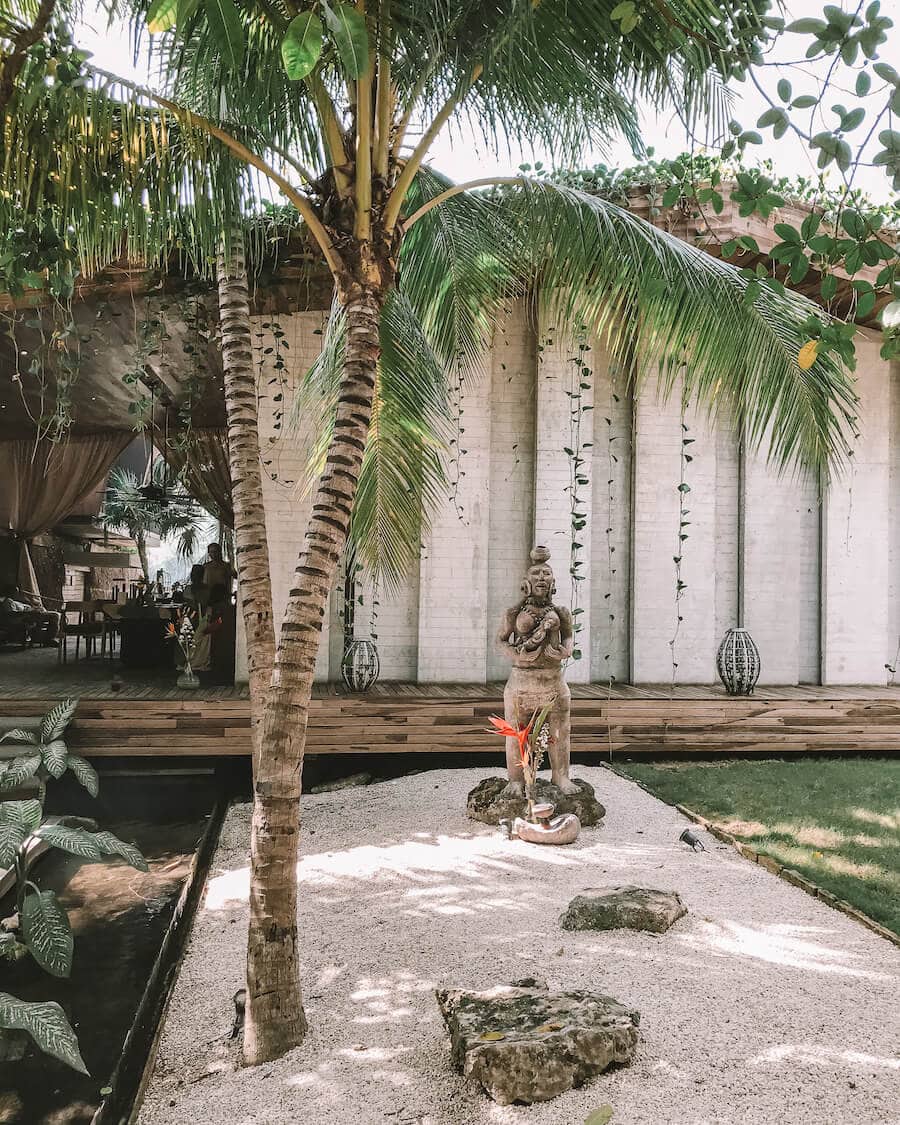 Treat Yourself at Yäan Healing Sanctuary
When I planned my friend's bachelorette in Tulum a few years back, one of the best things we did was book massages at Yäan Healing Sanctuary. This spa located right on the main hotel strip is all about bringing health and relaxation to cleanse your body, mind, and spirit. Using healing waters, purified crystalline water pools, saunas, and steam rooms, Yäan offers a wide range of spa services to suit a variety of preferences.
Traditional indigenous treatments, energy healing, deep muscle relaxation techniques, herbal and flower baths are just a few of the options in their wellness sanctuary. This can be a bit of a splurge, but worth every penny in my opinion.
I also love ending a trip at a spa—there's no better feeling than going back home fully refreshed and relaxed.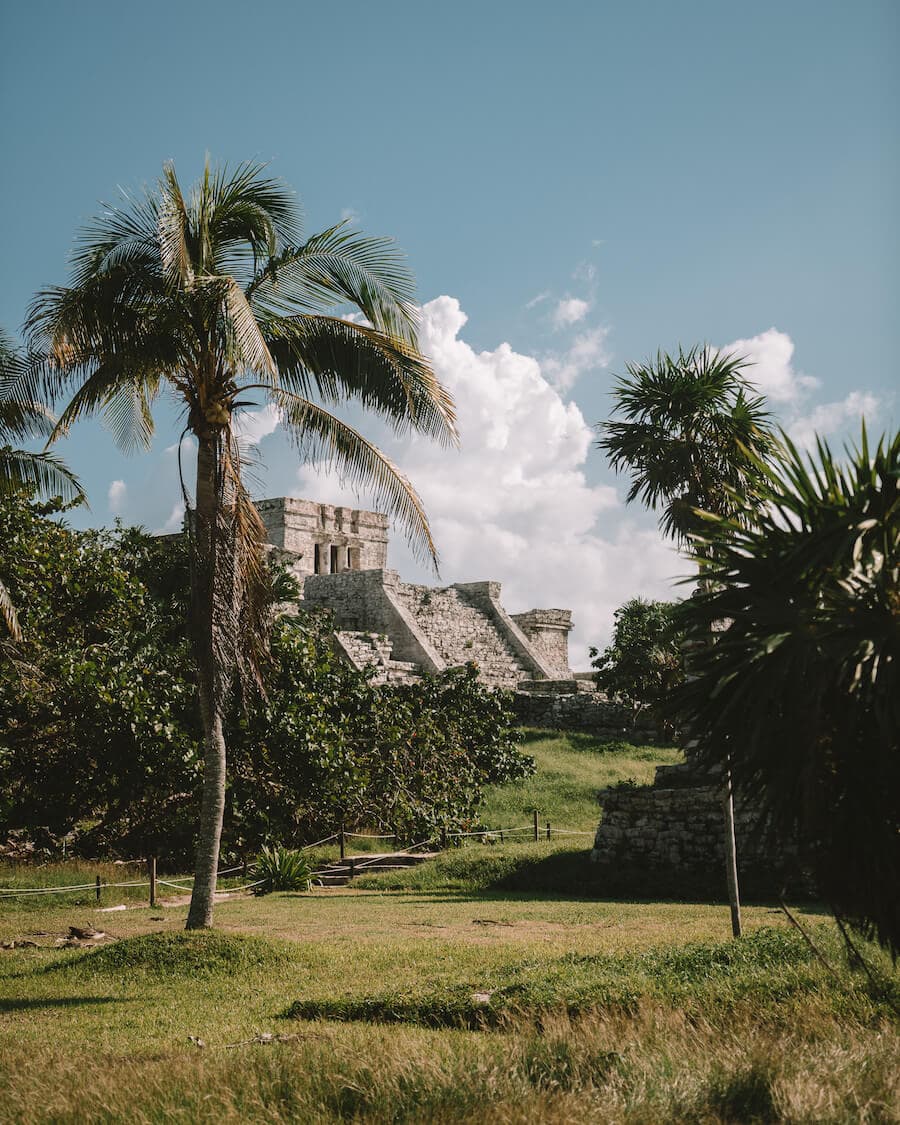 Visit the Tulum Ruins
One of the top things to do in Tulum is to spend an afternoon at the Tulum ruins. For a bit of history, these ruins were the only Mayan city built on a coast. Inhabited as early as the 6th century and flourishing during the 13th and 15th centuries, the Mayans in Tulum were known for trading turquoise and jade. The space now known as the Tulum Ruins was created to enclose their main city—some believe to protect themselves from invaders.
The ruins include a castle, ancient murals and statues, and of course, stunning views of the Caribbean. Take your camera—and even a swimsuit if you want—and enjoy this stunning historical site. To beat the crowds, I'd recommend going first thing in the morning or closer to closing hours.
If you really went to get a full understanding of the history behind the Tulum ruins, I'd recommend booking a tour with an expert guide. I've already done the work for you and found the most highly rated tours from Viator, one of my most trusted tour companies that I love using in destinations around the world.
Check out these highly-rated tours of the Tulum Ruins: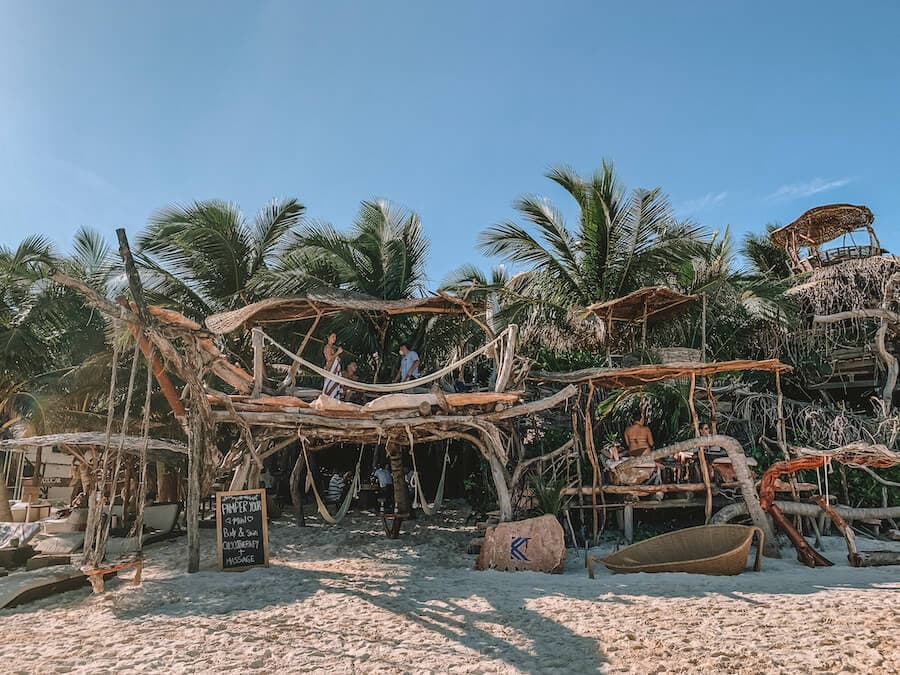 Spend the Day at a Beach Club
Obviously during your time in Tulum you'll want to hit up the beach. But in order to do that you either need to visit one of the public beaches which aren't in the main hotel zone, or camp out at one of the many beach clubs. While reservations and minimum spends are required at most of the hotels, there are some bars and restaurants that are a bit more casual in terms of bookings.
If it's your first time here (and especially if you are not staying right on the beach), don't skip splurging a little for a reserved lounger and overpriced drinks throughout the day—it's one of the best things to do in Tulum. If you're staying at a beach hotel you'll likely already have a beach club on property, but exploring the range of options is a fun way to mix up your experience and explore other areas of the beach strip.
Here's a little starter guide to some of my favorite beach clubs in Tulum:
Nomade Tulum is my personal favorite for an authentic, elevated Tulum vibe (they also have an amazing chipotle piña margarita).
Ahau has jaw-dropping art installations (great for Instagram) and a laidback vibe that slowly intensifies over the course of the afternoon.
Papaya Playa Project is bustling on weekends, with delicious food and DJ sets throughout the day.
Kanan is perhaps one of the most unique offerings on the beach where you can rent private nests to perch from if you prefer a bit more shade. The whole vibe feels very Swiss Family Robinson.
During high season (October-July), La Zebra has a pop-up of the Manhattan-based Mulberry Project, a bar with no menu that creates custom cocktails based on the flavor profile you provide to the bartender.
Taboo turns from beachside lunch into beachside party; you just need to reserve a table for lunch to be able to experience the fun.
Selina is the most casual—known as a hotspot for digital nomads. This co-working and co-living space is one of the most reasonably priced spots on the beach to enjoy a beverage.
Visit the Magical Oasis That is Azulik
Azulik is one of the most iconic hotels in Tulum's beach zone. Every step, from the front entrance where you walk into a labyrinth of trees that guide you past the lobby, through to their treehouse-style bar, and finally up into their open-air restaurant Kin-Toh, can be described as nothing short of mystical.
It can be pricey to stay in one of their beachfront suites, but make sure to check it out for a drink or dinner—and to get some great Insta-worthy pics. Part hotel, part art installation, part cultural explosion, Azulik is not to be missed! Trust me.
Bike Tulum Via Beach Cruiser
One of the best things to do in Tulum is to rent a beach cruiser and bike around! With so many adorable cafes to visit and stunning beaches to enjoy, riding a bike is my preferred way to get around in the daytime. If you want to travel easily between the beach and the town, there's also a nicely paved bike lane so you can safely venture between the two, soaking up the sun and feeling the breeze as you go!
However, do note that the main beach road has some potholes and speed bumps, and traffic to the beach can get a bit hectic, so make sure to stay alert as you ride. Also, I wouldn't recommend taking a bike out after dark. Safety first!
If you prefer to do a bike tour with a hired guide and make it more into an activity, this tour on Viator is one of the most highly-rated and is a fun way to explore the Tulum ruins and other parts of town as a group.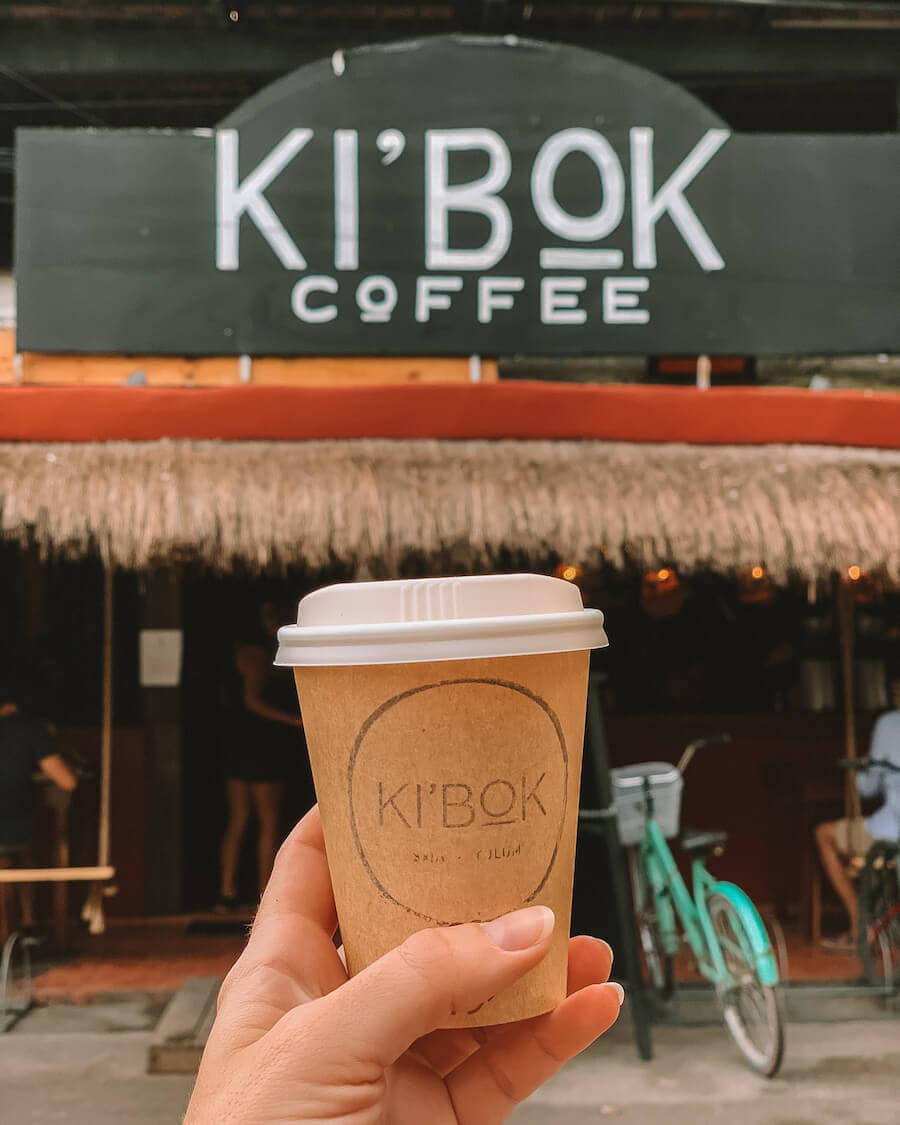 Eat and Drink Your Way Through Downtown Tulum
Only a 15 minute cab ride from the beach or slightly longer bike ride, Tulum's town feels like a completely different world from its beachfront counterpart. Venture through the town streets perusing all of the shops (these ones tend to be less expensive than the beachfront shops, but are also more souvenir oriented) and amazing restaurants for a change of scenery.
Some of the best food to be found in Tulum is in the main town in my opinion. The best part is the food is way more affordable than at the eateries on the beach.
A few of my favorite spots to eat are:
One place that I keep meaning to go to and missing is Taquería Honorio. This is a top local recommendation and I hear over and over people exclaiming that these are the best street tacos in Tulum.
Explore the Local Cenotes
If you've never been to (or even heard of) a cenote before, Tulum is the perfect place to get your feet wet—literally. Cenotes are essentially sinkholes that have been created over time within the natural landscape. They've been around for thousands of years and are incredible places to swim and explore the crystal-clear turquoise water.
The Yucatan Peninsula is home to over 6,000 cenotes, which means you've got plenty to choose from during your trip to Tulum, and the best part is that they're all different and unique in their own ways. Cenotes fall into a few different categories, so some will be more "Open cenotes", some "Semi-Open", and others more enclosed "Cave cenotes."
Some of the easiest to visit from Tulum are Gran Cenote, which is one of the most famous and ideal for snorkeling, and Cenote Calavera, where more adventurous visitors can jump in from any of the cenote's three openings. For certified divers, there are groups that will take you out to explore some of the larger cavernous cenotes, providing all the equipment you'll need for a safe and memorable dive.
If you want a more peaceful experience away from the crowds, I'd recommend getting a bit further out from the town center and exploring cenotes that take a bit more effort to get to. But no matter which cenotes you pick, it's best to show up early to escape the crowds—and don't forget your underwater camera or GoPro.
Here are some other cenotes near Tulum you should definitely check out during your trip:
Cenote dos Ojos
Cenote Suytun
Cenote Azul
Cenote Carwash
Cenote Ik Kil
If you prefer to book a guided tour, here are some of the top rated tours available: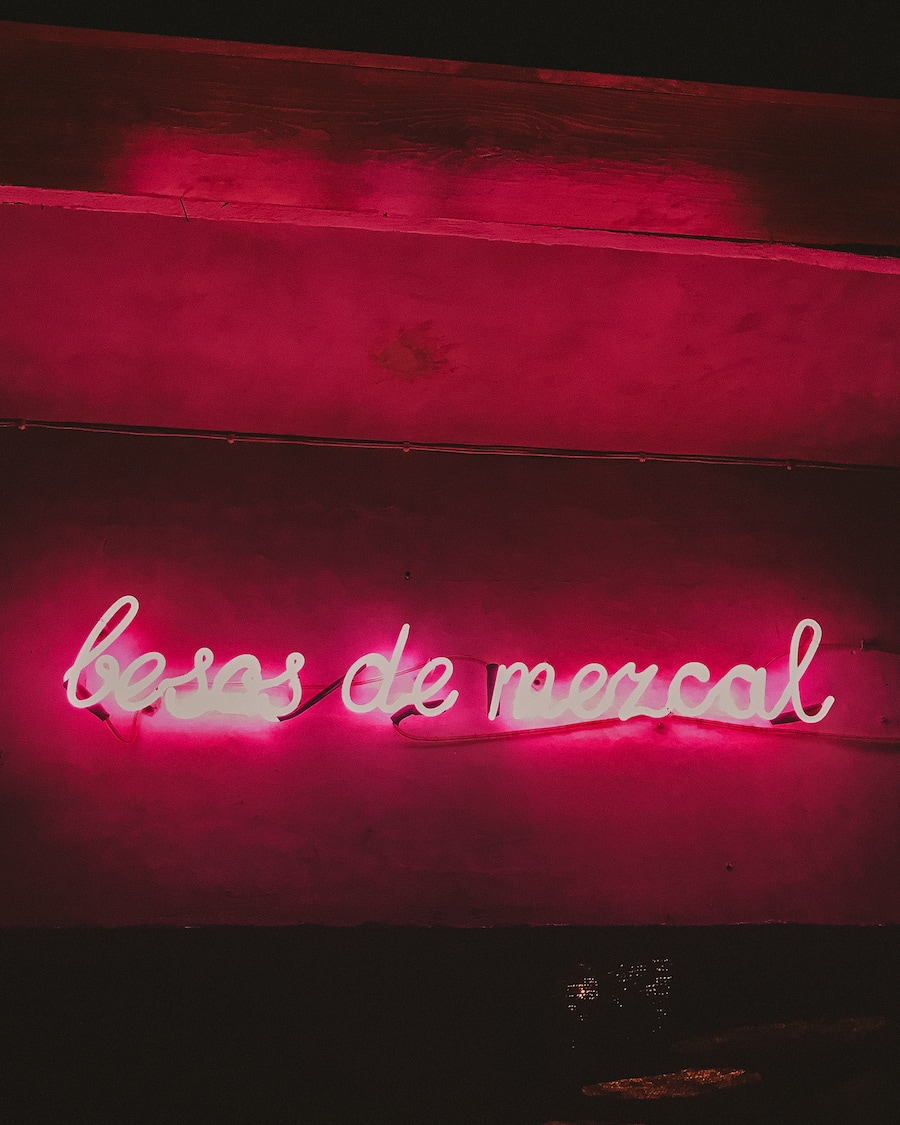 Embrace the One-of-a-Kind Tulum Nightlife
When it comes to nightlife, Tulum has quite a vibe. Think moonlit parties in the jungle with an eclectic mix of global (and beautiful) vacationers all out on the dance floor possessed by the beats of world famous DJs. While I didn't get to partake in the nightlife on my last trip due to the pandemic, I'm patiently waiting for it to be safe to resume. Until then, keep this list on file for the next time you can socialize safely in Tulum.
Many of the bars are restaurants-turned-bars after hours. For fun any night of the week, head to Batey, which is more of a local's dive vibe but serves up a mean mojito. To dance all night to a DJ, check out Casa Jaguar on Tuesdays, Gitano on Fridays, and Papaya Playa Project on Saturdays. For a truly one-of-a-kind experience, visit Clan-Destino where you can sips cocktails alongside a cenote late into the night.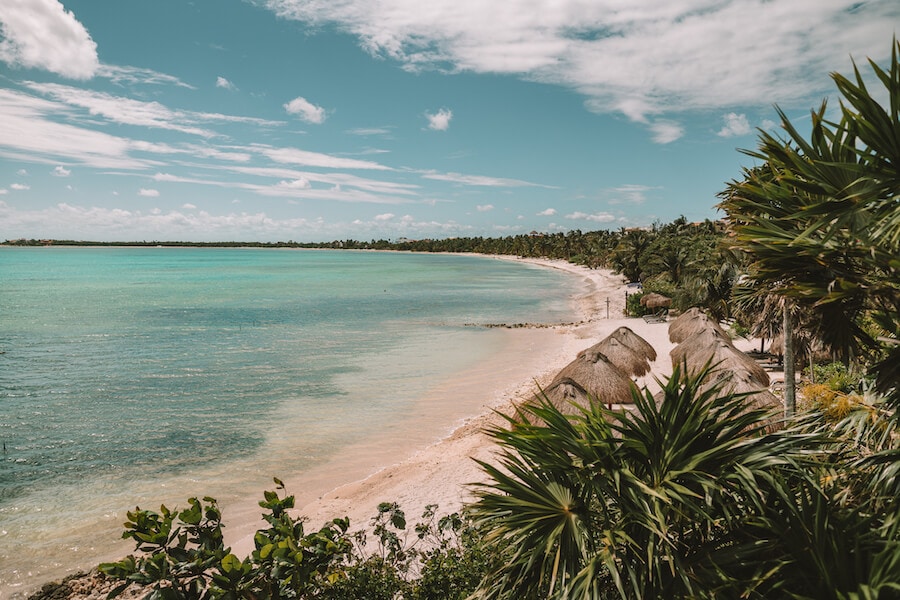 Get Out on the Water
Along the pristine white sand of Tulum's coastline there's nothing more refreshing than getting out on the water. To fully experience the ocean and wildlife, book a tour with one of the local companies that will take you out on a boat to the Tulum reef for the best snorkeling in the area.
You'll have the opportunity to see schools of fish, sea turtles, stingrays, and/or spotted eagle rays. Many of the boat captains will even take you past the Tulum Ruins on your adventure so you can get a view of them from the water.
Looking for a different kind of aquatic adventure? Take a paddleboard tour through the cenotes, lagoons, reefs, or ruins. And if you're an adrenaline junkie, you can turn it up a notch with private kitesurfing lessons!
Explore Sian Ka'an
A World Heritage Site just a few minutes away from Tulum, Sian Ka'an Biosphere Reserve (meaning "Origin of the Sky" in the Mayan language) is one of the most ecologically diverse places on Earth. This biosphere boasts remarkable flora and fauna, wild animals like birds, butterflies, crocodiles, dolphins, manatees, sea turtles, and a mix of mangroves, marshes and tropical forests to explore.
Take a half or full day to explore the area to it's fullest.
Here are a few different top-rated tour options you can book during your time in Tulum: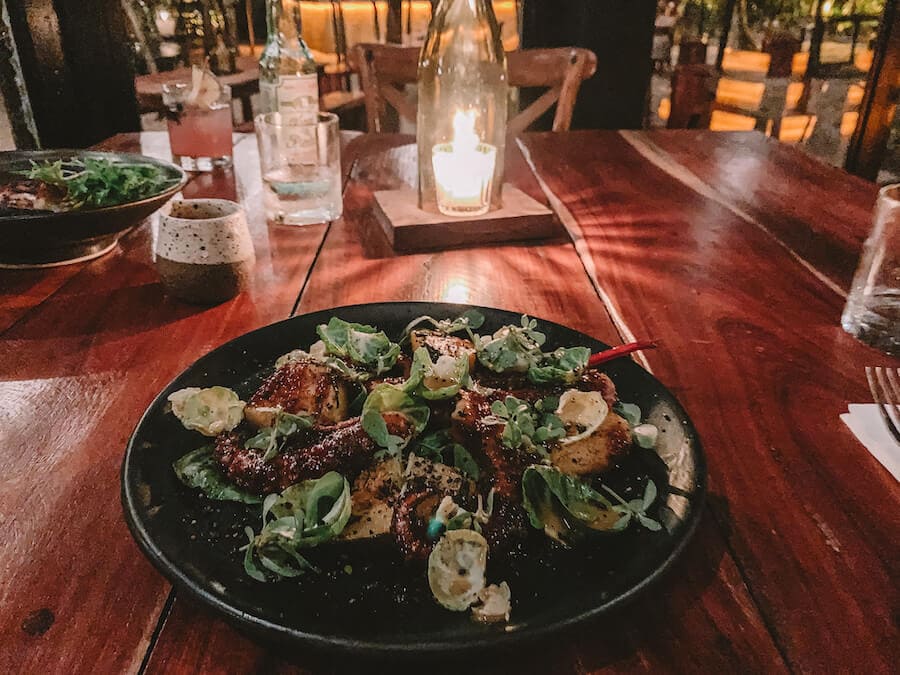 Book a Reservation at One of Tulum's Fancier Eateries
Tulum is known for its robust culinary scene boasting amazing chefs from around the world (you can check out my Tulum foodie guide here). The beach side isn't necessarily the most authentically Mexican (head downtown for that), but the food is still top-notch.
Of course there are many casual spots to enjoy a healthy salad, a fresh juice, or some traditional street tacos, but experiencing the high-end restaurants is a key part of the Tulum experience in my opinion.
Head to Hartwood for upscale local Mexican fare—their menu changes daily based on what's freshest, and their craft cocktails pair perfectly with the seasonal cuisine. Arca is all about ambiance, with unique specialties that tie together Mexican ingredients with the head chef's Michelin-level training.
Gitano offers seasonal local ingredients cooked in a wood burning oven and open fire; they also offer mezcal tastings if you're interested in learning more about the traditional Mexican spirit.
Mur Mur puts a focus on authentic Mexican dishes done at award-winning quality. And at Meze, located in a beautiful white hacienda, Greek inspiration reigns supreme with traditional Meze (Greek appetizer) dishes and salt crusted fish as some of their highlights.
Don't forget to book in advance—many of these restaurants fill up over a month ahead of time!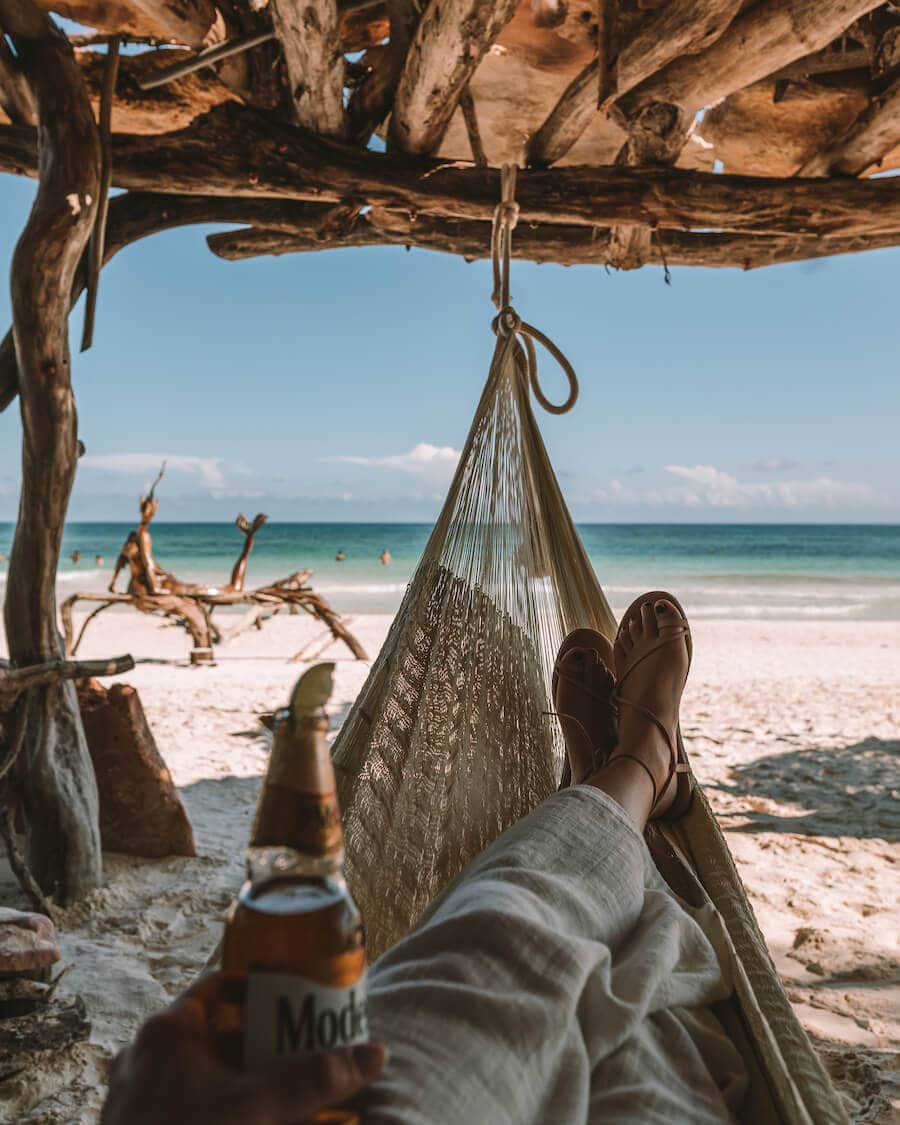 Explore the Tulum Art Scene
Tulum has definitely been the hotspot of arts and culture within the Riviera Maya for awhile. But in 2018, Tulum upped the ante even more by welcoming in a new arts and culture festival, Art With Me, that launched with a bang.
It's been running successfully every year since and brings thousands of visitors to experience the best of Tulum's art and culture scene and enjoy live music, all while listening to speakers discuss ways to keep Tulum sustainable and eco-conscious.
By complete coincidence, my trip last November to Tulum coincided with this event, and while I didn't take part in any of the activities, I was able to experience some of the art installations as a byproduct. Even if you're not planning on visiting around the same time, you can definitely get a taste of the art scene in Tulum as some installations have remained permanently.
Honestly, with such unique architecture being a staple at the hotels and restaurants in Tulum, exploring this destination often feels like walking through one giant outdoor art museum.
Here are a few places to experience the more unique spaces and installations around Tulum and get that epic Insta-shot should you so desire.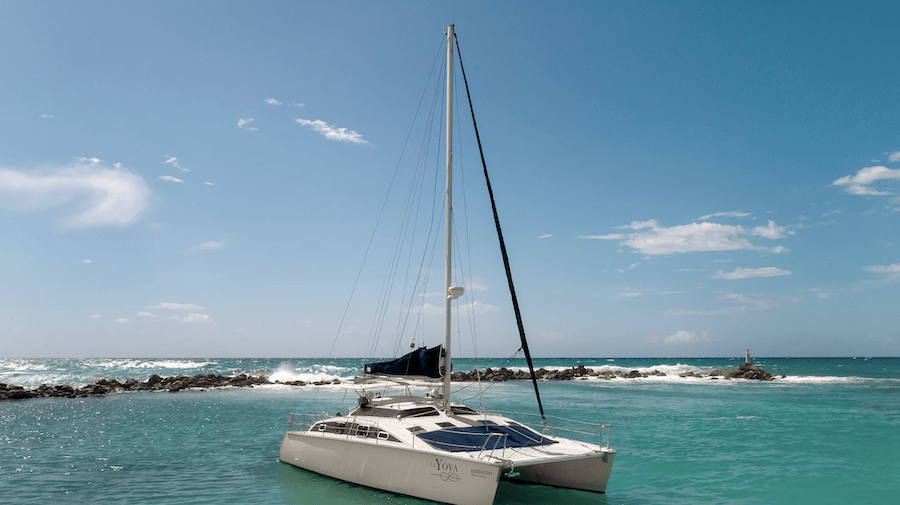 Book a Yacht Cruise
What luxury vacation is complete without a yacht?! If you want to explore Tulum by water, Nomoon Travel is the best rated yacht company in Tulum—and it's owned by one of my close friends, so I can guarantee you great service. Their all-inclusive private charters come with gourmet food, unlimited drinks, and snorkeling equipment. Plus, since they also have a full crew, no sailing experience is required.
Ideal for a group trip, consider renting a boat for bachelorette parties, birthday excursions, or even just to celebrate any day of the week! Check out Nomoon Travel to browse their selection of luxury motor yachts and catamarans to experience Tulum in style.
Have more time in Tulum?
Take a day excursion or add one of these destinations to the end of your itinerary!
Where to Explore Beyond Tulum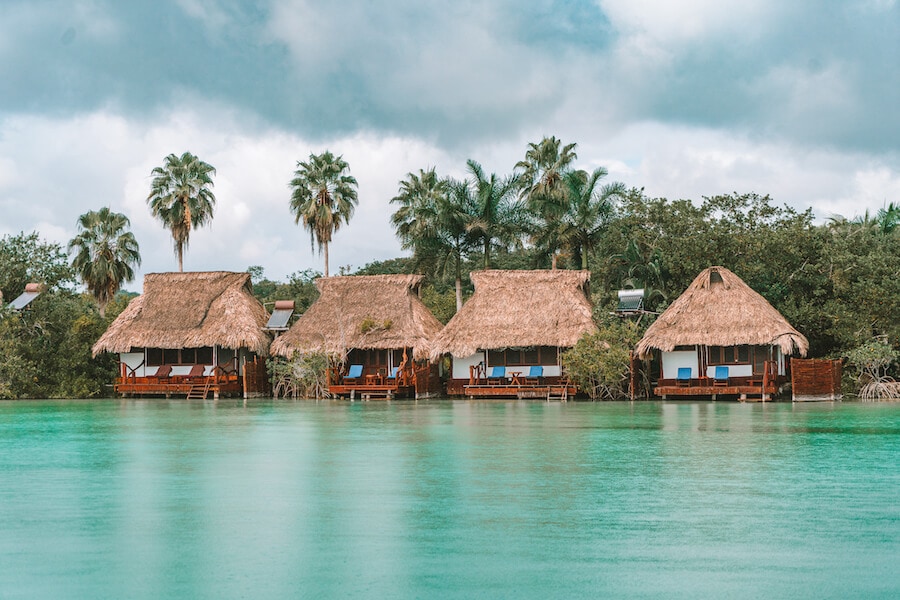 Bacalar
A couple hours south of Tulum you'll find Bacalar, a stunning waterfront town along the second largest freshwater lake in Mexico that's been nicknamed "The Lagoon of Seven Colors". Since it's further from the airport than Tulum, it's less touristy and way more laidback, but the views are not to be missed. The turquoise water will seriously blow your mind, and you'll want to spend at least a night to fully experience the wonder of this area, though day tours are available.
Read my full guide to Bacalar here
Chichen Itza
If you have one extra day to spare on your trip, the best thing to do from Tulum is to visit Chichen Itza. This UNESCO World Heritage Site is listed as one of the Seven Wonders of the World, and it's comprised of a six-mile area with pyramids dating back to 500 AD. Bring a hat because it can get very hot during the day, then be prepared to feel transported back to ancient Mayan times.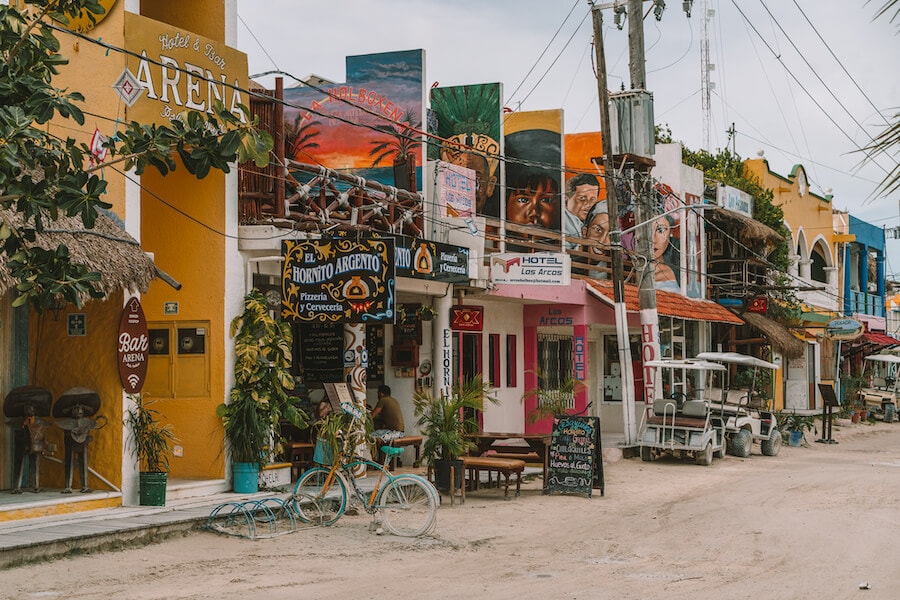 Isla Holbox
Perfect for a few days of slow island life, Isla Holbox combines the beauty of the Caribbean with the tranquillo island vibes that attract digital nomads and backpackers from all over the world. Visit the southern-most part of the island for breathtaking views, and the northern part for restaurants and nightlife (once it's safe to do so again).
Coba Ruins
Spend the better part of the day exploring this huge complex of temples and pyramids 30 miles north of Tulum. Make sure to double check that the park is open, their schedule has been fluctuating as a result of COVID, but when it's open, it's a site not to miss!
Cozumel
A quick ferry ride from Cancun, Cozumel is a diver's paradise. Stop by for a few days if water sports are your idea of a good time, and embrace the beauty of this large island. Unlike Tulum, Cozumel has fewer boutique hotels and more large resorts, but I've heard over and over again from diving enthusiasts that this island is home to some of the best dives they've ever done.
Don't miss these day excursions to get out of Tulum:
---
Planning a trip right now? Don't miss my go-to websites for booking everything from flights and tours, to accommodation and more:
---