In addition to being the most visited national park in California, Yosemite is one of the most popular parks in the entire United States. Its seemingly endless array of adventure options, dramatic granite cliffs and stunning waterfalls attract more than four million people every year—and after reading through this post of the best things to do in Yosemite National Park, you'll understand why.
Even though I've been a California local for years now, I just visited for the first time in August and was absolutely blown away by the out-of-this-world views and rock formations. While there are several grueling (yet amazing) hikes in the park, I wanted to make this Yosemite guide for first time visitors who are looking to experience a healthy mixture of moderate activity and easily accessible sightseeing like drive-up spots. Luckily, Yosemite has a bunch of them.
One thing about Yosemite that is unique and worth mentioning is that it's vast and is broken up into several different sections that offer quite varied experiences within the park. It's also likely you won't be able to cover it all on a first visit.
The one area you're undoubtedly most familiar with is Yosemite Valley, which is where you've likely seen most Yosemite images taken from. The valley is the more popular area within Yosemite, featuring some of the park's most iconic vistas, while the Highway 120 (or Tioga Road) section which leads to Tuolumne Meadows is a bit less trafficked and runs the length of the park East to West.
There's also sections like Mariposa Grove to the south and Hetch Hetchy to the north that is less frequented, but I'll be focusing on Yosemite Valley and the Tioga Road in this post as an ideal itinerary for first timer's to the park.
Keep in mind that many of the access points to these spots are closed in winter, so this post is most applicable to those visiting Yosemite from May to October. I took my trip during the summer when the weather was warm and clear. If you visit during the colder seasons, you'll definitely want to double check the park website here for closures and restricted access.
So let's get to it. In this post you'll find everything from my tips on where to book accommodations to my favorite hiking trails and lookout points. I hope you enjoy this guide to finding the best things to do in Yosemite National Park!
Quick Tips to Help You Plan Your Trip to Yosemite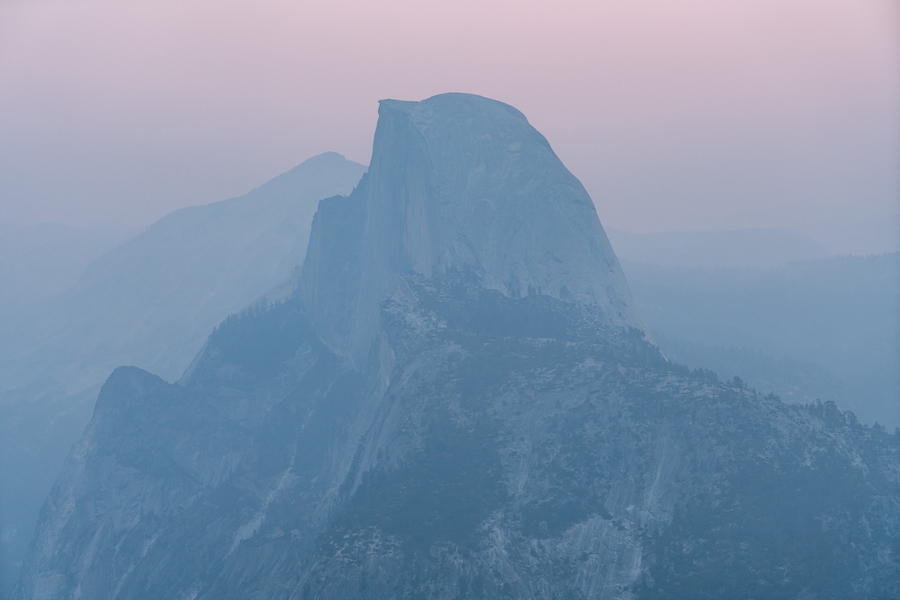 You Must Reserve Day Use Passes Prior to Your Trip
Due to the pandemic, Yosemite has recently instituted the requirement of day use passes in order to visit the park. Being that these are rather limited and can go fast when they are released, make sure you check the site here ahead of time to see when the day use passes will be available for your travel dates. Then, prepare to be on the site, logged in and ready to snag yours once they go live. Literally, set an alarm for this.
Reserve Campground Spots Up to 5 Months in Advance
If you're planning on camping, know that reservations are required year-round at pretty much all of the campgrounds in Yosemite. Reservations for the campgrounds can be made up to five months in advance on the 15th of each month sharply at 7 AM. Similarly to the day passes, camping reservations sell out very quickly, so make sure you have your calendar marked and alarm set! You can find more information on reserving a campground here.
Prepare for confusing traffic patterns
When I visited in August, I noticed that they appeared to be testing a new way to redirect traffic in the park using mostly one-way roads within Yosemite Valley. I'm not sure how recent this is or how long it will last, but it was really frustrating when we happened to miss a turn off, because there was no way to backtrack. Be sure to pay extra attention when you're driving within the valley to avoid wasting time.
Cell Service is Limited
Like in pretty much every national park, cell service is pretty spotty in Yosemite. I would highly recommend downloading Google Maps offline before entering the park.
Download the Sun Seeker App
If getting to a certain spot for sunrise or sunset is on your list of things to do in Yosemite National Park, don't rely on the typical timing on your weather apps. Download the Sun Seeker app to determine when the sun will actually be hitting a specific viewpoint, since it can take longer for the sun to rise over the park's many rocky structures that block the light.
What to do if You See a Bear
It's very common to see black bears while in the park; there are somewhere between 300 and 500 of them living in Yosemite and many of them are tagged. If you see one, the best thing to do is act really aggressive and intimidating, either by making a lot of noise or lifting something large over your head. A ranger that we met in the park actually explained that this is the best way to prolong their lives as it keeps them away from humans. 
Be mindful of when you're entering and exiting the park
Since we heard that there can be a lot of traffic congestion while getting in and out of the park at peak hours, we made an effort to arrive before sunrise and leave at sunset and didn't experience any issues. However, I'd avoid entering/exiting the park between 9AM-5PM, especially on weekends.
There Are Plenty of Services in the Park
From restaurants to markets to restrooms, there are tons of services within the park, most of which are situated at the base of Yosemite Valley, so you don't need to worry too much about bringing all of your food in with you like you do at many other parks. However, if you're on a budget keep in mind that snacks and food are usually pricier within national park grounds. When it comes to gas, if you want the best price definitely make sure to fill up before you enter the park.
When is the Best Time to Visit Yosemite?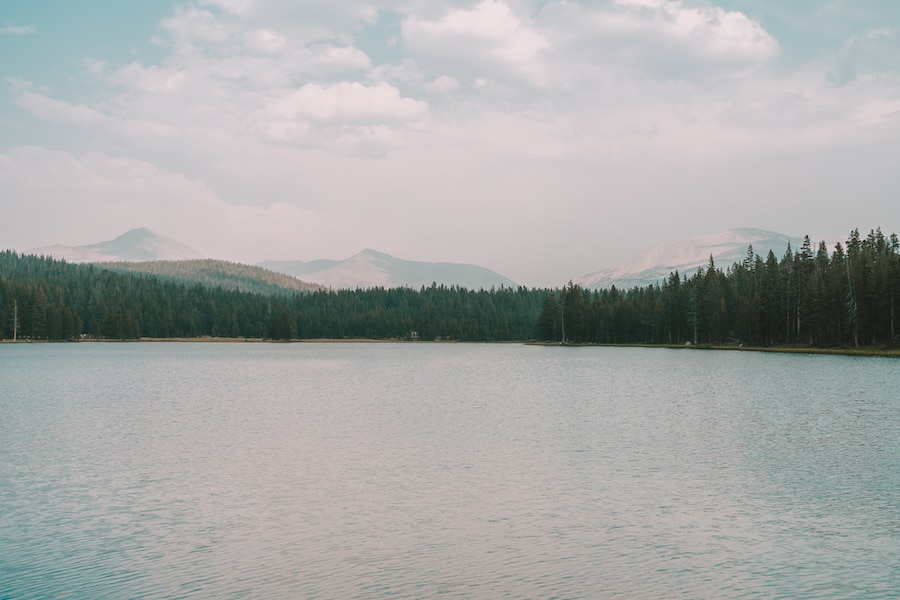 If you want to avoid heavy crowds, May and September are two of the best months to plan a visit. However, I went in August and had a blast and didn't find it to be too overwhelmingly crowded, which is probably due to the fact that they recently instituted day use passes!
Unfortunately these days, fire season is a real thing in California and Yosemite can see a lot of fires in summertime due to lightning strikes. Keep that in mind as you plan your trip as well, and always check the park website ahead of time to see if you need to make any adjustments to your trip.
Also, keep in mind that it can snow in Yosemite and many roads and trails get closed during the winter months. I've heard from many friends that Yosemite is magical to visit in winter, however be prepared for a different experience (ie. less access points, much fewer people and more preparation involved when packing your gear and wardrobe).
If you're most excited about the prospect of seeing Yosemite's epic waterfalls, then you'll want to visit in late spring or very early summer when the water flow is at its peak from snowmelt.
Where to Stay in Yosemite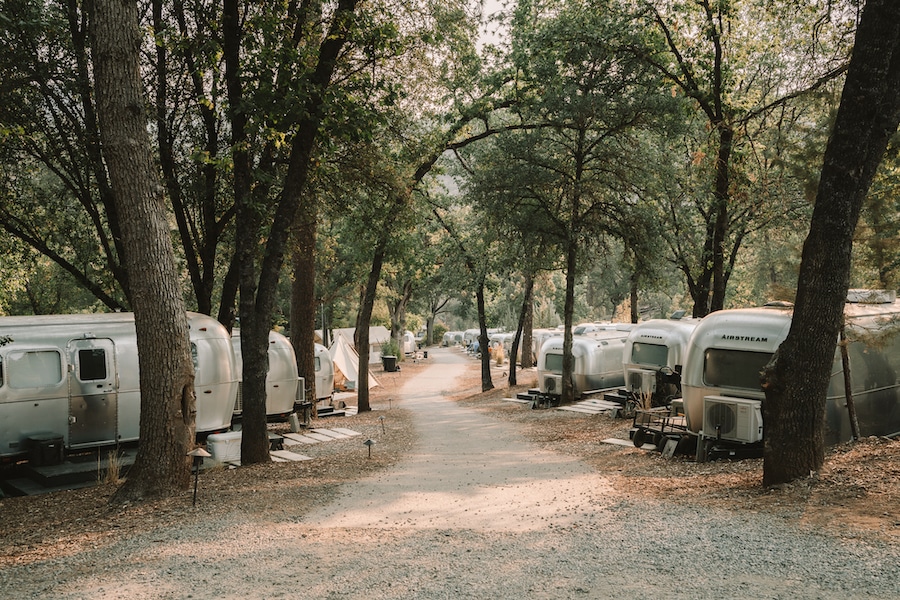 Yosemite Valley Lodge – The Yosemite Valley Lodge is a very traditional lodging property that offers standard accommodations and even offers some on-site dining options. Given its prime location, it makes for a perfect home-base for exploring the park for maximum accessibility. 
The Ahwahnee – If you're looking for something historic and a bit more luxurious, The Ahwahnee is the park's only high-end hotel that offers fine dining along with stunning rooms and amenities.  Originally built in 1927, the Ahwahnee is listed on the National Register of Historic Places. Even if you don't stay there, it's a great place to treat yourself to a drink after a long day of hiking out in the sun.
Autocamp Yosemite – Located about an hour outside of the park, Autocamp Yosemite is unique, glamping-style accommodation that is a great option for those okay with staying outside of the boundaries of Yosemite. This is where I personally stayed during my visit, and though there are more convenient accommodations for exploring, I had a great experience!
White Wolf Lodge – Though it is still a bit of a drive away from Yosemite Valley, White Wolf Lodge is within park grounds and is a more secluded accommodation that is a bit closer than Autocamp Yosemite. It's a great base if exploring the section of Yosemite along Highway 120. With 24 canvas-style tents and four traditional wood cabins, this rustic lodge is perfect for those seeking a nice mixture of comfort and immersion in nature. 
High Sierra Camps – For those seeking the opportunity to camp with comfort, High Sierra Camps offers secluded campsites that allow for you to travel light but lodge with simplicity. These camps are located near Tuolumne Meadows and there's a little work involved to get here via hiking or horse-packing, but your work will be rewarded!
Yosemite Camgrounds – Of course, there are also plenty of campgrounds within the park if camping is more of your style and you want to be based in the heart of it all. There are 13 options in total. You can find the full list of campgrounds here.
The Best Things to do in Yosemite
Glacier Point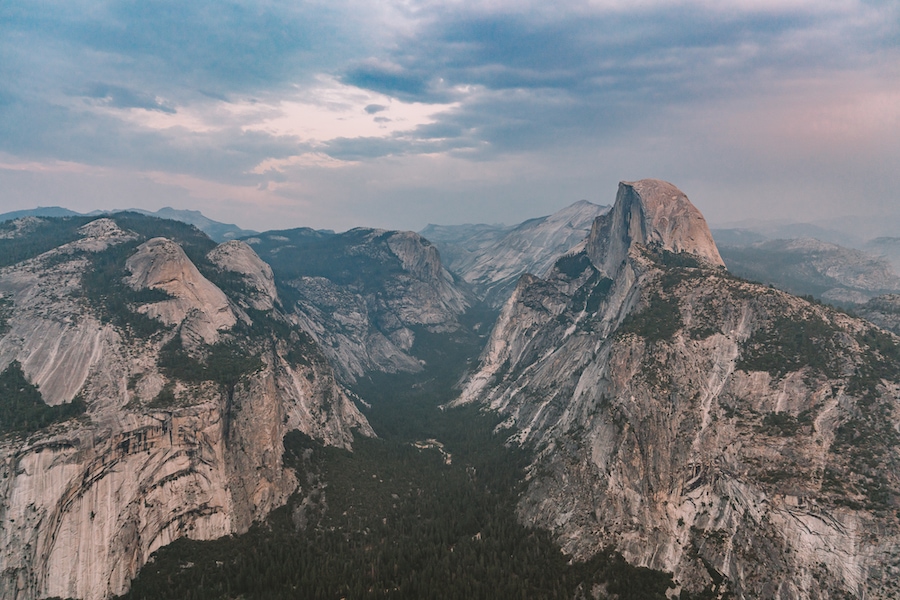 Glacier Point is one of those spots you absolutely can't miss during your time in Yosemite. With an elevation of 7,214 feet and featuring one of the most epic views of Half Dome in the entire park, this stunning lookout provides some of the best views overlooking the entire valley, period. However, it can be a bit of a trek to get to whether you're driving or hiking.
To get to Glacier Point, you have the option to keep it mellow by driving directly up to the viewpoint where you'll find plenty of parking and restrooms, or make it a longer hike by doing the Four Mile Trail, which is a challenging 9.2 mile trek.
Keep in mind that the drive is a bit further beyond Yosemite Village by about an hour, so if you're planning on getting there for sunrise or sunset, make sure to calculate your time directly to Glacier Point, not just Yosemite Valley.
Side Note: A quick look on Google Maps can be misleading as it looks like Glacier Point is very close to other main spots in Yosemite Valley, however due to the elevation you have to drive all the way around and up to get there by an extra hour, so don't make my mistake 🙂
During my visit, I actually went to Glacier Point twice, once for both sunrise and sunset. I would say both are beautiful, with sunset often turning Half Dome beautiful hues of purples and pinks, though at sunrise you'll feel like you have the entire valley to yourself, which is especially magical.
Taft Point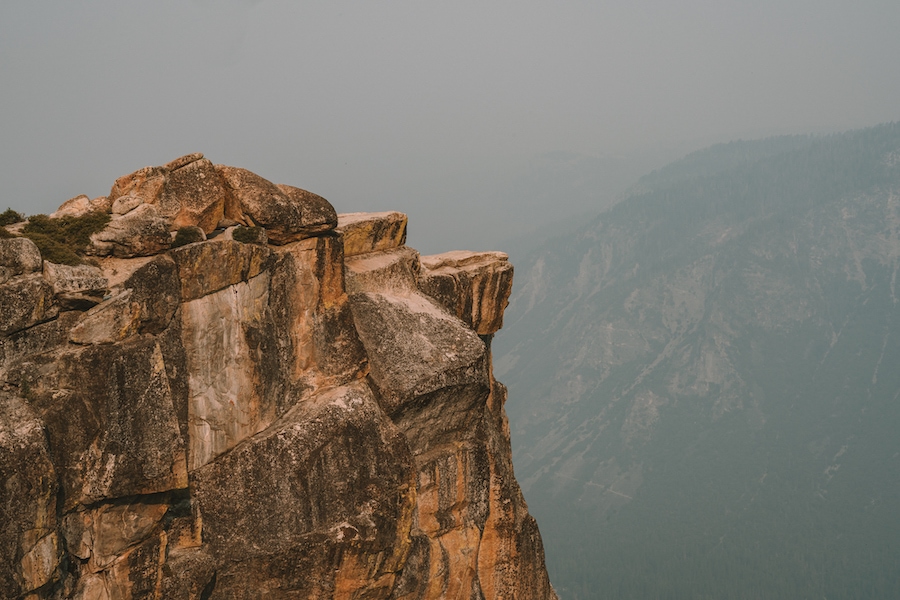 One of my favorite hikes in Yosemite was to Taft Point. It is a short nature walk (about 2.3 miles round trip) that has a minimal incline in order to reach this expansive viewpoint. The trail itself features stunning trees and boulders covered in lime green moss, and it is incredibly easy to follow. It truly is magical, and kind of felt like walking through a fairytale forest, eventually leading out to a wide, rocky cliff that overlooks the entirety of Yosemite Valley.
If you have a fear of heights, keep in mind that once you reach Taft Point, you will have some pretty crazy drop offs that might make your stomach sink. There is a small railing in one section, but the rest of the area isn't blocked off, so use extra precaution as you explore and wear good shoes.
In addition to being a great spot to catch some stunning Instagram photos, Taft Point is also a very popular spot for wedding shoots. This is also a favorite spot in the park to catch sunset.
As you plan your trip, I would highly recommend pairing a visit to Taft Point with Glacier Point as they are just down the road from one another. From the Taft Point trailhead, you can also veer to the right and visit Sentinel Dome as well if that's on your list.
Tunnel View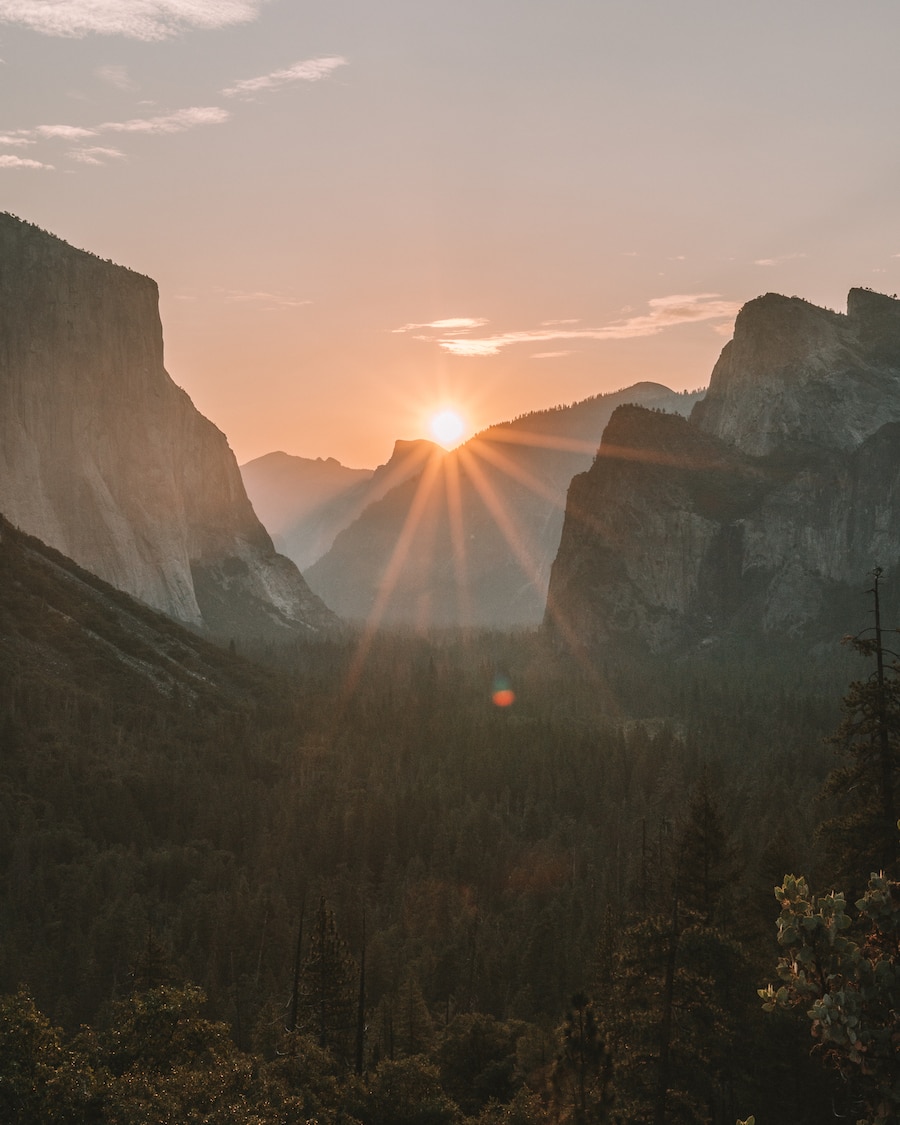 If you're over hiking and are in need of an easily driveable activity in the park, then be sure to put Tunnel View at the top of your list of things to do in Yosemite National Park. This special spot offers an iconic view of Yosemite that you've likely seen photographed before (in fact, famous nature photographer Ansel Adams is responsible for making this vista famous in the first place).
From the parking lot, you'll get epic views of El Capitan, Half Dome and Bridalveil Falls all in one picture perfect moment. However, due to the ongoing draught in California, the flow of Bridalveil Falls is probably best to view in spring. When we visited the waterfall's flow was super light and barely visible from Tunnel View.
You can either chill at the parking lot to soak up the views, or you can use it as a starting point for hiking to Inspiration Point which offers a similar lookout with a bit more effort involved (about 2.3 miles).
I personally came here for sunrise and it was pretty incredible watching the sun peek over Half Dome in the distance. However, if you want the clearest view possible, you'll probably want to come in the middle of the day when you have access to full sunlight. 
---
Read More California Posts
---
Bridalveil Falls
Bridalveil Falls is one of the first waterfalls that many visitors encounter while exploring Yosemite. Plunging more than 620 feet, Bridalveil Falls flows year round, meaning that it is worth a visit even during the drier months, although the stream will likely be much smaller.
From the parking lot to the waterfall, there is a paved trail that is rather short and easy (however, not wheelchair accessible), making this trek only about half a mile round trip. If you visit in the spring when the water flow is at its peak, expect to get splashed!
Take a Scenic Drive Along Highway 120 /Tioga Road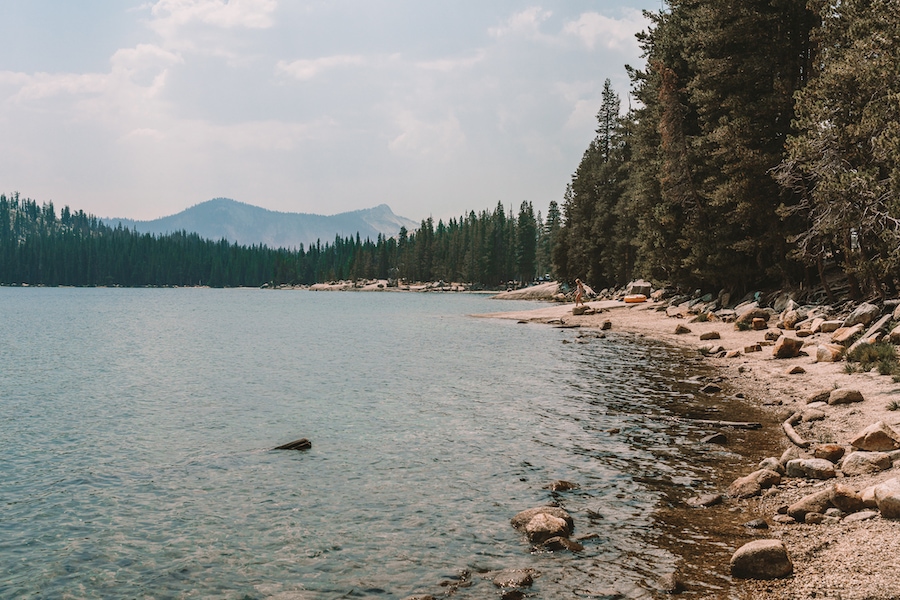 If you're craving some different scenery from the towering cliffs of El Capitan and Half Dome, head north of Yosemite Valley to Highway 120. Though it is still part of the park, it's a much less crowded area to experience on your list of things to do in Yosemite National Park, but offers some of the most beautiful scenery in my opinion.
Here you'll find peaceful meadows, beautiful lakes, and even more mountain peaks. We spent a full leisurely day driving the full length of Highway 120 (also known as Tioga Road) to Lee Vining and back, making stops at whatever spot was calling our name.
If you have a full day to spend exploring this part of Yosemite, I'd recommend bringing a blanket, picnic lunch, perhaps some beers and stopping for awhile at one of the lakes.
Take note that this road is only possible to access in the warmer months since the road closes in the winter. This article has some great info on what to see and where to go, but some of my favorite stops include:
Olmsted Point – Offering a view of the northern side of Half Dome along with a view of Tenaya Lake, Olmsted Point is a great pull-off spot to snap some nice photos and take in the epic scenery.
Tenaya Lake – Originally formed by glacial action, Tenaya Lake is known as the jewel of Yosemite's high-country lakes. Bring a picnic lunch here and stay awhile if you have time to soak it in.
Tuolumne Meadows – Tuolumne Meadows is known as one of the largest high-elevation meadows in the Sierra Nevada, and it truly looks straight out of a postcard.
Dog Lake – The trek to Dog Lake is a relatively easy hike (about 2.8 miles round trip) at elevation to a simple but beautiful lake that isn't overrun with people. For the most part, the hike itself isn't too difficult for most though the beginning can be steep. If you're looking for something quiet and away from the crowds, this is a great option.
Lembert Dome – Rising 800 feet above Tuolumne Meadows is Lembert Dome. This granite rock formation is a unique sight within Yosemite and can be hiked up to for epic views overlooking the Tuolumne Meadows area.
Mobil Gas Station – This isn't just any old gas station. If you're in for the drive all the way to Lee Vining, then you can't miss the Whoa Nellie Deli at the Mobil gas station that's become a local institution. Here you can get a surprisingly good lunch, craft beer and shop for some fun souvenirs before heading back to Yosemite Valley.
Hike the Mist Trail to Vernal Falls
One of the most popular hikes in the park is the Mist Trail which is about three miles round trip to Vernal Falls, though you can continue another four miles to Nevada falls if desired. This is one of the most popular trails in Yosemite Valley, so try your best to get an early start and avoid the crowds.
The end section of this hike is pretty much all stairs, so prepare for a major stairmaster workout that will really target your glutes! We also encountered a lot of mosquitoes on this hike, so make sure to bring plenty of bug spray.
Once you've hit Vernal Falls, try to go up a bit further just to the top of the falls where you can get an amazing view through the valley. If you can muster up the energy to go just a tad further beyond that point, there is an awesome area where you can take a dip in some crystal clear (albeit freezing cold) water.
El Capitan
You've most likely heard of El Capitan due to famous free-solo climber, Alex Honnold. His documentary, Free Solo, made headlines and totally put this majestic rock formation on the map for things to see in Yosemite.
Though you can see El Capitan from many vantage points all over the park, and it is virtually impossible to miss, one of the best things to do in Yosemite National Park is to bring a pair of binoculars and watch the climbers from El Capitan Meadow. It felt like a game of Where's Waldo trying to spot the rock climbers up on the wall, they were so tiny!
Yosemite Falls
Rising dramatically up 2,425 feet, Yosemite Falls (made up of the Upper Yosemite Falls, Middle Cascades, and Lower Yosemite Falls) is the highest waterfall in Yosemite National Park. Though it is a major attraction any time of year, it is best to visit in late spring when the water flow is at its highest due to the snow melt from winter.
Most people who visit the falls stick to the Lower Yosemite Fall Trail, which is an easy 1 mile paved loop, rewarding visitors with great views of the base of the waterfall. However, if you're looking to hike to the top of the falls, prepare for a 6-8 hour excursion along Upper Yosemite Fall Trail that provides a steeper and more strenuous workout.
We personally skipped this one in August because we heard it had pretty much dried up during our visit, but this is a definitely a top Yosemite highlight and shouldn't be missed if possible.
Cook's Meadow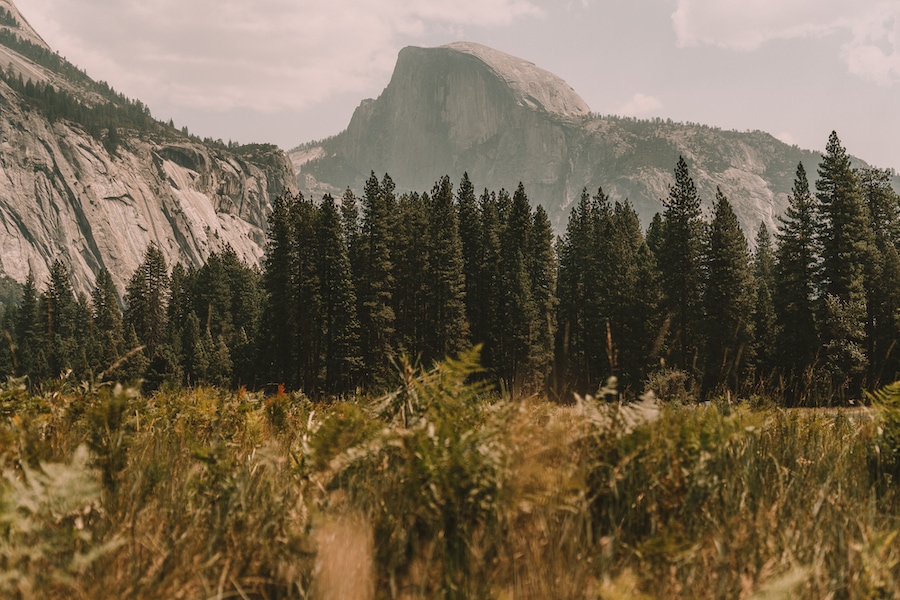 If you're looking for a pretty stroll that is on the easier side, then Cook's Meadow is a great option and is dog friendly if you're traveling with your pup. It is a heavily trafficked trail due to its accessibility to hikers of all skill levels, but it's a good way to give your legs a slight break all while still seeing some beautiful sights.
In Cook's Meadow, expect a short, flat walking loop (1 mile total), that becomes surrounded by wildflowers in springtime and makes for quite the colorful scene. From here, you can get beautiful views of Half Dome from the valley floor.
Visit the Ansel Adams Gallery
Looking for a way to break from strenuous activity for an hour? Head to Yosemite Village to check out the Ansel Adams Gallery (a Yosemite institution since 1902) and take in a bit of inspiration for your own epic photographs. Ansel Adams is one of the most renowned American nature photographers who was also a champion of protecting natural places; he's also known for photographing Yosemite quite extensively as he lived there part-time.
This gallery offers a chance to explore some of his most famous photographs along with works from other wonderful photographers, and for those looking for a more hands-on experience, the gallery also offers photography classes seven days a week. Learn more here.
Relax by the River
Depending on when you visit Yosemite, the midday heat can get pretty intense, and it's nice to have a solid place to relax and stretch your legs during the hottest times of day.
While you do have the option of popping into one of the restaurants or food service areas in Yosemite Village, settling in at one of the many picnic areas next to the Merced River is a lot more fun and a great place to bring a picnic lunch (just be aware of bears and always properly dispose of trash).
Some great spots for this include the Cathedral Beach picnic area as well as the Sentinel Beach picnic area, both of which offer great views of El Cap. Pro tip: Bring your own hammock to tie up between some trees and take a quick nap to refresh after a morning of hiking.
Here are More of the Best Things to do in Yosemite National Park if You Have More Time:
Stand amongst the giant Sequoias in Mariposa Grove
After you check out Taft Point, take the 1 mile trail from the parking lot to Sentinel Dome for more 360 degree views of Yosemite Valley
Get off the beaten path in Yosemite's Hetch Hetchy Valley
Want to push your limits on Yosemite's most challenging day hike? Take the 14.2 mile trail to Half Dome, which takes approximately 10-14 hours and involves scaling up a cable system. PS – you need a permit to access
Rent bikes at Curry Village and cycle along the park's 12 miles of paved paths
Check out an alternate view of Half Dome from Washburn Point
Catch a beautiful reflection on camera at Mirror Lake
Prefer to have a guide along your adventures? Check out these top-rated Yosemite tours:
Did this post give you a better idea of what to do in Yosemite for your first visit? Leave any questions in the comments below!
---
Planning a trip right now? Don't miss my go-to websites for booking everything from flights and tours, to accommodation and more:
---