If the name St. George, Utah isn't immediately recognizable, you might better know it as the closest city in proximity to Zion National Park. St. George is located on the Southwestern tip of Utah, close to the Arizona border and is only a two hour drive from Las Vegas.
It's a small city, but what makes it stand out is its incredible utility as a base to hike and explore some of Southern Utah's most scenic gems. Many people flock to the area in summertime during school breaks or along the way of a longer summer road trip, but I'm about to show you why visiting in winter is the way to go when it comes to this adventurer's paradise.
Recently I was invited out to the area by Visit St. George for their annual #InstaMeetStGeorge, where I met some fellow bloggers with a love for adventure.
The goal for the weekend?
Explore Zion National Park and some of the surrounding scenery to see why it's so ideal to visit in the winter off season.
I had actually been to St. George and Zion pretty recently in the height of summer — last July of 2017 — so I was curious to experience it during a different time of year.
The area is of course gorgeous in summer as well, but it was scorching hot and packed with people. I don't usually let details like that weigh on my experience, but this trip gave me a newfound appreciation for visiting this part of the country in winter when it's just as beautiful but with way fewer crowds. If you're considering planning a similar trip yourself, here's everything you need to know to make the most of it.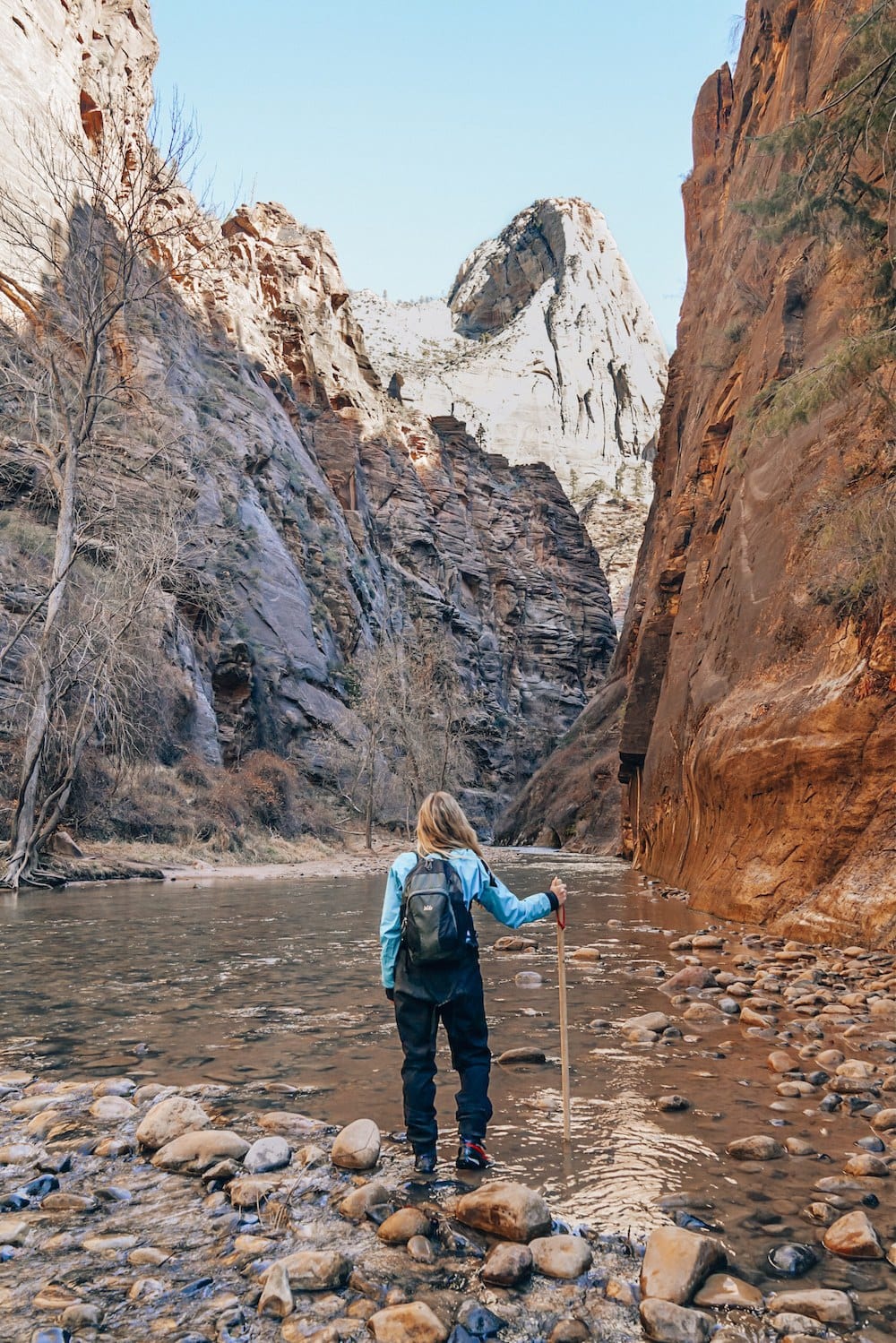 First things first. Why should you visit St. George and Zion in Winter? 
Major Pro #1: Less people
If you've been to Zion before, you know that parking lots can get crazy busy and the shuttle lines to get into the park unbearably long. Fewer crowds means:
Spending less time waiting around in lines and more time exploring!
Fewer people photobombing your shots
More peaceful hikes
More options for accommodation
Easier parking
Quicker time getting in and out of gear rental shops
Shorter waits at restaurants
An overall more relaxing experience
Major Pro #2: Cooler Temps
Trust me when I say that I do not like to be cold. Ever. Under any circumstances. With that said, I was surprised that I rarely felt chilly during this trip, and was hotter more often than not! Obviously there are times when Southern Utah can get quite crisp in winter, but as long as you're prepared with enough layers you warm up pretty easily while hiking. I liked visiting the area this time of year because:
There's less risk of sunburn, dehydration and heat exhaustion
You can always wear more layers, but you can't hike naked 😉
It's a fun winter escape without completely freezing your butt off
You don't have to worry about waking up at the crack of dawn for hikes to avoid the heat
Convinced? Cool. Let's Talk Logistics
How to Get to St. George
We flew into Las Vegas, which is the closest major airport, about two hours outside of St. George. There is a small airport in St. George, which has recently announced a brand new non-stop flight from Los Angeles, but your most affordable option coming from everywhere else is likely to fly into Vegas and then rent a car.
Note: When driving in from Vegas, make sure you're aware there is a time change as Utah is on Mountain Time.
Getting Around
You will need to use your rental car to get around the area as Zion (located in Springdale) is about one hour away from St. George. The good news is that there are several parks right in St. George, but the city is still pretty spread out so you'll definitely want to have a rental at your disposal.
The Best Things to Do in St. George, Utah
Zion National Park
Located in the town of Springdale, Zion National Park is absolutely stunning and is home to some pretty epic hikes – most famously The Narrows, which is a choose-your-own-adventure type 16 mile long hike done while wading through a river, and Angel's Landing which has been called by some, the "scariest" and "most dangerous" hike in America.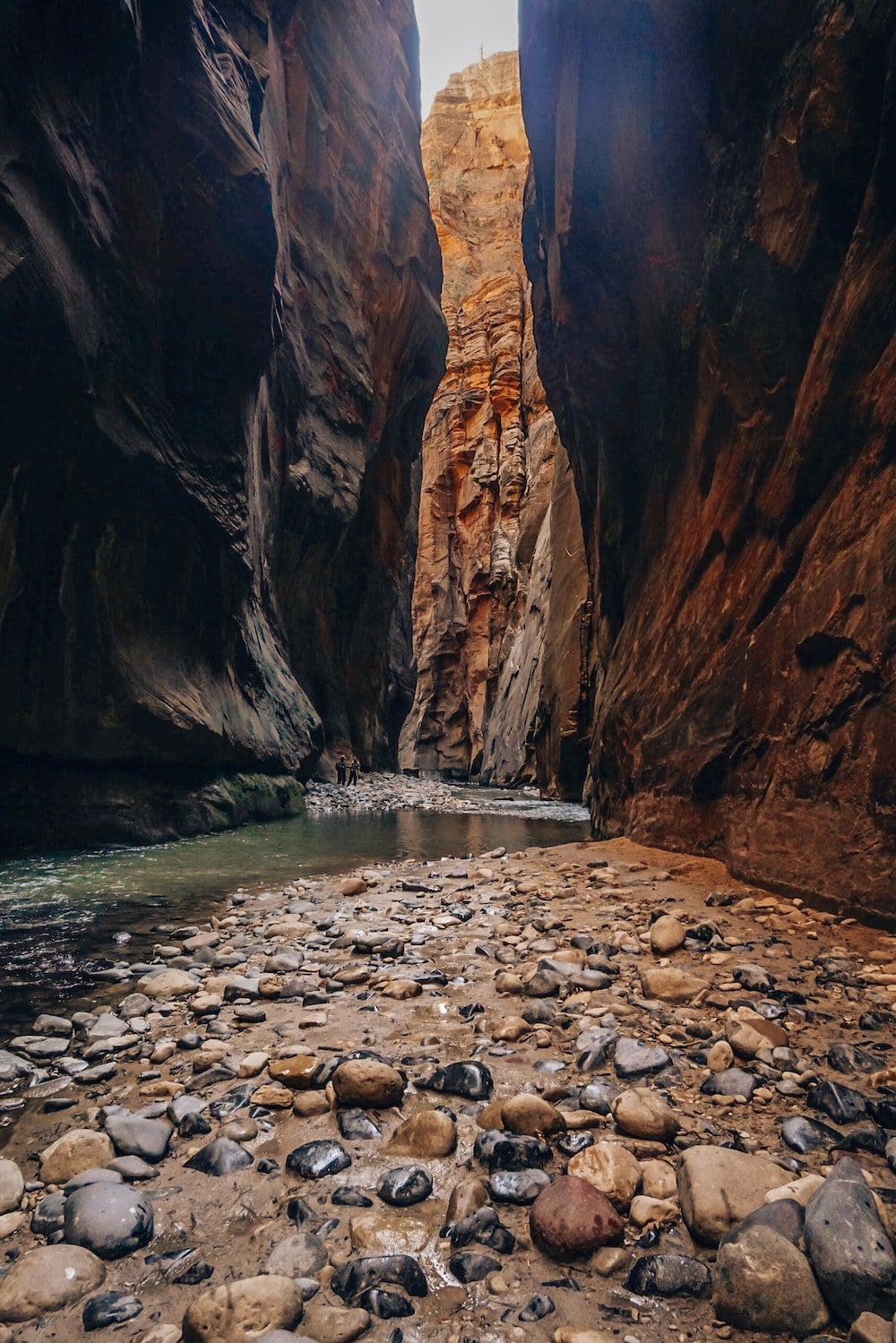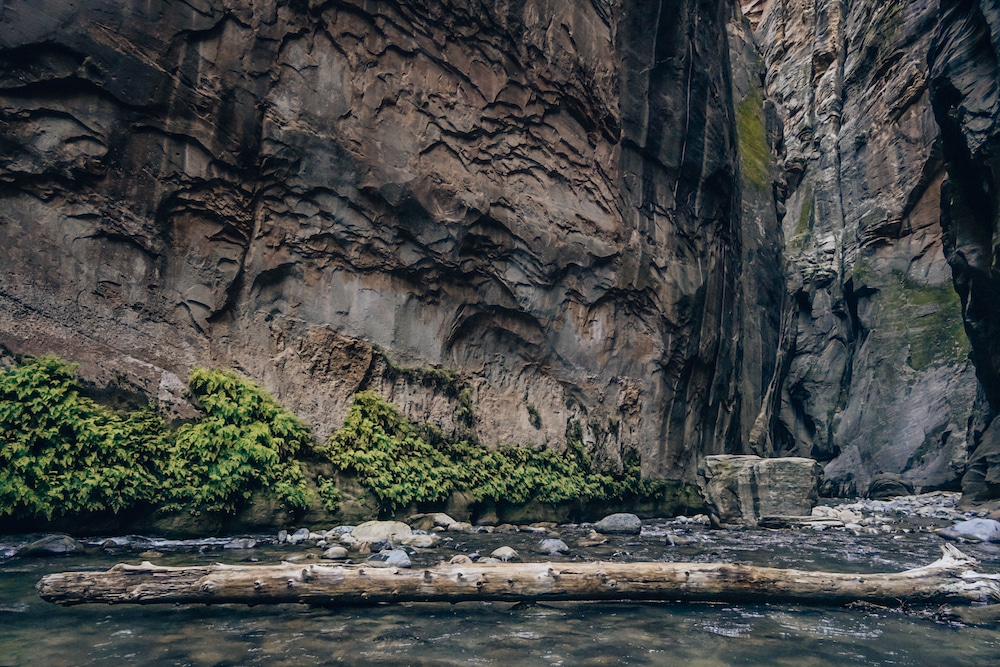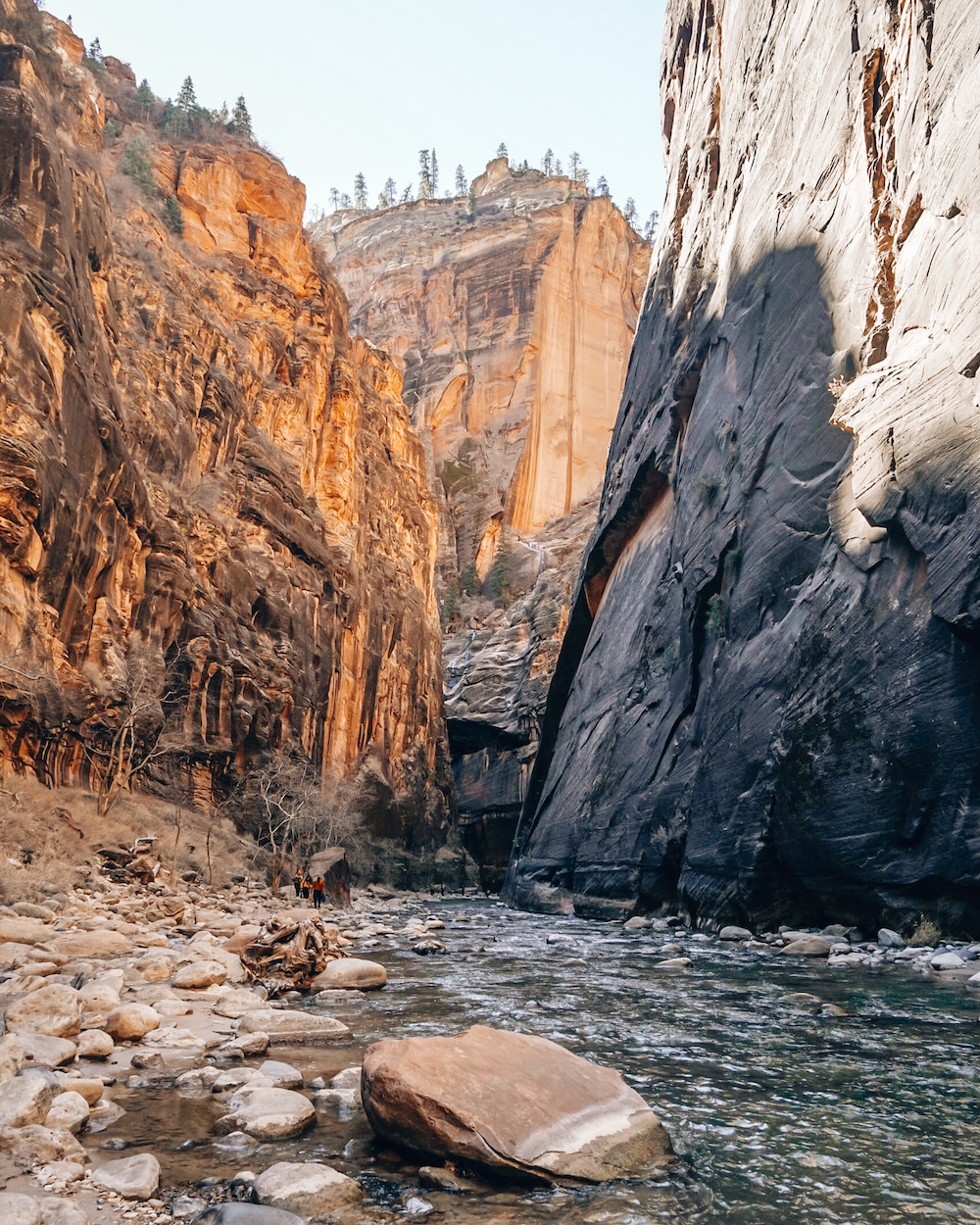 The Narrows
Did I scare you with that 16-miler mention? Don't worry, most people don't actually do the full 16 miles. It is quite common for most people to hike through the Virgin River for about 1.5 hours and then turn around, but if you want to see the most beautiful parts while still keeping the hike pretty casual, I recommend going 2.5 hours in and back.
To get to The Narrows, you'll have to take the free Zion Canyon Shuttle to the last stop (the Temple of Sinawava) and walk along a trail for a short distance before reaching the river entry point. From there, you can hike through the river for as long or as short as you'd like, and there are often sandy or rocky stretches along the way to give your legs a break from working against the water flow.
The temperatures in Zion December through February can get to as high as 50 degrees fahrenheit during the day and can drop down to the low 20s at night, so it's best to wear layers and use a rental gear company to get a dry suit and proper water shoes so that you stay dry and warm during your hike. And bring layers! Huge thanks to the Zion Adventure Company for hooking us up with gear — would highly recommend using them!
Beyond the necessities like a dry suit and water socks, they have tons of other equipment like dry bags for your camera, foot and hand warmers, extra fleece leggings, etc that are available for rent if you forget anything at home.
Here is everything I wore/brought with me during our hike along The Narrows:
Two pairs of normal yoga pants layered on top of one another
Sports bra
Tank top
Under Armour quick drying long sleeve shirt
Fleece zip up from LL. Bean
Dry suit layered on top of it all (provided by Zion Adventure Company)
Wetsuit bootie socks (provided by Zion Adventure Company)
Water shoes (provided by Zion Adventure Company)
Small REI day pack
Dry bag for my camera
Walking stick (provided by Zion Adventure Company)
Verdict: I was a little bit chilly at the beginning of the hike, but was either warm or perfectly comfortable for the rest of the five hours and stayed completely dry under the dry suit above my shins even though the water can be waist deep or more in some parts of The Narrows depending on that day's water level. Expect to still get your feet wet on this hike, but I have to admit — it was kind of refreshing!
What else do you need to know about hiking The Narrows in winter? 
As The Narrows is a hike through a river, there is a risk of flash flooding. This is rare during the winter, but if the Virgin River is flowing at over 150 Cubic Feet Per Second (CFS), then the park will close The Narrows for safety. As you can see from the chart below (thanks to Wildlandtrekking.com), winter is a pretty safe bet for hiking The Narrows as July – August is monsoon season and snowmelt during the spring can cause increased risk of flash flooding. However, do not do this hike if the weather report calls for rain.
If you decide to opt out of gear rental, it's smart to at least wear some type of protective shoes as the hike is done through water and over slippery boulders that can easily stub a toe or worse.
For weather and trail conditions, visit the official National Park Service website to plan out your stay.
Angel's Landing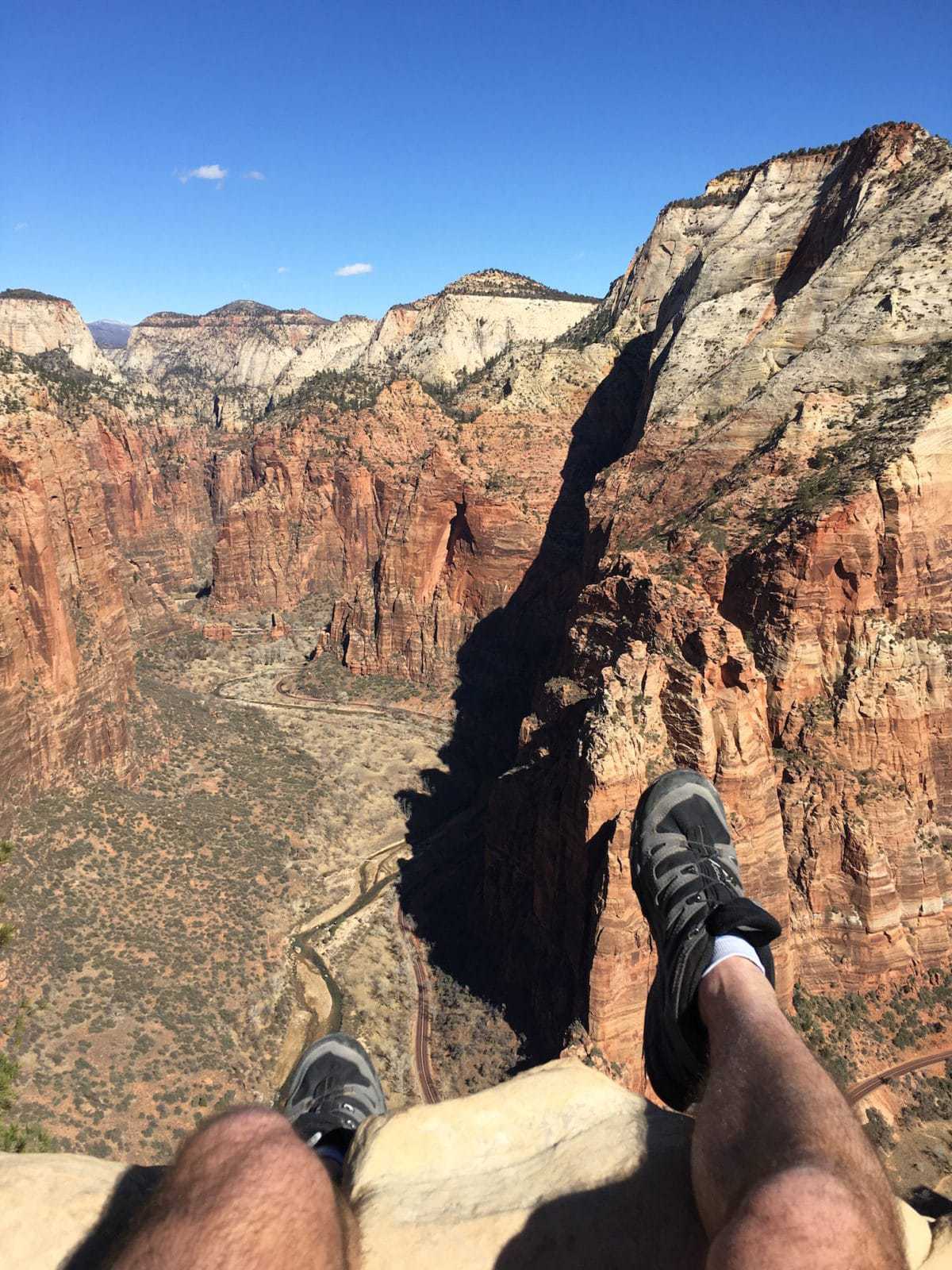 I opted out of this hike because I didn't have proper hiking shoes with me, but my friend Justin of Around the World with Justin who also attended #InstaMeetStGeorge did and was kind enough to provide me with this sweet shot.
If you're up for the challenge (both physically and mentally), then Angel's Landing can be an incredible hike, however it is often cited as one of the scariest hikes in America and people have died along the trail. For that reason, it's best to do the hike only if you feel comfortable and have proper footwear.
Angel's landing is about a 3-5 hour hike with a 1,488 foot elevation change and includes sections of intense switchbacks and steep drop-offs — we're talking 2-3 feet of trail with 1,000 + foot drop offs on either side.
Things to Note:
Check weather conditions before deciding to hike Angel's Landing as any icy conditions or thunderstorms should be strictly avoided
Carry any belongings in a backpack so that you're hands free and can utilize the chains to hold on during the steeper parts of the trail
Some of the trail only has room for one-way traffic, so to avoid the crowds, take the first shuttle of the day up to The Grotto to begin the hike.
In case you didn't get this from the rest of the description, this hike is not the best option for those with a fear of heights 😉
Drive through the park along Route 9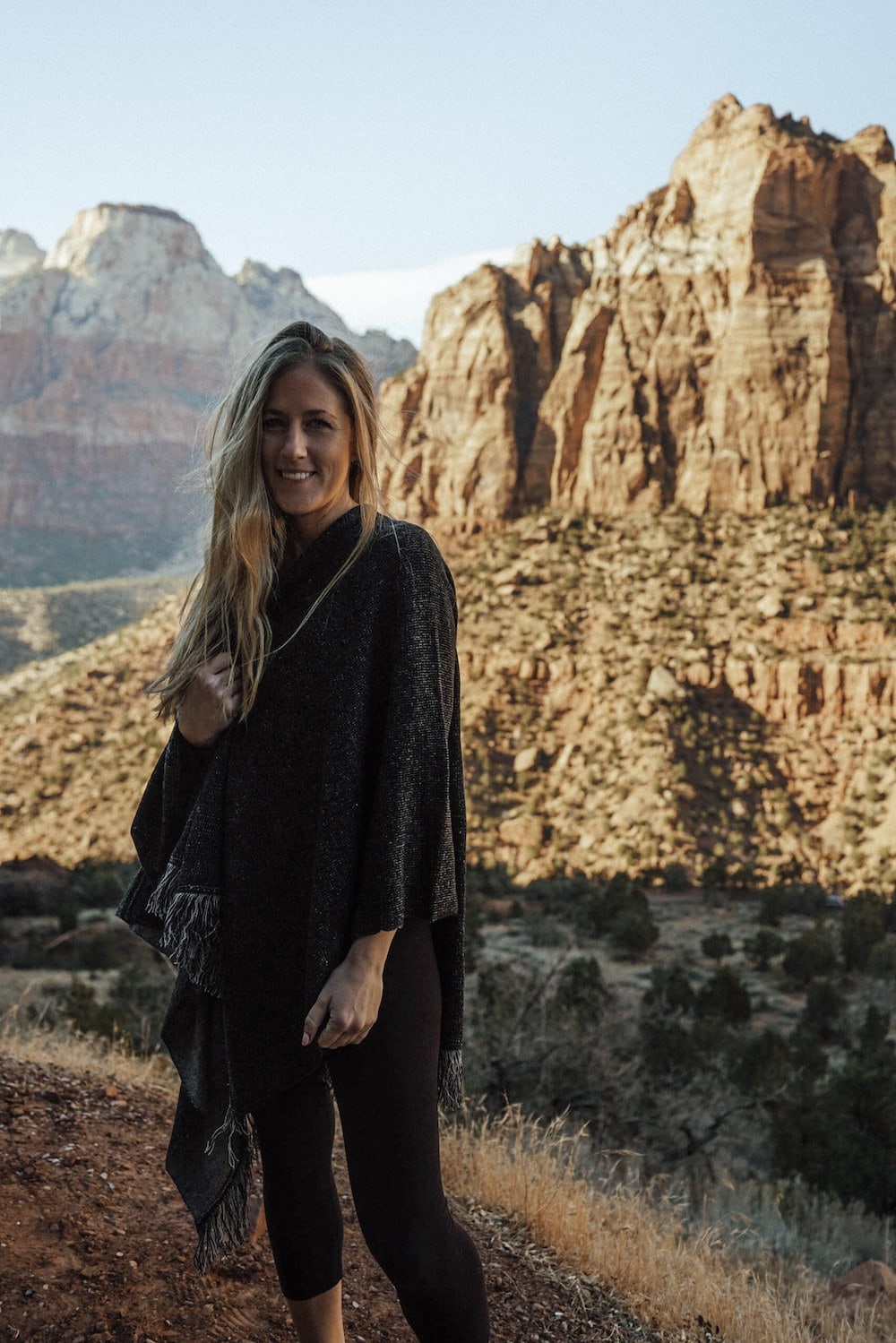 Once your legs can't hike any longer, make the drive along route 9 through the park that spits you out on Hwy 89 at the Mt Carmel Junction. This is one of the most beautiful drives I've ever done and there are plenty of pull-outs to stop along the way to explore or take photos.
If your trip to St. George is part of a longer road trip, you can also use this route as a shortcut to cut through to Hwy 89 which leads to Bryce Canyon National Park in one direction and Kanab in the other (where the famous Wave lottery takes place).
Note: There is a $30 fee per vehicle for entrance into the park.

VISIT ONE OF THE AREA'S FOUR STATE PARKS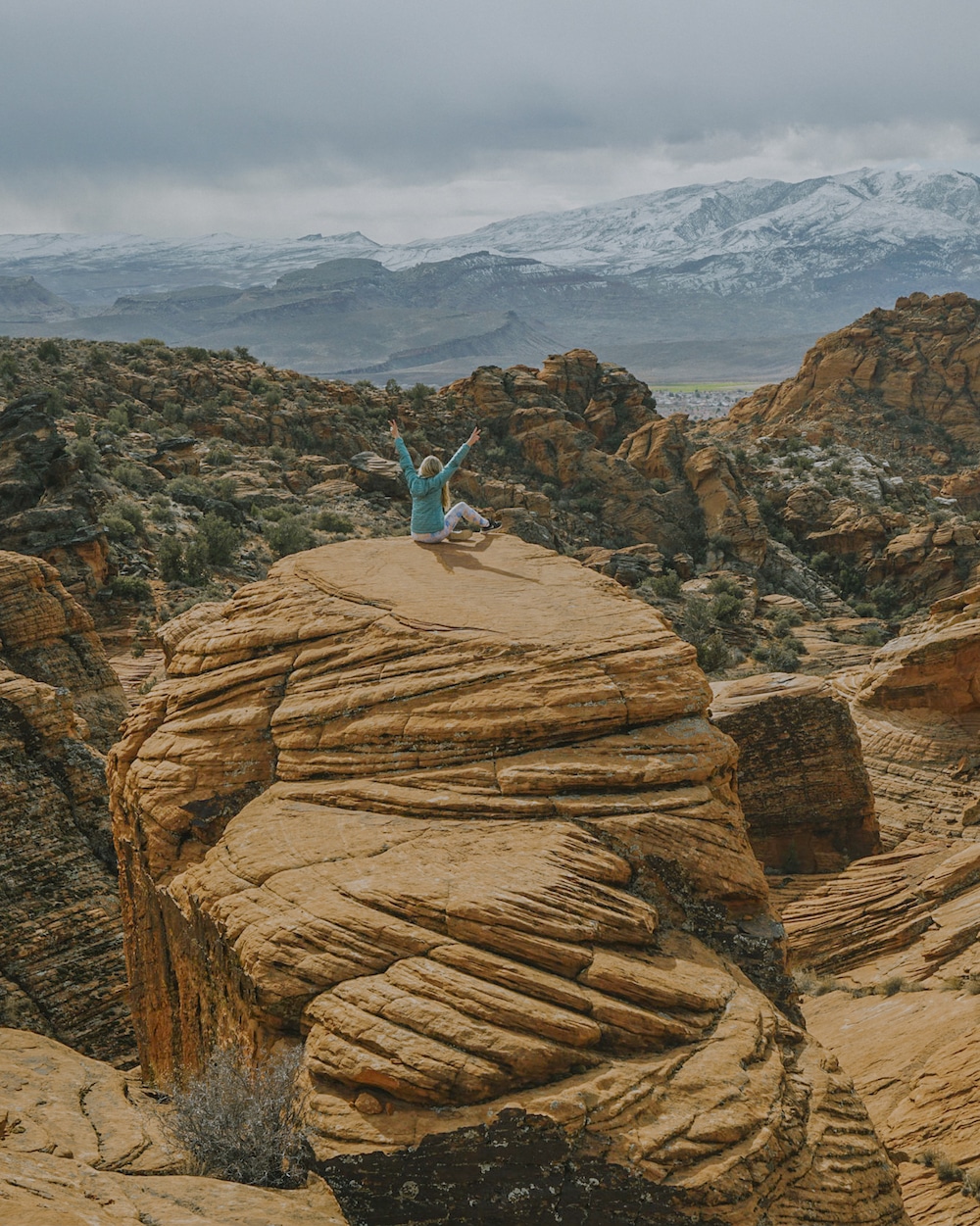 Zion may draw the main crowds to the area, but not many people realize that there are four state parks located around St. George that offer alternate ways to get outside and take in the views. The four parks are Gunlock State Park, Quail Creek State Park, Sand Hollow State Park and Snow Canyon State Park.
SNOW CANYON STATE PARK
On our last day in St. George we decided to check out Snow Canyon State Park, which is located in Ivins, Utah just a 20 minutes drive from the city. Our initial draw was that we had heard that there were several trails that lead to ancient petroglyphs, but upon arrival we were blown away by the epic vistas and geologic features; the park is mostly comprised of sandstone that originated millions of years ago as windblown grains of sand that were cemented over time. You might recognize some of the landscapes from the famous Robert Redford and Paul Newman film, Butch Cassidy and the Sundance Kid.
We never did find the petroglyphs (you can easily pass them over if you're not looking in the right place), but what we did find was just as beautiful. If you have 2-3 hours to kill (we were a little rushed), you can attempt to find the petroglyphs yourself and probably the best directions I found were via Tim of Hikestgeorge.com — this awesome post even includes coordinates to the actual petroglyphs.
RED CLIFFS DESERT RESERVE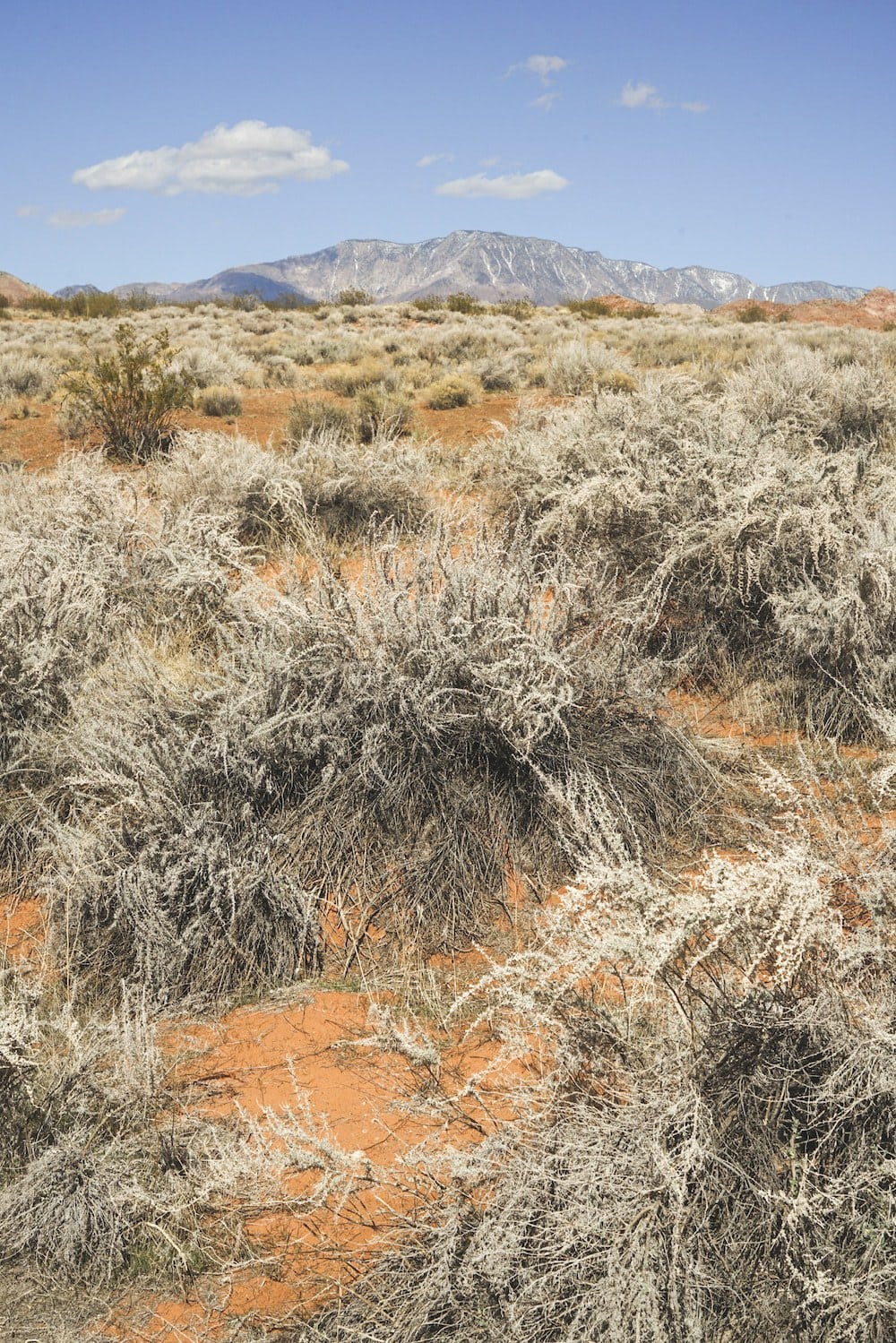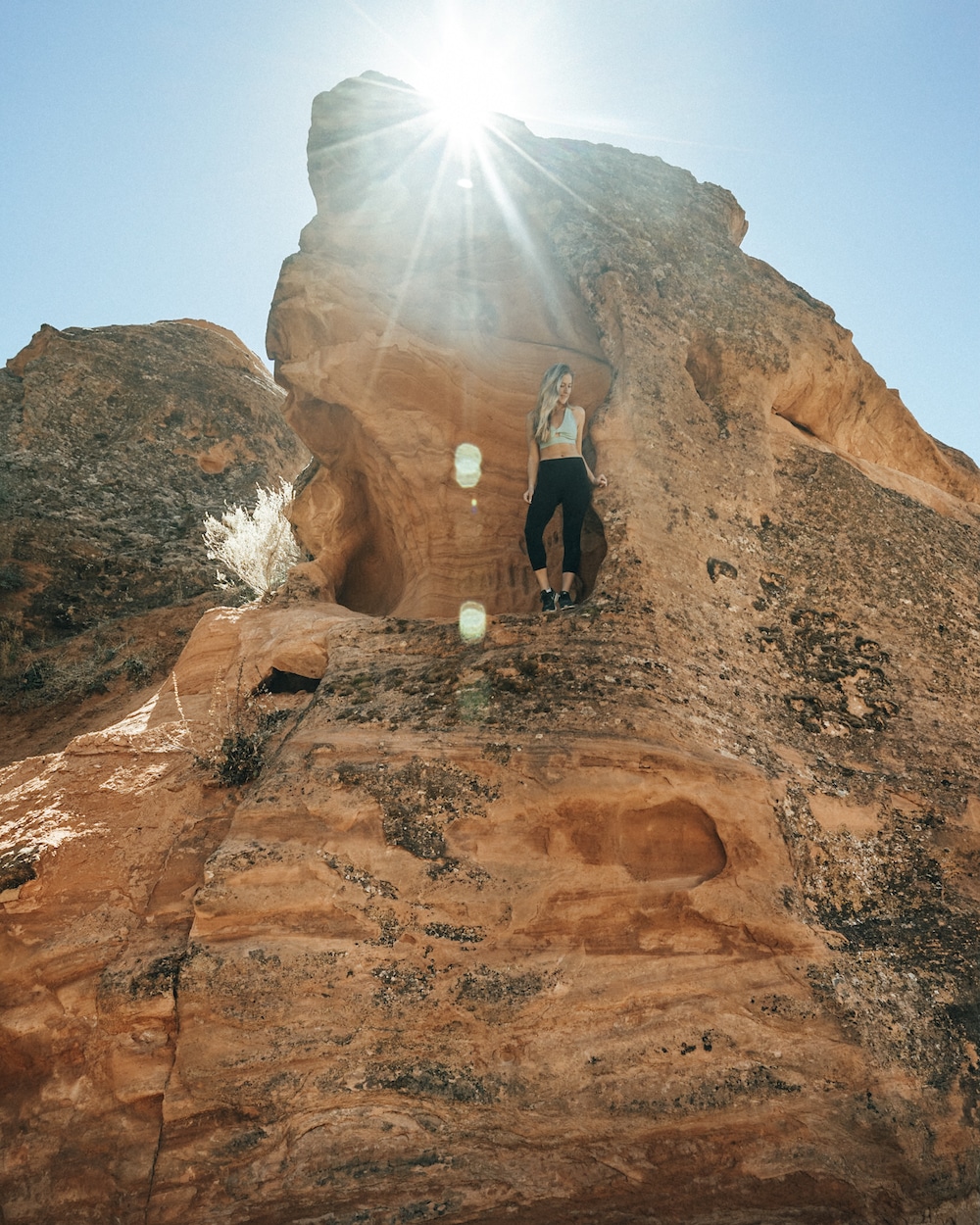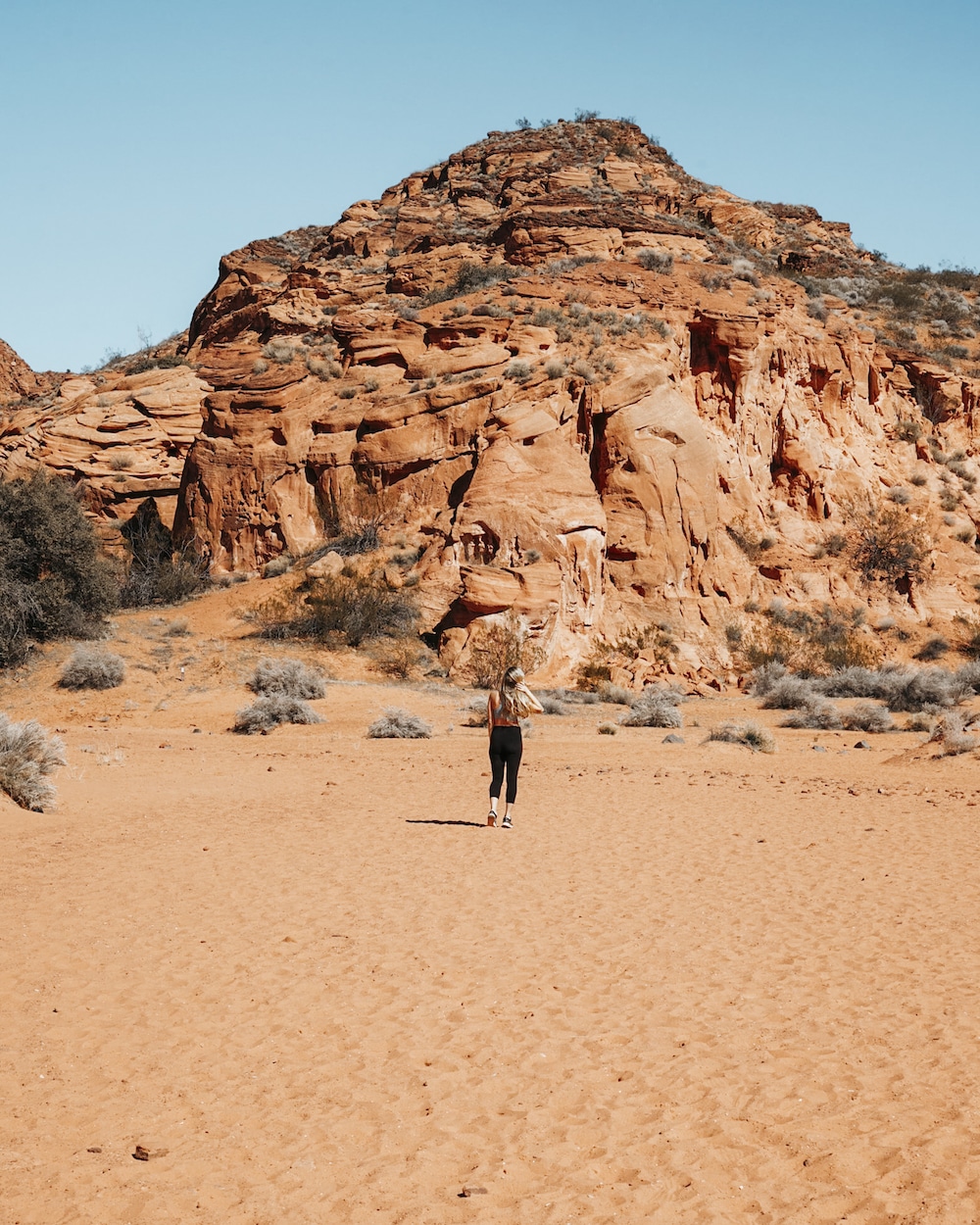 For more hiking in close proximity to St. George, the Red Cliffs Deserve Reserve is a great option. The Reserve was established in 1996 to protect the threatened habitat in the area, including the most northern population of the desert tortoise. While we didn't spot any tortoise during our hike we did get views of some gorgeous sage bushes and snowy mountain peaks in the distance.
We did the Elephant Arch trail which is a very moderate hike in difficulty with beautiful views for miles that lead you to a wall of red rock formations that are shaped like an elephant. Make sure to wear sunscreen for this one as much of the hike is in direct sunlight.
WHERE TO STAY
The Amira Resort & Spa is the only 4 diamond resort property in Southern Utah. Make sure to check out their unique spa offerings during your stay including gem therapy and card readings.
WHERE TO EAT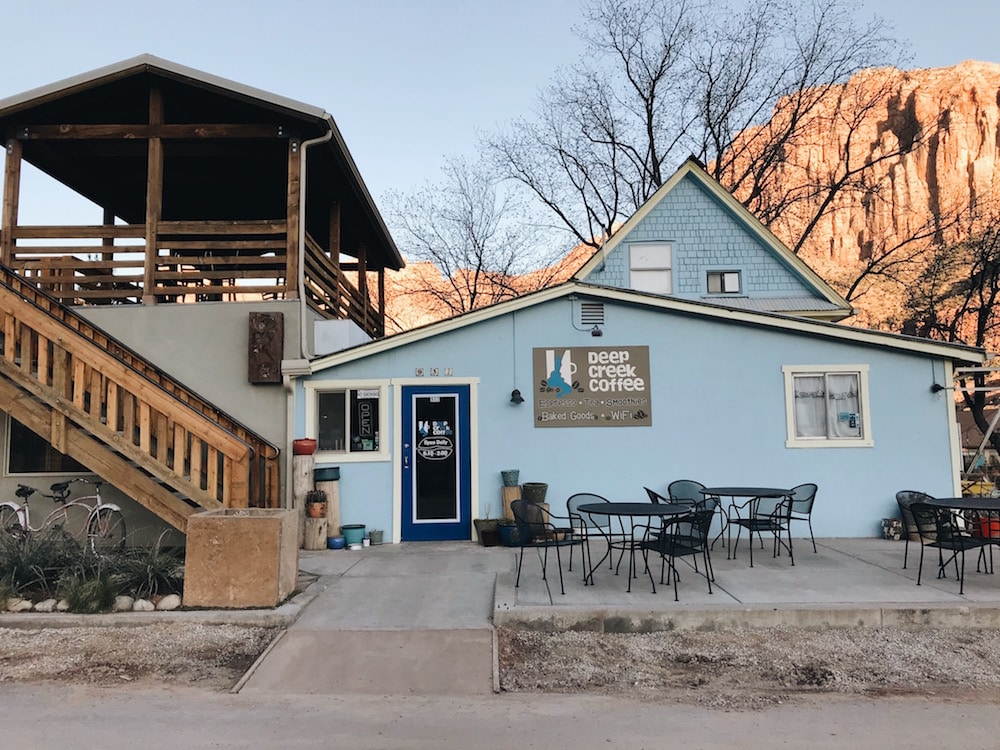 St. George may not be known as a huge foodie town, but there are hidden gems if you know where to look. Here's what I enjoyed during my stay.
Papa Gus – This local spot is a little off the beaten path but worth it for a mix of delicious barbecue meets Mexican — plus, it's likely Gus himself will be serving up the ribs and carne asada to your table.
Oscar's – In the winter off season, many of Zion's restaurants can be closed, but Oscar's stays open and is the happening spot to be for dinner and drinks after you've gotten your fill of adventures in the park. Don't miss their guacamole which with my Los Angeles-based Mexican tastes still ranked high on the list.
Deep Creek Coffee Company – Just a minute or so from the entrance to Zion National Park, Deep Creek is the perfect place to fuel your morning before heading in for a day of hiking. They serve coffee (with non dairy options) and delicious organic food like quinoa bowls, avocado toast and breakfast burritos.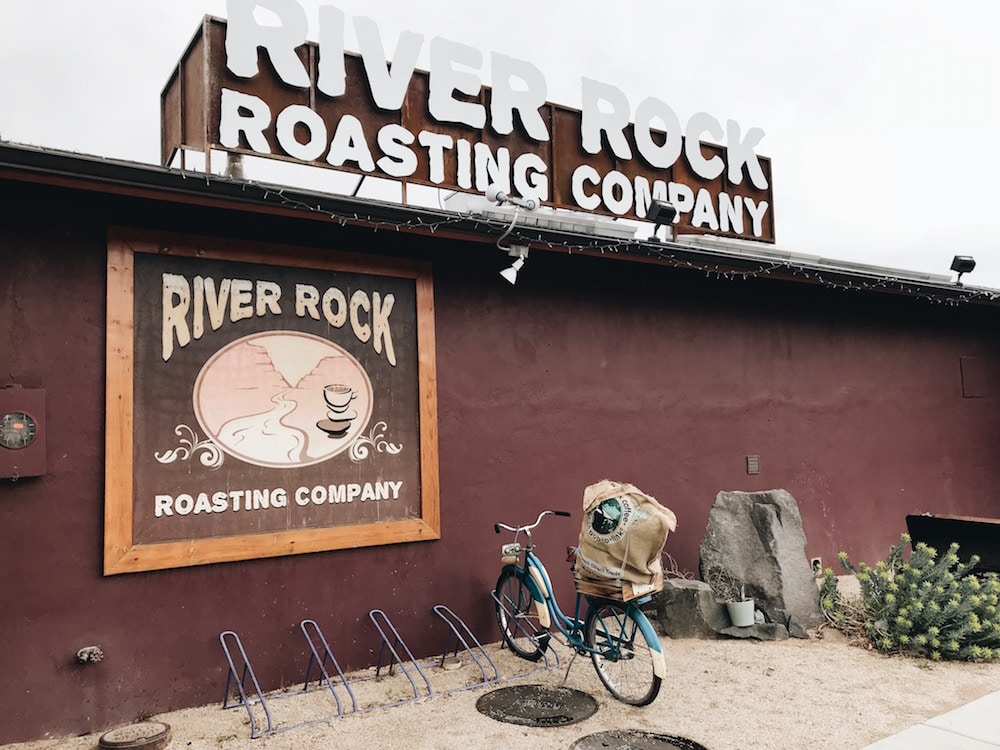 River Rock Roasting Co – Located in Hurricane, this is a great pit stop to make during your drive from St. George to Zion. Clock in a few work hours at your laptop or grab a quick bite for lunch, then wash it back with a handcrafted ale from Zion Brewery.
Zion Brewery — Southern Utah's first microbrewery, Zion Brewery sits at the base of the park in Springdale and is ideal for treating yourself to a cold one after conquering the trails of Zion.
Bear Paw Café – As far as classic local diners go, this is the happening local spot for weekend brunch, but expect to completely blow your diet here. The extensive menu is classic American breakfast at its finest – bacon, eggs, sausage (you get the drill), with creme stuffed french toast being the most popular pick on the menu. They turn tables fast, but expect a wait on a Sunday brunch.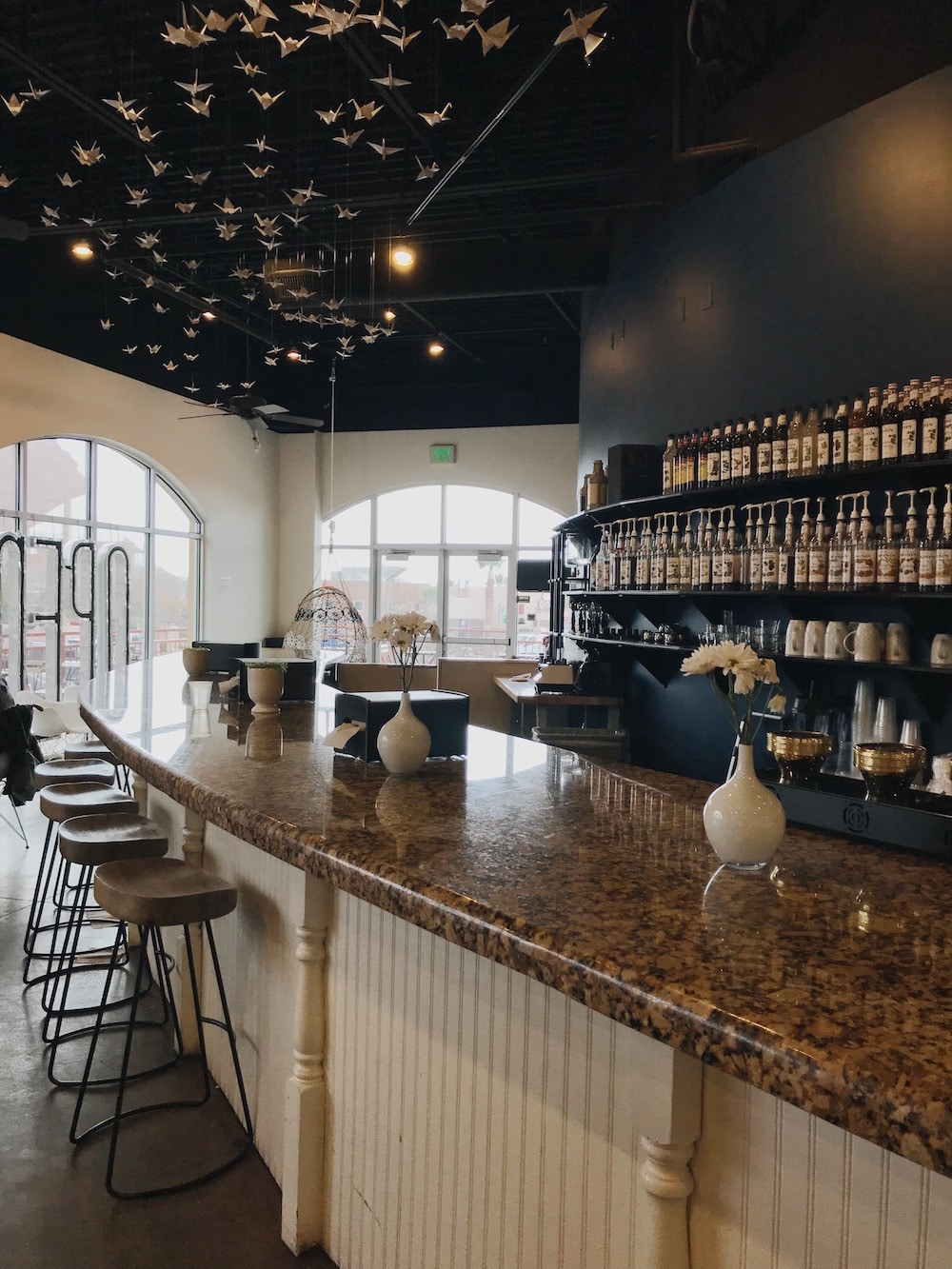 The Crepery – This stylish café is surprisingly located in a strip mall, but don't be fooled by the exterior. The minimal white interior is accented by unique artwork and the coffee is made with scientific flair. Make this a pit stop after a hike through Snow Canyon State Park which is right around the corner. I ordered up the nutella hot chocolate and will definitely be going back for round two next time I find myself in St. George.
Final Word
Any time of year is incredible to visit St. George and its surrounding parks, but I'd highly recommend considering visiting during winter when you can stress less about the crowds and focus on taking in the beauty around you.
So tell me, would you consider visiting this part of Southern Utah in winter?
Like this post? Pin it for Later