Let me start this post off by saying that if you're not exactly the tour going type — I get it. I'm not exactly the tour-going type either. But stick with me, because I am newly converted and I think you just might be too. If you're headed to Italy and want to discover the best tours in Rome, or are headed to any major European city for that matter, this post applies to you — so read on, sistah!
Why I Used to Hate Tours
Sure, I love to learn about a place that I'm visiting and feel that I'm truly understanding the history and stories behind each destination, but in the past I always found the large tour groups aggravating and would find my eyes glazing over at the overwhelm of information being delivered — especially if the guide was a total snoozefest. In addition, being the photo nerd that I am, I always hated holding up a tour group when I'd inevitably be the one lagging behind snapping a million pics.
Why I Decided to Go to Italy with City Wonders
If you've been following along on my Instagram, then you know I recently returned from a trip to Rome where I was invited to explore the top sites of the city with established tour company City Wonders.
To be honest, I didn't know much about City Wonders before their invite landed in my inbox. But when I read the itinerary that the company sent over including first access into the Vatican before the crowds arrive as well as a day trip to the Amalfi coast, my curiosity was officially piqued. And it didn't take more than a quick Google search to learn that they are one of the highest rated tour companies in the biz.
How City Wonders is Different Than Other Tour Companies
City Wonders specializes in trips to Europe in major tourist cities like Rome, London, Paris and Barcelona. Through my research, I knew that their ratings were top-notch, but what I didn't realize is that they have special relationships with places like the Vatican and other major landmarks around Europe where they get early access that is only reserved for a lucky (and well-connected) few.
This means that instead of waiting in lines to get into a site (yes, even the "skip the line" tickets still have lines), you walk right on in with your City Wonders guide and feel like a true VIP. They also hire all of their guides based on guest feedback and reviews, ensuring the highest quality across the board. All City Wonders guides are also required to speak fluent English.
One of my favorite aspects about the company though, is that they focus on quality over quantity, meaning they won't overpack a group just to make an extra dime. It's important for them to keep sizes manageable and intimate for the best experience for their guests. Can I get an amen?
Why You Need to Book a Tour in Rome
Rome is a city that I hadn't visited in over 20 years since I went on a family trip as a kid. What I rediscovered on this trip is that exploring Rome is like stepping inside one giant city-sized museum. Everywhere you look there are historical sites to marvel at and the truth is that only a small percentage of the ancient Roman city has been excavated. There is so much left to be discovered.
Without taking the time to truly learn about the history of this city, I believe you miss out on so much of the wonder that Rome has to offer. If you're considering City Wonders as your operator of choice for your trip, I'm giving you the full scoop below on our full itinerary and details on each of the four tours we did throughout our time in the Eternal City — you could totally replicate this entire trip if you wanted to!
OUR QUICK ITINERARY 
Day 1: Exploring the Colosseum and Rooftop Views 
We arrived early morning on a Tuesday and checked into our hotel Palazzo Montemartini Rome, a Radisson Collection hotel, which is just directly across the street from the train station
Took an extensive Colosseum Tour with our guide Michaela, who led us through first the Colosseum and then the adjacent Roman Forum and Palatine Hill
Finished up the night with rooftop drinks and dinner at Terrazza Boromini with views overlooking the Piazza Navona.
Day 2: Early access into the Vatican 
Early morning wake up for our Vatican tour, starting at 7 AM
VIP breakfast in the Vatican courtyard before beginning our tour through the museums and the Sistine Chapel
Explored the Trastevere neighborhood on our own
Joined up with City Wonders for a private Best of Rome Walking Tour, featuring Instagram highlights around the city, beginning with the Spanish Steps
Dinner at Felice a Testaccio
Day 3: Day tour to the Amalfi Coast 
Meet at the train station at our City Wonders meeting point
7:30 AM high speed train to Naples
Arrived in Naples where we met our tour guide, Fabian, who led us along with the driver all down the Amalfi Coast from Sorrento to Amalfi
Arrived back to Rome by 8:30 PM
Day 4: Depart!
THE TOURS
Colosseum Tour with City Wonders
The Colosseum tour was a great way to kick off our trip with City Wonders in Rome as not only do you get to explore the ancient Colosseum, but the tour also takes you through the Palatine Hill and Roman Forum. As you can see from the photo above, it's basically like walking around a massive archaeological site, with different structures and viewpoints dotting the area at every turn.
I particularly loved this tour for photography purposes because there was so much variation throughout the afternoon. Our local Italian guide, Michaela, was also super knowledgable and easy to understand. You can tell she was extremely passionate about ancient Roman history and sharing it with us.
Tips for the Tour:
Bring good walking shoes as there are many steps and cobblestone paths you'll be walking on
Cameras and water are fine to bring into the Colosseum, but you will go through a security check
If you want cool photos of the front of the Colosseum, the best shots can be taken from outside the front entrance. You have to walk up the street a bit to get some height if you want a better perspective on the front of the structure.
The wisteria is in full bloom in April and makes for stunning photos!
You can book the Colosseum tour with City Wonders here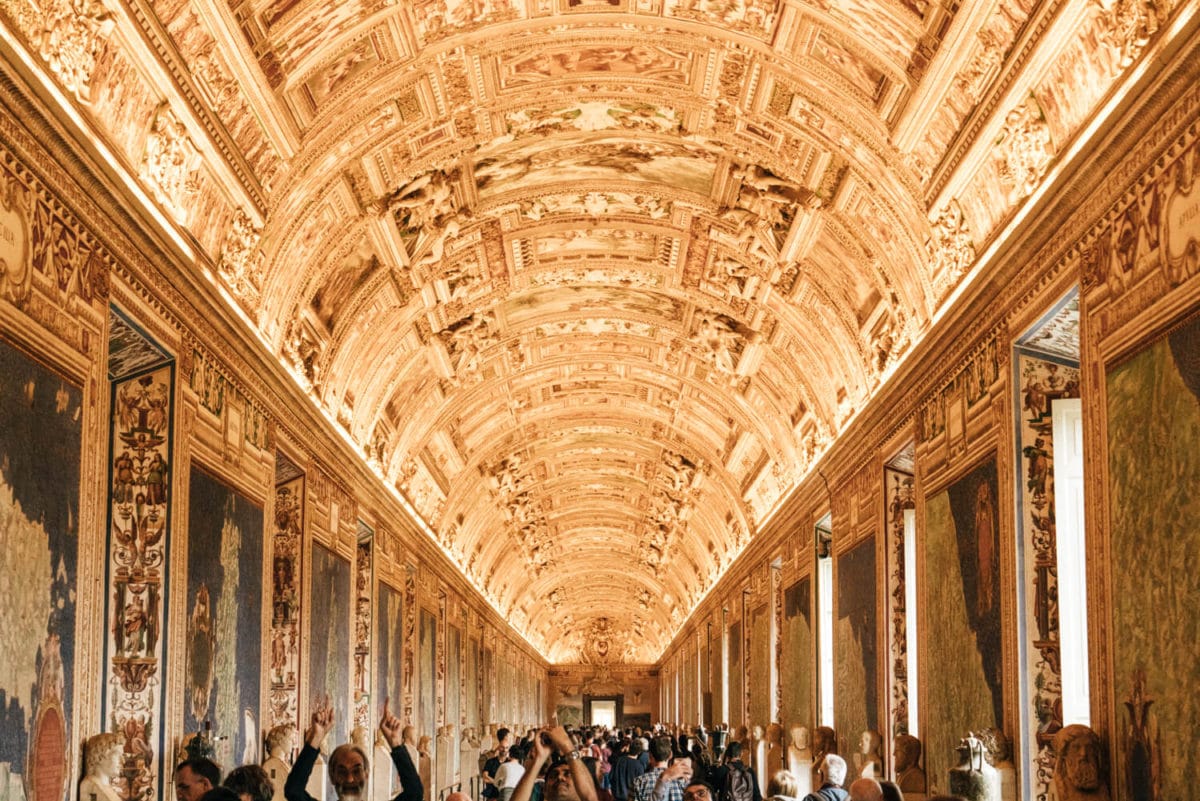 Vatican Tour with City Wonders
This tour was without a doubt my favorite tour of the trip, despite the fact that we did not get to see St. Peter's Basilica as we visited on a Wednesday and it is closed on Wednesday mornings. The Vatican is insanely impressive and filled with the most jaw-dropping artifacts and artwork that are honestly beyond comprehension.
With City Wonders, who have a unique partnership with the Vatican, we were able to be 1 of 3 tour companies let into Vatican City an hour before anything was open to the public. We were literally first in the door, walking right in with our tour guide without waiting in a single line.
We entered into the grounds well before the crowds started to arrive (it opens to the public around 8 AM and we were inside by 7 AM). This is key if you want to have the best possible experience and be efficient with your time as all of the other tours/tickets that have "skip the line" access still have a line for the "skip the line" groups. With City Wonders you go straight in without ever waiting.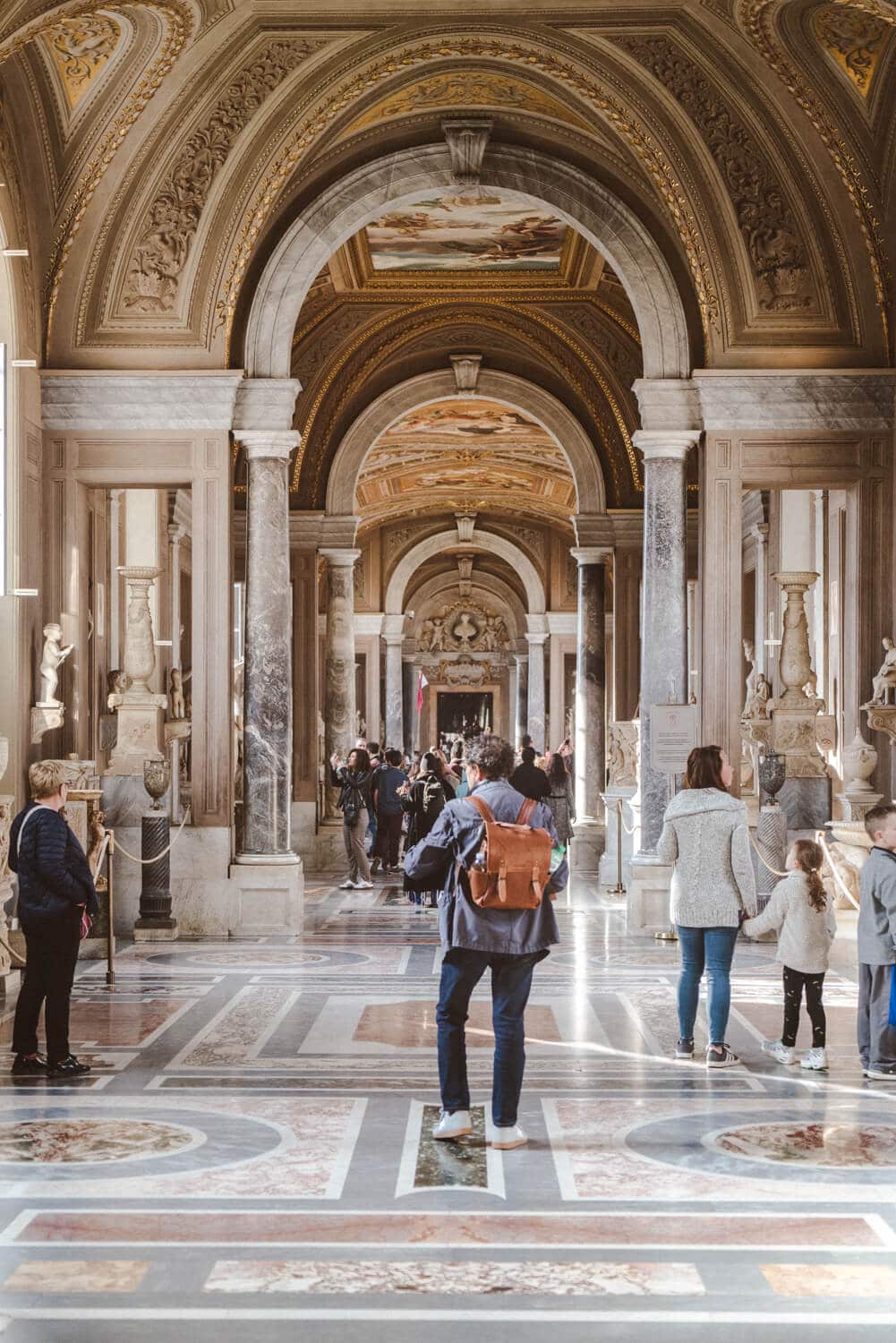 We ate breakfast in the courtyard along with a few other tour groups before starting our tour with our guide Sev. No joke — Sev was without a doubt the best tour guide I've ever had anywhere. A former Airforce pilot turned professor of forensic archaeology teaching in Rome, Sev is truly an encyclopedia of knowledge and shared stories with us throughout the four hour tour that were not only fascinating but also oftentimes poetic and philosophical. This guy is a gem.
He did an incredible job of sharing stories about the history of the Vatican and Rome that connected us back to present day and really made us think about how this ancient culture has affected the trajectory of our world. I was completely captivated the entire time and so thankful that we got to go deeper into the history of the Vatican rather than just peruse the halls without the background knowledge. Doing the City Wonders tour honestly made all the difference and I would highly advise against going without booking this tour!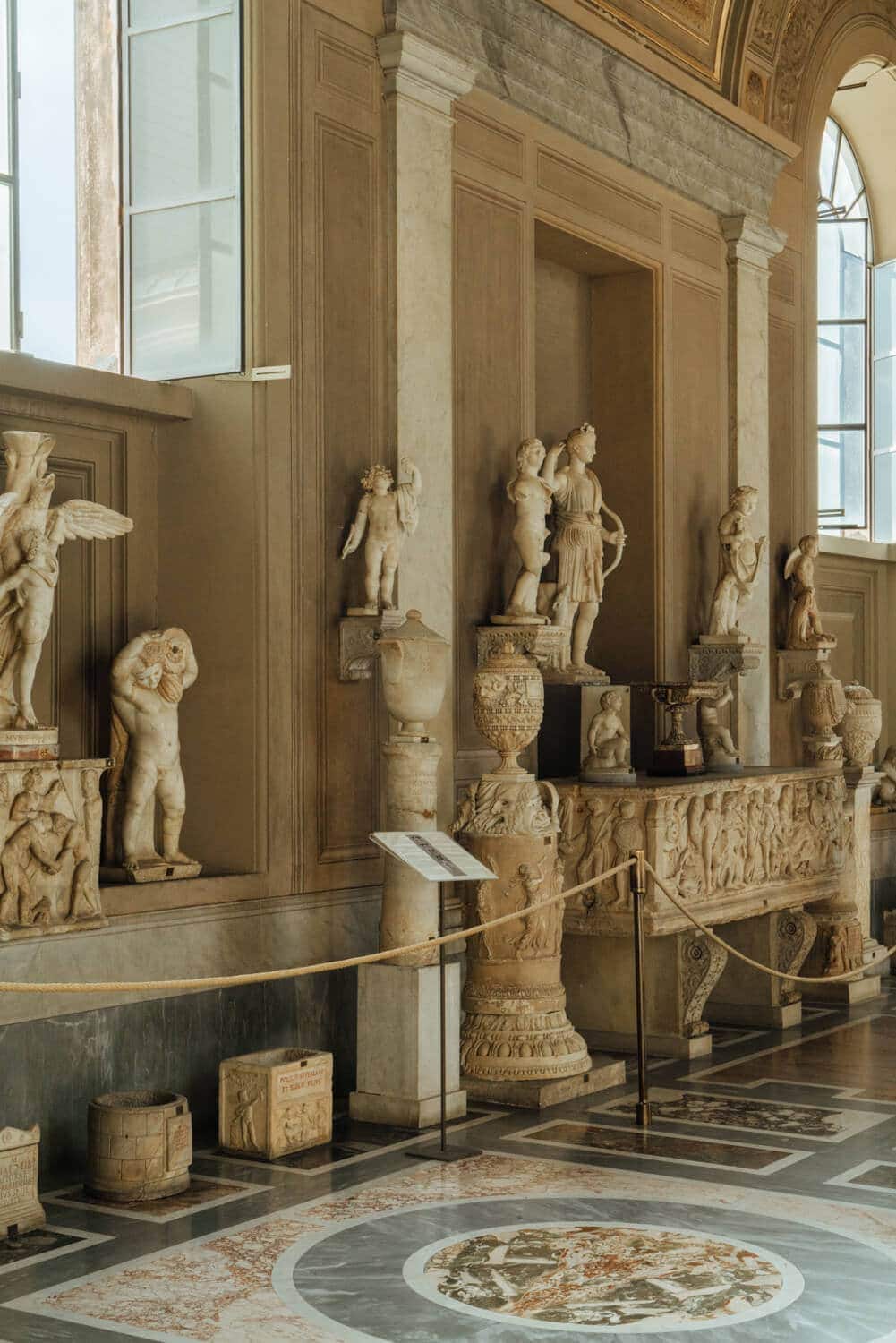 Tips for the Tour: 
Don't book your tour on a Wednesday morning as St. Peter's Basilica is closed
City Wonders does plenty of Vatican tours throughout the day, but I would recommend waking up early for the first entry Vatican tour so you can avoid the crowds (you need to book your spot ASAP as these tours book up fast)
PS – Did you know that Vatican City is its own country? Tick another country off your list!
You can book our exact Vatican tour with City Wonders here 
Best of Rome Walking Tour with City Wonders
The Best of Rome walking tour is a City Wonders tour that takes guests around Rome to some of the top sites. Highlights include the Spanish Steps, the Pantheon, and the Trevi Fountain.
Our guide Salvador was fabulous and led us around the city, sharing bits of information that would have taken me days to discover with my own research. The Pantheon is especially impressive and an absolute must while in Rome! This tour is fun and fast paced, so you won't get a super deep dive into each location, but you learn enough to appreciate the history and meaning behind each site. This is great for visitors who want to see a lot in a short period of time and still learn along the way.
Tips for the tour:
This tour is mostly outside, so check the weather first and pack a raincoat/umbrella if things start to look iffy
If you have time after your visit to the Pantheon, navigate a few blocks to the Gelateria Della Palma where you can choose from 150 flavors of gelato — they even have a beer flavor!
Wear comfortable walking shoes
You can book our exact Rome walking tour with City Wonders here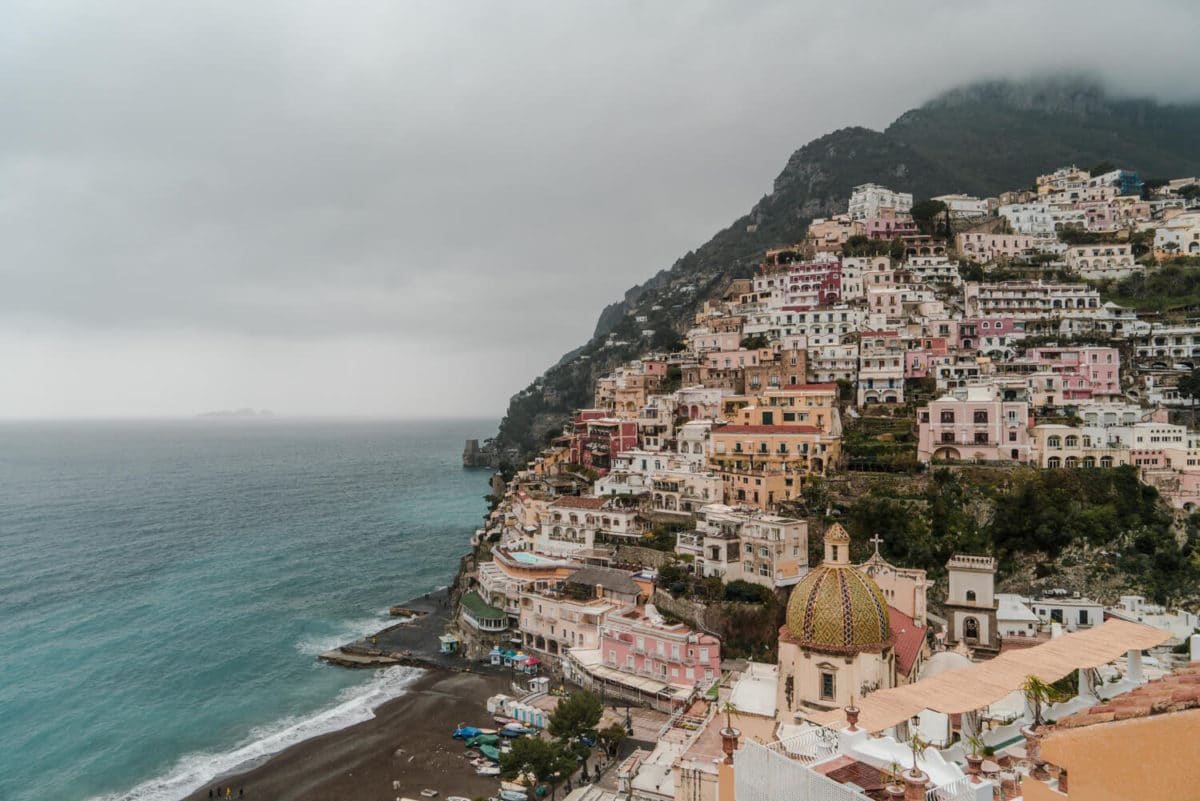 Amalfi Coast Tour
Our Amalfi Coast tour was a full day tour that began at the Rome train station where City Wonders staff meet all guests before departing on the high speed train to Naples. The train takes in total about one hour — I couldn't believe how fast it was. From Naples, your local City Wonders host and dedicated driver will guide your group down the stunning coastline from Sorrento to Amalfi, making key stops along the way.
Our tour guide Fabian was a local Italian from the island of Capri who had been to British boarding school and spoke perfect English. You could tell he had a long history with the area though and was extremely knowledgable about the Amalfi region. I loved his little anecdotes and stories about growing up in the area.
This had potential to be my favorite City Wonders tour but we happened to catch a really rainy day so unfortunately the weather was not in our favor. The coastline was still stunning though, and if you're looking to get out of Rome for a day and check Amalfi off your bucket list, this is a great way to see the highlights in a short amount of time.
Our first stop was in Sorrento which is known for its limoncello — a type of liquor made from lemons which grow plentifully in the area due to the conditions of the soil. We hit up the limoncello factory where we got a little taste test to kick off the tour.
From there, we drove along the coast stopping at some beautiful viewpoints, and then soon after arrived in Positano, which is probably the most stunning of all the Amalfi towns. We got free time to walk around, grab a bite, shop and explore the beach (which in my opinion has the best views of the cliff-side town, so don't miss this perspective).
After our time in Positano, we continued down the coast, stopping in the town of Amalfi, the namesake of the region where we had more free time to explore. Because it was still pouring rain, we popped into the legendary Andrea Pansa bakery, which has been serving guests for almost two centuries. We got to try their Cioccolata Calda, which is essentially melted dark chocolate and insanely good.
Our final stop was a bit inland as we headed back towards Naples to catch the train. Fabian brought us into a local cheese-maker which has won several awards in Italy for their mozzarella. We got to watch them make and cut the cheese by hand before taste testing some for ourselves.
All in all, even despite the rain I still loved getting a taste of the coastline and it just gave me more reason to want to go back. With City Wonders, it's super easy to do a day trip there and they take all the pressure off the planning, which is so helpful.
Tips for the tour:
It's safe to leave your bags on the bus during each stop while you get out and explore, so don't feel like whatever you bring for the day is what you'll be carrying on your back
The streets in Positano are windy and uphill! Bring appropriate walking shoes
Pack a swimsuit if the weather applies for a quick dip in Positano
The best views of the Positano church are from Le Sirenuse but you need reservations to eat at the restaurant. Work with the City Wonders team to find out timing and book your lunch ahead if possible.
You can book our Amalfi Coast tour with City Wonders here 
FINAL VERDICT ON CITY WONDERS
After getting a deep dive of Rome with the help of City Wonders' tours, I honestly don't think I would travel to major cities in Europe again without them. I simply don't have the patience or desire to wait in crazy lines to visit all the top sites in Europe that everyone wants to see. Over-tourism as we all know is becoming a major issue all over the world, and City Wonders makes it as easy as possible to retain some sense of order and peace when you visit some of the most tourist-heavy spots in these cities.
As I mentioned at the beginning of this blog post, I'm not much of a tour fan in general, but if you're going to travel all the way to places like Paris, Rome and Barcelona that have so much history baked into their culture, I think it's important to educate yourself on what you're witnessing while there.
One of the reasons that I started this blog in the first place is because I believe that encouraging others to travel makes the world a better place for everyone because we are able to understand other cultures better and thus connect on a deeper level with more compassion. Understanding is the key word here, but if you visit a whole city and just see things without actually learning about the stories behind them, you really miss out on a big chunk of the understanding piece in my opinion.
At the end of the day, doing these tours made our trip so much more meaningful and I can't wait to explore another European city with the help of City Wonders.
Have you done a tour with City Wonders before? Would love to hear about your experience in the comments below!
LOVE THIS POST? PIN IT FOR LATER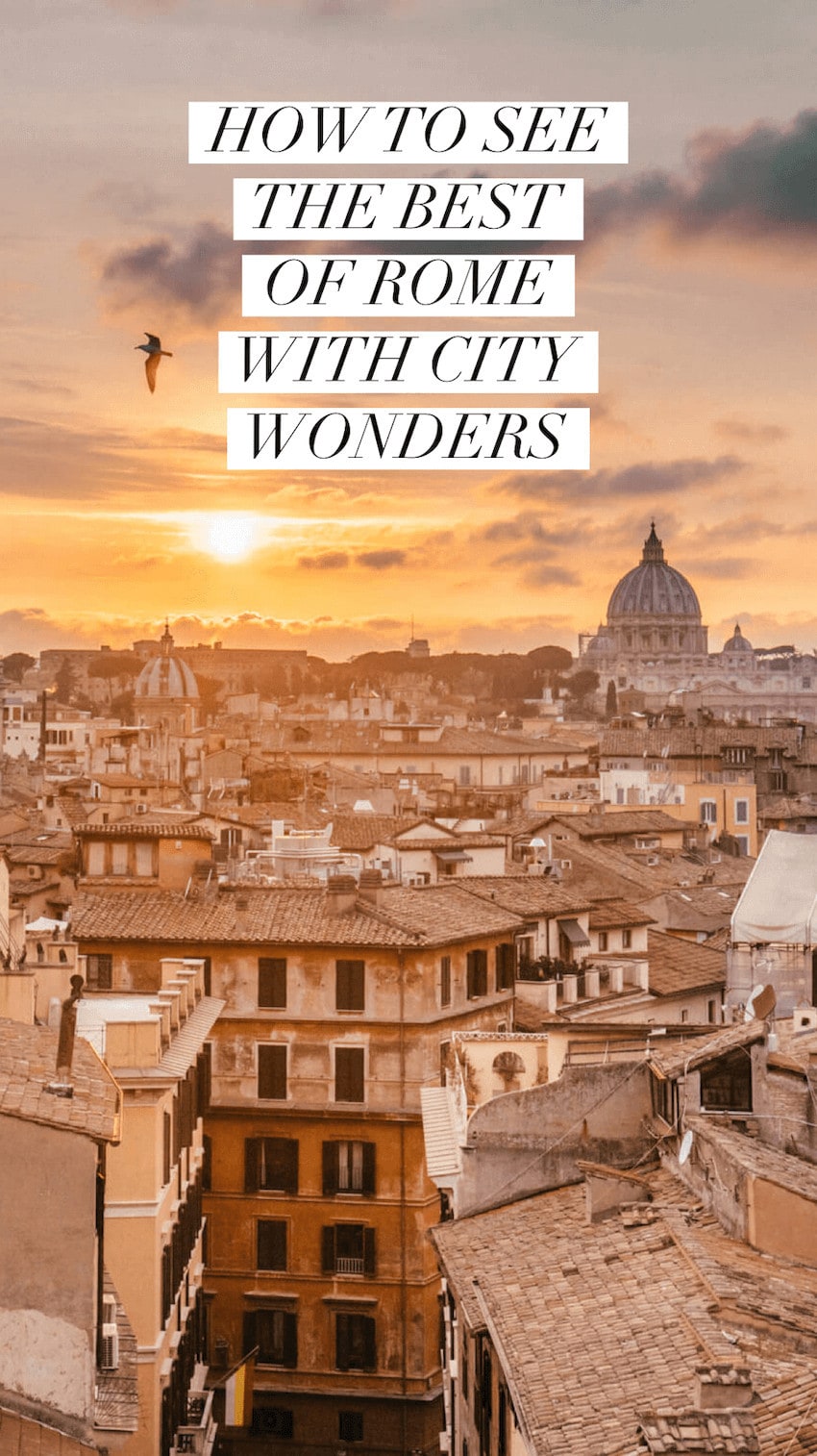 ***This post was created in partnership with City Wonders, but as always, all opinions are my own and I would never promote anything I don't freaking love.***