Since wrapping up a whirlwind road trip through 8 U.S. National Parks across the West this summer, there's not one that I would leave off my list were I to do it all over again. To put it simply, these are some of the best U.S. National Parks in the country, hands down.
There are 58 total National Parks within the U.S. — quite a lot to tick off within your lifetime. But after witnessing the beauty and unique features of these 8 parks below, I can say with certainty that you don't want to miss a single one.
From glacial lakes and shooting geysers to sandstone arches that look like they were plucked from Mars, these National Parks in the American West are unlike anything you'll experience elsewhere. It also happens to be the National Park Service's 101st birthday today (whoohoo!), so in celebration here are my picks that top the list!
Grand Teton National Park
Topping my list is Grand Teton National Park, which is completely underrated and unpopulated compared to many of the other parks below.
What I loved most about Grand Teton (besides how freaking gorgeous it was from every angle), is the fact that many of the incredible vistas are only reached by hike, so you have to work for the views!
This not only gives you a bigger sense of accomplishment but also weeds out many of the crowds by default.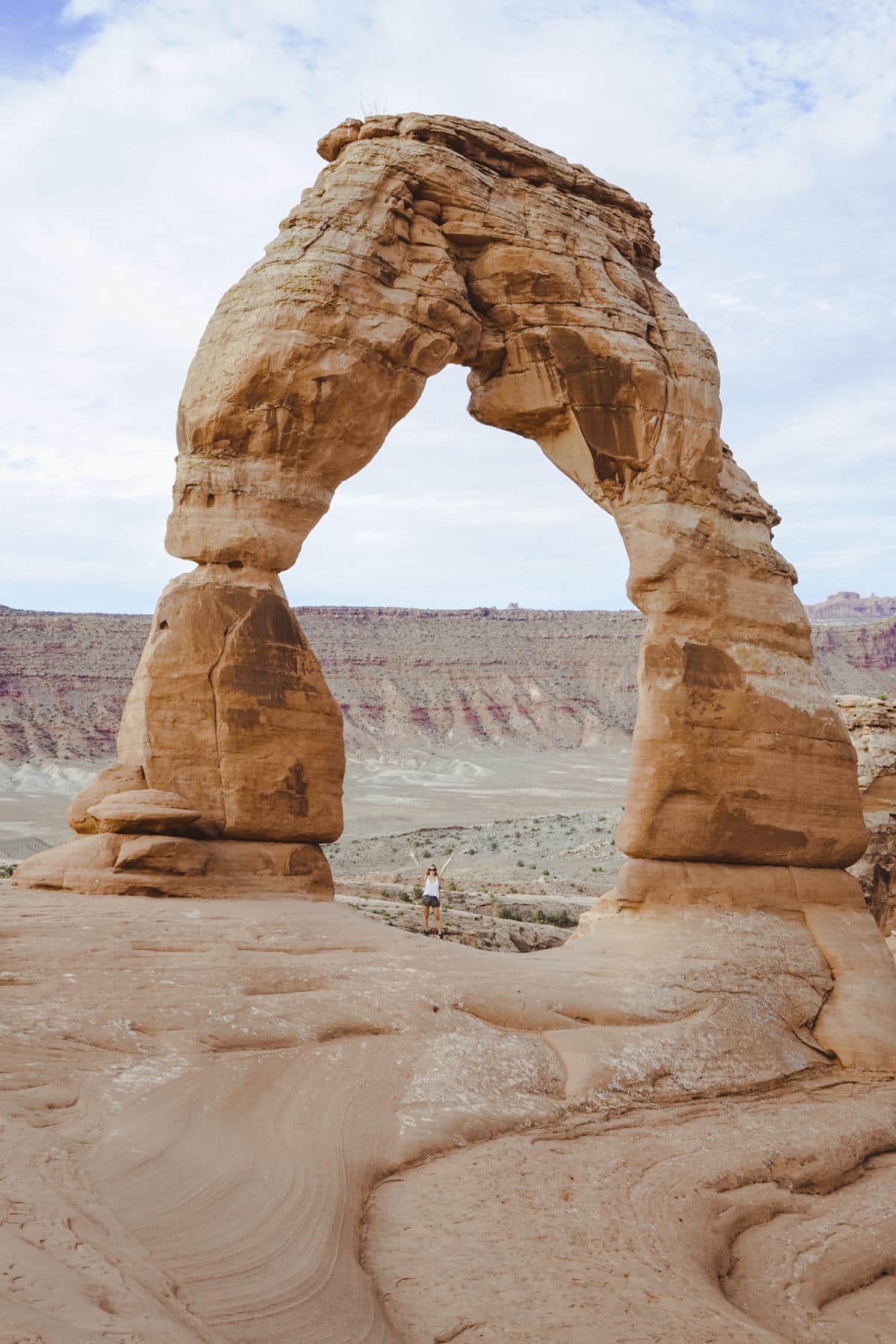 Arches National Park
Arches National Park is one of those places that blows your mind simply because some of the structures are so wacky that it's difficult to comprehend how they possibly could have formed this way.
My inner thought process the whole time at Arches: So, somehow over millions of years of erosion the Earth carved out a perfect arch that magically holds up its own weight without crumbling? Must be the aliens. 
Turns out it wasn't the aliens. This place is for real, and boy is it magical.
The park is home to over 2,000 natural sandstone arches and is the perfect destination for geology nerds or anyone with curiosity about the evolution of our natural planet.
Make sure to hire a guide (we loved Moab in a Day) or read up on the geologic formations before you go, as I found that having the knowledge and background of these sandstone structures makes seeing them in person all the more awe-inducing.
Badlands National Park
Badlands is the ideal park for those that just want to relax and take in the views with minimal effort.
There are a few hikes and trails around this park, but the majority of Badlands can be viewed by driving the SD-240, also known as the Badlands Loop State Scenic Byway, a 39-mile drive featuring 16 scenic viewpoints along the way.
If you choose this path you'll want to get out and stop for pictures, so allocate at least two hours if you just plan on driving through without any hikes on the itinerary. Also keep your eyes peeled for wildlife like prairie dogs, mule deer and big-horned sheep like this one that was grazing casually by the side of the road!
The Grand Canyon
Upon our arrival to the Grand Canyon's South Rim, we were half expecting to feel like jaded parents at Disneyland — pushing through crowds and waiting in lines for hours.
While areas of the Grand Canyon can definitely feel like this, the beauty in this canyon's vastness is that it's not that difficult to find a quiet moment all to yourself. You just have to know where to go.
We caught incredible views from the lesser trekked Shoshone Point trail, which is reached by an unpaved walking path off an unmarked and gated parking lot. Hermit Trail to Santa Maria Spring was also a great (though much more intense hike) not overrun by tourists.
If you're camping at Desert View campground (the best one in the park), don't miss the trail that leads out to the canyon rim — this is an ideal spot to catch a solo sunset, although we did witness a couple getting engaged here!
Yellowstone
The first National Park that started them all, Yellowstone, is a volcanic hot spot with unique geothermal features all in one incredibly condensed area. Don't get me wrong — this park is vast — but to have so much activity in one place like this is pretty insane.
Yellowstone has a little bit of everything — from canyons and mountains to lakes and rivers, hot springs and geysers, to wildlife like Bison and Moose.
From one hour to the next you can be standing in a canyon looking out on a rushing waterfall, getting sprayed by mist from one of the park's hundreds of geysers, or sitting in a lazy river that merges with a hot spring for a relaxing morning bath.
It's all very possible, and it's all very awesome.
What's almost impossible, however, is to cover all of Yellowstone in one trip because there's just so much to see, but regardless of what you do visit, you'll undoubtedly be filled with wonder at witnessing nature in its most active state.
Zion National Park
Characterized by its striking red-hued Navajo Sandstone, Zion National Park, is a stunning, lush oasis, and was one of our favorite places to hike during our trip.
I recommend hiking The Narrows if you want to experience something a bit different. Instead of hiking on a trail, you'll be wading over smooth boulders and through a rushing river surrounded by canyon walls. This makes for a much cooler hike (a mega bonus during the summer months) and a more adventurous one at that.
Just make sure to bring your water shoes and walking stick and be mindful of any potential flash floods as the water levels can rise fast within the canyon. Other popular trails are Angel's Landing and the Emerald Pools.
Joshua Tree National Park
I remember the first time I went to Joshua Tree back in 2012 like it was yesterday. I had never seen anything like it and I loved the feeling of being somewhere so completely foreign — almost alien — yet being so close to home in Los Angeles.
Joshua Tree isn't a park with much to do. Sure, you can go camping, hiking or rock climbing, but it's very open. So driving through you get the sense that you're seeing it all. However, that's all you need to do here…just see. It's quite a sight to behold.
I would recommend going in the later afternoon and staying through sunset to watch how the light changes the landscape and cuts through the miles of endless Joshua Trees for the most beautiful experience.
Canyonlands
Straight out of an old Western film is Canyonlands, located in Moab, Utah — a dramatic desert landscape, where the Colorado River has snaked its way through the Earth with jaw-dropping results.
This park usually gets overlooked by visitors of Moab who opt for Arches National Park instead, but if you have the time to do both I'd highly recommend it.
Don't miss stops to Mesa Arch (pictured above) and viewpoints like the Green River Overlook and Grand Point View to experience the vastness of this protected land (it's the largest national park in Utah).
PIN IT FOR LATER