Of all the epic road trips you can do in California, a Big Sur road trip is without a doubt one of the most sought-after.
In fact, it's up there on my list of best road trip destinations in the entire United States, as the coastal drive itself along Highway 1 has a front row seat to dramatic rocky cliffs that plunge down into the most gorgeous turquoise water.
Just 2.5 hours south of San Francisco, this coastal gem serves as the face of hundreds of iconic California postcards for good reason.
But beyond its jaw-dropping coastline that begs for endless photo ops, Big Sur also has the most charming neighboring towns like Carmel and Monterey, which makes a Big Sur road trip perfect for those who want a mix of scenic views, coastline and more cultural activities like wine tasting, dining and art gallery hopping.
From sightseeing to hiking, to enjoying a cocktail on a cliffside, there is no shortage of things to do in and around Big Sur, California.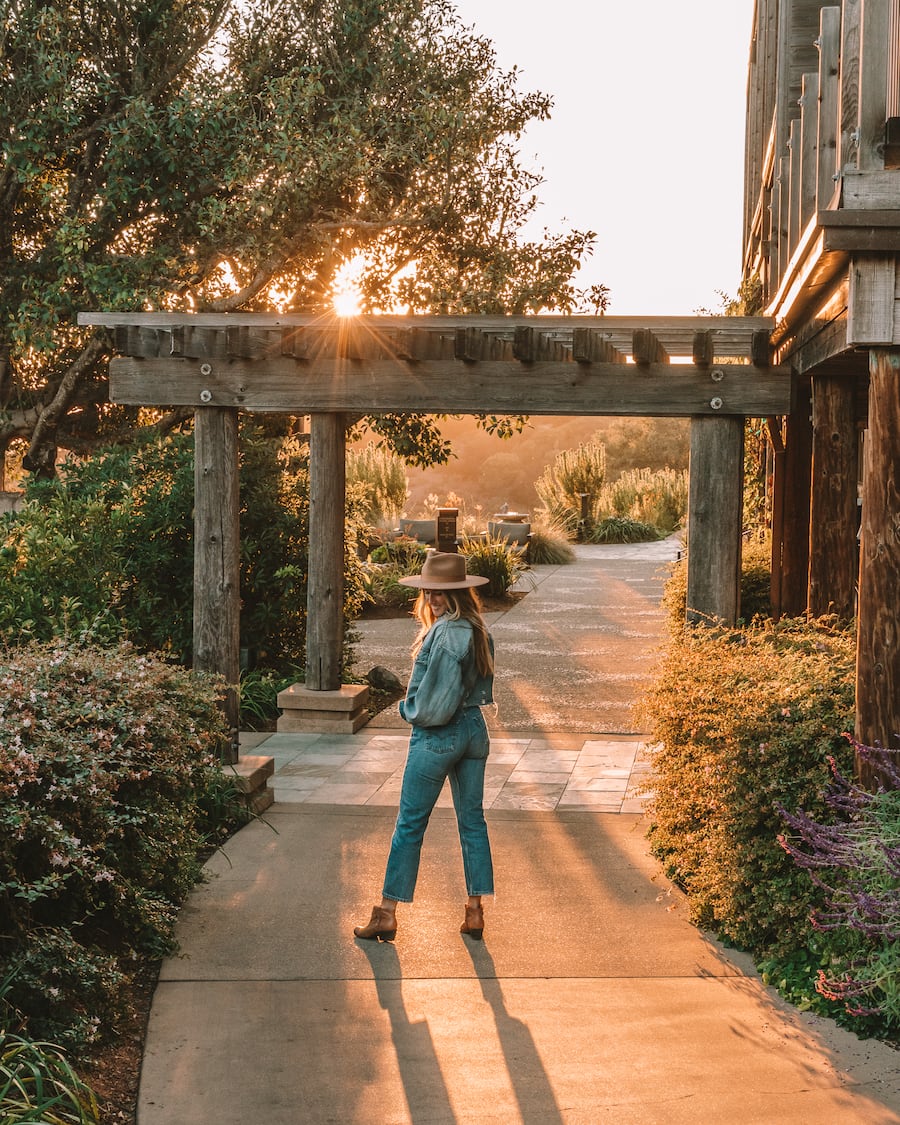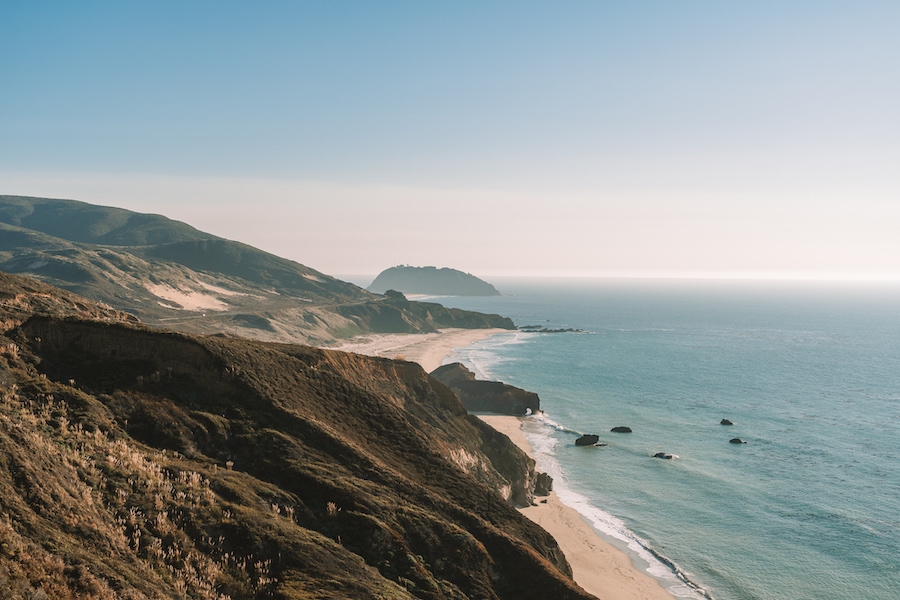 This Central California coastline is an iconic and can't-miss place for anyone, especially first-time visitors to California—but be forewarned, one visit will never be enough (I could come back over and over without getting sick of it)! I promise, just one Big Sur road trip will have you hooked.
With that said, there are a few things that you should know before you get to planning. From when to visit and where to stay, this guide is here to help you plan the ultimate Big Sur itinerary!
Why Big Sur Needs to be on Your Bucket List
With unmatched coastal views that continue for hours on end, it is no wonder that a Big Sur road trip has made it to the top of bucket lists for visitors from all over the country. From the winding roads that seem straight out of a James Bond car chase scene, to the crystal clear water that kisses the steep bluffs, to call Big Sur "epic" is also an understatement.
In fact, several Hollywood productions such as the popular HBO series Big Little Lies have used Big Sur as the backdrop in their stories. Even Star Trek did some filming in Big Sur, meaning it must look as out of this world as people say it does!
On top of that, Big Sur's reputation as the most scenic coastal drive in the entire United States has made it one of the most iconic spots in all of California.
What is the Best Way to Get to Big Sur?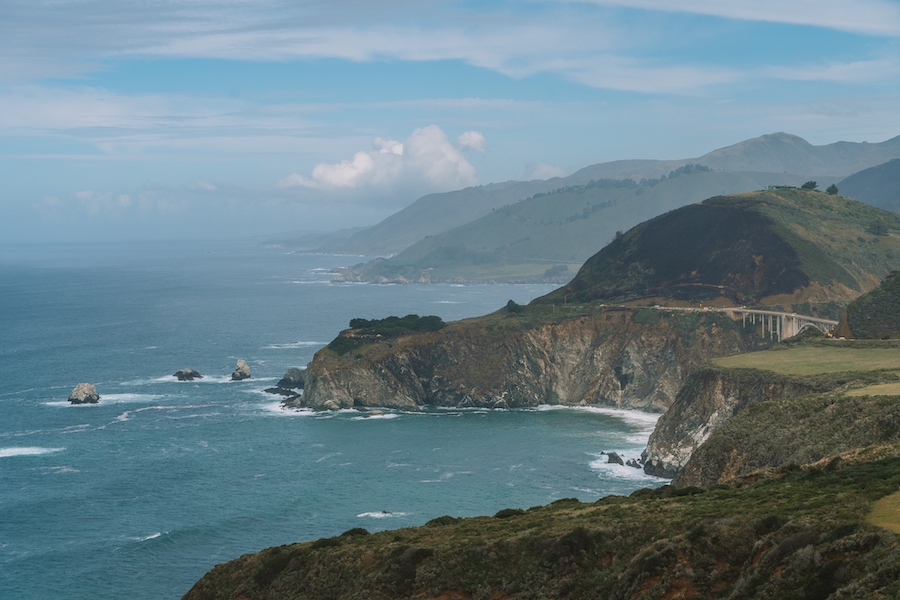 Since Big Sur is known for being a road trip destination, you will obviously need a car. If you're coming from out of state, the best course of action would be to fly into SFO in San Francisco and rent a car. It is only about a 2.5 drive from SF, making the trip relatively painless and quick. Plus, there are plenty of beautiful places to stop along the way including Half Moon Bay and Montara.
If you're going for the ultimate convenience, then you can also fly into Monterey Regional airport (MRY).
Keep in mind that Big Sur experiences major road closures from time to time due to mudslides and other weather-related issues, Thus, it is important to always double (or maybe even triple) check your route before taking off. For example, in 2021 it was impossible to drive all the way to Big Sur when coming from the south due to a massive mudslide closure. But thankfully, as of the time writing this, it is currently fully open!
Regardless of which direction you are coming from, California road trips always require a few stops along the way. If you're coming from up north, Half Moon Bay, Montara, Davenport, and Carmel make for great pit stops with stunning beaches.
For those coming from SoCal (like myself), I'd recommend checking out all that the Central Coast has to offer in Santa Barbara, San Luis Obispo, and Cambria. Since Santa Barbara County is known for its spectacular wine country, be sure to pick up a nice bottle at a local tasting room to enjoy once you arrive in Big Sur!
---
Read More Road Trip Posts
---
What is the Best Time of the Year to Visit Big Sur?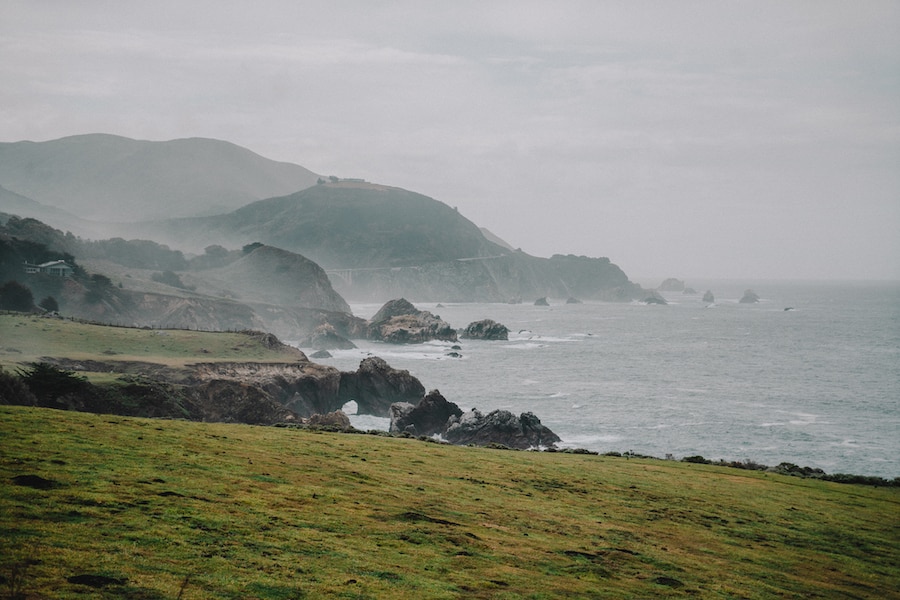 Depending on what you're looking for, Big Sur is a great place to visit all year round. If you're seeking sunny skies and warmer temps, then your best bet would be to plan a trip sometime toward the end of summer or early fall.
Many out-of-towners are unaware of the fact that summer on the west coast (especially in May and June) can bring a thicker marine layer that can put a damper on any coastal vacation.
That being said, unless you enjoy the gray skies and foggy scene, do your best to avoid the "May Gray" and "June Gloom." October on the other hand is known for being the nicest month of the year weather-wise, so the beaches and bluffs will be a lot less hazy and your view will be more clear.
Another perk of waiting until the summer dies down is the fact that the crowds die down with it. There's nothing quite like having some space while soaking in the sights and scenes of Big Sur. 
No matter what time of the year you choose to go, be sure to keep a lookout for various sea creatures such as dolphins, seals, and even whales!
A Few Things to Know Before Visiting Big Sur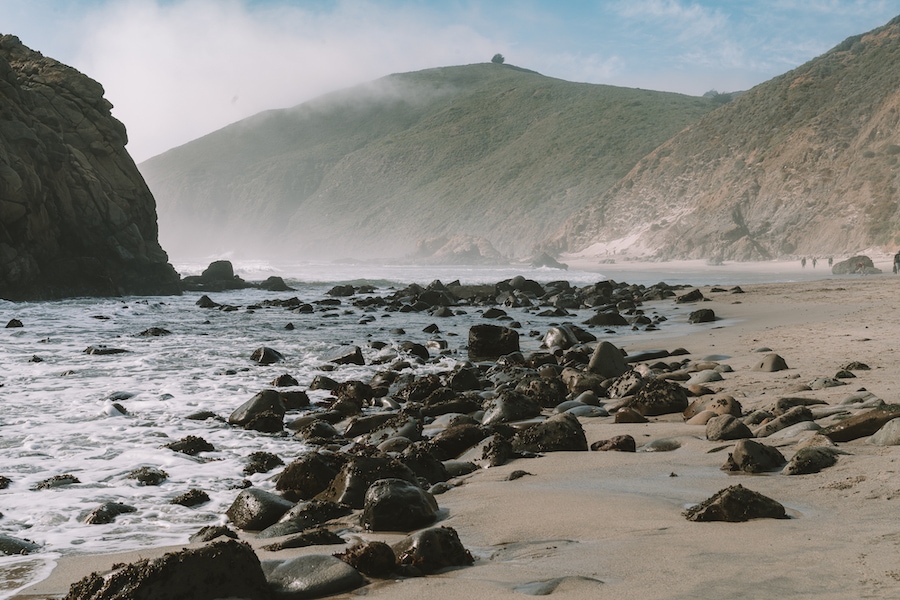 While the views are something out of a magazine, Big Sur is not the best destination for a beach-side getaway. The dramatic cliffs along the coast are extremely steep and high, making it difficult to reach the sand in a lot of spots. Yes there is beach access in some places, but it's not the typical SoCal beach destination you might be envisioning. Instead, bring a comfortable chair or set out a picnic on the bluffs while you take in the pristine coastline. 
Unfortunately, natural disasters such as fires, floods and mudslides occur pretty frequently in the area due to the terrain and weather patterns, meaning it is always a good idea to keep up with the local news before setting out on your journey. This site is a great one to keep up with before and during your trip. 
You'll want to spend at least three nights in Big Sur, especially if your travel time is longer than just a few hours. If you're coming from somewhere close-by like San Francisco, two nights might be enough. 
Be prepared for spotty cell phone service! A part of being in nature's paradise is not having great cell reception, meaning you should download Google Maps beforehand to avoid getting lost on those winding roads. 
Avoid being in a rush while driving through Big Sur. The drive along Highway 1 has endless photogenic scenes, so be prepared to cruise slowly and have your camera ready to capture some stunning shots. Trust me, you'll want to stop—A LOT! Also, driving at a slower pace will ensure your safety as many of the roads are super windy and follow along the cliffs.
Dress appropriately for the season. Even in the summer months when the marine layer rolls in, temps can drop dramatically. To be safe, always have an extra sweater or lightweight jacket with you in the car.
Where to Stay in Big Sur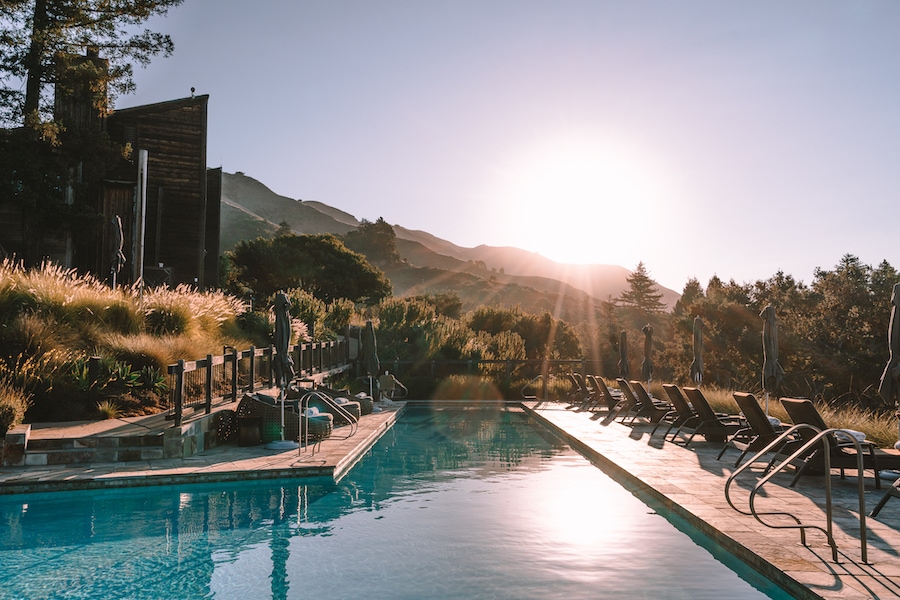 The Best Luxury Hotels in Big Sur
The Ventana Inn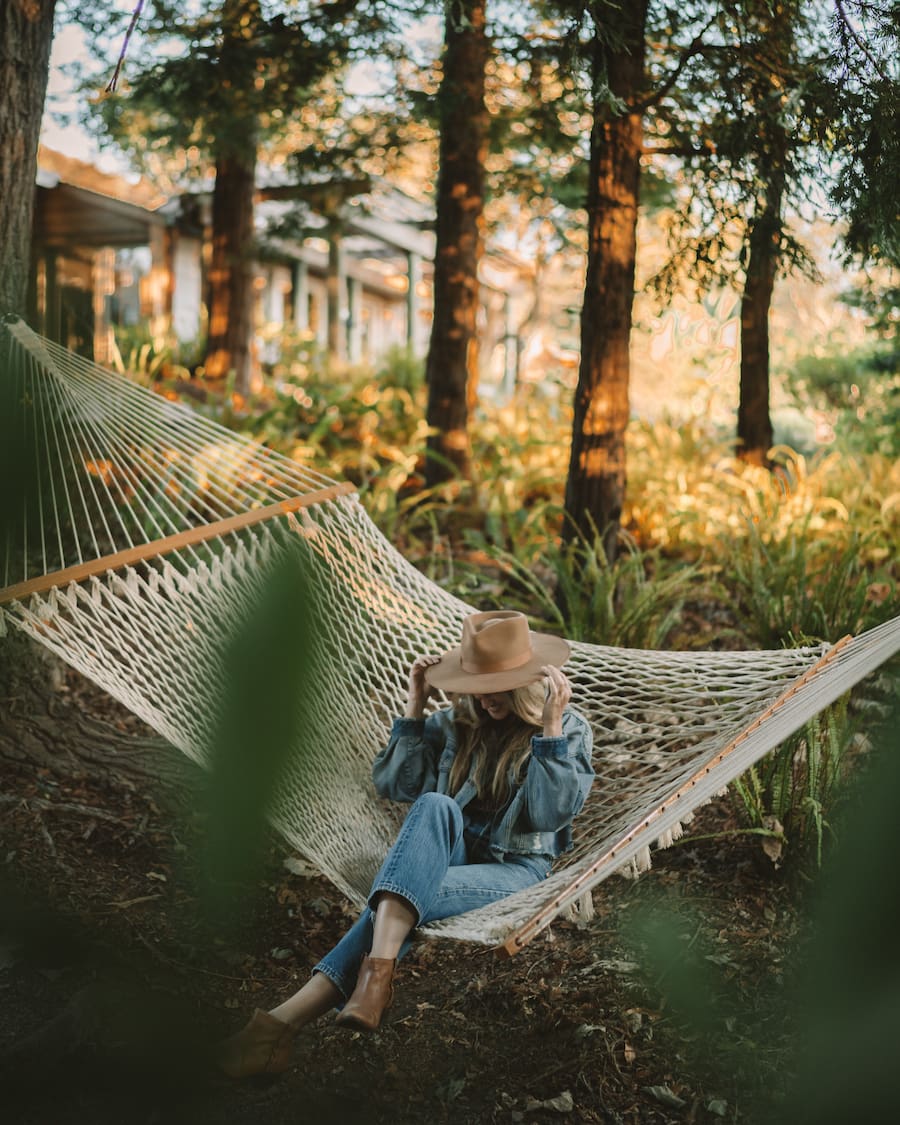 The Ventana Inn is a luxurious, coastal resort with over 160-acres of gorgeous land that houses 59 private, secluded suites. Being that The Ventana Inn is without a doubt a pricier option, the amenities are off the charts, providing guests with private balconies, welcome gifts, an infinity-edge hot tub, all-inclusive dining, and even customizable minibars.
The location is absolutely prime being situated in a way that allows for a taste of the ocean with coastal views and the option to venture off amongst the Redwoods right from the property.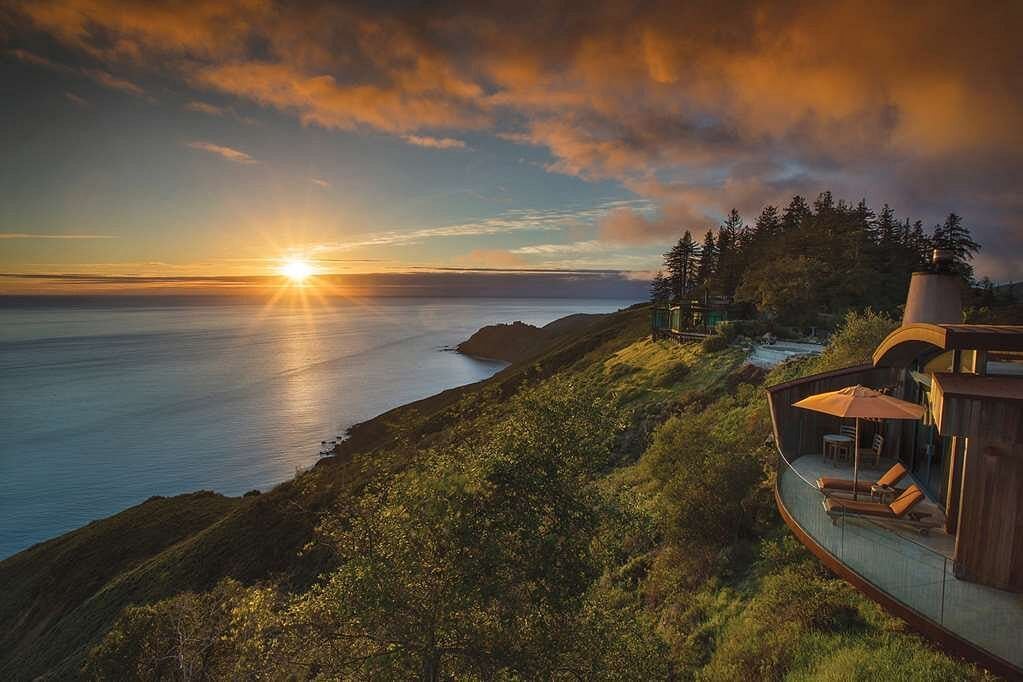 Post Ranch Inn
Another super luxurious stay in Big Sur is at the Post Ranch Inn. With ocean views as far as the eye can see (literally from almost every part of the hotel), Post Ranch Inn offers guests the ability to unwind and relax in absolute serenity as they enjoy their time in Big Sur.
This award-winning hotel also has two stunning infinity-edge hot tubs, in addition to a heated pool for guests to enjoy no matter what time of year it is. This is the kind of hotel that you book for a special occasion, whether it be an anniversary or birthday. Though it could easily be a great spot to go with girlfriends, I consider it to be a more romantic destination.
The Best Mid-Range Hotel in Big Sur
The Big Sur Lodge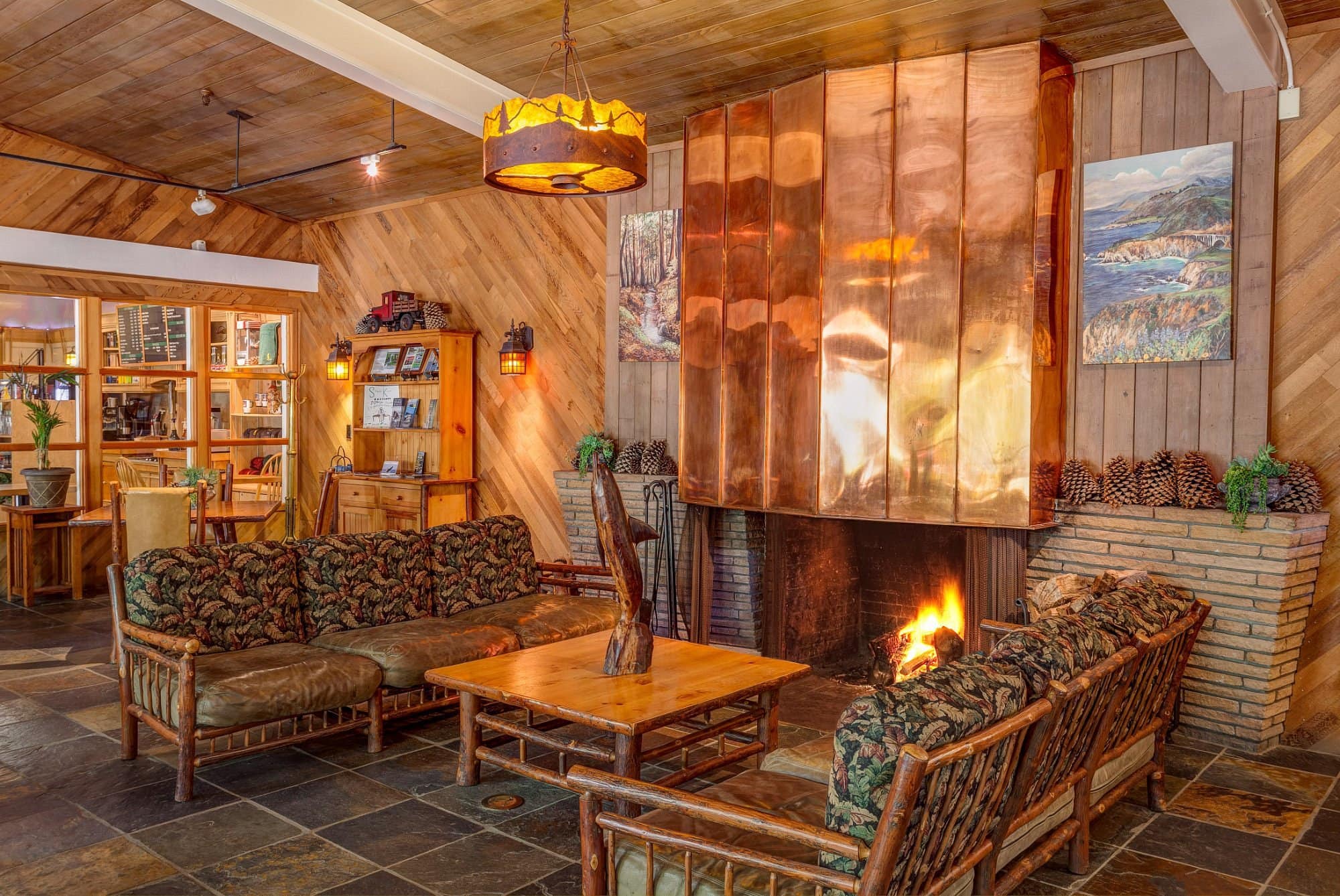 For those looking for comfort in a more rustic environment, The Big Sur Lodge provides the best of both worlds with affordability and authentic Big Sur vibes. With cute, cottage-style accommodations, every guest is provided with an outdoor deck immersed within the redwoods.
Enjoy a coffee on the deck while you keep a lookout for woodland creatures and marvel at the majesty of the iconic Redwood trees. Being that The Big Sur Lodge is also very upfront about their Wifi not being the fastest, it is the perfect place for those looking to escape into nature with little to no bother. 
The Best Glamping in Big Sur
Treebones Resort
Treebones Resort in Big Sur has perfected the art of "glamping" by blending the elements of nature with that of a comfortable stay. Treebones Resort offers stand-alone tent-like accommodation on the coast of the southern end of Big Sur. Guests are given plenty of privacy and space as they soak in the incredible access to nature right in front of them.
They even offer an on-site restaurant and sushi bar for those who need a drink and a break from the great outdoors. Even for the most hesitant of campers, Treebones Resort offers a unique and unforgettable Big Sur experience.
The Best Things to do in Big Sur
McWay Falls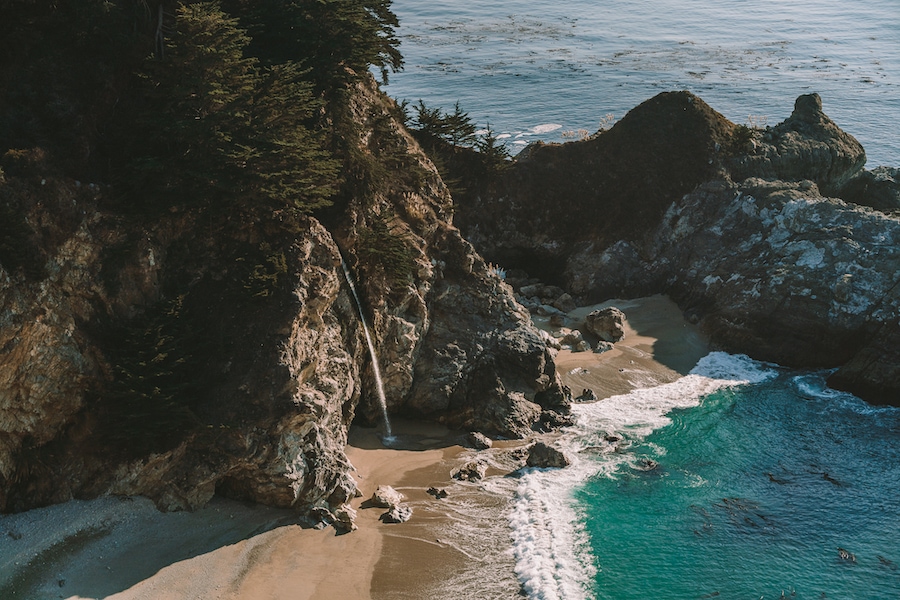 Located in the Julia Pfeiffer Burns State Park, McWay Falls is an 80-foot waterfall that flows directly onto the beach and into the ocean. McWay Falls makes for one of the most famous and well-known visuals of Big Sur (you've definitely seen McWay Falls on a postcard or two).
While most stunning sights such as this one tend to require a brutal hike or walk, finding McWay Falls requires nothing more than a 10-minute walk along a paved road. If you can, try to visit when the wildflowers are still blooming in the spring! It is one of the most beautiful vistas, especially on a sunny day when the sun lights up the ocean in majestic shades of turquoise.
Bixby Bridge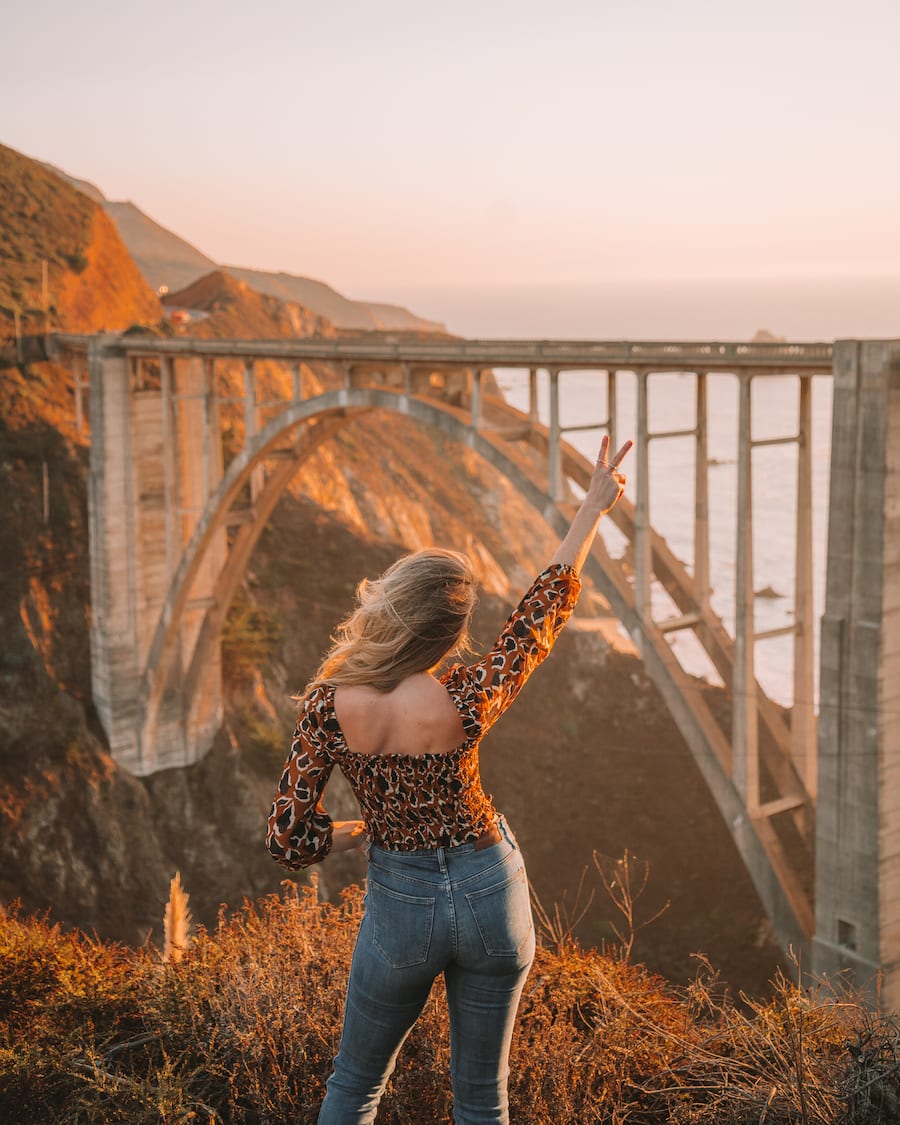 When a lot of people think of Big Sur, they think of Bixby Bridge. This iconic and highly photographed bridge embodies the epitome of a Big Sur road trip, with show-stopping views and an adrenaline-pumping drive.
The bridge is completely open and has virtually no obstruction to the scenic view that it provides, making it one of the most visited spots in Big Sur. Since it is so popular, try arriving for your photo-op in the morning before the crowds gets there. The area can get a bit congested later in the day. 
Big Sur Bakery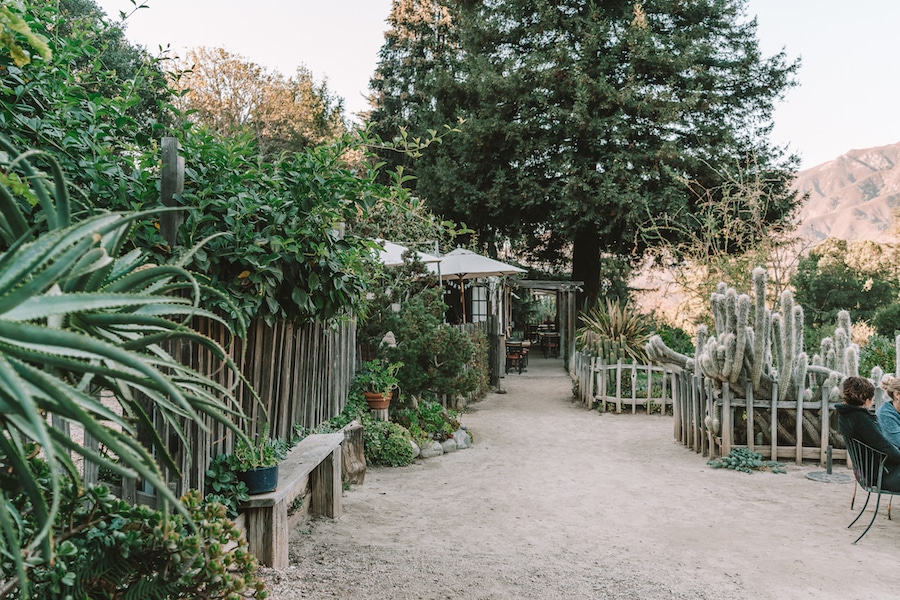 Whether you're craving a flaky croissant and a frothy cappuccino in the morning or you're looking for a classic, wood-fired pizza for lunch, the Big Sur Bakery is the perfect place for a quick yet delicious bite to eat. Locals and tourists alike flock to this cozy Big Sur staple.
Nepenthe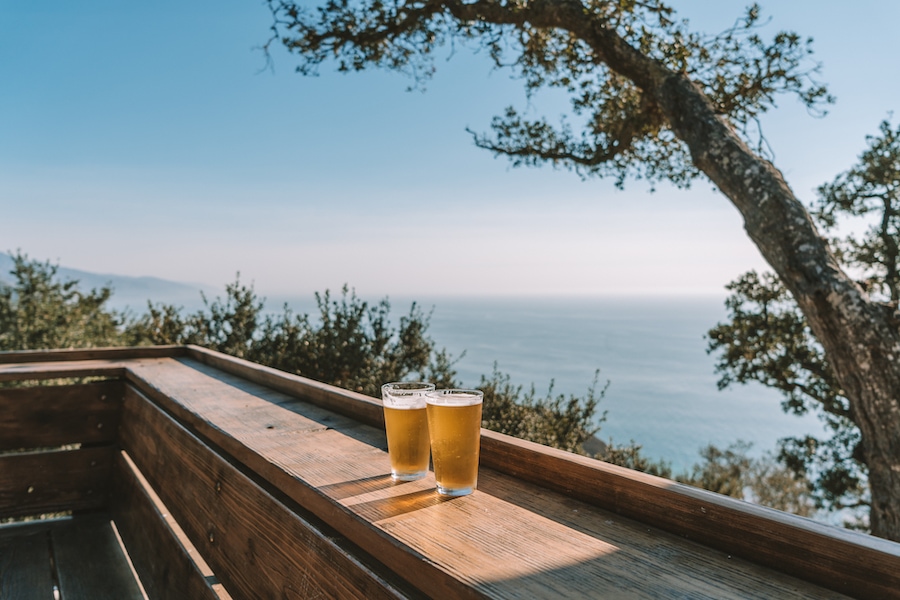 With killer drinks and an even better view, Nepenthe is one of the hottest spots in Big Sur for happy hour and socializing (also a must-visit every time I'm in the area). The outdoor terrace is perched right on the edge of a cliff, providing a viewing experience that is only possible in Big Sur.
I've been here when it's completely fogged in, and while the atmosphere is still great, it's nothing like coming here on a clear day, so plan accordingly.
If you get the right weather, combining the view with a refreshing cocktail or glass of wine seriously makes you feel as though you are dining off the coast of the Mediterranean!
A Walk Amongst the Redwoods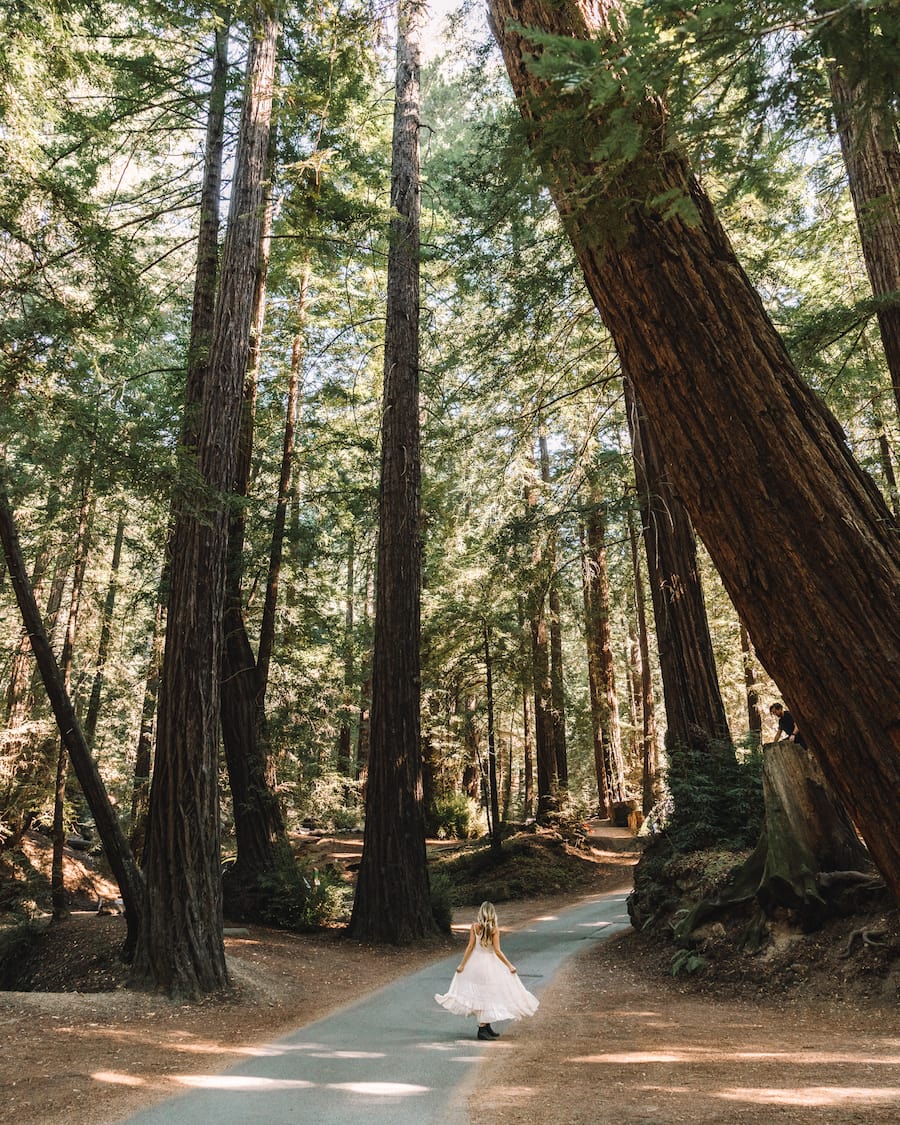 If you've never seen the ancient redwoods of California then you have no idea just how majestic they truly are. The massive trunks will have you ogling as you stroll through the forest. While there are several places you can hike or walk through the redwoods in Big Sur, the Pfeiffer Falls Trail is a local favorite that will lead you to a mystical, fairy-like waterfall in the woods. 
Brunch at Deetjens
No Big Sur road trip is complete without brunch at Deetjens. This unique and historic hotel is one-of-a-kind, and it sits right on the edge of the redwood forest. The decor is very rustic and eclectic, but the food at the restaurant is seriously impressive.
Good to note is that the restaurant is closed on Wednesdays and Thursdays, so be sure to keep that in mind when mapping out your itinerary. From the eggs benedict to the ridiculously fluffy pancakes (both of which have won "Best Breakfast in Monterey County"), you can't go wrong with ordering anything from Deetjens!
Big Sur River Inn and Restaurant
Located right along a tranquil river lies the Big Sur River Inn. Even if you are not staying here, a visit to their restaurant is totally worth it. You could even just stop by for dessert! Indulge in their famous apple pie while you give your toes a much-needed dip in the Big Sur River.
Pfeiffer Beach
Pfeiffer Beach is one of my absolute favorite stops on a Big Sur road trip. The massive rock formations seriously look like they're from another planet, and it's most famous for keyhole rock.
Keep in mind that there is an entrance fee to access Pfeiffer Beach, and it's $12 per vehicle. The beach is open from 9 AM to 8 PM, meaning you can definitely catch the sunset if you visit later in the afternoon.
However, when we visited the parking lot was full at first and there was no proper waitlist system so we were turned away and told to come back later. For this reason, I would attempt to visit on a weekday if possible during busy times of year or go first thing in the morning to make sure you get a space in the lot.
Also, the entrance fee is cash only, so be sure to have cash on hand before going.
Bonus Spot: Calla Lily Valley
This is perhaps the most magical hidden gem in all of Big Sur. Unless you know it's there, you won't really stumble upon it; I only found out about it after several previous trips to Big Sur, after a few photographers started posting photos on Instagram.
After a short walk down a dirt trail, you'll be led to a breathtaking ravine covered in white calla lilies with views straight out to the ocean. It truly looks like something straight out of a fairytale, especially on a sunny day. The best time to see the lilies is between February and mid-April.
Did this post inspire you to plan a Big Sur road trip? Let me know in the comments below!
---
Planning a trip right now? Don't miss my go-to websites for booking everything from flights and tours, to accommodation and more:
---