This past month while on a road trip through New Mexico, I had the pleasure of stopping over in Santa Fe and checking out the absolutely stunning Bishop's Lodge resort, a historic landmark of the area that just completed major renovations in early July.
The brand new Auberge Collection resort is officially the newest luxury hotel option in the Santa Fe area and sits on 317 acres of rolling hills bordering the Santa Fe National Forest, in the foothills of the Sangre de Cristo mountain range.
Let me just start by saying I'm totally in love with this place. Along the route to get there, you drive out of the Santa Fe town center through winding roads covered in lush green foliage and then turn onto a long driveway that takes you through majestic adobe gates and past horse stables. It feels kind of like arriving onto your own private luxury ranch.
Our entire stay was so peaceful—probably partially due to the fact that since it's so new, it wasn't fully booked and we felt like we had the whole place to ourselves at times.
Upon arrival, you'll notice that the resort feels more like it's own little village than a hotel, secluded from it all—although in reality you're only a 10 minute drive from downtown Santa Fe.
At check in, we were handed glasses of chlorophyll water (which supposedly aids in easing altitude sickness), which was perfect timing because I had a headache setting in all day. Then we were brought up to our guestroom on one of the many golf carts that are constantly zipping around the property, and I instantly regretted that we were only staying for two nights.
This is the kind of place where you can expect everything to exceed your expectations—from the friendliness and helpfulness of the staff to the stunning rooms and epic dining experiences. For the average traveler, the pricepoint is definitely a splurge and one for a special occasion, but one that's worth every penny.
In this review of Bishop's Lodge, I'll share with you why this new luxury hotel needs to be on your bucket list and what you can expect during a stay at the resort, from the guestrooms and unique experiences on offer to dining and much more.
But First..a Bit of History About Bishop's Lodge
One of the most special things to note about Bishop's Lodge is that although it's a new luxury hotel with fresh ownership and renovations, the property itself isn't exactly new. In fact, it's steeped in a long history, with the land having been settled over 150 years ago by Archbishop Bishop Jean Baptiste Lamy.
He built the original lodge and chapel on site (which is listed on the National Register of Historic Places), and the former lodge accommodations have now been reimagined into the current resort through careful efforts of restoration and preservation.
Why Stay at Bishop's Lodge?
The old lodge property has gotten a $75 million facelift in collaboration with Nunzio Marc DeSantis Architects (based out of Dallas) and design firm HKS, and I can tell you from personal experience that it's absolutely stunning.
With any new hotel opening of course there are still a few kinks here and there that need ironing out and not everything is 100% completed—for example some of the landscaping is still ongoing and "coming soon" areas like a fun hiker bar were unfortunately not up and running during our stay.
However, we were so blown away by this place that we barely noticed anything yet to be completed. I promise, you'll find more than enough to keep you busy here if a relaxing Santa Fe getaway is what the doctor ordered.
I think what makes Bishop's Lodge so special is how authentic it is to the spirit of Santa Fe—and isn't that what all of us want to experience when we plan a trip away from home? Every detail, every room and nook throughout the property feels like it's been through careful consideration to stay true to the artistic culture of the community. Think custom ceramics by local artists, traditional adobe structures, authentic Native American textiles and a gallery where artists in residence can display their works.
I promise if you go once, Bishop's Lodge will become one of those places you want to keep returning to for years to come.
Favorite Features of the Hotel
Beautiful adobe architecture throughout and landscaping featuring loads of colorful lavender, rabbitbrush and Russian sage.
The hotel offers really unique interactive experiences like a Color Experience art class (which we partook in) that explores paper collage, foraging classes, Raku pottery, chocolate making, and more.
Kiva fireplaces in every guest room.
Luxury ranch vibes, with horses and stables on your left when you first enter the driveway to the property, and ranch-inspired structures throughout the grounds.
The meal we ate at SkyFire restaurant was one of the best of our entire two week trip. Literally so freaking good.
Location
Bishop's Lodge is located 20 minutes from the Santa Fe Airport and 75 minutes from the Albuquerque International Sunport. It's just a 10 minute drive to downtown Santa Fe from the resort. The area where the resort resides feels much more residential and sits up in the hills at higher elevation than the city center and borders the Santa Fe National Forest, which is a beautiful break from the bustling vibes of downtown Santa Fe.
Property Highlights and Amenities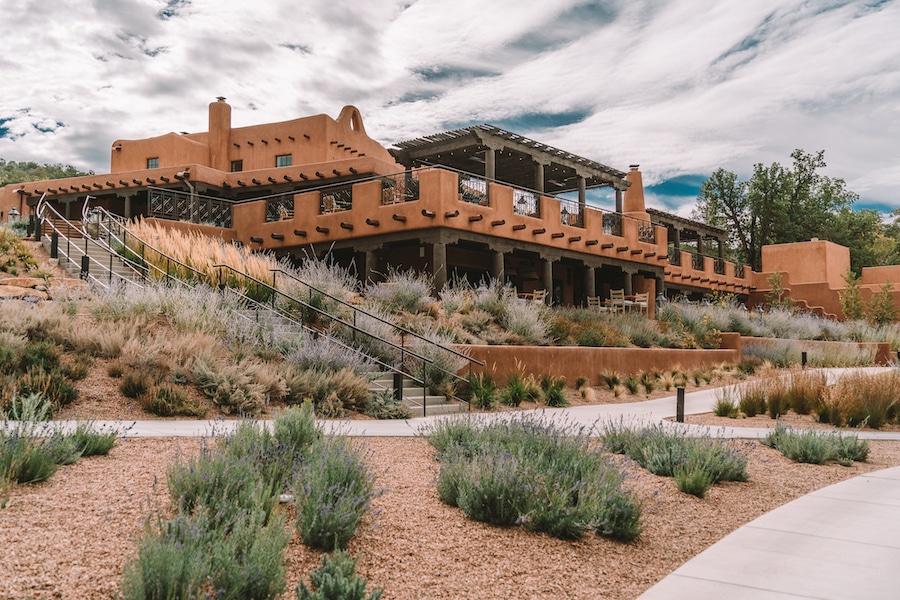 The 317 acre property is sprawling and I feel like I didn't even get to see it all during our visit. However, most everything at Bishop's Lodge is centered around the main lodge building that houses the SkyFire restaurant, bar, living room area and Two Dogs Cafe.
From every area of the property you'll notice a steeple peeking out over the trees from the late 1800s chapel on-site that was built by Archibishop Jean-Baptiste Lamy. We could even see the steeple from our room's patio.
Here are some of the basic amenities you can expect during a stay at Bishop's Lodge:
Complimentary valet parking
Fitness center and yoga room
Horseback riding
Guest laundry service (except for Sundays)
An Artist's Studio
Historic 1860's chapel
Curated mini bar in the rooms
Stunning kiva fireplaces in every guest room
Mountain bikes for use + more!
What to Expect From the Rooms at Bishop's Lodge Santa Fe
There are 100 accommodation options at Bishop's Lodge, offering a variety of room categories for different guests' needs. We personally stayed in the Silverpine building in one of the beautiful Guestrooms with a private terrace overlooking the valley.
Our room featured two queen beds, a spacious modern bathroom with a charming barn door, traditional textiles and crafts, and an indoor seating area around the kiva fireplace. Every morning we were greeted by a beautiful sunrise with views spanning for miles out our patio.
There are four main types of accommodation options to choose from at Bishop's Lodge. Here's a breakdown of each.
Different Room Categories at Bishop's Lodge:
The Guestrooms
This is the room category we stayed in, which feature cozier living spaces with traditional kiva fireplaces and private terraces. The rooms are furnished with beautiful Navajo textiles and locally sourced artwork from Santa Fe and you have the option of booking with two queen beds or a king. As far as hotel rooms go, I would say these Guestrooms are quite large and it was plenty of space for two people, especially with our large patio overlooking the valley.
The Suites
For those needing a bit more space, the Suites offer a larger floor plan that all still include the beautiful kiva fireplaces and terraces but have one or two bedrooms to enjoy.
The Casitas
The Casitas provide even more space for guests traveling in groups or with families. Bishop's Lodge offers a three-bedroom and four-bedroom casita option that feel more like residence stays, with two floors, a kitchen, dining room and multiple bedrooms.
The Bunkhouse
This is a 12 bedroom building perfect for large groups looking to stay and gather privately together. It looks very different from all of the other guest buildings throughout the property, situated within a large barn crafted from reclaimed wood. It has a bit of a Southwestern ski lodge feel inside and would be perfect for family reunions, wedding parties or groups of friends traveling together. The Bunkhouse is almost 10,000 sq ft and sleeps up to 24 adults and 12 children, but keep in mind that some of the sleeping arrangements are bunk bed rooms attached to the main rooms.
Drinking and Dining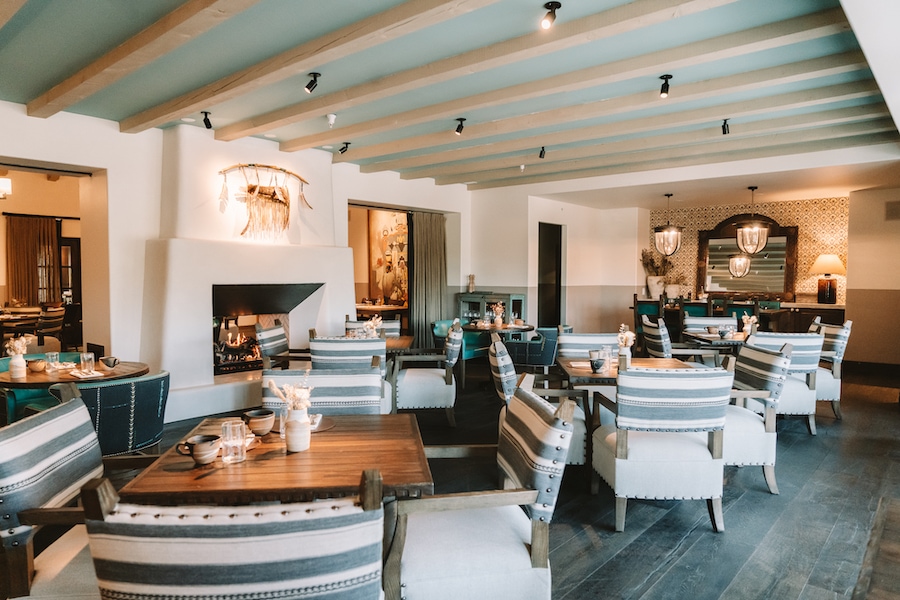 Situated within the main lodge area are two dining options, SkyFire restaurant and Two Dogs Cafe.
SkyFire is the resort's signature restaurant, led by Chef Dean Fearing, otherwise known as the "the Godfather of Southwestern Cuisine." We had an incredible dinner here that ended up being one of the highlight meals of our entire 2 week road trip.
The menu could definitely use a few more vegan and vegetarian friendly options, but if you're good with fish and meat, then you'll devour this menu. We started with the hamachi, which was unbelievably fresh and beautifully plated, then tried the tortilla soup and overindulged in steak, which probably could have fed four people. It was a lot of food but the flavors were phenomenal.
Two Dogs Cafe is a much more casual to-go style coffee bar with some breakfast options and juices, perfect for a stop-through on your way out to explore Santa Fe.
Spa and Wellness and Activities Options
Probably the most unique aspect to our stay with Bishop's Lodge was partaking in one of their signature experiences that really spotlight Santa Fe's artistic culture and oneness with the surrounding natural landscape.
We signed up for the Color Experience class, and spent an incredible two hours with a local artist Dawn, who took us through a series of exercises meant to highlight the colors of the New Mexico landscape. Using colored paper and collage techniques, we ended the class with a beautiful book of our own creations to take home and a new perspective on color.
Some other experiences you can enjoy during your stay:
Horseback riding
Cultural tours
Raku pottery
Fly fishing
Al fresco art classes
Ancient lettering and journaling
Chocolate tasting/making
Outdoor mindfulness sessions
+ more!
A Few Helpful Hints for Your Stay
Included in the Resort Fee is transportation to the downtown Santa Fe Plaza if you'd rather not drive or look for parking in the busy downtown center.
Bishop's Lodge is a pretty hilly property—though golf cart attendants are happy to give you a lift, it's helpful to have shoes that are easy to walk up and down hills in if you want to easily get around.
Furry friends are welcome at Bishop's Lodge 🙂 Just note you'll have to pay a $100 fee per pet per stay.
Overall, we loved our stay at Bishop's Lodge in Santa Fe and I would love to return in the future. Would you stay here? Let me know in the comments below!
---
Read More Accommodation Posts:
---
***Live Like it's the Weekend was graciously invited to stay at Bishop's Lodge as a complimentary guest. As always, my opinions are my own and I would never write about anything I don't freaking love***