To be honest, I heard a lot of skepticism about the Blue Lagoon before my visit. Some past visitors raved and talked about how they had a great time, while others called it completely overrated and a waste of money. As a travel blogger whose job is to bring you guys the most honest advice, I was interested in finding out for myself and all in all, I really enjoyed my solo visit to The Blue Lagoon. However, I can see where a few missteps could make for a poor experience. Make sure to read through these top Blue Lagoon tips below to ensure you have the best time ever at Iceland's top attraction and go out (or in) with a bang!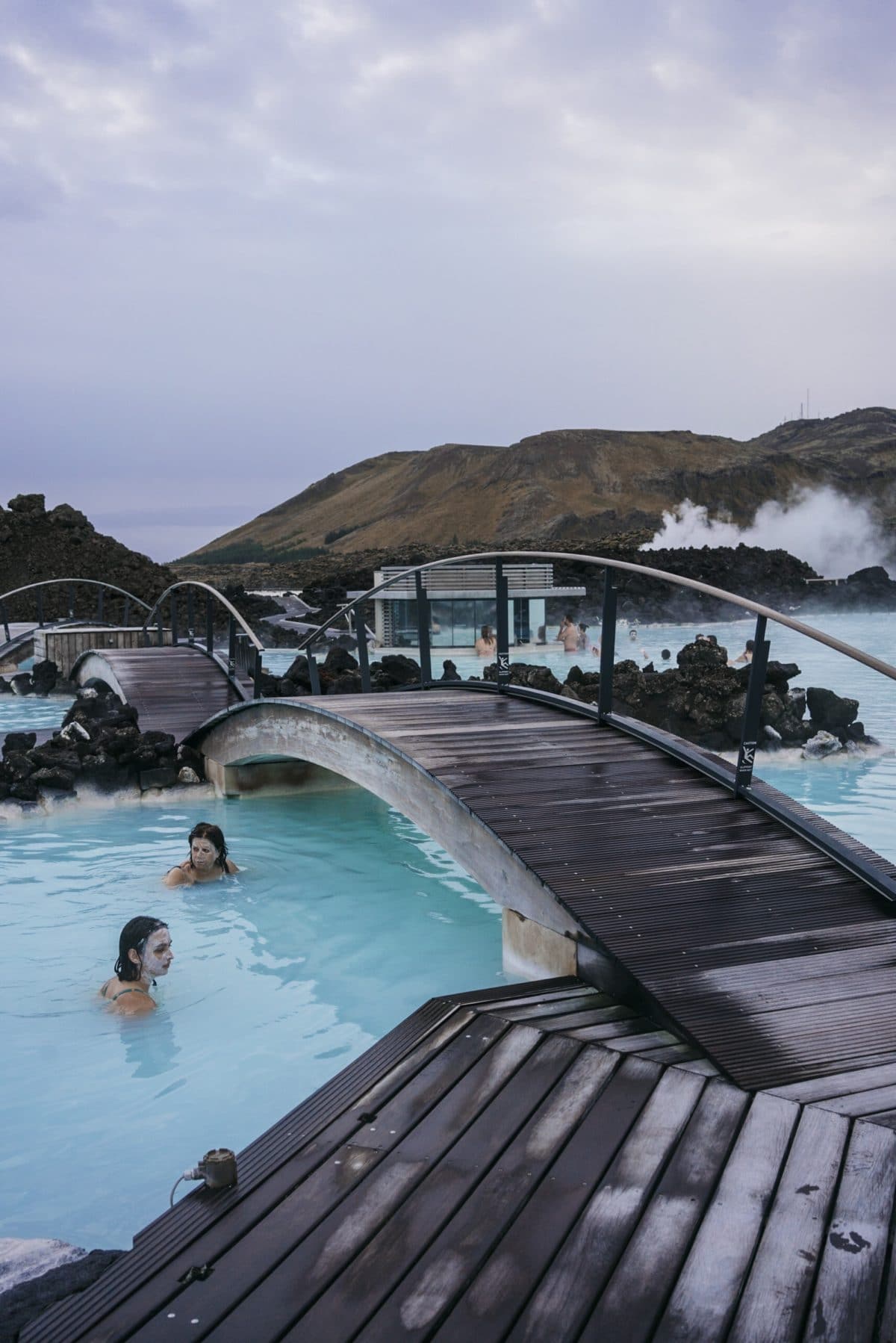 Top Tips for Visiting Iceland's Blue Lagoon
First thing's first: Let's clear up a little mystery
Chances are if you're coming in to the experience envisioning some mystical, naturally occurring lagoon in the middle of a vast, deserted landscape you're going to be disappointed. So let's set your expectations. The Blue Lagoon is definitely a tourist operation and 100% man made — and it's right next to a power plant.
BUT it's in fact the neighboring geothermal power plant that provides its water output for the Blue Lagoon and is the reason for the milky blue color of the water along with all of the amazing minerals like silica and sulfur that are found in the lagoon. If it weren't for the power plant next door, there would be no Blue Lagoon or incredible skin benefits at all.
Once you're inside the lagoon, you probably won't notice the power plant which conveniently stays quite hidden and blends in with the rising steam from the water anyhow. Just go into it knowing that this is not some natural wonder of the world — I always like to say, if you don't set your expectations too high, you won't be disappointed, right?
You need a reservation.
The Blue Lagoon is not the kind of place you can just show up and pay upon entry. If you're planning an upcoming trip to Iceland, I would make sure that this is one of the first things you book to ensure you get the time slot and day you desire and don't miss out altogether on this bucket list experience. You can book your reservation on the Blue Lagoon website.
What is the best time to work The Blue Lagoon into your itinerary?  
Did you know that the Blue Lagoon is only 20 minutes outside of the Keflavík International Airport? To make the most efficient use of your time in Iceland AND also start or end your trip on a high note, I highly recommend booking your Blue Lagoon tickets either at the very start of your trip or at the end before you fly out. This of course will depend on the timing of your flights in/out of the country, as you want to ensure you'll have enough leisure hours to enjoy Iceland's #1 attraction.
What time of day is best to visit the Blue Lagoon? 
Visiting Early Morning  
I personally can't recommend getting the earliest time slot enough (opening and closing times vary throughout the year, but the earliest time I could go was 8 AM). The biggest factor it seems in people's disappointment with their experience at The Blue Lagoon is overcrowding, and yes — it can get extremely crowded considering it's often #1 on people's bucket lists when visiting Iceland. With that said, booking for the 8 AM (or 7 AM some months of the year) time slot and arriving 15 to 30 minutes early to be first in line is your best bet in ensuring you have maximum time to enjoy with the minimum number of people.
Based on my personal experience, I arrived slightly after 8 AM and after waiting in line, getting situated with my locker and then showering pre entry into the lagoon, I probably didn't actually get into the water until 8:30 AM or so. At this point, there were definitely a lot of other guests but it didn't feel too overcrowded at that point. By the time I left around 11 AM to grab food in the on-site restaurant however, numbers were picking up in droves and the lagoon got noticeably louder and less peaceful.
Visiting at Night 
Another option is to book one of the later time slots at night if you're visiting during the fall or winter when there is a higher probability of seeing the Northern Lights. I can't imagine how cool that would be to witness the aurora borealis while relaxing in the Blue Lagoon's silica-enriched waters. If you go this route, just make sure to give yourself enough time to enjoy before closing. Also know that you're not guaranteed to see the Northern Lights, so this is a bit more of a gamble.
Opening and closing times vary depending on the time of year, so make sure to check the Blue Lagoon's official website for hours.
How much time do you need in the Blue Lagoon? 
I visited the Blue Lagoon solo and personally spent about 2 1/2 hours in the lagoon itself and then spent another hour or so dining on lunch at the Lava Restaurant. When factoring in wait times in line, getting showered and ready after exiting the lagoon, I would say 4-5 hours is a decent amount of time to spend during your visit.
If you're traveling with a big group and want extra time to chill out and hang by the bar or you've opted for the spa package, you'll want to give yourself even more time to take advantage of the relaxing and fun atmosphere.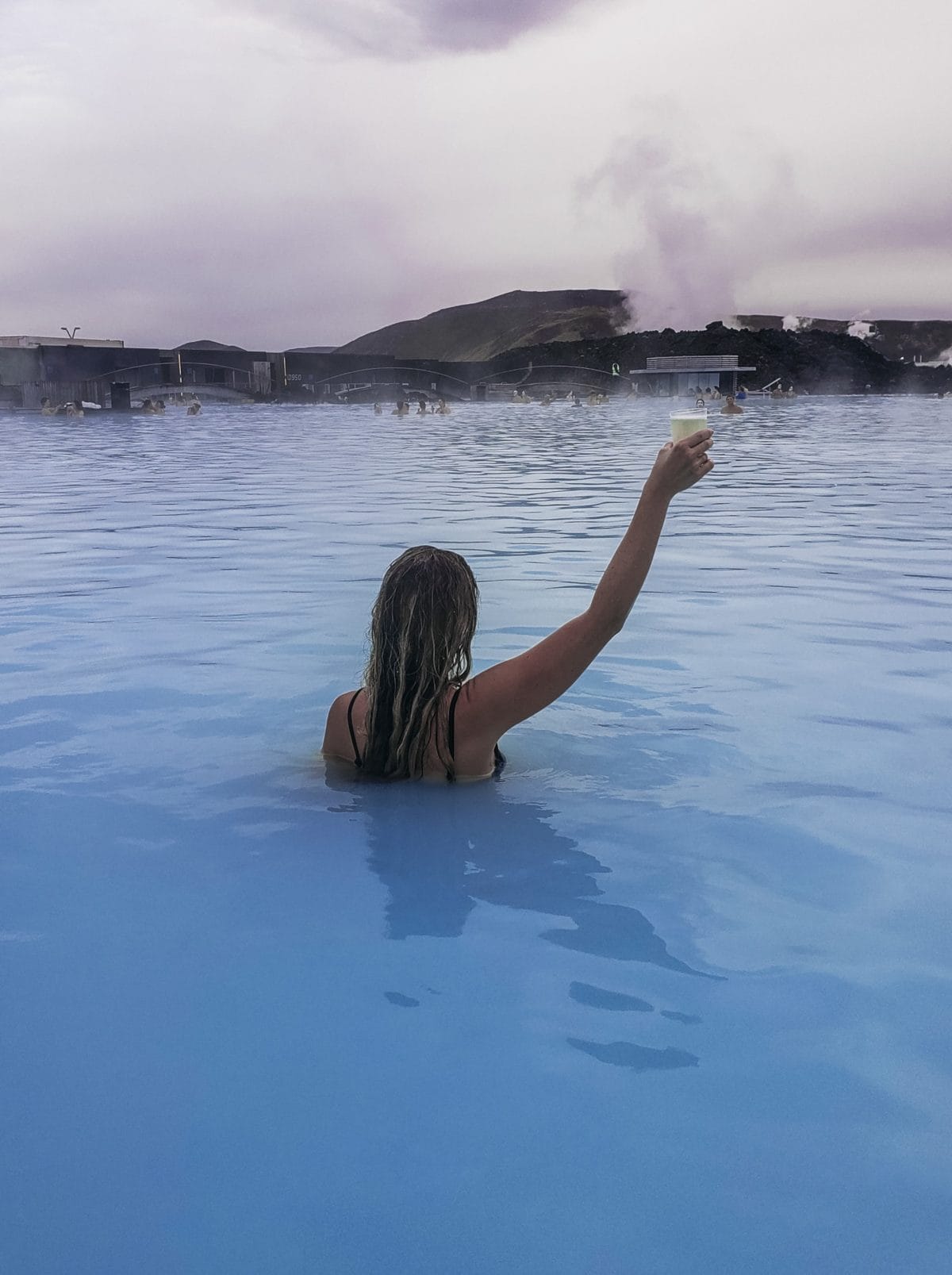 Which ticket should you buy? 
There are three different kinds of tickets you can buy in order to gain entry into the Blue Lagoon (see below for comparisons). If you're on a budget, I would go for the cheapest package: the Comfort package, which starts at about $60 USD depending on the time of day you go.
There's really no reason to buy the premium package unless you think you will 100% want a second mud mask (I was happy to do just one silica mask which comes free with your basic ticket) and are dying for that sparkling wine at the restaurant. You can bring your own slippers/flip flops and you'll be just fine with the comfort package.
If you're in splurge mode or just have some dough to burn through, the Retreat Spa package starts at around $490 USD and gives you special access to the spa at the Blue Lagoon, private changing rooms and treatments. I can't personally vet the Retreat Spa experience, but if money is no object or you're on your honeymoon and want a more private and peaceful experience, this might be worth considering.
Comfort Package Includes:
Entrance to the Blue Lagoon
Silice mud mask
Use of towel
1st drink of choice free
Premium Package Includes All of the Above Plus:
Bathrobe and slippers provided
Second mask of choice free
Restaurant reservation (not actual lunch included)
Sparkling wine at restaurant included (if dining)
Retreat Spa Package:
Access to the Retreat Spa for 4 hours
Private changing room
Entrance to Blue Lagoon
The Blue Lagoon Ritual spa treatment
Access to the more private Retreat Lagoon
Skincare product amenities
Access to the Spa Restaurant
1st drink of choice included
How do you get to the Blue Lagoon? 
There are plenty of tours that you can book to take you from the airport to the Blue Lagoon (including transfers directly from the Blue Lagoon website), but to ensure the best experience possible, renting a car is really the way to go. You'll need to rent a car in Iceland anyway (especially if you want flexibility and don't want to spend a fortune on day tours), so you'll be able to drive yourself to the Blue Lagoon.
Just pick up your rental car upon arrival at Keflavik Airport — I love Rentalcars.com and have used them on several trips. They make booking through various rental companies super easy and painless.
To get an idea of where the Blue Lagoon is in relation to the airport and Reykjavik, check out the map below (the Blue Lagoon is noted by the yellow marker). It's about 20 minutes from the airport and 45 minutes from Reykjavik.
What if you want to go late and stay overnight? 
If your flight times make it so that it makes the most sense to visit the Blue Lagoon at night, you may want to book accommodation nearby to ease the hassle of adding on extra driving time in the dark or heading back to Reykjavik for the night.
There are two hotel options at the Blue Lagoon and both are quite expensive. The less expensive, Silica Hotel, starts at $560 USD per night and the uber luxe Retreat Hotel, which just opened in 2018 starts at $1200 USD. The Retreat Hotel has been called Iceland's most luxurious hotel by Forbes.
If these are out of your price range, there are some other affordable options within close driving distance to the lagoon. Here are my top suggestions for a combination of style, price and proximity:
Harbour View Cottages Grindavik
What should you bring with you to the Blue Lagoon? 
If you opt for the Comfort Package, then you'll want to bring a pair of flip flops or slippers with you to keep your feet from getting cold while you walk in and out of the pool. This especially applies if you'll be visiting during the frigid winter months when the ground is sure to be slick and icy.
Keep in mind that after exiting the lagoon, you'll be showering and getting back into regular clothes, so you'll want to bring whatever you need to get ready for your next adventure — whether that's the airport or a day tour. Luckily towels and blow dryers are provided but you'll need to bring everything else:
Hair brush (super important since the Blue Lagoon can make hair especially brittle)
Clarifying shampoo (if you plan on getting your hair wet)
Makeup
Waterproof phone case for photos
Flip flops
Change of clothes
Hair tie
Bathing suit
Is it true that the water in the lagoon totally effs with your hair? 
YES. You may read some other blog posts online arguing the contrary, but the truth is everyone's hair is different and if you don't want to risk it, keep your hair in a bun while you enjoy the water. There's really no need to get it wet (but of course, I did anyway…go figure).
The staff on site will tell you to put conditioner in your hair before you enter the lagoon to protect it from the mineral build up in the water. In my personal experience, I used a plethora of conditioner before entering the lagoon, totally dunked my hair completely in the water (I don't recommend this), used even more conditioner when I washed my hair afterwards, and still was dealing with the most disgusting, dry and brittle hair I've ever experienced for about 5 washes afterwards.
I also forgot to bring a brush to the lagoon – HUGE MISTAKE. I should note that I have particularly thick, dry hair to begin with, but I'm not sure if that matters. Just avoid getting your hair wet at all if you want to have normal hair for the following week.
If you're hell bent on dunking your hair into the milky blue waters of the lagoon, make sure to bring a clarifying shampoo with you to use during your post-bathe shower as that will help to combat the mineral-dense silica.
Is the Lava Restaurant worth it? 
While not super cheap, I really enjoyed my last Icelandic meal at the Lava Restaurant. The freshly baked bread was incredible (side note: for some reason Iceland just has the most amazing bread in general) and I ordered the fish of the day, which was cooked to perfection. The great thing about the restaurant is that it overlooks the lagoon, so you can do some people watching while you eat and you can even come hungry in your robe (should you book the Premium package). Note that times may vary, but the restaurant doesn't typically open for lunch until 11:30 AM.
Some Final Quick Tips
Luggage storage is provided on site, or you can store small bags in the lockers given to all guests.
If you'll be storing luggage, make sure to allocate extra time for this as there can be a line.
Take off jewelry before entering the lagoon as the water's active ingredients including silica, algae, minerals and geothermal seawater can make your jewelry difficult to remove.
Shampoo, conditioner and hair dryers are all provided complimentary in the locker room areas.
Children under 2 years old are not allowed at the Blue Lagoon, but kids ages 2-13 are allowed entry free of charge!
LIKED THIS POST? PIN IT FOR LATER
***
Thank you to the Blue Lagoon for hosting me for this memorable experience! As always, my opinions are my own and I would never promote something I don't freaking love.