My story about Byron Bay, Australia is undoubtedly one you've heard before. Within 20 minutes of arriving to the creatively charged coastal town, I was completely smitten, head over heels in love, proclaiming that I'd be back as soon as possible — perhaps to live forever. Becoming a Byron bum suddenly sounded like the best idea I'd had in years, and we hadn't even checked into our Airbnb yet.
Sound familiar?
No one, it seems, is immune to the magic of Byron Bay; once you've visited you won't be able to leave without an immeasurable sense of longing to go back.
Perhaps it's the overt creativity of Byron that is magnetic and unlike anything else I've witnessed. Designers, musicians, artists and dreamers all flock here, as it's a place where self expression is more than accepted — it's celebrated completely.
Interior design and clothing boutiques are a dime a dozen. Busking culture is strongly encouraged, and it's unlikely to go a day around town without witnessing some form of live music happening in the streets, or outside of a local restaurant.
Maybe it's the free spirited energy — the feeling that you can be, do and act in whichever way you'd like here without judgment. But regardless of what Byron's X factor might be, you'll definitely sense it the second you step foot into town.
If Byron Bay, Australia isn't already on your bucket list, I highly recommend adding it and then moving it to the top. And when you do finally make it to this bohemian paradise, don't miss these 10 must-dos.
1. Hike to Minyon Falls
One of my favorite day excursions during our stay was a hike to Minyon Falls, which is a little less than an hour's drive outside of Byron Bay. The hike down to the base of the falls is a lush jungle walk that feels like you're traversing through the tropical rainforest in Hawaii. It's not a challenging hike by any means, but beware of leeches that may be a bit pesky like they were during our visit (in February).
Once you've arrived at the falls, you'll witness over 100 meters of rushing water piling into a swimming hole, that's perfect for a crisp, refreshing dip. Pro tip: Pack a lunch for an unforgettable picnic upon the rocks.
2. Eat at Bayleaf
This casual cafe is a Byron Bay staple — and you'll quickly see why. The open air atmosphere, friendly staff, and mouth-watering menu, are all reasons to go back over and over again. Bayleaf pretty much became my daily pit stop in Byron, whether it was for a full "brekkie," lunch or just a quick coconut cold brew, because going just once was not nearly enough!
You'll recognize some Aussie standards on the menu like Coconut Quinoa Porridge, Avo on Sourdough and Dukkah Poached Eggs, but some of the dishes are a bit more creative, like the Trout Salad, which I cannot recommend enough. It was a complete flavor bomb, and to this day remains the most random combination of ingredients I've ever had that somehow worked perfectly together.
Bottom line: The food here is to die for and equally healthy, so you don't have to feel one ounce of guilt indulging here.
3. Spend the Day Swimming at Cosy Corner
It's easy to get stuck frequenting Main Beach and Belongil, which are easy walks from downtown, but if you only stick to the obvious spots, you'll be missing out on so much of the magic of Byron.
Rent a car or hitch a ride over to Cosy Corner, my personal favorite beach, which sits at the very north end of Tallows Beach, just below the Cape Byron headland. It can be viewed from above at the Cape Byron Lighthouse and is its own little protected pocket, more secluded than most Byron beaches and reminiscent of some faraway tropical destination.
4. Watch Sunrise at the Cape Byron Bay Lighthouse
No trip to this bohemian town is complete without a trip to the Cape Byron Lighthouse, and waking up early for sunrise is well worth the lack of shut eye. Don't worry, you'll be able to nap on the beach later!
As this is the most Easterly point in all of Australia, you'll witness the first sunlight of the day hitting the continent, but you're unlikely to experience it alone. It can get pretty crowded here even before daybreak. But while this may not be one of those peaceful moments of reflection you're used to at sunrise, it's still quite a sight to behold.
Make sure to peek down over the fence onto Tallows Beach below as you walk up to the lighthouse to witness surfers catching the first waves of the morning.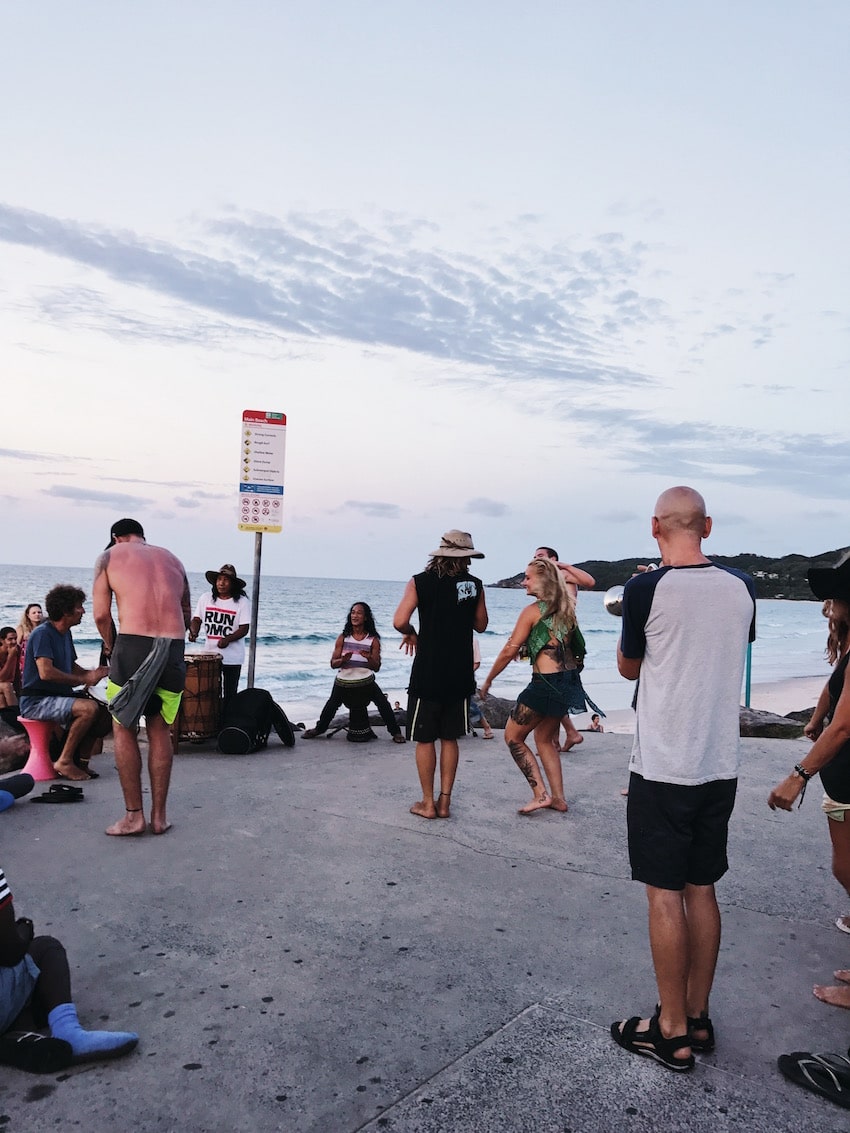 5. Have a Sunset Picnic at the Drum Circle
Rarely a night went by during my 2-week stay in Byron that you couldn't find me around 7 PM camping up on the rocks that separate Main Beach and Belongil Beach, waiting for the drum circle to start.
This is a nightly Byron tradition, where locals and tourists alike take part in creating one-of-a-kind drum beats and dance parties with strangers as the sun sets into the Tasman Sea.
I recommend grabbing some delicious to-go food from one of the many Byron Bay eateries downtown (Orgasmic Falafel is a personal favorite), and making a picnic dinner out of the affair!
6. Catch Some Live Music Any Night of the Week
As I previously mentioned, it's hard to avoid live music in this town if you tried. Musicians frequently set up mini concerts everywhere and anywhere on the streets to serenade tourists and their local friends, and you don't get the feeling that they're doing it because they need the money or want to get discovered. They're just doing it to express themselves!
If you wish to be a bit more intentional about your live music viewing, there are a few places you must go.
Rails is a legendary bar in town that has been hosting free live music every night for over three decades (a pretty impressive feat!!) and all is enjoyed in their pleasant open-air beer garden with a cold one on the side.
On the more touristy end is Beach Hotel (aka "The Beachy") which brings in a packed schedule of musical guests and often hosts open mic and reggae nights! This place is huge and can become quite a scene on popular concert nights.
Many restaurants in town also book local artists to serenade their guests, so check around at different spots for their live music schedules if you prefer to eat and enjoy some tunes at the same time!
7. Go Shopping!
Shopping addicts will likely leave Bryon broke, simply because there's just so much damn cute stuff to snag here. From home decor mecca Ahoy Trader, to Hope & May, which feels like you're stepping onto the streets of Santorini, Greece, you'll go gaga over all the cute boutiques within walking distance of town. Other favorites not to miss include Spell Byron Bay (beloved by celebrity instagrammers like Gypsea Lust), Marr-Kett, Auguste the Label, Tree of Life and Nikau.
8. Order Up a Coconut Cold Brew
Caffeine lovers won't find any shortage of options downtown in Byron Bay, but it's worth making the trek slightly further out of the main town center to visit Folk, one of my favorite cafes in the area.
The food is of course delicious, organic and ethically sourced, like many spots in Byron, but the coconut cold brew is mind blowing and worth the trip alone. I've always been one of those people that can't drink coffee without some sort of creamer or milk combo, but I'd quickly substitute that habit for a daily Folk cold brew any day.
9. Rent an Airbnb
Seeing as that Byron is a beach town teeming with creatives, it only makes sense that the Airbnb options would be gold here. Who needs to a book a hotel when you've got a bohemian paradise down the road with a full kitchen at half the price?
Our favorite find was Temple Retreats, owned by a lovely creative couple who've decorated their three bedroom home with surf boards, musical instruments, street signs and other eclectic knick knacks that will make you ooh and ahh over every corner.
10. Go on a Mini Road Trip to Bangalow
About 20 minutes inland from Byron Bay, sits Bangalow, another creatively-driven town with a similar bohemian vibe, if not one that's slightly more ritzy. Cute shops are plentiful here, but Bisque Traders is not to be missed. It's a must for anyone with a love for global design.
Woods is Folk Byron Bay's sister cafe that recently opened in the area and will keep you happy and caffeinated. For cheap eats, Red Ginger is a secret hole in the wall that serves up amazing a la carte dumplings and sells unique Asian goods.
Have you been to Byron Bay, Australia? Tell me what your favorite spot was in the comments below!
Planning a trip right now? These are all the websites and services I love for booking everything from flights, tours, accommodation and more:
PIN IT FOR LATER