There are many reasons over 39 million people choose to call California home—and a big one is the fabulous year-round weather no matter where you plan to visit in the state. However, California in spring definitely holds a special kind of magic.
The diverse vegetation in the spring season results in bright blooms and colorful scenes that look straight out of a storybook depending on where you're exploring. If you happen to catch a Superbloom year on top of it, you'll be blown away by the landscapes bursting at the seams with color.
But blooming flowers aren't the only reason to visit California in spring. Many spots along the coast can be ideal spring break destinations for families or couples looking to get away for a week. Plus, there are plenty of desert locales in California that are perfect spots to visit in the springtime before the intense summer heats rolls in.
Between rain showers to "May Gray," spring in California can be a confusing season to navigate, depending on where you want to travel to. I'm here to guide you in this post to all the best places to visit in California in spring, no matter what type of adventure you're seeking. You'll be rewarded with pleasantly moderate weather, smaller crowds, and vibrant blooms—that is, if you know where to go.
Your Ultimate Guide to the Best Places to Explore in California in Spring
Joshua Tree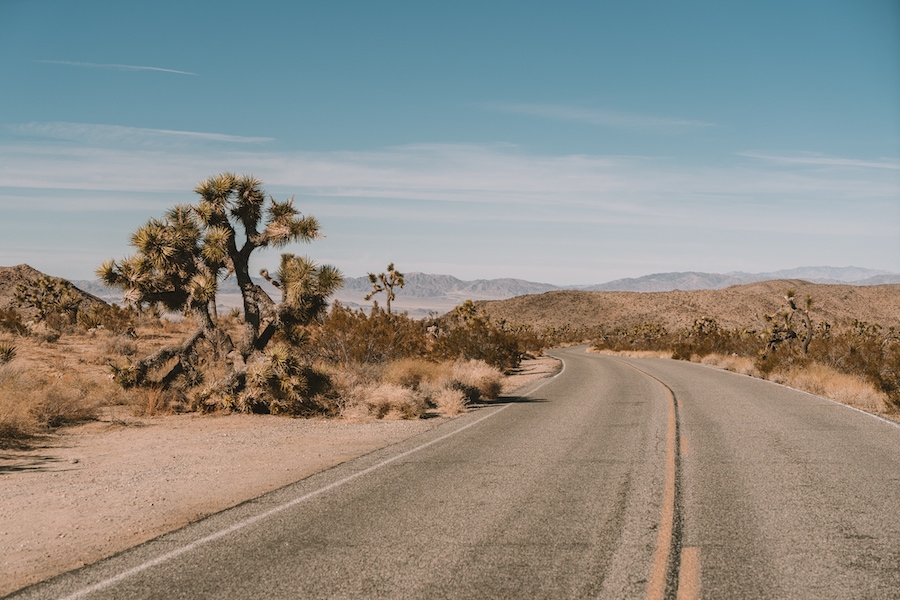 Joshua Tree is a quirky, desert destination two hours from Los Angeles that's a popular getaway year-round for city dwellers looking to escape to the more remote. Between hiking and exploring Joshua Tree National Park to experiencing live music venues, vintage shopping, and enjoying the many adorable Airbnbs that have popped up over the years, there's a lot to love in this area.
That being said, since it's in the high desert, planning around the weather can make a big difference. If you plan on taking advantage of the national park and outdoor activities here, you'll want to avoid the sweltering days of summer, which can reach 100 degrees.
Winter can also get ridiculously cold in Joshua Tree—it even snows here from time to time!
Springtime is definitely one of the more ideal times to visit with average daytime high temperatures ranging between 70-85 degrees March through May. In Joshua Tree's pleasantly warm spring temperatures, you'll be able to enjoy hiking mid-day without major risk of heatstroke or just plain discomfort.
In addition to being able to experience a more comfortable climate, you'll also see tons of beautiful wildflowers in spring, which are stunning in contrast with the stark desert landscape. During your visit, don't miss some of my favorite spots like the Arch Rock Trail in Joshua Tree National Park, the Cholla Cactus Garden, Pioneertown, and Pappy & Harriet's for some live music and BBQ.
Read More:
Your Ultimate Guide to Joshua Tree
The Dreamiest Home Rentals to Book in Joshua Tree
Antelope Valley
If you've ever dreamt of seeing endless fields of famous California poppies, then you definitely need to plan a spring trip to Antelope Valley. It is seriously one of the most beautiful and show-stopping sights of the season, and people flock to the fields from all over to see them up close and personal.
The poppy fields at Antelope Valley are the perfect place to take graduation, engagement, or family photos, so you'll definitely want to bring your camera along for the ride. However, it's important while visiting and taking photos to always stay on trail and never trample the poppies!
Despite the fact that this location is technically in Los Angeles County, Antelope Valley is still over 60 miles from the center of the city (which any Angeleno knows is a lot during peak traffic times). However, you can definitely make this a quick day trip if you are a local. If you're traveling from far away, there are a bunch of small but convenient motels nearby in Lancaster.
Visiting Antelope Valley is 100% a must-visit in California in spring, just be sure to respect nature and leave no trace so that this beautiful valley can remain clean and beautiful for other visitors.
---
Read More California Posts
---
Anza Borrego Desert State Park
Anza Borrego Desert State Park is seriously a one-of-a-kind place to visit in California in spring. If you've ever been intrigued by Death Valley or Joshua Tree, then you can't miss this one. In addition to being one of the most unique state parks in California, it is also the largest, spanning over 600,000 acres.
I'm not gonna lie, Anza Borrego is definitely not for those who prefer luxury travel and amenities. However, if you love nature and exploring unique terrains and landscapes, you'll find yourself easily entertained. I actually just recently visited for the first time and loved how accessible it is for camping enthusiasts.
Most of the park is open for dispersed camping, which means you can set up camp virtually anywhere you like as long as you follow a few designated rules. If that's not your jam, there are plenty of established campgrounds to choose from as well. This post offers a thorough guide on camping in Anza Borrego.
There's a pretty strong consensus that visiting Anza Borrego in the spring is the way to go. It means you'll get to see the stunning spring wildflowers that turn this desert oasis into a magical and colorful landscape. Plus, the weather in the spring is also pretty mild compared to summer, with highs rarely exceeding 85 degrees. There are occasional wind spurts, but overall, its pretty enjoyable.
As you explore, don't miss the 130 giant metal sculptures that are scattered throughout the park. The giant sea dragon is a must-see!
Catalina Island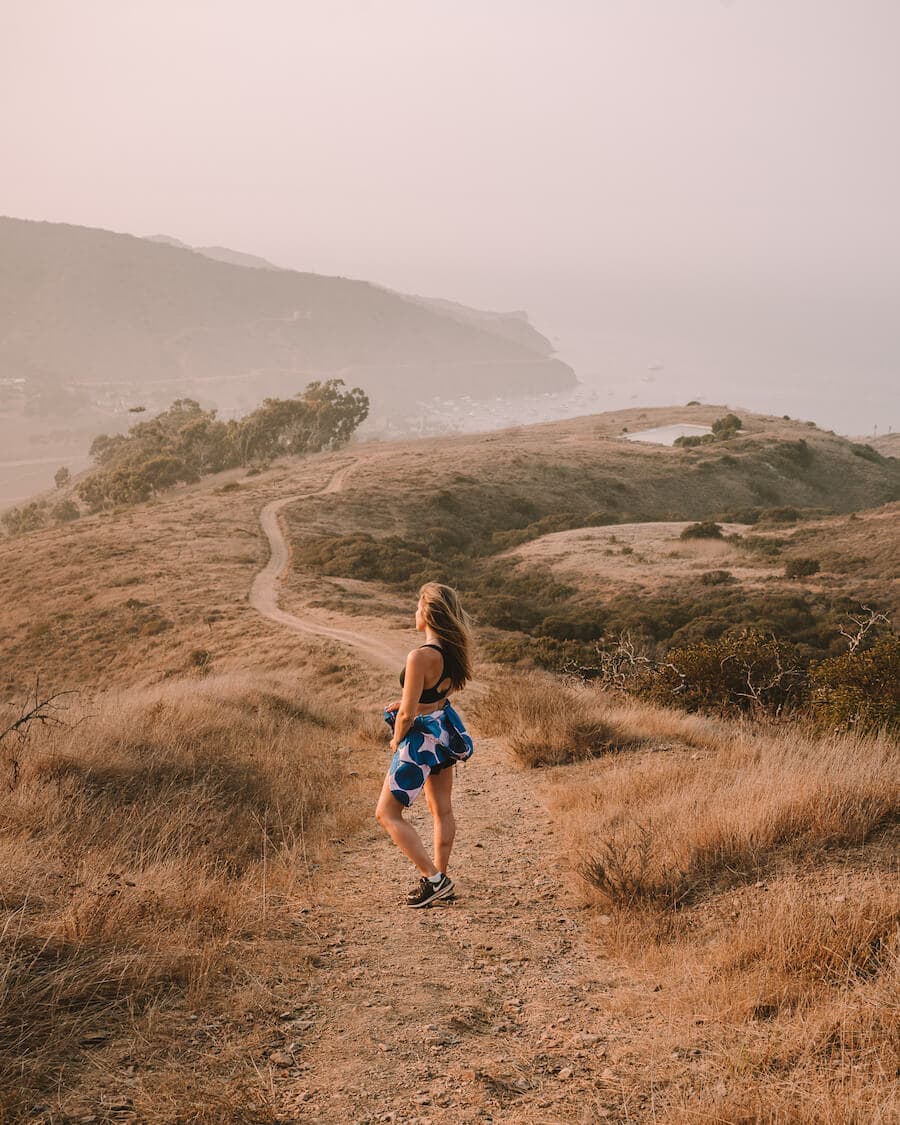 Catalina Island is about as close as you can get to a European summer without leaving California. This quaint and beautiful island is a great option for all kinds of travelers, whether you're an outdoorsy adventurer or a beach-side lounger. The views are seriously surreal and look like something reminiscent of the French Riviera.
Catalina is one of my favorite places to visit in California in spring because the weather is enjoyable and the crowds are much smaller than in summer—and trust me when I say that the crowds in Catalina can get wild. Though you'll find the hottest and sunniest weather occurs at the end of summer, Catalina is really small, so not having to deal with hoards of tourists is a major bonus and will make booking everything way easier.
To get here, all you need to do is book a boat ride through the Catalina Express. The ride itself only takes about an hour from the ports in Long Beach or San Pedro, and it's not uncommon to spot some dolphins along the way.
Once you arrive, you'll definitely want to rent a golf cart to drive around the island and take in all of the stunning views. After you do some exploring, snag a lounger at Descanso Beach Club and enjoy a Buffalo Milk Cocktail which is their signature.
Read More:
What to do in Catalina Island on a Weekend Escape
San Diego
Whether you're planning a spring break trip with the family or simply looking for a mellow, beachside vacation, San Diego is a fan favorite in the Spring. As an Angeleno, I thoroughly enjoy the occasional trip to San Diego. Like many other places in California in spring, San Diego sees fewer crowds and decent weather, making it a great place to escape from March to May.
When it comes to weather, the highs tend to stay around the upper 60s while the lows rarely drop below the mid-50s—and since SoCal is known for its sunny demeanor, you can expect plenty of sunshine here. Though you'll definitely want to pack a light jacket, you shouldn't expect to run into very extreme weather during your spring vacation in SD.
If you are traveling with kids, there are plenty of great spots to check out, from Balboa Park to the San Diego Zoo. If you're looking to spend most of your time at the beach, consider booking a spring break stay on Coronado Island. Even if you don't want to stay over night, the sandy beaches on this unique island are worth exploring on a day trip. For a more adult-friendly experience, hit up Little Italy and spend the day bar hopping. There are tons of great restaurants and wine tasting rooms, and this Southern California city is known for having some wild nightlife!
Carmel and Monterey
Monterey and Carmel-by-the-Sea are two of the most charming towns on the central coast of California. Sitting equidistant between the San Francisco Bay Area and Santa Barbara, the vibe in these smaller coastal towns is really one-of-a-kind, with a hint of European charm.
Carmel is known for having some of the best restaurants in the area along with adorable, cottage-like architecture, while Monterey is famous for its legendary aquarium. If you're a fan of the hit HBO series "Big Little Lies," you'll love the vibe in Monterey.
It is definitely a more affluent part of the state, so prepare to spend some cash on amazing dinners, spa days, and great boutique shopping. There are also several tasting rooms to explore, so if you love wine, definitely carve out some time to check them out. I'm obsessed with Albatross Ridge's tasting room in downtown Carmel.
During the spring, the weather in Monterey/Carmel is the most pleasant, sitting around 60 degrees during the day and offering quite a bit of sun before the summer fog rolls in. But most importantly, spring is an awesome time for whale watching along this part of the coast. Orca sightings are at their peak April through June, and while you can spot whales year-round here, May is the absolute best month to hit all varieties at once including Humpbacks, Gray Whales and Blue Whales.
Definitely sign up for a whale watching tour during the spring if you can to increase your chances of sighting whales along the coast. This half-day tour has over 350 five-star review!
Yosemite National Park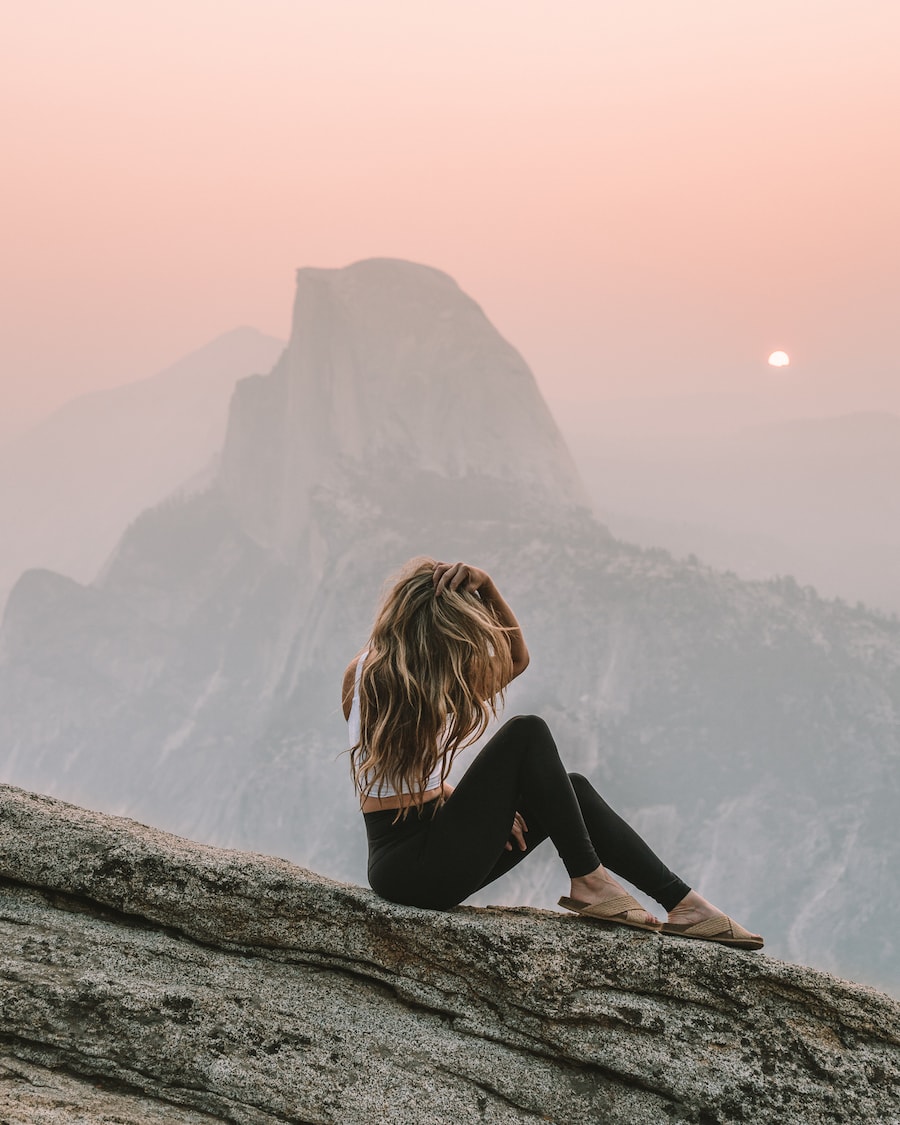 Yosemite National Park is one of the most popular national parks in the entire country (let alone California). From the dramatic granite cliffs to the breathtaking waterfalls, it is no wonder people flock from all over to explore this majestic (and massive) park. Despite the fact that I've been a California local for years, I actually just took my first trip to Yosemite in August of 2021, and I was seriously impressed.
Though I thoroughly enjoyed my experience, summer in Yosemite is known to get really hot and really crowded. Plus, because of the drought in California, many of the waterfalls were a mere trickle at best. May is considered to be one of the best months of the year to plan a trip here because the temperatures are cooler and you hit the ideal time for witnessing epic waterfalls due to snowmelt.
While Yosemite is magical any time of year, it's definitely one of the best places to visit in California in spring. Just keep in mind that many roads and trails get closed down due to winter weather and may remain closed in spring depending on conditions.
Pro Tip: The bears have officially come out of hibernation in spring, and despite the fact that they're all tracked, it's not uncommon to have a run-in with one, so always be cautious with proper food storage and read up on bear safety before you go!
Read More:
Best Things to do in Yosemite on Your First Trip
Where to Stay in Yosemite (In and Near the Park!)
Santa Ynez Valley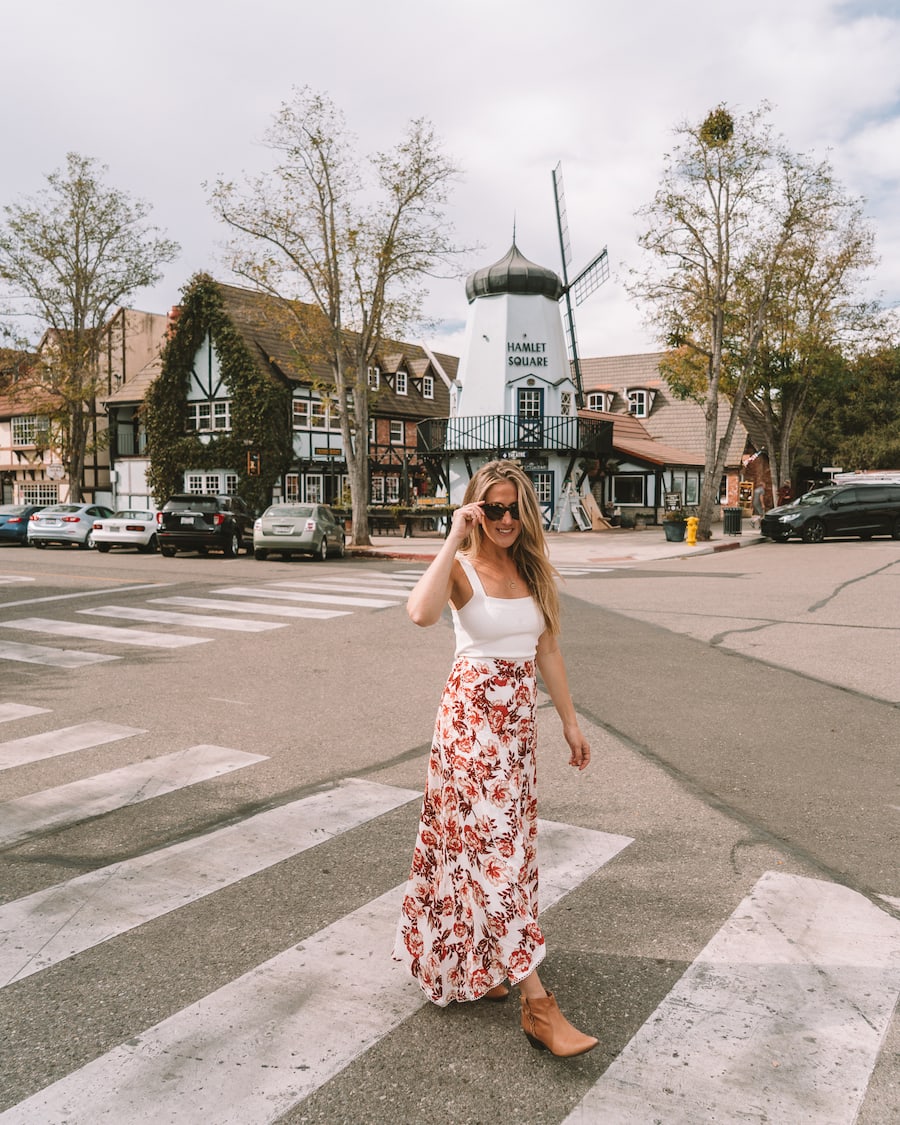 Though Napa and Sonoma are great, the Santa Ynez Valley is definitely one of my favorite areas in California for wine tasting. It's only about two and a half hours north of LA, making it a great option for a quick weekend getaway. Plus, there are many mini pockets within Santa Ynez Valley like Los Alamos, Los Olivos and Solvang that all have their unique personality and will beg you to keep returning again and again.
I love visiting this area of California in spring because since it's slightly off the coast, it heats up earlier in the year than seaside towns and helps me get a taste of summer weather. Plus, it's more pleasant sitting outside and wine tasting when it's not too scorching hot! The rolling hills and vineyards are also a vibrant green and are beautifully lush this time of year.
When deciding where to visit in California in spring, Santa Ynez Valley should be at the top of your list. Don't miss some of my favorite spots like the entire town of Los Alamos (read my full guide to Los Alamos here), downtown Santa Ynez where you need to pop into the local general store, and some favorite wineries including Fess Parker (book a horseback riding tour), and Sunstone Winery which is a beautiful setting to enjoy an afternoon.
Read More:
Taking an Epic Wine Country Road Trip in California
Ojai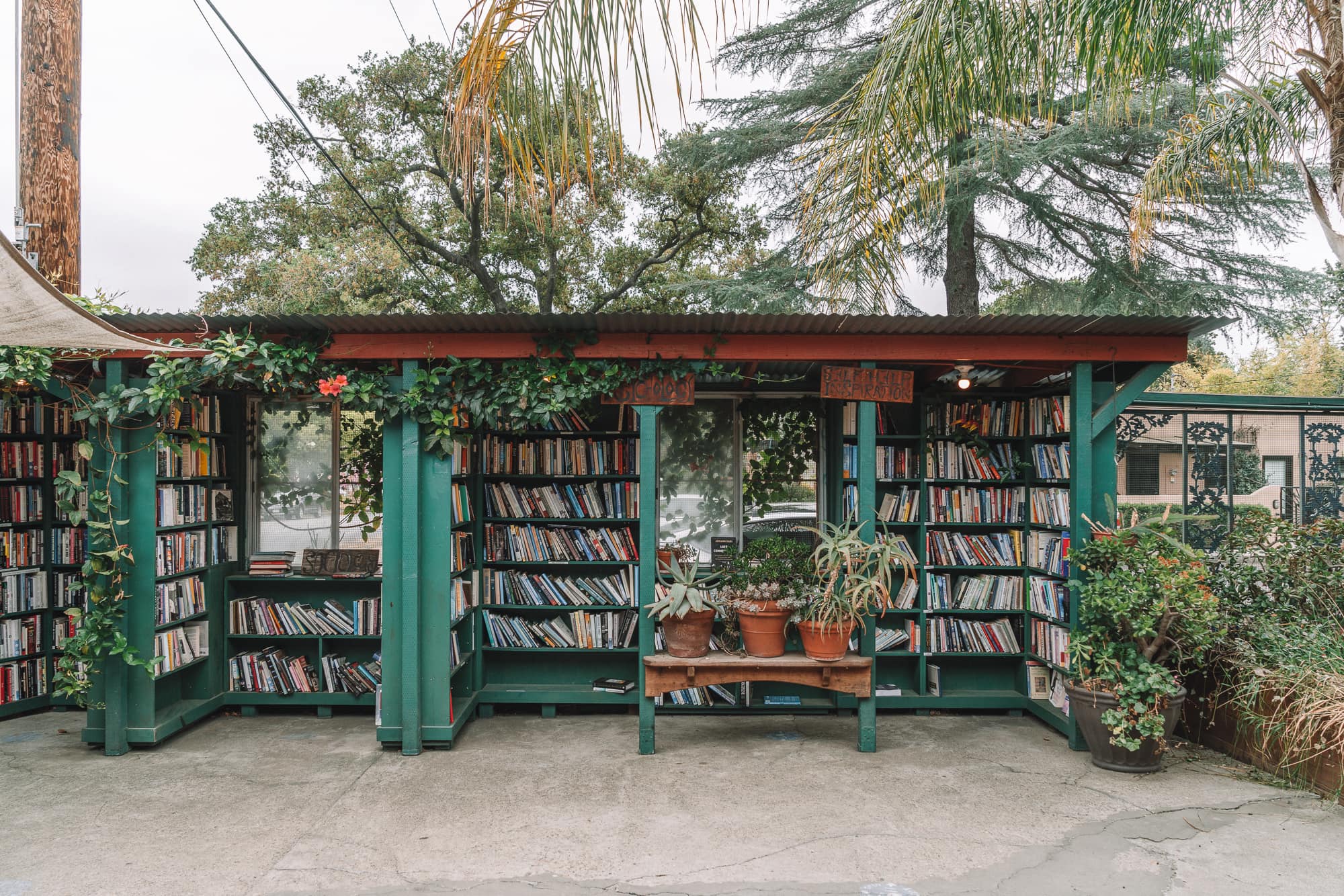 Ojai is a small town—so small in fact that they've enacted a citywide ban on chain stores—that sits inland East of Santa Barbara and less than two hours north of Los Angeles. While you won't find a long list of bucket list-worthy sights and excursions to cross off your list here, what you will find is utter peace and relaxation. If a weekend away with a super chill, no-fuss agenda is your MO then book it this spring to Ojai.
Why is spring a great time to visit? Well, due to it's land-locked locale, summers are definitely hotter here than by the coast, so if you're visiting California in spring it will definitely warm up more quickly here than compared to its coastal neighbors. Plus, Ojai Valley is home to a unique microclimate that makes it ideal for growing pixie tangerines and harvest each year runs from March to May.
April is officially Ojai Pixie Month and during this time the local community joins forces to offer tons of special packages and fun activities like culinary specials at restaurants, retail discounts, hotel packages, citrus-inspired cocktails and more.
Read More:
Palm Springs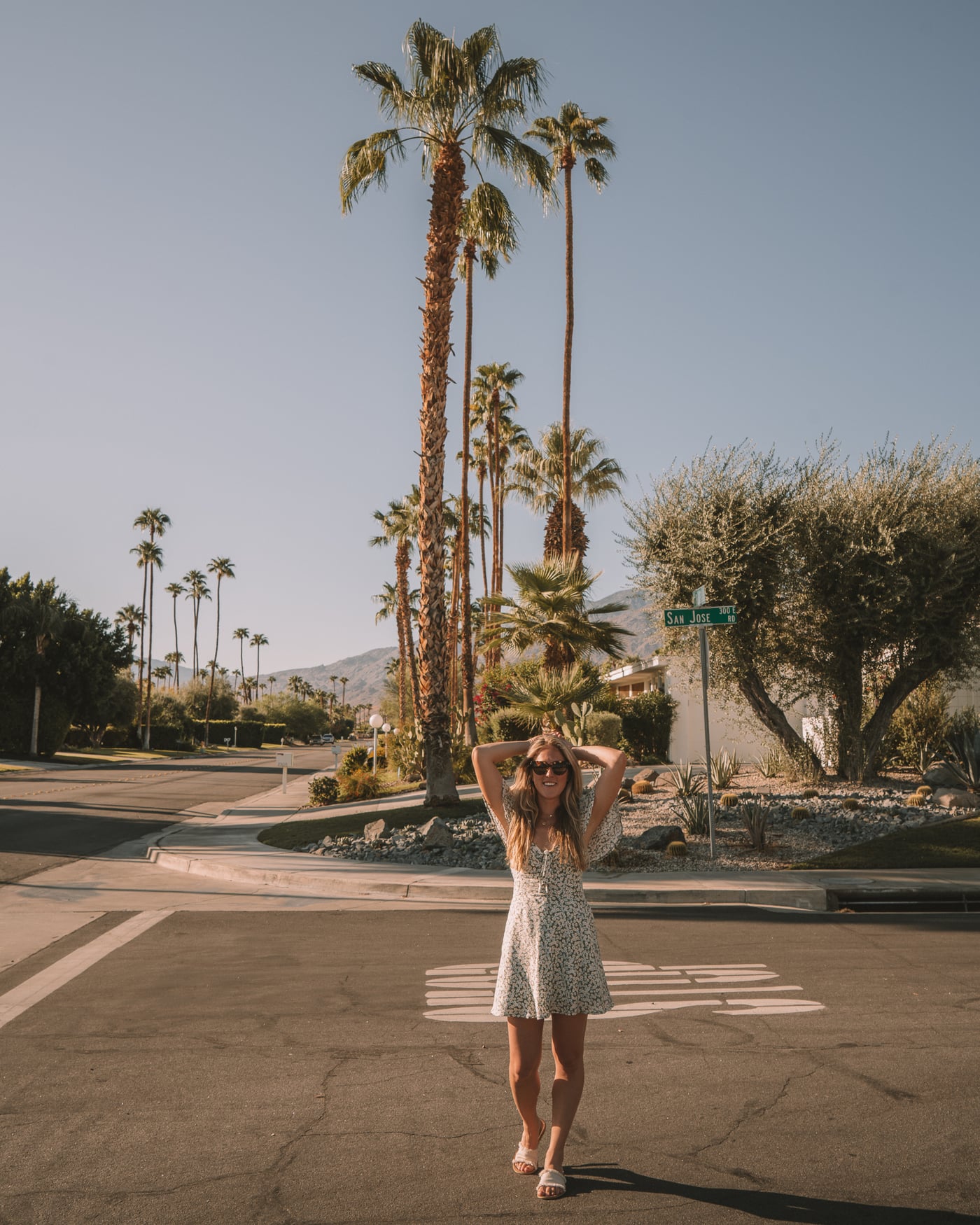 While thinking of Palm Springs evokes visions of colorful daytime cocktails and splashy pool parties that give you all the summer feels, the summer season is actually one of the worst times to visit this chic desert town due to the unbearable heat. Spring in Palm Springs feels like summer in a lot of other destinations—think temperatures spiking as high as 95 degrees in May.
Spring also brings a lot of fun activities to the area like Coachella and Stagecoach music festivals. Though if you're not interested in the festival scene, you'll definitely want to avoid these dates as accommodation prices go through the roof.
If the culinary scene is more your vibe, book your visit to Palm Springs in March when the Palm Desert Food & Wine Festival takes place. No matter what time of year you visit though, as long as you have have easy access to a pool and cold beverages, you'll be good to go.
Point Reyes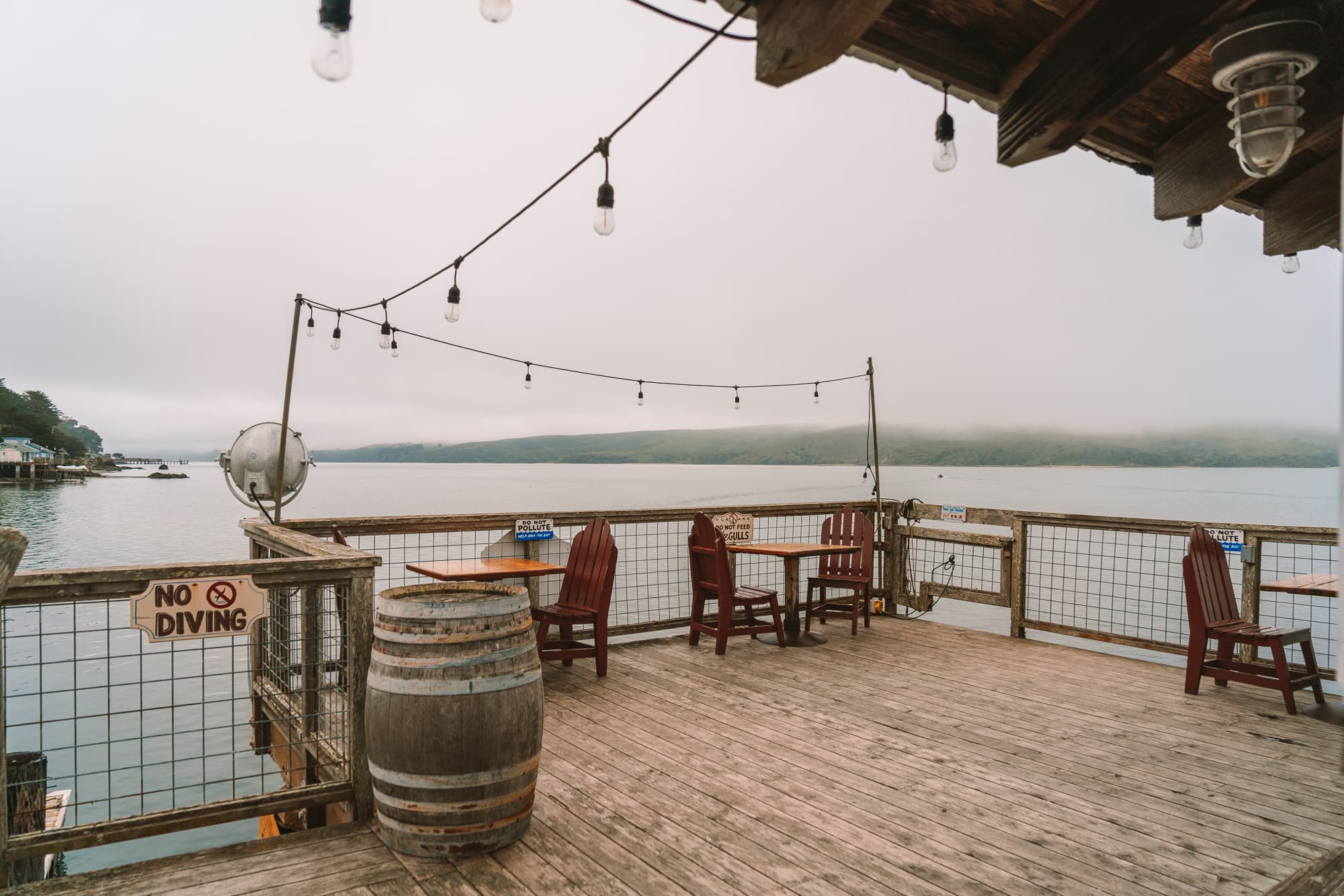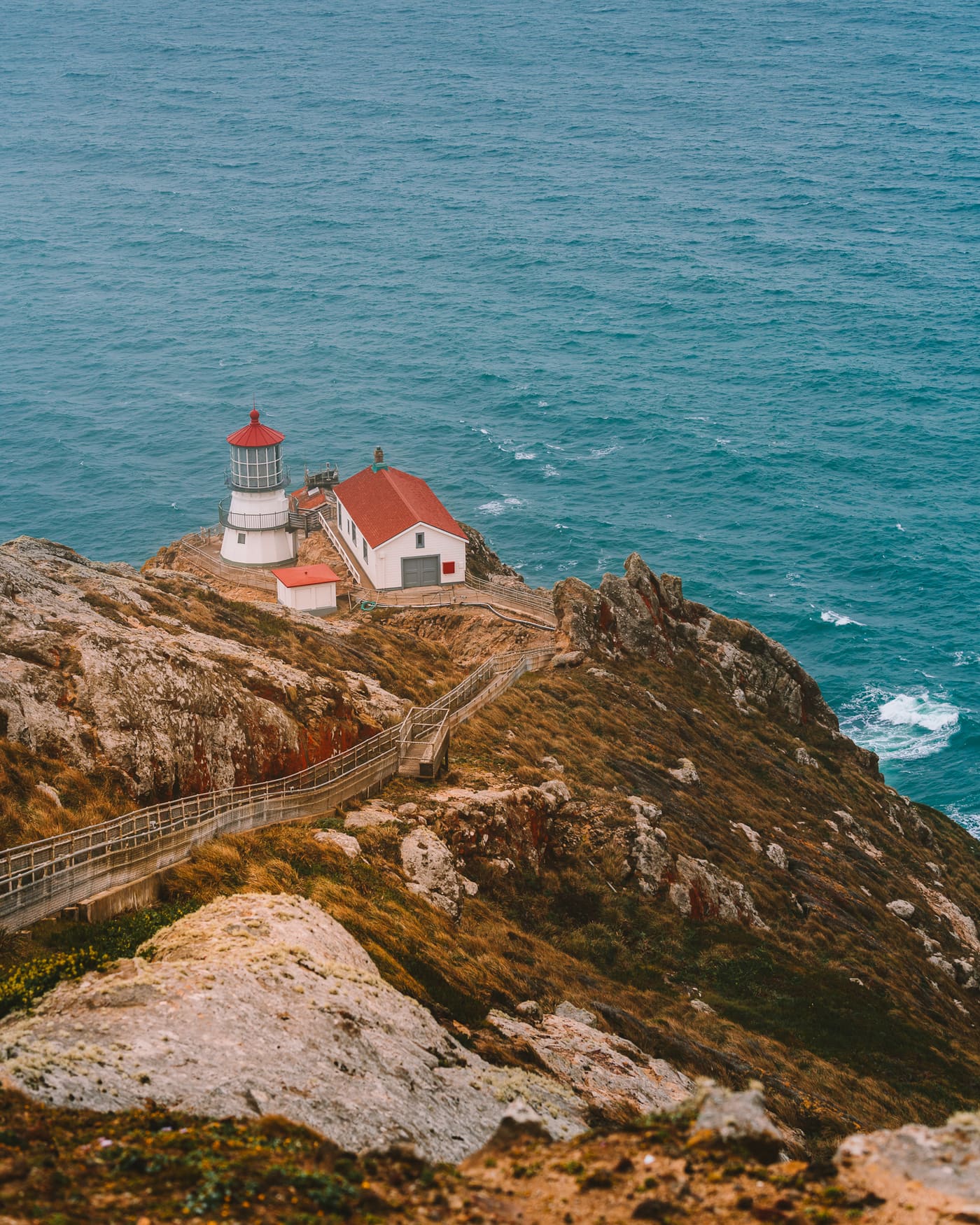 This stunning Northern California coastal destination is perfect for outdoors lovers who will relish all the opportunities for wildlife spotting and getting out in nature. However, weather here can be tricky as fog is an almost daily occurrence along the National Seashore's rugged peninsula, which is said to be the foggiest place on the West Coast. The area clocks approximately 200 foggy days per year.
No matter when you decide to visit Point Reyes, you should definitely be prepared with layers like windbreakers, rain jackets, beanies and boots, but spring and fall are generally your best bets if you're looking for a combination of less fog and not freezing temperatures. As a plus, Point Reyes in spring offers the opportunity to witness the elephant seal and harbor seal pupping, catch the grey whales migration through April and enjoy the blooming wildflowers. Not too shabby!
If you do plan a trip here in spring, I'd suggest visiting later in the season like April or May and trying to be as flexible with your plans as possible, so you can skip the coastal areas on the foggiest days and then book it to the Point Reyes National Seashore when the sun decides to shine. Don't miss the Cypress Tree Tunnel, Point Reyes Lighthouse and the The Marshall Store for waterfront oysters and champagne.
Lake Tahoe
As the winter ski season comes to a close and Lake Tahoe transitions to summer vibes, this epic California destination becomes perfect for those trying to capitalize on shoulder season.
During the springtime in Lake Tahoe, you'll experience far fewer crowds and much better pricing on accommodations, however depending on the year you might still be able to catch some late season skiing. How does a morning paddleboard on the lake followed by an afternoon on the slopes sound?
At Palisades Tahoe Resort for example, they pride theirselves on being the "Spring Skiing Capital" and offer discounted lift tickets into May and themed dress up days.
Napa Valley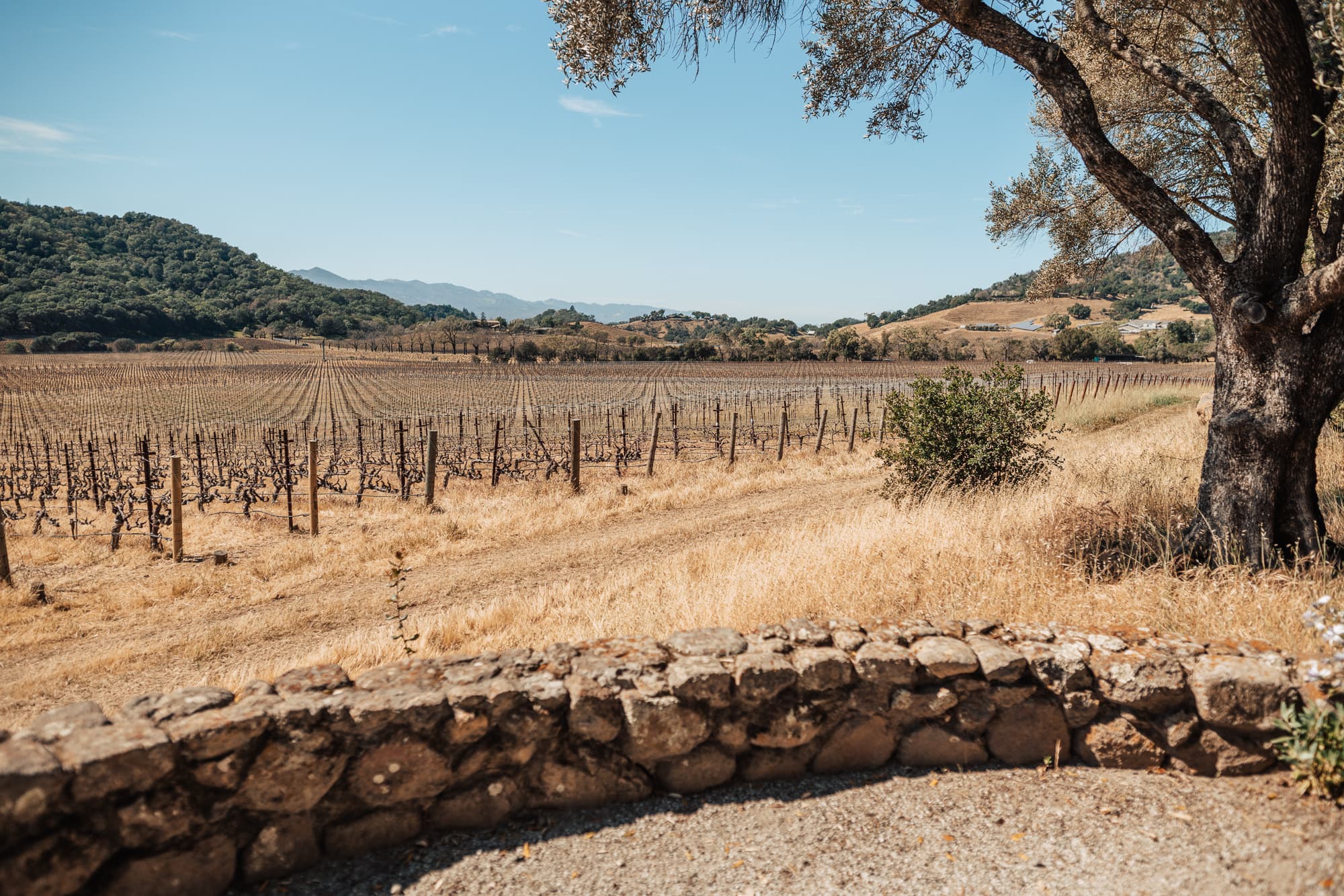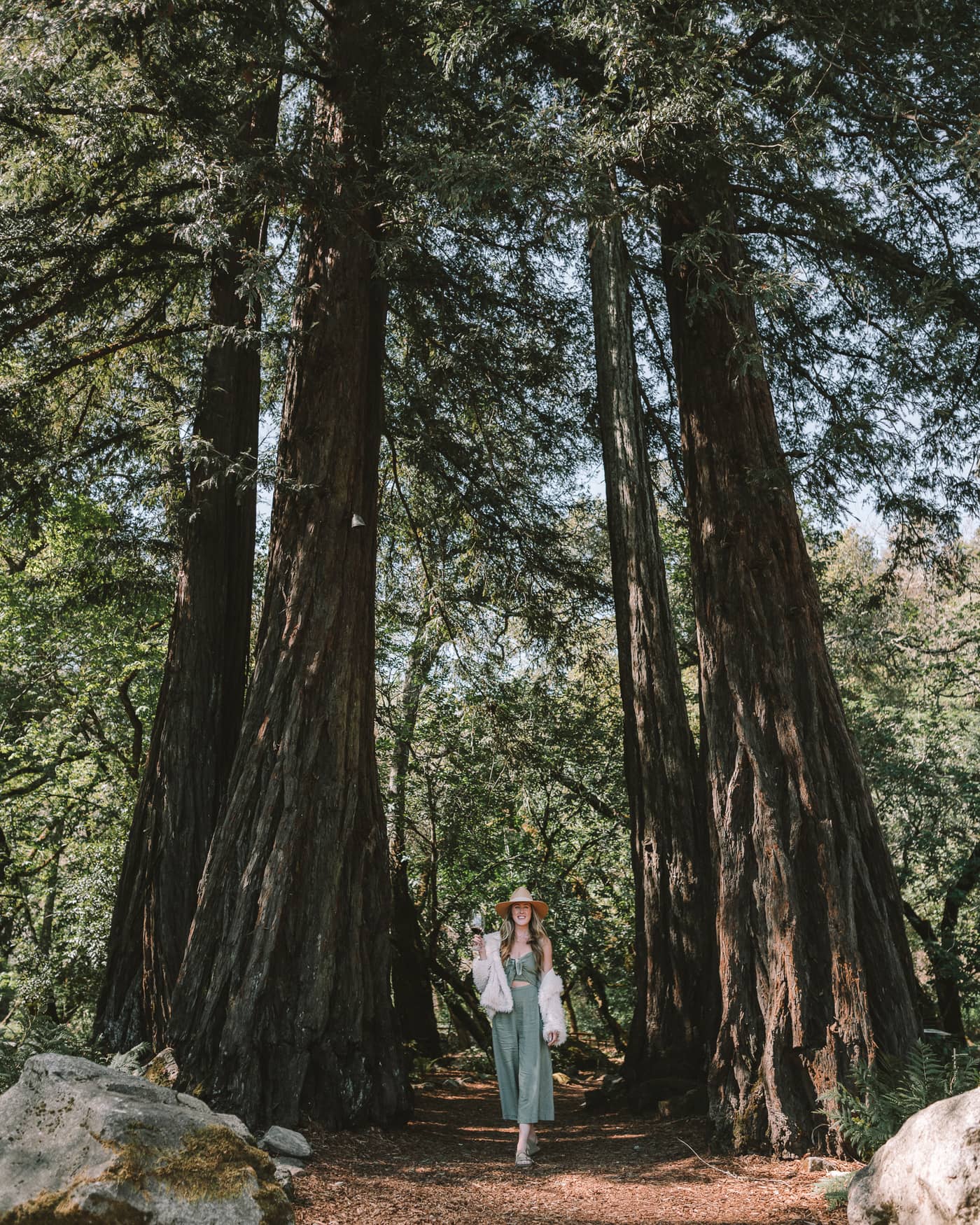 If Napa Valley has always been on your bucket list, but the price tags have not, then springtime is a great time to visit. Napa's peak tourist season is when the harvest season hits from late summer through fall, so avoiding this timing means fewer crowds and better deals.
Each time I've visited Napa has always been during the spring when temperatures are much more pleasant that in summer. Even during a recent trip in March, I was so hot at some of the wine tastings during the day that I was getting up constantly to avoid sweating through my dress…TMI? Imagine how hot summer gets!
No, but seriously, I much prefer to enjoy wine tastings outdoors in nature and if you're on the same page, spring will be a much more pleasant time of year.
If you go, make sure to explore the adorable downtown of St. Helena and don't miss Peju Winery and AXR, a boutique winery where you can sip exquisite reds under the Redwoods. It's magical!
Did this trip inspire you to plan a trip to California in the spring? Let me know in the comments below!
---
Planning a trip right now? Don't miss my go-to websites for booking everything from flights and tours, to accommodation and more:
---