From gorgeous coastline to blue skies and sunny weather, California has everything it needs to be the ultimate summer destination—in fact, many consider California to be the place of the "endless summer." And while that's true for many destinations around the state, visiting California in summer still requires some pre-planning as there are locales that aren't ideal summer destinations due to scorching heat (ahem, Death Valley), and even surprisingly foggy weather like in San Francisco.
While you can pretty much get away with an idyllic vacation anywhere in Southern California in summer, crowds are another important thing to consider. Around Los Angeles, SoCal really explodes with tourism in the summer. So if that's something you'd prefer to avoid, definitely keep that in mind. Trust me, I live here, so I know!
Thankfully, there are plenty of great, low-key options that can be taken advantage of during the summer months.
Whether you're looking for breathtaking hikes in a National Park, city vibes, or crystal clear water and perfect surf, California in summer offers an abundance of sun-filled experiences and adventures. This post is here to guide you to the best places to visit in the Golden State during the summer season, no matter what type of trip you're seeking!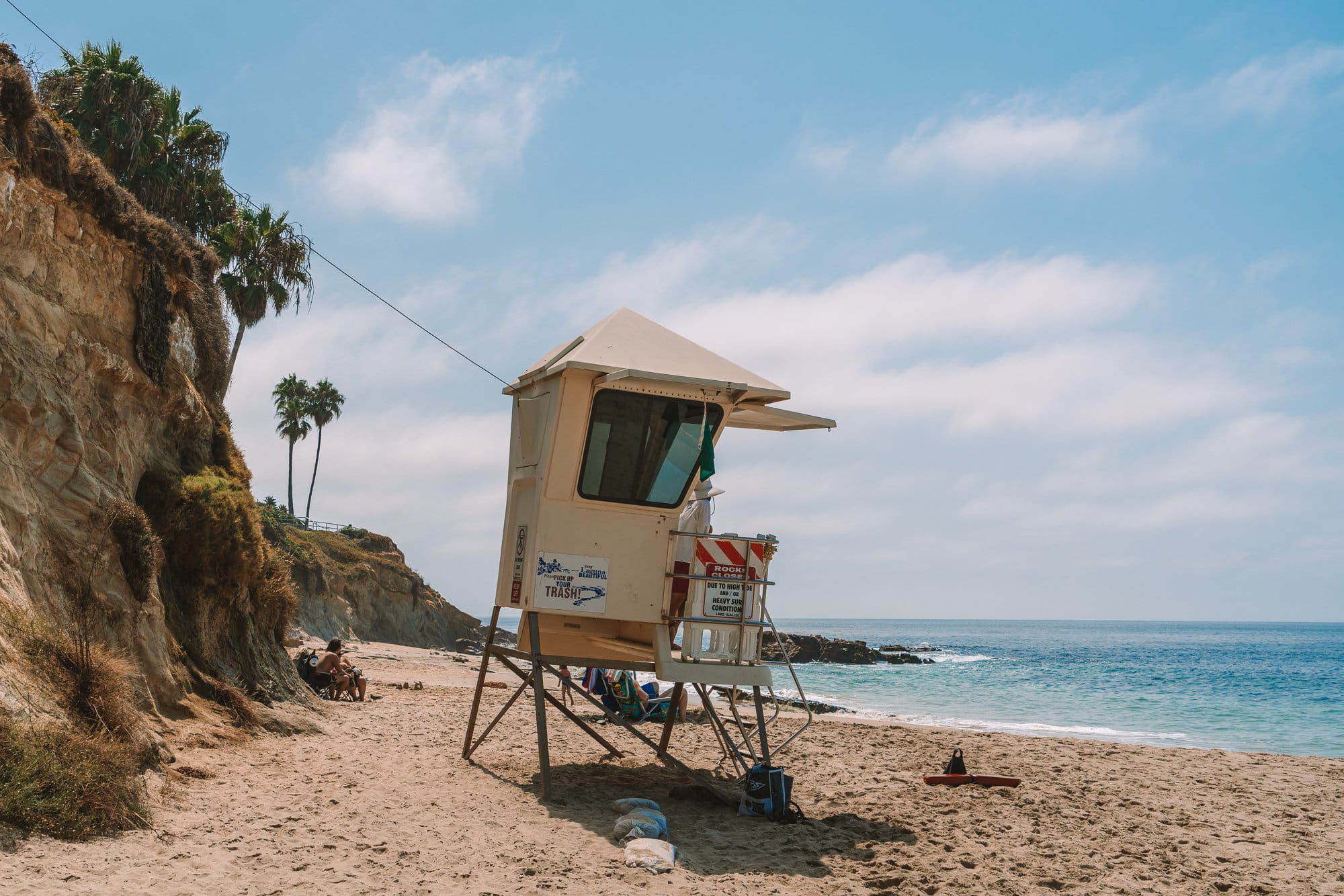 Your Ultimate Guide to the Best Places to Explore in California in Summer
Big Sur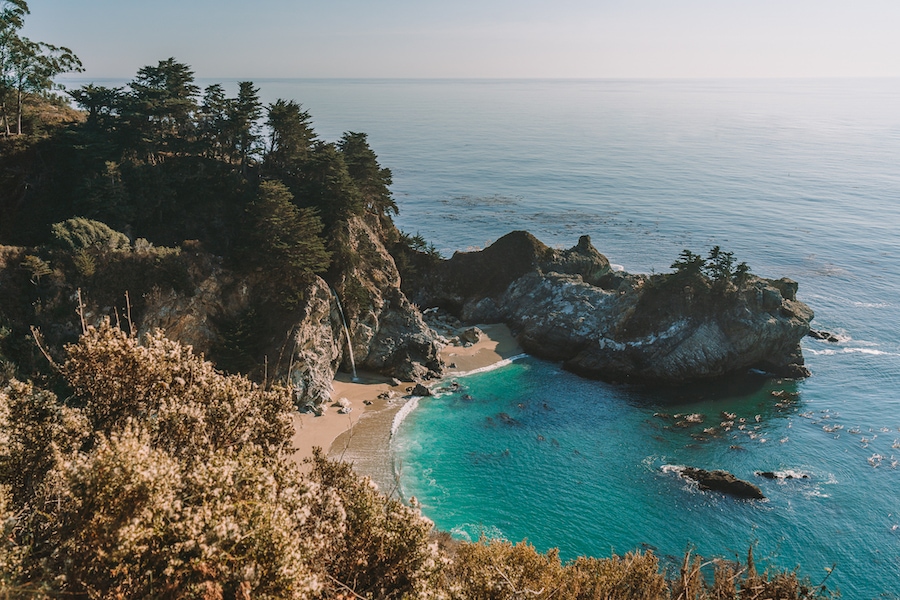 If you're looking to plan an epic summer road trip in California, Big Sur is the ultimate destination. In fact, it's up there on my list of best road trip destinations in the entire United States, as the coastal drive itself along Highway 1 has a front-row seat to dramatic rocky cliffs that plunge down into the most gorgeous turquoise water.
Big Sur is personally one of my favorite destinations in all of California, but in the summer months you can risk some foggy weather. That being said, a bit of fog and cloud cover can add to the drama of Big Sur and make you feel like you're hanging out in the clouds. To avoid a completely foggy trip to Big Sur, make sure to stay over for several nights and wait to visit toward the end of the summer if you can, when better weather and smaller crowds are more common.
From a sunset photoshoot at Bixby Bridge to a walk through the redwoods, there are plenty of outdoor activities to do in the summer here. I also highly recommend taking advantage of the longer day and better weather by having beers with a view at Nepenthe (which is one of my favorite spots in Big Sur).
Read More: How to Plan an Epic Big Sur Road Trip
Sequoia National Forest
Despite the fact that I have only visited Sequoia National Park during the winter, it is most popular in the summer thanks to the weather and amazing hiking trails. Though I loved experiencing the majestic redwoods covered in snow, there is something about Sequoia National Park that screams summer—and a major benefit is that much more of the park is open for exploring during this season.
If you're into camping, hiking, and just general "outdoorsy-ness," this is the place for you! During the summer, the weather stays pretty warm, making June through August the best time to visit. That being said, this is also the most popular time in the park, so being able to plan your trip during the weekdays can help cut back on the crowds.
Keep in mind that temperatures will depend a bit on the elevation. In lower elevation areas of the park, temps can reach the mid-90s during the day, though in higher elevations it's a bit more comfortable with highs sitting around 70 degrees Fahrenheit. The evenings are cool and remain around the low 60s.
If you're into photography, love the outdoors, or just want to check a new National Park off your bucket list, then visiting this California gem in summer is a must.
Read More: The Ultimate Guide to Visiting Sequoia in Winter
Laguna Beach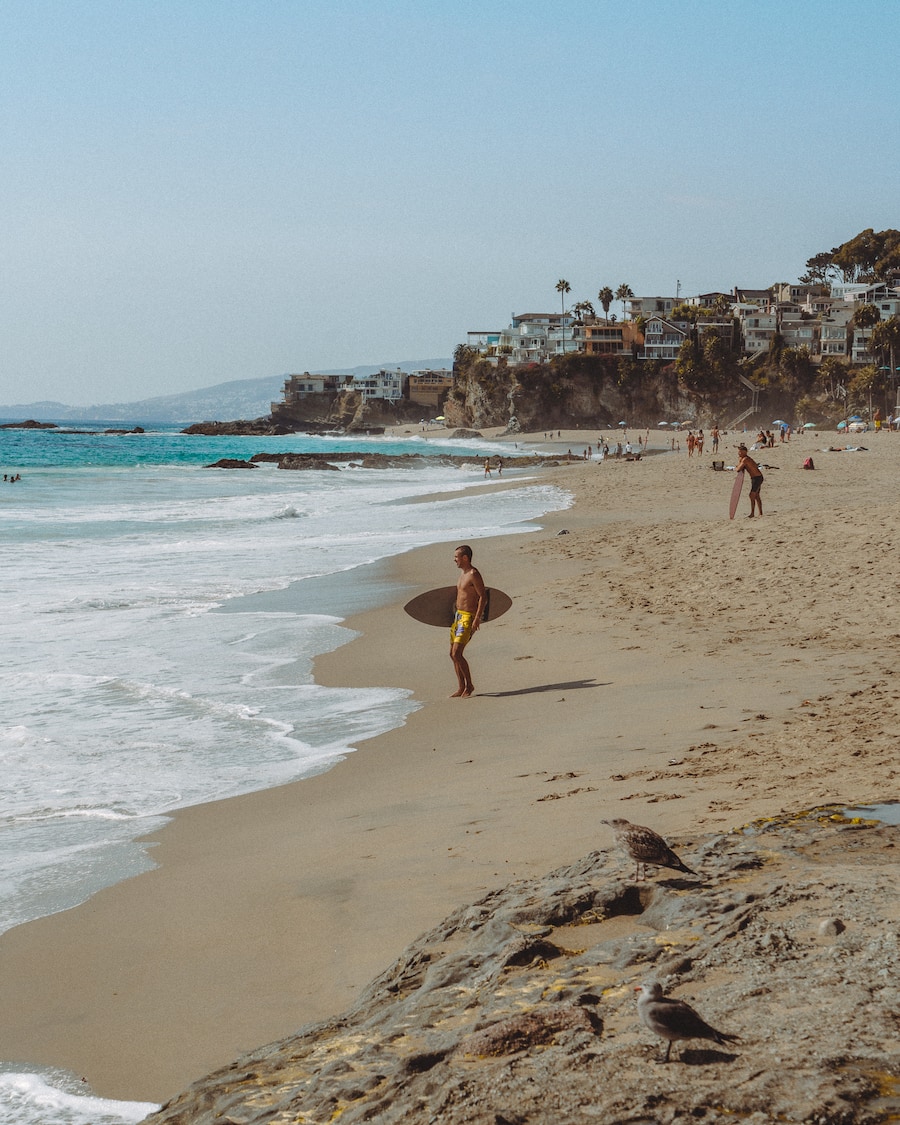 If you grew up in the 90s/early 2000s, then I'm willing to bet you've heard of Laguna Beach and the MTV show that made it famous. But if not, let me introduce you to this tiny town in Orange County that is known for its crystal clear water, impeccable surf, and affluent residence. It's a little less than two hours from L.A. without traffic, and though I love the beaches in Santa Monica and Venice, Laguna is the best place to plan a beach day during the summer.
The water is so much cleaner and warmer, and in my opinion, the surrounding scenery of the beaches is a lot more idyllic. One thing to keep in mind when planning a trip to Laguna Beach, California in summer is the fact that this town is not cheap. In fact, most accommodations will cost you a pretty penny.
However, it is possible to get last-minute deals during the weekdays, and since the beach can get pretty packed Saturday through Sunday, weekdays are more enjoyable in general. You'll also have an easier time with parking this way.
Though it is a great place to take the kids for a family vacay, I also love visiting Laguna with girlfriends. Watch the sunset while sipping on a drink at The Deck before dancing the night away at Skyloft or enjoying a nightcap in your hotel room overlooking the ocean.
Mendocino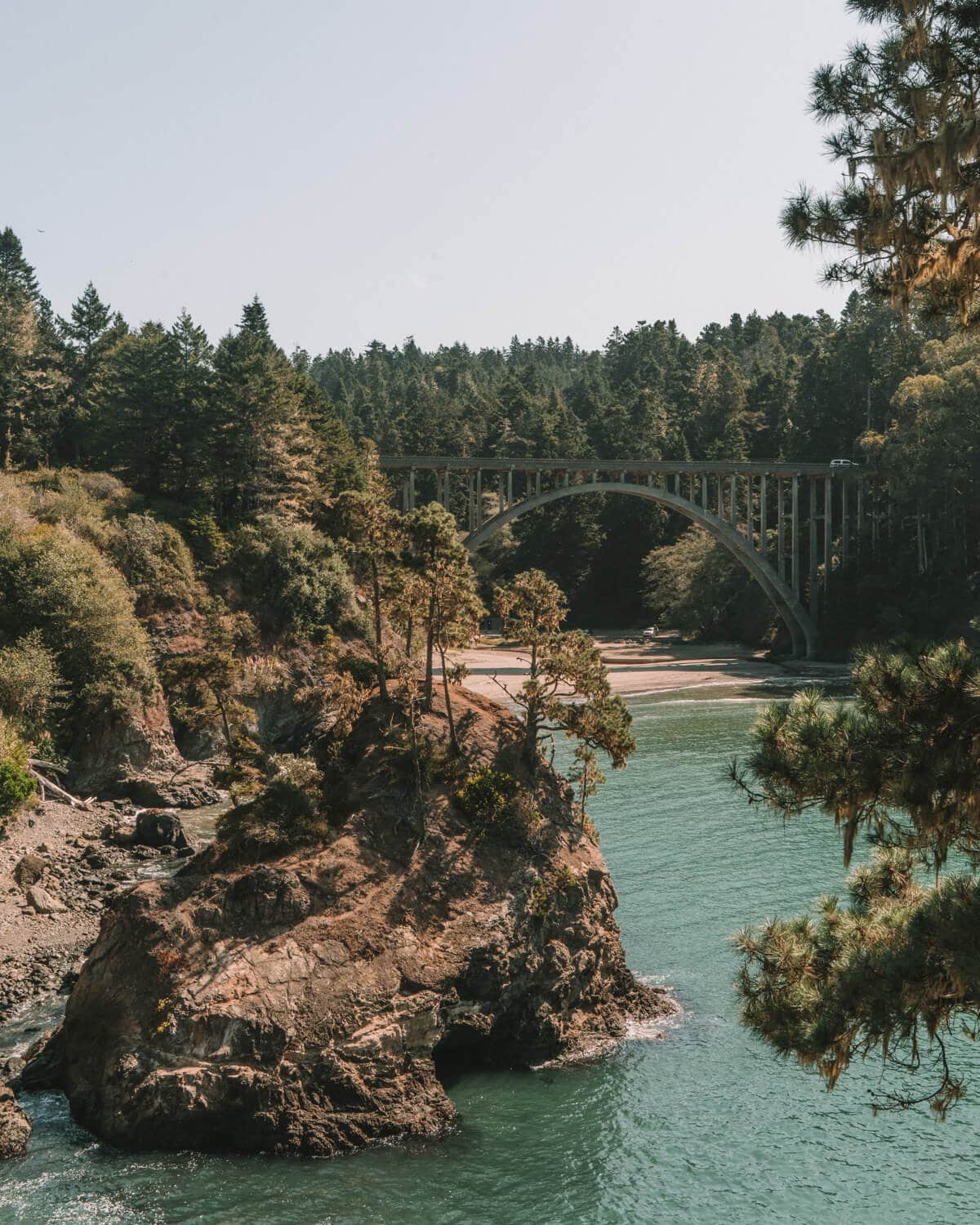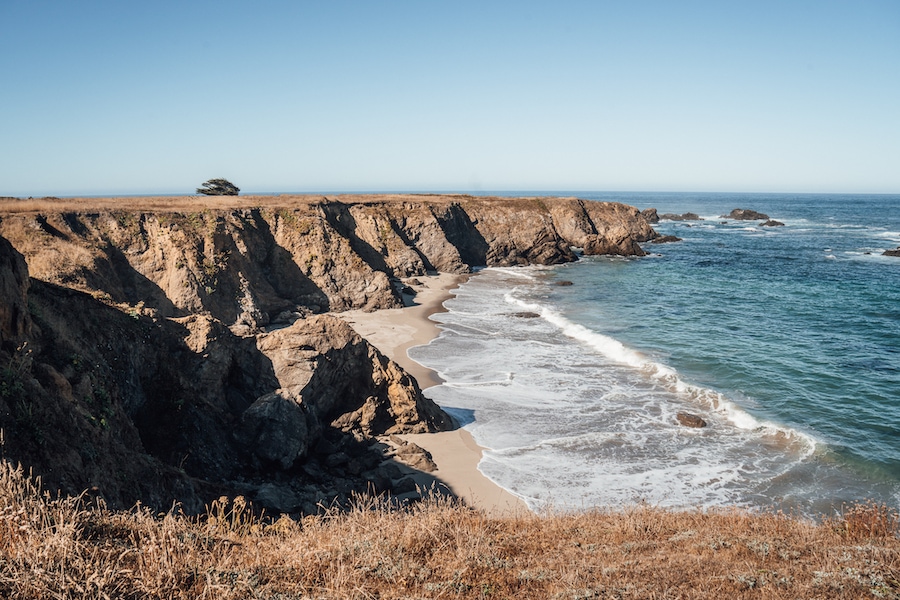 Mendocino is a quaint seaside town on the northern coast of California known for its rocky beachside cliffs, local art scene, and wonderful coastline trails. Though winter is great for whale watching, summer has better weather, and since it is still a pretty low-key town, you can definitely avoid crazy crowds.
I highly recommend checking out the Mendocino Coast Botanical Gardens, as it is the only botanical gardens situated right above the beach. There are also great wineries and restaurants here, just be sure to make reservations early in the summer. All in all, if you're an outdoorsy traveler with an appreciation for food and wine, then you'll really love the natural beauty and culture of Mendocino. It makes for the perfect summertime destination for those who like a blend of outdoor excursions and more high-end experiences.
Read More: 11 Can't-Miss Things in Mendocino
San Diego
San Diego is a super family-friendly destination, and it really is the perfect mix of big city vibes and laid-back beach town. If you're traveling with kids, San Diego in the summer means spending your days building sandcastles on the beach or visiting Balboa Park and the San Diego Zoo.
However, San Diego is just as fun for adults as it is for kids—especially in the summer! From Pacific Beach to Little Italy, San Diego has a great nightlife scene. The crowd in PB tends to be on the younger side, while the Gaslamp Quarter is more diverse in age and scene. Personally, I love Little Italy! In addition to the bars in San Diego, there are some great wine tasting rooms, and you can even book a full tour through San Diego Tours and hit all of the best spots.
During your visit, don't miss beach days at Sunset Cliffs and sunset strolls along Torrey Pines to experience the classic California endless summer vibes.
Mammoth Lakes
Mammoth Lakes is truly one of the most breathtaking destinations to visit in California in summer. The surrounding mountains serve as a picture-perfect backdrop to the bright blue lake, and you can take part in a multitude of outdoor activities ranging from mountain biking to hiking to kayaking.
Though Mammoth is super popular during the winter for skiing and snowboarding, the warmer weather and clear skies definitely bring crowds in the summer. In fact, typical summer in Mammoth Lakes sees about 1.5 million visitors, making it the busiest season of the year (and for good reason).
That being said, there is plenty of room to spread out and explore while being out in nature, just be sure to book accommodations in advance. Though they're not lavish, places like the Mammoth Mountain Inn and Tamarack Lodge are cozy and conveniently located near everything.
Malibu
Malibu is one of the most exclusive beach towns in Southern California, and it definitely comes alive in the summertime. If you live in Los Angeles, Malibu is the ultimate place for a beach day. Since I live in Santa Monica, it only takes me about thirty minutes to get to Malibu, so LA locals can definitely make this a day trip.
However, if you are visiting from further away, Malibu is definitely a splurge when it comes to summer vacation. All of the hotels are stunning, but they are definitely on the pricier side (especially during the summer). Some of my favorites include the Malibu Beach Inn and the Surfrider Malibu.
From Nobu to Geoffrey's, there are some amazing upscale restaurants that are right on the coast. If you can, try to make a reservation at either place around sunset so that you can enjoy dinner while the sky lights up over the Pacific.
In addition to hitting the beach, Malibu is also great for hiking, visiting the iconic pier, tide pooling, shopping, and even wine tasting! Though Malibu Wines is one of the more popular options, I think Cielo Farms is the best place to taste some vino and take in the views.
Pismo Beach
If you're looking to go beach camping this summer, Pismo Beach should be at the top of your list! Though the temps stay between the 70s and 80s, you may find that there is a pretty constant layer of fog in the mornings, but it should burn off in the afternoon most days. That being said, Pismo Beach is most popular from September to November, so if you're hoping to explore the sand dunes and check out the pier without the crowd, summer is ideal!
No visit to Pismo is complete without a visit to the Oceano Dunes SVRA for some playing in the sand dunes. It's seriously a blast (but also sort of scary), and adrenaline junkies will definitely get a thrill. There are also about 500 camping units here. However, if you're looking for something a bit more high-end, check out the Vespera Resort on Pismo Beach or the Cliffs Hotel and Spa.
Santa Barbara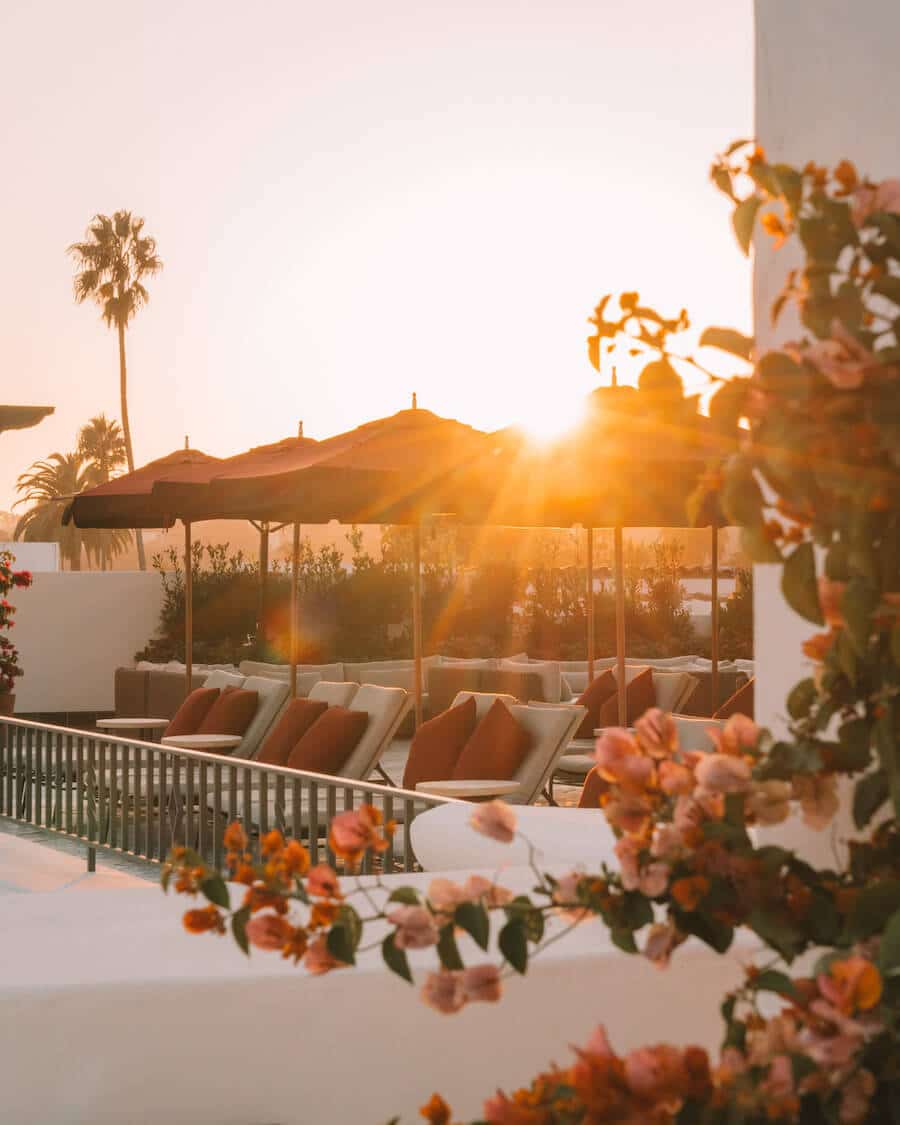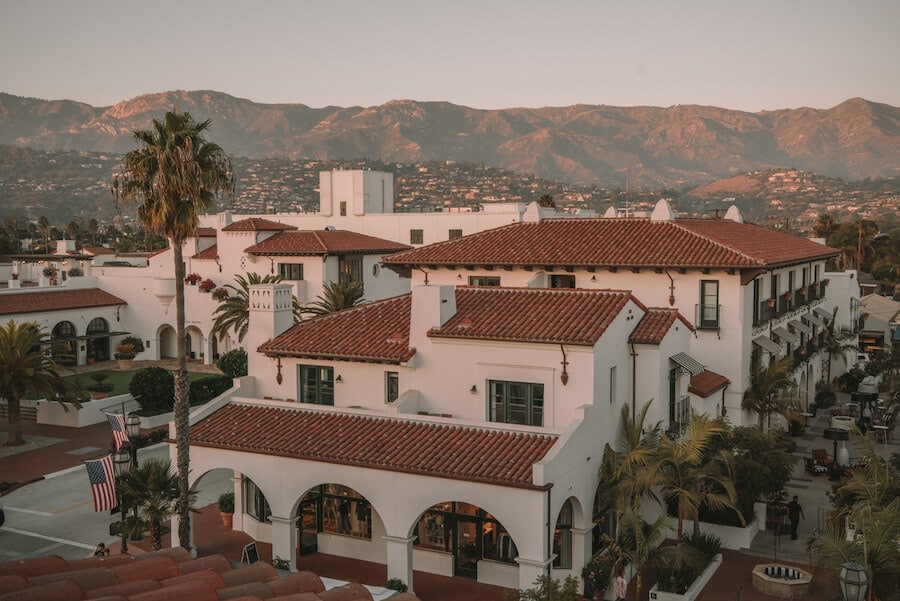 Santa Barbara is without a doubt one of the dreamiest and most stunning places on the California coast. Though it is technically the start of the Central Coast, some still lump it in with the rest of SoCal. That being said, I love how you can start to notice the difference in topography once you reach Santa Barbara.
From paddleboarding in the harbor to wine tasting in the Funk Zone, Santa Barbara is home to so many summer activities, making this a great place for a weekend away. It's only about an hour and a half from Los Angeles, but if you are coming from further away, I recommend at least three days in Santa Barbara.
Once July hits, the weather in Santa Barbara definitely heats up, though I would recommend always having a light jacket or sweater on hand for the evenings. One of the most epic things to do in the summer in Santa Barbara is book a sunset sail with the Santa Barbara Sailing Center. It is the most breathtaking place to watch the sunset and you almost always get to see some dolphins during the trip.
Read More: Hotel Californian Review in Santa Barbara
Trinidad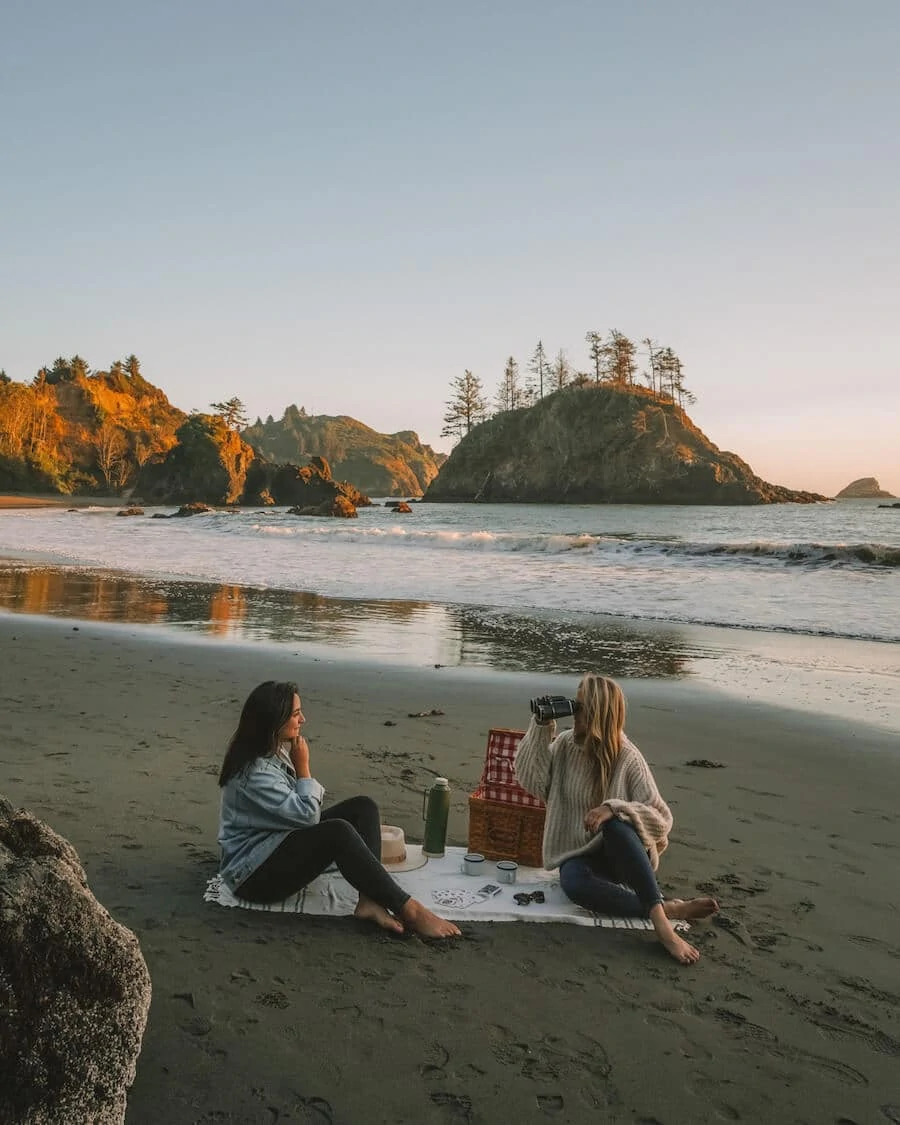 If you're looking for a true coastal getaway this summer that's off the beaten path, then it doesn't get better than Trinidad. This charming coastal town is located in Humboldt County, and with a population of less than 400, it is one of the smallest inhabited cities in all of California. My time in Trinidad was so peaceful, filled with days spent kayaking in the bay, beach picnics and breathtaking sunset sessions.
Though more and more travelers have discovered the beauty of Trinidad, it still sees much smaller crowds in the summer when compared to places like Carmel-by-the-Sea and Point Reyes since it's much further north and a bit of a trek to get to.
You'll find that the beaches here provide a totally different setting from those in SoCal, with more hidden coves and rocky features. My favorite spots in particular are Moonstone Beach and College Cove. What's even cooler is that Trinidad provides easy to access to the beaches one day and majestic redwood forests the next, as Redwood National and State Parks are just a 25 minute drive away.
If you visit in summer though, don't expect constant sunny skies, as Trinidad's wet season is between June and December, so you may experience some random showers. Though they don't last long, they often come out of nowhere (but honestly, it's kind of cool and refreshing, especially in the summer).
Read More: Northern California Road Trip Guide for Nature Lovers
Orange County
Though Laguna Beach is technically in Orange County, I wanted to highlight the fact that the OC in general is a great place to visit in California during summer. From Huntington Beach to San Clemente, Orange County has beautiful beaches, great food, and perpetually sunny weather. Even more inland Irvine is a foodie's dream, featuring an amazing restaurant scene that specifically highlights a variety of Asian cuisine ranging from Chinese and Vietnamese to Thai.
If you're looking for a fun birthday or bachelorette idea, consider renting a Duffy in Newport Beach. These little boats can be driven by pretty much anyone, and it's the perfect way to get out onto the water without having to stray too far from the coast. Even just strolling around Balboa Island and bar hopping makes for a festive weekend away.
Orange County is also known to go all out for the 4th of July, so if you're looking to experience stunning fireworks right over the water, this is the place to be.
Channel Islands
The Channel Islands are one of the coolest and most underrated natural places in California. Though most people have heard of Catalina, the other Channel Islands are almost completely untouched, allowing you to connect with nature and see a totally new side to the West Coast.
To access the islands, simply take a boat from Ventura (which is only about an hour away from Los Angeles). While you do have the option to camp on Santa Cruz island, day trips are also an option, and you can do everything from kayaking to snorkeling to hiking. The water here seriously looks like something from another planet, and it's crazy to think that these islands are actually a part of California.
This is also the ultimate summer destination for animal lovers as you can expect to see creatures like the famous island fox, dolphins, colorful fish, and even sharks.
Catalina Island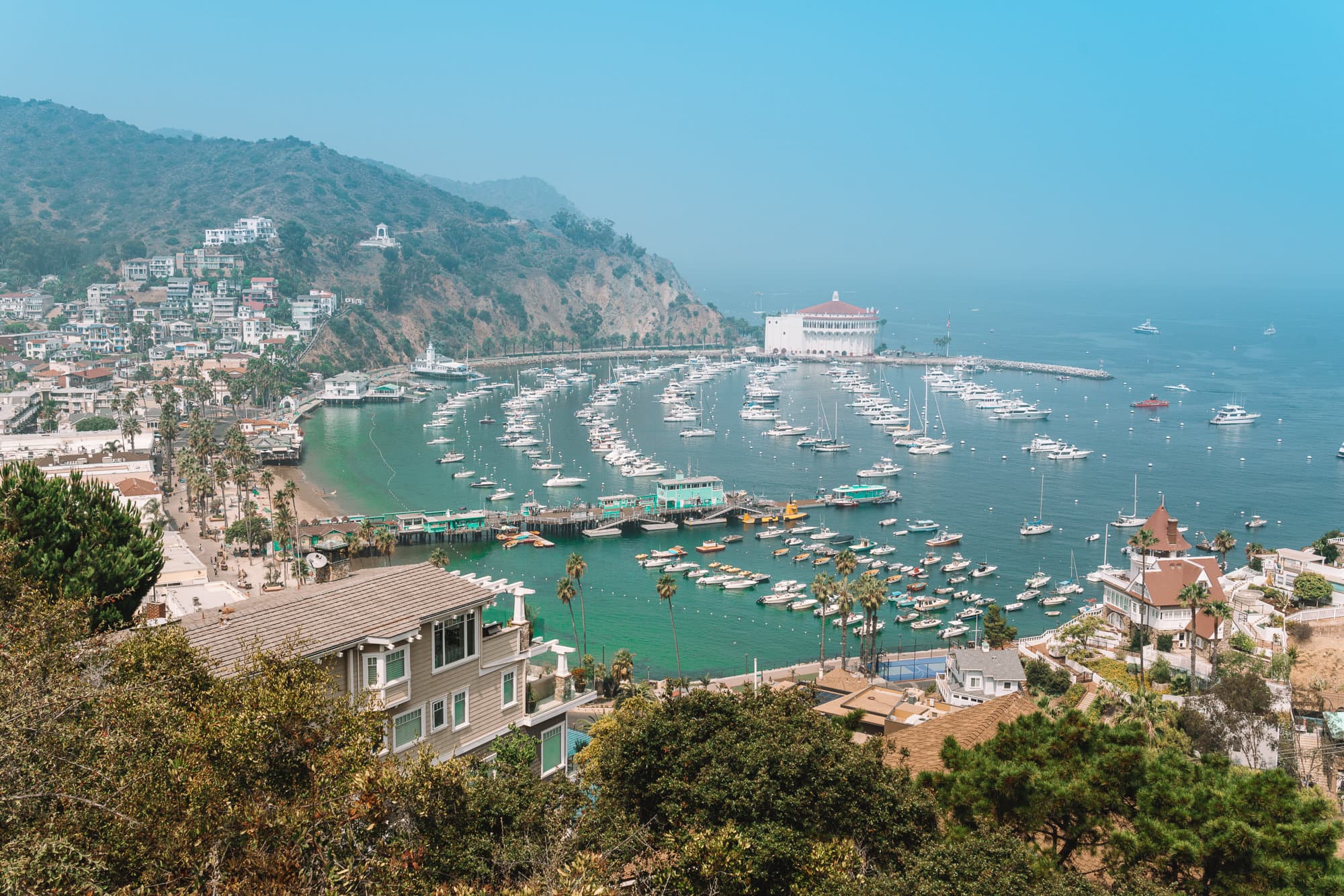 Looking to take a European-esque vacation without leaving the state? Catalina Island is the closest that you can get to the Amalfi Coast or French Riviera in California. From snorkeling in the crystal clear water to posting up with a drink at Descanso Beach Club, summertime in Catalina is a literal dream.
That being said, the summer brings pretty crazy crowds, and since the island is so small, you might be a bit overwhelmed. However, the weather really is best during the summer, and if you can plan your visit Monday through Thursday, you might have better luck with hotel prices and less crowding.
To get here, all you need to do is book a boat ride through the Catalina Express. The ride itself only takes about an hour from the ports in Long Beach or San Pedro, and it's not uncommon to spot some dolphins along the way. Though I recommend booking a hotel for a night or two (I love The Edgewater and The Avalon Hotel) Catalina can be accomplished in a day trip since the boats start super early and the latest leaves around 8:00 PM.
Read More: How to Spend the Perfect Weekend on Catalina Island
Lassen Volcanic National Park
Lassen Volcanic National Park is such a beautiful and underrated National Park in California. If you want to enjoy epic views and stellar hikes without the crowds that you'll find in Yosemite during the summer, Lassen Volcanic National Park is a great alternative. One of the best things about Lassen Volcanic National Park is the fact that even the in the summer, the weather stays pretty mild during the day but gets very cold at night (we're talking high 30s, low 40s).
Located in the northern part of California, Lassen is best known for its bubbling mud pits which have a prehistoric feel to them. This park is very otherworldly, and it's a really unique place to take photographs and camp out under the stars. Bumpass Hell is one of the most popular hypothermal spots and is definitely a must-see while in the park.
Camping is definitely the best option when it comes to accommodations, and there are seven different campgrounds within the park to choose from. Though they are not required, reservations are strongly recommended in the summer due to bigger crowds.
Where do you plan on visiting in California this summer?
---
Planning a trip right now? Don't miss my go-to websites for booking everything from flights and tours, to accommodation and more:
---