California gets that "endless summer" stereotype for good reason, but the truth is that California in winter has just as much to offer visitors and residents!
Take it from someone who grew up in Maine but has lived in California for 10 years—when I'm especially missing the snow (though rare!), I love that in just two hours from LA, I can be in the mountains.
But visiting California in the winter months isn't just great for snowy escapes. It's also one of the absolute best times to visit some of the desert destinations that get unbearably hot in summer.
Plus, you'll find much smaller crowds in traditionally touristy places along the coast.
Basically I'm here to tell you that if you don't think of California as a winter destination, then you're doing it wrong.
As someone who calls California home, I can say with total honesty that winter really is a magical time of year. The energy genuinely feels stiller and more peaceful, and activity options open up throughout the state.
Whether you're a die-hard snowboarder or looking to escape the cold and enjoy a sunny weekend in the middle of January, this season holds something for everyone.
Below, I'm sharing everything from cozy cabin destinations to mellow beachside locales that look straight out of Big Little Lies.
Here is my list of the best places to visit in California in winter!
Grab the Best Deal on a Rental Car Before Your Trip!
The #1 thing you NEED to successfully travel around California is a car—and if you plan to be driving in snow, you'll need a 4WD. I use and love Rentalcars.com because they compare prices on all the biggest brands, price match, and allow you to cancel or change your reservation up to 48 hours before your trip! It doesn't get much better than that!
>> Book Your Rental Car Here
The Best Places to Explore in California in Winter
1. Mammoth Lakes
Mammoth Lakes is a gorgeous place to see snow in California during the winter season! In fact, it gets a LOT of it, with some peaks throughout the eastern Sierra Nevadas getting more than 30 feet.
Obviously, skiing and snowboarding are super popular, and with two different ski resorts to choose from (hello Mammoth Mountain and June Mountain!), there's plenty to keep people happy in this regard.
If that's not your thing, there's still so much to do in Mammoth beyond hitting the slopes; I highly recommend snowshoeing, visiting Wild Willy's hot spring, or snowmobiling here.
Mammoth Village even has a tiki bar called Lakanuki if you'd rather spend your winter holiday pretending you're in Hawaii.
Still, if you're able to get up on the mountain, the views from the ski lifts and gondolas are breathtaking, and the entire town looks like something straight out of a postcard.
One (literal) roadblock people can face when visiting Mammoth Lakes in winter is the winter storms. These intense snow storms make driving the mountain roads extra dangerous.
That said, the road crews in Mammoth Lakes are great at what they do and are known to work pretty quickly and make the roads as safe as possible!
Just do your best to plan ahead and always check the weather before you head out on the road.
2. Death Valley
Death Valley National Park is probably my #1 favorite winter destination in California. It truly is a one-of-a-kind park that has some of the most spectacular desert scenery anywhere in the United States.
That being said, the summer heat is UNBEARABLE, making it a must-visit during the cooler months. Like, we're talking upwards of 100 degrees fahrenheit—and that's on a GOOD day!
I first visited Death Valley in winter during the middle of February and while it definitely got chilly as the light disappeared, the daytime temperatures were perfect for days out exploring under the beating sun.
During winter, daytime temperatures tend to be in the 60s and 70s (which is perfect park weather if you ask me), and while nights get quite cold, it usually doesn't drop below freezing.
Winter here is also a surprisingly less crowded time to visit since spring draws out the most crowds hoping to peep wildflowers in the park.
If you visit from December through February, you'll get the added bonus of often feeling like you have endless panoramic views to yourself.
Pro tip: If you're trying to decide where to stay in Death Valley, I recommended booking as early as possible as options in the park are quite limited!
READ MORE: The Absolute Top Things to Do in Death Valley
3. Lake Tahoe
Lake Tahoe is an epic destination all year round. It's a true adventurer's paradise, with an endless array of activity options for outdoorsy types.
During the winter though is when Lake Tahoe truly shines once it gets covered in a blanket of snow! The views in Lake Tahoe are quite something in the winter with the snow-capped peaks as a backdrop!
Lake Tahoe has the largest concentration of ski resorts in North America, and for that reason it draws in skiiers and snowboarders from all over the country.
Keep in mind that Tahoe is split down the middle between the Nevada side and California side.
While there is so much to see on both sides, this is a post about visiting California in winter, so I'll mention that the most popular ski resorts on the California side are Northstar and Heavenly resorts.
If you choose to visit this California winter destination, you need to be prepared for bad road conditions. Lake Tahoe roads can be dicey even in summer, but covered in ice and snow is another animal.
Make sure to have snow chains and the proper vehicle with you so you can stay confident and safe on the roads.
Read More: The Ultimate Lake Tahoe Winter Guide
4. Solvang
During the holidays, the charming Danish town of Solvang turns into a winter wonderland that is straight out of a Hallmark movie.
Located within one of the best wine regions in California, Solvang (and Santa Ynez Valley in general) is one of my favorite places to escape from LA on a long weekend.
From November 27th to January 1st, Solvang pulls out all of the stops to create a fun-filled and family-friendly holiday experience for locals and visitors alike.
Considering the fact that it has been named one of the "Most Christmassy Towns in America," it's no surprise that the town dedicates more than a month of the year to celebrating.
This is an especially kid-friendly destination to visit in California in winter; between getting photos with Santa to experiencing the town's annual Julefest Parade, kids of all ages will find plenty of fun and festive things to do during the winter in Solvang.
That said, if you're kid-free, you'll find plenty to do (and drink!) here too. This is one of my favorite areas of California to go wine tasting—with much more affordable prices than Napa.
Solvang not only has tons of wineries within a short driving distance, it also has over 20 tasting rooms downtown that you can pop into as you please, in between strolling the festive, lit-up streets.
5. Big Bear
Big Bear is another ski resort destination in California that is ideal for a winter visit, but it's not as popular amongst serious skiiers as the mountain is more limited compared to Tahoe and Mammoth.
With that said, for those coming from SoCal, it can't be beat as it's only two hours from Los Angeles, making it even possible as a day trip.
One thing that's especially appealing about Big Bear is that there are lots of cozy cabins available for rent.
One of my personal favorite stays is at the Getaway campgrounds where you can sleep overnight in a fully-stocked tiny cabin immersed in nature.
This is also the perfect destination to book a larger cabin with friends for a group ski getaway. This cabin sleeps six and is a super reasonable price per night.
If you want an easy ski getaway that's easily accessible from Southern California, Big Bear is ideal!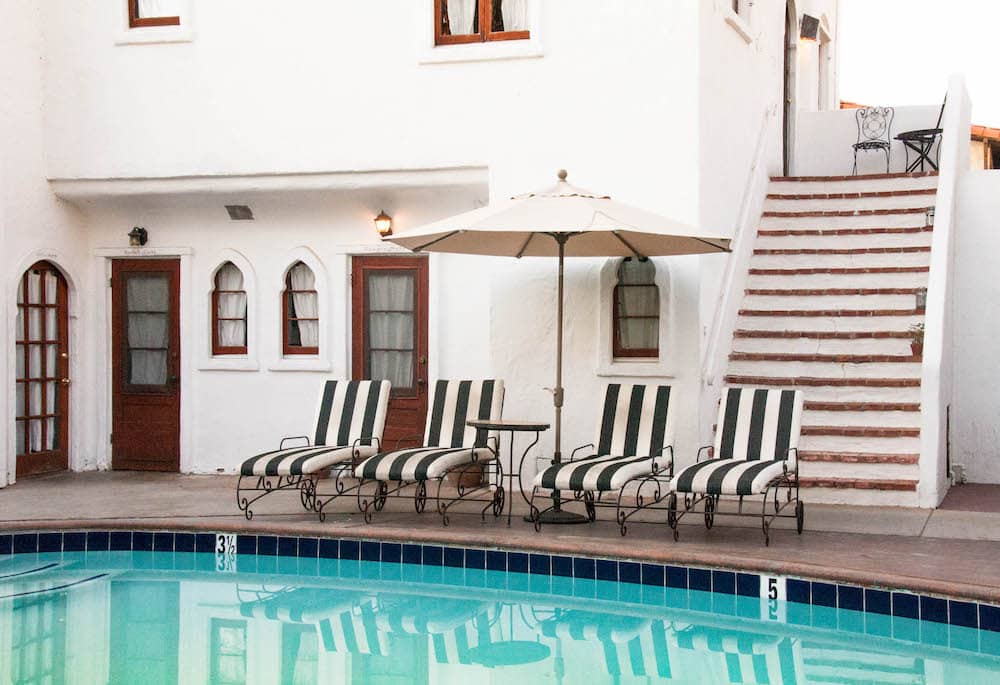 6. Palm Springs
If embracing winter isn't really your vibe, then let me introduce you to Palm Springs: the winter escape artist's ultimate oasis!
Despite the fact that most of SoCal stays relatively warm in the winter, Palm Springs boasts pleasant temps that stick around the mid-70s during the daytime, even during the coldest months.
When it gets to be in the 50s in LA, those temps start to sound really nice!
Obviously, lounging poolside is the number one activity in Palm Springs, but there's also lots of great hiking in Indian Canyons and plenty of fun places to drink and dine.
If you're planning a Palm Springs weekend getaway, don't miss some of my personal favorite spots: Workshop Kitchen and Bar for upscale eats, Thick as Thieves for amazing knick knacks, and Great Shakes for their sinful—and famous—date shakes.
I also highly recommend checking out the Palm Springs Art Museum and the Moorten Botanical Garden.
Just a simple drive through the streets to check out all of the mid-century architecture is a fun activity as well. True design fans should also consider visiting in February for Modernism Week, which is a huge celebration of everything from fashion to furniture.
7. Joshua Tree
Joshua Tree is kind of like Palm Springs' more bohemian and free-spirited sister. It holds an incredibly special place in my heart, and I have never had anything but amazing experiences when visiting.
I have been to Joshua Tree during nearly every season, but winter is for sure a great time to visit.
Unlike Palm Springs, Joshua Tree can actually get pretty chilly in the winter at night as it sits in the high desert at more than 2,700 feet in elevation. But still, snow here is rare and reserved for the lucky (or the residents)!
While many days will see highs around the mid-60s, Joshua Tree gets dusted in snow from time to time, which adds a magical effect to the iconic desert landscape dotted with massive boulders and spikey joshua trees.
It's difficult to plan a snowy visit to Joshua Tree just right, but another perk of visiting in early to mid-December is avoiding holiday crowds and getting to experience the magic of the National Park all to yourself.
Seriously, the park is MASSIVE, and it won't be hard to explore in peace and quiet during this time of the year. Plus, if you're an avid hiker, mid-day temps will be much more pleasant if you plan to spend long days out on the trail.
Beyond visiting the national park, some of the best things to do in Joshua Tree also include vintage shopping downtown, stargazing during a new moon, and exploring Pioneertown.
Read More: 22 Dreamiest Airbnbs in Joshua Tree
8. Sonoma
Sonoma is Napa's less-talked-about next-door neighbor, but it is top-tier when it comes to wine and food!
The downtown area of Sonoma is super quaint and charming, and if you're looking to enjoy the small-town vibes in California in winter, I highly recommend planning a visit.
During the winter, Sonoma is super quiet and peaceful. Thanks to the winter rain, the rolling hills become bright green and lush, creating a stunning backdrop to your vineyard visits.
This time of year is also great for finding much better deals on typically pricey coastal accommodations and unique lodging.
Another perk of the off season? You can easily pair a trip wine tasting in Sonoma with whale watching excursions along the coast as winter is peak whale season.
9. Sequoia National Park
This one might come as a bit of a surprise, but speaking from personal experience, Sequoia National Park in the winter is magical!
There's just something so special about seeing a blanket of snow coating some of the most majestic and massive trees on Earth.
This park offers quite a different experience in winter than you'll experience in summertime, but it's one worth experiencing—if you're looking to find the literal meaning of "Winter Wonderland," this is it.
Plus, a huge perk of visiting in winter? WAY fewer crowds. The park sees over 1.2 million people in a year, the majority of them visiting between June and September. That means more privacy, cheaper accommodations, and less traffic than in the summer months.
The snow can get pretty intense here, so having the proper vehicle and tire chains are often required to get into the park. The days tend to average slightly above freezing then drop well below at night, with an average snowfall of 37″.
Pack plenty of layers and get ready to have a magical winter escape!
10. Mendocino
Winter in California means epic whale watching, and Mendocino is one of my favorite places to do it!
The migration season happens between November and February, and while booking a whale-watching cruise is definitely the best way to see them up close and personal, they are also often visible from several shoreline spots.
The bluffs in Mendocino stretch far and provide a perfect view, especially when the horizon is clear.
If whale watching isn't your jam, some of the other best things to do in Mendocino include hiking through Russian Gulch State Park, canoeing on Big River, and grabbing dinner at Cafe Beaujolais, located inside a historic 1890s Victorian farmhouse.
One of the biggest perks to visiting Mendocino during the winter is the fact that the infamous Northern California fog lightens up a lot.
Though it may seem sort of weird, Mendocino and surrounding areas actually have clearer and sunnier days during the winter than they do during the summer, giving you coastal views you'll never forget.
11. Yosemite National Park
Yosemite is one of, if not the most amazing national park to visit in California, and it's one to be cherished in every season.
During the winter, Yosemite offers a lot of solace for travelers hoping to immerse themselves in nature and unplug for a bit.
You won't have to worry about running into large crowds (which you definitely will in both summer and fall), and the snowy valley truly is magical.
If you're a photographer, this season really does provide the perfect opportunity to snap some breathtaking photos without interruption.
However, due to difficult conditions, you can probably guess that a lot of the hiking and activities on offer in summer are not possible during the snow-covered months.
Still, I highly recommend catching the sunrise from Tunnel View, as it's one of the best things to do in Yosemite. The views are truly dazzling, and the way the light reflects off the snowy landscape is out-of-this-world.
Also, if you're planning your Yosemite trip in winter, try to time your visit during the the Firefall phenomenon which happens typically mid-February each year.
For two weeks in winter, Horsetail Falls magically aligns with the setting sun to look as if the waterfall is on fire—and it 100% needs to be on your California bucket list!
Read More: Where to Stay in Yosemite
I hope this post showed you that there is so much more to California than surfers and endless beach days!
If this post inspired you to plan a trip to California in winter, let me know in the comments below!
Discover More California Destinations: