So you're planning an epic trip to Tulum, Mexico eh? Well, first let me just say: I'm pumped for you. Tulum is one of my favorite tropical destinations near the U.S. It's also a fave for girls trip ideas (I've been there on both bachelorette parties and in smaller gals groups).
I have tons of fun Tulum content to help you plan your trip, but in this post we'll be covering some really practical info on how to get from Cancun to Tulum–because let's be honest, that's step one to setting up your trip for success, am I right?
Thankfully, getting to Tulum from Cancun is pretty simple and there are loads of options available at various comfort levels and prices. You're most likely going to be arriving into Cancun Airport. Once you touch down and gather your bags, there are six different ways to make the 2 hour (approximate) journey to Tulum and we'll be exploring each in depth below.
I want this post to help make your transport experience from Cancun to Tulum and back as smooth as possible, so let me know if you have additional questions in the comments below!
Some Basics on Getting Between Cancun and Tulum
How Far is Tulum From Cancun Airport?
The distance from Cancun to Tulum is roughly 80 miles or 1 hour 45 minutes driving over Highway 307 and it's a pretty straight shot. However, depending on the amount of traffic, what part of Tulum you're staying in, and the mode of transport you take, it could take longer to get there.
It all Depends on Where You're Staying in Tulum…
If it's your first time to Tulum, it's important to know that there are a few different areas that make up the destination: Tulum town, Aldea Zama, the private beach and public beach side.
If you're staying on the private beach strip (south of Avenue Coba), you'll have to drive a bit further to get there than if your accommodation is located downtown. There's also been a lot of traffic lately on the beach road, so it could take up to an hour more to get to your swanky beach hotel than to one downtown even though they're seemingly not that far from each other on a map.
Let's Talk Traffic
What's the reason for this? Well, despite how popular Tulum is, there's still a lot of work that needs to be done on infrastructure and the road to the beach (notice how I said "the road"–yep, there's only one) is pretty narrow with only one way in and one way out. When storms come through, it can cause a lot of flooding and potholes, and sometimes the local government is slow to patch things up.
So if you're driving down the beach road at a busy time (typically mornings when everyone heads to the beach and evening when tourists head in for dinner and parties), you'll be bumper to bumper with cars, bikes, trucks and everyone else and their mother trying to get through. As you can imagine, things can get clogged up pretty fast.
If you're staying in Tulum town or Aldea Zama where a lot of the new developments are going in, traffic should be less of an issue.
---
Read More Posts On Tulum
---
The Best Ways to Get from Cancun to Tulum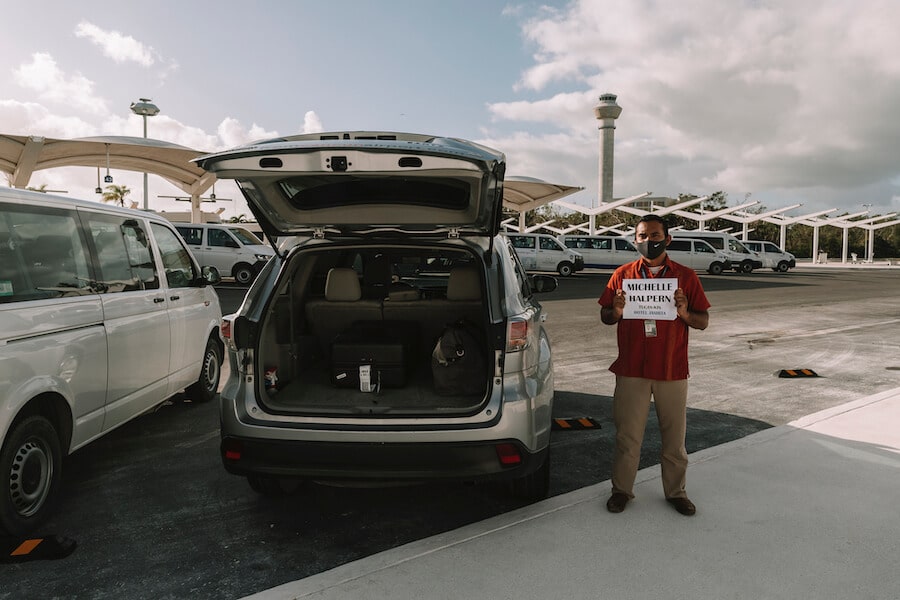 Ok, so let's dive into your options for getting down to Tulum. There are a lot of different ways to get there from the Cancun Airport as you can see from the list below. I'll be breaking down each one in more detail so you can pick the option that's right for you and your group.
Hire a private driver from the airport to your destination
Take the Ado bus from Cancun Airport to Tulum
Rent a car from Cancun Airport
Take a taxi
Take the Cancun shared airport shuttle
Book a private transfer directly with your hotel
Option 1: Private Driver
The fastest, easiest way to get to Tulum (and also the safest during these times) is going to be taking a private car from the airport. It's also the most comfortable in my opinion.
While it's not the most budget friendly for those on a shoestring, there are a lot of pros: aka no luggage restrictions, no haggling, convenience, and bonuses like water and choice of music during your journey to Tulum. Plus, drivers will wait for you at the gate and the service is available at all times of the day and night.
If this is your first time traveling to Mexico or the Cancun area or you don't speak any Spanish, I would highly recommend this option. You can book private transfers ahead of time, which means that once you land you don't have to worry about the stress of getting down to Tulum–it's already set up for you.
My friend Betty runs Tulum Travel, and I used their services for my transfer during my last trip to Tulum. It was easy breezy. The cars are comfortable, clean, insured and you won't be hit with any hidden fees. If you want something super reliable, I highly recommend booking a transfer ahead of time with them.




Option 2: Take the Bus from Cancun Airport to Tulum
One of the cheapest and most budget-friendly modes of transport is the direct public bus from Cancun to Tulum (currently it costs around $14.50 USD one-way). It's comfortable and safe to do typically, but this is not your best option for social distancing at this time. Also, be aware there are only a limited number of buses a day.
You can find the schedule and updated prices available here on the ADO bus website.
ADO is one of the best public bus companies in Mexico with service throughout the Yucatan Peninsula. If this is your first time traveling to Mexico, you're going to be shocked at how comfortable and nice they are with spacious seats, wifi, AC and movies on offer.
Expect the journey via bus to take at least 2 hours or more. This option is ideal for those who aren't in a rush and don't mind being bound by the bus schedule. If you're visiting for just a weekend, you may prefer the private option instead of waiting around.
Currently the bus times are every 2-4 hours. Generally, the bus will make stops at each of the terminals to pick up passengers before heading to Tulum. If you find you land after a bus has just left, it's worth speaking to the ADO ticket agent about alternative routes. Another option is to go to Playa del Carmen and take the bus to Tulum from there.
You can reserve your bus ticket online beforehand on the website. Alternatively, tickets are available at each of the terminals upon arrival at the ticket counter or in front of the bus.
Keep in mind that the bus won't drop you off directly at your accommodation, so if you're staying at a Tulum beach hotel, you'll have to take a short taxi ride from the ADO drop-off point which is in the heart of Tulum town. If you're confused about the orientation of the town vs the beach in Tulum, check out this post.
Option 3: Rent a Car from Cancun Airport to Tulum
If you want to make a road trip out of it, renting a car in Tulum is a fun and efficient way to explore the area. There are some cute towns and beaches on the way down to Tulum, and if you plan on doing day trips to any local cenotes near Tulum or ruins, having your own car can be way more convenient and cost effective than relying on taxis or tour operators.
There are many different agencies at the airport and you can get a quote ahead of time online on the Cancun Airport website. However, my preference for booking a car rental ahead of time would be with Rentalcars.com–I've used them all over the world and have had really good experiences and have never been scammed.
You'll be surprised by how affordable it is to rent cars from Cancun, and coupled with the convenience it provides, I think it's one of the best options for getting around the area.
Be sure to shop around before picking your car and to print all your documents and carry them with you along with your license. There can be numerous police checkpoints along the way, which are all standard procedure and not something to worry about, but you'll want to have proper documentation.
I know some people, especially female travelers, can be intimidated by renting a car in certain countries like Mexico, so I'm including some of my top tips below to help you ace the process without issues.
Tips For Renting a Car in Mexico
Don't go for flashy when renting a car in Mexico. It's best to choose a vehicle that's discrete to avoid calling attention to yourself and your belongings. Seriously–the more run down looking the better!
Pack an AUX cord just in case your vehicle isn't equipped with one
Be aware of scams with the rental car companies. Many will try to require you to purchase insurance but you can always decline or move on to the next company
If you have travel insurance through your credit card or bought separate general travel insurance, chances are those already include insurance on car rentals. Double check prior to booking so you don't overpay!
Driving in Mexico is the same as in the US, aka on the right side of the road. However, in my experience Mexico tends to use a LOT more speed bumps and much less signage warning of said speed bumps, so be on the lookout ?
Parking can be a huge hassle on the main beach side of Tulum (where all the fancy boutique hotels and beach clubs are). I would recommend checking with your hotel to make sure parking is included in your stay.
Option 4: Take a Taxi to Tulum
Like every airport around the world, Cancun Airport has tons of taxis waiting outside the terminal ready to take your money. And trust me, you'll get bombarded by them as you exit the baggage claim.
Just like hiring a private driver, a taxi is one of the most expensive ways of getting from Cancun to Tulum, but rather than being able to book in English ahead of time, you'll have to haggle with someone upon arrival with a driver who speaks Spanish. If you don't feel confident with your haggling skills or speak little to no Spanish I wouldn't recommend this option.
You'll pay at least $100 US and above for a one-way trip. Yes you read that correctly. You'd be better off getting a private shuttle or renting your own car!
Be sure to exercise caution if you're using a taxi and agree on a price beforehand. As sometimes there can be 'supplementary charges' added on.
Most taxis only take cash, so it's a good idea to have some pesos on hand to pay your driver. You can withdraw pesos at the ATM in the airport or head over to the currency exchange to switch over your US dollars.
Option 5: Take a Shared Airport Shuttle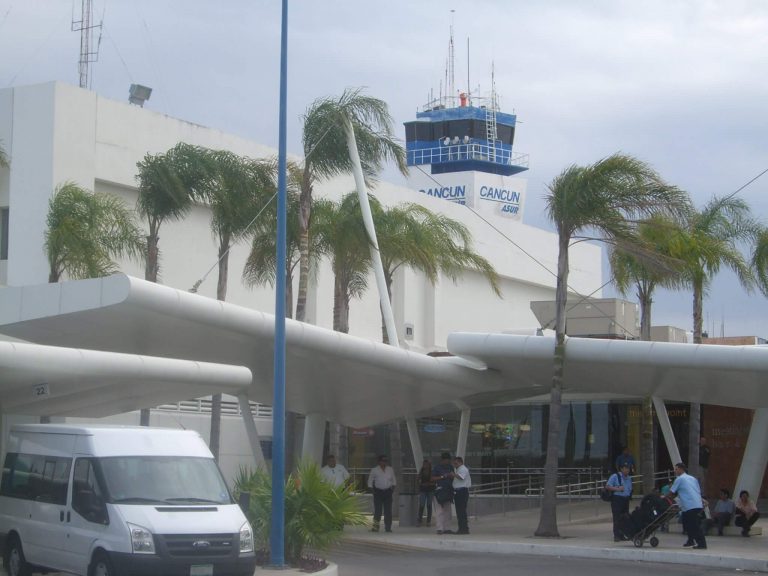 When it's safer to gather in small spaces, a shared airport shuttle can also be a good option from Cancun to Tulum. The pros of taking a shared shuttle are that it's slightly cheaper than a private car, but not by that much, starting at around $50-$60 USD.
The downsides? The trip will be longer, requiring stops for each passenger along the way and you'll be in tighter quarters.
According to the Cancun Airport website, shared shuttles must be reserved in advance.
Option 6: Book a Private Transfer from Cancun to Tulum with Your Hotel
This is the easiest one to organize in advance. If you're staying with a hotel, simply send them an email after booking and ask them if they have a private shuttle service for the hotel.
Larger hotels and resorts are more likely to do this, but wherever you're staying, it's always worth asking. The cost is likely to vary depending on the hotel and service provided. Sometimes smaller hotels will be happy to organize a private taxi for you for a small fee.


FAQs About Getting to Tulum from Cancun
Is it possible to fly from Cancun to Tulum?
Tulum doesn't have an international airport–the closest one is in Cancun. However, I've heard that you can take a helicopter from Cancun to the Tulum Naval Base, but I couldn't find much information on it and if true, it would cost you a pretty penny for the 30 minute ride.
Is there an airport in Tulum?
The nearest international airport to Tulum is Cancun Airport, and it's also the most popular airport for tourists to arrive into when visiting Tulum.
How much is a taxi from Cancun to Tulum?
Expect to pay at least $100 USD and above for a one way trip. Taxi drivers can add shady sur charges, so make sure to agree on a fixed price before getting into any taxi service's vehicle.
What is the cheapest way to get from Cancun to Tulum?
The cheapest way is to take the ADO bus. It's around $14.50 USD and the journey time is approximately 2 hours depending on traffic conditions. Keep in mind that you'll need to budget for an additional short taxi ride if your accommodation isn't within walking distance from the ADO bus station.
Can you take an Uber from Cancun to Tulum?
This one is a little complicated. While Uber does operate in the Cancun area, it's not currently available in Tulum. Over the years there have been a lot of conflicts between local Uber drivers and the taxi unions that don't want them there, which makes trying to catch an Uber less straightforward than in other destinations.
Through my research it seems like only licensed taxis are allowed to enter and pick you up at Cancun Airport at this time. However, Uber rules are constantly changing, so make sure to do more research before relying on any Uber services.
Is it safe to travel from Cancun to Tulum?
Yes, it is safe to travel from Cancun to Tulum. The road is regularly maintained and the buses are clean and well equipped with air conditioning. Be aware of petty theft in the area and take any necessary precautions as you would normally do when you travel.
Have more questions about transport from Cancun Airport to Tulum? Leave them in the comments below!
---
Planning a trip right now? Don't miss my go-to websites for booking everything from flights and tours, to accommodation and more:
---