Ever since I started my blog, traveling without a laptop has become nearly impossible. For the last five years, I don't think I've taken a single trip without it, so finding the perfect carry on luggage with a laptop compartment has become a top priority (and a surprising challenge) for certain trips when I need easy access to my work gear.
Over recent years, backpacks and other travel bags have become much more laptop compatible—but luggage? Not so much.
So, why would you want a laptop compartment in your luggage? Well, let me tell you.
For bigger work trips, I typically travel with a huge tech gear bag that includes a laptop sleeve, but I also like having a rolling luggage option for quick personal weekend trips where I can travel lighter and easily slip my laptop straight into my suitcase.
I'm sure my fellow business travelers can relate though that no one wants to be unzipping your entire luggage mid-flight to fish out your work computer. That's why I need something with a laptop sleeve that is easily accessible, which is why a front laptop compartment has become a new essential for me.
With technology playing an integral role in nearly everyone's lives, this feature is becoming more and more important, not just to business travelers but to the everyday traveler. Plus, many airlines have removed screens from their domestic flights, forcing passengers to use their own equipment for in-flight entertainment.
But here's the catch. Finding the perfect luggage can be…tricky. I love a combo of sleek design, durability, and functional pockets and compartments for everything you need. And while there are so many brands out there to choose from, certain features, like laptop compartments, have yet to become a focus for many of them.
Luckily, I stumbled upon a brand about a year ago that is focused on creating beautiful, timeless suitcases with exactly that need in mind.
They're a Canadian brand who has truly mastered the art of perfect luggage and their carry-ons are the best business travel luggage I have seen to date. Their designs are simple and stylish with all the functionality you could want from a carry-on including an easy-access front pocket with a padded laptop sleeve as well as pockets for other small travel needs. Whether you are traveling for business or pleasure, this is the ultimate carry-on luggage with laptop compartment.
In this post, I'll be breaking down how to choose the best carry-on luggage, how to maneuver airline regulations and what makes Monos better than the rest of the luggage brands out there.
Tips for Choosing the Right Carry-On Luggage
Choosing the right carry-on luggage can be tricky to begin with, since many airlines have different size requirements to deal with. Here are some of my top tips that will help you choose the right bag for you.
If you have a specific trip coming up, be sure to check any and all size and weight restrictions for your airline before making a purchase decision. Showing up with a bag larger or heavier than the carry-on limits can result in extra fees and an unpleasant start to your trip.
Don't have a specific trip you're shopping for? If you're just looking for luggage that will fit the majority of carry-on regulations worldwide for any upcoming trips, your best bet is to go with the smallest possible luggage so you don't have to worry. Or invest in multiple sizes so you're covered no matter what.
Consider your typical travel needs and what you will need compartments or pockets for. Need a laptop compartment? Be sure to double check the dimensions of your laptop to get a snug fit. Also consider other tech needs, document pockets, easy access to cords, etc.
Investigate quality. When making an investment in something like luggage, you want it to last. Some brands claim to be the best quality and prove to be a disappointment, so be sure to read reviews before jumping on the newest, coolest luggage bandwagon.
Straps, wheels or both? Think about whether you prefer to carry your luggage on your shoulders or have the option to roll it. For me, with frequent travel, wheels are 100% necessary and have saved my back and shoulders from the pressure of hauling heavy belongings. However, you might also want to consider the terrain of the place you're visiting and how easy it will be to roll luggage around your destination.
Don't forget to consider style. Not only is it important to choose something timeless that you love and can keep for years to come, it's also nice to find a bag that won't look like all the others on the carousel should you need to check it. The faster you can spot it, the faster you'll be off adventuring.
Why Monos Has the Best Carry-On Luggage
There are a million brands out there that produce carry-on luggage, but as a brand, Monos goes above and beyond. I'm talking virtually unbreakable materials, rigorous durability testing, and super thoughtful touches.
The outer shell is made of German Makrolon polycarbonate, an aerospace-grade material that, essentially, cannot be broken. Throw in Monos' advanced quality testing (which you can watch for yourself here) and you are left with one durable-as-hell suitcase.
It doesn't stop there, Monos has thought of everything. On top of the typical luggage features like TSA approved zipper locks, interior pockets and laundry bags, Monos has included special features like an ergonomic handle, a vegan leather luggage tag, and a scuff sponge to help with inevitable marks that come from wear and tear out and about in the world. Not to mention, the interior pockets are made of incredibly soft polyester that is antimicrobial, waterproof and super durable.
When I have an important purchase decision to make, like choosing the right carry-on luggage with laptop compartment for my busy travel lifestyle, it comes down to more than just the tangible factors. Sure, finding a beautiful product with the right features is super important but what about the brand itself? What do they stand for and how does that trickle down into their business, products and overall ethos?
Strong values tend to go hand in hand with what you can expect as a consumer and Monos is built on strong values. The brand is committed to sustainability in more ways than one.
As a member of 1% for the planet, they contribute 1% of their profits to environmental change and are the first luggage brand to be Climate Neutral Certified, meaning net zero carbon emissions. They also use cruelty free materials in lieu of animal-derived materials often found in traditional luggage and are committed to less waste in shipping materials—aka no plastic.
The real kicker? These bags are guaranteed for life. Yep, that's right, if something breaks, Monos will fix it or replace it for free. Pair that with the brand's timeless, minimal styles and stunning colors and you won't need a new suitcase, well, ever.
---
Find More of My Favorite Travel Gear
---
The Best Carry-On Luggage with Laptop Compartment for Global Travel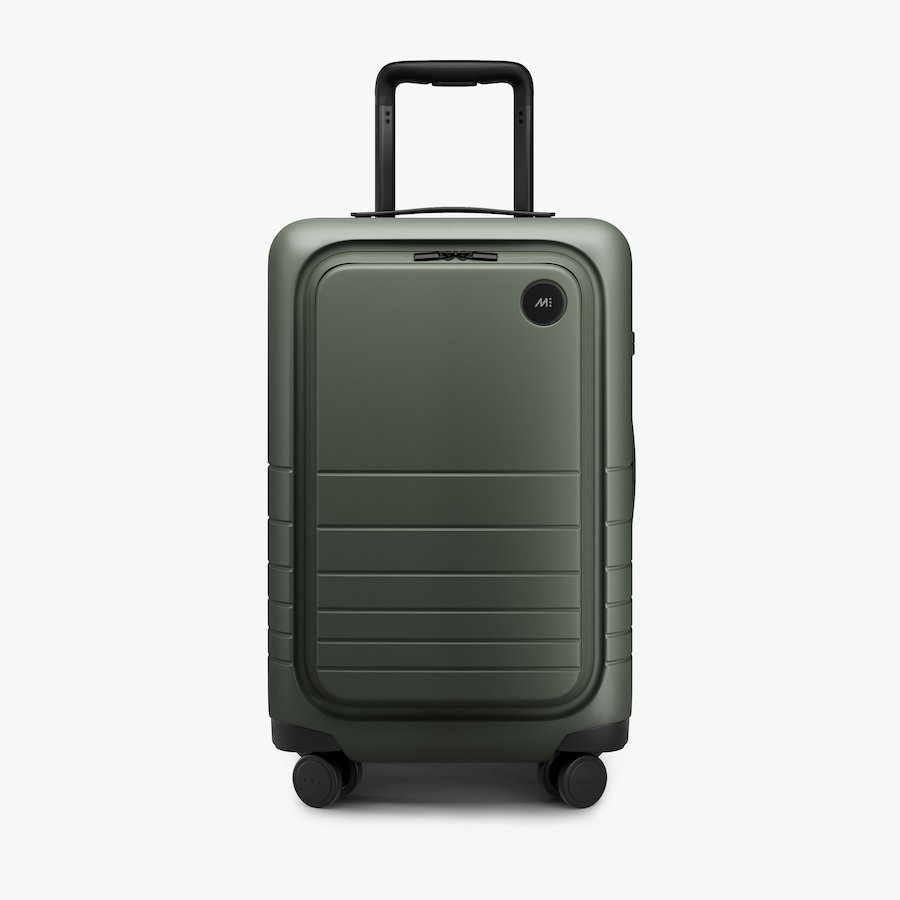 So which Monos carry-on luggage with laptop compartment would I personally go with? That depends on your travel style. If you're a global traveler, jetsetting around the world to multiple countries on various airlines, it's going to be harder to keep carry-on regulations streamlined.
In that case I'd choose the Carry-On Pro which is the smallest sized bag Monos offers, designed to fit in the most overhead bins worldwide. Here's everything you need to know about the Carry-On Pro.
Features of the Carry-On Pro:
Front pocket for easy access to travel essentials, including laptop sleeve and zippered pouches for phones, batteries, cables, passports, sunglasses, or other small items
Fits up to a 15″ laptop
360 wheels
Ergonomic handle with 4 height settings
Exterior measurements: 22″ × 14″ × 9″
Recommended for 2-5 day trips
If you're looking for the ultimate carry-on luggage with laptop compartment, the Carry-On Pro is it. Designed to fit in most overhead bins all over the world, this bag is perfect for anyone who might be flying on a variety of airlines or on a mix of big and small planes. The compact size allows it to fit overhead in almost any plane while also providing enough space for 2-5 days of travel—even more if you're a light packer—making it one of the best business travel luggage options on the market.
Although I love everything about this bag (including the beautiful color options; I have the Blue Haze), the best part has to be the separate zippered front pocket made for easy access to everything you might need while you travel. Inside the front pocket are three separate sleeves large enough for a 15″ laptop, tablet, magazines, whatever you like to use while you travel.
It also includes three smaller zippered pouches perfect for your cell phone, sunglasses, documents, cables and other small items. All of this with a separate lockable zipper and polycarbonate outer shell to protect your valuables from damage.
The Best Carry-On Luggage with Laptop Compartment for Business Travel to Cities
If you're doing more regular travel to big cities for business and know that your schedule rarely takes you on small planes, you could upgrade to the Carry-On Pro Plus which allows for slightly more room than the Carry-On Pro. This bag is perfect for trips of up to a week and the front pocket will give you easy access to all your tech goods throughout the journey.
Features of the Carry-On Pro Plus:
Front pocket for easy access to travel essentials, including laptop sleeve and zippered pouches for phones, batteries, cables, passports, sunglasses, or other small items
Fits up to 15″ laptop
360 wheels
Ergonomic handle with 4 height settings
Exterior measurements: 23″ × 15″ × 9.5″
Recommended for 3-7 day trips
Similar to the Carry-on Pro, the Carry-on Pro Plus features a zippered front pocket with three separate sleeves for up to a 15″ laptop or tablet as well as three smaller zippered pouches for smaller items you'd like easy access to while traveling. Outside of the front pocket, the Carry-on Pro Plus has more space for packing, making it great for longer trips.
Being slightly larger in size, this one might have to be checked on some smaller planes, so it's best for anyone who needs more space but is also likely to be flying to bigger cities on larger planes more often. This is where it's super important to consider your specific travel needs as well as what your airline restrictions are.
Other Products From Monos That I Love
If you love the design and functionality of Monos' carry-on luggage with laptop compartments, then you'll adore their entire range, which is similarly designed with gorgeous colors, clean lines and a minimal yet timeless appeal. Here are a few of my favorite staples that I've been testing over the last 6 months.
The Carry-On: If a front laptop compartment isn't an important feature to you, then you can always go for the classic Carry-On style by Monos which is still small enough for the overhead bins on nearly any flight worldwide, but just features a simpler design.
Compressible Packing Cubes: These are a non-negotiable when I'm traveling. Not only do they allow me to fit more into my suitcase, but they help keep my different categories of clothes organized so I can easily find items while on the road. I've tried many packing cubes over the last 5 years of professional travel and these are the most high quality ones I've used. They're super sturdy and never feel like they will rip when I'm constantly trying to overstuff them.
The Metro Duffel: Available in both vegan leather or nylon, this duffel bag is perfect for quick trips away for the weekend. It has tons of interior pockets for organization and I feel like depending on the color it can be completing unisex—perfect for sharing with your partner.
KIYO UVC Water Bottle: UVC technology water bottles have become more popular recently, but this is definitely my favorite and here's why: it's quite lightweight compared to other self-purifying water bottles and I love the little handle which makes this bottle super easy to grab on the go, carry on hikes, etc.
Luggage Covers: If you're an avid traveler, your luggage is bound to get scraped up from wear and tear; it's unavoidable. Monos however has tried to minimize that as much as possible by not only including scuff sponges with every luggage purchase, but also offering translucent waterproof luggage covers for an affordable add-on, which easily slip over your bag, so you can protect the outside case as much as possible.
Would you try out Monos for your next trip? Let me know in the comments below!
*** This post is sponsored by Monos, but as always, all opinions are my own and I would never promote anything I don't freaking love. ***