Have you ever heard someone utter the words "I need a vacation after my vacation?" I've surely said it before, in response to the feeling of complete exhaustion and burn out I've felt after returning from a trip full of non-stop itinerary crushing and gluttonous indulgences of wine, carbs, sweets…alll the things.
So when I had the opportunity to kick off a recent girls trip through Arizona and New Mexico with a stay at a wellness resort outside of Scottsdale, Arizona, I was intrigued. Could I actually feel more healthy and refreshed after leaving a hotel than when I first arrived?
Spending a few days drinking fresh smoothies, indulging in spa treatments and exploring the large offering of fitness and spiritual growth classes at CIVANA Wellness Resort & Spa sounded like the perfect way to kick off a 2-week road trip that I knew would be pretty jam-packed.
Being that this was my first time staying at a wellness resort, I wasn't totally certain as to how I would feel about it, however after our lovely three night stay at CIVANA, I can definitely see myself getting more into the wellness resort concept for future travels.
In this post, I'm breaking down everything you need to know about staying at CIVANA Wellness Resort, named a top spa resort in the world in Conde Nast Traveler's Reader's Choice Awards. From the spa treatments and wellness classes, to the restaurant offerings and guest rooms, this post will help you determine if a stay here is right for you. Pssst – it probably is 😉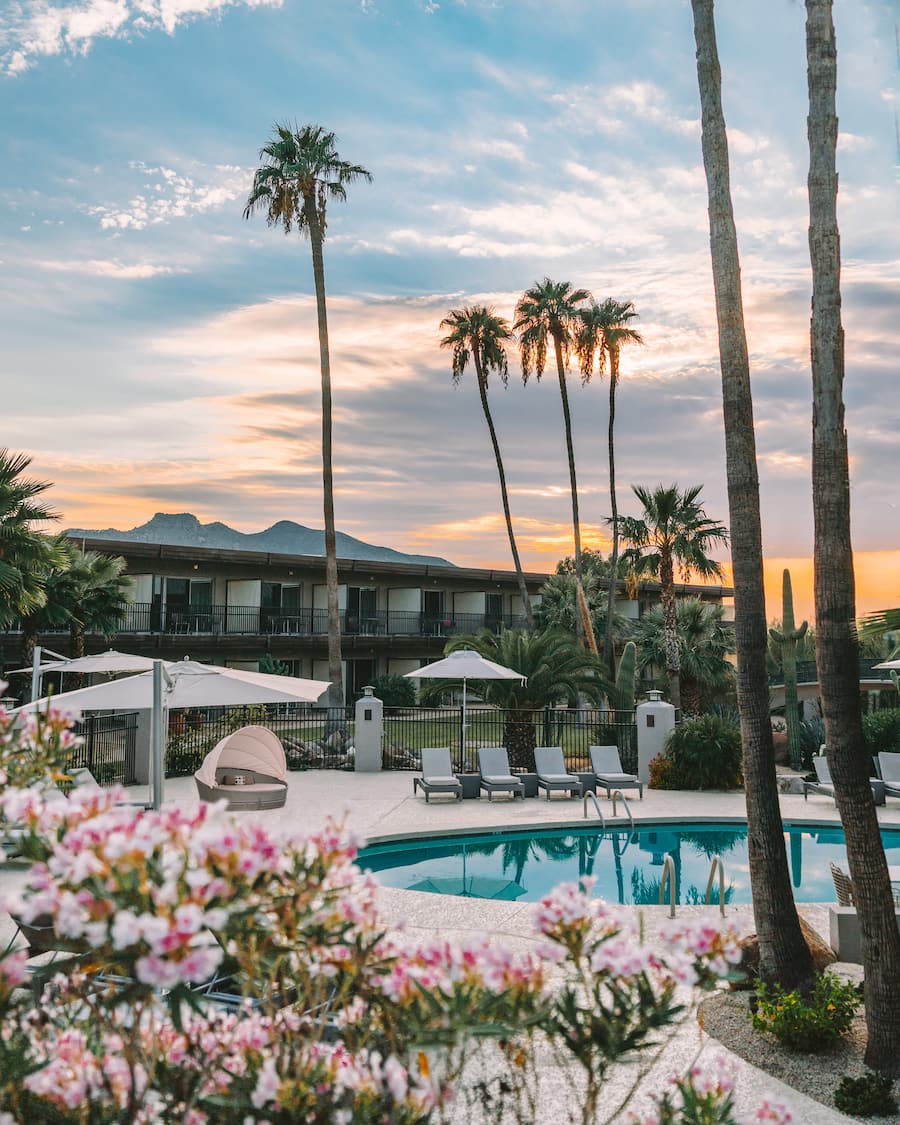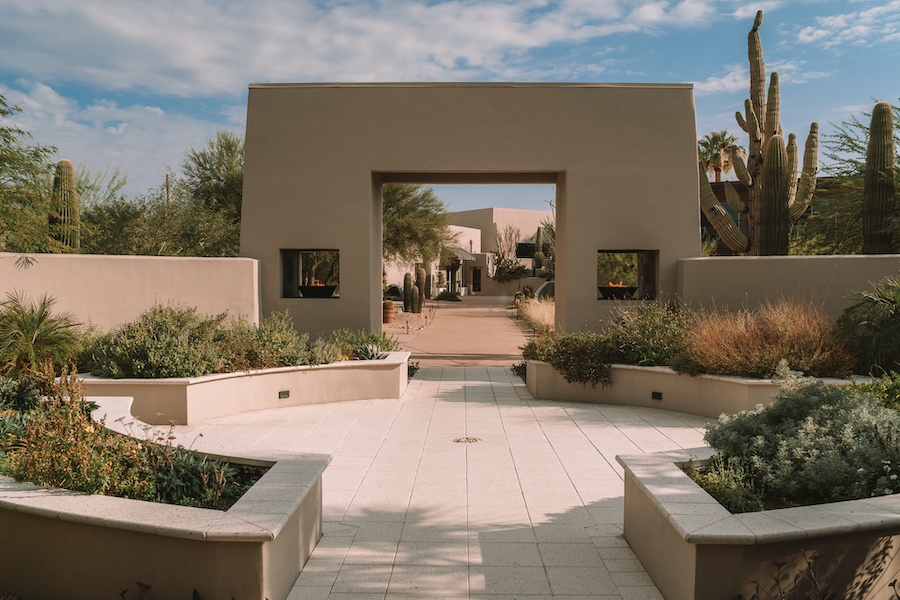 What to Expect from a Stay at CIVANA Resort
While it might seem like a strange concept to take a vacation focused on things like wellness, eating healthy and exercise—because isn't your PTO meant to be the time you can stuff your face with all the carbs and cocktails you want?!—I'm now a convert to the idea that everyone should try staying at a wellness resort at least once. Especially if it's a wellness resort like CIVANA. Hear me out on this one.
What I particularly liked about CIVANA is their intention of creating perfect harmony between health and wellbeing, while still providing room for guests to have fun. At CIVANA, you can fill your schedule with every workout class and workshop imaginable, but when you get the urge for that happy hour cocktail, it will be there ready and waiting for you, and no one is going to make you feel ashamed of it.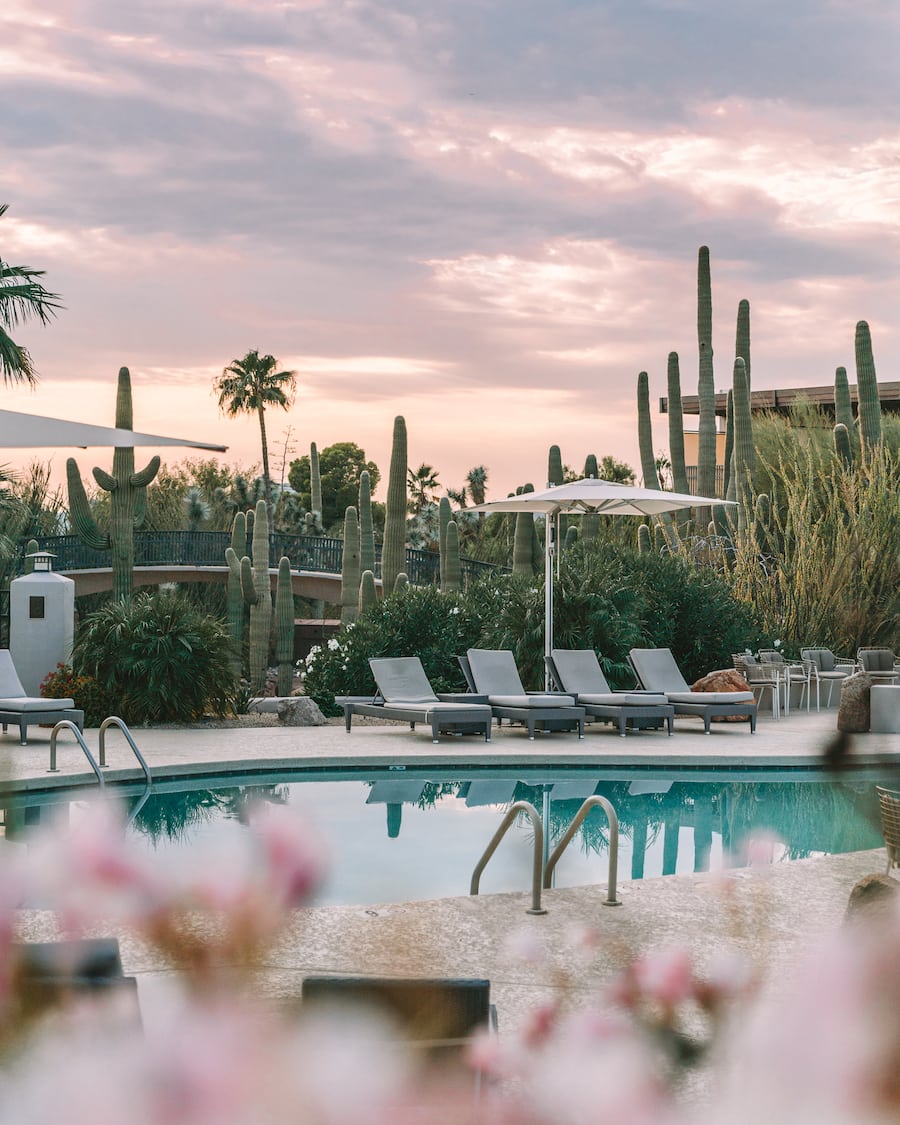 CIVANA is not a hardcore detox or self-improvement retreat, though you can make of it what you want. For example, a typical day at CIVANA might look like waking up early for a morning meditation or guided hike, followed by smoothies at Seed restaurant, then indulging in a chakra-balancing treatment at the spa before sipping on a cocktail poolside while you soak in all the Vitamin D from the Sonoran Desert's hot sun.
If you wanted to go completely indulgence free you could, but it's nice to know there's the option. And while you're not forced to participate in any of the classes at all, taking advantage of included class offerings is really the best way to get the most bang for your buck.
The nightly price, though not necessarily cheap, includes access to as many free classes as you want, with a few exceptions of special classes that require an additional add-on fee.
If you're looking to find some new hobbies and explore any potential interests, taking these classes is a great way to do it. I personally tried aerial yoga for the first time during our stay and fell in love with it!
What especially impressed me about CIVANA was the staff's attention to detail prior our stay. Someone reached out ahead of time to make sure we were able to book in all the classes and spa treatments available before the schedule booked up and followed up with a full downloadable itinerary of our stay to help keep us organized. The follow up was really impressive and ensured our stay was successfully executed.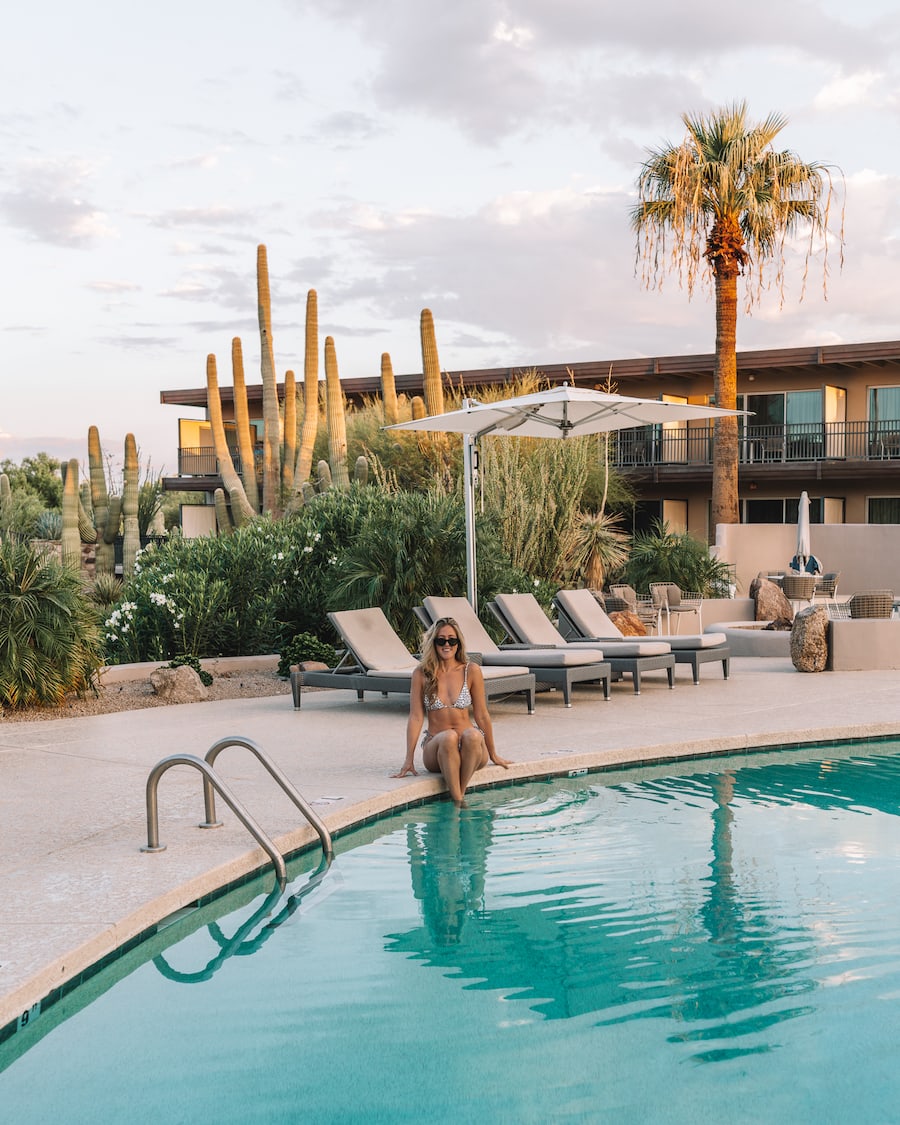 Who is a Stay at CIVANA Resort Good For?
I think CIVANA works best as a solo destination or a girls trip. There were definitely a fair amount of couples and honeymooners at the resort, but I found that the majority of the clients were women, and I definitely met several women who were on their own solo wellness adventure.
Especially since the focus of the resort is all of the amazing workshop and class offerings, there are plenty of opportunities to meet other travelers through the various group classes at your disposal.
We met a few different girl groups that appeared to be celebrating birthdays and bachelorettes, so if you're looking for something unique and low-key for a friend reunion of that nature, CIVANA Wellness Resort could be a great option!
As far as age demographic goes, I definitely feel like CIVANA caters to a younger, modern crowd. For a wellness resort it's quite affordable, so there were a lot of guests in the late 20s to late 40s crowd, though there were definitely some guests above 50 here and there.
---
Read More Hotel Reviews
---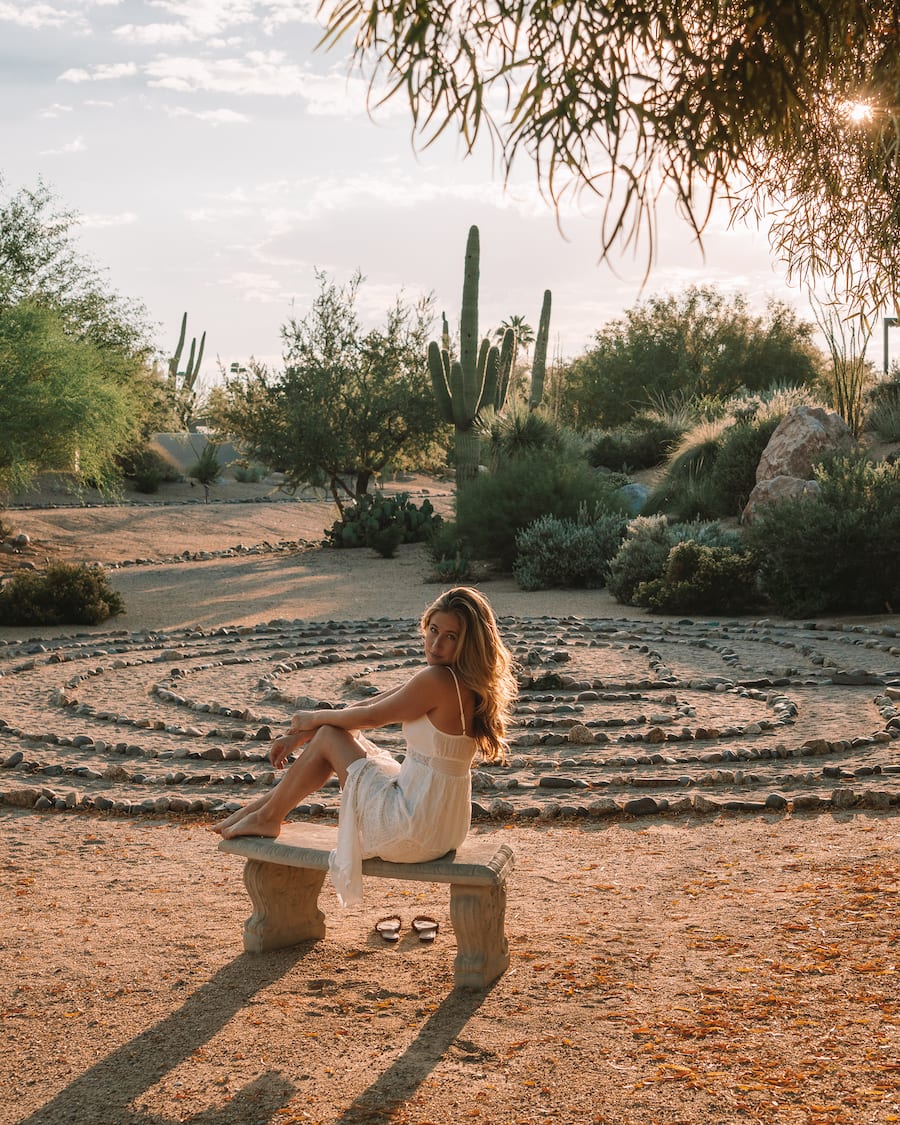 Favorite Features of CIVANA Wellness Resort
The Spa — Considering CIVANA was named one of the top spa resorts in the world in Conde Nast Traveler's Reader's Choice Awards, it's no wonder their 22,000 square foot spa tops the list. From the beautiful waiting area to the luxurious treatments themselves, the spa is a must-visit during any stay at CIVANA.
Wellness Classes — The wide offering of wellness classes (think everything from guided hikes to kayaking, mindful meditations, barre bootcamps and more) are the main highlight of a stay at CIVANA and will keep you feeling relaxed and refreshed. Even if you're not much of a group activity person, getting creative and trying something new is a great way to get yourself out of your comfort zone.
The Labyrinth — One of my favorite features on the grounds of the property was definitely the unique stone labyrinth. There is something so calming and meditative about finding your way through the maze, whether you venture there on your own or join one of the Guided Labyrinth Walking Meditations.
Giant Saguaros — When I say the grounds of CIVANA are covered in gorgeous Saguaro cacti, it's no understatement. I find these giant cacti to be both beautiful and a bit silly if I'm being honest—they all seem to have their own little personalities. Watching the sun set go down around a backdrop of giant Saguaros really sets the tone for the environment here.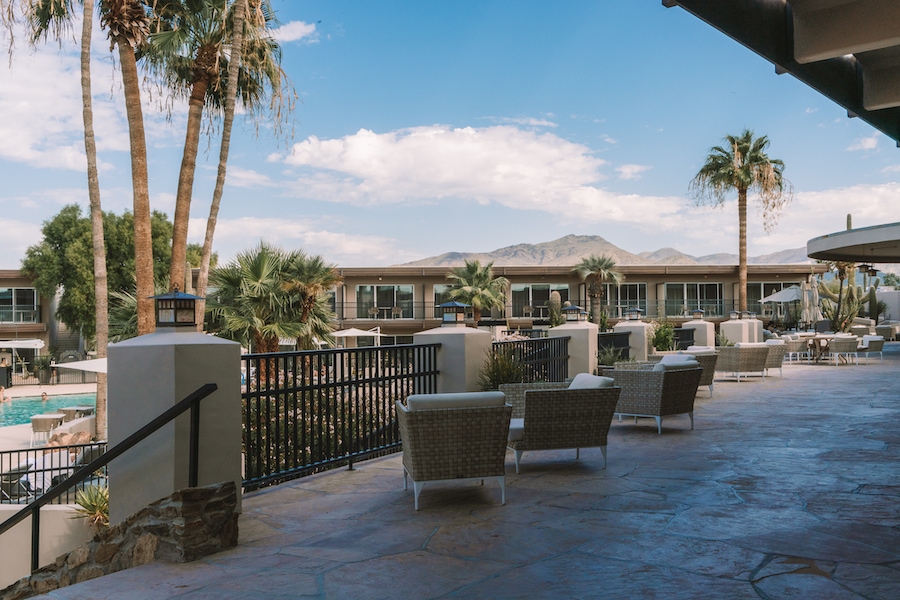 Location
Located about 30 minutes north of Scottsdale, CIVANA Wellness Resort resides in a small town in Arizona, aptly named Carefree. It is nestled perfectly in the Sonoran Desert, offering beautiful views for miles and the perfect Arizona sunsets to match.
Because it's a bit of a trek back and forth to Scottsdale, I'd recommend staying in a hotel in downtown Scottsdale if your focus is exploring the city, then planning a few nights at CIVANA where you don't plan on leaving the property and can fully enjoy all of the onsite amenities and activities.
They have complimentary self-parking for guests which is super nice so that you can avoid that hefty nightly rate that many hotels like to sneak in, though having a car is not totally necessary if you don't plan on leaving the resort for outside food or site-seeing.
The Rooms at CIVANA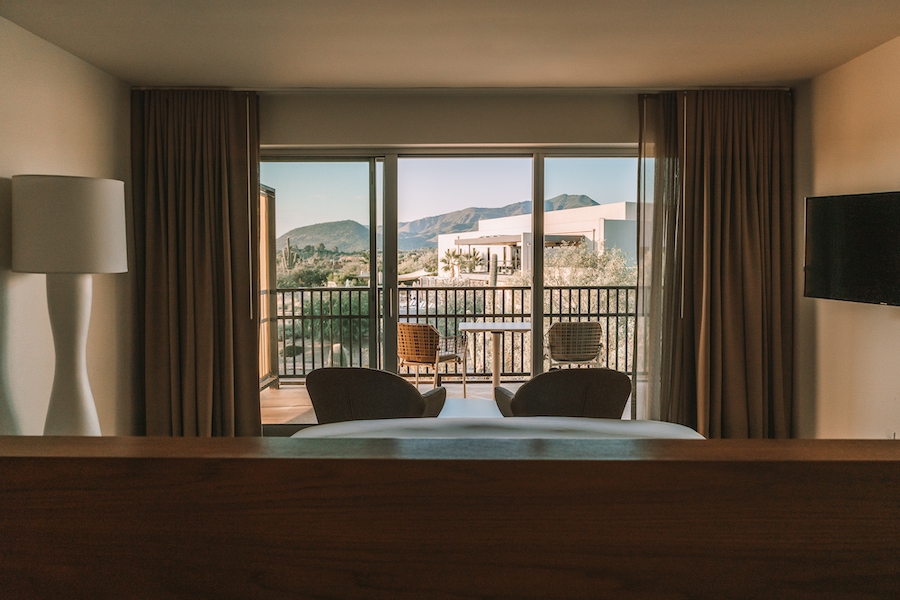 What to Expect From the Guest Rooms:
In true wellness fashion, you will find that all of the rooms at CIVANA Wellness Resort are super calming. From the beds to the bathtubs to the overall color palette and furniture, the neutral tones create a bright and airy feel that warms up each guest room and provides the perfect space for healing and relaxation.
I'm personally a big fan of beige and neutral accents, so the very little color in the rooms was great for me. If anything, the rooms err a bit too far on the minimal and simple side, but I think that's the point—to invite you into a tranquil space that is a clean slate for your relaxation and to enjoy the nature that surrounds you.
Some of the in-room amenities worth noting are plush white robes (which by the way are totally acceptable to wear both inside and outside your room at CIVANA!), personal care products by Grown Alchemist, Keurig coffee and tea maker, a mini fridge and in-room safe.
The Different Room Types at CIVANA:
There are a few different options when it comes to the kind of room that you can book, depending on your bed sizing needs and budget.
For example, if you want a breathtaking view of the Continental Mountains along with a bathroom fit for a king (or queen), then the Spa King Room may be your top pick. On the other hand, if you're sharing a room with someone and you each want to have your own bed, their simple yet stunning Double Queen Room will be better for you.
Though prices vary depending on the time of year that you visit, you can expect to pay anywhere from $400 to over $1000 per night for a one bedroom suite.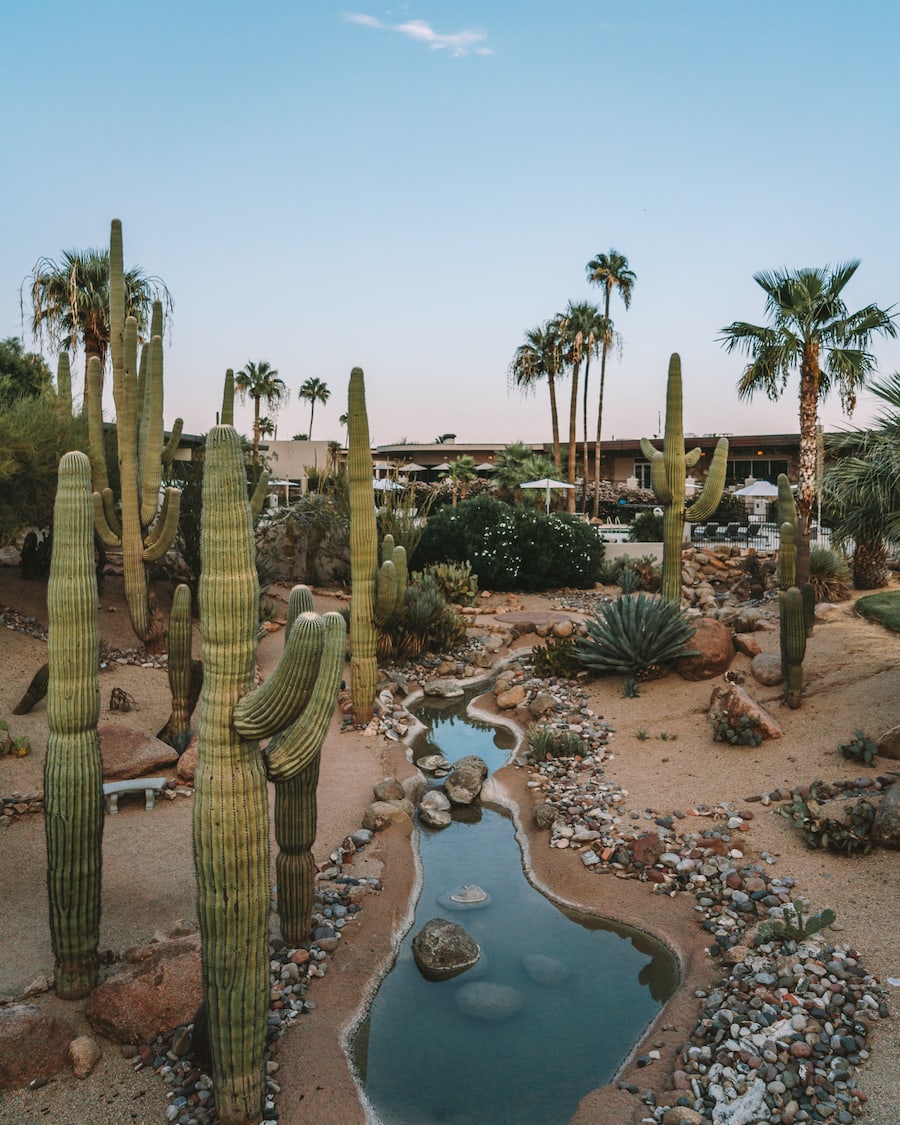 The Property
The communal parts of the hotel have a very similar vibe to the rooms. The decor itself is quite minimal with some bohemian touches here and there. The white and neutral tones are consistent throughout, creating a calming and serene atmosphere no matter where you explore on the property. Plus, the giant Saguaros are simply stunning.
Throughout the property you'll find two pools (one main one and another that is attached to the spa), two restaurants, a giant lobby/entrance area, a full fitness center, separate rooms for workshops and classes, and plenty of walking paths to stroll throughout the day.
One important thing to be aware of while exploring the grounds is the fact that it is noticeably quiet. In fact, CIVANA makes a point to ask guests to keep loud activities such as talking on FaceTime to a minimum. While this does create a very nice and peaceful environment, it is pretty funny to hear everyone using their "inside voices" in virtually every corner of the resort!
Drinking and Dining at CIVANA
With two main restaurants on-site at CIVANA, there are plenty of options to have all of your meals at the hotel if you choose not to leave during your stay. If I'm being completely honest, the food here wasn't the highlight for me compared to everything else, but we did have some really wonderful meals and especially enjoyed the ambiance at Terras for dinner.
If you wanted to get off property for a few meals, there are some local options in the town of Carefree that are much closer than Scottsdale.
Being that it is a wellness resort, it shouldn't come as a surprise that both options are quite healthy. However, CIVANA is by no means a dry resort, meaning cocktails and wine are still an option. They even have a daily happy hour at their bar for those who want to kick back and let loose for a bit. While I love the health and wellness aspects of this resort, I also love that indulging in a bit of fun is not discouraged.
Here's a bit about what to expect from each restaurant:
Seed Cafe + Market
If you're in need of a nutritious breakfast or lunch to kick off your day, Seed is the spot. It is definitely the more laid-back and casual restaurant out of the two, and the majority of their menu is plant-based and full of vegan, vegetarian and gluten-free dishes.
Overall, Seed is pretty low-key, and while the bites are super healthy, they are also pretty tasty. I especially enjoyed their smoothies! If you're looking for a satisfying meal to get you going, I recommend their Glow Getter smoothie along with their Avocado Delight.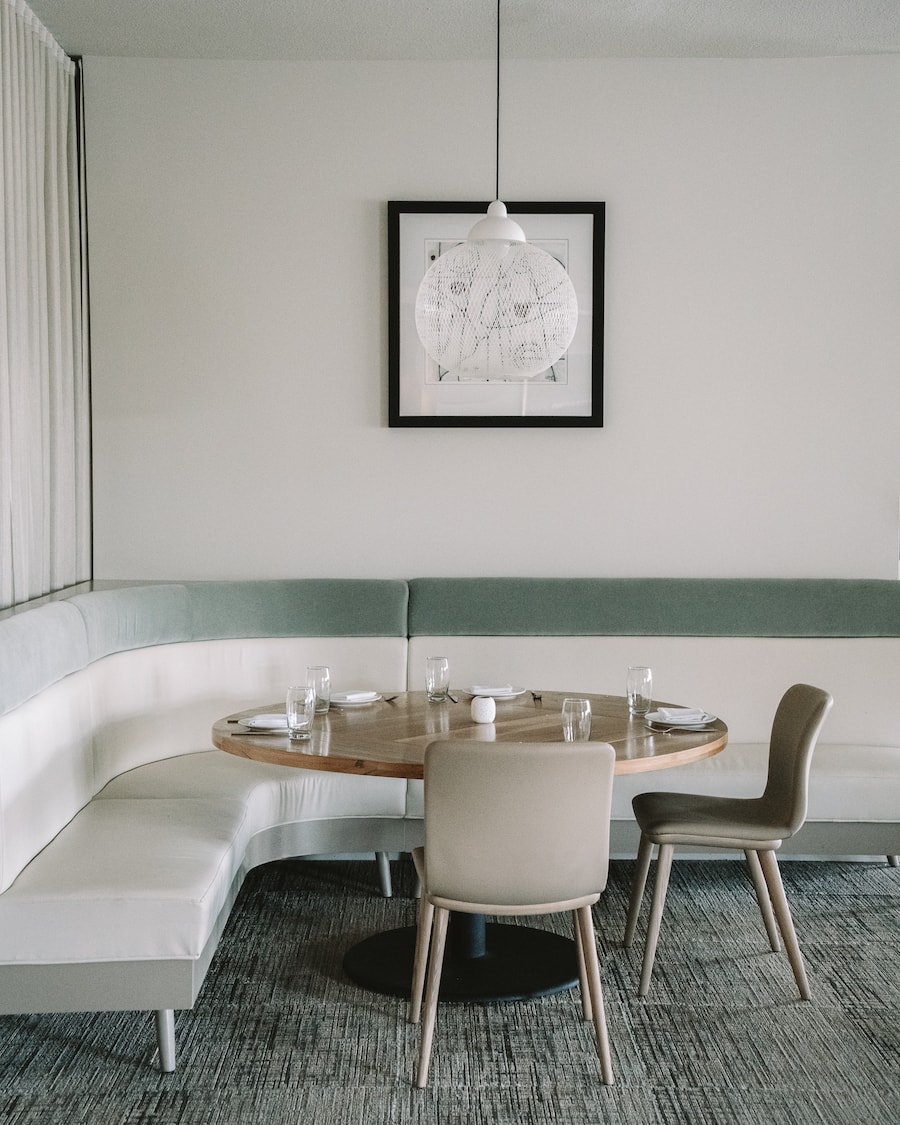 Terras
During our stay, we were able to have one nice dinner at Terras. While Seed was a quaint and cute breakfast spot, Terras was much more up my alley. While their dishes are definitely veggie-forward, and they do carry a lot of vegan/vegetarian options as well, they also have some really nice seafood dishes.
One of our absolute favorite dishes was the Hemp Crusted Ahi Tuna which was served with grilled cabbage and togarashi aioli. We were also impressed by their Maitake Mushrooms side dish with spicy mole and cashew lime crema. For those wanting to unwind with a drink at dinner, Terras' Hibiscus Margarita is totally refreshing. However, if you're looking to add some extra zen, try their popular CBD-infused Aperol Spritz.
Wellness Activities and Spa at CIVANA Wellness Resort
Considering that CIVANA is a wellness resort, they of course offer a wide array of spa treatments, workshops, exercise classes and mindfulness activities. It's really the signature aspect of CIVANA that makes it so unique from other hotel stays.
Being able to partake in such unique and fun activities was probably my favorite part about staying at CIVANA. Taking classes or signing up for group activities doesn't always sound the most appealing to me when traveling or on vacation, but I was really impressed with all of the classes we experienced at the resort.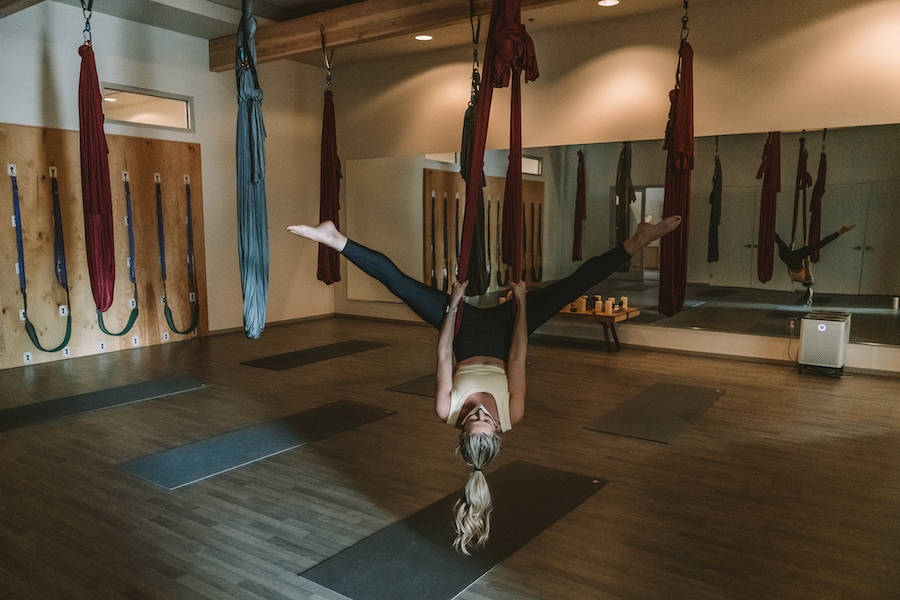 What to Expect from the Wellness Classes
On their full class schedule online, you'll find over 70 different complimentary classes to choose from each week that tap into various fitness and spiritual growth disciplines. Some of the kinds of activities you can expect include guided hikes, yoga classes, TRX, cardio HIIT, gratitude meditations, myofascial release, breathwork, mindful mixology, pickeball and much more.
Here are the classes we partook in during our stay:
Aerial Yoga – This was my first time doing Aerial Yoga and it was seriously so much fun! The entire room was set up with silk ropes hanging from the ceiling and our instructor was wonderful. I wasn't totally sure what to expect, but overall it just felt like a really deep stretch. This class is definitely a great intro to aerial yoga if you've never done it before, although this one does require an add-on fee.
Inner Intimacy – This class was led by a guest instructor that CIVANA brought in and to be totally honest, we had no idea what we were getting ourselves into! While there are lots of classes that are always on the schedule, there are a few that fluctuate and change weekly. Inner Intimacy was a very vulnerable class that forced us to have intimate interactions with strangers, getting us totally out of our comfort zones. I know I personally shed a couple tears as did many people in the class. It was really touching and surprised me in the best way.
Metate Hike – This was a local group hike that we explored with other CIVANA guests. It was led by a knowledgeable guide, so we got to experience this stunning hike to its fullest as they pointed out all of the various flora and fauna along with some local wildlife and fun facts about the area. I love that CIVANA took care of us throughout the whole experience, from providing transportation to and from the hotel and also providing us with water bottles to ensure we remained properly hydrated in the hot desert sun.
Pro tip: Prior to your arrival at CIVANA, make sure to ask about any guest instructors or one-off classes that might not be on the normal weekly schedule.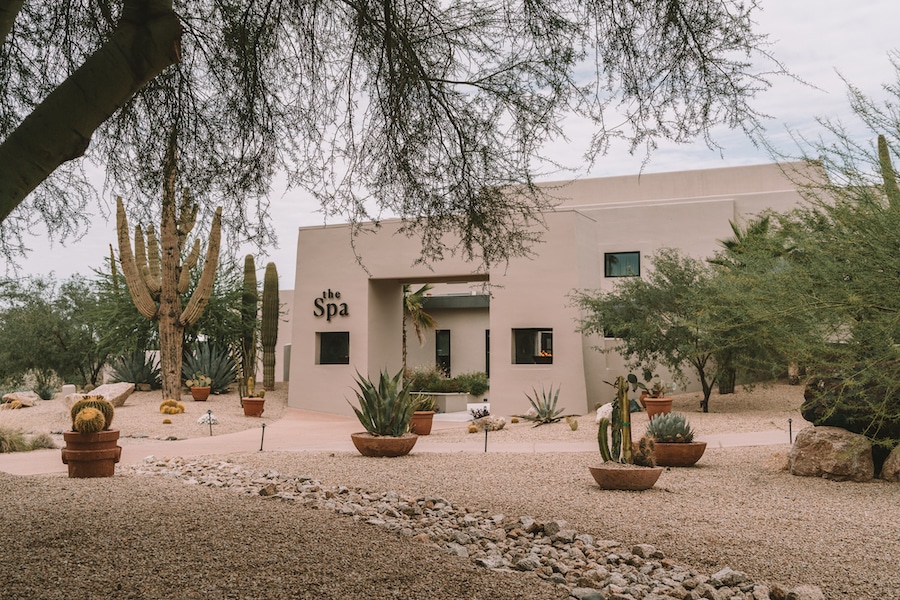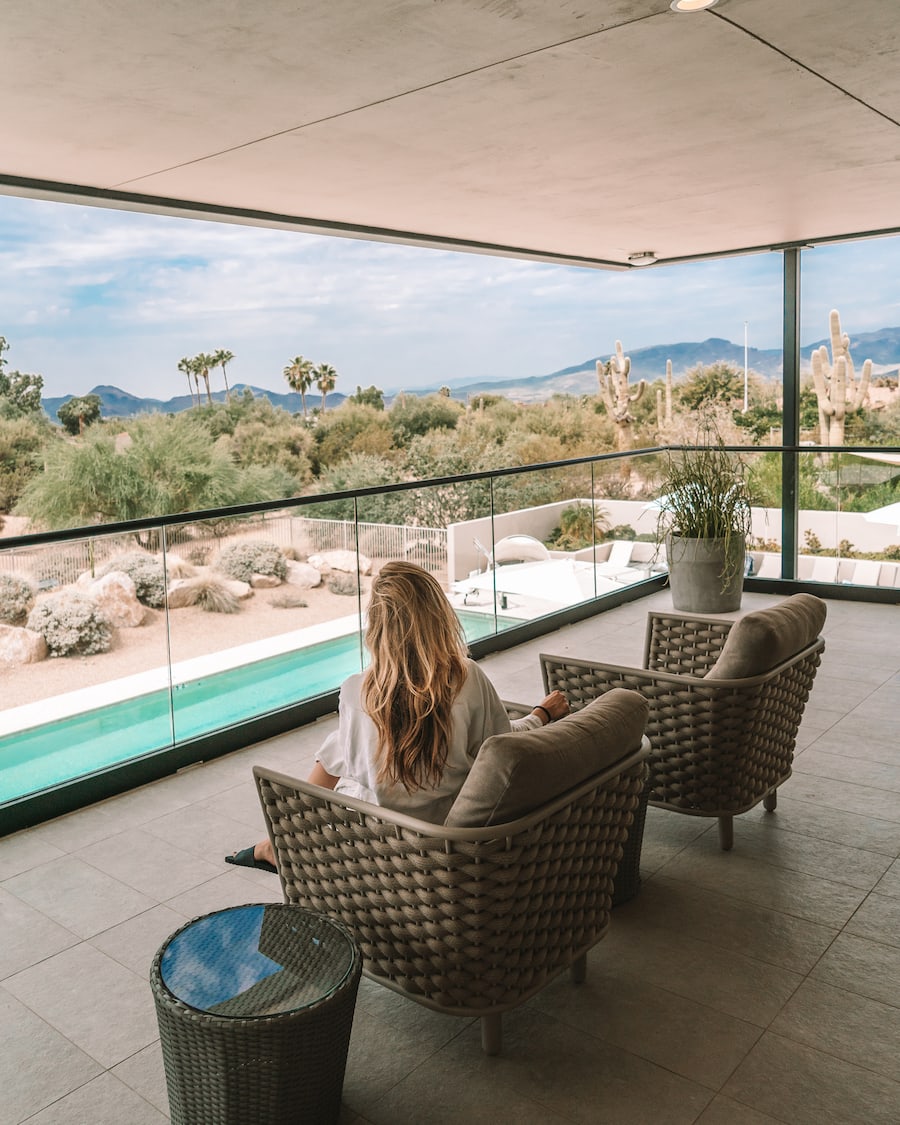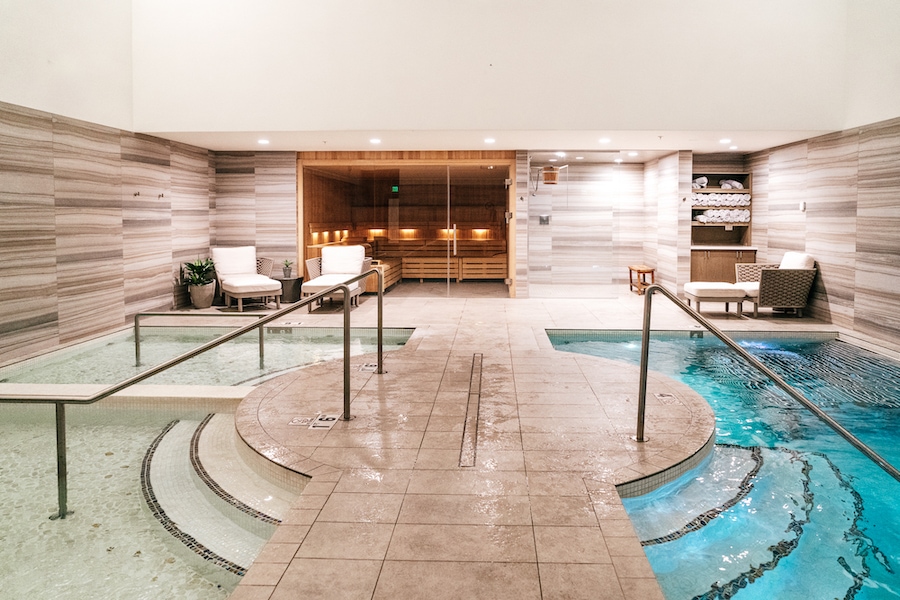 The CIVANA Spa
The CIVANA spa is absolutely stunning and is its own little compound on the entire hotel property. You could truly spend an entire day (or more) at the spa here as it even has its own pool and brings in food from Seed Restaurant. Food, sun, spa treatments—what more could you need, right?!
While we only got to partake in two spa treatments during our stay, I will say that both were utterly blissful and left me feeling totally restored and refreshed.
I was especially impressed by their aqua therapy circuit offering, which they have reserved privately for guests before each treatment. I'm not sure if this is just being done during Covid times and might change, but we got to spend about 20 minutes before each treatment rotating through the cold plunge, hot pools and sauna, which has wellness benefits like increasing circulation.
Another perk to booking a spa service is that you get access to a more private and exclusive pool that is strictly reserved for guests of the spa.
Here are the specific spa treatments I personally tried and loved:
Deep Muscle Relief Massage – I'm the kind of person who likes to be in a bit of pain when I get a massage, or else I really don't feel like I got my money's worth! So if you're looking for something gentle or soothing, then the deep tissue massage I got might not be for you. However, if you're looking to have some major tension released then you'll love this one. This massage treatment focuses on medium to deeper pressure and is perfect to relieve the tension in your body from days spent working at a desk, making you feel instantly lighter.
Essential Marine Oxygen Facial – Packed with DNA-repairing enzymes, hyaluronic acid, and pharma-grade liquid oxygen, this facial left my skin literally glowing! In addition to providing epic hydration and helping to balance my skin tone, it also just felt really freaking good. I will say, while I definitely was tempted by the Sonoran Sea Facial (which uses reiki and crystals for chakra balancing), I'm so glad I went with the oxygen facial, which the staff had mentioned was one of their most popular treatments.
CIVANA Calm – Though I didn't have a chance to experience the CIVANA Calm, this is definitely one of the hotel's most popular treatments. Using a magnesium salt scrub that is paired with a botanical tonic, you are put into a relaxed and calming state as the scrub penetrates your pores. Following the scrubbing part of the treatment, you are given the option to have a mini facial or body massage, leaving you balanced and relaxed.
So Would I do it All Again?
The answer is a resounding YES and this is definitely a concept I look forward to exploring more. Now that I have one wellness resort experience under my belt, I think I'd do a few things differently for future stays, like focus all my time on property to make the absolute most of the class offerings.
Overall, wellness travel is on the rise, and I love the idea of taking time off to re-center, focus on health, and support your own personal self care.
Did this post inspire you to book a trip at CIVANA Wellness Resort & Spa? Let me know in the comments below!
---
Planning a trip right now? Don't miss my go-to websites for booking everything from flights and tours, to accommodation and more:
---