In search of the coolest Airbnbs in the United States? Well, you've come to the right place.
Finding unique accommodations are my specialty, and this list of the coolest Airbnbs in the United States, including epic vacation rentals from other sites, will have you itching to book your next getaway stateside.
From A-Frame cabins and retro airstream trailers to treehouse escapes, epic architectural spaces and so much more, each of these unique vacation rentals have their own special elements to gush over. There's even a converted WWII train in the mix. So cool, right?!
In this post you'll find the most unique stays from Airbnb, VRBO, and my personal favorite luxury rental site Plum Guide—their curated selection is incredible!
I hope these creative Airbnb stays will inspire you to think outside the box for 2023 travels and beyond.
The Coolest Airbnbs and Vacation Rentals in the United States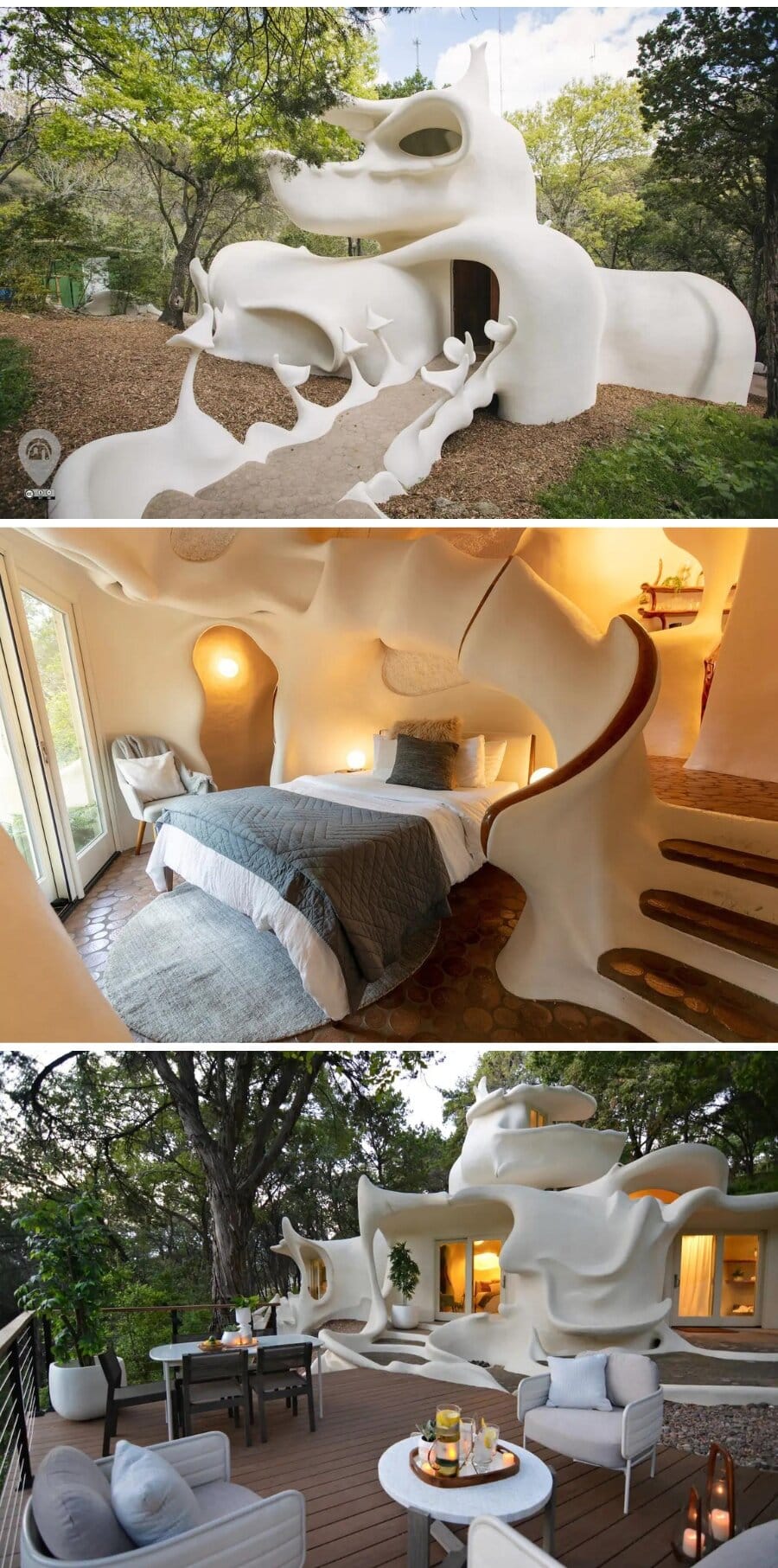 Part mystical creature, part seashell, the Bloomhouse is a true one-of-a-kind place to behold—and stay at! This captivating creation is tucked away in a serene location in Austin, Texas for an idyllic escape in nature.
This magnificent abode was built with the intention of shielding guests from the elements while also allowing them to live in harmony with the environment. It's a true sanctuary of peace and solitude, so secluded that it lacked a physical address for many years.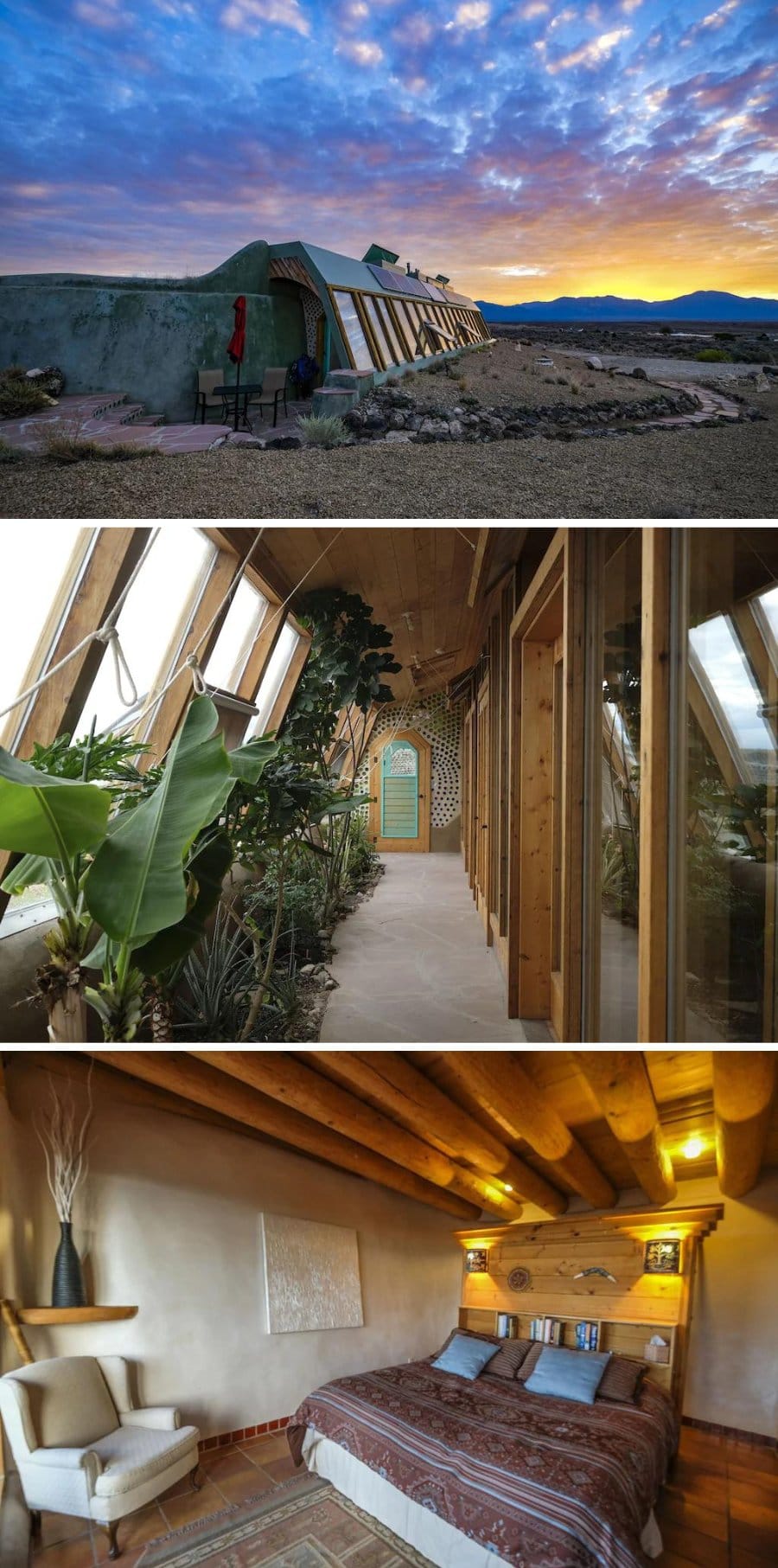 For those who appreciate Earthship architecture, this home is a flagship model, combining sustainable design with aesthetic beauty and comfort. Originally built in 2013, the Earthship operates completely off-the-grid, relying on solar power for all electricity and heating/cooling needs.
Furthermore, the house was constructed with environmentally friendly and recycled materials, such as tires and recycled glass.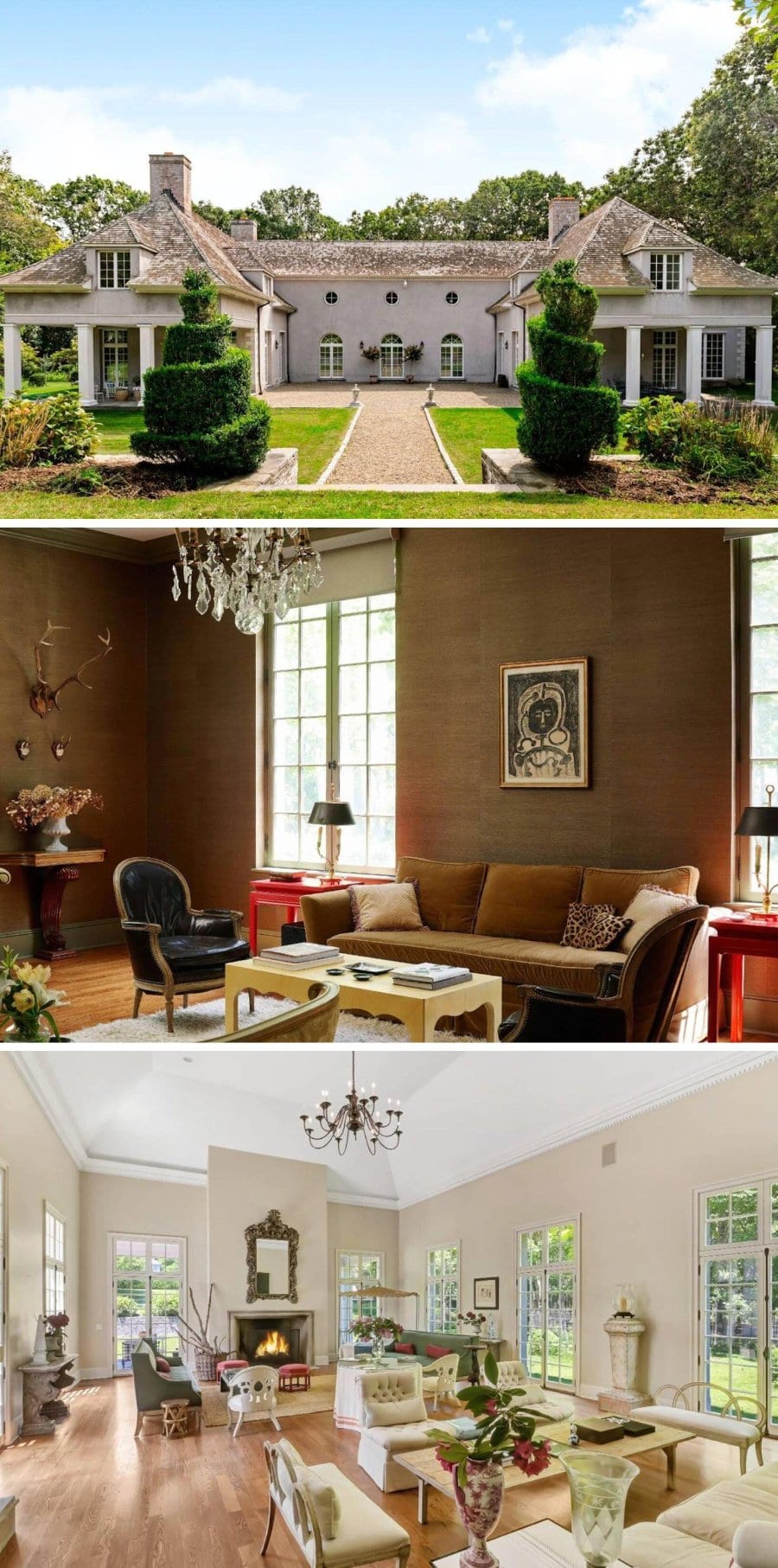 This elegant estate will fulfill all your English countryside dreams, right in the heart of New York state.
Nestled amidst immaculately manicured lawns and a secluded nature reserve, the home exudes English heritage and features large rooms with imported antique tiles and wooden flooring from France, marble mantels, and ornate furnishings.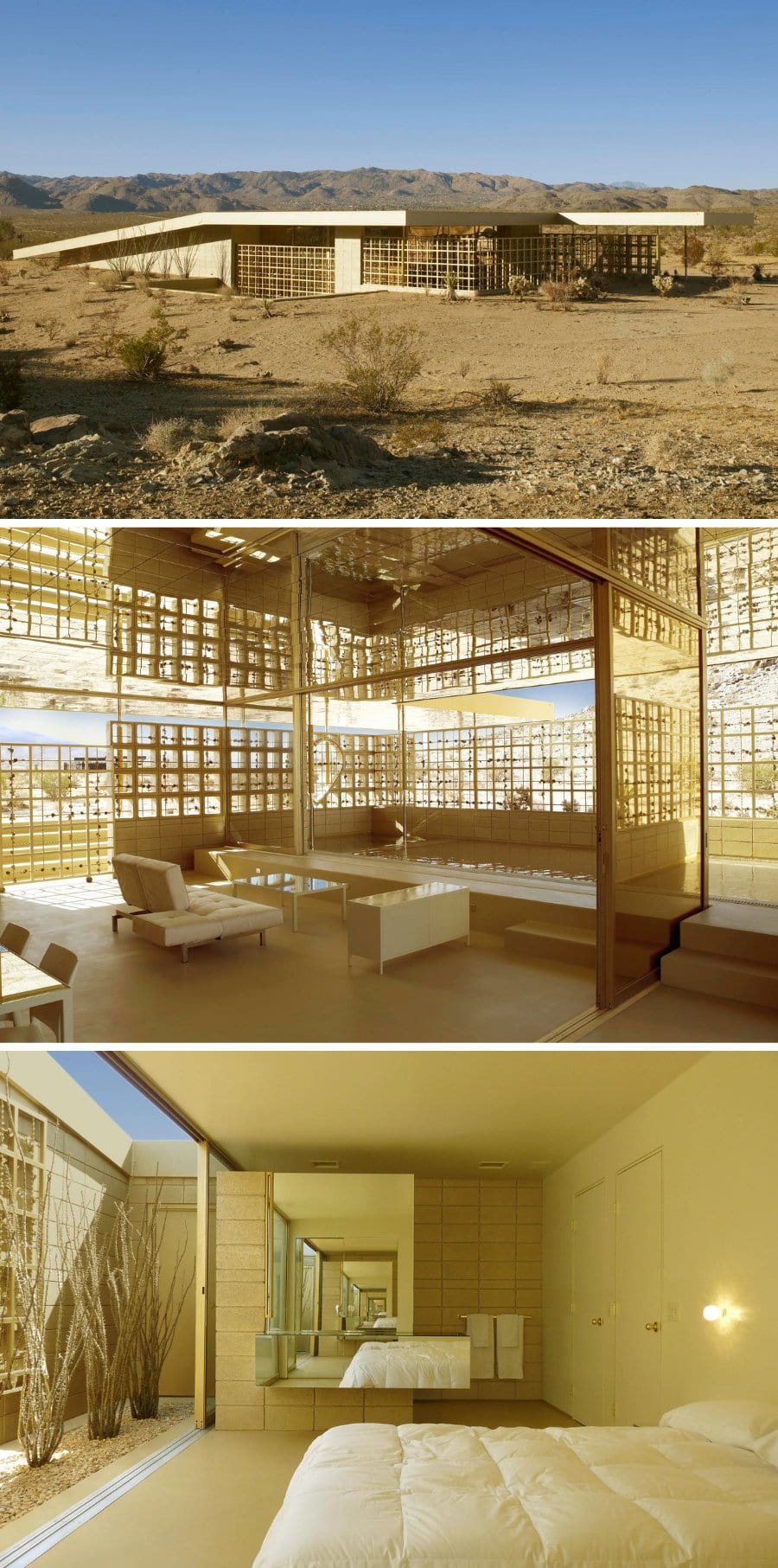 You'll feel like you're sleeping inside an art magazine at this one-of-a-kind home in Joshua Tree, California, all thanks to its architect, Robert Stone.
Every inch of this desert home is washed in gold with minimal furnishings that allow guests to truly soak up the unique architecture of the home, like its wrought iron gates featuring thousands of metal roses.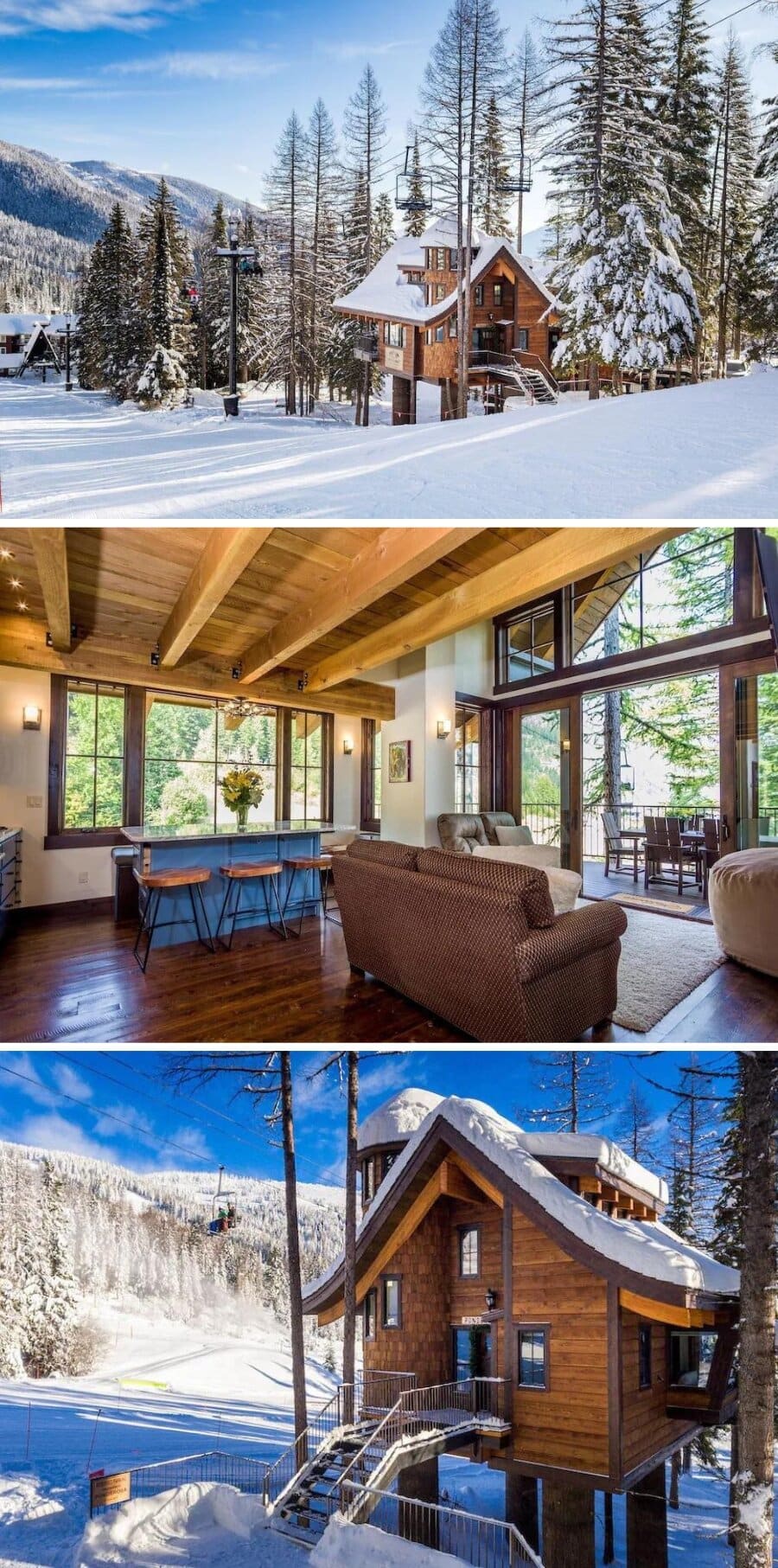 Meet the world's first ever luxury ski-in ski-out treehouse! This unique vacation rental is a place where whimsy and function truly combine.
Guests get the convenience of all of the amenities you could need for a comfortable stay (plus instant access to the slopes), while allowing for some fun and fantasy in its treehouse design.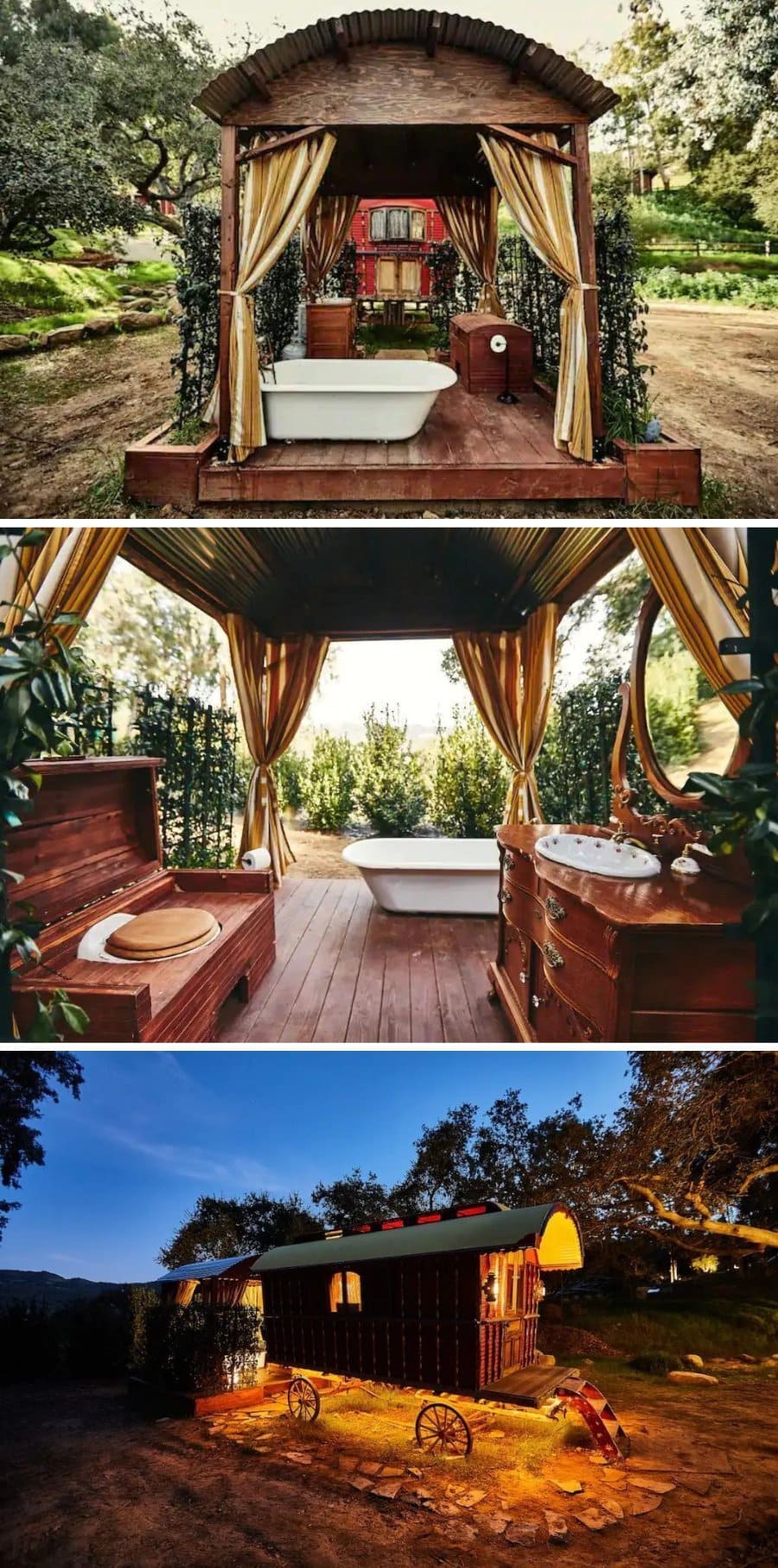 What could be a more unique home rental in the US, than this charming carriage in Topanga, California?
Surrounded by 100-year old Oak trees and the magical Santa Monica Mountains, this authentic gypsy wagon is unlike any other place you can stay. It even comes with a one-of-a-kind outdoor bathroom surrounded in nature.
Colorful Home – Berkshires, Massachusetts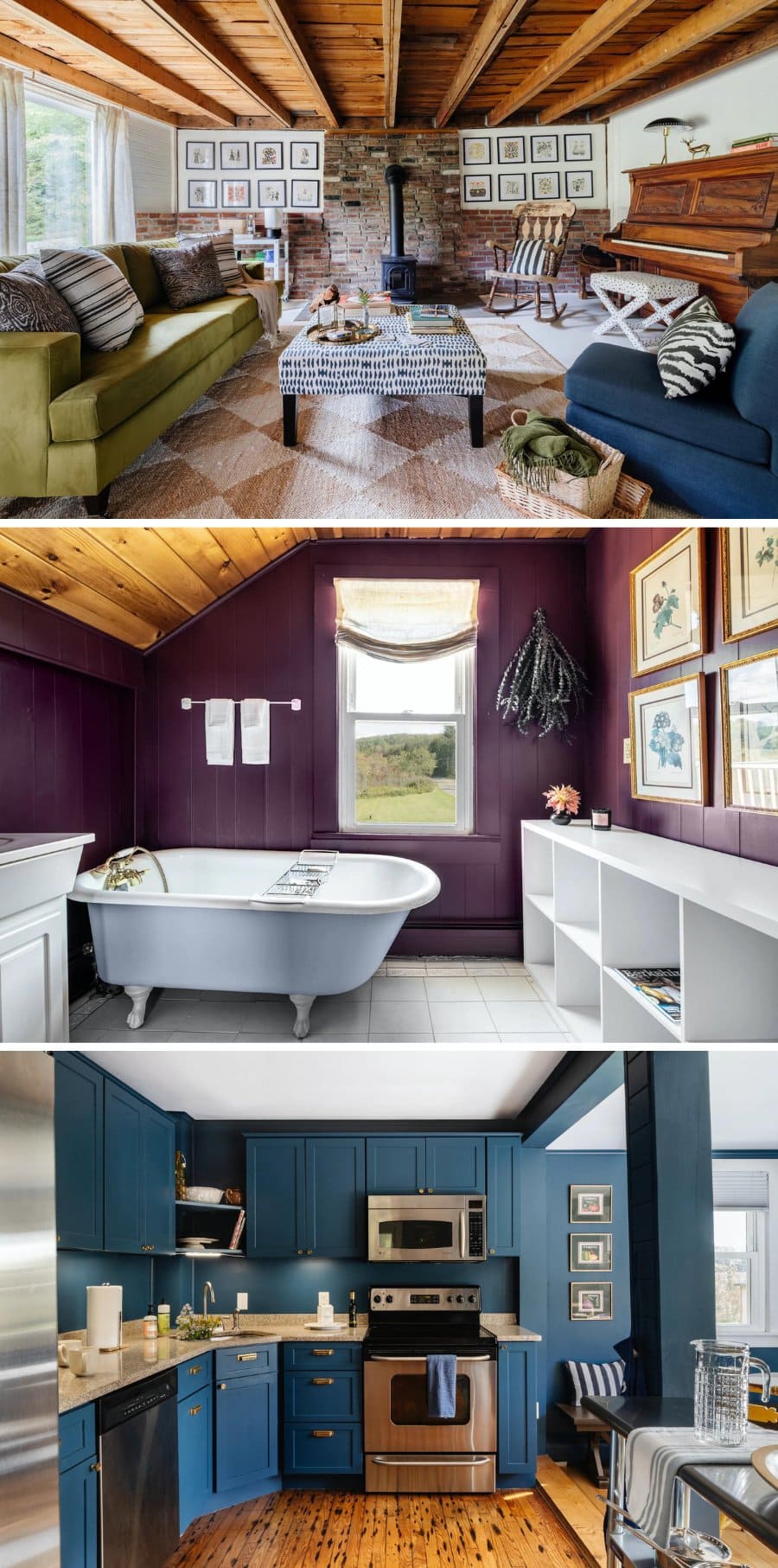 For lovers of color, you'll find no lack of it here inside this impeccably designed home rental in The Berkshires. From a bold blue kitchen to a deep purpled-hued bathroom featuring a claw-foot tub, this might just be one of the most colorful homes in the US.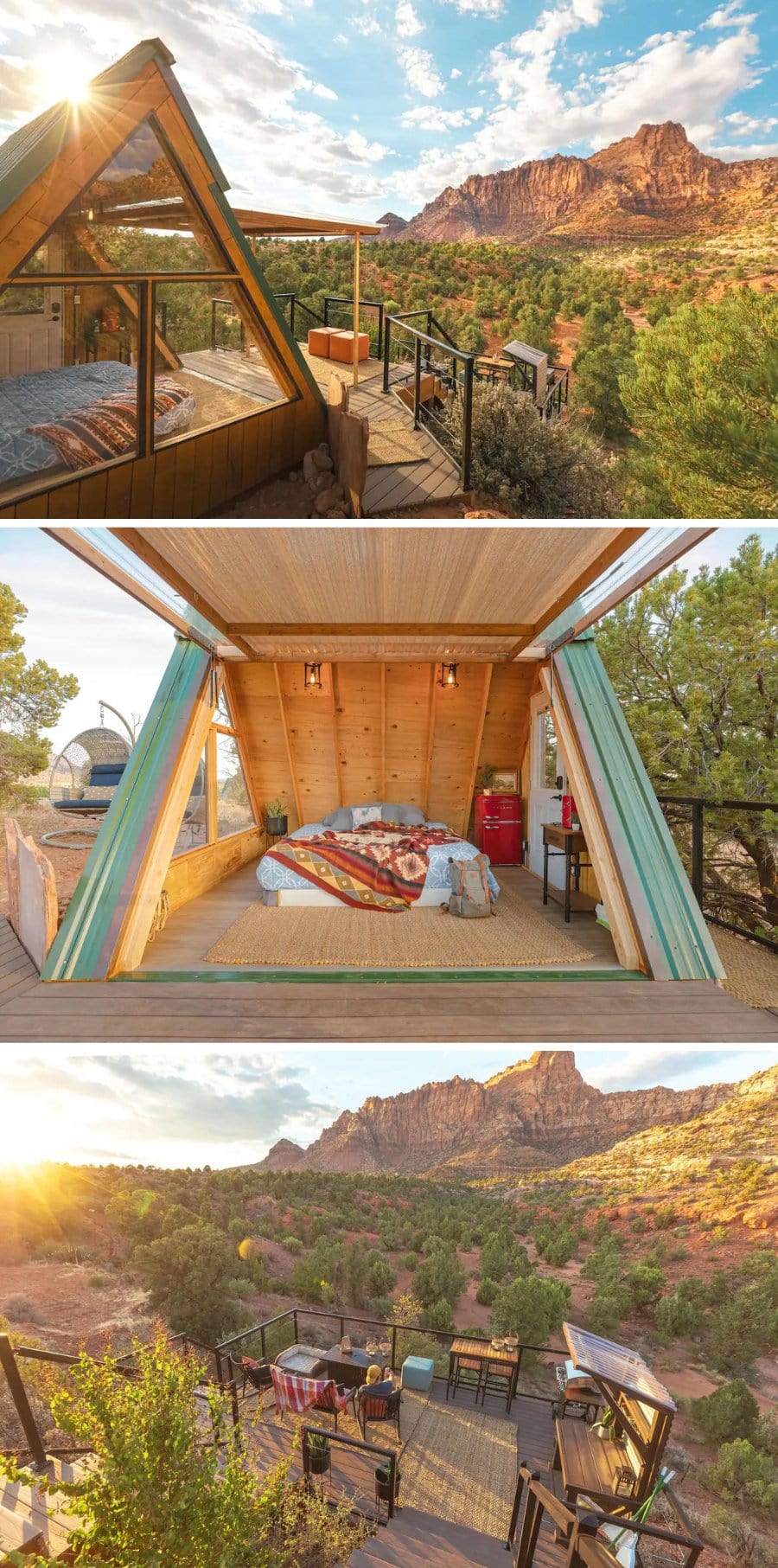 Views of Zion National Park don't come better than from this eco-cabin Airbnb. What makes this spot especially unique is its convertible door which gives the space an indoor-outdoor feel, helping guests connect deeper with nature.
The 1968 – East Hampton, New York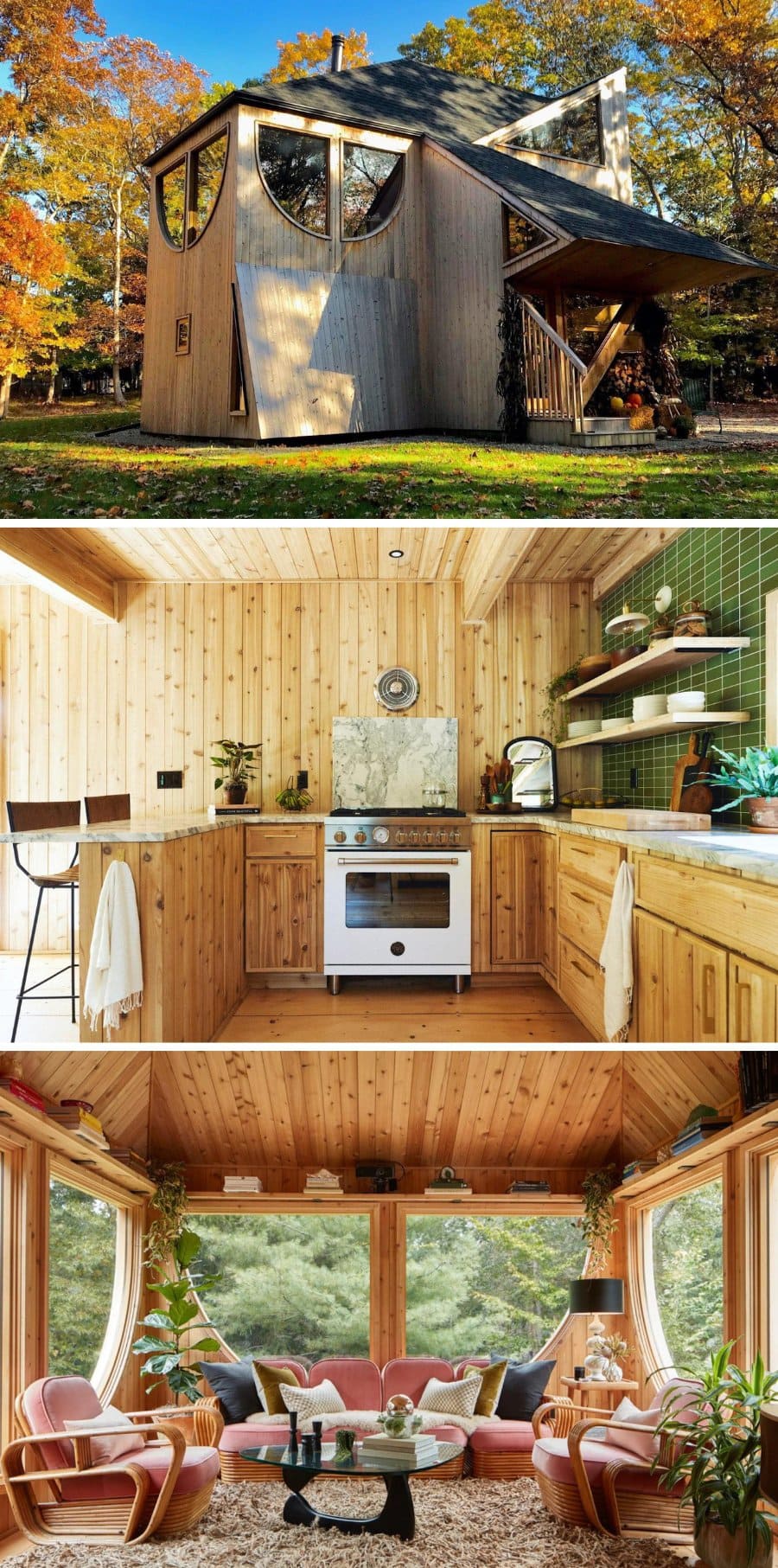 Practically made entirely of timber, this funky East Hampton cabin will keep you awe-inspired with all its interesting details and unique architectural choices. Like its "upside down" design for one—meaning the bedrooms are on the bottom floor while the living spaces sit on the second story.
To say this is a home full of personality would be an understatement. Its got a bit of retro charm mixed in with a treehouse feel, like you're one with nature.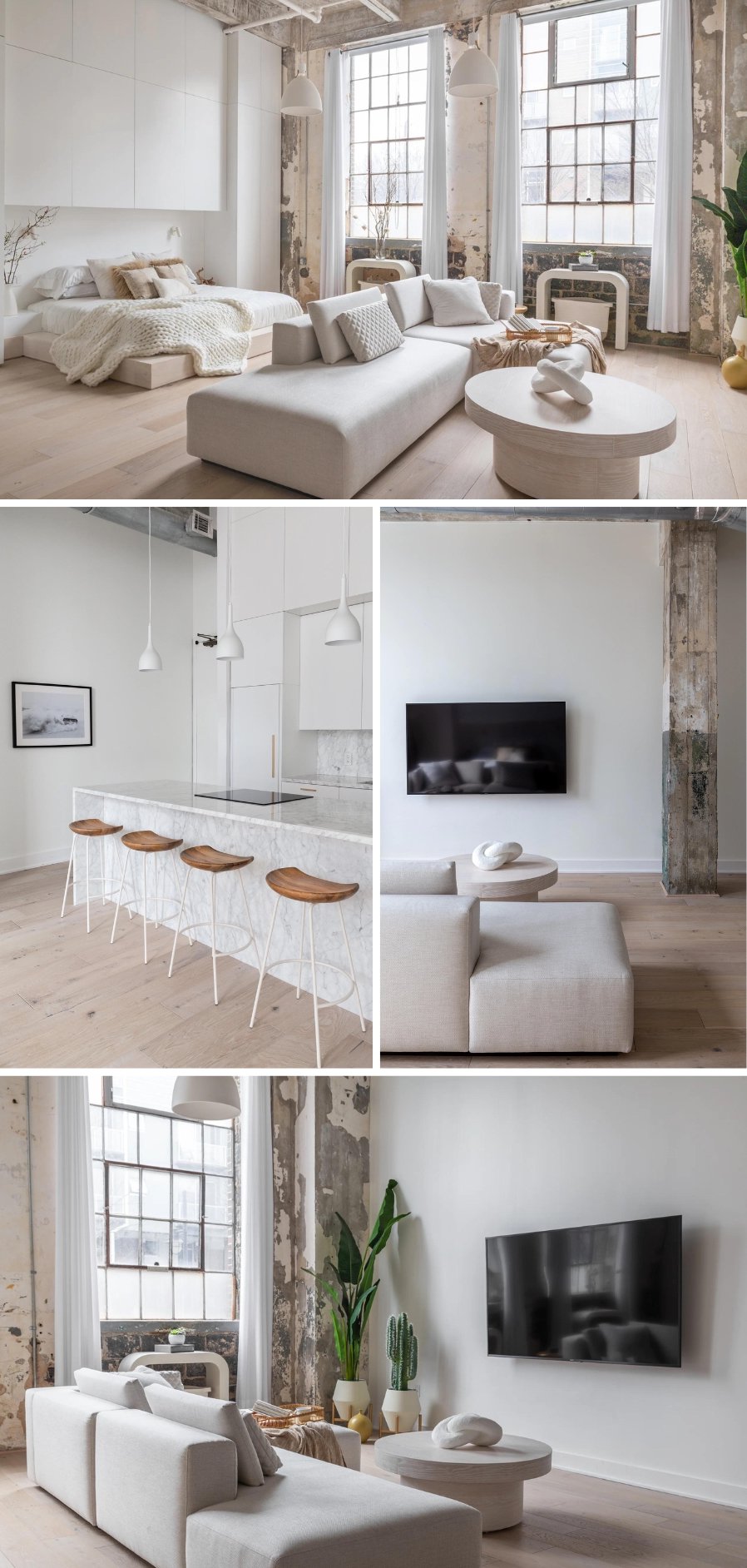 Immerse yourself in Scandinavian-style design without ever having to leave the US.
Located in Atlanta, Georgia, this beautiful loft is sleek and stunning, featuring all white furnishings with a few natural accents. The high ceilings give it an airy feel and the exposed pipes add a unique industrial look to the home.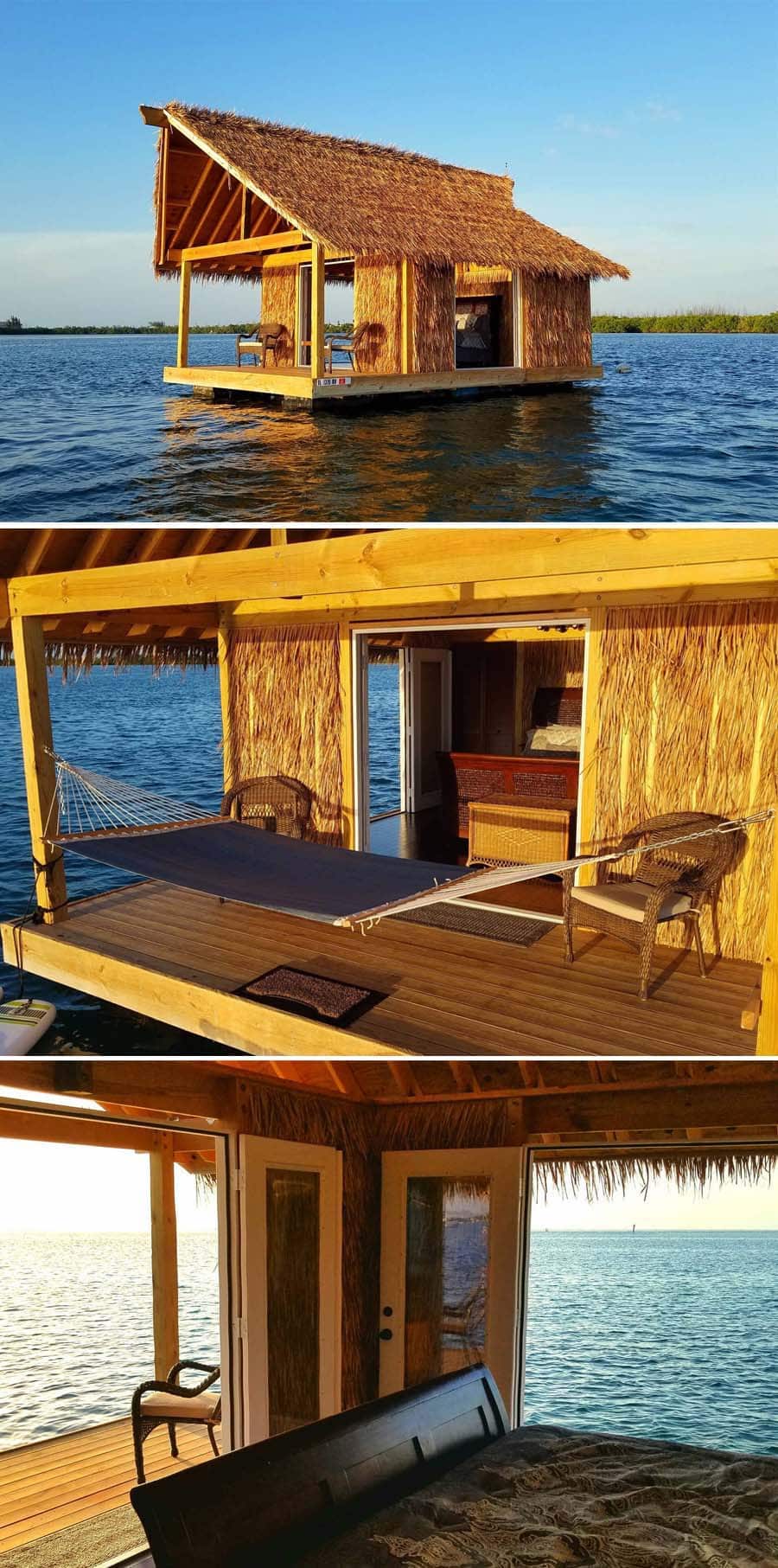 Live the true island life at this over-water tiki hut Airbnb in Key West, Florida. This is a one-of-a-kind glamping adventure that blends the best of boating with the comfort and spaciousness of home.
With its tropical-themed design and thoughtful engineering, the Tiki Suite offers optimal cooling and protection from the hot Florida sun and rain showers and provides a front-row seat to Florida's marine life.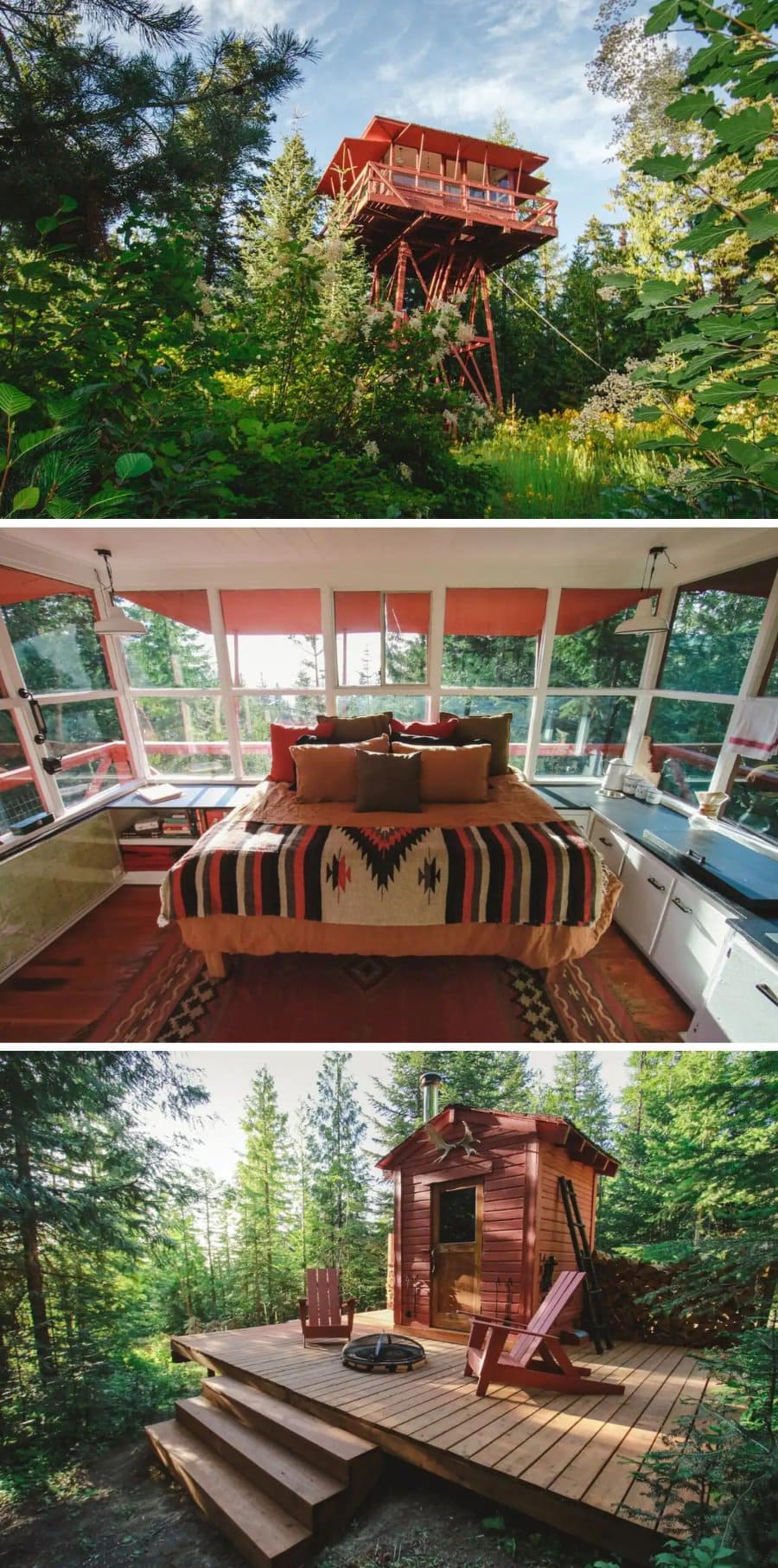 With a wood-fired stove and separate sauna, the Crystal Peak Lookout is a peaceful retreat in any season and is surrounded by 13 acres of forest and panoramic views. This is the perfect getaway for couples looking for some true alone time immersed in nature.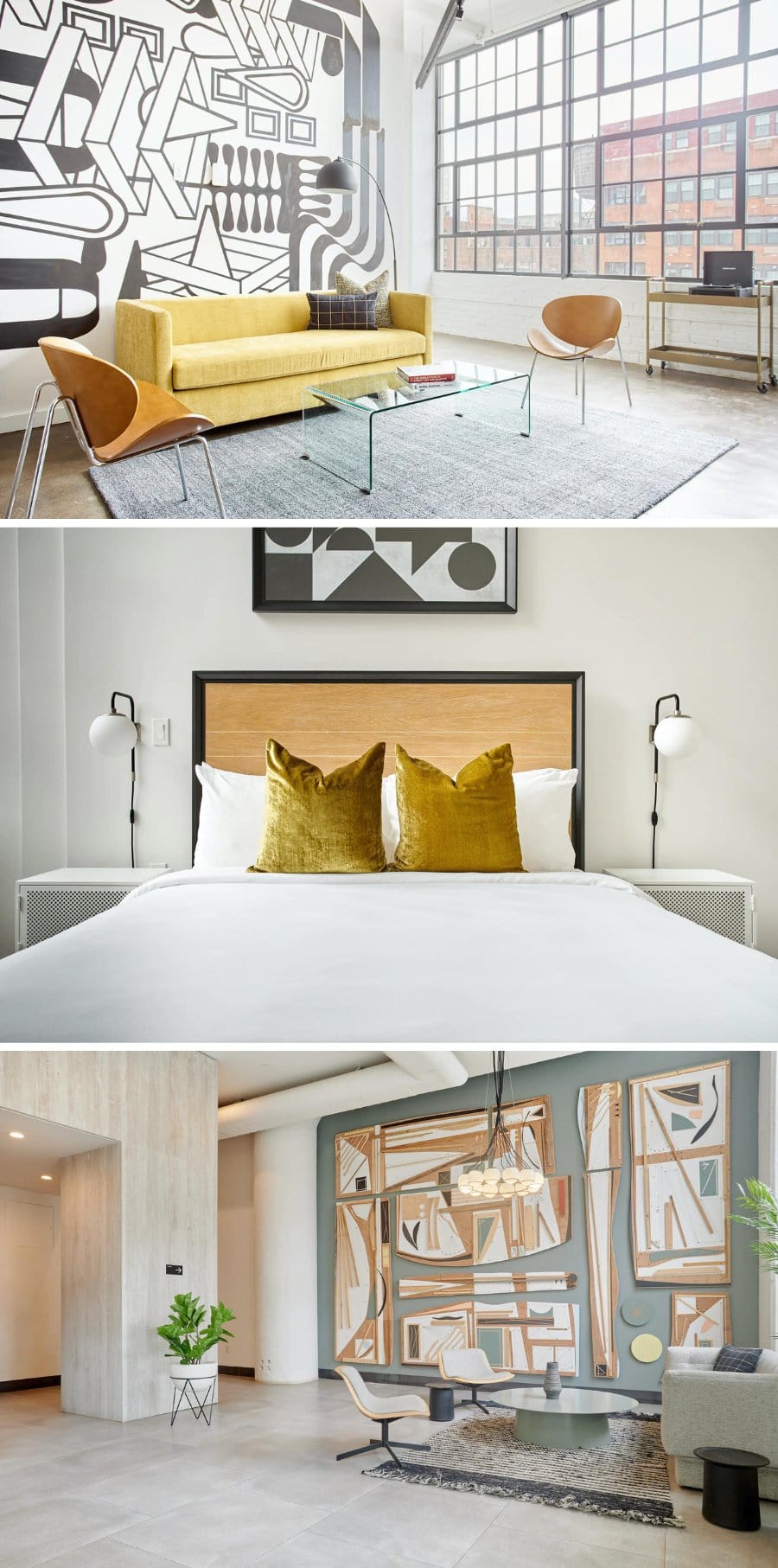 Located in Philadelphia's trendy Callowhill neighborhood, this apartment is all things funky, artsy and industrial with an open-plan layout that gives visitors an expansive feel during their stay.
Ever dreamed of staying on a ranch? Well now you can fulfill those dreams in the heart of Texas Hill Country at this mini luxury ranch located on five private acres of land.
This place is the perfect combination of rustic charm on the outside and modern, comfortable amenities on the inside.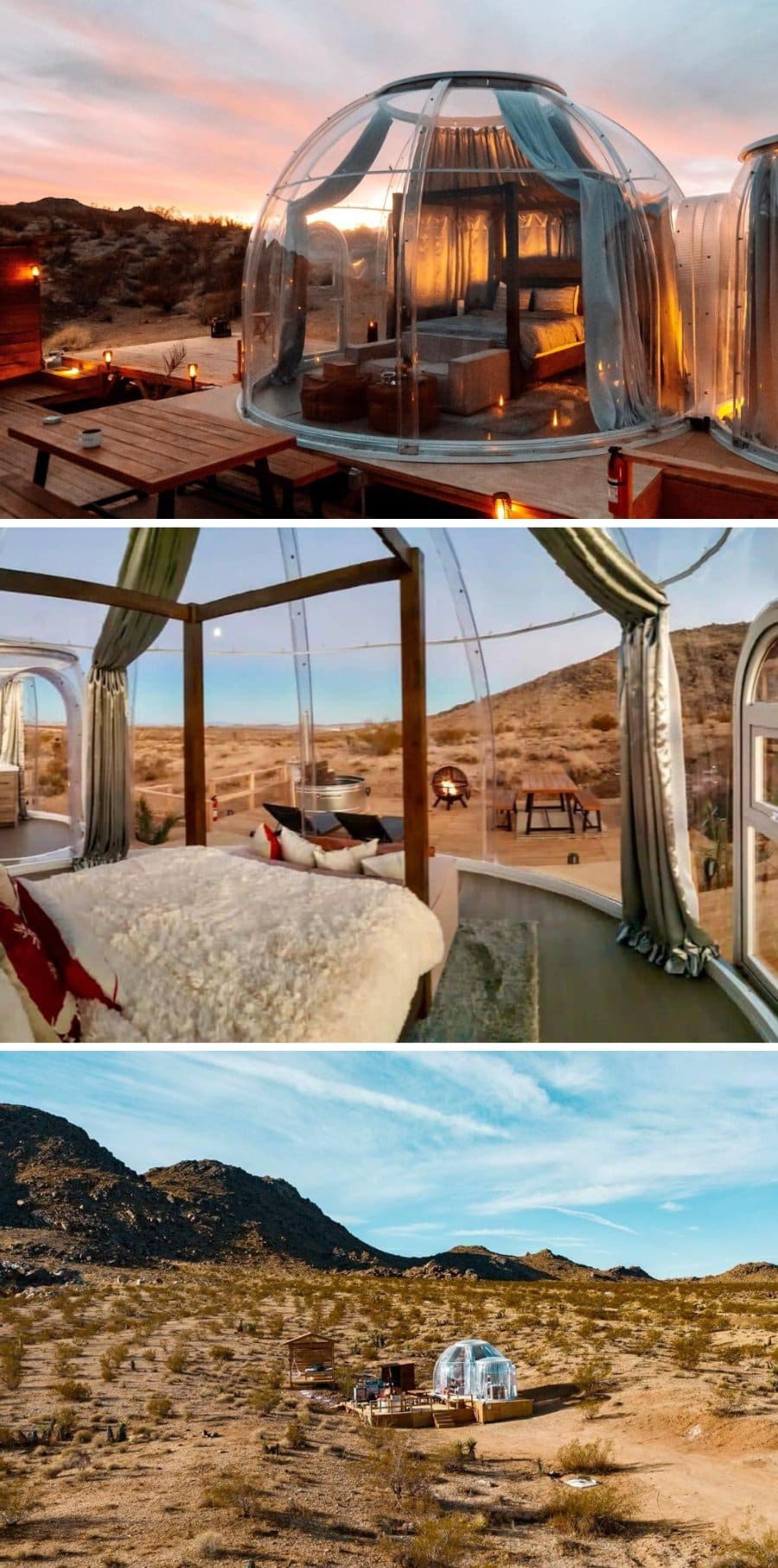 Escape for the ultimate stargazing getaway at this clear bubble dome in Joshua Tree, California.
While this may be glamping, guests here are spoiled with WIFI, a hot tub, and of course panoramic views of the night sky.
This lakeside Austin home is the ultimate place to stay in the US for bachelorette/bachelor parties or large gatherings. With incredible access to the waterfront, a pool, and plentiful spaces to gather, this home will make any trip with friends or family one to remember forever.
This home rental goes above and beyond in luxury; it comes with a 24/7 personal house manager, concierge planning, and a unique welcome experience.
With tiny details everywhere that scream Alaskan wilderness, this cabin in Sitka is a waterfront gem you'll never want to leave.
The cabin rental's location in Silver Bay makes it a hotspot for wildlife viewing; whales, sea lions, and seals can all be spotted right from the home's massive picture windows. This is a great unique vacation rental for large groups as it can sleep up to 10 people.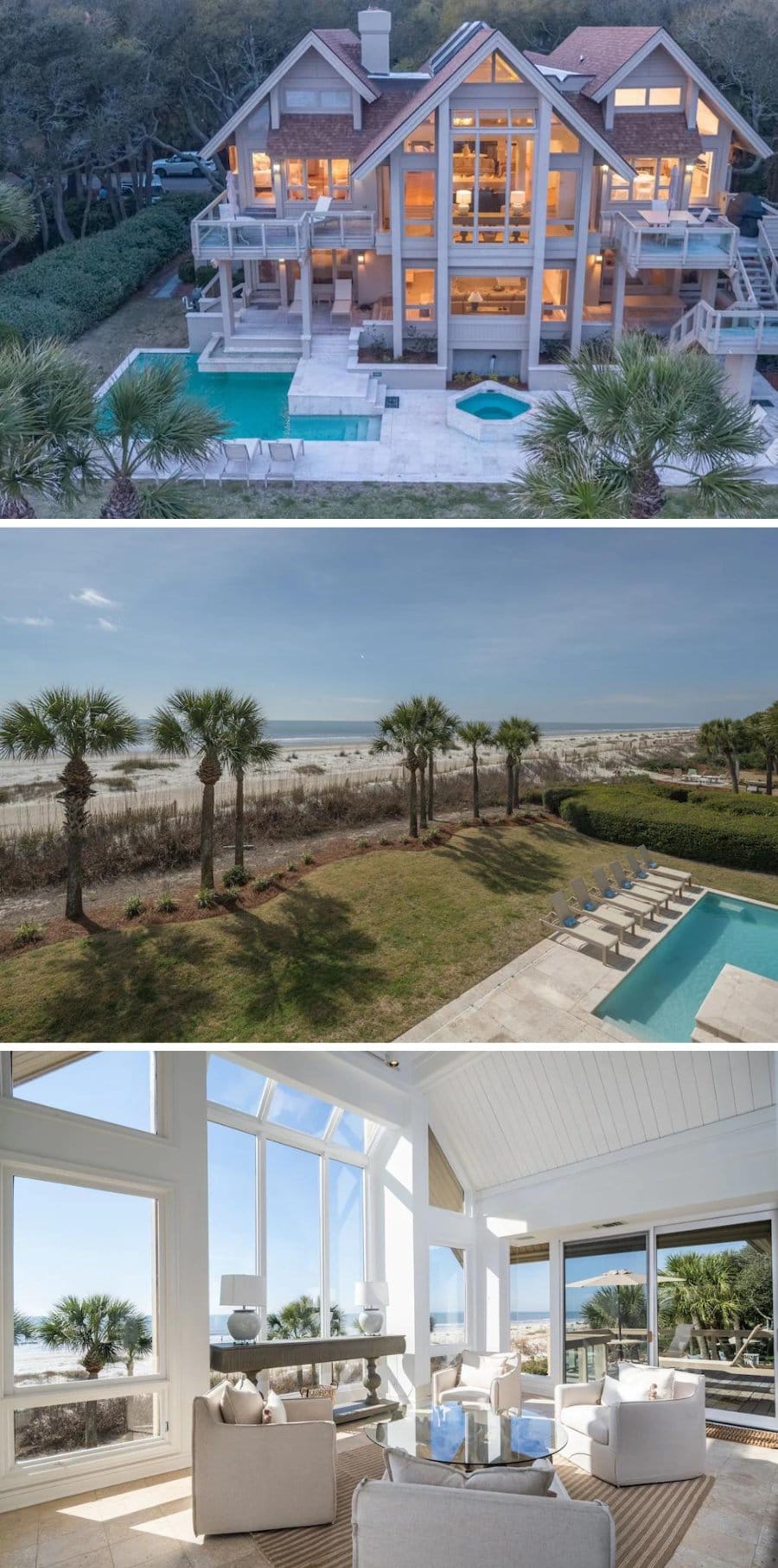 Unique in its dramatic luxury and epic location right along the sand in Hilton Head, North Carolina, this luxury home is perfect for discerning travelers.
Those who want to skip the luxury hotel and have more privacy in a well-designed space will fall in love with this property of epic proportions.
If you've always wanted to try glamping, then there's no better place than out in the wilderness just a short drive away from Bryce Canyon National Park.
These luxury glamping tents include comfortable beds, seating, and even communal bathroom trailers on site to take your camping up a notch.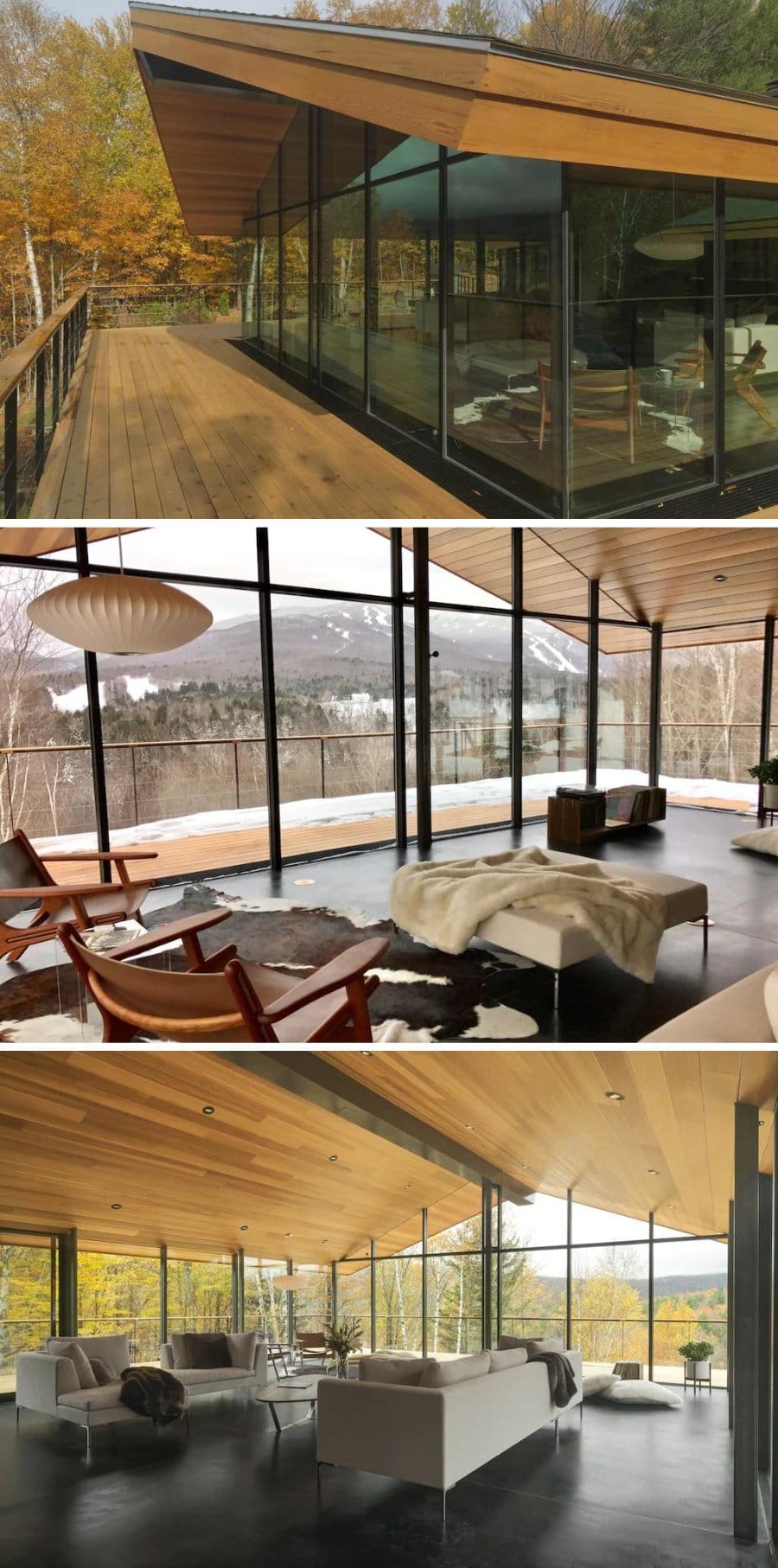 The Stowe Glass House is a magnificent modern residence with architectural accolades that boasts five bedrooms and four baths.
It's the perfect year-round vacation rental, with walls of glass that offer stunning views out to nature in every season—including views of the Mt. Mansfield ski slopes.
Among its many amenities are a sauna, a heated outdoor pool, radiant heat floors, three wood-burning fireplaces, and even ski lockers.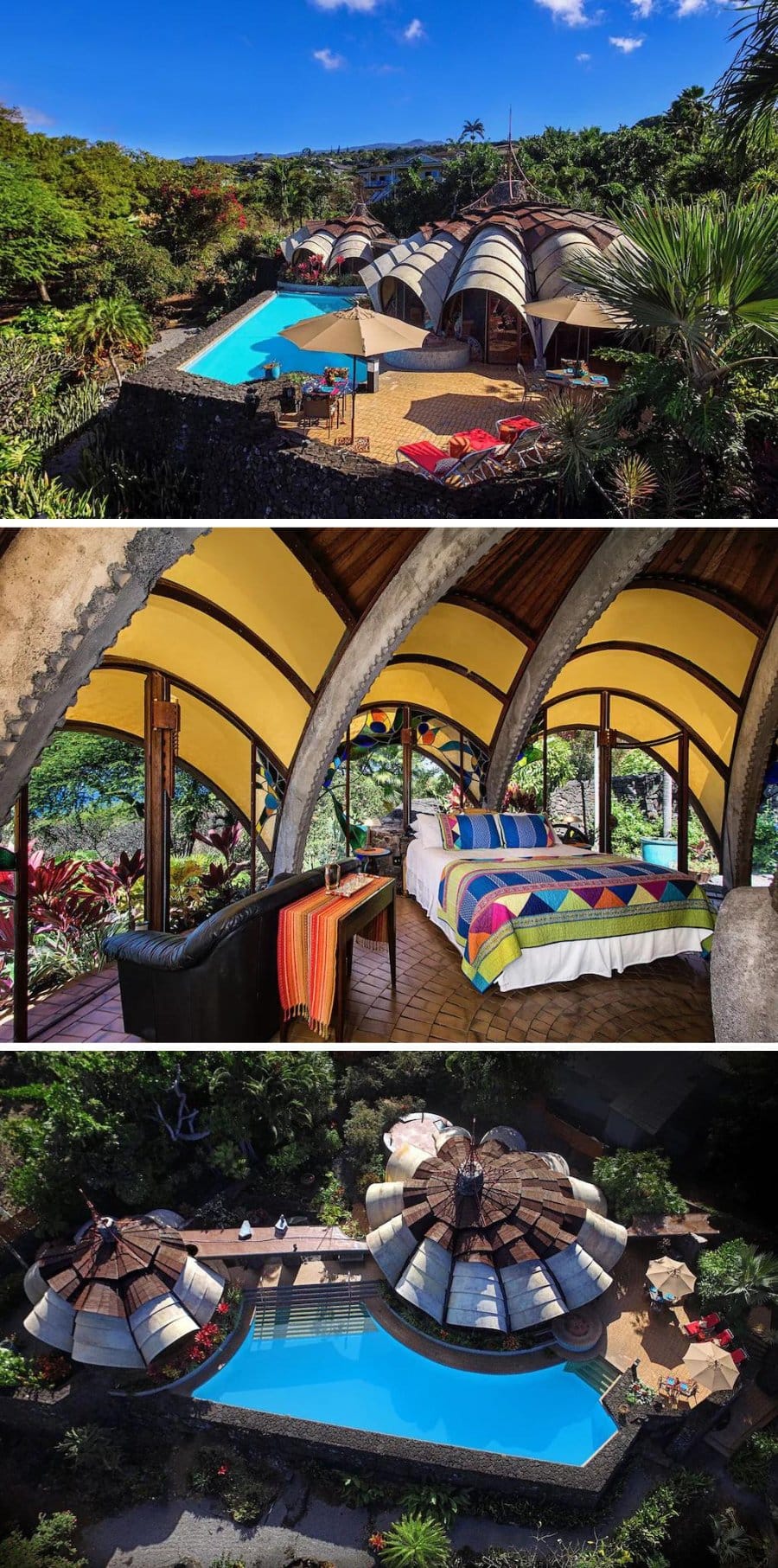 Located on the Big Island of Hawaii, the Onion House is an exceptional property that has received attention for its unique architecture from various media outlets, including MTV, the Travel Channel, and HGTV.
Guests have exclusive use of the entire house during their stay and are able to enjoy the seclusion of the home sheltered by lush foliage. It features a 70-foot pool, gardens, and lily ponds, making it a truly tranquil oasis you'll never want to leave.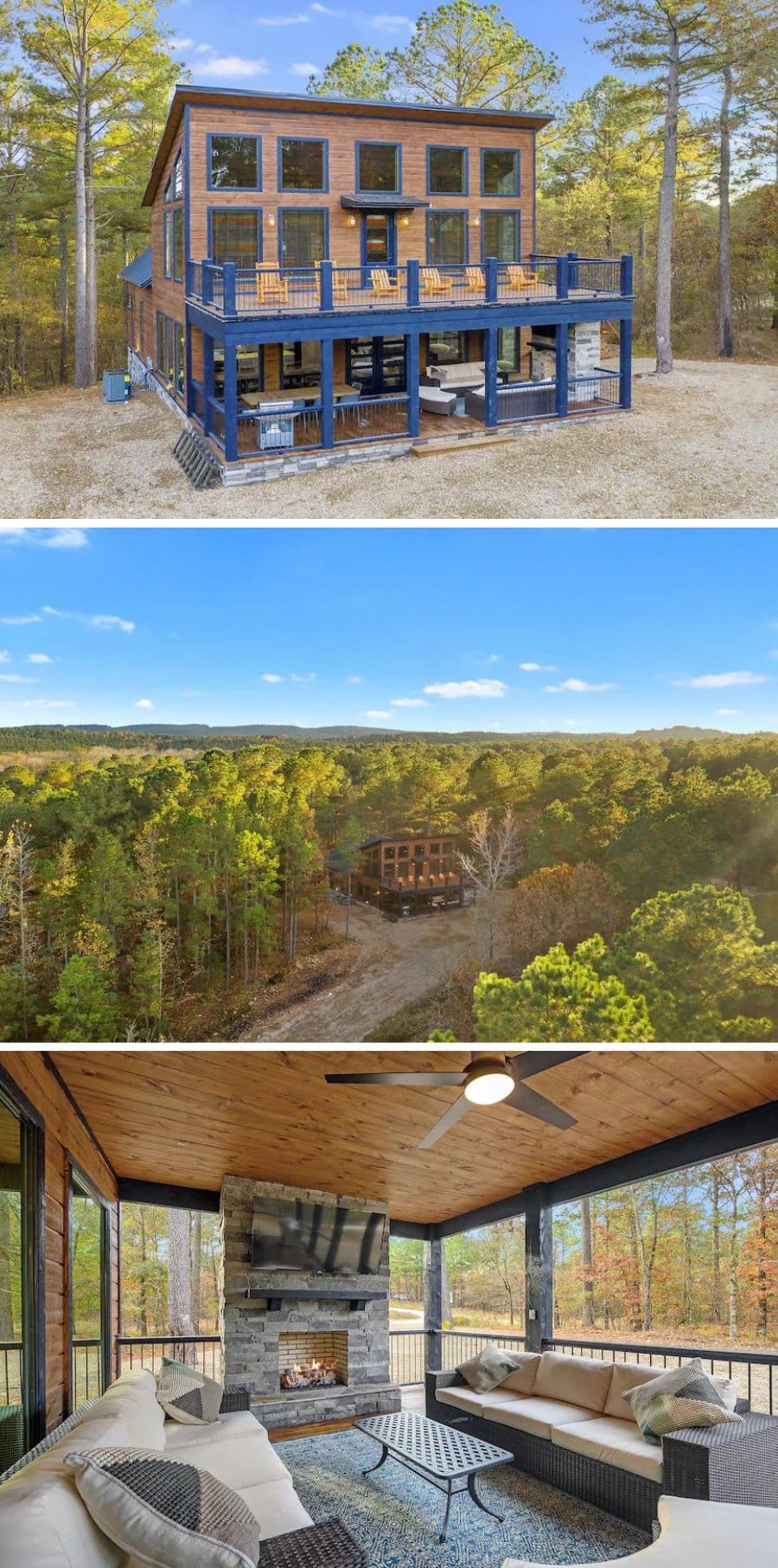 Perfect for large groups, family reunions, and bachelor/bachelorette parties, this home rental in Broken Bow, Oklahoma can sleep up to 18 people. The best part though is its unique design and location that give it a peaceful and homey feeling unlike any other.
This house features everything one could need for gathering, including a large deck and outdoor patio, pool tables, shuffleboard, and even a video arcade.
For the ultimate vacation rental in the Smoky Mountains, look no further. The Appalachian Container Cabin is a unique tiny home crafted from shipping containers that's perched atop a stunning view of the Appalachian Trail.
Recently showcased on the popular HGTV/DIY show "Containables," this cabin is the literal definition of "picture perfect," from the home itself to the views beyond it.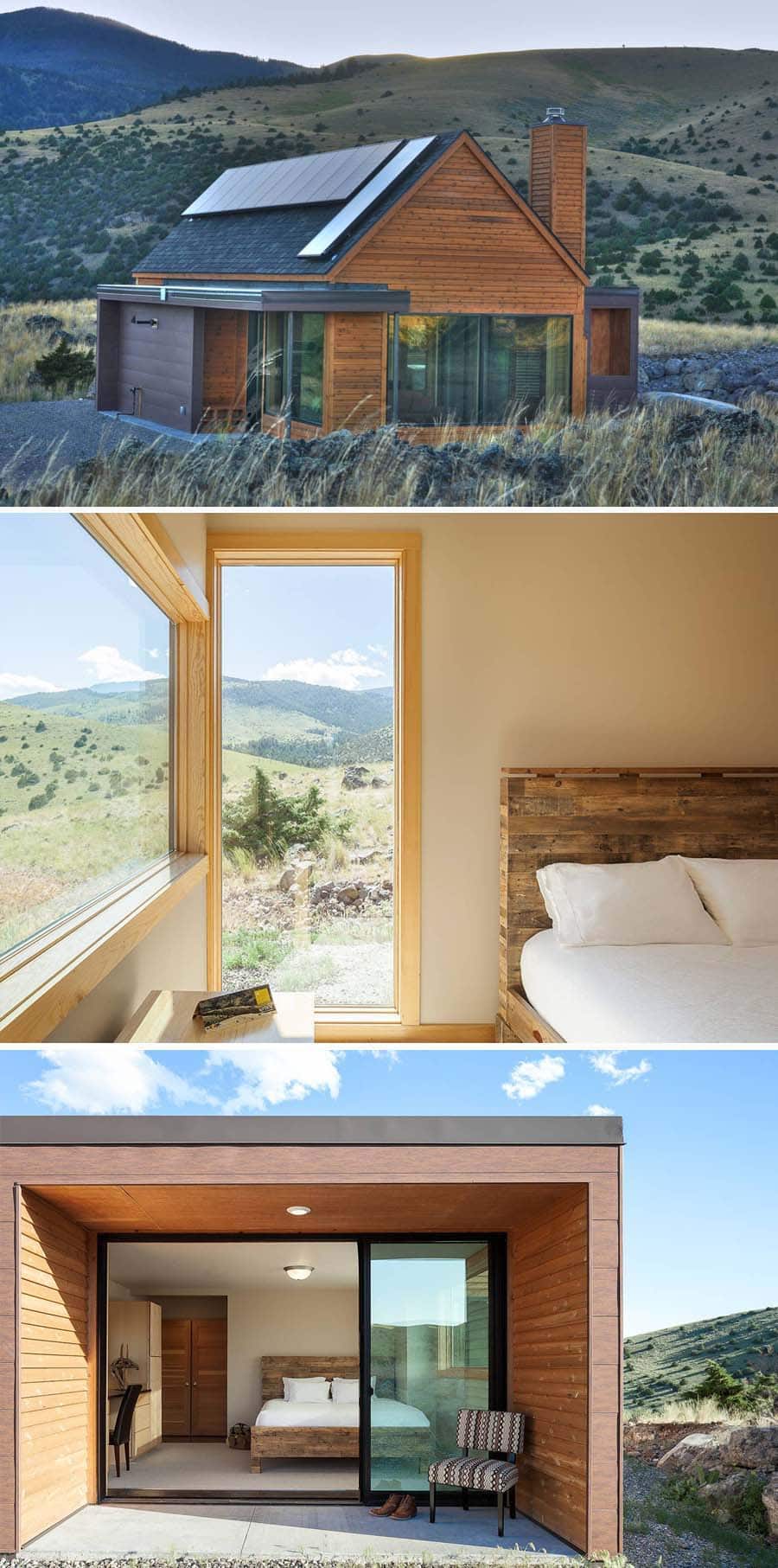 Get off the grid at this Montana home outside Yellowstone National Park. As seen in Netflix's "World's Most Amazing Vacation Rentals," this stunning modern ranch house is a must-stay in Montana. With tons of floor to ceiling glass windows, guests here get panoramic views of Livingston for miles.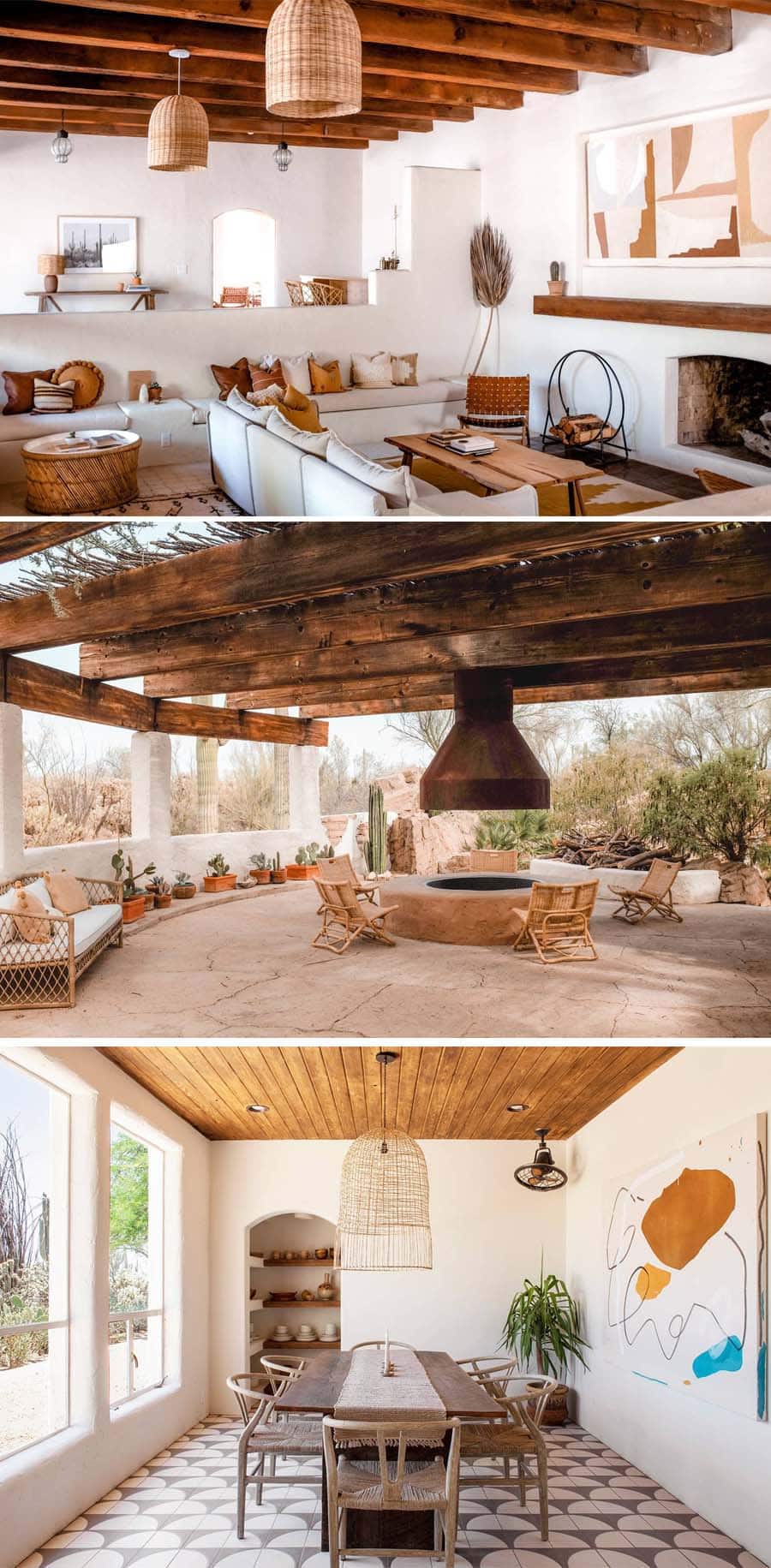 Retreat to a bohemian, desert oasis in Saguaro National Park, Arizona. I can personally attest to the magic of this boutique hotel that feels like an intimate vacation home set amongst the Saguaros, as I've stayed here.
You'll be enamored with not only the beautiful design, but the on-site hot spring pool, fire pit, and desert sunsets all enjoyed without stepping foot off property.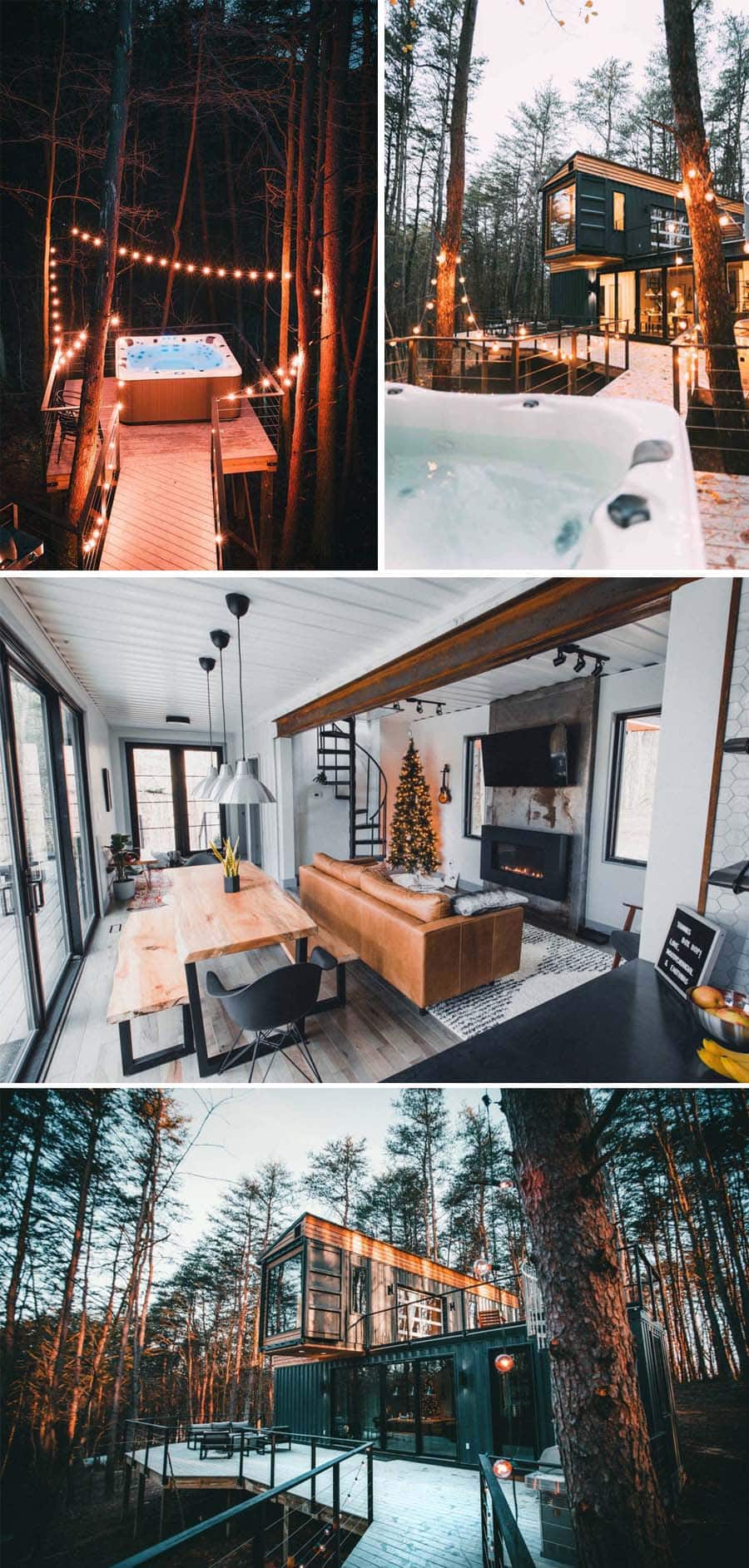 Get a different take on cabin life in this shipping container home in Ohio. For architectural lovers, this unique Airbnb stay will check all the boxes. Not only is the structure as creative as they come, it's also super cozy and clean inside with consistent 5 star reviews.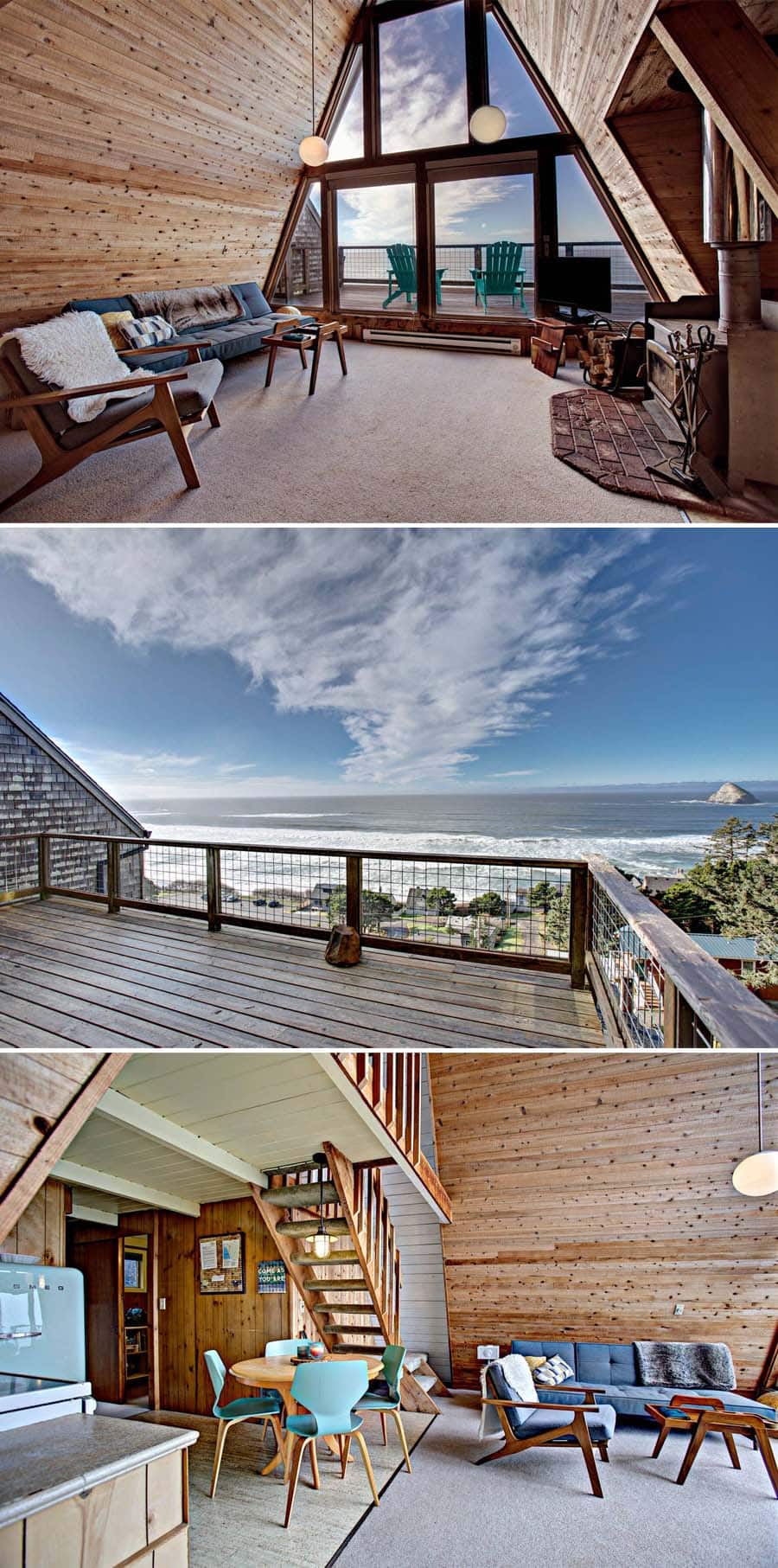 Soak up the ocean air at this waterfront Oregon A-Frame. A mix of log cabin meets beachfront cottage, this ocean view home is the perfect relaxing retreat along the Oregon coast.
Sleep amongst the stars at this desert gem in Beatty, Nevada, just a short drive away from the Death Valley National Park.
As seen in The New York Times, this architectural home is both modern and minimalistic and in one of the most unique locations in the world, making it one of coolest Airbnbs in the United States.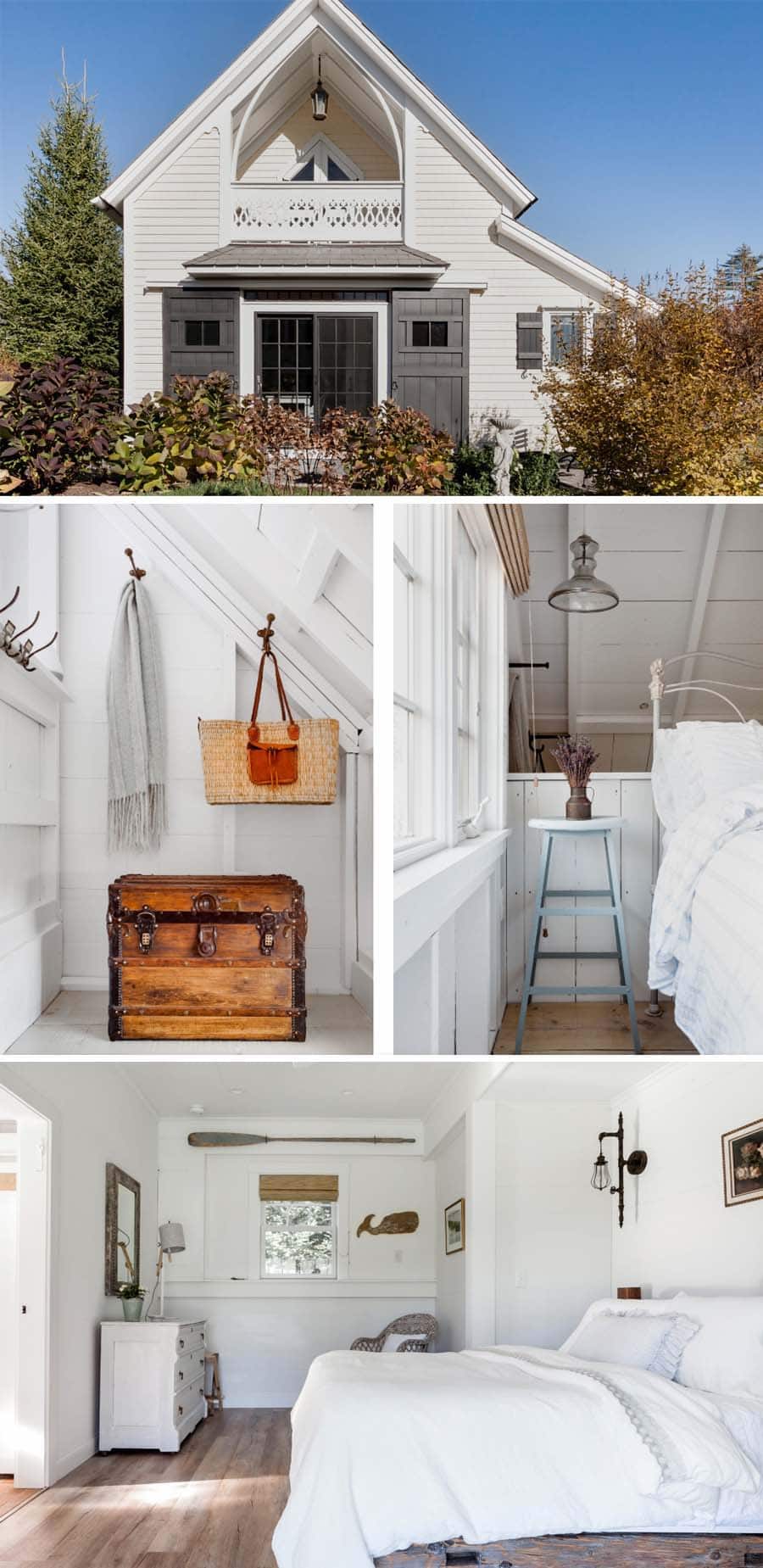 Summer in Boothbay Harbor, Maine at this bright and air country cottage. With its countryside coastal decor and white-washed interiors, this beautiful home is the epitome of New England charm.
Go boho at this dreamy adobe studio apartment in Taos, New Mexico. This unique Airbnb feels like a true artist's retreat, and that's because it once was—the 1950s home's original purpose was to be the dance studio for famous flamenco artist, Maria Benitez.
Now, guests can relax in this peaceful setting—and sway in the indoor hammock—just a 5 minute drive from downtown Taos.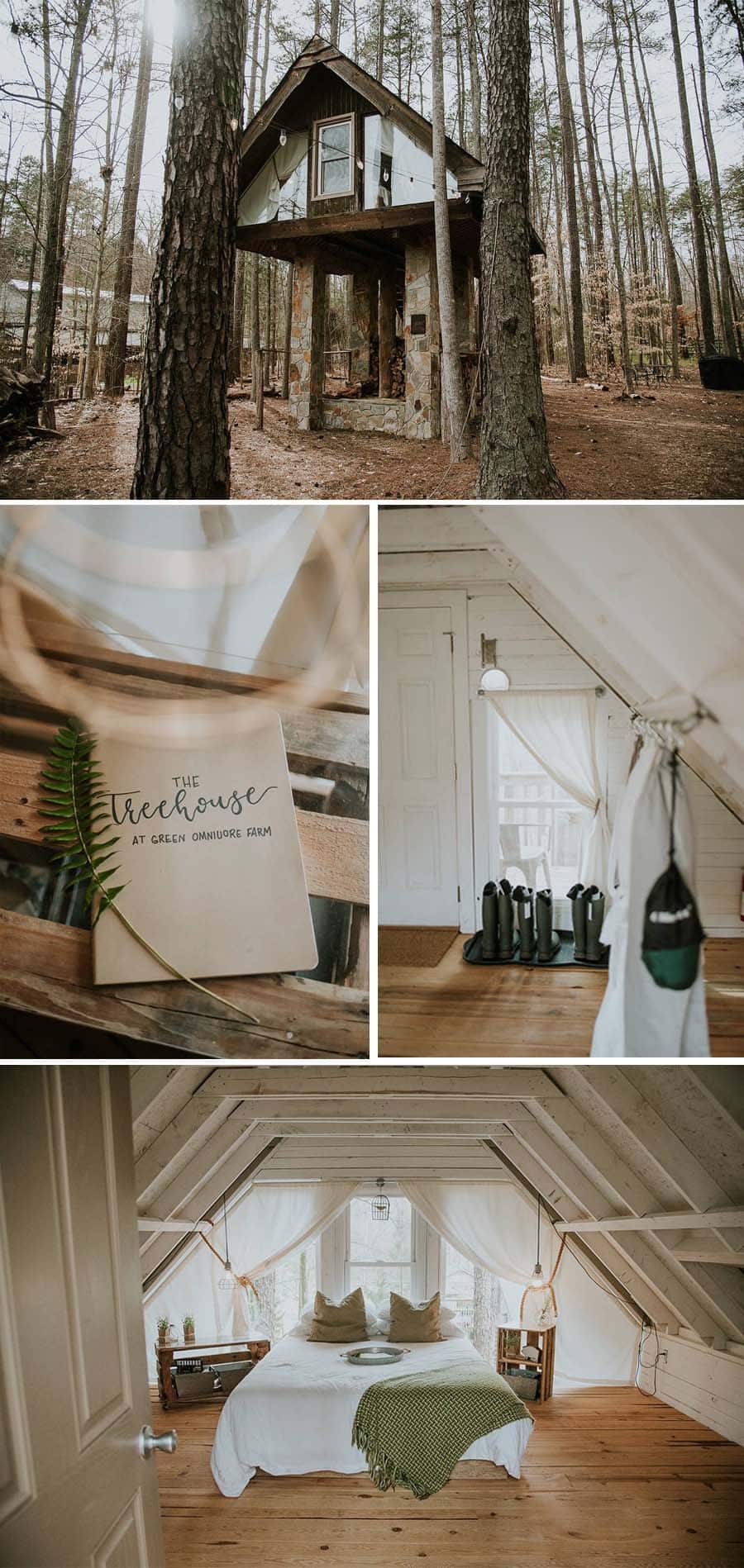 Enjoy a romantic and rustic glamping trip at this treehouse in North Carolina. Tiny but mighty, this beautifully decorated treehouse Airbnb helps guests live out all of their childhood fantasies.
Plus, the owners have farm animals on property guests can visit like a rescued Potbelly Pig and goats, making it a unique experience for anyone who visits.
The Mazant – New Orleans, Louisiana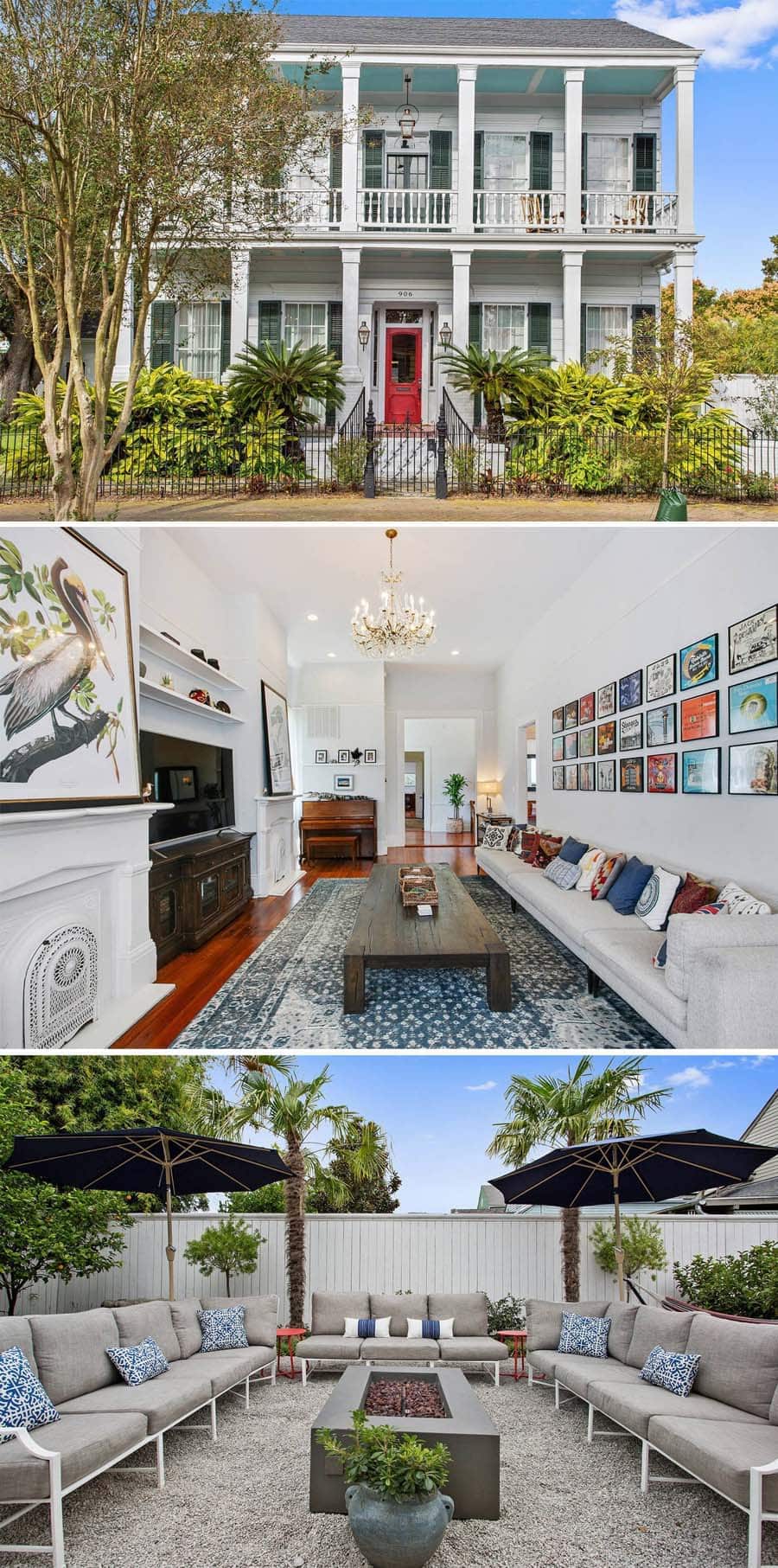 Go big at this renovated 1800s pool mansion in New Orleans. With 8 bedrooms and the ability to accommodate 16 guests, this home is not only historic, but it's perfect for big groups visiting The Big Easy.
Indulge your inner history buff at this converted WWII train car in Tennessee. As seen on the Travel Channel and NBC's Today Show, this is without a doubt one of the coolest Airbnbs in the United States to stay in.
Beyond its interesting history, guests will also enjoy relaxing on the patio, around the fire pit or in the claw-foot tub—yes, it has one of those!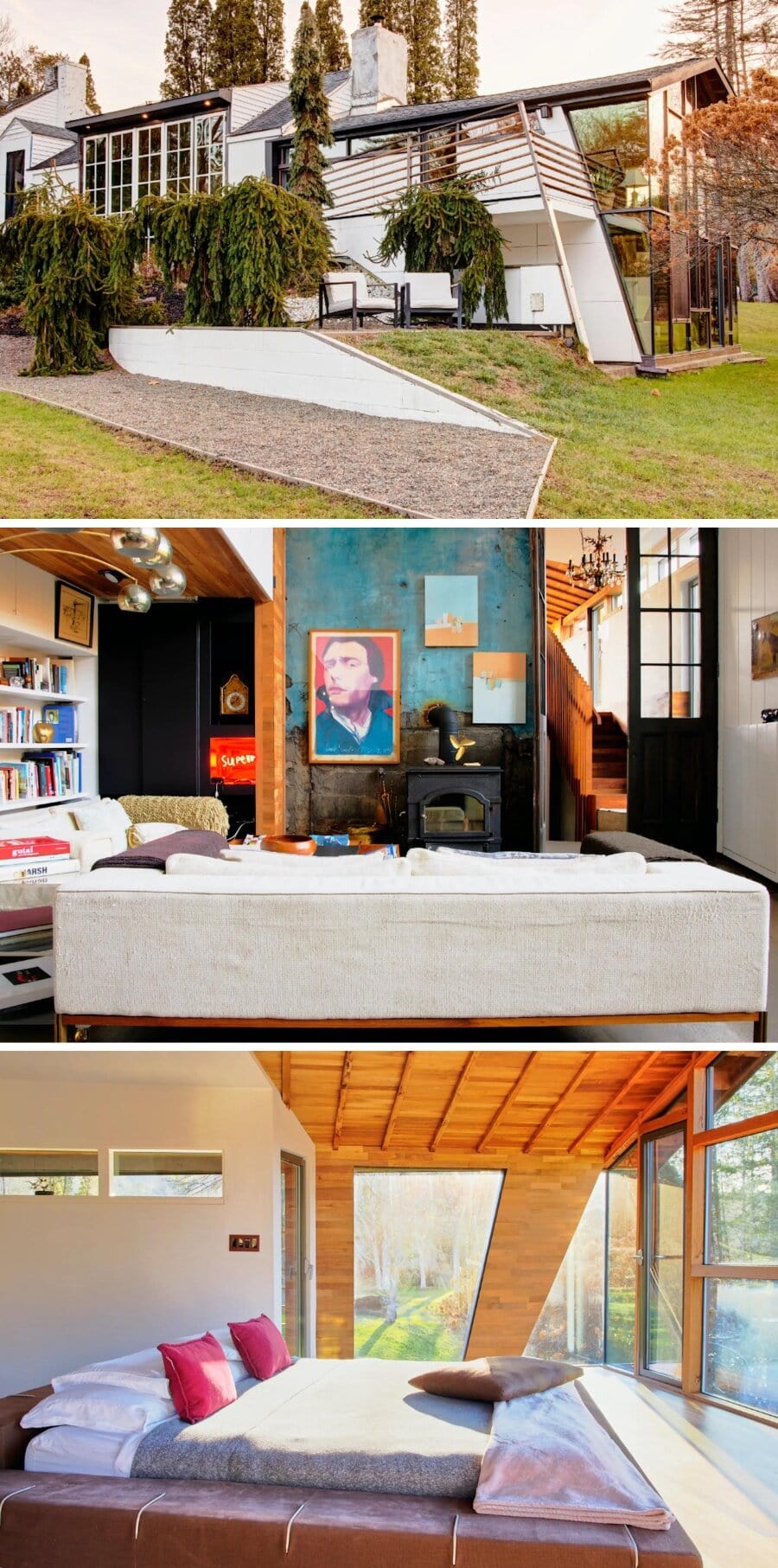 A beautiful Upstate New York home fit for design lovers, you may never again see a house quite like this one with its unique architectural features.
This Woodstock abode was once the studio of famous painter Reginald Marsh, but now it serves as a magnificent rental home featuring soaring ceilings, plenty of natural light, and a harmonious blend of concrete and wood.
Relax by the fire at a cozy storybook cabin in the North Carolina woods. This beautiful A-frame, with its peaked roof and 700 square feet of space, offers a grown-up treehouse atmosphere with rustic furnishings, folk art accents, and a wood-stove.
Soothe your soul by swinging outside and taking in the tranquil views of the creek, or curl up with a good book as you bask in the mountain breeze streaming through the windows.
Live out your Tolkien fantasies at this remote Hobbit dwelling in Washington state. Nestled into the magnificent Columbia River Gorge mountainside, this unique Airbnb listing is worth the journey to the Pacific Northwest on its own.
Every corner of this cozy abode will warm your soul and make you feel like you're living in a fairytale, from the unique interiors to the epic views. Wake up every morning here and peer out the home's iconic round doorway to an endless landscape of rolling hills and lakes.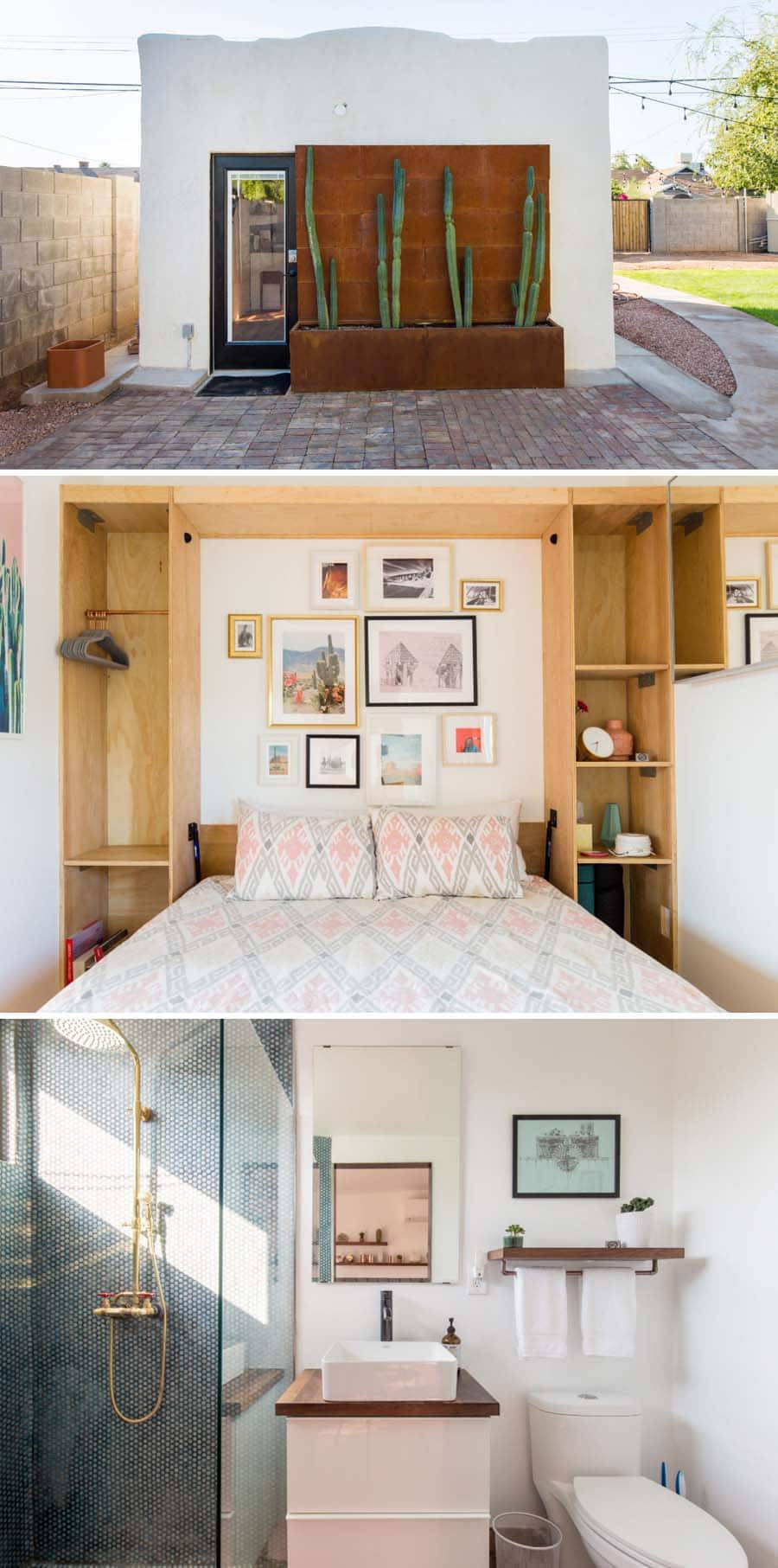 Explore downtown Phoenix from this thoughtfully designed casita, located in one of the city's historic neighborhoods.
A perfect blend of comfort, functionality, and style, with a touch of the unique character of Phoenix, this home boasts custom architectural accents and finishes, such as a custom copper barn door, leather pulls, and birch casework.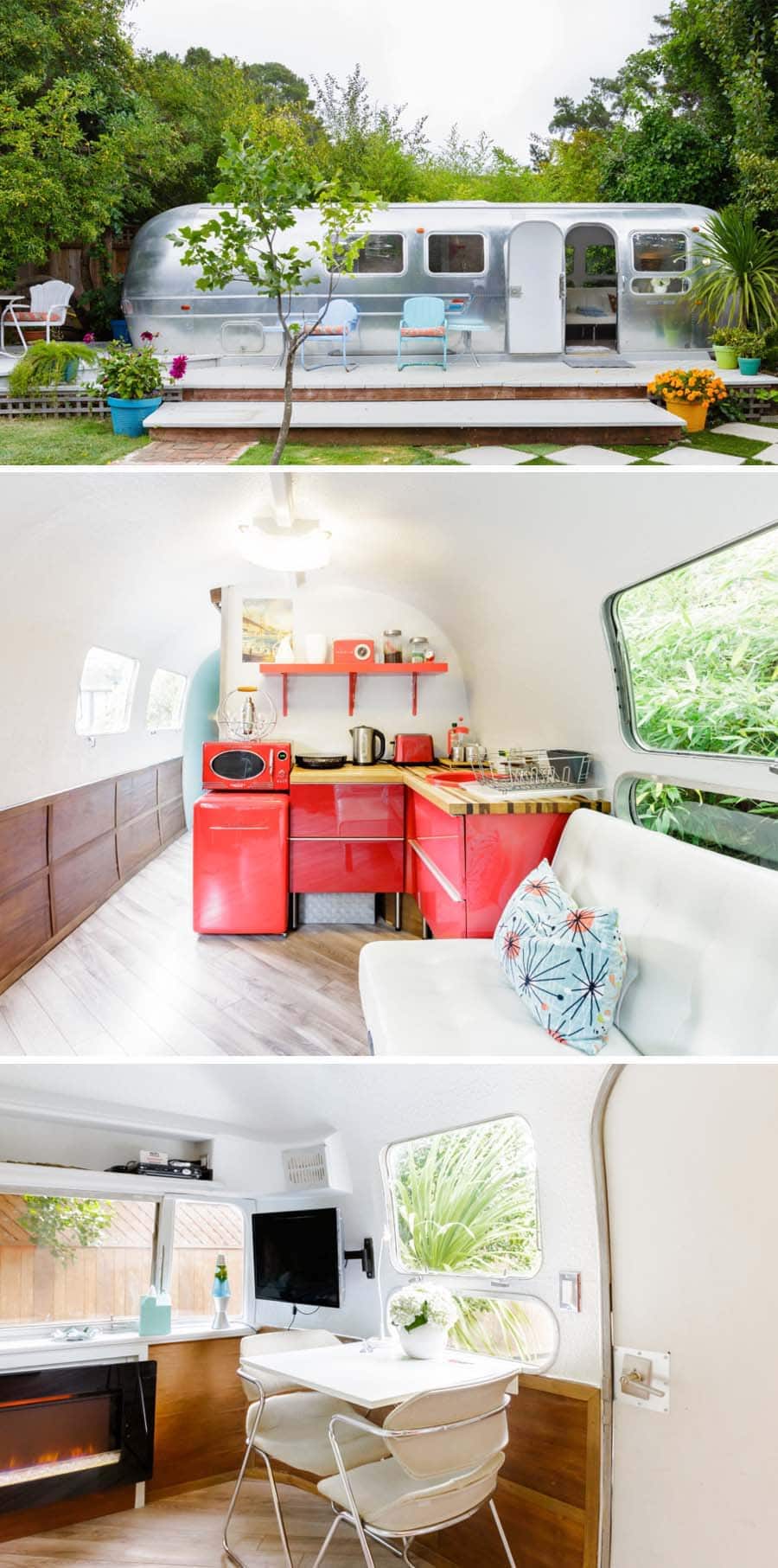 Backtrack to the Sixties in a restored 1969 Bay Area airstream trailer. If you've ever wanted to truly step back in time, this is your chance.
This Airstream has been carefully restored to reflect authentic décor from the era, yet has plenty of modern comforts from 1000 thread count sheets and a comfortable queen-size bed, to fast Wi-Fi, and premium cable TV.
Expose yourself to nature at this modern glass house in New York featuring a deluxe pool, tons of natural sunlight and funky art throughout the space.
This unique Airbnb listing is a true oasis for minimalists who want to bring the feeling of the outdoors indoors.
Cross a geodesic dome off your bucket list in Joshua Tree, California. This unique desert dome has been featured in prestigious publications such as Condé Nast Traveler, Esquire Magazine, Goop, Refinery29, and Apartment Therapy.
Arguably one of the coolest Airbnbs in the United States, this home provides serenity amidst the desert landscape and features an array of handcrafted and custom-designed pieces throughout the space.
Test drive tiny home living at this Nashville, Tennessee cottage. On Airbnb's most wish-listed in Tennessee for good reason, this spot is a favorite among guests with its quaint charm and colorful interiors.
Coolest Airbnbs in the United States Wrap-Up:
Every year I curate a list of unique Airbnbs that are inspiring me to travel to new places, and I hope this list was just as inspiring for you!
As sustainable travel becomes a bigger and more important topic, I love that this list focuses on the best Airbnbs in the US, many of which might not be so far from our own homes.
I did A LOT of digging to find the most exceptional vacation rentals in the US and I think these truly are the coolest Airbnbs in the United States. What do you think?
Would Love To Know Which Airbnb From The List Below Is Sparking Your Imagination Most — Let Me Know In The Comments!
Want more U.S.-based Airbnb inspiration? Check out my posts on the best cozy cabin Airbnbs and the dreamiest Airbnbs in Joshua Tree.
Pin it For Later!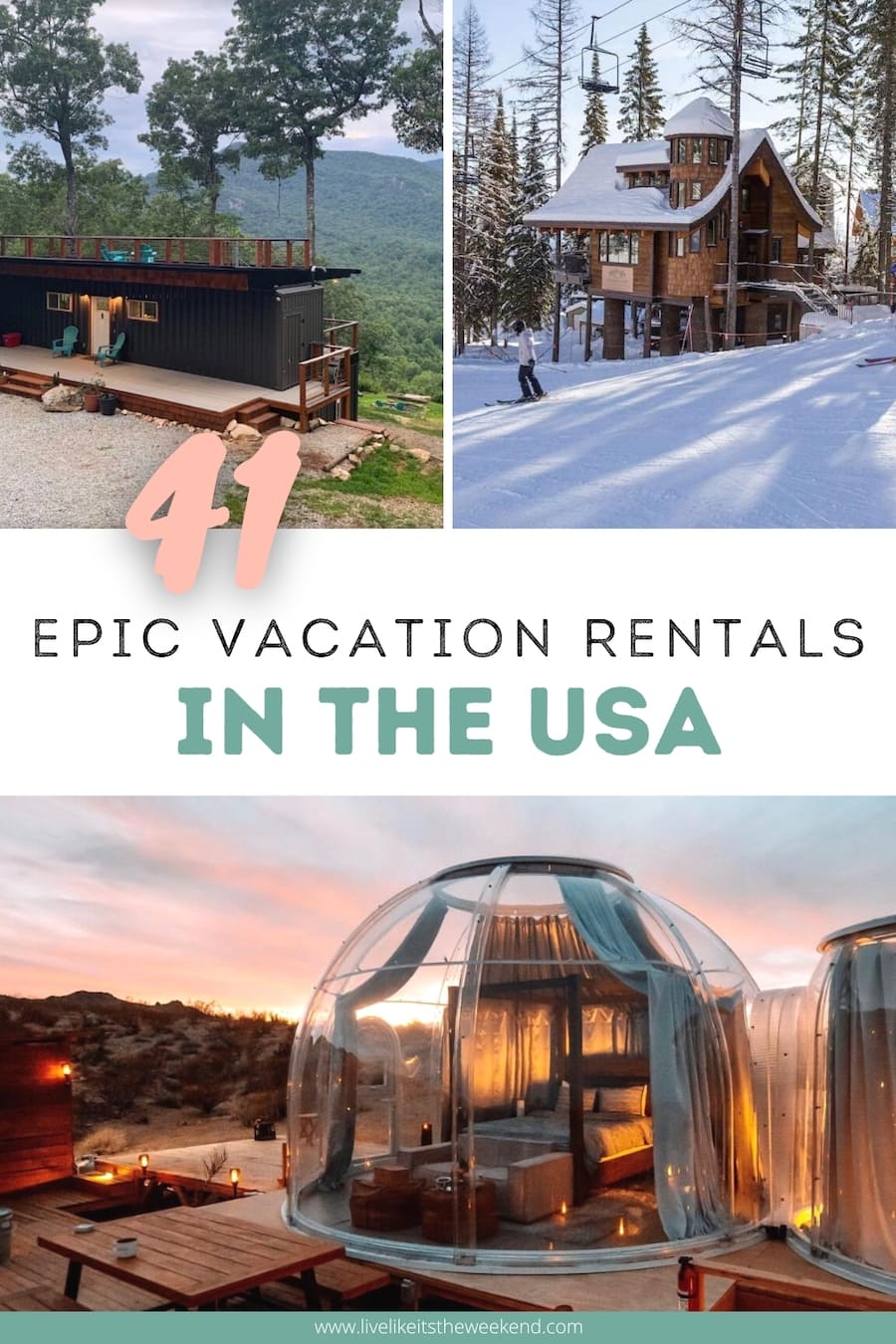 ---
Planning a trip right now? Don't miss my go-to websites for booking everything from flights and tours, to accommodation and more:
---