While it's great to spend a full weekend or more exploring the island, Catalina makes for the perfect day trip from Los Angeles.
A little over 20 miles long, Catalina Island is big enough to offer a variety of activities and sights to see, but small enough to be able to visit for a day and still feel like you saw most everything that the island is known for, while still leaving a little room for excitement to return.
If you're looking for a little guidance on planning your Catalina Island day trip, this post has everything you need to know! From the best way to get there, how to get around once you're on the island, and suggestions for what to do in both Avalon and Two Harbors. If you're hoping to make the most of a day trip to Catalina Island, then keep reading!
Quick Tips for Taking a Day Trip to Catalina Island
Pick between spending time in Avalon or Two Harbors. Since the two towns are far enough apart, I wouldn't recommend trying to squeeze both into a single day trip. For first timers, I would recommend Avalon as there's much more to do and also more ferry options, so you'll have a little more flexibility.   
Consider the best time of year for you to go. Summer is the busiest season, so if you're looking to avoid the crowds and squeeze more into a single day, I'd consider doing your Catalina day trip in the fall when the weather is beautiful (I think even nicer than in the summer honestly), but establishments aren't quite as busy. Winter can be nice too, but the ferry doesn't make as many trips during the day which gives you a little less flexibility for travel times, so plan accordingly. 
Keep track of the ferry times. The last thing you want is to have to unexpectedly turn your day trip into an overnight trip. Keep an eye on the clock and make sure to arrive at the dock with plenty of time to catch your return ferry.
Don't overbook yourself. If you're only going for the day, you may be tempted to try to see as much of the island as possible, but I guarantee your Catalina Island day trip will be much more enjoyable if you aren't rushing from one activity to the next. 
---
Read More California Travel Posts
---
How to Get to Catalina Island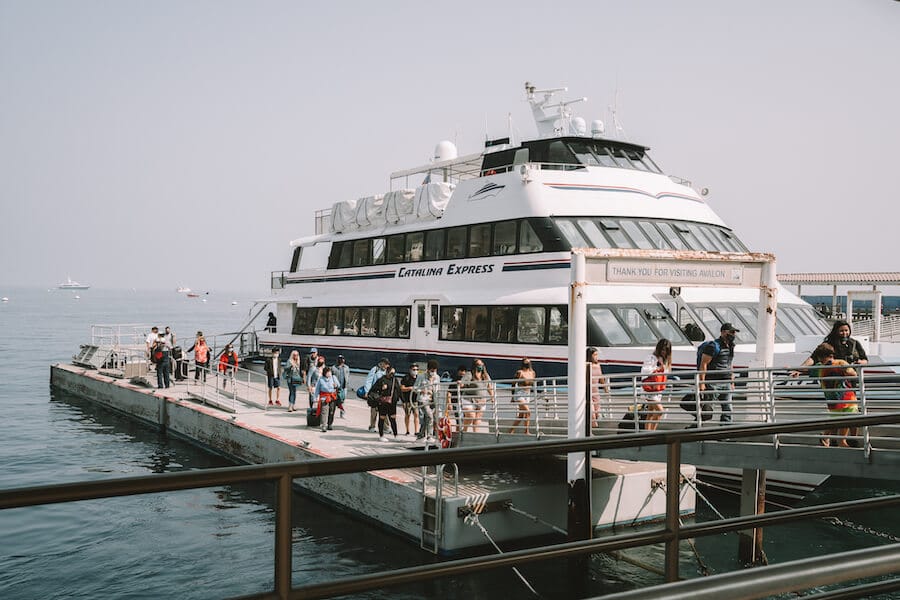 When embarking on a day trip to Catalina Island from Los Angeles, the Catalina Express ferry is going to be the easiest and most affordable option to get you there. The ferry takes about an hour and there are three different harbors you can depart from, including San Pedro, Dana Point, and Long Beach.
If you're coming from the LA area, departing from San Pedro or Long Beach will be your best bet, but if you're located south of Newport Beach, then leaving from Dana Point makes the most sense.  
Before you book your tickets, you'll want to have decided if you'll be spending your day in Avalon or Two Harbors, so you can book the correct destination on your ferry ticket. The two towns are on opposite ends of the island, and travel between them can eat up quite a bit of time—not exactly ideal for a day trip—so you don't want to end up on the wrong side!
If you're going to the Avalon side of Catalina, you can depart from any of the three ports. However, if you're going directly to Two Harbors, you'll need to take the San Pedro route. You can expect to pay about $84 roundtrip for tickets on the Catalina Express. Check out their website for up-to-date information on fares and schedules and to book your ticket. 
If Newport Beach is a convenient location for you to leave from, The Catalina Flyer is another ferry option to consider. It's $78 roundtrip which is a little cheaper than the Catalina Express, but it only makes one trip a day from Newport Beach to Avalon, so you'll want to be sure the times work for you. You can find out more detailed information on their website. 
If you've got the funds and want to travel to Catalina in style, IEX Helicopters will get you from Long Beach to Catalina in under 15 minutes for about $300 per person.
How to Get Around Catalina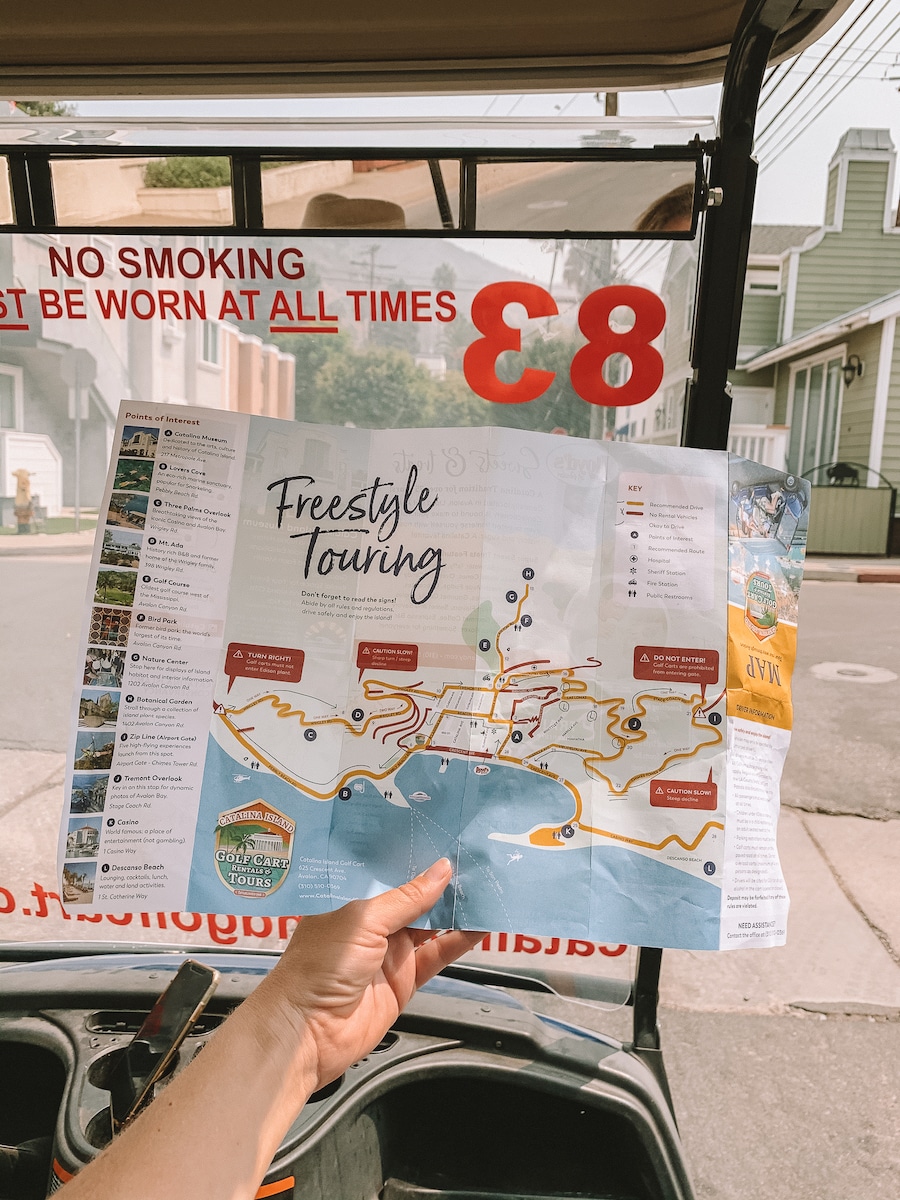 Golf carts are the preferred mode of transportation on Catalina, and they're definitely the most efficient way to get around.
Do you really need a golf cart to get around Catalina?
The short answer is no. It's not 100% necessary, especially if you're planning on strolling downtown Avalon and relaxing on the beach all day. You can even make it to Descanso Beach Club and the ziplines on foot, though they're a bit of a walk from the ferry.
I'd say, the best reason to have a golf cart is to drive along the upper roads along Catalina which give you the best overlooks and photography opportunities of the island. If you don't care about that and you're able bodied, you can probably skip it.
However, it is fun to rent them if only for a few hours to take in the views and just have some fun behind the wheel!
Where can you rent golf carts?
There are a few different golf cart rental companies in downtown Avalon to choose from. Catalina Island Golf Carts & Tours rents 4-passenger golf carts for $110 for 2 hours, and you should try to book at least 24 hours in advance. For bigger groups, 6-passenger golf carts are available on a first come first serve basis.
There's also Island Rentals which is really close to the ferry terminal and they don't accept reservations so you can just show up when you get there. They charge $55 an hour plus a $55 deposit (note that they only accept cash) so about the same as Catalina Island Golf Carts.
You'll need a valid driver's license in order to rent a golf cart anywhere on the island, but the minimum age of the driver varies from company to company. For Catalina Island Golf Carts, drivers are required to be 25, but for Island Rentals you only need to be 21. It's worth double-checking the requirements before you go to make sure you don't run into any last-minute issues. 
What other transport options are there?
If walking on foot or freestyle golf cart exploring isn't your thing, try this private guided golf cart tour so you don't have to worry about it on your own.
Want to stay for the weekend? Check out these local hotels or read my full guide on where to stay in Catalina!
What to Do on Your Catalina Island Day Trip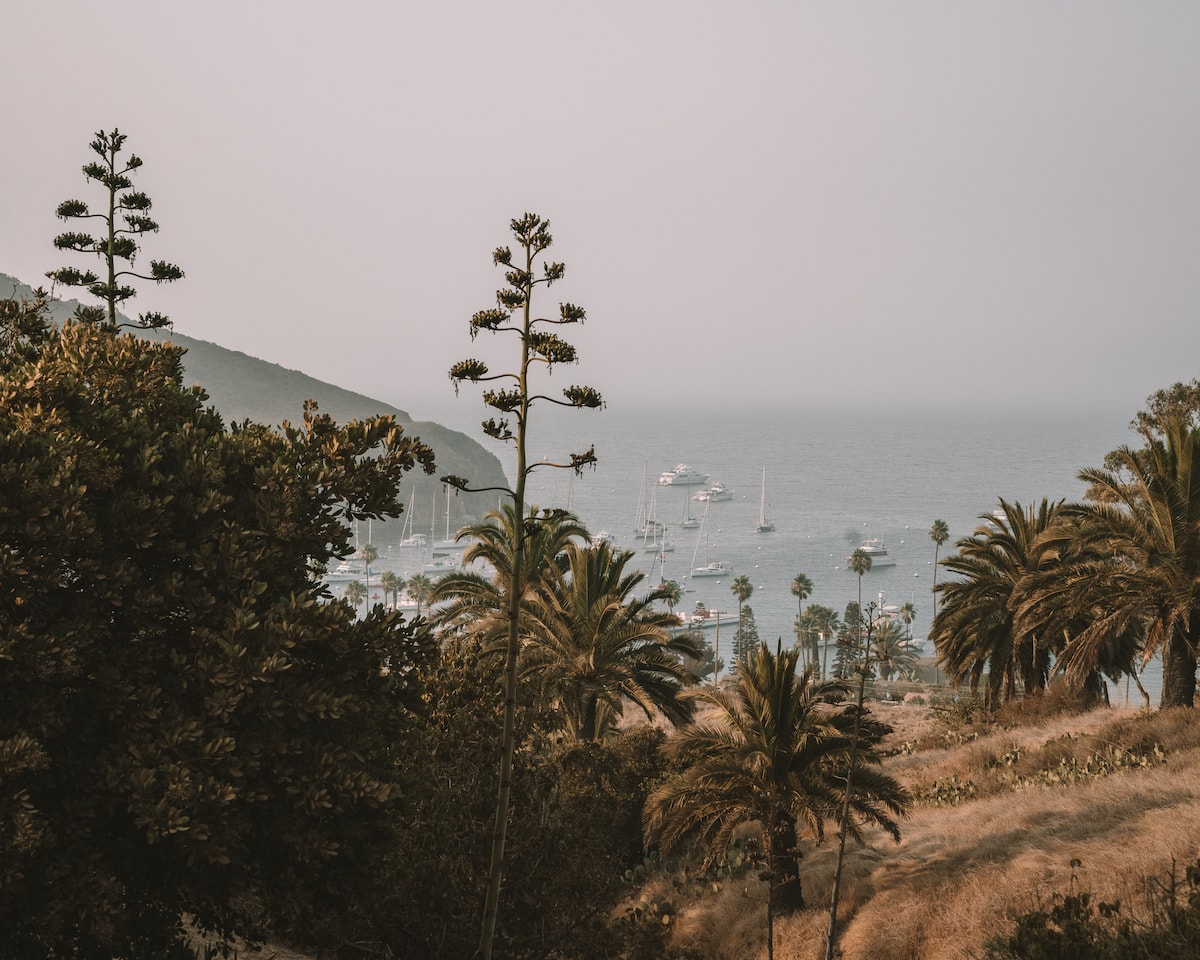 There is a lot to do on Catalina Island, so if you'll only be there for one day, narrowing down your itinerary can be tough. I have a full post dedicated to what to do on Catalina Island that is much more detailed regarding what to do on the island, but here are some quick itinerary suggestions that will make your Catalina Island day trip super memorable!
What to do in Avalon
If you've never been to Catalina before, I highly recommend staying on the Avalon side of the island. Avalon is a much livelier and bigger area than Two Harbors (the other main town on the island) and there are a bunch of restaurants, shops, and activities for you to choose from. Plus, there are more ferry options going to and from Avalon, so you'll have more flexibility with travel.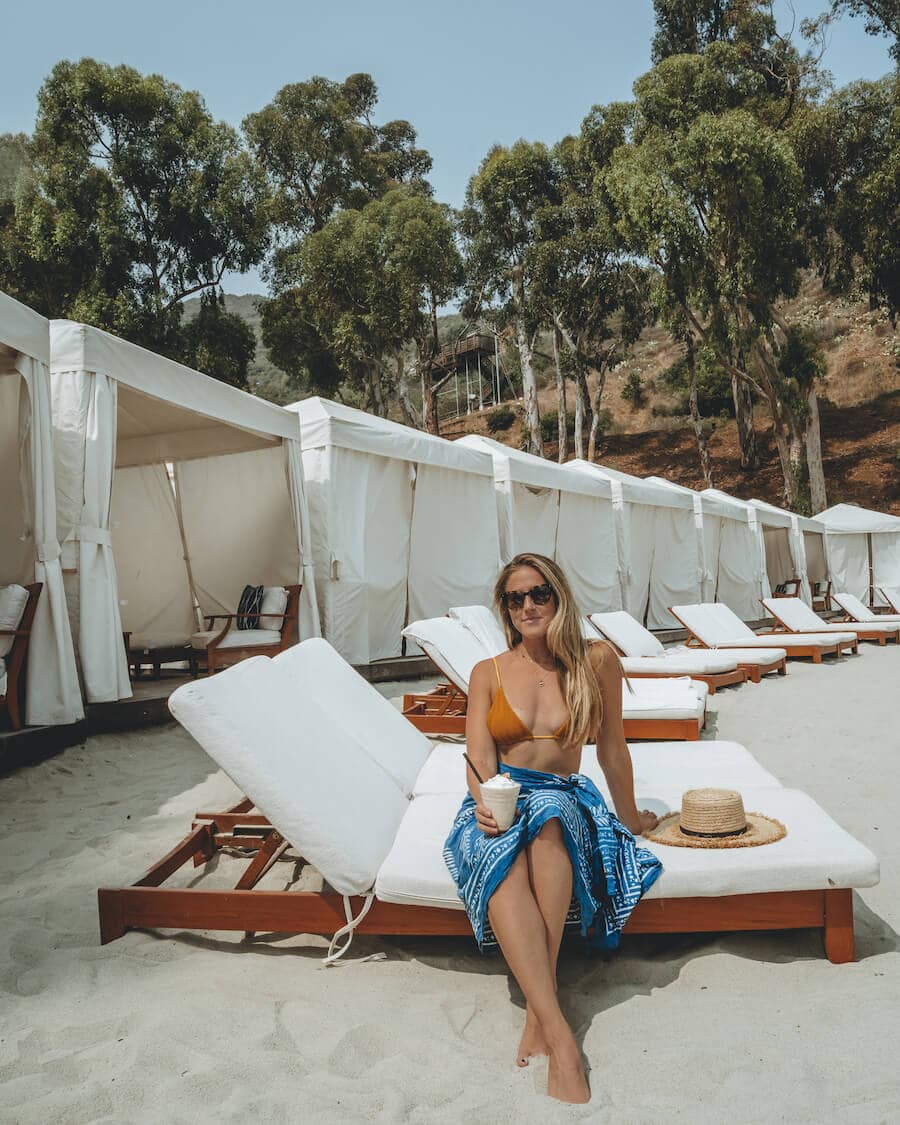 Ideal Itinerary for 1 Day in Avalon:
Catch a morning ferry from Los Angeles to Avalon.
Rent a golf cart for a few hours and drive around the loop to all the scenic viewpoints (Buena Vista Point is my fave). Definitely bring your camera too! Catalina has no shortage of beautiful views. 
Walk around the downtown area, grab lunch at Bluewater Grill and do a little shopping
Hit up Descanso Beach Club and enjoy this beautiful and upscale private stretch of sand with cabanas and cocktails that will transport you to the Mediterranean. Definitely try a buffalo milk cocktail while you're there too. They're delicious and the "Official Drink of Catalina Island."
Book an afternoon activity, like a glass bottom boat tour, parasailing, scuba diving, or even sunset ziplining (this was super fun and just the right amount of adventurous for me). One of my favorite tour companies, Viator, has a ton of options to choose from or check out more tours here.
Hop the ferry back to LA!
What to do in Two Harbors
More remote than Avalon, Two Harbors is where you'll want to go if doing all the typical touristy Catalina stuff isn't too appealing to you. It's definitely quieter and more peaceful on this side of the island, and the landscape is wild and rugged, which makes it beautiful to explore and popular for nature lovers.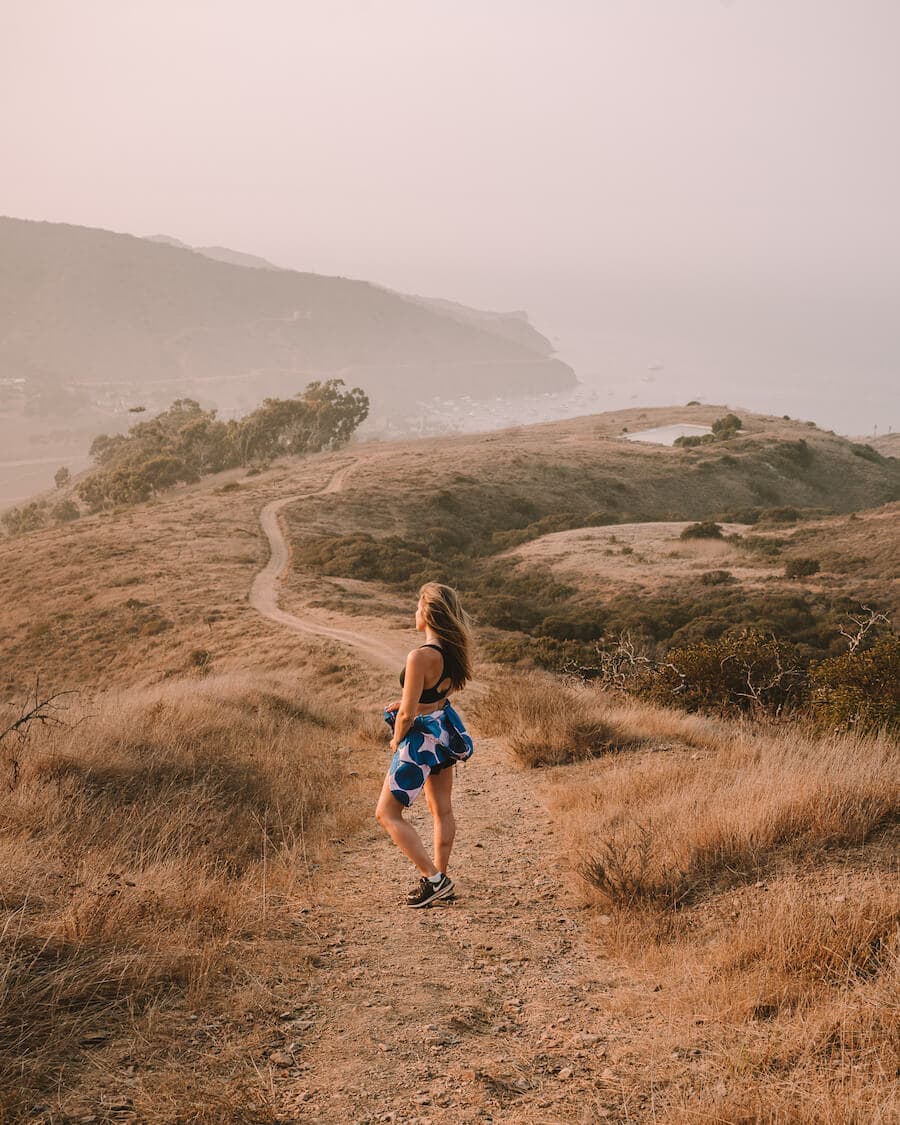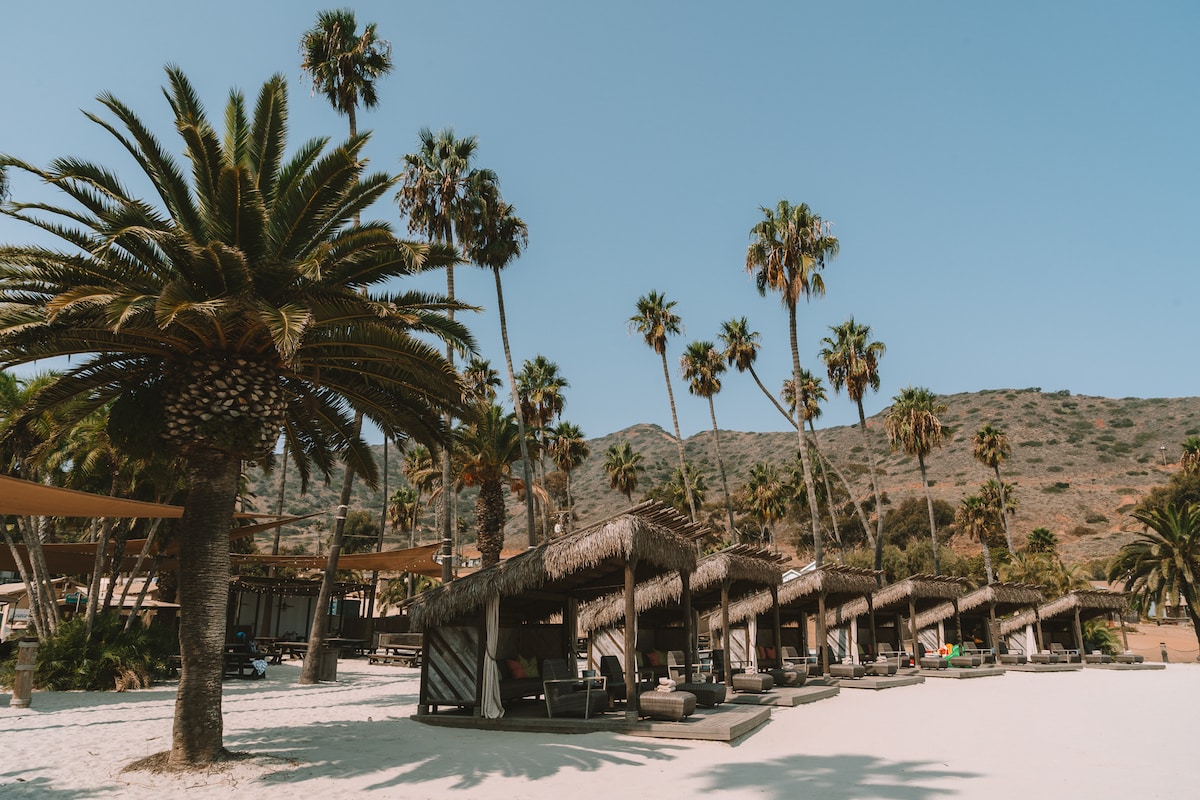 Ideal Itinerary for 1 Day in Two Harbors:
Head out on the morning Catalina Express ferry from San Pedro to Two Harbors. Note that San Pedro is the only port that the Catalina Express offers service to Two Harbors from, and there are less departure times than there are if you were going to Avalon. 
Go straight to Harbor Sands at Two Harbors to book your beachside lounge chair before they fill up. Spend some time relaxing in the sun while ordering food and drink from the Harbor Reef Restaurant. 
Rent paddle boards from Two Harbors Dive & Recreation Center. They also rent kayaks, bikes, and snorkeling equipment here if that's more up your alley. 
Go for an afternoon hike. You can stop by the Two Harbors Visitor Center for suggestions on different hikes to take, but the Ballast Point Loop is a moderate (although mostly uphill) hike where you'll get some really beautiful views of Two Harbors! The Cat Harbor Overlook Trail is also awesome.
Take the 6:30 PM ferry back to San Pedro—this is the last trip of the day, so don't miss it!
Did this post in inspire you to plan a day trip to Catalina? Let me know in the comments below!
---
Planning a trip right now? Don't miss my go-to websites for booking everything from flights and tours, to accommodation and more:
---