Spending a day exploring the Daymaniyat Islands off the coast of Muscat was one of my favorite experiences of our entire Oman trip, and I know you're going to love it too.
It's an absolute must-do you won't want to leave off your Oman itinerary—trust me on this one.
In a land of ornate mosques, ancient forts, bustling souqs, and dramatic sand dunes, these tropical islands are a welcome surprise.
What makes Oman such a bucket list country in my opinion is the sheer variety of all that you have to explore, and the Daymaniyat Islands are a huge piece of that experience.
Not only are they one of the most stunning places to visit in Oman, but they offer some of the best snorkeling and diving throughout the Middle East.
Most people would never guess that nine tropical islands with pristine turquoise water and tons of sea life exist just 40 minutes by boat from Muscat. They do exist though, and in this post I'm going to share everything you need to know about visiting them!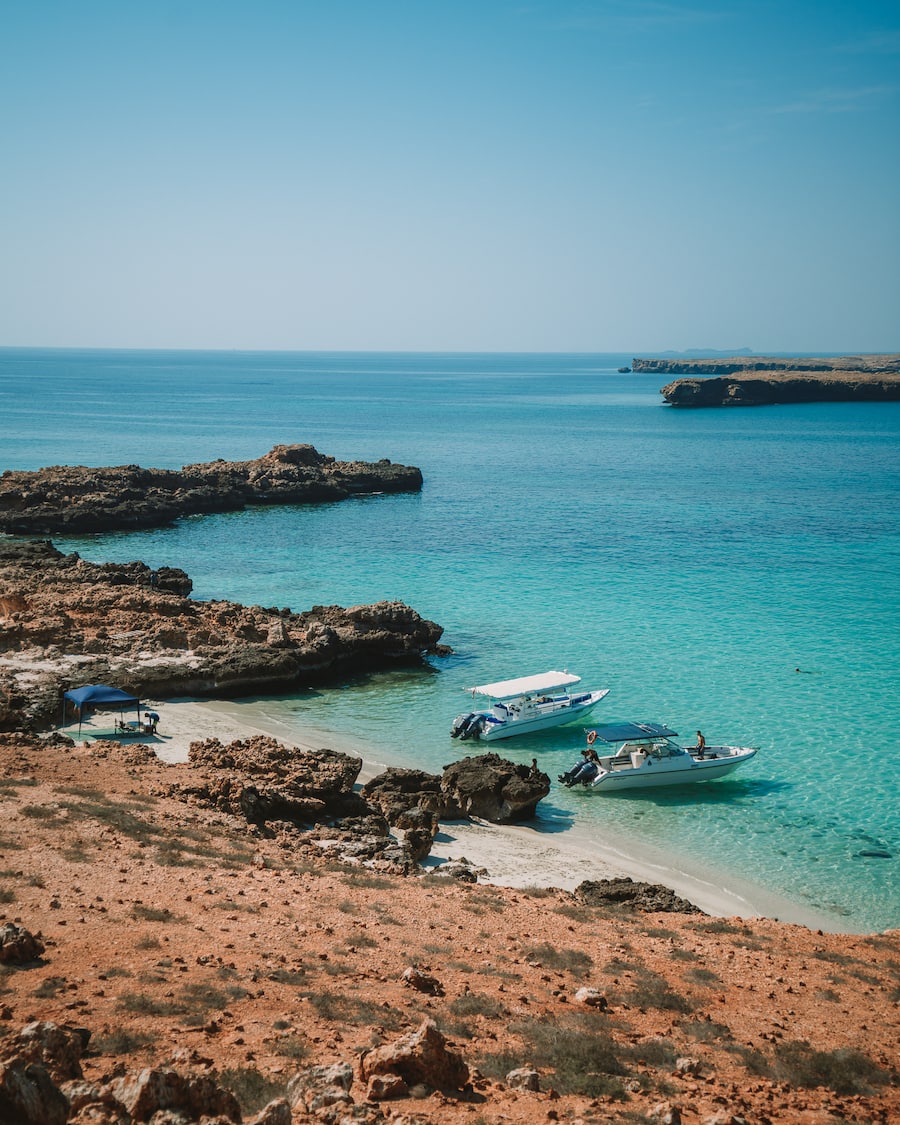 Also referred to by other names like the Ad Daymaniyat, Dimaniyat or Dimaaniyat Islands, this protected nature reserve consists of an archipelago of nine small, uninhabited islands located off the coast of Oman in the Arabian Sea.
They are known for their rocky limestone terrain, white sandy beaches and diverse marine life, including whale sharks and a large number of sea turtles as this is a popular nesting area for them.
I've snorkeled all over the world and I've never seen as many sea turtles all at once as I witnessed in the Daymaniyat Islands (at least 15 + all grouped together)! It was truly one of the most magical experiences of all my travels and I hope you can experience something similar on your own trip!
In this post, I'm going to share exactly how to get to the Daymaniyat Islands, all the things you can do there, and the tour you need to book to have one of the most memorable days ever in Oman!
Why You Should Visit the Daymaniyat Islands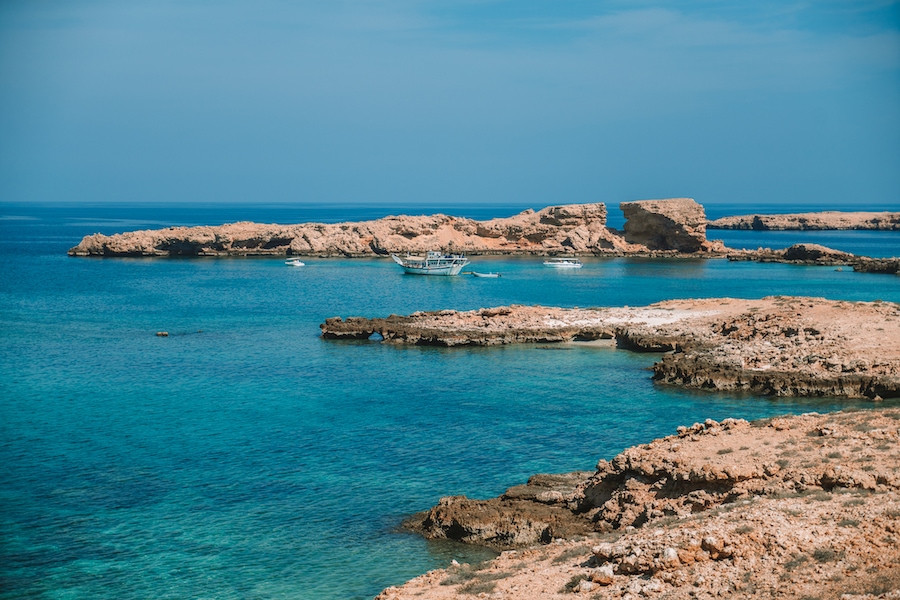 Oman has over 1,900 miles of beautiful coastline, however, much of it has been overshadowed by other popular hotspots that draw tourists like its beautiful mosques, the epic sand dunes of Wahiba Sands, and the Jebel Akhdar Mountains.
Plus, it wasn't until 2013 that the Daymaniyat Islands even became open to the public as they were previously reserved for visits from marine researchers and conservationists.
For this reason, many are still ignorant to the fact that the Daymaniyat Islands have some of the best diving and marine life in the Middle East, which makes it feel like a well-kept secret.
If you are someone who enjoys the beauty of tropical landscapes, loves snorkeling and diving, or just wants to add something unique and different into your Oman road trip itinerary, then you 100% need to book a trip to the Daymaniyat Islands.
Where Are the Daymaniyat Islands Located?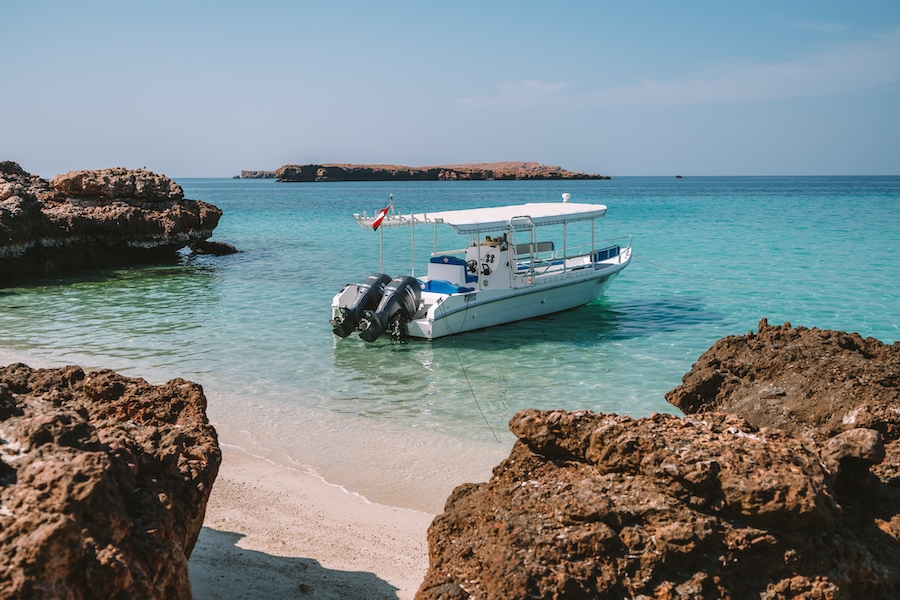 The Daymaniyat Islands are located off the coast of Oman, about 42 km from Muscat.
Here is a map for quick reference to show you where the islands are in relation to Oman's capital.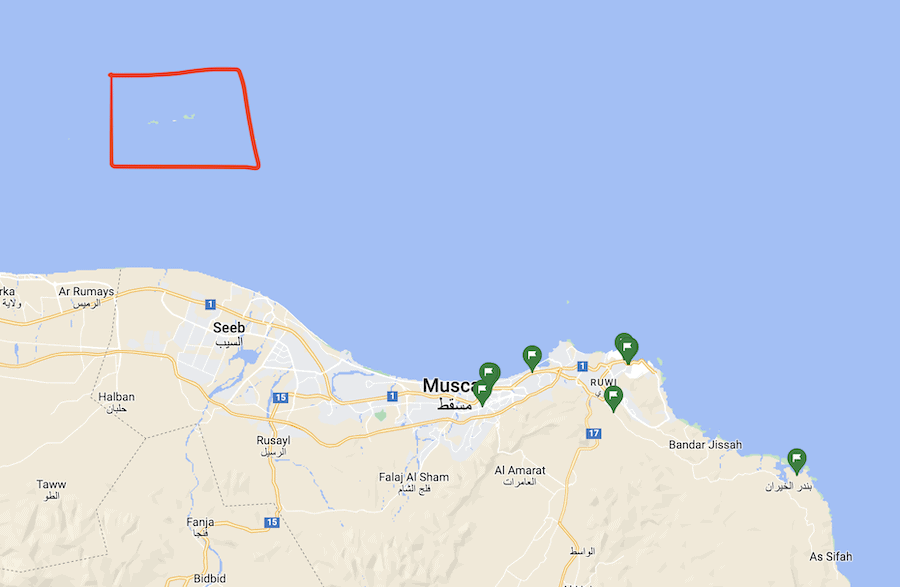 How to Get to the Daymaniyat Islands
The absolute best way to get to the Daymaniyat Islands for a day trip is by boat through a tour company and most operate out of a harbor in Muscat.
Since this is a protected nature reserve, access is regulated, which means you must either book a tour or apply for your own permit if you plan on taking your own boat.
The trip by boat from Muscat takes around 40-45 minutes (at least with the tour we took, which was moving at quite a speedy pace)!
What to Expect on a Day Trip to the Daymaniyat Islands
I can only 100% speak for the tour we chose (which is rated #1 on TripAdvisor, by the way), so I'll give you the rundown of our experience!
On the morning of our day trip to the Daymaniyat Islands, we met our boat captain at the Al Mouj Marina and then departed Muscat on a small speedboat, which shockingly had a bathroom to our great surprise due to the boat's size.
Our captain, Hussein, was great and instructed us to keep our items secured as once the boat gets going it moves pretty fast—like sunglasses flying fast!
After 30-ish minutes of speed boating, we began to see the islands up closer and began our approach. I'll be honest—we were a little disappointed initially as we started to pull up to the islands, as they seem quite small by boat and the water didn't look as turquoise as the photos we had seen.
However, our dismay was premature because once we got closer and started to approach the rocky limestone islands, the water got shallower and lit up in vibrant hues of blue and green. Our tune changed very quickly as we started to see fish and turtles swimming in the water below us.
I promise you, the second you arrive at the Daymaniyat Islands you'll feel instantly transported worlds away from the hustle of Muscat!
Once we were anchored close to the shore, we were able to get off the boat, walk around on the beach, hike up to any viewpoints and explore.
Throughout the course of the day, we ended up visiting three different areas around the islands and spent our time swimming and snorkeling.
If you're a scuba diver, this is also a great place to come for diving trips. If getting in the water is not your thing, you can still enjoy the beauty of these islands from the safety of the boat or beach and go exploring on foot or do some birdwatching.
The most shocking part of the whole day was that even though we were visiting on National Oman Day (one of the biggest holidays in Oman), the islands were not crowded and we barely saw or interacted with other tourists.
At the last spot we snorkeled where we saw a huge group of nesting sea turtles (15+ of them grouped together!), we were literally the only boat at the spot.
All in all, you can't go wrong with a half-day or full-day tour to the Daymaniyat Islands for a fun day in the sun, that will provide some epic marine life spottings.
What Marine Life Can You See in the Daymaniyat Islands?
The Daymaniyat Islands are home to a diverse range of marine life, including many species of fish, coral, and other marine invertebrates, which is why Oman decided to officially protect the area in 1996.
These islands are a popular nesting site for both migratory birds and sea turtles. There are the Green Turtles who can be spotted in the shallow waters and Hawksbill Turtles who nest annually along the white sandy beaches.
Between May and October is the best time to spot Whale Sharks around the Daymaniyat Islands as well.
Here's a list of just some of the species that can be found here:
Bottlenose dolphins
Spinner dolphins
Green sea turtles
Hawksbill turtles
Humpback whales
Whalesharks
Red-billed Tropicbird
Osprey
Zebra Sharks
Sting Rays
Sooty Tern
Common Noddy
White-cheeked Tern
Arabian butterflyfish
Red Sea clownfish
Arabian angelfish
Daisy Parrotfish
The Best Daymaniyat Islands Boat Trip to Book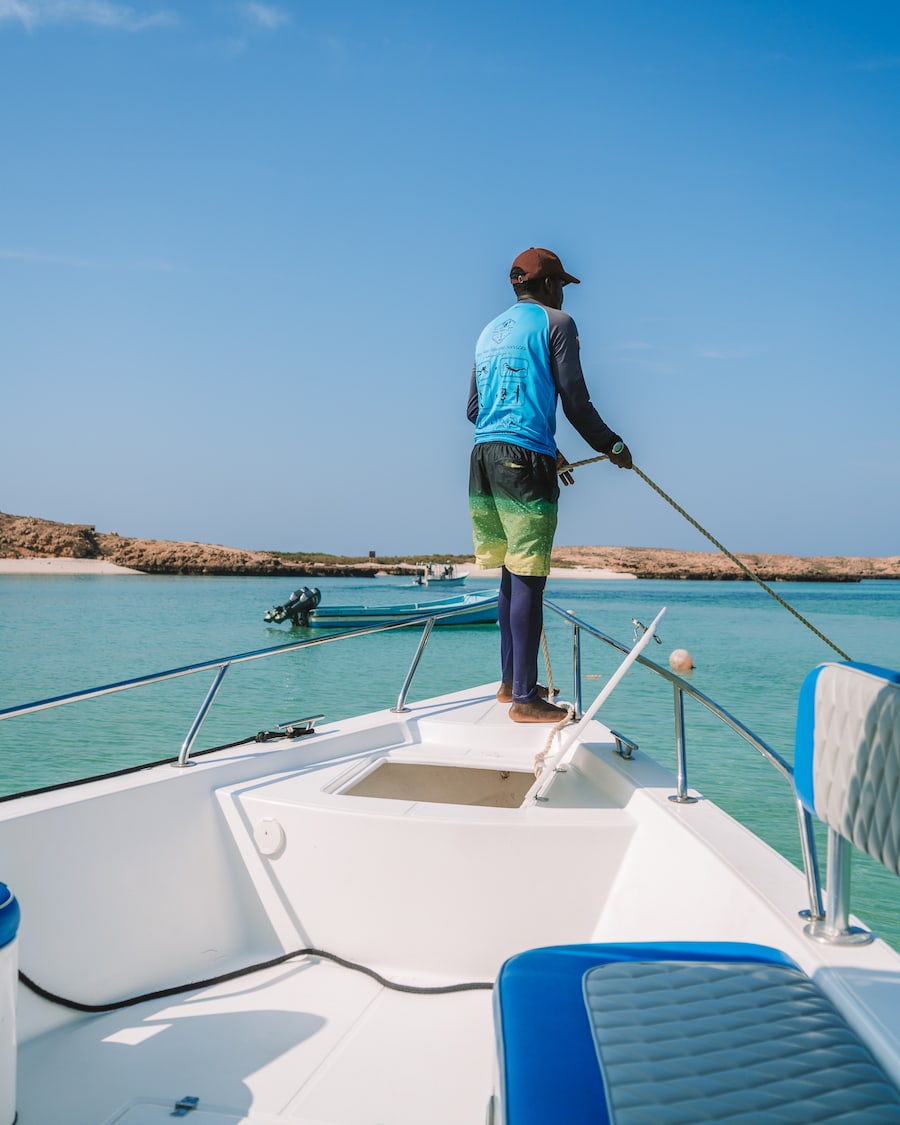 If you're convinced to add this beautiful place to your itinerary and are ready to book already, then look no further. This is the #1 rated tour and the one we took and loved!
After researching a bunch of the different operators running Daymaniyat Islands snorkel tours, we decided to go with this half-day tour because they had the best reviews across multiple sites and offered private tour options as well!
We ended up booking a private tour which was ideal for our group since we are photographers and wanted to have more autonomy over the locations we stopped at.
However, for the average traveler I wouldn't say this is necessary at all as the boats and group sizes are already pretty small with this company and the guides know all the best places to take you.
We had a blast hiking around the islands, swimming, taking photos and snorkeling. The most incredible moment of our tour was when our guide took us to a reef and spotted a huge group of turtles for us, with no other boats in sight! It's one of my favorite memories of our entire Oman trip!
Here's a short peek of all the amazing turtles and fish we saw during the tour!
If you want to see even more video, check out this Instagram Reel I made for a quick peek at our day in the Daymaniyat Islands.
What to Expect on This Daymaniyat Islands Tour
What was provided on our tour: Transport out to the islands, your visitor permit out to the Nature Reserve, snorkel gear, lunch, snacks, and water. They also offer restrooms on board.
What was especially awesome about our tour was that none of us had a GoPro, but our guide let us borrow his and sent us the footage afterwards.
What wasn't provided: Sunscreen and towels.
Best things about this tour: It was very clear that our guide knew exactly the best spots for snorkeling and spotting the most fish and sea turtles. As I mentioned above, at the end of the day, he took us to an area with no other boats in sight where we spotted at least 15 turtles feeding at once. To say it was magical would be an understatement!
These guides are super professional and truly want you to have the best experience in the Daymaniyat Islands.
Least favorite thing about this tour: The only thing I didn't absolutely love about the tour was the food, but honestly that was my experience in Oman in general. It's not a foodie destination in my opinion. The lunch on this tour is simple and if you're a picky eater you might want to bring some snacks to be safe.
What else to know: You can book either a morning tour or sunset tour and they also offer other water sports like jet ski rentals if that is of interest.
Explore More Top-Rated Daymaniyat Islands Tours:
Where is the Best Snorkeling in the Daymaniyat Islands?
According to this local scuba diver, the best coral reef in the Daymaniyat Islands is along the northeastern bay, and the seagrass beds on the Southwestern side of the main island are also great for spotting turtles.
You don't really need to know this info though, since you will most likely be booking a tour here, and your captain will know where to take you for all the best snorkeling.
That's why it's important to go with a reputable tour company that can navigate the islands well and is familiar with all the best spots.
When is the Best Time to Visit?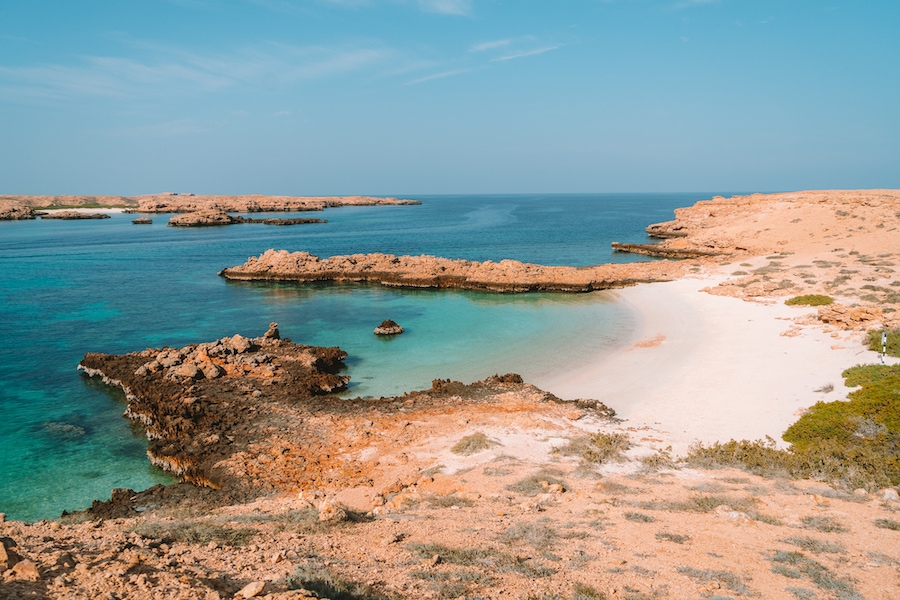 Overall, any time of year is good to visit the Daymaniyat Islands and snorkeling and diving are possible year-round. Here are a couple timeframes to keep in mind depending on what you want to see and do.
November – April: If you want to be able to walk along the beaches or hike on the islands as boats cannot land between May to the end of October.
September – October: This is the best time of year to spot whale sharks in the area.
What to Wear on a Daymaniyat Islands Tour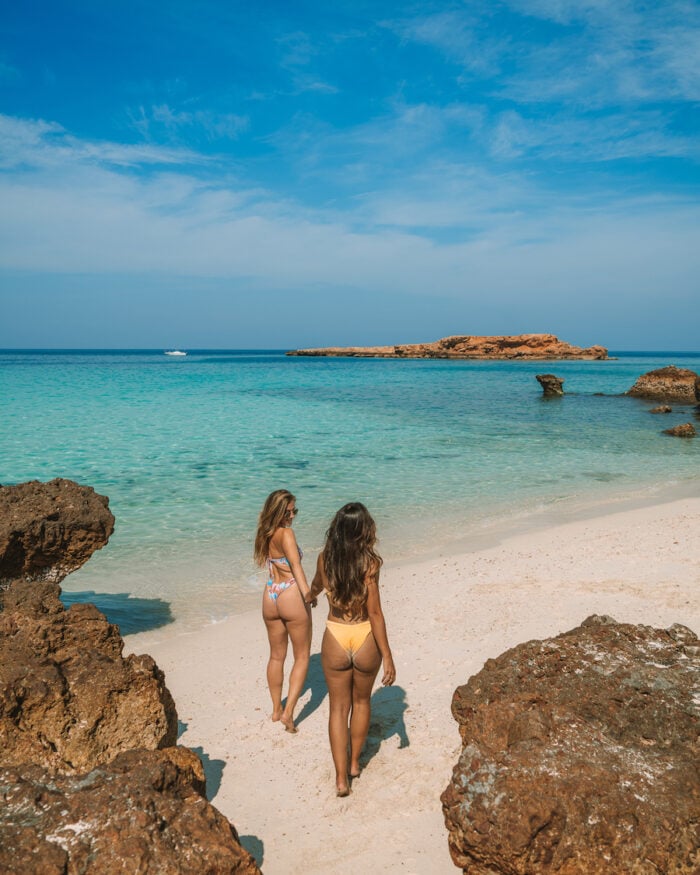 Since Oman is a Muslim country, in general it's best to dress more modestly. However, I found that in the places like the wadis, beaches and also in the Daymaniyat Islands, people were in swimsuits and it is totally acceptable.
Oman is definitely not as conservative as other Middle Eastern countries when it comes to women's clothing, but you'll still want to be dressed appropriately in the proper settings.
If you want to be a bit more reserved, you can wear a one-piece swimsuit with a cover-up, sarong, or t-shirt of some sort, but plenty of people were wearing bikinis while in the water.
What to Pack for a Daymaniyat Islands Day Trip
This is a day that is very heavily focused on being out in the sun and in the water, so pack like you would for any big beach day. Here are some items you should absolutely consider bringing:
Swimsuit – Bikinis are fine, but a one-piece is great if you want to be more conservative
Sunscreen
Water Shoes or Sneakers – If you want to hike up onto land you'll probably want some better shoes although you could get away with sturdy flip flops.
Hat
Sarong or Cover-Up
Sunglasses
GoPro
Waterproof iPhone Case
Backpack
Also to note: Most boat rides to the island are pretty fast-paced, so try not to have a lot of small loose items with you. Keep everything secure in a bag so they don't go flying during the boat ride!
Shop My Boat Day Must-Haves:
Well, I hope you found this Daymaniyat Islands guide helpful, and I hope I convinced you to visit because I know you won't regret it! If you have any questions I didn't answer, leave them in the comments below!
Keep Planning Your Oman Adventures: