Sedona was definitely one of the places that I was most excited to visit on our road trip through Arizona and New Mexico. From the energetic vortexes to the vibrant combination of green foliage and red rocks that surround you from every angle, Sedona has a special kind of magic that you won't find anywhere else.
While in Sedona, we stayed at the stunning Enchantment Resort for three nights, and my jaw still drops just thinking about it—this place definitely has some of the most stunning scenery of any hotel I've ever stayed at. Though it is definitely ideal for couples or honeymooners, I had the best time experiencing Enchantment with my friend Lauren, relaxing at the resort in between our busy schedule of hikes in Sedona.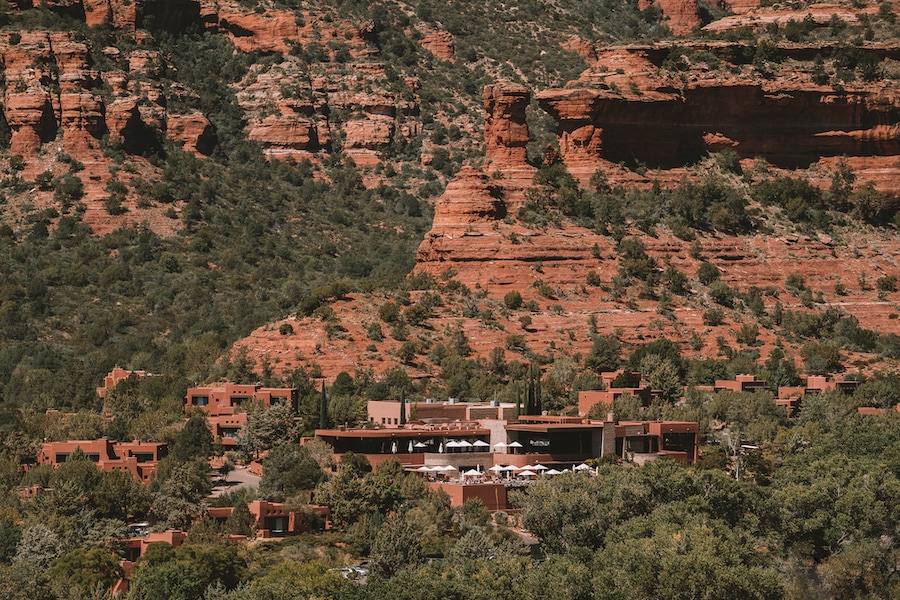 The Enchantment Resort is literally surrounded by the red rock walls of Boynton Canyon, giving you some of the most amazing panoramic views from the 70-acre property.
Considering that you can actually hike into Boynton Canyon right from the hotel property, we were able to easily hike both early in the morning and later in the afternoon when the weather was a bit cooler. In the middle of the day, during the peak heat hours, we took full advantage of the hotel's stunning pool deck and other amenities to relax and restore.
While there is more than enough on the hotel grounds to keep you entertained and busy, the Enchantment Resort is also located very close to the main part of downtown Sedona, so you're really able to immerse yourself in the heart of the area.
Overall, our experience here was amazing, and I've put together this detailed review to share why Enchantment Resort in Sedona is an absolute must-visit as you embark on your own Arizona adventures.
Why Stay at Enchantment Resort?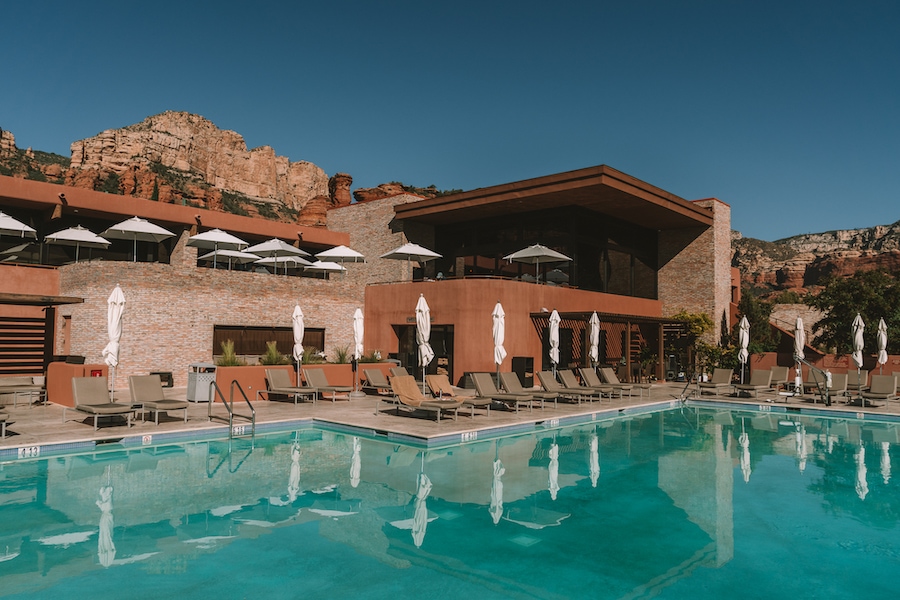 While Enchantment Resort in Sedona is a wonderful place to stay for a quiet and relaxing weekend away, I think it's an even better option if you're in the mood for a lot of outdoor adventures. Whether you're an avid mountain biker, hiker, or have a deep love and appreciation for nature, Enchantment is going to put you in the heart of it all. When I say you're literally steps away from some of the best hikes along the red rocks in Sedona, I mean it in the most literal sense.
If the outdoors aren't really your thing, I might think you're a little crazy, but you can still enjoy all that Enchantment Resort has to offer. Epic poolside views, incredible restaurants and award-winning wine lists, tennis, foosball, bocce ball, fire pits, etc. It's all there. Plus, the hotel is in such close proximity to the main downtown area that it's super easy to zip back and forth from town to explore the best of Sedona's cultural side.
The real reason to stay here though is its unexplainable magic. Being surrounded by the towering red rocks at all hours of the day, watching them shift and change as the sun moves through the sky is truly surreal. It's hard to imagine a better location from which to sleep, relax, dine and connect with loved ones.
---
Read More Road Trip Posts Here
---
Favorite Features of the Hotel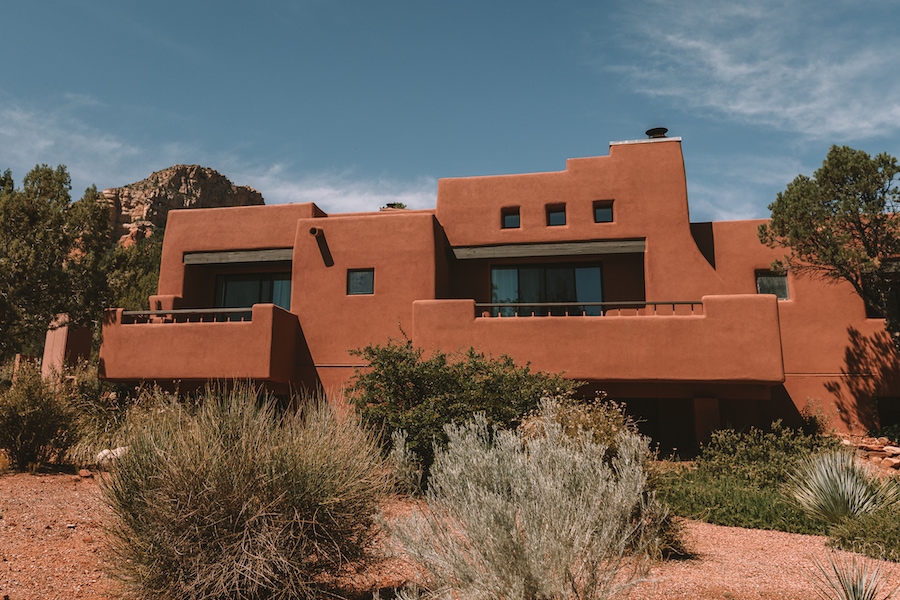 You can't talk about Enchantment without ogling over the views that make it so epic. With literal panoramic vistas of Sedona's towering red rocks from every inch of the property, the Enchantment Resort's setting is totally unmatched by any other accommodation.
I adored the look of all of the salmon colored casitas and adobe architecture that meshed so well with the surrounding landscape.
The pool and restaurant patios provided some of the best front row seats to Sedona's epic sunrises and sunsets—because is there anything better than an epic sunset with a glass of wine in hand? I think not.
Though I'm not much of a tennis player, I couldn't help but notice that Enchantment has only the most epic tennis court location of all time. Seriously, challenge me on this one.
Location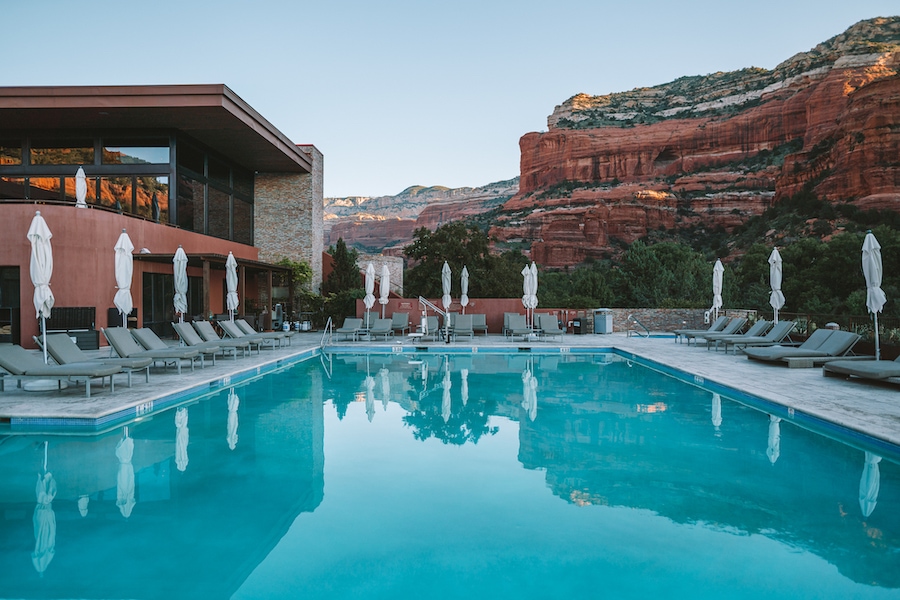 I know I've gushed about this already, but Enchantment Resort seriously has one of the most beautiful hotel locations that I've ever been able to stay in. The views from the property are so out of this world that it almost feels like the hotel shouldn't have been allowed to set up shop there. Like, how did they get this lucky?!
For avid hikers, it's good to know that the resort property is quite close to the trailheads for the following popular hikes: Boynton Canyon, Devil's Bridge, Bear Mountain and Fay Canyon. Best of all, you can literally hike into Boynton Canyon directly from the hotel grounds. We made it a priority to do this as often as possible during our stay.
The hotel is also conveniently located a mere 12 minutes away from the main strip in Sedona. There you can find the cutest restaurants, cafes, shops, and spiritual centers that you definitely will want to check out during your visit.
Property Highlights and Amenities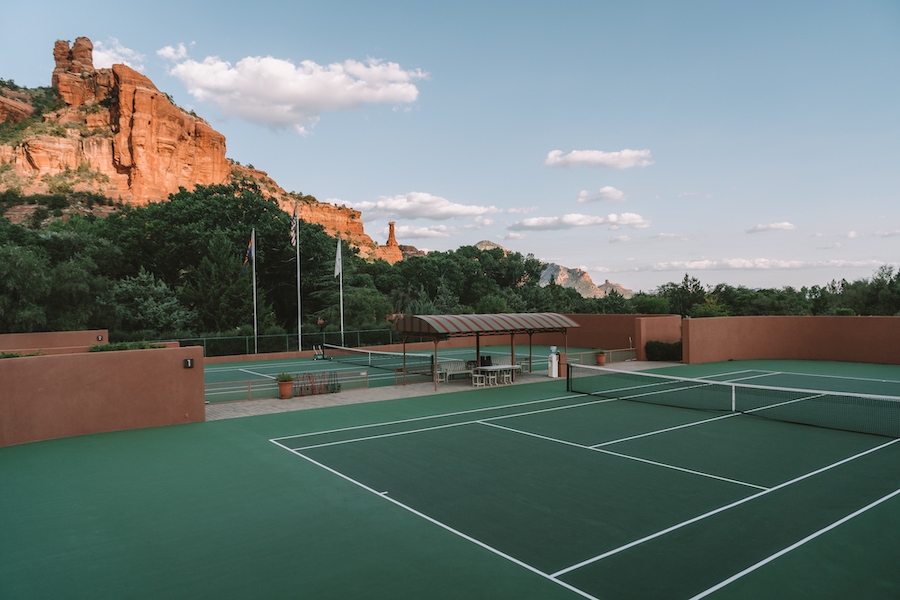 As I said before, even if you never left the resort grounds, you'd find plenty to keep you busy during your time at Enchantment. Besides the obvious ones like outdoor dining, a pool and fitness center, here are some of the best amenities you can enjoy when you book a stay here.
Here are some of the amenities you won't want to miss at Enchantment:
OJ delivered to your doorstep each morning
A full schedule of fitness classes like yoga, Qi Gong and candlelit stretch sessions
Private decks off every room with views of Sedona's red rocks
Access to the Members-Only Seven Canyons Golf Club
Stargazing twice a week with the Resort Astronomer
Vortex presentations
Bocce Ball, Tennis courts, Foosball, and Air Hockey
Door to door luggage delivery
+ more!
What to Expect From the Rooms at Enchantment Resort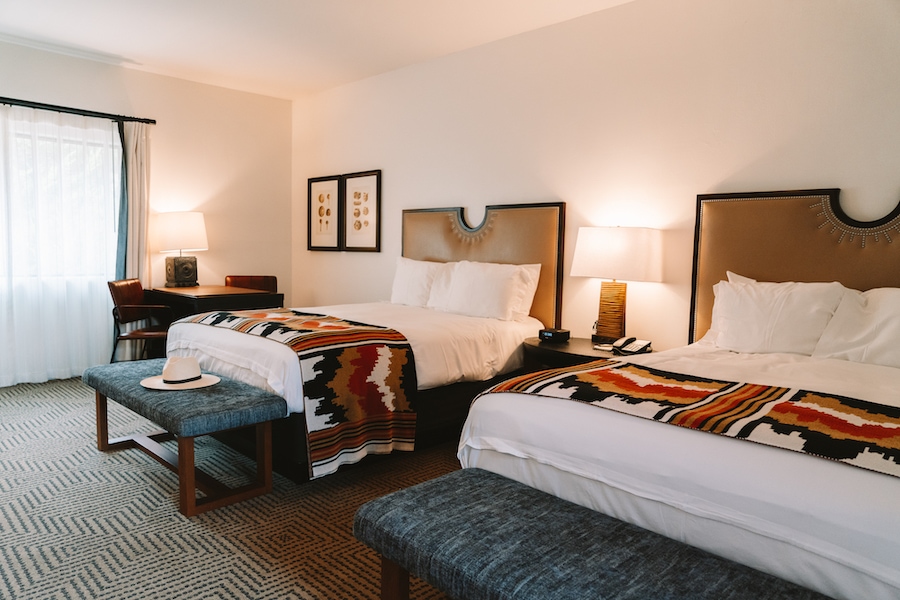 Recently renovated, the rooms at Enchantment Resort are a bit more modern and minimalistic than the rest of the hotel, yet there is still a nice cohesion throughout the property, highlighting calming neutral colors with accents that thoughtfully match the natural surroundings.
Even at the lowest category level, each room is pretty spacious with a large bathroom, desk area and private deck where you can enjoy a glass of wine amidst the red rocks, or sit under the stars. We stayed in one such room—the Casita Queen—which was plenty of space for two people, although I wish our patio views were a little less obstructed.
Here are a few different room styles you can choose from when staying at the Enchantment Resort:
The most basic option is to stay in one of their Casita Guest Rooms. You can either have two queens or one king and it comes with all of the standard hotel amenities including a private balcony or patio.
If you're in need of something a bit roomier, the Casita Studio might be a better option, though it is only available with one queen bed (making it a good option for honeymooners or couples). In this room you get the addition of nice-to-haves like a kitchenette and gas grill out on the patio deck.
The final option when it comes to overnight accommodations is to book a Suite. They have both Junior Suites as well as one and two bedroom suites. However, if you're looking for something ultra luxurious, you can book one of their Pool Suites which sleep up to four people and feature its own private pool.
Drinking and Dining at Enchantment Resort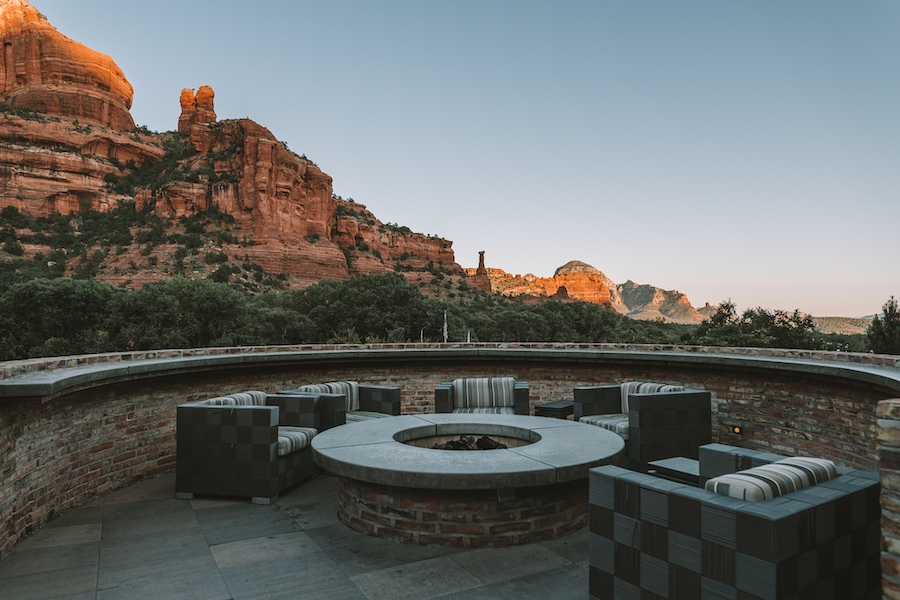 After a lackluster dining experience in the Scottsdale/Phoenix area along our road trip, it was a breath of fresh air to eat so well in Sedona, and Enchantment was in large part responsible for that. Though there are normally three different dining options on-site at the Enchantment Resort, their View 180 eatery is currently closed in order to allow for more outdoor dining space for the main restaurants.
Between Che Ah Chi and Tii Gavo, you're not going to go hungry though. Thankfully, we were able to eat at both restaurants during our stay, and we were not disappointed, though Che Ah Chi was my personal favorite.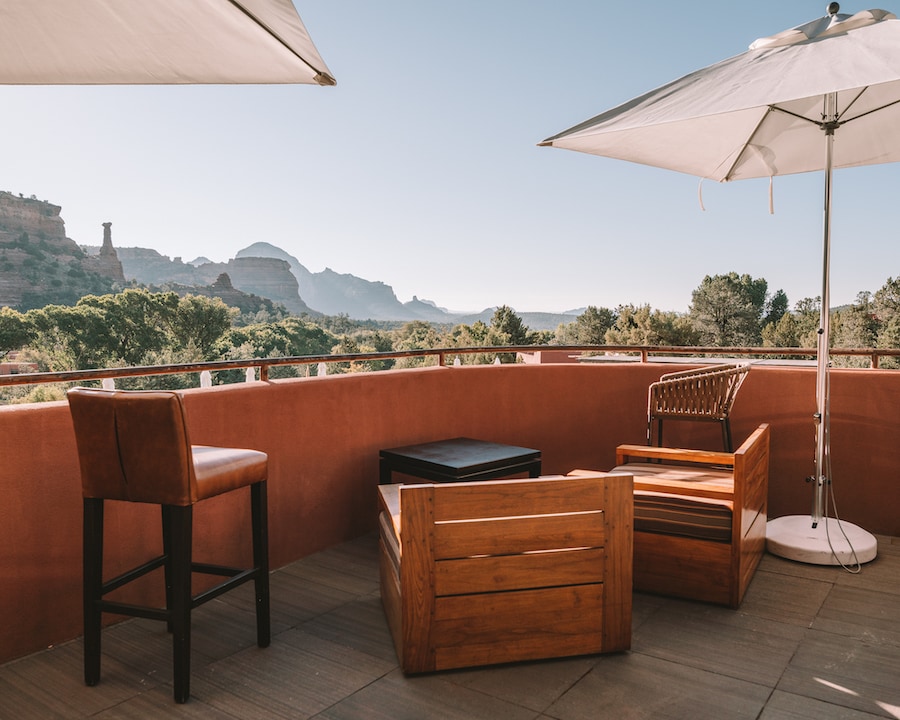 Che Ah Chi
I have to say that out of every restaurant and meal that we tried on our entire two-week trip, Che Ah Chi was one of the best meals that we had. Even if you aren't able to book a full stay at Enchantment Resort, I highly recommend making a reservation at Che Ah Chi for a gourmet dinner under the stars any time you're in Sedona.
We ate at Che Ah Chi for both breakfast and dinner. Breakfast was casual with your typical sort of menu staples like Huevos Rancheros, french toast and oat bowls, much of it with a Southwestern-inspired flare. At night, however, Che Ah Chi is definitely more of a fine dining experience with top-notch service and pricier menu items.
They also have live music almost every night, creating quite a romantic ambiance. Our favorite parts of the our dinner were for sure the Char-Grilled Bison Tenderloin and the Goat Cheese Semolina. If you like wine, definitely don't miss out on a glass (or bottle) from their wine list which won the 2021 Wine Spectators Best of Award of Excellence.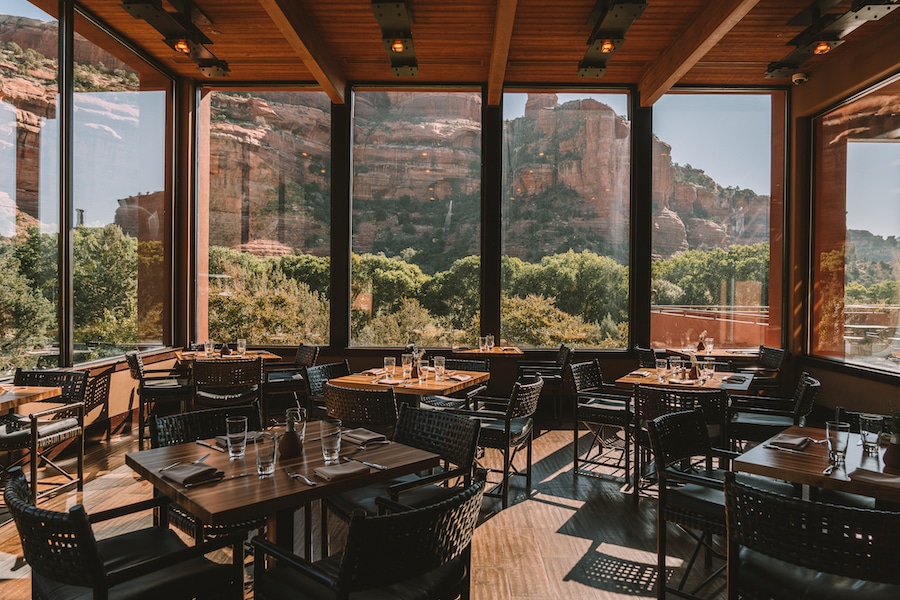 Tii Gavo
While Tii Gavo is currently only limited to hotel and spa guests, we had such a nice casual dinner here with (as always) incredible panoramic views—I mean, how many times can I say it?! They are only open for dinner in the evenings, though their bar opens at 3:30 pm. The space is designed really beautifully, with a gorgeous outdoor circular fire pit that allows for plenty of group seating.
Our personal favorite dish that we tried at Tii Gavo was the Elote appetizer, but they are also famous for their Blackened Verlasso Salmon and Short Rib Empanadas.
Spa and Wellness at Enchantment Resort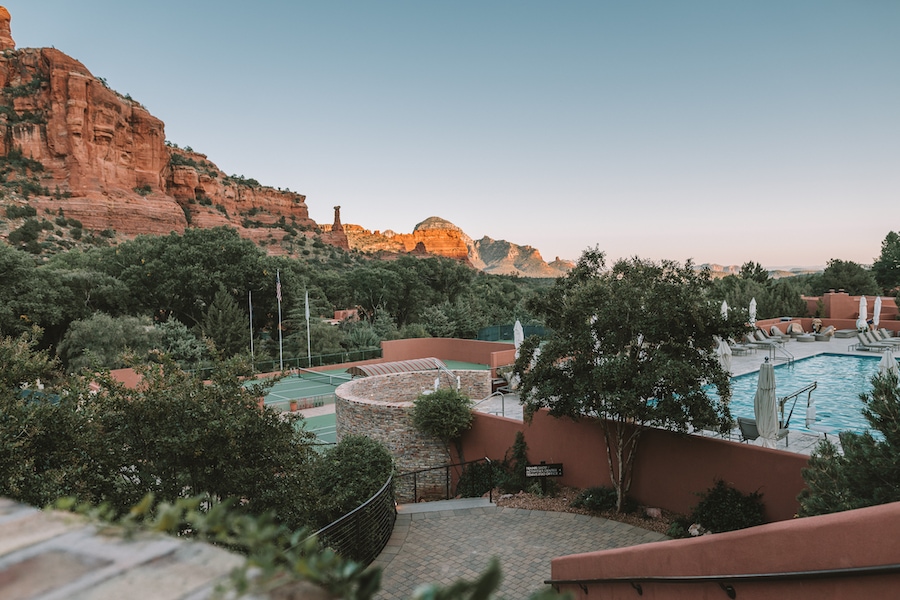 The Mii Amo Spa at the Enchantment Resort is a renowned spa that has been providing unforgettable treatments since 2001. Unfortunately, Mii Amo is currently being renovated so we weren't able to access it during our stay, however, it looks and sounds absolutely amazing and I'll definitely be back to check it out.
Though the spa isn't planning on re-opening until the spring of 2022, you can book a treatment at the Spa Suites at Boynton Canyon in the interim.
If you're looking to do something a bit more active during your stay, there are several different activities to sign up for. Some of these available activities include:
Yoga Classes
Guided hikes
Golf
Tennis or Pickleball
Mountain Biking
Art Classes
Chakra Balancing
A Few Helpful Hints for Your Stay
You definitely can't miss the hikes to Subway Cave and Boynton Canyon, especially since you can access them right from the property. Best of all, the access point from the resort actually cuts off some extra walking time, so you can beat all the crowds in the morning! Simply ask someone at the front desk for an escort and they will drive you over in a golf cart!
If you visit in one of the hotter months like we did, I'd recommend you plan hikes and other outdoor activities for early mornings and late afternoons. During the hotter hours in the middle of the day, lounge by the pool or head into town to explore local shops before enjoying a cocktail by the fire pit at sunset.
Be sure to ask about their weekly stargazing sessions with the Resort Astronomer.
Enchantment is a pet friendly resort so don't leave your furry friend behind 🙂
Did this post inspire you to book a stay at the Enchantment Resort in Sedona? Let me know in the comments below!
---
Planning a trip right now? Don't miss my go-to websites for booking everything from flights and tours, to accommodation and more:
---
***Live Like it's the Weekend was graciously invited to stay at Enchantment Resort in Sedona as a complimentary guest. As always, my opinions are my own and I would never write about anything I don't freaking love***