While many people see California as the ultimate summer destination, I'm going to fill you in on a little secret…I actually think that fall in California is the best time of year.
Why is that? Well, the weather is truly at its best in my opinion, especially at the beginning of autumn when the temps are still pretty warm and the marine layer has worn off.
If you're planning a big road trip around California along the coast in both Northern and Southern California and any inland destinations, fall is ideal because you get the best overall weather across the entire state. The beaches will still be warm and less foggy, and the desert landscapes won't be as scorching as in the peak of summer.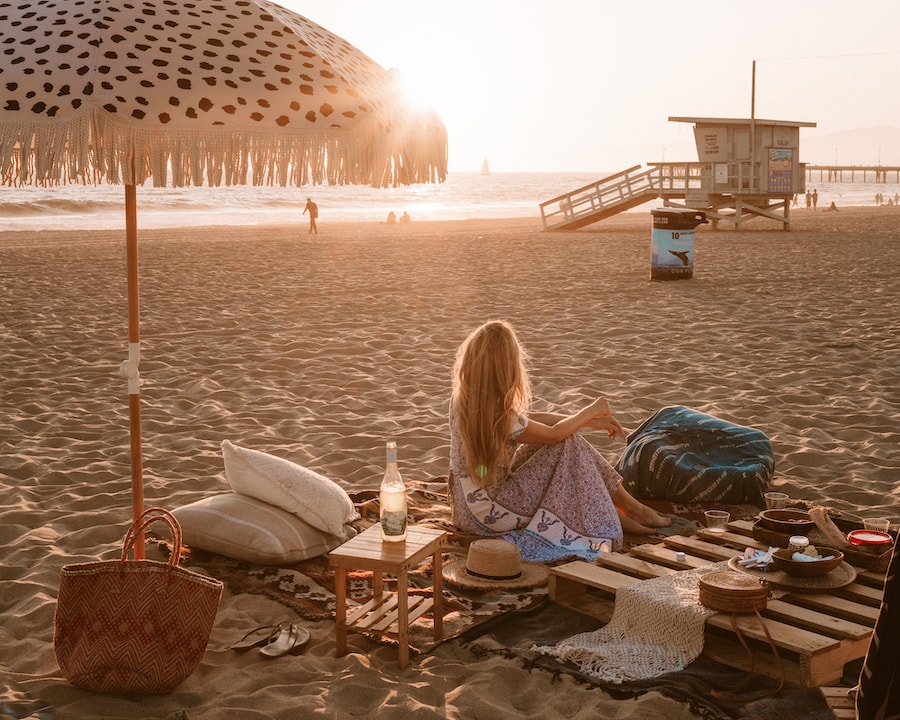 Another great thing about fall in California is the fact that the masses of tourists have somewhat dissipated, and you're able to enjoy busy and popular places without all of the crowds.
Though the coastal areas don't get the iconic foliage that fall is known for, there are several woodsy towns and National Parks that are almost as stunning as what you'll find on the East Coast.
Whether you're looking to enjoy a quiet and cozy cabin near a lake or simply want to take advantage of the sandy beaches in Santa Monica without having to fight for a grain of sand, nearly any traveler can find a reason to visit during the season of changing leaves, crisp air, and yes—pumpkin spice.
That said, I've rounded up some of my favorite fall destinations in SoCal and NorCal so that you can experience the very best of California in fall!
Your Ultimate Guide to the Best Places to Explore in California in Fall
Paso Robles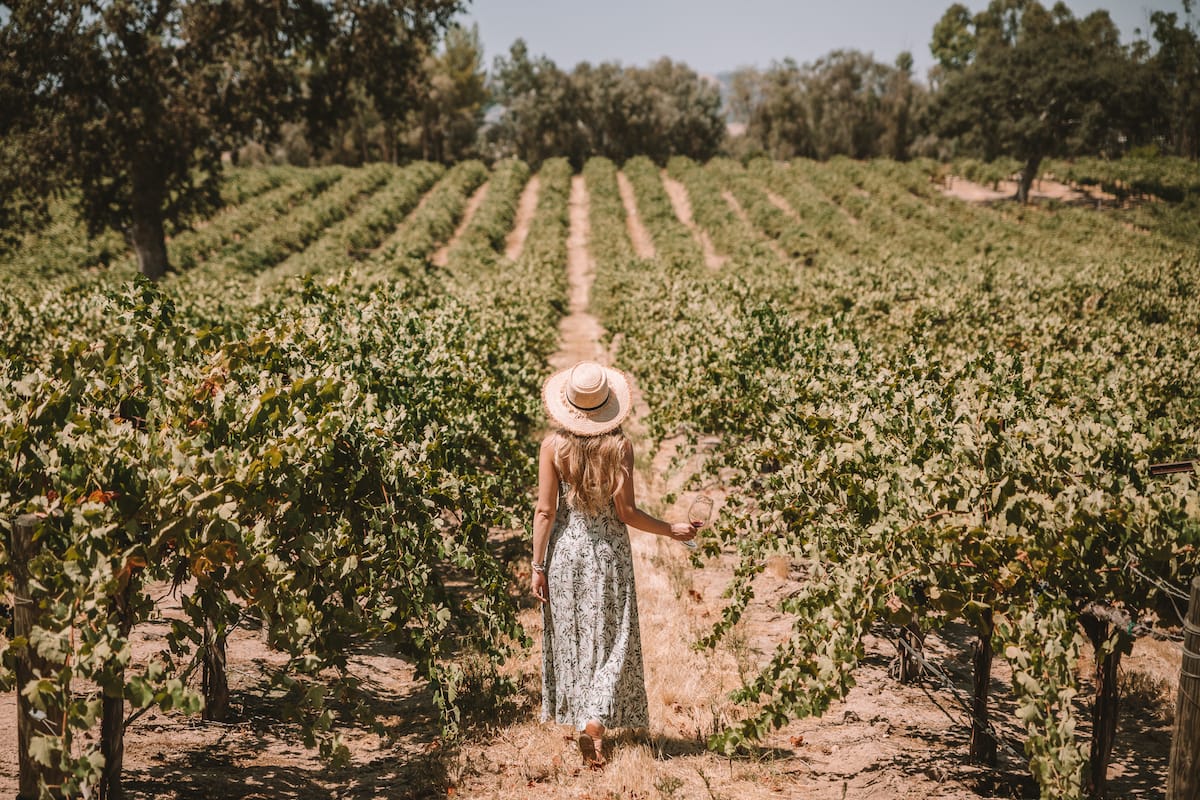 Whether you're seeking a low-key getaway in Central California or a weekend full of wine tasting, Paso Robles is a must-visit town that thrives in the fall. Though you won't get foliage that is quite as impressive as more woodsy areas, there is something really special about watching the vineyards transform from bright greens to crunchy leaves with warm orange and yellow hues.
Simply strolling through the vineyards with a glass of wine in hand is so peaceful and relaxing, and the temperate fall weather makes the experience even better.
There are plenty of family-friendly activities such as pumpkin picking and fall-themed pop-up markets where you can support local farmers and businesses. Make sure to also check out the Whale Rock Music Festival which happens every September in Paso.
Idyllwild
Idyllwild is a really adorable and tiny mountain town outside of the greater Palm Springs area. Though it gets a pretty hefty amount of snow in the winter, and scorching temps in the summer, fall tends to be pretty mild, making it great for hiking, camping, or even just hopping around town.
Though you won't find too many hotel options in Idyllwild, there are lots of cute Airbnbs to choose from, and it's the perfect place to live out your A-frame cabin fantasies in California while soaking up the crisp fall breeze.
That said, the temps start to drop around mid-October, and that's also when the foliage begins to change. The town's annual Harvest Festival also takes place in late November, which is a super fun event for families, kids, or even adults looking for a nostalgic way to celebrate Autumn.
Los Angeles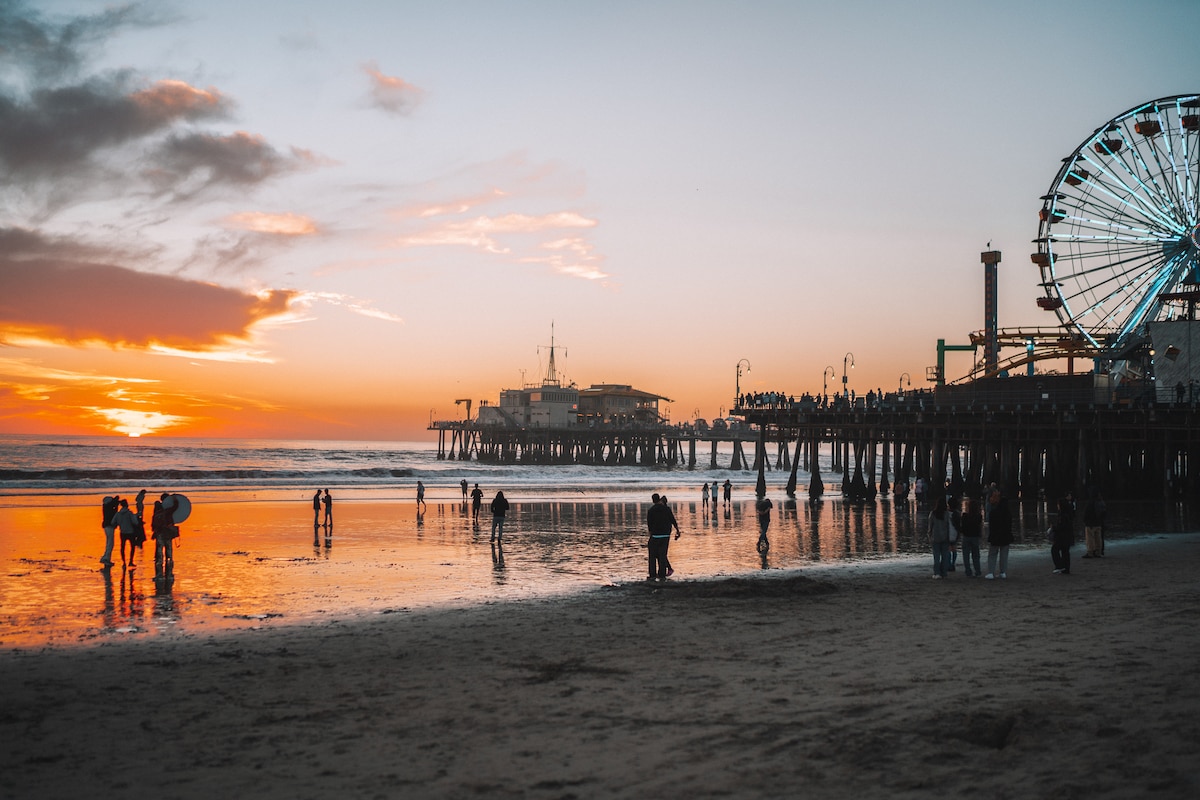 Despite the fact that most out-of-towners think of Los Angeles (or SoCal in general) as the ultimate summer destination, fall is a much better time to visit for a multitude of reasons. Personally, I think September is one of the best months since the June gloom has ended and the intense crowds from the summer rush have settled down.
During fall, the weather is still warm enough to partake in all the classic SoCal activities—in fact, we get some of our hottest beach days in September!
From hitting the beach to hiking, nothing is off the table weather-wise. I also think that sunsets are most beautiful in California in fall, with the sky turning vibrant and almost mind-blowing shades of orange and pink as the sun sets behind the ocean.
Read More: 13 Weekend Getaways from LA
Lake Arrowhead
Lake Arrowhead is one of the prettiest places to enjoy the changing colors while still being near a body of water. Whether you're looking to hike, bike, or boat through the foliage, Lake Arrowhead offers an abundance of stunning scenery to take in during the fall.
Since Autumn is considered to be more of an "in-between" season, it can also get pretty quiet, making it a wonderful time to soak up some nature without having to deal with too many tourists or visitors.
Even if you're not much of an outdoorsy type, Lake Arrowhead is perfect for getting in the seasonal spirit and cozying up by the fire or simply bird watching from your cabin.
Though this lake town can definitely get pretty rowdy around holidays like the 4th of July and Labor Day Weekend, the fall is much more mellow and calm. It's also very family-friendly, while still being just as fun for adults on a couples getaway or girl's trip.
Redwood National and State Parks
The mighty and majestic redwoods are honestly stunning all year long. That said, fall is extra lovely in this part of Northern California, boasting mellow temps that remain in the 60s and 70s. It does get a bit colder here in the winter, but through September and most of October, this park is still cooling off from the summer.
Visiting in the fall also means visiting before the rainy season sets in, which can be a bit of a bummer when attempting to hike and explore around these titans of trees. Whether you're doing a road trip up the coast or are planning a trip specifically to see the tallest trees on earth, this is one of the best places in California in fall when it comes to scenery and seasonal foliage.
Hope Valley
While there are many perks to living in the Golden State, I find myself wishing that we got to experience the seasons more here in Southern California. That said, it doesn't take more than a day to drive to places like Hope Valley near Lake Tahoe that offer a breathtaking autumn experience.
Hope Valley is without a doubt one of the best places to actually see fall colors in California. This vast mountain valley looks straight out of a postcard, and it's an especially beautiful sight in autumn when the leaves turn into a spectrum of warm tones. Just a simple drive through Ebbetts Pass on Highway 4 (which is a national scenic byway on the south side of Hope Valley) will take you on a journey through thousands of aspen trees that light up in bright yellow hues during the fall months.
Whether you visit the area for some hiking or specifically for the leaf peeping, trust me—you're going to want to bring your camera. Don't miss the iconic Hope Valley barn for some epic photos!
Yosemite
Once the summer heat has worn off and the crowds have simmered down, Yosemite National Park really comes alive. Out of all of the places in California in fall that offer vibrant colors and foliage, Yosemite is definitely towards the top of the list.
There are so many stunning lookout points where you can admire the sea of trees, admiring the evolution of Autumn that takes the trees from a dark green to bright shades of yellow, red, and orange.
Since it's a national park, Yosemite is definitely best for those looking to connect with nature and rough it a bit. Most of the major campsites like Hodgdon Meadow, Crane Flat, and Wawona are all open in the fall, just be sure to make a reservation well beforehand.
If you'd rather sleep with a roof over your head, there are plenty of nearby accommodations like AutoCamp Yosemite, which is my personal favorite.
Read More: Where to Stay in Yosemite
Read More: Best Things to Do in Yosemite
Alabama Hills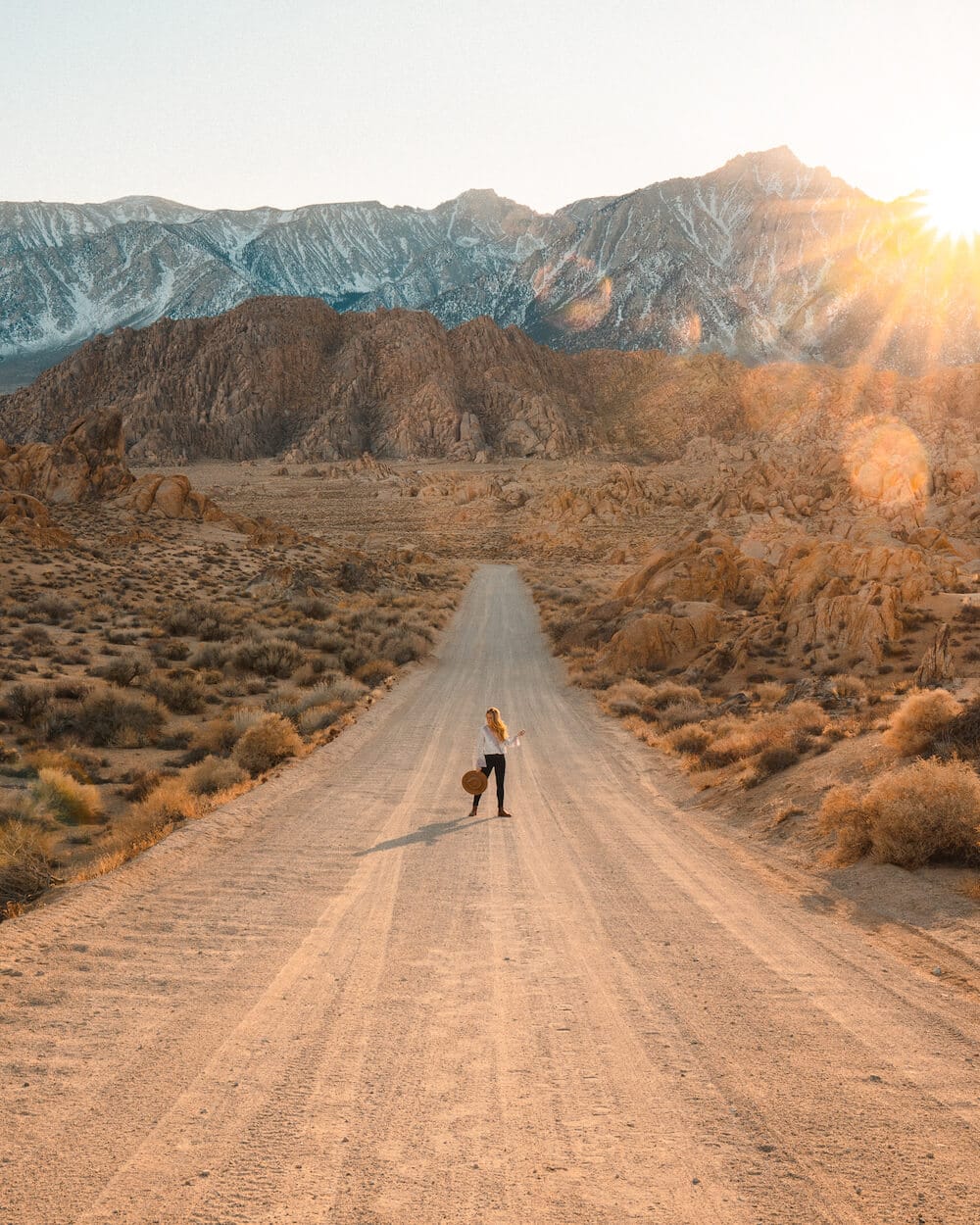 Alabama Hills is a truly breathtaking part of California that features mind-blowing rock formations and hills—and it's still a bit of a hidden gem! That said, the summer is unbearably hot, and winter can be super cold, making fall the best time to visit. While Alabama Hills is beautiful year-round, the extreme weather makes taking in the scenery less pleasant.
It can still get pretty warm in September, with highs around 89 degrees Fahrenheit. However, things cool off in October, allowing you to hike, explore, and snap some stunning photos in temperate weather that stays around 75 degrees Fahrenheit during the day. The temps definitely drop at night, but getting cozy and snuggling up under the stars is a fall activity that never gets old.
Los Alamos
Los Alamos is a tiny, western-inspired town with a big personality. Like the majority of Central California, this valley town gets clear skies and mild temps for the majority of September and early to mid-October, making it a great time to stroll down Bell Street hopping from winery to winery.
Bodega Los Alamos is probably my favorite winery in the area, and when I was there during the fall a couple of years ago, the greenhouse was filled with adorable pumpkins (which are all available for purchase).
Both the Alamo Motel and Skyview Los Alamos offer stylish and design-forward accommodations, and they're both located super close to everything you'll need on Bell Street. Though the temps tend to stay between the mid-60s and low 70s in the fall, they definitely plummet during the evenings, so I highly recommend packing layers and bringing a cozy jacket.
Read More: Where to Stay in Los Alamos
Read More: Exploring the Best of Los Alamos
June Lake
June Lake is 100% one of the most underrated places in California in fall. Between the serene lake and the fall foilage that is so animated and virbant it looks photoshopped, June Lake is perfect for those seeking an outsoorsy vacation in Autumn.
The weather is still warm enough for paddle baording and kayaking, allowing you to enjoy your time on the water without the summer crowds.
While some people visit only for a day or two to camp out or hang by the lake, I highly recommend doing the June Lake Loop during fall. Driving the loop allows you to experience the fall colors in their full splendor while passing not only by June Lake, but also Gull Lake, Silver Lake, and Grant Lake.
Napa Valley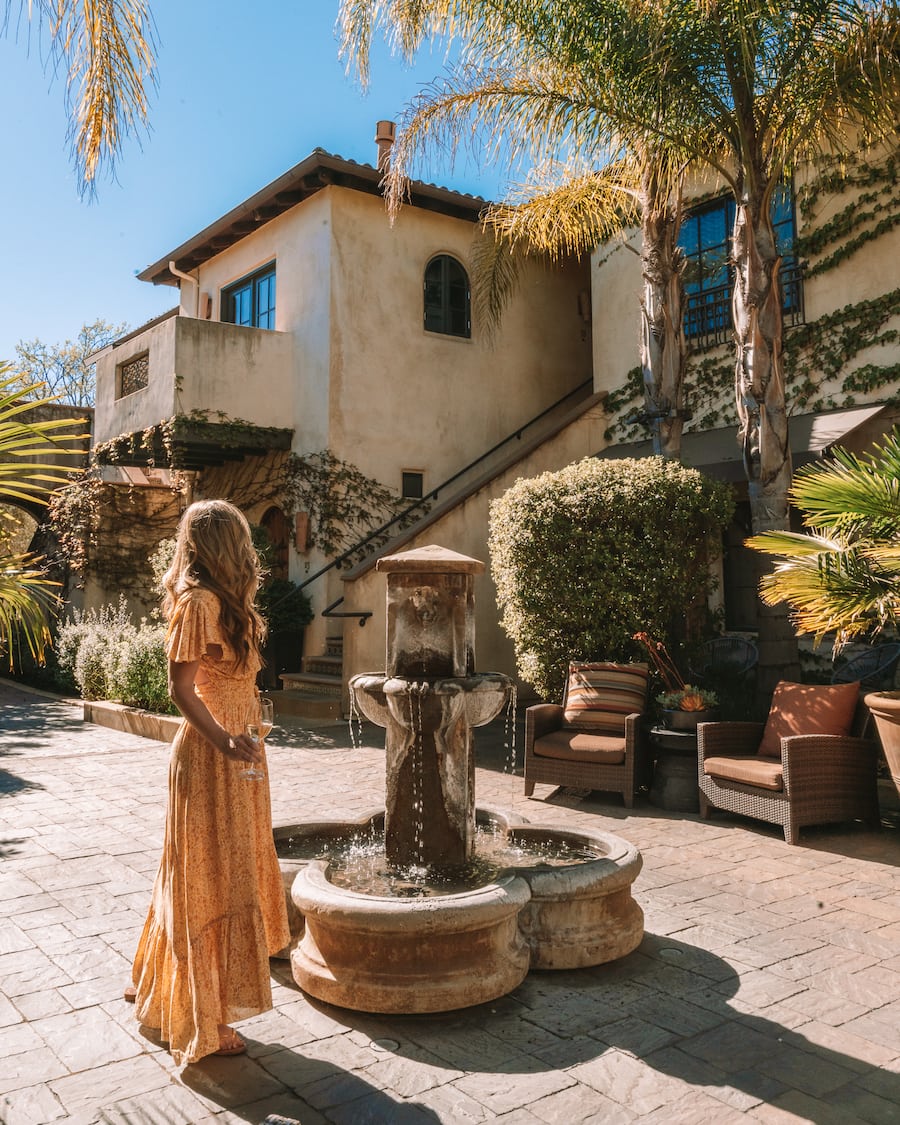 From August to October, Napa Valley comes alive due to the annual harvest, where wine country workers crank it into high gear as they pick the grapes at their peak ripeness. The weather is pretty mild, but the temps definitely drop a decent amount from September to October, with highs going from the low 80s to the high 60s.
There are so many amazing wineries and tasting rooms to explore. Between busier places like Ashes and Diamonds to more intimate, boutique-style wineries like AXR, you can easily enjoy a full day of wine tasting in the crisp fall air. Known as "Cabernet season" by the locals, this time of year in Napa Valley is truly one of the most wonderful ways to experience fall in California.
Lassen Volcanic National Park
Hikers and outdoorsy travelers will love the moderate temps and quiet paths in Lassen Volcanic National Park in the fall. If you plan on camping, be sure to check the official NPS website since the schedule begins to change around October 1st. While exploring the national park, visitors can expect to see everything from crystal clear mountain lakes to literal volcanos.
Spring is another beautiful time to visit Lassen Volcanic National Park due to the wildflowers that bloom across breathtaking meadows. However, like many other places in California in fall, Lassen Volcanic National Park boasts unbeatable temps for hiking and being active, and it is far more peaceful and less crowded.
Santa Ynez Valley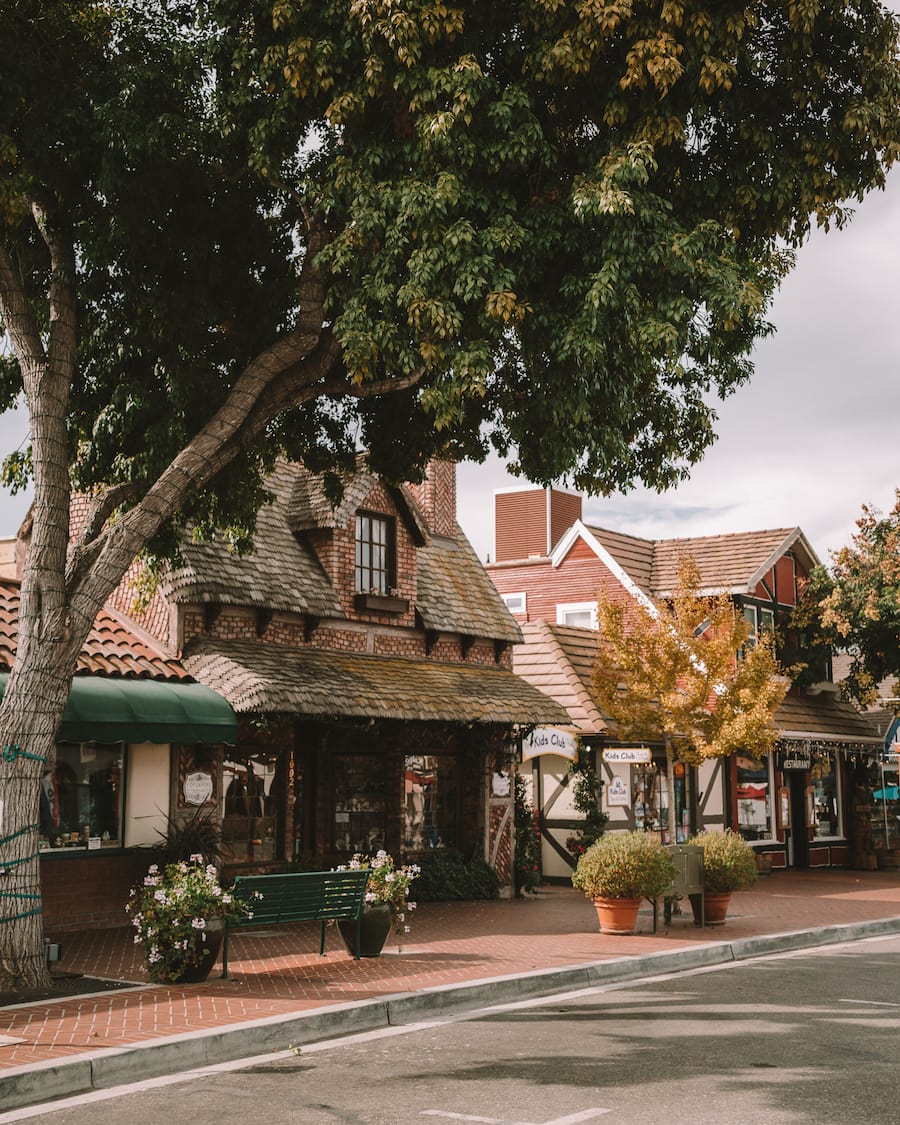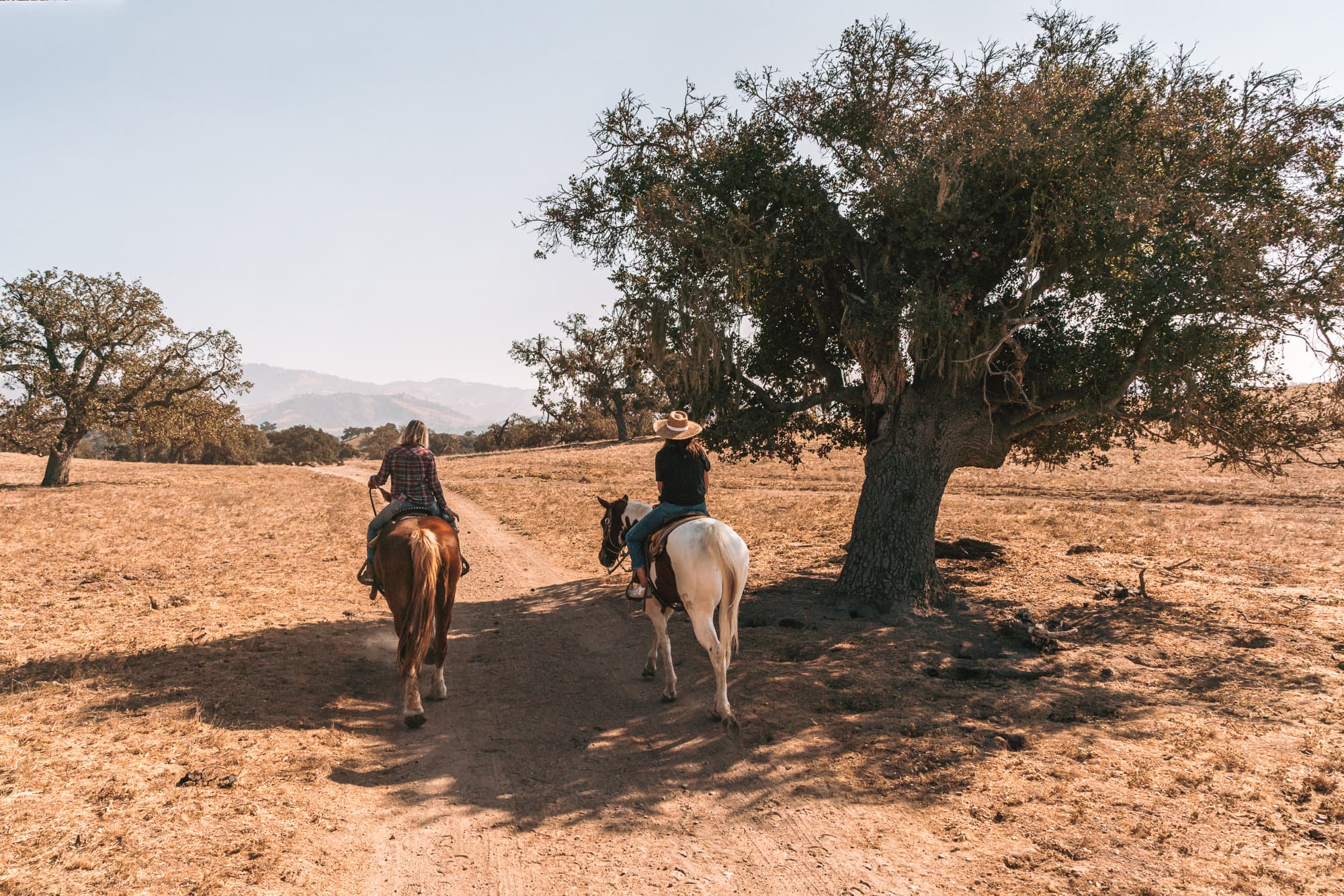 From numerous wine tastings to exploring the adorable Danish town of Solvang, Santa Ynez Valley is one of my absolute favorite places for a weekend trip from LA. If you're looking for a fun yet mellow place in California in fall, Santa Ynez Valley is it. Best of all, between the hilly landscape and rolling vineyards, Santa Ynez Valley is absolutely breathtaking.
The community here is very tight-knit, and there are so many different areas to explore. Los Olivos is great for walking from winery to winery, as is Solvang. That said, if you love the movie "Sideways" with Paul Giamatti, you need to hit up the Hitching Post in Buellton. During the fall, there are also fun events like grape stomps and the annual Halloween street fest.
San Francisco
Mark Twain once said, "The coldest winter I ever spent was a summer in San Francisco." That said, once Indian summer hits in late August, the Bay Area experiences warmer weather and less fog (which is named Karl, by the way). Indian summer lasts all the way through November, giving you lots of opportunities to plan your trip in the fall.
From the Hardley Strictly Bluegrass music fest to some amazing food, beer, and wine festivals that run through mid-October, the nicer weather encourages visitors and locals alike to get outside and enjoy it while they can. Even just enjoying a cup of clam chowder at The Wharf is a solid way to spend a fall day in San Francisco.
Did this post inspire you to explore Fall in California? Let me know in the comments below!
---
Planning a trip right now? Don't miss my go-to websites for booking everything from flights and tours, to accommodation and more:
---