As someone who grew up in Maine, I may already be biased to its beauty, but to me there's just nothing like this New England state in the summer and fall when the weather is top notch and the salty air turns fresh and crisp. I recently visited Kennebunkport for the first time in many years with Visit Maine and Travel Mindset, and I fell in love with this area of my home state all over again — all aforementioned qualities included. Whether you're headed to coastal Maine on a long weekend or short day trip, these are the best things to do in Kennebunkport, Maine that will ensure you have a fun stay and want to return again and again.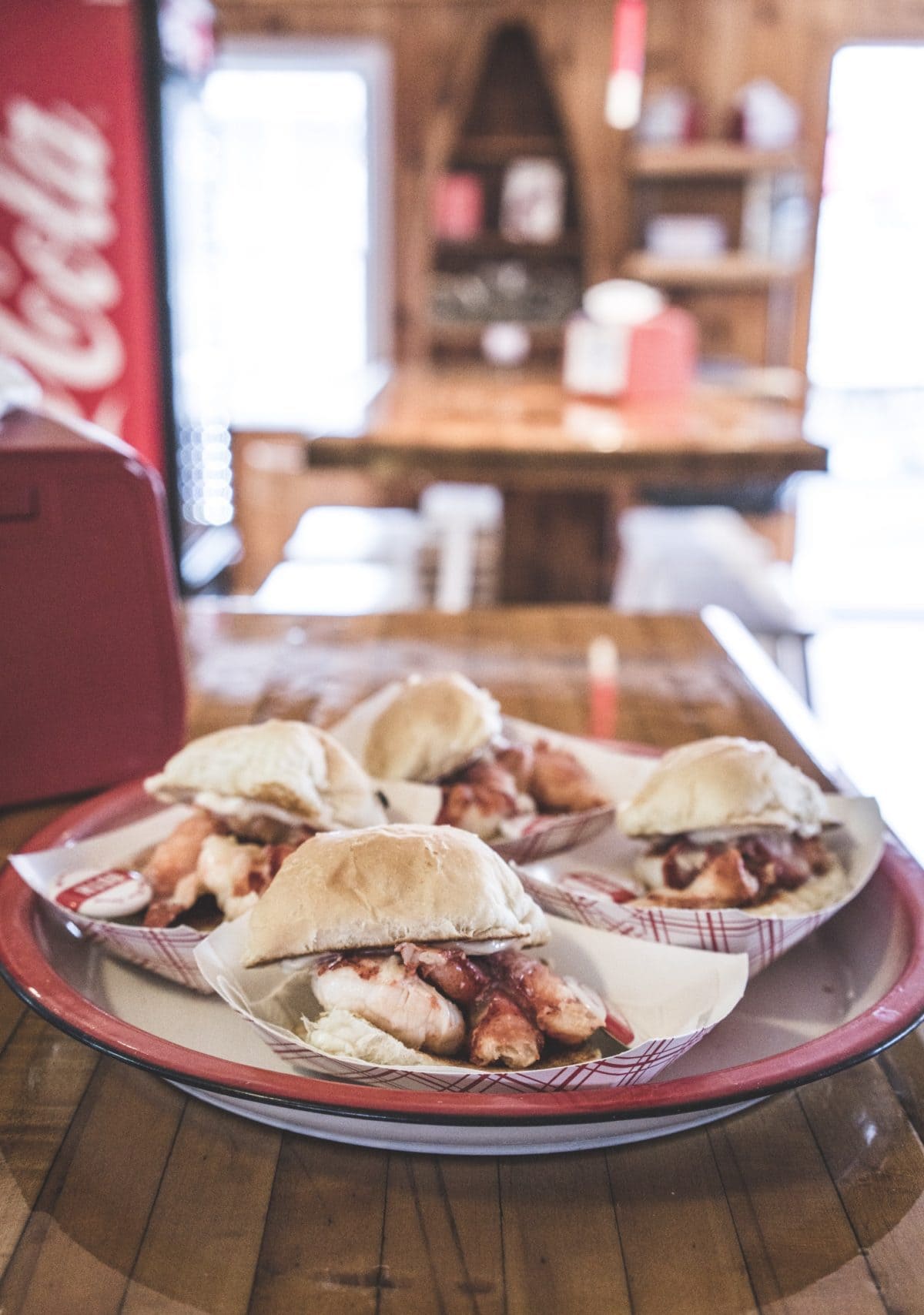 1. Join a food tour with Maine Foodie Tours
Out of all of the activities we crammed into our three-day weekend in Kennebunkport, our afternoon with Maine Foodie Tours was hands down my favorite, and it even convinced me to start doing food tours in every new place I visit.
We hit all the best spots in town with special access to locales where long lines are typically par for the course (ahem, I'm looking at you The Clam Shack). I loved the history sprinkled throughout the tour, and we met other fellow travelers with similar foodie obsessions that made each pit stop more fun with banter over a shared love of eating. Expect to stuff your face with treats like: Maine clam chowder, lobster, ice cream, whoopie pies, local brews and more.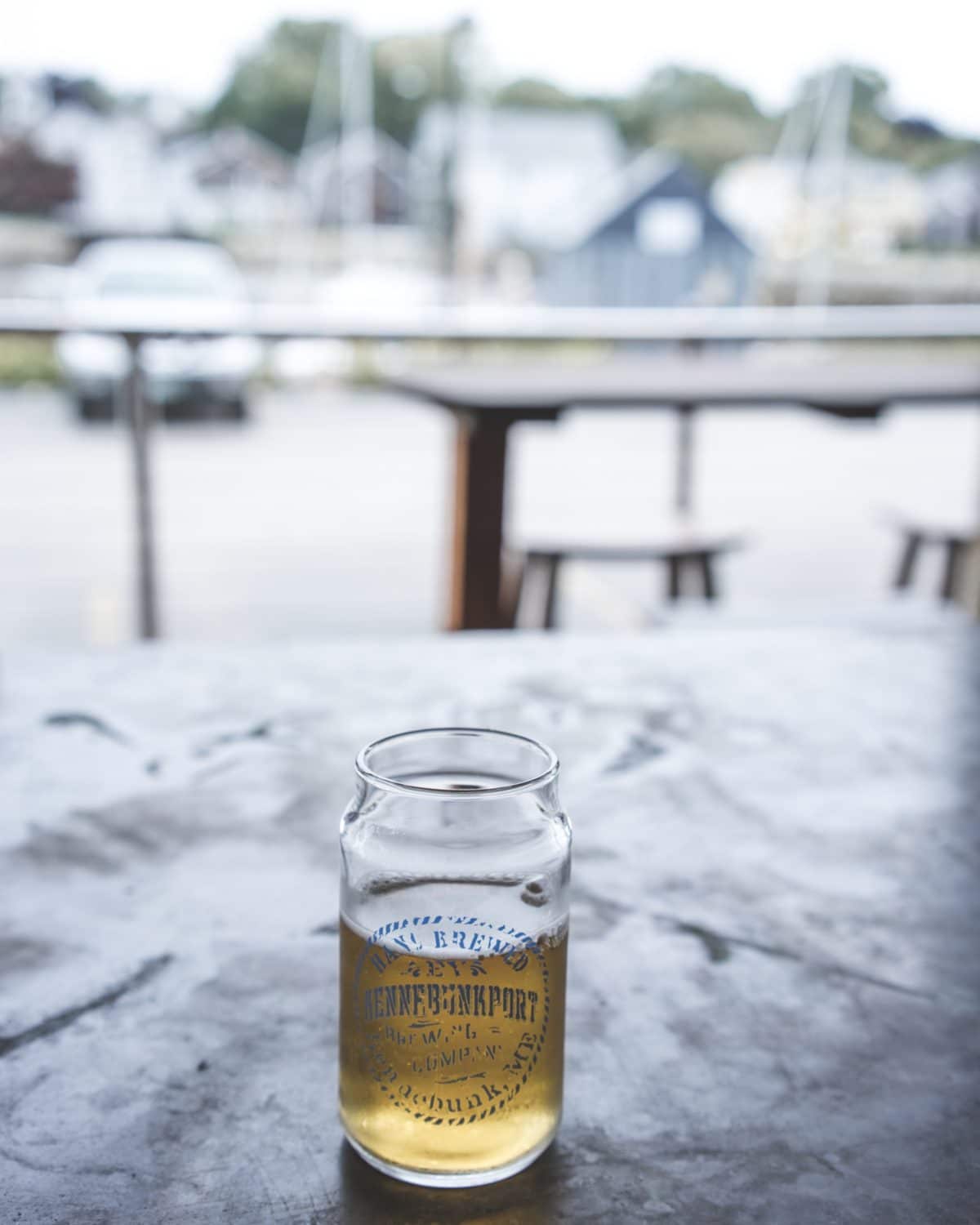 2. Try some local brews at Kennebunkport Brewing Company
Right below Federal Jacks brewpub and set back from the main drag in town is Kennebunkport Brewing Company, "a brew with a view" that is a must-visit for any craft beer lovers visiting Southern Maine. This small brewery features a 7-barrel system (tours are offered on site) and is famous for its beloved Shipyard Ale, but makes a great selection of seasonal brews as well. The plus side of visiting Kennebunkport past Labor Day is that you'll be able to taste test their seasonal Pumpkinhead wheat ale — a good enough reason to skip the summer crowds in my opinion!
This historic barn strewn with charming bistro lights first caught our eyes while driving by on our way into the heart of Kennebunkport town. It looked like a wedding venue or someone's cute, not-so-little summer home, but upon further investigation we discovered that it's actually a music venue — and a beloved one at that. Now in its third year, the musical theatre forum hosts an eclectic mix of shows throughout the season and is a great add to your Maine itinerary if you're looking for a cultural night out.
4. Take a lobster boat tour
The nation's largest lobster producer, Maine churned out about 105 million pounds of the delicious crustacean last year. Even as someone who grew up in Maine, there were so many things about lobstering I was totally oblivious to, such as the plethora of rules around which lobsters you're actually allowed to keep for commercial sale, and the fact that about 75% of the lobsters actually caught must get thrown back into the ocean due to these regulations. The tour we took with Rugosa Lobster Tours and captain Bob was super informative, fun, and the perfect way to experience true Maine culture.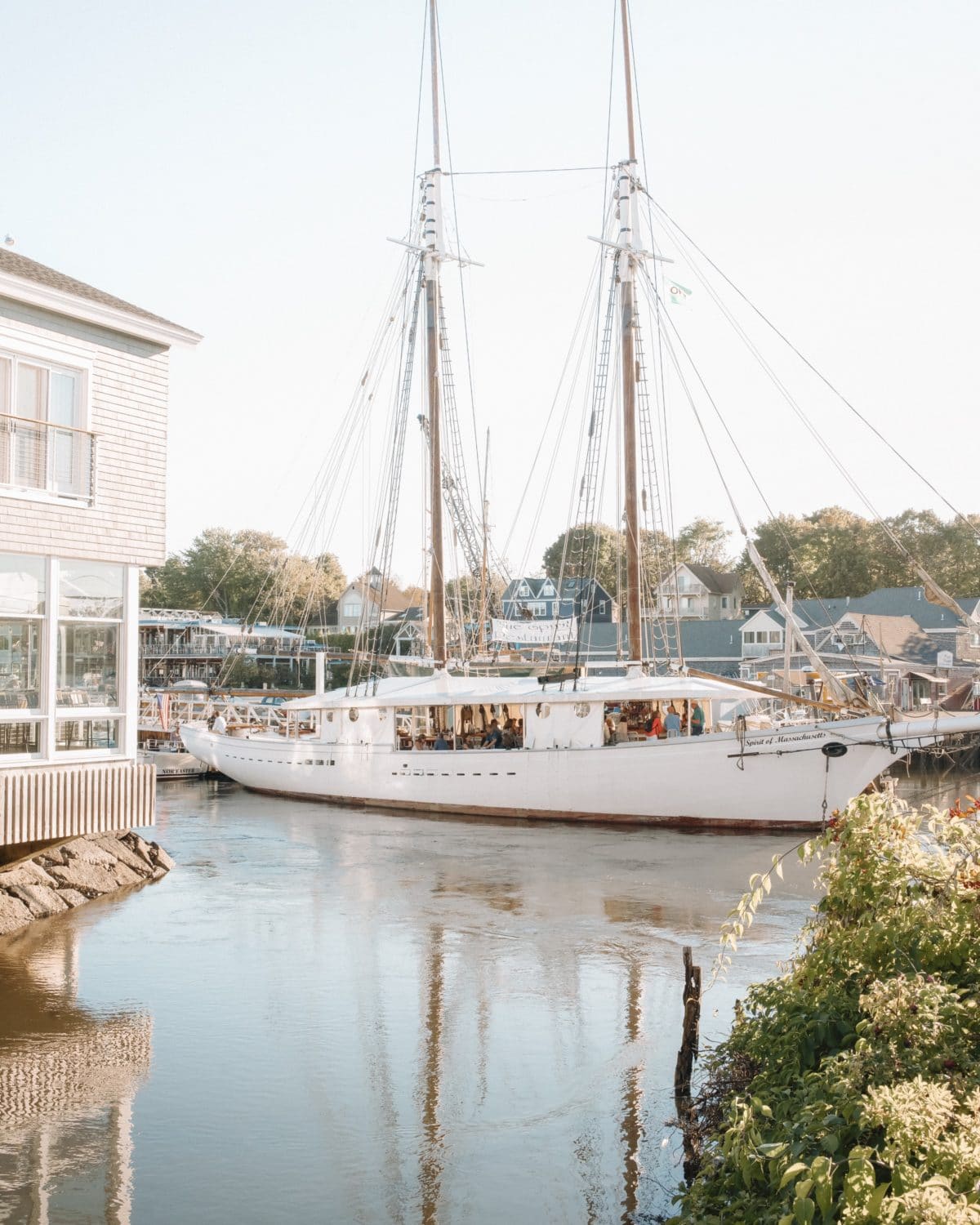 5. Enjoy a cocktail on a 125-foot schooner
While walking around Kennebunkport's central part of town, you'll likely notice a beautiful white ship docked on the river. That beauty would be the Spirit of Massachusetts, a traditional schooner style ship originally launched in Boston harbor and now a town staple — and watering hole — in Kennebunkport. On a warm evening, this is the perfect spot for enjoying a sundowner in the most Maine way possible — on a boat. Make sure to check the restaurant's calendar to catch any live music or events happening during your visit.
6. Pick up local souvenirs in Dock Square
I might be biased, but Maine souvenirs are simply the best and most quaint of them all. Between adorably packaged maple syrups, buoy paraphernalia of all kinds and a plentiful assortment of lobster-themed tchotchkes, you really can't go wrong picking up gifts for friends and family back home in Maine. Dock Square (aka the center of Kennebunkport town) is the place to do this. Don't miss a peek into Gibran or Maine-ly Drizzle for the best food products, and for more general outdoors shopping I love Daytrip Society.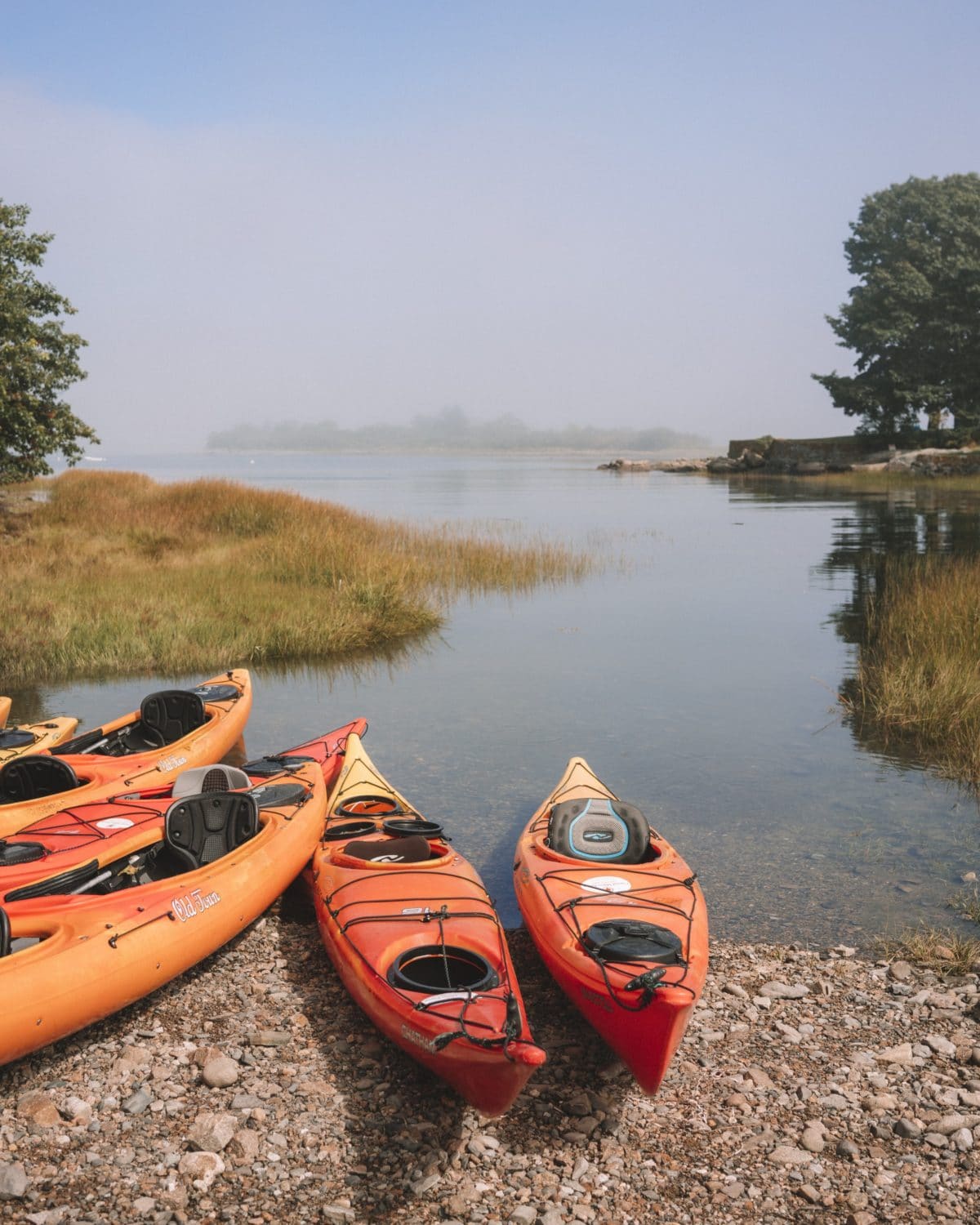 7. Kayak for a day out to Cape Porpoise Lighthouse
Even with the extreme fog rolling into the harbor the day we were set to do our kayak tour, the scenery we could see was still stunning and I'll admit, the fog added to the mysterious allure a bit. The folks at Coastal Maine Kayak & Bike were easygoing and took us on a laidback tour out to Cape Porpoise Lighthouse where we were able to jump off our kayaks for a picnic lunch and explore on land.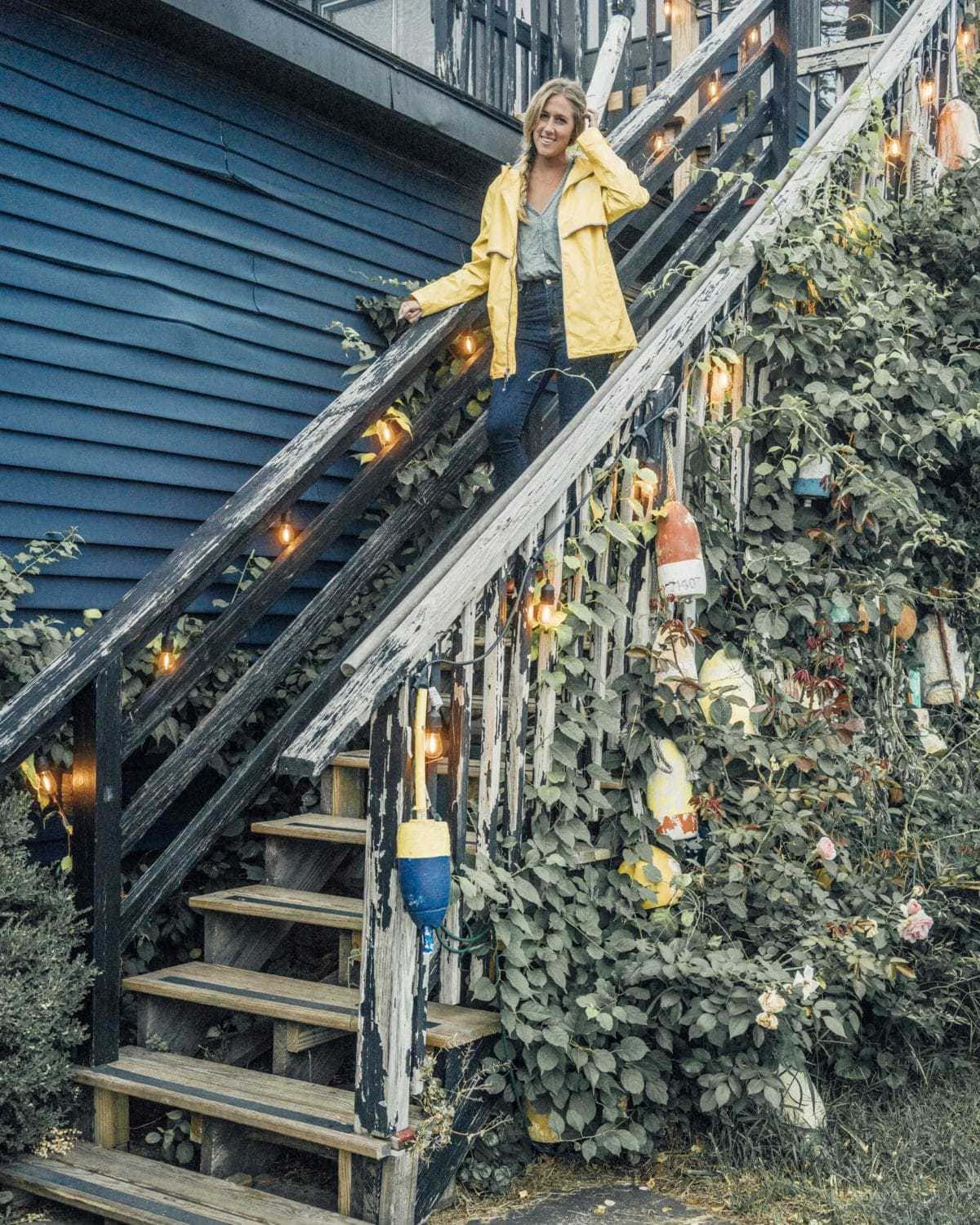 8. Choose your dinner adventure at Pier 77 in Cape Porpoise
The one meal we had in Kennebunkport that truly elicited that "wow" response was at Pier 77, the fancier dining room of three restaurants that all connect under one roof in Cape Porpoise. We started with a glass of vino at the new upstairs bar and were pleasantly surprised to find that the menu at the pub was the same as at Pier 77 below, AND the same for the casual eatery downstairs, The Ramp Bar. All three dining options are run by the same owners and thus provide the same delicious menu with your choice from three unique atmospheres.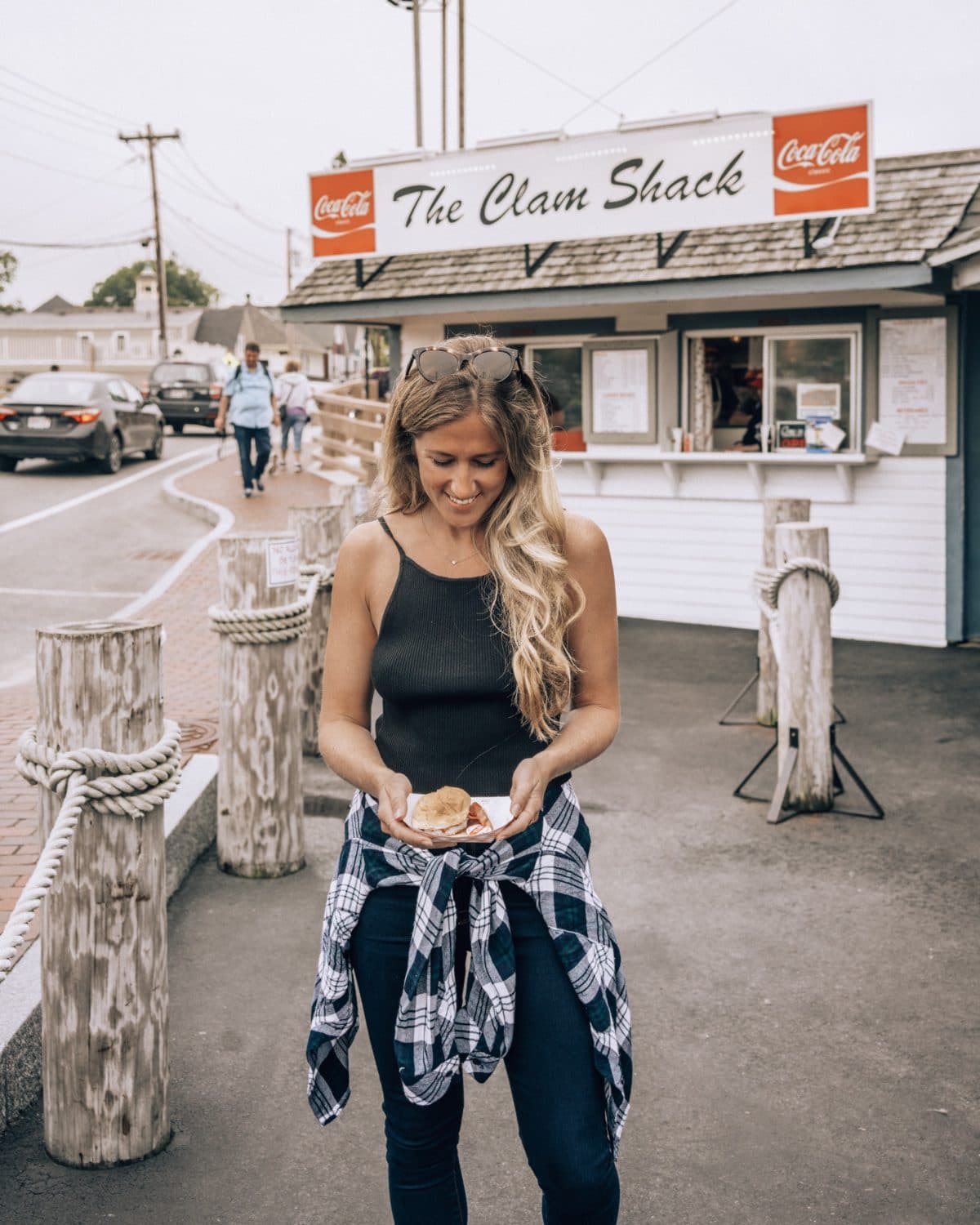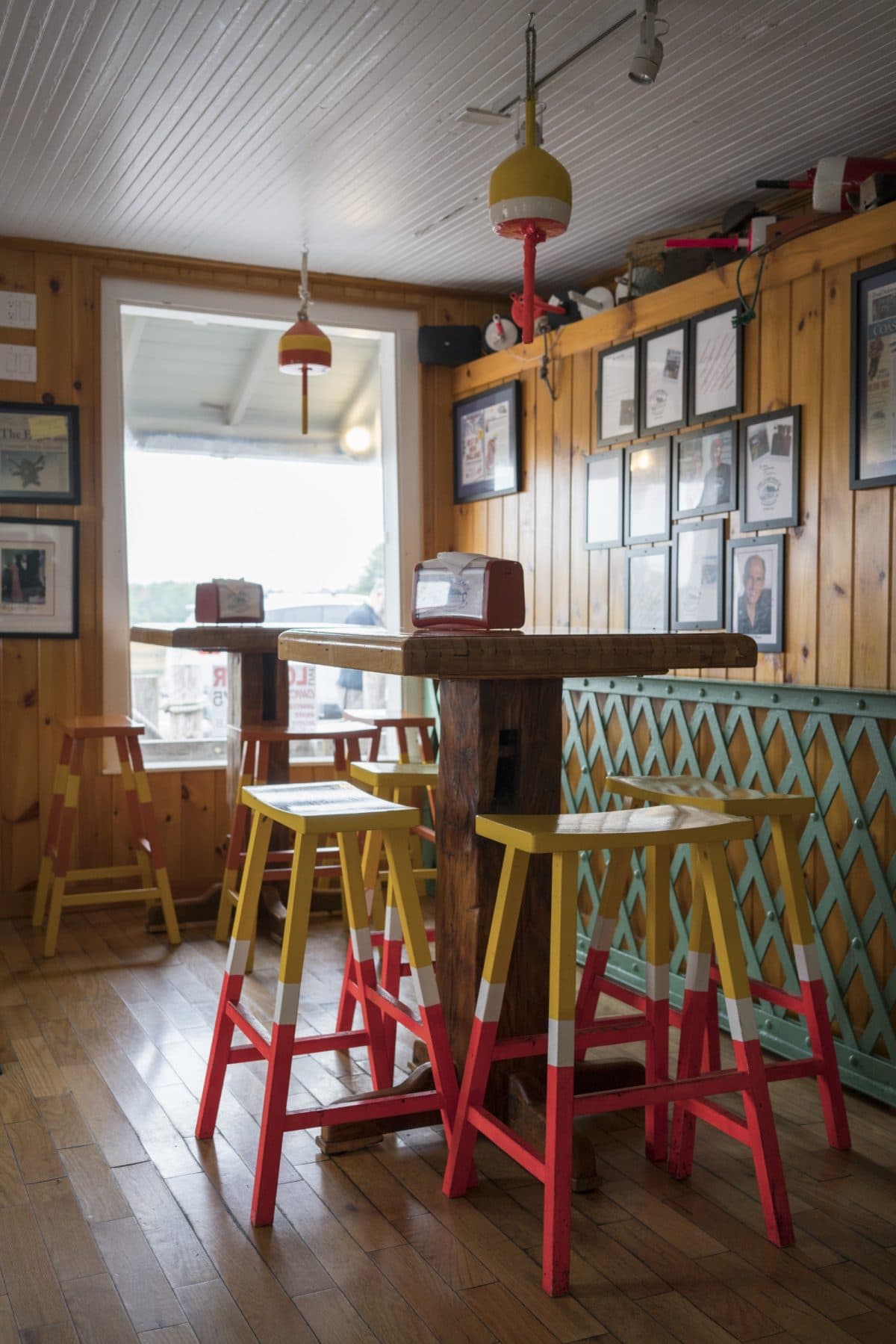 9. Grab a lobster roll at The Clam Shack
If you've booked with Maine Foodie Tours, you'll get a chance to sample lobster from the go-to spot in town, The Clam Shack. However, it's quite possible the samples provided won't be quite big enough to satisfy your lobster cravings. For a full-sized Maine-style lobster roll during your visit, make sure to visit The Clam Shack right at opening time to avoid long lines.
10. Go to the beach
Weather permitting, a visit to the beach is a must on any trip to Maine and luckily there are plenty to choose from in Kennebunkport. If you're looking for a large stretch of sandy coastline (Maine's beaches are typically more rocky), then Gooch's Beach is the one for you — other favorites in town are Middle Beach, Colony Beach and Mother's Beach, which is great for families.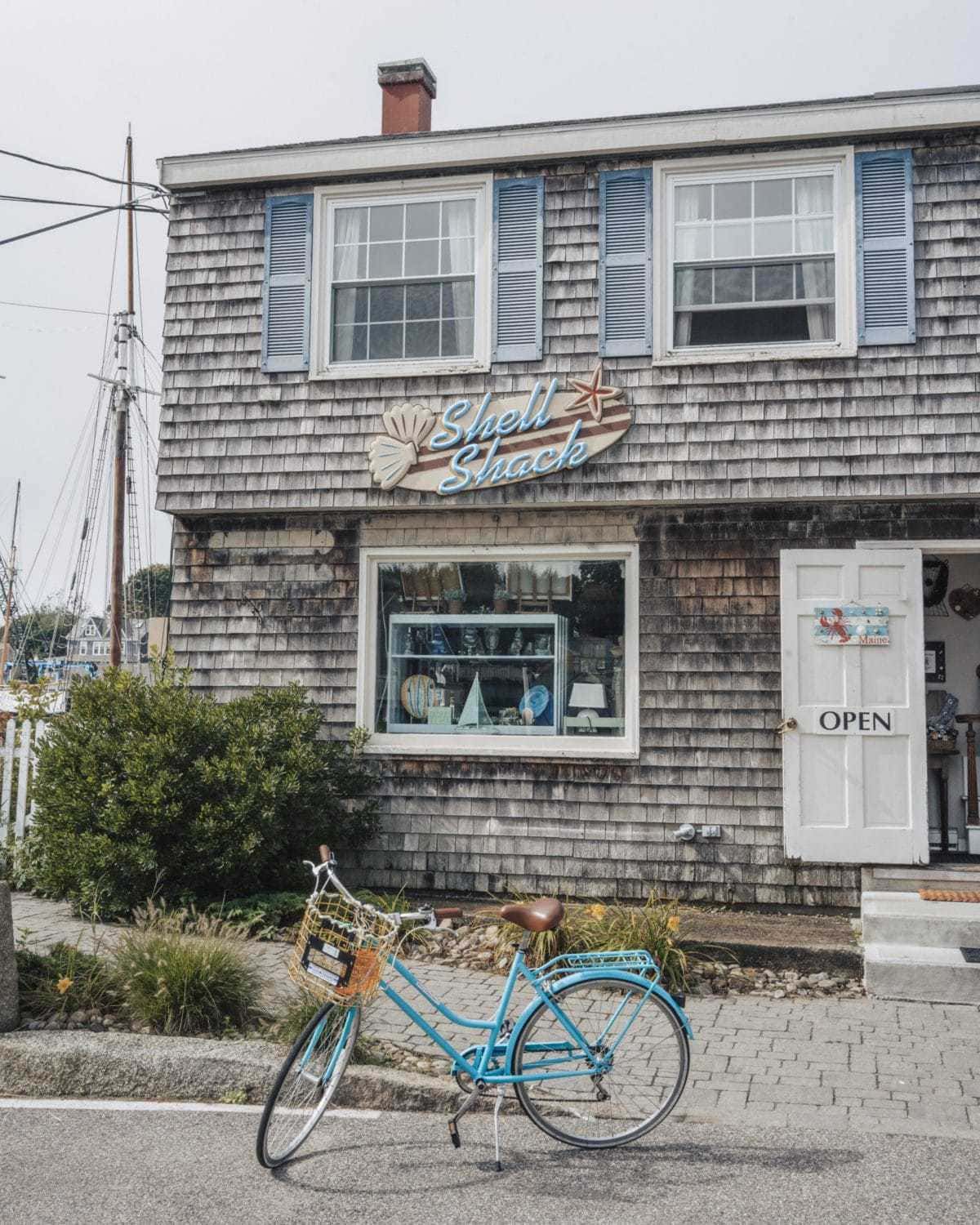 11. Rent vintage bikes from Coastal Maine Kayak
Coastal Maine Kayak & Bike has several bike options for rent, but I loved the vintage beach cruisers which come in fun colors and are perfect for photo opps while cycling around town. Parking can be a bit tricky in Kennebunkport where everything is situated in pretty tight quarters, so biking if possible is really the way to go if you're trying to be mobile during your stay.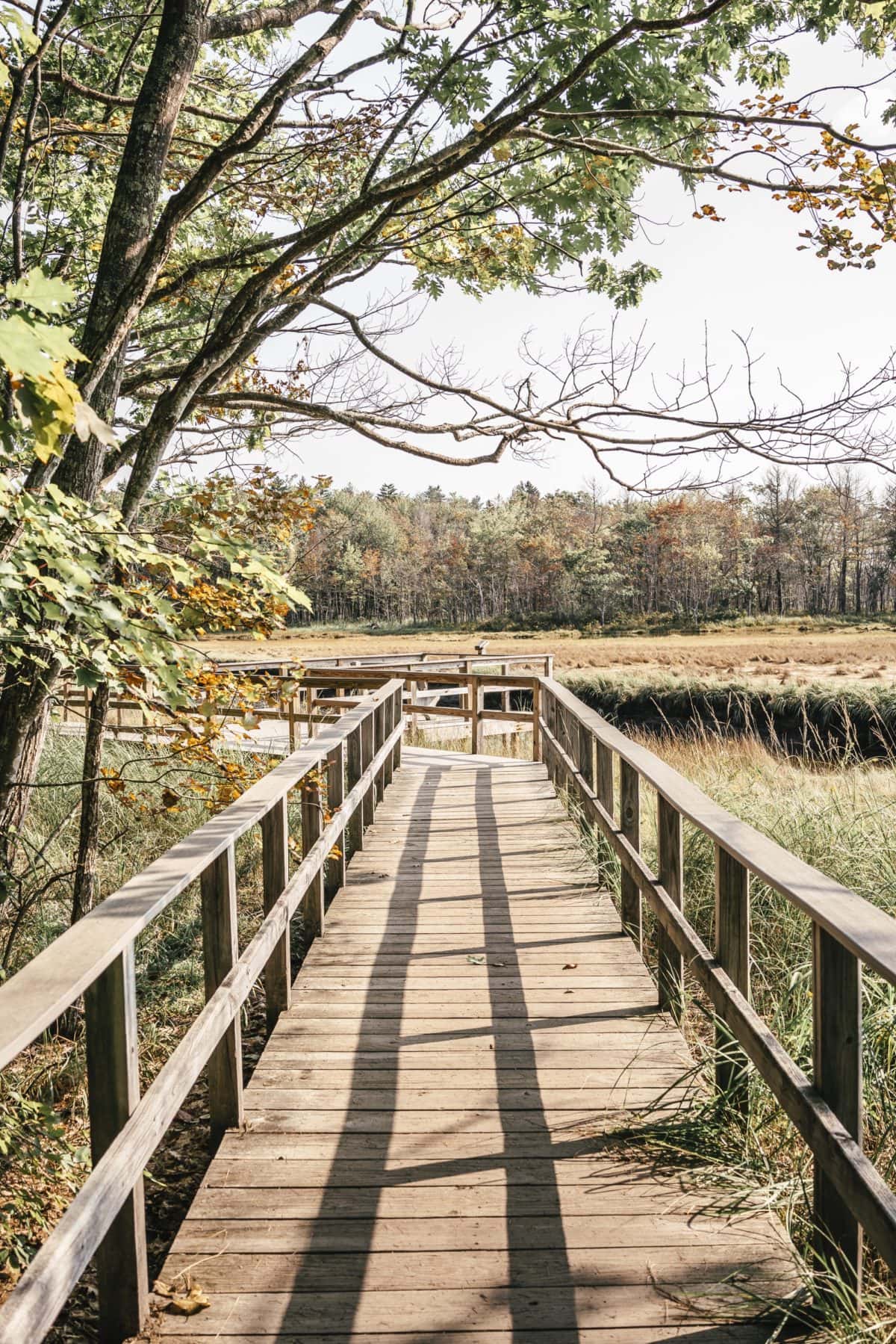 12. The Rachel Carson Wildlife Refuge
If you're looking to get out into nature and experience a bit of classic Maine scenery, the Rachel Carson Wildlife Refuge is a must. Situated only a six minute drive from town, it's super simple to access wherever you choose to stay during your trip! The 1-mile long trail that winds along a series of lookout points is the perfect distance to get outside and get some exercise before continuing with your day.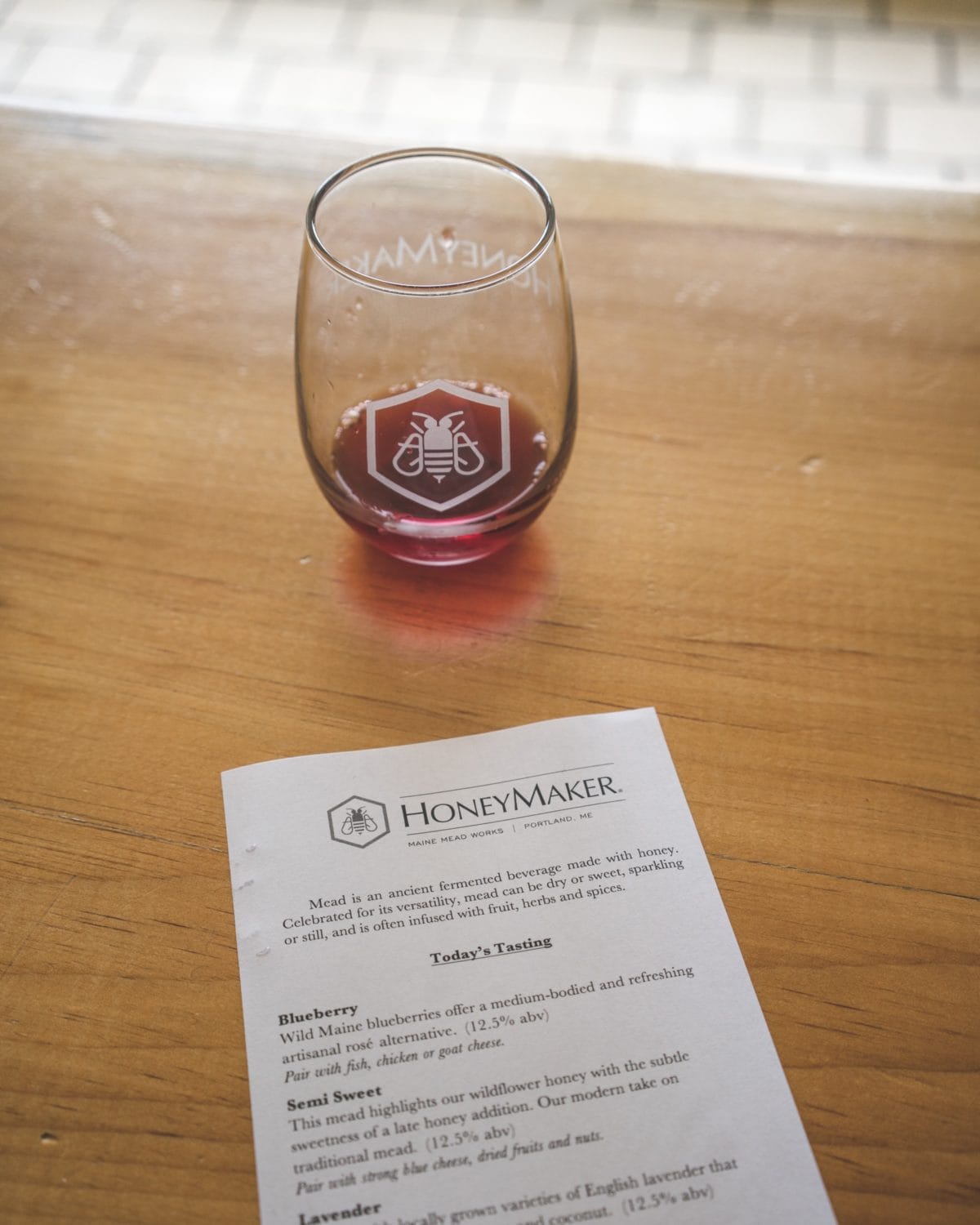 13. Taste test mead from one of the oldest commercial Meaderies in the country
I was a little skeptical about trying mead before doing so during our Maine Foodie Tours visit with Maine Mead Works, but it turns out that mead doesn't taste all that different to wine (and we all know I love my wine). The bonus: a bottle of mead that you bring home will stay good once opened for much longer than a bottle of wine, and you can try it in more unique flavors like lavender and blueberry. Maine Mead Works is one of the oldest commercial meaderies in the nation and definitely worth a pit stop for a little buzz.
14. Satisfy your sweet tooth
There's no shortage of options in Kennebunkport, Maine for satisfying a sweet tooth — it just depends which method of destruction you like best. At Satellite Doughnuts, you'll find tiny little bite-sized holes of deliciousness, authentic Maine whoopie pies at the family-owned grocer H.B. Provisions, and for funky ice cream flavors, visit local favorite Rococo.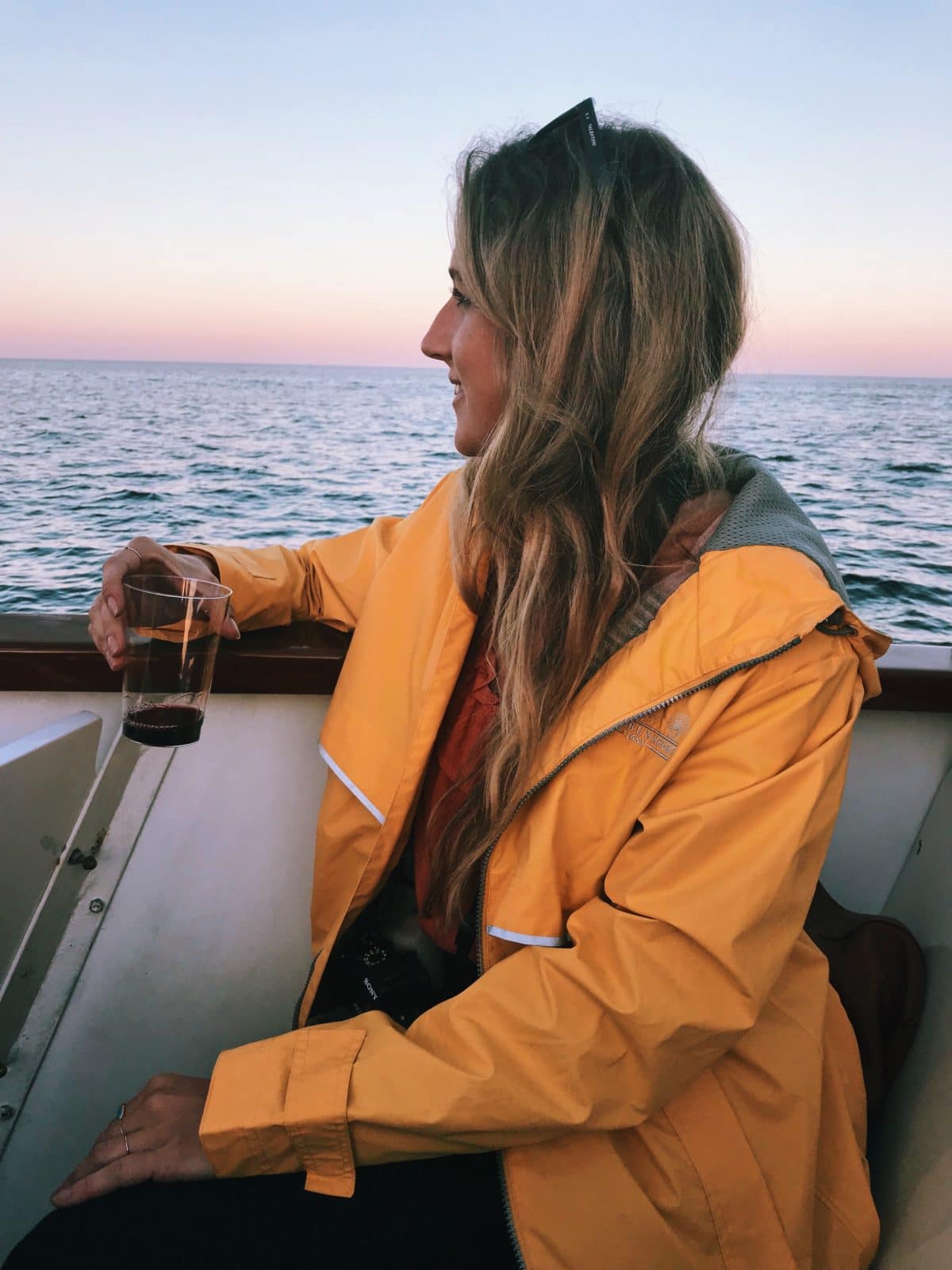 15. Book a sunset cocktail cruise in Ogunquit
You can't visit coastal Maine without getting out on the water, and the best sunset cocktail cruise is run out of Ogunquit just 30 minutes south of Kennebunkport. Finestkind cruises takes patrons out nightly for an informative and relaxing cruise out of the harbor and down the coast for views of some of the cliffside mansions and some Maine wildlife if you're lucky.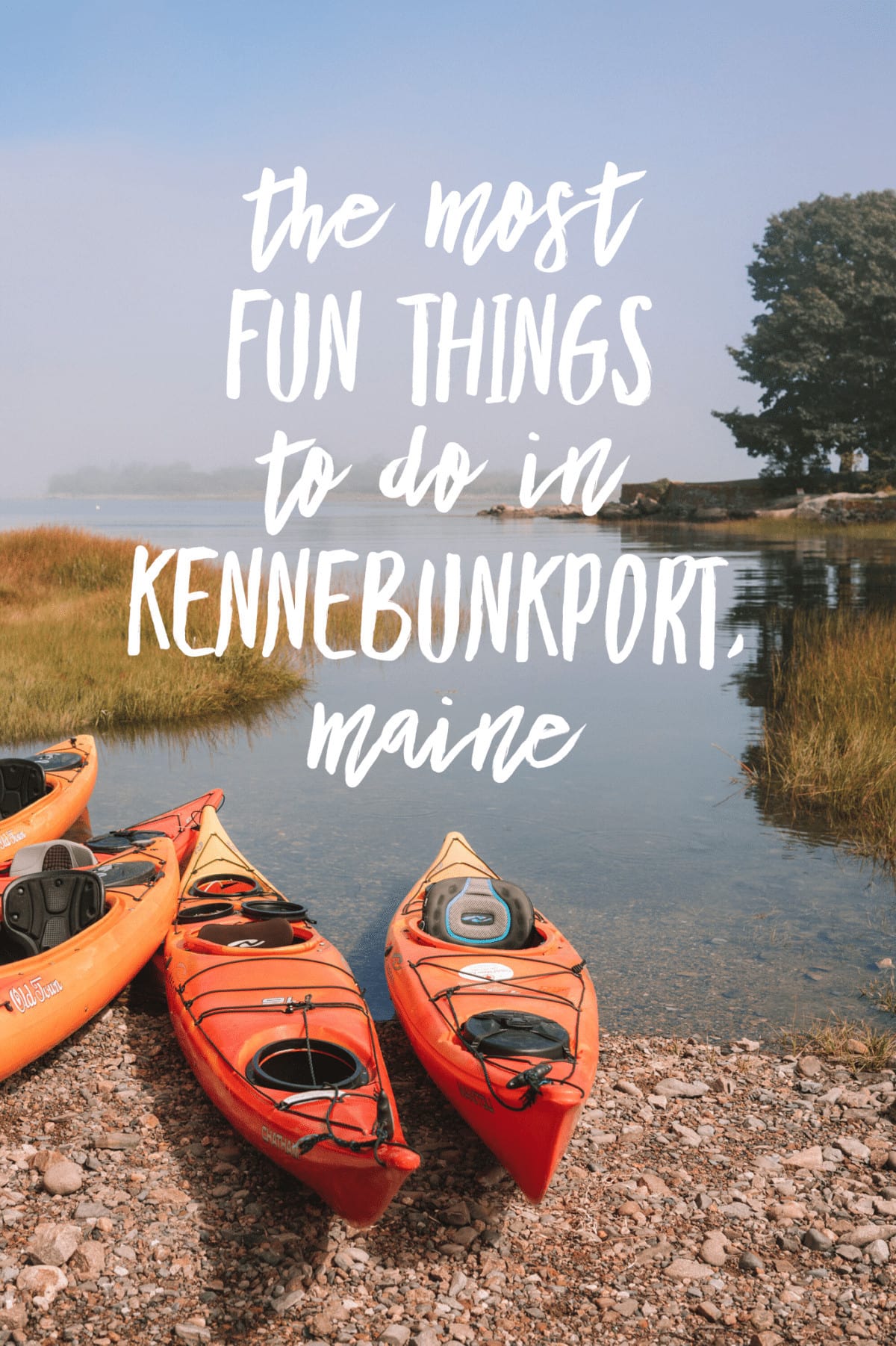 ***
This post was created in partnership with the Maine Office of Tourism, Visit Maine, and Travel Mindset, but as always all opinions are my own and I would never promote something I don't freaking love.