So you're curious about Getaway House and everything you've heard about these Instagrammable tiny cabins, eh? If so, you're in the right place because I'm going to give you my thorough and honest Getaway House review!
I've stayed with this company three times now at multiple locations, and while this review is specifically for the Big Bear outpost (which is the closest location to LA), much of the information really applies to anywhere you book a Getaway!
I originally came across the Getaway concept via Instagram, like so many people do. The dreamy big picture windows that took up an entire wall of the cabin naturally drew me in. However, I didn't really know much about the concept. I originally thought it was just a single cabin that was getting A LOT of love on social media. Ha!
I had no idea that this company has been running since 2015, was featured on Shark Tank and has over 100 cabins across the United States—and growing fast. Whoa!
When I had a project come up in early summer that I needed to shoot somewhere out in nature, I jumped at the chance to turn it into a mini getaway where I could escape LA and be amongst the trees. Enter the perfect solution: Getaway House Los Angeles.
During my trip, I received so many DMs and questions about this stay on Instagram that I decided to write a comprehensive Getaway House review to give you all the info you need from my honest experience, pros and cons, pricing, what to pack and so much more.
My hope is that by reading this review of the Big Bear Getaway cabins, you'll have all your questions answered and get a close look at my personal experience so you can decide if it's right for you!
I want to say up front that this was not a sponsored stay. I have since worked with the company because I love them so much, but my original trip to the Getaway House Los Angeles was 100% paid for by myself and a friend.
PS—Make sure to keep reading this post to the end because I'm sharing my pro tip on how to book the best cabin at the Getaway House Los Angeles so you can have the best possible stay without any disappointments!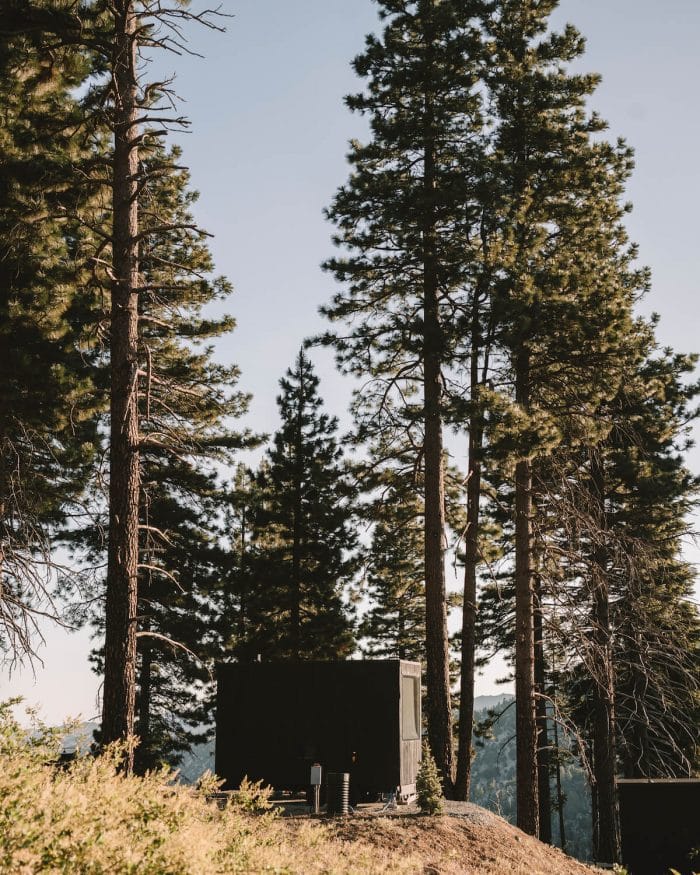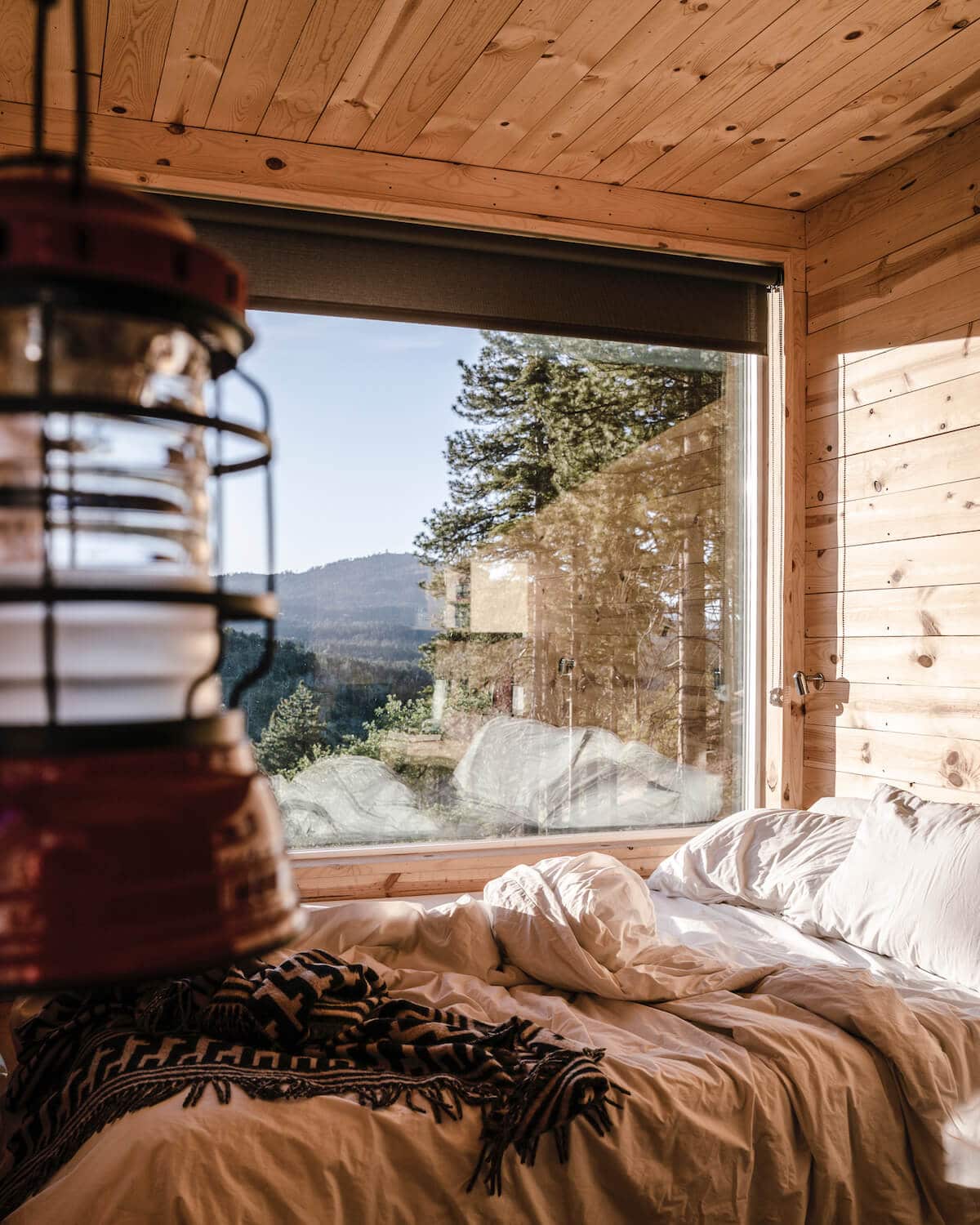 What is the Getaway House?
Ok so first off, what the heck is the Getaway House?! Have you heard of it? You've likely seen it pop up on your Instagram feed over the last few years, but I'll give you the run down in case you're totally clueless. Don't worry — I basically was too!
Getaway House is a company that started in 2015 with the goal of helping people switch off and reconnect with nature. To accomplish this, they've created a network of tiny house cabins with huge windows that face out into the woods to make you feel like you're almost sleeping outside.
There are multiple locations across the U.S., and each campground is situated about two hours from a major city so you're close enough to drive but far enough away from home to feel like you've gone off the grid.
Each cabin itself is about 140-200 square feet and feels like tiny house living…with an emphasis on tiny. However, they've definitely prioritized the important aspects of a great night stay, like huge comfy beds, a working bathroom (thank God), and heat and AC.
Yeah, don't worry. Staying at the Getaway House is not exactly "roughing it."
This is definitely more of a glamping-style adventure rather than true camping, but you still get a lot of the major benefits of camping like spending time in nature, being able to cook and relax by the fire, and being secluded from other humans if that's your jam.
Getaway House Locations
There are over 25 outposts for the Getaway House nationwide, but it's important to note that while these are the locations listed on the Getaway House website, each destination is actually about 2 hours outside of the major city listed as they're meant to be an escape from the city.
Here are all the cities with nearby Getaway House locations—and this list continues to grow!
Atlanta
Austin
Boston
Charlotte
Chicago
Cincinatti
Cleveland
Columbus
Dallas
Detroit
Greenville
Hartford
Houston
Indianapolis
Kansas City
Los Angeles
Milwaukee
Minneapolis
Nashville
New Orleans
New York
Orlando
Pittsburgh
Portland, Oregon
Raleigh
San Antonio
Seattle
St. Louis
Portland, Oregon
Washington D.C.
What You Need to Know About The Getaway House
What's included in each cabin?
The Getaway Houses are definitely more glamping style, which means that the amenities on offer are somewhere in between camping and a fully-stocked cabin.
In each tiny house you'll find a comfortable bed, small table, bathroom with plumbing (yes, I was shocked and delighted by this!), tiny kitchen, potable water, basic cooking essentials like oil, salt and pepper, cookware, dishes and utensils, and fresh towels for the shower.
On the outside of your Getaway House you'll also have your own private fire pit, grilling grate and picnic table and chairs as well as firewood for purchase.
They've also included some fun on-theme items in each cabin that will bring your whole "let's be one with nature" experience to life. I don't want to give it allll away, but let's just say you'll find some fun games and prompts to help you disconnect and pass the time.
If you've forgotten your book at home, you'll find some reading material in your cabin that keeps on theme with the idea of relaxing and disconnecting.
Note: All the stuff I mentioned above is the same across the board at all Getaway House locations across the country. That's awesome because you know what to expect, but a part of my wishes each destination had its own unique flair so I would be more inspired to try them all.
Do I need to bring my own food?
There are technically provisions for purchase in each Getaway cabin, but I would recommend bringing your own food.
My friend and I personally stocked up on groceries and some pre-made meals before our trip so that we didn't end up hungry, as the Getaway House locations are purposefully a bit remote and likely not in walking distance to restaurants or shops.
Note: the fridge is a decent size but it's not HUGE, so try not to only bring items that need refrigeration.
If you do run out of food at any point, you can dip into the provisions basket which includes things like organic pasta, oatmeal, fruit + nut mixes, Pop Tarts, tea, coffee, and even a gluten free soup option.
I haven't done a price comparison, but I'm guessing like in any hotel mini bar that there is an upcharge here, so all in all you're better off bringing your own food.
You can see a full list of provisions for purchase here.
How much do the Getaway Houses cost?
This will totally depend on the location and time of year you book, but we ended up spending $299 per night for our stay.
To be honest, I was a little caught off-guard that it was that expensive for glamping-style accommodation, but I looked at other dates throughout the year and saw that you can find nights as low as $149 for the Los Angeles escape, especially if you plan your visit during a weekday.
I've seen other locations with nights for as low as $119, but there may be less expensive ones—you'll just have to play around with locations and dates!
Luckily, Getaway House has an easy referral program that anyone can join so if you have friends or family that have done a previous stay, you can ask them for their code which gets you $25 off.
Please note that you will likely be charged tax and if you choose to use any of the add-on provisions in the cabin like coffee, snacks or firewood your card will be charged after checkout.
On top of the price we paid for the cabin per night, we spent around $25 extra in total for a few snacks and firewood.
How many people can fit in a cabin?
Most of the cabins accommodate two people in one large bed, but there are cabins that can be booked for four that feature two loft-style beds. Plan on booking these up in advance as they are more limited.
Can you visit the Getaway House year-round?
Yes! Each Getaway House has both AC and heat, so that you can be comfortable no matter what time of year you visit.
Is there easy parking?
Each Getaway House location is a little bit different, but you will either have designated parking that is marked or you will be able to park right next to your cabin.
Are dogs allowed?
Yes! Dogs are allowed for an extra fee.
Does the Getaway House have WIFI and electricity?
Electricity, yes. Wifi no. So while you can charge up your phone to take photos on it throughout your stay, you're definitely not guaranteed service.
There was very little cell reception at our cabin, so I'd recommend bringing a portable WIFI device if you must stay connected.
However, the whole intention of the Getaway Houses is to disconnect and detach from the chaos of modern life, so I highly recommend doing anything that needs to be done online before your stay and then leave it all behind.
Also, leave the hair dryers and high powered hot tools at home! The electric outlets here are not meant for these types of appliances.
Will You Be Completely Isolated at the Getaway House?
So originally, I naively thought that the Getaway House was this single cabin that everyone was obsessed with and posting all over social media. Ha!
I had NO CLUE that this is a major company with venture capital backing that has a network of tiny cabins across the U.S. What I'm trying to say is no, you won't be isolated. I would estimate that there are about 30 cabins per location.
The beauty of the Getaway cabins is that they've tried to face each of the windows out into the woods away from other guests so that you can get that "alone in the woods" vibe without feeling totally isolated and creeped out.
No Blair Witch Project vibes here thankfully because anyone who knows me is fully aware that I would freak out alone in the woods. No thank you.
Will you interact with other guests while there?
You might, but you also don't have to. Every Getaway cabin is situated far enough apart so that you don't invade the same space as other guests. However, we opted to take a few walks around our campground loop and said hi to other guests that we passed.
That was pretty much the extent of it!
I can't speak for other locations, but the Los Angeles escape didn't have any kind of communal area to congregate, so there wasn't really any place to interact much with other guests.
In a post-pandemic world that might be something that I'd like to see them add, but I'm not sure it aligns with their intention of keeping everything super disconnected.
Are the Getaway Houses handicap accessible?
There are accessible cabins at most Getaway House locations. If you require a ramp and other accessible features, I recommend calling them to book your cabin so you can make sure your needs are met.
Is there any bad time to book a Getaway House?
I can't speak for other states, but in California, the main thing that I would try to avoid is wildfire season (typically August to November) if you're booking the Los Angeles location like we did.
Though I'm sure Getaway House has campfire permits, burn bans can be escalated if there is a high risk of wildfire.
That's not to say you can't book during those months, but maybe do so a bit more last minute in the late summer/Fall so that you can make sure there is not a strong risk of wildfire.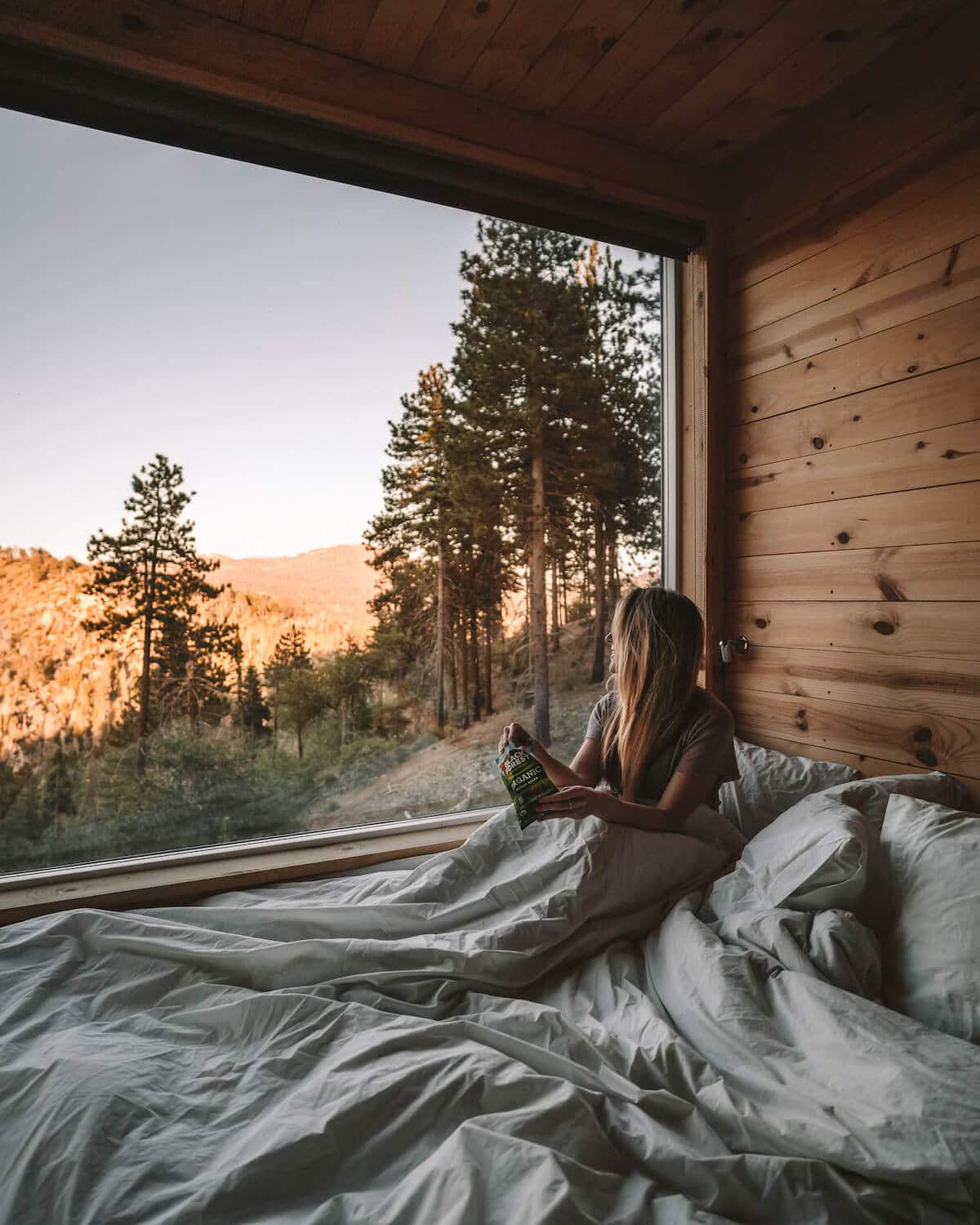 Booking Your Getaway House and Checking In
One thing that's definitely worth noting is that all of the cabins are run by one single parent company, so the booking and checking in process isn't like an Airbnb situation where you're communicating with individual owners and every scenario is different.
While I love staying in Airbnbs and connecting with individual home owners, there is something nice about a booking process that is super smooth and streamlined from people that know how to run a major business.
You'll notice this throughout the booking process, from the ease of using the website to the follow up emails providing helpful information down to the text messages they send before your stay.
How to Book a Getaway House
To book your escape, simply hop onto the Getaway House website which is beautifully designed and a great user experience, select your location, cabin type and complete booking.
On the website, you'll see the "Locations" tab in the navigation, where you'll select your location and then you can follow the prompts to select your dates, # of guests, etc.
They provide tons of helpful info on their site during the booking process, like a list of everything included in the cabins, blog posts featuring local activities and tips, a driving time estimate from your home and past guest images to get you excited for your getaway.
I especially love that with every booking made for their cabins, Getaway House makes a donation to Feeding America.
Pro tip: If you're planning to stay three or more nights, check out their different multi-night packs which are 100% the best value.
What is check in like at the Getaway House?
Checking in to the Getaway House was super simple. We received text messages with detailed instructions as our getaway dates approached and we didn't have to interact with a single staff member in the process.
Each Getaway cabin is secured with a keypad system, so all you have to do is rock up to your cabin and enter the code provided. That's it!
Pro tip for check-in: Many of the Getaway House locations have shoddy cell service at best, so I highly recommend downloading offline maps before you approach the campground so you can easily navigate to your getaway without a hitch.
What You Need to Pack
The best thing about staying in the Getaway Houses is that they've thought through a lot of the necessities so that you can pack light and have everything you need upon arrival.
Their cabins include items like towels, shampoo and conditioner, firewood, snacks, even reading material.
Your dog can even Getaway in comfort too! When you travel with your pup you have to pay an extra fee, but Getaway will provide things like dog bowls, treats, and a waste bag. So sweet, right?
Still, I've put together a list of suggested items to bring to make your stay as cozy and fun as possible.
Getaway House Packing List
Daytime clothes, pajamas, hiking attire
Toiletries (you can skip shampoo, conditioner and soap)
SPF
Hat
Bug spray
Specific reading material or games you want to enjoy although they provide some in the cabin
Durable shoes to protect your feet when outside
Easy shoes to slip on and off around the cabin
Blankets to cozy up by the fire
Hammock if desired
Groceries
Alcohol
S'mores makings
**I recommend packing in a duffel bag or backpack as there isn't a ton of room in the cabins for large suitcases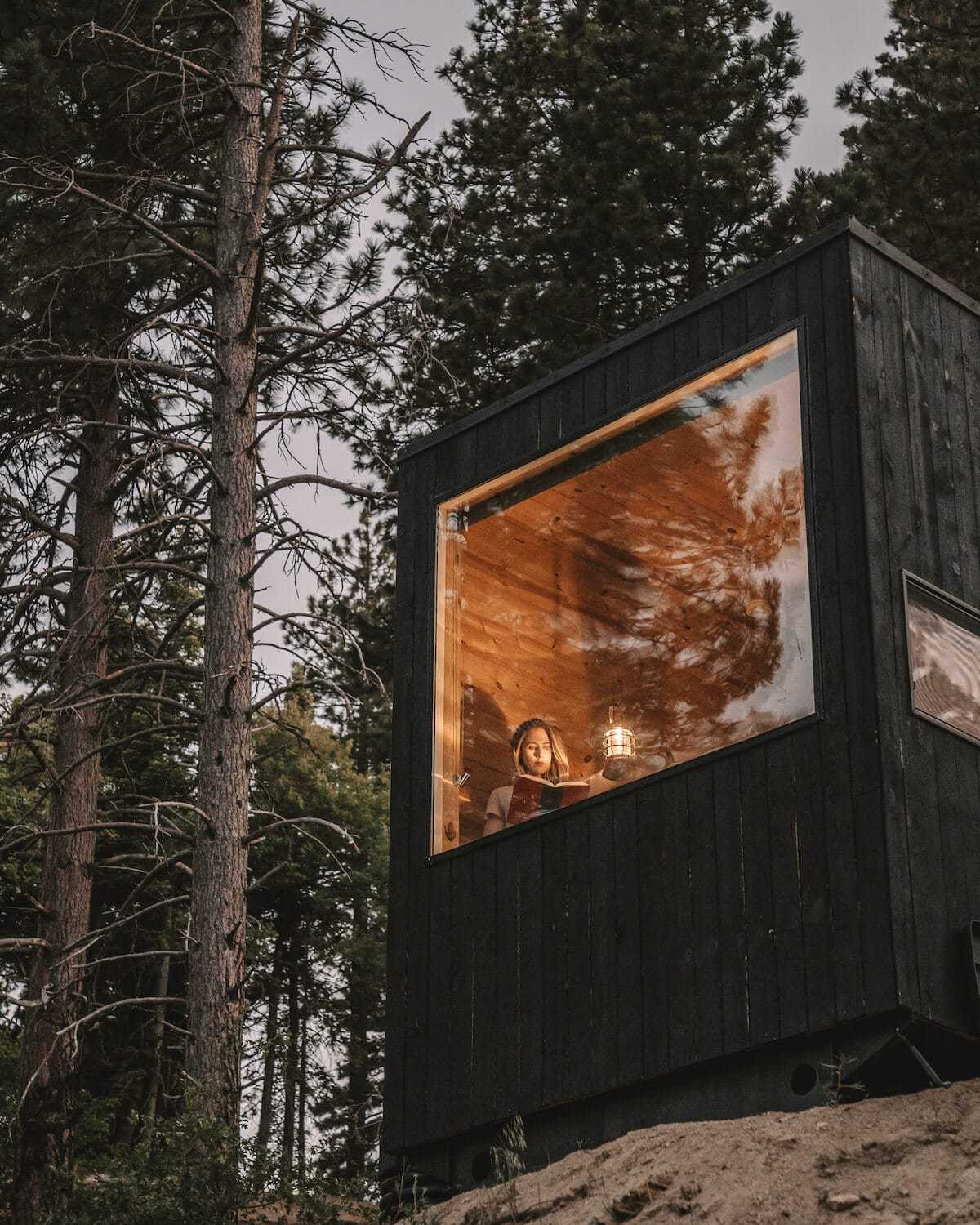 My Experience at the Getaway House Los Angeles
Where Is The Getaway House Los Angeles Located?
As only one of three Getaway House locations on the West Coast, the Getaway House Log Angeles is located about 2 hours East of the city near Big Bear.
Technically, the cabins are situated in a town called Running Springs which is about 30 minutes from Big Bear Lake and about the same distance from Lake Arrowhead.
Expectations vs. Reality of the Big Bear Getaway House Location
As I mentioned previously, my first expectations of the Getaway House was that it was a tiny little secluded cabin all on its own. It wasn't until I went to go book on the site that I realized just how many cabins there are!
With that little surprise, I was a bit worried that guests would feel on top of each other or that privacy would be limited, but that didn't end up being an issue at all.
The 30 or so cabins are all situated around a big loop with some additional cabins on a cross-section, with the big window facing out in nature or away from eachother from maximum privacy. The windows also have blinds so you don't have to worry about anyone peeping in.
Staying with Getaway felt like the perfect escape during the strange times we are currently living in. It was the first trip in years where I left my laptop at home, and man, did it feel good!
Being able to get out of my apartment, reconnect with nature but also not feel totally isolated from people was just what I needed for this trip and Getaway delivered 100%.
Most of our time spent in the area was exploring Big Bear, so we did have to drive about 20-30 minutes to get to various hikes and the downtown area, but we didn't mind that at all.
My Initial Thoughts on Staying at the Getaway House in Big Bear
Back at our cabins, the thing that immediately impressed me was how large and comfortable the beds were. I was also blown away that the bathrooms were actually nice.
I feel like that's always my biggest gripe with glamping as you often have to walk outside in the middle of the night to pee or deal with strange smells—Getaway was none of that.
I will say that we lucked out on our cabin, Stuart, which had some of the best views overlooking the valley below. PS – all the cabins are named after the grandparents of staff and guests— is that not the cutest thing ever?!
I say that we lucked out because as we walked the loop throughout the whole campground, we noticed that there were some cabins I would have definitely been less pleased with based on their proximity.
Probably my biggest issue with the Getaway House right now is that there's not an easy way to select your specific cabin when you book online and it's hard to tell from the drawn maps they provide on the website which cabins are the best.
Lucky for you, I'm going to give you the lowdown so that if you book the Getaway House Los Angeles you can call and ask for a specific cabin to make sure your experience is awesome.
How to Book The Best Cabins at Getaway House Los Angeles
A few things to consider when booking is the location of sunrise and sunset. While our cabin had awesome views, it was also facing East and because we traveled in early June, I was woken up by the hottest, brightest sunrises at 6 AM, despite having the blinds drawn.
If you are looking forward to getting long blissful nights of sleep during your Getaway, you'll want to request a cabin that faces West or North/South at the very least. On the map below, you can see that all of the cabins on the bottom side of the Sierra Loop face East (aka towards sunrise).
Another thing to consider are the views. Clearly the cabins on the outer loop of this map are going to have better views than the ones in the interior.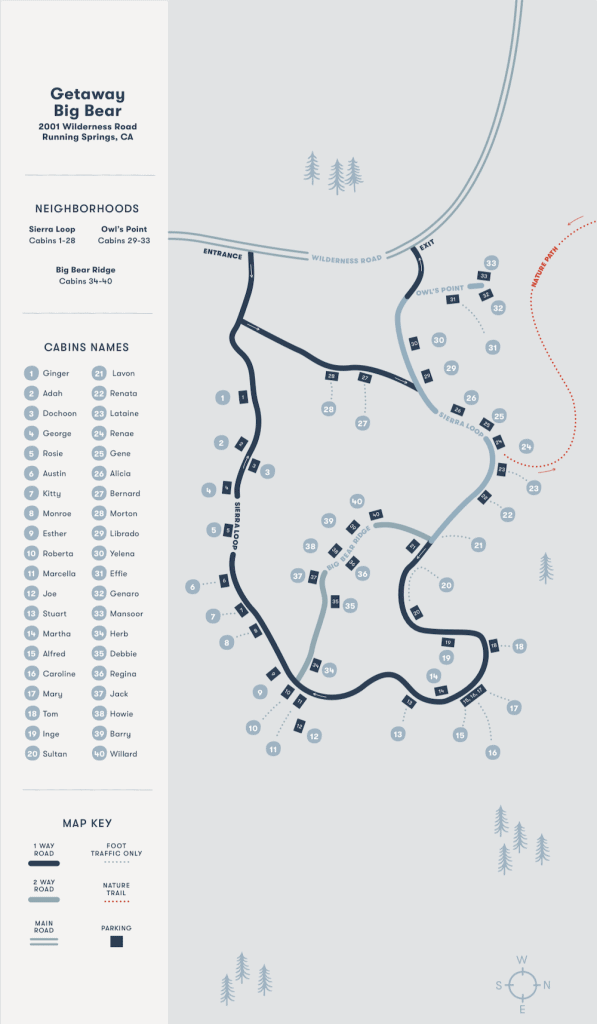 Here are the best cabins at the Getaway House Los Angeles near Big Bear based on my observations surveying the campground.
Stuart – This is the cabin I stayed in — it felt very private with a great firepit space and valley views. However, if you're not a morning person I don't recommend this cabin in summer because it gets super hot super early. In winter you could probably bring a black-out eye mask and be fine.
Tom – This is probably the most epic of the cabin locations at Getaway Big Bear. The cabin sits overlooking the entire valley with epic views around Running Springs. If you plan on taking pics, Tom would be great for photo opps, plus it's not too close to any other cabins. The cabin window faces in between sunrise and sunset, so you could technically get views of both.
Renae – This cabin is situated facing North/South so you won't get blasted with sun in the early AM. It's also right by the nature path for easy access to walking trails.
Renata – Also could get views of sunrise and sunset without being blasted by sun. This cabin also has great valley views.
Overall, I would avoid booking anything along Big Bear Ridge as you won't get views right from your cabin and the vibe is definitely more shaded and RV-parkish.
So how do you actually book one of the best cabins if you can't select a specific one online? After you make the booking, call them as soon as you can and put in a request for a specific cabin if it's still available.
Try to book in advance if possible as the Getaway cabins can get booked pretty far out depending on the time of year.
Here's the # to call: 617-914-0021 Monday-Friday, 12pm-8pm EST
Pros and Cons of Staying at The Getaway House
Pros:
It feels secluded and private without total isolation or creepy "alone in the woods vibes"
The beds and bathrooms are way more comfortable and spacious than I expected!
Each cabin has easy parking and its own fire pit area and picnic table for chilling outside of your tent
They've included most things you would need for your stay so you can pack light without leaving anything important at home
It's quiet and definitely not a party vibe, so you can truly unwind and go into full relaxation mode
Easy check-in/check-out that doesn't require you to interact with any staff.
Cons:
I'm not sure about the other locations, but the Big Bear location did not have any communal areas to interact with other guests. In a post-pandemic world I think this would be a nice touch.
Some cabins are definitely better than others in terms of their views and locations, so it's a toss up if you book blindly on the website.
There are more locations on the East Coast than West Coast right now. Your only options on the West Coast are outside of Los Angeles and near Portland, Oregon in Glenwood, Washington.
Most locations are not walkable from any downtown areas or eateries and you will need to drive. I would expect to go off the grid for your entire stay if you don't want to have to drive much.
What To Do In The Area Near Getaway House Los Angeles
We only did a two night stay at the Getaway House, so our time was short but sweet. Here are a few of the things we enjoyed in the area when we weren't relaxing by the cabin.
Drive or Hike Up to Keller Peak
This is great for sunset with panoramic views for miles. About a 22 minute drive from the Getaway House.
Pine Knot Ave
Pine Knot Ave is the main drag in downtown Big Bear where you can find tons of restaurants, bars and shops. It's about a 33 minute drive from the Getaway House.
Himalayan Restaurant
Located on Pine Knot Ave, the Himalayan Restaurant is a delicious spot with good lunch specials. We were sick of average American fare so decided to come here to switch things up and we weren't disappointed! 33 mins from the Getaway House.
The Copper Q
Chic little coffee shop and bakery located right in downtown Big Bear. 33 minutes from the Getaway House.
Castle Rock Trail Big Bear
This is the most popular hike in Big Bear but we didn't find it too overrun with tourists when we decided to go. The reward of this moderate hike is views overlooking Big Bear Lake. 25 minutes from the Getaway House.
Getaway House Referral Code
Anyone can get a referral code for the Getaway House by sharing with friends, which is a nice loyalty program that they've got going on. If you're looking for your own Getaway House promo code, you can use my code MICHELLE to take $25 off your stay when you book here.
---
Read More Unique Accommodation Posts
---
I hope you found this extensive Getaway House review helpful in planning your stay! PS – If you're looking for more getaways in nature, I wrote a whole post about the best cozy cabin Airbnbs in the U.S.!
---
Planning a trip right now? Don't miss my go-to websites for booking everything from flights and tours, to accommodation and more:
---