Over the course of many years traveling full-time as a travel blogger, one thing I thought would get way more enjoyable was packing. I was wrong.
I still hate the process of packing and typically always leave it to the last minute (hello, fellow packing procrastinators 🙋‍♀️). With that said, I have learned some essential tips and a streamlined process along the way that make packing for every trip way less overwhelming.
These tips are exactly what I'll be sharing in this post, so if you came here to learn how to pack a suitcase to maximize space and with the utmost efficiency, then you're in the right place!
Getting to your destination and realizing you actually packed the things you need, and maybe more importantly—didn't pack the things you DON'T need—is a GREAT feeling. And I know it's possible for you too.
I've included 13 steps below for packing like a pro that will help you skip the stress and instead pack with confidence for your next adventure.
So let's get to it, shall we? Here are all my favorite tips and hacks that will help you figure out how to pack a suitcase to maximize space effortlessly from here on out.
1. Choose the Right Luggage
The first step in the process is making sure you have the right luggage to begin with. It needs to be the ideal size for the type of trip you're taking and have the right bells and whistles.
If you're trying to fly carry-on only, you'll need to make sure you have a suitcase that fits with your airline's overhead bin size requirements (psst each airline is different, so make sure to check their website for specs)!
If you'll be checking your luggage, you have a little more wiggle room when it comes to size, but you'll still want to keep in mind things like shape, interior pocket organization, locking ability and more.
I personally have been using Monos luggage for two years now and love their interior organizational system.
You get one fully zippered half to keep everything secure that also includes one large flat zippered section on top. The opposite half of the suitcase features a panel with two pockets that can clip over your items to keep them in place and provide more organization.
With their Carry-On Pro style above, you also get a laptop compartment that has pockets for small tech gear if you're traveling on business or need to take your work with you.
There are so many amazing stylish luggage brands to choose from, but I've found Monos to be a great fit for me as they're super cute and also lightweight so I'm never over my weight limit, even when I pack a bit more than necessary.
PS—They recently launched this awesome trunk style that is perfect for anyone who travels with odd-shaped items like tripods, ski gear, long boots, etc.
2. Start Packing With the Absolute Must-Haves
If you're like me, sometimes you don't realize just how much shit you actually have until you start frantically packing for a trip. And if you don't do it right, you end up overpacking and being forced to remove items to make everything fit.
This isn't exactly the most efficient way to go about things, so let's try something different. Next time you need to pack, I challenge you to ONLY pack the absolute must-haves first and start with the items you can't easily buy in your final destination.
What will you 100% need for this trip?
I'm willing to bet underwear for starters, some basic clothing essentials and a pair of daily walking shoes. Also don't forget one bathing suit—I find that I always need one, no matter what kind of trip I'm going on.
Once you have all the non-negotiables packed up in your suitcase, you can start adding in everything else.
3. Plan Outfits Ahead of Time
Nothing is a worse space suck than throwing in clothes you won't end up wearing on your trip. Which is why it's so important to plan out all of your outfits before they start going into your luggage.
I like to pull up my trip itinerary, check the weather in my destination and get some packing tips for my location on blogs first before strategizing what I'll actually be wearing in said destination.
This gives me a better idea of what I'll realistically need on my trip and what I can leave out, instead of throwing in fun items I imagine myself wearing that will never see the light of day.
I also usually try on every single outfit that's going into my suitcase. I know this can seem cumbersome and annoying, but I've often found that outfits I think in my mind will work together, don't feel like a good fit once I actually have it on.
This helps me edit down outfits and feel more confident in the pieces I'm pairing together for any trip.
4. Pack Basics and Stick With One General Color Palette
Something that will help with the tip above is sticking to one complementary color palette or packing lots of basics that work in multiple ways.
This tip is especially helpful if you're going on a longer trip where you need weeks worth of clothes to fit into one tiny bag and are scratching your head like 'how on Earth am I supposed to pull this off'?
If you really need a few statement pieces for certain activities or events, fine, but sticking mostly to one color palette and assortment of basics will help you get so much more out of each item.
5. Be Ruthless About Editing Down Toiletries
Before I head out on any trip, one thing I like to do is put on my makeup before the airport and only add the items I've used for my basic look into my travel toiletry bag.
This strategy helps me be realistic about what I actually need for my daily makeup routine and forces me to edit out the extras I'd be tempted to pack 'just in case.'
Before any trip honestly ask yourself: Are you really going to have a reason to wear that shimmery eyeshadow or do a full mask on your hair? If the answer is no, leave it out.
Another way to help you edit down your toiletry bag is to pack two-in-one items. For example, I have a tinted moisturizer that I use every single day that provides coverage for blemishes and also has an SPF so I don't have to pack that separately.
Want to go super pro level?
If you travel a ton for work or in your life in general, the ultimate travel life hack is to have a second toiletry bag altogether that will never leave your suitcase. This will have a double of anything you need on a daily basis so that your toiletries are already packed and ready to go for your next trip. So easy!
6. Stay Organized Using Packing Cubes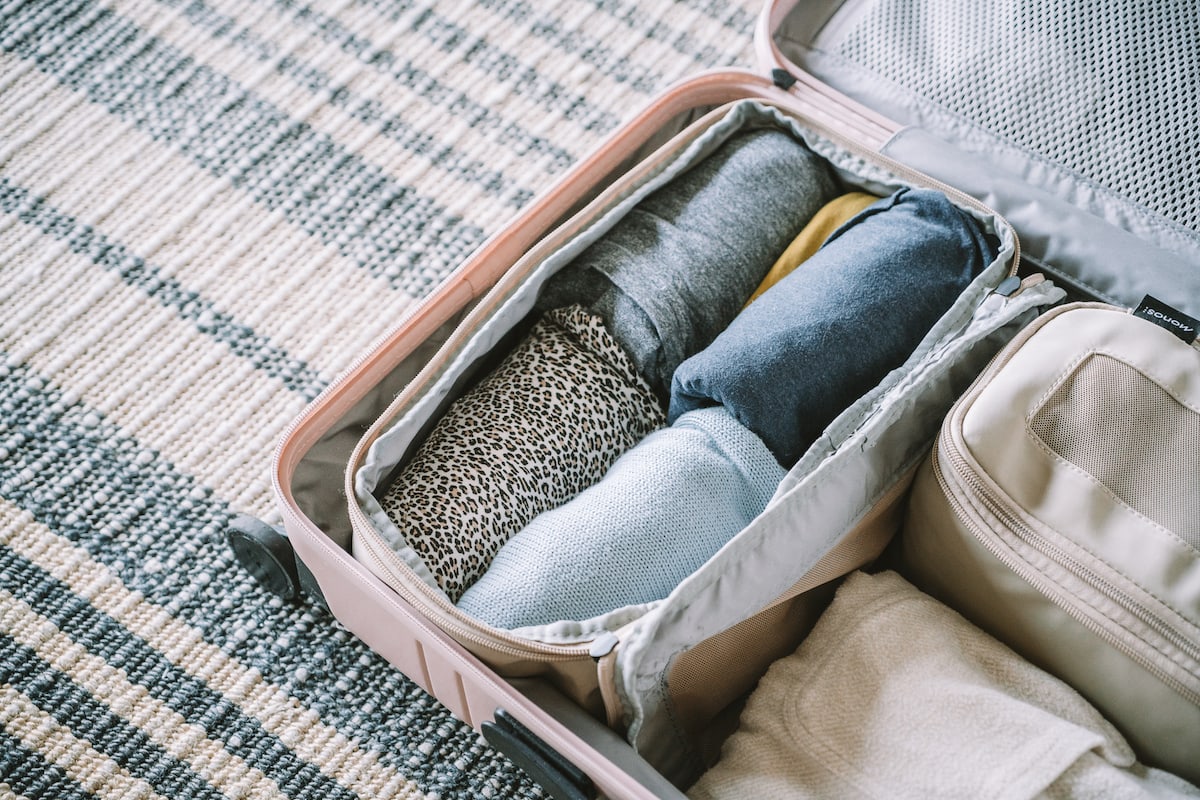 If you want to know how to pack a suitcase to maximize space, then let me show you the holy grail: packing cubes. These are an absolute must that will bring your packing game to the next level.
They make every part of the process easier, from compressing your items and giving you more room in your suitcase to work with, to simply keeping you more organized throughout your trip.
How to use packing cubes:
First, buy a set that comes with multiple sizes that will fit like a perfect puzzle piece in your bag.
Choose sizes for different categories of clothing so everything is in a designated place—ie. sleepwear, activewear, dresses, etc. My biggest packing cubes serve as the compartment for the largest clothing items I'm packing, and then in the tiniest ones I'll throw in things like underwear.
Pack according to each category and roll clothes as you go for maximum space saving. More on that in the next section!
The beauty of packing cubes is that when you arrive in your final destination and begin to wonder where you packed this dress or that bra, you'll know exactly where everything is because each item is packed into neat little categories.
Plus, instead of unpacking and hanging each item in your hotel, you can drop a full packing cube in a dresser or closet and save yourself time re-packing before the flight home.
7. Roll Clothes
Rolling clothes is a two-for-one hack because it both saves space in your suitcase and also helps prevent your clothes from wrinkling.
Why does rolling clothes save space? Well, essentially when you roll clothes up tightly, it squeezes out the air between the fabric and allows clothes to pack down tinier.
I roll all my clothing items before sticking each of them into packing cubes to help pack them down as much as humanly possible.
---
Read More Packing and Travel Tips
---
8. Use a Compression Bag
For items that won't roll easily and take up the most amount of space (ie. bulky sweaters or jeans), I love to use a compression bag.
This item became my saving grace when I was attempting to pack carry-on only in winter for a trip I did to Norway that required tons of heavy layers.
How it works: Compression bags have a valve that release air without allowing it back in, so once you pack your items inside, seal it shut and remove the air, your clothes flatten down like magic.
These highly-rated compression bags for travel come in a variety of sizes so you can grab the option that fits your needs best.
9. Accessorize Smartly
If you're trying to pack a suitcase to maximize space, you need to pack accessories you can wear over and over again with every outfit.
I'm someone that pretty much wears the same jewelry every day and I'll just wear it on the plane, so I don't typically need to pack a ton of extra jewelry anyway. Still, items like sunglasses, hats, belts, purses, etc can all take up space in your suitcase quickly.
If you travel a lot or are going on a longer trip, it's worth it to invest in a purse, hat, or pair of sunglasses you love that will work with every outfit and be your go-to for the whole trip.
Remember, if you really need something additional, you can typically always buy it in your final destination.
10. Utilize Every Inch of Space
Let's picture your suitcase like a real life game of Tetris. Everything should fit like a perfect puzzle piece so that you can maximize your suitcase as efficiently as possible.
How this looks in practice: Are you packing boots in your bag? Stuff the interior with socks or small items. Squeeze hair tools in the crevices between your packing cubes. Stuff any odd spaces between your belongings with those random items that just don't seem to have a designated place to go.
Once you have all your largest items situated into your suitcase where you want them, then you can go in and fill in all the holes that pop up.
11. Wear Your Bulkiest Layers on the Plane
I do this simply because I run really cold on planes, but the added bonus is that it will help free up tons of space in your luggage.
Jackets and sweaters are some of the bulkiest items to travel with, but if you wear them on the plane they aren't going to be counted as extra baggage.
12. Invest in Refillable Cubes for Small Items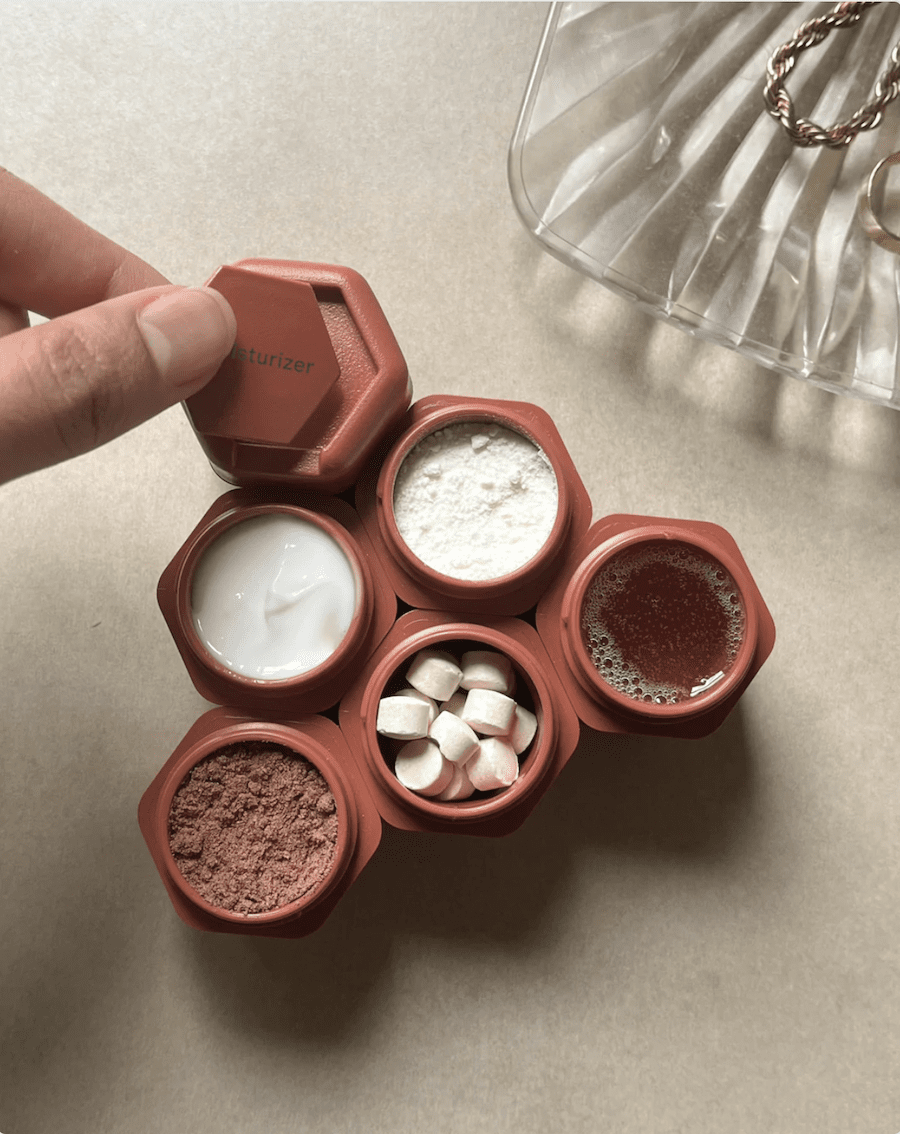 When you're working with minimal space in your luggage, every inch truly counts. Cutting down on unnecessarily large toiletry bottles and tubes that won't get fully used on your trip is super helpful.
I'm obsessed with this incredible blocking system that allows you to organize all your small items and liquids better, with colors and labels that are all cute and customizable!
From vitamins and rings to cleansers and hair oils, these refillable and customizable containers are not only more sustainable than buying travel-sized products, they'll also keep you from overpacking.
13. Lay Shoes Heel to Toe
Lastly, shoes are another way to quickly take up space in your luggage. If you want to know how to pack a suitcase to maximize space, then getting the layout of your shoes right is key.
I like to lay my shoes heel to toe with the soles on the outside, so that they nest together nicely—just as you would find them in a shoebox when you buy a new pair. This way, the soles will line up flat with the side of your luggage or bottom to avoid wasted space.
Since they are oddly shaped, the shoe area is usually where you start to lose the most efficiency in your packing system. Again, think of it like a puzzle and use the extra spaces in between shoes to pack your accessories like scarves or miscellaneous items like vitamins or tech gear.
I hope this post gave you a better idea of how to pack a suitcase to maximize space for your next trip! Have questions? Leave it in the comments below.