Heading to Argentina? You'll probably be popping by Buenos Aires for a few days. I'm obsessed with this city. It's passionate, vibrant, and a perfect mix of European and South American cultures. Often dubbed as the Paris of South America, Buenos Aires is a destination that will keep you on your toes, with plenty of nightlife, daytime sightseeing, and an incredible food scene.
But, if it's your first time visiting Argentina or even South America, you may be wondering about safety in Buenos Aires and whether it's a good idea to even go. If the first question that pops to mind is "is Buenos Aires safe for me to visit at all?," well I don't blame you. It's important to keep your safety top of mind and I'm here to break it down for you.
In this post, I'll be answering that question and taking you through different safety measures you can adopt for travel in Buenos Aires, whether you're exploring with friends or as a solo female traveler.
My personal experience has been really positive and I'm hopeful it will be the same for you — provided you take certain precautions. This post isn't meant to be a must-do checklist for every time you travel, but instead a list of useful tips for staying safe in Buenos Aires so you can have the best trip possible.
Is Buenos Aires safe to travel to in 2020?
Relative to other countries in South America, Argentina ranks as one of the top five in safety. That's not to say that there's little or no crime. In fact, the recent political and economic decline has created more instability in the country. So it's understandable to question if Buenos Aires is safe for travelers and tourists.
But let's let the numbers do the talking. Buenos Aires is currently a VERY popular tourist destination and the second largest city in South America, ranking above European destinations such as Stockholm and Frankfurt and US cities from Washington D.C to Houston, as one of the most visited cities in the world. Approximately 2.36 million international tourists travel to Buenos Aires each year!
The vast majority of tourists visit and leave the country without any issues, but it's important to be vigilant when you're out and about as petty crime and thefts are still very common.
The biggest safety concerns in Buenos Aires and how you can avoid them
One of the biggest concerns about safety in Buenos Aires will be petty theft. Unfortunately this is very common in any major cosmopolitan city and Buenos Aires is no stranger to pickpocketing and bag-snatching.
When I visited the city, our local hosts warned us not to take our iPhones out mindlessly on the streets if possible, especially not on street corners as people have been known to get their devices snatched by quick thefts on motorbikes. Apparently smartphones are a hot commodity in Argentina.
This goes for handbags too. Basically, don't make yourself a target out in public, and be as discreet as possible, especially when looking at your phone for directions or rummaging through your purse.
When I traveled, I found it useful to only carry items and possessions that were essential and left spare cash, my passport and credit cards locked up back at my accommodation.

Some of the most recurrent Buenos Aires crimes and areas of concern include:
Scams – Such as taxi drivers who take a longer route to a destination and will charge you extra for the ride or the infamous "mustard scam" where someone on the street distracts you by trying to help you clean yourself off from the unknown substance that appeared on your clothes. Before you know it, their accomplice has taken off with your belongings.
Counterfeit Money – If you're paying for something with a large denomination note (avoid this), be sure that your change handed back to you isn't counterfeit as some taxi drivers and other scam artists have become very savvy with sleight of hand.
Motorbike Theft – Thieves frequently operate on motorbikes where the driver will drive past a pedestrian and snatch a phone or bag. Typically not physically dangerous, but it sucks to lose your personal belongings nonetheless.
Protests – Expect protests around Buenos Aires, especially around Plaza de Mayo, and whilst many protests are peaceful, political protests can become more aggressive. It's best to avoid them if possible.
---
Read More International Posts
---
What to know about safety on public transport in Buenos Aires
Buenos Aires has one of the best public transport systems in South America, with reliable buses and a subway system that connects the city. It's relatively cheap and easy to use and is one of the best ways to get around.
Whether you're traveling alone or in a group, it's always best to exercise a few safety precautions when using public transport in Buenos Aires and be mindful of a few sketchy areas.
Quick safety tips for using public transport in Buenos Aires:
Look after your valuables and if you have a day pack or handbag, keep it in front of you with all the zips closed. Avoid keeping your valuables in your pockets, as this makes it easy to be targeted by pickpockets.
Rush hour can get really busy with passengers being sardined into a carriage or a bus. It's best to travel via public transport off-peak when you can.
If possible, try to grab a seat or stand somewhere with your back to a wall and stay aware of the people close to you.
Top up your SUBE card before you travel. Public transport in Buenos Aires including buses do not take cash. To avoid a last minute scramble to top up, use one of the many ticket booths inside a subway station to add funds you'll need to travel for the day.
Safety in Buenos Aires as a solo female traveler
For a solo female traveler, Buenos Aires is a really fun and lively city with a buzzing nightlife and cool cafe culture. It's a city that's easy to navigate and meet people so you'll rarely actually feel alone. While I was technically there on a retreat with a large group of fellow travelers, there were plenty of times when I was exploring out and about on my own and never felt unsafe.
By following a few safety tips in Buenos Aires, you'll feel prepared and ready to take on your Buenos Aires trip with confidence.
My first piece of advice would be to exercise caution if you're going out at night by yourself. Avoid walking down dark streets and try to stay in areas where there are other people around. If your hotel is located quite far away, take a taxi or an Uber. It'll cost a few extra dollars but it's well worth it.
Be sure to watch your drink when you're out and never leave it unattended. The most popular places to go out are Palermo and Recoleta. Chances are that you'll meet people, and if you're staying in a hostel, round up a group of friends to go out with. This also gives you the benefit of not having to go back to your hostel alone late at night.
I never had this issue, but the occasional cat-calling does occur. Most of the time it's harmless but if you do feel threatened, walk into a crowded area or shop. The best thing to do is to ignore it and continue as you were, and chances are nothing will come of it.
Tips I follow as a woman for safety in ANY destination
Don't put yourself in unsafe situations where you're not alert and your judgment is impaired (doing drugs or drinking too much)
Keep information about your local address and accommodation private
Learn some of the local language so you can get by with basic communication in any emergency situations
Avoid walking alone at night –– period.
Keep copies of your important documents in case you lose anything. I have a Google Drive folder with copies of my passport, credit cards and visas so that I can access them if anything should get stolen.
Be extra cautious in crowded spaces like public transport, festivals, etc as these are breeding grounds for petty theft
Blend in — try not to dress and act in a way that screams "tourist" as that will make you an easy target
Top safety tips for Buenos Aires travel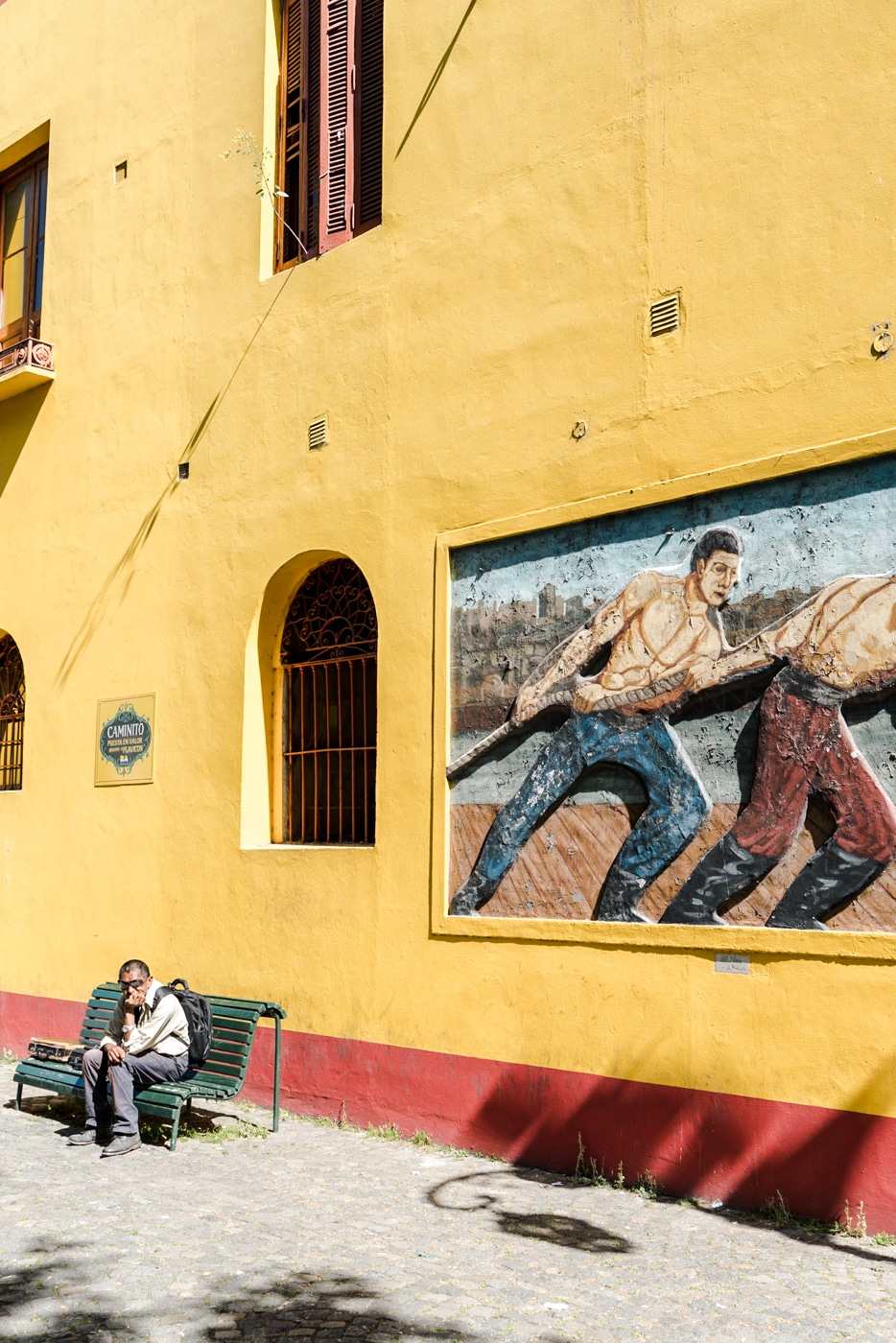 The main things to keep in mind for safety in Buenos Aires is to stay mindful of your surroundings and don't be flashy with your belongings. Like any city, there are certain areas to avoid or exercise greater precautions in, especially if going out at night.
Areas to avoid at night
La Boca is one of the most vibrant and colorful tourist neighborhoods in Buenos Aires (and you should definitely go!), but at night it's not a good place to hang out. Make sure if you're approaching dusk in La Boca that you have an exit strategy and have internet on your phone to call a cab or Uber or know the bus schedule's departure times. I wouldn't recommend walking as your best mode of transport in and out of La Boca.
The areas/shanty towns around the train station Retiro are dangerous any time of day, but especially at night. You may need to visit this train station if you're visiting Tigre for the day, so be especially mindful of your belongings when entering into the station.
A few other helpful tips to remember
Carry small change to reduce the risk of currency scams
If someone tries to rob you, do NOT try to resist. They most likely only want your belongings and don't want to put you in physical danger, but fighting back will increase your risk of harm.
Wear your bag on the front side of your body
Opt for private transport like taxis and Ubers at night rather than walking or taking public transport
Always put your safety over convenience and listen to your intuition! If something makes you feel unsafe or uncomfortable, remove yourself from the situation or take an alternate route.
Don't Be Afraid to Join a Group Tour
If you're traveling solo and realize you'd feel safer in the company of others for particular activities, don't be afraid or feel ashamed to join a tour group. Check out this tour to explore the city by night!
Do you need travel insurance for your trip to Buenos Aires?
I recommend that people make a small investment in travel insurance for ANY trip they go on. Why? Because if you travel enough, eventually something is bound to happen and you want to be prepared. It's always best practice to have insurance and have it in place BEFORE you leave for your trip.
I use World Nomads which provides affordable coverage and is super easy to purchase. It literally takes less than 2 minutes to get coverage for your trip. Depending on the policy you choose, World Nomads will have you covered when it comes to any trip delays or interruptions, emergency evacuations, or stolen/lost bags and gear. Use the widget below to grab a quick quote.
Pro-tip: If you're thinking about taking a day trip to Colonia, Uruguay from Buenos Aires, be sure to add Uruguay to your list of destinations below. And don't forget to read the policy document to make sure it provides adequate coverage for you!
A few things to bring on your trip to keep belongings safe
Hopefully I've helped eased some of your worries on how dangerous Buenos Aires is to visit, but here are a few items to help keep your valuables even more safe as you travel. Investing in a few of these items will not only help you feel more secure in Argentina, but you can use them for future trips around the world.
Secure Money Belt for Women: The term "money belt" doesn't exactly scream chic, but this one is probably the cutest and most comfortable one out there. It's light and discreet and perfect for placing your valuables whether you're walking around town or on a jog. The pockets are deep enough to fit your wallet, money, phone and passport. The best part is that it's thin and lightweight so it doesn't bulge out as more traditional money belts do.
Pacsafe Anti-Theft Bags and Luggage: Pacsafe is one of the leaders when it comes to anti-theft technology for bags and luggage. Whether you're looking for an RFID safe wallet or a day pack or crossbody that keeps your belongings safe, Pacsafe is the first brand I look to. They have tons of options from camera bags and carry-ons to waist wallets, everyday backpacks and so much more.
Portable Safe by Pacsafe: If you're not sure if your accommodation will have a safe to secure your valuables and important documents, a portable safe is a great way to ensure their safety. This one by Pacsafe is highly cut resistant and allows you to cable it to furniture in your room.
So is Buenos Aires safe to visit?
My answer: YES! I felt totally safe during my trip to Buenos Aires and in all likelihood you will too. Do unfortunate things happen? Sure, just like in any place, crimes and unsafe situations can and do occur. But all in all, you shouldn't let this stop you from visiting Buenos Aires and it's more likely than not that you will return home with your worries subsided.
Buenos Aires is truly one of the best cities in the world and if you let fear stop you from traveling there, you will be missing out! Follow the guidance in this post and arrive in Buenos Aires prepared, and you'll have the trip of a lifetime.
Emergency numbers to help you stay safe in Buenos Aires
In the event that any unfortunate emergencies should arise, please use the numbers below to notify local authorities.
Embassy of the United States
Address: Av. Colombia 4300, C1425 GMN, Buenos Aires, Argentina
Phone number: +54 11 5777-4533
Emergency numbers in Buenos Aires
General emergencies: 911
Medical: 107
Did this post inspire you to plan a trip to Buenos Aires? Let me know in the comments below!


---
Planning a trip right now? Don't miss my go-to websites for booking everything from flights and tours, to accommodation and more:
---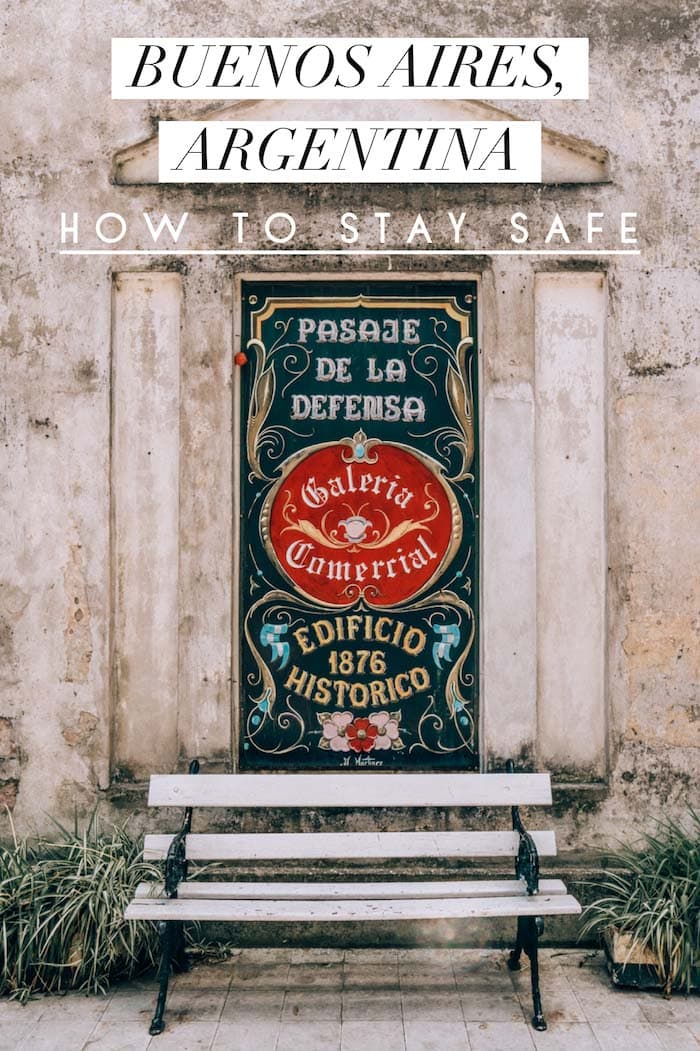 Read More