If you're planning a weekend trip to Laguna Beach, then you're probably wondering where to stay in town that is comfortable, convenient, and will help you make the most of your trip. One of my favorite places I've stayed in Laguna Beach is Laguna Beach House hotel, as it's laid-back, has quintessential SoCal surf vibes, and provides easy access to the beach and town.
In this post I'll be doing a full breakdown of what you can expect from staying at the Laguna Beach House hotel to help make your accommodation decisions easier for your trip!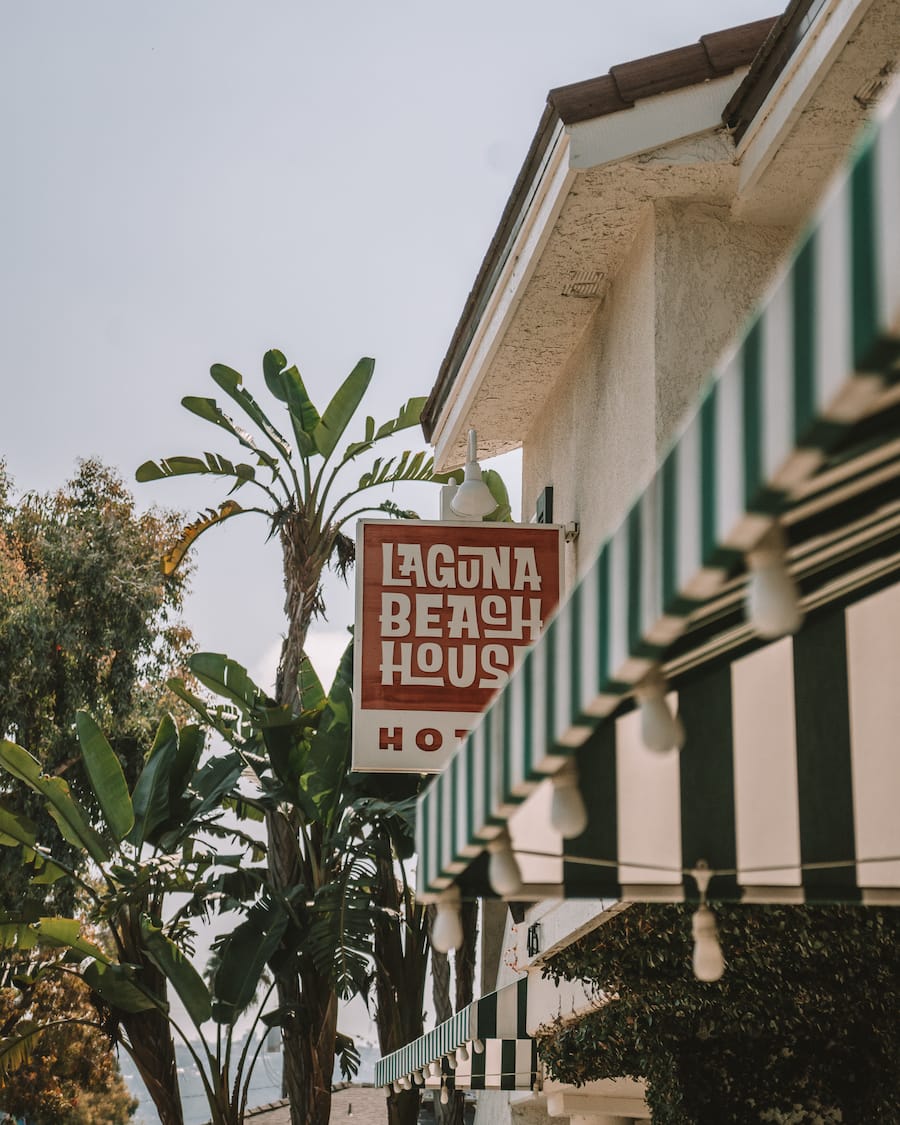 What I love about the Laguna Beach House is that it's definitely one of the most conveniently located options in Laguna while still being way more affordable than some of the other hotels in town. Plus, with cute décor, a nightly complimentary wine hour, and a relaxing pool area, Laguna Beach House is a great value for your money.
Laguna Beach House also partners with 1% for the Planet as part of its commitment to environmental responsibility and sustainability. 1% for the Planet is a globally recognized alliance of businesses that tackle our planet's most pressing environmental issues, allowing you to feel even better about where your money is going while you travel.
Laguna Beach is home to many luxury and upscale design hotels, but the three-star Laguna Beach House has more of a laid-back surfer vibe. Don't let it's star rating scare you away though.
This former motel was renovated and converted into a seaside retreat that now boasts an airy surf cottage feel and is great for couples, families or a girls trip. Especially if you're planning a last-minute beach weekend in high season, Laguna Beach House is perfect.
I've got you covered with everything you need to know about the Laguna Beach House hotel it in this accommodation guide, so keep reading!
If you're still planning your full Laguna Beach itinerary, don't miss my Ultimate Guide to Laguna Beach.
Why You Should Stay at Laguna Beach House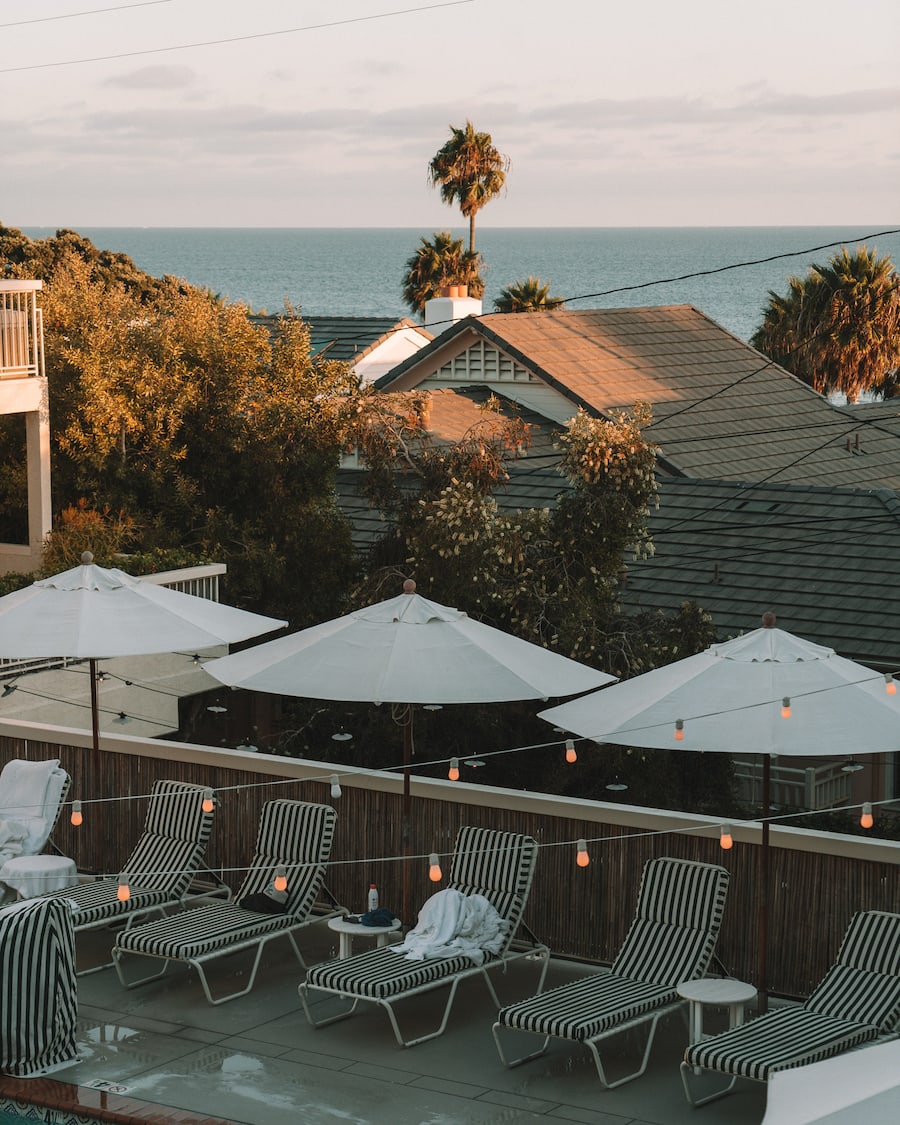 Convenience:  Less than a two-hour drive from Los Angeles and San Diego, Laguna Beach House hotel is a super easy weekend trip from Southern California's major cities. It's also just a few minutes' walk from the beach and great restaurants in Laguna, so you'll have everything you need at your fingertips.
Affordability:  While there are definitely more upscale and luxurious options in Laguna Beach, this hotel has prices as low as $215 per night, which is a steal in this area! 
California Vibe:  The Laguna Beach House hotel is as California as it gets, embracing the surfer nature of the town. It has an old-0school Laguna feel filled with charm that will make you feel like you're living the quintessential California lifestyle.  
Favorite Features of the Hotel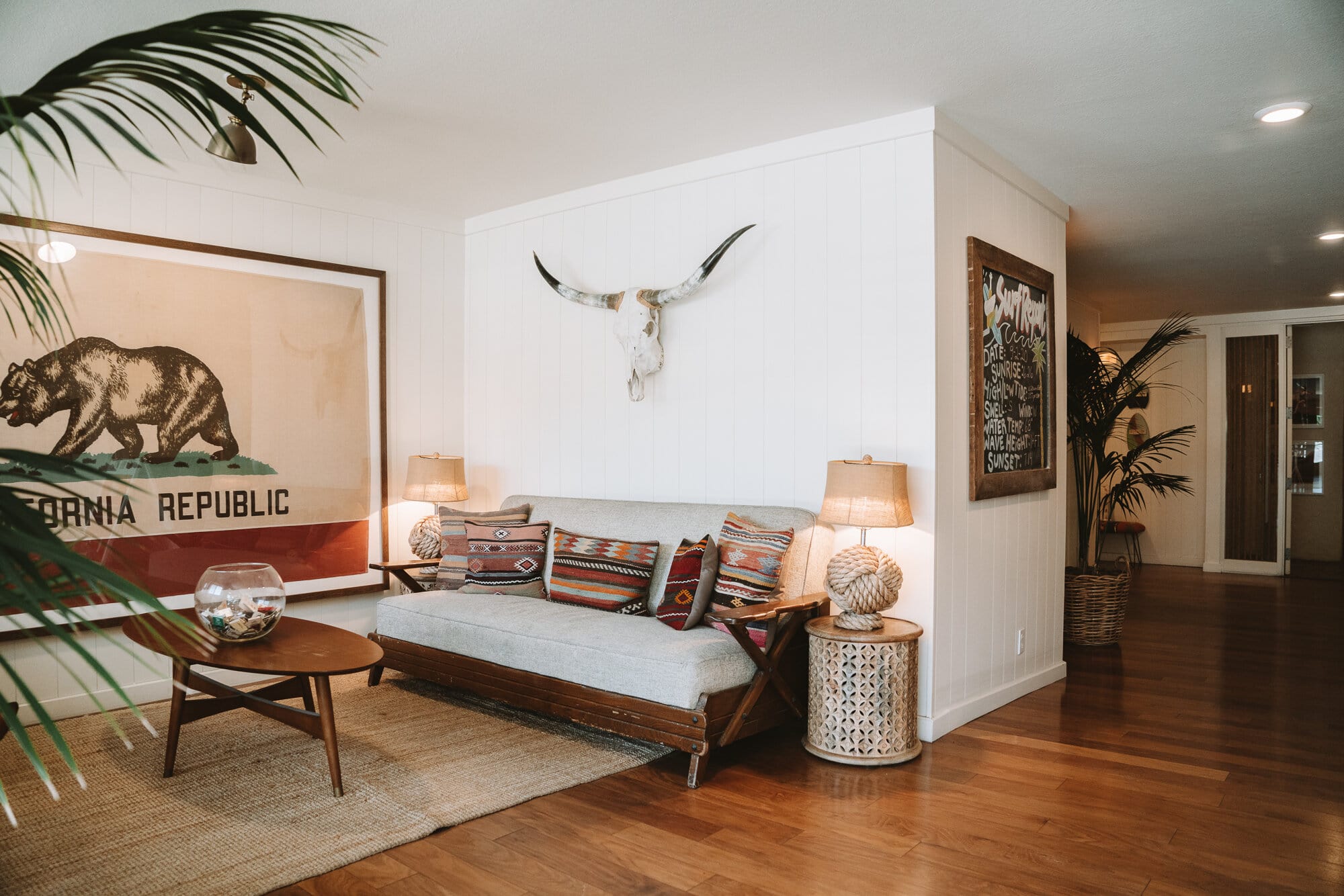 The overall ambiance of the hotel definitely is one of the best parts of the Laguna Beach House hotel. It's clearly dedicated to preserving the California surfer aesthetic, using curated vintage pieces from the local area as its primary décor elements. From the California flag in the lobby to the surfboard headboards, you'll never forget where you are.
The location is a major plus of Laguna Beach House; you have everything you need right within walking distance. It's walkable to most of downtown Laguna and right behind Heisler Park. It's also only a five-minute walk to the nearest beaches, so it's an ideal place to be for anything you want to experience in Laguna. There are definitely some awesome beaches in Laguna that you will need to drive to, but that would be the same for any hotel you stay at as they're all spread out down the coast.
Laguna Beach House has coffee available first thing every morning, a complimentary nightly wine hour (yes please!), and fresh cookies and milk every evening. It's the little touches like these that create that cozy home-away-from-home vibe.  
One of my favorite times of day at Laguna Beach House hotel is the evening, when bistro lights light up the pool deck and the glow of the fireplace creates the perfect balance of casual and romantic relaxation after a long day of beach-hopping.  
For those who love to be on the water, the hotel also offers special packages. There's a surf package, a paddle board package, and custom options available upon request.
Location of Laguna Beach House Hotel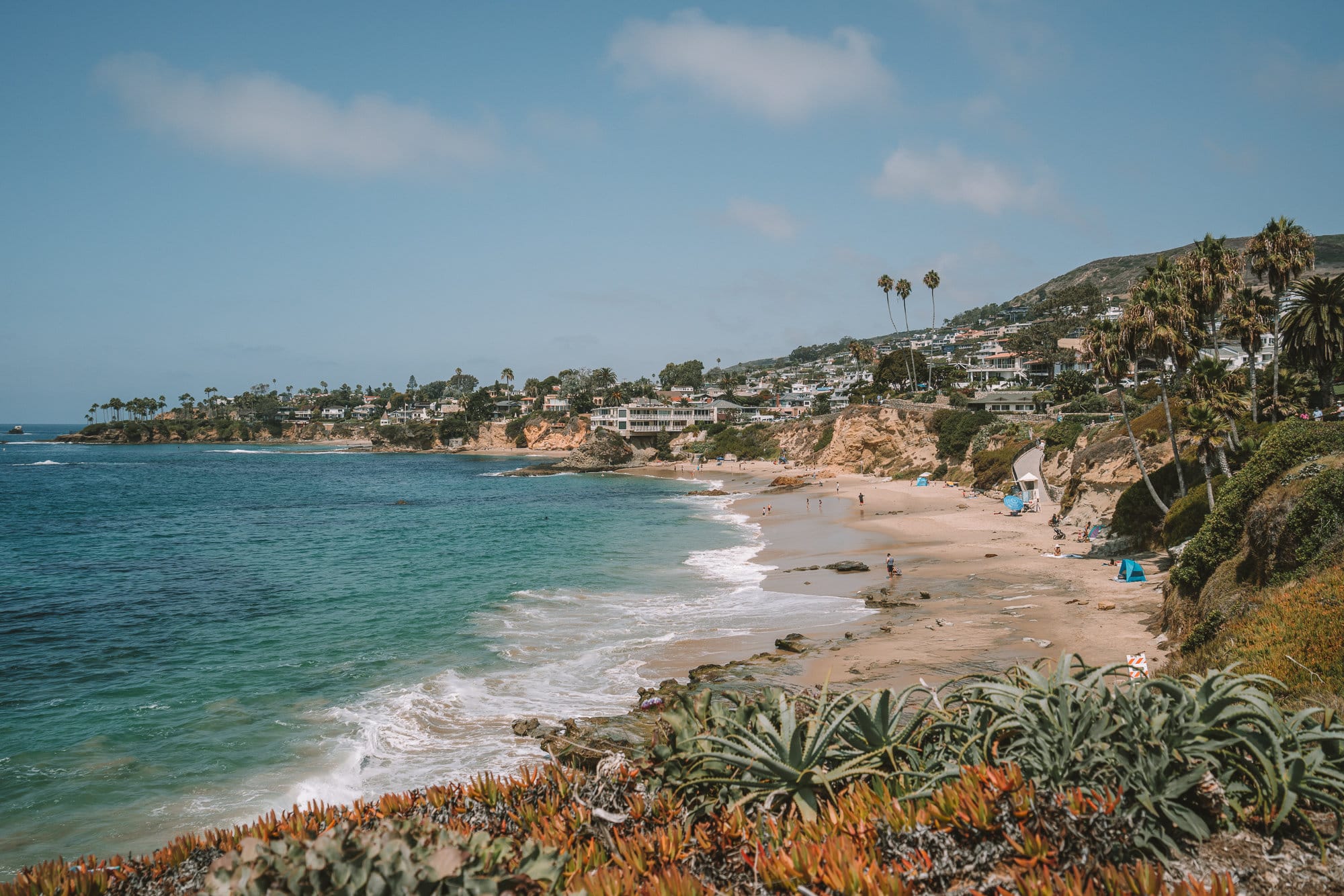 The Laguna Beach House hotel is right in the heart of downtown Laguna, just off North Coast Highway. It's less than a two-hour drive from both Los Angeles and San Diego, making it an ideal weekend trip for those looking for some extra time to relax by the beach. For those coming from further away, the John Wayne Airport is only a 25-minute drive.  
While the hotel isn't directly on the water, it's close! There's a park in between the hotel and the seaside cliff, which makes for an enjoyable five-minute walk to the beach. I'd even recommend setting aside some time to enjoy Heisler Park, which is a gorgeous coastal stroll, and check out the sculptures and gorgeous views along the way.  
You'll also find Diver's Cove Beach nearby, which, as the name suggests, is a great cove for scuba diving. There's a reef just offshore where you're sure to see beautiful coral and sea life. Note that during high tide the beach shrinks considerably and is mostly wet, but you're all good to set up a seat here during low tide.
In the opposite direction, you'll find Main Beach Park. This bustling beach has a boardwalk, volleyball and basketball courts, and tide pools. It's definitely more crowded than Diver's Cove, but there's always plenty of space to sit and work on your tan.  
My favorite coffee shop in the area, Blk Dot Coffee, which is also just a five-minute walk away. They have delicious slow-drip Vietnamese coffee, but don't miss out on the food! Try one of their toasts, sandwiches, or my favorite, the Caprese Avocado Bowl, for a fresh breakfast or lunch option.  
Again, a five-minute walk away (are you sensing a pattern here?) is the Laguna Art Museum. Dedicated to showcasing California artists, the museum hosts art from all periods and styles.
---
Read More California Posts
---
The Rooms at Laguna Beach House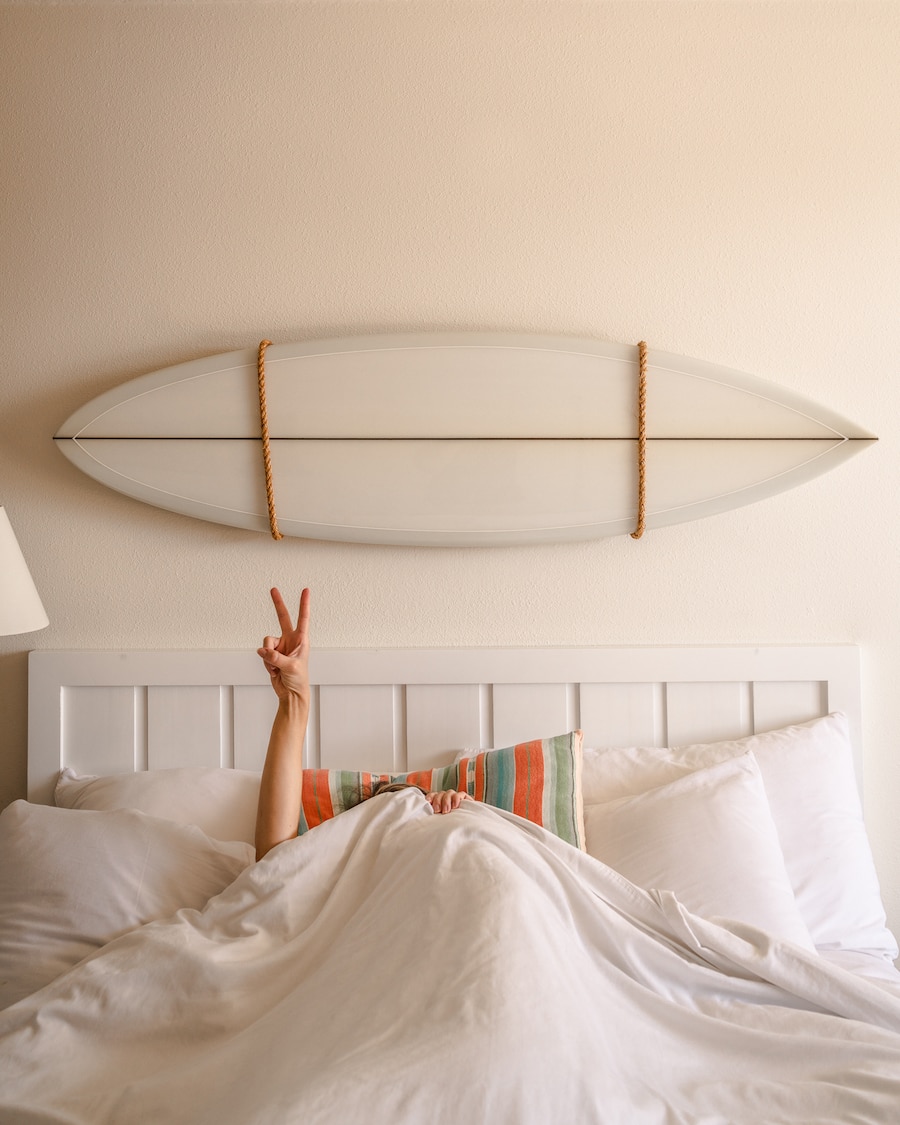 Laguna Beach House is a smaller boutique hotel with only 36 rooms in total. Room options include:
Coastal View Guest Room: If a view of the water is important to you, then this is the room to get. You'll have the options of a room with or without a patio, but I'd recommend the splurge so you can watch the sunset over the Pacific from your balcony.  
Pool Guest Room: If you plan to be out and about during sunset most days, a poolside room is a great option. Again, you'll get to pick if you'd like a balcony or not, and if you'd rather a king bed or two queens.  
Private Patio Guest Room: If relaxing outside with some privacy is on your agenda, this might be the room for you. The dreamy patios have a table and four chairs, ideal for a slow morning by the ocean.  
I wouldn't say the rooms here are the most updated or luxurious if that's what you're looking for, but they're exactly what you'd expect from a retro surfer kind of vibe. Clean, white-washed walls and surf-inspired decor with vibrant pops of color.
They have the look and feel of an open, airy surf cottage, and as I mentioned, vintage décor from the local area. It's a bit on the simple side, but that's OK, because you're going to be out exploring most of the day anyway.
The surfboard headboards are also a fun touch that make this hotel unique. Plus, each room is decked out with tons of cool gear like snorkeling equipment and disposable cameras, and all of it is available for purchase…even the surfboards!
Around the Property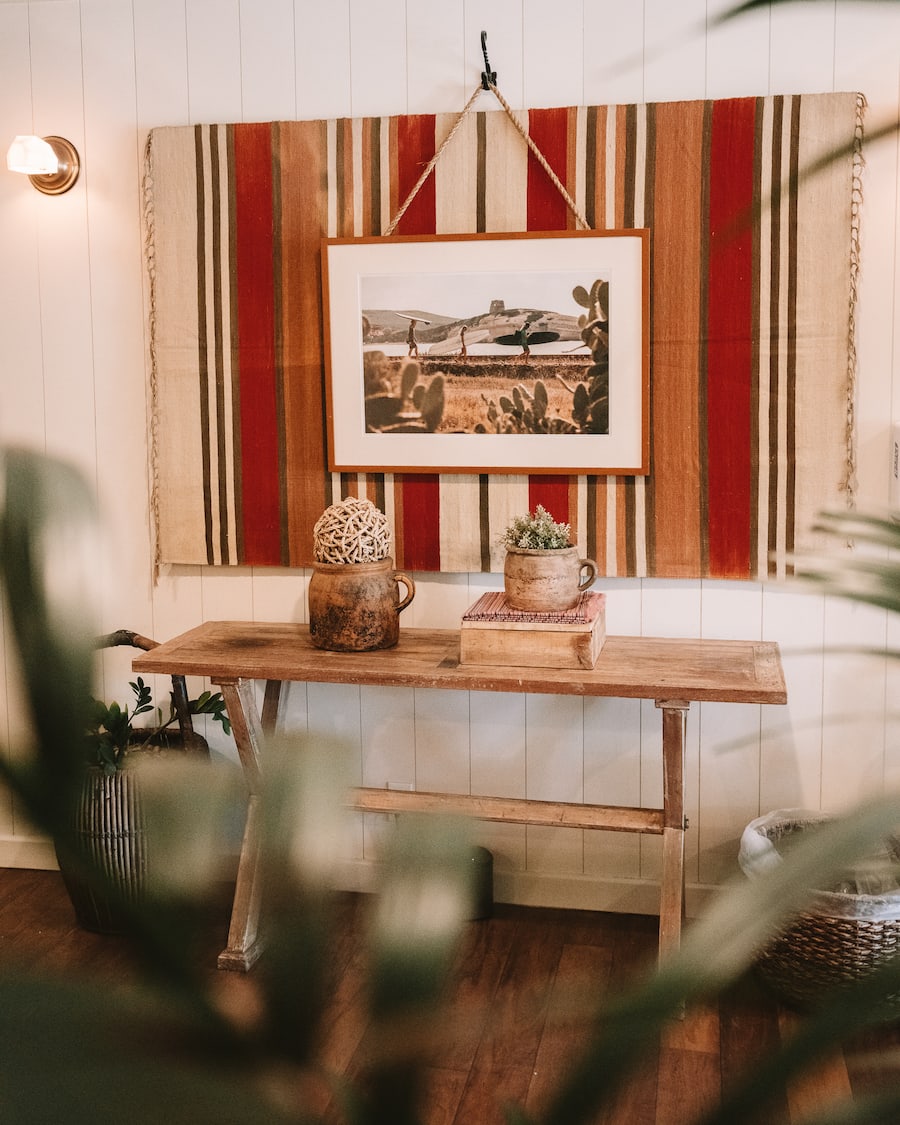 Laguna Beach House hotel centers around the pool—as it should! Both stories of rooms form a horseshoe shape around the pool area. The open-concept design means that all hallways are open-air, which adds to the beachy vibe. They really tap into the coastal California way of life, which is apparent through the minimalist surfer-inspired décor.  
I spent most of my time on the property near the pool. During the day I opted for the adorable green and white striped lounge chairs, which have an umbrella should you want some shade. At night you could find me in a wooden Adirondack chair next to one of the fire pits (sipping my complimentary wine, of course). 
The lobby also features cool California energy, but with the gorgeous weather outside, I didn't spend much time inside.  
Drinking and Dining at Laguna Beach House
The main downside of my Laguna Beach House review is that there is no restaurant or bar on site. They do a good job trying to supplement with the coffee, wine, and cookies, but there are occasions when a wider range of options would be nice.
Each room is equipped with a mini bar, though, so should you get peckish there are some salty and sweet snacks to enjoy. Alcoholic and non-alcoholic beverages are also available in the mini bars.
Despite the fact that there is no on-site restaurant, the hotel is located within walking distance of some great spots! Some solid options include Urth Cafe and Las Brisas Restaurant. If you enjoy wine tasting and are looking for something interesting to do, there is also the nearby Bianchi Winery & Tasting Room right up the street.
Spa and Wellness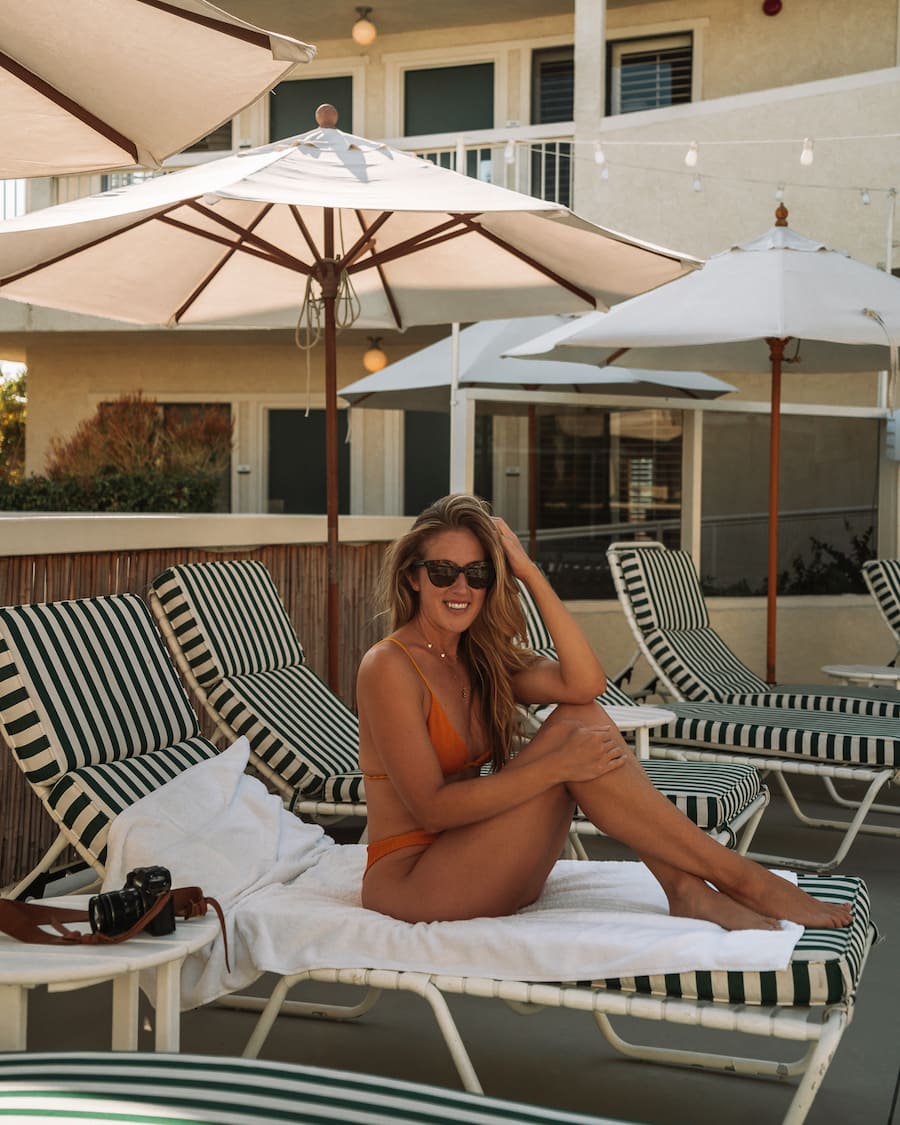 If you check out the website, it lists the hours of the "pool/spa," but I find this a bit misleading. Since the hotel is pretty no-frills, there is no spa or fitness center here.
What they're referring to as the spa is just the pool area, which does include a hot tub for a relaxing soak, but it's not a spa with wellness treatments you would typically think of. In their FAQ section they do list some fitness centers and spas nearby you can checkout if need be.
That being said, swimming, surfing, walking around town or paddle boarding on the ocean can definitely fulfill your exercise needs while you're here. Going for a jog along Heisler Park's coastal walk right adjacent to the hotel is also a great way to get in a sweat.
One of my favorite things to do here is snag a spot outside by the pool area's fire pit section and enjoy a glass of wine as the sun sets. While it's not the same as indulging in a massage or facial, it's super relaxing, and provides you with a sense of calm that puts you at ease and makes you feel like you're on vacation.
A Few Helpful Hints for Your Stay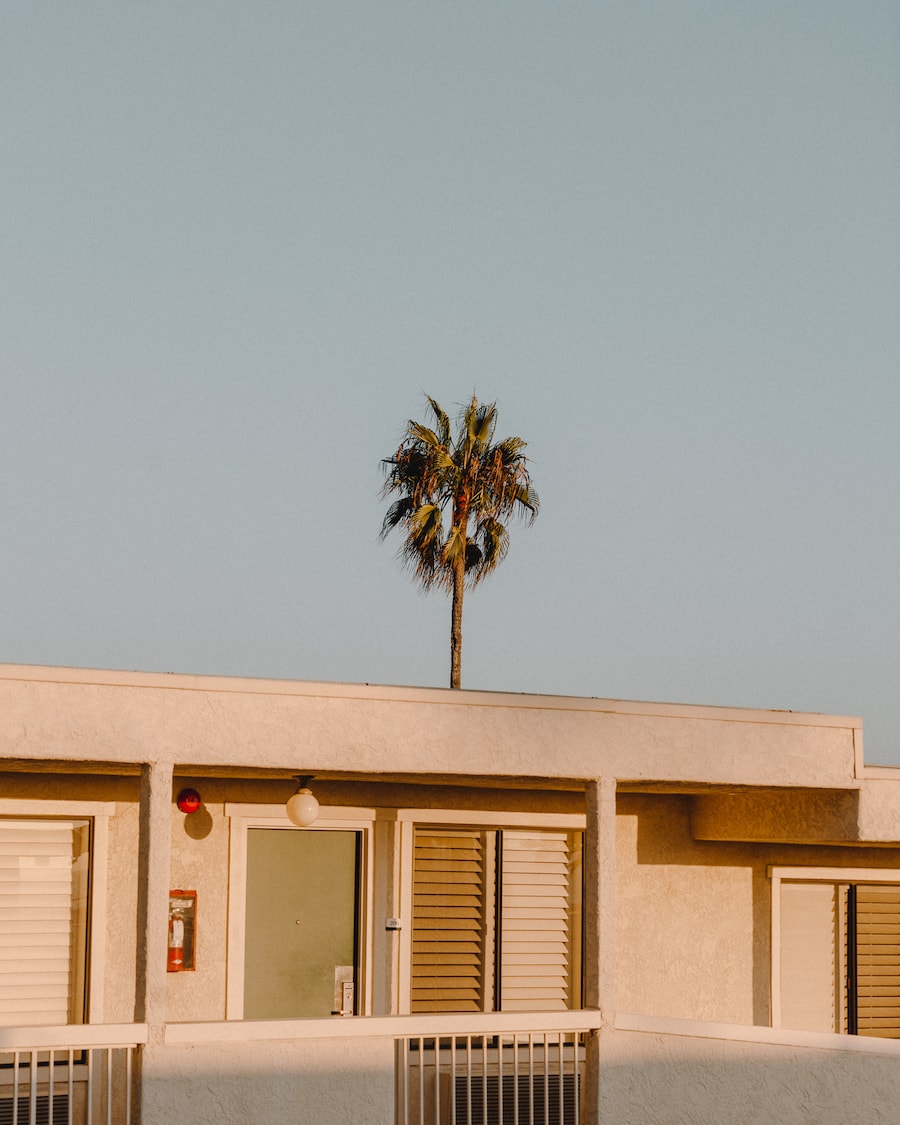 This hotel is dog-friendly so feel free to bring your furry friends along for the ride!
Prices increase on weekends and during the summer season (crowds get pretty crazy here during the summer). For a more reasonable rate, go during the off season or on a weekday
The front desk has beach chairs and umbrellas available, so ask to borrow some before you make your way down to the beach
Hot tip: The surfboard headboards are available for purchase —make sure to inquire with the hotel if you're interested
The mini bar offers more than just food! You can also buy a beach tote, underwater camera, Bluetooth speaker, and more to spice up your stay
Keep in mind that parking costs $25/night here, so factor that into your budget
Did this post inspire you to book a room at the Laguna Beach House? Let me know in the comments below!
---
Planning a trip right now? Don't miss my go-to websites for booking everything from flights and tours, to accommodation and more:
---