Planning a Laguna Beach weekend away? If so, you're in for a treat. Falling in love with this quintessential California coastal town is an easy thing to do.
Despite the fact that it's less than two hours from Los Angeles, Laguna Beach is a whole other kind of paradise. The beaches are much more idyllic, the SoCal energy is in full force, and the energy of the locals is relaxed and inviting. People are in Laguna Beach to enjoy life and it shows.
Whether you are walking through the hot pink bougainvillea-lined streets in the spring, enjoying gelato on the boardwalk in the summer, or sipping a hot cup of coffee on a winter morning beach walk, a Laguna Beach weekend is the perfect relaxing getaway year-round.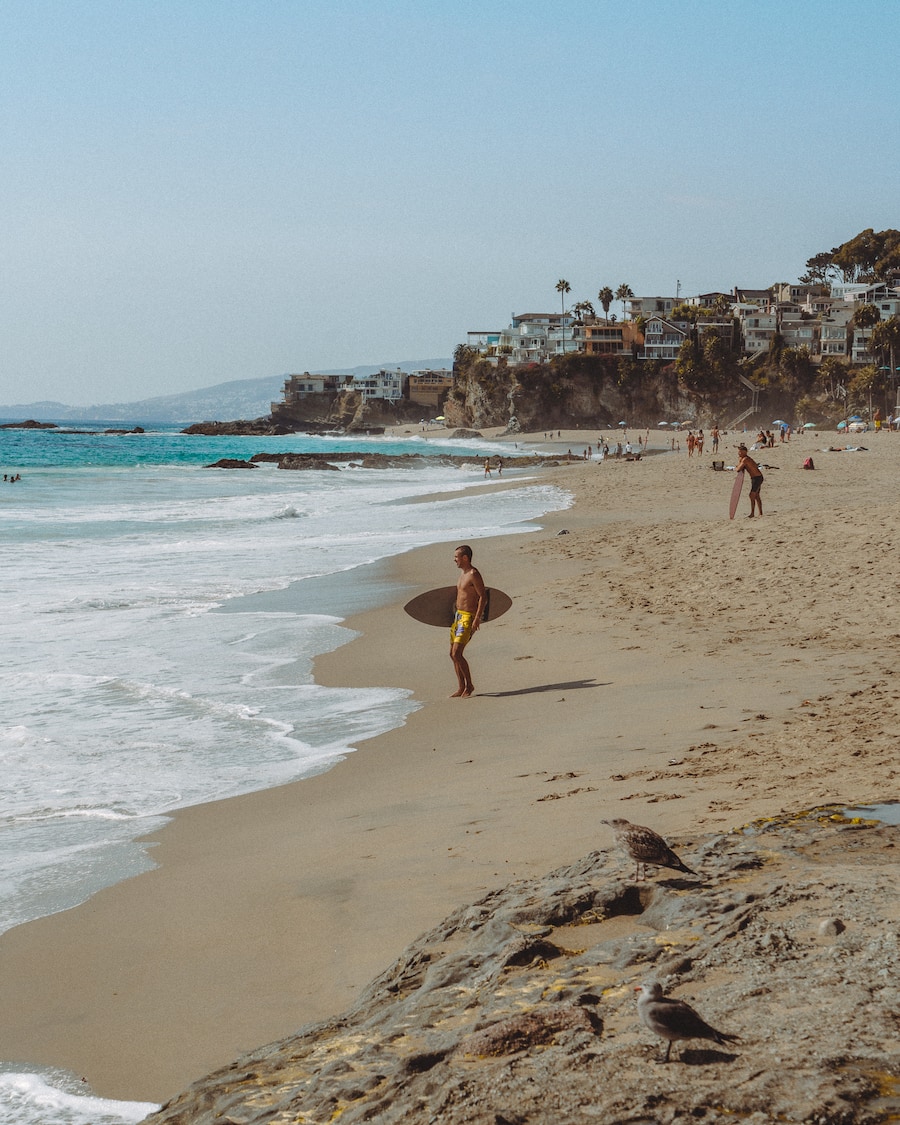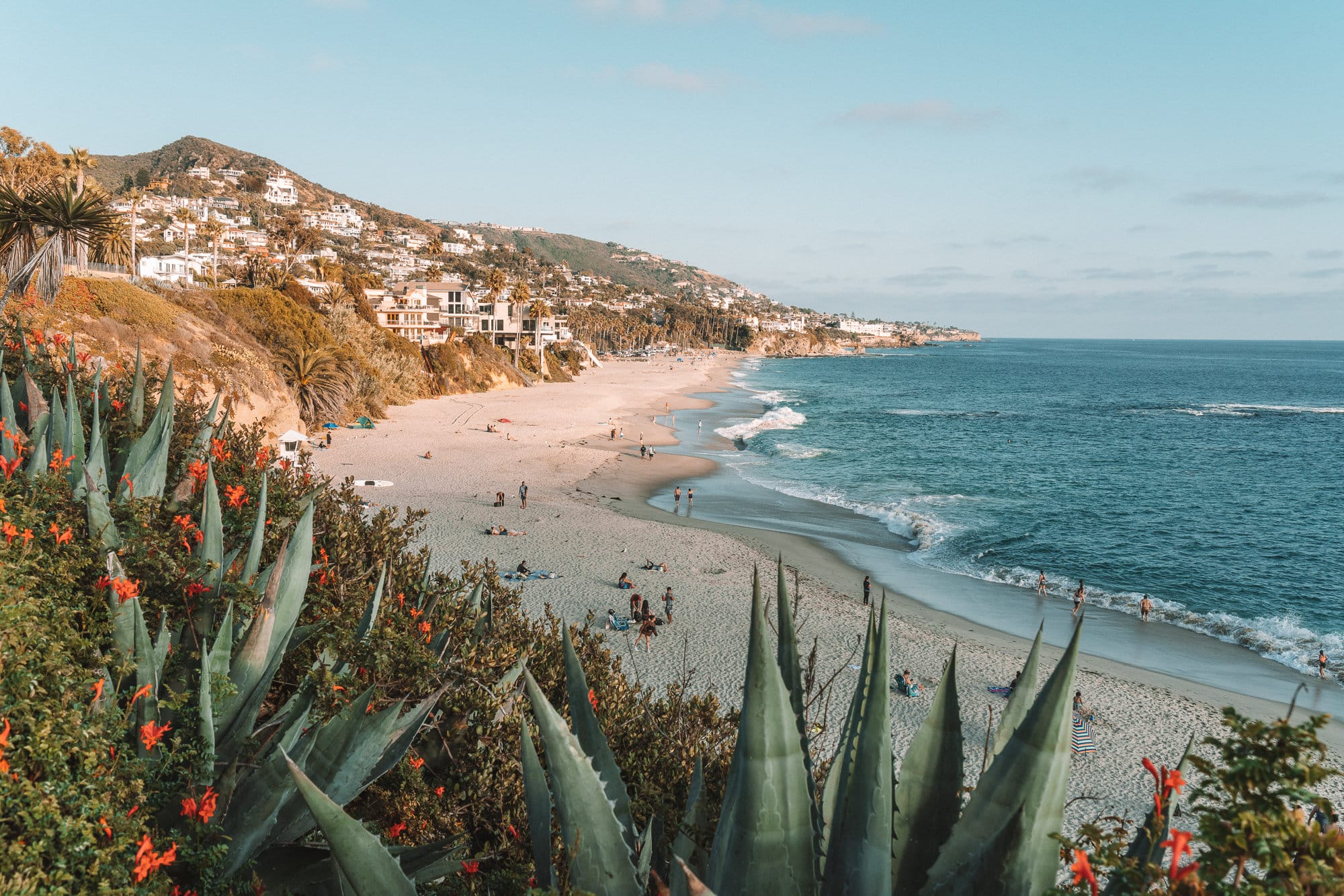 There is also a sense of stepping back in time here, making it similar to an Old Hollywood-era beach town. From Shake Shack at Crystal Cove serving classic diner-style burgers and shakes with sweeping views of the Pacific, to the old-timers in Laguna promenading their vintage cars through the town on the weekends, there are vintage vibes around every corner. 
All in all, there really is so much to see and do, which is why I put together this comprehensive Laguna Beach weekend guide to help you navigate where to go, what to see, and when to visit.
How to Get to Laguna Beach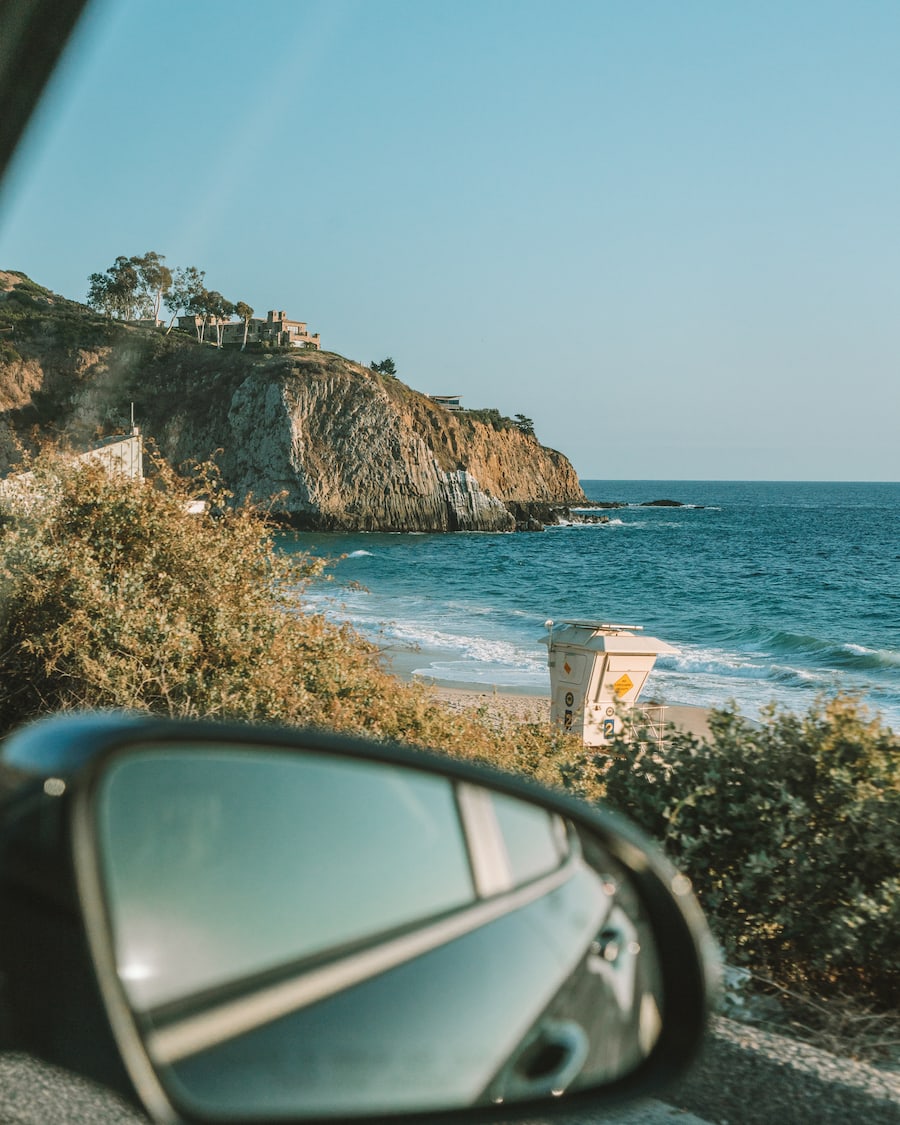 From Los Angeles
Situated almost halfway between Los Angeles and San Diego, Laguna Beach is easy to reach if you live in SoCal. Best of all, even though I live only an hour and a half away in Santa Monica, this charming beach town feels worlds away—which is exactly the point!
The quickest way from LA to Laguna is via the 405 South. You'll simply stay on that for a while and then cut over through Laguna Canyon on the 133. With that said, if time allows, you may want to take the 405 to the 55 South and make a few pit stops in Costa Mesa and Newport Beach before heading to Laguna.
If you're exploring more of Orange County on your way down to Laguna, don't miss Daydream Surf Shop for shopping and coffee, Rye Goods for delicious bread and baked goods, and Neat Coffee for drinks, snacks, and outdoor seating. Daydream Surf Shop is a one-stop shop for all things California, from the boards to the vibes, to the handmade homewares and specialty, small batched beauty products.
If you are visiting from out of town and want a taste of the local culture, I highly recommend making this pit stop. The drive from Costa Mesa to Laguna is stunning. It hugs the Newport Coast, passing through the picturesque town of Corona Del Mar and Crystal Cove State Park. 
From San Diego
Arguably one of the most beautiful drives in California, the journey from San Diego to Laguna is a breathtaking one. Take the 5 North and then cut over to Laguna on the 133.
There are several cute beach towns to stop at along the way, but my two main suggestions are stopping at Sur Coffee in San Clemente and then at the Ecology Center in San Juan Capistrano to buy organic produce from their farm to pack for a picnic later. While at the Ecology Center, you can browse their cookbooks, local products, and selection of unique homewares for a practical souvenir.
By Air
If you're flying in from another part of the country, John Wayne Santa Ana Airport is only about 20 minutes from Laguna Beach. Upon landing, you can easily catch a ride from Uber or Lyft and find yourself at the beach in no time. An Uber from John Wayne Airport will run around $50.
Although John Wayne Airport is the quickest and easiest airport to get to and from, other, larger airports may have cheaper flights and are still reasonable options. Other airports nearby include the Long Beach Airport (34 miles away) and Los Angeles International Airport/LAX (53 miles away). An Uber from Long Beach Airport to Laguna Beach will run about $90 and an Uber from LAX to Laguna Beach costs about $130 – $150.
What to Know Before Your Trip to Laguna Beach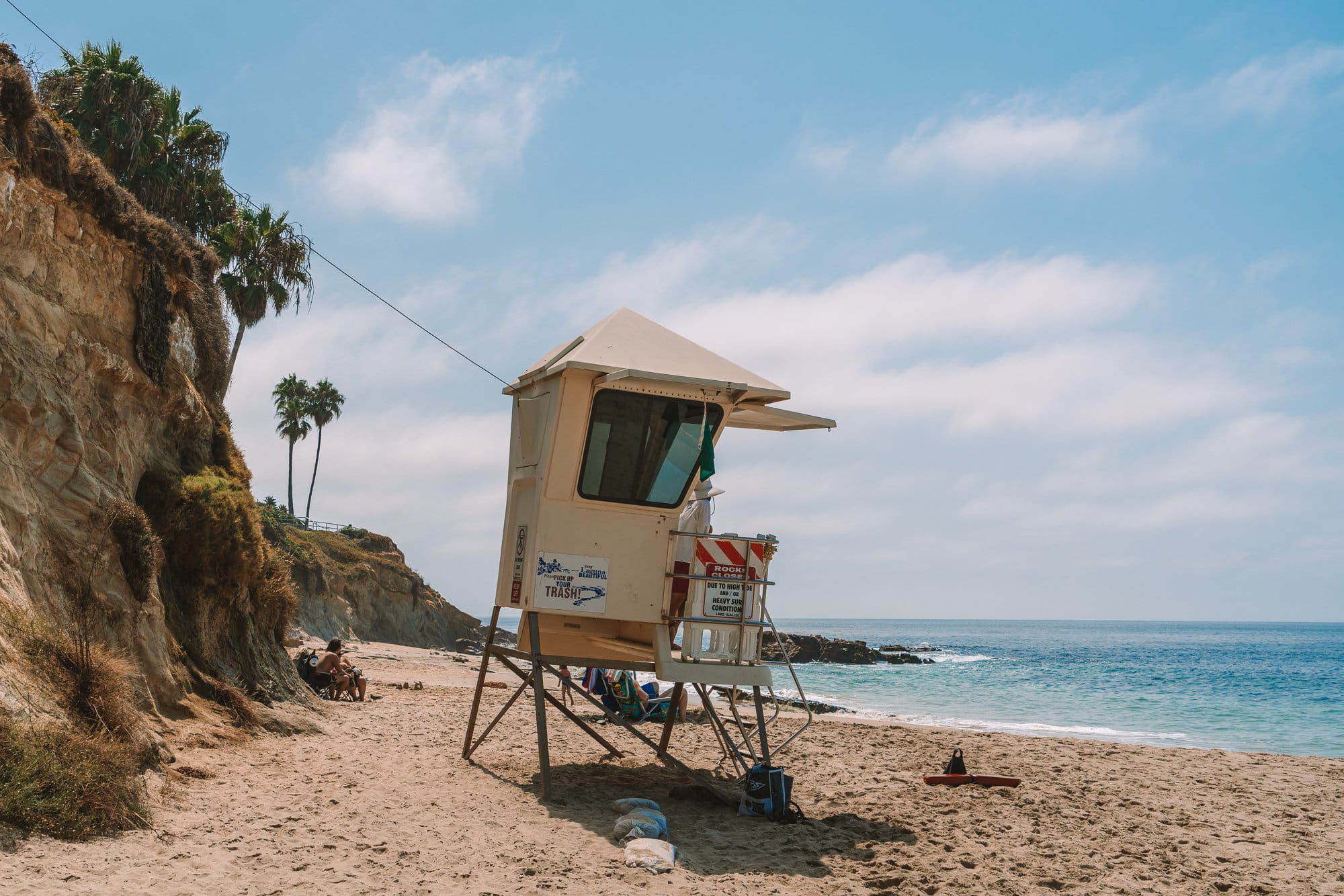 When to Visit
If you are wondering when the best time of year to visit Laguna Beach is, I could make a case for every season. With that said, April to May and August to October will have the best weather and the smallest crowds!
In the spring, Laguna blooms. From the vibrant bougainvillea to the sunflower bushes exploding along Crystal Cove's trails, Laguna is something straight out of a dream for nature lovers. 
In the Fall, visitors can still experience the warm summer weather but without the crowds.
Summertime brings great weather but massive crowds (and the traffic can get pretty terrible). If you are not staying at a hotel or accommodation that is walkable to the beach and dining, I would avoid a Laguna Beach weekend during the summer because parking is difficult and the trolley can be crowded. If you do stay during a summer weekend, be aware that beach hopping may be difficult due to the parking situation. 
When it comes to winter, the weather can be a bit finicky (around 60s and sometimes cloudy and rainy). With that said, there won't be big crowds, you can easily find parking. Plus, the weather just as easily could be sunny!
Special Events to Note
There is a farmers market that is open every Saturday morning from 8 AM to 12 PM near the city center at Lumberyard Parking Lot 12, located at 521 Forest Avenue. It is so quaint and charming, and the products you'll find are amazing!
The Festival of the Arts takes place every July to September with exhibits from over 100 local artists. Also, the Sawdust Art and Craft Festival runs from June to September, while the Sawdust Winter Fantasy runs from November to December. Both of these festivals have artwork and crafts for sale from hundreds of local vendors.
Advice for Bringing a Furry Friend
Not only does Laguna Beach offer seven miles of coastline to explore, but most of that coastline is dog friendly! From June 15th to September 10th, dogs are allowed on city beaches before 9 AM and after 6 PM. The rest of the year, from September 11th to June 14th, dogs are allowed on city beaches between 9 AM and 9 PM.
Keep in mind that dogs must be on a leash at all times. However, this only applies to city beaches, so beaches like Crystal Cove State Beach, do not allow dogs at all. If you are planning to go to specific beaches, I would suggest googling ahead of time just to be safe. 
Getting Around Laguna Beach
With many beaches spread out over seven miles, it is best to have a car to get around the Laguna area. With that said, parking can be a hassle, especially in high season.
In the summer, I have literally spent up to 30 minutes looking for a place to park or I will end up parking in a neighborhood and then have to walk super far. Keep this in mind if you're visiting during the peak summer months and always give yourself extra time to park when planning. 
If parking sounds unmanageable, look up the free trolley service that they offer in the summer months! You can even download a map and find out more about the trolley service at Visit Laguna Beach. The trolley is free and it runs every weekend and every day over summer. Side note: Pets are not allowed on the trolley.
---
Read More California Posts
---
Where to Stay in Laguna Beach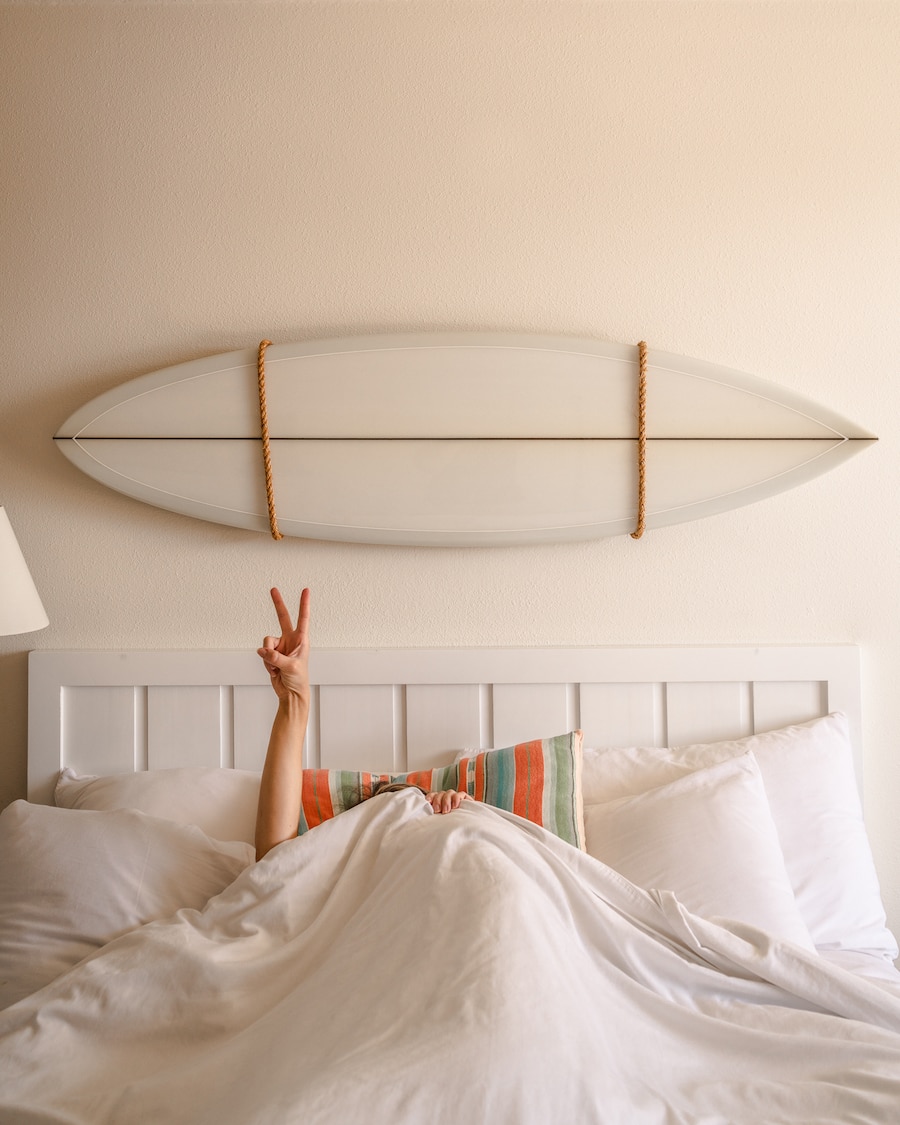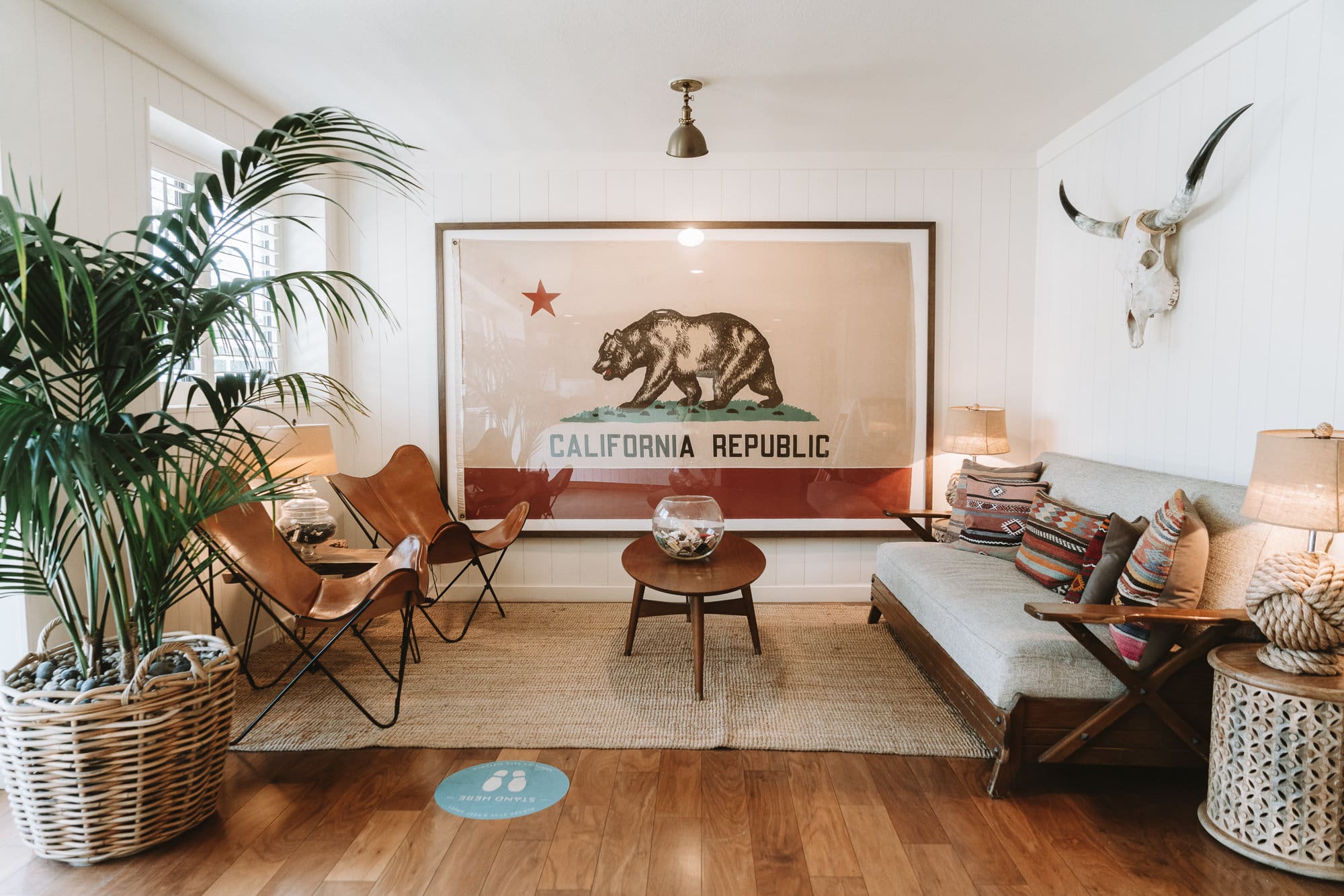 The Laguna Beach House is perfect if you are looking for accommodations close to the heart of downtown and in close walking distance to many of the main beaches. The space has a funky, surfer vibe feel with airy bright rooms with colorful touches.
They also have a pool and hot tub which is perfect for a relaxing poolside weekend trip. Best of all, they have nightly happy hour for guests which includes free wine along with fresh baked cookies!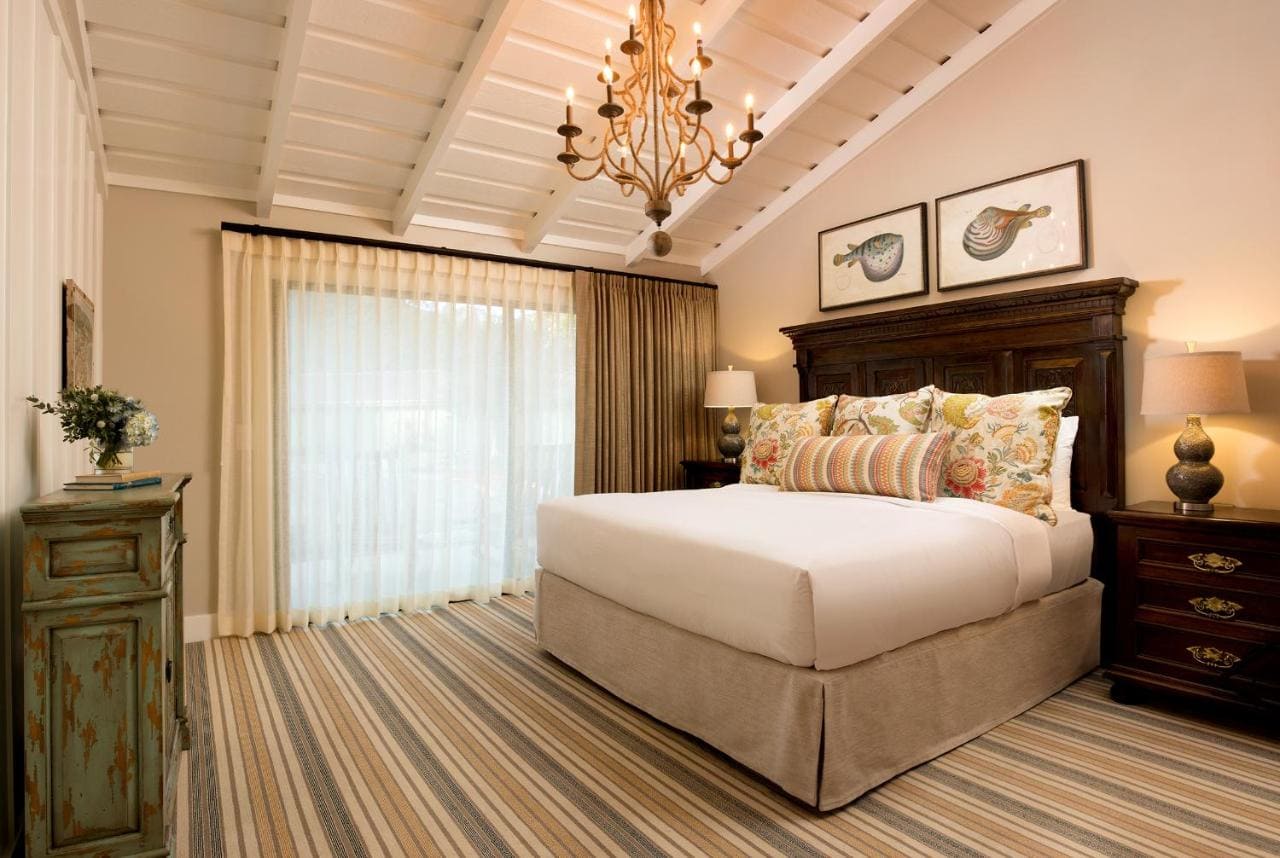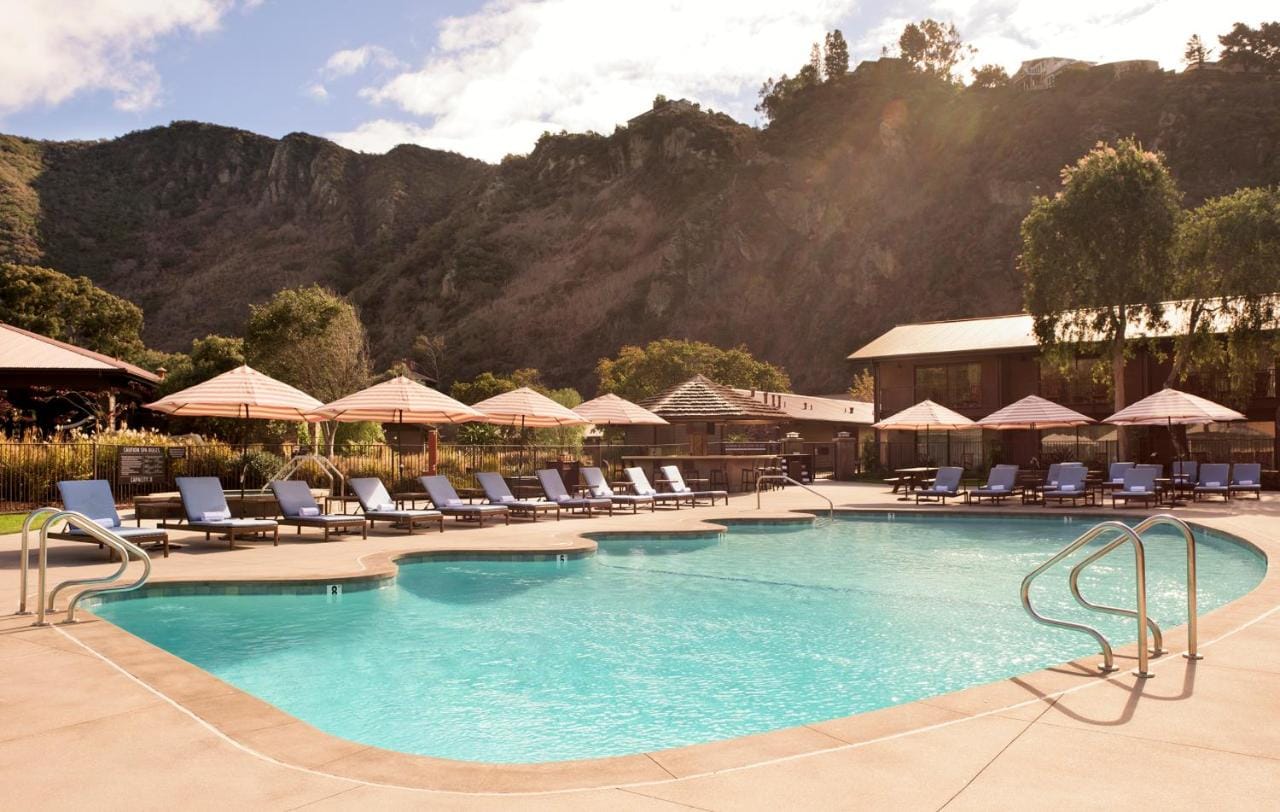 The Ranch is a destination in itself with 87 acres of grounds to explore complete with canyons, a garden, a creek, golf, an outdoor pool, a hot tub, and a spa. Although The Ranch has lots of land to explore, it is only a nine-minute walk from Aliso Beach Park. They also offer a shuttle service to and from the beach so that you don't have to worry about driving or finding parking.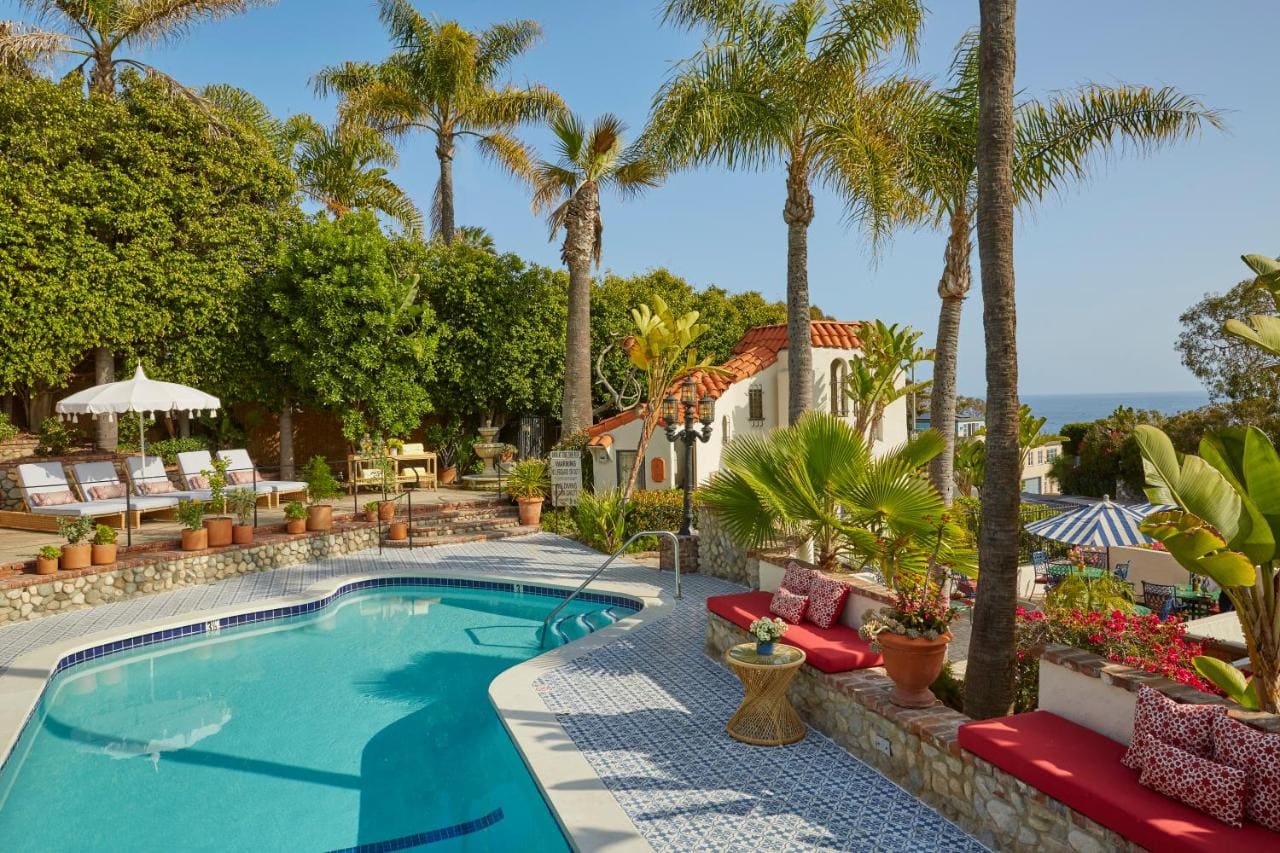 Casa Laguna is a modern yet Mediterranean-inspired accommodation. Set into the hills of Laguna, this Spanish-style hotel is beyond dreamy. Some rooms and all suites have a whirlpool tub and they have a gorgeous outdoor pool. Plus, is only a beautiful 14-minute walk away from Victoria Beach.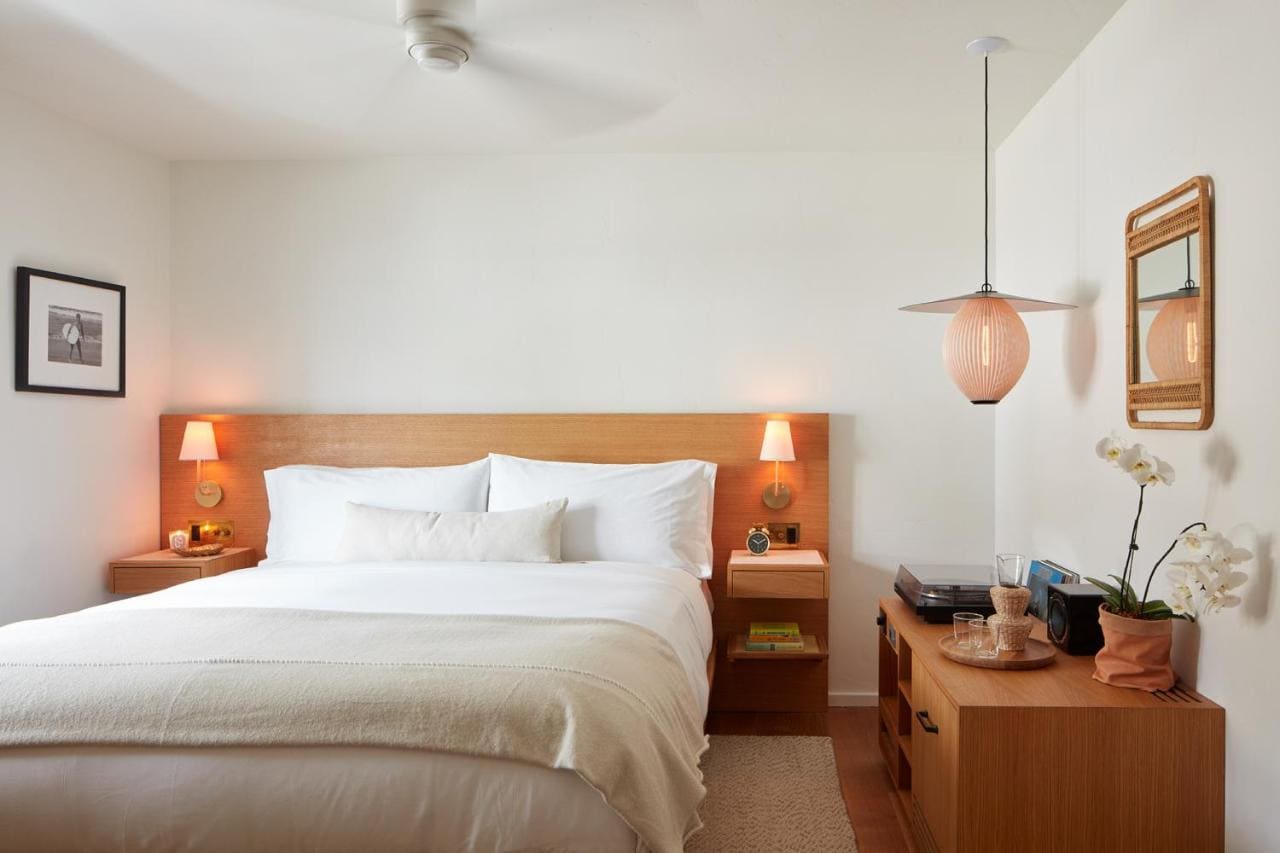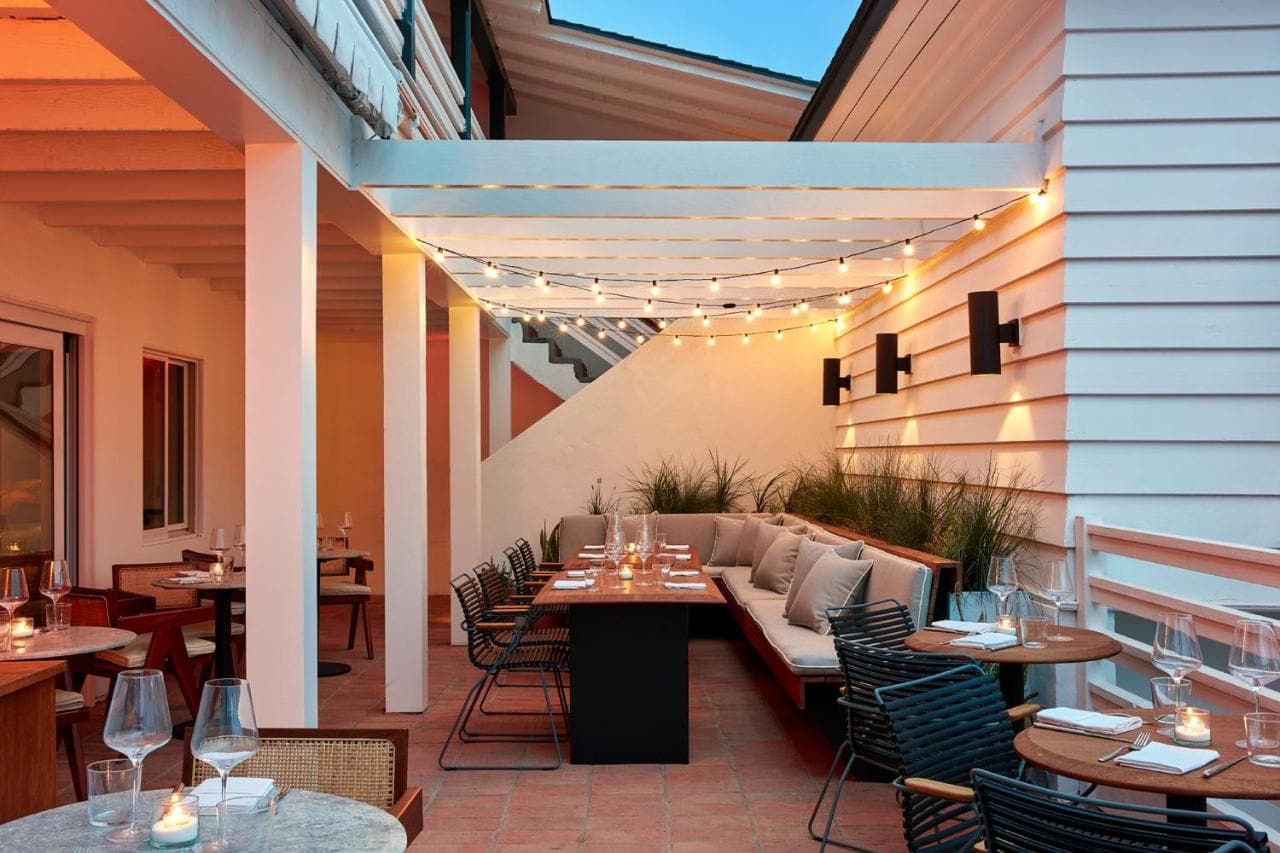 Hotel Joaquin is a design-focused "petite resort" with only a few rooms. Their lobby is gorgeous and they are always tweaking the layout and decor to make sure that it is always ahead of the trends.
They have a full-service restaurant and bar along with a stylish pool that has ocean views. The hotel is located just steps away from Shaw's Cove, which is a beautiful and underrated little beach that is definitely worth checking out!
The Best Things to Do in Laguna Beach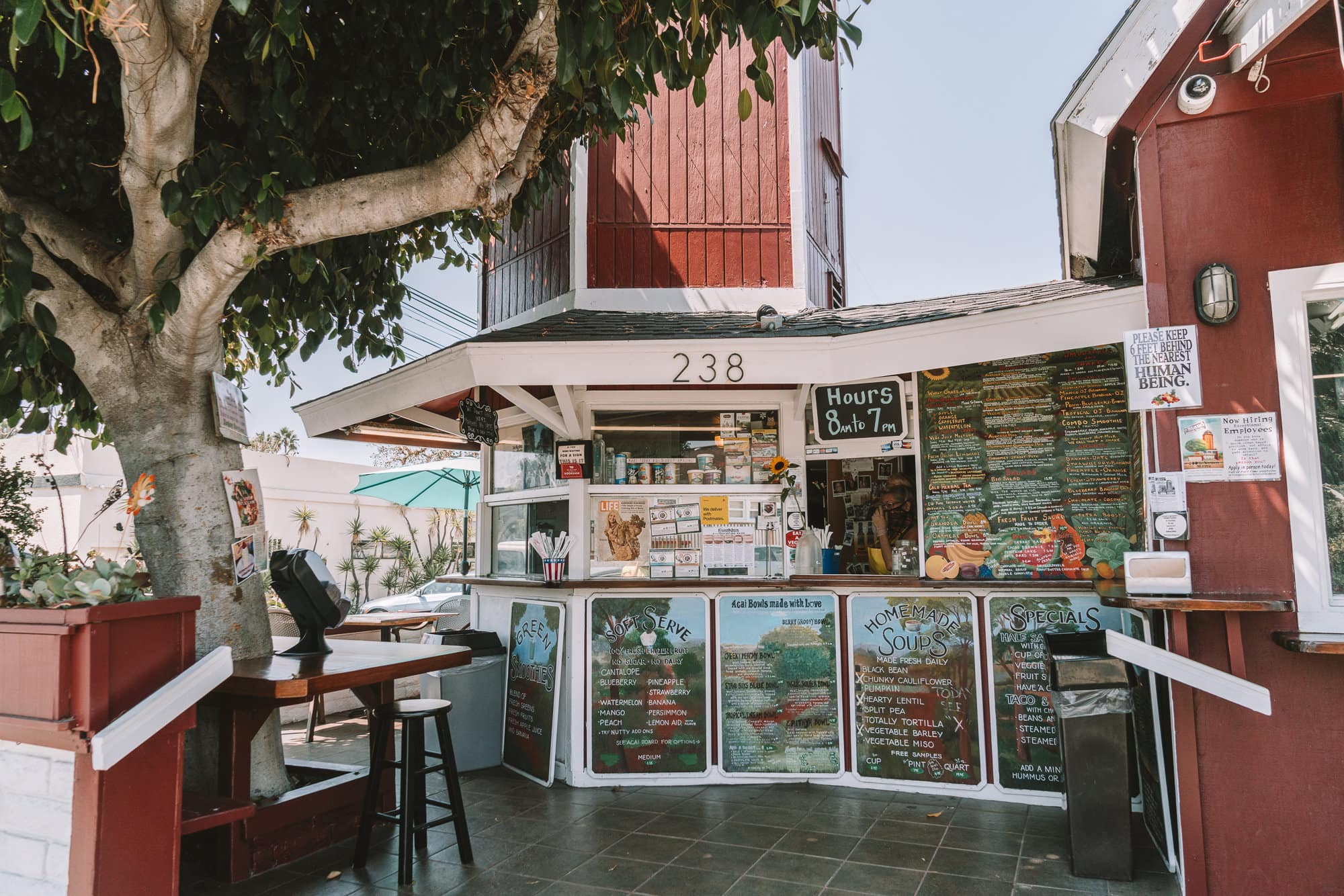 Where to Eat
Crystal Cove Shake Shack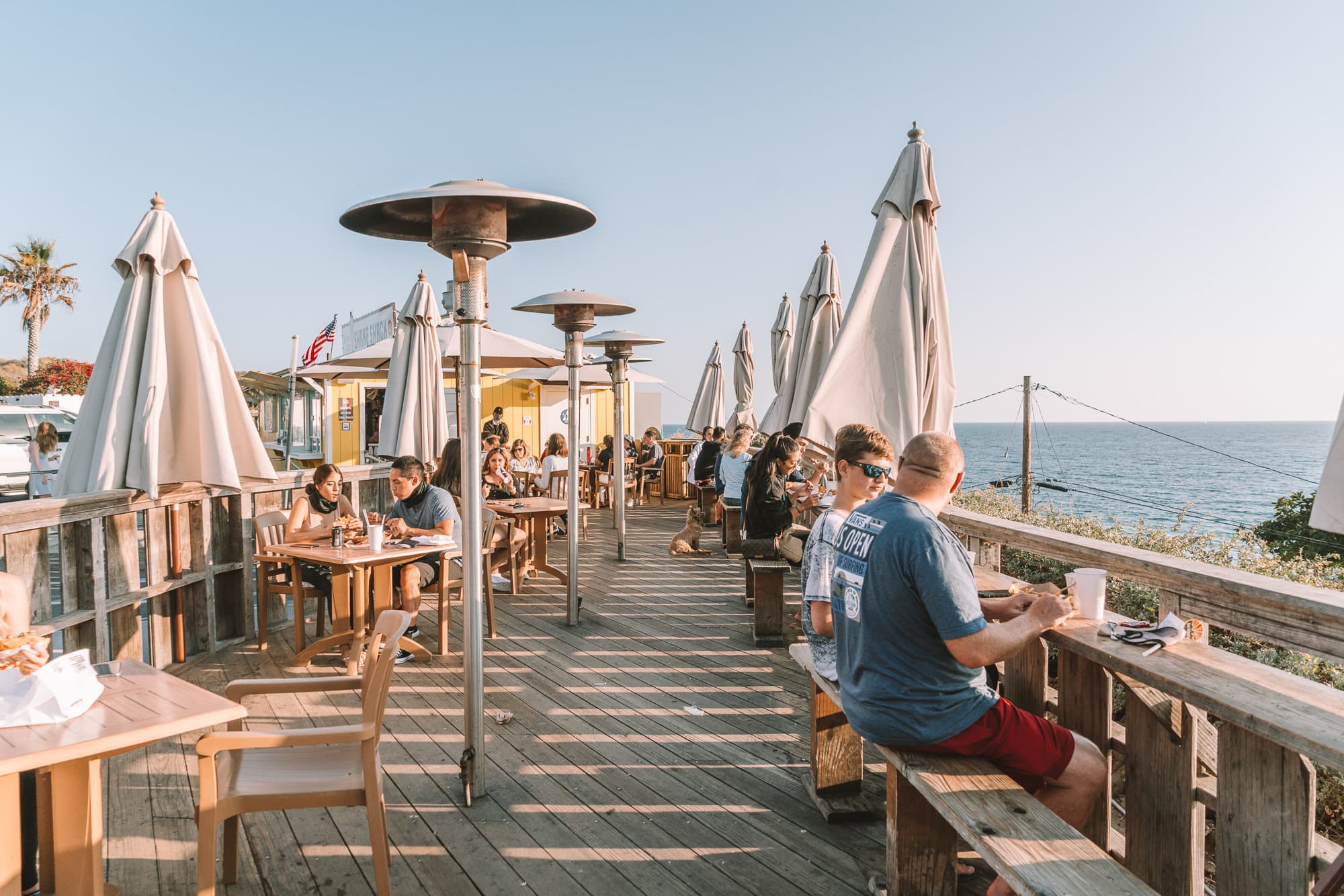 As I mentioned earlier, Shake Shack at Crystal Cove has breathtaking ocean views and serves up all of the vintage vibes with their milkshakes and burgers. Parking is limited so I suggest parking at Crystal Cove State Park and walking to the restaurant from there.
The Deck
The Deck is right on the water in Laguna and is the perfect place to relax with a drink and appetizers. The vibe kind of feels like you're on a boat! If you can, plan your visit during sunset and have your camera ready so that you can snap some stunning shots of the sunset.
Banzai Bowls
If you're looking for the most refreshing acai bowls in town, look no further than Banzai Bowls—they're amazing and this spot is always busy.
The Stand Natural Foods
For vegan foods, healthy eats and smoothies, head to The Stand Natural Foods, which is a Laguna Beach classic.
Blk Dot Coffee
This adorable coffee shop is close to the beach and great for grabbing some brew and walking down to the shore. Grab an iced coffee or cappuccino and then hit the sand and start your morning in pure serenity.
Nick's
For a fancier night out for dinner, Nick's is perfect, but I'd recommend reservations as they're ALWAYS packed. Nick's has some great options that include fresh seafood apps and entrees that will seriously melt in your mouth.
Gelato Paradiso
No Laguna Beach weekend guide is complete without a mid-day snack at Gelato Paradiso! Often voted some of the best gelato in the area, Gelato Paradiso is amazing and usually has a quick-moving line.
Best Beaches in Laguna Beach
Thousand Steps Beach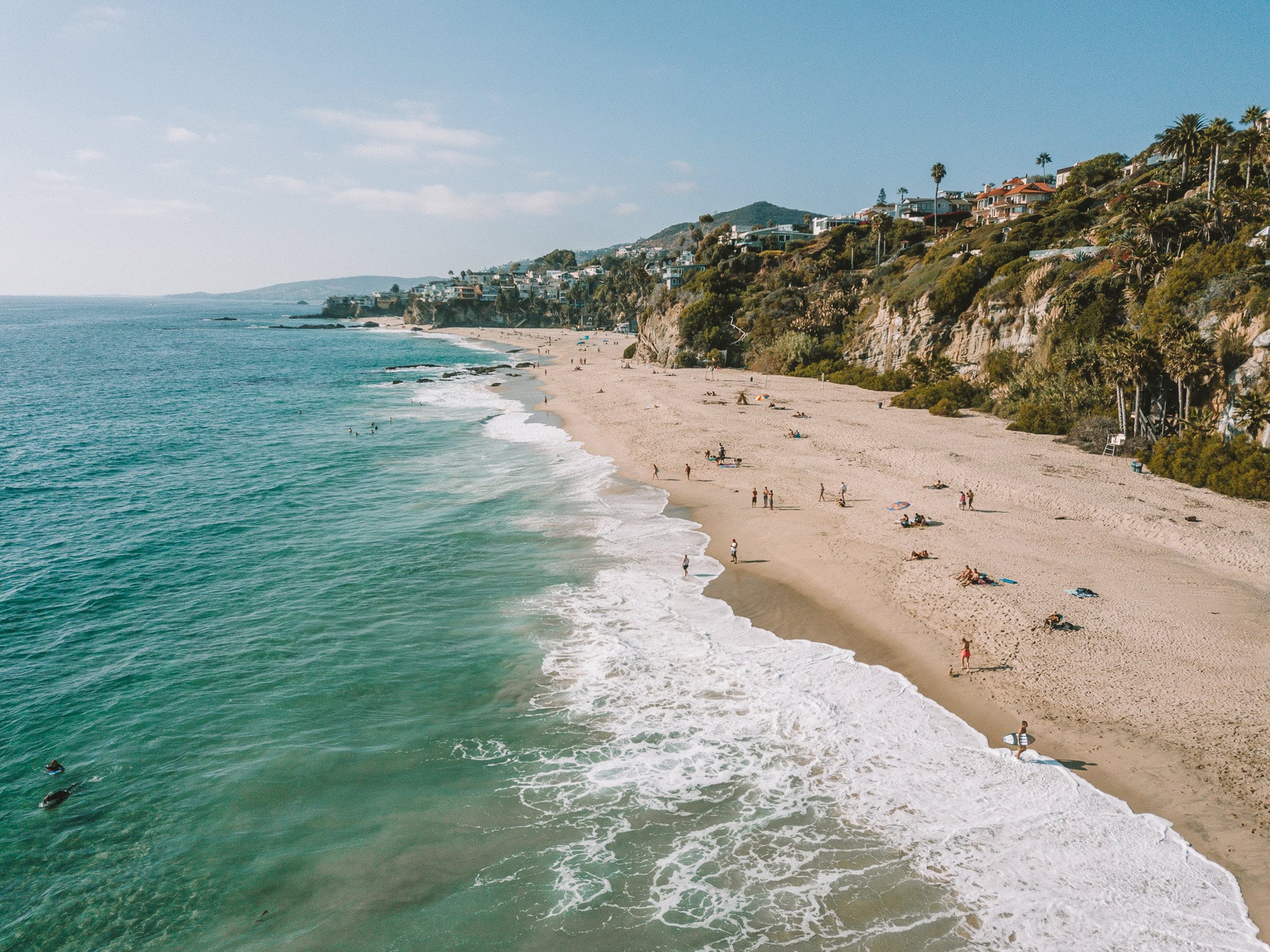 Technically, there aren't actually 1,000 steps. In fact, there are only 218…but who's counting? This famous beach feels the most tropical, with palm trees along the cliffs, an expansive sandy beach with rocky tide pools, and crystal clear water.
The vintage lifeguard towers and John Wayne's old beach shack feel like a step back in time. Make sure to explore the natural pools while there! You might spot some amazing starfish, mollusks, and sea slugs.
Victoria Beach + Pirate Tower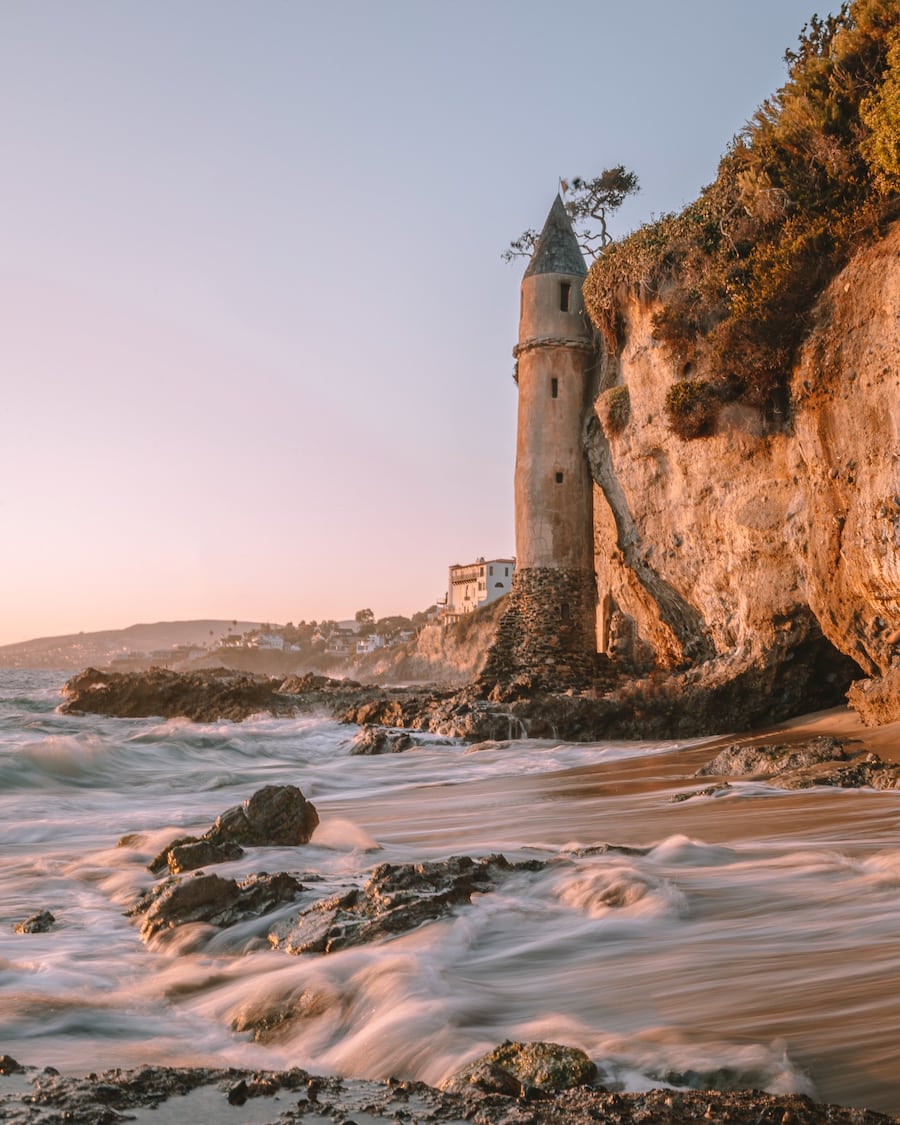 Victoria Beach itself is beautiful and perfect for laying out, although it is a bit small, but the real treasure at this beach is what is right around the corner, a pirate tower that looks straight out of a fairy tale.
When you go down the steps, turn right around the rocks and continue to walk along the coast until you see the Pirate Tower. It is absolutely stunning at sunset. 
Treasure Island Beach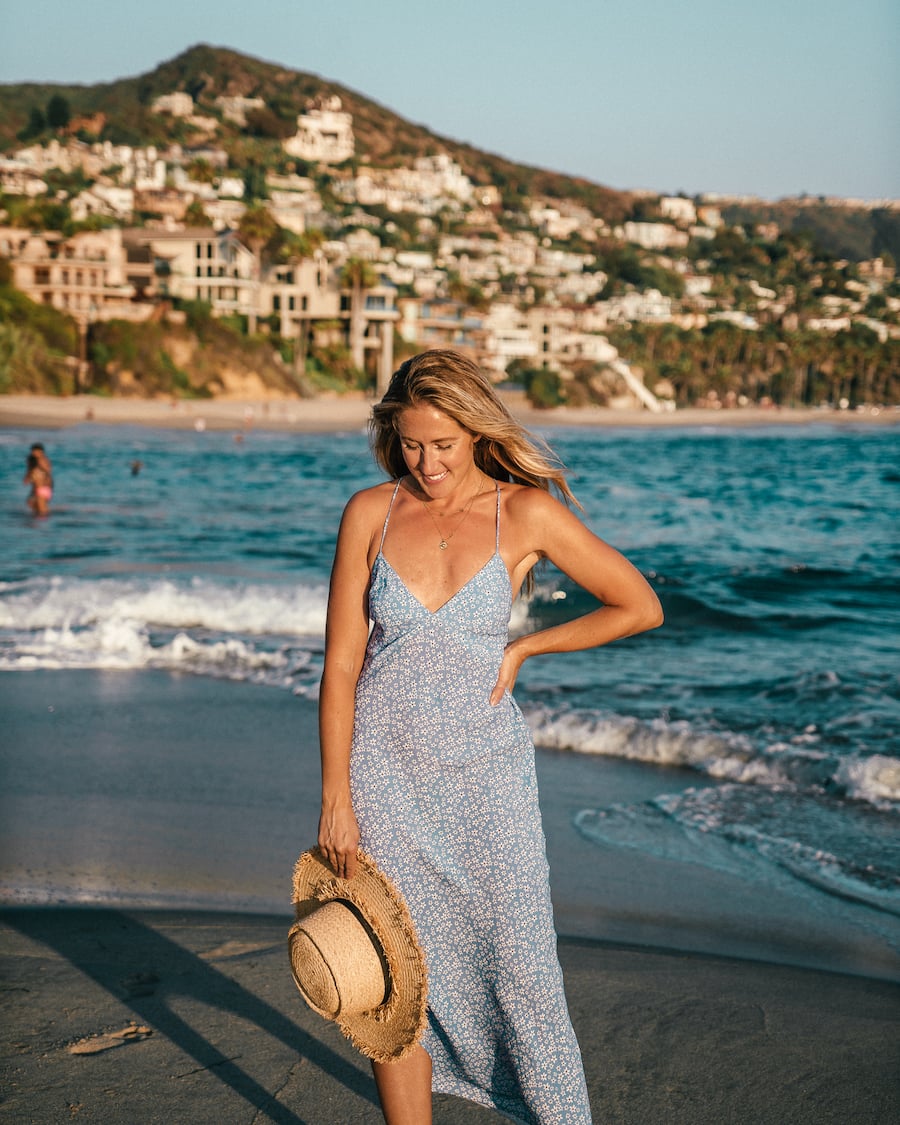 If you are looking for a gorgeous beach with easy parking, look no further! Treasure Island Beach is an expansive beach with plenty of room to spread out. Plus, it has some beautiful sea caves to explore. Fair warning: you may have to fight wedding photographers and other photoshoots to get a good shot here.
Crystal Cove State Park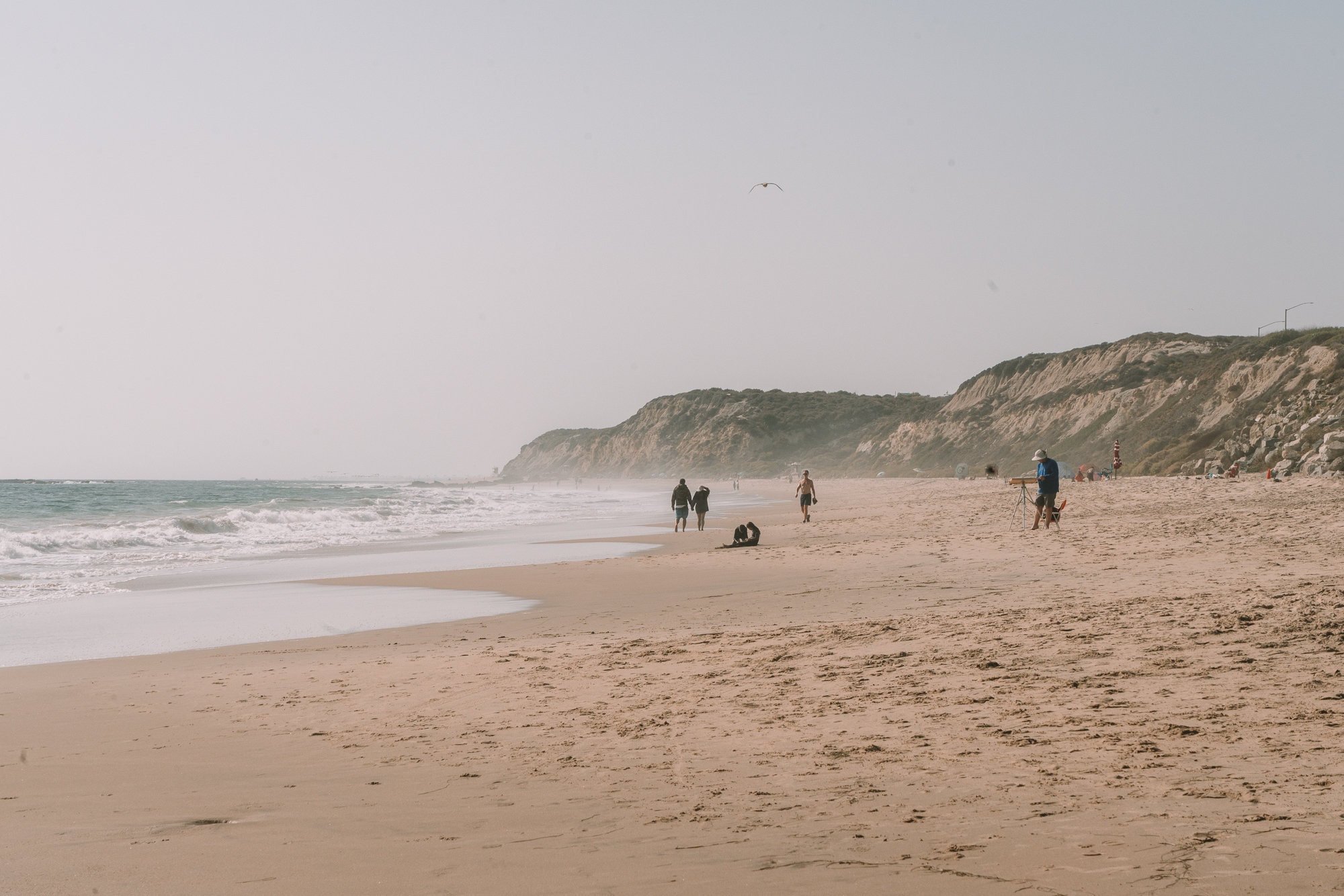 This is one of the most gorgeous beach areas in the Laguna area. It is technically considered to be part of Newport Coast, just north of Laguna Beach. It has bluff trails, sandy beaches, tidepools, and sunflower bushes in the spring.
It is the perfect place to spot wildlife like dolphins and whales because the hikes above sea level give you a bird's eye view. Keep in mind that there is a fee for parking ($15 for a day pass or $5 per hour at the Los Trancos lot) since it's part of the state park, so plan to make a full day of it.
More Fun Activities in Laguna Beach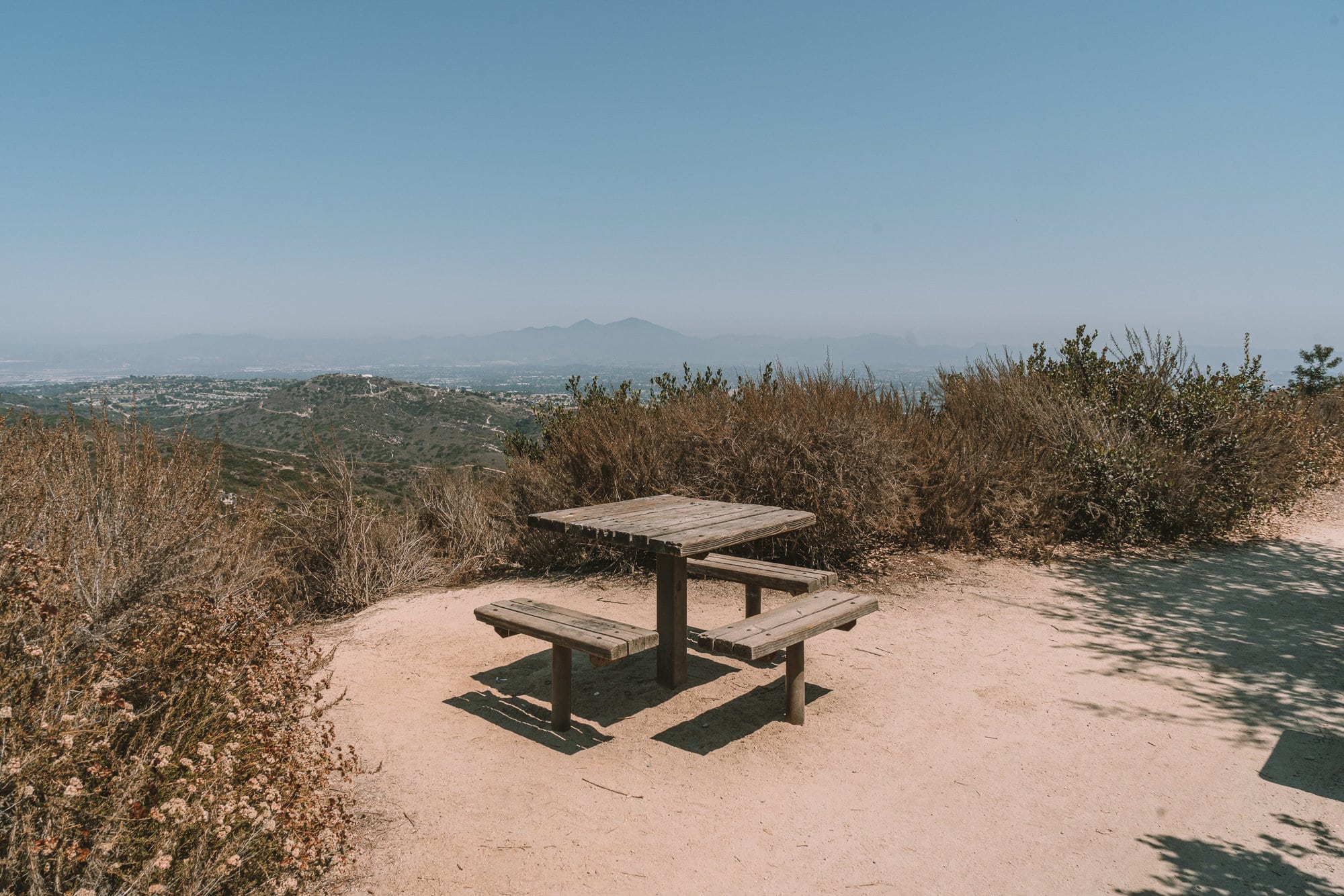 Browse the Laguna Art Museum and check out some of the other galleries in town, like Kush Fine Art and National Gallery of Fine Art Laguna
Explore Laguna from the sea! Whether it's surfing, paddle boarding, or kayaking, there are tons of ways to explore the ocean in Laguna. Check out SUP to You and La Vida Laguna for equipment rentals
Get sweeping views from Top of the World hike (pictured above) at Alta Laguna Park. This can be made into a hike or you can simply drive up to the beautiful view point. Either way, this is the perfect place to watch the sunset
Speaking of watching the sunset, Heisler Park is great for a family-friendly seaside stroll with a paved walking path overlooking the water
Did this post inspire you to plan a trip to Laguna Beach? Let me know in the comments below!
---
Planning a trip right now? Don't miss my go-to websites for booking everything from flights and tours, to accommodation and more:
---