While staying at one of the many beautiful California coast hotels should be on your bucket list, in this post we're going to talk about the amazing hotels on a different kind of California coastline: Lake Tahoe. 
I've lived in California for a decade now, and have traveled all over the state, but Lake Tahoe has quickly become one of my favorite California travel destinations.
While breathtaking any time of year, it's especially idyllic in summer when you can truly enjoy the beach and swim, paddleboard, and kayak on the lake. 
Because the lake itself is the main attraction, you'll want to stay as close to it as possible, and if I can offer my honest opinion, staying at a hotel right on Lake Tahoe is going to give you the best experience. But let's discuss this a bit further.
Do you need to stay right on the lake?
In short, the answer is no, it's not 100% necessary.
But here's the truth: Lake Tahoe isn't a hidden gem. In fact it's one of the most popular summer destinations in California, and because it's so well-known, that means it's heavily touristed—especially in peak season (June to August and December to March for ski season). 
In summer, beach parking lots fill up in the early morning hours and some even require hiking to get to them. If you're down for that, awesome!
However, if you want a Lake Tahoe vacation that's stress-free, easy, and sans crowds, with less time traveling to and from the lake, your best bet is to stay at a hotel right on the water as many have their own private beaches to enjoy.
In this post, I'm going to break down the best Lake Tahoe lakefront hotels in each area. I'll cover hotels in South Lake Tahoe, North Lake Tahoe, and the west side, with details about each to help you choose the option that's best for you. So let's get to it.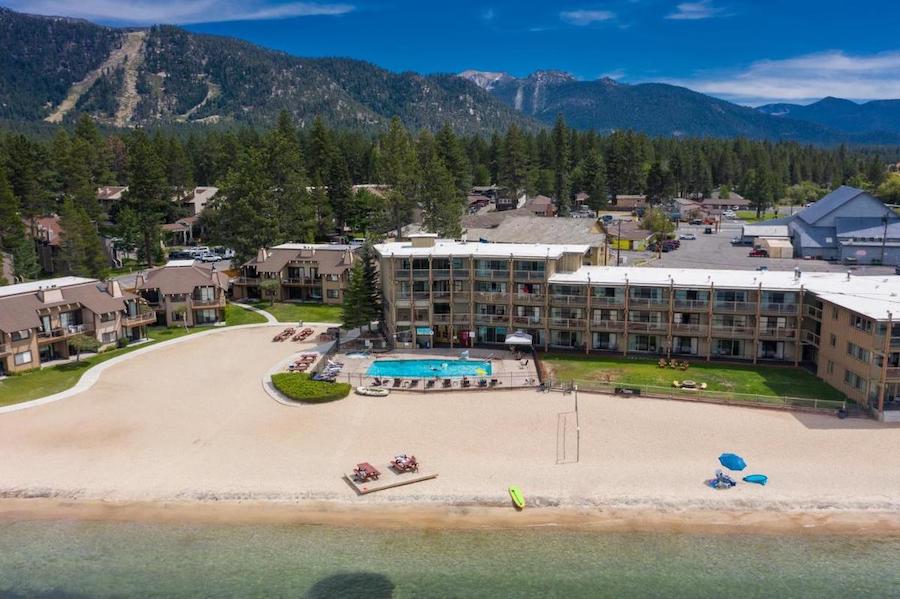 Don't have time to read the full post?
Here's the #1 Lake Tahoe lakefront hotel:
Tahoe Lakeshore Lodge & Spa
This hotel is located in South Lake Tahoe with private beach access—and every single room has a lake view!

CHECK RATES HERE
What to Expect from the Lakefront Hotels in Lake Tahoe
Lake Tahoe has no shortage of accommodations, and options range from modern, luxury resorts to old-school lodges to classic ski-condo-style units to cozy cottages and more.
While a lot of hotels offer lake views, it can be a little harder to find a spot that's actually lakeside, and if you're traveling to Lake Tahoe, you're going to want to be as close to the lake as possible—no matter which season you're traveling in.
This guide only includes true beachfront hotels that are right on the lake, meaning there's no highway or main road between you and the sublime views at these top Lake Tahoe beachfront hotels.
Whether you're looking for a 5-star resort experience with epic views or a low-key, private cabin right on the water's edge, you'll find something in this post. 
Best Lakefront Hotels in South Lake Tahoe
Lake Tahoe is the largest Alpine Lake in North America, and because it's so big, there are a number of different areas you can explore that all have their own unique vibe.
South Lake Tahoe is the busiest part of the lake and where some of the most popular ski resorts are, like Heavenly Mountain, and also where all the casinos are located.
This area has the most options for restaurants, shopping, and nightlife, so if you want to be close to the action, this is where you'll want to base yourself. 
Here's my roundup of the best lakefront Lake Tahoe hotels in South Lake Tahoe.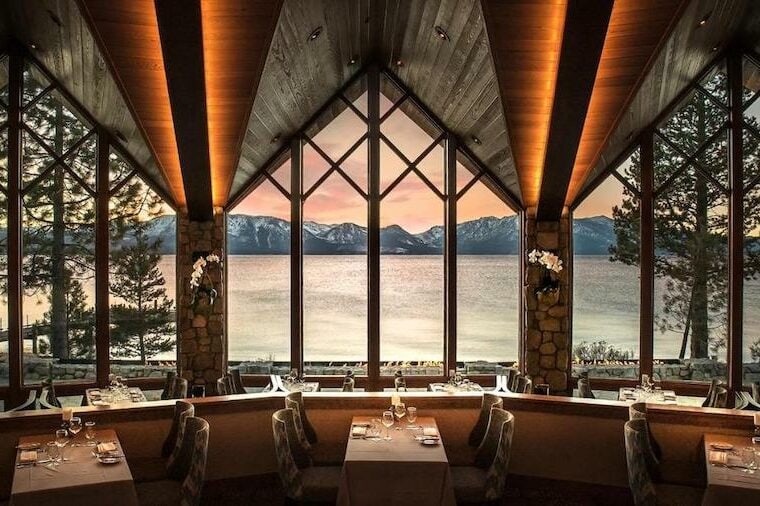 Top notch everything, the Edgewood Tahoe Resort is a 5-star luxury resort featuring Lake Tahoe's only lakefront golf resort. The vibe here is modern, mountain-lodge aesthetic with amazing amenities.
There are spacious rooms and suites available in the main lodge and they also have separate waterfront Villa Suites that are perfect if you're traveling with a larger group of people for a special occasion.
The Edgewood Tahoe Resort has an on-site restaurant (one of the best restaurants in all of Tahoe), a spa and beauty bar, yoga classes, a world-class golf course, and it's located right on the shores of Lake Tahoe with unbeatable views and access to a private beach.
If you're seeking the ultimate luxury experience in Lake Tahoe then this is it.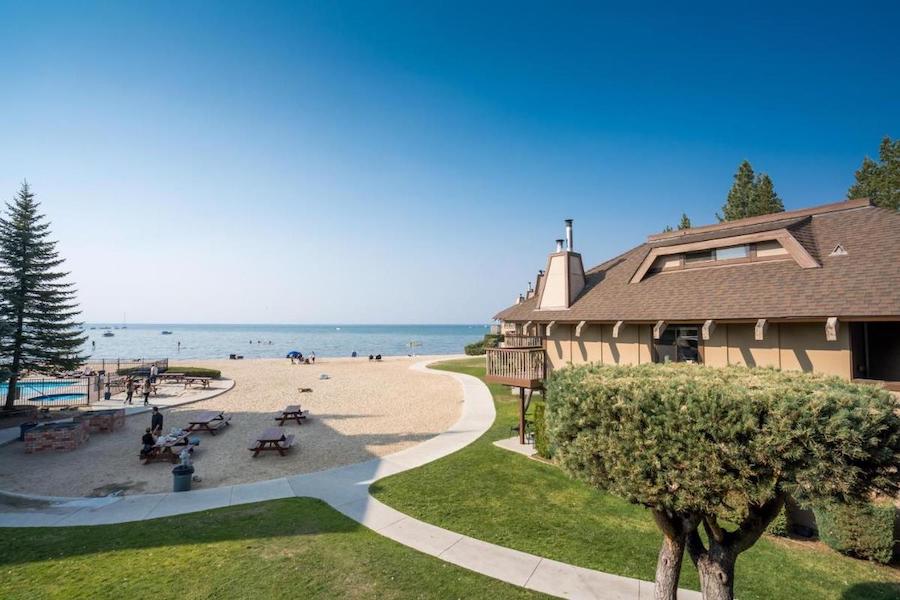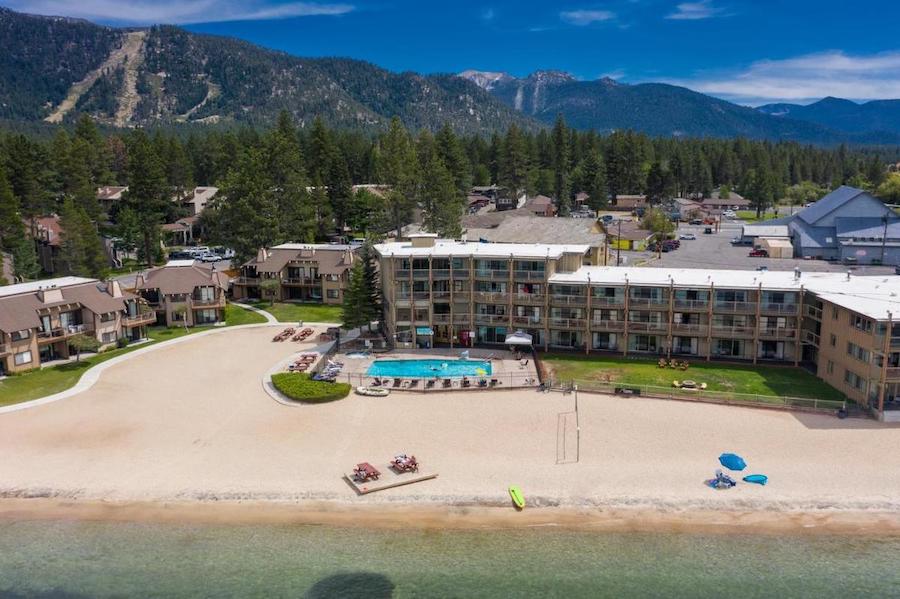 A lakefront resort where every single room has a lake view, the Tahoe Lakeshore Lodge & Spa offers both hotel and condo-style lodging in a centrally-located area.
It's a 3-star hotel, so a bit more affordable than some of the other options out there (and honestly with a few less bells and whistles), but it makes up for it in spades with its equal access to views for all guests.
Plus, it has some notable amenities like a full-service day spa, a heated pool, hot tub, beach access, and a beachside BBQ area. When it comes to the best value for your money, Tahoe Lakeshore Lodge & Spa is the way to go.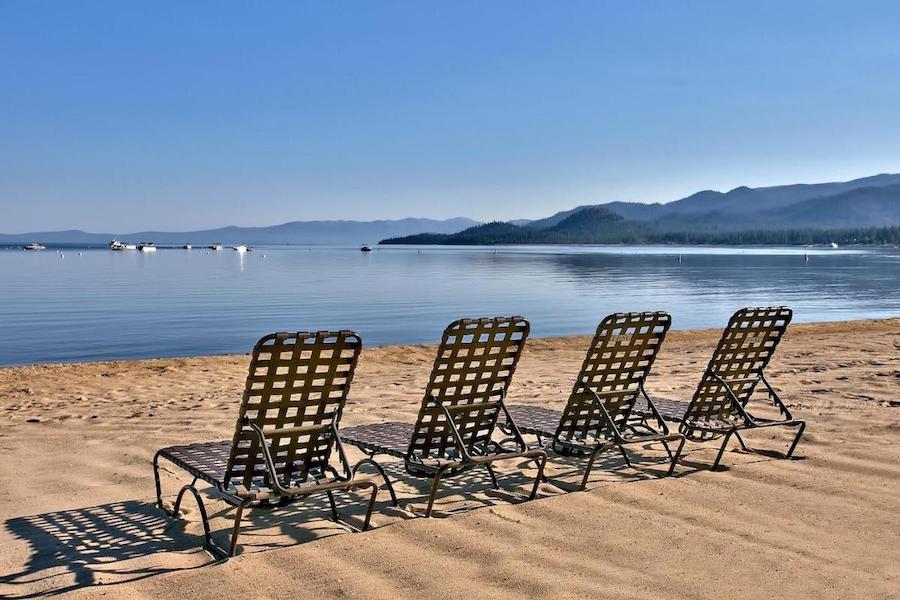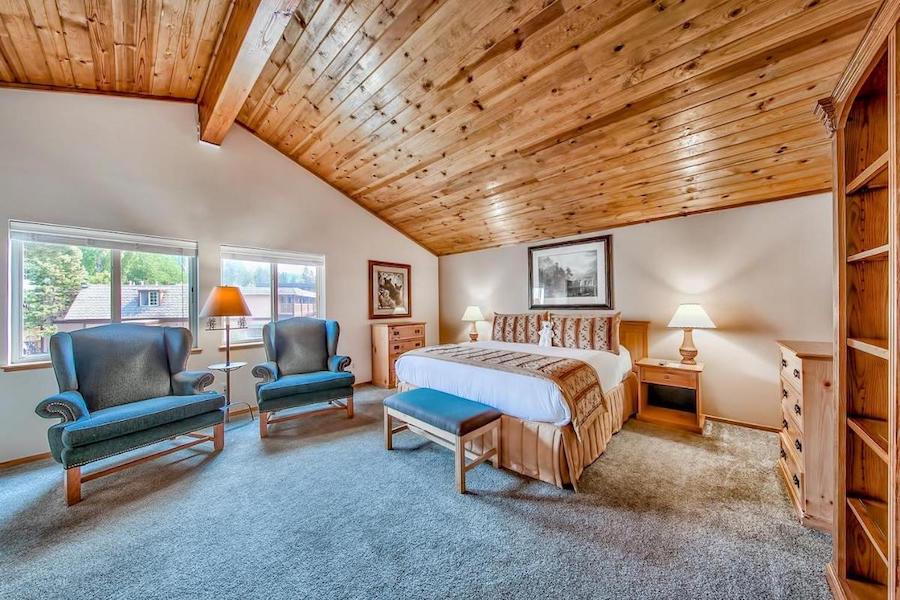 Another 3-star option that's right on the lake but also super affordable, the Tahoe Beach and Ski Club is a relaxed lakefront retreat offering a variety of accommodation options from studios and one bedrooms to cabins and townhouses.
There's a private 400-foot beach, outdoor spa, a heated pool, and a fitness center—plus, it's only a five minute drive to Heavenly Mountain.
This South Lake Tahoe hotel has more of an old-school vacation condo vibe, but the rooms are immaculate, and a location right on the lake for a price that can't be beat.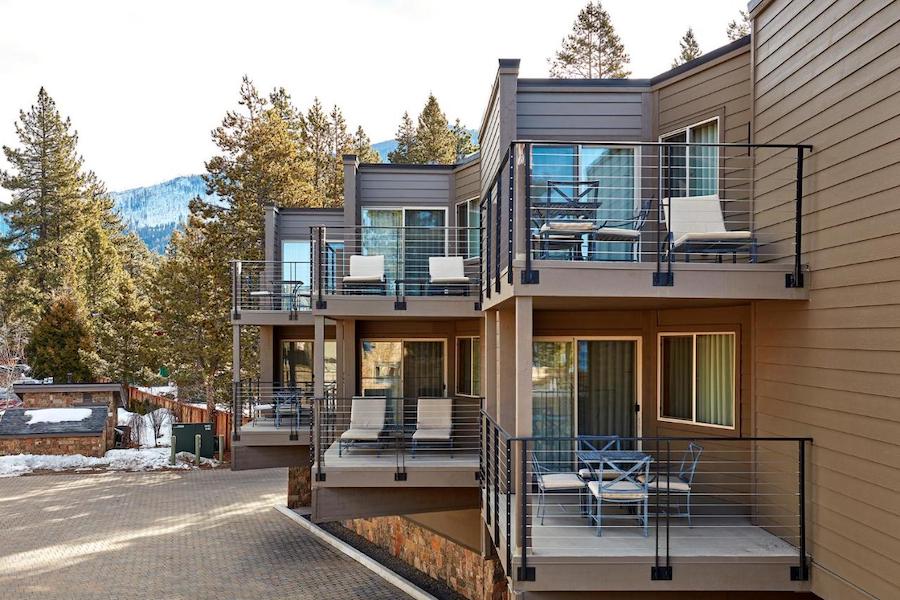 Overlooking Lake Tahoe, The Landing Resort and Spa is an upscale, 5 star resort that offers guest rooms and suites, postcard-worthy views, and luxury amenities.
It has a prime waterfront location with beach access for summer stays, and it's only 2.5 miles from Heavenly Mountain if you're visiting in the winter to ski. 
What makes the Landing Resort unique to the other lakefront hotel options in Tahoe is the design. The interiors here are definitely more sophisticated and modern compared to what you'll find in other accommodation options, as the overwhelming majority of decor at Tahoe hotels oozes summer camp cabin vibes.
All rooms here have gas fireplaces for cozy evenings in, and the resort has an excellent on-site restaurant and bar, a heated outdoor pool and hot tub, a full-service spa, and a rooftop deck with a fireplace. 
Best North Lake Tahoe Hotels on the Lake
While South Lake Tahoe is where to stay if you're looking for an area with an active nightlife, North Lake Tahoe is where you'll want to be if laid-back lake vibes are more your speed.
Things move at a slower pace in the northern part of the lake ("Tahoe Time" is very much a thing), but there are still some excellent restaurants, wine bars and breweries in the area—and of course, epic vistas, which you'll get no matter which part of Lake Tahoe you visit. 
For those travelers looking to hit up the north shore, these are some of the best Lake Tahoe hotels lakefront in North Lake Tahoe.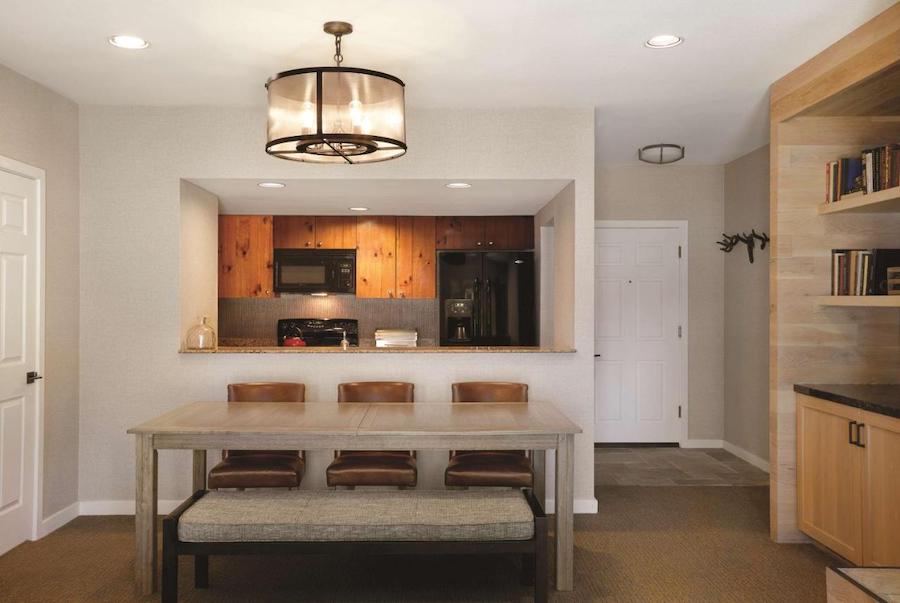 If you love the consistency of a larger brand hotel, the Hyatt Regency delivers a luxury Tahoe experience on all levels. 
It's a 4-star, waterfront resort with 500-feet of private beach, tastefully decorated rooms, and all the amenities you'd expect from Hyatt.
Think on-site bars and restaurants (there are seven here, so plenty of options to choose from!), a pool and hot tubs, a spa with 16 treatment rooms, and wait for it—there's even a casino. 
If you want to immerse yourself in nature all day but then come back to your hotel to relax and be pampered, this is your spot.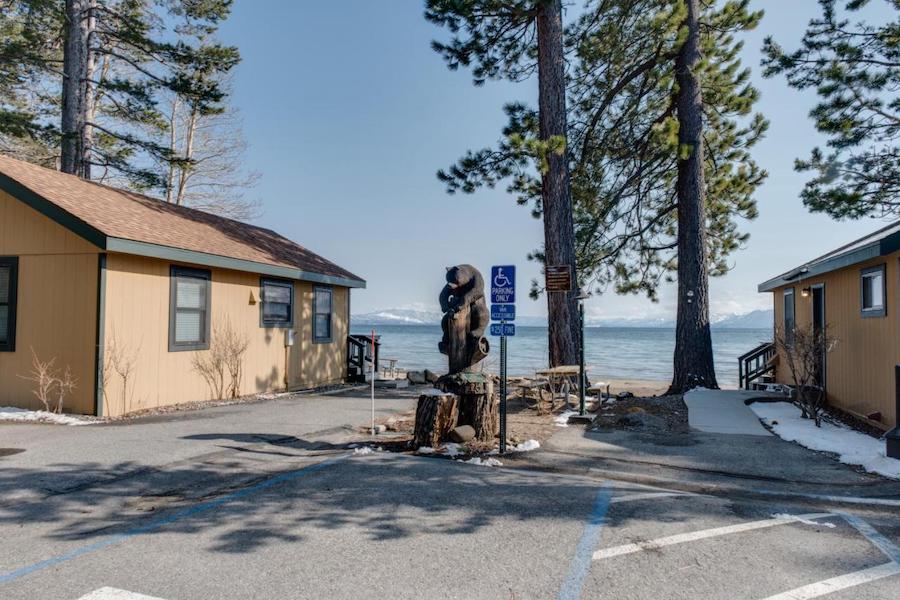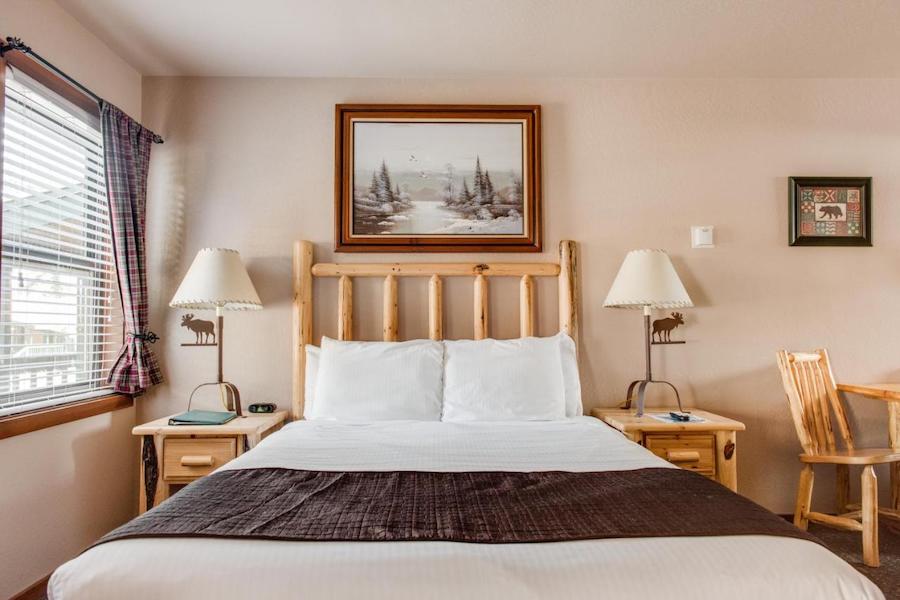 A low-key lodge on the northern shores of Lake Tahoe, the Franciscan Lakeside Lodge has a number of different accommodation types to choose from.
Here you'll find lakefront cabins which are directly on the beach, lakefront suites and studios which have views of the beach, and forest-side suites and studios which are across the street from the beach. 
This place is a bit more traditional aesthetic-wise and doesn't have all the bells and whistles of some of the bigger resorts in the area, but there's a private beach with a pier, a heated pool, and all units have fully equipped kitchenettes, which is key if you don't want to eat out for every meal or if you're traveling with kids.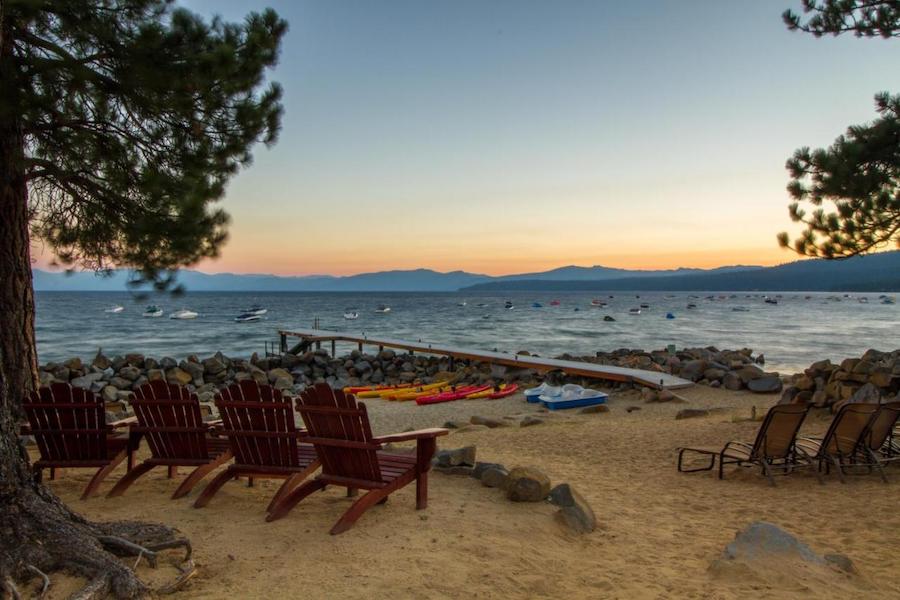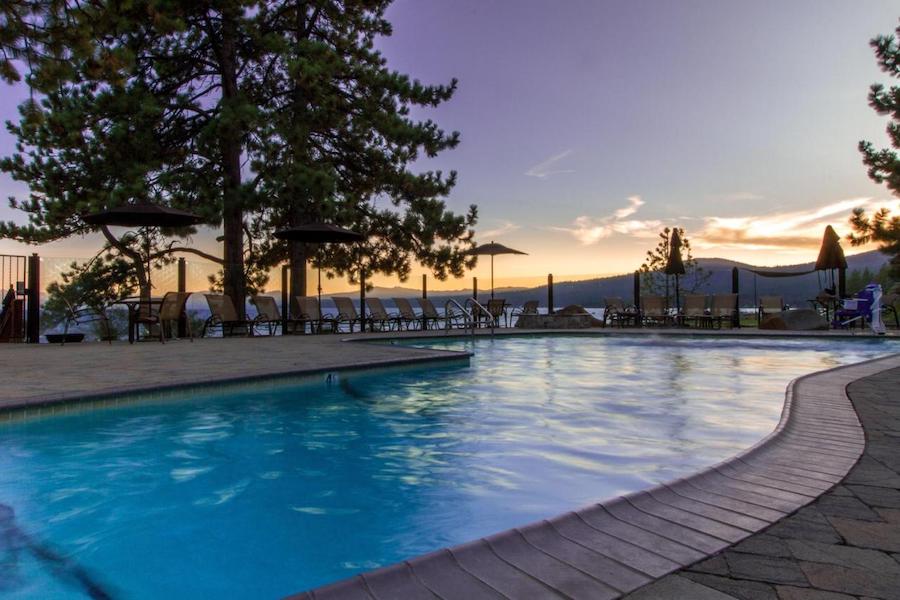 The Red Wolf Lakeside Lodge is a cozy lakeside lodge with stunning views of Lake Tahoe and the surrounding mountains. They offer cozy and well-appointed studios and one and two-bedroom condos (that are great for families), featuring fully-equipped kitchens and gas fireplaces.
The grounds are beautiful and guests have access to a sandy beach, a heated pool and hot tub overlooking the lake, and a lakeside deck with fire pits.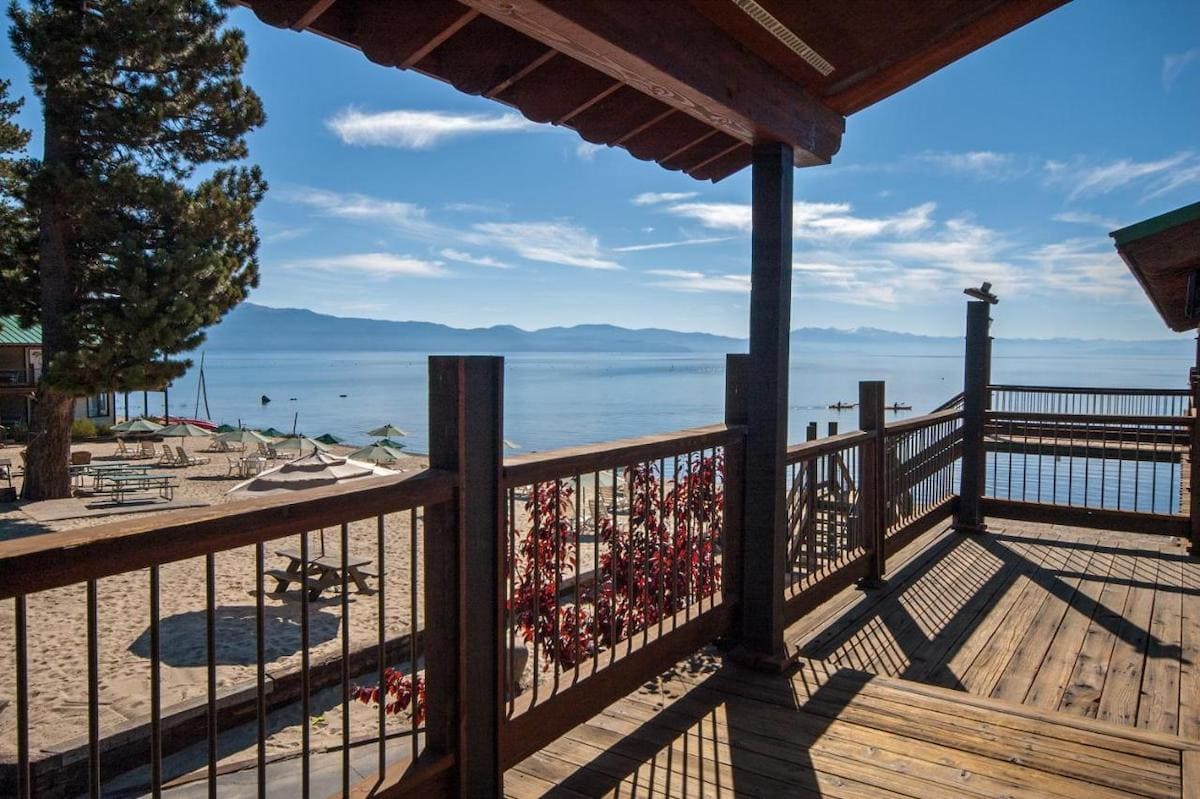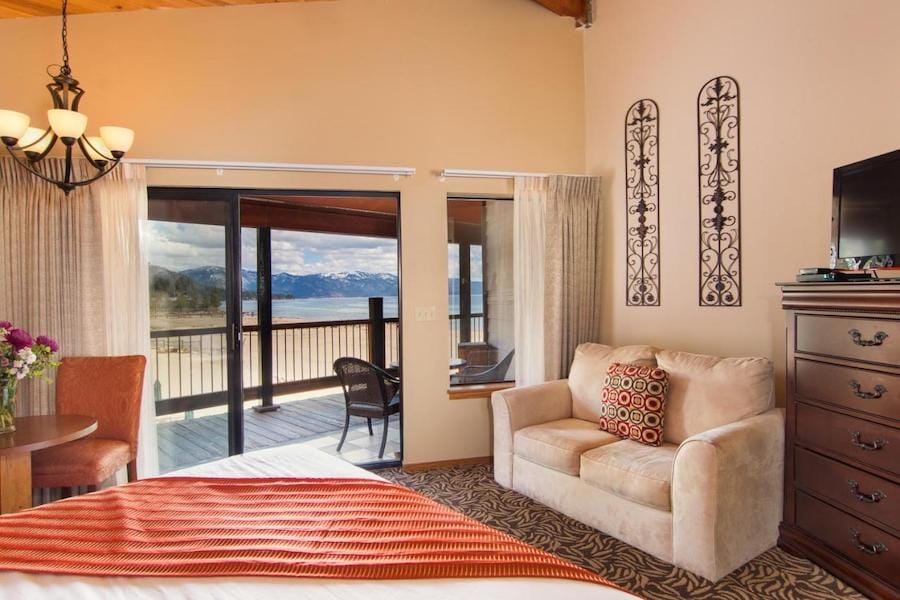 A historic mountain resort on Lake Tahoe's north shore, Mourelatos Lakeshore Resort is family owned and operated (and has been for over 30 years).
They are known for their incredible hospitality and offer lakeside suites, forest-side cabins, and a larger retreat residence available for events that sleeps up to 10 people.
The setting is quiet and peaceful, the rooms are fully-remodeled, and there are amenities like outdoor hot tubs, fire pits, and a private beach with access to kayaks, paddleboards, and paddle boats. 
Best Lakefront Lake Tahoe Hotels on the West Shore
The Lake Tahoe West Shore is located on the California side of the lake, and it's a bit more remote than North and South Lake Tahoe. There are lush, mossy forests as well as ski resorts and beautiful sandy beaches.
Some people like to say that "The west shore is the best shore" because of its spectacular scenery, history, and "Old-Tahoe" vibes, but it definitely just depends on your personal preference.
If you're looking for a more quiet, peaceful section of the lake without all the action and amenities of South Tahoe and North Tahoe, the west side might be just the spot.
Here are my recommendations for Lake Tahoe hotels on the lake on the west shore.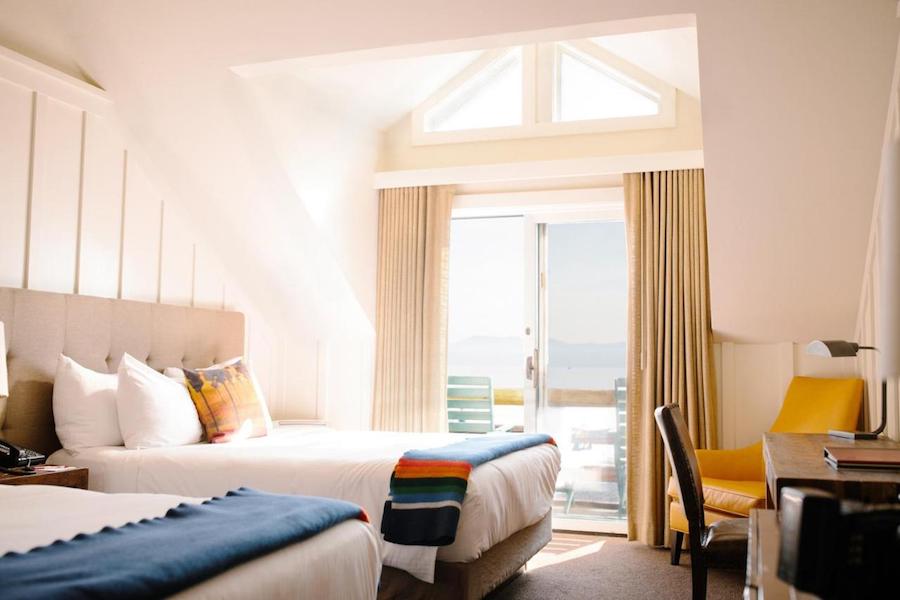 A classic lakeside lodge that's been a staple in the area since the 1950s, the Sunnyside Restaurant and Lodge is right on the shores of Lake Tahoe and is a smaller, cozier spot with only 23 guestrooms and suites. 
It's the social center of the west shore and has a huge outdoor deck with views of the lake that can't be beat, plus a popular restaurant and bar.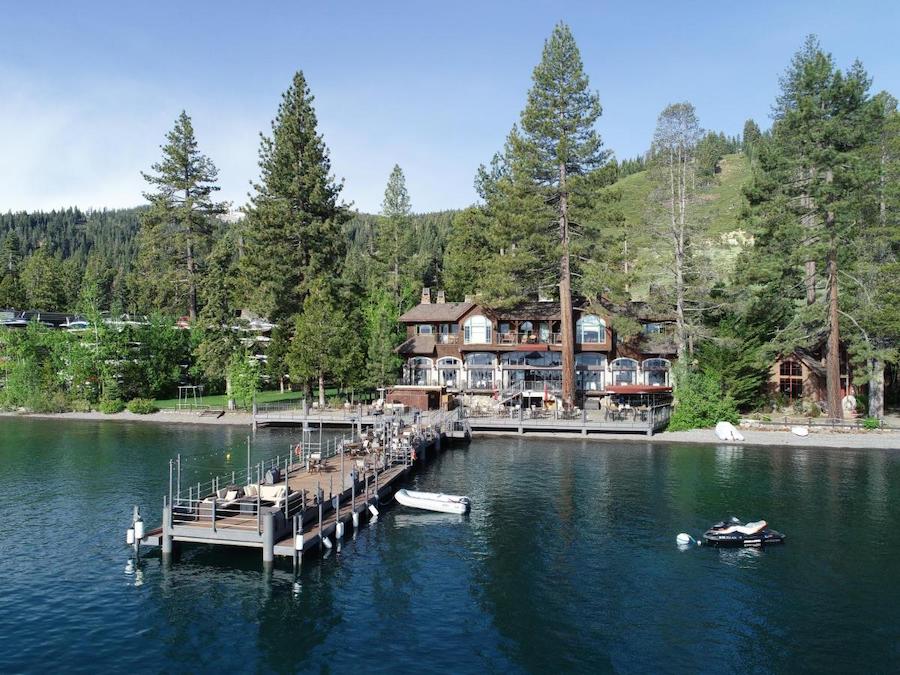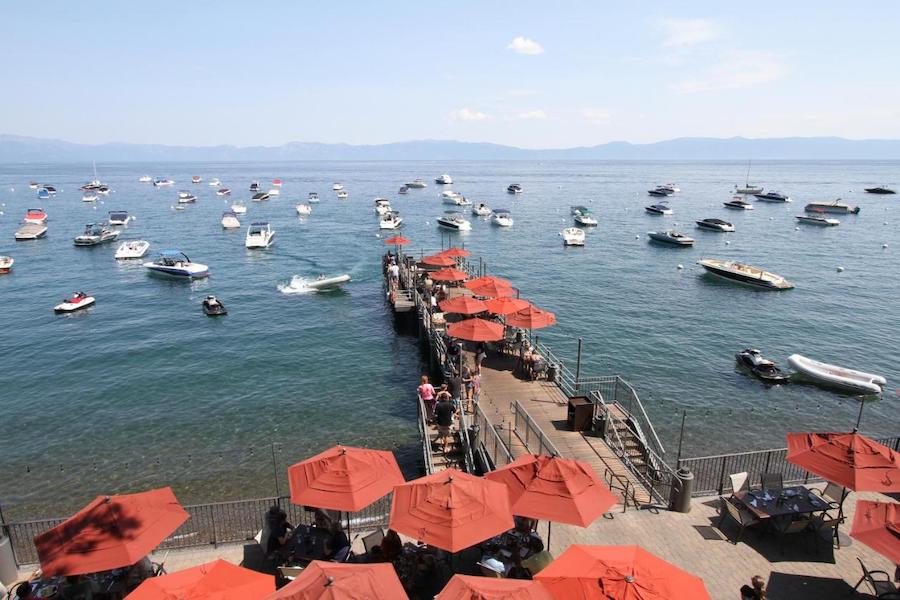 Though currently closed for renovations, the West Shore Cafe and Inn is a gem on the edge of Homewood Mountain Resort that regularly hosts gorgeous weddings, and 4-course "Vine to Pier" pairing dinners on their charming dock.
Once it reopens, this will be one of the top reservations to snag on the lake, with gorgeous teak wood architecture, high ceilings and a front row seat to moonrises over Lake Tahoe.
Where to Stay on Tahoe's East Shore?
You might be wondering why I left out the East side of the lake on the Nevada part of Lake Tahoe. The reason is that there aren't any resorts on that side, only private homes that get rented out here and there—and some have pretty horrible reviews.
So your best bet for staying at a waterfront hotel in Lake Tahoe is to look in North Lake Tahoe, South Lake Tahoe and on the west shore.
I hope this roundup of the best Lake Tahoe hotels lakefront is helpful when planning your Lake Tahoe adventures. I'd love to hear if you've traveled to any of these spots too—or if I've missed one of your favorites!
Pin it for Later