Planning a Lake Tahoe winter escape?
This guide will have you covered with everything you need to know to plan an epic trip!
Lake Tahoe is one of my favorite destinations in all of California and it's a breathtaking destination year-round. However, winter is undoubtedly one of the most magical times to visit.
As the snow begins to fall and blankets the area, the landscape transforms into a winter wonderland, creating endless opportunities for outdoor activities and unforgettable snow-centric experiences.
In this article, I'll guide you through everything you need to know to plan the perfect Lake Tahoe winter vacation. From skiing and snowboarding to booking the best cozy accommodations, this Lake Tahoe Winter Guide has got you covered.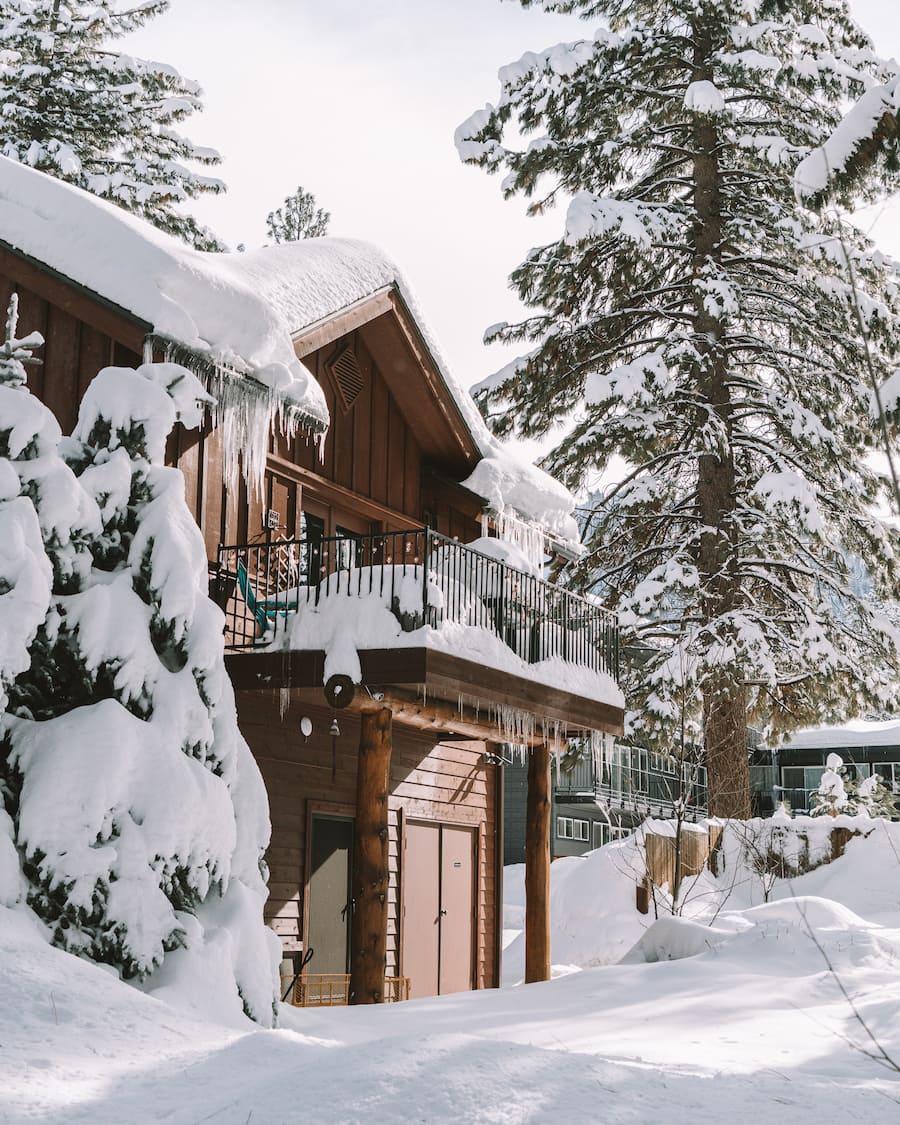 Also, just so you know—for purposes of this blog post, I'm only going to be focusing on the California side of Tahoe.
If you look on a map, you'll see that Lake Tahoe splits the state line between California and Nevada, but I'll be focusing on South Lake Tahoe up to Northstar California Resort in North Lake Tahoe, which is all on the California side.
Why? Well, because this blog mostly focuses on California guides and also because there's more to do on the California side in winter in my opinion!
In summer, I love the Nevada side's beaches, but when it comes to a Lake Tahoe winter, you can't beat the resorts and activities that the California side of Tahoe offers.
Thank you to Visit California for sponsoring this trip to Lake Tahoe!
Reasons to Visit Lake Tahoe in Winter
There are many reasons to plan a Lake Tahoe winter trip, but plentiful skiing and snowboarding opportunities rank #1 among the reasons why people excitedly book it to Tahoe in the colder months.
Skiing and snowboarding are undoubtedly the most popular winter activities in Lake Tahoe. With over 22,000 acres of skiable terrain, Lake Tahoe offers endless opportunities for all levels of skiers and snowboarders.
But not only do you get great skiing at Tahoe, you get epic slopes with a view. At Heavenly Mountain Resort, for example, you can enjoy 4,800 skiable acres, 28 lifts, and 97 trails, all while taking in panoramic views of Lake Tahoe.
Does it get any better?!
Of course, if you're not into hitting the slopes, there are still plenty of reasons to visit Lake Tahoe in winter. If you live on the West Coast, this is a quintessential destination to get that "winter wonderland" feel, which is a breath of fresh air (ahem, *crisp air*), when you live by the beach.
Visitors to Lake Tahoe in winter can also enjoy tons of fun snowy activities including snowshoeing, tubing, ice skating, and much more.
How to Get to Lake Tahoe in Winter
To get to Lake Tahoe, the closest airport to fly into is the Reno-Tahoe Airport. However, you can also drive pretty easily from the Bay Area if you're coming from San Francisco or Sacramento.
Keep in mind that driving times will 1000% depend on what day of the week and time of day you decide to drive as the road into Tahoe can get notoriously jammed up on weekends with Bay Area travelers booking it to the mountain for some fresh powder.
Winter storms can also cause road closures or delays as they work to clear snow off the roads.
I'd highly recommend planning your entry and exit in and out of Tahoe on weekdays and leaving super early in the morning so you can avoid as much traffic as possible.
With that said, you need to be a little flexible because you never know what might happen when it comes to Tahoe weather!
PS—Yes, you do need chains or 4WD to be able to drive into Tahoe in wintertime and chain control will stop you on the drive-in. More details on that and some pro tips are further on in this post!
Should you Visit North Lake Tahoe or South Lake Tahoe?
Ah yes, a very important question indeed.
South Lake Tahoe and North Lake Tahoe are the two main parts of Lake Tahoe, California to visit in winter, so how do you decide which to visit?
I cheated and chose to visit both on a recent trip, starting in South Lake Tahoe and skiing at Heavenly Resort and then making my way up to Northstar California Resort on the lake's northern side for the second half of our trip.
But if you have to pick just one, let me help you out a bit. Both areas are awesome but have a slightly different feel.
South Lake Tahoe to me personally, feels more like a large town, with tons of restaurants, hotels, and coffee shops. While there's no real walkable "downtown", there's definitely plenty to do in South Lake Tahoe and it attracts a younger crowd who enjoy skiing during the day and partying at night.
South Lake is great for big groups of friends, bachelor/bachelorette parties and celebrations.
North Lake still has a town feel but is a bit quieter and family-friendly in my opinion, with more high-end accommodation like the Ritz-Carlton that is directly on the mountain at Northstar.
The main thing you should base your decision on is this: Which resort do you want to ski at? There are over 10 ski resorts on the California side and they all have their own unique offerings.
Luckily, I've broken down the most popular ones below so you can get a better feel for where you want to visit.
A Breakdown of Lake Tahoe, California's Ski Resorts
If you're planning a Lake Tahoe winter trip, you're likely going to be partaking in some skiing or snowboarding. These are the top California resorts to consider when planning a trip to Tahoe in winter and what to expect at each.
Closest Town: South Lake Tahoe
Overall Vibe: Younger, fun crowd due to its proximity to all the restaurants and bars in South Lake Tahoe
Terrain: Heavenly has the highest skiable terrain in Tahoe at 10,040 feet above sea level via the Sky Express Lift. It is also the second largest ski resort in Tahoe.
Distance from the lake: Next to the lake
Highlights: Incredible views of Lake Tahoe while you ski, and tons of things to do nearby in South Lake Tahoe, which makes it a great option for ski trips with friends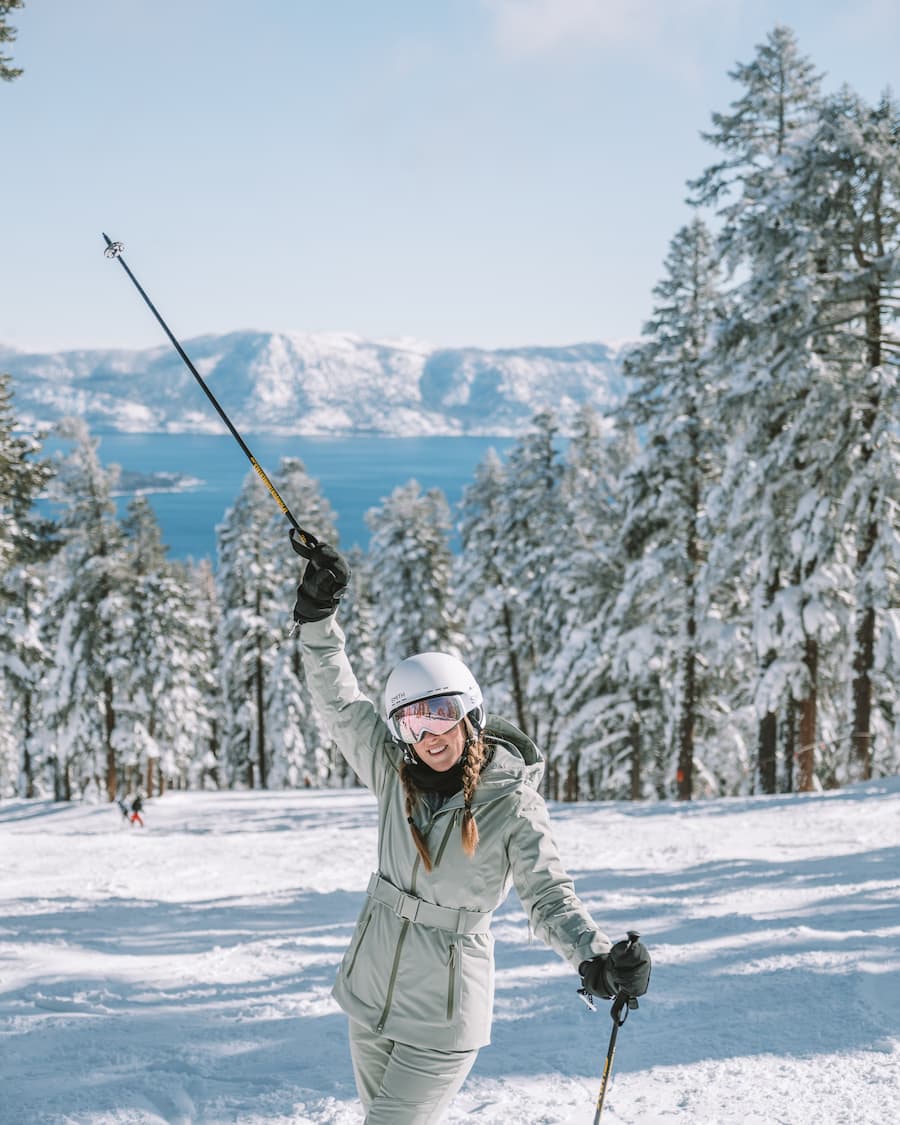 Closest Town: Truckee, California
Overall Vibe: Family-friendly and higher end, with ski-in-ski-out accommodations at the Ritz-Carlton.
Terrain: Northstar is known for its well-groomed trails, and it features one of the only half pipes around Tahoe
Distance from the lake: About 30 minutes drive from the north part of the lake
Highlights: Great views of the lake from the top of the mountain, and an adorable base village with free s'mores daily each afternoon.
Closest Town: South Lake Tahoe
Overall Vibe: Welcoming, independently owned, and a beginner-friendly resort
Terrain: 2,000 acres of skiable terrain with much of it is geared towards beginners
Distance from the lake: About 50 minutes from South Lake Tahoe
Highlights: This is one of the most budget-friendly ski resorts in Tahoe
Closest Town: Truckee, California
Overall Vibe: A small and intimate mountain compared to other Tahoe resorts that's right off the highway
Terrain: Only 380 acres of skiable terrain, but lots of options for trying out rails, jumps and even an indoor skate park
Distance from the lake: 1 hour
Highlights: Closest to Sacramento for those coming in from the Bay Area. Its famous Tahoe Tubing Hill, for those that want to skip skiing or snowboarding altogether.
Closest Town: Truckee, California
Overall Vibe: Mid-size mountain with 1,650 acres of trails
Terrain: Variety of terrain for all different ski levels.
Distance from the lake: 1 hour
Highlights: Its historic gondola that dates back to 1939, and its renovated historic hotel that sits at the base of the mountain.
Closest Town: Homewood, California
Overall Vibe: A great intermediate mountain, with views for miles and not too much over-crowding thanks to limited parking.
Terrain: 1,260 skiable acres of trails that is a good happy medium for intermediate-level skiers.
Distance from the lake: Right on the lake
Highlights: Arguably the best views of Lake Tahoe from the slopes can be found at Homewood.
Closest Town: Truckee, California
Overall Vibe: The most famous of Tahoe's ski resorts (formerly Squaw Valley) as they hosted the 1960 Winter Olympics
Terrain: A little something for everyone, but especially great for advanced skiers and snowboarders.
Distance from the lake: 20 minutes
Highlights: Its notorious KT-22 lift, which many consider the best chairlift in North America, plus beginner terrain at higher elevations so new skiers can hone their skills while getting great views.
Closest Town: Kirkwood, California
Overall Vibe: Advanced terrain and a more local feel
Terrain: This is a great expert-level mountain, with close to 60 percent of its trails rated for advanced skiers.
Distance from the lake: An hour and 10 minutes from South Lake Tahoe
Highlights: Known for having some of the best snowfall and powder skiing around Tahoe. It's also the second-highest resort in Tahoe.
Where to Stay in Lake Tahoe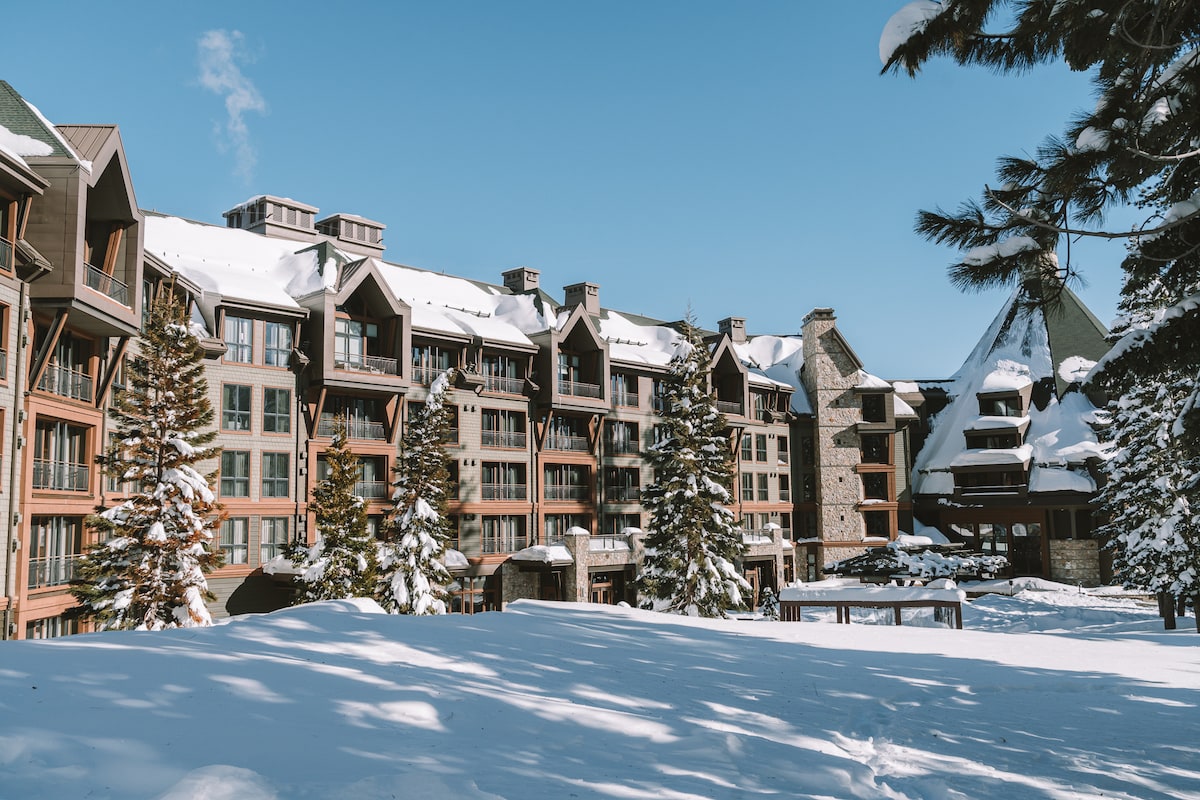 One of the best parts of a Lake Tahoe winter vacation is the opportunity to cozy up in a beautiful cabin or lodge. There are plenty of lodging options to choose from, ranging from budget-friendly to luxurious.
Again, choosing where to stay depends on which resort you've chosen to ski at, but I'll share my top picks at the two mountains I recently visited: Northstar California Resort and Heavenly below!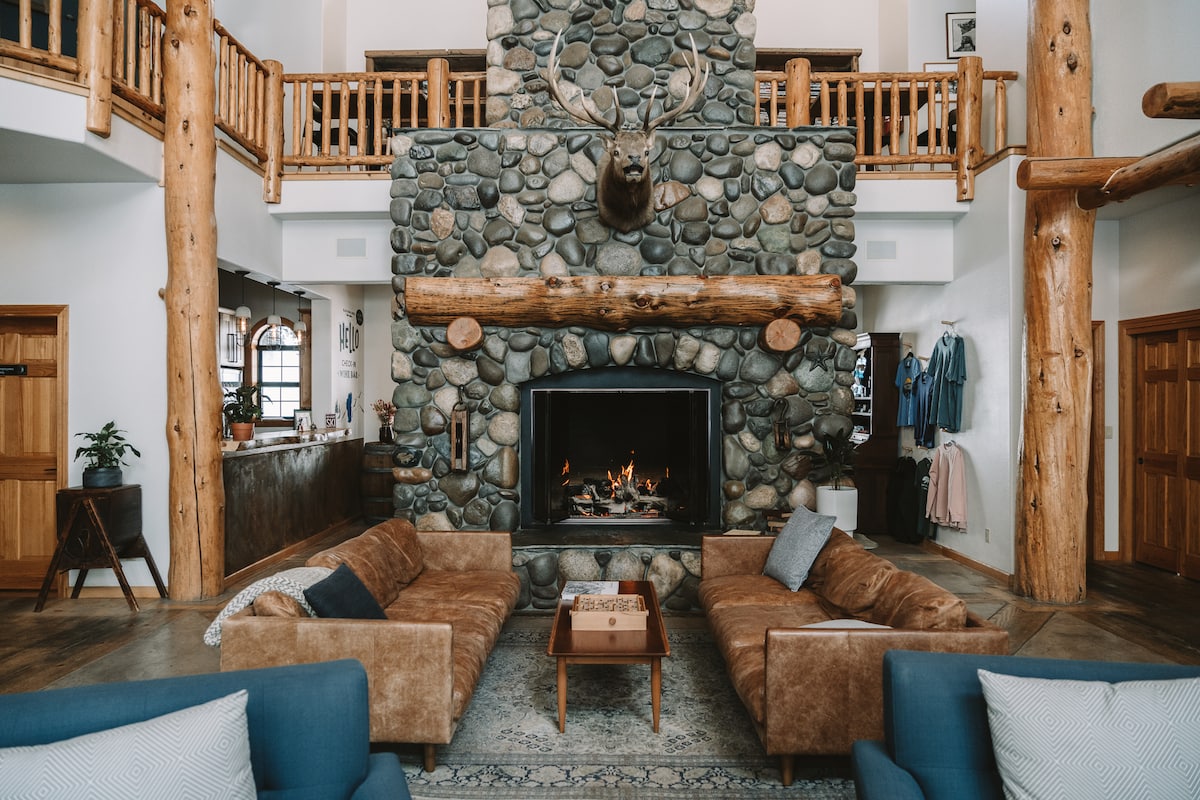 Where to Stay at Heavenly:
Black Bear Lodge is literally steps from the base of the mountain and has a really cute log cabin feel with a grand fireplace in the common area and tons of games you can enjoy with family and friends.
They also have a tiny little wine bar that's great for an apres drink when your legs have turned to jelly.
Where to Stay at Northstar California Resort:
We stayed at Constellation Residences while at Northstar which is right on the mountain and provides a ski valet for easy ski-in-ski-out service. All of the accommodations here are larger-style condos that have access to the amenities and services at the Ritz-Carlton next door.
If you want more of a hotel feel over a condo, The Ritz-Carlton, Lake Tahoe is also great as its right on the mountain as well, so you can skip the gondola each morning and get out on the slopes as early as possible.
This hotel is top notch when it comes to luxury and is one of the best of the best in all of Tahoe. The resort offers stunning views of the surrounding mountains and the lake, and of course, ski-in/ski-out access to Northstar California Resort.
Where to Eat in Lake Tahoe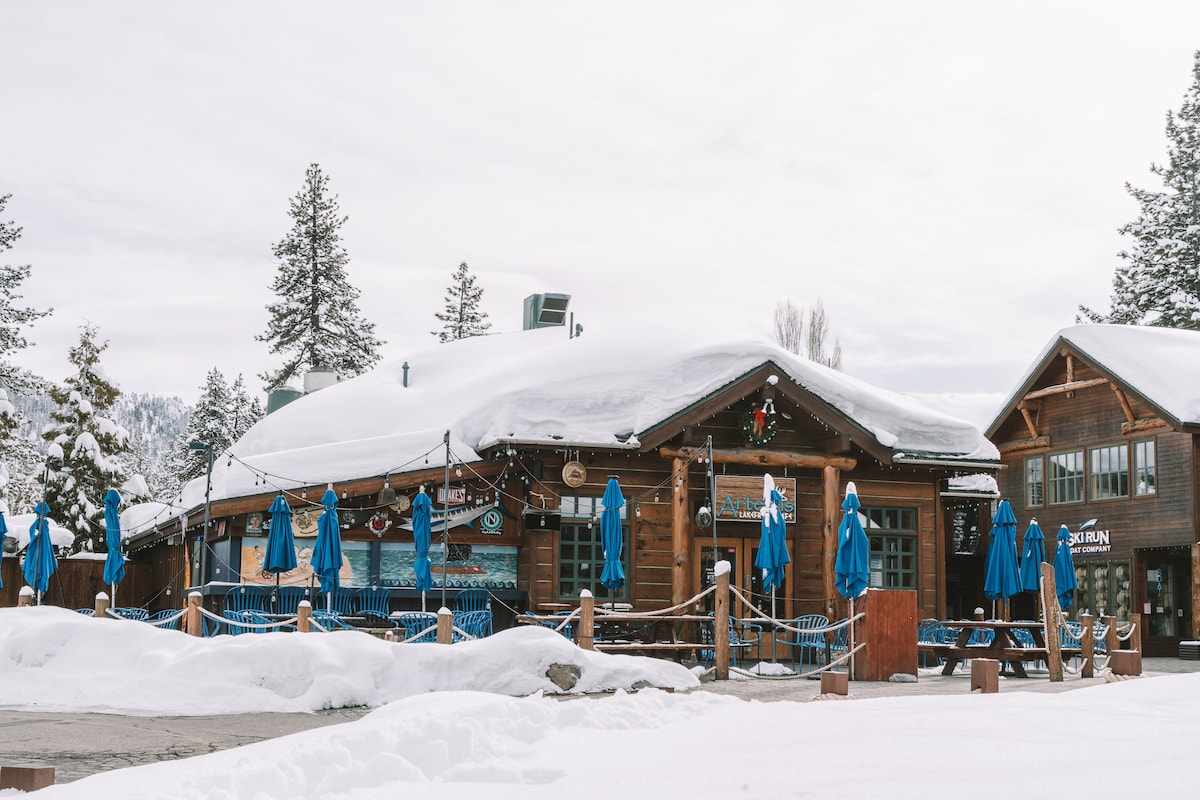 Lake Tahoe isn't necessarily a foodie destination, and Lake Tahoe winters especially don't provide the same outdoor dining ambiance that come with summers on the lake. This is the perfect time of year to rent a cabin, run to the grocery store and cook at home after a long day on the slopes.
Still if you're looking for some cozy places to eat out, here are some personal favorites.
Where to Eat in South Lake Tahoe:
Where to Eat in North Lake Tahoe:
Best Lake Tahoe Winter Activities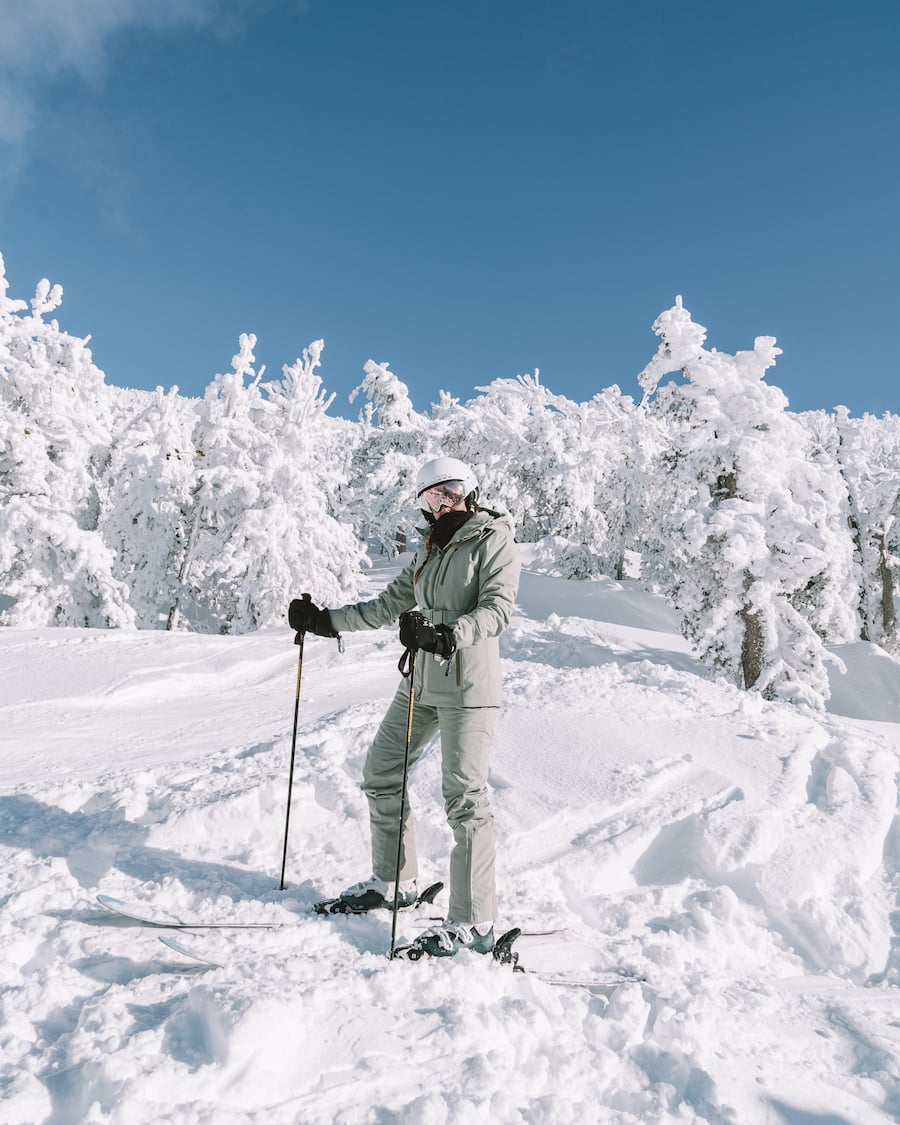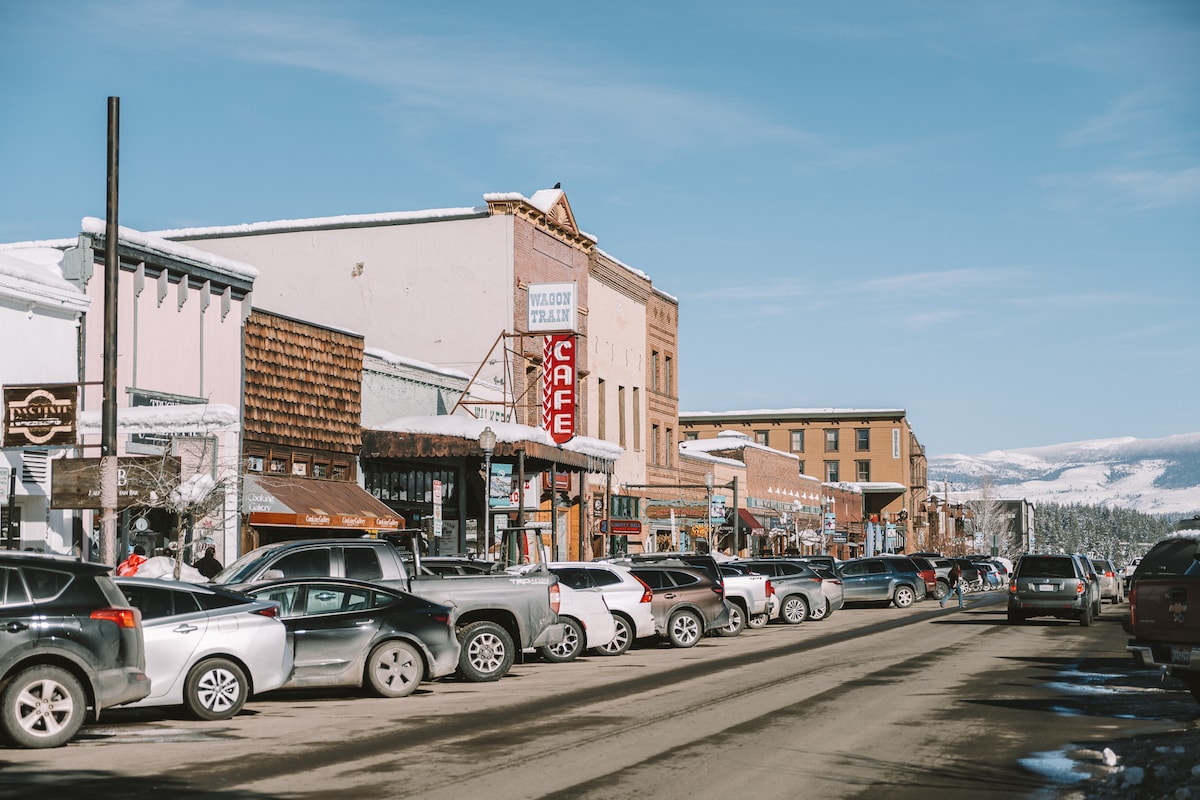 There are so many amazing things to do in Lake Tahoe in winter and of course skiing and snowboarding is at the top of the list. However, anyone can enjoy a Lake Tahoe winter trip whether or not they have the skills to hit the slopes.
Here's a list of other Lake Tahoe winter activities and things to do nearby to get the ideas flowing for your itinerary:
Go Snowshoeing – There are several places where you can rent snowshoes around Lake Tahoe, but for safety purposes I highly recommend joining a tour with experts (like this highly-rated one) who know where to go and can take winter safety precautions in case of extreme weather events like avalanches.
Snowmobiling – Hit the snow via snowmobile for a bit of an adrenaline rush. This post has a great guide to all the best Lake Tahoe snowmobile tours.
Snow biking – Haven't heard of snow biking? I hadn't either until our Lake Tahoe winter adventures. Learn more about snow biking in Tahoe here.
Go Tubing at TubeTahoe – Located 15 minutes south of South Lake Tahoe, this is the place to go snow tubing for the biggest thrill. It has eight tubing lanes and over 500 feet of riding time.
Explore downtown Truckee – The adorable town of Truckee is a must while visiting the northern part of Lake Tahoe in California and is walkable once you park. It's a great place to head in for lunch with breathtaking views of the Sierra Nevada Mountains.
Indulge in free s'mores – Northstar California Resort notoriously doles out free s'mores each afternoon to everyone in the village, so if you're skiing at Northstar, don't miss this.
Take a Scenic Helicopter Tour – For the most stunning and once-in-a-lifetime views of Lake Tahoe surrounded by snow-capped peaks, book this highly reviewed helicopter tour.
Visit Donner Lake – Named after the Donner Party, a group of pioneers who became stranded in the area during the winter of 1846-1847 and resorted to cannibalism to survive (yes, you read that right), Donner Lake is a beautiful visit if you're looking for some scenery beyond Lake Tahoe.
Join a Photography Tour – This scenic half-day photography tour has incredible reviews and takes guests through stunning locations in Emerald Bay State Park and Sugar Pine State Park.
Visit Tahoe City Winter Sports Park – This is a great place to go snowshoeing or cross-country skiing in Lake Tahoe. The park offers over 2.5 miles of groomed trails, as well as equipment rentals and lessons for beginners.
Go ice skating in Northstar Village – Lace up your skates at Northstar Village's ice rink that sits right at the base of the mountain.
Book a spa day – Personally, I would head straight to the Ritz-Carlton at Northstar and book a spa treatment there to relax your muscles after a day on the slopes.
Cozy up with a cup of coffee – A couple of my favorite coffee shops in South Lake Tahoe are Drink Coffee Do Stuff and Cuppa Tahoe
Visit a Craft Brewery – There are tons around Tahoe, but some good ones to bookmark are South Lake Brewing Company, South of North Brewing Co, and Fiftyfifty Brewing Co.
Tahoe Donner Cross Country Ski Center – The center offers over 100 kilometers of groomed trails that wind through beautiful forests and meadows. The center also offers rentals and lessons for those new to the sport.
Drive Between South Lake Tahoe and North Lake – This is an absolutely stunning drive up the California side of Lake Tahoe, but full disclaimer: It's not always doable in winter depending on storms and road closures, so make sure to check beforehand.
Lake Tahoe Winter FAQs
What is there to do in Lake Tahoe in winter?
There is SO much to do in Lake Tahoe during the winter months. Skiing and snowboarding are the most popular activities, but there is plenty to keep you busy including snowshoeing, snowmobiling, scenic drives, ice skating, tubing, etc.
PS- I have an entire post on things to do in Lake Tahoe in summer too (and many of these also apply to winter)!
Is Lake Tahoe worth visiting in winter?
Absolutely. Winters in Lake Tahoe are perhaps even more magical than in the summer due to the cerulean blue lake set to the backdrop of snowcapped peaks. Its a sight to behold—and one that you can enjoy all while cruising down your favorite mountain trails.
Do You Need a Car in Lake Tahoe?
Yes you do. There are no real walkable downtown areas in Tahoe unless you consider the village at the base of the mountains like at Northstar California Resort.
To get anywhere you really need to have a car, and especially if you're transporting ski gear or any gear for winter activities, you will be happy you have one!
What is the temperature like in Lake Tahoe in winter?
December through February are the coldest months in Lake Tahoe with the max temperature typically hitting 43 degrees Fahrenheit and lows of 18 degrees Fahrenheit.
In March it warms up slowly around the lake to 24-48 degrees.
What is the best month to go to Lake Tahoe for snow?
The start of the winter season in Tahoe always varies a bit depending on the year, but January is typically the best month for snow in Tahoe.
Is Lake Tahoe easy to get to in winter?
That depends. We had a pretty easy time getting to Tahoe from Sacramento on our recent trip because the storms hit the night before our drive and the roads had luckily been cleared in time. It totally just depends on the weather conditions and when you plan on making the drive.
Roads between Tahoe and the Bay Area can get notoriously clogged on weekends, so your best bet is to drive in on a weekday.
Make sure to keep a close watch on the weather and road conditions as well to determine the best time to drive in. A couple resources to use to keep tabs on road conditions are Tahoe Daily Tribune and TahoeRoads.info.
Give yourself plenty of time to make the drive without rushing and just expect that it will probably take longer than you think during winter!
Do you need chains to drive to Lake Tahoe in winter?
On top of needing a car in Tahoe, you will also need chains or a 4WD vehicle in order to enter into Tahoe in winter.
It's a bit annoying but also necessary to make sure everyone is safe driving on the roads into Tahoe as winter conditions can be super slick and icy. Luckily, you can buy chains easily at places like AutoZone before you make the drive in.
One thing you'll notice if you are renting a car is that the rental companies "don't allow chains" to be used on their cars, which is ridiculous because you are required to use chains in Tahoe and they know that.
Here's what I recommend doing and what we did: Request a 4WD vehicle at the rental counter. If you don't want to pay the premium for that, then don't make any mention of chains and just pay for the highest rental insurance offering.
That way in the off-chance that your chains should damage your tires (which is unlikely) you'll be covered.
---
Discover More California Destinations
---
---
Planning a trip right now? Don't miss my go-to websites for booking everything from flights and tours, to accommodation and more:
---
Pin it for Later!