Despite the fact that Kauai has a reputation for being hyper-local and somewhat untouched, there are several amazing luxury hotels in Kauai you need to know about!
Before our Kauai trip, I did a TON of hotel research, because I tend to be pretty picky about hotels and go for design-forward boutique properties. However, what I found is that Kauai is a little behind in the design hotel scene compared to other destinations.
In many ways, the traditional Hawaiian tropical decor is all part of the charm, but I was determined to find luxury hotels in Kauai with a healthy mix of authentic Hawaiian style that also felt modern and refreshed.
I'm guessing you probably don't want to spend top dollar on a place that looks like it hasn't been updated in decades. So in this post, I'll take you through the top 10 luxury resorts in Kauai and what you can expect from each so you can make the best pick for your trip!
Deciding where to stay in Kauai can make a huge impact on the quality of your trip, and these luxury hotels in Kauai are truly the best of the best; you'll thank me on that inevitable rainy Kauai day when your hotel room becomes your sanctuary from the downpour.
So let's get to it!
Top Sustainable Luxury Hotel in Kauai: 1 Hotel Hanalei Bay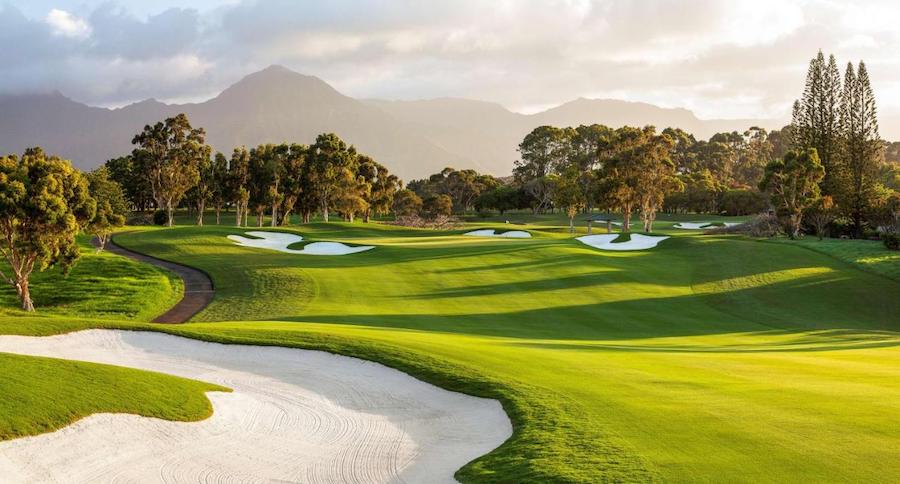 1 Hotel Hanalei Bay is the newest luxury hotel in Kauai. It is absolutely gorgeous, and hands-down the most design-forward hotel on the island.
The hotel's modern minimalism with an emphasis on sustainability shines across all 252 guest rooms and 51 suites. If you love soothing neutral tones and earthy textures in an elevated space, then you will fall in love with the 1 Hotel.
Unfortunately this hotel wasn't opened yet on my last trip to Kauai, but I am 100% planning on returning as soon as possible to check it out. The photos alone are enough to take your breath away!
If you're looking to base yourself in the heart of the North Shore and have the budget, then you won't regret choosing 1 Hotel Hanalei Bay for your stay.
1 Hotel Hanalei Bay at a Glance
Location: The North Shore
Best For:  A romantic couples getaway or wellness-focused girls trip.
Highlights: If you like modern decor and contemporary accommodations, 1 Hotel is the most spot-on place to stay in Kauai. Its design is completely unique compared to any other hotel on the island. Despite being ultra-luxurious, 1 Hotel Hanalei Bay also revolves around sustainability and carbon neutrality. A stay here promises world-class wellness, and guests have access to incredible fitness programming and cutting-edge spa treatments. The ultimate bonus? 1 Hotel is one of the only resorts on Kauai that doesn't charge extra resort or parking fees!
Amenities: There are two on-site restaurants at 1 Hotel Hanalei Bay focusing on farm-to-table cuisine. One of them is the seafood-focused Kauai Grill and the other is Makana Terrace, which serves classic Hawaiian fare. On property you'll also find a serene spa, a picturesque golf course, direct beach access, a premier swimming pool with a swim-up bar, and even access to the hotel's fully electric Audi e-tron. 
Best Luxury Hotel in Kauai for Families: Grand Hyatt Kauai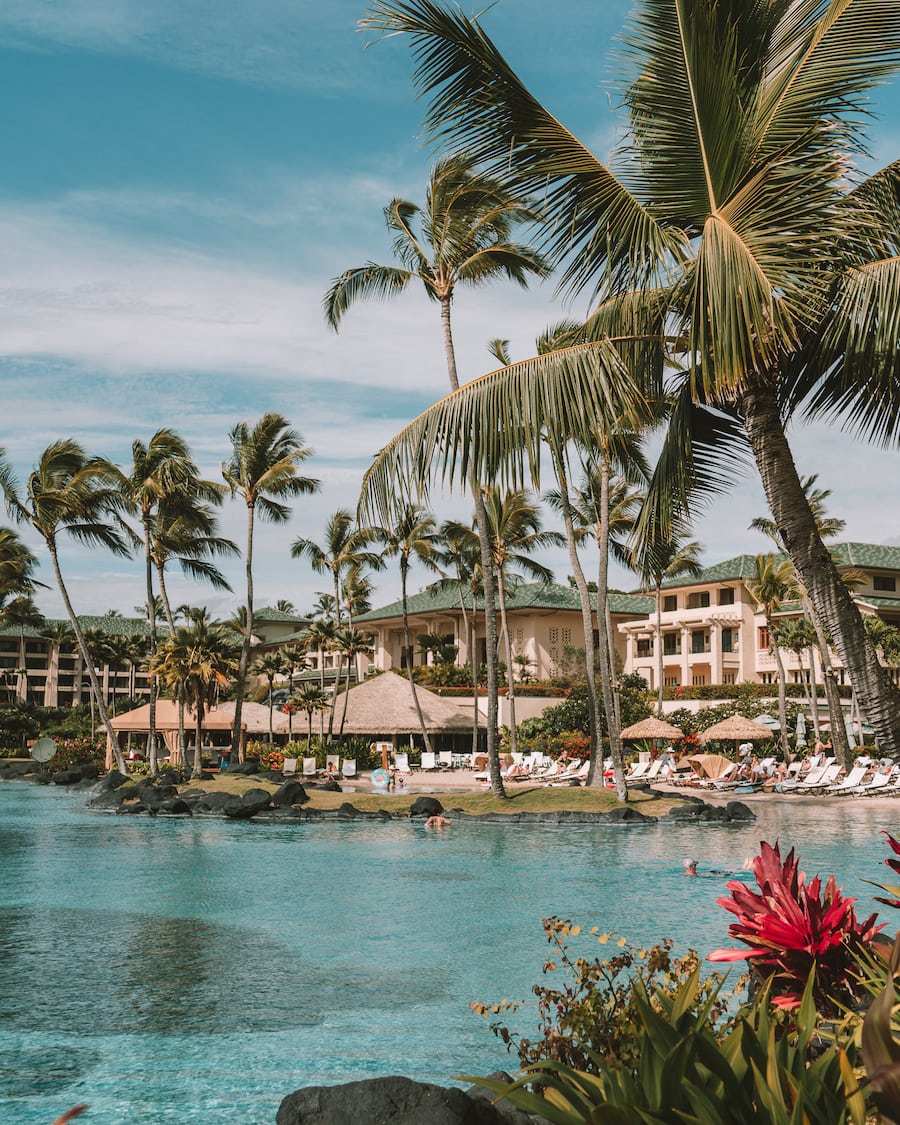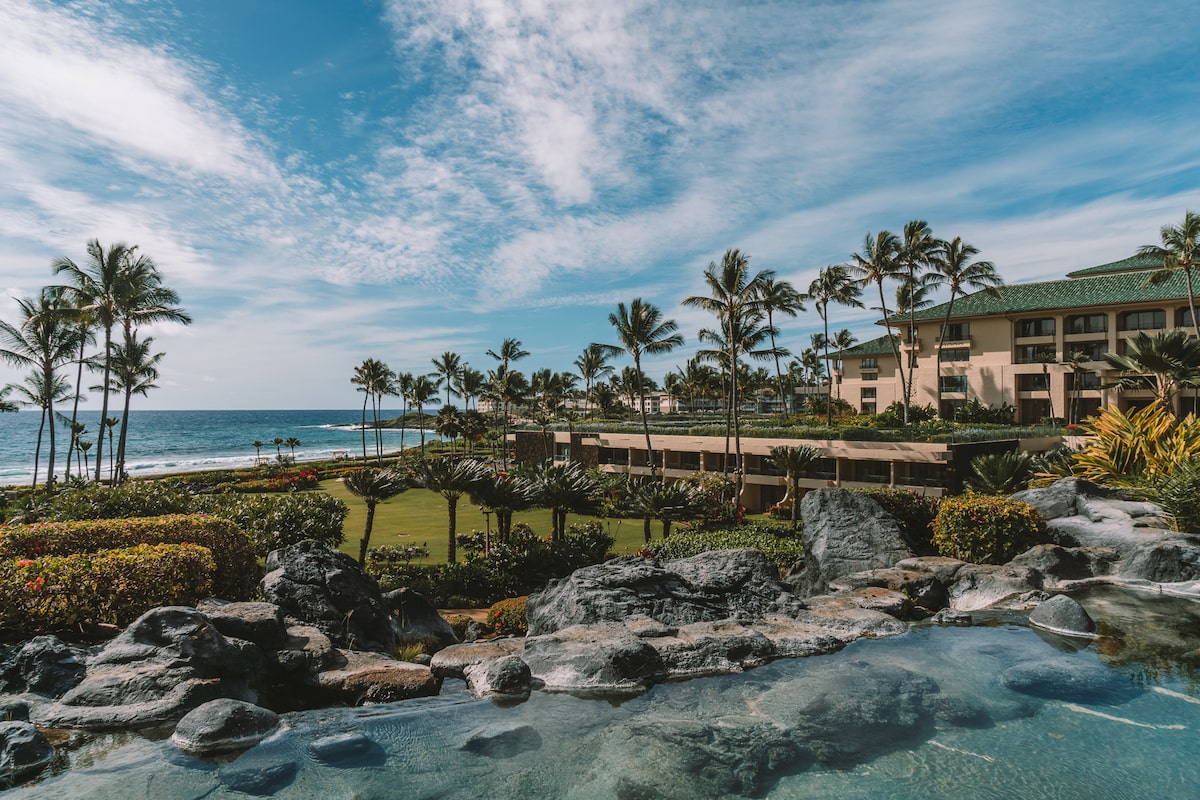 I absolutely loved staying at the Grand Hyatt during my latest trip, and it truly is that ultimate resort feel where everything you could possibly need is right on property.
Not only is it stunning and right on the ocean, but it has a plethora of wonderful restaurant options right on site (just be sure to book your resos there in advance).
If you're traveling with kids or a large party, this is a great option as there is so much to do for all ages. That said, I wouldn't say it's packed with children, so those looking to get away and enjoy a peaceful couples escape can definitely still find it here. 
Grand Hyatt Kauai at a Glance
Location: South Shore (Poipu)
Best For: Families, couples, big groups and World of Hyatt members.
Highlights: The Grand Hyatt Kauai is home to the Anara Spa, which is the largest spa on the island. The treatment list is extensive and features tons of amazing massages and Hawaiian healing experiences. Though the massages are awesome, I recommend going all out with one of the body treatments like the Pineapple Papaya Hydration. For families with kids, the "water playground" as they call it is a huge selling point. It's literally a massive lagoon-esque swimming pool featuring a lazy river, waterfalls, secret caves, and for adults there's an adults-only pool as well.
Amenities: Considering the fact that there are seven different restaurants across the property, food options are abundant and convenient on-site. Unlike most hotels, the massive swimming pool (which features everything from waterfalls to waterslides) is open 24 hours. There is also an 18-hole golf course, three tennis courts, and The Anara Spa and Salon.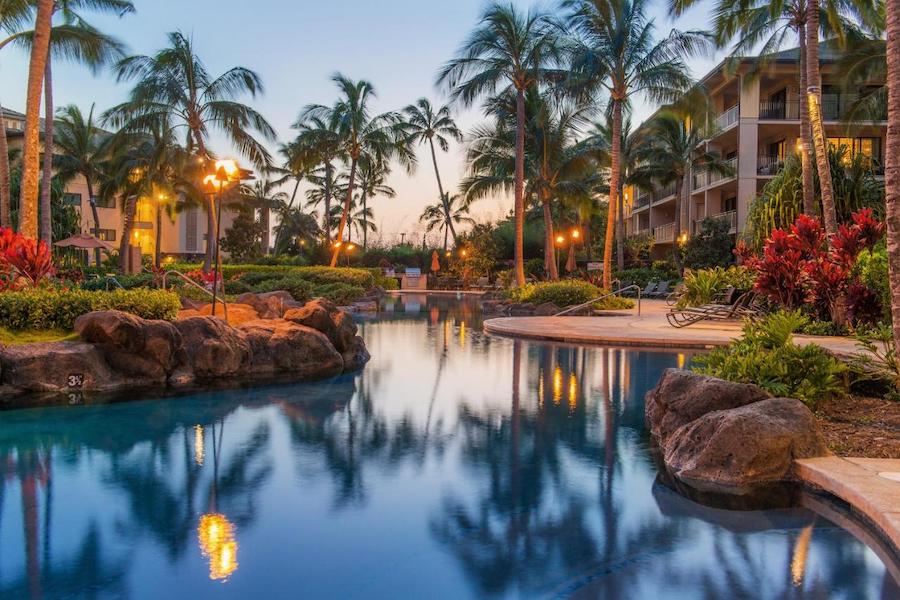 Autograph Collection resorts never disappoint, and the Koloa Landing Resort at Poipu is no exception. The rooms here have that more traditional tropical style without being tacky, and the suites and villas are incredibly spacious for those traveling with a group.
If you're looking to stay close to town and enjoy a lot of shopping and good food, the Koloa Landing Resort is a great place to call home base during your stay in Kauai!
Though this is one of the top luxury hotels in Kauai, it feels a bit more like a luxury condo rental as most of the accommodation options are villas and suites. If you're traveling with four or more people, this spot is ideal.
Koloa Landing at a Glance
Location: South Shore (Poipu)
Best For: Families, large groups and Marriott Loyalty members
Highlights: Koloa Landing Resort is a mere 10-minute walk away from the Poipu Shopping Village, putting guests right next to some of the island's best shopping and dining! Plus, for families with young kids, Baby Beach is also just steps away from the property. Most luxury hotels in Kauai are a bit isolated and secluded, so those looking to walk a lot and explore on foot during their trip to Kauai will love the location.
Amenities: Since most of the accommodations here are more similar to an apartment or condo, expect to find in-unit washers and dryers, spacious balconies, and full kitchens in the villas and suites. There are also four swimming pools and a super nice fitness center.
Best Boutique Hotel for Couples: Ko'a Kea Resort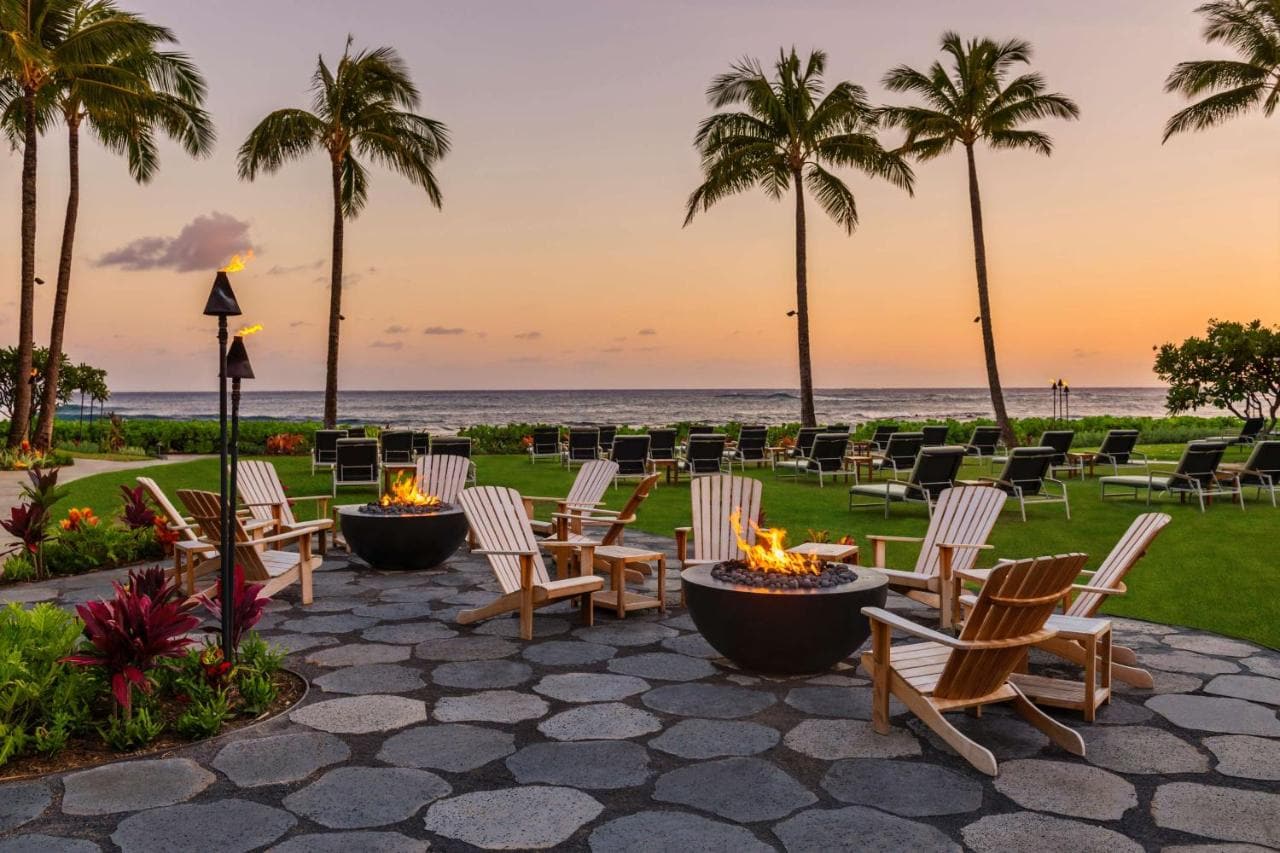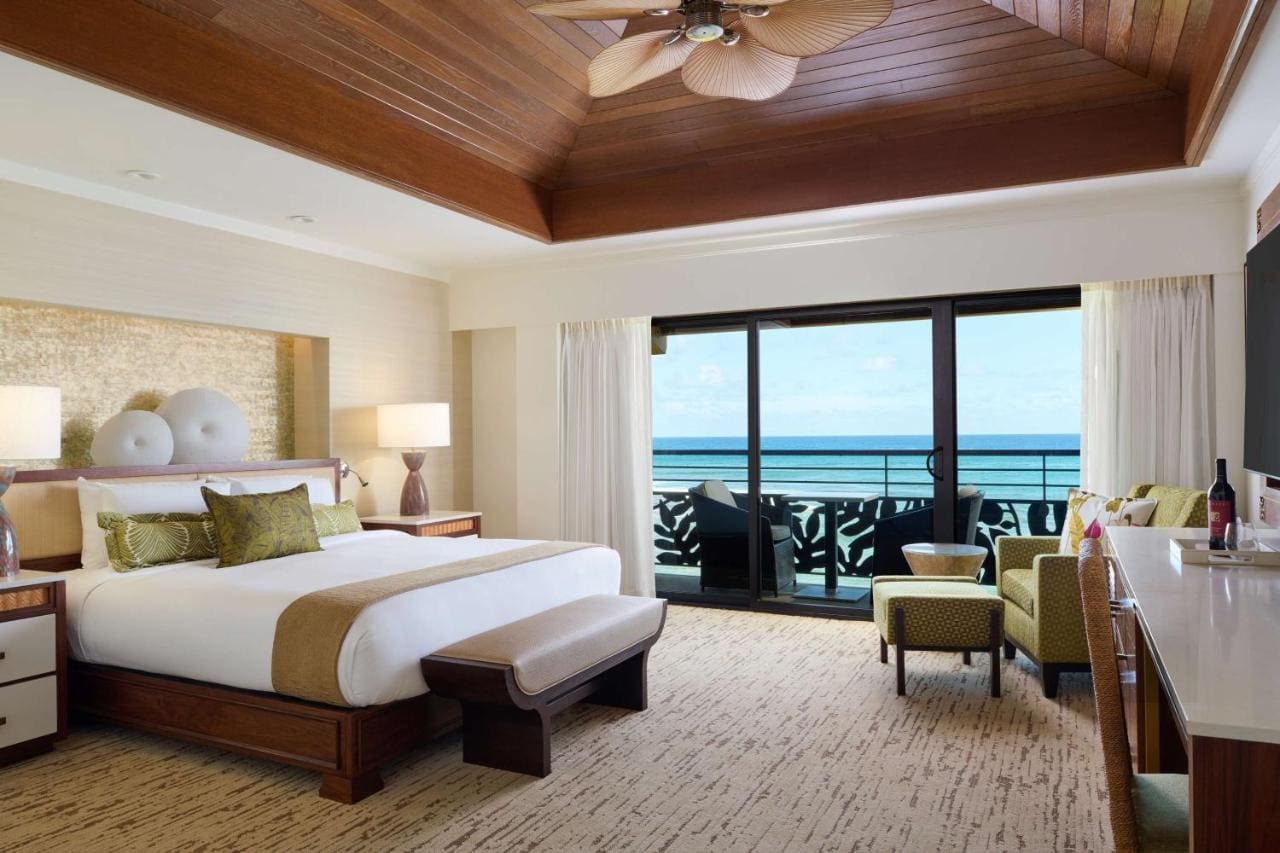 Ko'a Kea Resort is a stylish and charming boutique-style hotel located on the south side of the Island. Because it is a smaller, locally owned resort, guests always feel welcomed and fully taken care of at Ko'a Kea.
Between the sweeping ocean views, upscale furnishings, and the private Lanai space in every room, a stay at Ko'a Kea feels like visiting a longtime family friend.
If you're looking for a more intimate, low-key hotel vibe, then this is your spot.
Ko'a Kea Resort at a Glance
Location: South Shore (Poipu)
Best For: Couples and honeymooners (the hotel has been named one of the world's most romantic resorts)!
Highlights: It is hard to beat the location of the Ko'a Kea Resort. It sits in the center of Poipu Beach, one of the island's most popular tourist destinations. With easy access to sunny beaches, Hawaiian boutique and souvenir shops, and even a local farmers market, everything you need is right at your fingertips. The hotel also offers great spa services, including both oceanside and in-room massages that are a must-try for any Ko'a Kea guests. For couples, they also offer private oceanfront dinners that you can book for a unique, romantic dining experience.
Amenities: Every single room at Ko'a Kea boasts a private lanai (a private space with at least one wall open to the elements) for guests to enjoy their own personal slice of the beautiful Kauai landscape. It also has a beautifully maintained pool and beachfront views perfect for days filled with sand, sunshine, and swimming!
---
Read More Kauai Posts
---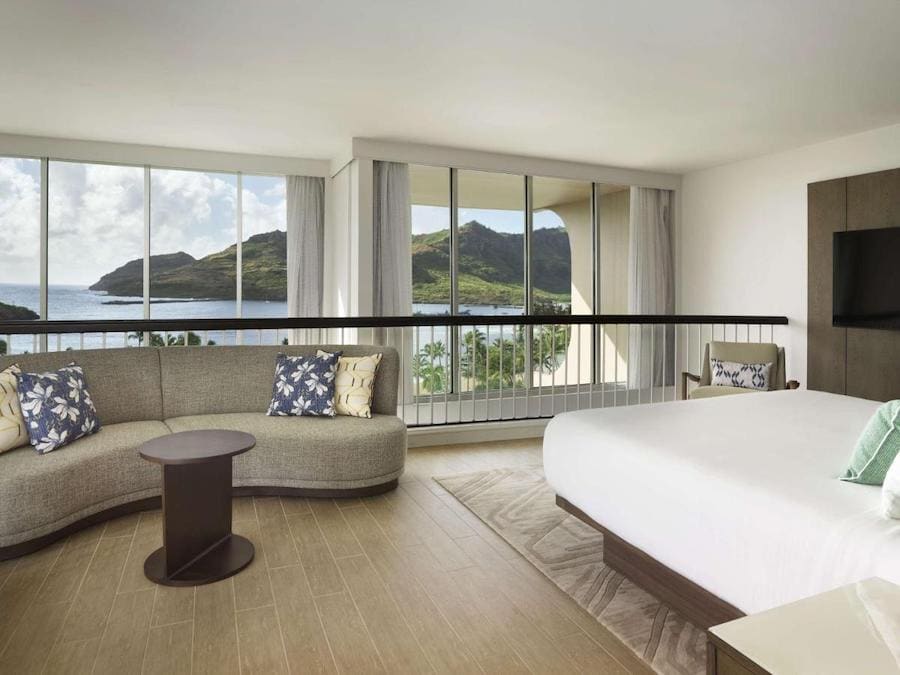 Located just steps from one of the most popular swimming beaches in all of Kauai, and five minutes from the airport, The Royal Sonesta is one of the easiest access resorts on the island.
Between the stunning, over-the-top pool, the in-room and communal amenities, and the prime location, The Royal Sonesta is always a great pick for an island getaway.
Royal Sonesta at a Glance
Location: East Side (Lihue)
Best For: Couples, girls trips.
Highlights: Many of the rooms are freshly renovated and boast light and bright interiors, tasteful furnishings, and sleek hardwood floors. I recommend requesting an ocean-view room upon booking, as not all guests are guaranteed the same stellar views.
Amenities: The pool—just wow!! The pool is easily the coolest amenity here. It is designed in the shape of a lotus flower and features multiple waterfalls and fountains, as well as FIVE whirlpools. Lounge on a chair in the center island and enjoy the 360 water around you, or splash around for hours like a little kid. Other notable amenities include: Free shuttle service to and from the airport, an 18-hole golf course, four on-site restaurants (including the famous Duke's restaurant) and a full-service spa.
Another beachfront favorite is Timbers Kauai Ocean Club and Residences, where you'll find 47 private residences on site for those who want Kauai to feel like a home away from home.
With a wide array of rooms from two-bedroom suites to four-bedroom, apartment-style stays complete with kitchenettes, expansive living spaces, and balconies, Timbers is the perfect spot for travelers in larger groups or those looking for a longer-term visit.
I especially love the rooms with views of the perfectly manicured rolling greens and Pacific ocean!
Timbers Kauai at a Glance
Location: East Side (Lihue)
Best For: Families and longer stays
Highlights: Kalapaki Beach sits right below the resort, giving guests prime access to this stunning strip of sand! Be sure to take advantage of the infinity pool and deck, which has awesome unobstructed views of Kalapaki.
Amenities: Timbers has it all covered for a comfortable and smooth sailing stay. The on-site restaurant is delicious and easily accessible, and the bar is open late and serves tasty tropical drinks. The array of activities is impressive, ranging from a beautiful golf course to a serene spa for adults to enjoy, as well as active ocean activities designed for family fun.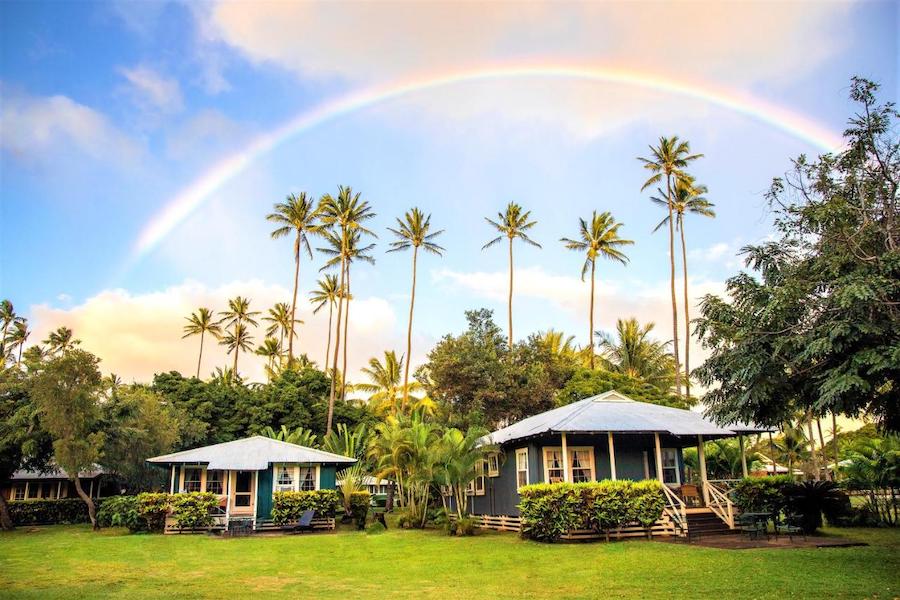 The Waimea Plantation Cottages are located right next to the black sand beaches of Kauai. Though they're not quite as lavish as some of the other luxury hotels in Kauai on this list, they are one-of-a-kind given their location, architecture, and unbeatable natural surroundings.
The plantation-period furniture creates a warm and cozy vibe in each cottage, and the spacious decks offer up ocean views that are truly luxurious.
Waimea Plantation Cottages at a Glance
Location: West Shore
Best For: Adventurers, solo travelers, and couples.
Highlights: If you're looking to spend most of your time exploring the remote and untouched Na Pali Coast and Waimea Canyon areas, then Waimea Plantation Cottages are pretty much the only luxury option in the area. These oceanfront cottages blend comfortable accommodations with stunning scenery, and the incredible Waimea River Park is only a 10-minute walk away from the cottages.
Amenities: In addition to the private and exclusive cottages, the grounds of the property are truly stunning on their own. There's so much lush greenery throughout the grounds, and there's also a nice pool with an ocean view available to guests. Each cottage comes with its own kitchen, and since the west side of Kauai is lacking in restaurants and eateries, being able to whip up your own meals is super important in the area.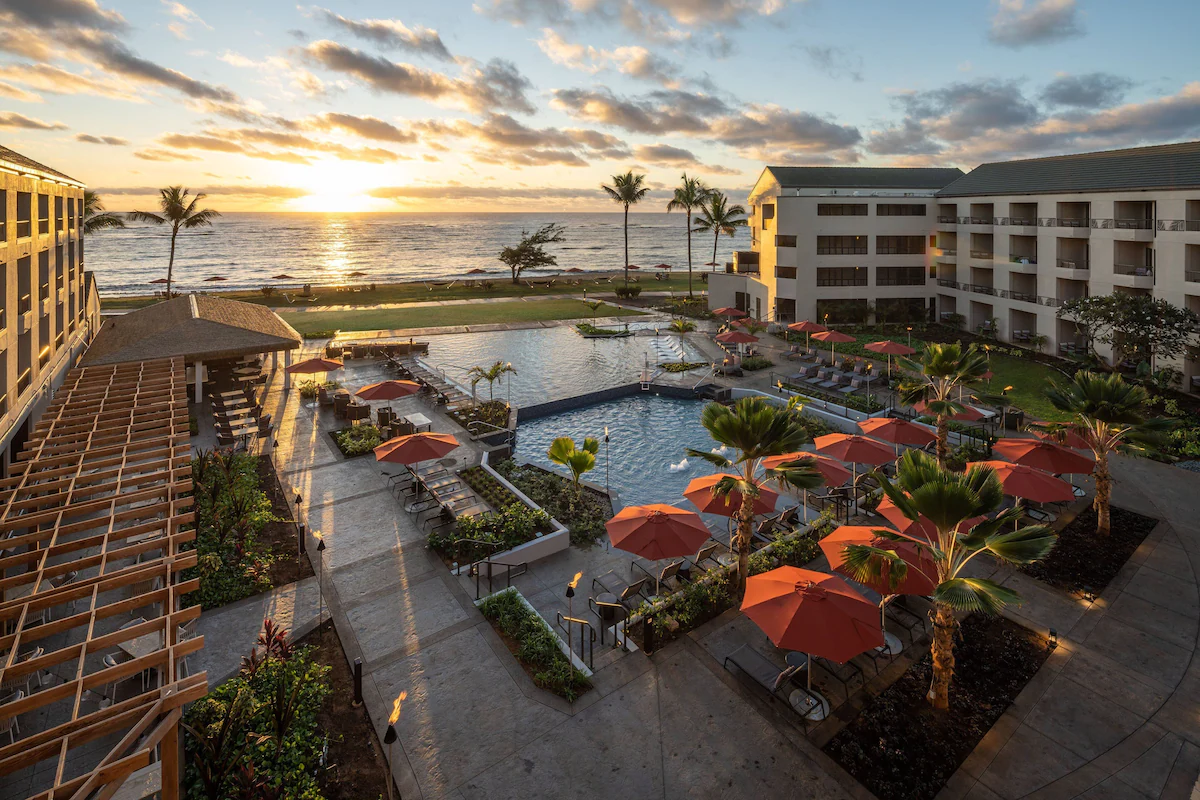 The Sheraton Kauai Coconut Beach Resort provides the classic Hawaiian resort experience that many of us dream of. They really have thought of everything, especially since the hotel underwent a recent renovation.
Between the property's luxurious ocean deck rooms and quite an extensive list of activities compared to other luxury hotels in Kauai, a stay at the Sheraton is guaranteed to relax and rejuvenate every time.
Sheraton Kauai at a Glance
Location: East Shore (Kapa'a)
Best For: Families, couples, and Marriott loyalists.
Highlights: The recent remodel of the 394 rooms has transformed the guest accommodations into the ultimate refreshed sanctuaries that elegantly call to mind the spirit of Aloha, with neutral and earth tones and tropical print accents. If you're someone who loves to fill your schedule on vacation, then you'll love the beach activities center, which is one of the biggest draws of this impressive resort. I highly recommend taking advantage of the many experiences they offer on-site like windsurfing, kitesurfing, snorkeling, surfing, and kayaking.
Amenities: No matter the room size, each room enjoys noise-free air conditioning, ocean and mountain views, and private lanais. The shared amenities include a state of the art gym, two outdoor pools including a zero-edge infinity pool, and a delicious bar, restaurant and lounge to enjoy on site.
Best Affordable North Shore Luxury Hotel: Westin Princeville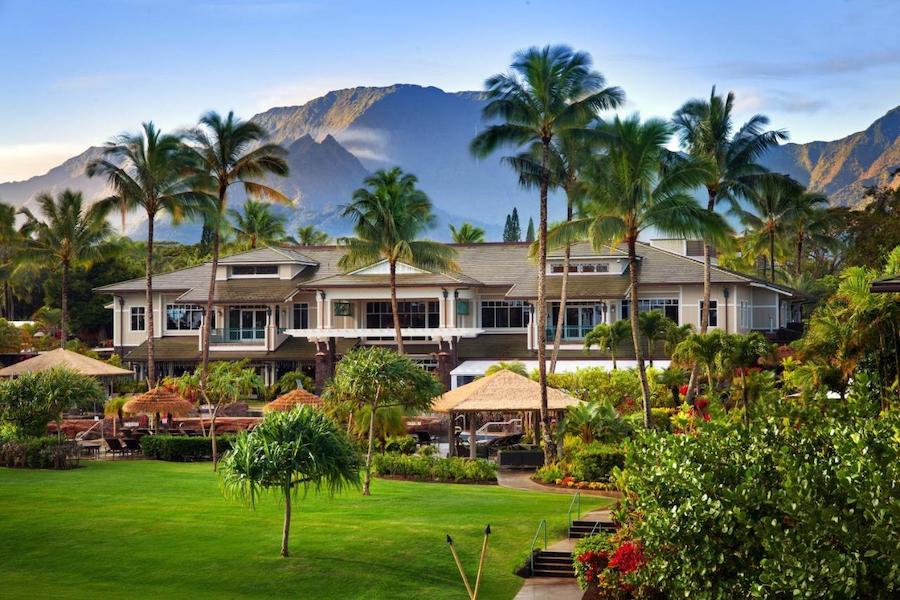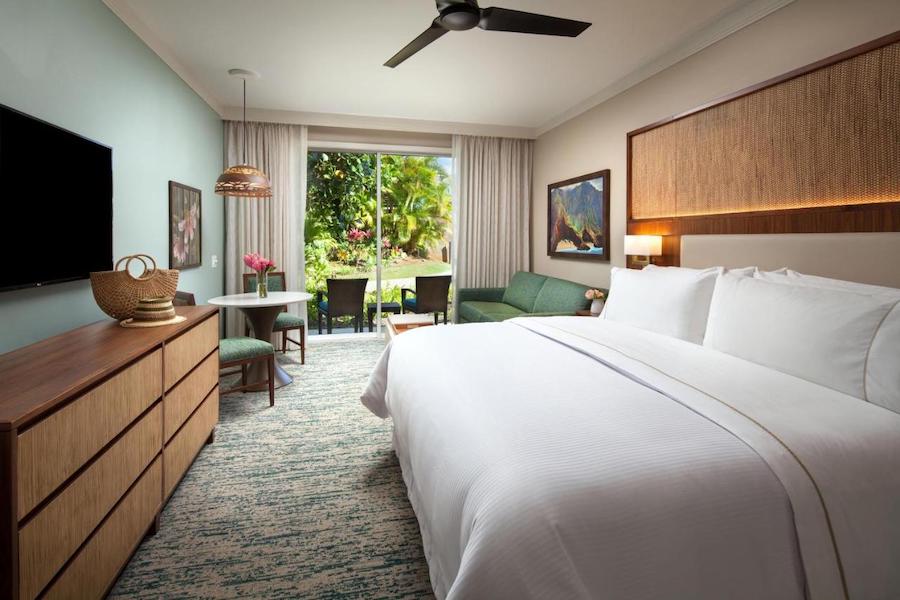 If you want luxury up on the North Shore but can't quite stomach the prices of 1 Hanalei Bay, then the Westin should be your go-to choice.
The Westin Princeville is located in one of the most gorgeous locations on the entire island, nestled on a dreamy cliff along the beaches of Princeville in Kauai's North Shore.
What makes this spot unique is its villa-style accommodations that fit more guests than your average hotel room. This is a great place to gather and reunite with friends and family in one of the most beautiful locations on Earth.
Westin Princeville at a Glance
Location: The North Shore (Princeville)
Best For: Couples, families and groups of friends.
Highlights: Beyond being located in one of the prettiest areas on the island of Kauai, the accommodations here are villa-style, allowing for the perfect gathering space for families and large groups of friends.
Amenities: A free shuttle will take guests anywhere within 2.5 miles of the property. There are three pools on property, a fitness center, and an on-site restuarant/bar.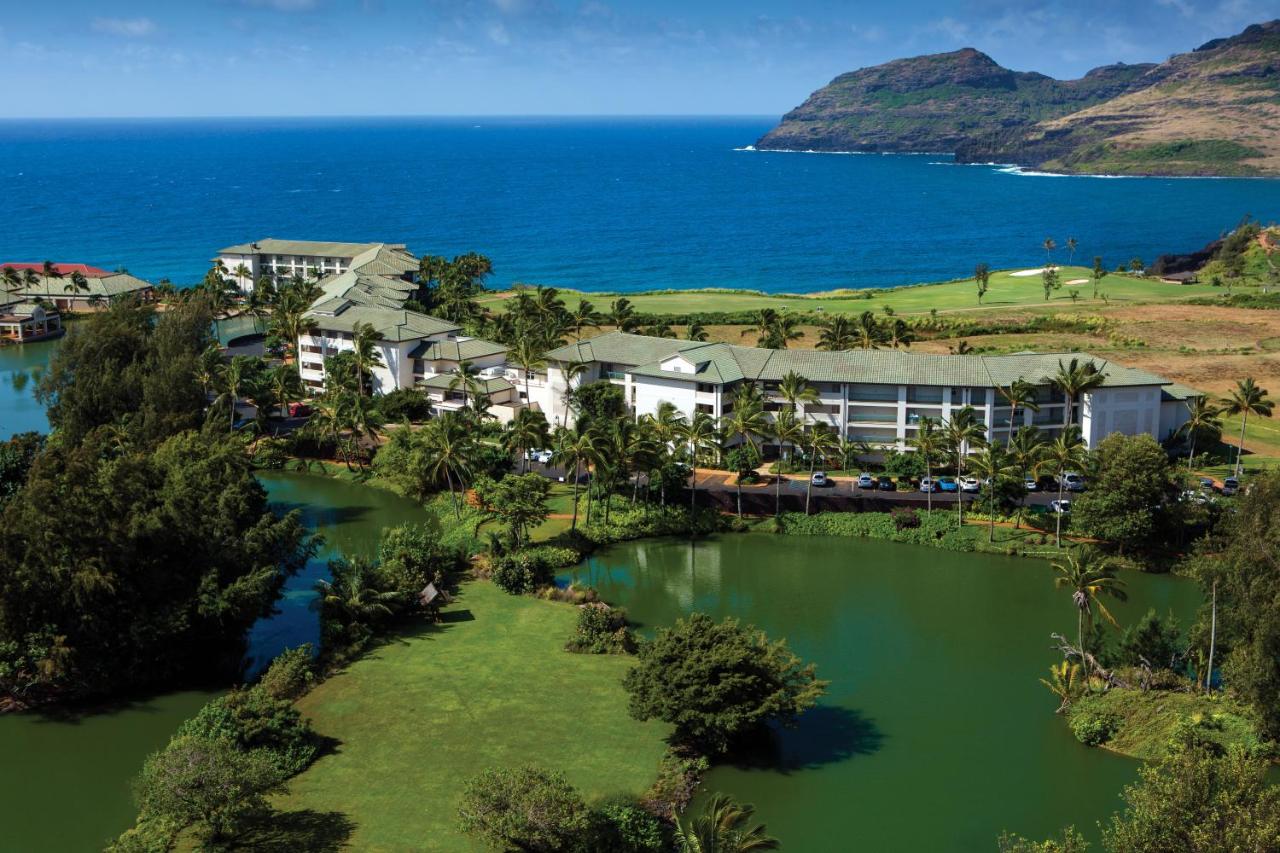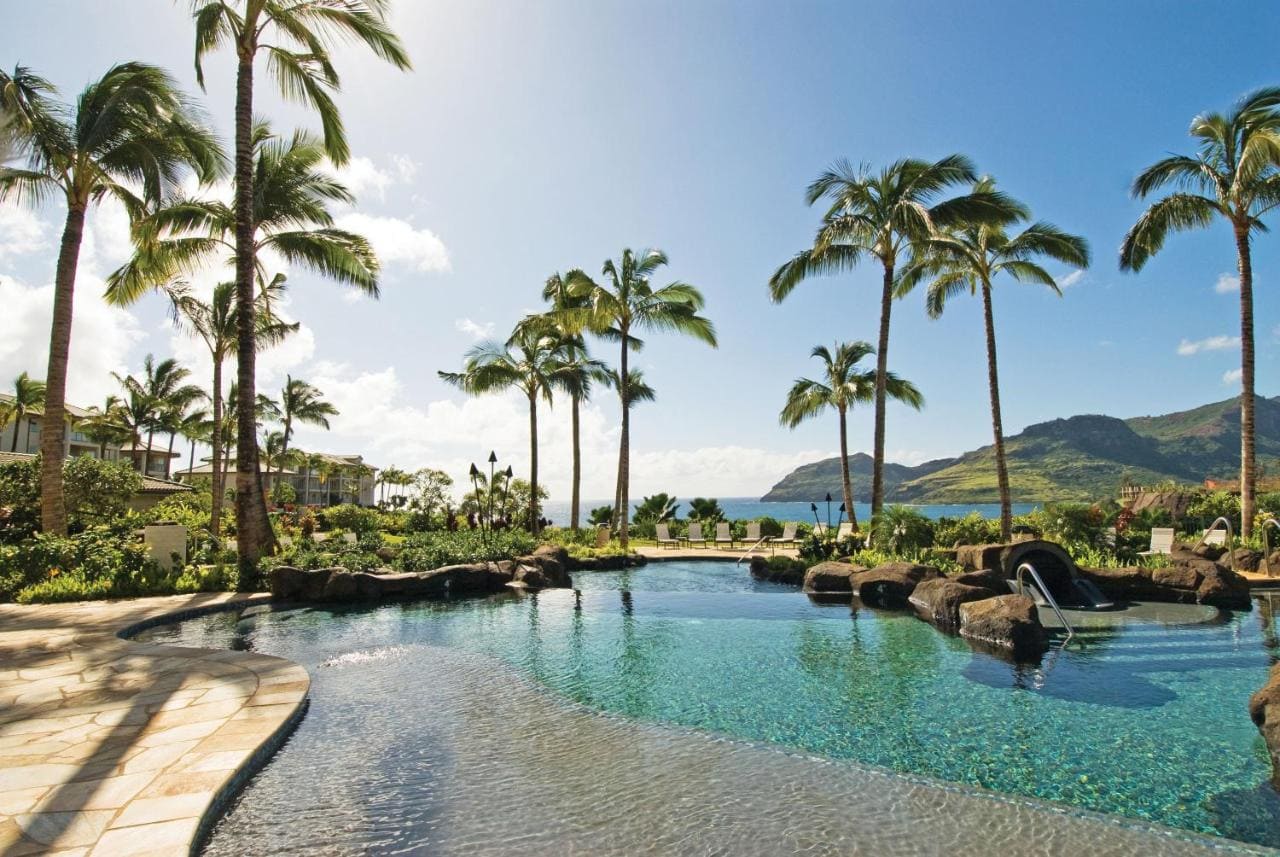 Last, but certainly not least, we have Marriott's Kauai Lagoons. This villa-style resort features two and three-bedroom villas designed with comfort and relaxation in mind. The island-style decor brings all of the best tropical energy.
This is a great place to base yourself if you want to be centrally located between the South and North Shores, or if you plan on doing any of the scenic flights or helicopter rides over the island, as they all depart from Lihue.
I can easily imagine gathering here on vacation with family and friends! Each villa is equipped with multiple flat-screen TVs and a separate dining space that makes it feel like a home-style space to share with loved ones.
Marriott's Kauai Lagoons at a Glance
Location: East Side (Lihue)
Best For: Couples, Families, groups, and Marriott loyalists.
Highlights: Be sure to check out the two-level pool deck at Marriott's Kauai Lagoons. Not only is the pool heated to perfection and surrounded by the most comfortable chaise lounge chairs, but the views from the pools are unmatched. There is no greater joy than taking a dip while taking in views of the pacific ocean, tropical palm trees, and the rolling green hills of Kauai.
Amenities: In addition to the impressive villa-style accommodations, the grounds of Marriott's Kauai Lagoons are stunning and spacious. The pools, garden decks, golf course, and expansive balconies are so beautiful you will never need to leave the property! Marriott's Kauai Lagoons is also one of the only resorts on the island that does not charge an additional resort fee, so guests enjoy all of the spa, fitness, and pool amenities at no additional cost.
Which of these luxury hotels in Kauai is calling to you most? Let me know in the comments below!
---
Planning a trip right now? Don't miss my go-to websites for booking everything from flights and tours, to accommodation and more:
---
Pin it Later