Mexico is without a doubt one of my all-time favorite destinations—I've been at least 10 times but have completely lost count at this point! Between the incredible culture, ancient history, beautiful scenery, and the vibrant food scene, there really is something for everyone in Mexico. Whether you like big cities, colonial towns, bustling beaches, or quiet slices of paradise, this Latin American country has it all.
Are you headed to Mexico for the first time? I've compiled all my top Mexico travel tips in this post that should help guide you through every stage of your trip, whether you're still deciding on where in the country to visit or looking for more practical tips on the ground.
After exploring all over this country, I know firsthand that being aware of certain dos and don'ts (like DO try the street tacos but DON'T drink the tap water) can make or break your trip. Whether you're a frequent visitor or you're heading there for the first time, these Mexico travel tips will ensure that you're fully prepared for an epic getaway!
Honestly, I find Mexico to be very underrated. Many Americans don't give it enough credit since it's so easy to access, or they avoid it altogether over safety concerns. In my opinion, it totally deserves more love as it's truly an amazing place to visit! Even though it's just across the border, the culture and landscape are worlds apart.
Keep reading as I'm sharing all of the tips I've learned over the years from 10+ trips to Mexico, plenty of research, and my own personal mistakes.
If you're short on time and looking on specific Mexico travel tips related to one topic, use the table of contents below to navigate quickly to that section!
First thing's first. Mexico is huge—don't expect to be able to see everything on your first visit! So let's start here..
How to Decide Where to Visit in Mexico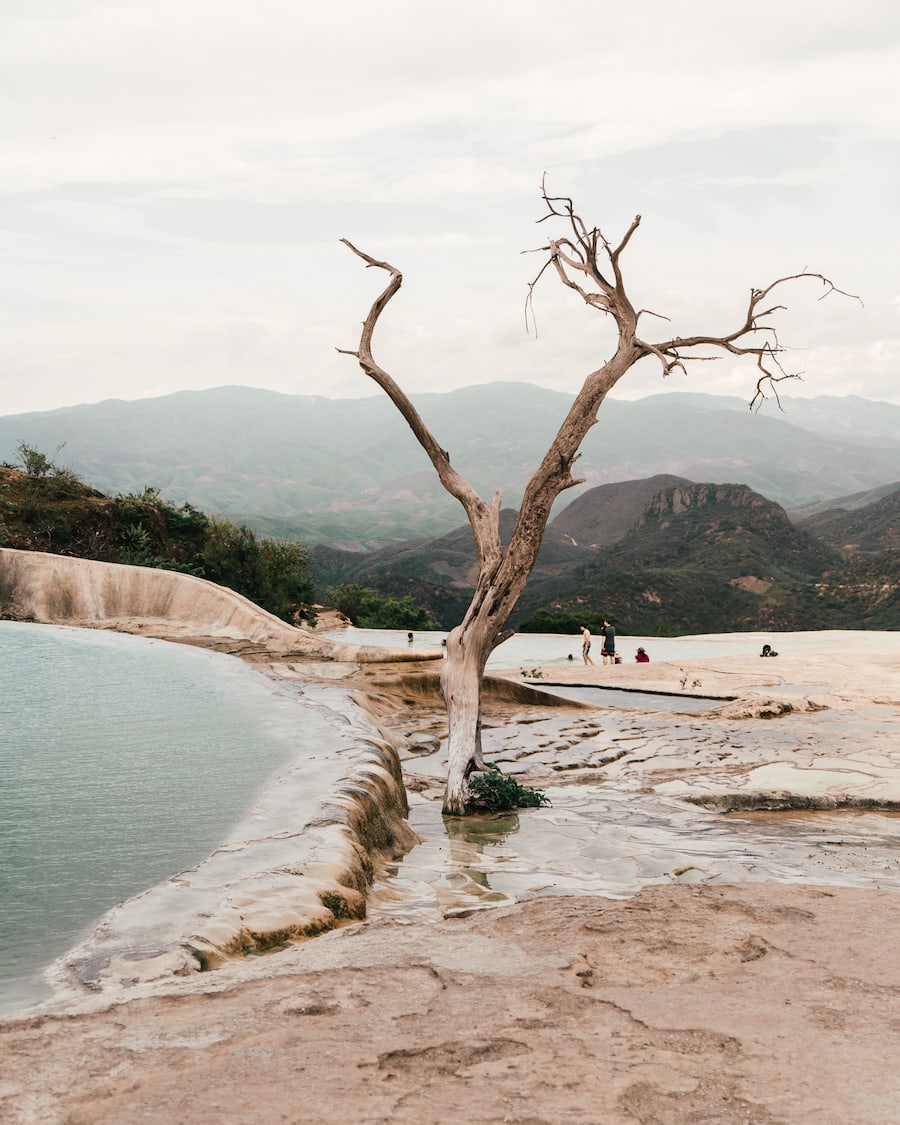 Mexico is HUGE, so don't expect to see everything in one trip (or even a few trips). Since the country is so big, there are obviously many more places that are worth visiting, but I've included some of my top destinations below!
East Coast Beaches
If you want to spend time on the East Coast of Mexico, my all-time favorite beach destination in Mexico is Tulum. It has a bohemian vibe and is probably the "sceniest" beach in Mexico.
For a quiet beach retreat in a much less built up and touristy area, head to Bacalar Lagoon to visit the incredible "Lagoon of Seven Colors."
Isla Mujeres falls somewhere between Tulum and Bacalar in terms of energy. Overall, it is a beautiful island that balances relaxation with an upbeat town and is great for backpackers.
Isla Holbox (pronounced hol-bosh) is the most off-the-beaten-path island. There are no cars and very limited WiFi, but there is plenty of beautiful wildlife and beaches.
For those looking to go diving or snorkeling, Cozumel is the place to be!
Probably the most well-known beach on the East Coast of Mexico is Cancun. It's gotten a bad rap for being a spring break destination, but in recent years, it's developed some nicer areas with proper restaurants (where no one is screaming Shots! Shots! Shots!).
West Coast Beaches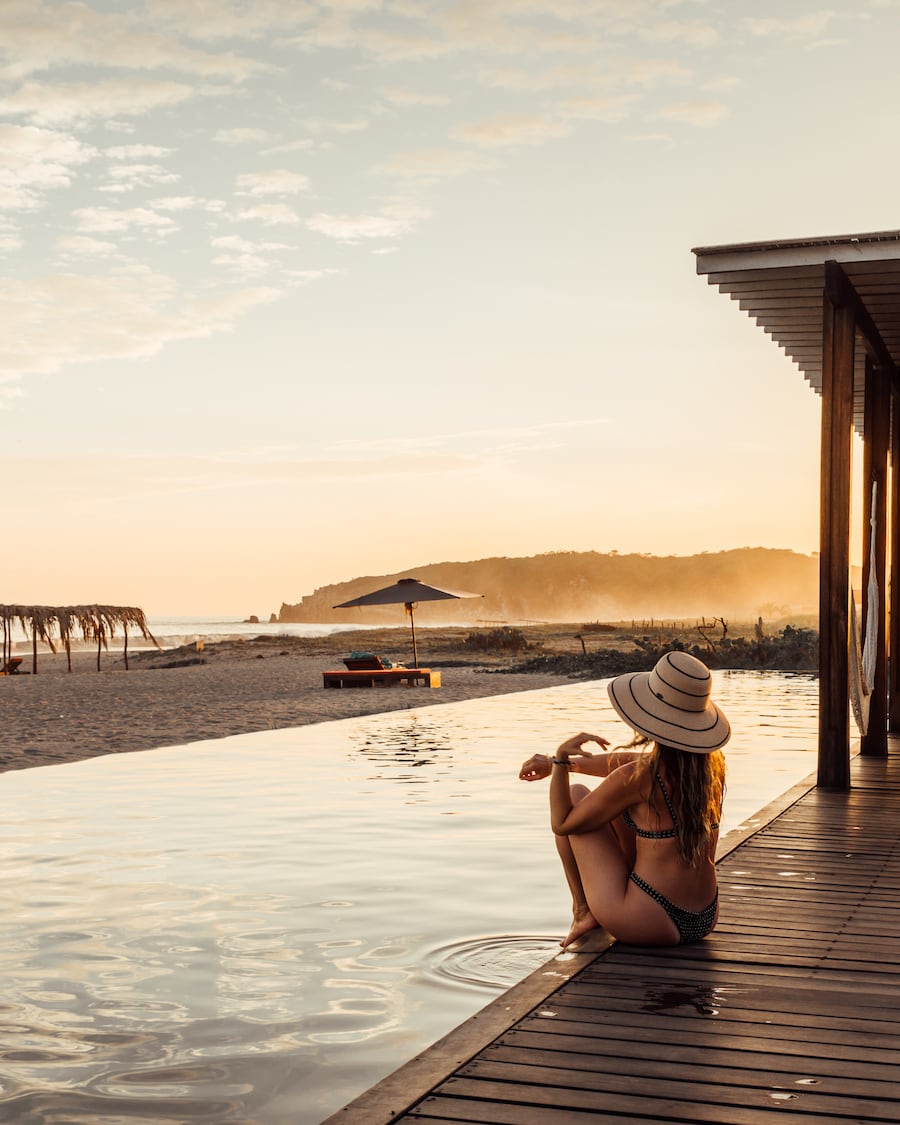 Puerto Escondido is one of the more rural Mexican beaches. Completely void of resorts, this is the type of place to go if you want to walk around barefoot and play volleyball on the beach.
Sayulita has become increasingly popular amongst Americans. While it's still a smaller beach town, it has more infrastructure than Puerto Escondido, and there are many other nearby beaches within a quick driving distance.
One of those nearby areas is Punta Mita, an upscale beach town with luxury resorts, high-end restaurants, and stunning ocean views.
While there is a slight spring break-feel to Cabo San Lucas, there are also incredible hotels with some of the best sunset views. Nearby San Juan del Cabo is also a nice option if you're looking for a smaller town that's easy to get to.
Todos Santos was once an off-the-radar hippie paradise…But mark my words, within a decade, it'll be the next Tulum.
Colonial Towns
Oaxaca City, frequently just called Oaxaca, (note: it's also in Oaxaca state, which can get confusing) is one of the food capitals of Mexico (hence, Oaxaca cheese). It has stunning architecture and is a great home base for adventures from the Hierve al Agua waterfalls to local mezcal tastings.
Just a few hours drive from Mexico City, San Miguel de Allende was named Travel + Leisure's Best City in the World, BOTH in 2017 and 2018. Colorful houses, adorable restaurants, and local shops all add to the charm in this enchanting city.
In the Mexican state of Yucatan, Merida is a surprisingly large city filled with both Mayan and colonial history. Try the local food or visit the nearby cenotes/ruins to take advantage of this beautiful town.
Large Cities
Mexico City is a must-see! While many people focus on the beach destinations, Mexico City has all of the conveniences of a major city (but also with all of the rich culture that makes Mexico so great). Be sure to pick your neighborhood wisely – Condesa, Roma, and Polanco are the best for a longer stay, or you can stay in Centro (Downtown) if you only have a few days and want to hit the touristy spots.
As the second-largest city in Mexico, Monterrey often gets overlooked. However, its mountainous backdrop (perfect for hikers) and cultural center will surprise you if you give it a chance.
Guadalajara is the third-largest Mexican city. Despite this, it has a small-town feel with authentic Mexican charm. From here, you can also visit Tequila, Mexico to learn about – and taste – its namesake beverage.
More Unique Places to Explore in Mexico
If you weren't aware, Mexico has a rather large wine region called Valle de Guadalupe. Come for a weekend to taste some wine, eat delicious food, and relax at this West Coast oasis.
Consider Valle de Bravo Mexico's version of the Hamptons. While it doesn't necessarily have the same glitz, it's where the locals go when they want to spend a weekend in nature around a lake.
Tepoztlan is another quick drive from Mexico City and it is also ideal for those looking to spend some time in nature. The traditional way to do it is to rent a house with a big group of friends, though there are also fantastic boutique hotel options in the quaint town.
---
Read More Mexico Destination Posts
---
Tips to Remember While Planning Your Trip
Check the Embassy before your trip
One key thing to do before traveling to Mexico is to check with the Embassy. The US Embassy website has all the most up-to-date info about what's happening in Mexico. Here you'll find travel warnings (should they deem it unsafe to visit), COVID updates, and other useful information. I consider checking this site before booking to be one of my most important Mexico travel tips.
Mexico isn't perfect and sunny all the time
Unfortunately, the East Coast of Mexico (think Quintana Roo and Yucutan) has a pretty long hurricane season. While it technically lasts from June to November, August through October tends to be the stormiest. It's definitely still possible to have an enjoyable trip during this time, just make sure you're aware that you might get some heavy rain.
If you're looking to visit a West Coast beach town, note that it will be extremely hot and humid from July to September. While you'll probably spend most of your time swimming or cooling off in the water, expect to be drenched in sweat within minutes of being outside.
Consider Airbnb and home rentals for longer stays
There are TONS of incredible Airbnbs in Mexico. If I'm staying for more than a few days, I prefer getting cozy in an actual home so that I can get a sense of what it's like to live there. It also tends to be more cost-effective than staying in a hotel.
Mexico isn't just all huge resorts—check boutique hotel options too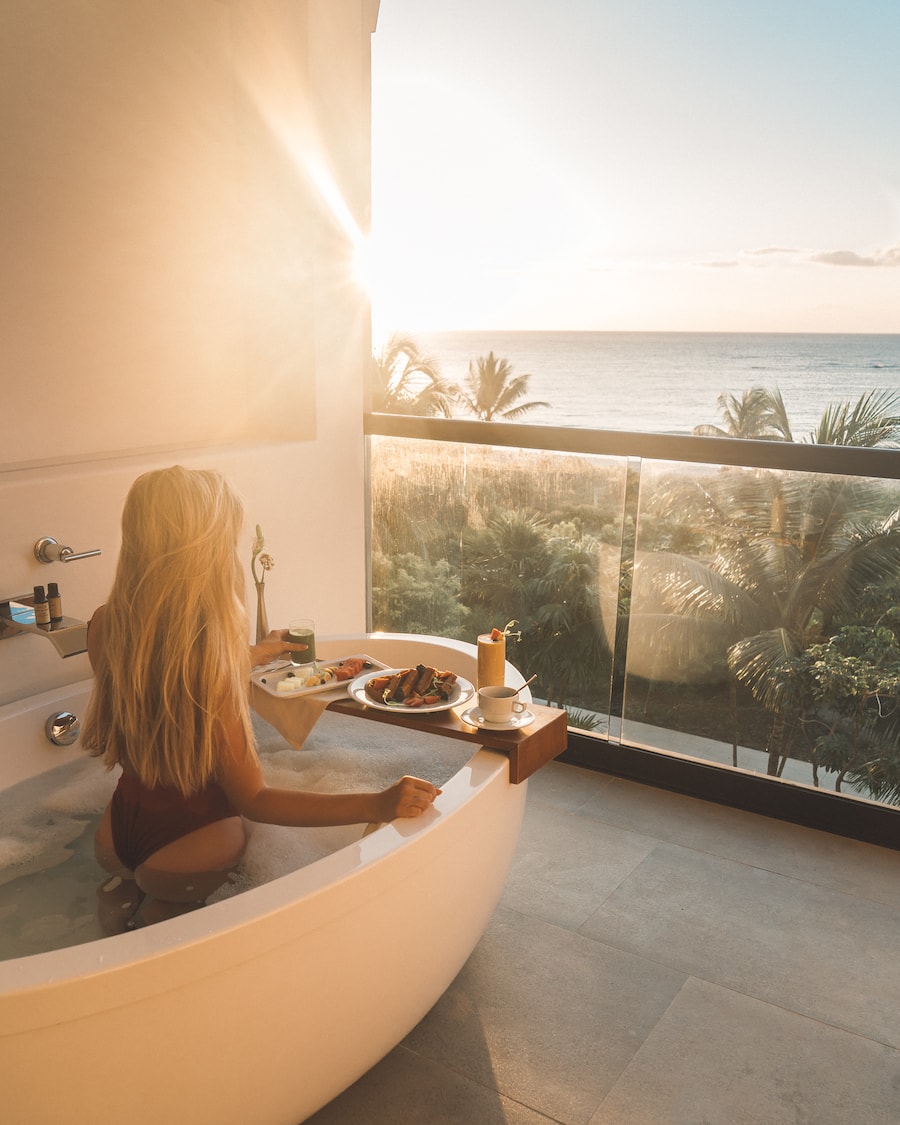 While many people tend to associate large beach-front resorts with Mexico, there are actually innumerable hotel options in this vast country. While the larger name-brand hotels can be great, don't overlook the smaller boutique spots, which often can provide a more authentic vibe.
Tips to Remember Before You Leave on Your Trip
Americans do not need a visa to enter Mexico as a tourist. You are allowed to stay for up to six months as a tourist. However, you'll then need to leave the country for at least a day in order to re-start a new tourist visa. You can (and should) double-check the Embassy website for any additional information about visas.
Super important: Do NOT throw away the piece of paper you get at customs! When you board your flight to leave Mexico, they will ask to see this as a record of when you arrived. If you don't have the paper, they will not let you board the plane (trust me, I learned this the hard way). If you do lose it by accident, there are kiosks in the airport where you can buy a new one for $600 pesos, but this can take some time, so plan accordingly.
Another very important thing to know about traveling to Mexico is that the bathrooms marked with an M are for Mujeres (women) and bathrooms marked H are for Hombres (men). Keep this in mind so you don't walk into the wrong one by accident!
There will often be people asking for money or trying to sell you things on the streets. If you want to give them a few pesos you're welcome to do so, but if you don't want to, the proper response is "gracias" (not a straight-up "no"). They will know that means "no thank you."
Do not drink tap water! You'll be able to find bottled water easily and affordably. You're fine to have the ice as long as it's made with filtered water.
Pay attention to beach flags. If you see a red flag, stay out of the water ( could mean rip tides, jellyfish, or other hidden dangers). A yellow flag means proceed with caution, and a green flag means you're good to dive in!
Also, in many beach towns, you are not supposed to flush toilet paper. If you see signs in Spanish in the actual bathroom stalls, it's safe to assume they're requesting that you put used toilet paper in the trash to avoid clogging up their pipes.
Download offline Google Maps ahead of your trip! Even if your carrier has international data, it isn't always as fast as it is back home, so having an offline map as a backup is huge. Plus, you can save the places you want to visit for easy reference while you're out and about.
While you're at it, download WhatsApp. This is the preferred messaging system (over text messaging) in Mexico and can be done without racking up international texting fees on your phone.
If you don't have an international phone plan or would rather get a local SIM card, Telcel is the primary phone provider. You can get a local SIM from a Telcel store, or even from a local OXXO, which is like a Mexican version of 7-eleven.
Packing Tips for Mexico
Definitely plan ahead when it comes to packing for Mexico. Also, check the weather in each destination you plan to visit so that you're fully prepared before traveling! Here are my top items that I would never go to Mexico without:
Layers
Mexico isn't always hot. The cities, in particular, tend to cool down in the evenings, so make sure to bring layers (a sweater, jacket, etc.) and even a pair of jeans.
Raincoat
Summer in Mexico gets more rain than any other season. It may seem unexpected, but f you're planning to come during the summer months, pack a raincoat.
Comfortable Shoes
One of the best parts of visiting Mexico is getting to walk around and explore, so definitely bring reliable walking shoes.
Flip flops or sandals are the easiest option if you're spending most of your time near the beach.
Heels will be difficult since most sidewalks aren't particularly flat…if they exist at all (most beach towns barely have them!).
Swimsuits
Regardless of where you're going in Mexico, always pack a swimsuit!  You'll never know when a sunny day and a rooftop pool might pop up.
Depending on how long you are staying, at least three swimsuits are needed when staying on the coast.
Tank Tops and T-Shirts
If you are going to one of the more rural parts of Mexico, comfy tee's and tank tops are a must.
Sunglasses
It doesn't matter which part of Mexico you are visiting, bring sunglasses!
I'm no stranger to losing sunglasses in the ocean, so I recommend bringing a second pair.
Sunscreen
Out of all of my Mexico travel tips, this one is non-negotiable. The sun is Mexico is no joke, and even if you don't feel like you need sunscreen, you do!
Leave Room in Your Suitcase 
There are so many amazing artisan markets and shops in Mexico that you'll definitely want to leave room for souvenirs! 
Also, if you're visiting Jalisco or Oaxaca, leave space to bring back a bottle of tequila or mezcal.
Tips for Communicating in Mexico
While many Mexican citizens do speak English (especially in larger cities or more touristy places) it's always nice to make an effort to speak the local language, even if it's just a word or two. A great thing to do before traveling to Mexico is to learn some key phrases, like these, to help you get around:
Hola – hello
Buenas días/tardes/noches – good morning/afternoon/night. These are rather standard greetings that people will use whenever you walk into a shop, restaurant, or Uber. Follow suit to show good manners.
Por favor – please
Gracias – thank you
Cómo estás? Qué tal? Qué onda? – all of these mean how are you, but in different levels of formality. When in doubt, stick with cómo estás.
Estoy bien – I'm good. This is an appropriate response to any of the above questions.
Cuánto cuesta? – how much does it cost
Dondé está el baño? – where is the bathroom?
Tips for Transportation Around Mexico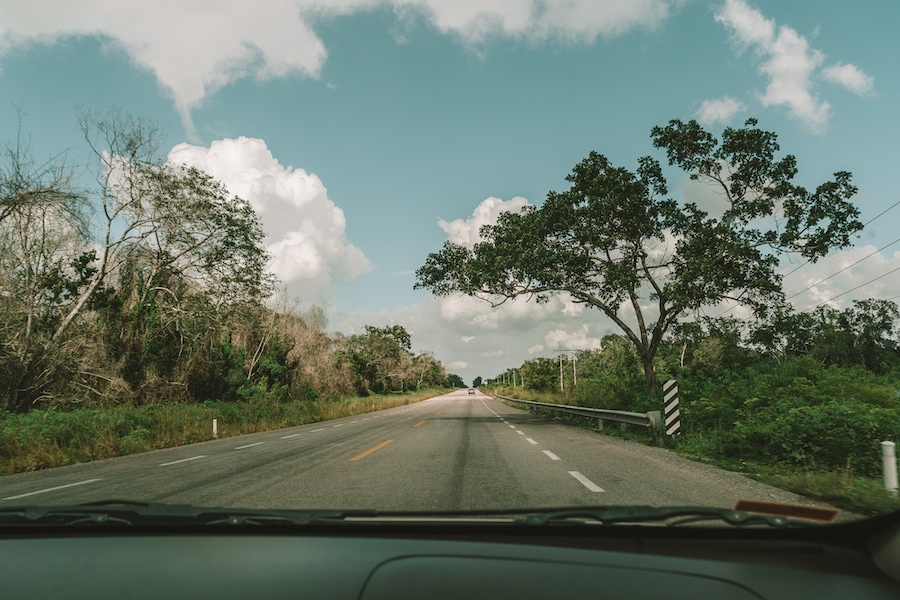 Cabs
Most places in Mexico have Uber. It's by far the safest and most reliable way to get around, so make sure you have the app downloaded before traveling.
If you're in a town that doesn't have Uber, ask the taxi driver for the price of the trip ahead of time. This way, you won't get swindled into over-paying after you're already in the cab.
Renting Cars
Renting a car can be a fun way to explore if you're on the coast. I rented one in Cancun and drove to Tulum first, and then to Bacalar and I was pleasantly surprised by how nice the roads are!
I'd also recommend renting a car if you're headed to Sayulita. This way, you can check out Punta Mita and Puerta Vallarta easily (though the roads can be more questionable once you're in Sayulita town).
If you're headed to a city, I'd skip the car rentals – drivers can be a bit aggressive in urban areas and there are plenty of other, easier ways to get around.
Also, note that even if rental car companies advertise prices like "$10 USD per day" they'll nail you with mandatory insurance fees that typically cost significantly more than the cost of the entire car.
Airlines
Flying is a very easy way to get around Mexico, and typically pretty cheap.
The main airlines are AeroMexico and Aeromar, which are higher-end, and Volaris and VivoAerobus, which are lower-end. Note that all are acceptable to fly, but the latter two will charge you for everything, from seat selection to carry-on bags and even water on the plane. In my mind, it's not worth the hassle, and I stick exclusively with AeroMexico.
ADO
Another important Mexico traveling tip is to check out the bus system. If you're looking to go from one city to another (that's relatively close), check out the ADO bus. I've taken it from the Cancun Airport to Tulum, and from Mexico City to San Miguel de Allende. These coach busses are surprisingly comfortable for a few hours drive.
Pack a sweater for the bus, even if you're in a beach destination, as they tend to blast the air conditioning. It's a welcome relief from the blazing heat, but you can quickly get cold sitting in there for hours on end.
Safety Tips for Mexico Travel
Mexico tends to get a bad rap for safety, but most areas are safe for tourists. Millions of people visit Mexico each year, and the number of incidents with tourists is rather minimal, largely because the government has instilled safety measures to protect tourists and the income they bring with them. Overall, safety-related traveling tips for Mexico are pretty much the same for anywhere in the world.
Always stay aware of your surroundings.
Keep your belongings close to you. Pick-pocketing is common, so always keep an eye on your bag and avoid keeping valuables in your pockets.
Don't wear flashy or expensive-looking things (this is especially important at the airport when you arrive).
Avoid walking around at night, especially if you are solo traveling.
Don't use public transportation at night. If you need to travel after dark, stick to Uber or other private forms of transportation.
Be cautious with your cash and avoid carrying large sums with you at one time.
Know all local emergency numbers. While 911 will work in most areas, 078 is another reliable number that calls the Green Angels.
Travel Tips for Eating and Drinking in Mexico
Though eating at a restaurant may seem like it would be the same all over the world, keeping these Mexico travel tips in mind while visiting local restaurants will ensure that you get the most out of your dining experience.
Mexico Travel Tips: Eating
Restaurant service runs at a different pace in Mexico than it does in the United States – it's muy tranquilo here, as servers assume you want to take your time enjoying a leisurely meal. If you're in a hurry, don't try to sit down at a restaurant and force them to speed up; they'll go at the pace that suits them. Once you get used to the change of pace, you'll find it quite enjoyable!
People eat late! It's not unusual for a weekend lunch to start at 3 pm, or dinner (any day of the week) to begin at 8 or 9 pm. Keep this in mind if you're trying to make a reservation at a place that fills up far in advance – you may have luck if you're willing to take a 5:30 pm dinner.
Standard tipping throughout Mexico is 15%. If you get exceptional service feel free to go above that, but it's considered rude to tip anything less. Unlike in the United States, where you add the tip onto the receipt when paying with a card, waiters will ask you how much you want to tip while they have the card terminal in hand.
Speaking of cards, your credit card should never be out of your line of sight. Waiters will bring a credit card terminal to your table and charge the card in front of you. All credit cards in Mexico have pin numbers, so don't be surprised if they hand you the terminal expecting you to put in a pin, but then the transaction goes through like a normal credit card.
Always double-check the bill. Read over the line items to make sure only what you ordered is included and nothing extra was added. If it is incorrect, kindly point out the mistake and they'll bring you a new bill.
Don't skip the taco stands! Some of the best food I've had in Mexico has been street food. Just be careful where you go! Get a recommendation from a local (or the internet). At the absolute least, go to whichever taco stand looks busiest. You want to ensure they have quick food turnover so that everything is fresh – a stand with no patrons is a red flag.
Mexican food in Mexico doesn't taste the same as Mexican food in the United States. It's rare to find a burrito on a menu, and in many places, you'll have to order a "quesadilla con queso" if you want cheese in your quesadilla.
Here are some key phrases that will come in handy at a restaurant:

Puedo pedir – may I order
Quiero tomar – I'd like to drink
La cuenta por favor – the check please
Puedo pagar con tarjeta/efectivo? – may I pay with credit card/cash?
Con 15 por ciento para propina – please add 15% tip to the bill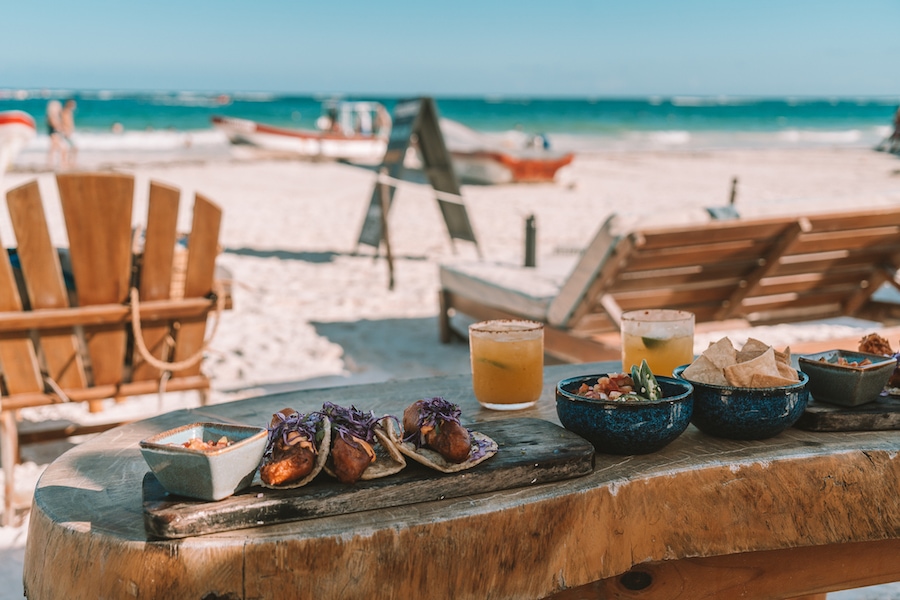 Mexico Travel Tips: Drinking
If you want to order water at a restaurant, order "agua natural" for still water or "agua mineral" for sparkling. If you opt for sparkling, ask for one of the Mexican brands like Topo Chico, Agua de Piedra, or Perafil to avoid being served overpriced, imported water (which is often served to tourists by default).
Tequila and mezcal are the most common (and beloved) spirits in Mexico. While they are both made from the agave plant, there are some distinct differences. Similar to how champagne has to be from the Champagne region of France, Tequila has to be made in Tequila, Mexico, which is in the state of Jalisco. Mezcal is primarily made in Oaxaca, and it can be recognized by its smokey flavor.
Tequila and mezcal are meant for sipping, not shooting. Notice that many locals will order them alongside a beer and casually sip both drinks, savoring the flavor of the local liquor.
Speaking of liquor, if you enjoy coffee, order a Carajillo (pronounced car-ah-hee-oh) as either a pre-dinner or post-dinner drink. It's a combination of espresso and Liquor 43, which is made of 43 herbs and spices, served shaken and over ice. It's absolutely delicious!
Micheladas are the Mexican version of a Bloody Mary. Made with clamato, cerveza (beer), lots of lime, and lots of salt, these are not only delicious, but also a wonderful hangover cure. Some locations, however, call a beer with just salt and lime a Michelada, so it's always best to specify if you want "con clamato" or "sin clamato."

Tips for Using Money in Mexico
Mexican currency is called the peso. Keep in mind that the pesos use the same $ symbol as the US Dollar, but it's safe to assume that any listed prices with $ are in pesos (unless it's explicitly specified that it's US Dollars). At first glance, it might look shocking to see that a glass of wine could run you $200 . . . until you realize that means $10 USD.
The current exchange rate is about 20:1 (peso to USD). Here's some easy math to help you break it down: if you receive your bill in pesos, you can divide it by 20 to see the cost in USD. It's also easy to remember that $100 pesos = $5 USD. *Note this is subject to change based on exchange rates.
While many cities take credit and debit cards, it's always smart to carry some cash around in case you want a street taco or something from a small artisan vendor.
Some of the smaller beach towns are primarily cash only. For example, if you're visiting Puerto Escondido, take out plenty of cash to cover meals and cabs.
ATMs in Mexico are called Cajero Automáticos (if you search this on Google Maps rather than "ATM" it may provide more results).
Try to think ahead about when you'll need cash and how much you'll need. Sometimes the ATMs can run out of money, so you may have to stop at a few before you can successfully withdraw cash.
If a shop or restaurant ever asks if you want to pay in pesos or dollars when you're paying via credit card, always say pesos! This ensures that you're getting your home bank's exchange rate rather than whatever exchange rate they have set.
COVID-Related Mexico Travel Tips
When traveling anywhere internationally, you'll definitely want to review the most up-to-date COVID restrictions before booking. The best place to get information on COVID in Mexico is the US Embassy website, which you can find here. Mexico, like the US, is made up of many different states, meaning they impose restrictions on a state-by-state basis.
As of Winter 2022, Mexico does not have any entry requirements for testing or vaccinations for U.S. residents. However, you are required to get a negative PCR test before flying back to the US. Most airports have them readily available, but you can also ask your hotel or Airbnb host for a recommendation on where to get one.
Mexican citizens have not been vaccinated at the same rate as those in America and masks are still very much required in Mexico.
Did these Mexico travel tips inspire you to plan your next trip here? Let me know in the comments below!
---
Planning a trip right now? Don't miss my go-to websites for booking everything from flights and tours, to accommodation and more:
---