I recently booked a long weekend trip in New Orleans and during our stay had the opportunity to try out a newer concept in the hospitality space: Mint House. If you haven't heard of Mint House yet, let me give the scoop.
If all the things you loved about a hotel and home rental had a baby, Mint House would be it. They've intentionally created an experience that is design-centric, tech savvy, and consistent in its offerings (which I've found is impossible to find with home rentals), but they've simultaneously brought in the comforts of home like more space, laundry and full kitchens.
With Mint House, you don't have to worry about showing up to an apartment you've booked, only to be disappointed that it's not as advertised. Mint House is streamlined so all of the amenities, design and cleanliness standards are consistent across the board.
In this Mint House review, I'm going to cover everything you need to know before deciding if Mint House is the right fit for your next trip.
What Makes Mint House Different?
Their tagline is "Smart by Design" because they've thoughtfully curated a hospitality experience that is truly smarter; guests have the ability to do things like pre-stock their fridge prior to arrival, set their ideal room temperature and even shop the space.
Here are some of the features that for me really set Mint House apart:
Easily pre-purchase groceries on their site before your stay that will be waiting in your fridge upon arrival—this one is literally a game changer!
Keyless entry allows you to stop worrying about losing or de-magnetizing your key cards
24/7 digital concierge offers assistance with anything you need during your stay, just like a hotel
No annoying check-in or check-out processes. Just show up, enter your entry code and you're in.
Luxury amenities like nice bedding and spacious design-centric bathrooms like a hotel, paired with the comforts of a home rental like full kitchens, laundry and designated living spaces
You can even shop your stay with a QR code inside each apartment
What also makes Mint House different from typical hotels or home rental sites is that they offer a few different ways to stay with them to cater to their guests particular needs.
Standard Stay: This is the basic short-term stay that you book on their site like you would at any other accommodation.
Mint Pass: This is their subscription program designed for remote workers and nomads for only $250 a year. With this annual membership, guests can stay at any location nationwide and reap exclusive rewards like 30% discounts one extended stays, free nights, flexible cancellation and a dedicated communication team for Mint Pass members.
Extended Stay: For people looking to treat Mint House more like a long-term home rental, this is the option for you. For stays over 30 days, you can choose from apartments specifically curated for longer stays with more space, and top tier amenities like rooftop terraces and pools, as well as gym access.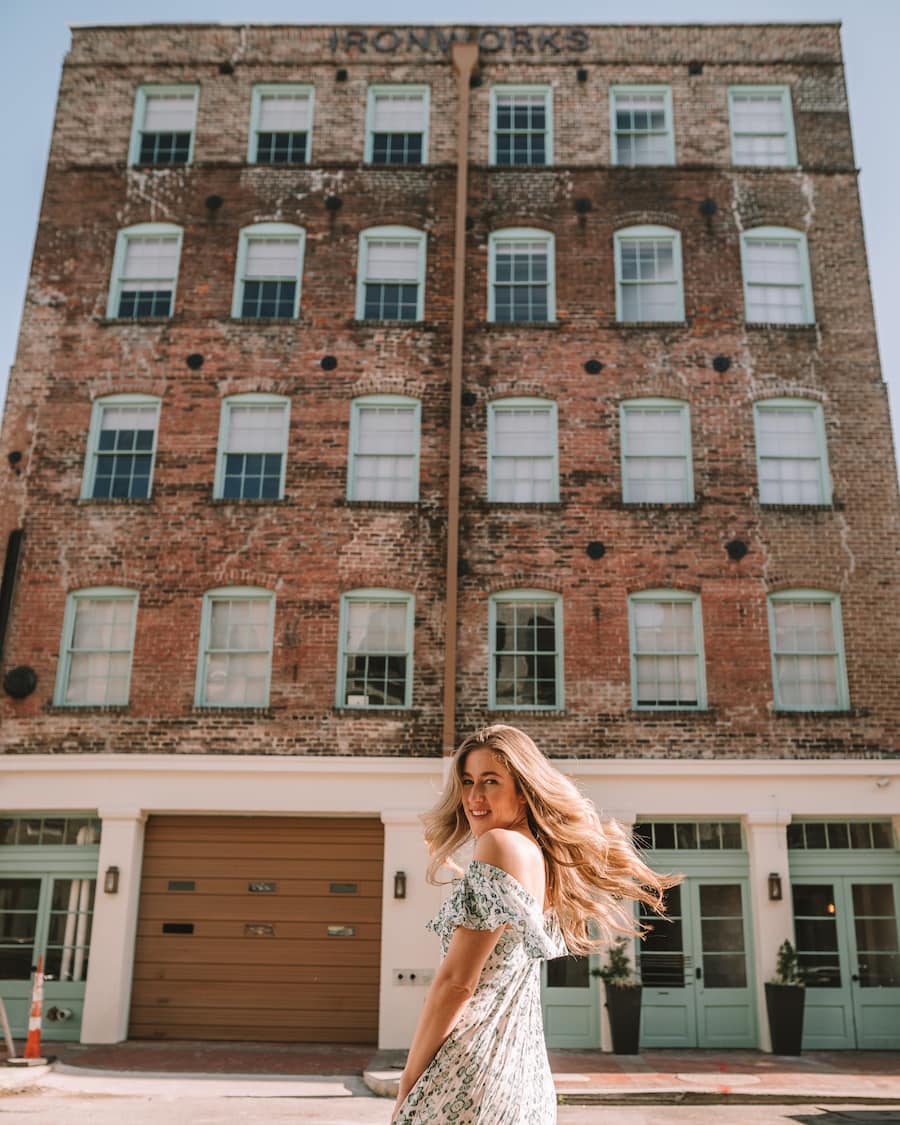 How Does Mint House Work?
It works pretty much like any other hotel or home rental you would book. You can use the Mint House website to book stays directly for your desired dates, or you can even book on some of your favorite booking sites like Booking.com or Hotels.com.
Prior to arrival, you'll receive an email with arrival details that will provide your code for keyless entry and anything else you need—that's it. No need to notify any staff on site or wait in slow check-in lines.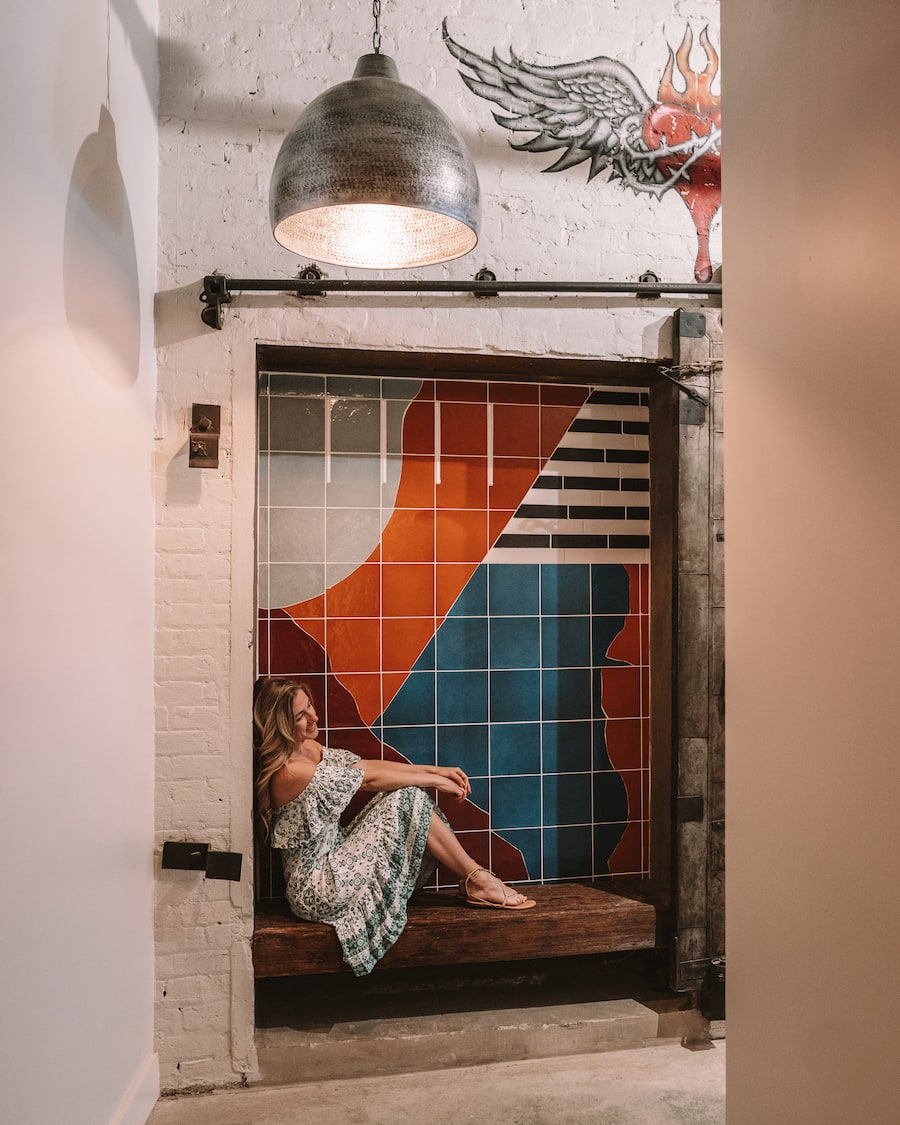 Mint House Destinations
Mint House is currently based solely in the U.S. with locations in over 10 major cities like New York, Nashville, Miami, Seattle, Austin and New Orleans. You can find the full list of locations here.
Our Experience Staying with Mint House in New Orleans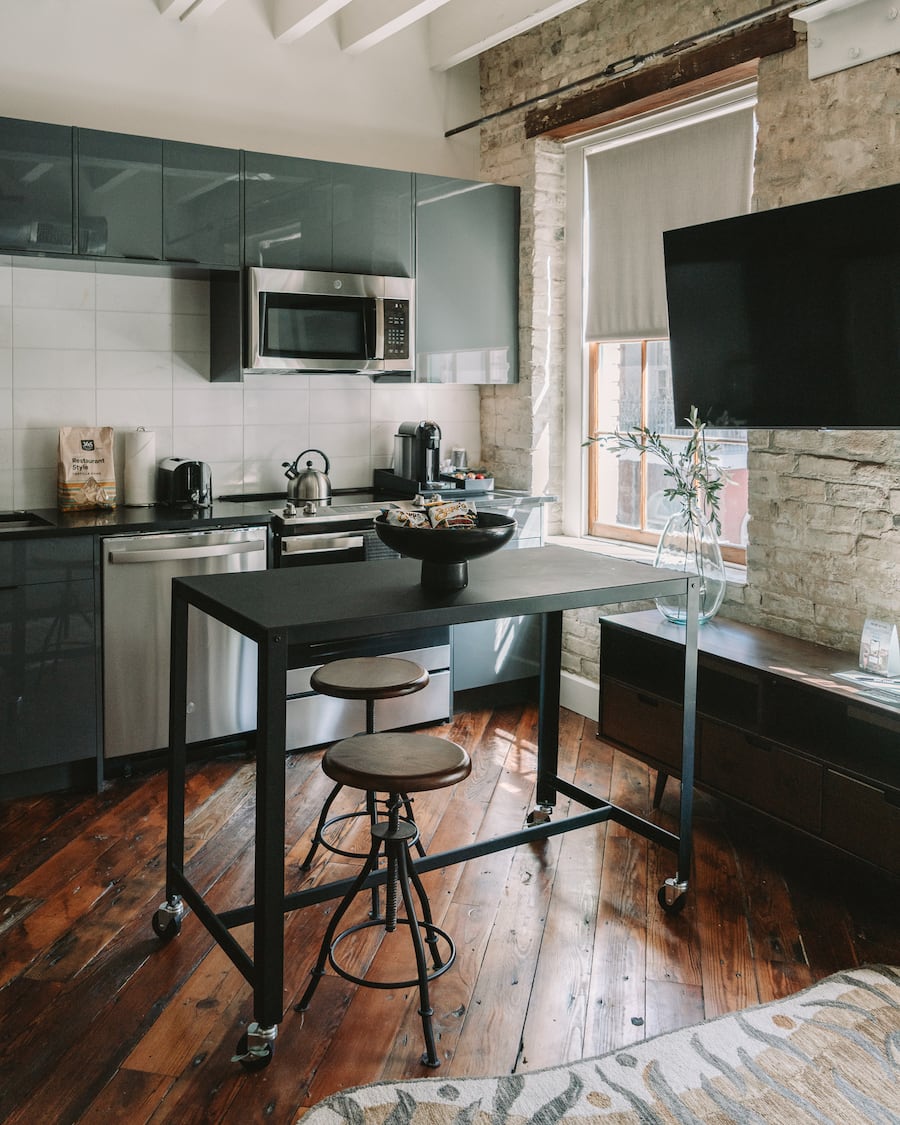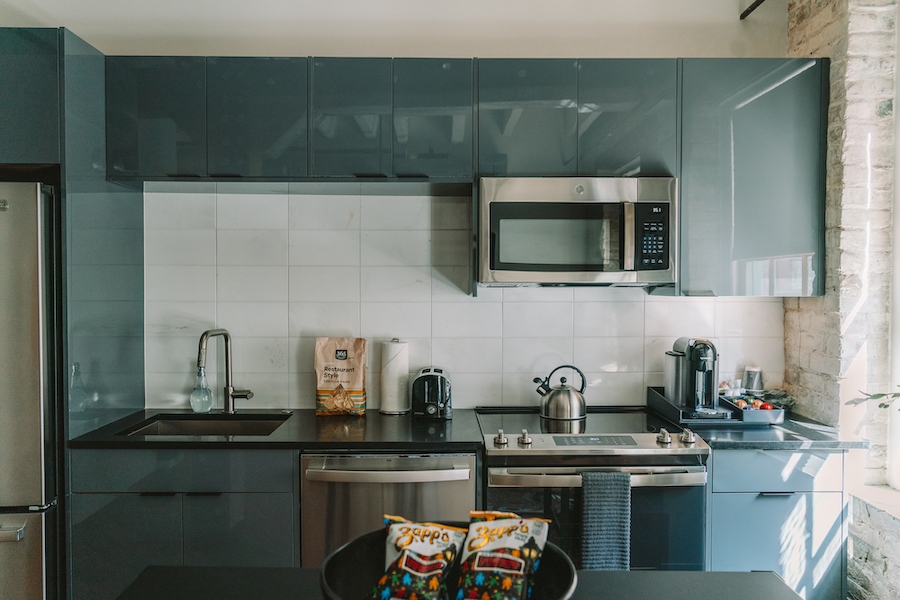 Overall, we had an awesome experience staying with Mint House's brand new New Orleans property. When we first arrived, we easily got up into our apartment and immediately loved the industrial vibe of the space.
The particular building in which Mint House is located in NOLA in the Riverside neighborhood is an iconic warehouse that was famously used in scenes in the movie The Expendables. There's even a section of wall in a downstairs hallway that is signed by Sylvester Stallone and Mickey Rourke!
The Riverside neighborhood ended up being perfect for us. I was worried it might be far from all the main sites in New Orleans, but in reality we were really only a 10-15 minute walk from most of the things we wanted to see in the French Quarter. The hop on point of the St. Charles streetcar was also super close by.
In retrospect, I really appreciated that the location wasn't directly in the French Quarter as Bourbon Street and the surrounding blocks can get pretty wild and rowdy at night, and it was nice to come home in the evening to our quiet apartment and get some restful sleep.
The surrounding area is also pretty modern and hip, so you'll find more of the design hotels and newer bars to check out just within a few blocks.
Let's talk about the stock your fridge concept. This is so genius and probably my favorite feature of Mint House. There's nothing worse than getting into a hotel or Airbnb right off a flight and feeling that desperation of having to search for food. Am I right?
Mint House made it so simple to pre-order basics like eggs, sausage, chips, salsa, and beverages to have ready in the fridge so that we could immediately refuel upon arrival and not waste time during our weekend picking up groceries. One thing I will note is that they don't include basics like olive oil, salt, pepper, etc so if you do plan on cooking make sure to grab these essentials as well.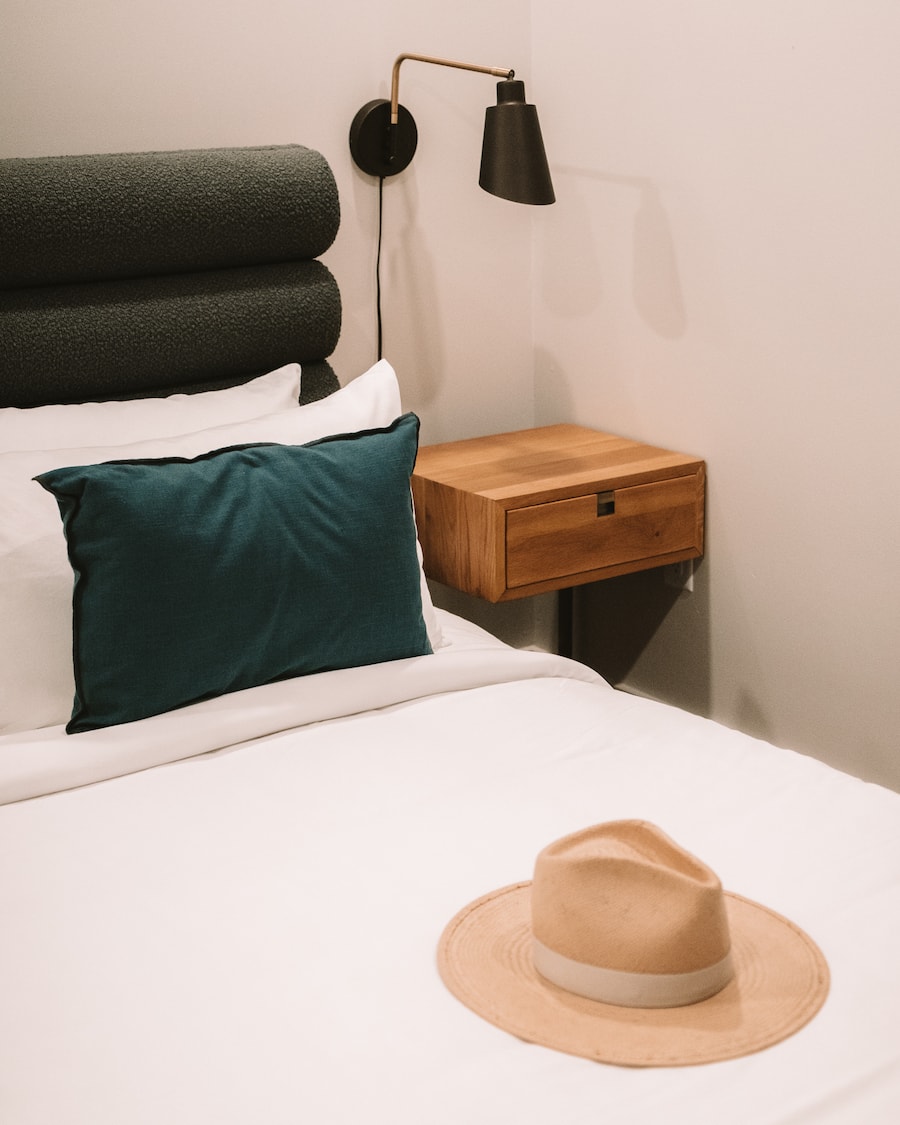 One thing that really surprised me was how well I slept in the bed. I don't typically sleep well in new settings the first night or even the third, but the bedding was super comfortable and somehow I was able to sink in and zonk out with ease. Probably the standout of our apartment though was the bathroom. In any basic home rental you're usually not getting a luxurious bathroom, but this one was gorgeous. The shower was modern and huge like a luxury hotel room, featuring stunning blue tile.
With so much energy surging through the city of New Orleans, it was lovely to feel like we had a cozy place to come home to in between adventures that made us feel like we were living like locals, if even for a short time.
Overall, Would I recommend Mint House?
The short answer is yes! We had a wonderful stay at their New Orleans property and got to settle into our apartment like it was a home away from home. But of course, it's not going to be for everyone.
I would say that if you fall into any of the categories below you'll definitely love the perks that Mint House provides.
If you love Airbnbs but hate the quality inconsistency and recent surges in fees
If you're visiting a city for a longer-term stay but don't want to be locked into a lease or have a landlord
If you're traveling with a family or group of friends and looking for more space in one cohesive living area
If you love living like a local in any new city
If you're a busy business traveler who needs flexibility and consistency in an accommodation partner across the US
Or if you're just someone who loves the conveniences of a real home, but prefers the luxury aspect of a hotel room—Mint House is the perfect combo
Who is Mint House not for?
I would say that if this is your one vacation a year to go all out and book something 5-star, or you're someone who expects the ultra luxurious experience everywhere you travel, then Mint House might leave you desiring something more.
Mint House definitely incorporates many of the great qualities of hotels like convenient locations, thoughtful design and 24/7 concierge, but if you're expecting chocolates on your pillow at turn down service, breakfast delivered in bed and a football field sized infinity pool overlooking the ocean, you'll probably be disappointed.
Think of Mint House as a huge step up from typical apartment living / home rentals you're used to. If you're headed on a long, casual weekend away with friends, or looking to book a longer-term remote work stay, Mint House is perfect for that.
[Thank you so much to Mint House for hosting this lovely stay. As always, all opinions are my own]
Read More