If the name "Moab" means nothing to you at the moment, then keep reading. I'm about to show you why this quirky little town should be added to your vernacular ASAP. Not only is Moab, Utah home to two of the state's five national parks, Arches AND Canyonlands, but its downtown vibe is reason enough to visit in itself.
After exploring the beauty of Page, Arizona and Monument Valley along our National Parks road trip, next on the itinerary was a drive North up to Moab where we had originally only booked two days to explore the area.
But after a quick jaunt into town, we realized that Moab's laissez-faire way of life (especially in contrast to the rest of Utah), was exactly what we needed. It didn't take long for us to extend our stay for a third night!
If you're planning a longer visit to Moab, Utah, there are tons of adventurous activities to partake in — from hot air ballooning and horseback riding to river rafting and even Hummer safaris. However, with only a limited amount of time to explore, I'd recommend focusing on the area's National Parks (a must!) and relaxing downtown when you'll inevitably need a break from being on your feet.
Here are my quick recommendations for what to do next time you find yourself in the sweet town of Moab.
Where to Stay
Moab Under Canvas
This insta-famous glamp-ground is probably the most popular spot to stay in Moab and provides all the camping vibes without all of the discomfort.
The king-sized beds inside Under Canvas were probably some of the most comfortable we slept in the entire trip, and we found the tents to be spacious and well-sealed off from any outside critters.
Just be aware that most glamping tents at Under Canvas do not include bathrooms, so unless you're down to splurge, you'll be using the on-site trailers for toilet facilities.
But trust me — witnessing the sunrise from your glamping tent window is totally worth any and all slight inconveniences of the glamping lifestyle.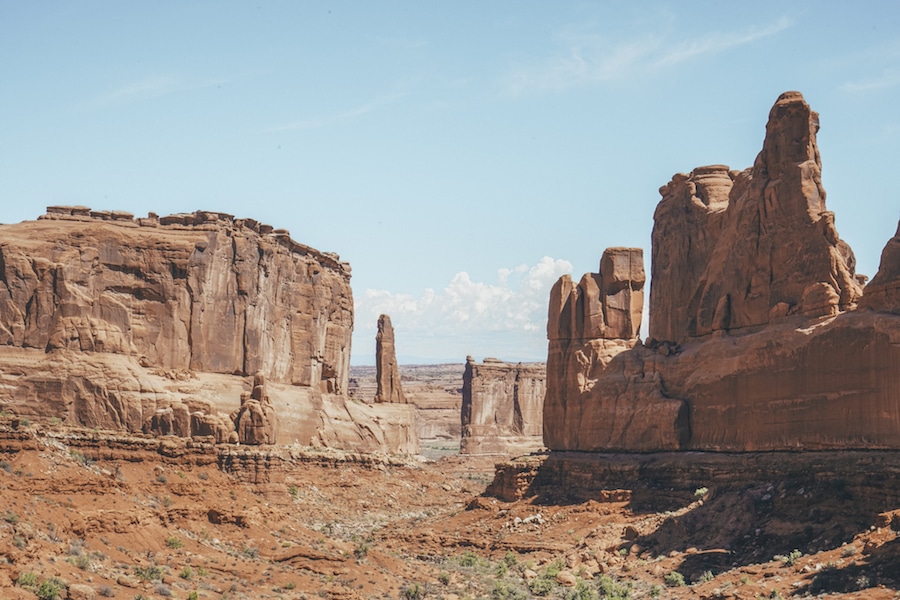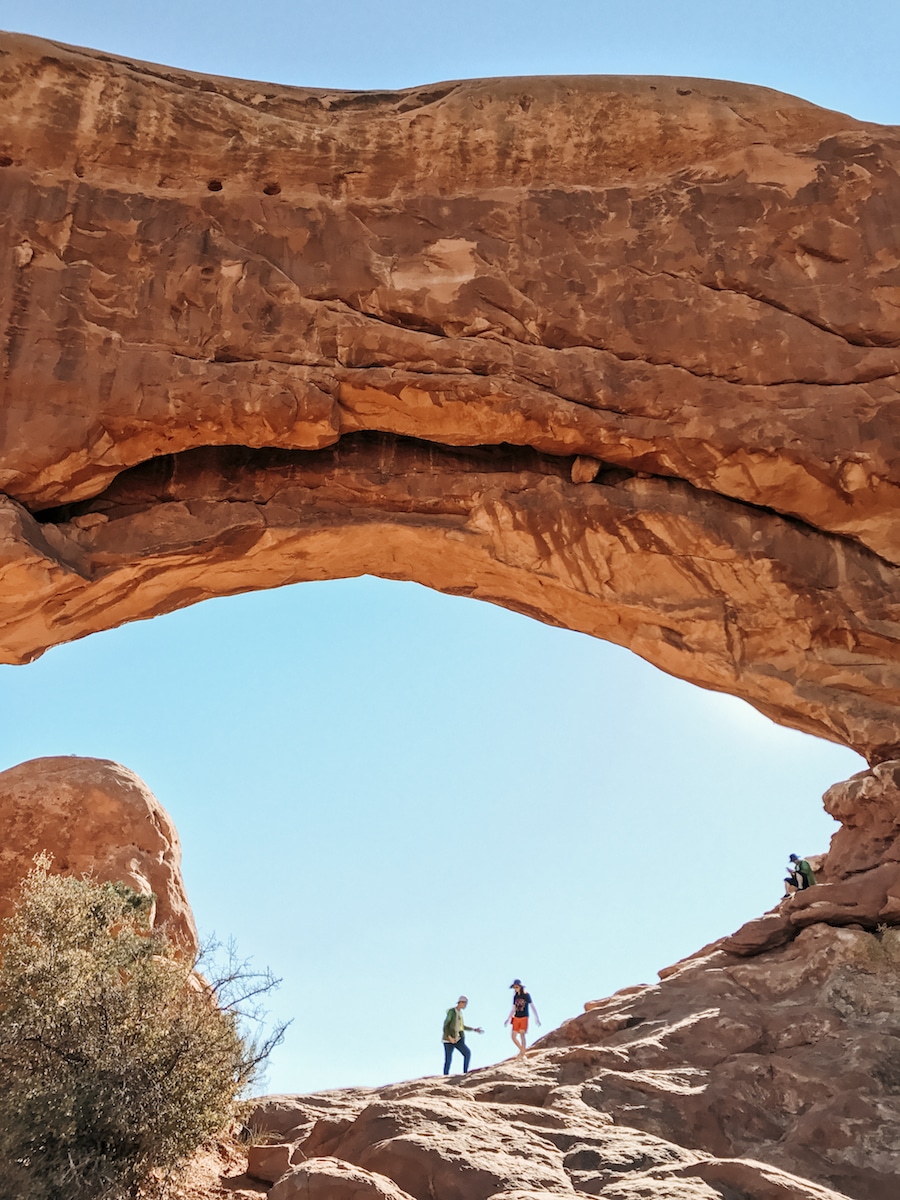 What to See
Arches National Park
This is the most popular National Park to visit in Moab because of its stunning desert landscape littered with unusual rock formations and naturally carved out arches.
The park is quite vast, so you may want to pick and choose the sections you visit. Some of the must-sees are The Windows Section, Devils Garden and the Park Avenue viewpoint.
Delicate Arch, which you've undoubtedly seen photos of on Instagram, is the shining jewel of the park, but can only be reached by a moderate 1.5 mile hike to the base, which I recommend doing either first thing in the morning or for sunset.
Pro Tip
Make sure to visit the National Park Service website to check for closures before you visit, as some sections of the park may be under construction. It's also a good idea to check this site during your stay as various weather patterns like high winds/flash floods can affect closures in the park.
If you're planning on doing a sunset hike (Delicate Arch is a popular one for this), make sure to check which days the park is open at night.
Canyonlands
This park is often overlooked by visitors to Moab because everyone is so focused on seeing the beauty of Arches, but I found Canyonlands to be just as jaw-dropping and 100% worth the visit.
Again, it's wise to pick and choose your points of interest within the park as Canyonlands covers an incredible 300,000 + acres of land!
Probably the most popular site is the Mesa Arch, which is just a short hike down from the parking lot. Island in the Sky, Grand View Point Overlook and the Green River Overlook are also worthy stops during your visit.
Have Limited Time in Town? Join a Tour with Moab in a Day
Psst here's a little secret. If you want to fit both parks into one day of your itinerary, Moab in a Day Jeep tours are an awesome way to go.
They book small groups (max four people) and offer full day Jeep tours featuring in-depth explanations on the history and geology of the parks.
Major bonuses include free hotel pick up and a delicious gourmet lunch spread including salad, cheeses and charcuterie.
Moab in a Day offers several different tour options, but we opted for the combination tour and then re-entered the park on our own time the next morning to do the Delicate Arch hike since this was not included.
Where to Eat
Eklecticafe
Our favorite eatery for breakfast in town, Eklecticafe, is just what it sounds like — a cute little cafe with eclectic vibes and interesting breakfast combinations. I loved their "Wake Me Up" Wakame dish featuring seaweed and eggs over brown rice.
Peace Tree Juice Cafe
All I have to say is, this place officially converted me to a beet lover! If you want something healthier with plenty of options for salads and juices, this is the spot to go. Order up the Sweet and Salty Beet Salad if you want to enter the pearly gates of flavor heaven.
Red Rock Bakery
This coffee shop is the best place in town for digital nomads to bring their laptop and put in some hours on Wifi. Plus they serve up a pretty mean bagel sandwich.
Desert Bistro
When you're sick of wearing your hiking gear and want to switch it up for something a bit higher end, head to Desert Bistro for a great selection of wines and fancier entrees. I found the food to be a bit overpriced for the quality, but it was definitely a fun night of indulging!
Moab Brewery
The best scene in town for enjoying craft beers and socializing with Moab locals.
Other Can't Miss Spots in Moab, Utah
Moab Rock Shop
If you're a fellow crystal lover like me, you'll swoon over this expansive shop featuring all kinds of fossils, gems and gorgeous jewels organized like a museum straight out of the Flintstones. It's located off the main drag in town, so definitely make this a pit stop on your way to and from Arches and Moab's town center.
Westworld Filming Locations
Fans of the HBO series Westworld will find many familiar landscapes within Moab, which has been a recurring filming location for the hit drama. Drive along Route 128 to enjoy the same journey that humans to the series' theme park make by train within the show.
If You're On a Longer Road Trip…
If Moab is one stop on a longer National Parks trip for you and your group, I recommend purchasing the America the Beautiful Pass which is only $80 and gives you a year's worth of access to every single National park in the States!
It is valid for you and anyone joining you in your vehicle. Most National Parks charge $25-$30 entrance fee for one commercial vehicle, so the pass is worth it if you're visiting more than three parks.
PIN IT FOR LATER