As someone who lived in Charlottesville on and off for three years, I've spent a lot of time exploring central Virginia, and discovering the best Charlottesville wineries has to be my favorite local pastime.
Before living in C'ville, I had no idea that wineries were even a thing there. But I soon learned that the Virginia wine trail is the best kept secret amongst wine lovers—there are over 300 wineries throughout the state!
That's obviously way too many to visit in one trip, so your best bet is to go straight to the heart of it all: the Monticello Wine Trail.
So, I can hear you thinking…why would I plan a trip wine tasting in Virginia when I could go to Napa or Sonoma instead? Well, I'll give you a few reasons. For one, popping down to Charlottesville is way easier for East Coasters than flying cross country.
Furthermore, it's a totally different vibe. The wineries on the Monticello Wine Trail are as laidback as they come, with few requiring reservations unless you're in a large party and many that are dog friendly or allow outside food.
This is such a great trip because it can be enjoyed by anyone with a love of wine or food. You can easily have a romantic couple's weekend in Charlottesville or jet off for a long weekend with the ladies (I personally think this is one of the best girls trip destinations if you're looking for something domestic and affordable).
The C'ville airport is hassle free and the area is never overrun with tourists (unless it's a big UVA weekend), so it's typically OK to find last minute accommodation and flights.
Have I convinced you yet?
Skip the Driving and Book This Top-Rated Private Tour!
▶️ If you book anything during your Charlottesville visit, make it this private customizable wine tour. This way, you don't have to worry about driving between wineries and everyone can experience your wine-tasting day to the fullest!
But first, some history on the Monticello Wine Trail…
In total, there are 35 wineries that make up the Monticello Wine Trail, which are all situated in close proximity to Charlottesville.
Its moniker is an ode to former president Thomas Jefferson, who lived in Charlottesville in his now iconic home of Monticello. It was Jefferson's dream for many years to position Virginia as a winemaking region and grow grapes that would rival the best Old World wines.
Though he tried several times with colleagues at the time, obstacles like the American Revolution seemed to always get in his way.
Over the years since, grape growing has slowly become more successful in this region of Virginia, but in the 1970s winemaking really started to take off. Now, vineyards along the Monticello Wine Trail win awards year after year, and it's become a destination for wine loving veterans and newbies alike.
In this post, I'm sharing my top picks for the best wineries in Charlottesville along the Monticello Wine Trail so that you can skip all of the annoying research and get straight to the fun!
Quick Tips for Planning Your Trip to Virginia Wine Country
If you're traveling with a large group, it's highly encouraged to call ahead and book reservations at all of the wineries
Many vineyards in the area are dog friendly, so feel free to bring your furry friend and customize a winery itinerary that allows your pet to join!
Tastings often include a glass as a souvenir, so leave extra room in your luggage –you'll want some extra room to bring home bottles as well!
The Best Places to Stay During Your Trip to the Monticello Wine Trail
How to Plan Your Charlottesville Winery Itinerary
Below you'll find my Monticello Wine Trail map featuring my favorite wineries and some local landmarks to get your bearings of the area!
Sample Itinerary for a Weekend in Charlottesville Based on Proximity
(choose as many as you like per day from the available options)
FRIDAY: Pippin Hill, Blenheim, Gabrille Rausse, Jefferson Vineyards
SATURDAY: Early Mountain (for brunch), Barboursville, Keswick Vineyards
SUNDAY: Stinson, King Family Vineyards, Veritas Vineyards
Bonus: If you have an extra day check out Mount Ida and Michael Shaps Wineworks
Pippin Hill is hands down my favorite winery in Charlottesville and I'm pretty sure it will be yours too.
It's got it all going on—between the drool-worthy food menu, stunning views of the Blue Ridge Mountains, and delicious wine selection (the wine program is run by renowned winemaker Michael Shaps), they've really crafted every detail to perfection.
And let's not forget about the charming atmosphere. I was sold the minute I stepped onto the winery's veranda adorned with strung bistro lights. It doesn't get much cuter!
Owned by the same husband and wife team behind Zero George in Charleston, Pippin Hill is a family-owned property run by people who truly know the hospitality business. I love that they believe so strongly in farm-to-table dining and sustainable viticulture.
We were able to get a tour of the grounds and gardens by their in-house horticulturist, and let me tell you—it was so impressive learning about the work that they've put into growing as much as possible directly on site.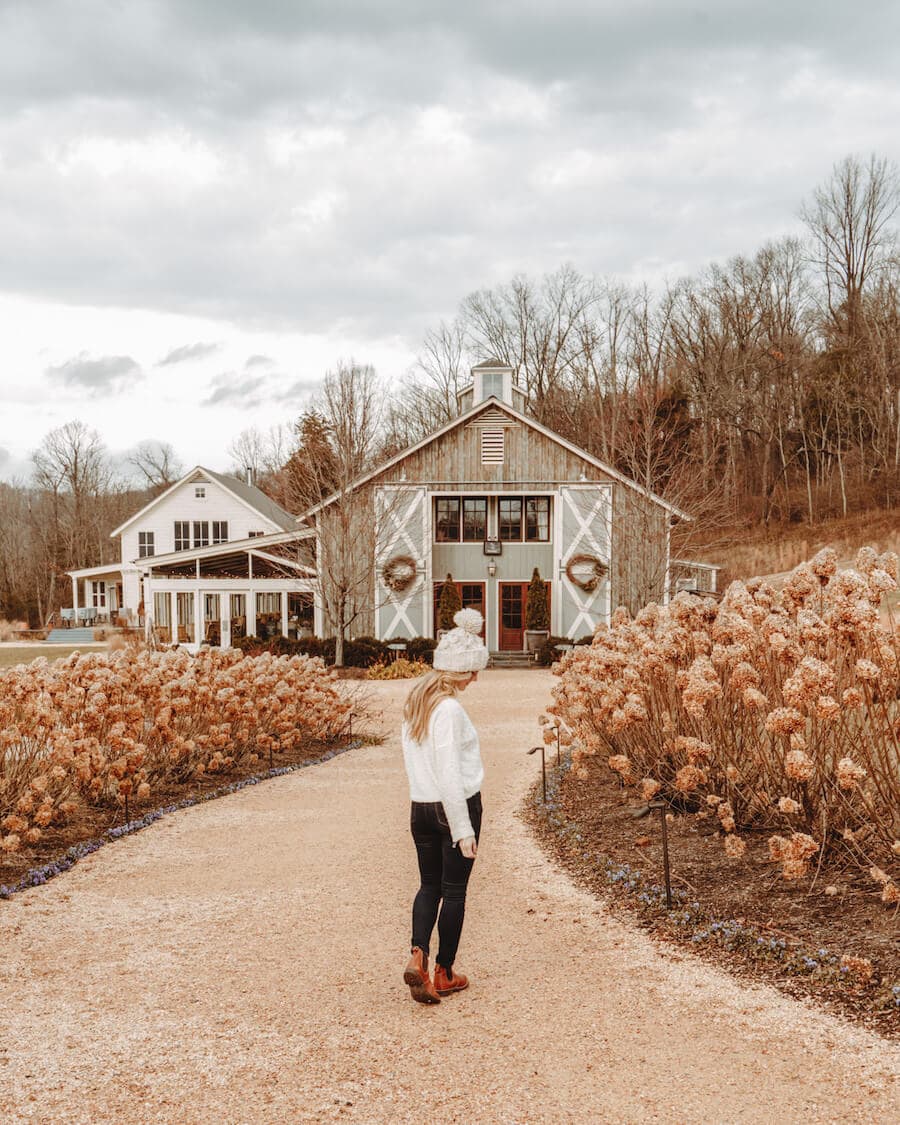 The farm also hosts fun events and activities that are ideal for visitors looking to do a bit something special on their visit. You can reserve a table for Flights & Bites which is their special wine pairing menu, take a cooking class, or enjoy live music on Sundays.
Select times of year, they also do "Featured Farmer Fridays" where they host a mini farmer's market to highlight some of the best local goods.
If you're looking for the best overall experience, don't miss Pippin Hill during your visit to the Monticello Wine Trail. Trust me on this one! PS – They're closed on Mondays, so do't plan your visit on that day 🙂
Distance from Downtown: 20 minute drive
Tasting Fee: $10 per person
Food Available: Full menu – try the cheese board, it's out of this world!
Go Here If: You're hungry! Not only does Pippin Hill have excellent wine, they also have a phenomenal food menu that you won't want to miss.
Pippin Hill Farm & Vineyards, 1616, 5022 Plank Rd, North Garden, VA 22959
Jefferson Vineyards is a must if you're a first timer to Virginia wine country. It was actually on this very same estate that Thomas Jefferson and his colleague and winemaker, Philip Mazzei, chose to grow wine over two centuries ago.
So consider this one like stepping into a little slice of history.
The vineyard has been owned by the same family for three generations and is a great homage to Jefferson's legacy, as the care they've put into crafting their wines has won them many awards over the years.
Wine Spectator magazine even recognized the vineyard as having "one of the region's most consistent track records."
If you haven't tried Virginia's flagship varietal Viognier yet, this is a great place to do it as it's one of their top award-winning wines. And don't forget to bring your furry friend because their main tasting room is dog friendly!
Some other varietals you'll find at Jefferson Vineyards include Chardonnay, Riesling, Malbec, Cabernet Franc and Petit Manseng among others.
Pro tip: Look out for the bottles with Jefferson's signature on them as these are a great gift to bring back home to friends.
Distance from Downtown: 15 minute drive
Tasting Fee: There are three different types of tastings at Jefferson Vineyards. The classic tasting is $12 and includes eight wines and a souvenir glass.
Library wine tastings featuring the winery's premium and award-winning wines are $25/person and are on offer at various times of year.
You can also book a private tasting by reservation.
Food Available: They serve small snacks to pair with the wines like cheeses, charcuterie, crackers etc and have a small market that serves sandwiches on site.
Go Here If: You want to get a better taste for the history of Thomas Jefferson's winemaking vision and the Monticello Wine Trail and grab a cool gift to bring back home to friends!
Jefferson Vineyards, 1353 Thomas Jefferson Pkwy, Charlottesville, VA 22902
While many of the Monticello Wine Trail's participating wineries feature typical Virginia architecture and views of rolling hills and the Blue Ridge Mountains, Gabriele Rausse has a much different feel.
It's a bit hidden, tucked away in the woods in a modern home-like structure made of glass and wood. There is no big sign out front. Instead, the entrance is marked discreetly by a crane at the beginning of the driveway.
As soon as you step inside, you'll notice that Gabriele Rausse has a distinctly hip and quirky vibe; when I visited they had a mix of Amy Winehouse and Beyonce bellowing from the record player and the crowd was noticeably younger (and more hipster) than other wineries I've been to.
In a way, they're sort of like the "anti Virginia winery" — they don't do a ton of marketing or even have much information on their website and are specifically closed on Saturdays to avoid large tours, so visiting Gabriele Rausse gives you more of an insider feel, like you're "in the know."
I especially like that the staff here is quite laidback and hands-off, which is nice if you want more private time with friends during your visit.
This tasting room is a bit younger in comparison to other C-Ville wineries, but the namesake winemaker has a long standing history of growing grapes in the area.
Gabriele Rausse originally comes from Italy, but first had his hand in Virginia's wine history at Barboursville Vineyards. Since then, he's been committed to crafting European style wines, some of which are quite different than any other wines you'll taste in the area.
During our visit we tried a Chasselas doré sparkling wine which was cloudy and quite unique.
Distance from Downtown: 20 minute drive
Tasting Fee: $12 for a full tasting featuring 9 wines or $6 for a half tasting. The full food and wine experience is $18.
Food Available: Lunch and wine pairing menu is available until 1 pm. If you arrive after 1 pm you can still have some of their delicious homemade sourdough bread and olive oil with your tasting.
Go Here If: You love European style wines and are looking for a vibe that's a bit more hip and laidback, like you're hanging out in a friend's kitchen. Dogs are allowed in the tasting room.
Gabriele Rausse, 3247 Carters Mountain Road, Charlottesville, VA 22902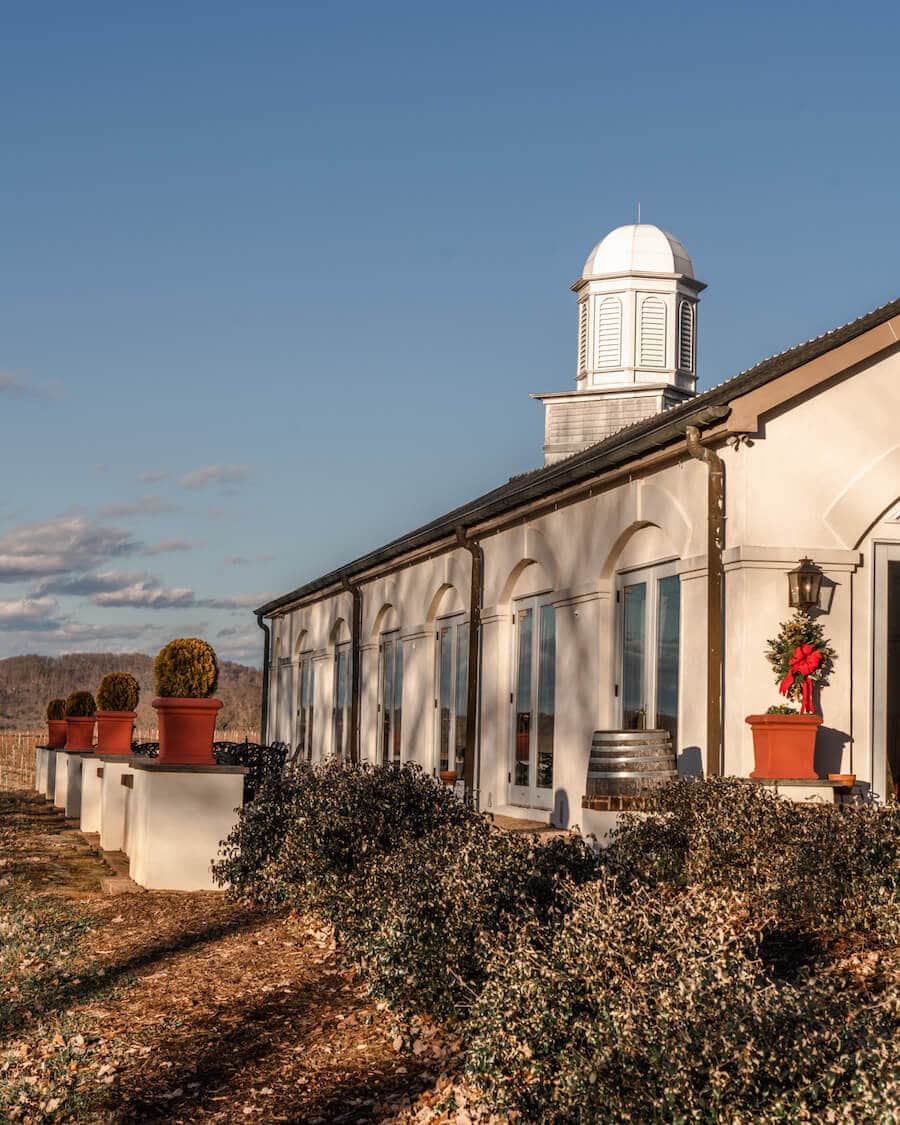 If you want the most expansive wine tasting selection along the Monticello Wine Trail, Barboursville Vineyards is it.
It's a bit further out of downtown than many of the other wineries, but worth the drive to experience their stunning property, rich history, and generous tasting experience featuring almost 20 wines!
One of the original wineries in the area to start successfully producing grapes, Barboursville Vineyards was established in 1976 by Italian born winemaker Gianni Zonin.
One unique thing about a visit to the vineyard is that it occupies the estate of Virginia's former Governor during the War of 1812, James Barbour; you can even pay a visit to the plantation ruins of Governor Barbour's old mansion that was built for him by Thomas Jefferson.
During your visit, don't miss trying their flagship wines like the Octagan which is a Bordeaux blend, Nebbiolo or Cabernet Franc.
Distance from Downtown: 30 minutes drive
Tasting Fee: $7/person for a tasting of the current vintages. They also run free winery tours hourly on weekends.
Food Available: Dine at the Palladio Restaurant attached to the main tasting room.
Go Here If: You want to taste A LOT of wines. Barboursville is also great if you'd rather not hop from winery to winery and would rather stay at one spot for a longer day.
Barboursville Vineyards, 17655 Winery Rd, Barboursville, VA 22923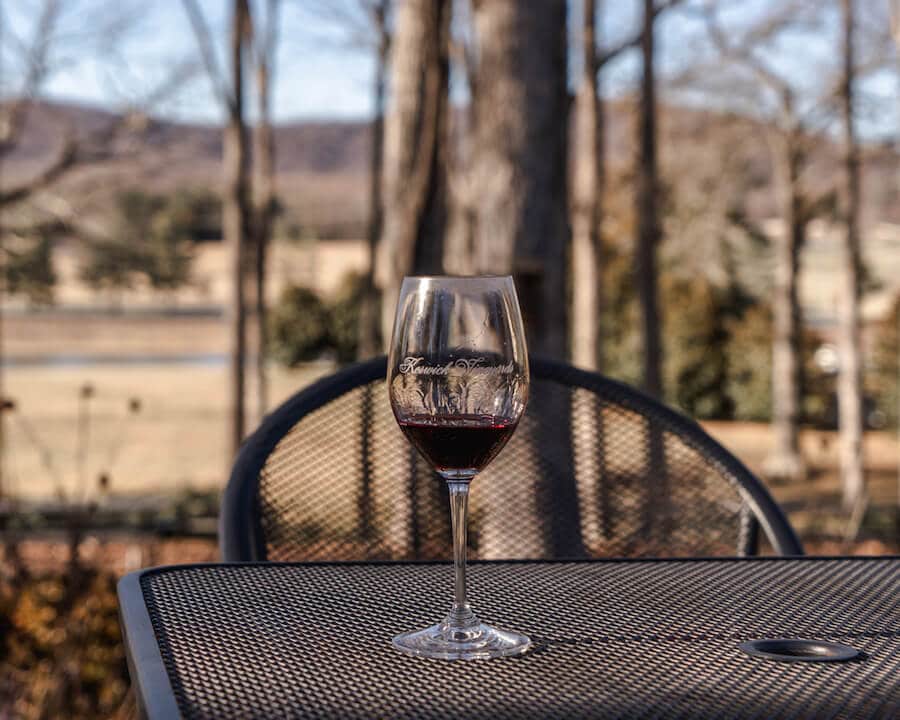 Keswick Vineyards is one I've visited a bunch because it's just down the street from my family's home in the area. It's simple, but provides a nice tasting with quality wines and has both outdoor and covered porch seating which is ideal for visiting year-round.
Having opened in 2000, Keswick Vineyards is a bit newer to the Virginia wine scene.
The family that owns the vineyard has put a lot of love into making wines that require minimal intervention in the winemaking process; they are one of the few wineries in the area whose products are mostly fermented with natural or native yeast.
Plus, they do not fine or filter their current red wines.
Keswick Vineyards is dog friendly and super casual, so come here to enjoy the wine and beautiful views of the picturesque Edgewood Estate.
Distance from Downtown: 25 minutes drive
Tasting Fee: $12 for a standard full tasting featuring seven wines, or you can do a custom tasting flight for $15 which features four wines of your choosing.
Food Available: They have light snacks available for purchase but also encourage visitors to bring their own picnic!
Go Here If: You're looking for a laidback atmosphere with wines produced with minimal intervention.
Keswick Vineyards, 1575 Keswick Winery Dr, Keswick, VA 22947
6. Blenheim Vineyards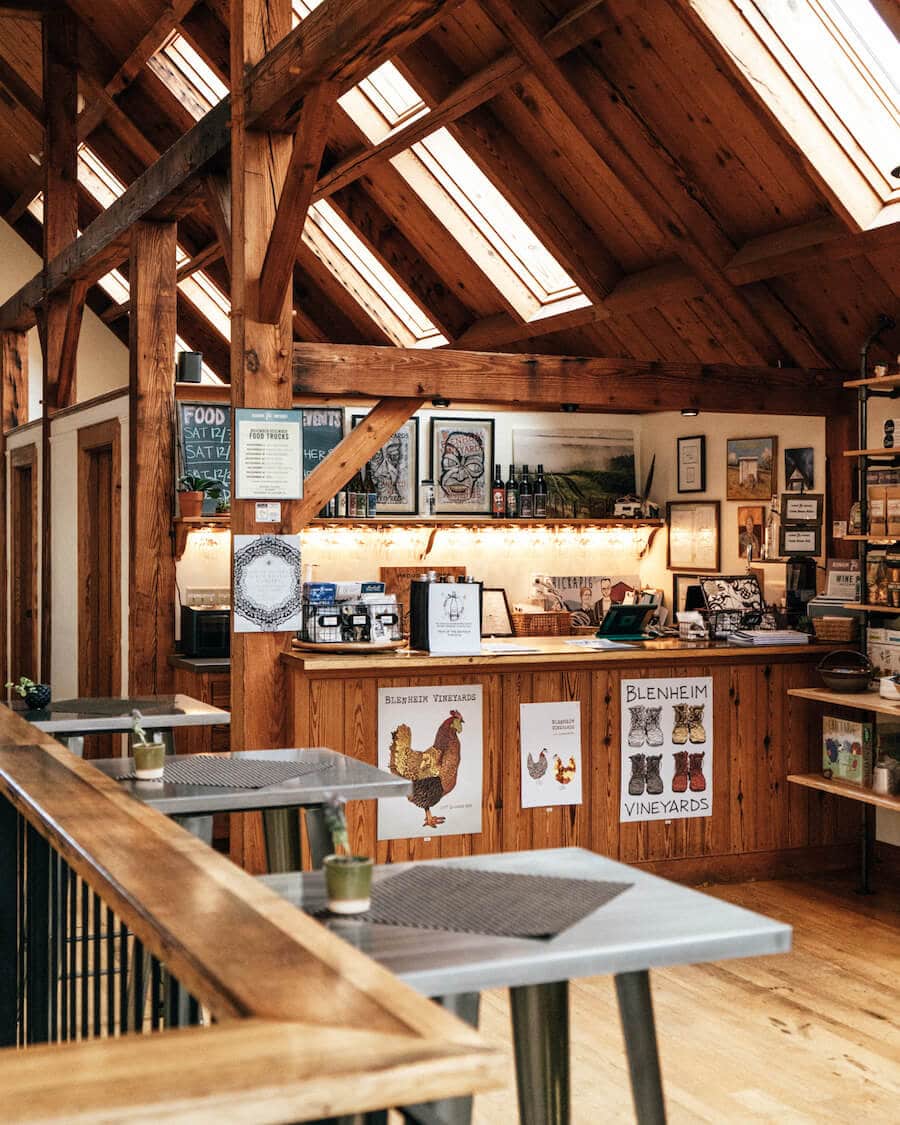 Owned by Dave Matthews, Blenheim Vineyards is one of my favorite wineries in the area because of its laidback and modern approach to the experience of enjoying wine.
I was able to meet the winemaker on a recent trip back home and she explained that they're trying to create an un-fussy experience that allows both wine connoisseurs and newbies alike to enjoy wine tasting in a fun and relatable way. I love that!
The Blenheim property is beautiful, with the tasting room situated in a unique A-frame style structure made from reclaimed wood that overlooks the vineyard. You can even peek into the cellar below through glass paneled flooring.
What I especially love about Blenheim Vineyards is that they are pretty discreet about their famous owner, preferring to be known for the quality of their wines rather than the name behind them.
While you won't see Dave's name splashed across the property, he has been known to make appearances especially around the times of his concerts, so keep an eye out during your visit!
Distance from Downtown: 20 minute drive
Tasting Fee: $7/person
Food Available: They have light crackers and cheese available but outside food is allowed in the outdoor areas, just not in the tasting room. During certain times of year, Blenheim also has a food truck come in on Saturday from 12-4 pm, but it's best to call ahead to double check.
Go Here If: You're a huge Dave Matthews Band fan or just want an approachable wine tasting in a beautiful setting. This spot is ideal for visiting in the warmer months as they have a plethora of outdoor areas to enjoy. They also have some cool merch for purchase on site.
Blenheim Vineyards, 31 Blenheim Farm, Charlottesville, Virginia 22902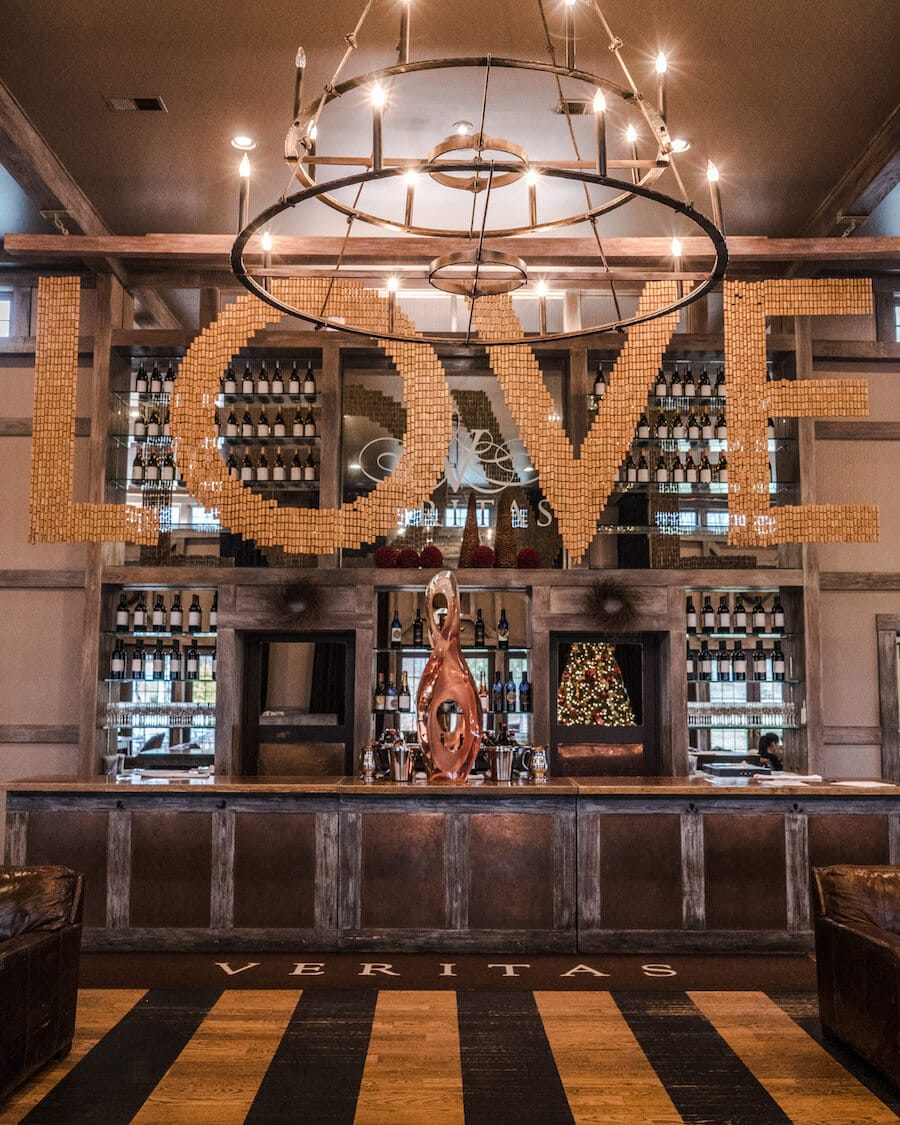 Definitely one of the most picturesque wineries in Charlottesville is Veritas Vineyards, a family-owned winery located in the foothills of the Blue Ridge Mountains.
Veritas has a massive tasting room that gets quite bustling in the warmer months, but their outdoor area is even more expansive with picnic table style porch seating and a great bit lawn for groups to enjoy the views with kids, dogs and whoever else wants to join.
Veritas definitely has one of the more fun atmospheres along the Monticello Wine Trail and can be enjoyed year-round.
While summer is ideal for experiencing the big lawn, they do have big cozy couches and a fireplace inside should you choose to visit in winter.
They also offer tours on site which last about 30-4o minutes and allow guests to experience the wine cellar, crush pad, and barrel aging room. Expect to try a variety of wines here including sparkling wine, Viognier, Sauvignon Blanc, Kenmar Rosé, Claret, Merlot and even port-style wines.
Distance from Downtown: 30 minute drive
Tasting Fee: $7/person
Food Available: They have a great cheese plate and sandwiches available for order. They do allow outside food but it cannot be consumed in the tasting room.
Go Here If: You're looking for a spot to spend a full afternoon. Veritas is the ideal winery to make a day of it — bring a picnic, your pet, and enjoy the views of the Blue Ridge Mountains with a side of vino.
Veritas Vineyards, 151 Veritas Lane, Afton, VA 22920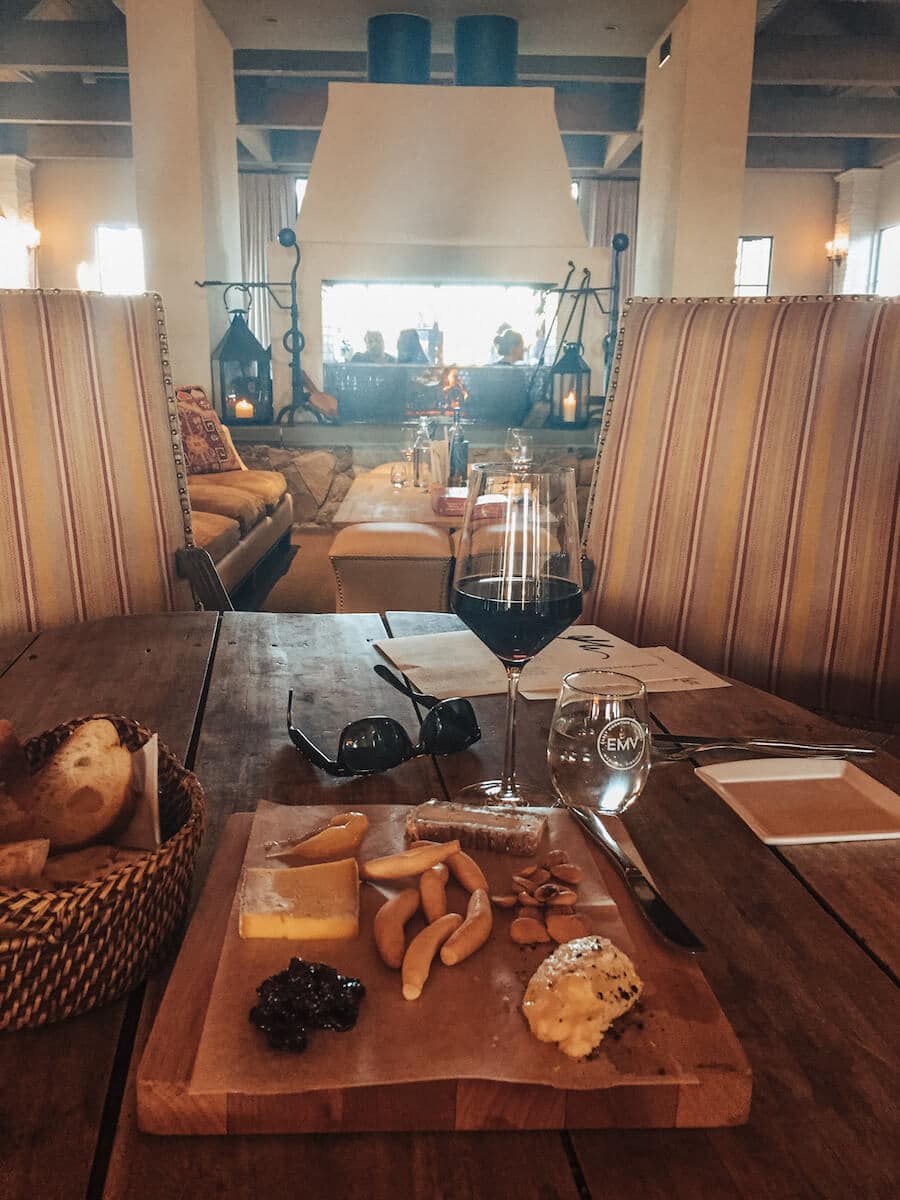 You wouldn't be able to tell from this photo, but Early Mountain has one of the most beautiful tasting rooms in Virginia.
They actually were chosen as the best tasting room in America in 2016! Clearly I need to go back and snap a better pic — I took this several years ago, sorry about that!
Early Mountain is a great place for tasting various wine varietals including Chardonnay, Pinot Gris, Syrah, and Petit Verdot among others, however it's just as great for a nice leisurely brunch or lunch overlooking the 35 acre property.
The vineyard features a full menu led by Michelin-experienced chef, Tim Moore, that highlights seasonal produce and ingredients from local farms.
I'd recommend coming here for a weekend brunch or lunch and then finishing the experience off with a fun tasting inside.
If you're headed to Charlottesville, make sure to check Early Mountain's calendar, because they often hold fun events like an annual Oyster Festival in March, BBQs for special holidays, summer concerts and seasonal winemaker dinners.
Every Friday they feature live music in their tasting room. Leashed dogs are allowed in the outdoor spaces of the vineyard.
Distance from Downtown: 40 minute drive
Tasting Fee: $14/person for a sample of five wines or $20 for their "Cheers" tasting which is led by a member of the Early Mountain team and takes guests through eight of their most precious wines.
Food Available: Full menu available to be enjoyed in the tasting room or out on their patio.
Go Here If: If you care about aesthetics — it was voted one of the best tasting rooms in America. Early Mountain is also a great option for large parties who want to relax for awhile, as the tasting room is quite expansive and has cozy seating for everyone.
Early Mountain Vineyard, 6109 Wolftown-Hood Rd, Madison, VA 22727
Stinson Vineyards is a family-run boutique vineyard specializing in small lot wines with an intentional French influence.
Run by father-daughter duo Scott Stinson and Rachel Stinson Vrooman, the winery has reimagined an old three car garage on the property and turned it into a tasting room, in true "garagiste" winemaking fashion.
The intimate nature of the tasting room allows visitors to peek directly into the cellar, which features a few concrete eggs for aging their wine. You'll even find the Stinson family pouring the wine for guests themselves from time to time.
If you're a lover of French wines, specifically from the Bordeaux and Loire Valley regions, then you'll love the wines produced at Stinson, which have been crafted by adopting many of the traditional French winemaking methods.
And if you're visiting the area on a Thursday, make sure to head to Stinson in the evening when they host weekly Tailgate Thursdays from 6-9 pm between Memorial Day and Labor Day.
These events feature live music and on-site grilling of any of their farm store meats.
Distance from Downtown: 25 minute drive
Tasting Fee: $10/person
Food Available: The tasting room doubles as a small scale farm store with fridges on site showcasing cheeses from Flora Artisanal Cheese as well as other charcuterie staples like meats and olives from local providers.
Go Here If: You're a lover of French wines and a more intimate vibe.
Stinson Vineyards, 4744 Sugar Hollow Rd, Crozet, VA 22932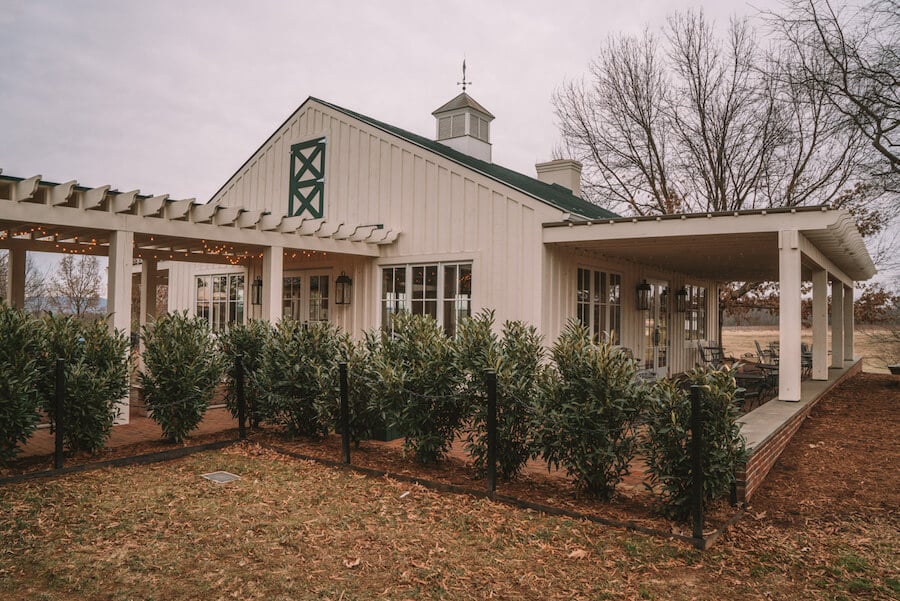 If you're looking for the best Charlottesville winery tour, then King Family Vineyards should be on your radar. The family run vineyard was nominated for Best Winery Tour in 2019 by USA Today and won the #2 spot for Winery Tour in 2018!
This is an expansive property with tons of space in their tasting room, outdoor patio and in their Pavillion room where you can play board games like checkers and hang out by the fire.
One thing that makes King Family Vineyards stand out is their on-site polo field where they hold matches on Sundays between Memorial Day through October.
Polo is a personal passion of one of the founders, David King, and so in seeking out a property for their Virginia home and vineyard, a polo field was a must. Now, guests can enjoy the family's passion for polo while sipping on some of the finest wines in the region.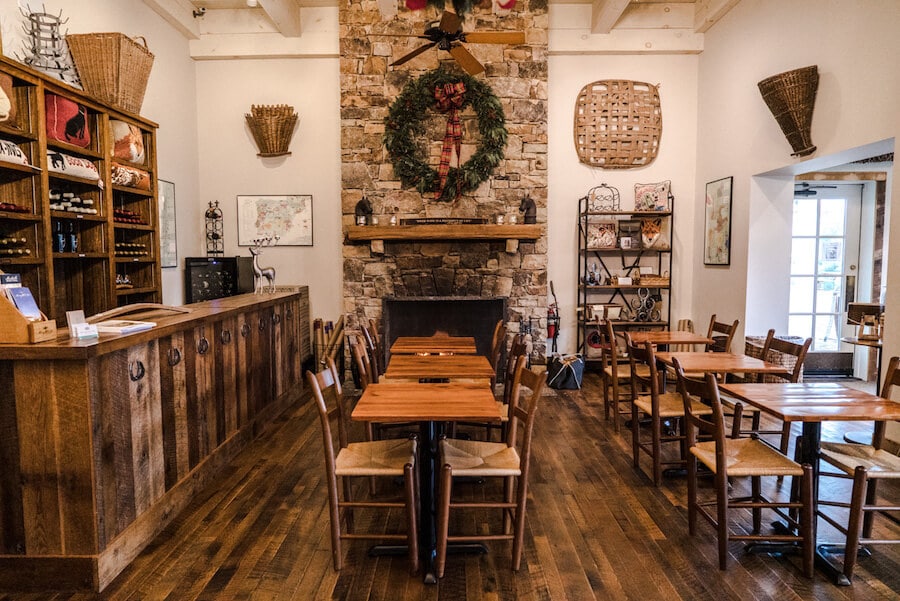 Distance from Downtown: 25 minute drive
Tasting Fee: $10/person for a classic tasting of five wines. Special reserved tastings can also be booked for $15/person and includes an extra wine and more thorough walk through of the wines with one of the winery's knowledgeable staff.
They also offer a unique Library Tasting for $25/person that takes place in their climate controlled wine library and features a sample of one of their Library Meritage wines.
Food Available: They have a small store that offers meats, cheeses and bread for purchase.
Go Here If: If you're interested in catching a polo match while you drink some of the best wines on the Monticello Wine Trail, King Family is a must.
King Family Vineyard, 6550 Roseland Farm, Crozet, VA 22932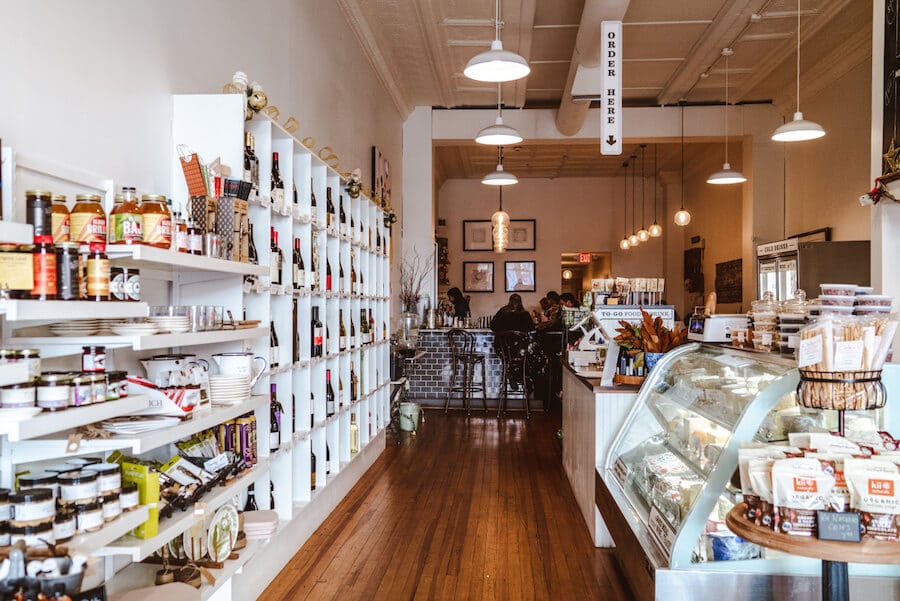 Tilman's isn't exactly a winery, but it's a newer wine bar located right in the Downtown Mall that's a great complement to the rest of your trip to Virginia wine country.
Both a market and wine bar, Tilman's is a great place to post up for a pre-dinner app and cocktail or glass of wine.
Tilman's Wine and Cheese, 406 E Main St, Charlottesville, VA 22902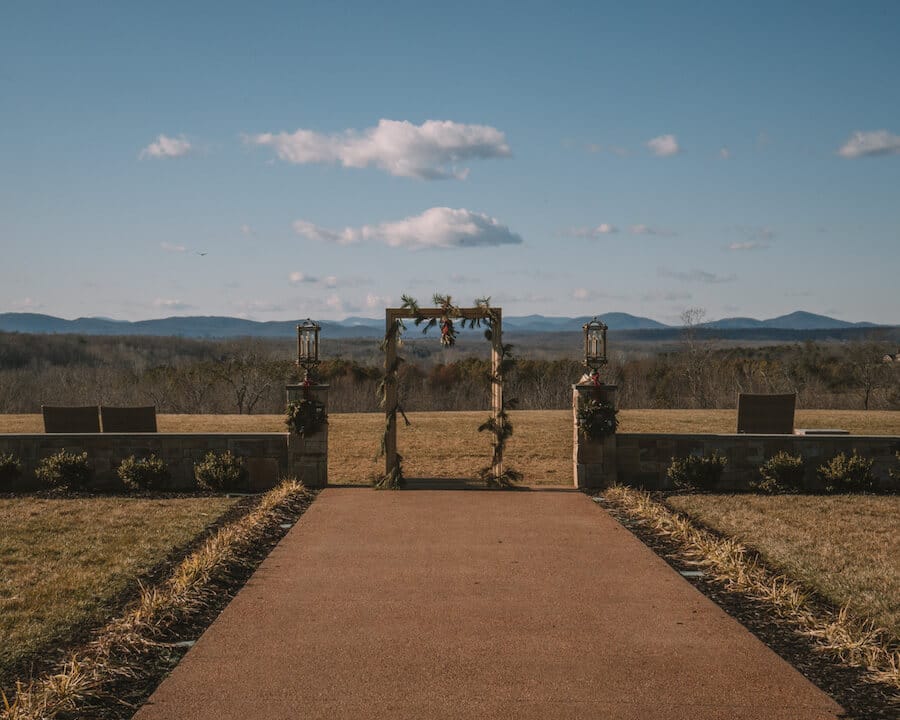 While Mount Ida isn't technically part of the Monticello Wine Trail group, it is located in the same general vicinity, just 30 minutes outside of downtown Charlottesville.
It's a newer vineyard to the Virginia wine scene that multiple people suggested I check out on my last trip.
To be completely honest, the wine wasn't my favorite and the decor inside was a bit confusing. BUT I'm keeping it on here because the views were AWESOME.
If you've exhausted this list above or want to go to a great spot for sunset, then Mount Ida should definitely be one to consider. I do have to give them props for their cheese plate which was delish!
Have I convinced you to visit these top Charlottesville wineries on the Monticello Wine Trail? Let me know in the comments below!
Whether you plan to partake in this wine tasting adventure over a quick weekend in Charlottesville or on a single day excursion, I promise you this is such a nice trip to take that doesn't require a ton of planning.
I think visiting the Monticello Wine Trail can be a great couple's retreat, but it is also one of the best girl's trip destinations on the East Coast in my opinion—just don't forget to book this incredible private tour if you go with a group so that you don't have to worry about drinking and driving!
Also, make sure to check out this Monticello Wine Trail calendar to note if any special events are happening at the wineries during the dates of your visit.
---
Read More USA Posts
---
---
Planning a trip right now? Don't miss my go-to websites for booking everything from flights and tours, to accommodation and more:
---