One of my favorite days during our entire trip to Bali was our visit up to the North part of the island for a mix of waterfall scouting, hiking and views over the island's second largest lake, Buyan. The Northern part of Bali is becoming more and more popular of a destination as tourism on the island continues to expand, however many people choose to base themselves in Ubud and do a long day trip rather than staying overnight in the Northern region. This 1 day North Bali itinerary will give you an ideal plan for what to do on the journey from Ubud that will give you a little mix of everything.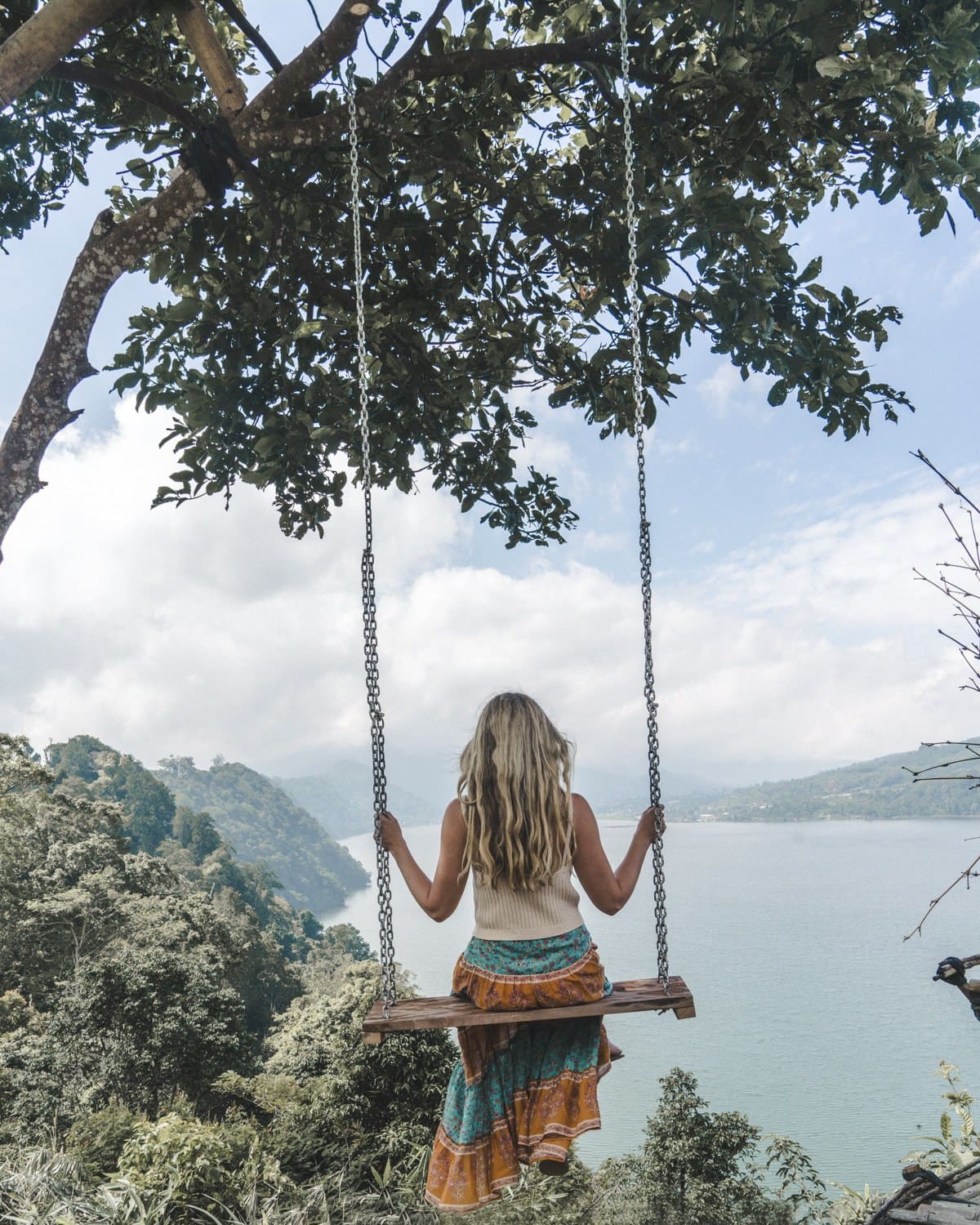 What You Need to Know About Visiting North Bali
Hiring a Driver
You'll first need to hire a driver for the day, and since this will be an early start you'll want to make sure to get this confirmed the day before or two days prior to your excursion.
While your hotel can certainly book a car for you for the day, I've always found that going with someone you find yourself in town will be much more cost effective. My friend Jess and I each paid IDR500,000 each (or $36 USD) to hire the driver for the entire day and he was literally with us from before sunrise to about 6 or 7 PM at night and even came hiking with us on all of our waterfall trips.
Food
Most of the food we found driving around the Northern part of Bali were more local warungs. I'm sure there are some nicer restaurants in the North, but as this is a pretty jam packed North Bali itinerary as it is, you're probably better off stopping at a local warung on the way rather than driving out of your way to find a particular spot.
I would also recommend bringing a to-go breakfast for the car (ask your hotel if they can pack you one if breakfast is included in your stay), as well as some snacks and protein bars since you'll burn extra calories hiking! You'll want to bring plenty of water as well and will want it to stay cool, so an insulated water bottle plus extra bottles to refill with is ideal.
What to Pack for the Day
I packed my camera bag full of camera gear, a couple swimsuits (you may get wet at both waterfalls and I didn't want to be sitting in a wet bathing suit in the car or putting a wet one back on later). Hiking/workout clothes with good sneakers is essential (don't wear shoes you want to keep nice because they will probably get muddy). You may also want to pack a towel and a small day backpack and change of dry clothes.
Check out my complete packing guide for Bali here
When to Start the Day
This depends on how much of the itinerary you want to accomplish and how late you want to arrive back in Ubud. If you can stomach an early wake up call, I'd recommend leaving Ubud around 5:30 – 6 AM so that you can avoid the crowds as much as possible. You'll also witness a beautiful sunrise on your drive up and can stop for pictures if you'd like!
Stop 1: Sekumpel Waterfall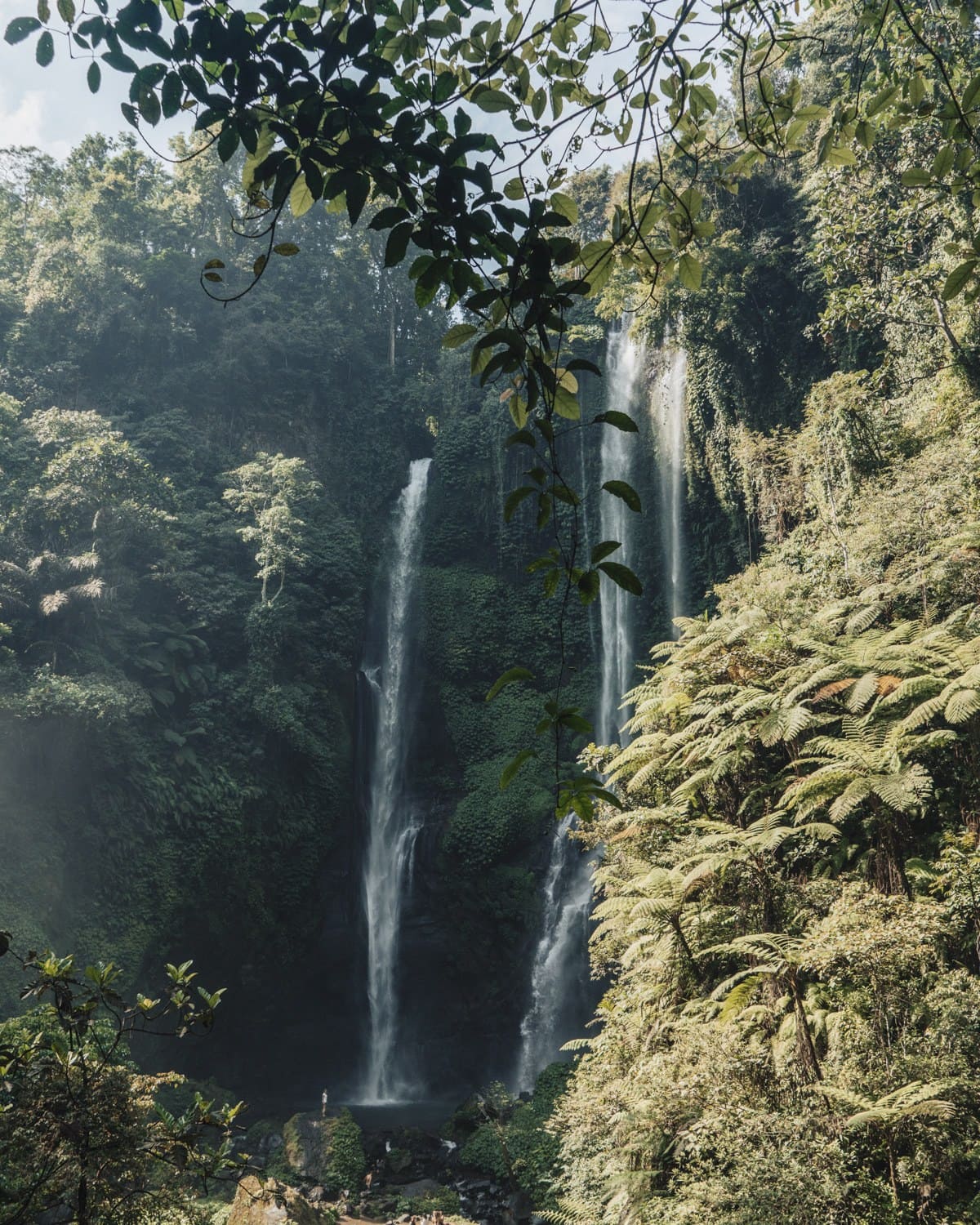 Driving time from Ubud to Sekumpel: 2 hours
Time Spent: 1 1/2 – 2 hours
You've likely seen photos of this waterfall on Instagram as it's one of the more famous spots on the island. We loved leaving Ubud bright and early (around 5:30 AM) and arriving to Sekumpel Waterfall around 8 AM before all the crowds started to arrive. We actually had some car issues with the vehicle overheating, which is why it took us about 2 1/2 hours to arrive rather than just two.
When hiking down to Sekumpel, you continue down the path for about 20 minutes or so until you've gone down all of the stairs and the path splits left, right and ahead on a walk bridge. There is also a small snack bar to your right. To see Sekumpel Waterfall, take a right at this juncture and walk a few minutes further past the snack bar to arrive at the falls. Contradictory to much information online, you really don't need a guide to do this hike — just some energy and water as there are a lot of stairs!
Stop 2: Hidden Hills Wanagiri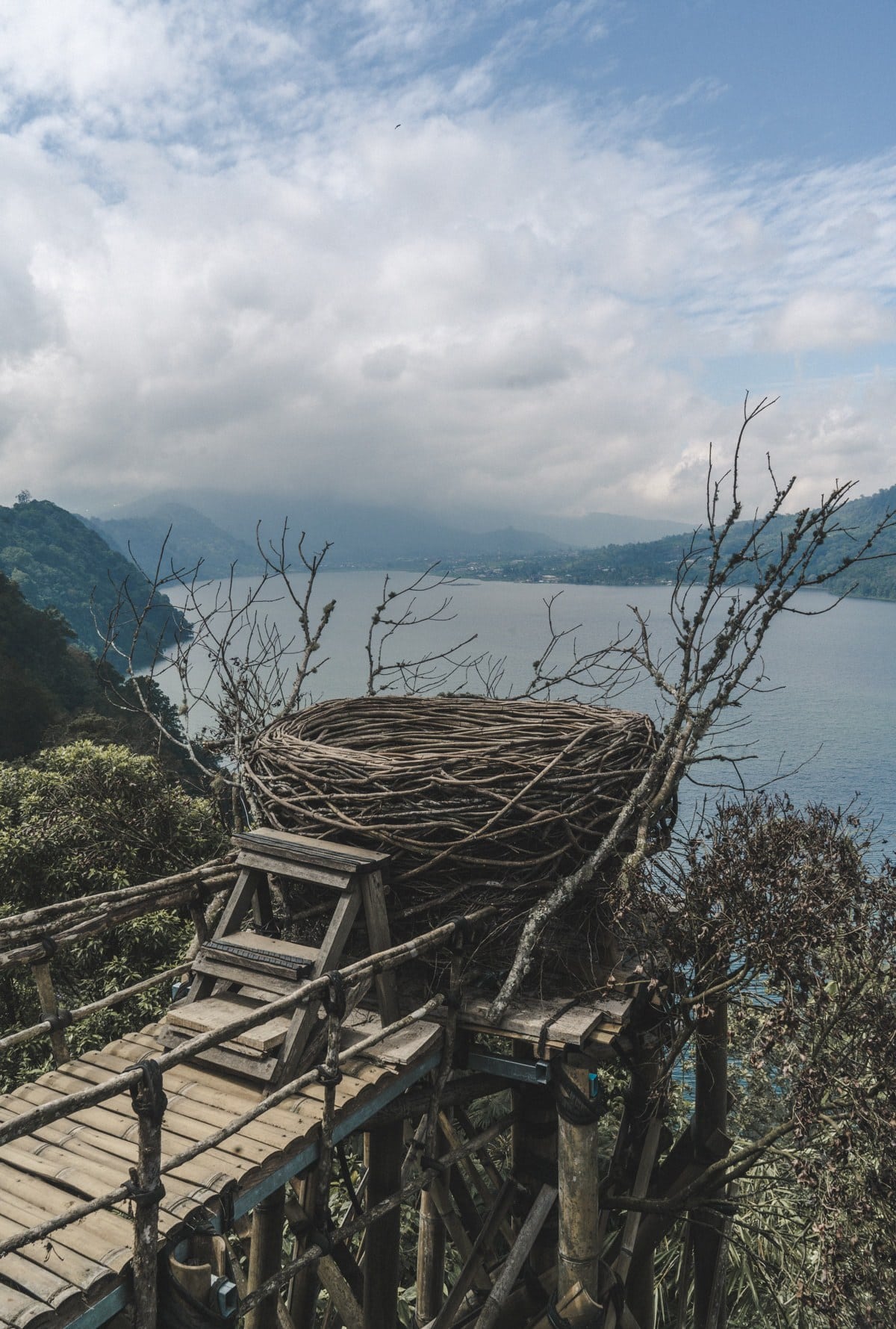 Driving Time from Sekumpel Waterfall to Hidden Hills Wanagiri: 40 minutes
Time Spent: 30 minutes – 1 hour
When I first started seeing people's images on Instagram of Hidden Hill Wanagiri, I thought it looked so peaceful, with beautiful views over Danau Buyan, Bali's second largest lake. The reality is that this spot is an adult playground for Instagram photos and is not somewhere I'd necessarily choose to spend a lot of time.
But I will say the views overlooking the lake are gorgeous and some of the swings, nests and outlooks they have set up do add a fun element to your photos! It's only a 12 minute drive from the Banyumala Waterfall, so it's worth checking out while you're in the area and getting some fun photos to remember the day by.
Note that there is an entrance fee to enter and take photos which is IDR 50,000 (about $3.60 USD).
Stop 3: Lunch 
For lunch, we ate at one of the local warungs across the street from Hidden Hills Wanagiri as we were on a tight schedule and didn't want to venture too far off track to find a better place for lunch. The food wasn't amazing but it wasn't bad either, however it was super cheap!
Stop 4: Banyumala Waterfall
Driving Time from Hidden Hills Wanagiri to Banyumala Waterfall: 12 minutes
Time Spent: 1 – 2 hours 
From Hidden Hills Wanagiri, drive about 12 minutes to the entrance of Banyumala Waterfall, where you'll park and hike from there. Before you make the drive, it may be best to ask a local person if the road is open or not as heavy rains can cause the road to get too bad for cars to go down. Don't worry — in this case, there is an alternate route which we used. The locals will know! Again, the hike is about 20 minutes down to the falls and not strenuous at all.
I loved Banyumala even more than Sekumpel as there was an area to swim in and the water was super refreshing. It was quite crowded by the time we got there, but some people were just standing along the perimeter taking photos so we found it pretty easy to get photos without hoards of people in them.
Optional Additional Stops:
At this point in the itinerary, we ended our day because it started to downpour and we were pretty exhausted from both hikes/waterfall excursions. However, if you go on a nice day you could easily fit in a visit to one of the beautiful water temples in the area on your drive home.
Pura Ulun Danu Bratan is one of the more famous ones and would look beautiful to visit around sunset. You've also likely seen photos on Instagram of the famous gates at Handara Golf Course. You have to pay to stop and take photos here and honestly I wouldn't recommend it as it's not a true temple (just gates to a golf course!), but it is on the way back on this itinerary if you're set on getting the shot.
Approximate Costs for the Day:
IDR 1,000,000 ($72 USD) for the day to hire a driver ($36 if split between two people)
IDR 50,000 ($3.60 USD) entrance fee to Wanagiri Hidden Hill
IDR 15,000 ($1 USD) entrance fee to Sekumpel Waterfall
IDR 15,000 ($1 USD) entrance fee to Banyumala Waterfall
IDR 46,000 ($3 USD) local lunch at a warung
TOTAL COST FOR THE DAY: $44.60
LIKED THIS POST? PIN IT FOR LATER