During all my four and a half years in total calling California home, I can't quite believe that I never made it up the Northern California coast past San Francisco — until now that is. If you're looking for an epic itinerary for a Northern California road trip that will take you along jaw-dropping coastline and through majestic Redwood forests, this is the blog post for you. This is the kind of adventure that was made for nature lovers.
I began the road trip journey with my friend Jess of Bon Traveler, kicking off in Sacramento, then driving north for our first stop along our Wild North Coast girl's trip: Mendocino.
From there, we traveled through more coastal towns including Fort Bragg (home to the famous Glass Beach), snaked through Avenue of the Giants, a majestic 30-mile stretch that takes you into the heart of an ancient Redwood forest, and continued all the way up to Trinidad, a small coastal town on a cliff overlooking a bay dotted with jagged rocks and home to a plethora of marine wildlife. And that doesn't even scratch the surface of all the incredible adventures we enjoyed during our road trip itinerary.
Below, I'm outlining all of the absolute must-dos in each stop along the way to make sure your Northern California road trip is as epic and beautiful as ours was. Hope you enjoy!
This post was created in partnership with Visit California, but as always opinions are my own and I would never promote anything I don't freaking love!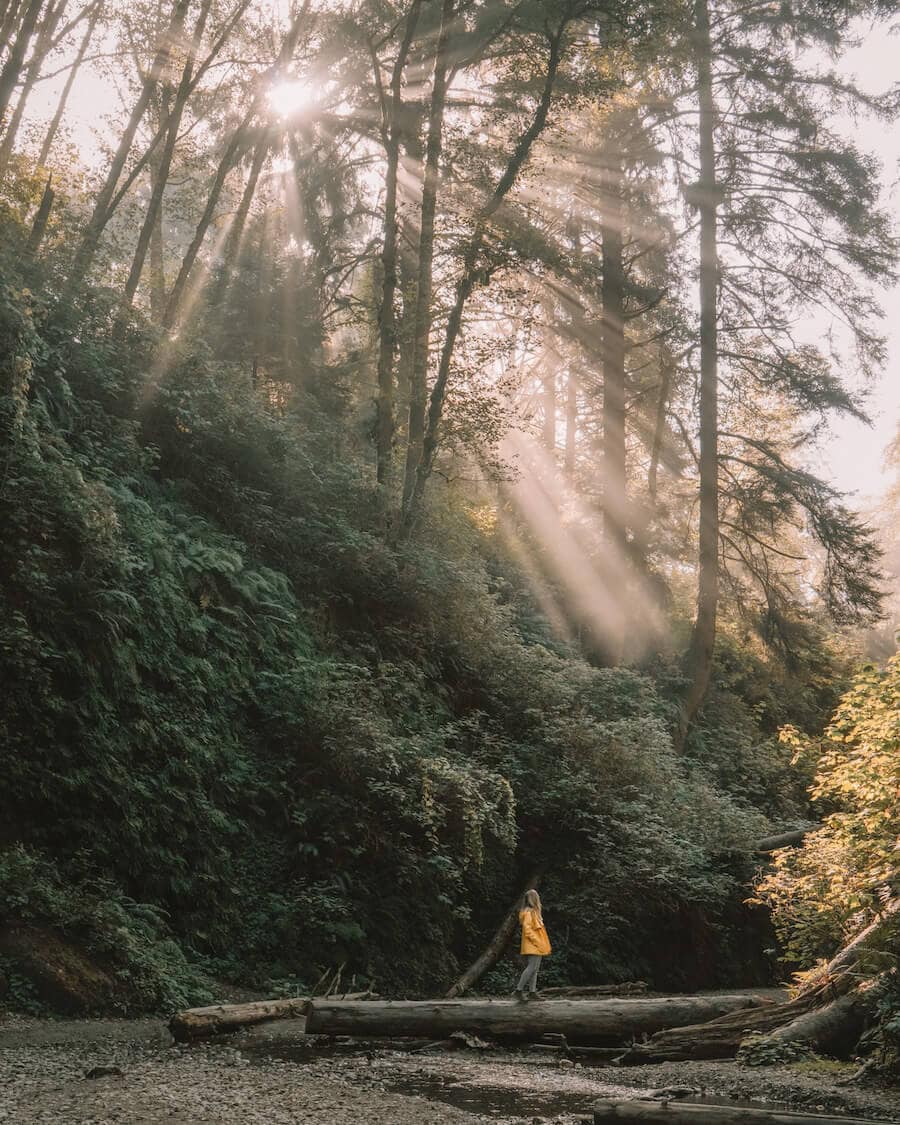 A Nature Lover's Ultimate Northern California Road Trip Guide
What to Know Before You Start the Journey
Where to Start – Start your road trip in either Sacramento or San Francisco — whichever is more convenient for you. I chose to fly into Sacramento which is about an hour closer to the first stop on this itinerary than San Francisco and is a pretty relaxed airport with a more easy-going pace. From there, rent a car and hit the road. I love using Rentalcars.com for easy car rentals.
How Much Time Do You Need? I would recommend taking 5-6 nights to complete this itinerary for a relaxed pace that allows for a bit of spontaneity.
Pack Snacks – Much of the driving on this trip are on major highways with only little tiny towns to stop off in. I would recommend bringing healthy snacks for the drive, especially if you have particular dietary restrictions as food options are limited between stops.
What to Expect for Weather – We completed this itinerary in mid-September and got beautiful weather, but this part of California is known for having an often cool climate with foggy mornings. Pack appropriately with layers so you'll be prepared for a range of temperatures.
How to Use This Itinerary – This itinerary is set-up as a one way itinerary with the longest driving time on the final day as you make your way from the furthest stop all the way back to your original starting point. If you prefer to do the long driving first to get it over with you can reverse the itinerary or hit a couple of these stops along the way back to break it up. Choose your own adventure!
If You Have Extra Time – If you have extra time in your itinerary, some other great stops you could consider adding are: San Francisco, Point Reyes National Seashore and wine country in either Sonoma or Napa Valley.
STOP 1: Mendocino
(3 1/2 hour drive from Sacramento, 4 1/2 hours from San Francisco)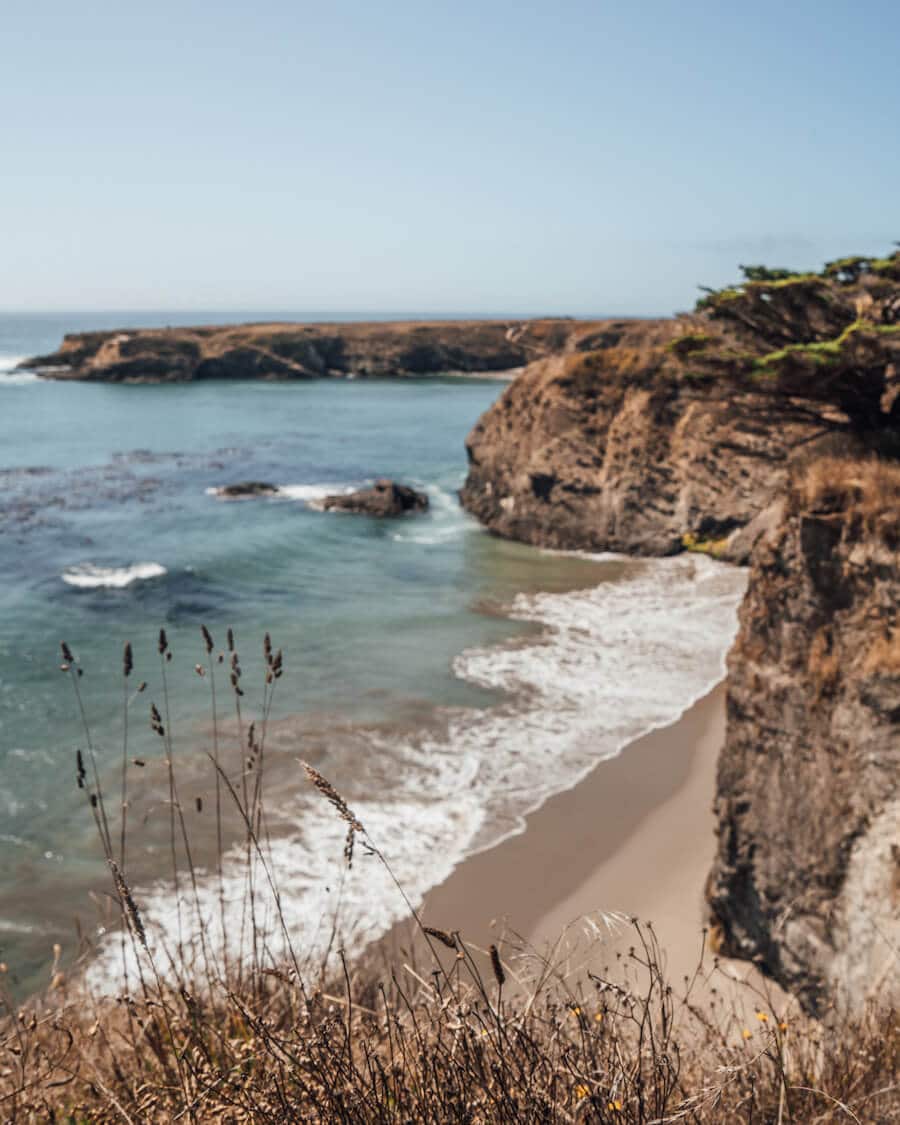 Mendocino is a great first stop along your Northern California road trip itinerary and is a stunning coastal town with viewpoints galore. The downtown area is easily walkable and everything you want to see will be within a short driving distance, which makes this part of the trip super relaxed and slow paced — if you want it to be!
For the best coastal views, don't miss Russian Gulch State Park, Mendocino Overlook, Van Damme State Park and Big River Beach. There are also beautiful views at the edge of town down a small path across from the library that you can't miss.
In town you'll find a mix of quirky shops, galleries and several restaurants worth highlighting: Flow is great for lunch with a view overlooking the ocean and Café Beaujolais (located in a historic home built in 1893) is a great upscale option for dinner with high quality ingredients. The kale salad and seafood pasta were both winners!
For lovers of the outdoors, Mendocino is simply a must-visit. If you want to get off land and out on the water, I recommend paying a visit to the crew at Catch a Canoe, who rent out beautiful Polynesian-style wooden canoes that offer a stable ride out on the river while you enjoy the fresh air and keep your eyes peeled for birds and the curious sea otter.
Check in: Glendeven Inn & Lodge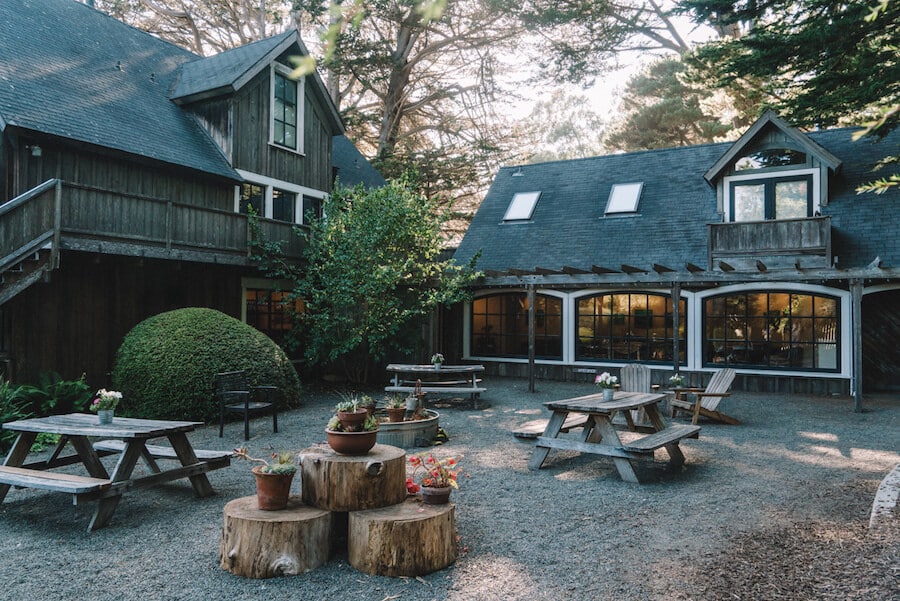 Top Must-Dos in Mendocino:
Russian Gulch State Park
Explore Town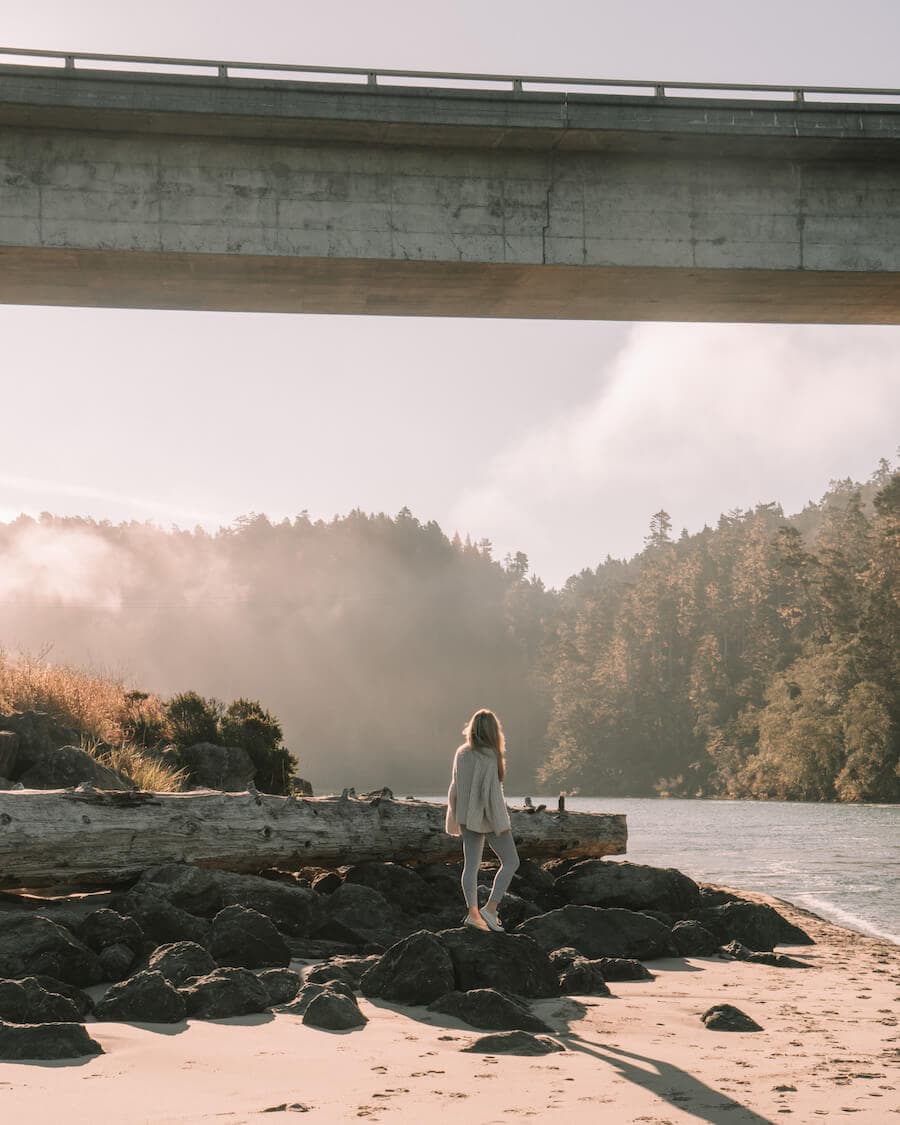 Big River Beach
Mendocino Overlook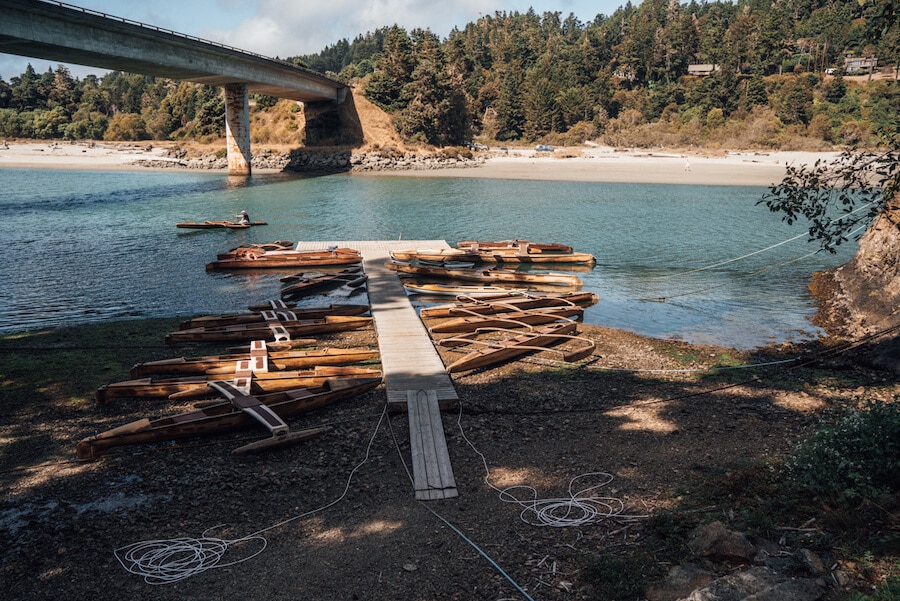 Outrigger Canoeing on Big River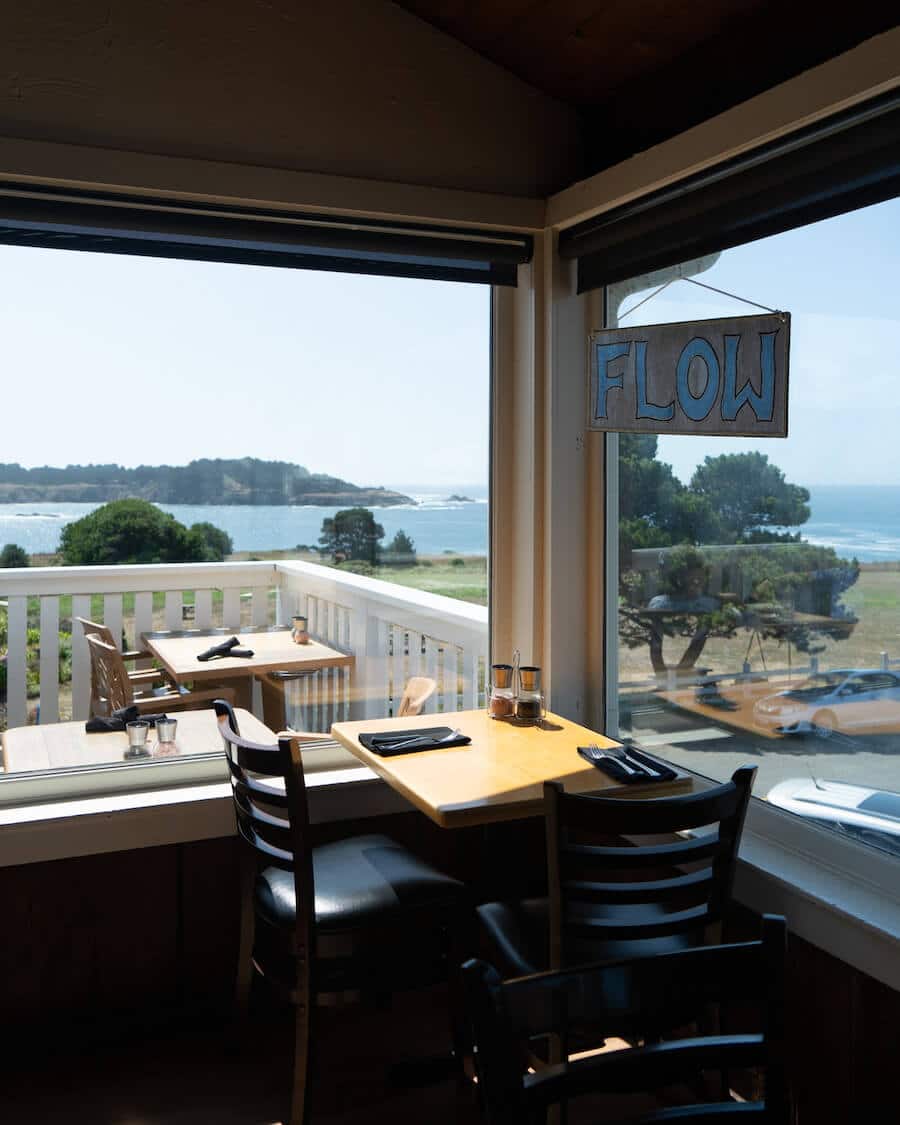 Enjoy Meals at Flow Restaurant & Café Beaujolais
Van Damme State Park
STOP 2: Fort Bragg
(20 minutes drive from Mendocino)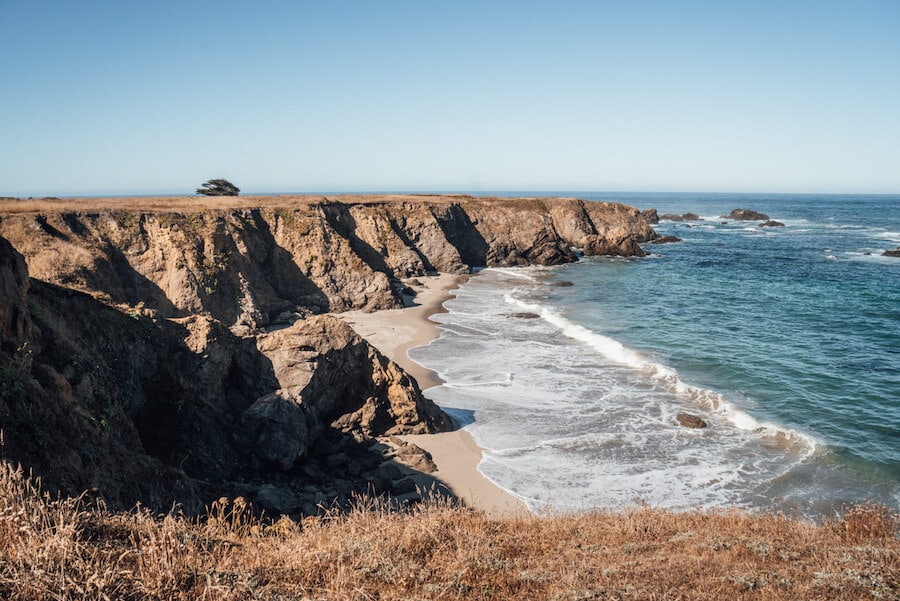 Along the Mendocino Coast in Northern California sits Fort Bragg, another beautiful coastal city with a rich history shaped by its growth as a logging and fishing community dating back to the 1800s. Now, Fort Bragg brings in visitors from all over the world who come to marvel at its stunning beaches and adjacent Redwood forest.
Within a 10 minute drive, you can arrive at MacKerricher State Park, home to the famous Glass Beach where the sand is full of seaglass, take in the ocean air and try to spot wildlife, and then pop right over to the forest for a peaceful Redwood viewing experience on the Skunk Train. As an FYI, part of the track is currently off limits due to a tunnel blockage as of writing this, so I would recommend doing the railbikes instead for a unique and intimate experience that is also a bit of a workout!
Don't miss a pit stop at the Jug Handle State Natural Reserve on your drive up from Mendocino, which has beautiful beaches if you're visiting in summer and walking trails chock full of vistas overlooking the cliffs.
Finally, finish off your time in Fort Bragg with a bite at Princess Seafood (the Dungeness crab is a favorite) and wash it down with a beer at North Coast Brewing Co. Princess Seafood is an especially cool spot because the all-female-run fish market celebrates the local fisherwomen in Fort Bragg — pretty badass if you ask me.
Top Must-Dos in Fort Bragg
MacKerricher State Park & Glass Beach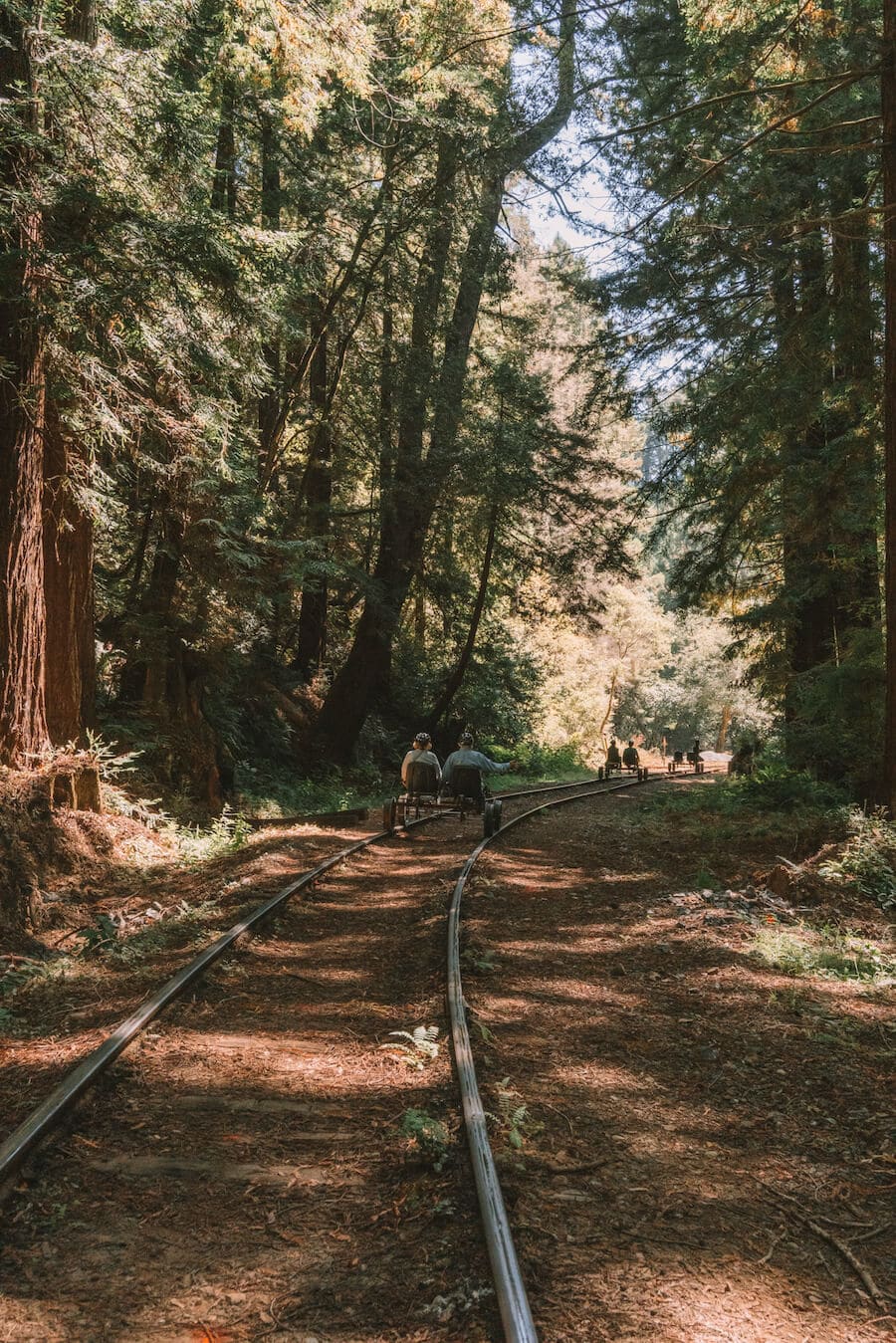 Take Railbikes with Skunk Train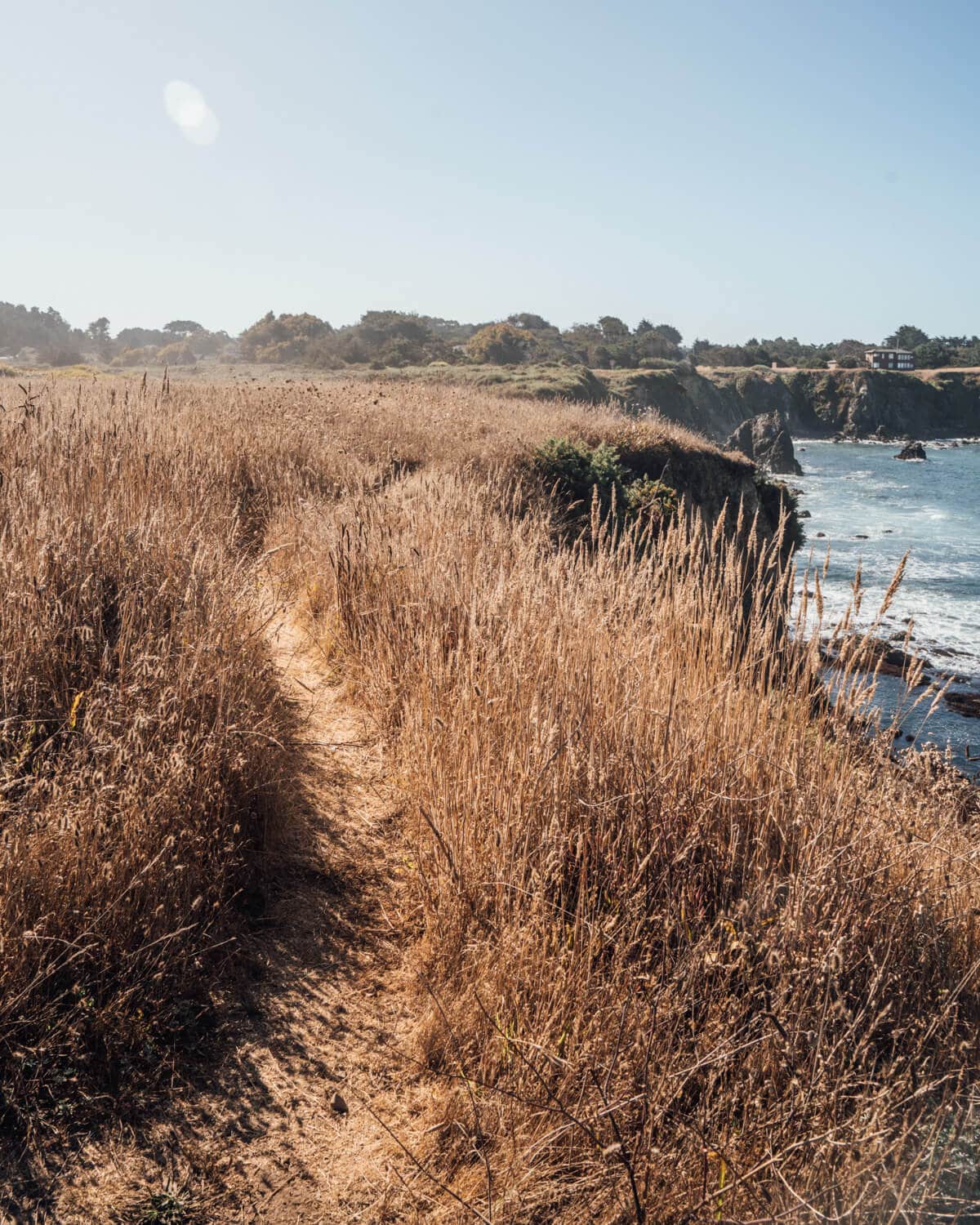 Jug Handle State Natural Reserve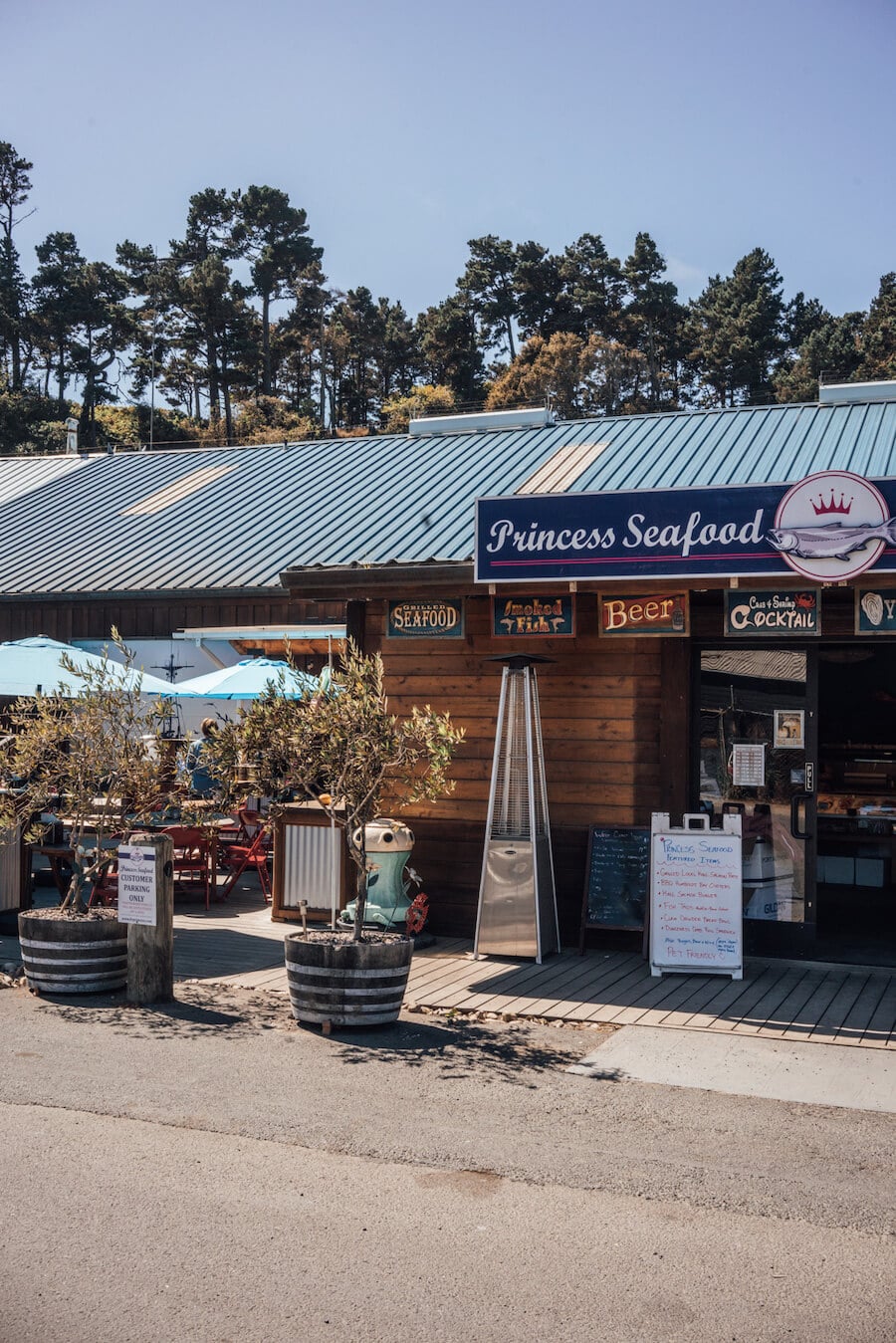 Taste Local Flavors at Princess Seafood and North Coast Brewing Co.
STOP 3: Humboldt Redwoods State Park
(2 hour drive from Fort Bragg)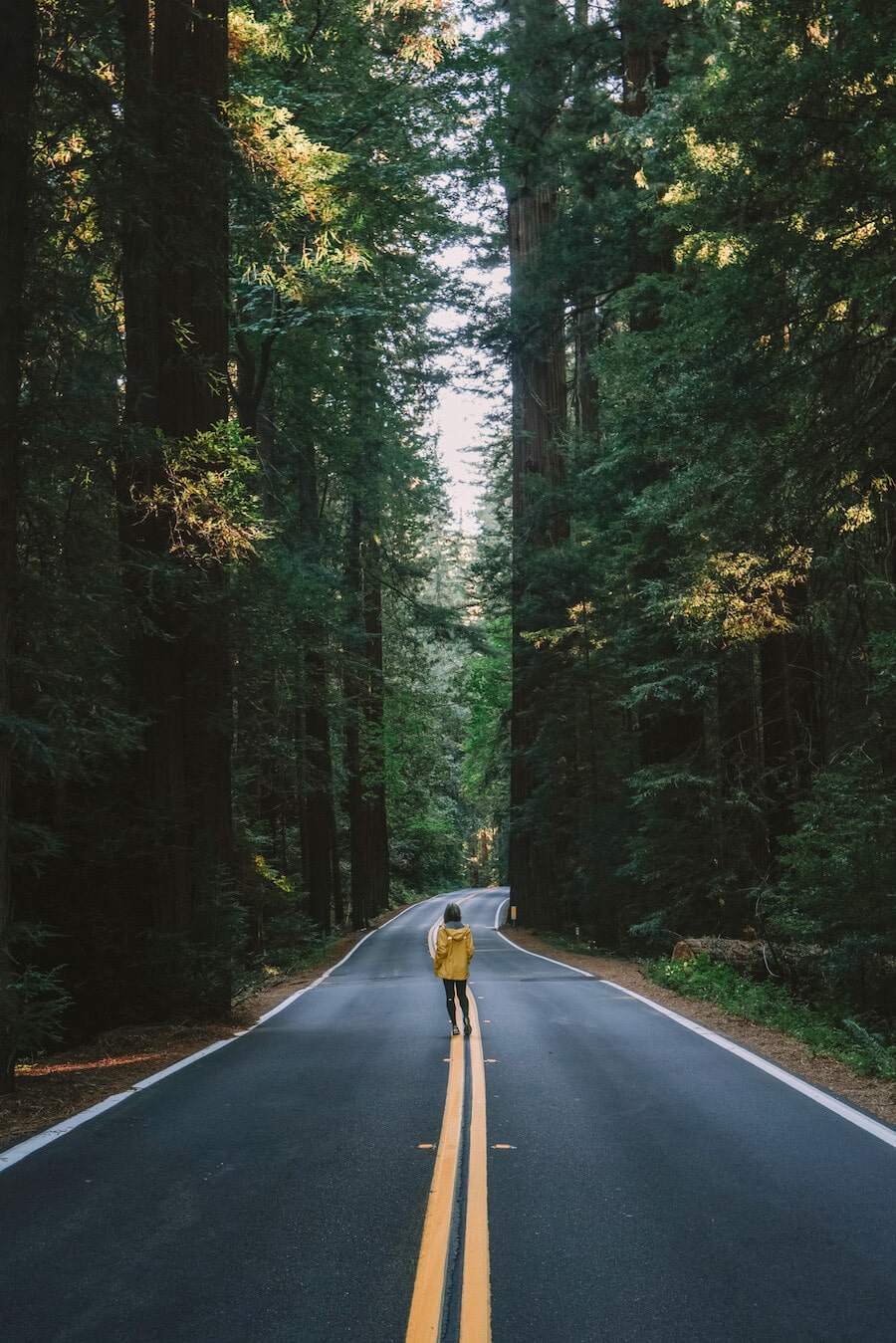 As you continue north on your drive from Mendocino County into Humboldt County, don't miss a visit to the Avenue of the Giants which is part of Humboldt Redwoods State Park. The 31-miles long paved road winds through towering prehistoric Redwood trees that are some 2,000 years old.
Without stopping, the drive should take about 30 minutes from the south to north entrance, but there are places to pull off for photos and hiking trails within the park if you want to extend the adventure. We probably spent about 2 hours taking our time and getting out of the car to enjoy the beauty of these massive trees.
Must-Do in Humboldt Redwoods State Park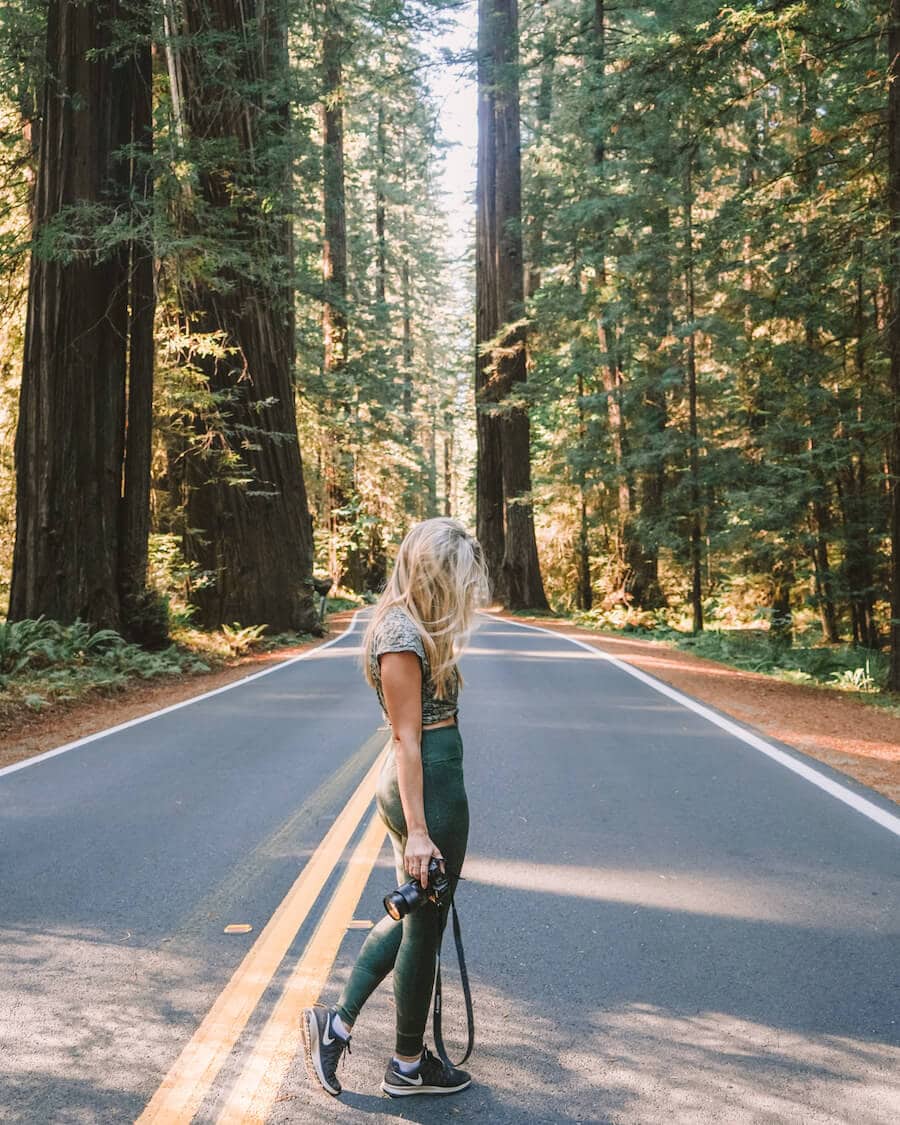 Avenue of the Giants
STOP 4: Ferndale
(25 minutes from Humboldt Redwoods State Park)

Ferndale is a charming little town with European roots that is a great stop on your way towards Eureka. It's so small, you could even pop in on the way back to your starting point as a lunch and coffee pit-stop, depending on how you want to set up your itinerary.
In the 1800s, the booming dairy industry drew immigrants from all over Europe to this remote village along the Eel River, which still to this day exudes an interesting mix of cultures with Portuguese, Scandinavian and Swiss-Italian roots.
Ferndale's main town center is full of antique shops, galleries, bakeries and quaint eateries housed in meticulously preserved Victorian style buildings.
We only had the chance to spend a couple of hours here, but some highlights were the Golden Gait Mercantile (a fun spot to pick up quirky gifts), Fernadale Meat Co., and Mind's Eye Manufactory, a unique coffee shop attached to an Alaskan boat building workshop in the back!
Top Must-Dos in Ferndale
Stroll the Main Drag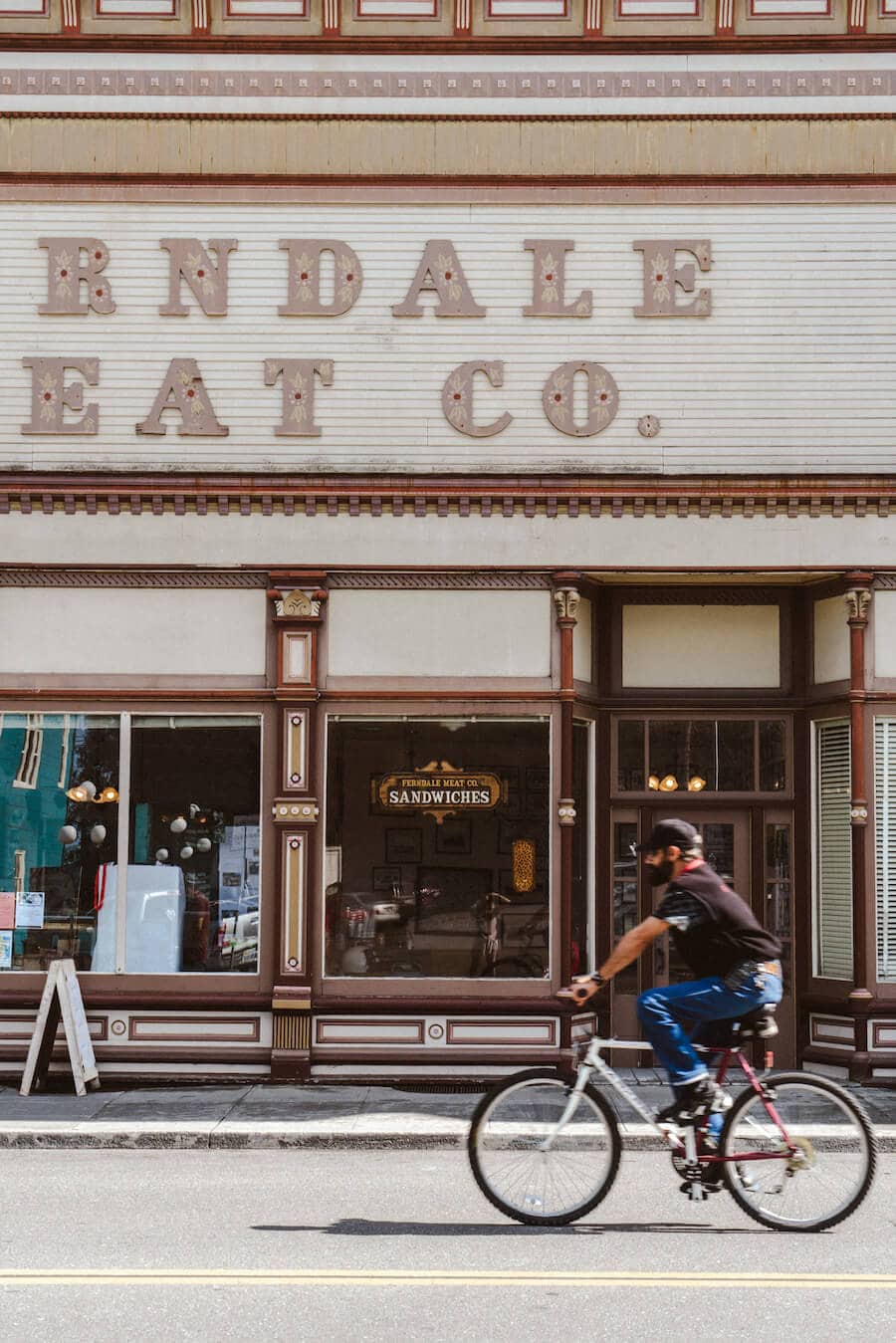 Grab Sandwiches to Go at Ferndale Meat Co.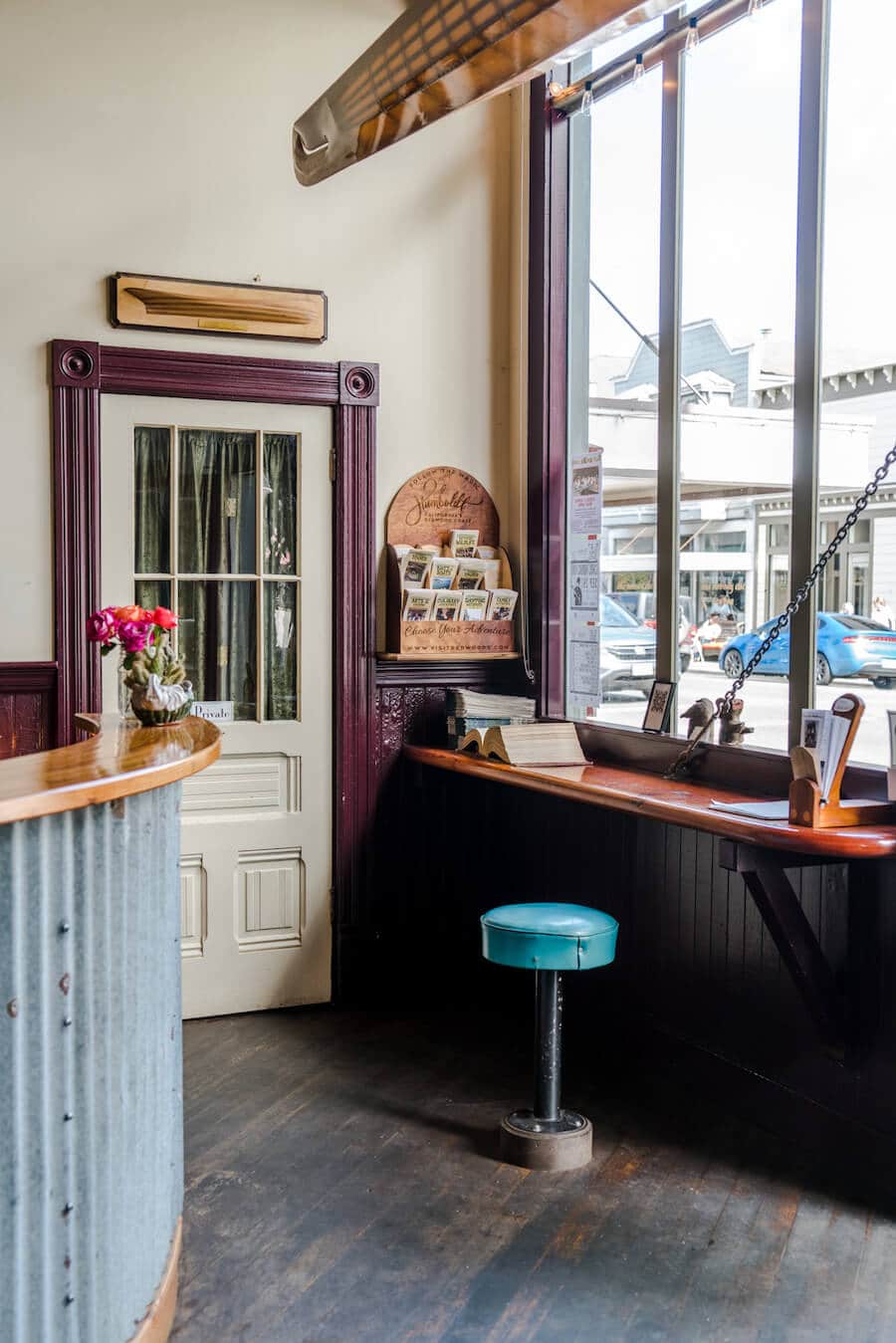 Mind's Eye Manufactory & Coffee Lounge
STOP 5: Eureka
(30 minutes drive from Ferndale)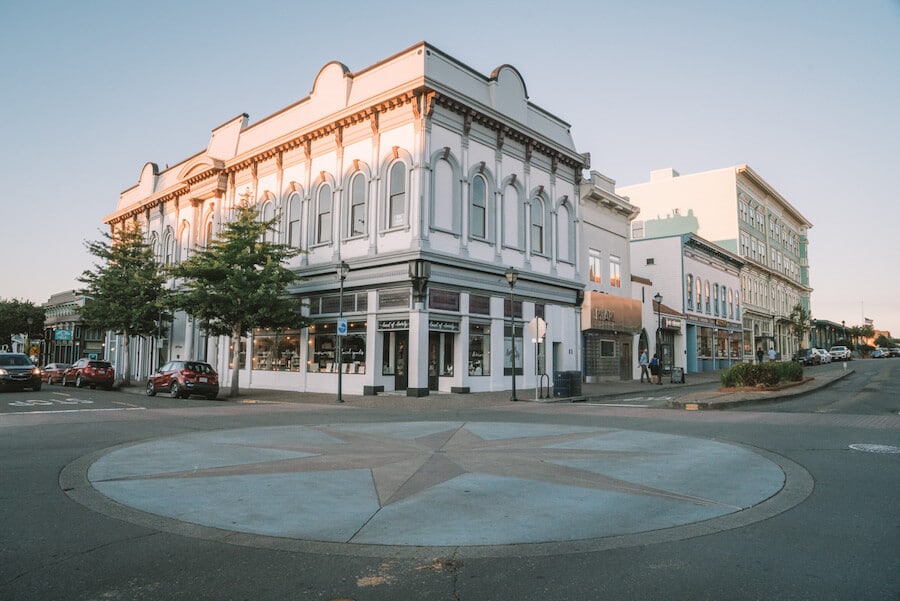 Eureka is a unique port city along Humboldt Bay that fuses old and new — as you walk through Old Town Eureka (which is listed on the United States National Register of Historic Places), you'll notice an interesting mix of old school Victorian-style architecture with more modern creative influences from a younger community of artists and makers like abstract murals adorning the sides of tons of buildings throughout the streets.
One main highlight from our time in Eureka was a boat excursion on the Madaket, the nation's oldest passenger ferry. Fun fact: it has the smallest licensed bar in the state of California! We did a day cruise with their crew, but they also offer cocktail cruises, which sounds super fun depending on your schedule.
For coffee and pastries, check out Ramone's, and if you're into craft brews like me, you'll want to visit the Lost Coast Brewery to try their delicious beers (I love the Hazy IPA). They have a restaurant and a full warehouse that runs tours, so choose your own adventure.
If you want to see some iconic Victorian style architecture, head over to the Carson Mansion, which you'll also get a view of from the water if you do a cruise on the Madaket.
I'd recommend visiting Eureka as a day trip down from Trinidad or spending a day here on your way further up north. There's also an airport near Eureka (ACV) with limited flight options that may be an option if you need to cut down on your driving time.
Top Must-Dos in Eureka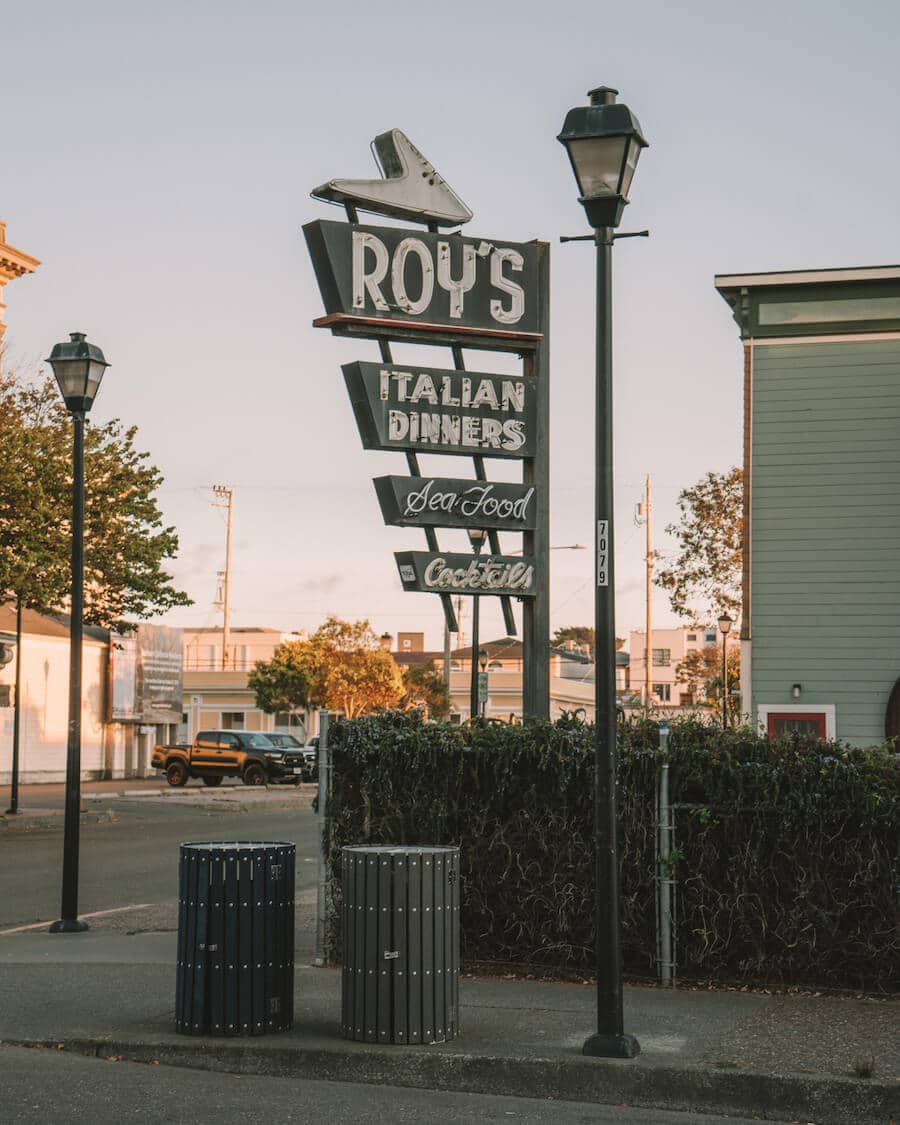 Explore Eureka's Historic Old Town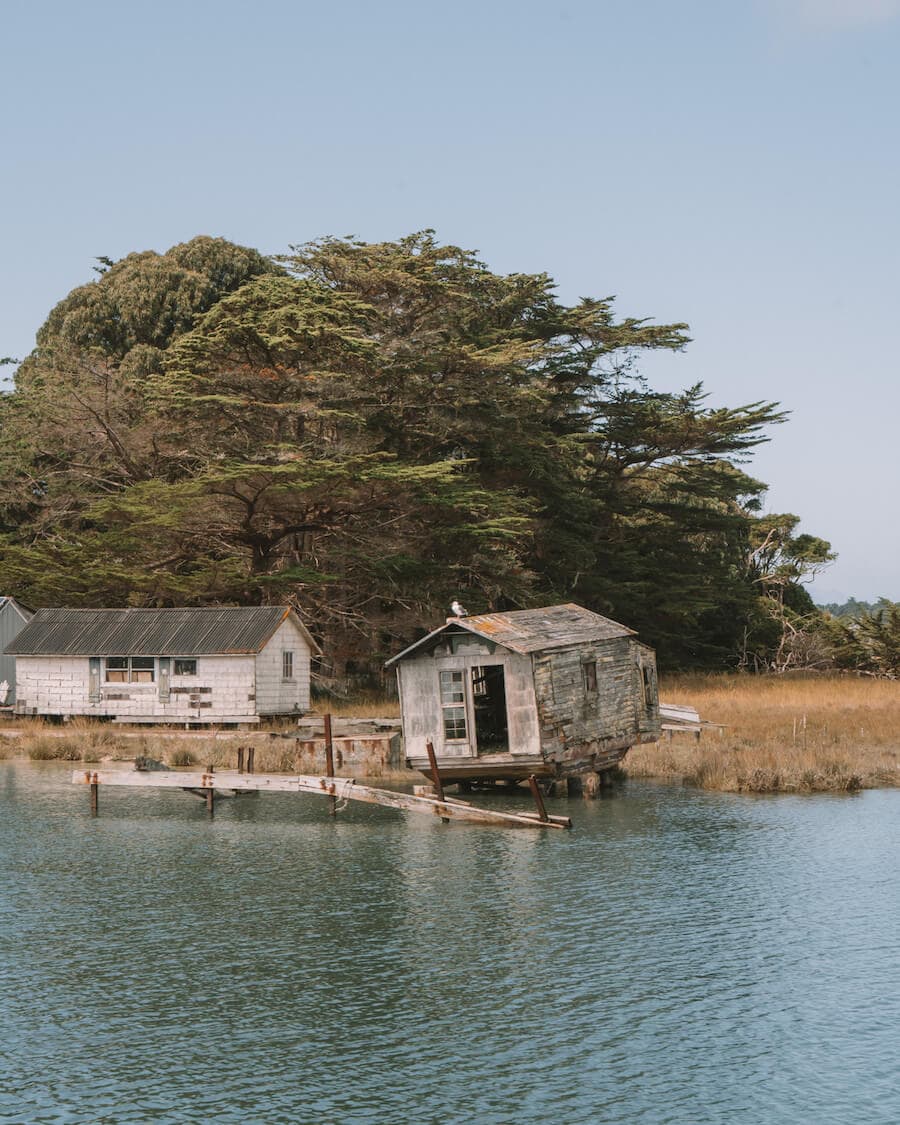 Book a Harbor Cruise on the Madaket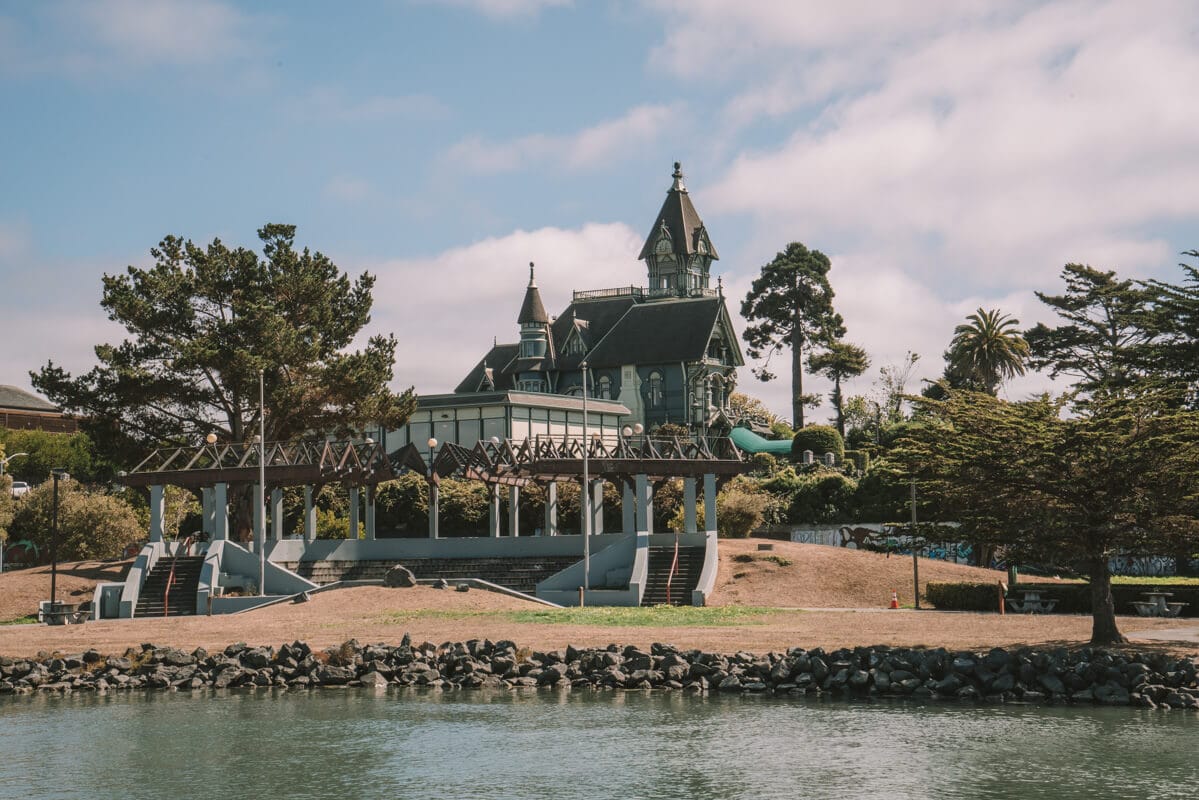 Check Out the Carson Mansion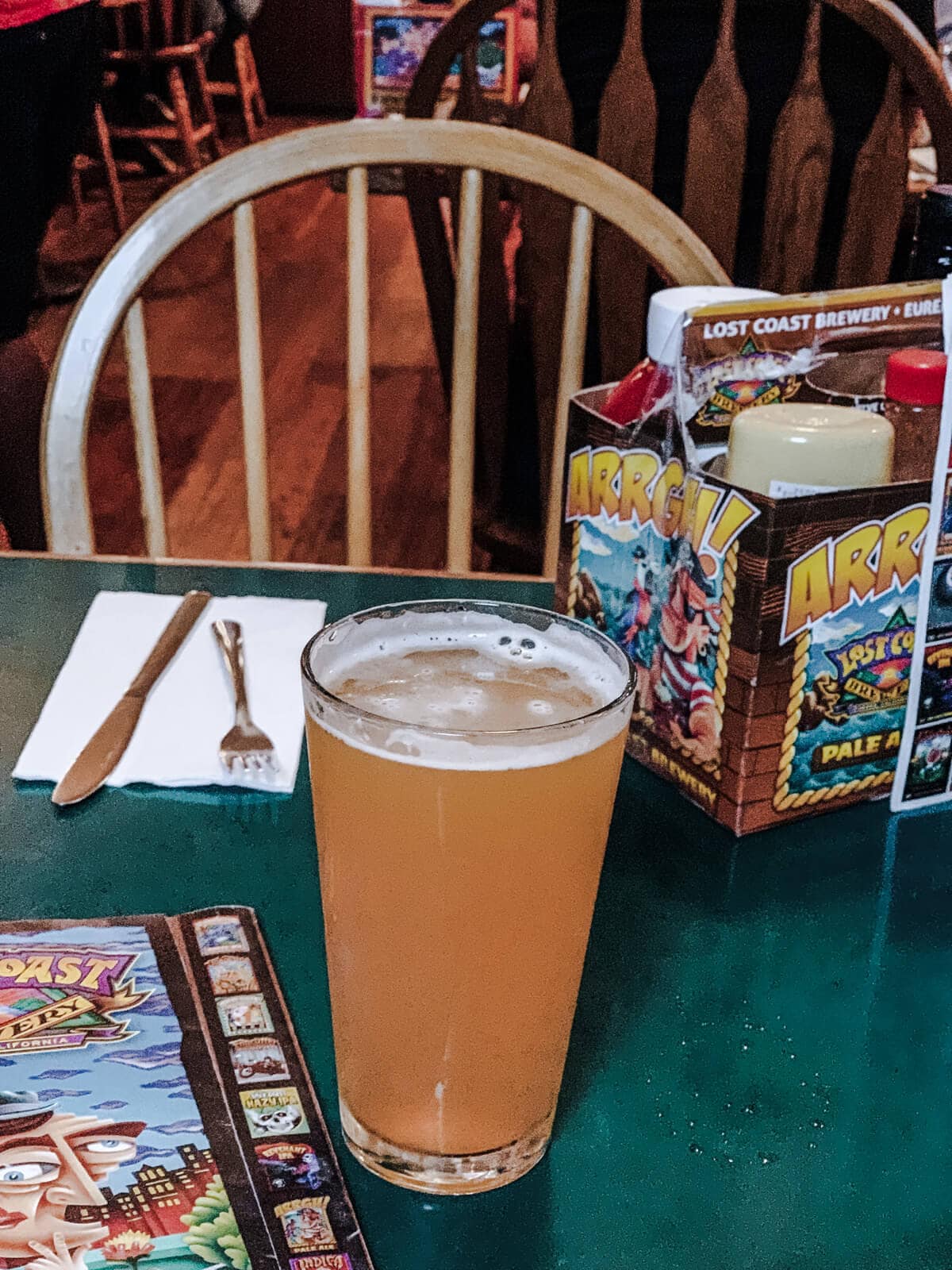 Try Local Brews at Lost Coast Brewery
Go on a Self-Led Mural Tour
STOP 6: Trinidad
(30 minutes drive from Trinidad)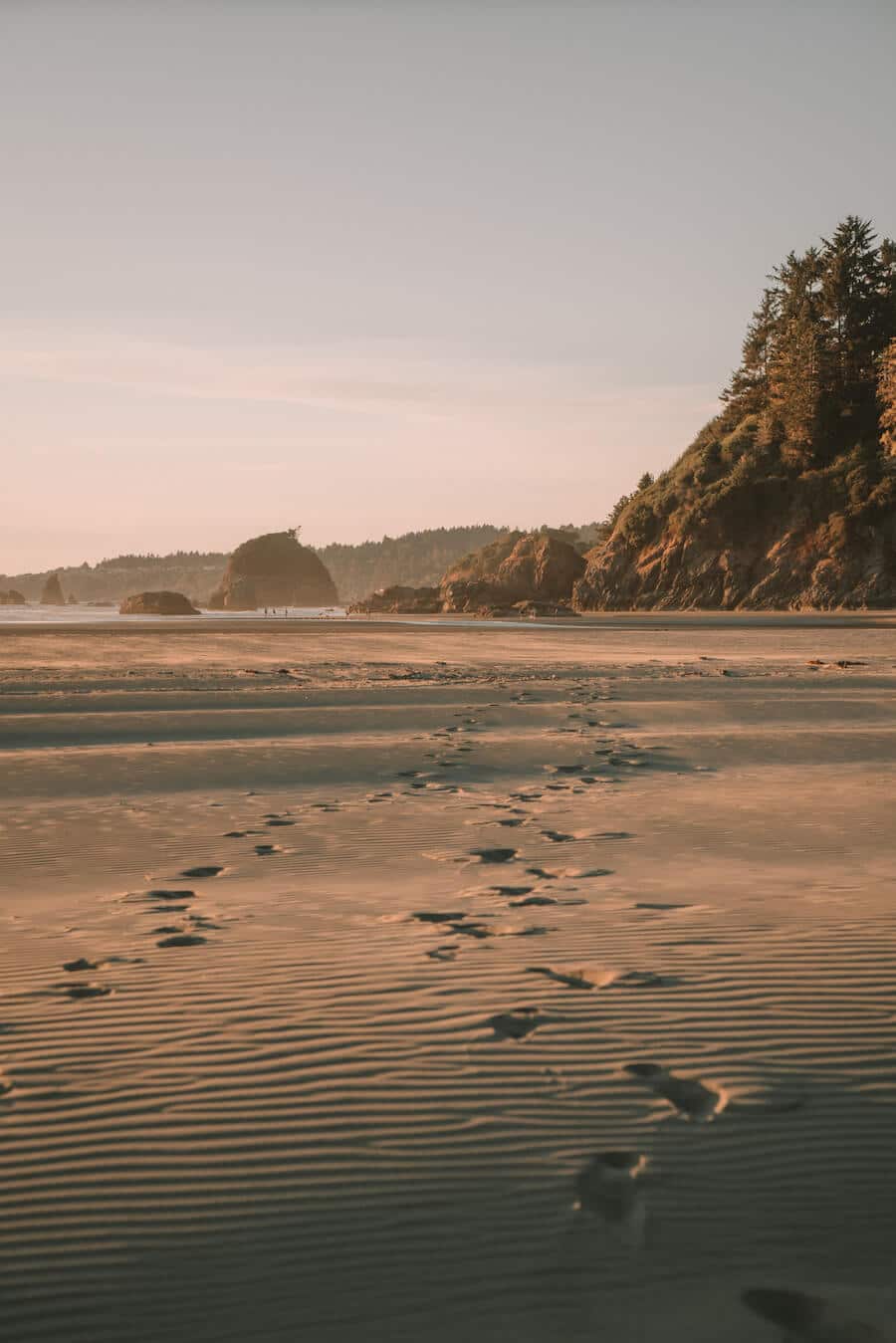 This was probably my favorite stop of our whole Northern California road trip and had some of the most beautiful beaches of the itinerary. Trinidad is a tiny coastal town that sits up on a cliff overlooking Trinidad Bay. There are about 300 local residents, but the town gets packed with visitors year-round, as it's an ideal base to explore both the coast and nearby Redwood National & State Parks.
The town of Trinidad is super small and can be walked easily in about 30 minutes or less, but you won't want to miss Beachcomber Cafe for healthy breakfast (and the best coffee in town), or Lighthouse Grill to try their famous potato cones.
For a standout dinner, head to Larrupin' Cafe, which is a bit out of the center of town but has a delicious menu and often features live music on the patio. Our favorite meal of the trip, hands down.
My absolute favorite spot of the trip was Moonstone Beach, which is a must for sunset. We grabbed happy hour bites at Moonstone Grill which overlooks the beach (it's pricey, but their happy hour at the bar is more reasonable and starts at about 5 PM). I'd recommend stopping here first and then heading down to the beach to catch the golden glow light up the coastline. For more coastal views, visit College Cove which requires a short hike down to the beach (word to the wise: take the path to the right of the parking lot if you prefer stairs over a scramble).
If you want to experience the beauty of Trinidad Bay, make sure to book a kayak tour with Kayak Trinidad for a peaceful 3-hour cruise that takes you along the coastline. If you're lucky, you'll get some good marine wildlife spottings along the way.
Finally, take a day trip about 30 minutes north to Prairie Creek and Redwoods National and State Parks for some proper forest bathing. Start the morning off with a drive to Fern Canyon (off of Davison Road), which is a short walking trail amidst towering walls of ferns. It's hard to explain but seriously magical and shouldn't be missed! From there, it's a short drive to the visitor's center in Redwoods National and State Parks where you can depart on several great walking trails through the Redwoods. We explored the Foothill Trail, Prairie Creek Trail and the Revelation Trail.
Check in: Redwood Coast Vacation Rentals


Top Must-Dos in Trinidad
Moonstone Grill + Moonstone Beach for Sunset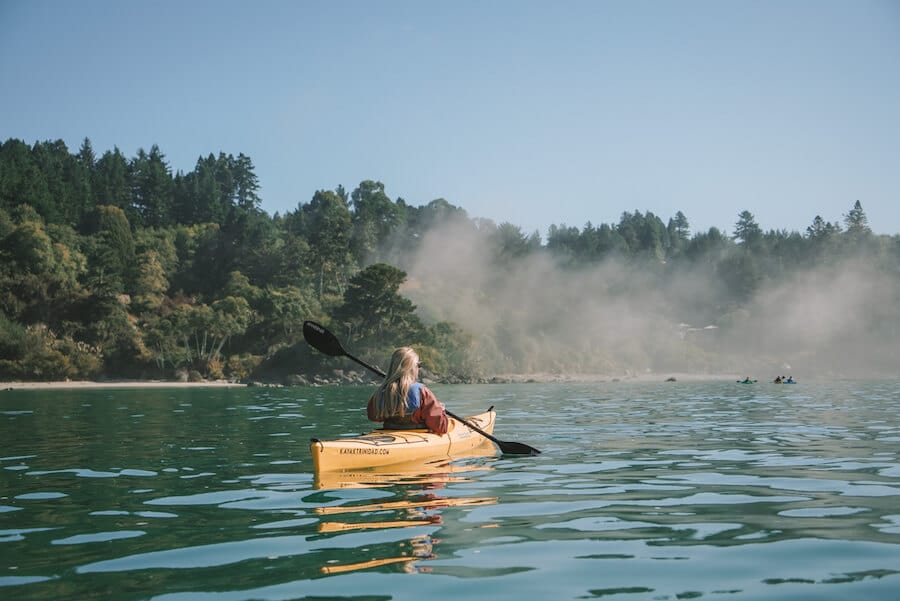 Explore Trinidad Bay with Kayak Trinidad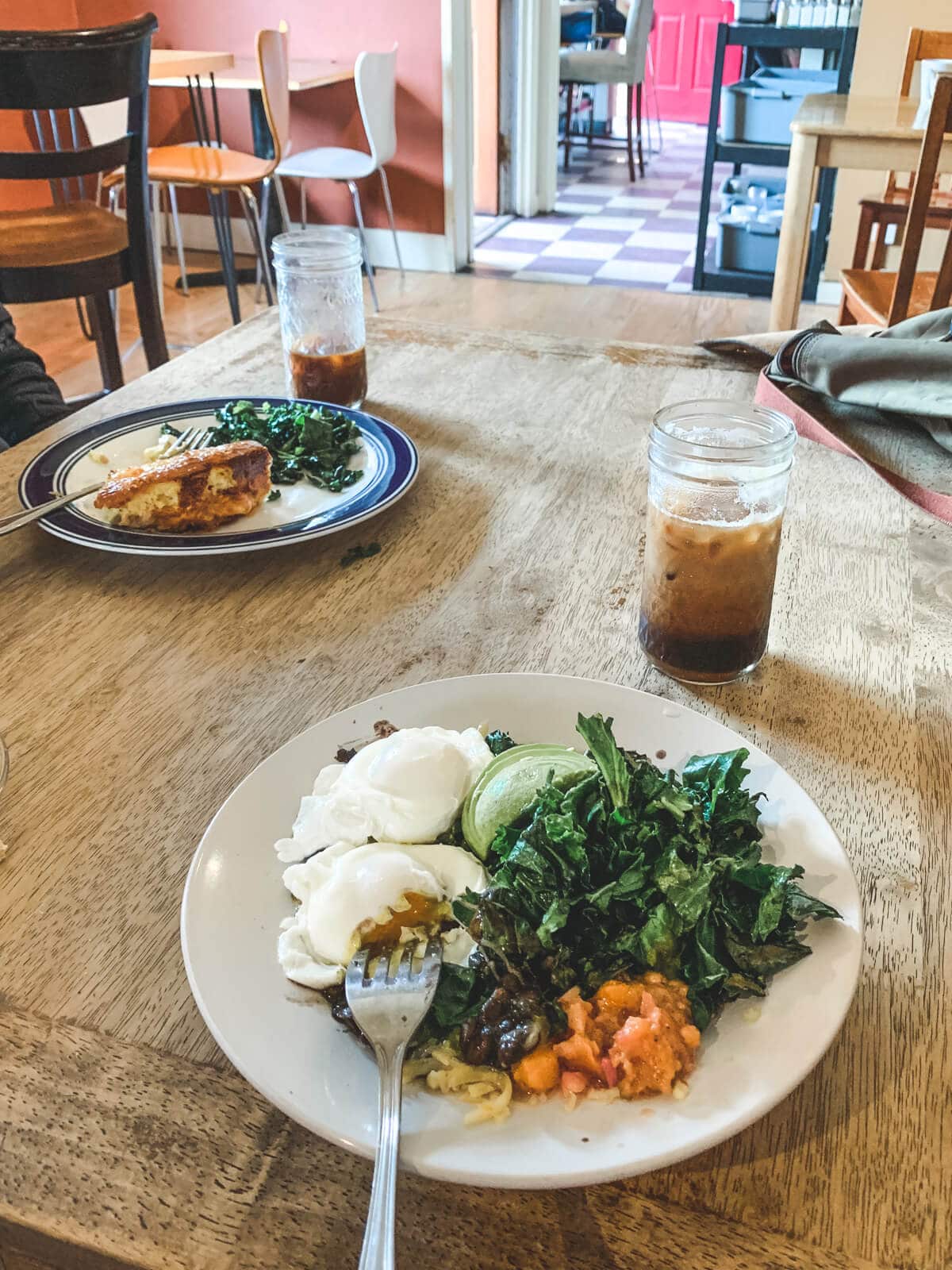 Healthy Brekkie at the Beachcomber Cafe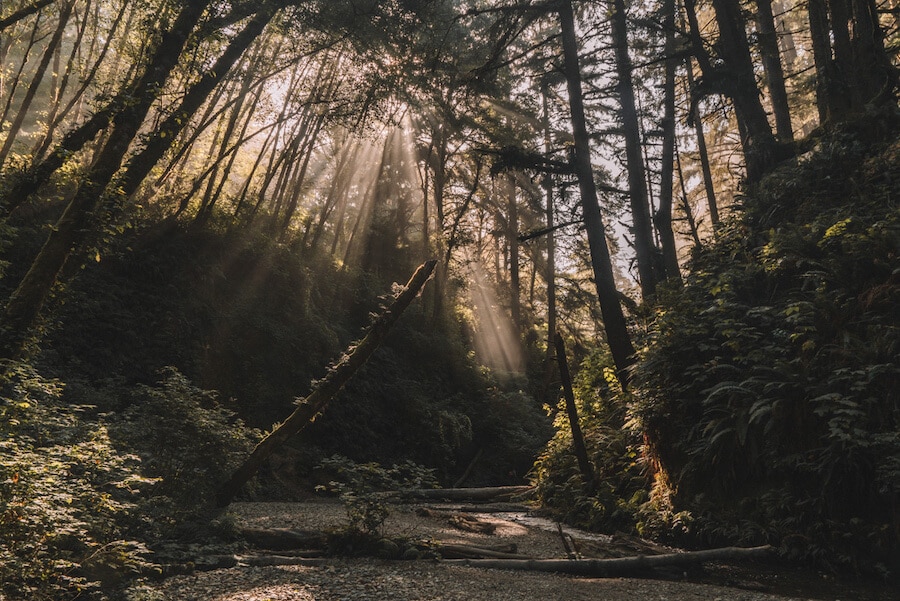 Hike Through Fern Canyon


Walk Through Town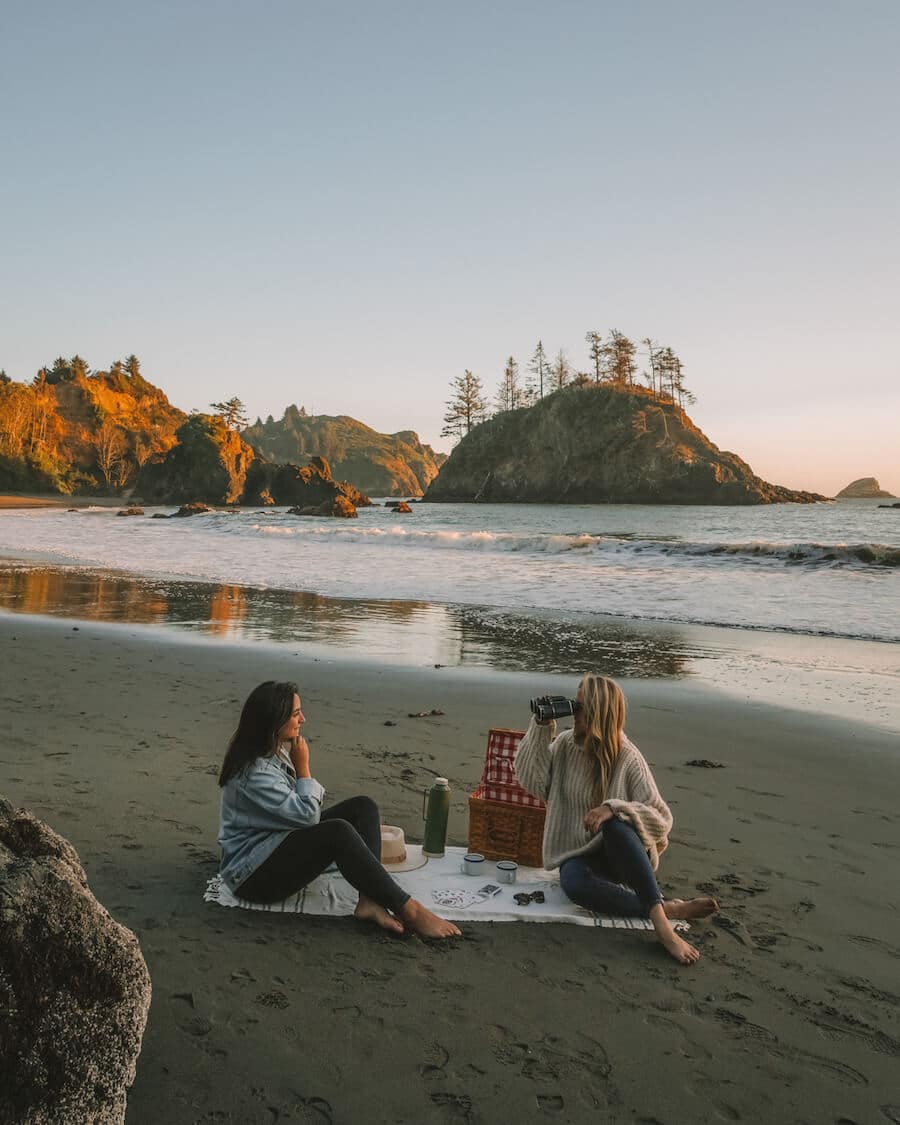 Visit College Cove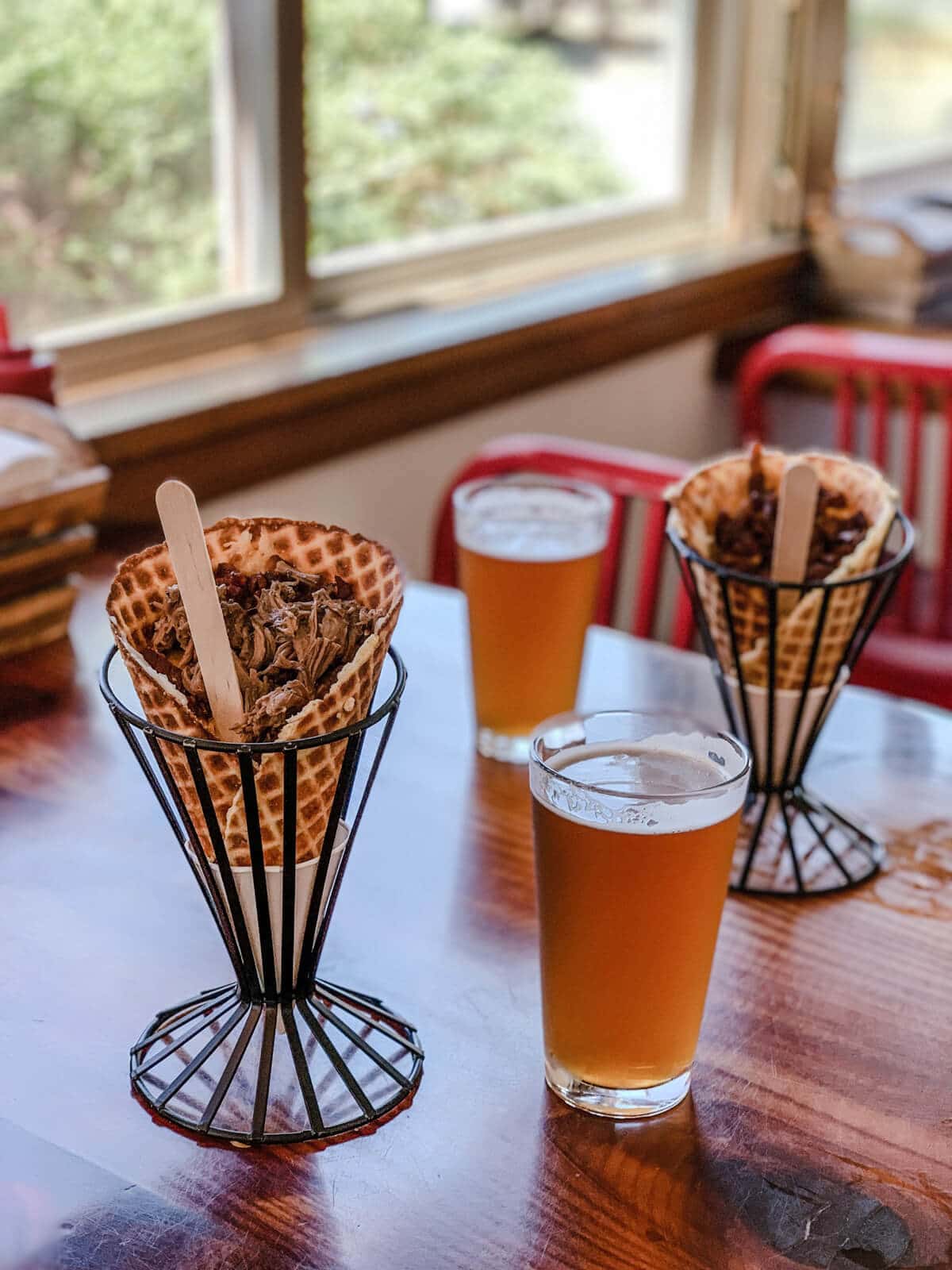 Try a Potato Cone at Lighthouse Grill
Hit the Trails at Redwoods National and State Parks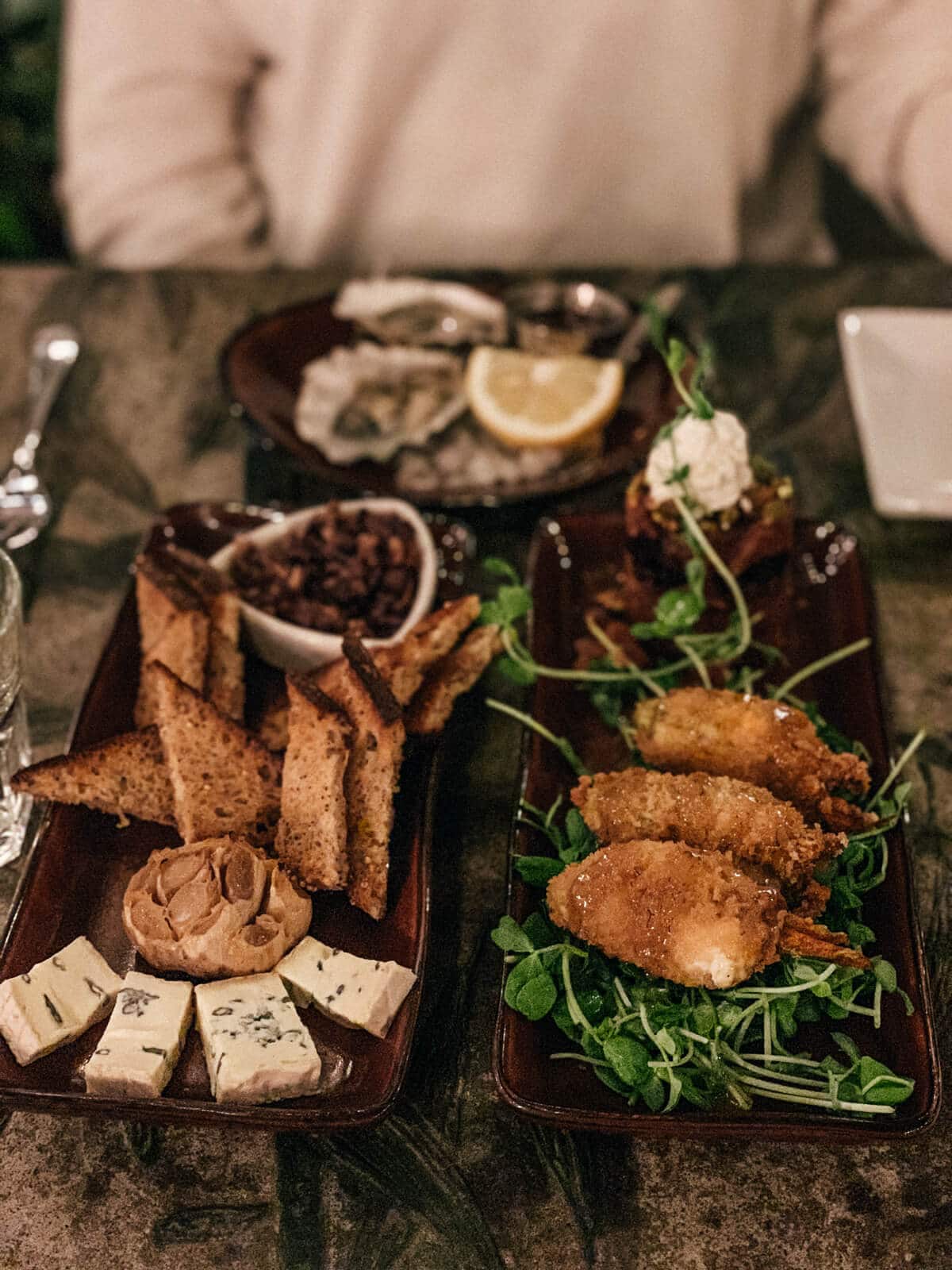 Celebrate Your Last Dinner at Larrupin' Cafe
ROAD TRIP FINALE
Make the drive back to Sacramento or San Francisco (5-6 hours drive)
Planning a trip right now? These are all the websites and services I love for booking everything from flights, tours, accommodation and more:
LOVED THIS POST? PIN IT FOR LATER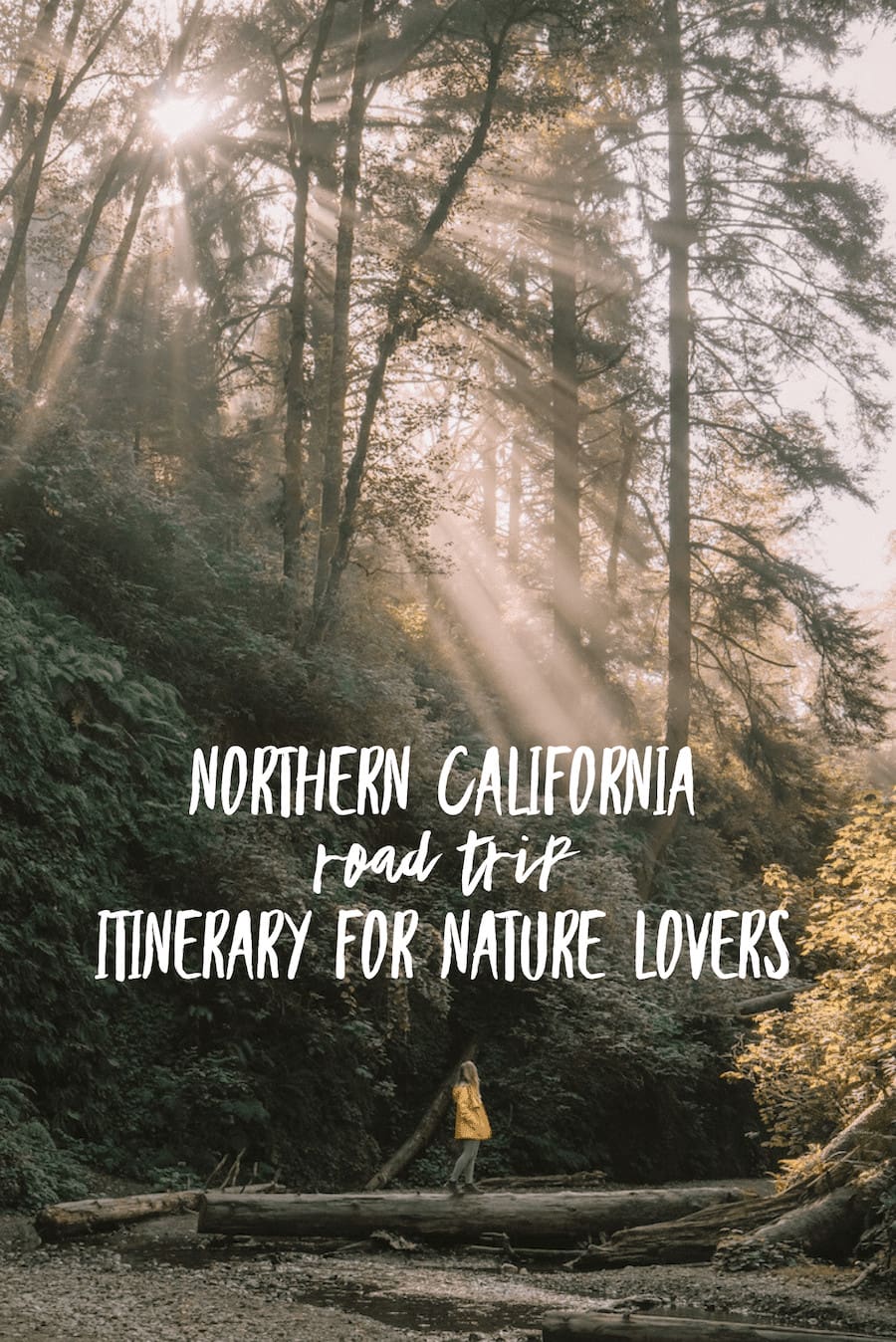 *** Live Like it's the Weekend was graciously invited to the Wild North Coast as a guest of Visit California, but as always, all opinions are my own and I would never promote anything I don't freaking love. ***
READ MORE: