Visiting Norway in winter was definitely not originally in the plan. Oh, no. See, me and cold don't typically do so well as a team. Me and sandy beaches? Me and oppressive humidity? Those are the dream teams right there. Luckily, I had my friend Betty who owns the company Nomoon Travel to talk some sense into me and push me to join her Norway itinerary this past December, because it honestly ended up being one of my favorites all year.
For what Norway lacks in light during winter, it makes up for in incredible activities that are ripe for enjoying during the colder months. If you're someone who dreams of witnessing the Northern Lights, dog sledding through the glistening snow-covered countryside or sipping mulled wine in a romantic lavvu (even if it's just with your girlfriends), then this is the perfect trip for you.
The 10-day Norway itinerary below follows my trip pretty much to a tee, with a few adjustments I've made to improve the flow and timing. The changes were made only because as someone who works in the travel industry, I had meetings with tour operators/hotel owners etc that I'm assuming you wouldn't need to have 😉 Otherwise, this itinerary is so epic and I can't wait for you to have your own incredible Norway adventure.
Ps- all of these activities (literally the exact ones I did) can be booked with Nomoon Travel if you feel like taking the planning pressure off! Hope this inspires you to visit Norway during wintertime and enjoy the trip of a lifetime.
Quick Tips for Your Norway Trip
Due to limited light in winter (approximately 3 hours of soft light depending on your time of visit), you'll only want to book 1 daytime activity per day to ensure your Norway itinerary is an enjoyable pace
Pack appropriately! Wool layers and a warm coat, boots, hat, scarf and gloves are essential
To see the Northern Lights, it's recommended to plan on chasing them for several nights. The weather can be so variable that you shouldn't plan to see them just in one night. Make sure to leave room in your itinerary for this!
10 full day isn't necessarily a must for Norway, but you'll at least want to spend a full week if Northern Lights is on your priority list. It would be a drag to get all the way to Norway and hit bad weather, so the longer you stay the better your chances of witnessing the Aurora Borealis
Norway is an expensive destination. I highly recommend getting travel insurance to cover your trip in case any accidents or trip interruptions occur to ensure you get your money back. I use World Nomads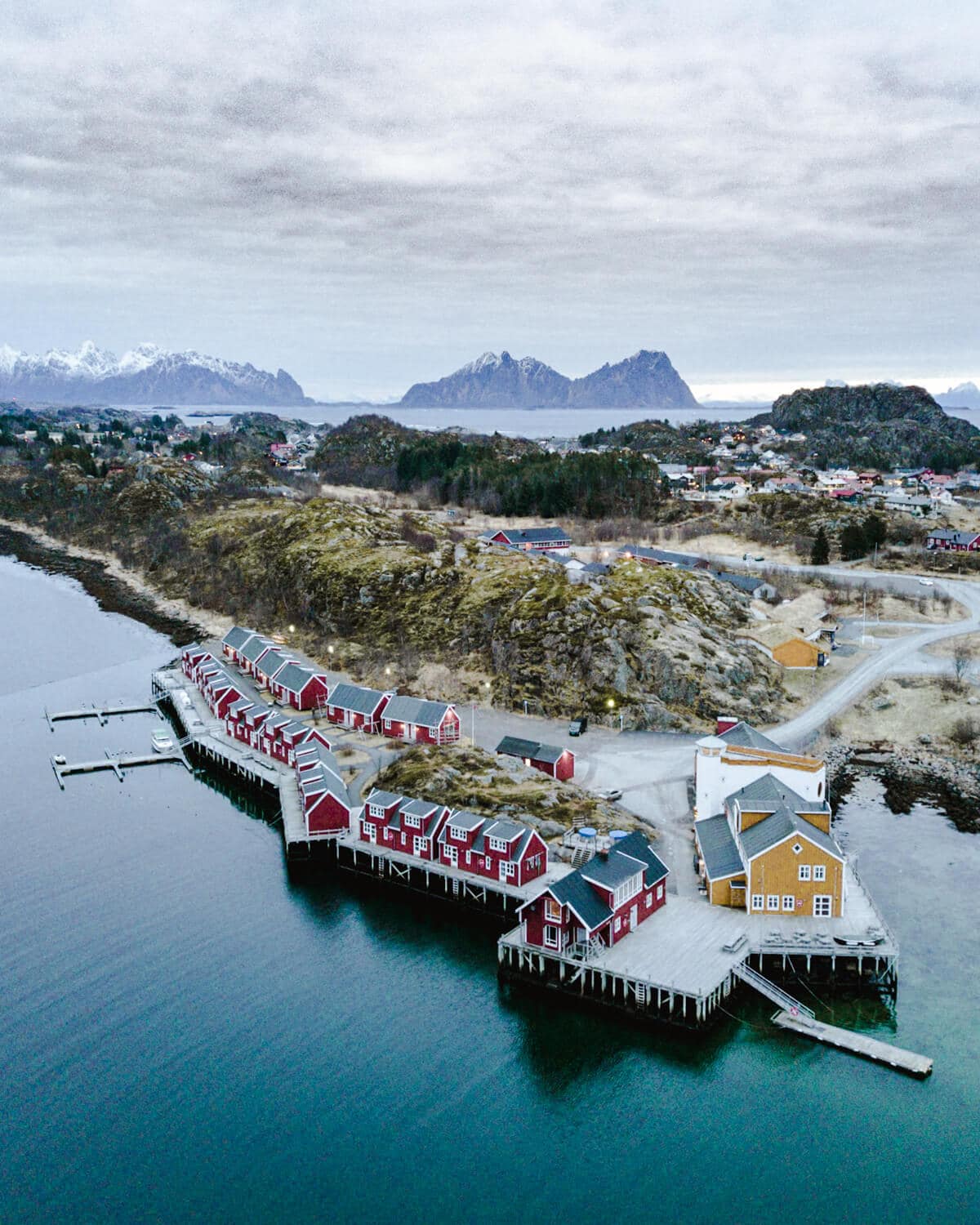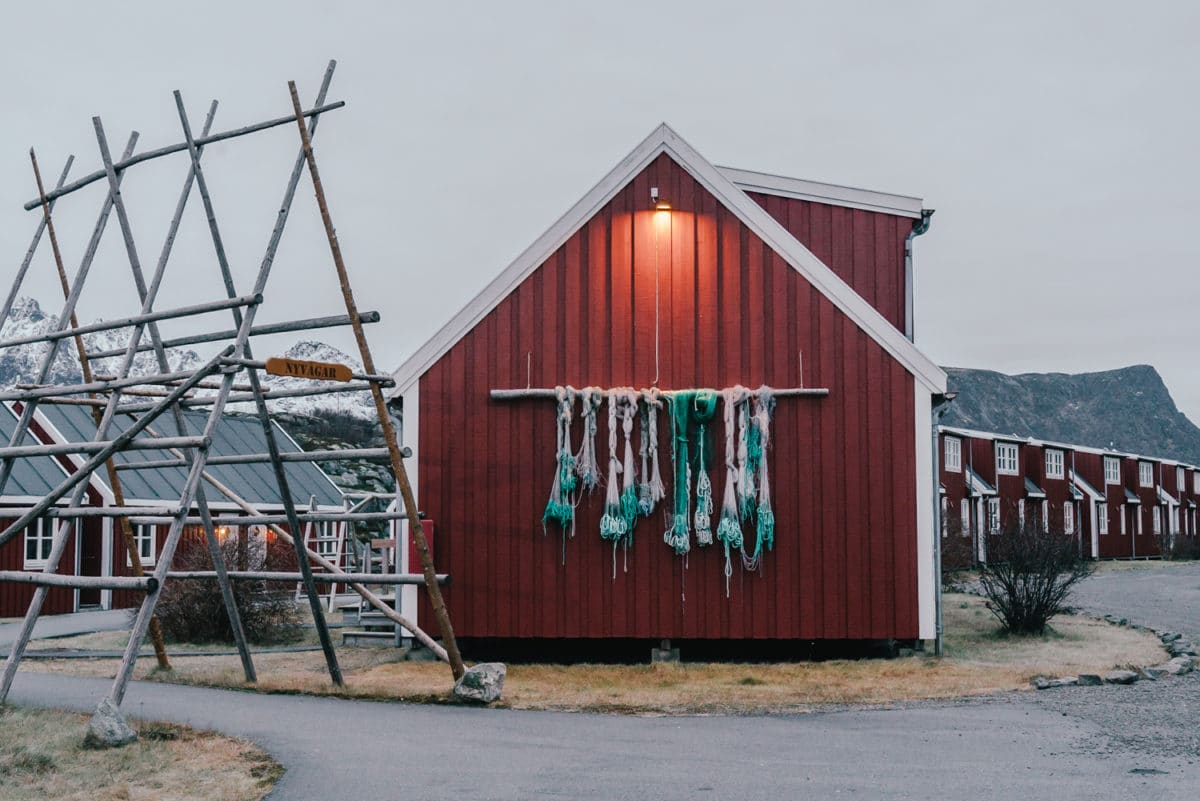 The Perfect 10 Day Norway Itinerary in Winter
Day 1: Fly Into Norway and rest up for the trip ahead
Morning/Mid-Day
Depart your airport of origin
Fly into Oslo (check Norwegian Air or Skyscanner for great deals)
If you have a layover, I highly recommend hanging out in the SAS lounge there — it's one of my favorite lounges I've ever visited
Take two additional internal flights:
Evening
Arrive at the Svolvær airport (SVJ) and rent a car at the kiosk directly at the arrival gate (they have options with Hertz, Europcar, and Avis but we went with Sixt)
Drive slightly outside of Svolvær and check in to the peaceful Nyvågar Rorbuhotell just outside of the city, which sits along the fjords and features that traditional red cabin style that is synonymous with Norwegian architecture (love this place!)
Spend the evening relaxing and getting acquainted with your new Norwegian base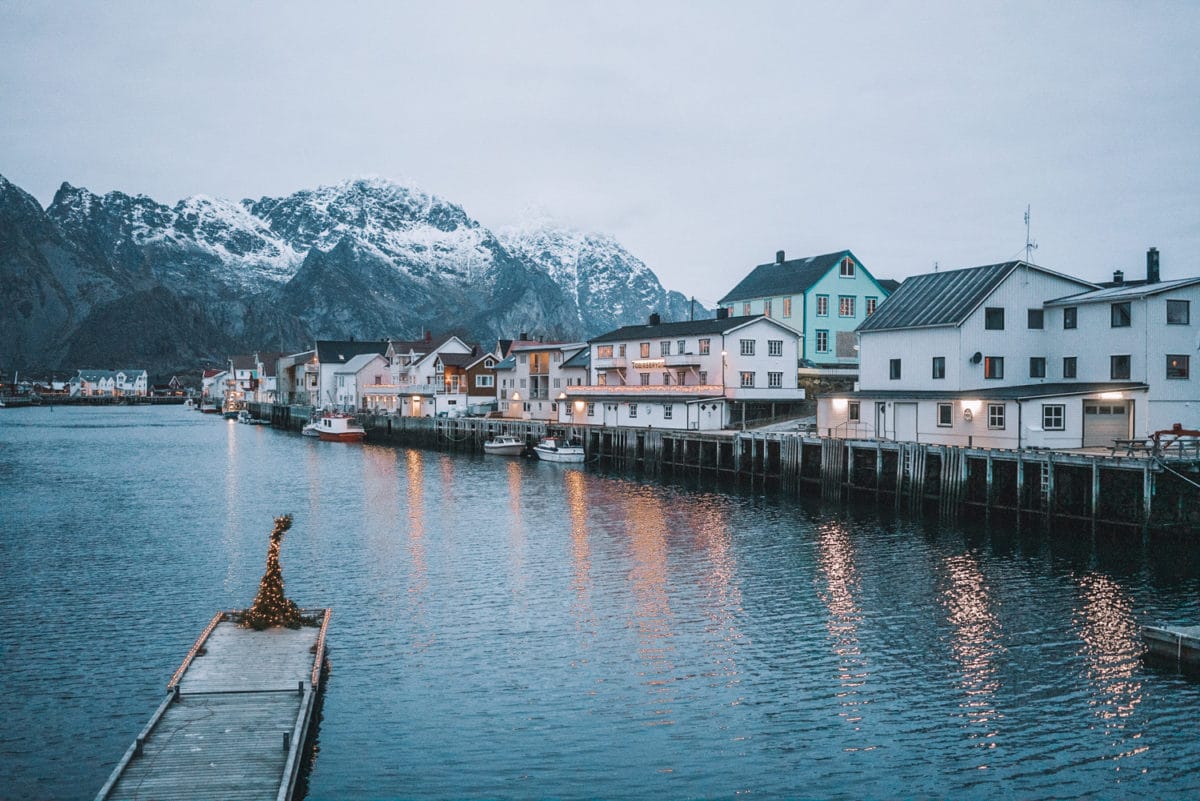 Day 2: Explore the local fishing village of Henningsvær then dine in Svolvær
Morning
Start the morning with a sauna and dip in the ocean to start the day. At Nyvågar Rorbuhotell, they have the perfect set up for this: a sauna with scenic fjord views that leads directly to the dock outside, where local Norwegians regularly come to dunk themselves in the ocean.
Enjoy a delicious traditional Norwegian breakfast spread at the hotel
Leave for a day tour with xx Lofoten that takes you to the beautiful fishing village of Henningsvær. Enjoy their "full steam experience" which tours a former cod liver oil factory and educates guests about the cod fishing industry and how it has been so central to Norway's economy and culture. Foodies will also love this tour as it allows you to taste some local delicacies.
Mid-Day
Walk around the town of Henningsvær for the afternoon and explore the shops including the beautiful glass blowers, Engelskmannsbrygga. If you're traveling here during the Christmas holiday, you'll be delighted by all of the twinkling lights and shop decorations. It's a great spot to grab gifts for loved ones back home!
Stop into the Lysstøperi cafe for a cinnamon bun and coffee
Evening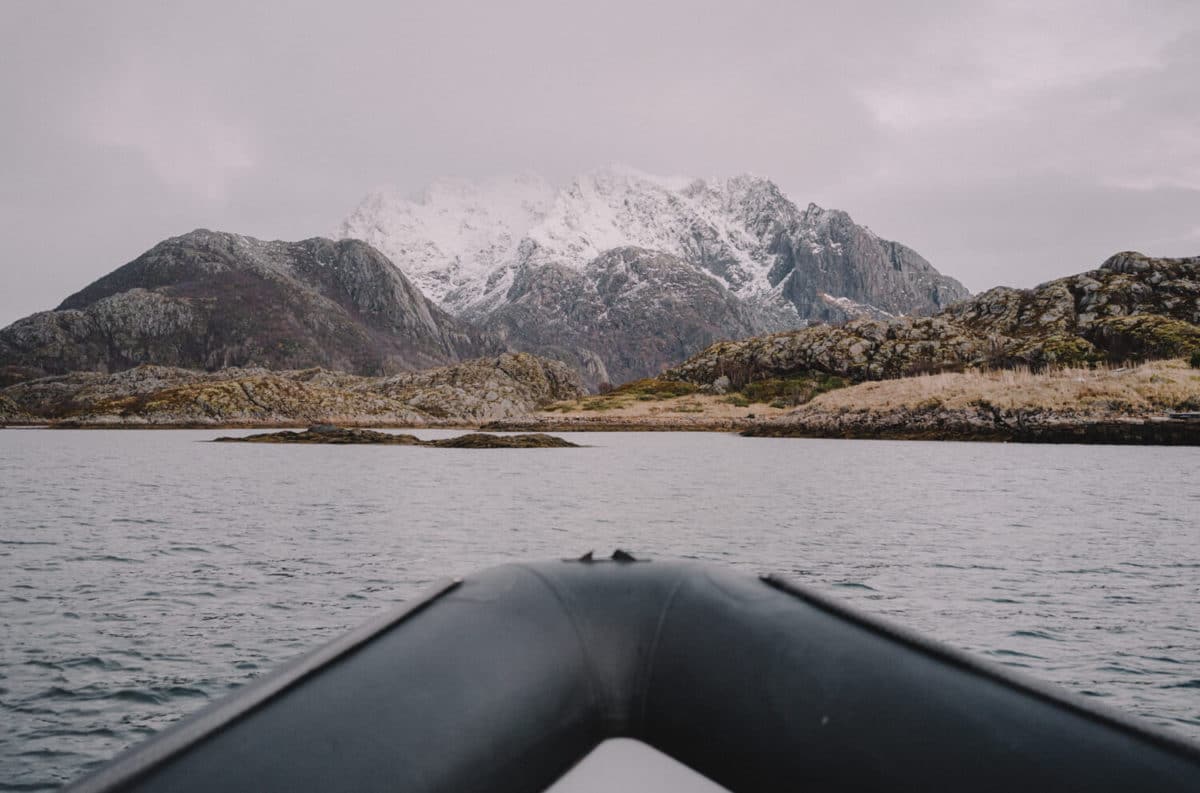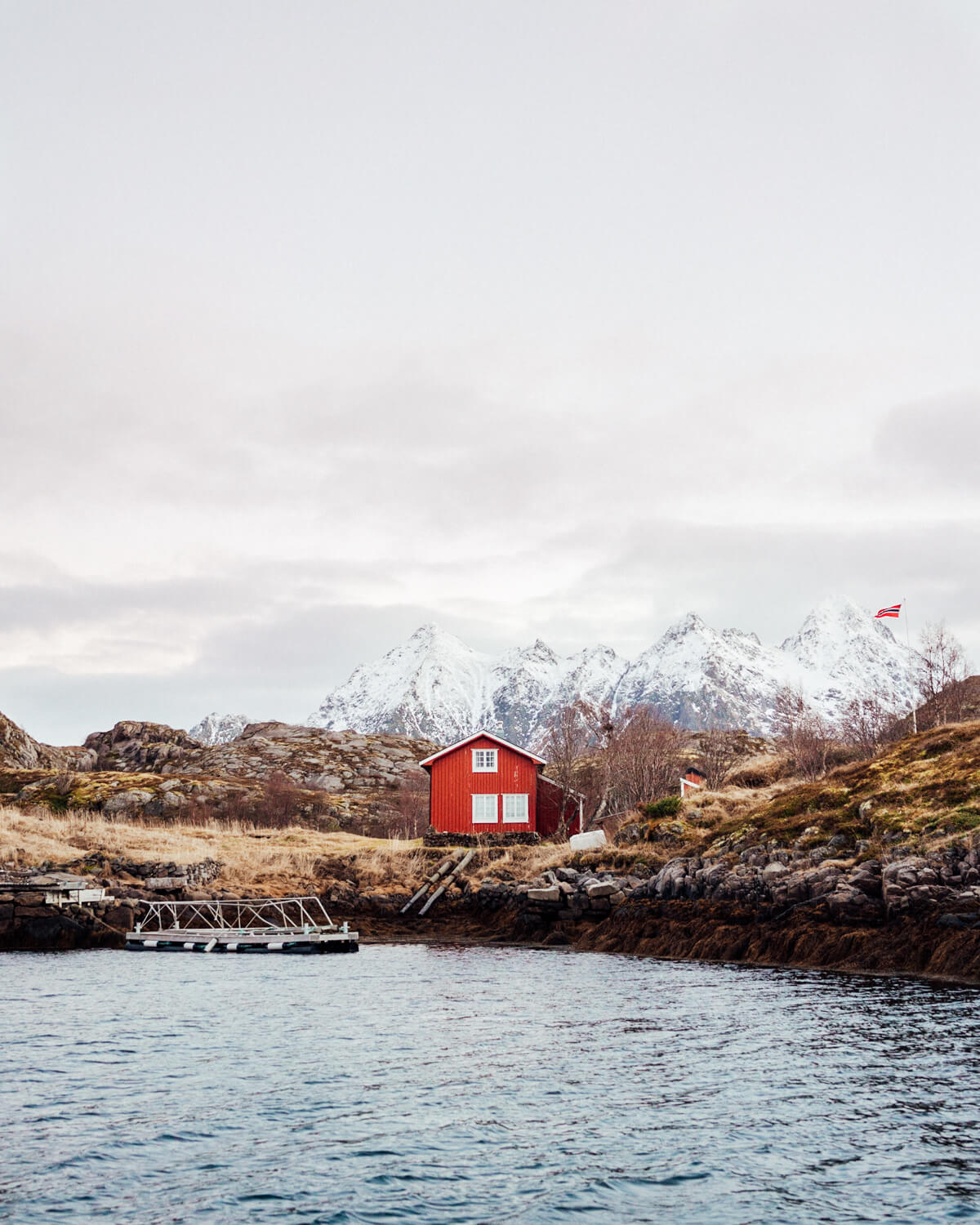 Day 3: Sea eagle safari through the fjords and chase the Northern Lights
Morning
Head out with xx Lofoten for their sea eagle safari tour that guides a small group of guests on a high speed boat through the beautiful fjords around Svolvær. This 2-3 hour tour was both beautiful and exhilarating — they aren't kidding about the high speed! You'll witness stunning scenery with a constant golden hour glow in winter, plus get an up close look at the area's plentiful sea eagles in action.

Pro tip: Bring your best photo equipment for shooting animal photography and use a high shutter speed as the eagles move fast. Also make sure you have a way to secure your gear as the boat can be bumpy (I didn't get any good photos of them sadly!)
Mid-Day
Post tour, warm up with a coffee and sweet treat at local bakery Kringla
Head back to the hotel for some downtime
Evening
Dinner of choice
Head out with xx Lofoten for a Northern Lights photo tour that will take you on a chase to wherever the lights are most easily viewed! Tour operators can't always guarantee that you'll see the Northern Lights as it's very dependent on weather, but they always do their best to find them. While we were unlucky on this tour and didn't get any good viewings, we did have a great tour leader who is a professional photographer has done some incredible work around Norway. He helped us with our camera settings which was super helpful for anyone not used to shooting at night.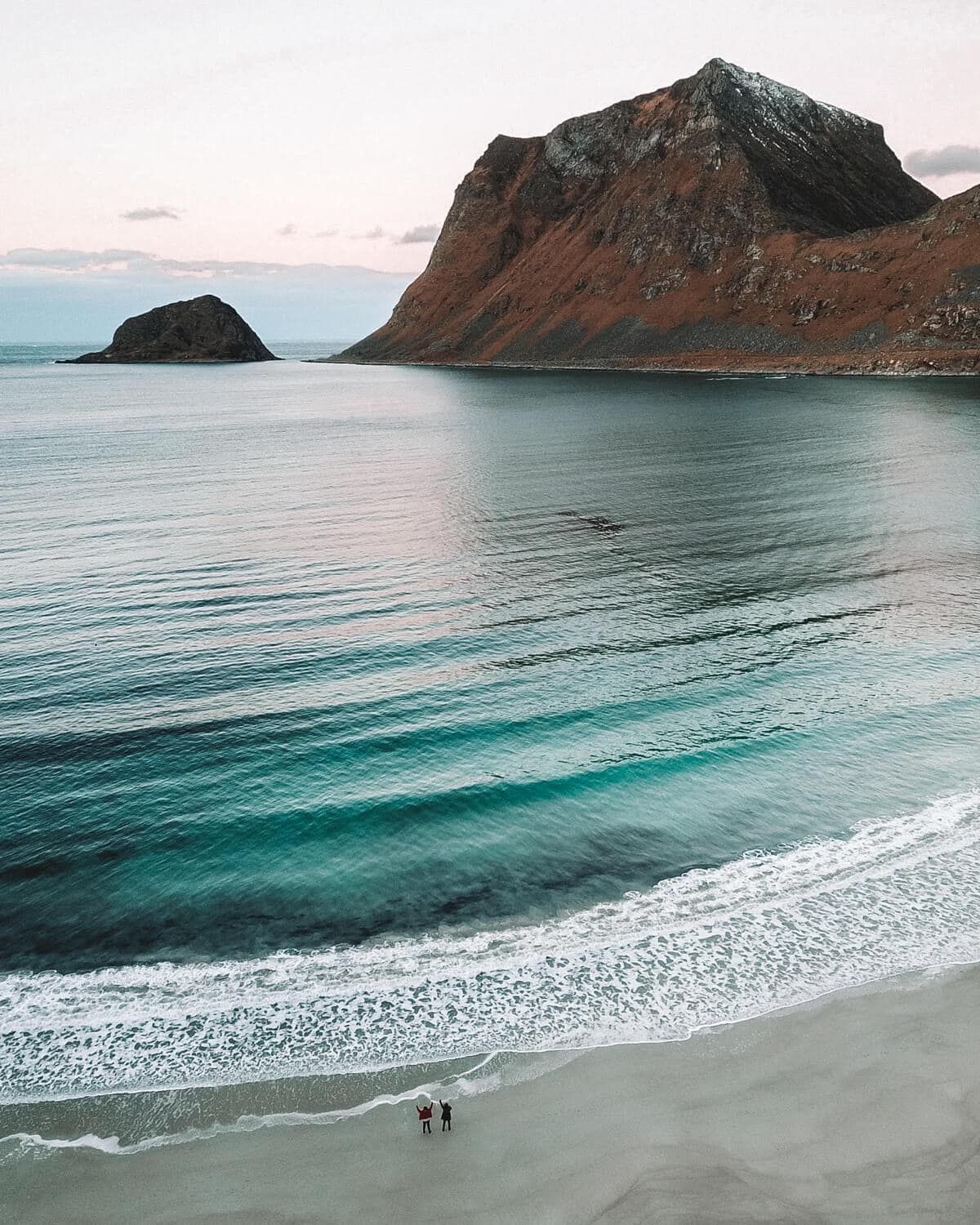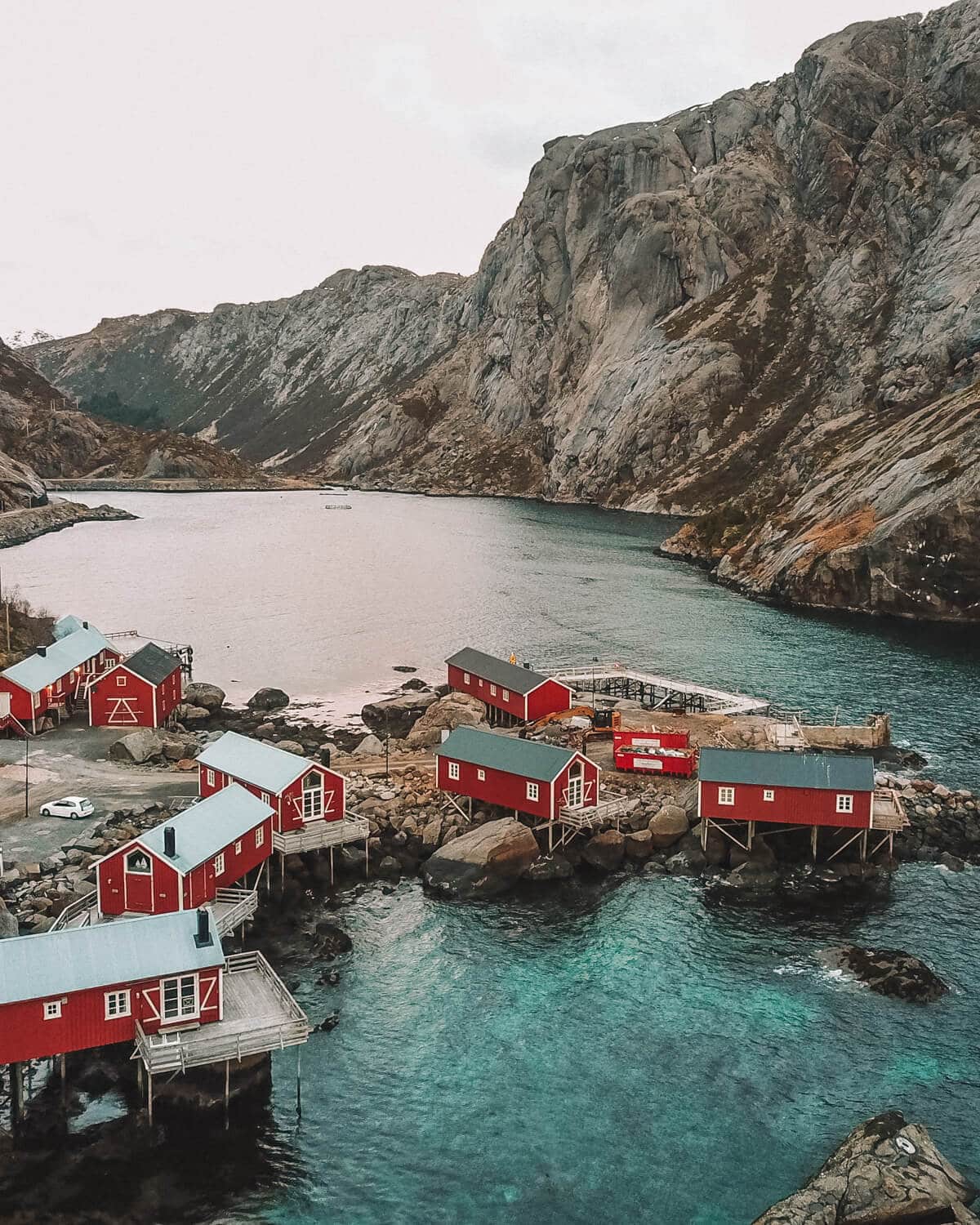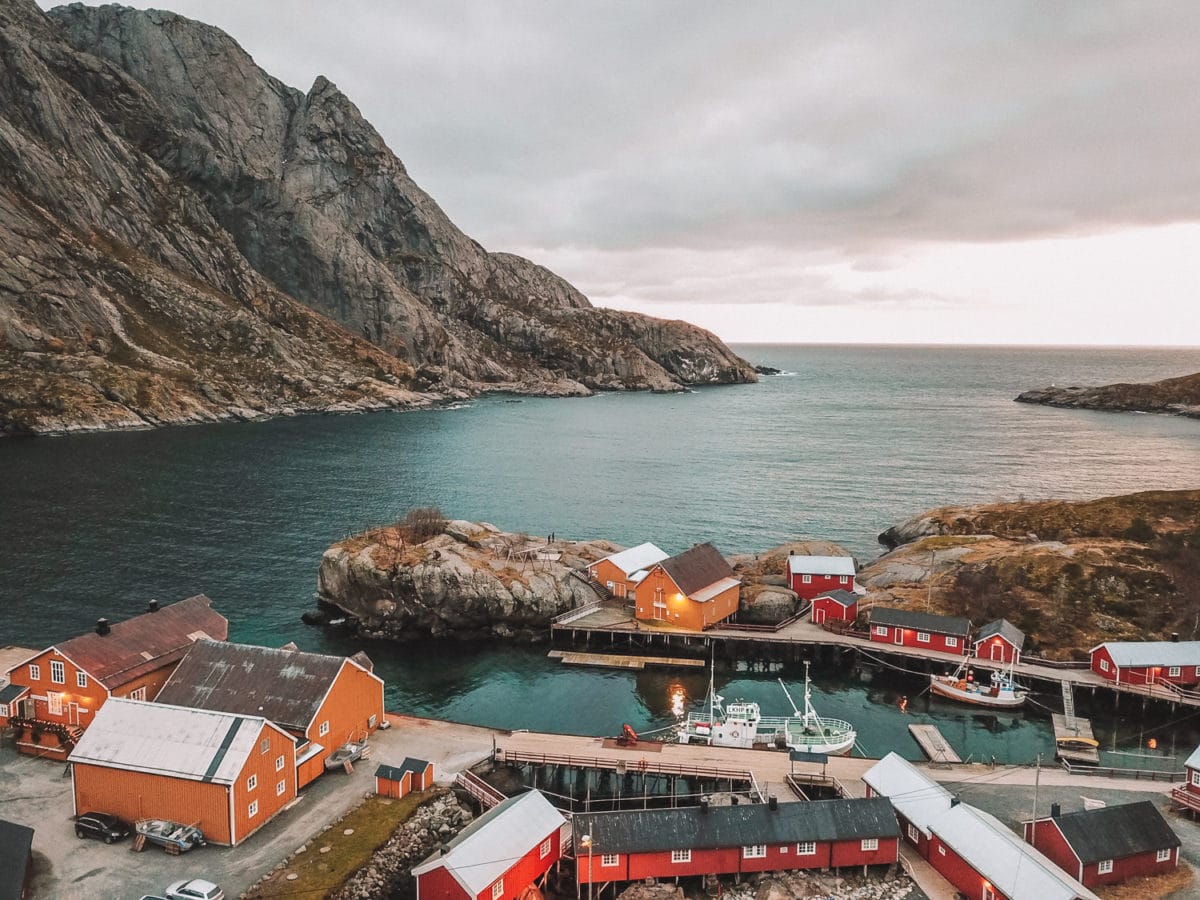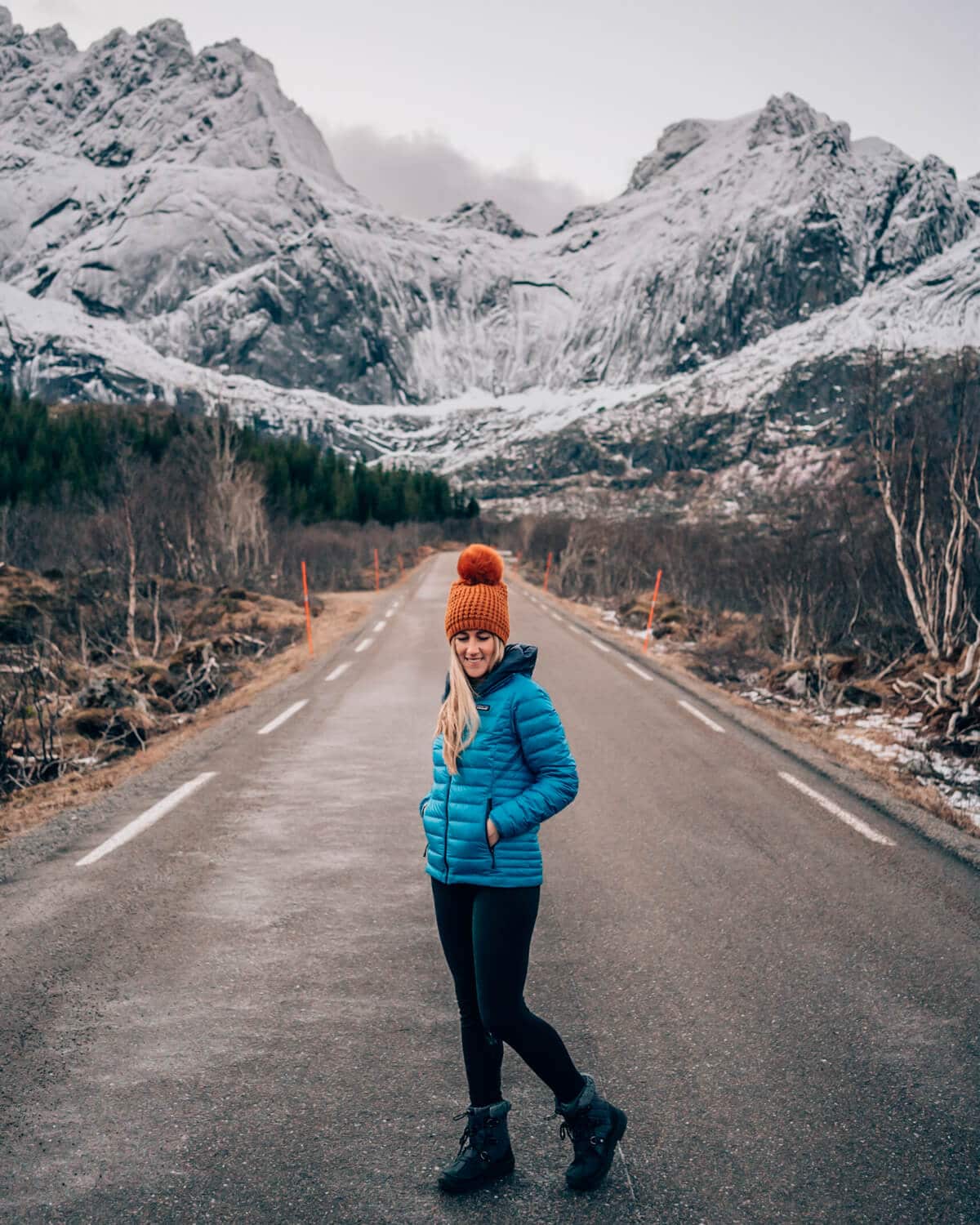 Day 4: Road trip through some of the charming coastal towns of Lofoten
Morning/Mid-Day
Start the morning from your base at Nyvågar Rorbuhotell and drive 1 hour towards Unstad, which will be your first stop along the journey through Lofoten to Reine (note: we didn't make it all the way to Reine on this day because there was so little light and we made an executive decision not to go in the dark, but this is your call. Reine looks beautiful so I wouldn't miss it if you have time!
Optional: If you want to extend your trip even further and spend more time in this area, you can book additional nights in Lofoten in the towns mentioned below and make a longer road trip of it. I wish we had more time in this area as 1 day felt too quick, but it's up to your personal preference.
Suggested Stops:

Unstad (1 hour drive from Svolvær)

Arctic Surf cafe (for surfers this is a must as is the local beach)

Haukland Beach in Leknes (25 minutes drive from Unstad) – see drone photo above
Nusfjord (34 minute drive from Haukland Beach)

Really charming town in the fjords with the classic red barn homes

Reine (49 minute drive from Nusfjord)
Evening
Return to Svolvær in the evening or stay overnight in Reine
Day 5: Head North to Tromsø
Morning
Spend the morning packing and relaxing before you depart Svolvær
Mid-Day
Depart Svolvær and fly to Tromsø (you will most likely have to fly through Bodo first)
Check in to your hotel for one night. A few good options with great ratings are: The Clarion Collection Hotel With which has harbor views, Clarion Hotel The Edge, and the Nordic Host Apts.
Explore Tromsø with Moment Norway. Our amazing host Berit-Maria Andreassen showed us the best of the city and made our arrival in Tromsø seamless. Moment Norway is a great operator for anyone interested in exploring Tromsø and any nearby activities.
Psst — Don't forget to insure your trip with travel insurance in case any cancellations or accidents occur. Norway is an expensive destination and having travel insurance covers you in case anything comes up that interferes with your trip. I've been using World Nomads for over 2 years now. You can read about my personal experience saving $1,500 with World Nomads travel insurance in a single trip, or get your free quote below!
Evening
Explore Tromsø city, which is on the smaller side with a population of about 71,000 people but attracts many tourists especially in the winter as it's one of the best places in Norway to see the Northern Lights
Dinner at Emma, one of the best restaurants in Tromsø. Spring for the fixed price 5 course menu showcasing the best of local cuisine. Emma is a great place to try reindeer for the first time if you're into that kind of thing.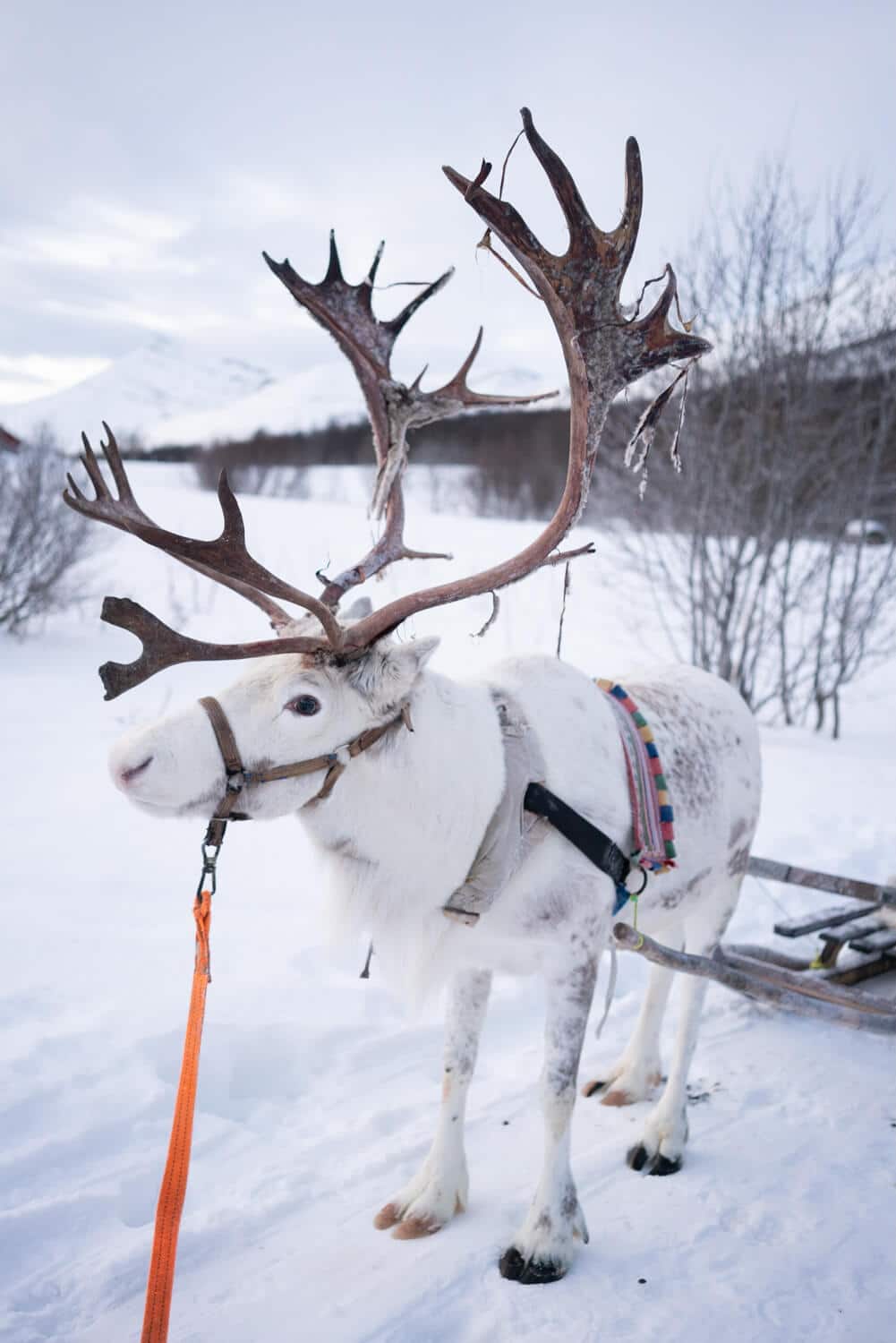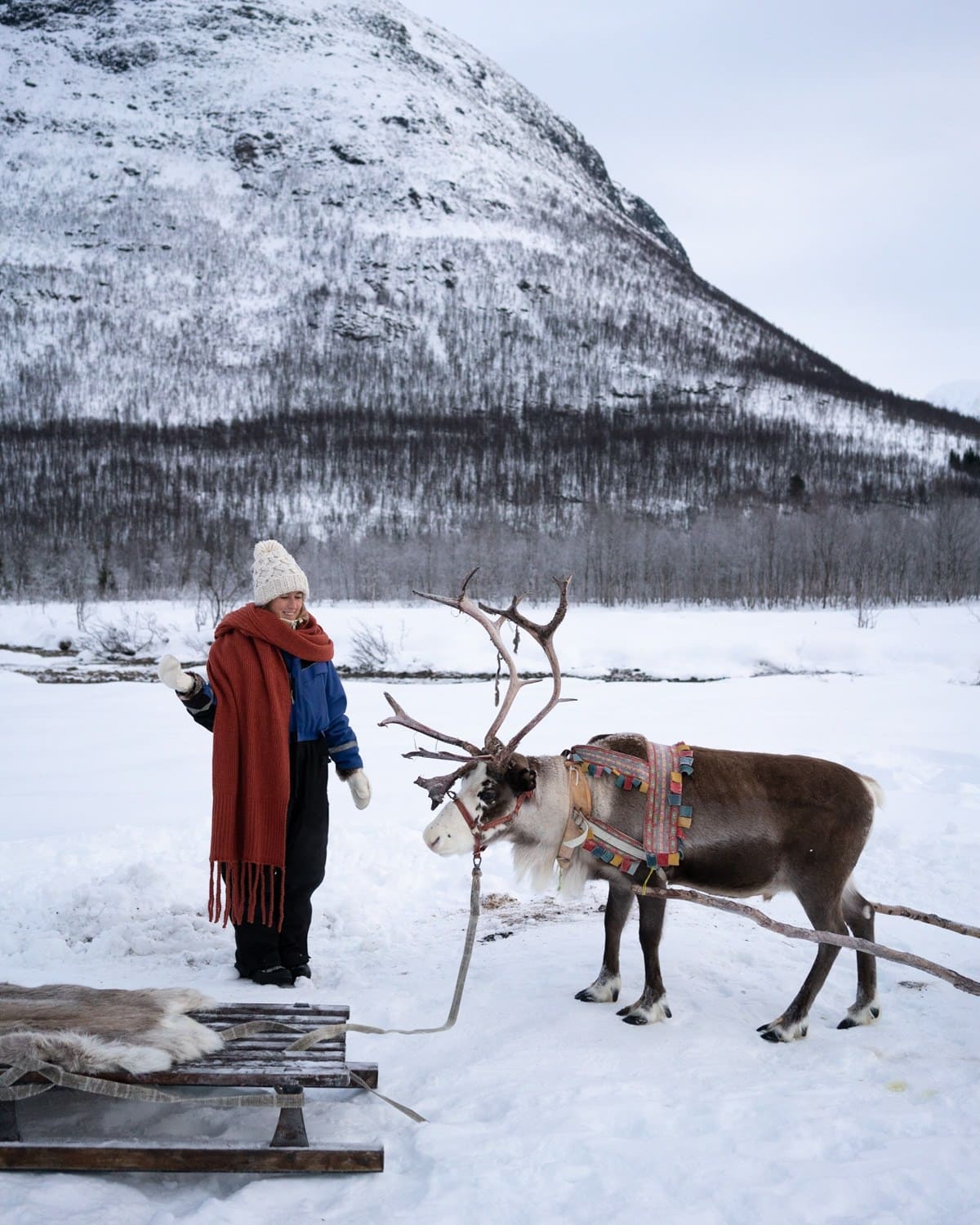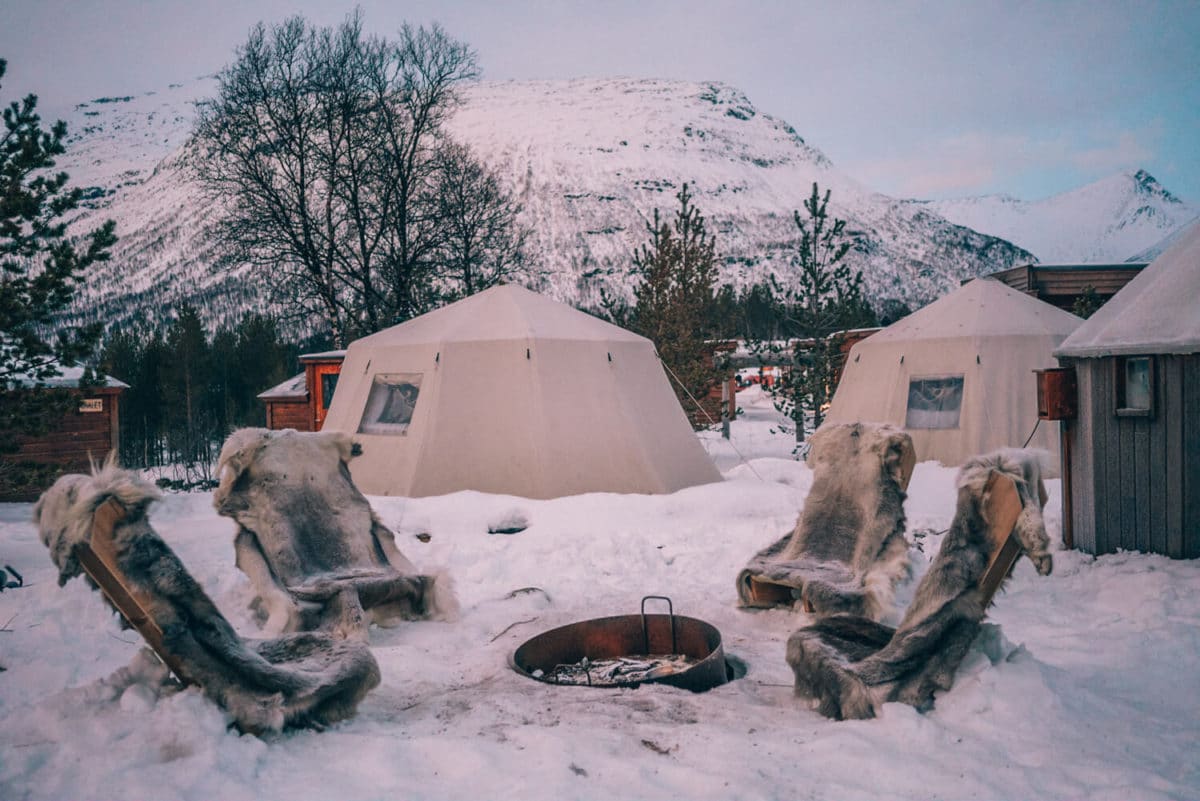 Day 6: Go reindeer sledding while learning about traditional Sami culture and marvel at the seasonal Tromsø Ice Domes
Morning
Take a transfer with Nomoon Travel from Tromsø to a local Sami camp and enjoy the beautiful scenery along the way. The Sami culture is the oldest culture in northern Norway and many Sami people make their living from reindeer herding.
Enjoy reindeer sledding and learn about the Sami culture and how reindeer are a central part of their history and livelihood
Mid-Day
Take a break inside a lavvu (a traditional dwelling used by the Sami people that is similar to a teepee). There, you'll be served hot food and drinks before enjoying a snowmobile adventure as the light disappears
Evening
Finish off the night at the Tromsø Ice Domes for an après-sled cocktail and marvel at the intricate ice sculptures. This hotel is built entirely from scratch every year and opens as the Polar Night begins
Check in to the Malangen Resort which is a beautiful fjord hotel with epic mountain views (bonus: they include free breakfast)!
Grab dinner in their spacious dining room where you can try to catch the Northern Lights out the large glass windows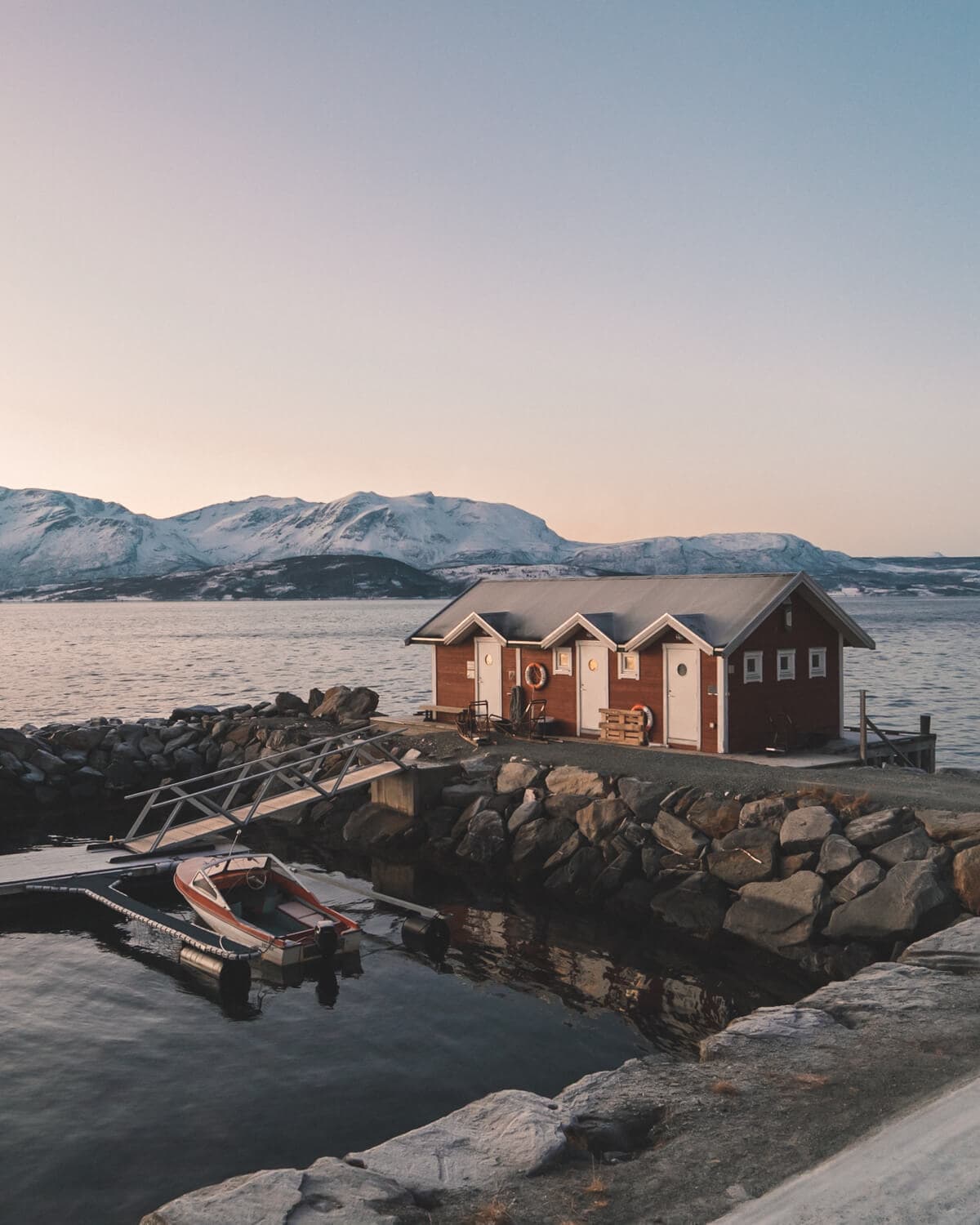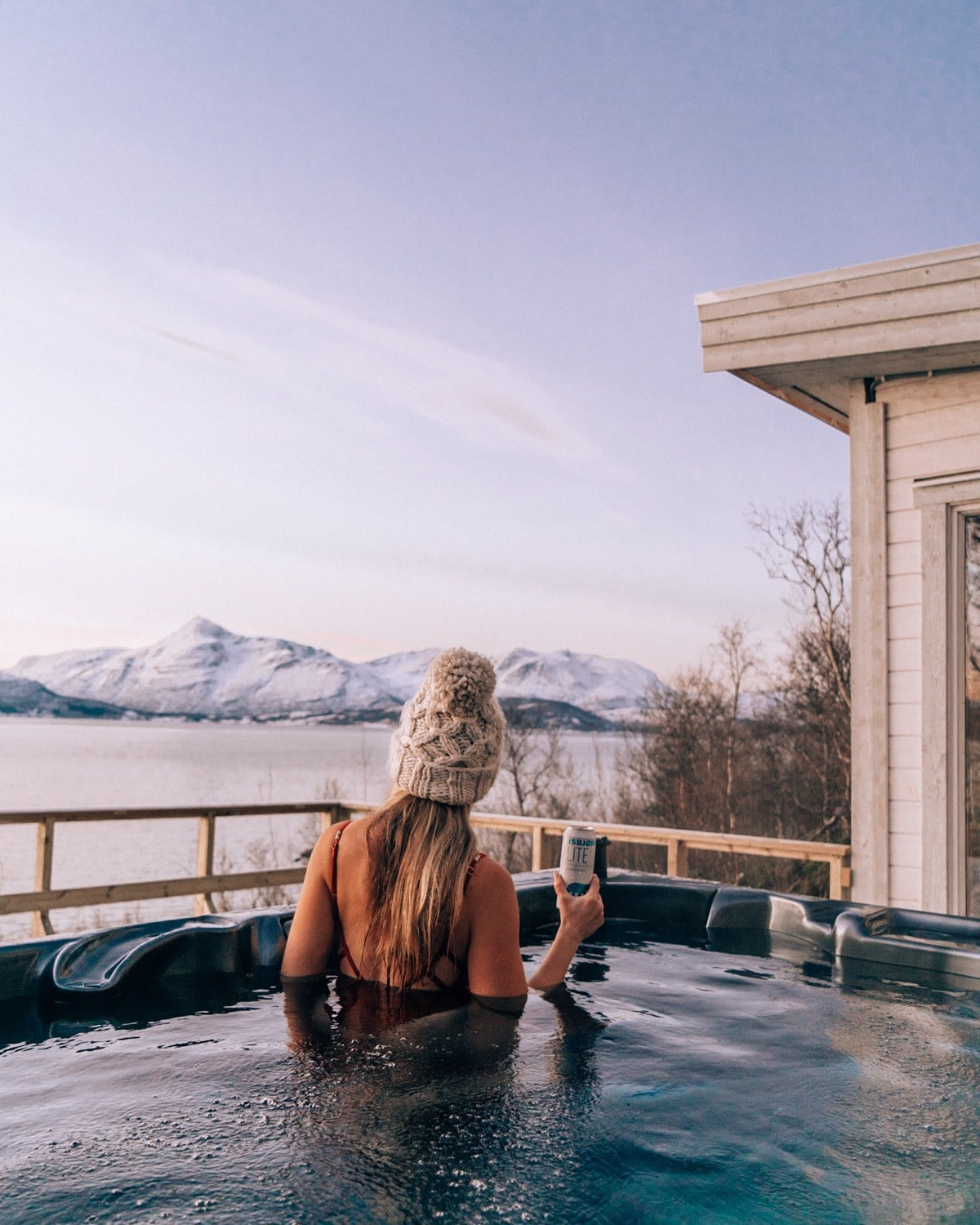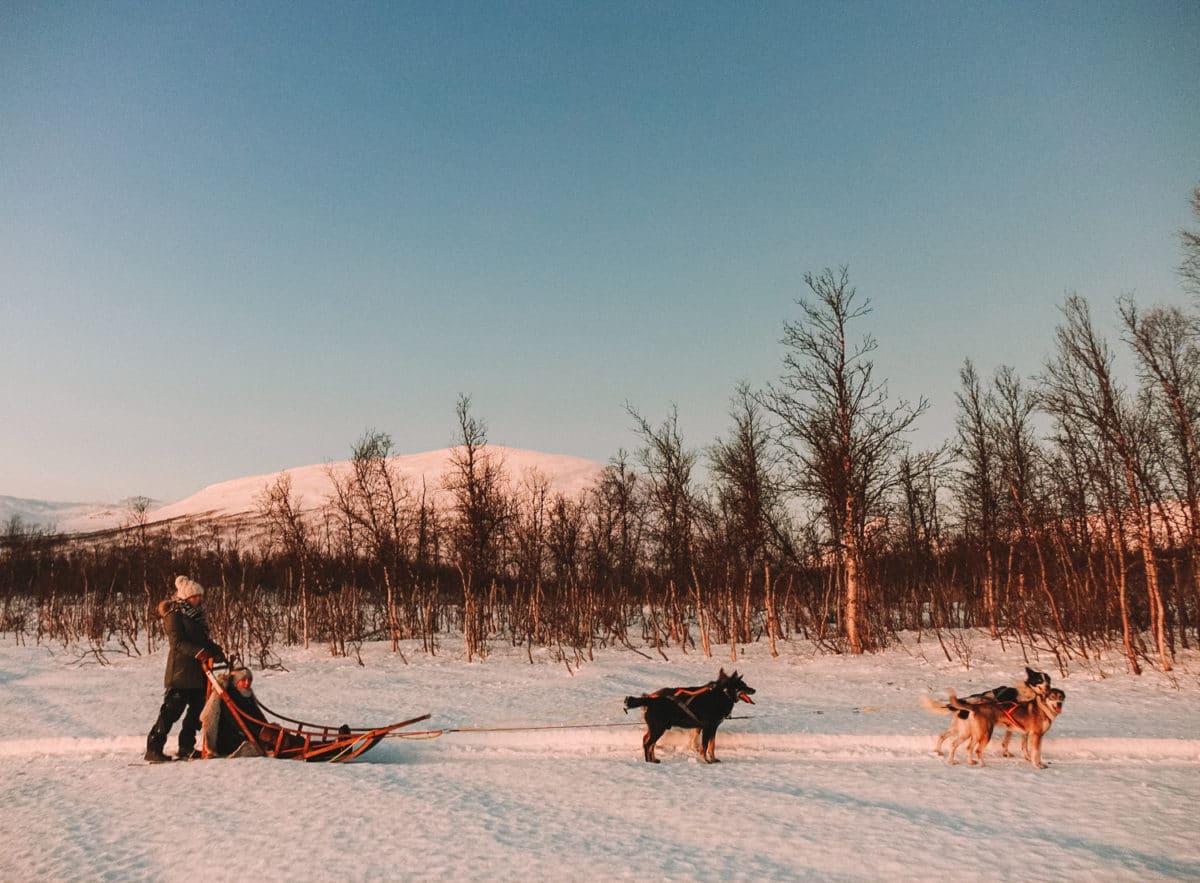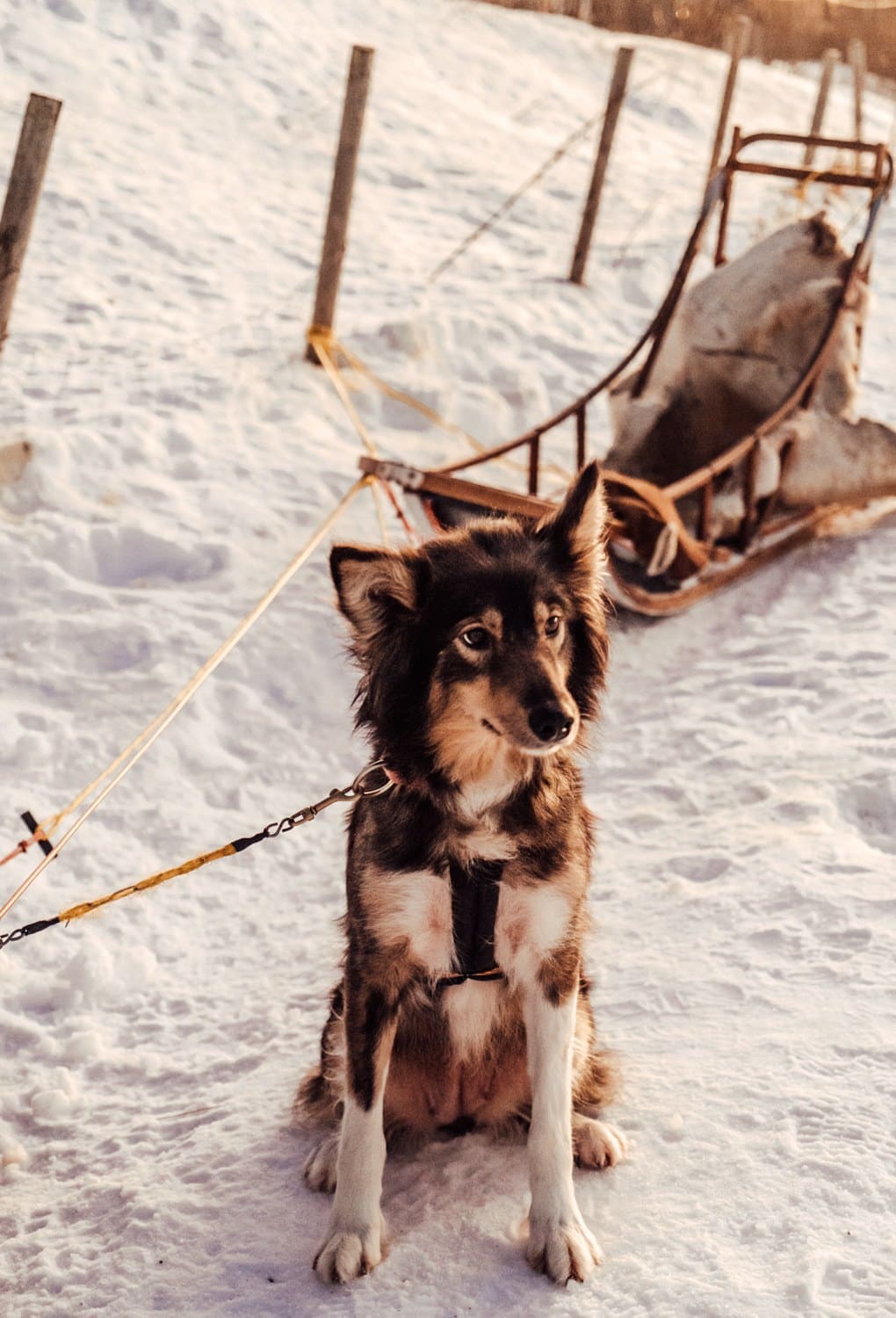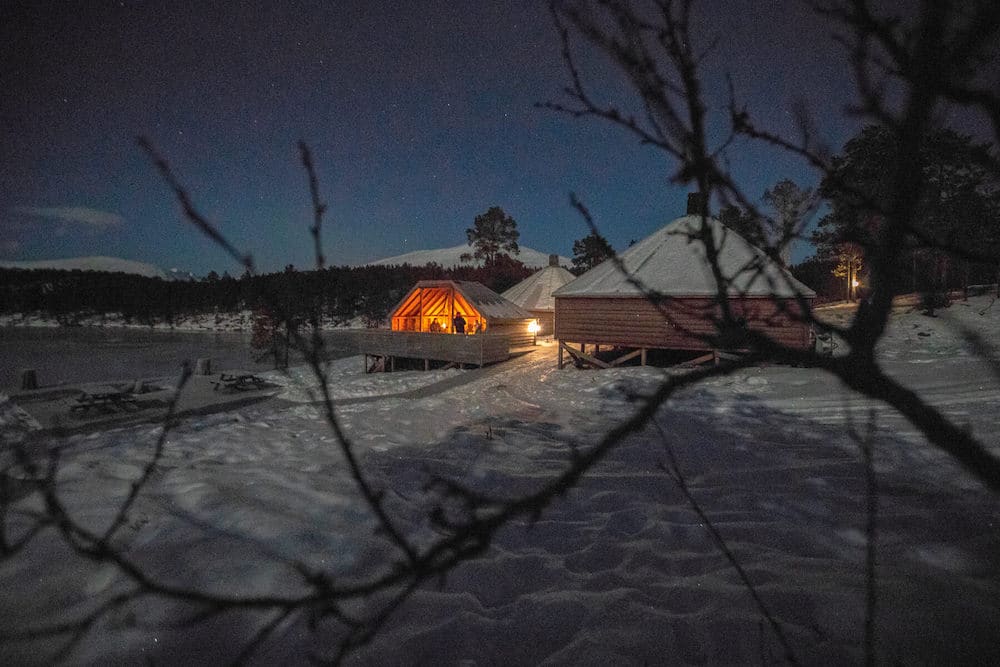 Day 7: Go on a dog sledding adventure and enjoy the northern Norway scenery
Morning
Start the morning by enjoying the beautiful scenery surrounding the Malangen Resort along with their scenic sauna and hot tub — a must! This is the perfect place to truly unwind during your trip.
Mid-Day
Arrange a dog sledding tour with Malangen that will take you through the beautiful Norwegian countryside glistening with snow. The dogs are all well cared for and seriously love to run. This was one of my favorite activities we did while in Norway as it's active (you have to help steer the sled) and the scenery is absolutely beautiful. We even caught a glowing orange sunset as we whipped along the trails.
Evening
Optional: Book another Northern Lights tour through Malangen if you haven't yet gotten your fill of this arctic phenomenon. I personally loved Malangen's Northern Lights tour the best (even though we never saw the lights) because they had a specific camp for us to go and set up at, where we were able to sit by the fire, get cozy, enjoy tea and refreshments and mingle with fellow travelers while we waited under the night sky. (Check out the beautiful shot of our camp above by my friend Carly Mask).
Stay for night two at the Malangen Resort
Day 8: Head back to Tromsø for an epic glamping adventure in a teepee under the Northern Lights
Morning
Enjoy your final breakfast at Malangan Resort
Mid-Day
Head back to Tromsø to explore for the day. If you're visiting before the holiday season, this is a great time to explore the shops and pick up some gifts for loved ones back home.
Evening
Arrange a pick-up by Wild Seas Adventures through NoMoon Travel for an epic glamping and whale watching adventure, which you'll do the following day
Wild Seas will transfer you via car then boat to an island in the fjords for a beautiful night of glamping in a lavvu teepee. This is the perfect place to spot the Northern Lights without having to book an official tour and is where I got my best shots of the lights!
UPDATE: The one-night excursion I did is no longer available. Please visit NoMoon's arctic Norway tour options HERE for all current available packages, or check out NoMoon's summer packages.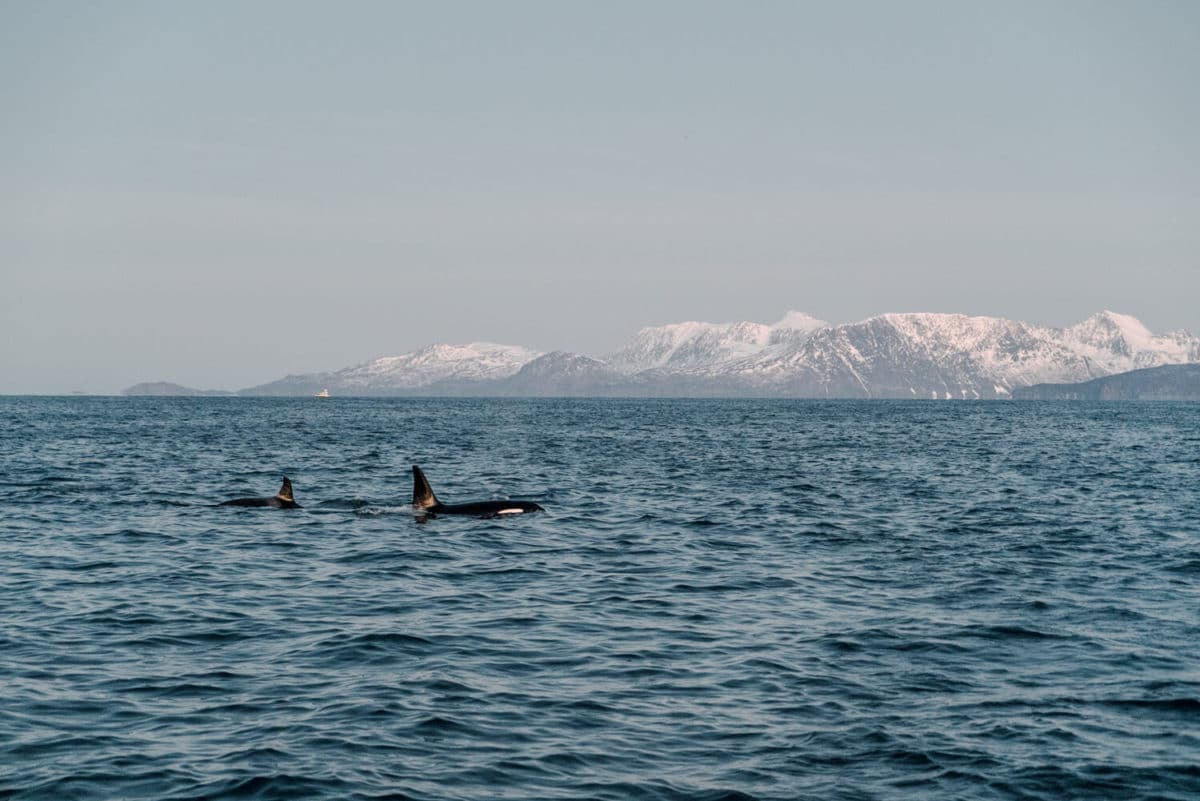 Day 9: Spend the day whale watching then head back to Tromsø through the Lyngen Alps
Morning/Mid-Day
Wake up inside your cozy Aurora Glam-Camp (don't worry, the beds are heated!) for breakfast at Wild Seas' main gathering tent before heading off for a day of whale watching
Join their whale watching trip in Skjervøy where you'll go in search of Humpbacks and Orcas. On the boat you'll learn more about how these animals communicate, feed and live, and about why preserving these creatures is so important to our world's entire ecosystem
Evening
Drive with Wild Seas back to Tromsø through the beautiful Lyngen Alps
Check in to your final hotel for the night in Tromsø (see Day 5 for hotel recommendations)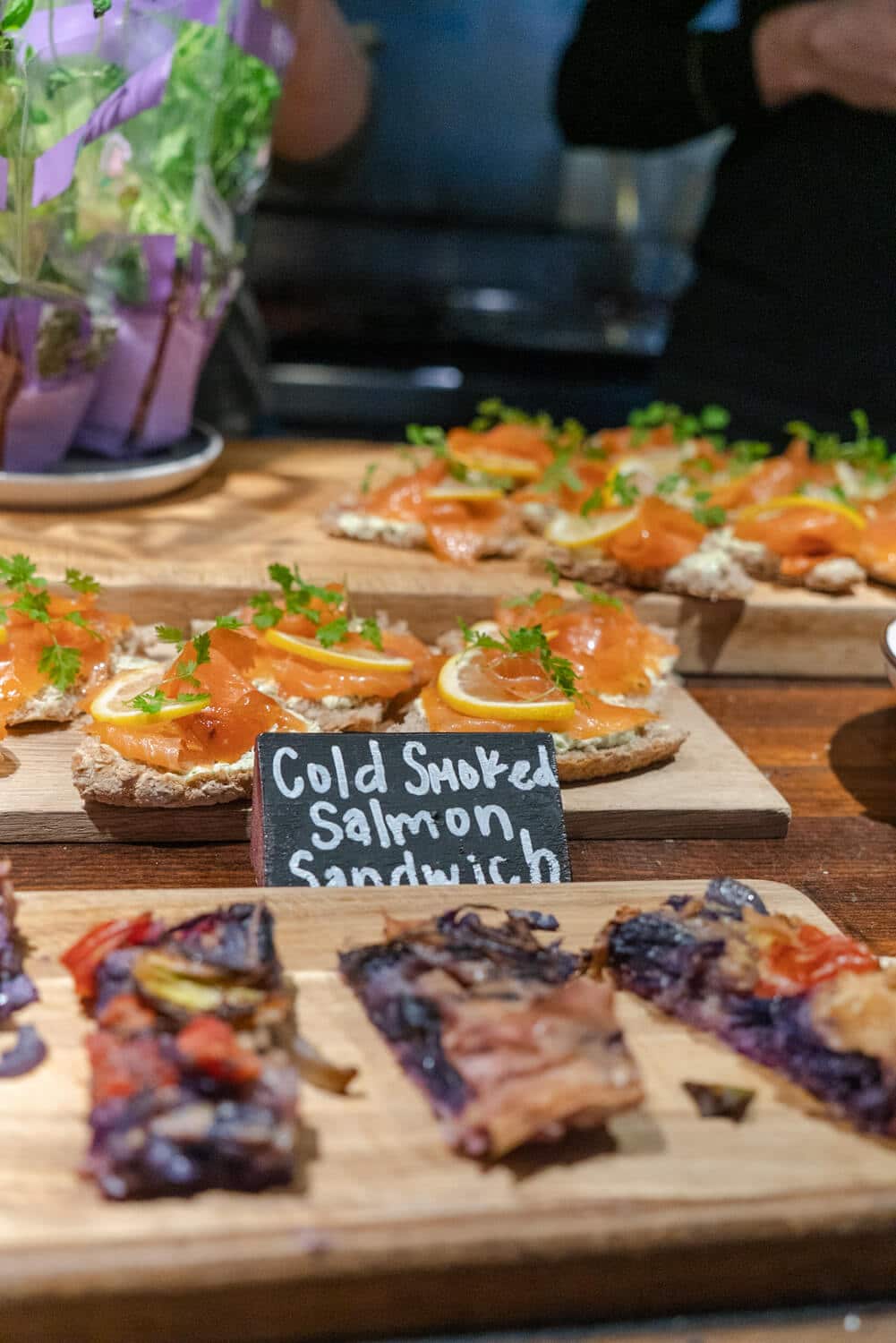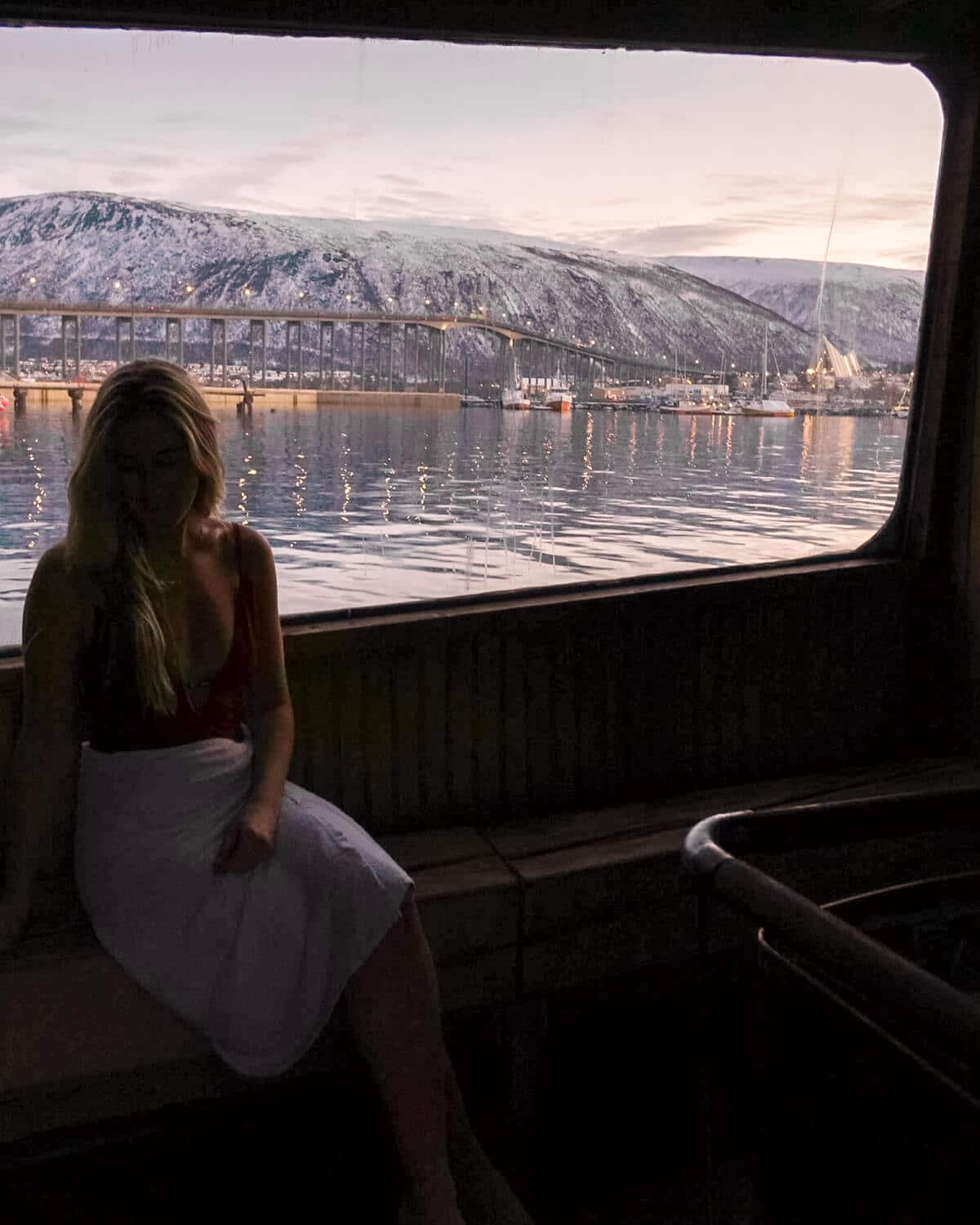 Day 10: Vulkana Spa boat in the Tromsø harbor before departing!
Morning
Spend your last morning in Tromsø with a relaxing brunch and spa on the Vulkana Spa adventure, which is literally a vintage Norwegian fishing boat that has been outfitted as a spa in the middle of the city harbor! You'll be treated to traditional Norwegian fare with healthy options (one of the yummiest meals we had the whole trip) while exploring the various spa experiences on the boat — they have a sauna, steam room AND a rooftop hot tub!
Depart Tromsø airport for home or to your next destination!
Check out my friends at Nomoon Travel to help you book all of these incredible adventures to make your Norway itinerary unforgettable.
Loved this post? Pin it for later!
Live Like It's the Weekend was graciously invited as a guest of Nomoon Travel, but as always, all my opinions are my own and I would never promote anything I don't freaking love.